When Christmas comes around, your walls are like blank canvases — they're large and highly visible, making them the perfect spot for festive decorations.
By choosing DIY displays, you can customize each element to suit your style and the available wall space in your house.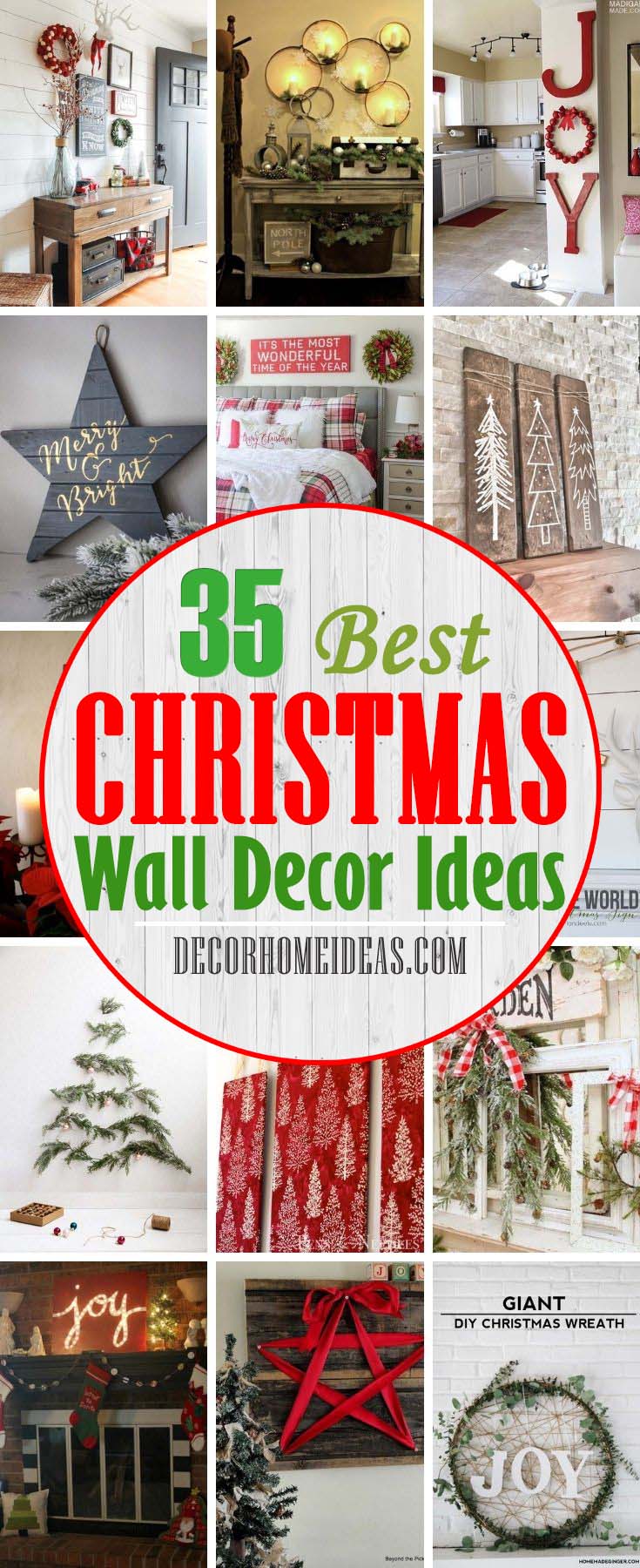 Whether you're dreaming of gorgeous garlands or enormous full-wall displays, these 30+ designs can inspire you to create something beautiful this holiday season.
1. Add in some Antiquities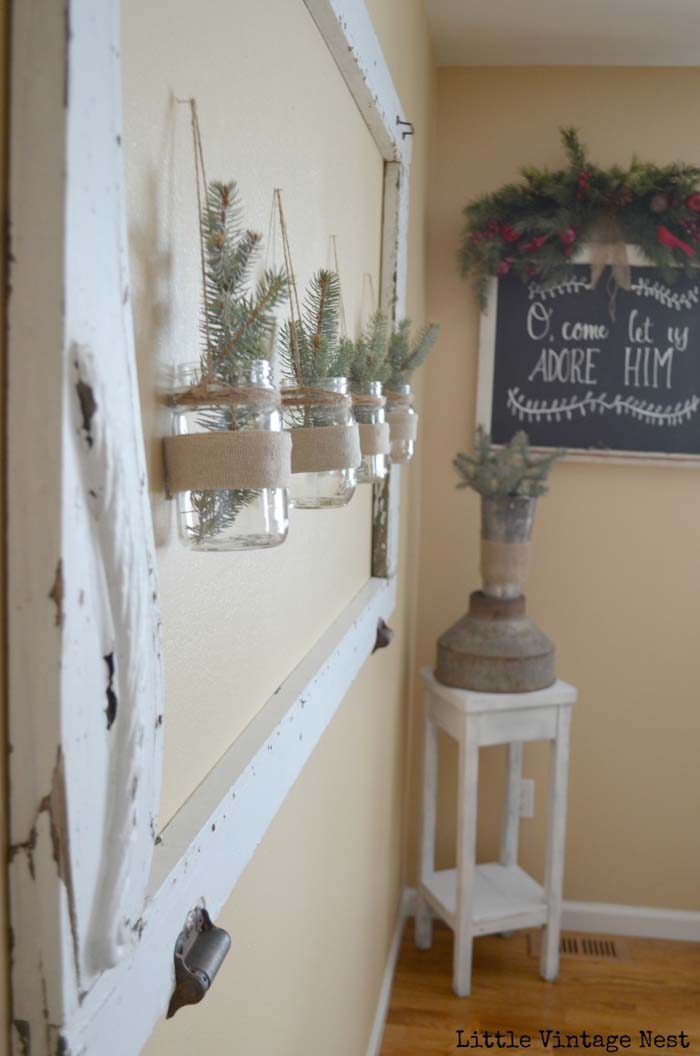 An old window frame is the star of this wall display; it provides an instant structure for other elements.
Here, the homeowner has placed simple branches in Mason jars and suspended them from the wall inside the frame.
Burlap wraps coordinate with the antique look of the frame for a fun and rustic look.
via Sarah Joy Blog
2. Barn Wood Star Sign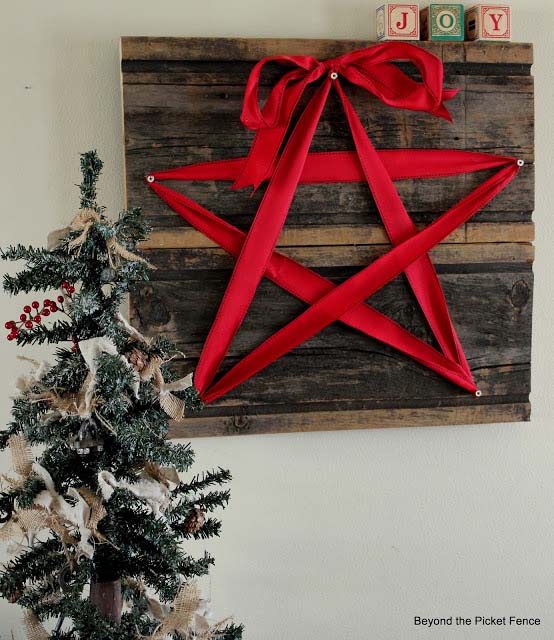 Barn wood is beautiful all on its own — the rich color palette and rough texture is right at home in a farmhouse casual home.
With just five nails and a roll of red ribbon, you can recreate this simple but striking design for the holidays.
3. Christmas Entryway Gallery Wall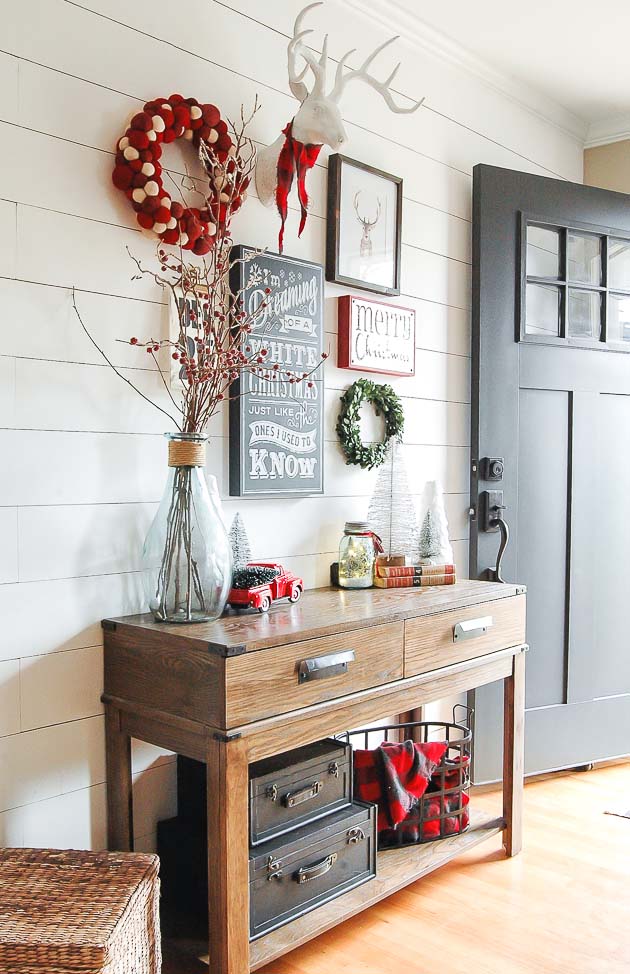 Gallery walls are a trendy way to fill a big space with a variety of elements.
If you love the look, why not create one with a Christmas theme?
Gather elements you love, hang them in a pleasing arrangement, and you're all set for the holidays.
4. Christmas Gallery Wall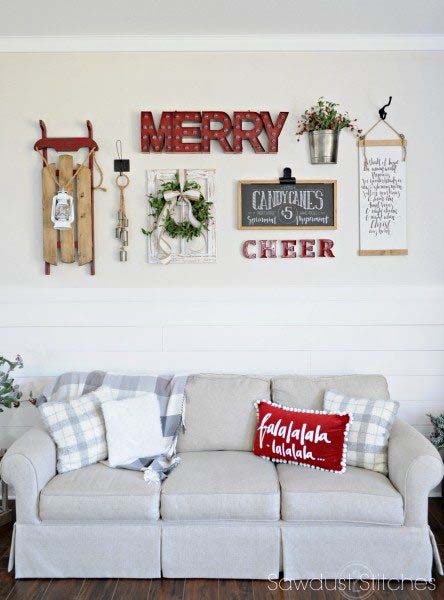 Need more inspiration for a gallery wall?
This version uses a combination of three-dimensional pieces to create depth and interest.
The result is lovely and remarkably personal; you can easily adjust it to suit your family's traditions and style.
5. Christmas Gallery Wall with Gift Wrap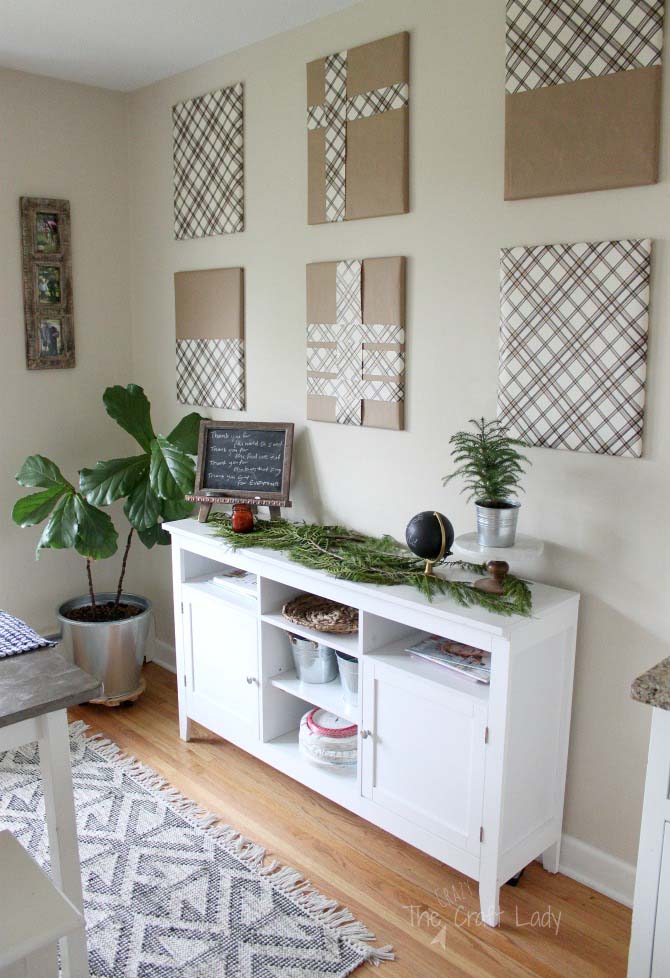 If you want to stick to a budget, this Christmas gallery wall is a great solution.
By wrapping existing gallery-wall photos in wrapping paper, you get a completely new design — and you don't even need to drill additional holes in the wall!
6. Christmas Tree Array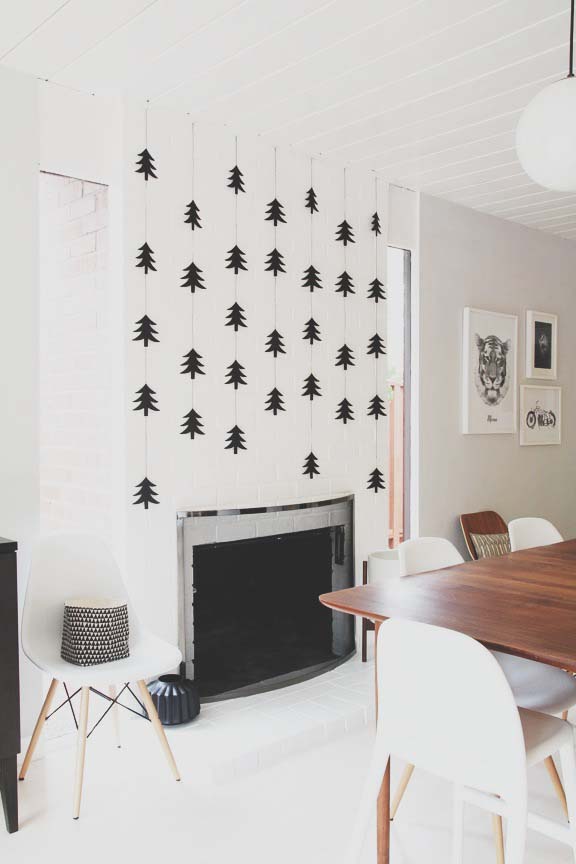 Simple decorations can have a big impact — this gorgeous collection of Christmas tree garlands is proof.
The trick is to use a high-contrast color for the trees; they'll pop against your wall.
We love how these trees use black to blend into the decor while making a statement that's decidedly festive.
7. DIY Gift Card Mini Wreath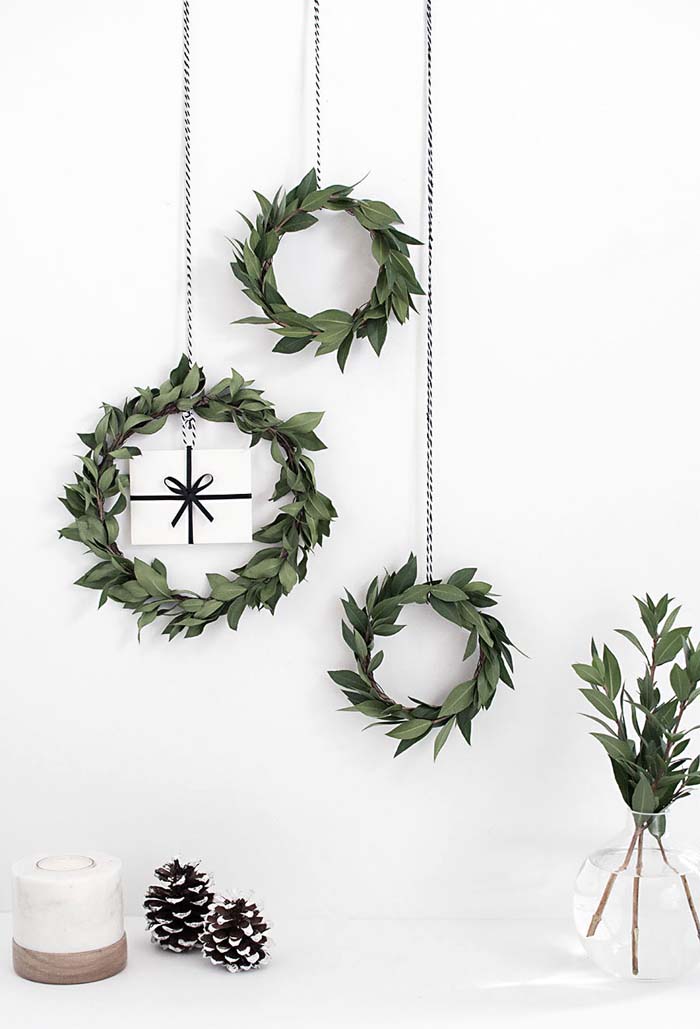 Have you ever seen miniature gift-card boxes in a store?
Wrap one in white paper and tuck it into the center of a green wreath for a fun twist on a traditional decoration.
Stick to a slick color palette, or choose bright vibrant colors for extra Christmas fun.
via Homey Oh My
8. DIY Joy Sign

Rustic wood-pallet signs are a staple of country Christmas decor, but there's no need to spend money on one.
Make your own using a simple planked panel.
If you have a steady hand, you can even draw the letters yourself; the imperfect lines add to the sweet, homey feeling.
via Liz Marie Blog
9. DIY Painted Christmas Sign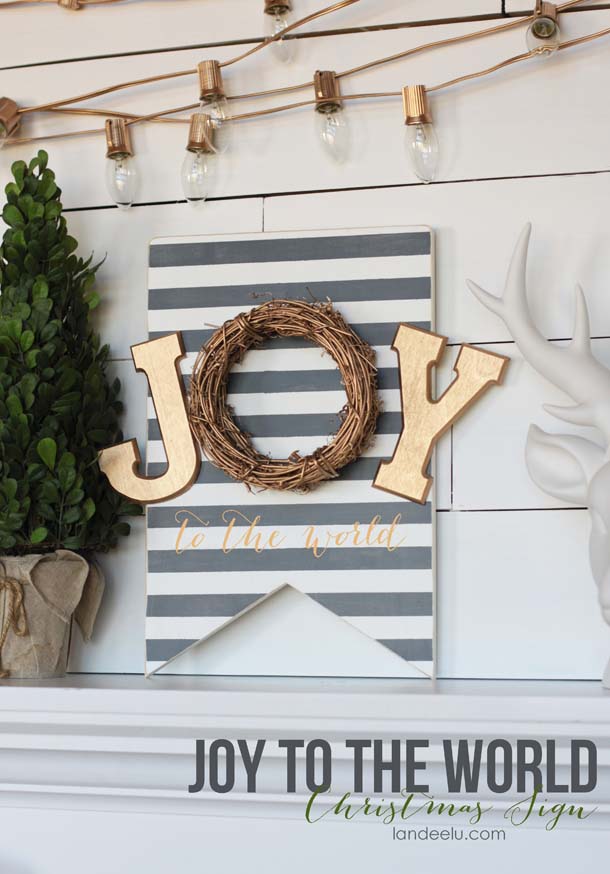 Stripes make an unexpectedly beautiful addition to this Christmas sign, which borrows the lyrics from a popular holiday hymn.
The gold lettering adds a glamorous, seasonal feeling, and the sweet twine wreath looks gorgeous in place of the "O".
via Landeelu
10. DIY Shiplap Display Wall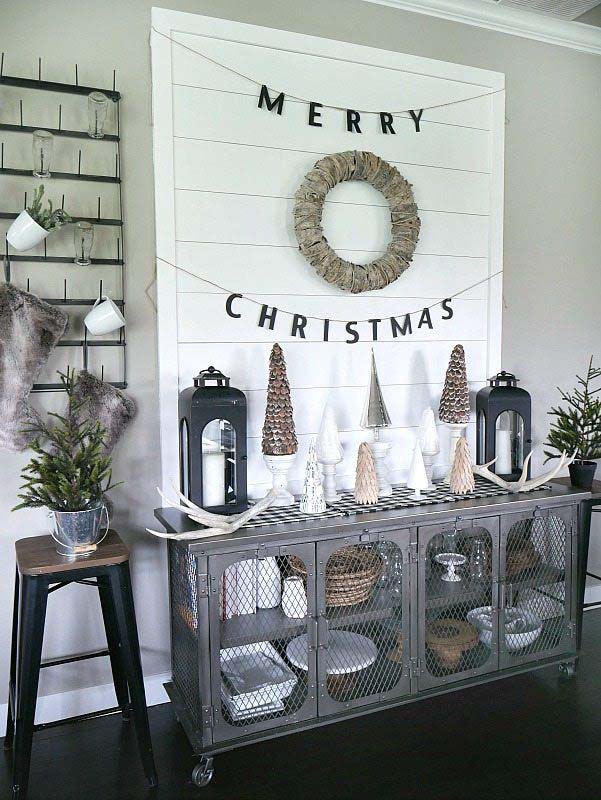 If you're a fan of home-renovation shows, you know that shiplap is a major design trend.
Here, it's the canvas for a charming Christmas display. Although this design is simple, it grabs your attention instantly.
Stick to a neutral palette or go with icy or vibrant tones to match your other decorations.
via Taryn Whiteaker
11. Festive Foam Boards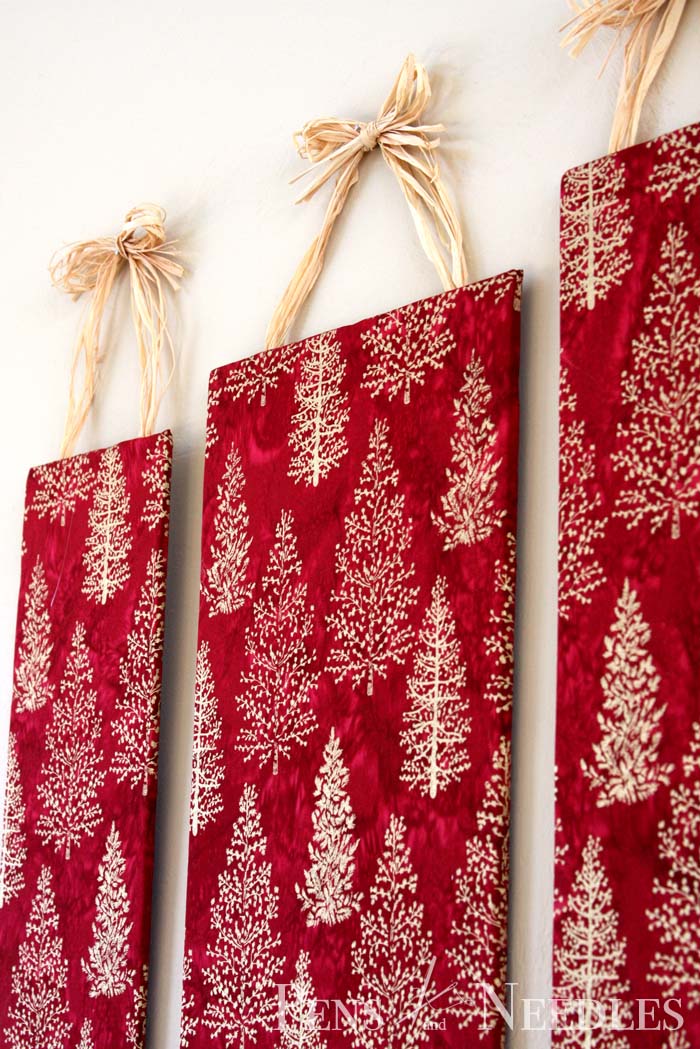 Looking for cheap wall decoration?
This project uses affordable foam boards wrapped in fabric or gift wrap to bring color and life to any part of your house.
Go with natural fibers for hanging, as you can see here, or opt for ribbon, twine, or rope.
via Pens and Needles
12. Giant DIY Christmas Wreath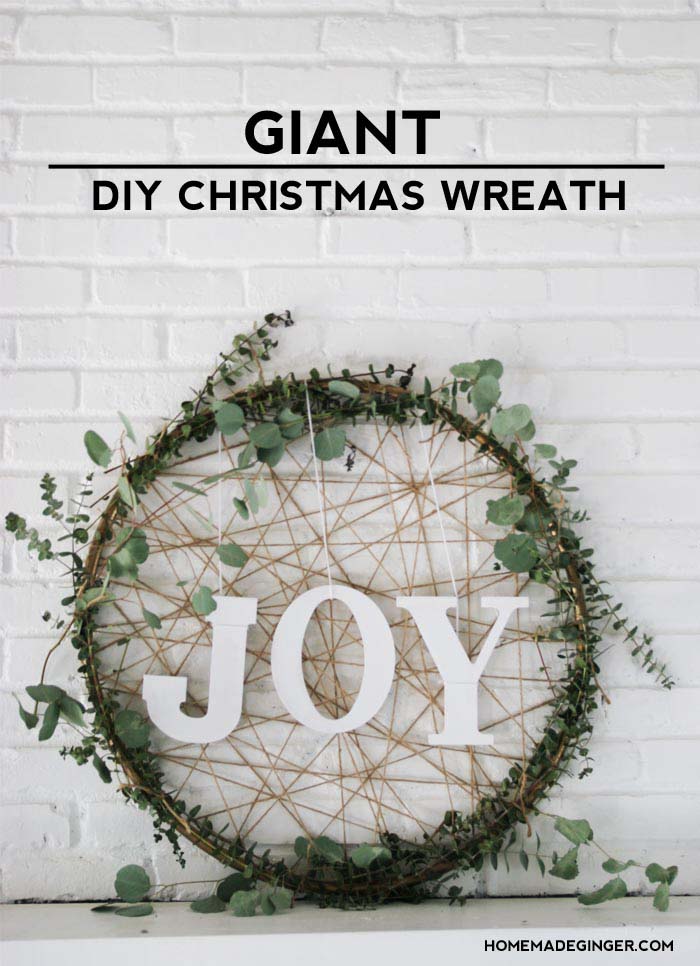 Your guests will adore this enormous Christmas wreath — and you'll love how easy it is to make.
The entire process can be completed in an hour, so you can start decorating quickly.
Since this wreath is light, you can hang it on a wall or lean it on top of a shelf.
via Homemade Ginger
13. Gifts on the Wall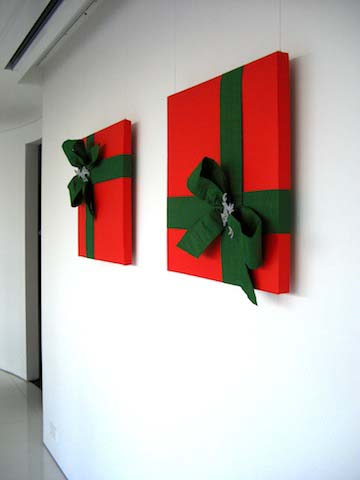 Christmas gifts are an iconic part of the season, and this project supersizes them.
Make DIY gifts out of blank canvases or foam boards, or simply wrap a few existing photos for the holiday season.
The big bows and classic colors enliven the simple design.
14. Holiday Holly Wall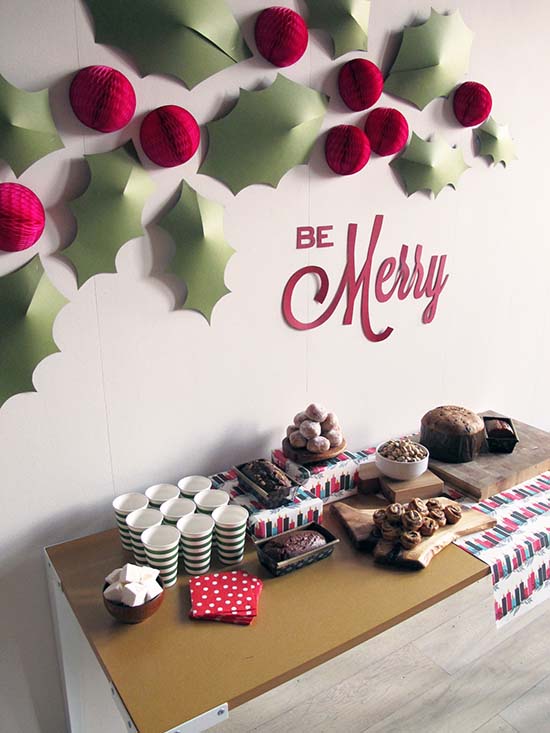 Get ready for a Christmas party with this creative DIY wall display.
It's all made out of paper, so you can craft it in your free time.
The holly berries are simply affordable paper globes that you can find at any dollar store.
Place it above a buffet table, or use it as a holiday photo background.
via Snow and Graham
15. Holiday JOY Light Marquis Canvas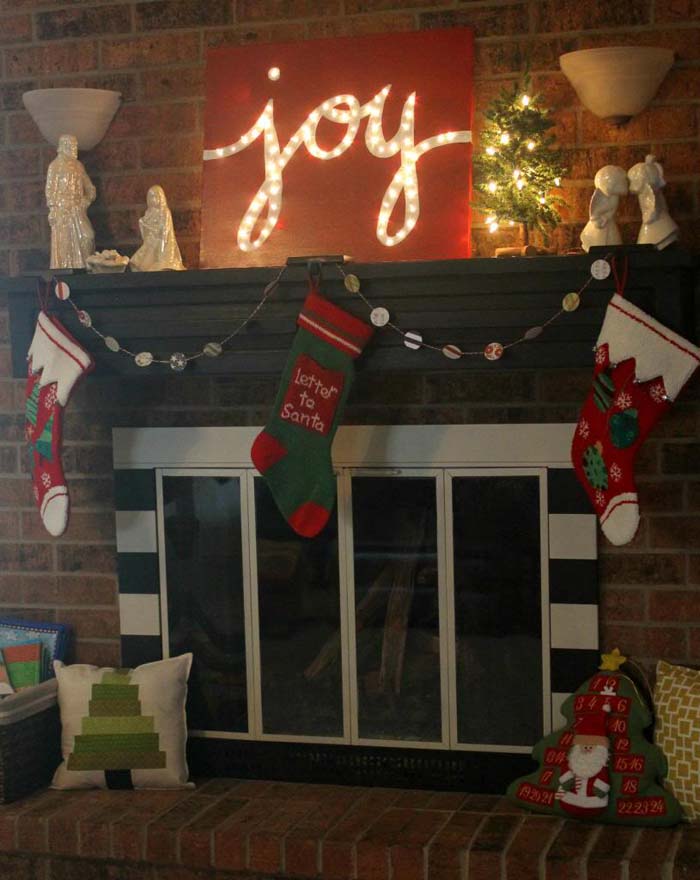 If you love the look of lighted marquee signs — but not the high price tag — this DIY project helps you get the look for less.
The clever design uses a simple canvas and Christmas lights, and the result lights up your living space.
via Deonna Wade
16. Ice Cream Stick Snowflakes

Would you guess that these oversized snowflakes are made from ice cream sticks?
The magic to this striking trio is in the sheer size.
The color is festive but not predictable, which gives each snowflake a chic aesthetic.
via Dump a Day
17. Joy Letters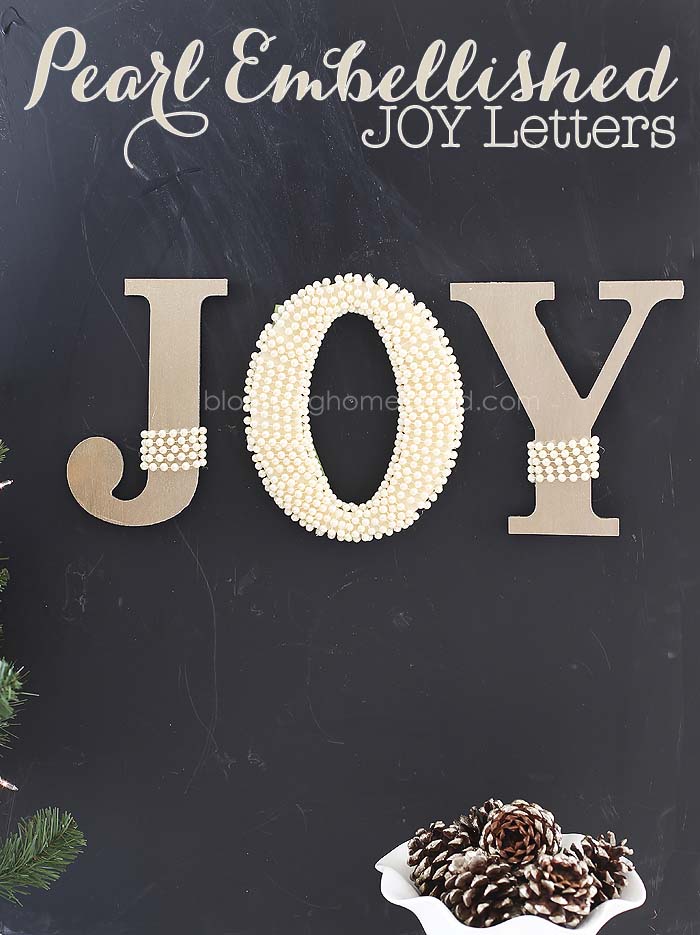 The next time you're in a craft store, pick up a few blank wooden letters to create a festive wall display.
Here, the letters are embellished with faux pearls, but you can pick anything that speaks to you.
Add rhinestones for a bit of glam, use up some of your old buttons, or opt for sequins for a fun twist.
18. Merry and Bright – Gray, Holiday Wall Art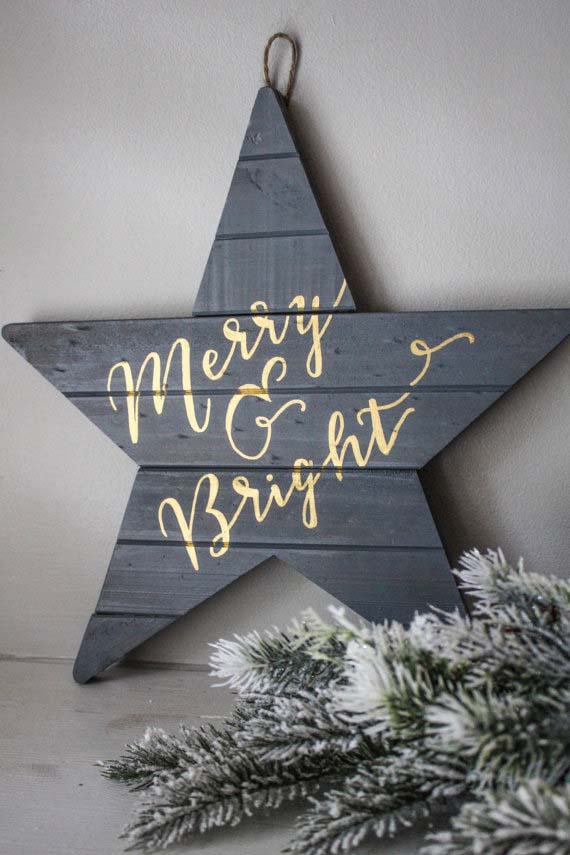 When you're going for a minimalist Christmas, neutral tones are a great place to start.
Here, a deep grey paint showcases the texture of the wood-planked star — but more importantly, it helps the lovely gold letters look extra-fabulous and sparkly.
The twine hanging loop is the perfect rustic touch.
19. Merry Christmas Banner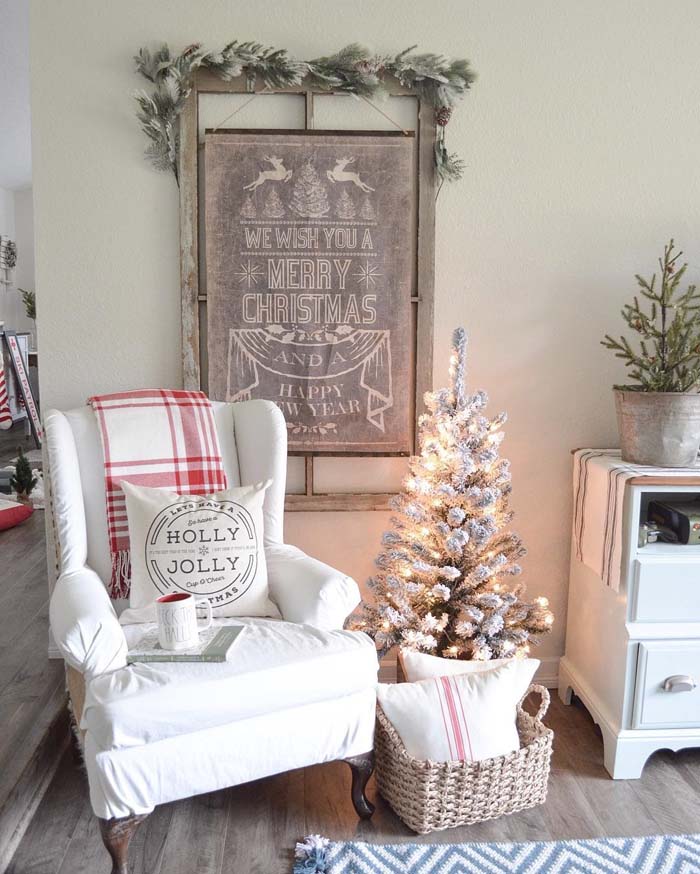 Don't let this wall decoration fool you; it looks complicated and expensive, but it's a breeze to put together.
Pick up an old paned window frame at a thrift store and use it as the backing for a Christmas banner.
A short length of garland ties everything together and introduces a fresh burst of color.
20. Noel Christmas Wall Decor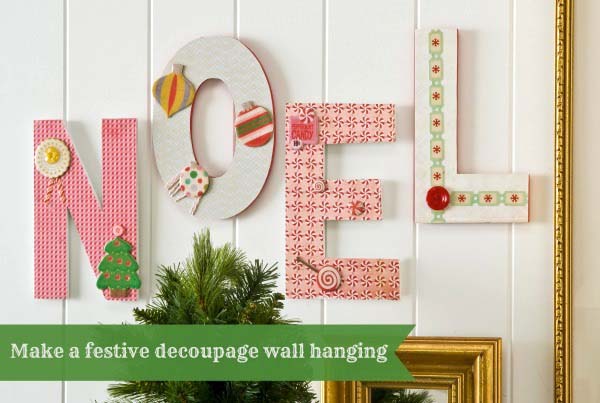 Here's another way to use craft letters — this time, decorated with decoupage and colorful embellishments.
Use craft paper or fabric to add color to each letter, and top it off with flat-lay ornament shapes.
This is a fun opportunity to show your personality and choose a favorite Christmas-themed word.
via Mod Podge Rocks
21. Old Frames Wall Decor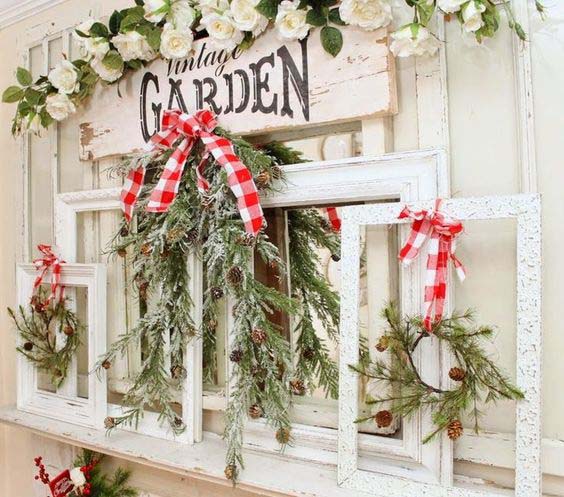 Old frames get new life in this arrangement, which features multiple layers and a beautiful sense of depth.
You can make it with any frames you have on hand; if they don't look right together, just add a simple coat of paint.
Dress up your display with ribbons, ornaments, or greenery.
22. Ornament Wall Hanging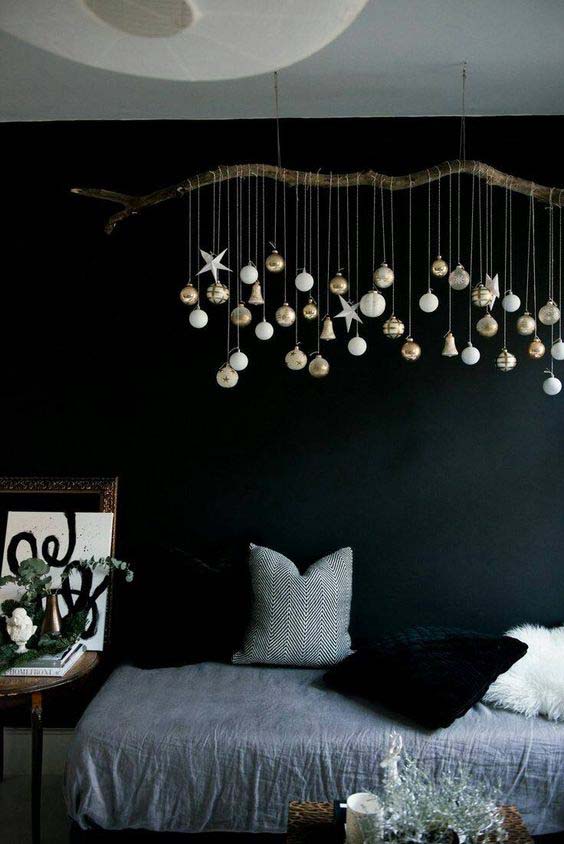 Christmas ornaments are the unsung heroes of wall decorating; when used in large numbers, they create a beautiful display that instantly becomes the focal point of your space.
Here, the homeowner maintains a rustic look by suspending a collection of coordinating ornaments from a naturally curving branch.
You can use a dowel, an oar, or even a pool cue for a custom effect.
via Facebook
23. Plaid Christmas Wall Decor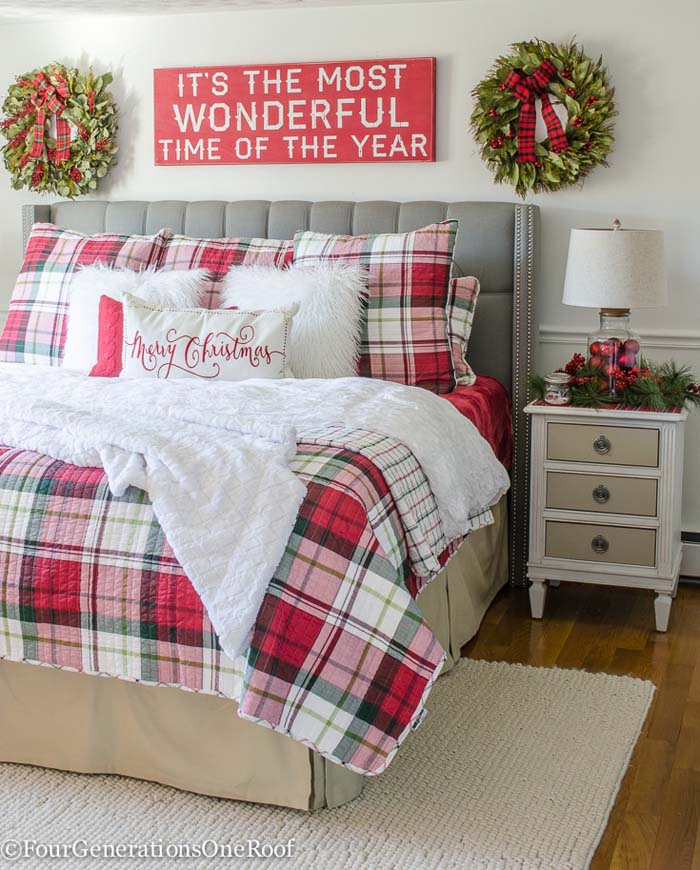 Do you like to decorate your bedroom for the holidays?
Don't forget the wall above your bed; the natural symmetry of the headboard sets off your decorations.
Two wreaths flanking a colorful wooden sign create a look that's fun, festive, and so cheerful that you'll want to keep it up year-round.
24. Pottery Barn Inspired Noel Sign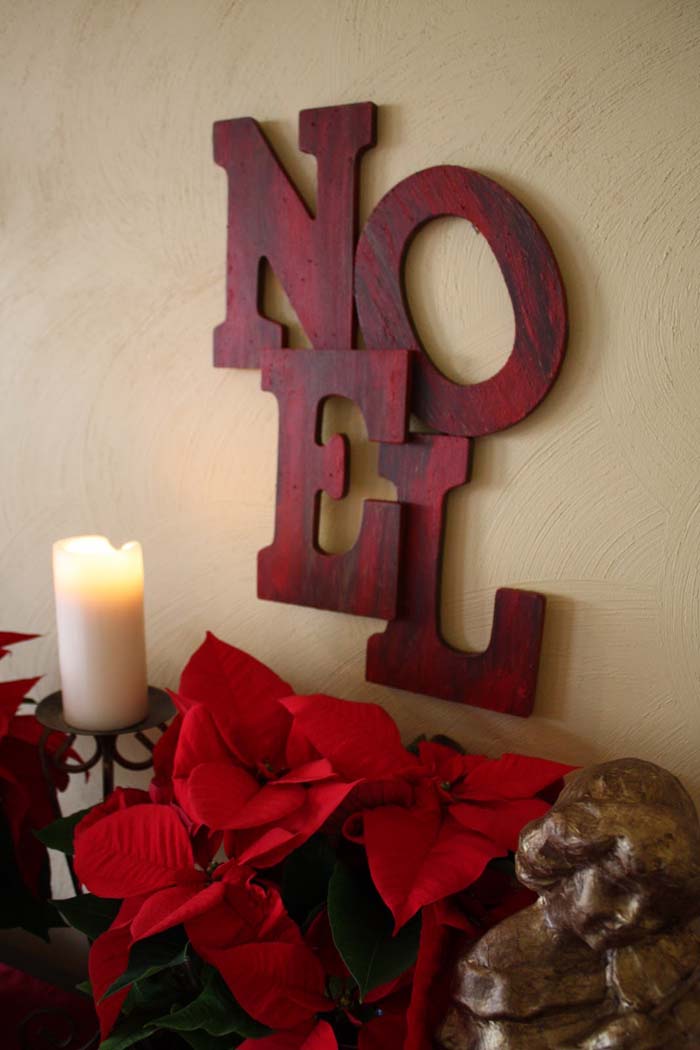 There's no need to spend lots of money on a trendy "Noel" sign for your wall.
With a few letters from the local craft store, you can create your own version for a tiny fraction of the cost.
This arrangement is all about to offset positioning, which gives it a cheeky, modern twist.
25. Rustic White Wooden Christmas Tree Signs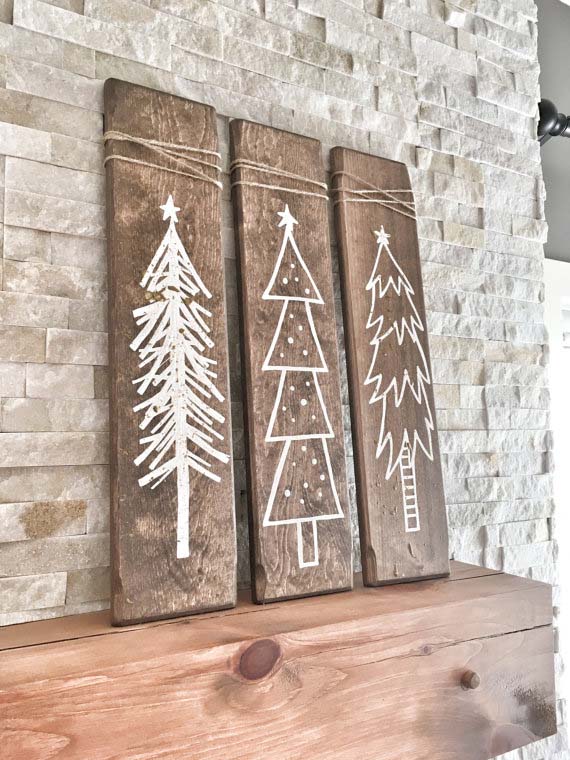 Brighten your mantel with these DIY wooden signs.
The bright white paint plays beautifully against reclaimed wood planks, and the twine wrap ties everything together perfectly.
Don't worry if you're not an artist; imperfect trees add to the charm.
26. Simple Joy Holiday Wall Letters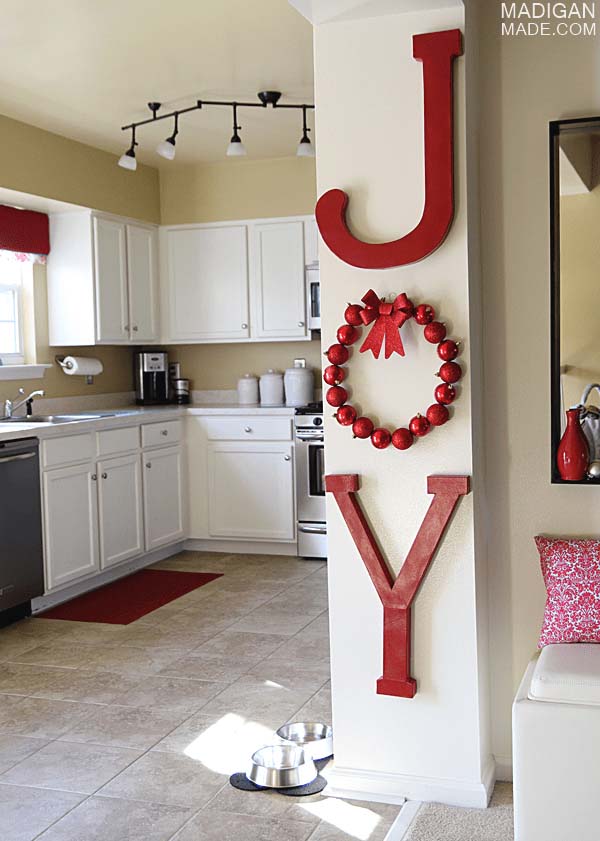 You'll smile every time you see these gorgeous, enormous letters this Christmas.
They're simple but stunning, thanks to the bright red color.
We love how the Christmas-ball wreath takes the place of the "O" and infuses the piece with the holiday spirit.
via Rosyscription
27. Spread the Joy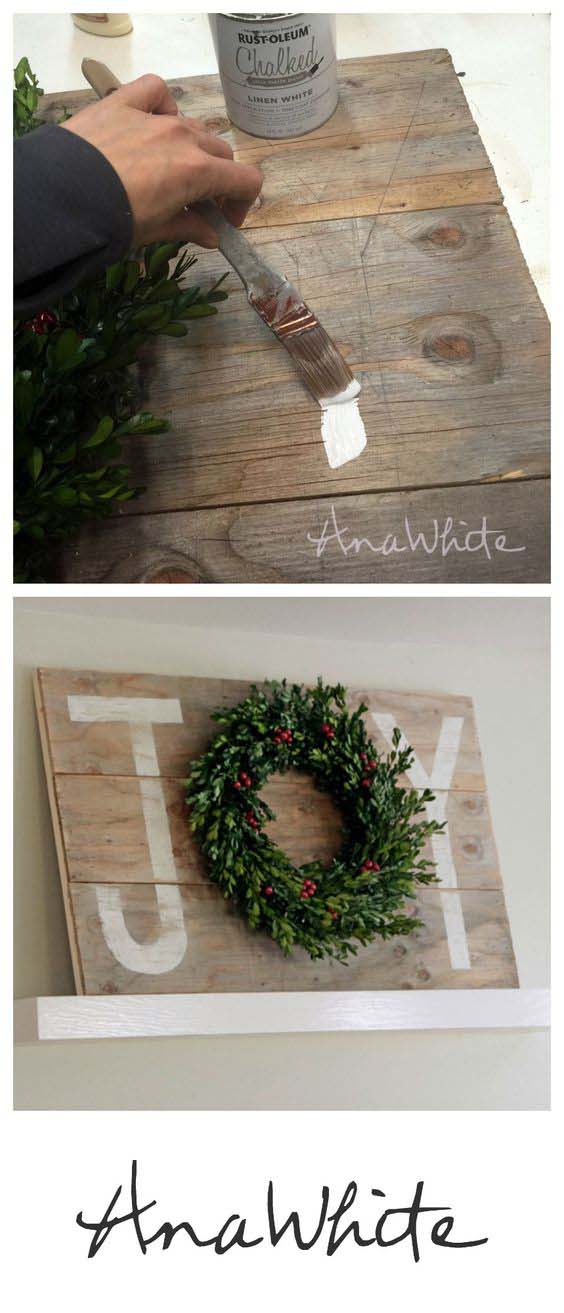 Do you have scrap wood lying around?
Turn a few pieces into a planked panel to serve as the foundation for this stunning DIY sign.
With a bit of paint and a colorful wreath, you can create a sign that looks beautiful on a mantel, shelf or hung on a wall.
via Ana White
28. Wall Christmas Tree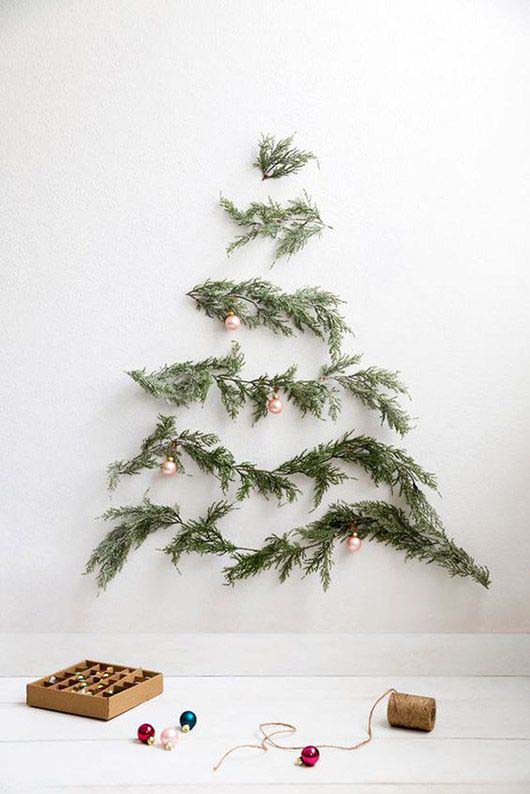 If you don't have space for a full tree, this clever wall Christmas tree is the perfect solution.
It's made from sections of a green garland, creating the illusion of a floating tree.
Tiny Christmas balls complete the effect.
via Domino
29. Wall Christmas Vignette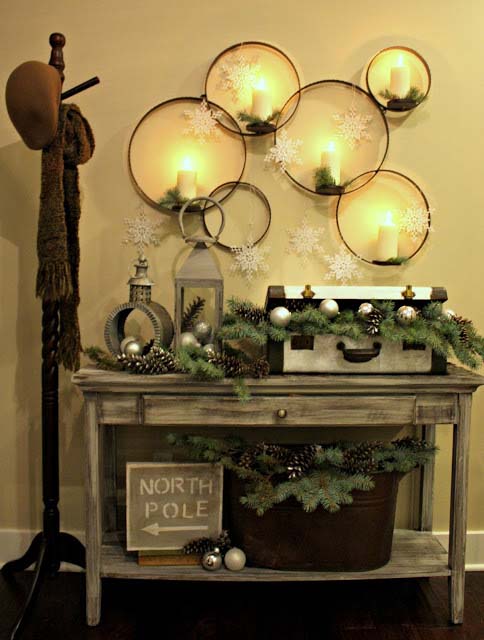 Enhance a traditional home or farmhouse with this vignette, which is reminiscent of historic Christmas traditions.
Crisp white candles sit inside wooden hoops, creating a charming interplay of light and shadow.
via Lilypad Cottage
30. Wreath Wall Decor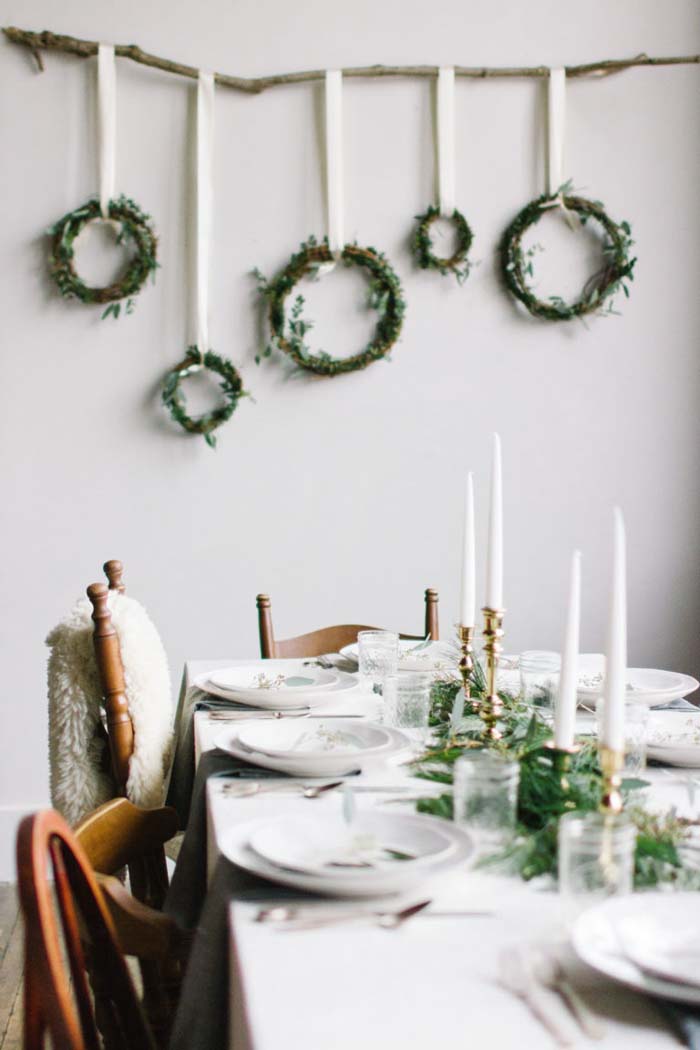 There's a reason wreaths are so popular for Christmas; they add color, texture, and shape to a space.
Here a series of wreaths hang from a bare branch, creating a thrilling wall decoration. The wide white ribbon is a sophisticated choice.