Thanksgiving is all about celebrating with family and friends.
This year, make your loved ones feel welcome in your home with a beautiful sign.
These heartwarming DIY Thanksgiving signs are an easy way to add a personal touch to your holiday decor.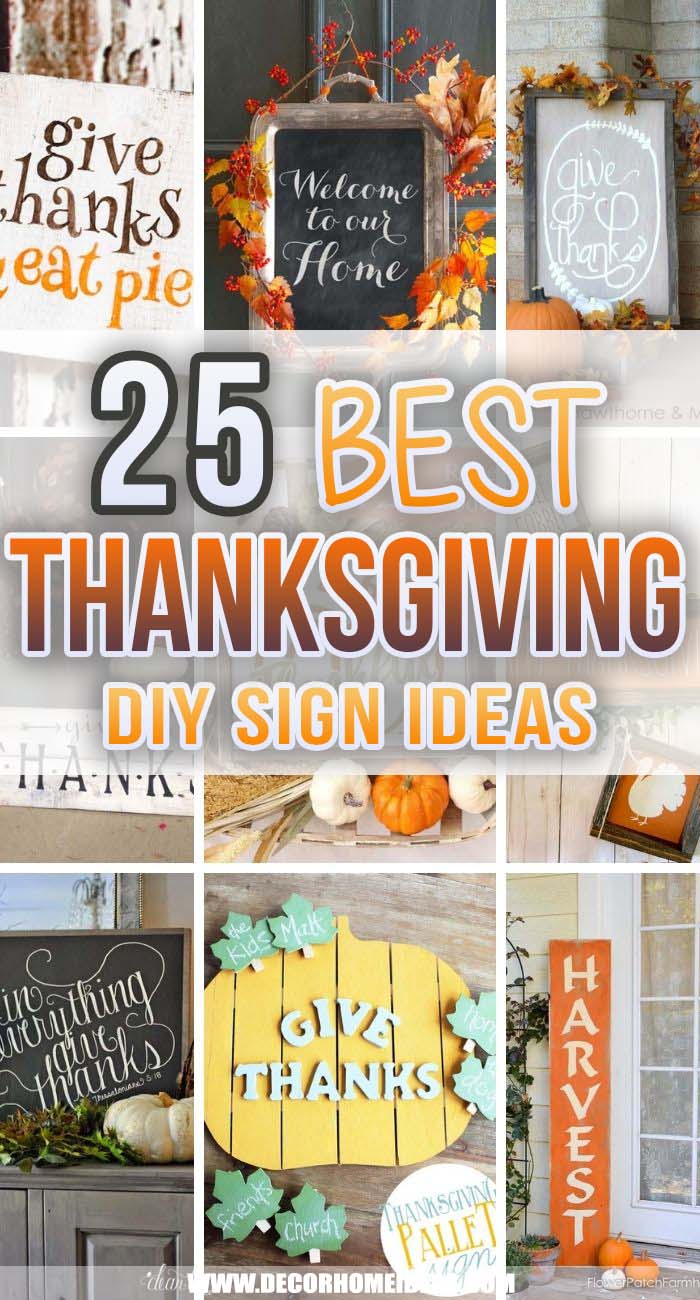 1. Welcome Guests with a Vintage Fall Chalkboard Platter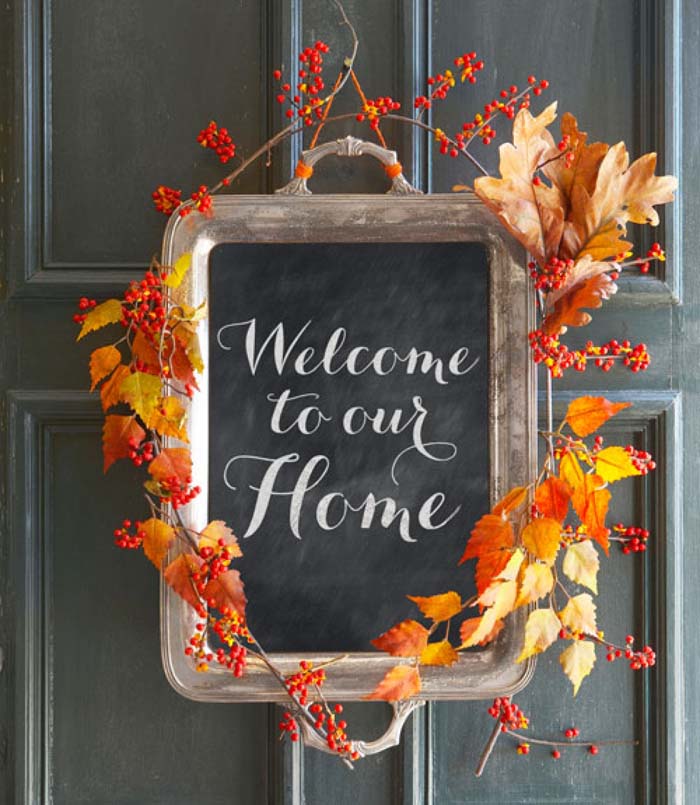 Do you have a vintage platter sitting in the back of a cupboard?
Show it off by turning it into a gorgeous Thanksgiving sign. Just coat the interior with chalkboard paint, and use chalk to write a custom sign.
When Thanksgiving is over, you can erase the words, replace the foliage, and create a new sign for the winter holidays.
via Country Living
2. Get Rustic Elegance with a Framed Chalkboard DIY Sign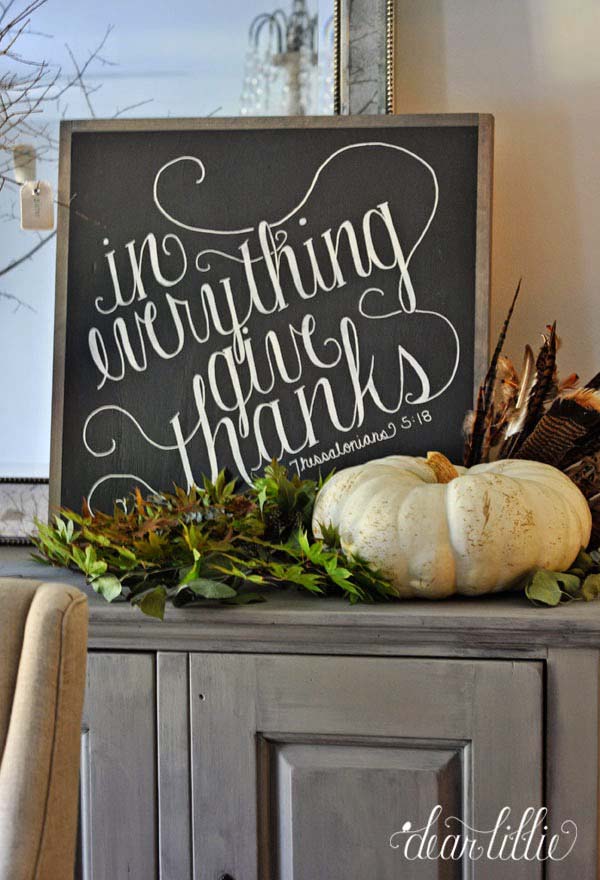 Drop by a thrift store to pick up a cheap frame for this adorable DIY sign.
The chalkboard center makes it easy to write an uplifting message — you can even add artwork or illustrations.
Use acrylic spray sealant to protect your work, or switch up the sign for every new holiday.
via Dear Lillie Blog
3. Give Thanks in Style with a Handmade Sign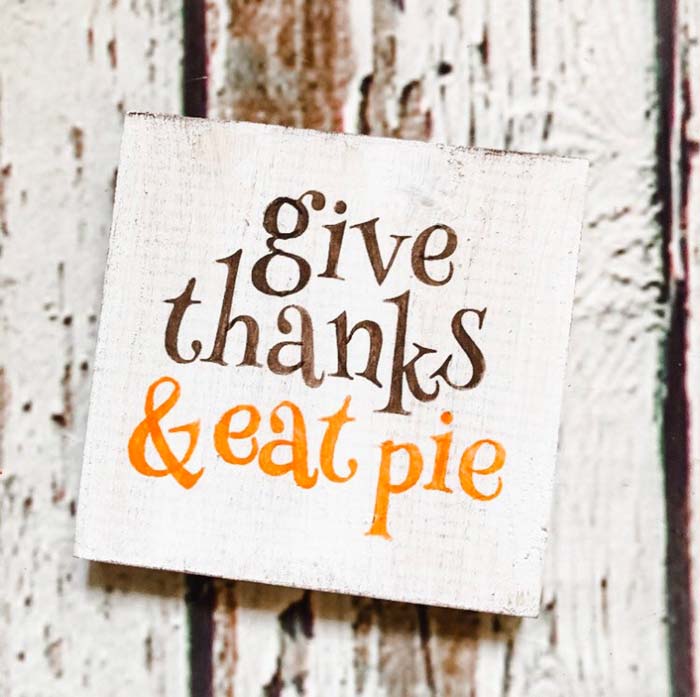 With an alphabet stencil and a few inexpensive tubes of acrylic paint, you can make this gorgeous Thanksgiving sign.
This version uses a scrap piece of wood; the rough grain shows through for a rustic look.

4. Accent Your Thanksgiving Signs with Fall Leaves Wreath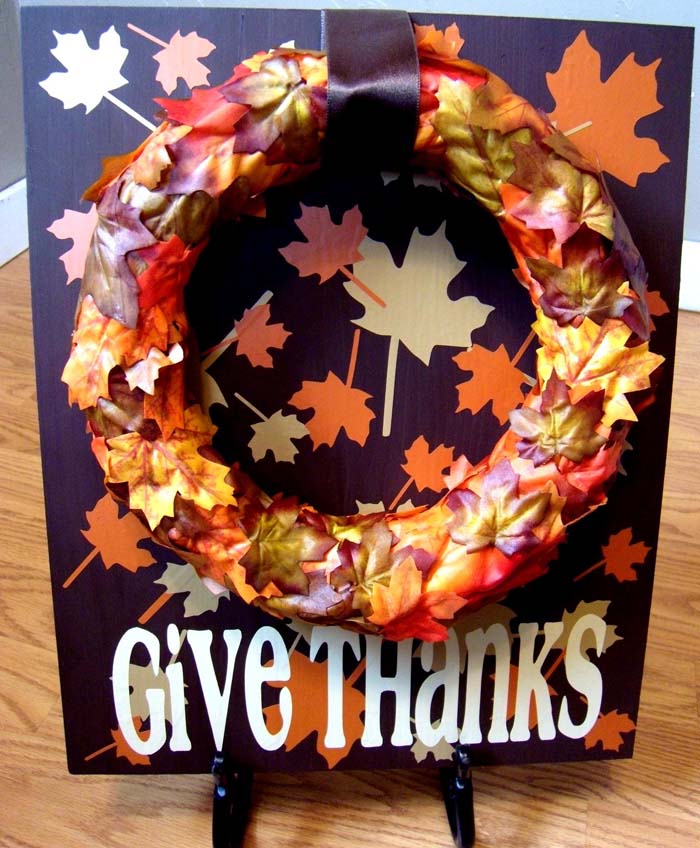 Brighten your dining room or front entry with this "Give Thanks" sign.
The three-dimensional wreath sets the sign apart, giving it depth and visual interest.
Hang it on the wall, or rest it on a tabletop easel for an easy, drill-free setup.
via Girl Loves Glam
5. Upgrade Your Mantel with a Give Thanks Banner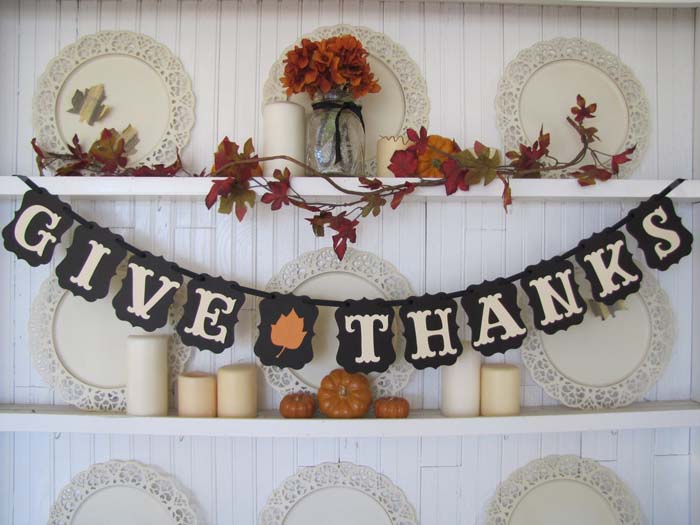 Make a splash on a fireplace mantel, shelf, or doorway with a "Give Thanks" Thanksgiving banner.
With its ornate font and decorative panels, this banner brings a distinct vintage vibe to your holiday gatherings.

6. Invite Guests with a Rustic DIY Thanksgiving Sign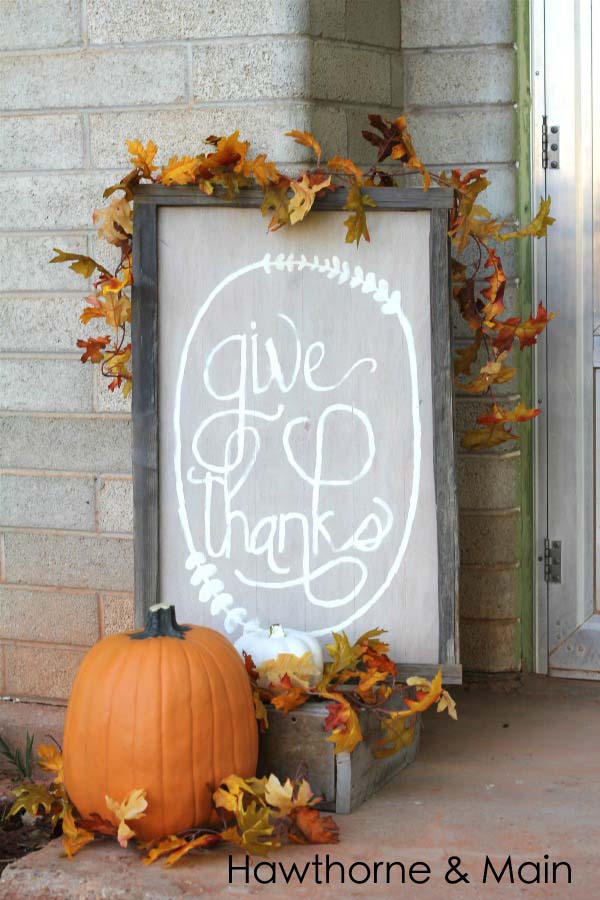 Give your front porch pumpkins a rustic twist with this sweet Thanksgiving sign.
The trick is to paint the letters by hand — it lends the sign a heartwarming, handcrafted touch. Wrap your sign in a leaf garland for an extra pop of fall color.
7. Get Creative with an Ivory Plaque Gather Sign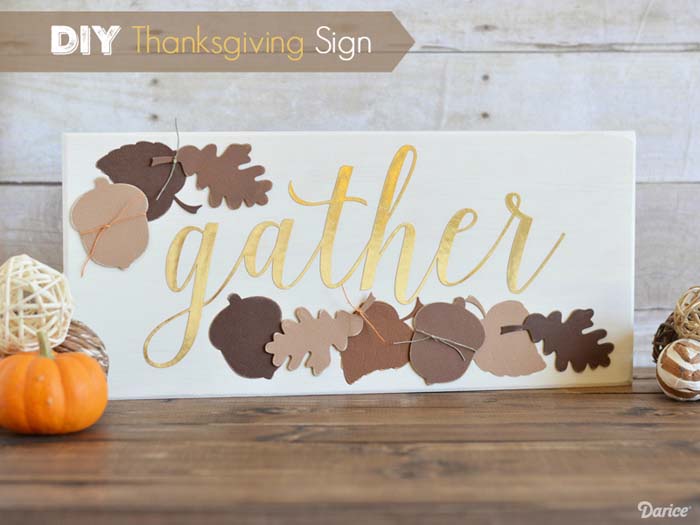 Do you have a Cricut machine? Put it to work this Thanksgiving with this DIY sign project.
Cut out fall-themed elements, such as acorns, leaves, and pumpkins. Add them to a simple text sign, and you have a masterpiece that's worthy of a mantel or side table.
8. Light Up Your Home with a Give Thanks Marquee Sign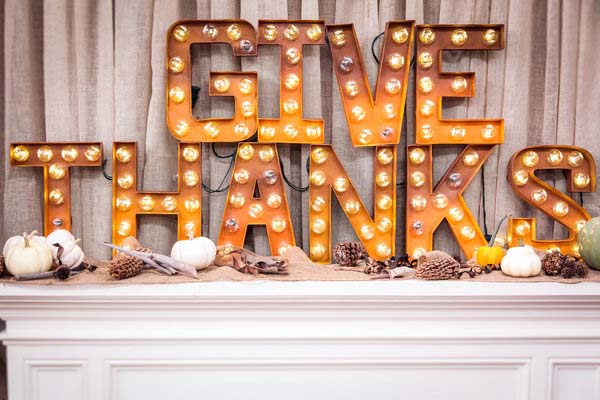 Bring a bit of Broadway flair to your Thanksgiving decor with this DIY lighted marquee sign. Each letter in "give thanks" is lit with rows of white bulbs; flip the switch for a bright, cozy glow.
This sign might look complicated, but it uses a strand of white Christmas lights to eliminate the need for wiring.
9. Elevate Your Porch with a Narrow Wooden Sign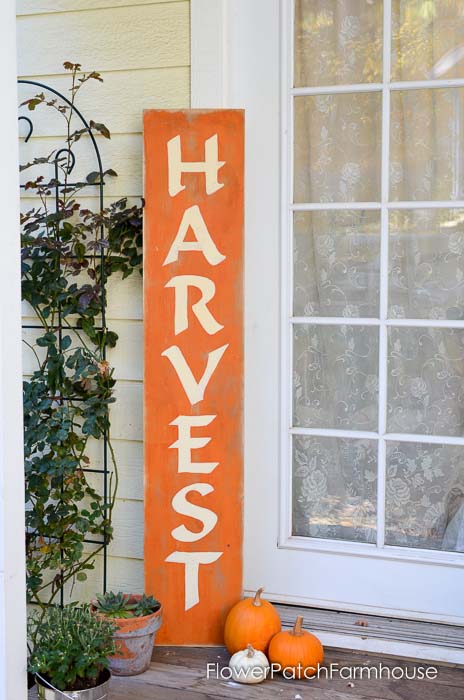 Is your front porch too small for a large Thanksgiving display?
No problem — make the most of the space with a tall, narrow sign. Lean it against the wall next to the door for a bold, colorful effect.
You can make the sign in less than an hour using an affordable wooden plank.
10. Create a Lavish Printable Framed Welcoming Sign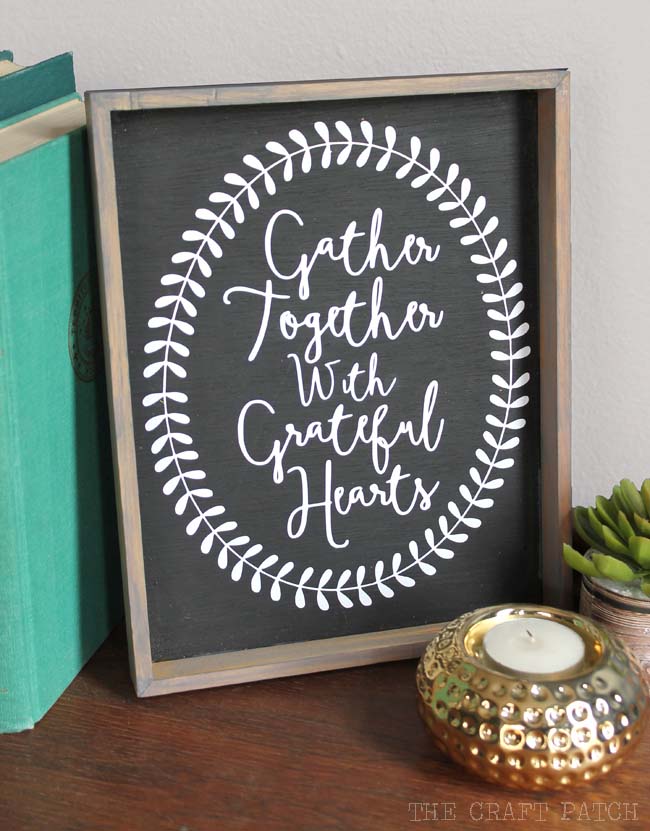 Don't worry if you don't have calligraphy or art skills — this DIY sign is printable, so you can achieve professional-quality results.
Frame your printed sign, and display it anywhere in the house.
via The Craft Patch
11. Showcase Your Style with a Chalkboard Art Sign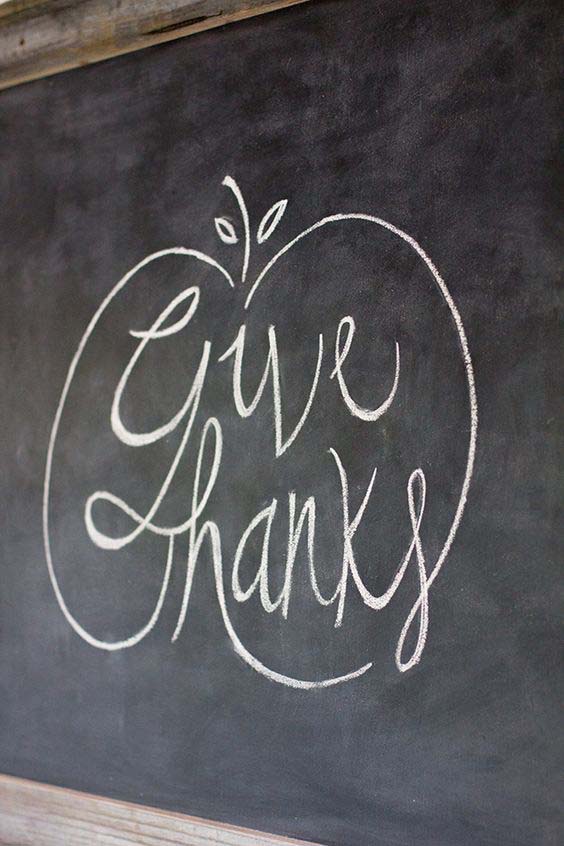 Turn an empty chalkboard into a custom Thanksgiving sign using this simple design.
The script letters transition seamlessly into the pumpkin-shaped outline for a look that's elegant and festive.
If you don't have a chalkboard, you can make one with a board and a can of inexpensive chalkboard paint.
via Jenna Sue Design
12. Create a Rustic Atmosphere with a Printable Banner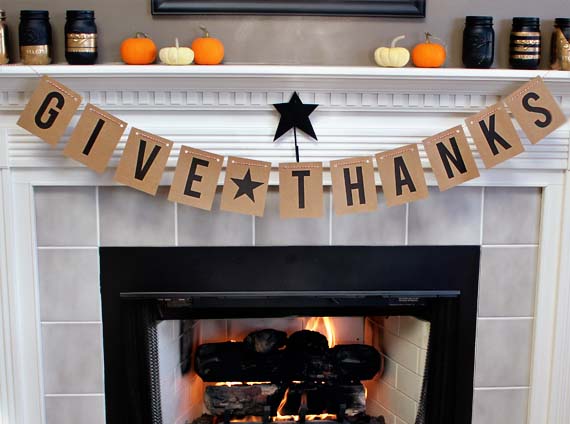 If you're short on time this Thanksgiving, this printable banner is a wonderful solution.
Simply print out each letter on a piece of brown paper. String them together with twine to create a lovely banner.
Hang your banner above the fireplace or on a wall to welcome guests to Thanksgiving dinner.
via Bubby and Bean
13. Enhance Your Side Table with a Rustic Fall Sign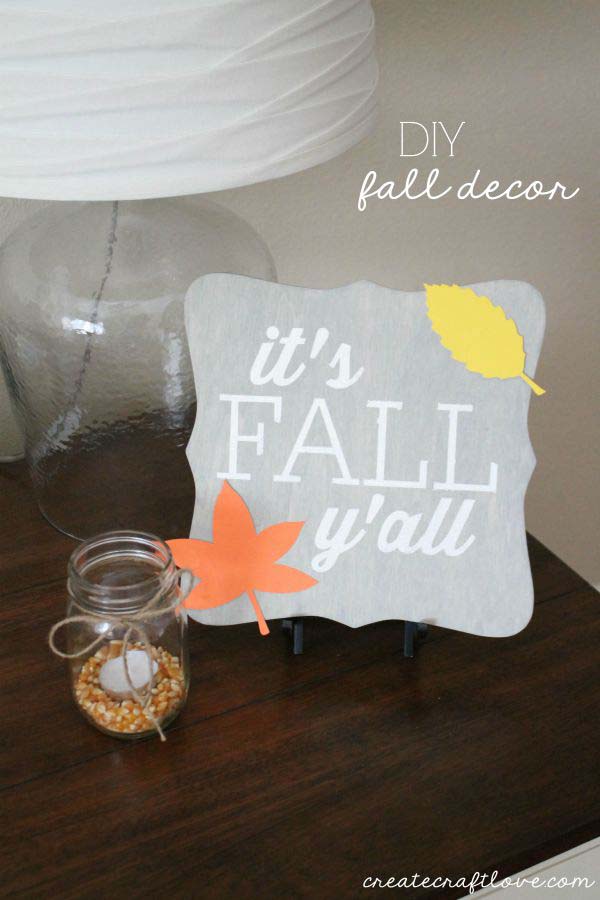 Jump on the "it's fall, y'all" trend with this tiny DIY sign.
The charming phrase is painted on a wooden panel, which you can buy at any craft store. Add a few foam or felt leaves for a pop of color.
via The 36th Avenue
14. Bring Rustic Charm with Reclaimed Wood Sign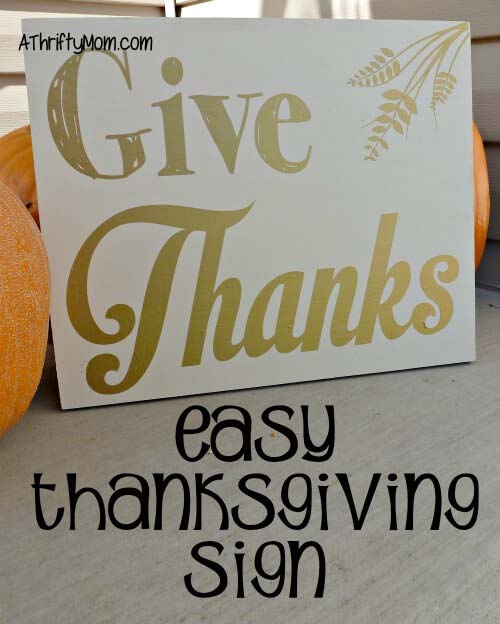 Reclaimed wood has a rough quality that complements your rustic Thanksgiving decor.
It's also an affordable sign material — you can find an old plank in the garage for free.
The rope script on this sign adds an elevated twist that pops against the primitive background.
via A Thrifty Mom
15. Add Texture and Character with Weathered Wood Porch Sign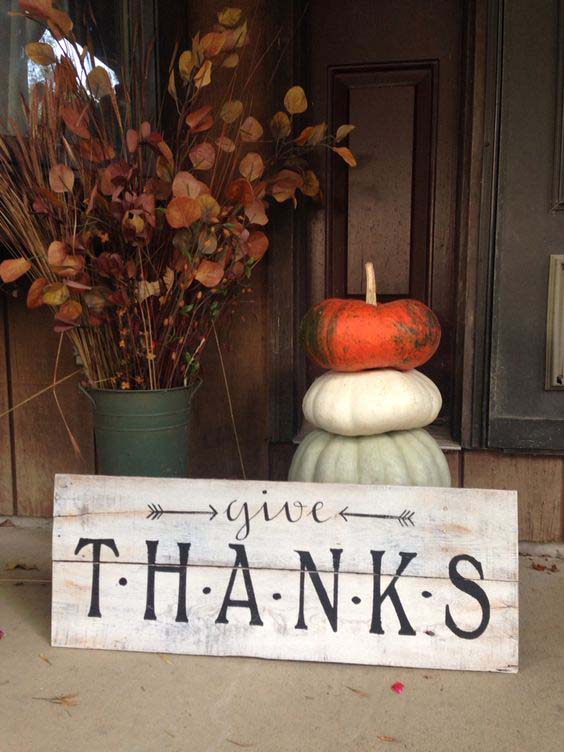 A whitewashed finish gives this sign a weathered look that's perfect for your rustic Thanksgiving display.
Made from two planks of wood, it features a simple message of gratitude. Display the sign on the front porch to delight family and friends.
16. Redesign Your Decor with a Thanksgiving Slat Sign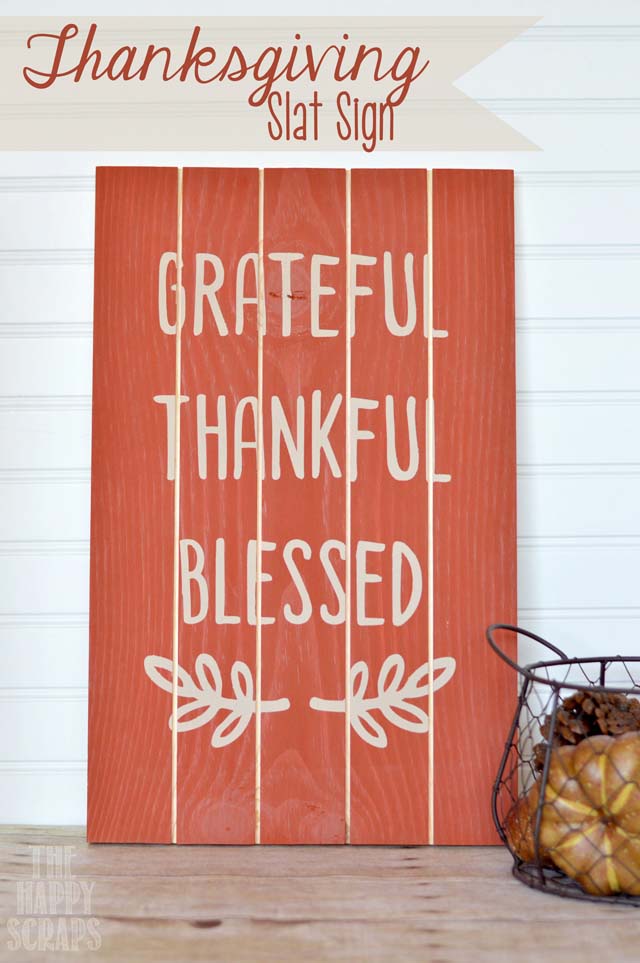 If you have a steady hand, you can create this Thanksgiving sign in an hour. Are you worried about straight lines?
Draw the letters on first with a pencil; they'll serve as a handy guide. With its rich orange color and inspiring message, this sign looks great throughout the fall.
via The Happy Scraps
17. Get Unmatched Aesthetics with Ombre String Art Sign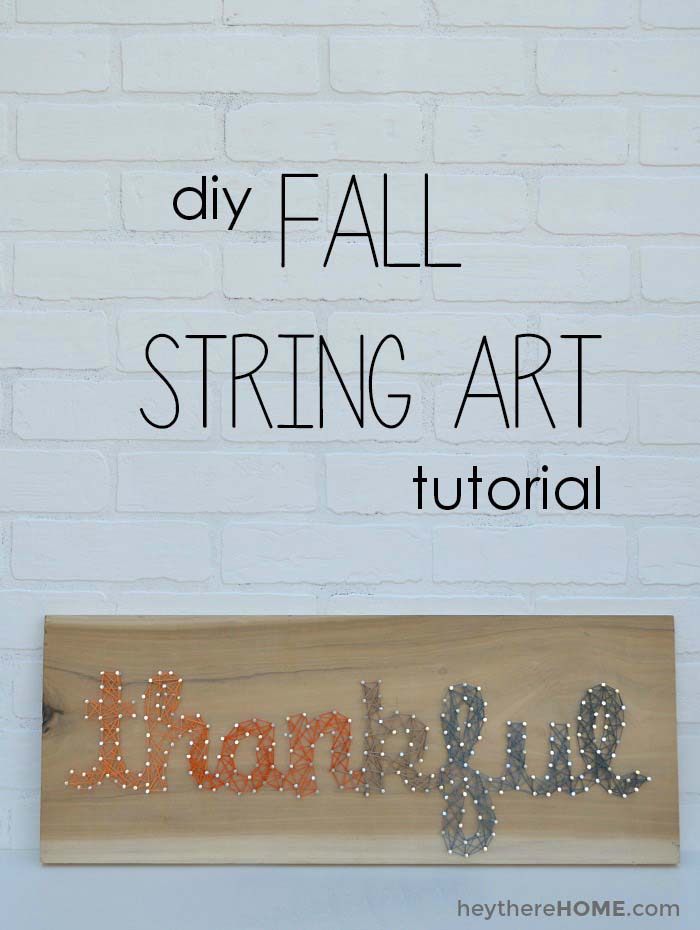 Artistic and unusual, this string-art sign is an unexpected way to decorate for Thanksgiving.
It requires no artistic abilities; as long as you can wrap string around nails, you can complete the project. For an extra-special touch, use different string colors for an ombre effect.
via Hey There Home
18. Bring a Contemporary Vibe with Thankful Pumpkin Sign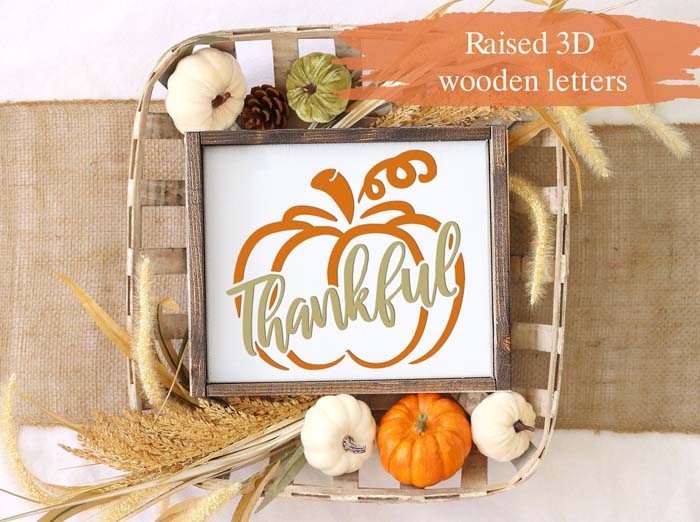 Pumpkins are an iconic symbol of Thanksgiving.
This sign combines a pumpkin with the word "thankful" for the perfect seasonal flair. Place your DIY sign in a wooden frame for a beautiful rustic vibe.

19. Get Farmhouse Charm with a Rustic Wooden Wall Sign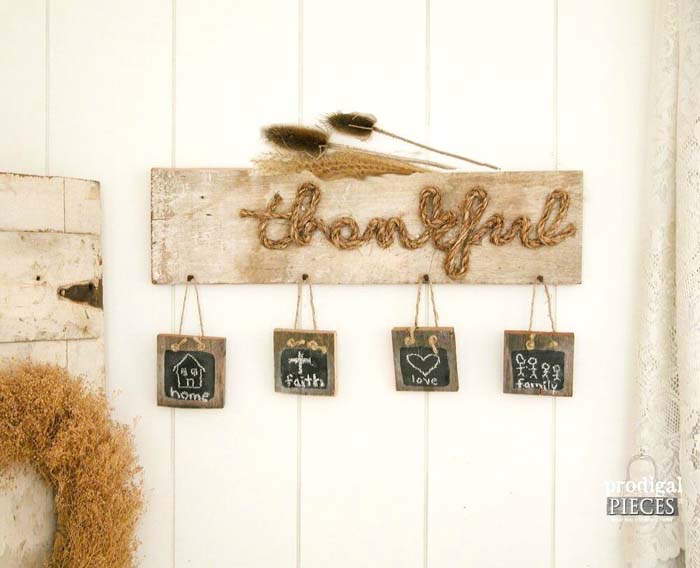 Do you want to get your kids involved in your Thanksgiving decorations?
This DIY sign is the perfect project. While you use the rope to form the "thankful" letters, let your kids draw their own messages of gratitude on mini chalkboards.
Hang the boards from your sign to create a charming, family-friendly work of art.
via Prodigal Pieces
20. Create Whimsical Thanksgiving Countdown Advent Calendar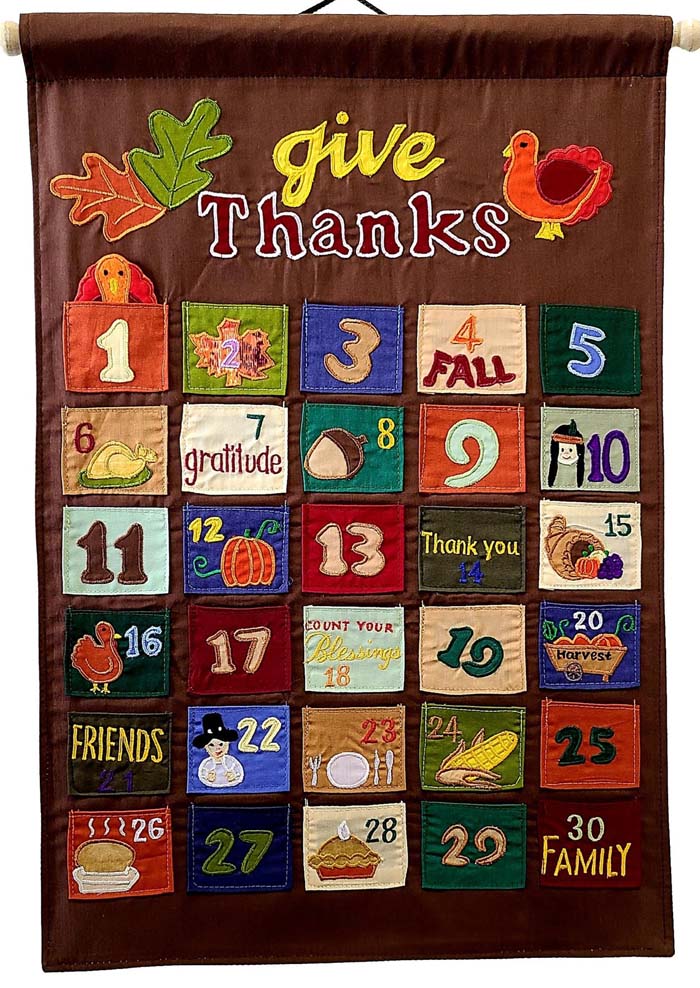 If your family looks forward to Advent every year, why not get a head start on the fun?
This DIY countdown calendar starts on November 1 and counts down to the beginning of the Advent season.
You can customize each square to include family traditions and special events.

21. Add a Rustic Look with Farmhouse Dollar Store Frames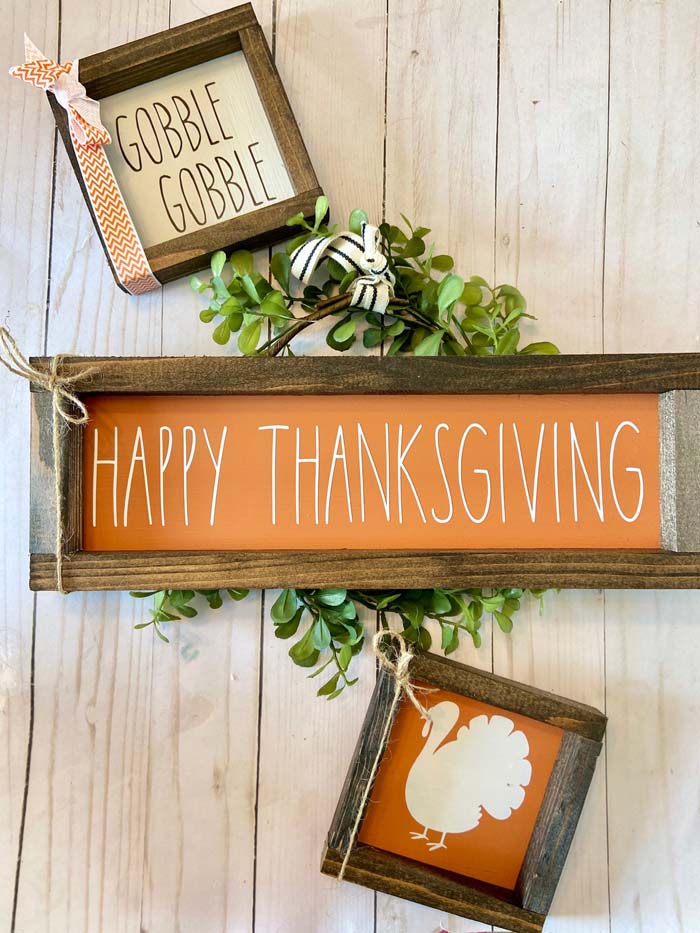 Enhance your home's farmhouse vibe with this set of three adorable rustic signs.
Start with affordable wooden frames from the dollar store — you can even sand and stain them for a handcrafted look.
Then, add imagery or words related to Thanksgiving for a coordinated look.

22. Create a Warm Ambiance with a Thanksgiving Wooden Sign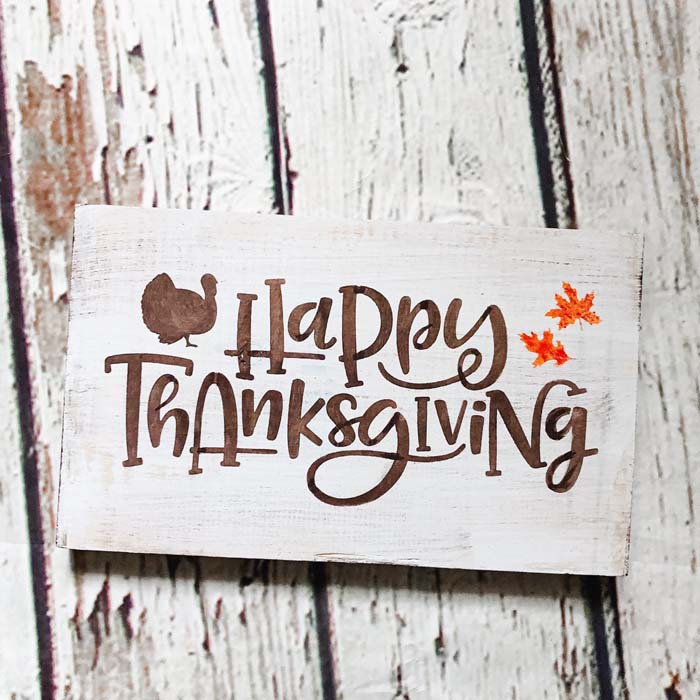 Capture the warmth and love of the Thanksgiving season with this wooden sign project.
The rustic wood is beautiful in its imperfections, and the rich colors reflect the changing leaves outside.
Use a stencil to create crisp, beautiful letters, and add hand-painted graphics for a casual vibe.

23. Get a Natural Look with a Tree Slice Plaque Sign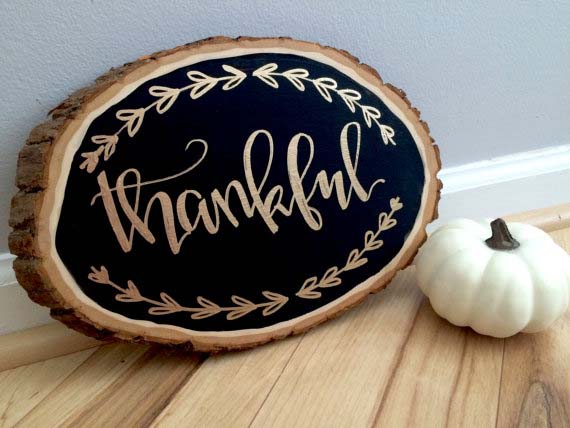 Bring the beauty of the great outdoors into your home with a lovely tree slice sign.
You can buy a wooden slice at any craft store; while you're there, pick up black and gold paint for the lettering.
The shimmering gold brings a touch of glam that looks extra-lovely next to the rough wood bark.

24. Make a Statement with a Chic Wooden Pumpkin Sign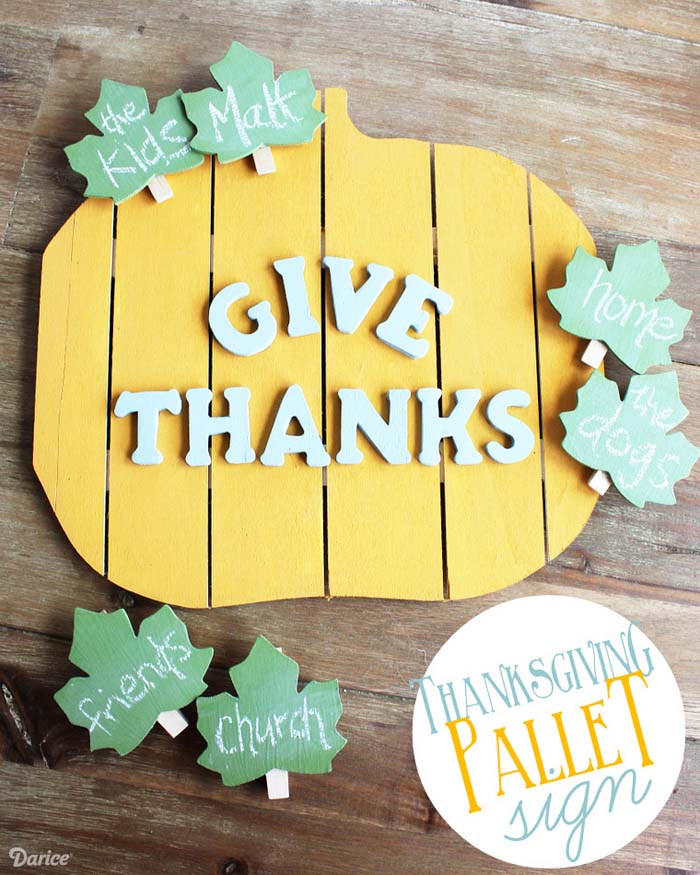 Do you have a jigsaw on hand?
Turn a wood-plank panel into a pumpkin; the rounded edges contrast beautifully with the straight lines of the planks.
Get your family in on the fun by asking everyone to write what they're thankful for on tiny wooden leaves.
Add them to the pumpkin for a burst of color and an uplifting message.
25. Add Elegance with Lace and Burlap Bunting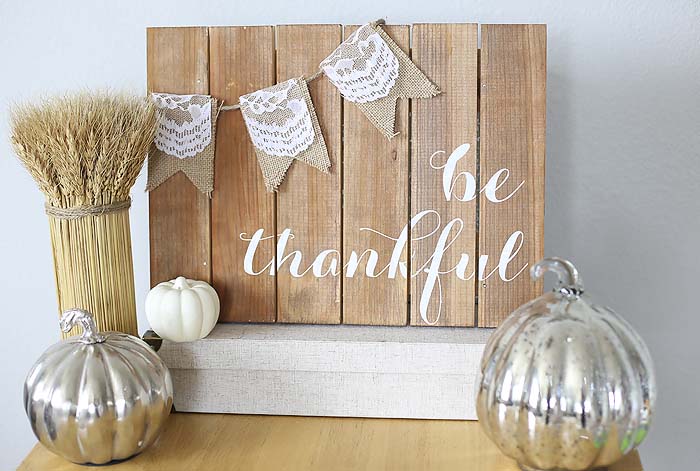 This stunning wooden sign looks like it came from a high-end boutique — your guests won't believe you made it yourself.
The burlap and lace bunting adds a touch of country charm, and the lovely calligraphy letters soften the hard boards.