Are you looking for a trendy hand-made creation for your home decor? Wood burning or pyrography art is an old technique that has become popular these days thanks to the affordable tool prices.
The burn marks leave an imprint on a wooden surface looking so natural as if it has been engraved in the wood for ages.
Apply stokes on the wood forming a wreath image or plan a complicated pattern in advance and scatch it on the wood with a pen.
Get the wood-burning kit and start writing beautiful phrases or filling the pieces of a beautiful image.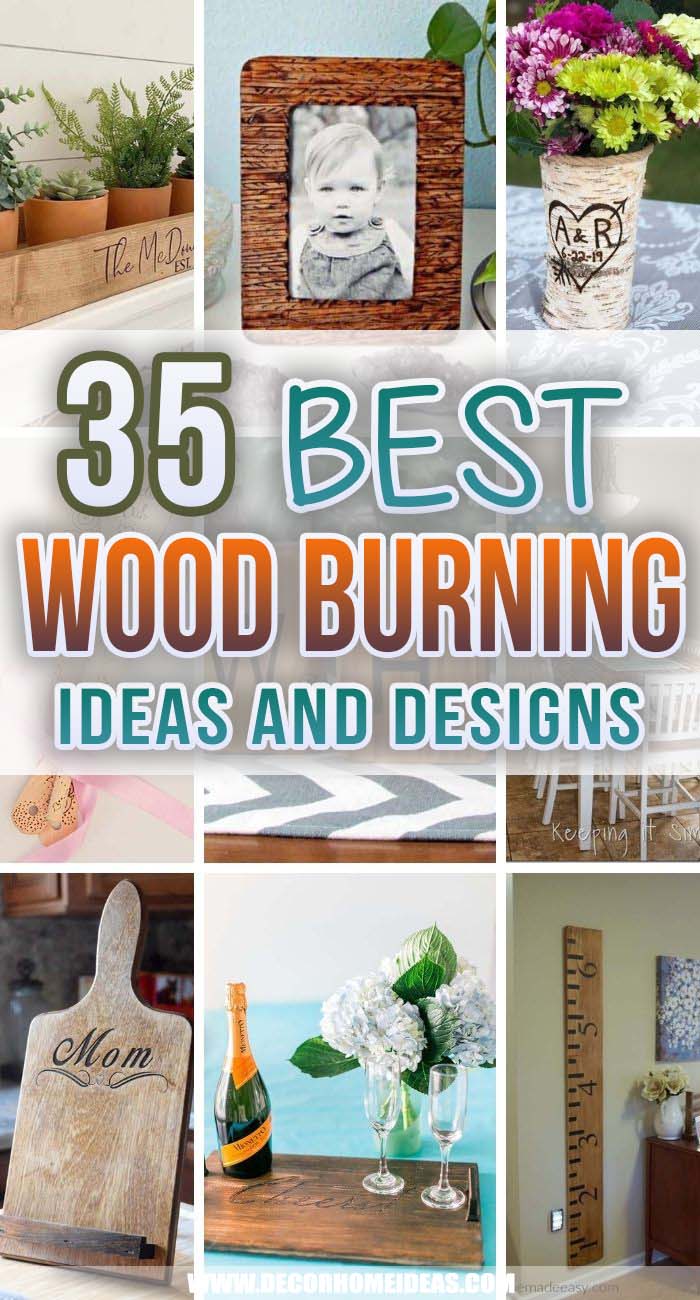 If you need some inspiration to start your piece of customized pyrography art, find it in the next collection of 35 Best Wood Burning Ideas and Designs.
1. Adorn Your Door with a Rustic Wood Burning Sign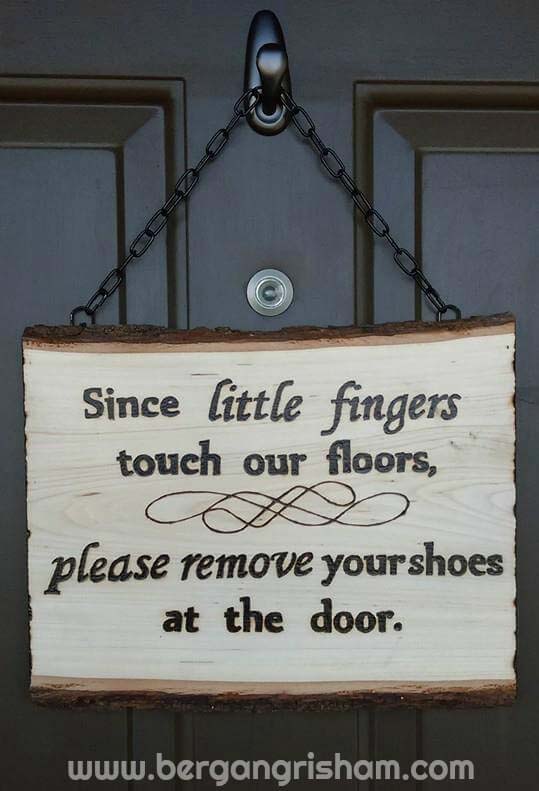 The wood burning technique is mostly used for sign making as it is simple and makes miracles from a piece of wood. Especially, if there are parts of your decor in the farmhouse style, you can easily find a spot to hang your own creation to add a personal touch to the interior.
You can find different inspiring ideas for signs here, from simple front door "welcome" signs to customized pieces marking a special occasion.
2. Create a Personalized Burned Wood Key Holder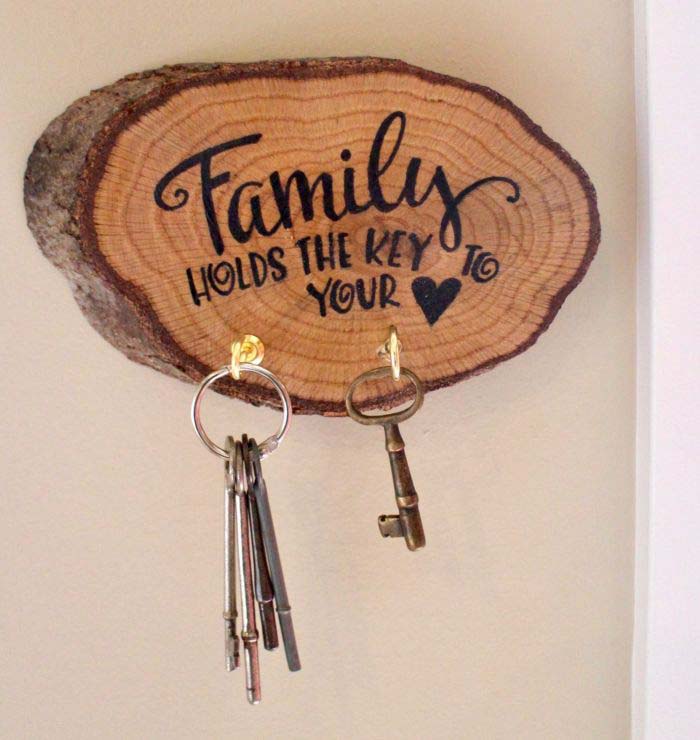 Make the key holder an inspiring piece of your home decor with your own hands. Get a slice of wood and burn a loving sentence on it.
Screw in the wood as many hooks as you may need depending on the number of family members.
via Tombow USA
3. Create Stunning Designs on Cork Trivets with Wood Burning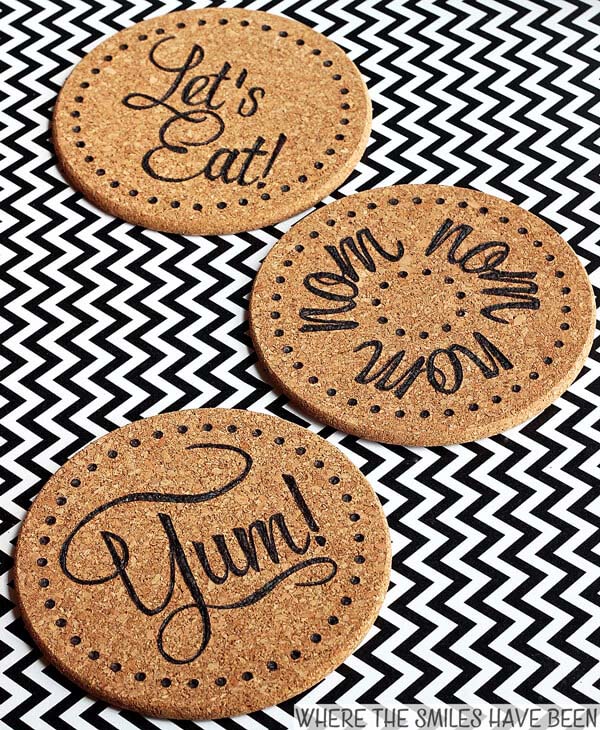 The trivets are those accents that can spruce your kitchen up in a gorgeous farmhouse way. Made from cork and consisting of three pieces, you can create three different wood burning designs in a visual theme that matches their application.
Using the wood-burning tool on cork should be careful as the material is not as strong as solid wood and therefore burning happens at a far lower temperature.
via Where The Smiles Have Been
4. Personalize Your Cutting Board Cookbook Holder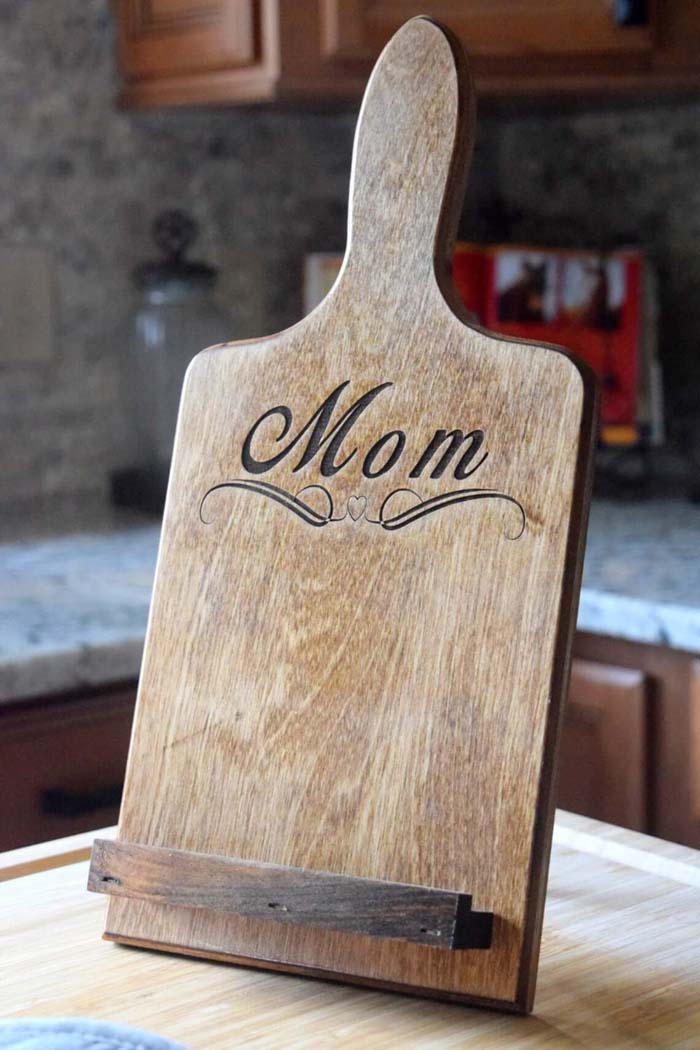 Isn't that a fantastic idea? A cookbook holder in the shape of a cutting board with a personalized message! The bracket at the bottom of a plain cutting board keeps the precious family recipes book in a special and visible place.
The simplicity of the phrase "mom" speaks enough about the love for the holder's owner. This gift is perfect for Mother's Day gift but it could inspire you for a personalized gift for a friend enjoying culinary activities.

5. Transform a Farmhouse Tray with Wood Burning Inscriptions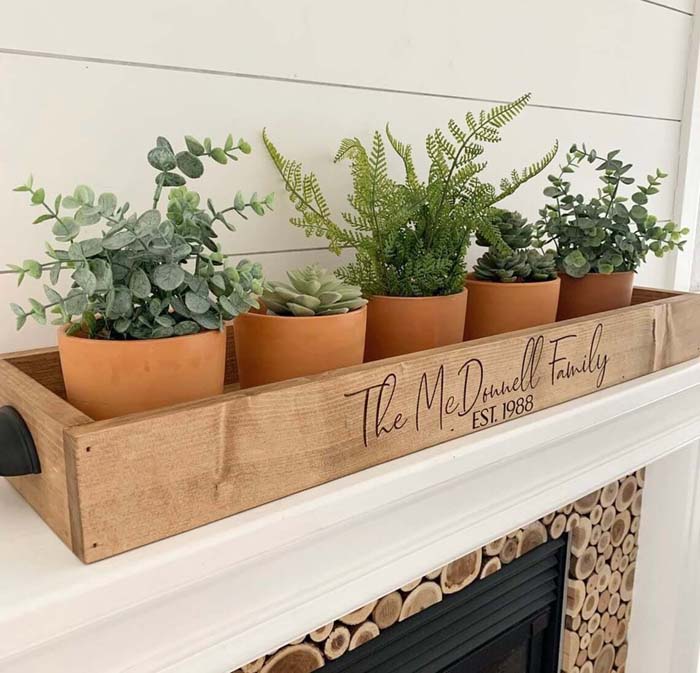 Do you already have a farmhouse tray? You can give it a new look with wood burning inscription. Engrave your family name and the date of the family creation.
The tray can symbolize also the birth of a child, a quote from the Bible or any other sentimental thought you would like to see every day and get inspired.

6. Craft Wood Burned Scrabble Blocks with Rustic Finish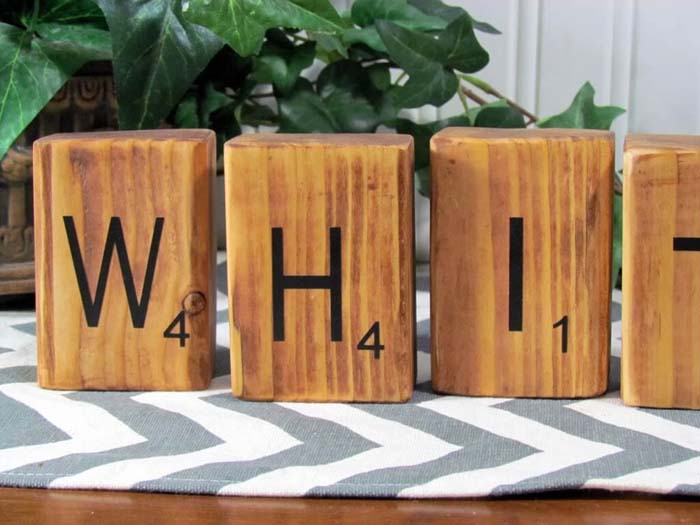 Make giant scrabble blocks to write a sentimental phrase or a personal statement, your family name for example. Letters are imprinted on the even surface of wooden blocks with a rustic finish.
Only a transparent varnish is applied t the wood to let the texture be visible and attractive.
via Ribbons and Glue
7. Keep the Party Going with a Customized Serving Tray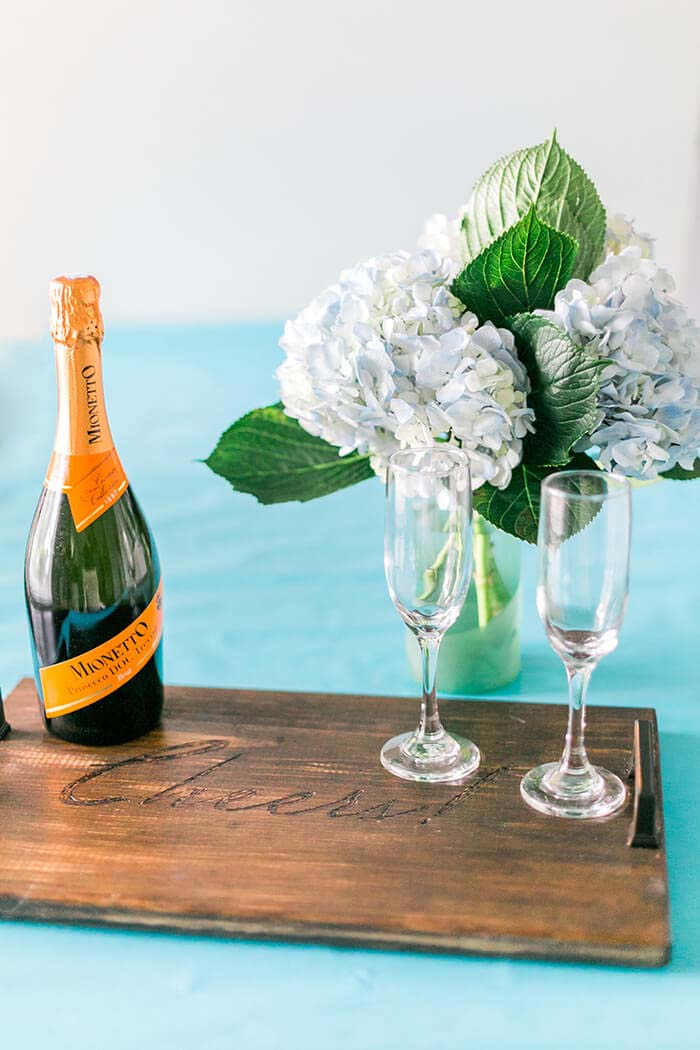 This tray is an inspiring idea for a wedding gift or for home decor aiming to enhance the personal presence. You need a piece of solid wood and two handles screwed at the ends to facilitate lifting.
Depending on your idea, you can engrave the names of the couple, your family name or simply write "thank you". You can add the date of the occasion and your initials to acknowledge the importance of the day.
via Amber Oliver
8. Track Your Kid's Height with a Wood Burned Growth Chart Art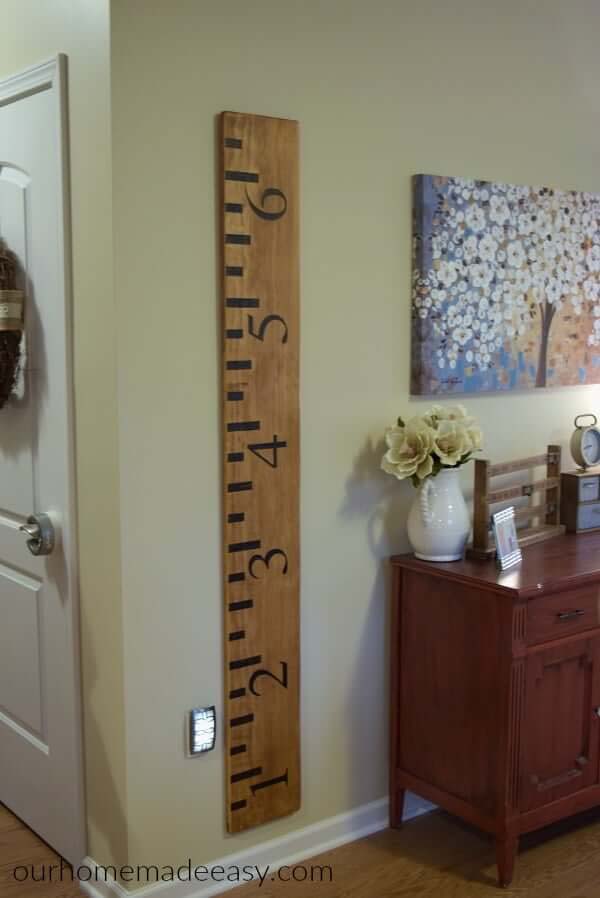 If you have small kids, then you know how important and fun it is to follow their growth in height. Most of us get stickers for the wall that fade away or fall apart after some time.
You can turn this regular check activity into a valuable memory of your children's childhood with a handmade wooden chart. Burning the numbers and the space measurements with the tool will leave black imprints on the wood and at the end it will look farmhouse stylish.
9. Bring Christmas Cheer with Engraved Wood Slice Ornaments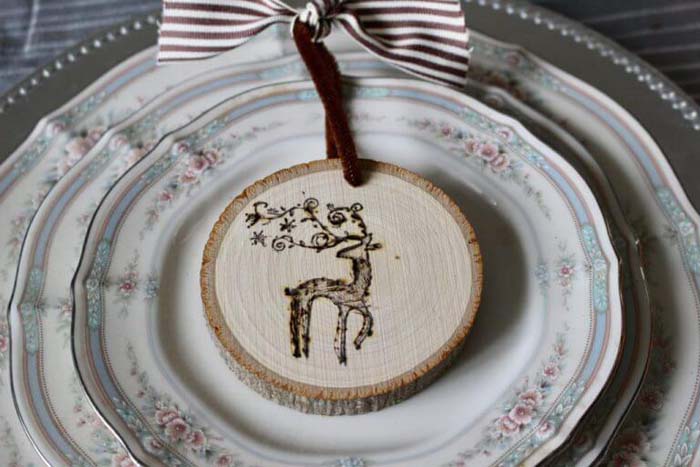 This is a great idea of ornaments for your special Christmas eve decor. An image related to the season is engraved on a slice of wood with a small diameter and then placed on top of the plate set.
Add a ribbon in red or a piece of twine to let your guests take their ornament and hang it on the Christmas tree.
via Our Crafty Mom
10. Update Hammers with Sentimental Wood Burned Messages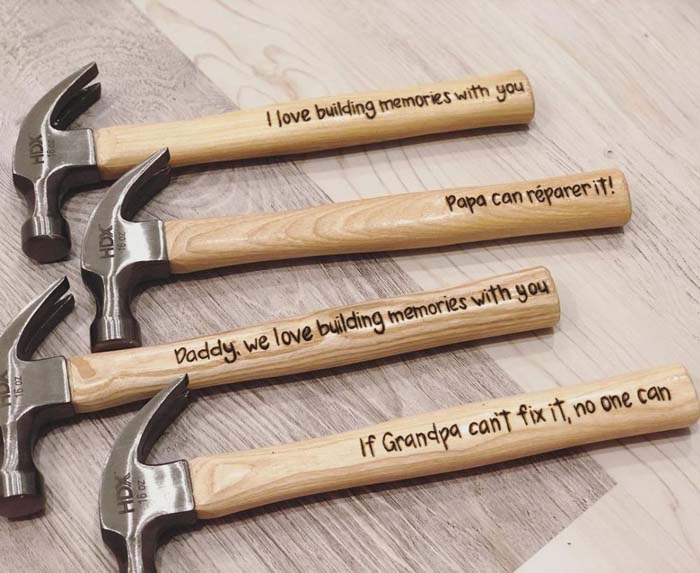 That is a fun gift idea for the skillful man in your family. A hammer could be redundant, but a hammer with a special phrase would become a tool to display!
The wooden handles of the simplest hammers are the perfect canvas to engrave a meaningful sentence.
via Awand Co
11. Create Rustic Lichtenberg Wood Burned Monogram Art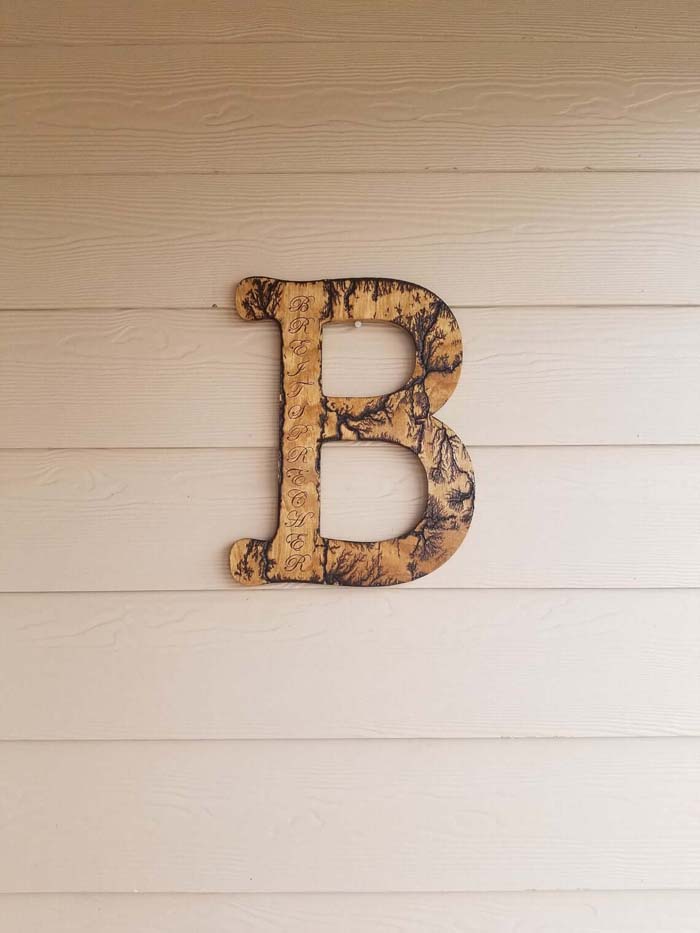 To give the wood burning imprints a dark effect as shown above, you need to use your tool at high voltage. The patterns have a special name, called Lichtenberg burns and the strokes resemble lightning flashes.
There are many video tutorials revealing wood burning tips and keys to making your wood burning piece beautiful with this trendy technique.
It can be applied to any size of a piece of wood to give it depth with a nature-inspired illustration.

12. Adorable Owl Wood Burned Treasure Chest for Kids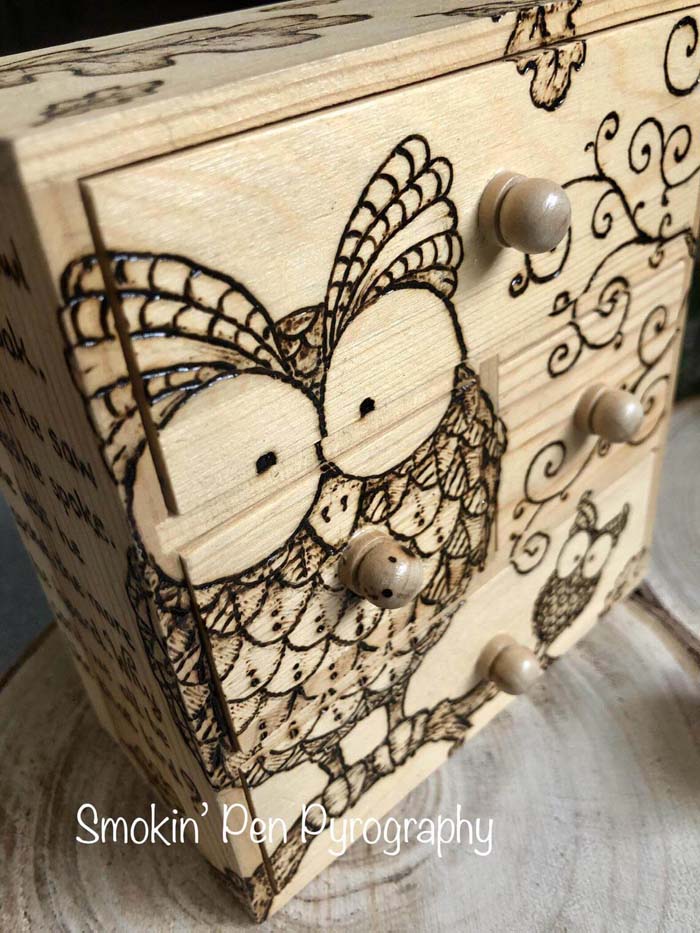 A cute owl is looking at you from the surface of a small chest of drawers. The perfect appearance of a storage unit to intrigue your kids to become more organized.
At the side, you can see letters imprinted, probably an adorable poem that matches the image at the front. The wood burning technique clearly makes the simple container a special treasure box.

13. Show Your Love for Kentucky with Customized Wood Garland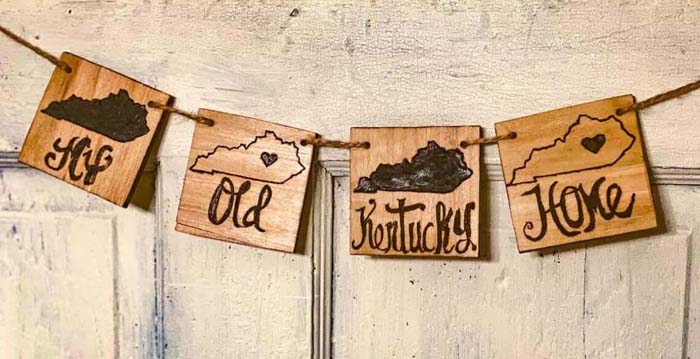 Do you need a simple piece of decor that can match your farmhouse home and give it a homely and cozy vibe? This wooden garland idea has become more and more popular as the design is appealing and customizing it easy.
You need four square wood pieces with holes at the top for a piece of twine to go through. "My old Kentucky home" is the phrase chosen to decorate the wood burned blocks. An additional element included in this wood burning art piece praises the love for Kentucky. The simple outline is transferred at the top of each piece with the wood burning tool.

14. Craft an Alluring Engraved Evergreen Family Tree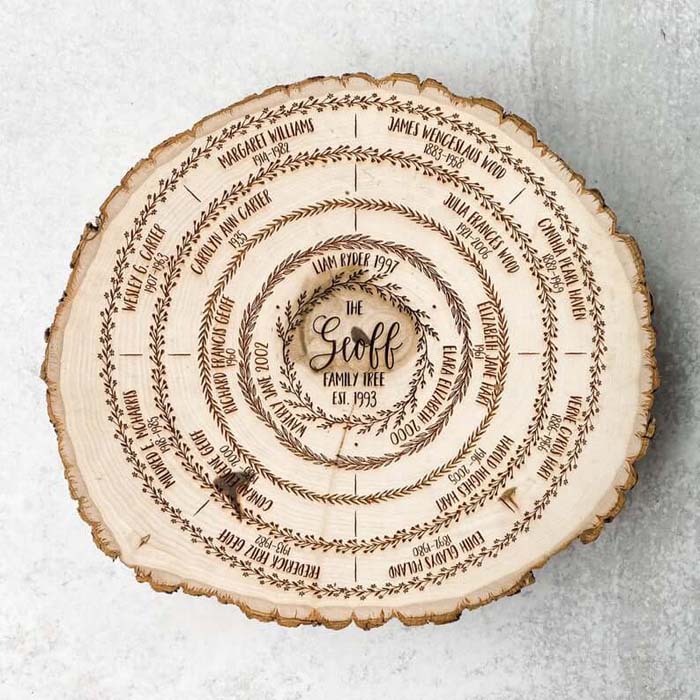 Make the family tree an evergreen piece of art on a large slice of wood. Engrave the names and separate the generations with the wood burning kit. The infinity of the family is resembled by the circles around the generations consisting of tiny beautiful leaves, wheat and flowers.

15. Upgrade Baby's Pictures with a Customized Wooden Frame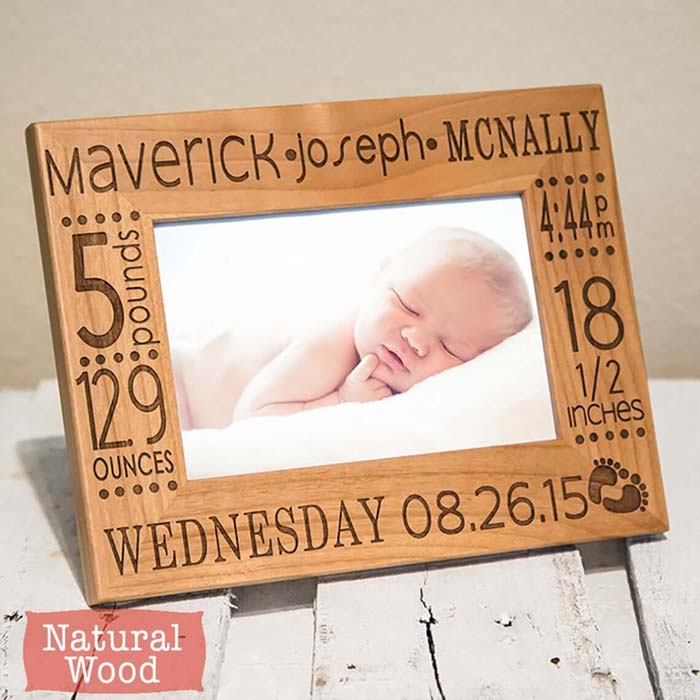 Whether to surprise a friend of yours who has just become a parent or to perpetuate the day you gave birth, this wooden picture frame is a sentimental piece every parent would wish to have.
A natural wood frame becomes the canvas for all details related to the baby's birth- weight in pounds and ounces, the exact time of birth, baby's height in inches and of course baby's name.

16. Add Modern Flair with Quilt Block Wood Burned Coasters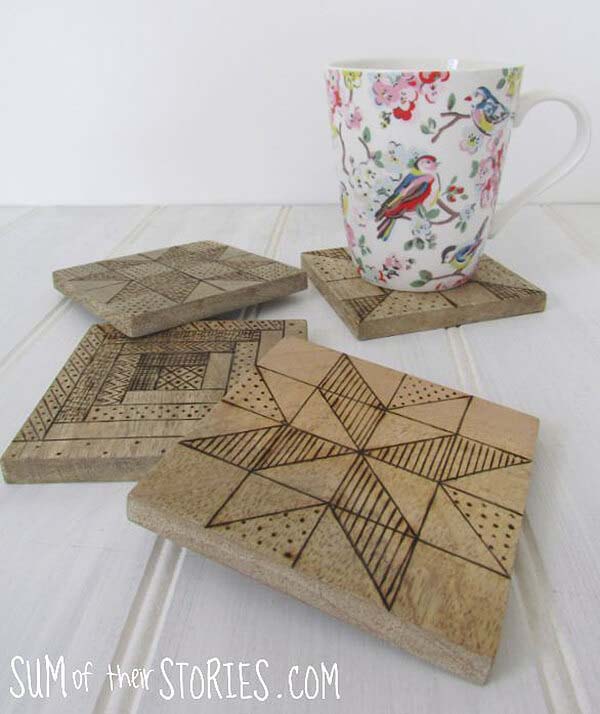 The flat and even surface of this DIY wood burning project will let you practice your beginner's skills. You need coasters to start with and a visual idea of what patterns to apply on the wood.
You can repeat one pattern on all the wood pieces or experiment with different ones with one or two common wood burned ornaments to unite them as a set.
17. Store Your Recipes in Style with a Wood Burned Recipe Box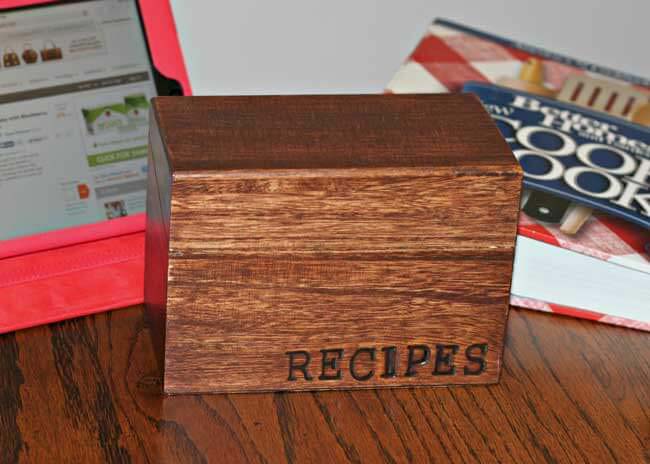 Give your collection of family recipes the special holder that it deserves! That is one of the most inspiring DIY wood burning craft ideas.
For that, you need a stamp that works at the same principle. Eventually, it leaves a deep imprint on the wood that stands out easily. You can try doing the letters with the basic tool after outlining them with scorch makes, however, if you are new to this technique, it is possible that the letters are not that even as you may wish.
18. Enhance a Round Cutting Board with Pyrography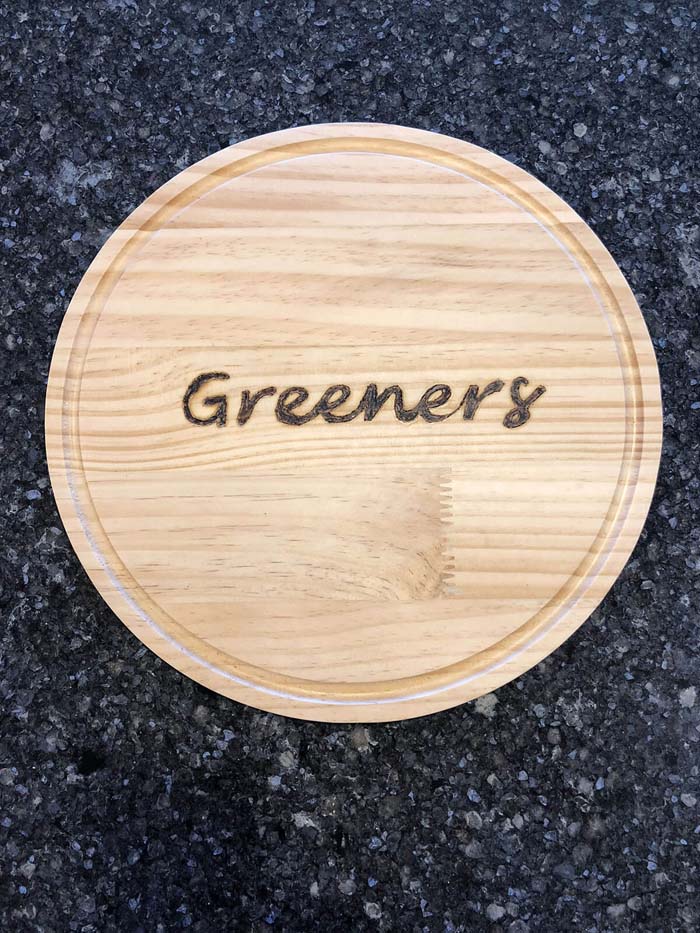 A round board with wood burning becomes an amazing vertical or horizontal piece of home decor. Added inscription in the center gives the piece an artistic touch and focuses it on a chosen theme.
You can use the surface to burn names, dates or an inspiring thought to customize it as a special and meaningful gift. When used in your own home decor, you can repurpose it into a basis for a table centerpiece or add it to the kitchen countertop to spruce up the interior.
19. Serve Your Sandwiches with Stylish Serving Boards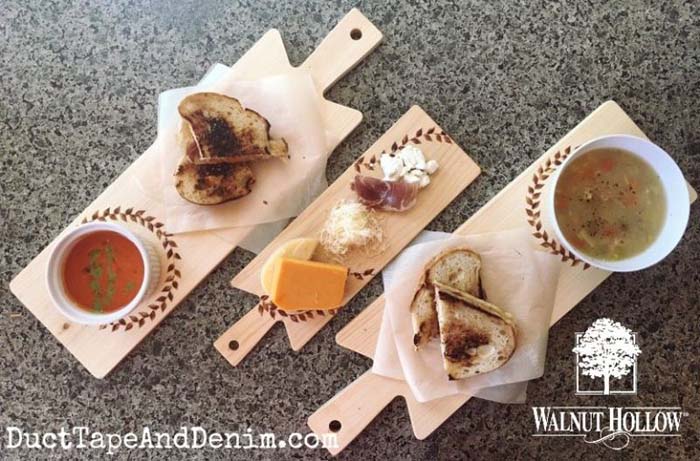 The food can become more delicious when it is presented interestingly. These sandwich serving boards will increase the appetite of your kids with the dedicated places for the food type marked with wood burning patterns.
The soup or cup places are marked by leaves forming an endless wreath. The tray for sliced food is decorated only at the ends with the same leaf element. Once the trays are empty, wash them well and hang them on the backsplash to add a pinch of farmhouse beauty.
via Walnut Hollow
20. Craft Sentimental Sliced Wood Ornaments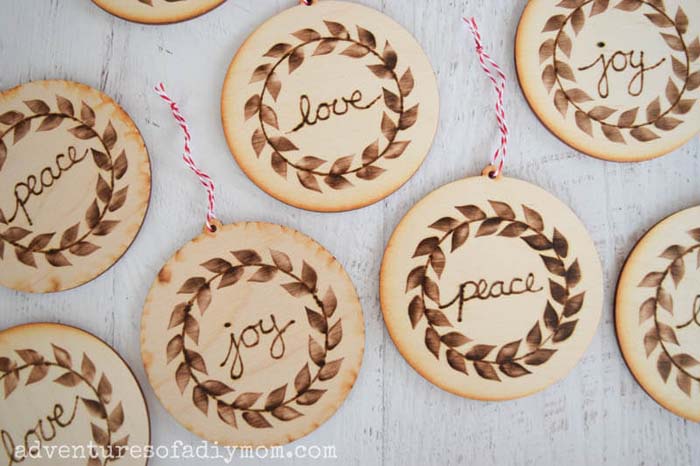 You can make small charms using the wood burning technique. This craft idea could be very useful for a gift design for a special occasion with many people.
The slices of wood are cheap and available at all craft stores. Depending on the theme, you can inscribe initials of the bride and the groom, an inspiring wish if prepared for Christmas, a family name, a monogram, etc. Equip each sliced wood ornament with a thread that facilitates hanging.
21. Brighten Your Home with Wood Burned Birch Flower Vase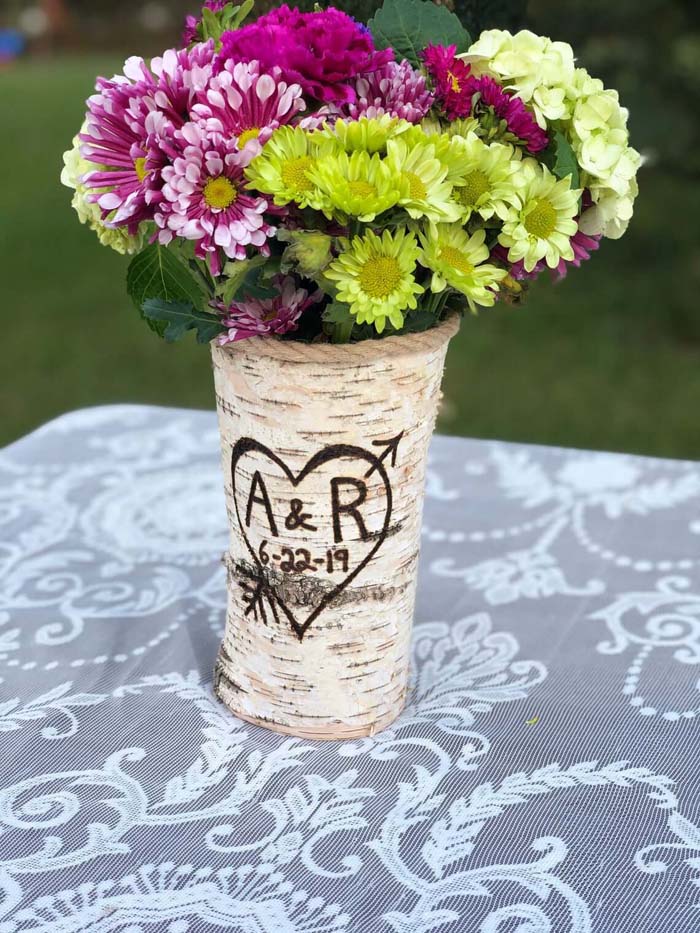 When you make your next walk in the forest, don't miss taking thin branches of birch wood. It is one of the wood types that can be easily hollowed.
Add a heart and initials in the heart with your wood burning tool and fill it with flowers. This nature-inspired vase is a fantastic piece of decoration for your rustic home or for a rustic wedding.

22. Make Reading Enjoyable with a Wood Burned Bookmark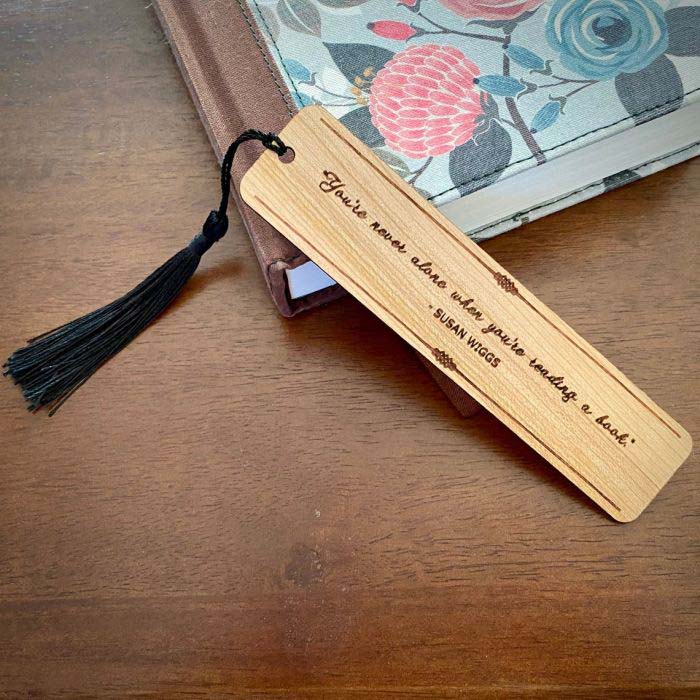 Book addicts will be impressed by a bookmark with an engraved quote from a favorite book. Such strips of wood can be found at craft stores.
The blank surface can be customized with a personal phrase, a wish from the heart, initials or a simple pattern. The tassel attached is an irreplaceable piece of the bookmark that helps personalize the piece in color.

23. Elevate Your Wooden Signage with Wood Burning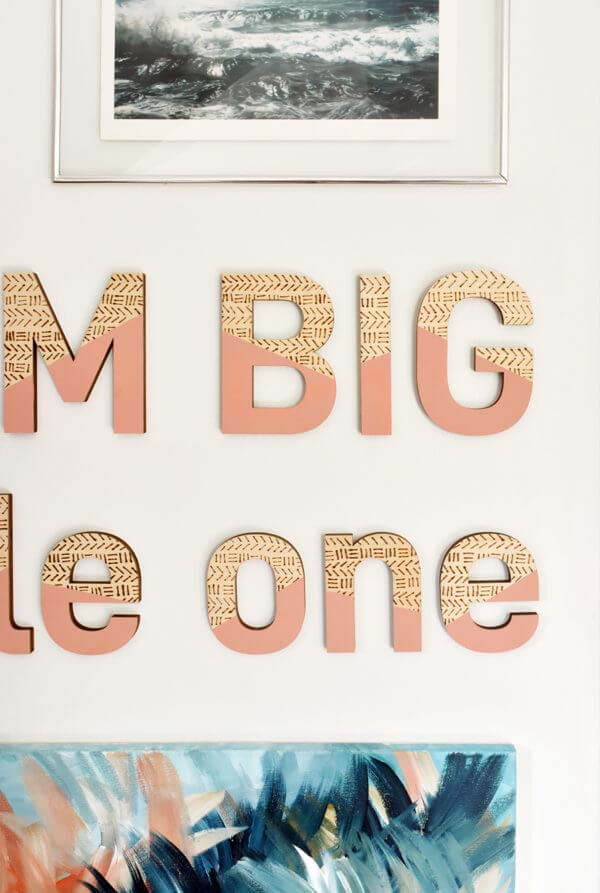 Make a saying from cutout wooden letters more impacting with wood burning technique. Using painter's tape, mark the edge where the wood burning will end and cover the remaining surface with paint.
Combine vertical, horizontal and diagonal strikes to create a mud-cloth style pattern. First, trace the pattern on the wood and then use the tool to burn it.
via Design Fixation
24. Make an Artistic Statement with a Wood Burned Sun Display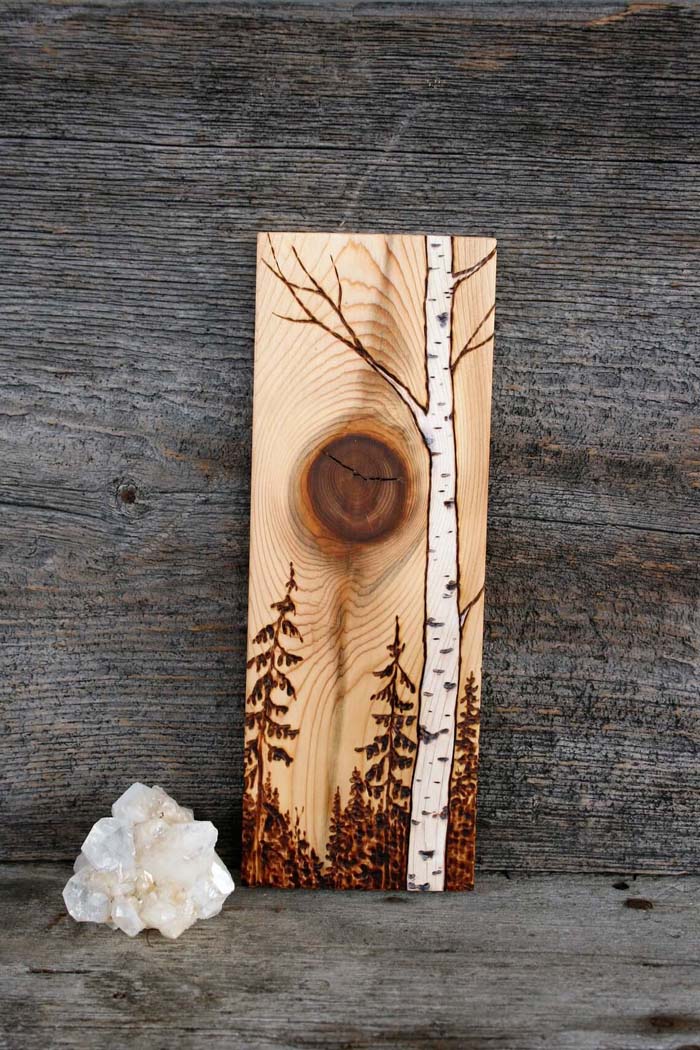 The natural texture of a wooden beam has defined the theme of this artistic piece. The knot in the wood stands for the sun shining on a birch tree. A simple coloring of the tree with white paint gives the element dimension and a way to stand out from the background pine trees.
The coat of oil has penetrated through the wood to give it a finished look and the charm of the rustic decor.

25. Decorate Your Kitchen Utensils with Wood Burning Crafts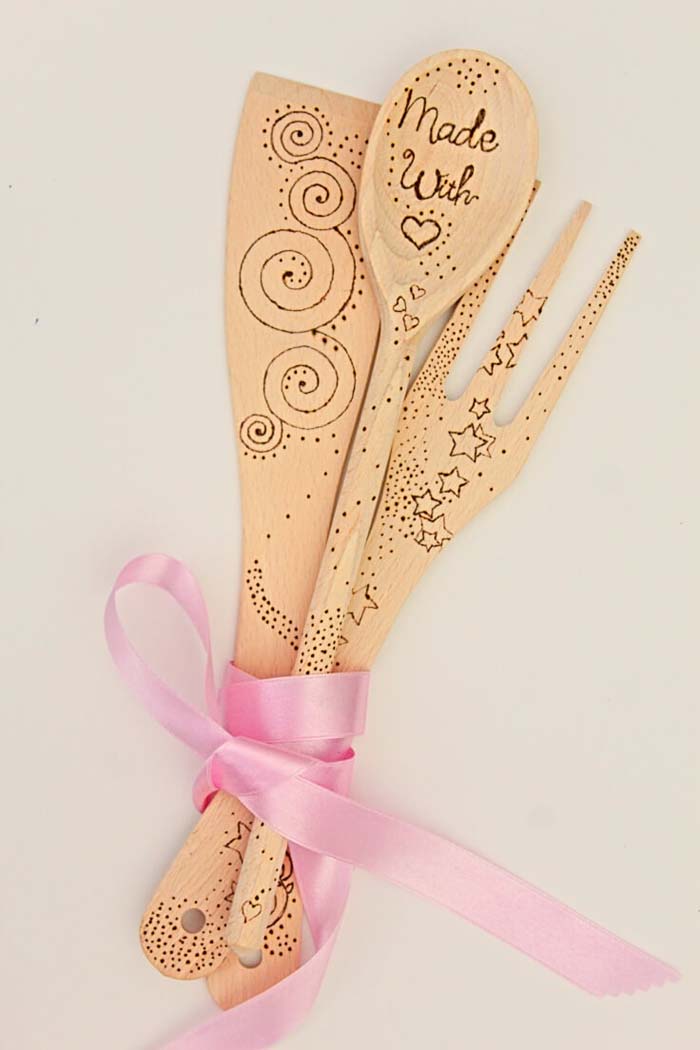 Another wood burning project takes us to the kitchen where we can find different wood surfaces to practice our skills. A wooden spoon or a complete set of cooking utensils is cheap kitchenware you can find even at the Dollar Store.
Patterns could be various, however, a visual theme coherent with the activities in this room will make a greater impact.
When you apply the chosen patterns, you would like to place the set in a vivid place to enjoy the textured and unique look of the set. Probably, you won't ever use them for cooking so take another set just in case.
26. Embellish Your Home with DIY Wood Burned Leaf Magnets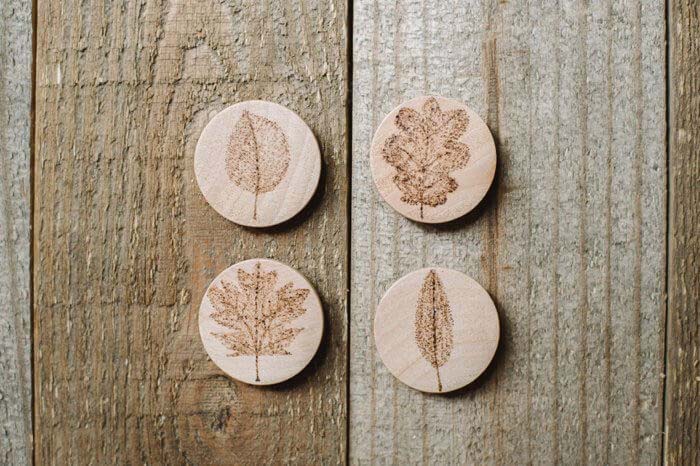 Whether to decorate your fridge or to make a customized gift for friends, these magnets are amazing. The leaf images are gently traced out on the wood with the wood burner paying attention to its temperature.
The lower it is, the less intense the burnt strikes are. That will create a more gentle image that suits the leaves so much!
Check the tutorial below to learn more about the technique. You may implement it leaving other gentle images like flowers, butterflies, feathers!
via Laura Radniecki
27. Modify Scrap Wood Pallet Slats into Wood Burned Sign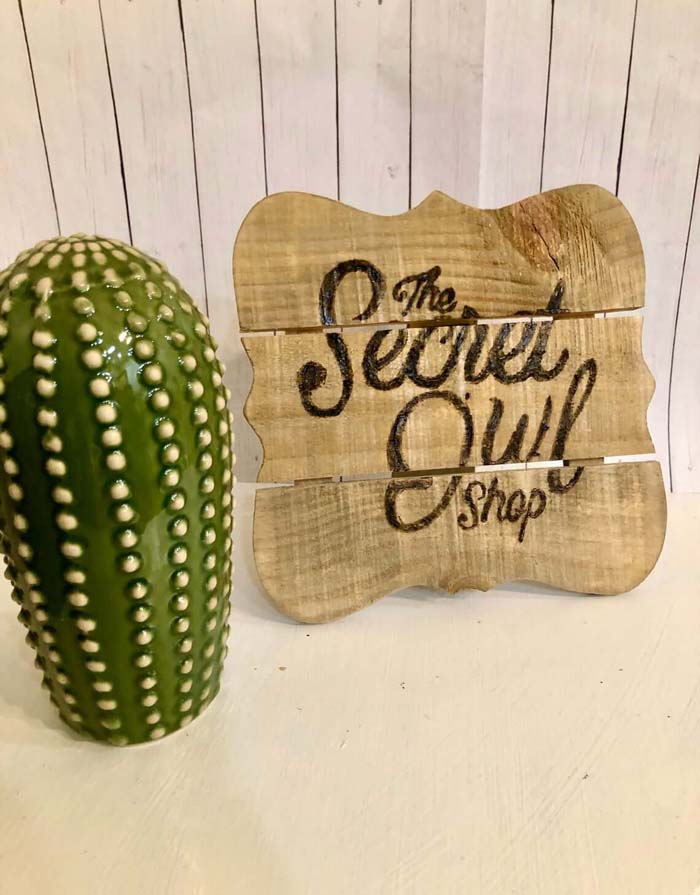 You can practice your wood burning skills on pieces of scrap wood. By the way, the look of the weathered wood usually makes the element very impacting.
This interesting idea showcases how scrap wood pallet slats can be transformed into a welcoming sign with a rustic touch.

28. Add Glamour to Your Table with Blow Torch Wood Burning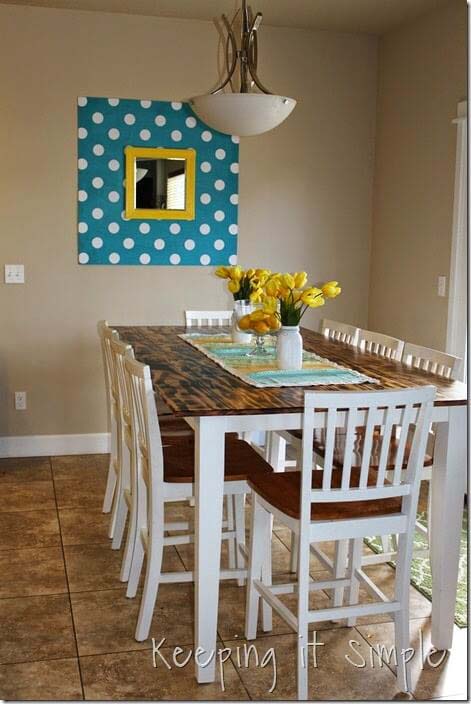 This wood burning project requires a special tool, a real blow torch. It is perfect for work on large surfaces leaving large imprints with fewer efforts.
Follow the detailed tutorial below to learn how to use the wood burner with caution. After finishing the wood burning technique, seal the effect with a transparent stain or varnish as the table will be frequently used and wear could damage your artistic creation.
29. Create a Sasquach-Inspired Wood Burned Wall Clock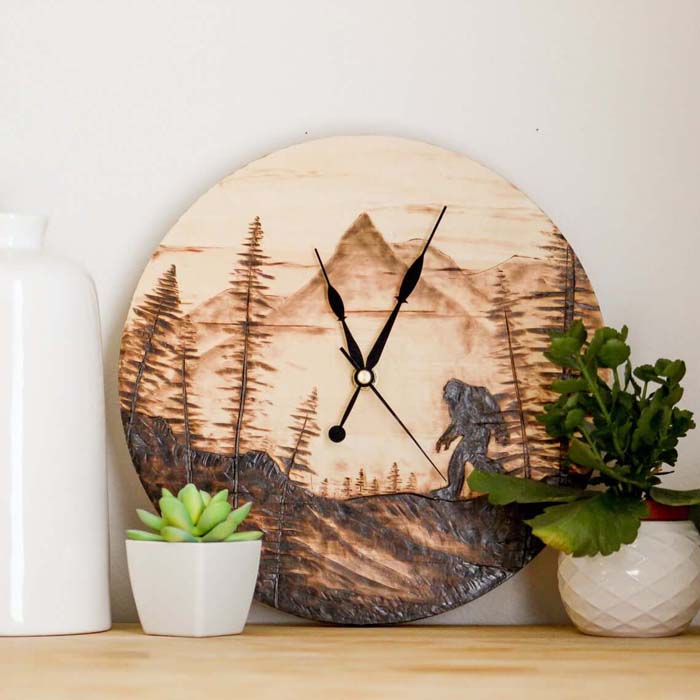 This clock idea showcases a master skill in the wood burning technique. The heat mode plays an important role in the image effects. It helps achieve the different extent of the burning with which the color changes and shading are possible.
The depth of the engraving also depends on the heat and the pressing strength. Hung on the wall or leaning against the mantel wall, the rustic appeal of the handmade clock easily fascinates.

30. Wood Burning and Watercolor Fusion for Unique Art Pieces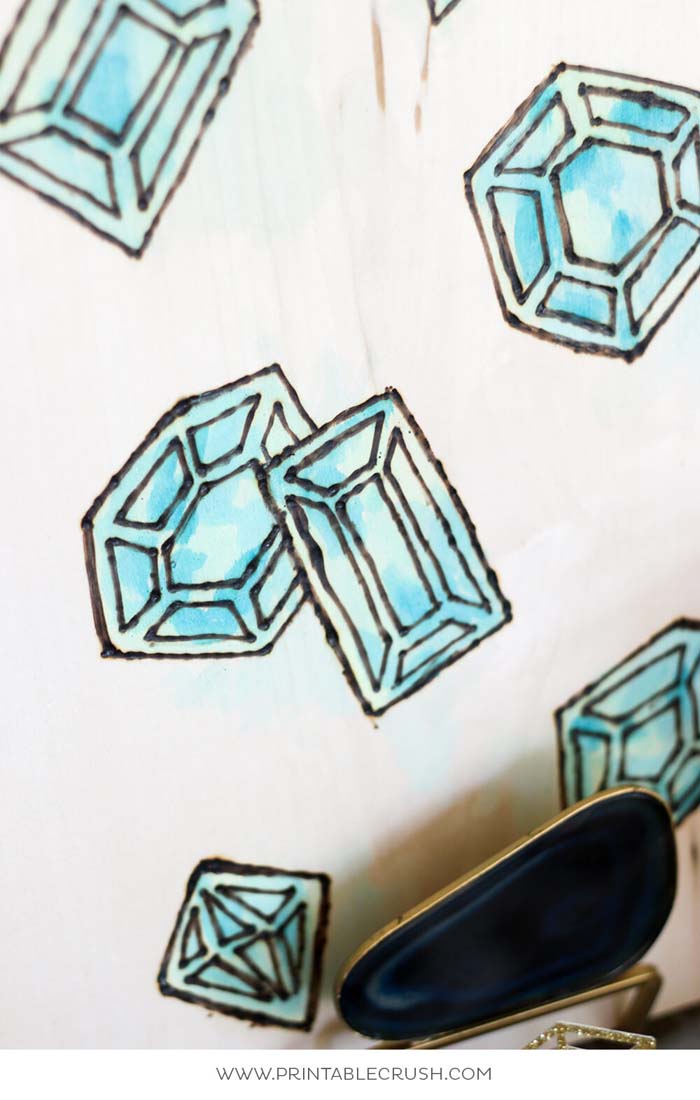 You can combine wood burning with another decor technique to create a one-of-a-kind piece of art. This is an idea of applying watercolor paints on the wood burnt patterns.
The colors give the outlined shape dimension and interest. This type of paint suits best the wood-burning design because it lets you blend the colors through the burned lines.
via Printable Crush
31. Add Rustic Charm to Wooden Picture Frames with Pyrography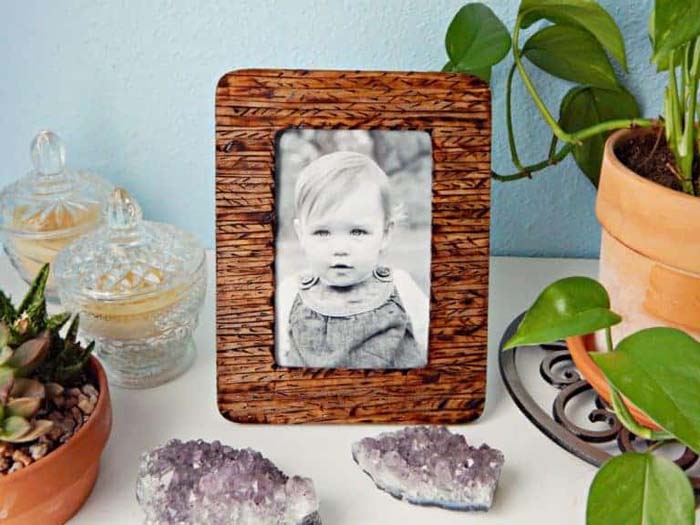 The contrast this handmade frame creates makes you want to stare at the photograph! Burn a simple design on your wooden unfinished frame and see it change into an artistic piece.
You can experiment with the gaps between the strikes but make sure to aim at achieving a natural look that will match the purity of the photograph.
32. Upgrade Your Tissue Storage with a Stylish Wooden Box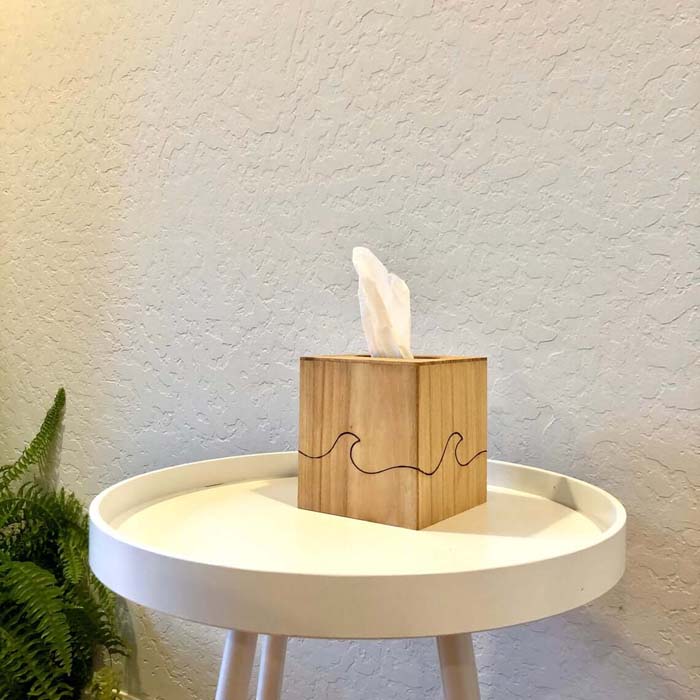 Storing the tissues in a wooden box gives you a permanent solution for the handy tissues. The cube wood makes place for a standard pack and it looks far better than a paper package.
The wood burning pattern is simple and minimalist adding an elegant touch to the bathroom.