Adding flowers to the decor is not a new idea. But we bet that we are going to surprise you with ideas that are new, beautiful and capable of giving your home a unique charm.
There are always new ways to use any type of floral elements in your interior and for certain not only for the holidays.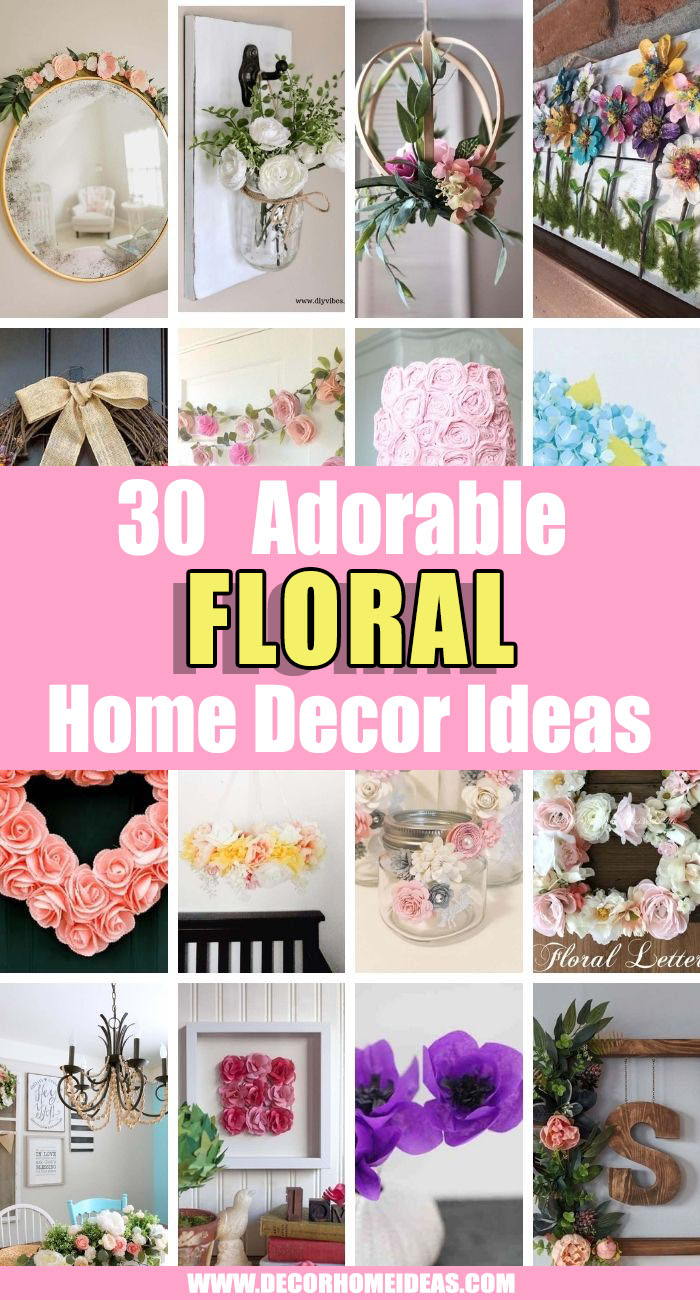 Today we are going to reveal to you the best ideas for faux flowers, some made of paper, others taken from the stores and the best ways to include them in arrangements to create a point of interest inspired by the gentle beauty and bright colors inspired by nature.
1. Paper Purple Anemone Flowers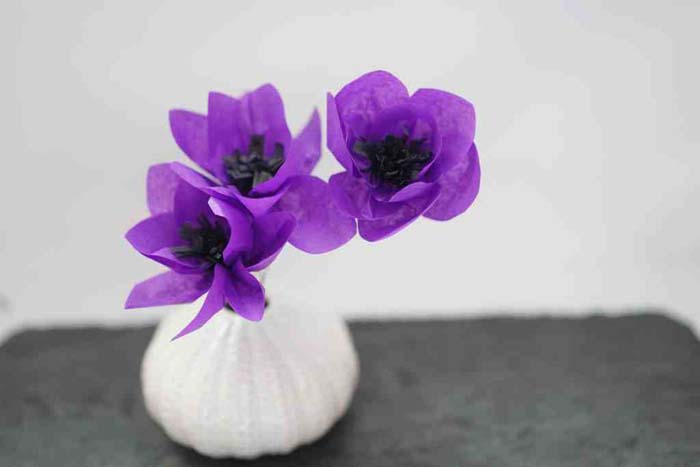 Anemone flowers are simple and that makes them a great DIY project. Nature shows them in colors varying from pink to purple to white.
This idea features a complete Anemone flower that can be inserted into a vase. The supplies you need are tissue paper in the desired color for the petals, masking tape for the base and floral stem.
If you like the gentle simplicity of these Anemone flowers, you can also include them in a floral arrangement on a wreath.
via Domestic Heights
2. Newspaper Flowers with Nail Art Holder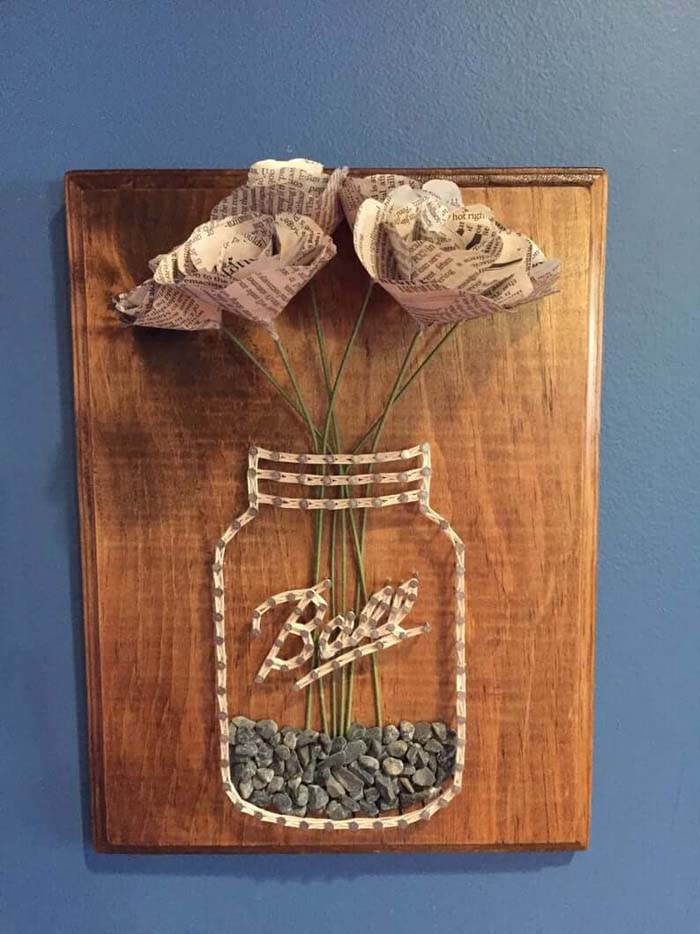 This rustic plaque replicates the shapes of a Ball jar holding Anemone flowers. It is a very cute and easy art that is based on upcycling materials. Some string, pebbles or stones, newspaper or old book pages and floral wire are the supplies you need to create the image on a wooden board.
Use glue or a hot glue gun to attach each piece securely to the wood. The flowers are shaped by weaving a cut petal template around the stem.

3. Bright Silk Flower Table Centerpiece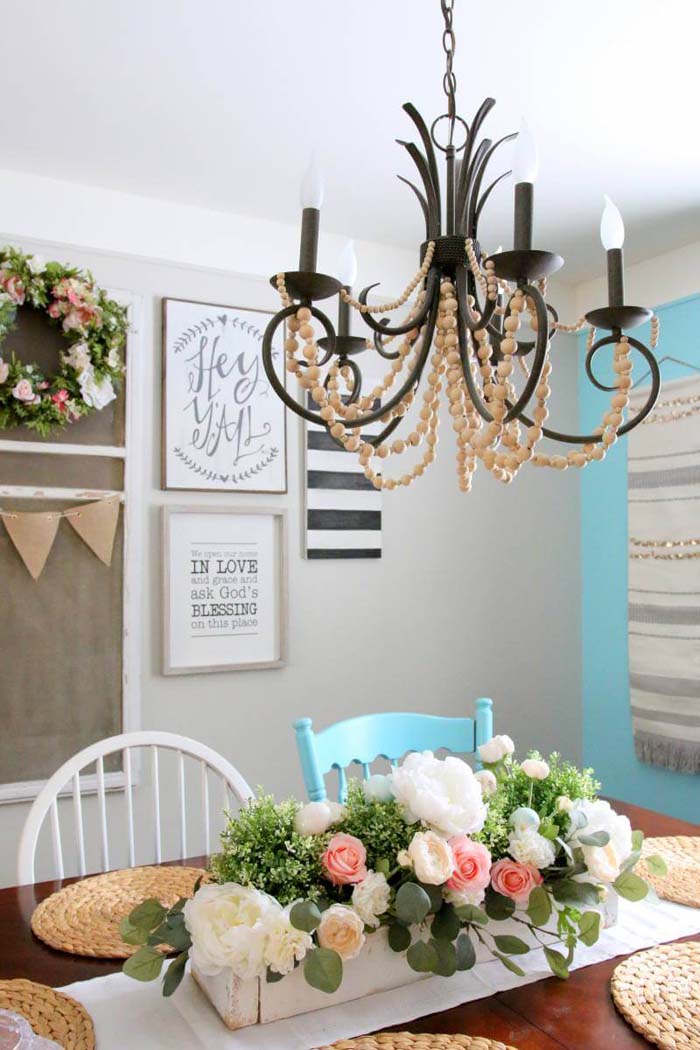 This boxed table centerpiece has been created as a Spring decor with egg embellishments to make it festive for Easter. All faux plants have been taken from Ikea while the box has been made out of reclaimed wood.
The greatest about this project is that all flowers are used as they are-no cutting, gluing or amending to let them fit. Instead, they are poked down in the boxwood base. Thus you can use them in the future in another arrangement.
4. Felt Flower Headboard Garland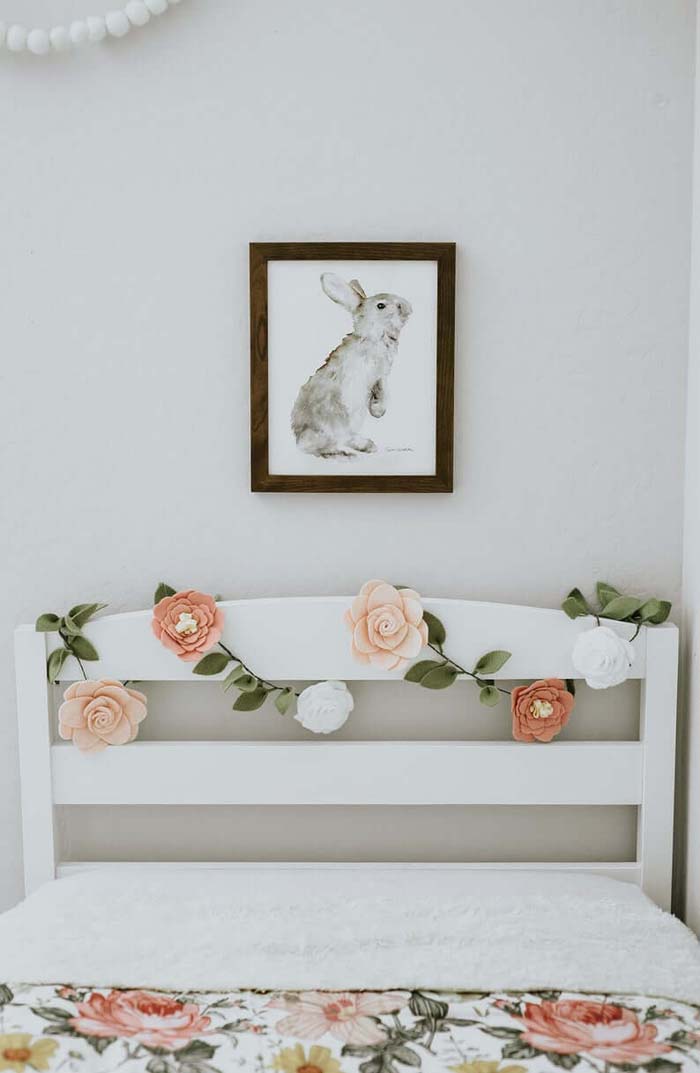 If you want to ensure more flexibility of your floral arrangement, choose the appropriate material that will allow it. Felt is perfect for that because it is soft, it creates a volumetric look of the parts and is flexible enough to get the desired shape. Added to floral wire makes the applications almost endless.
This idea features a garland which style reminds of a Boho romance. The flowers can be roses, magnolias, peonies- all enhancing the gentleness. The pastel color palette ensures that it can fit into the existing interior easily and either contrast with it to become an accent or complement it.

5. Embroidery Hoop Hanging Flower Display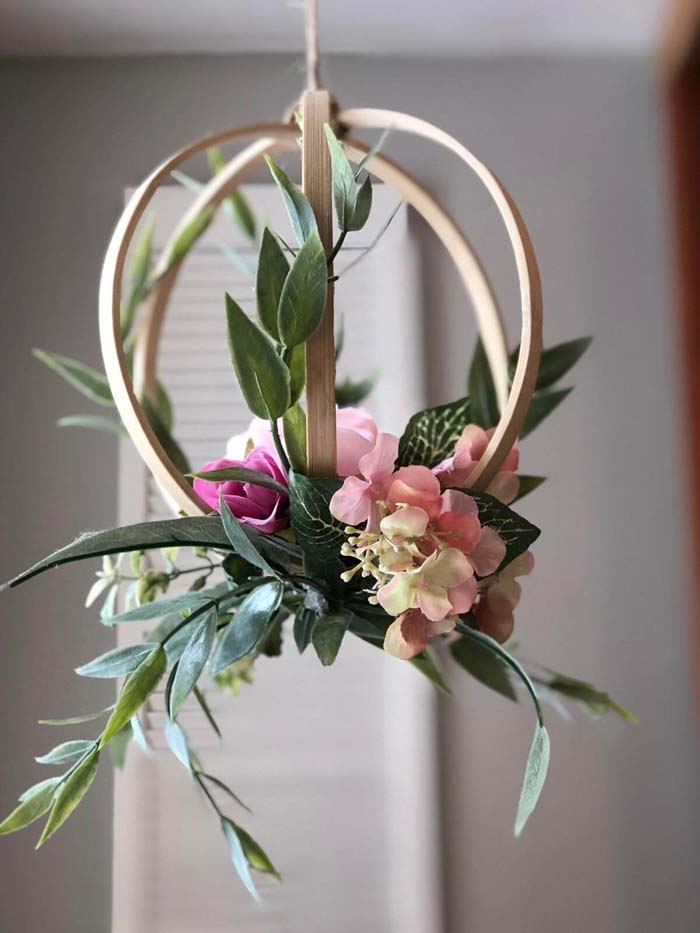 This wreath lives you breathless with its design. The unique combination of hoops creates a dimensional decor accent that can be left dangling from the ceiling, from the window frame or from the pergola.
At the bottom of this symbolic sphere, flowers and greenery are inserted to embellish it and to turn it into a spring symphony welcomed indoors.

6. Paper Flower Note Board Embellishments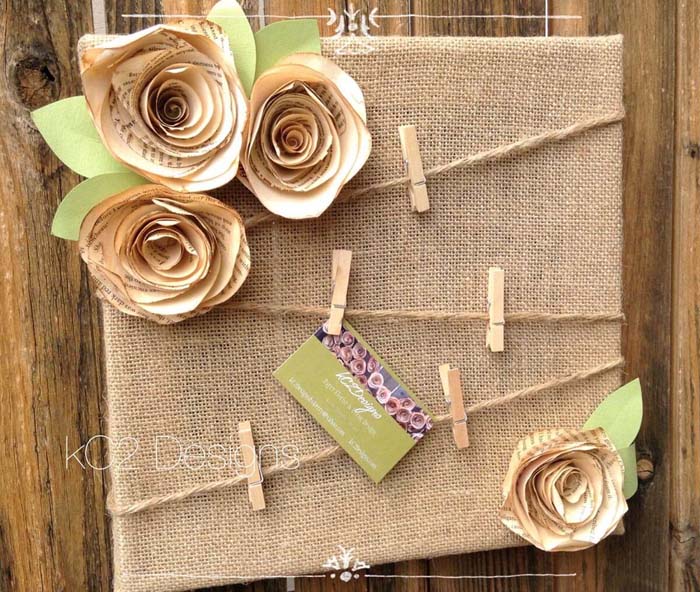 If you love the inspirational signs or just leaving cute messages to your family to remind them how much you love them, this board is a compact canvas for your notes.
It is covered in burlap and embellished with paper roses. Each rose has been rolled out of a newspaper sheet and its edges slightly burnt to look weathered.
The notes can be attached to a string crossing the canvas with the help of wooden clothespins. The rustic design of this note board can be the perfect addition to the kitchen, the living room or the entryway.

7. Easy Silk Rose Cluster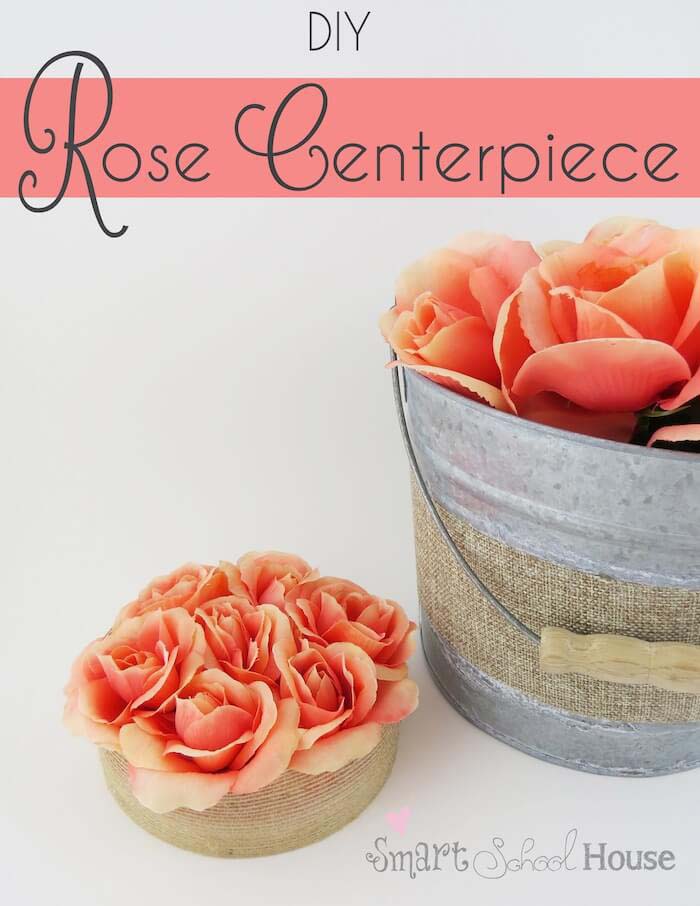 This centerpiece idea uses only the buds from faux flowers. The leaves and the stems are removed to let the arrangement be more compact and the rosebuds to be the focal point.
The peach color is very bright and makes the roses look more realistic. All buds are inserted into a foam circle. Its styrofoam finish is hidden by a ribbon imitating burlap. If you are happy with the design, you can customize this centerpiece and make it bigger and use roses in another color.
8. Romantic Heart Shaped Rose Wreath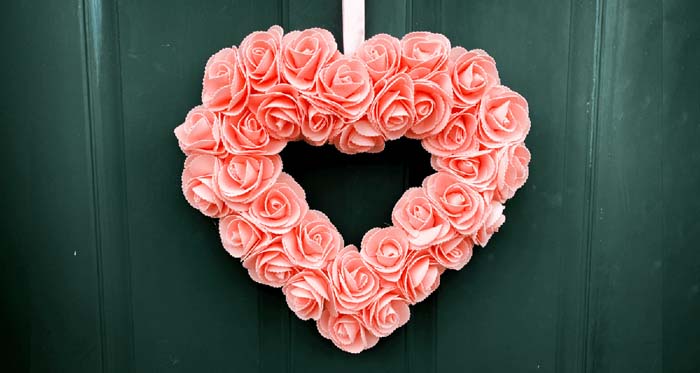 This wreath celebrates spring and love. Made in the shape of a heart, the wireframe allows using any type of faux flowers to create the final wreath design.
The author has decided to use foam flowers because they look very realistic and are very durable. The wide ribbon on the top lets you fix it to the front door to give your home an instant curb appeal.
9. Sparkling Half Floral Wreath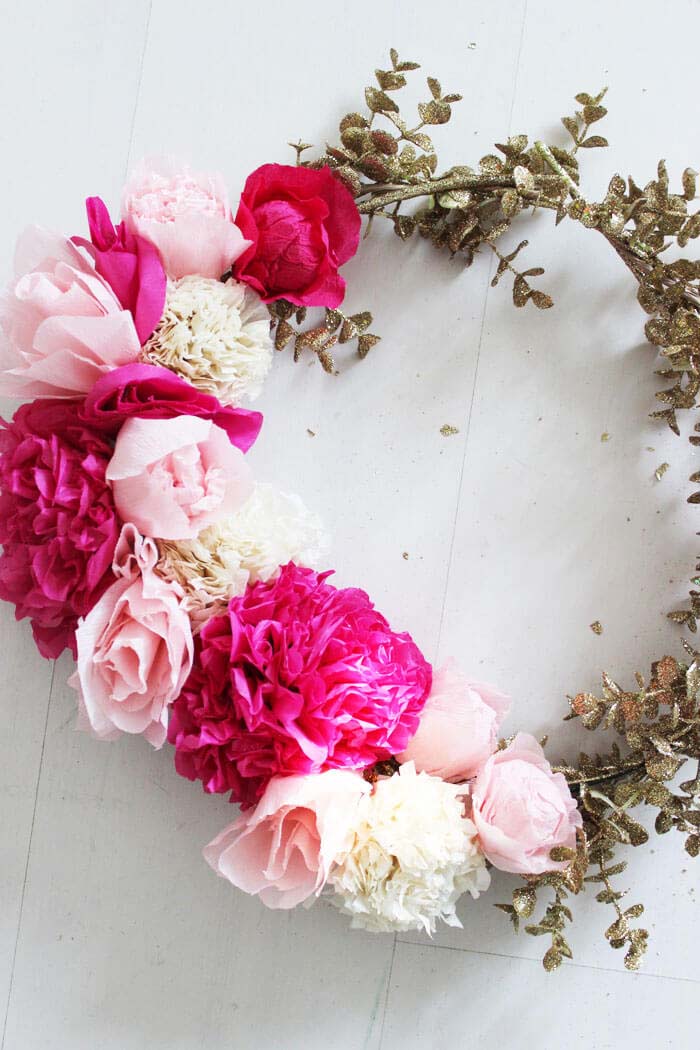 The base of this wreath could be floral wire or a wire wreath already made. All of the flowers have been made out of tissue and crepe paper- supplies that make the paper flowers look so realistic.
Choosing from a wide variety of colors lets you experiment with the types of flowers to model. Once you are ready with your flower selection, attach them with pipe cleaners to one of the sides. Leave the other empty for embellishment with eucalyptus.
via Poppytalk
10. Simple Tonal Framed Roses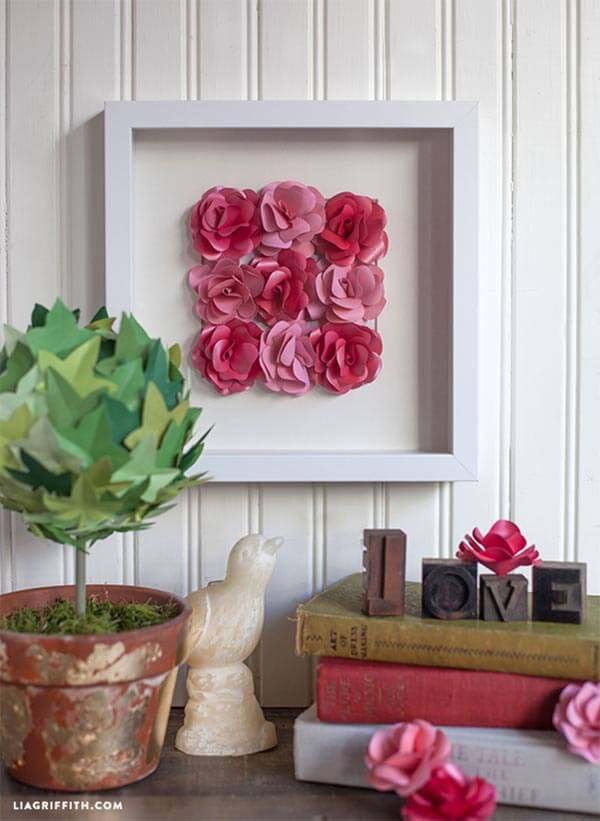 This idea has been created by a person thinking out of the box. While we are used to seeing flowers in a bouquet, in a vase, attached to a wreath, this project closes them in a frame to make them a piece of art.
Each flower is made out of paper. The effect of the finish is metallic which gives the flowers an interesting look. If you are keen on making your own framed floral art, you can experiment with the colors and the textures to make it suitable for your home interior.
via Lia Griffith
11. Embellish A Simple Wood Frame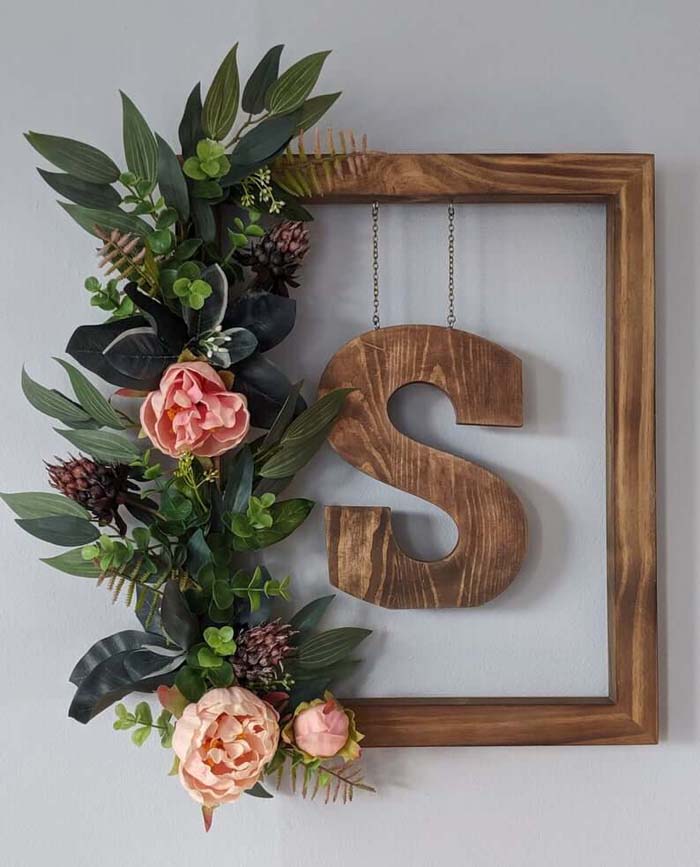 This wall art is lifted to another level by adding an initial for a personalized effect. Peonies from paper beautify one of the sides. Mixed with green leaves, the peonies pop out and invite you to check if they are actually real.
A few cones are tucked along the embellishment to let the floral arrangement match the wooden frame and initial stained in dark.
Such artwork will not only look amazing in the entryway, but it can also be used instead of a wreath on the front door and emphasize the importance of home and family.

12. Easy Silk Hanging Poms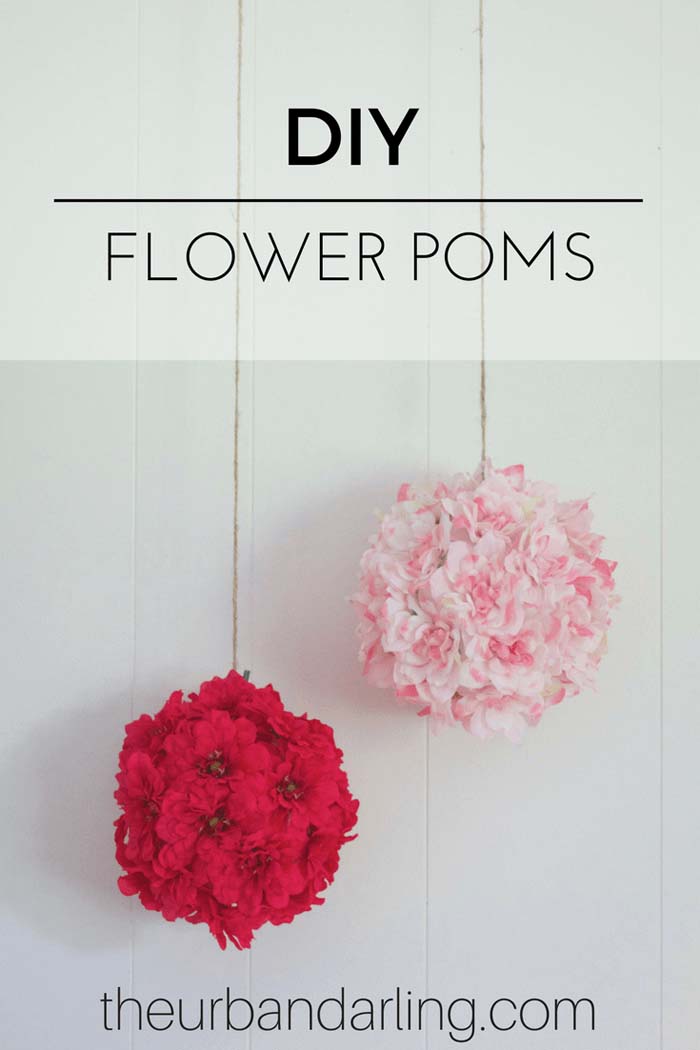 Have you ever seen flower poms? These decorations are mostly used for wedding or party decor. But why should we take advantage of their bursting floral beauty only on one occasion?
Hanging them on your front porch or in the living room will make them bright and very inviting. Including floral motifs in your spring and summer decor is the best way to celebrate the warm weather.
13. Farmhouse Style Wooden Flower Heart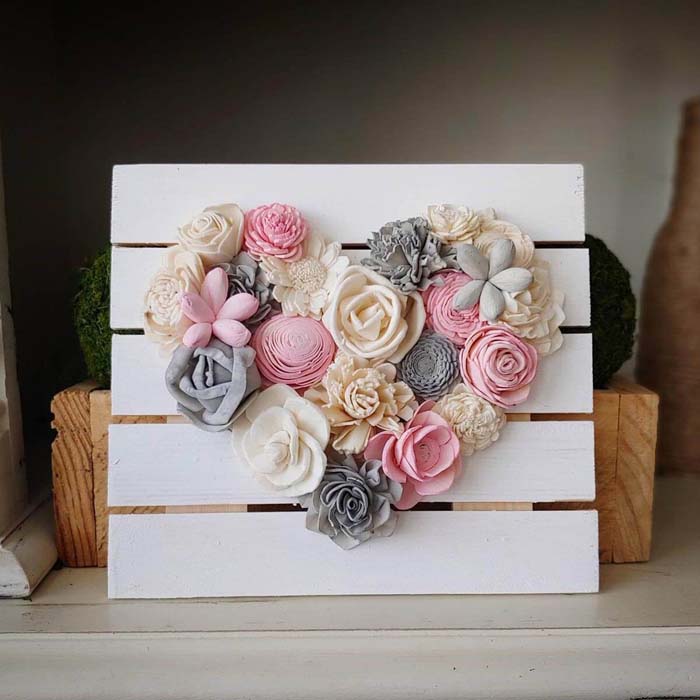 This amazing plaque is designed to beautify the decor of special occasions or a nursery room. The gentle wooden flowers are arranged in the shape of a heart that will spread love in the atmosphere.
The wooden base is made of slats, carefully sanded and painted in white to provide a neutral canvas for the multicolored flowers to stand out.

14. DIY Craft Paper Hydrangeas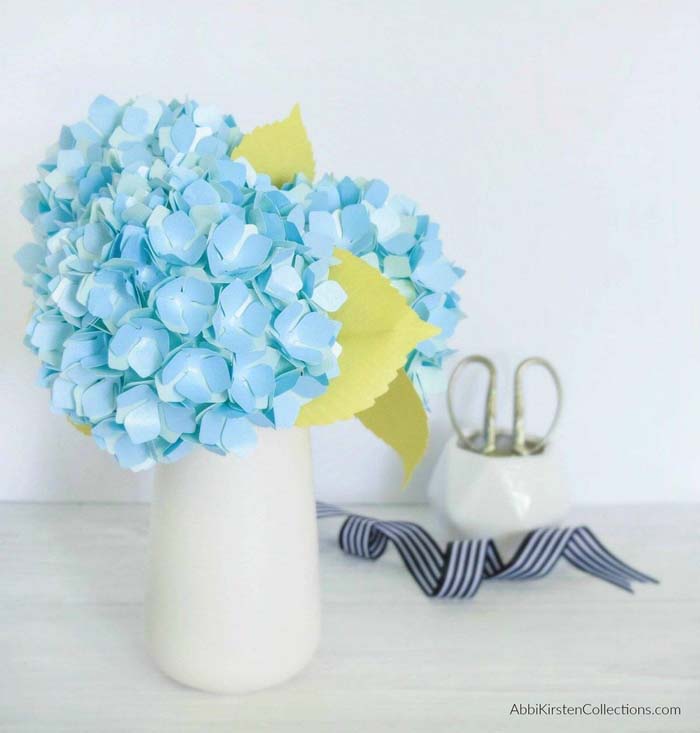 If you love hydrangea you must be devastated how quickly their blossoms fade away. Here is an idea of how to enjoy their beauty for a longer time. Made them from paper! Thanks to the metallic finish of the craft paper, the flower blossoms look realistic and dimensional.
You can make the blossoms in any color, however, for a more realistic result stick to the colors nature shows them in. Depending on your craft idea, you can attach the blossoms to a stem and insert them into a vase or tuck them in a wreath arrangement.
via Abbi Kirsten
15. Upcycled Book Page Hanging Flower Balls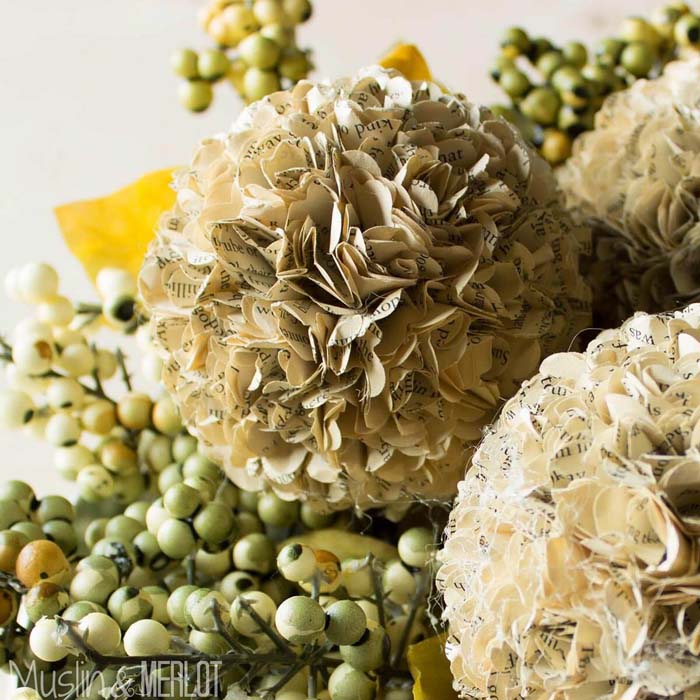 These flowers are recreating the blossom shapes of hydrangea but instead of using paper in typical colors for them, they are made out of old book pages.
The effect of the neutral paper with words written on it makes this paper flower unique and romantic. If you want to keep an old book that is precious to you or in case you prefer recycling than throwing it away, repurpose it into your new floral decor.
16. Pink Paper Rose Kissing Ball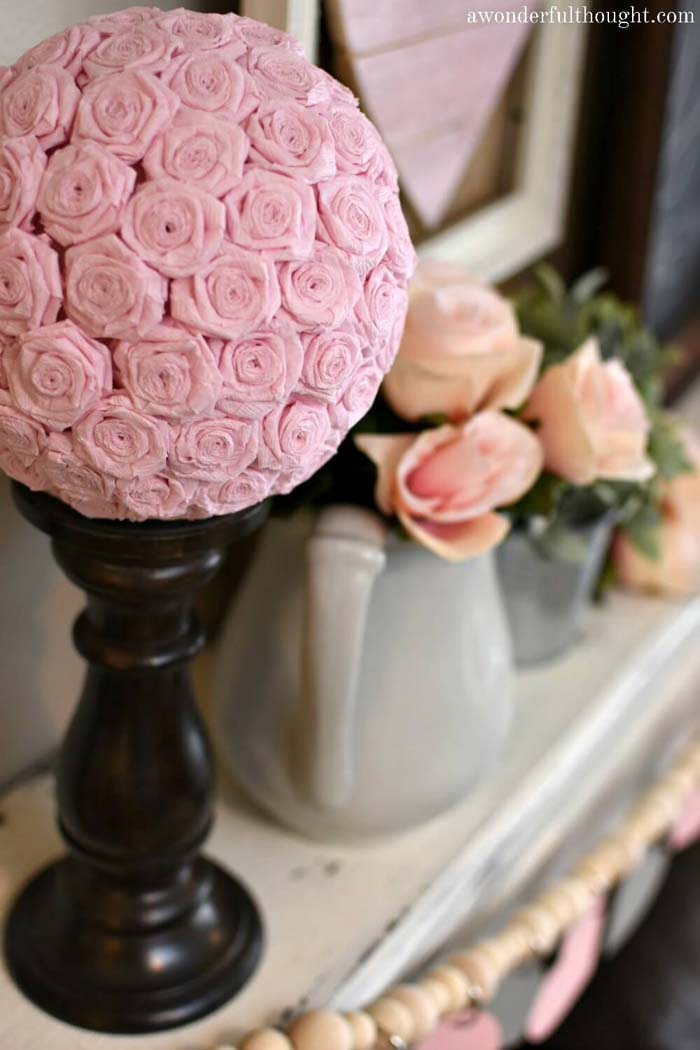 Since kissing balls have become very trendy, the options for making them have also been extended. This image shows a kissing ball embellished with crepe paper flowers. Each one is carefully modeled so that the final flower looks identical to all of the rest.
The crepe paper roses can be glued onto a styrofoam ball. The finished kissing ball can be put on top of a candlestick. It can also be suspended from the ceiling if you attach a ribbon or a cord to it.
17. Festive Flower Embellished Menorah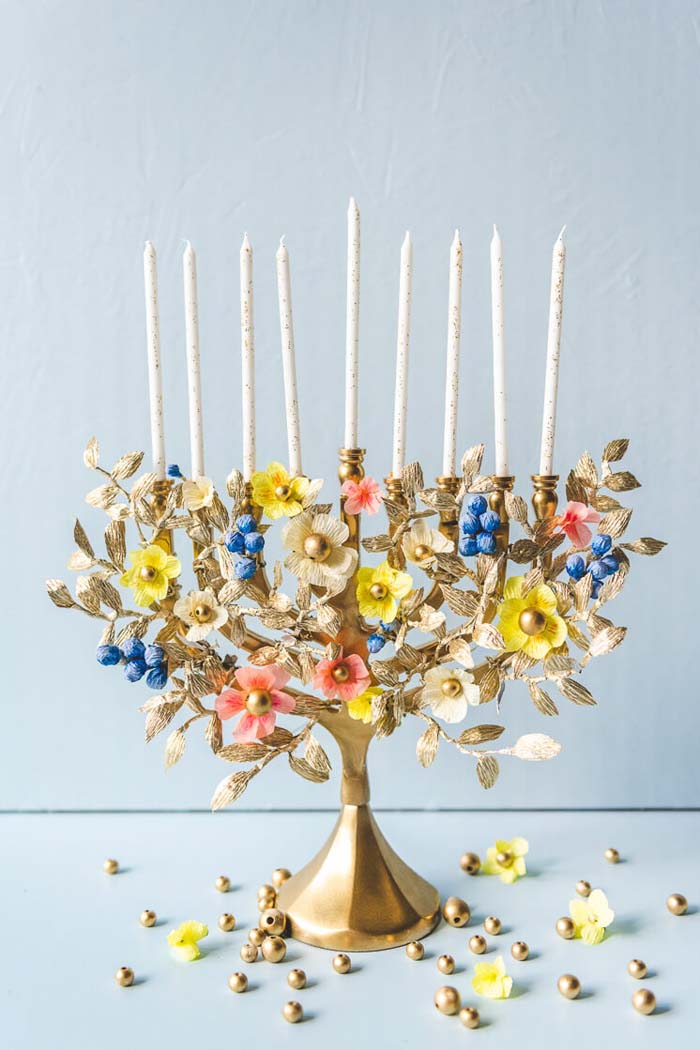 This menorah can be used as a table centerpiece or a mantel decoration during spring and summer. Each flower is made from crepe paper. The bead in the center is with a golden finish to match the stand design.
The combination of colors additionally makes this craft unique- peach, yellow and blue are related to spring. Combined with golden, they look like an antique piece of art.
18. Silk Flower Wreath Nursery Mobile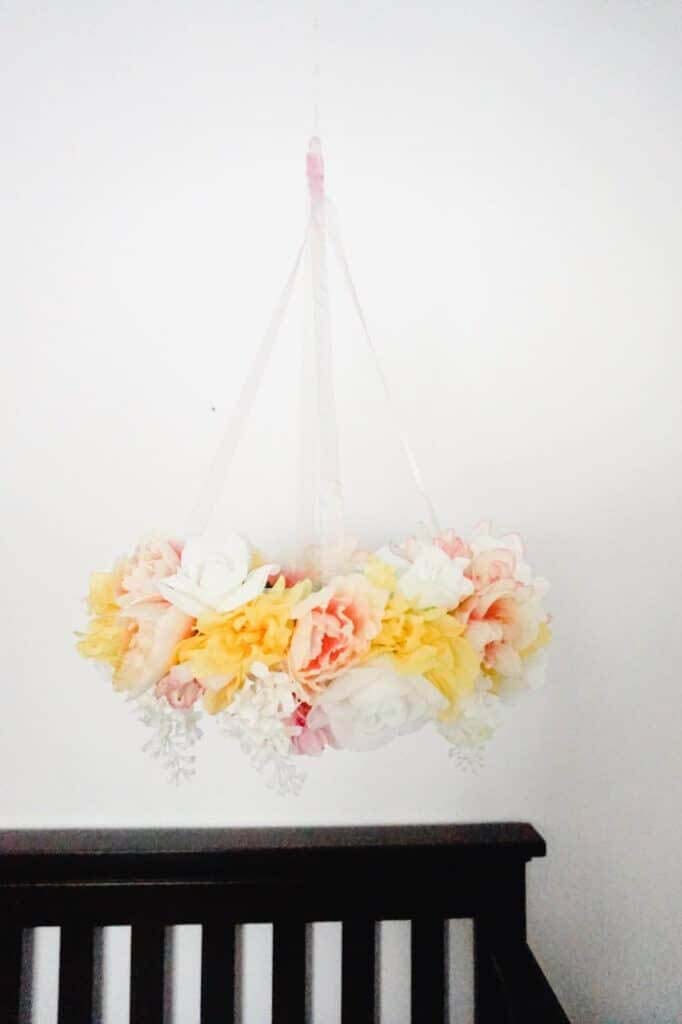 To let this floral art blend in the nursery atmosphere, it has been designed in the shape of a mobile. Of course, it is not a typical toy but it may be something your baby enjoys.
To make it, you need to cover a plain wreath with flowers. You can use faux ones or paper buds. To suspend it, get four lengths of ribbon and tie them around the wreath.
via MN Momma
19. Large-Scale Paper Flower Wall Art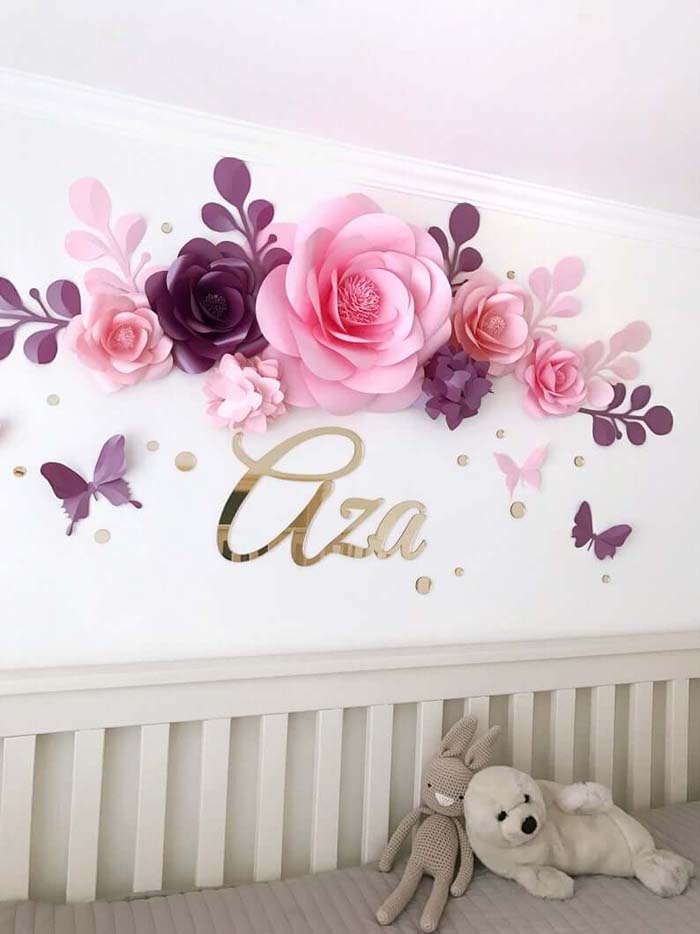 This nursery wall will make you want to be a baby again. The giant flowers are made of paper, each petal is carefully cut and curved to give the flower a realistic look.
Depending on the size of the wall, you can make your own wallpaper flower project. Increase the size, the number and change the colors to cover the space.
Add butterflies below the flowers if you want to add a cute motif to the art wall.

20. Faux Ceramic Flower Jar Lids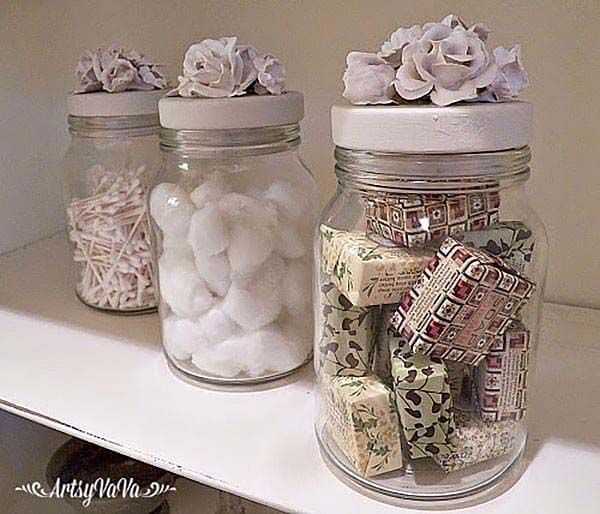 The lids of these jars have been decorated with flowers that look like made of porcelain. And while finding porcelain flowers can be difficult and very expensive, there is a way to imitate this finish. Dip faux silk flowers into plaster of Paris.
After the coat has dried you can start embellishing the objects. Another advantage of this material is that it allows painting afterward so you can modify them in the preferred color.
via Artsy Va Va
21. DIY Muslin Rose Lampshade Décor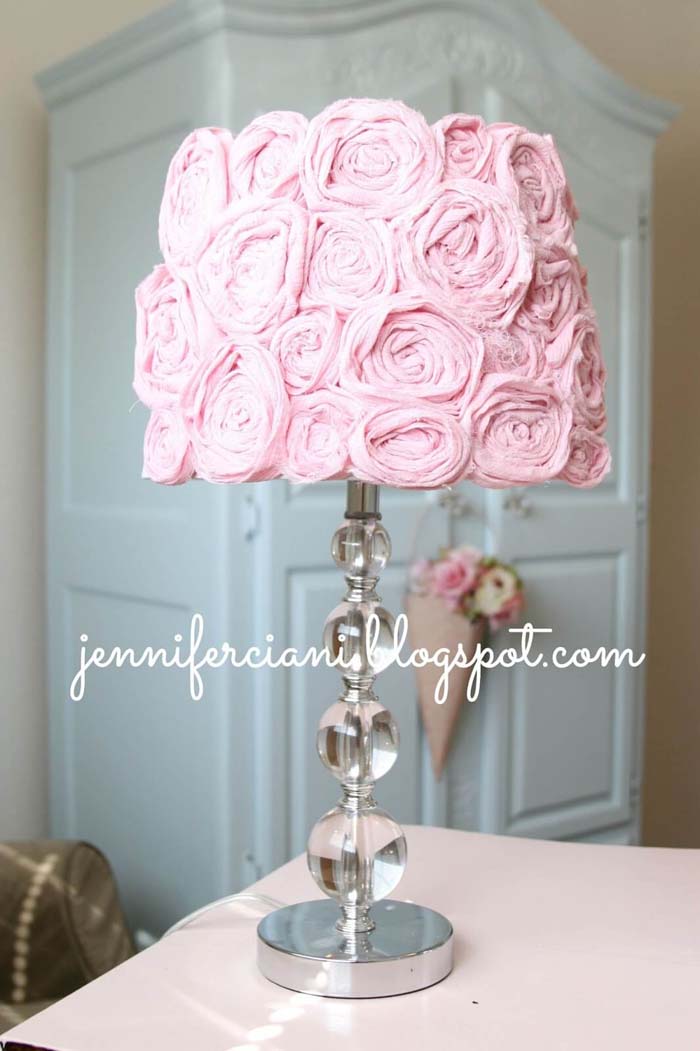 You can change the look of a lampshade by covering it with roses. These ones are made of muslin gauze colored in blush pink. Each length is twisted in a rosette pattern by applying hot glue from time to time.
If you don't have this fabric, you can try making these out of tissue paper. You can experiment also with the flower type and the color.
The transformed reading lamp can be placed on a side table, on a mantel or even in the bedroom to enhance the calming atmosphere.
via Simply Ciani
22. Wood Mounted Flower Monogram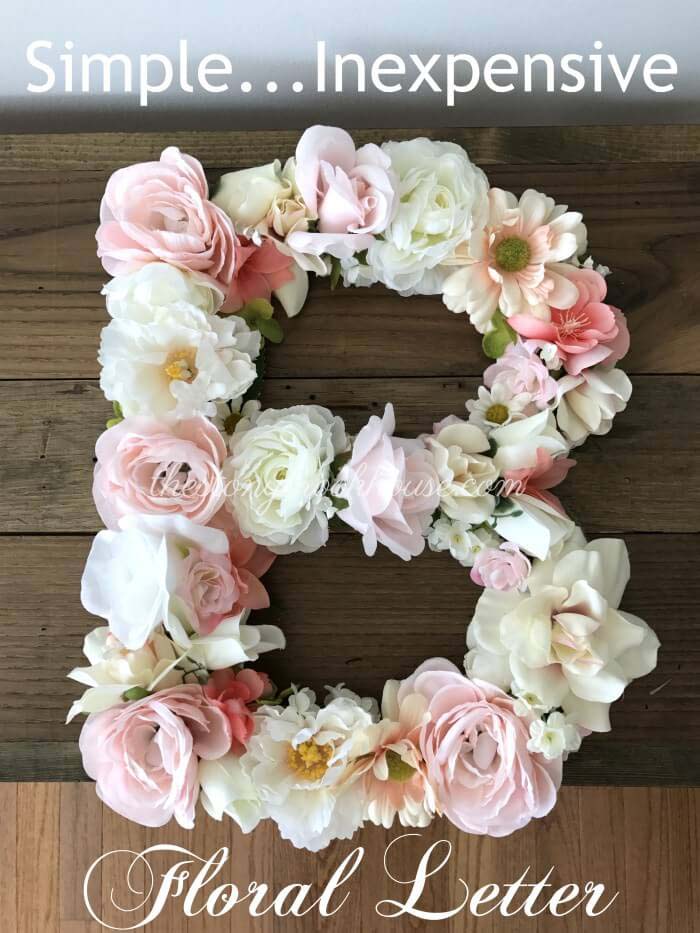 Floral letters are a contemporary replacement of the wreath. You can find ready-made initials at the Dollar store or in a craft shop to use as a base for your customized floral decoration.
And while you are in the Dollar store, take a look at their faux flowers, you may find what you need. Otherwise, make them from crepe and tissue paper. Use the free patterns on the Internet to shape the petals of the flower types you would like to arrange.
This particular floral initial is looking to add a gentle effect to the surface it is attached to. If you are looking for a bolder statement, choose brighter colors and non-typical combinations.
23. Highlight A Round Mirror With Felt Flowers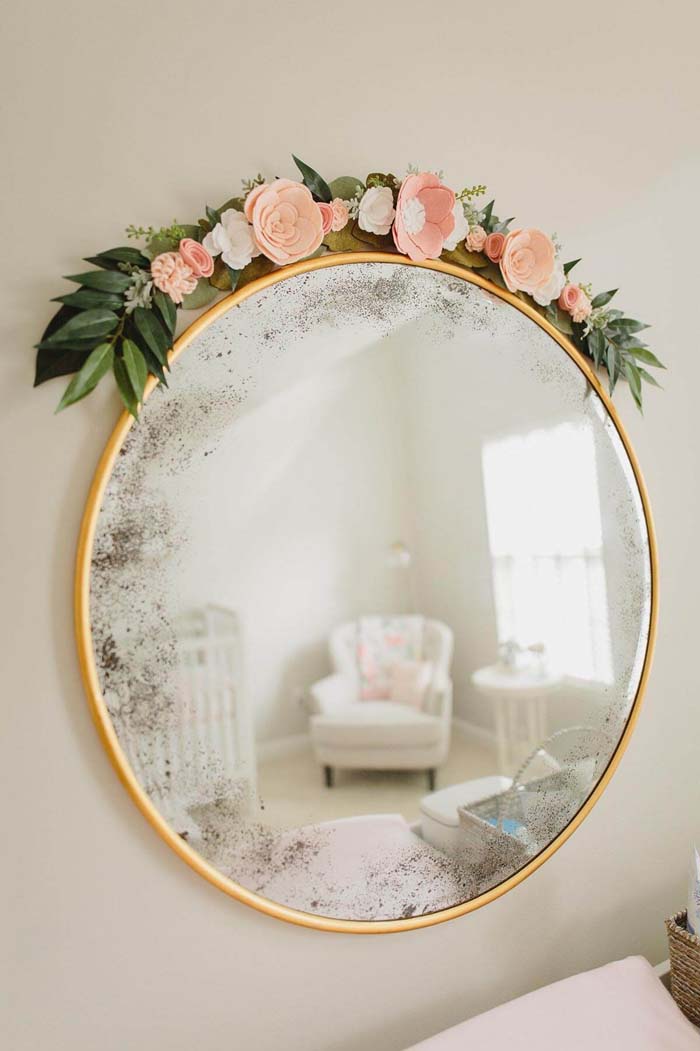 This small garland is made to outline a shape and complement it. Each flower is made of felt in the pastel palette. The sizes of the finished flowers are different to create a playful point of interest.
The leaves are with a silk finish to imitate the real ones and let the garland welcome nature indoors.

24. Magical Unicorn Flower Jars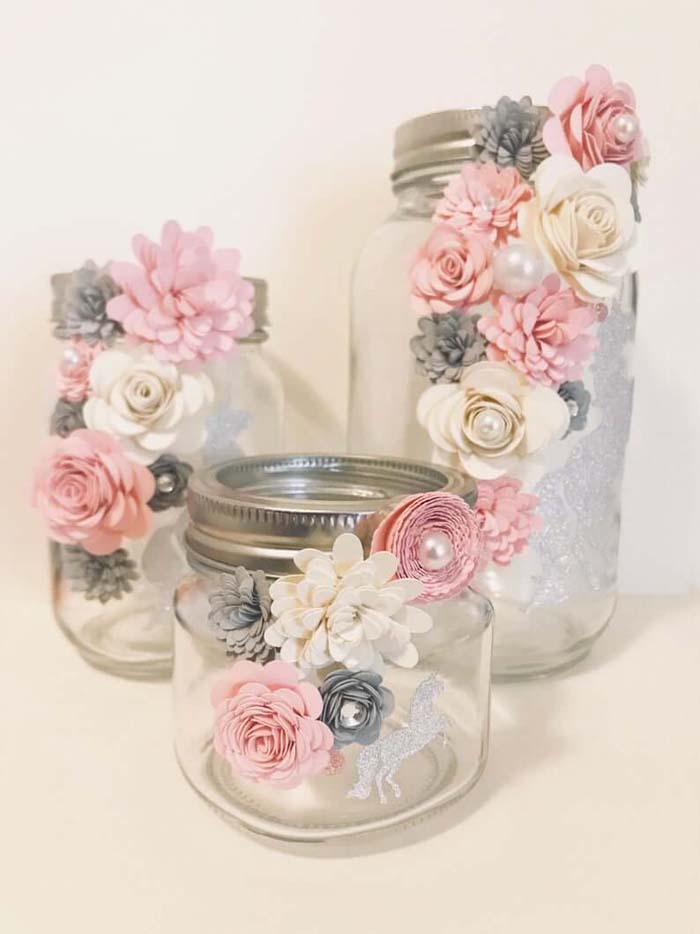 If you have been looking for a way to decorate plain jars, try embellishing them with paper flowers. This is a very affordable and universal idea as the paper is cheap and the color variety- wide.
Choose the flower types and cut the petals to start modeling your miniature blossoms. You can decorate the glass or only the lid depending on the jar application. Add vinyl images, pearls, glass beads to make the arrangement more interesting or thematic.

25. Spring Hued Felt Flower Garland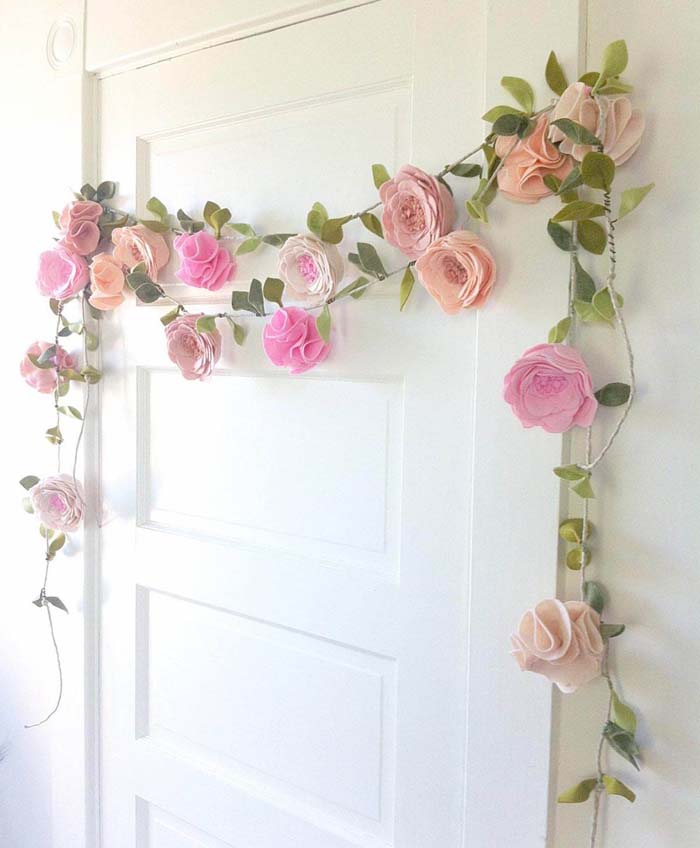 Adding a floral garland to the front door is an alternative to the wreath if you are looking for a more unique decoration. The varying shades of pink rose and blush alternate with every flower.
Each one is attached to a string with leaves. The texture of the leaves is simpler to let the felt blossoms stand out and be the focus.

26. Stunning Clay Flower Frame Corners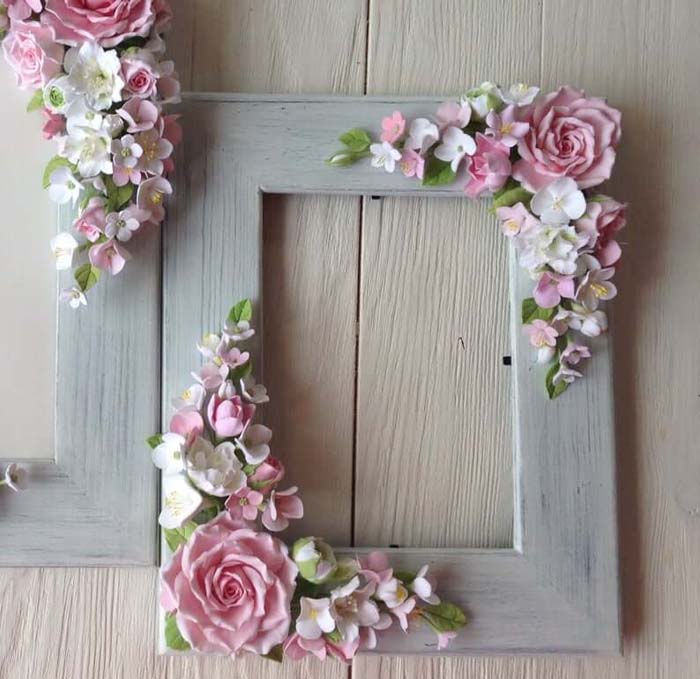 Embrace your dearest memories with a handmade frame embellished with gentle miniature flowers. The fine finish of each flower is achieved thanks to the flexibility of polymer clay.
Crafting these is difficult and requires patience. But the final result is totally worthy.

27. Shabby Chic Hanging Mason Jar Bouquet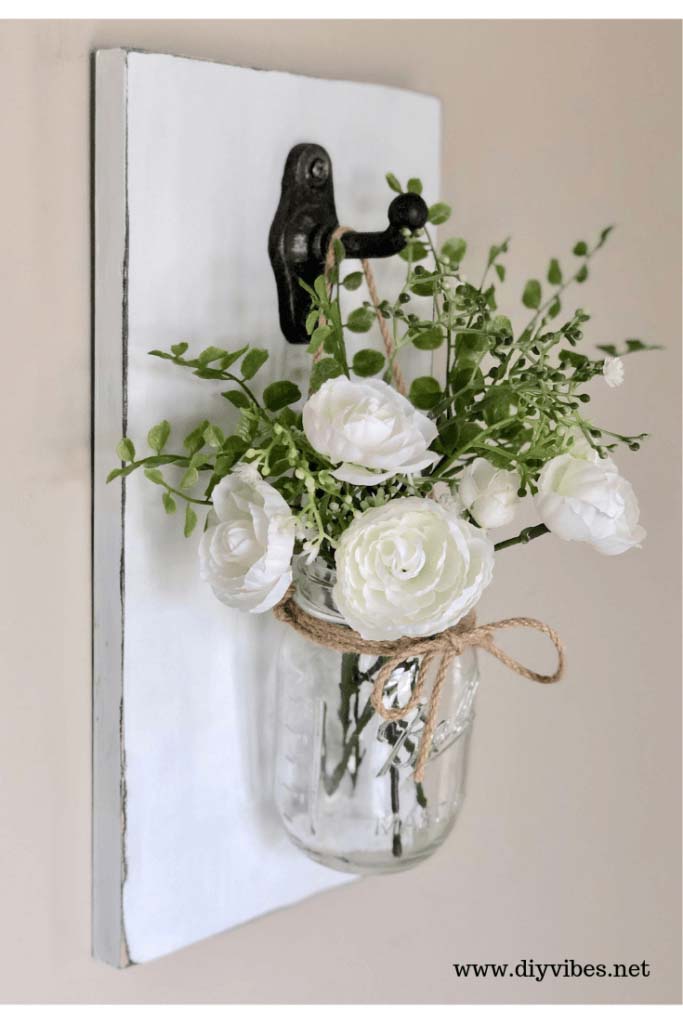 Looking for an alternative to a vase and a wreath? This amazing plaque offers you both in one product. And that comes with a gorgeous rustic effect achieved by the wooden support with distressed edges and the glass jar embellished with twine.
The jar holds faux flowers which are a durable and affordable spring-themed decoration. If you have a flower garden, you can replace these with real ones and enjoy the results from your gardening efforts.
via DIY Vibes
28. DIY Painted Pinecone Garden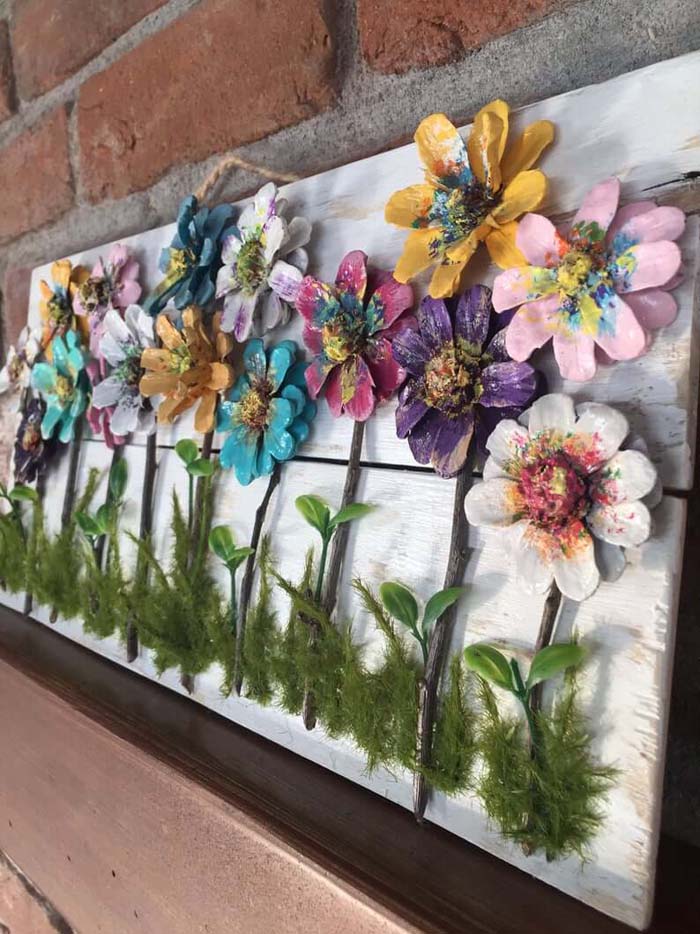 This plaque is the best inspiration for a DIY project for your kids. Made of organic and safe materials, you can let your kids experiment with colors and shapes to create a spring flower garden.
The petals of the flowers are made of pinecone pieces. Depending on the rows from the pinecone left, the flower becomes dimensional.
For the stems, branches are used and the leaves are from boxwood pieces. The grass is recreated with moss. For background, you can use a wide wooden board or a canvas.

29. Colorful Painted Pinecone Wreath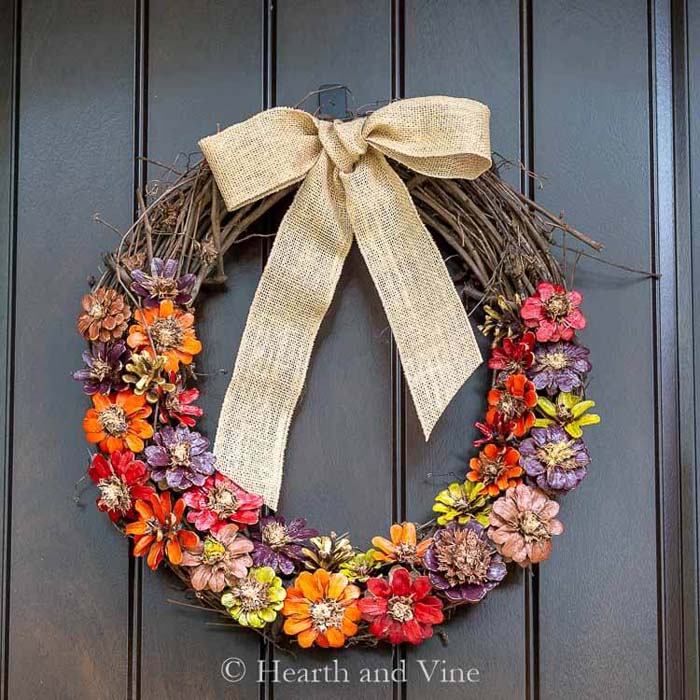 The idea for transforming pinecone pieces into flowers is incorporated in this front door wreath. The base is grapevine on which the painted pinecone pieces are glued.
The colors are various but they are so well arranged to create a whimsical effect of the autumn palette. Because of the natural look of the wreath, a burlap bow is embellishing it on top to enhance its rustic beauty.
via Heart and Vine