I guess there is no such person who doesn't feel warm and cozy when entering farmhouse style bathroom.
It is astonishing how you can mix and match either vintage or contemporary details with farmhouse components and still got an incredible bathroom design!

Would you like to see some cool bathtubs made of galvanized metal?
Even though there are so many different types of pendant lights, lanterns, mirror frames, and rustically chic wall decorations, every farmhouse bathroom should have a focal point for a finished, stylish look.
Related: How To Make A Hot Tub Surround With Deck
And what's better than an old-fashioned tin bathtub! They are usually coming in various shapes, styles, colors, and sizes.
Moreover, the tin bathtubs create an unpretentious, sophisticated, ranch styled vibe.
To help you visualize what I am talking about, I've prepared 10 amazing tin washtubs ideas. So let's dig in!
1. Paint Your Tin Bathtub White for an Elegant Look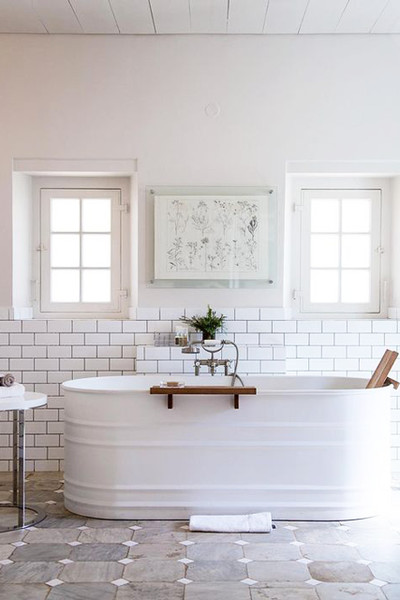 I decided to start my collection with the painted tin tub.
That is a great idea if you want to smooth the industrial feel in the bathroom and make the room looks warmer and welcoming.
Moreover, the white color is very classic and easily match the rest of the decor. Combined with wooden elements, the tin bath builds the ultimate farmhouse interior design, don't you think?
2. Soak in Tranquility with a Slipper Tin Bathtub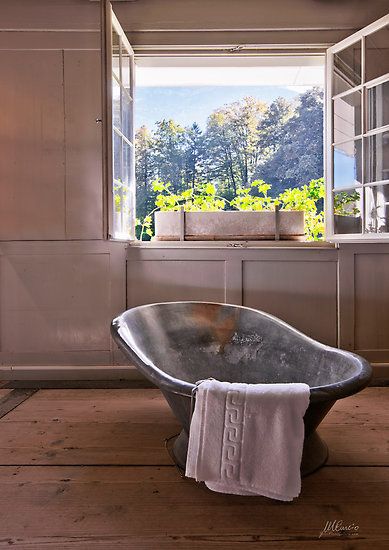 Photo:Credit
The slipper metal tub and the solid wood floor add touches of old centuries in this master bath.
The natural light that comes in from outside compliments the rounded edges of this tin tub.
What's better than soaking in the tub while enjoying the view?
3. Add Farmhouse Glam with an Ultra-Chic Copper Tub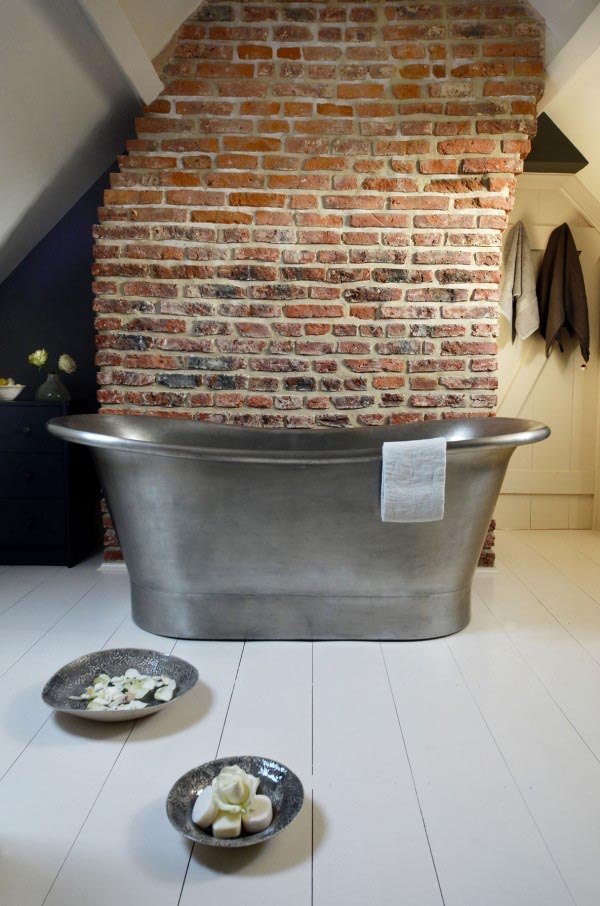 Photo:Credit
Remodel your washing room and bring a strong farmhouse vibe with this beautiful steel bathtub. Its artistic design and edgy finish always draw gasps of awe.
Love the contrast between the unsophisticated brick wall and the copper.
Every one of us would enjoy reveling in its aesthetic charm and simplicity within its pure shape. Am I right?
4. Beat the Summer Heat with an Outdoor Tin Bathtub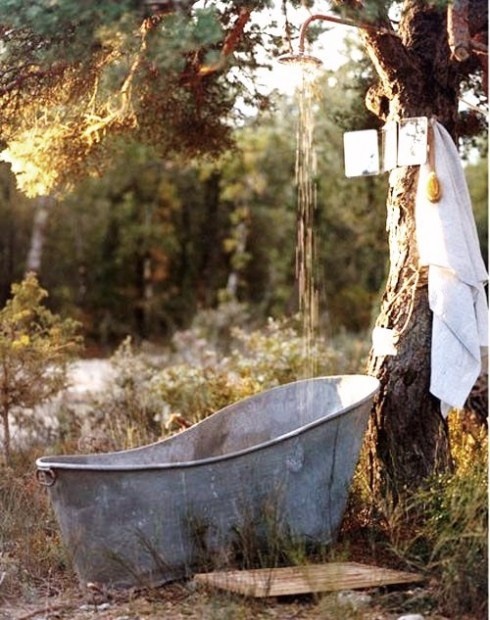 The hot weather can literally melt your brain, right? Sometimes there is nothing more refreshing than soaking in water with a glass of Margarita.
So why don't you build an outdoor bath using an old galvanized metal bathtub? It will bring so much urban chic to the backyard and you'll stay cool and revived all summer long.
5. Refresh Your Home with an Industrial Vintage Tub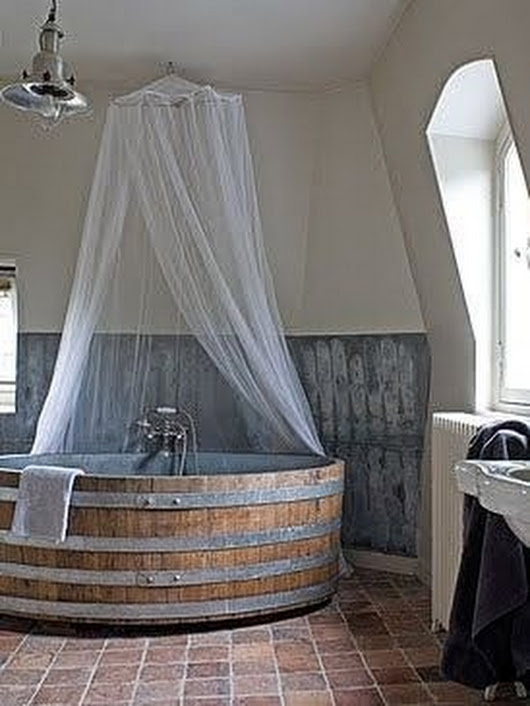 This large oval mid-century bathtub brings a strong industrial vibe which contrasts well with the fairy canopy.
The natural light that is coming from both sides gives the room an additional warmth and coziness.
6. Rejuvenate with an Angled Freestanding Tin Tub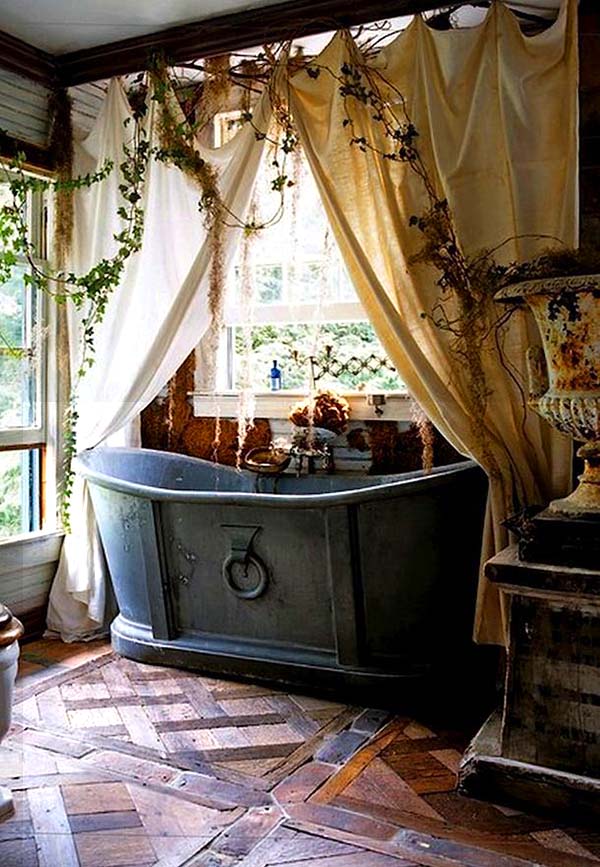 Photo:Credit
For me, the angled types of bathtubs are exceptionally flexible in terms of style.
You can pair the metal bathtubs with vintage accessories as shown here for a classic warming look, or put it in a renovated space for a silken take on the conventional freestanding tub.
7. Enjoy Natural Light with an Outdoor Bathtub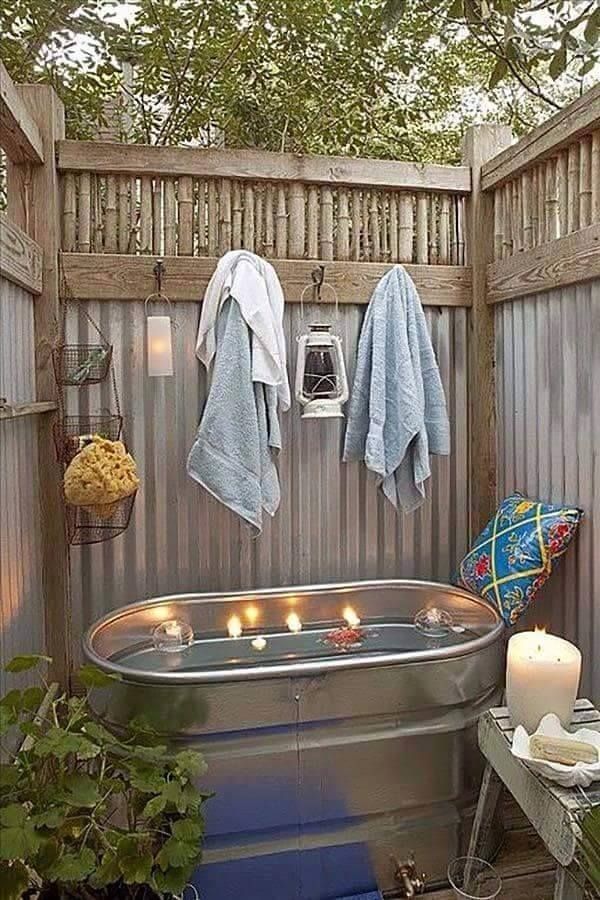 Photo:Credit
This galvanized-steel bathtub reminds me of my childhood's careless summer holidays in the countryside.
Along with all the vintage, barn elements, it is a real gem hidden in the backyard. The best way to relax after a long, stressful week at work!
8. Discover Timeless Style with a Pedestal Tin Tub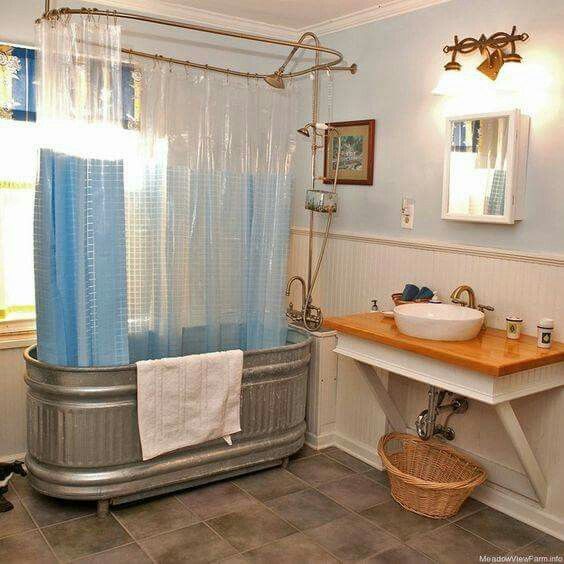 This pedestal tin washtub is another style of freestanding tub, which features small raised legs on which the metal tub sits.
This gives the tub some extra height, as well as a vintage look.
The wooden elements ideally fit this farmhouse bathroom design.
9. Enjoy the Vintage Feel of Wood Flooring for Your Bathtub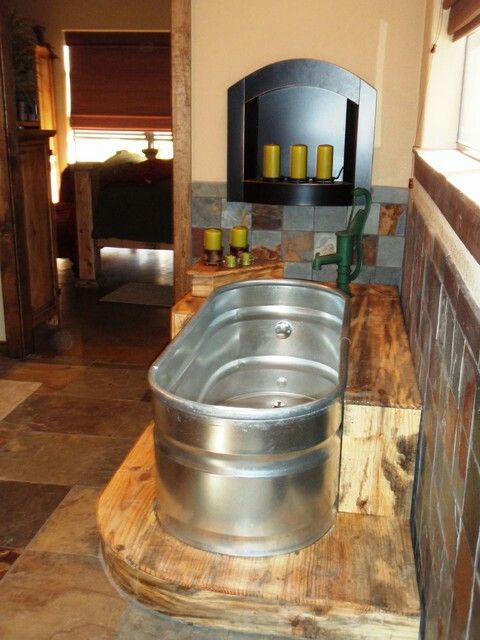 I bet you would love this tiny metal tub on a solid wooden stand!
This eclectic mid-size farmhouse bathroom combines well the unpretentious organic look of the wood with the industrial feel of the metal.
10. Refresh Your Backyard and Soak Away in a Tin Bathtub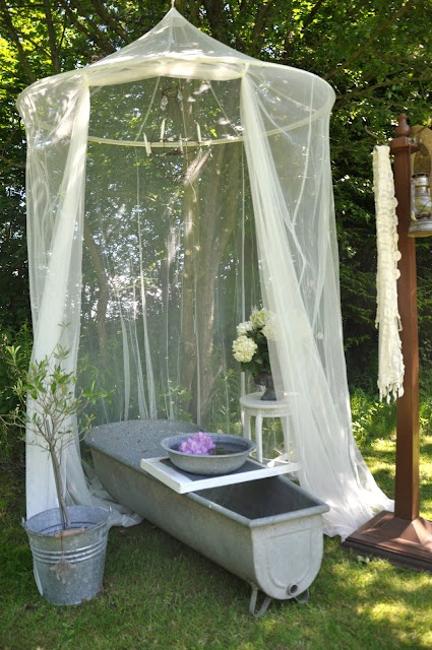 I will finish the collection with another cool idea for a galvanized bathtub int he backyard. The canopy gives the space a bit more privacy and, also, makes it look like the scenery of a fairy tale.
There is lots of greenery around for a more organic, simple, farmhouse look.
The farmhouse style decoration for the bathroom is timeless, always trendy and creates a warm feeling in every space (it's like a hug from someone you care about). 🙂 
So, what do you think about these old time bath tubs I just showed you? Would you like to have one at home? Do you think they would match your current bathroom decor? Let me know what do you think in the comment section below! Cheers!