The disorder at home can drive crazy any housekeeper. It is not only that it ruins her reputation for a perfect housewife but it also makes it impossible to locate most of the stuff.
The hideaway drawers and coverts come to help. They are the optimum solution for small homes but they fit well also in bigger properties. The hideaway doesn't necessarily mean a secret compartment in the wall.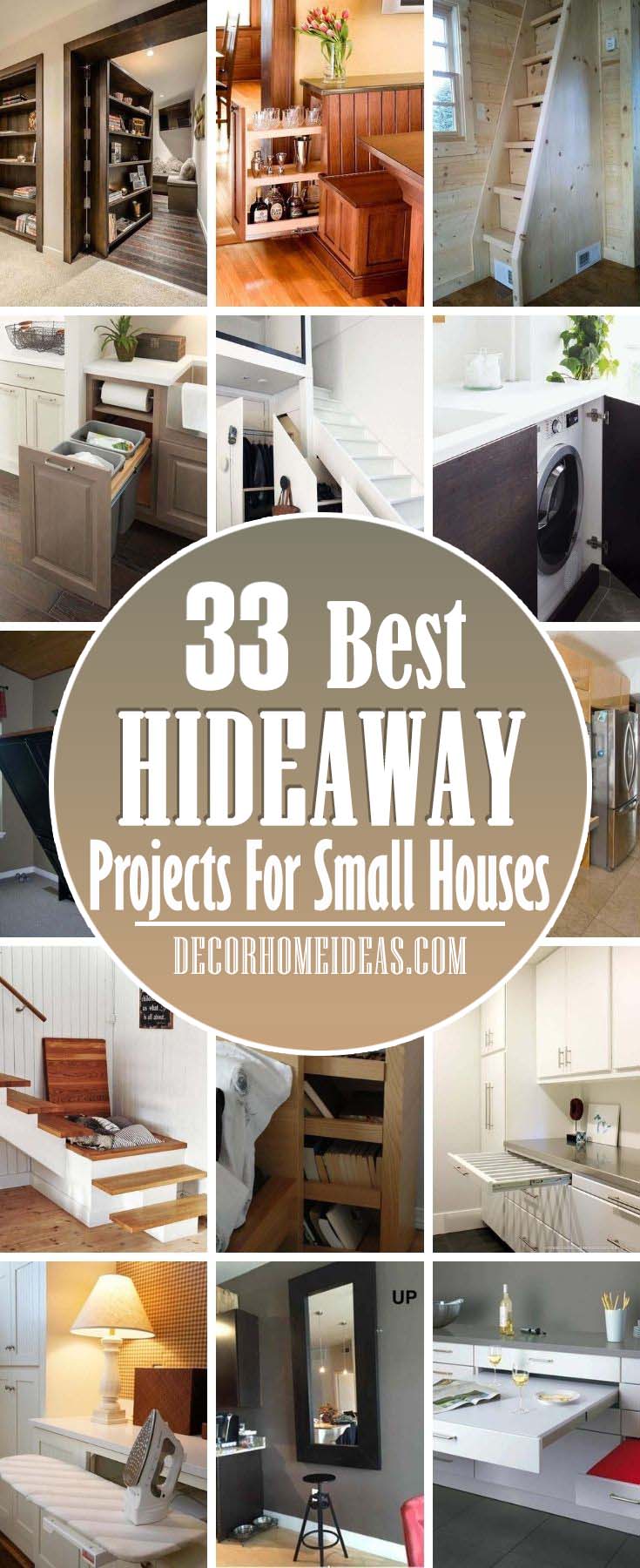 It can be simpler like additional storage underneath a seat, a table, even a bathtub.
Check out these clever hideaway projects for small homes that will put the mess in order, that will let you organize your stuff without taking too much from your floor space or building up piles of boxes in the closet.
1. Maximize Space in Your Bathroom with Under-Tub Storage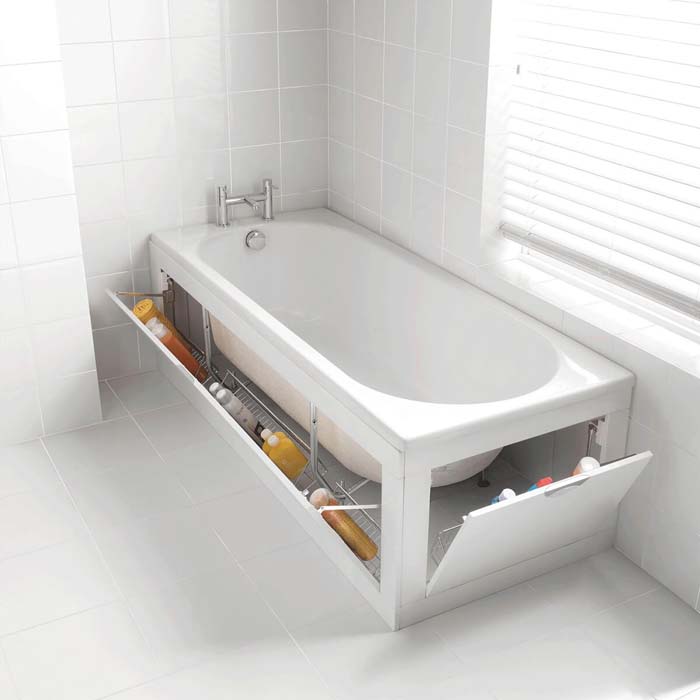 This is a great idea about how to organize your bathroom. Use the space underneath the bathtub to store washing accessories and cosmetics. It can be executed in the shape of a closet where each leaning door is equipped with metal holders.
2. Bed Stowage with the Ceiling-Mounted Murphy Bed System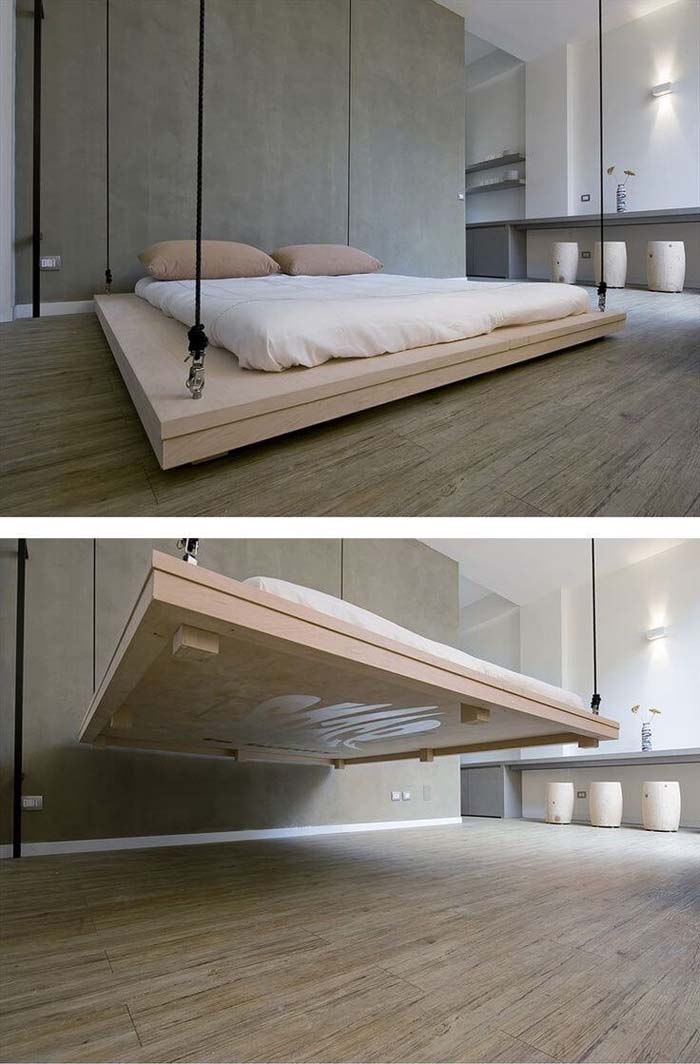 An alternative of the Murphy bed which doesn't go into the wall but slides up to the ceiling. The wooden platform is suspended on ropes and ensures a flawless move.
3. Maximize Your Bathroom Storage with a DIY Metal Stand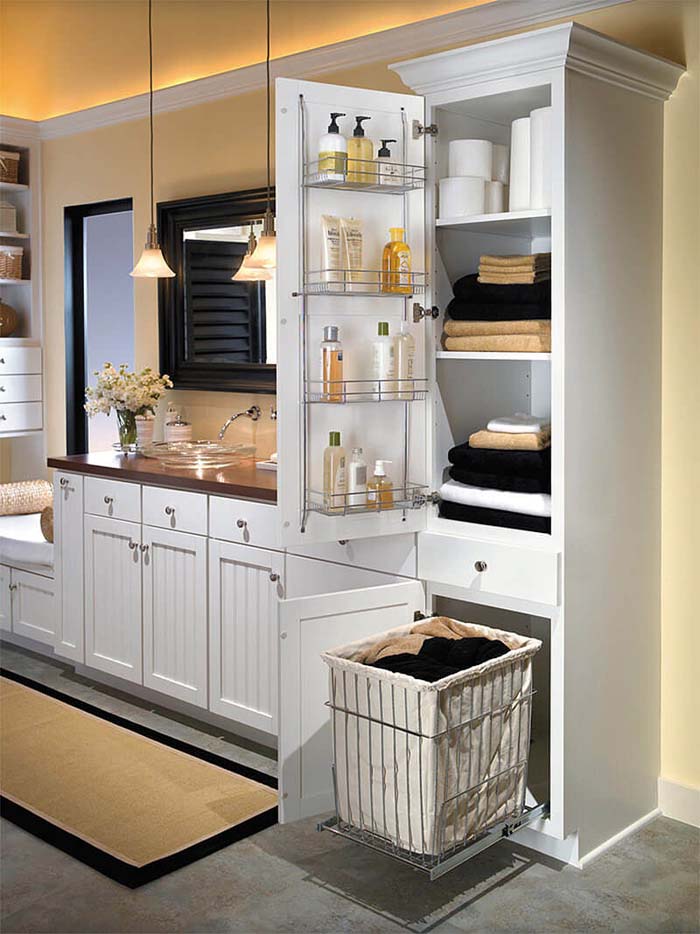 Every closet door can provide an additional storage place. A metal stand secured with screws is a simple and affordable holder of cosmetics or other bathroom accessories.
via Houzz
4. Organize Your Backyard with a Simple Wooden Closet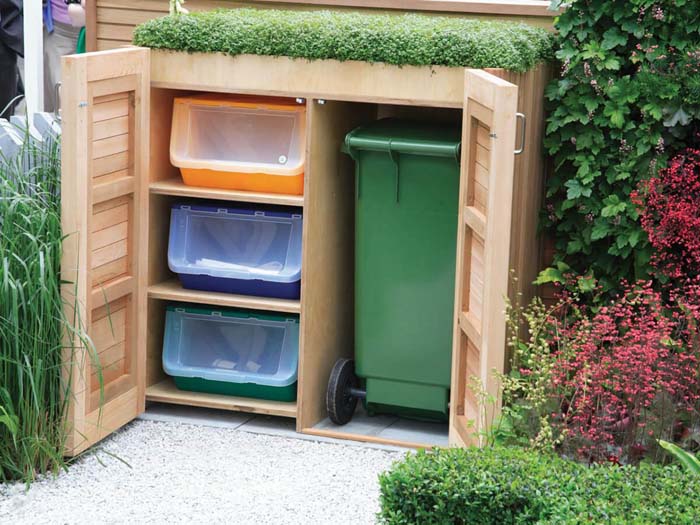 Gardening tools, hoses, a dustbin spread around the backyard just make an instant impression for chaos. A small wooden closet with two compartments can change that chaos into order.
5. Maximize Storage with Custom Drawers Under Your Staircase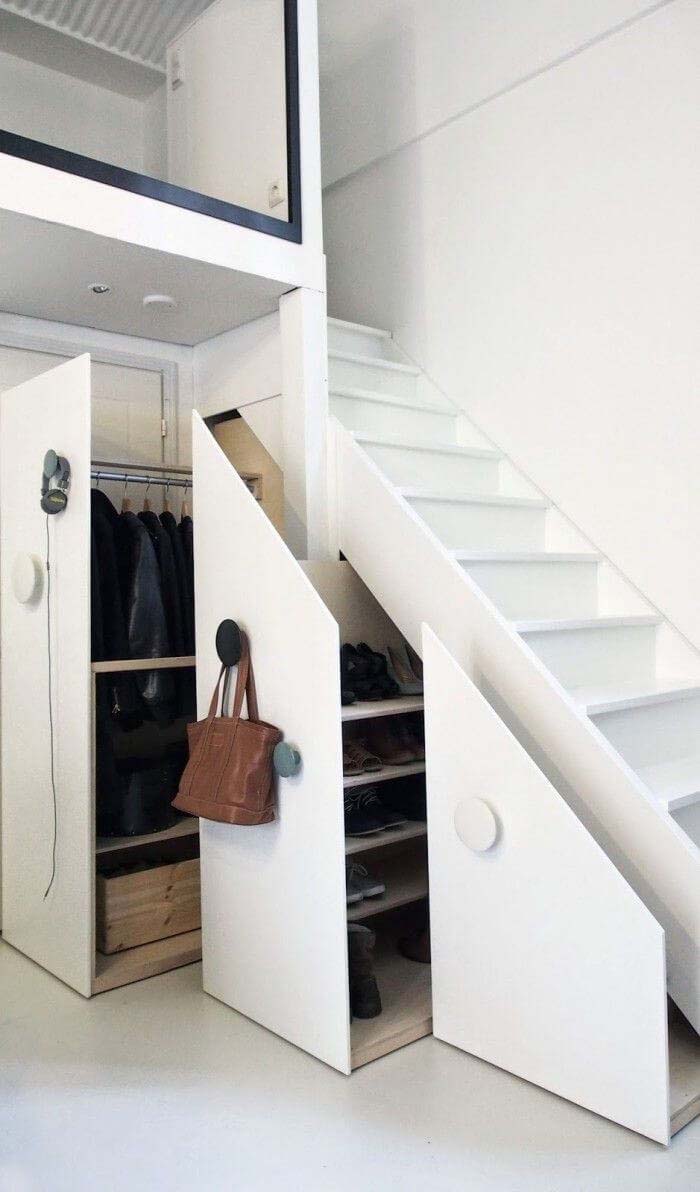 The space under the staircase is quite large and usually left empty. Make or purchase customized drawers that can store seasonal clothes and shoes.
via Muotopuoli
6. Upcycle a Dresser into a Multifunctional Coffee Table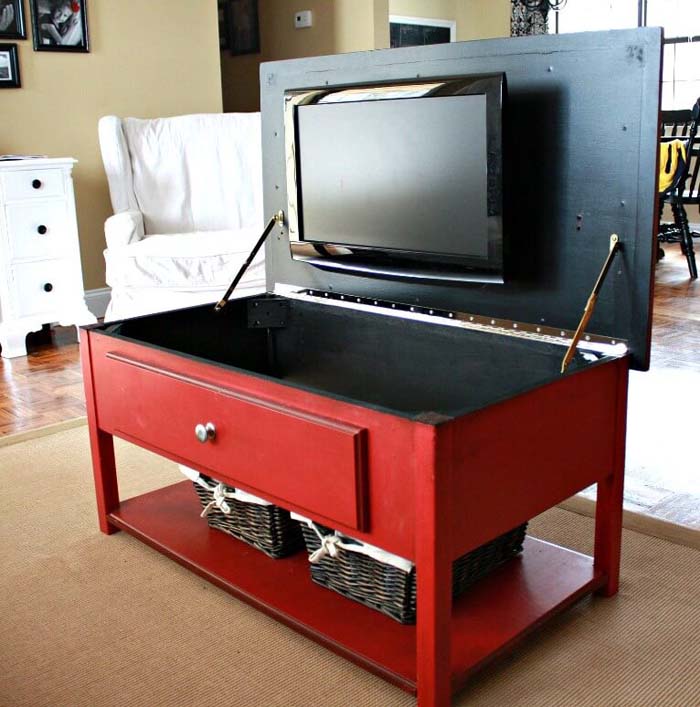 Do you need a coffee table? Are you desperate for more storage places? Get both with this handmade coffee table. An upcycled dresser is the thing you need to modify to achieve a multifunctional piece of furniture like this one.
7. Utilize Space in Small Homes with Innovative Storage Solutions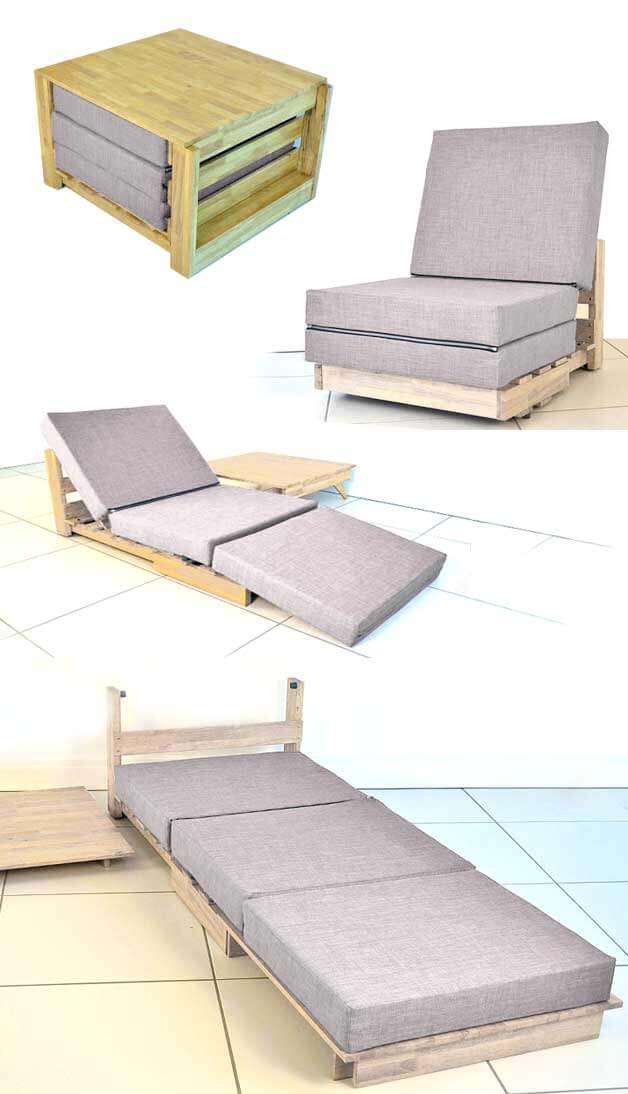 People living in small spaces appreciate clever storage ideas and multifunctional furniture. This is an example that combines both.
8. Incorporate Non-Integratable Kitchen Appliances into Cabinets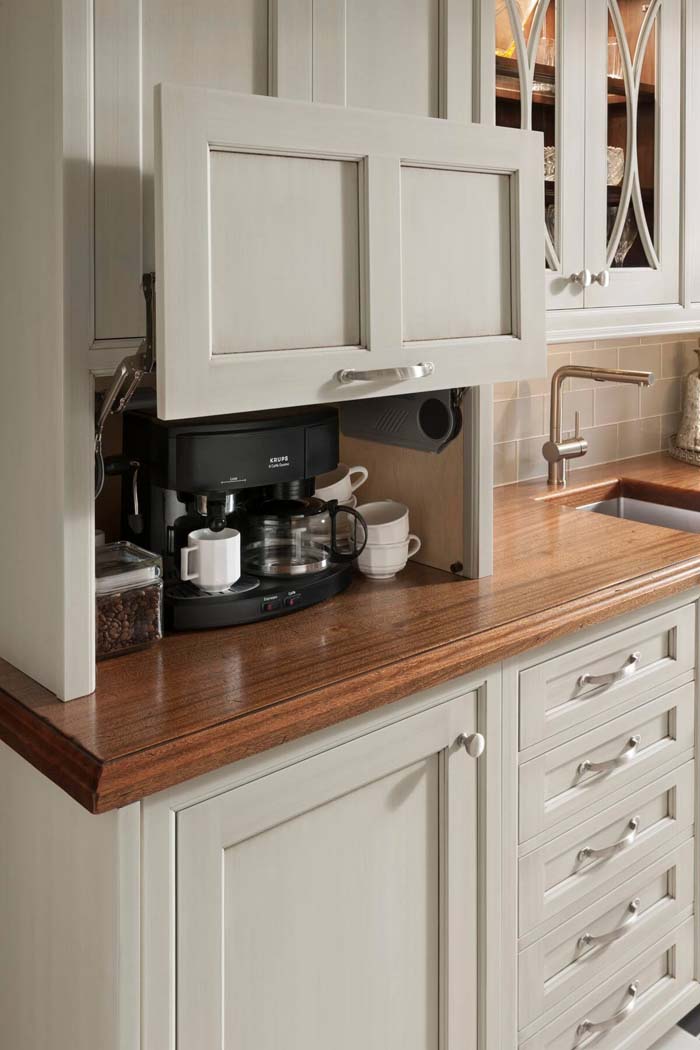 Most of the kitchen appliances can be built-in in the cabinets and thus make the kitchen look tidier and cleaner. But how about appliances that cannot be integrated?
Close the niche they are placed in with a cabinet door. It can be simple or with a sliding or push-up mechanism. In all cases, the niche will blend with the rest of the interior and will be protected from dust.
9. Pull-Out Drawer Dustbin Hideaway Projects for Small Homes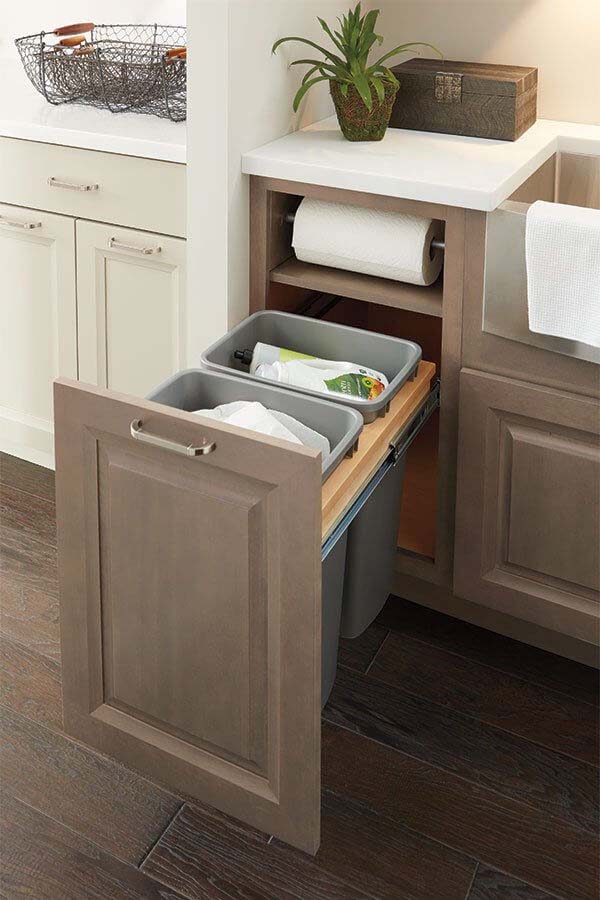 A pull-out drawer in the kitchen is a clever storage idea not only for dishes and utensils. Leaving the drawer without sides and a bottom will let you use it as a dustbin hideaway.
10. Organize Your Laundry with Bathroom Cabinets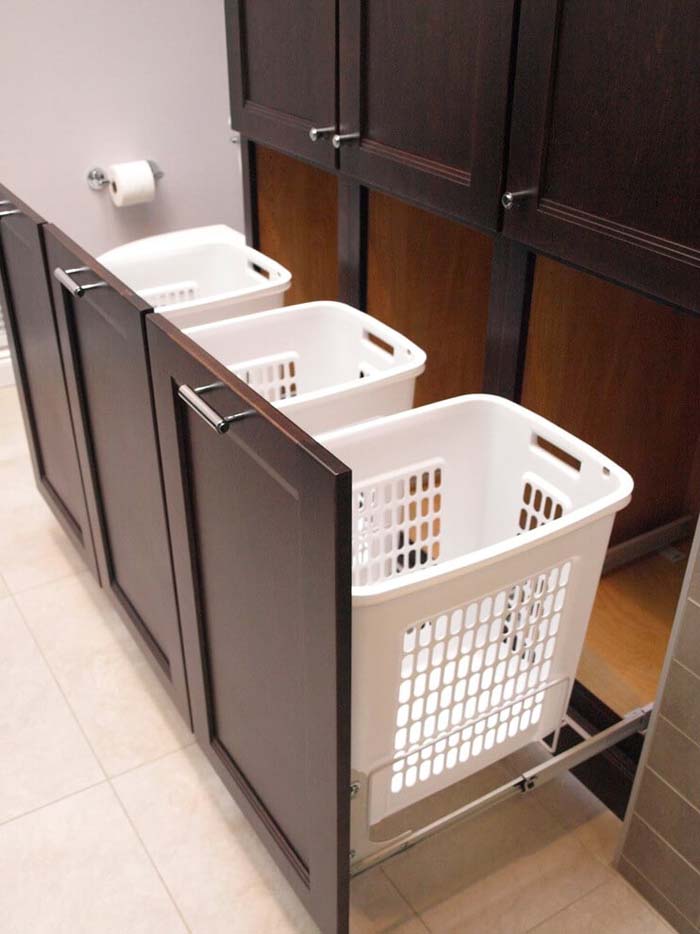 The phrase "dirty laundry" means many things but figuratively or not, no one wants to see it. One of the walls in the bathroom can be utilized with cabinets.
Use the bottom half to store your laundry baskets.
11. Enjoy Drinks and Meals in a Clever Space-Saving Murphy Bar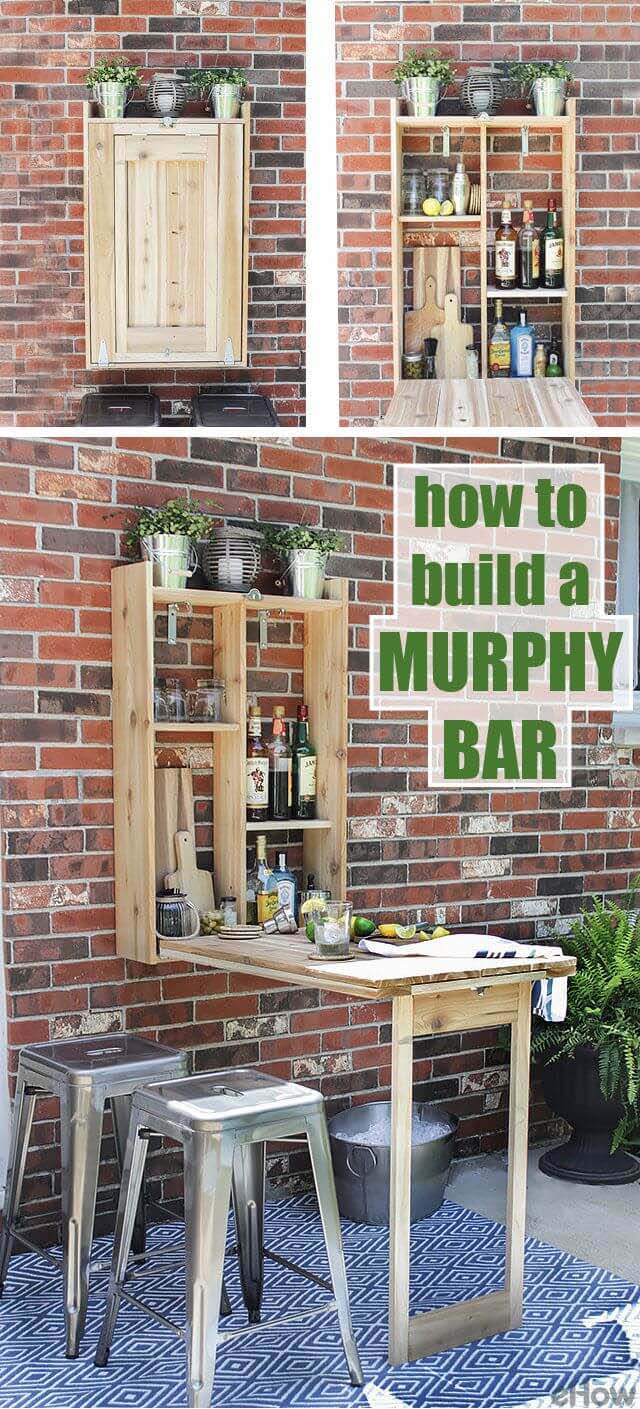 Even when your backyard is big enough to have all kinds of storage and seating furniture, this Murphy bar will never be surplus as it doesn't take up any of the ground space.
It is an organized and easy way for two people to have a drink and meals with all the needed things stored in one place.
via Hunker
12. Organize Your Kitchen with a Magnetic Knife Hideaway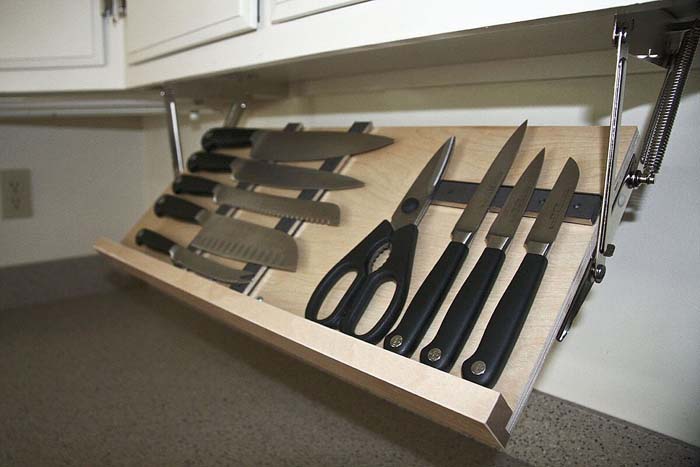 With the help of a drop-down mechanism, the bottom of a kitchen cabinet becomes a hideaway for knives. Attach magnet strips to fix and organize them securely.
13. Utilize Your Staircase Landing with Creative Storage Solutions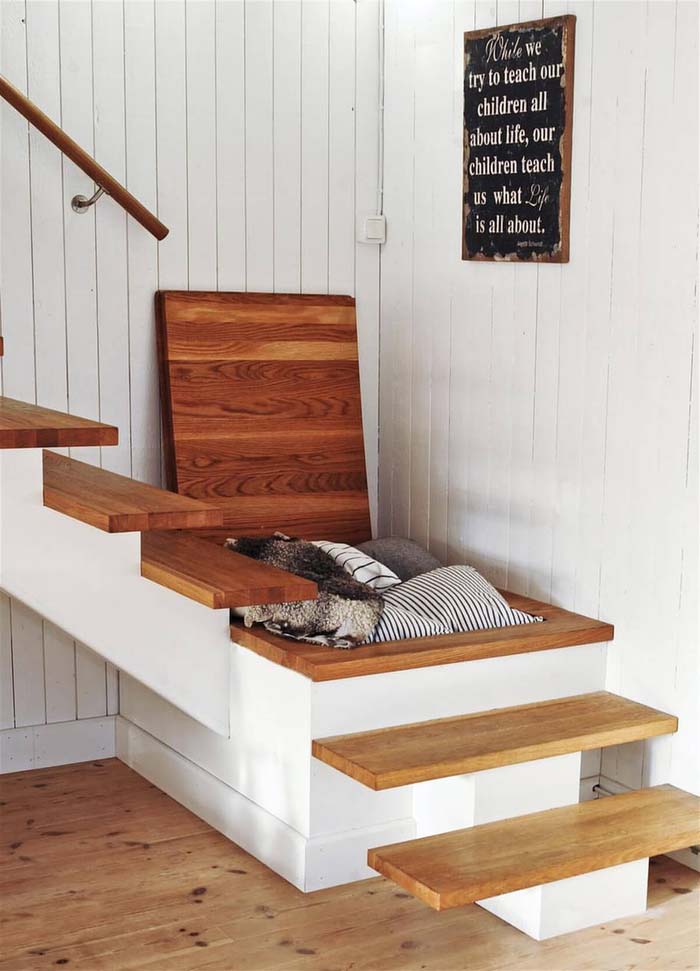 The landing of a staircase is also a great storage place some of us would never think of. It is wide and deep enough to turn it into a storage box for various stuff, the linen for example.
14. Transform Your IKEA Mirror into a Stowaway Table for Dinners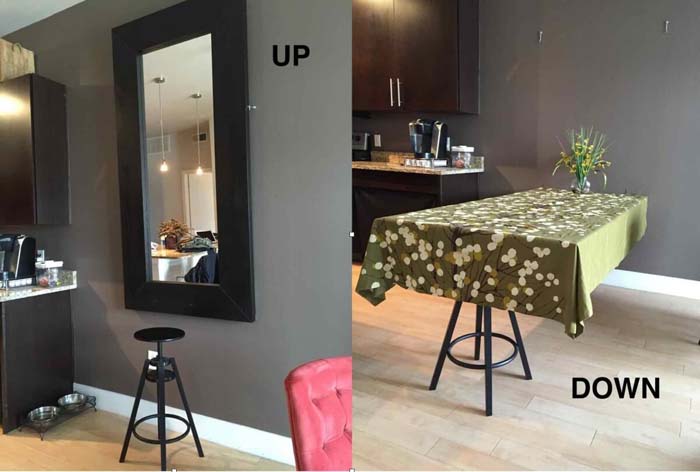 With the help of proper heavy-duty hardware, an IKEA mirror transforms into a stowaway table for 6. This is a genius solution for people living in small apartments that still want to host dinners.
If you are afraid of cracking the mirror, you may consider covering it with a wooden board or using a framed painting or poster instead.
via IKEA Hackers
15. Create an Ironing Station within Your Bedroom Dresser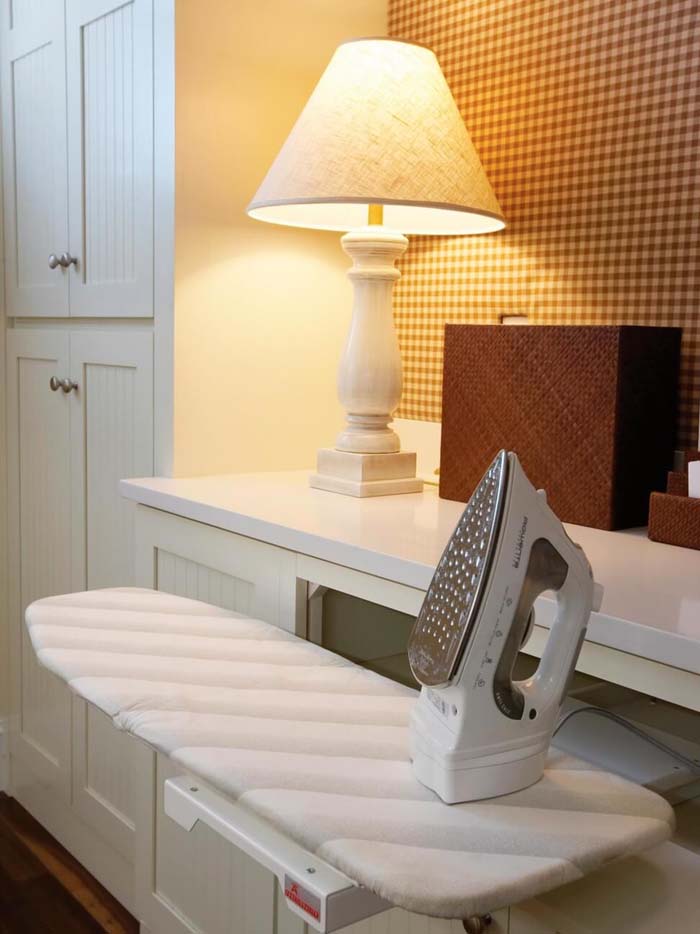 If you prefer an interior that allows hiding most of the appliances, you would like this idea. Build the ironing board in your bedroom dresser.
Take out the top drawer, install a pull-out mechanism and close with the front of the drawer.
16. Transform Your Kitchen Island Into a Pull-Out Table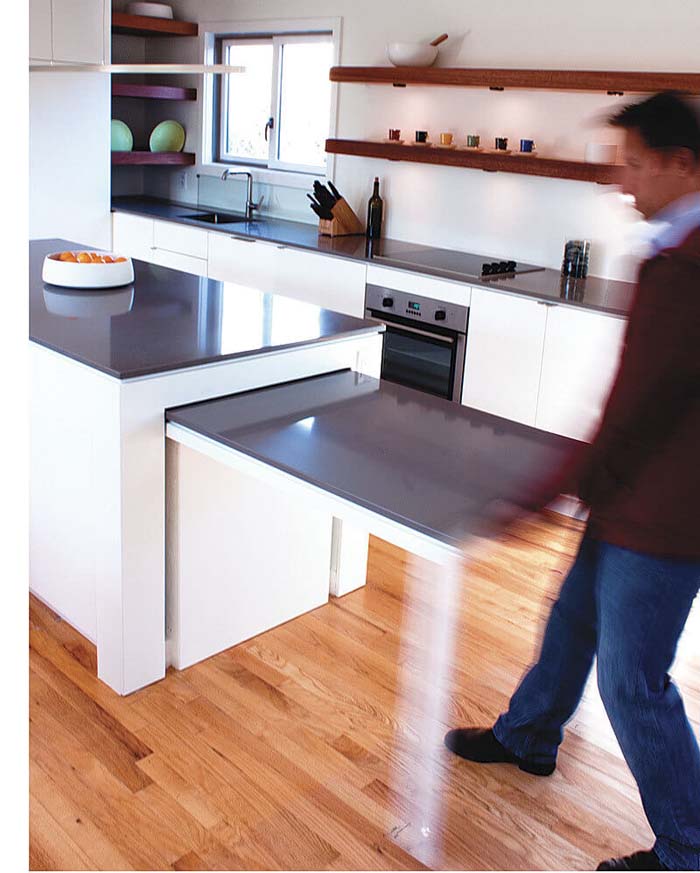 Have you been in a situation when the seats are not enough? The kitchen island can become a source for a secret pull-out table that will let you host more people at once.
17. Modern Clothes Drying Rack for Laundry Management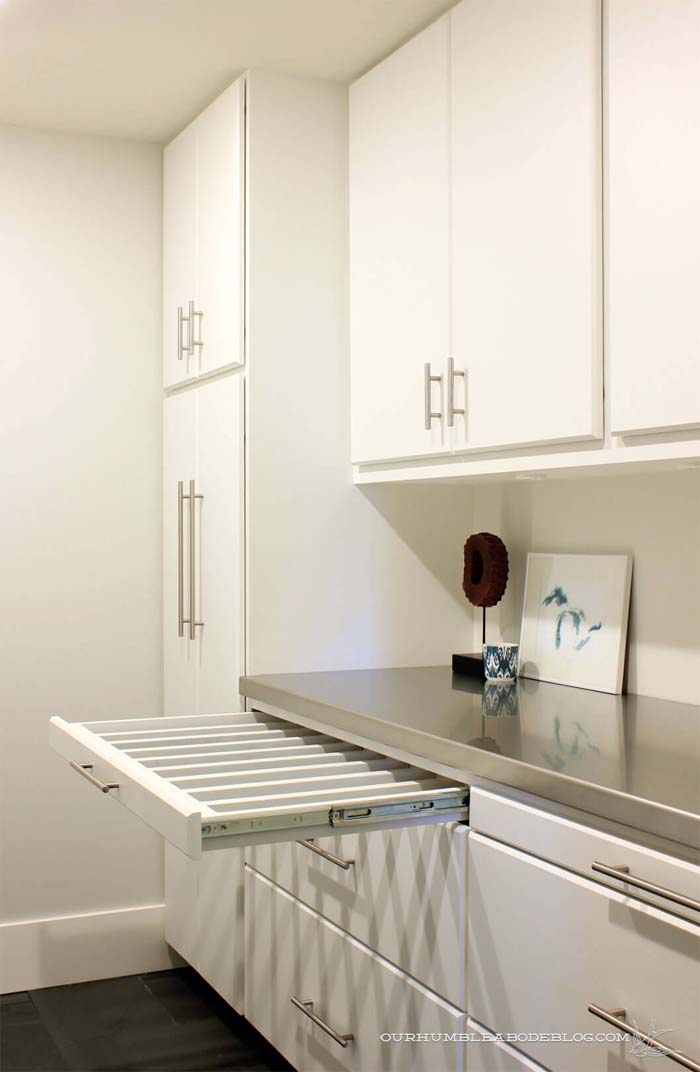 This rack for drying of clothes is a modern idea that can be incorporated in almost every room where there are cabinets or dressers.
via Our Humble Abode
18. Pull-Out Kitchen Worktop for Meal Prep, Serving and Storage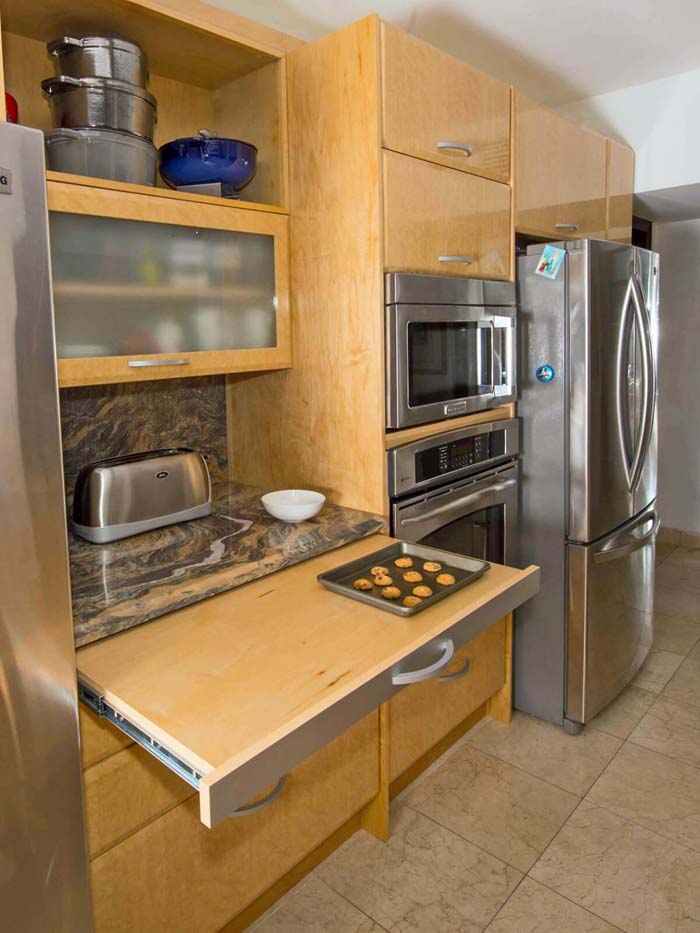 Similar to the drying clothes rack, this auxiliary worktop can be pulled out from the kitchen cabinetry as needed. It can be used for food prep, for a side table or to store meals before serving.
19. All-in-One Outdoor Hose Storage Solution

When we speak about hideaways, we need to also pay attention to our home exterior. Do you have a place to store your hose or most of the time it is left as a pile on the ground?
This cabinet has both practical and decorative functions.
via DIY Candy
20. Transform Your Kids' Desk with a Hideaway Solution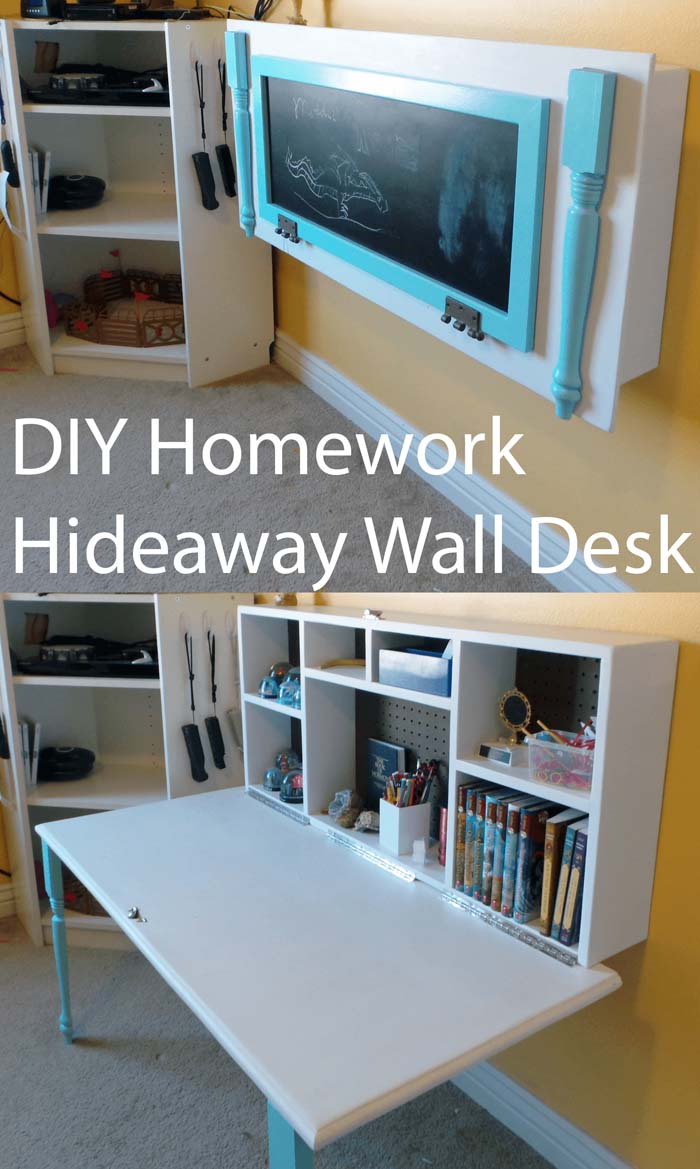 Are your kids always protesting against cleaning and organizing their homework desks? With this brilliant hideaway desk, you won't have such problems anymore.
The DIY considers compartments for all homework appliances. Mounted on the wall, it is a solution to space limitation problems.
via Organized Mom
21. Maximize Your Kitchen Space with Pull-Out Furniture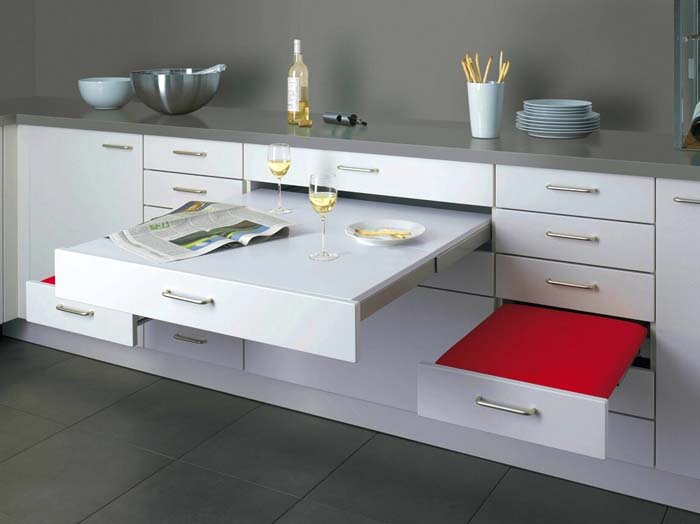 If you don't want to make compromises with comfort because of the space limits, consider pull-out furniture.
We are used to seeing it as a solution for small bedrooms. Well, there are smart ideas for the kitchens, too.
via Alno
22. Conceal Your Washing Machine with Cabinet Doors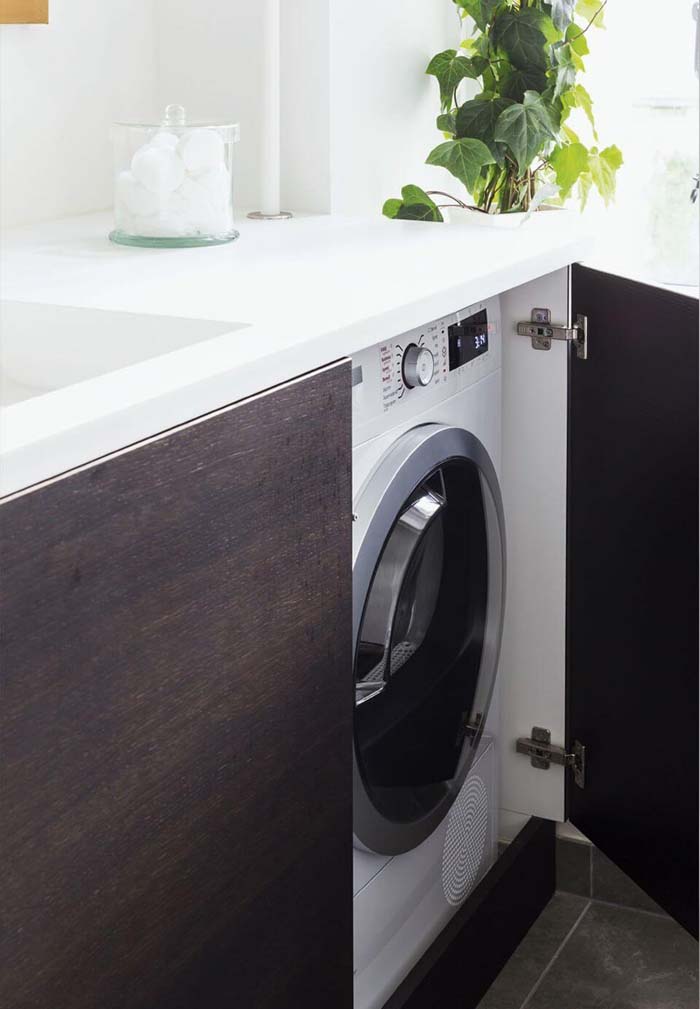 Hiding the washing machine is not required only because of aesthetic reasons. It is good when it comes to the technical and practical aspects.
Hiding it behind cabinet doors is one of the easiest, affordable and good-looking ways.
via Bobedre
23. Give Your Staircase Extra Storage with Pull-Out Drawers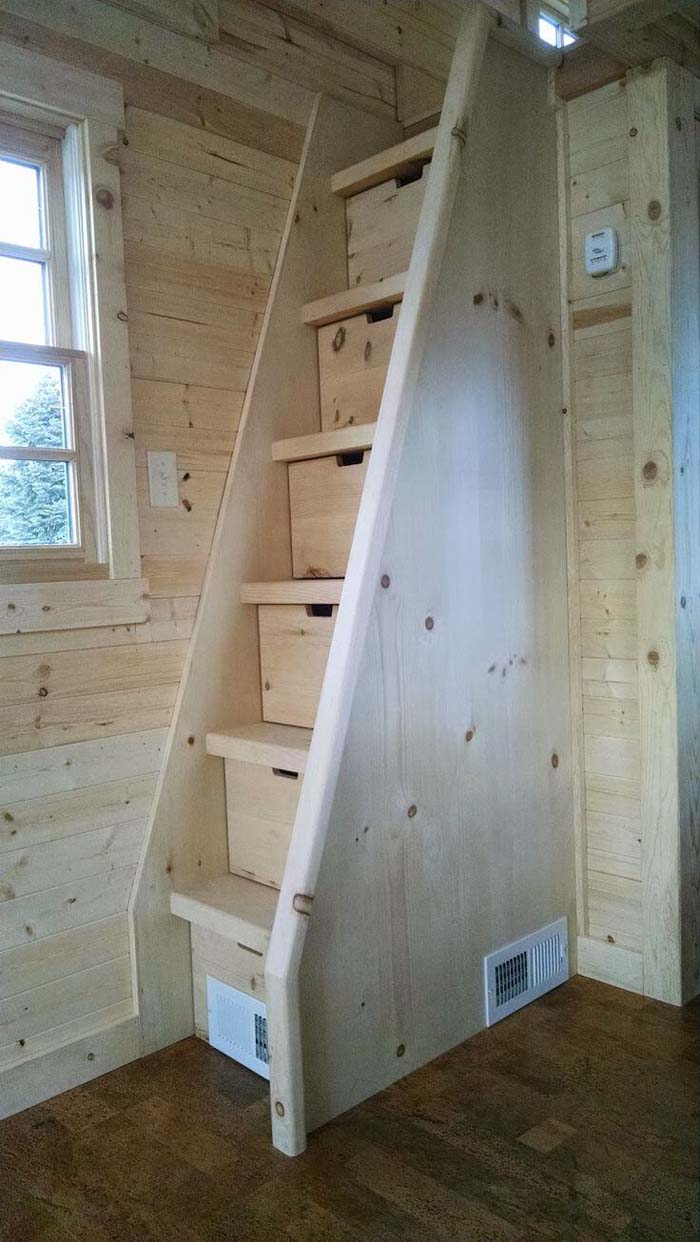 You can turn any staircase into an additional storage place by making the steps pull-out drawers.
The top surface must be fixed to the structure as it will be used for stepping. The rest looks like a box with an opening for easier pulling.
via Fy Nyth
24. Use Shelves To Enhance Your Wall-Mounted TV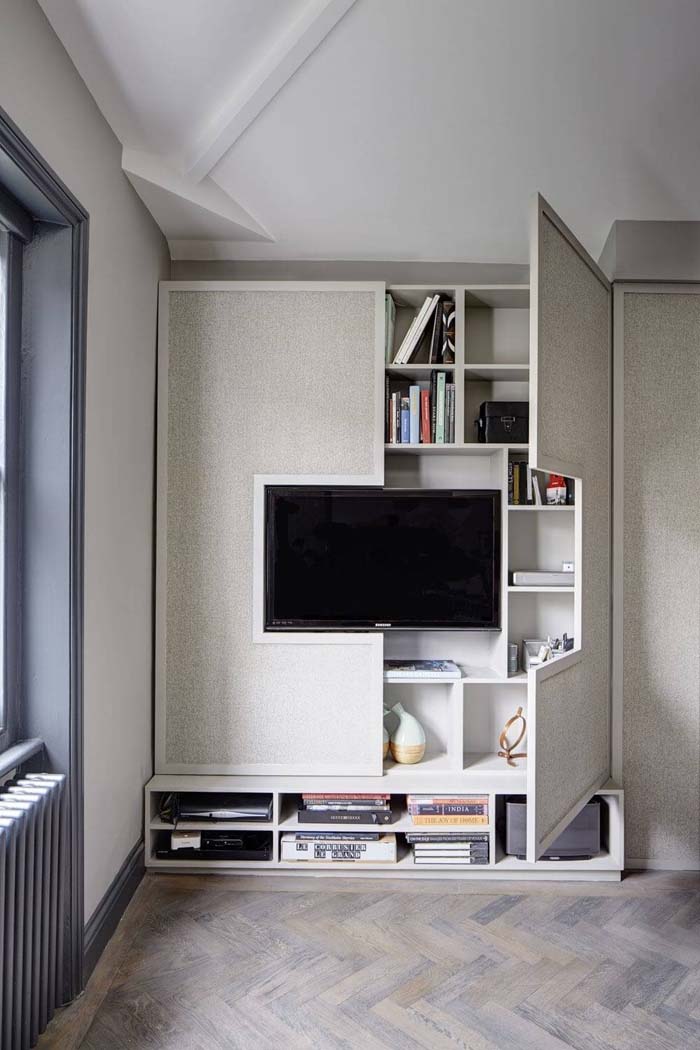 When the TV is mounted to the wall, it is always at a certain clearance from the wall. Use these centimeters smartly by surrounding the TV with shelves.
Apart from the TV cables and remotes, you can store books, decorations, game disks etc. For a neater look, close the shelves with doors.
via One Kind Design
25. Elevate Your Small Kitchen with a Foldable Door Cabinet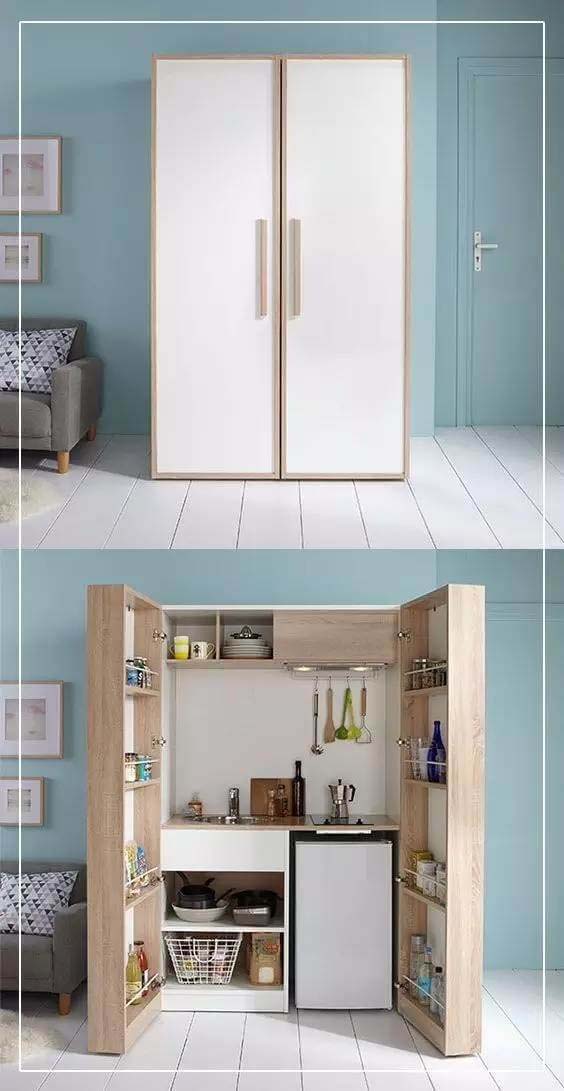 When you are not keen on cooking or the space is too small, then this hideaway kitchen is all you need.
The foldable doors will accommodate all kitchen utilities. When closed, you can easily mistake the kitchen with a cabinet.
26. Creative Solutions for a Murphy Bed in Small Spaces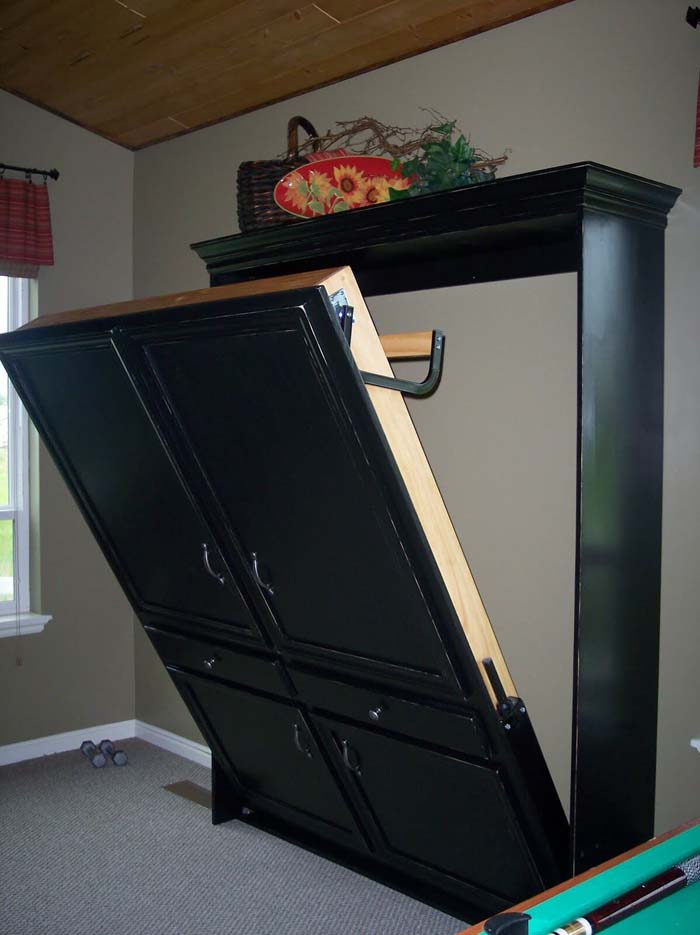 Living in a small space provides big challenges. One of them is how to blend the Murphy bed with the interior when unused.
Cover its bottom with closet doors to look like a standard part of the living room during the day.
27. Impress Your Guests with a Hidden Liquor Collection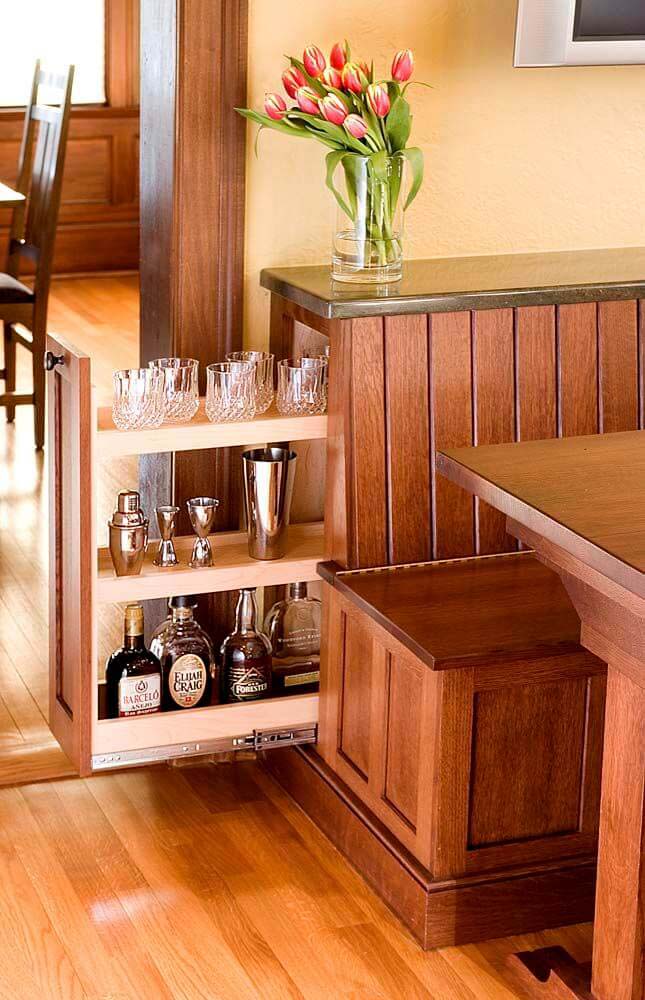 Hideaways are not a hot topic only for people living in small spaces. They are an attractive feature for people who love extra comfort and chic.
Guess how impressed your guests will be when you pull out a secret drawer from a cabinet or sitting bench full of classic matured liquors?
28. Unlock Your Kitchen's Potential with a Rolling Cooking Island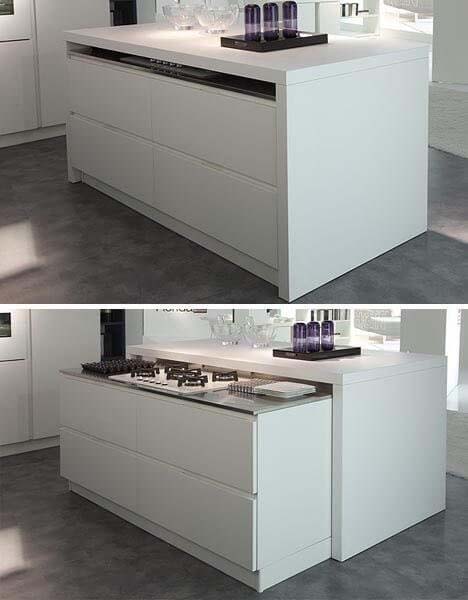 The cooking board appears when you need it and disappears when you don't. It sounds like a genius solution especially when you don't want to ruin the neat line of the kitchen.
A cabinet, a table a bar can easily turn into a top of a rolling island as long as the latter is of suitable size and mechanisms for sliding or rolling.
29. Store Your Books in a Hideaway Headboard Drawer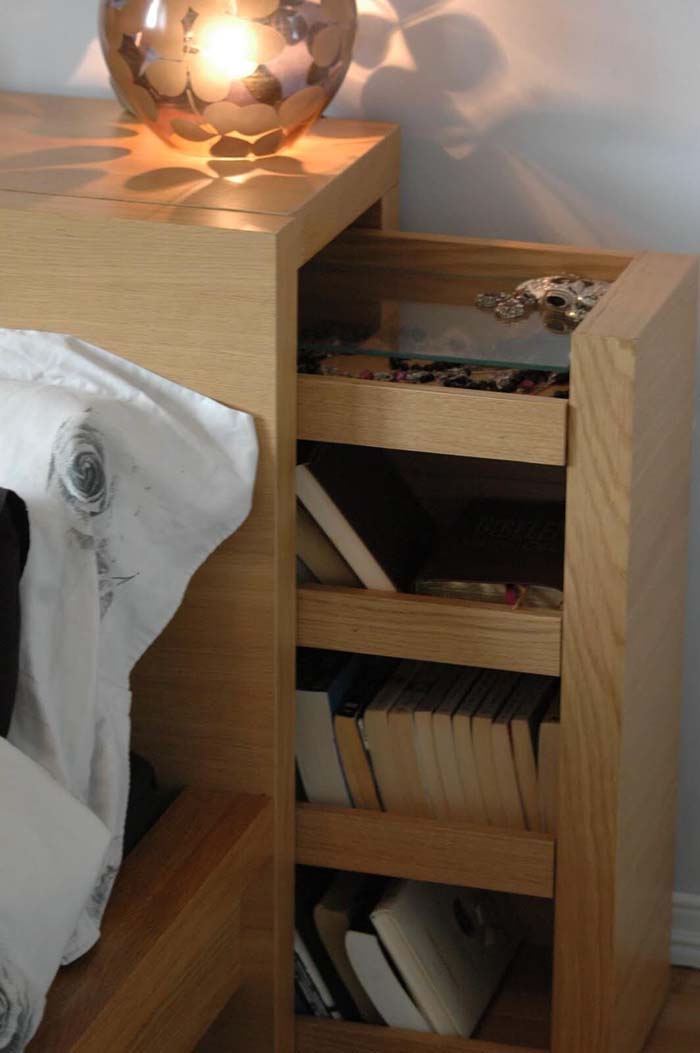 Use the headboard as a hideaway for your books. The storage place comes as a drawer that fits tightly into the headboard structure. Use push-to-open mechanisms.
30. Use Movable Walls and Sliding Doors for Hideaway Room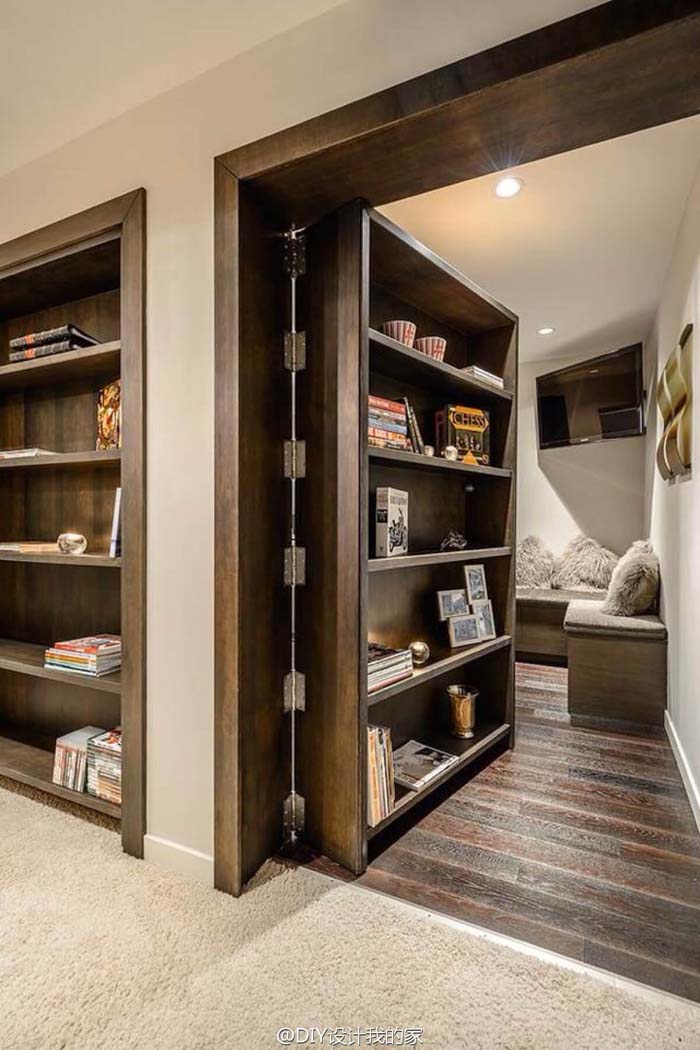 The movable walls and the sliding doors can differentiate an area into a small nook different from the rest of the rooms.
In order to blend the wall with the interior of both places, decorate it in the same concept as the rest of the surrounding interior. If the wall is placed in a living room, utilize it for a bookshelf.
31. Extra Workspace in Your Kitchen with a Hidden Countertop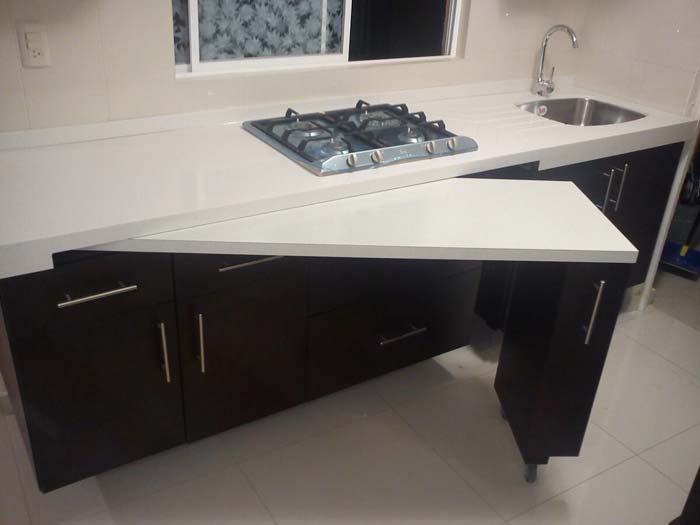 You can ensure an additional cook prep space if you allow for a hidden countertop above your island cabinets.
With a simple push, one of its corners gets out. By sliding it out of the niche diagonally, you get an L-shaped countertop in an instant.
32. Compact Apartment Kitchen with Folding Doors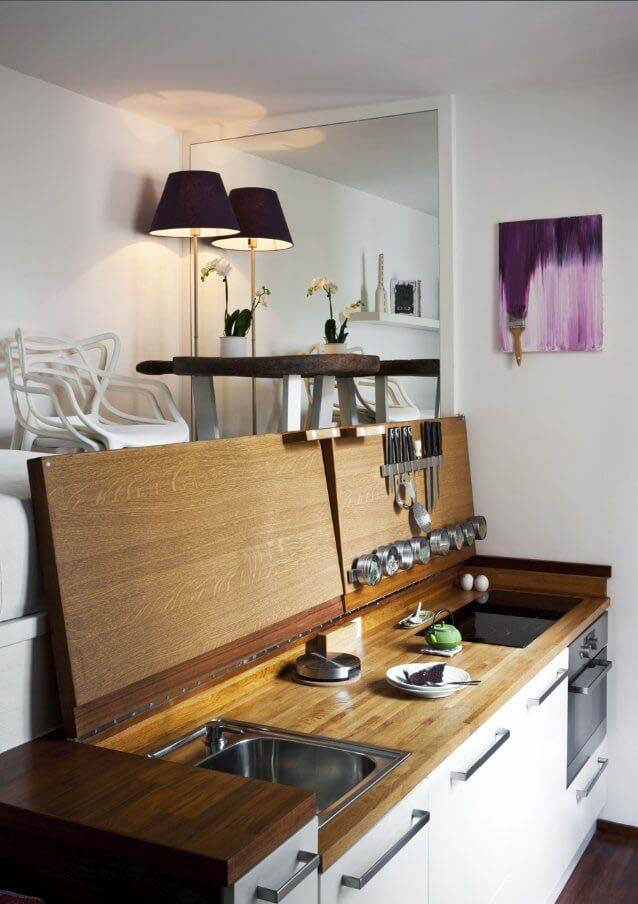 The photo shows a kitchen of a 15 sq m apartment. The place has everything, even a usable and good-looking kitchen.
When unused, the doors fold down as to give dining space and to reduce the visual chaos.
via Life Edited
33. Create Extra Storage Space with DIY Toe-Kick Drawers

If you have space under your cabinet drawers, then you can also make these drawers for additional storage. They are toe-kick opened and believe it or not- easy to make.
The project is also economical as making them yourself will cost you far less than the price of a cabinetmaker.
via Family Handyman