Fire pits bring a high entertainment value to any home. Everyone in the neighborhood wants to gather at your fire pit in the evening.
While the warm glow is perfect for lowering your blood pressure, walking back from a fire pit in the darkness can be a challenge.
The easy solution is adding lights to your fire pit area to create the perfect setting. Here are some fire pit lighting ideas to inspire your outdoor oasis.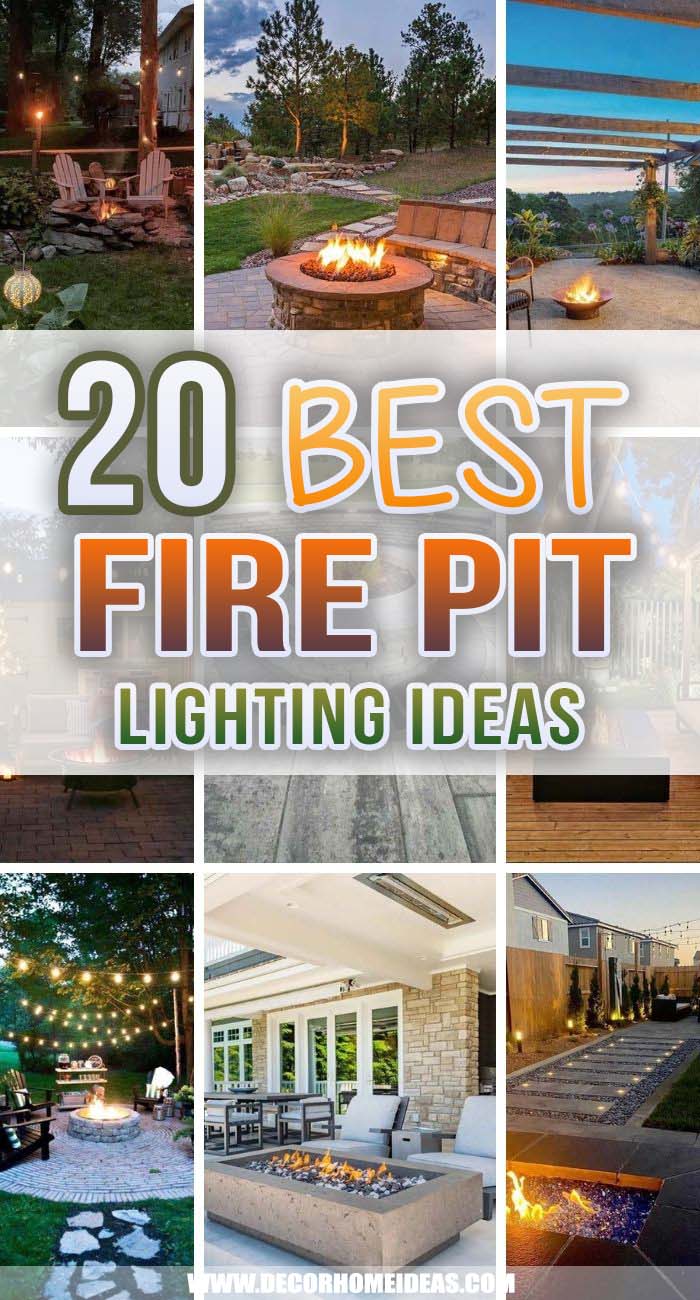 You don't have to dig up your yard to add electrical boxes. There are plenty of options available that use solar lights. If you already have a box, there are ideas for your yard, too.
1. Illuminate Your Fire Pit with Fence Lights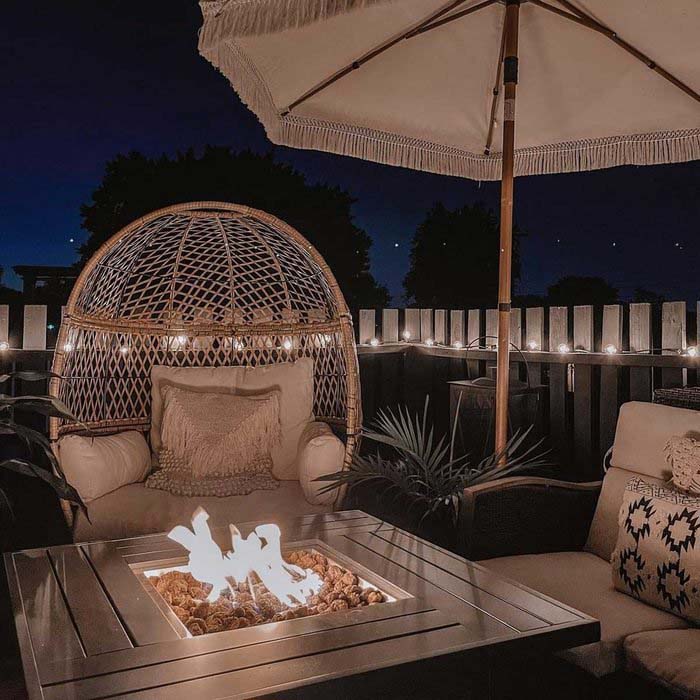 Warm lights create a comforting perimeter around this fire pit.
White-colored lights work well against the lighter wood color. Using the top support beam saves the homeowners from using extra poles.
Using larger light bulbs at eye level means fewer bulbs are needed. This is a cost-saving idea.
via Cassandra Corabi
2. Add Splendour to a Fire Pit with Hanging Gazebo Lights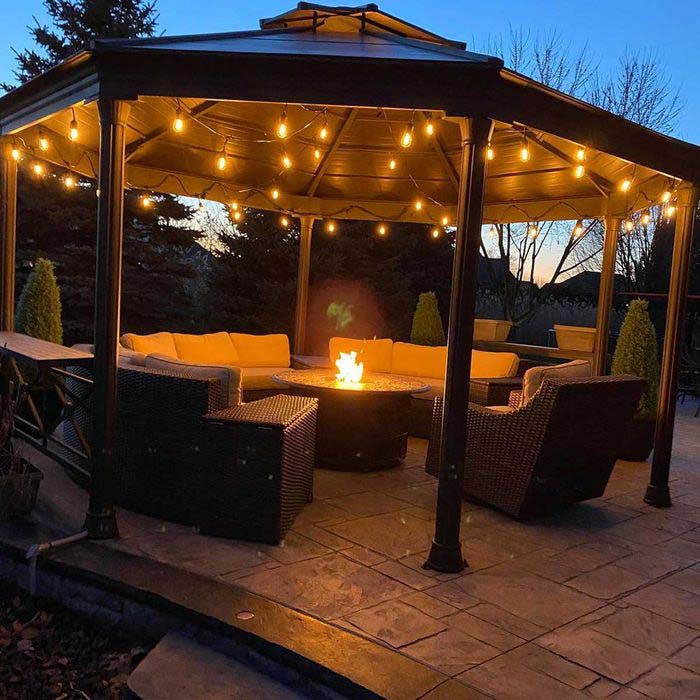 Gazebos extend the season for entertaining outdoors. For a fire pit, you need a ceiling height of at least 20 feet.
Gazebos need quality lighting as guests will have steps and furniture to navigate. Hanging lights from the ceiling of your gazebo creates a flashlight effect.
The light is gently reflected downward and the conversations can continue.
via RSC Electrical
3. Create a Festive Atmosphere with Holiday Lights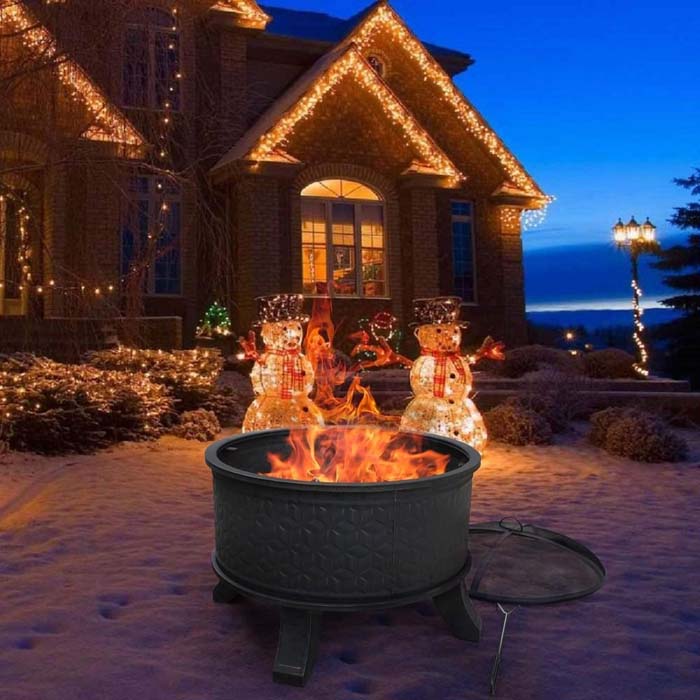 During the winter, a fire pit is a warm and welcoming rest area after an evening game of touch football or a snowball fight.
Lighted snowman decorations allow guests to find their thermos of hot cocoa. They also make great cheerleaders.
Warm white LED lights can remain on the bushes all year. They're a nice addition to the look of the landscape on summer evenings.
via Alpha Martsus
4. Jazz Up Your Fire Pit Area with Icicle Lights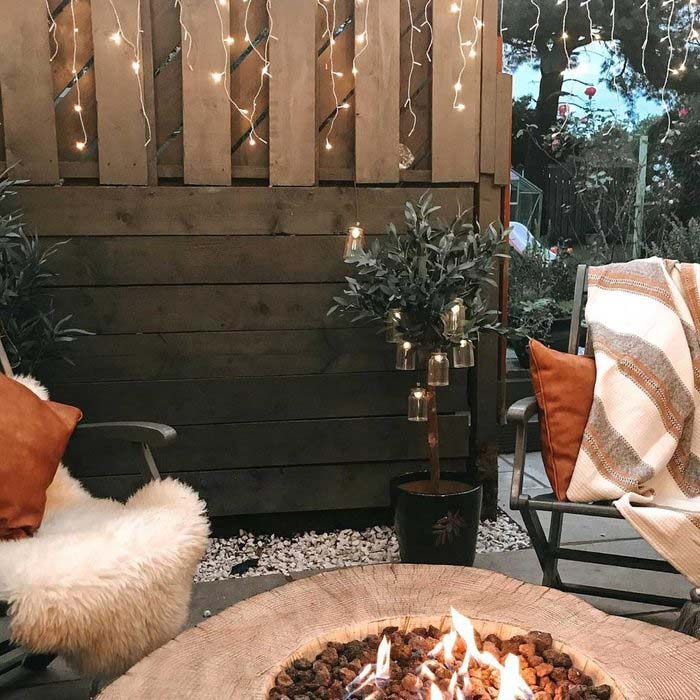 Don't pack up your icicle lights after the holidays. Use them to light up your fire pit area.
For patios that incorporate a rustic style, icicle lights will feel right at home all year around. The lights are hung against reclaimed wood panels.
This keeps them from disappearing into the background.
5. Enchanting Atmosphere with Lanterns and String Lights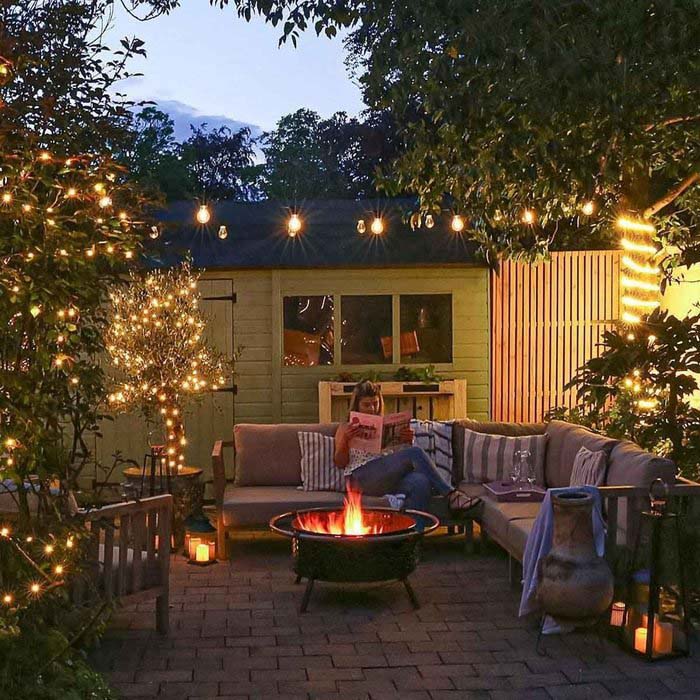 This patio uses the same warm white lighting through different light sources. Twinkle and string lights own the stage while lanterns illuminate dark corners.
Notice the panel of string lights in the background. This is the perfect wall for a beverage or snack area. A collection of LED candles can take the place of floor lanterns.
via Festive Lights
6. Bring a Contemporary Vibe with LED Paver Lights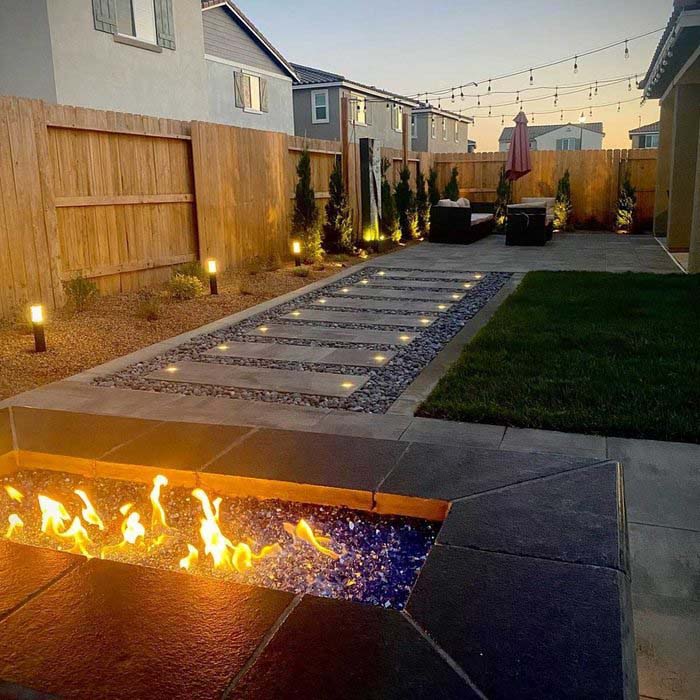 LED lights embedded in the pavers allow guests to walk safely between entertainment areas. LED light kits are available to make this an easy and efficient project.
You'll drill into pavers already in place. The only other choice that needs to be made is whether they're powered by a low-voltage source or solar panel. The kits are available using both options.
7. Unwind in Total Luxury with LED Strip Lights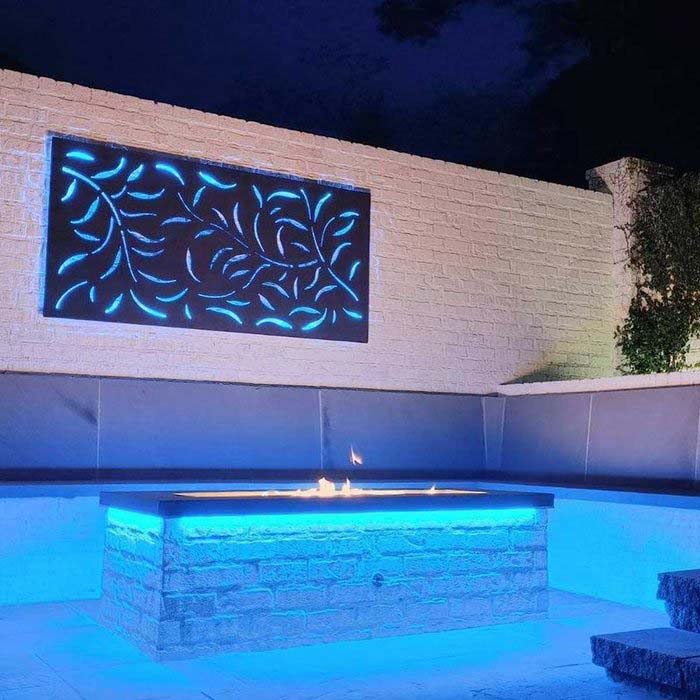 Flexible outdoor LED strip lights can be used for any purpose. Blue strips create the look of a fire pit in a pool area.
They're also used on the panel on the wall behind the seating area. Smart lights allow you to change the color by using an app on your phone. These are perfect for theme parties and match your décor.
8. Be Bold and Creative with LED-Lighted Buckets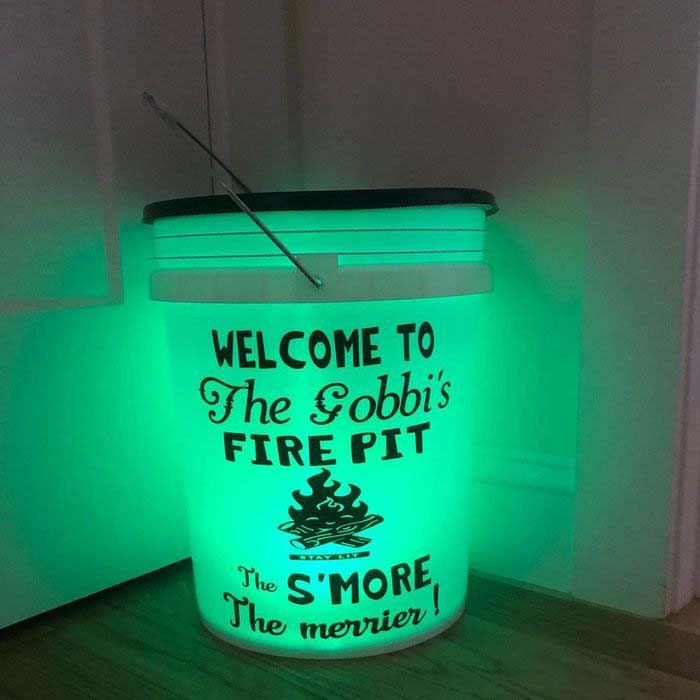 The list of DIY projects for five-gallon buckets is endless. Add a battery-operated LED light to the inside of a bucket to make a warm, glowing lamp.
Change the mood by changing the color of the light. Personalize this lamp using stencils and paint.
You can secure foam padding to the top for extra seating. Do this by cutting upholstery foam to size and glue onto wooden discs. Stretch fabric around the foam and staple to the wood. Screw the wood into the bucket's lid.
via Ellen Paul Gobbi
9. Enjoy a Cool Breeze on a Patio Fire Pit with String Lights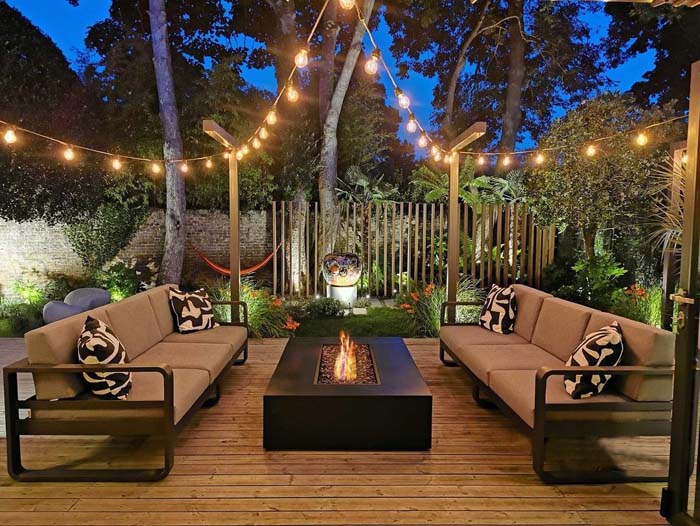 A strand of string lights provides an interesting frame to this fire pit area. String lights come in a variety of sizes and brightness, or lumens.
Related: 35 Awesome Outdoor Fire Pit Seating Ideas To Create The Perfect Relaxing Oasis
This allows you full control over how much light is necessary for your backyard. Use more lights when there's more grilling going on.
via MAD Design Group
10. Get Farmhouse Charm with Pergola Fire Pit Lighting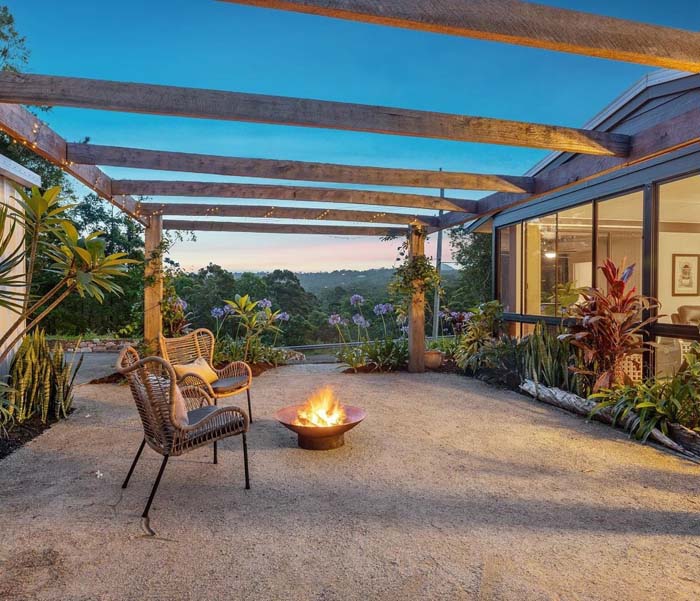 A pergola opens up your options for extra lighting. Strings lights are wrapped around the edges of the patio area.
If the homeowners need more light, they can wrap or hang more lights across the pergola's cross beams. If you want to create the feel of a beer garden, use string lights.
via Josh From Blink
11. Create a Magical Atmosphere with Recessed Patio Lights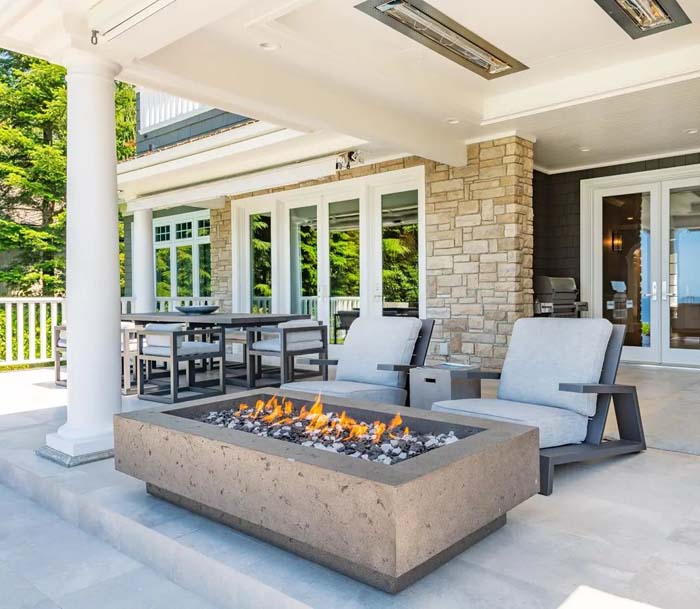 This beautiful fire pit sits at the edge of a permanent patio overhang.
The overhang works well to keep harsh sunlight from heating up the house. The recessed lights offer as much illumination as needed.
12. Create Dramatic Focal Point with Sunken Fire Pit Lights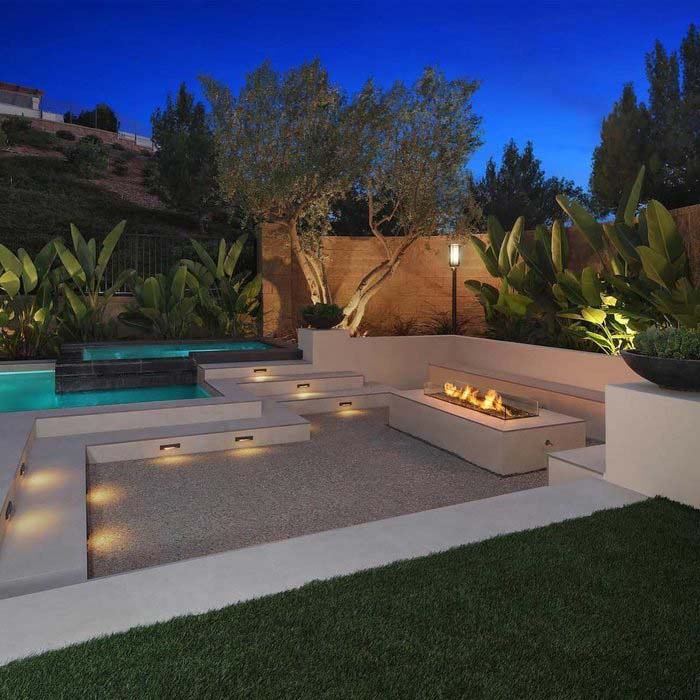 This is the advantage of using professional designers. The entire fire pit area is sunken into the ground. It brings the bench within eye level of the pool beyond the patio. The lights are built into the cement.
There are plenty of DIY options for adding solar lights. As long as they have exposure to some sun, they'll work well into the night.
13. Bring a Romantic Vibe with String Lights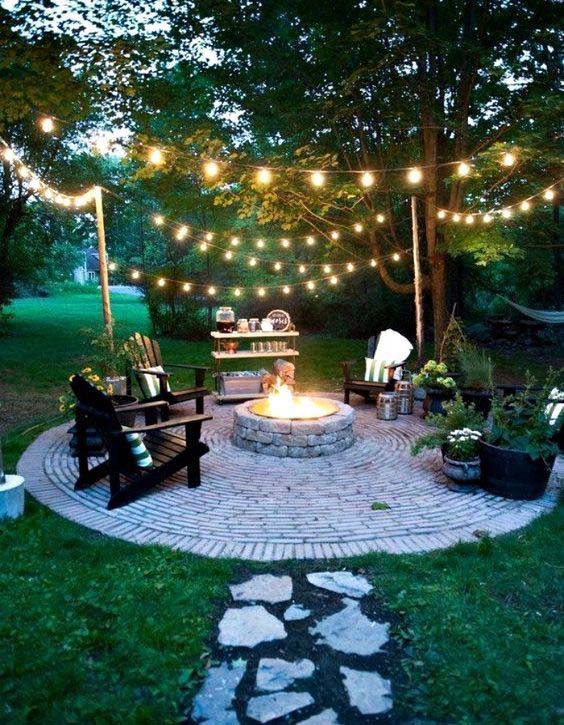 String lights are a romantic solution for illuminating the area around a fire pit. The homeowners added extra strings near a beverage cart. Now, everyone can see what they're pouring into their glasses.
These are a great idea for fire pit areas that are made with gravel. They can be removed if a more permanent patio is planned in the future.
14. Enjoy Versatility with Planter Posts and String Lights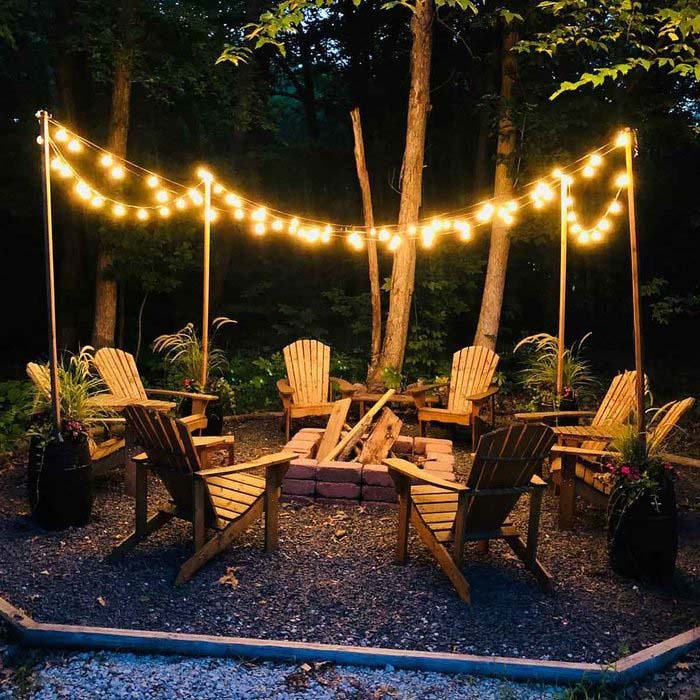 Adding posts to planters is an easy solution for hanging up strings of lights. The advantage is its versatility. The planters here are filled with similar plants. This brings cohesiveness to the fire pit area.
The planter box should be tall enough to stabilize the pole. It should also be heavy enough to prevent it from falling over on a windy day.
15. Light Up Your Landscape in Style with Under Lighting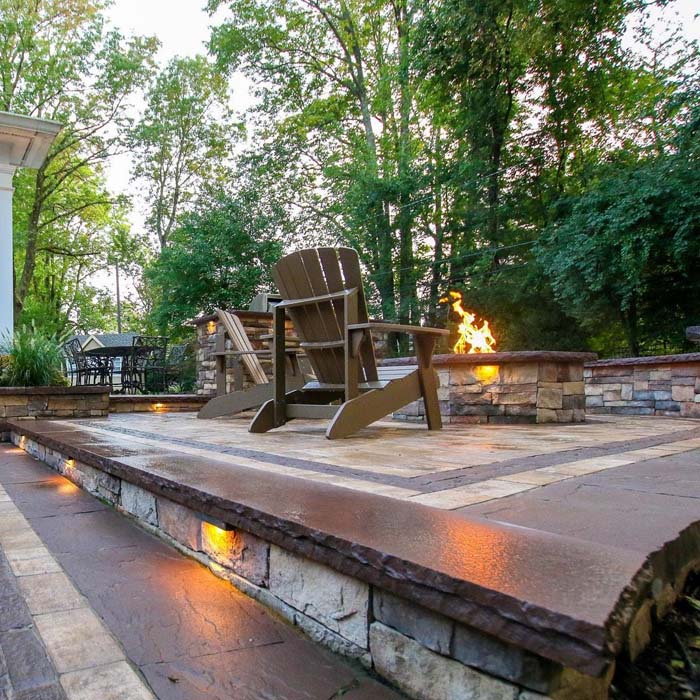 This fire pit and patio are raised to a higher level. The patio slopes down at the edge for water to drain off. This means permanent posts around the perimeter were not an option.
The answer was to place lights underneath the edge of the patio to illuminate the walkway and steps. They can be added as a DIY project or during the original build.
via Castle Point Landscape Design
16. Add Glamour and Personality with Tiki Torches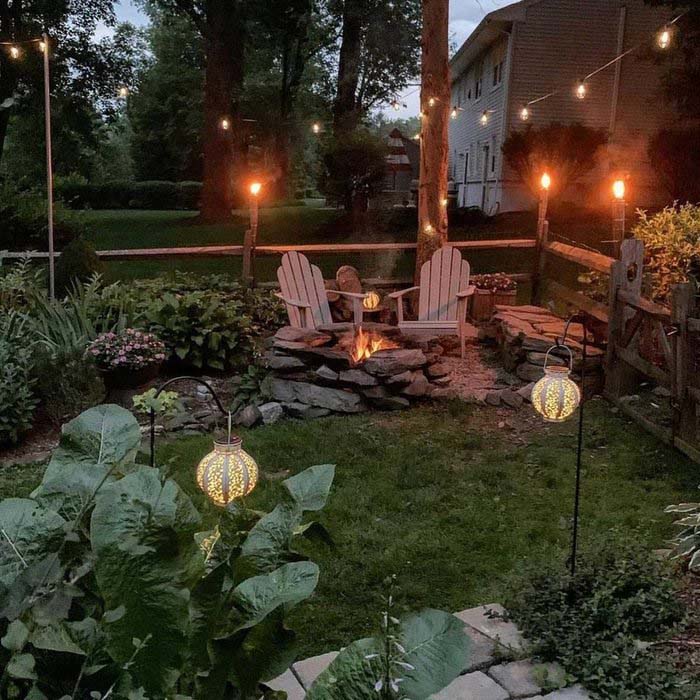 Tiki torches feel right at home in a yard full of plants and flowers. They provide brighter light than many traditional LED lights.
They often come with the option to fill them with citronella. This helps keep the bugs like mosquitoes at bay.
via Stacy Garden
17. Make a Bold Statement with Tree Spotlights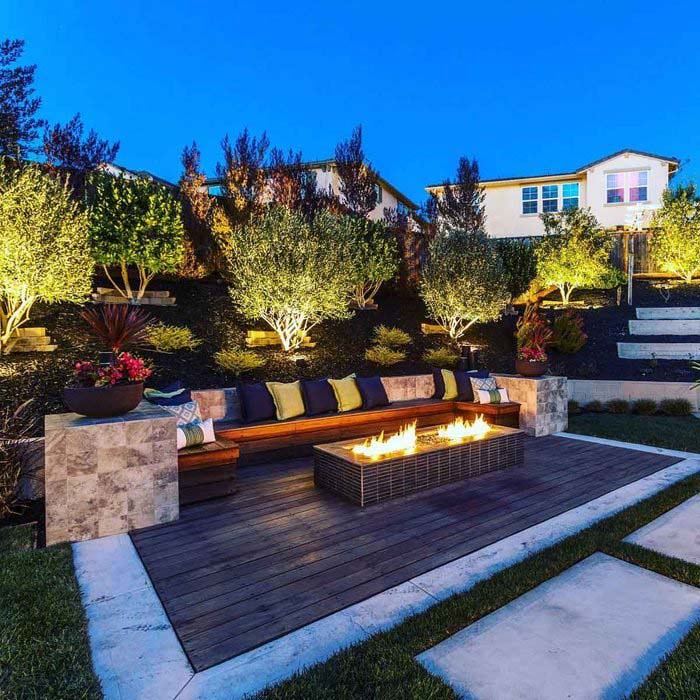 A tiered garden creates opportunities for more lighting. The small trees are illuminated with spotlights.
If you don't have a power box nearby, solar lights are readily available. The tree lights and fire pit create a watch that illuminates the entire yard.
via Joe Frazzano
18. Embrace Minimalism with Under Bench Lights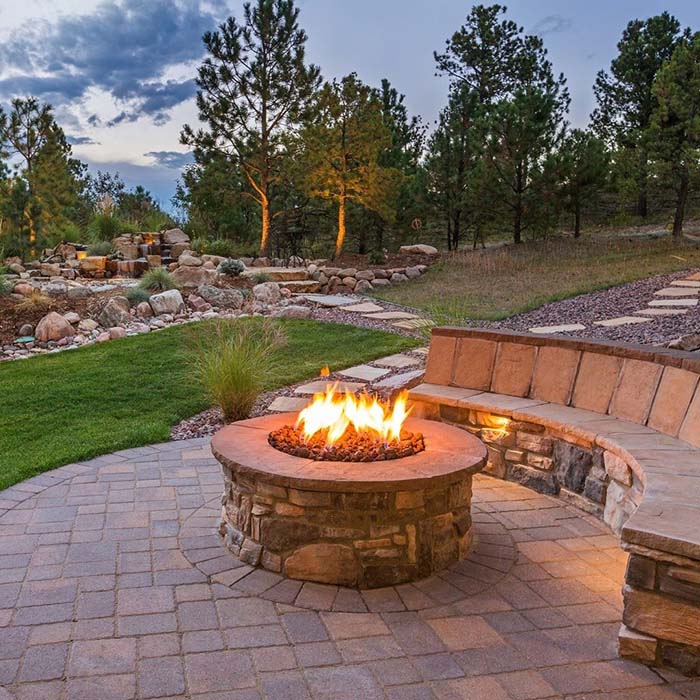 This fire pit area is part of a larger landscape project. There are different vignettes in the yard that are lit at night.
Keep the lights below eye level to avoid distracting from the look of the yard.
Putting lights under the bench provides ample visibility for walking. The overhang of the bench slab offers room for lighting without interfering with leg space.
19. Place Lights Under Caps for a Rustic Look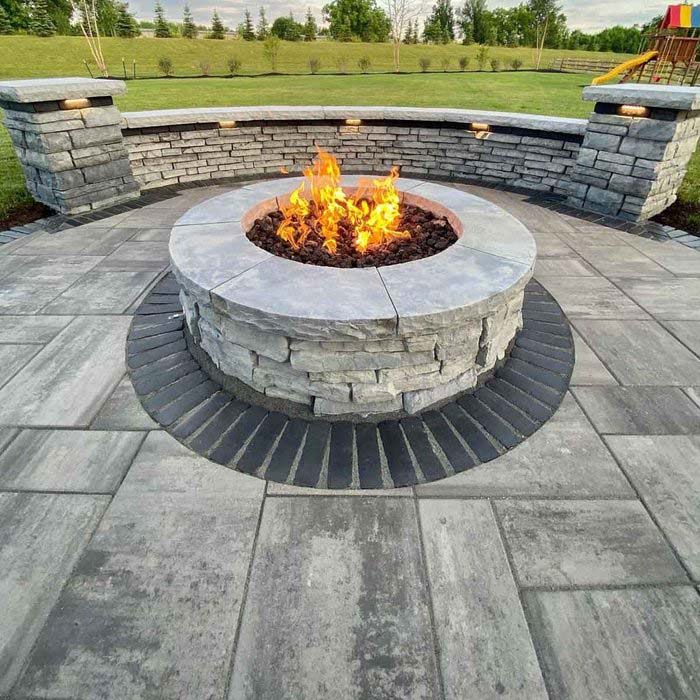 The entire fire pit and bench are part of a kit that you can buy. This makes installation much quicker.
If you're planning this as a DIY project, add an electric conduit between your top layer of pavers and caps.