If your property is enclosed, consider the idea of installing a stylish driveway gate.
They usually come in a wide variety of styles and are a smart way to display your personal taste and style. Driveway gates are the introduction to your landscaping design.

We have prepared 28 Cool Driveway Gate Ideas for you. I hope you will find what you are looking for (fingers crossed).
1. Stylish Metal Gate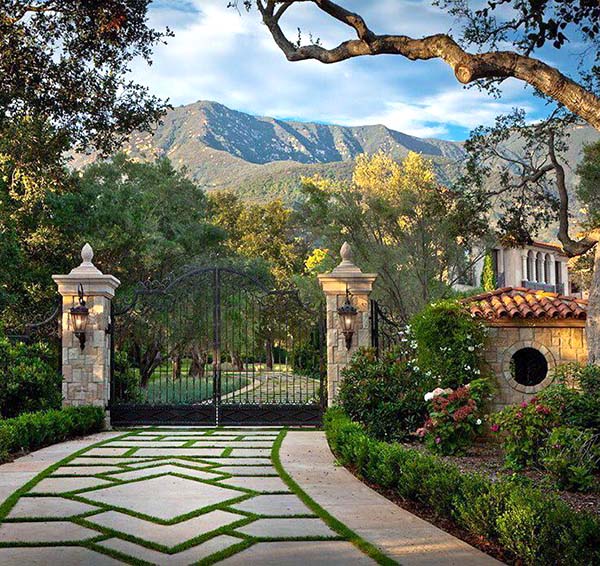 Photo:Credit
I will start my collection of residential driveway gate ideas with this stylish mid-sized traditional metal driveway gate. I love the thickness and the edging of this door.
2. Unique Entrance to Your House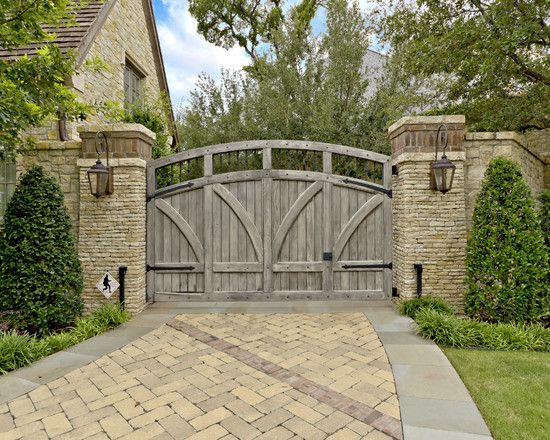 Photo:Credit
There are limitless wood driveway gate ideas on the internet.
I like this solid farmhouse style gate as it gives a really unique entrance to your home. However, keep in mind that you should take care of the wood regularly as it is exposed on constant sun and rain.
3. Ranch Style Driveway Gate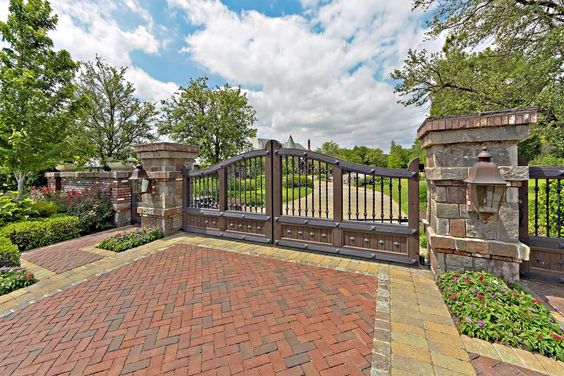 Photo:Credit
For those of you who are fans of the simple driveway gate ideas, here is another classic ranch style automatic driveway gate. Its main advantage is the matching pedestrian walk-through gate.
4. Metal Security Gate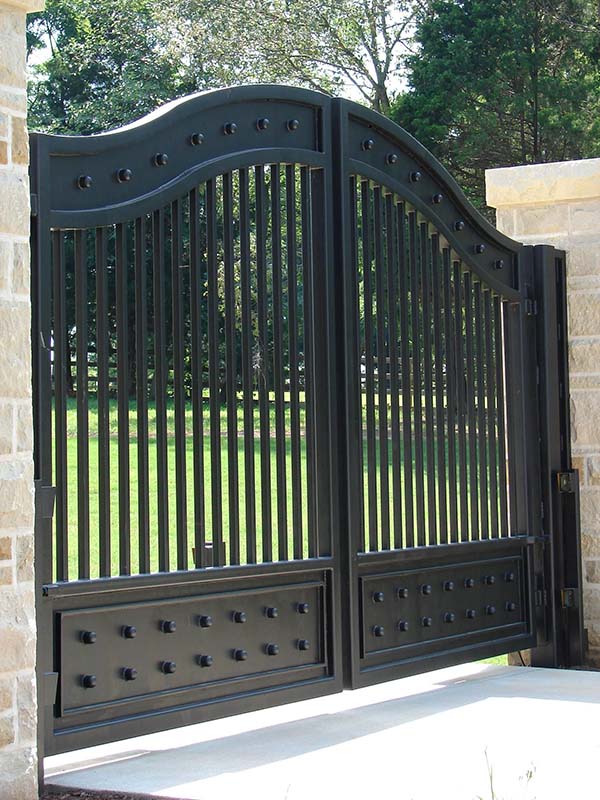 Photo:Credit
This solid metal door is one of my favorite driveway entry security gate ideas. It is jazzy and very secure at the same time.
5. Wrought-iron Lattice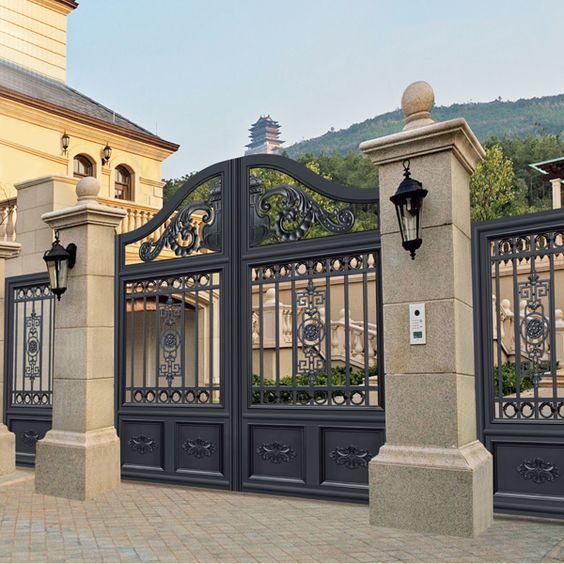 I think you must add this photo to your list of the coolest gate driveway ideas!
30 Awesome Driveway Gate Ideas To Impress Your Guests video:
This substantial driveway gate with wrought-iron lattice will give your entrance a very luxurious look. The front lamps bring a strong hoary vibe.
6. Farmhouse Gateway Door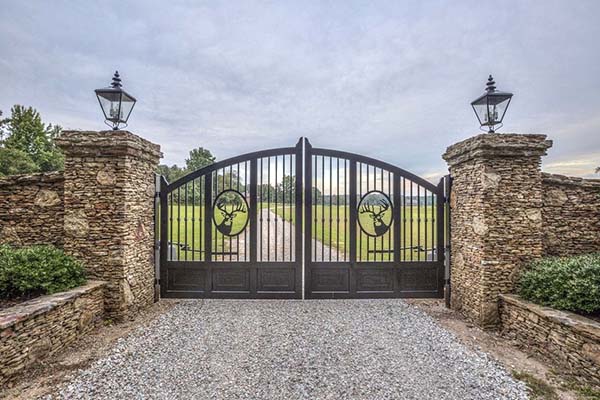 Photo:Credit
Still searching for some great country driveway gate ideas? Then, take a look at this personalized large automatic ranch/farmhouse door? It's decorated with deer ornaments for a more countryside look.
7. Lodge Entrance Door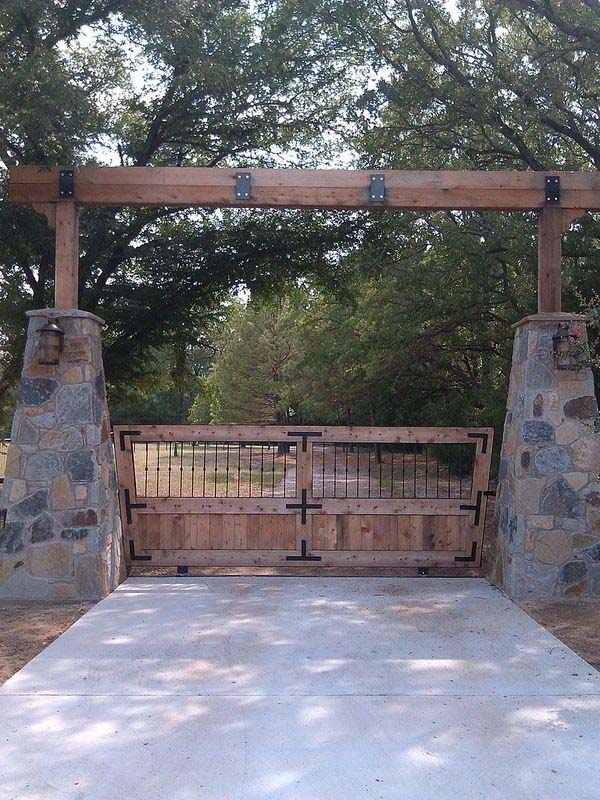 Photo:Credit
If you are on a budget, I suggest finding some wooden driveway gate ideas as they are usually a bit cheaper than the metal and ironed entrance doors.
The rustic one on the picture above is welcoming guests to a lodge in Texas. Very western style, I might say.
8. Combining Materials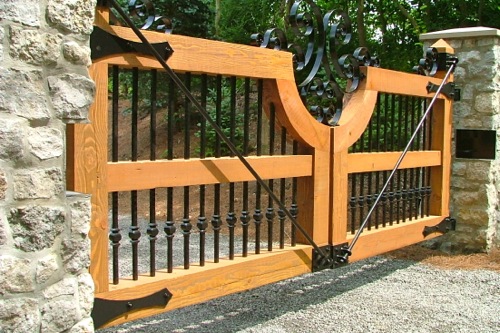 Photo:Credit
There is a nice timber frame wood gate with wrought iron hardware. It is not one of the cheap driveway gate ideas, however, many people love to combine iron and wood material.
9. Give Your Driveway Door Some Art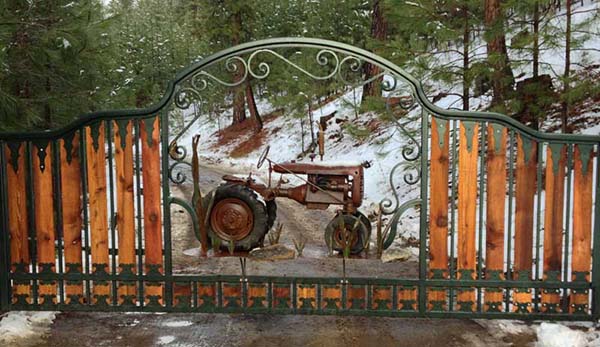 Image:Source
This piece of art is made by a company, called Ornamental Gate and Fence, which is turning various driveway gate ideas into beautiful reality.
If you have an idea about an ornament, call them and they will do their best to turn your idea into a beautiful driveway gate.
10. Custom Gates of Red Cedar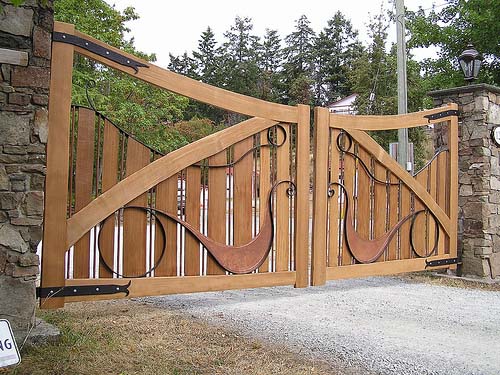 Image:Source
Thuja Wood Art is using reclaimed Red Cedar to build stunning custom driveway gates. Love the hardware details, they "smell" like a countryside house. Decoration possibilities are countless.
11. Aphrodite Wrought Iron Gates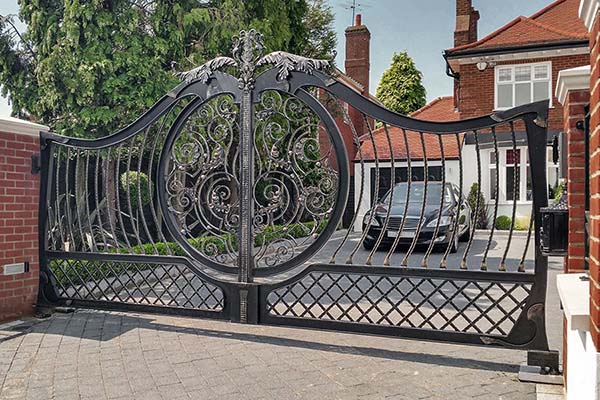 Image:Source
Are you looking for some eccentric driveway gate design ideas? Take a look at this driveway gate with wrought-iron ornaments. The whole neighborhood will envy you!  😀
12. Quirky Electric Iron Gate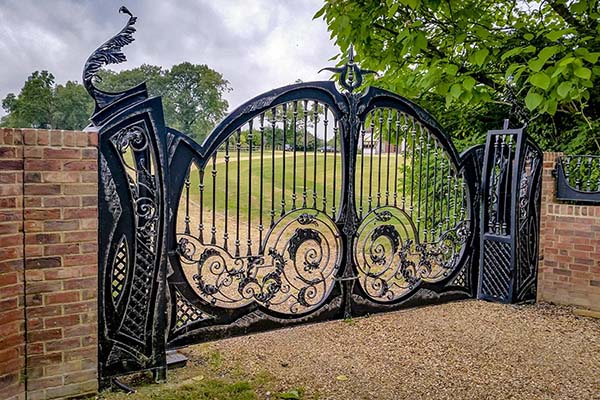 Image:Source
Following the iron driveway gate ideas, here is another whimsical wrought-iron electric gate. It's like a decor from a Harry Potter movie, don't you think? I suppose there is a castle nearby.
13. Bring Spain to Your Home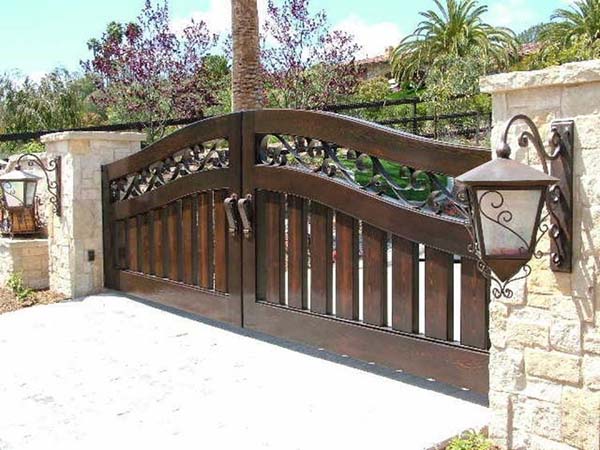 Image:Source
This mid-sized Mediterranean style wooden driveway gate will impress each of your guests.
It pairs well with the exotic greenery in the garden.
14. Simple Driveway Door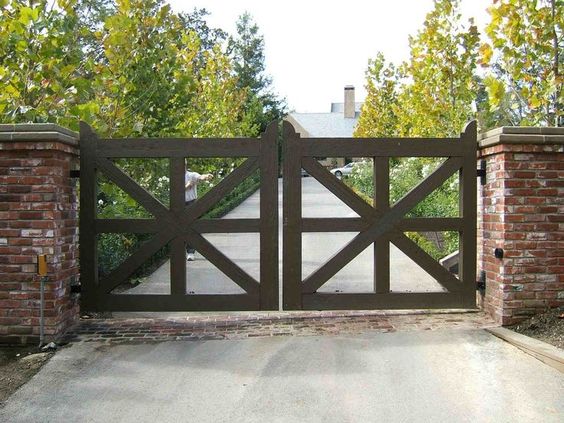 Image:Source
Many people know from the beginning that they want a wooden entrance door, however, they are struggling to find the best wooden driveway gate design ideas for their style and taste.
Simple shapes and forms work great when it comes to gates.
15. Seaside House Driveway Gate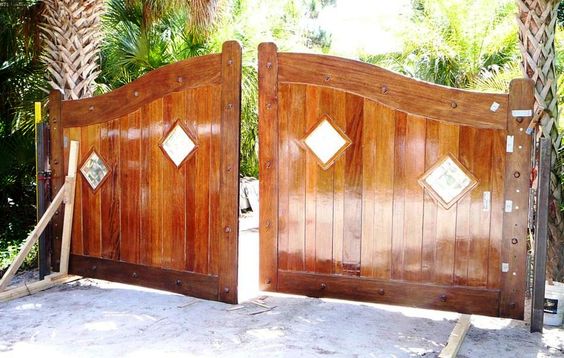 Image:Source
This simple manual wooden entrance door is a great match for a seasonal house at the seaside.
16. Unique Gate for Your Driveway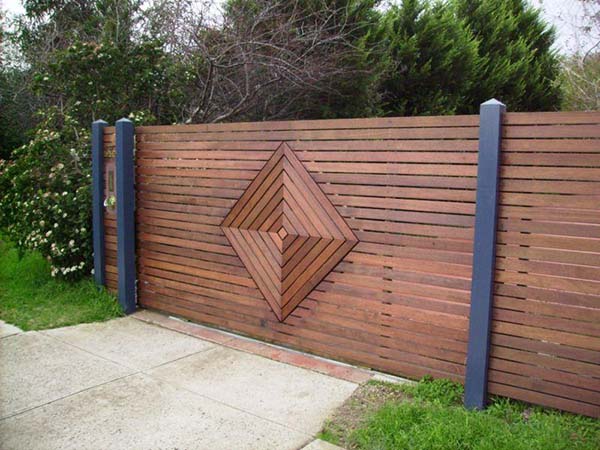 Image:Source
The sliding driveway gate ideas are usually better for a frequent use. This wooden one, made by Gate Power, could fit well every residential home.
17. Compact Iron Gate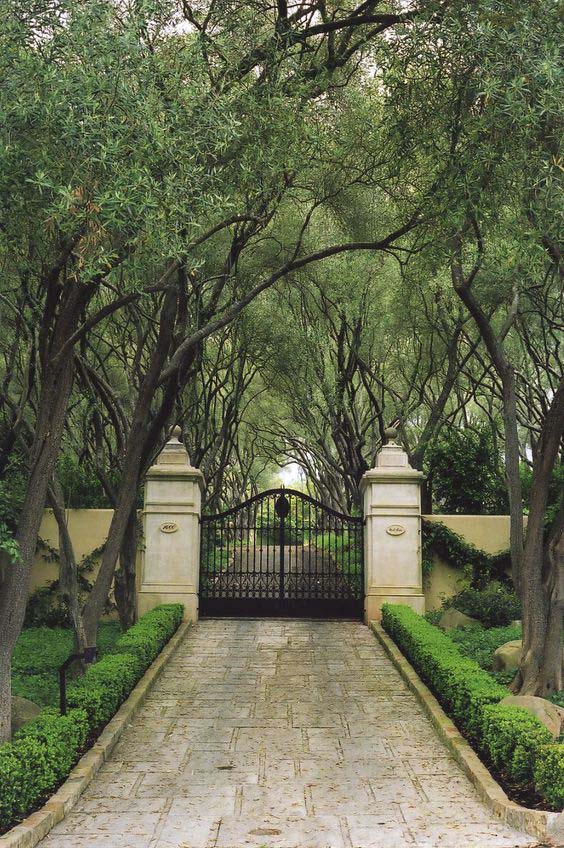 Image:Source
One of my favorite iron driveway gate ideas! I like its thickness and the tree-lined road.
18. Bungalow Wooden Entrance Gate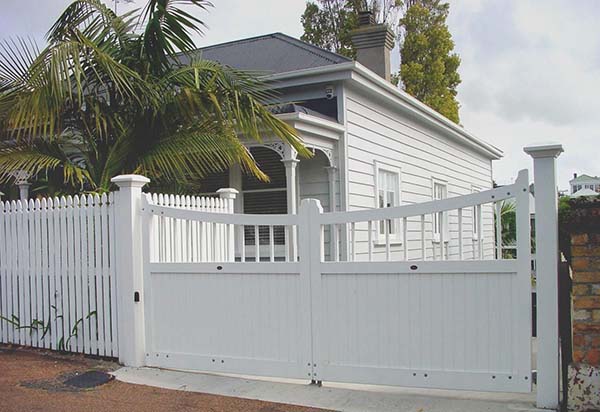 Image:Source
Lovely wooden driveway gate painted in white that would fit your seaside bungalow. It combines the elegance of yesterday and the functionality for today.
19. Modern Entry Gate Design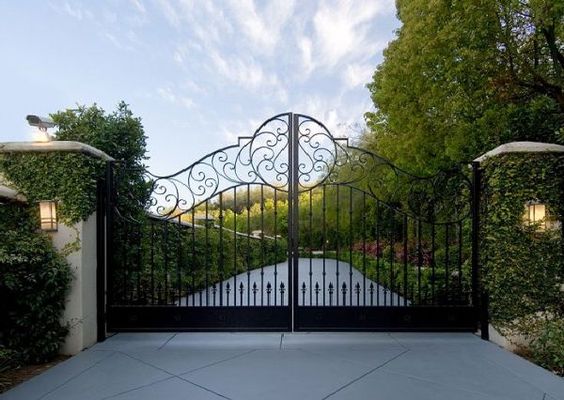 Image:Source
Contemporary driveway gate ideas are known for clean lines and simple design patterns.
While some current entry gates have curves, they more commonly feature straight lines or angular designs. A steel gate like the one shown could cost a lot as it is considered an ornamental iron gate.
20. Secure and Friendly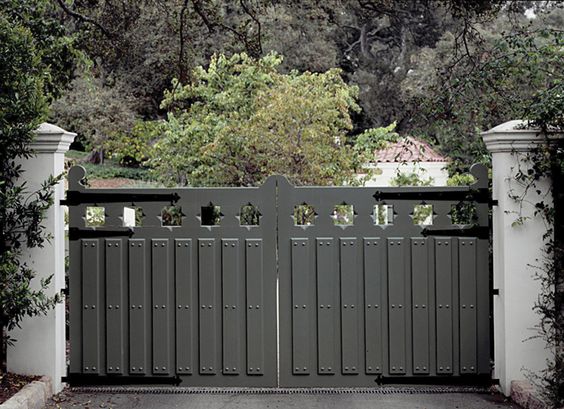 Image:Source
Here is a nice way to have a solid automatic security entry gate that still looks friendly and welcoming.
If you would like to have more privacy, choose a driveway gate that hides the landscaping and property inside.
21. Traditional Metal Driveway Door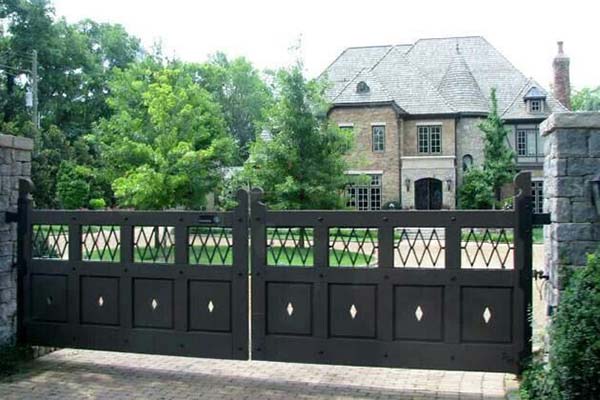 Here is a country house-inspired wooden driveway gate that is painted tan rather than white or wood stained. This gate also features stone pillars that match the stone walls. It also gives the driveway entrance enough width for bigger vehicles to pass through.
22. Simplicity Is More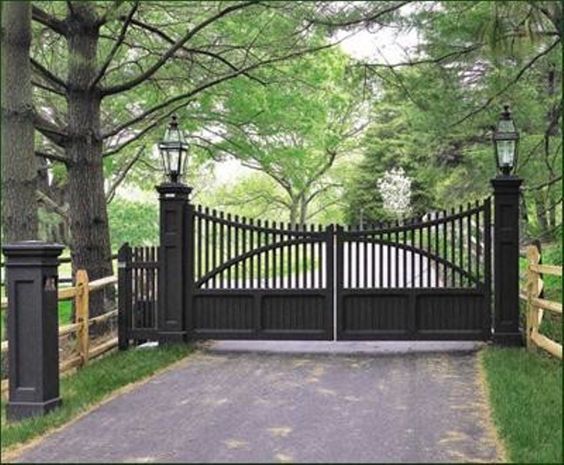 Image:Source
This welcoming custom wooden entry gate with nice lighting details can fit any type of property. Adding some nice lanterns to the gate makes it more welcoming.
23. Luxurious Entrance Gate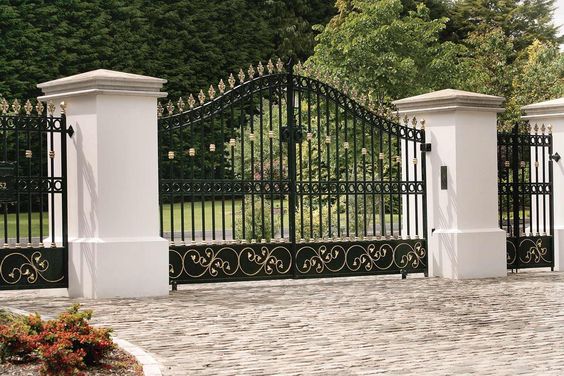 This personalized wrought-iron automatic driveway gate gives your entrance a posh luxurious look thanks to the gold accents. The scrollwork on inlays and along the top of the gate.
24. Traditional Ranch-Syle Entrance Gate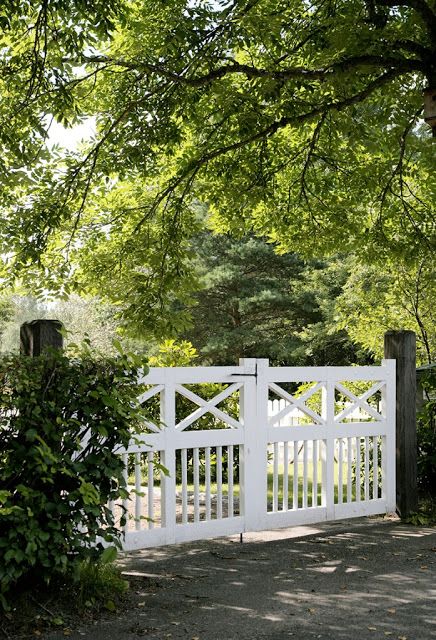 Image:Source
Looking for some cheap driveway gate ideas for your ranch entrance? This might be the answer!
This clean, transitional style wooden driveway entry gate with white posts contrasts the greenery around very nicely.
25. Wrought-iron Elements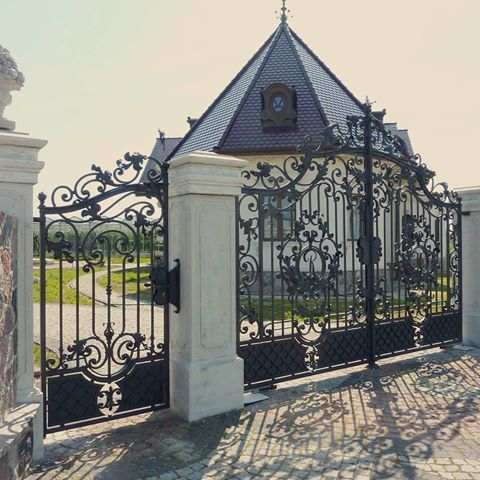 Image:Source
The wrought-iron details with initials and acanthus give the entry gate a classy finishing look.
26. Wooden Driveway Gate for a Natural Look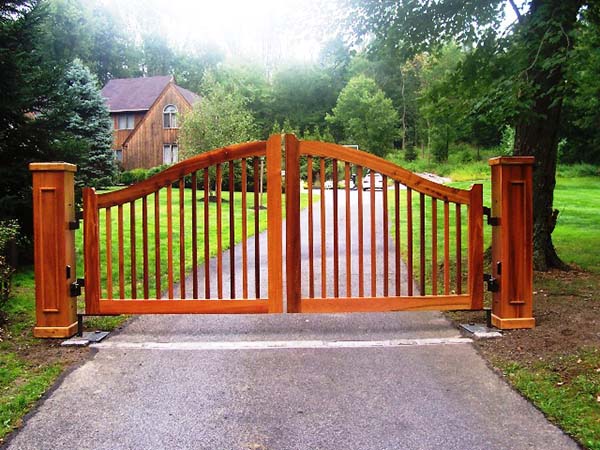 Image:Source
I must say I am one of the big fans of the wood driveway gate ideas mainly because they are adding a solid dose of natural beauty to the whole property (the entry door on the picture above is a proof!)
27. Traditional Streamlined Driveway Entry Gate Ideas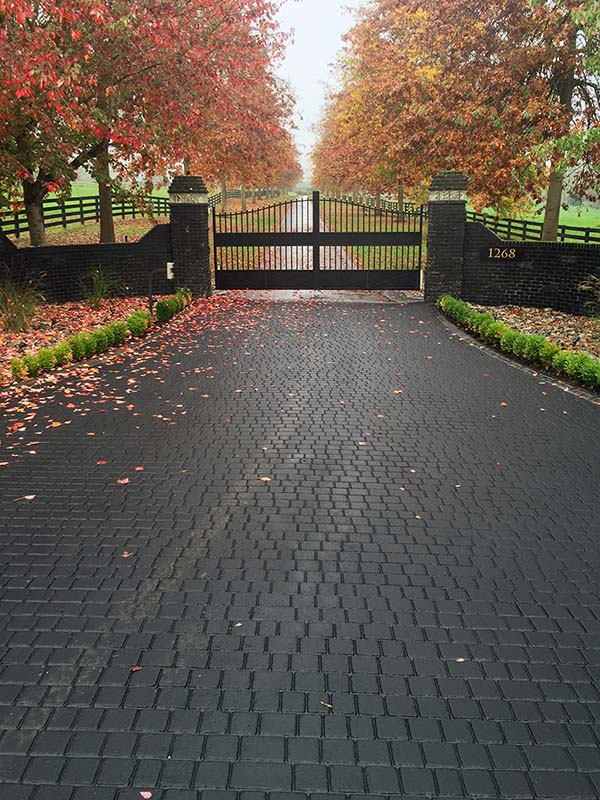 Image:Source
I'd like to share the picture of this mid-sized vintage, streamlined metal driveway gate design with stone pillars and a unique lighting fixture. A wrought iron driveway gate could cost a lot if you need special elements or would like to blend it with an existing driveway fence.
28. Artistic Entry Gate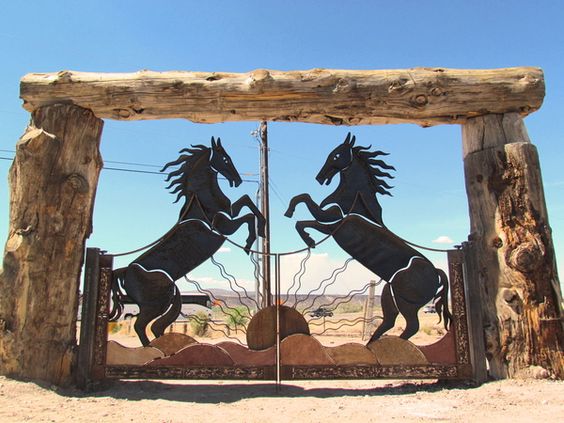 Image:Source
At the end of my collection of fantastic driveway gate ideas, I'm showing you this unique ranched-inspired artsy driveway door. It presents such a powerful and inspiring picture, don't you think?
29. Tree Design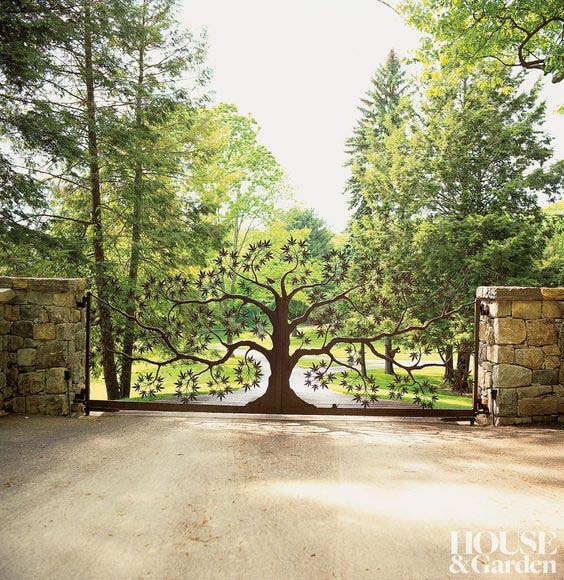 Image: Source
Here is another example of creating art with your driveway gate. You can consider it as the tree of life inviting all your guests to enter into an area full of life and where nature is the main accent.
30. Wood and Steel Swinging Gates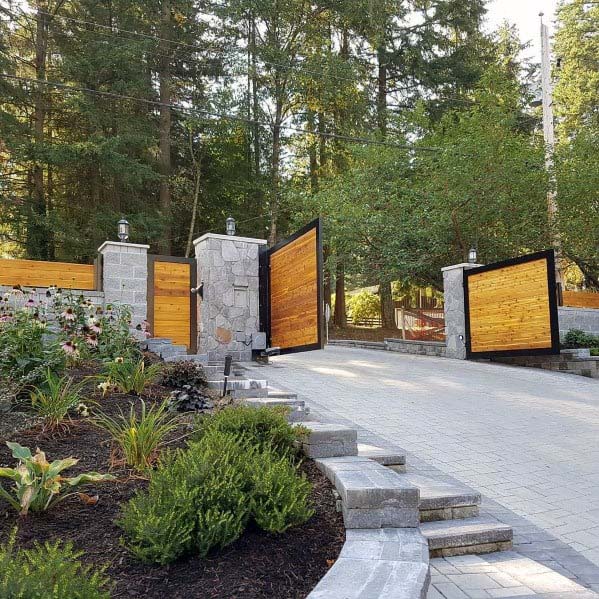 Swing gates are great if you can afford to reserve additional space for each wing to open. As with other types of automatic driveway gates a swing gate could be controlled via remote.
To conclude, it is important to choose a driveway gate that fits your personal style, the overall landscaping, and it is easy to maintain. Hopefully, I helped you a bit with your choice!  🙂