Have you found the window treatments that suit your style, space and natural light income?
If you have not, we are here for you. The budget-friendly ideas that follow will make your space feel more like home.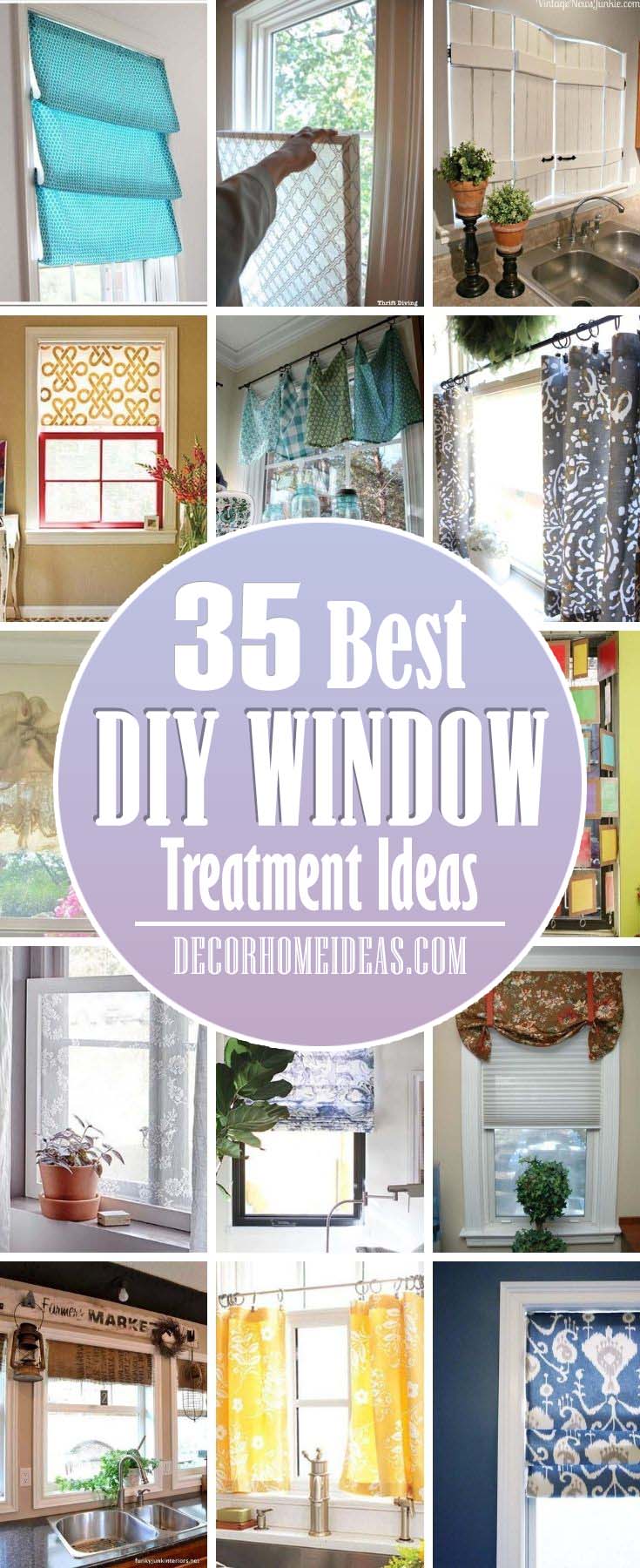 Shades, valances, curtains, mosquito frames, shutters and many more are the DIY ideas gathered for you at one place to ensure inspiration and customized solutions.
1. DIY Window Treatment Idea With Slides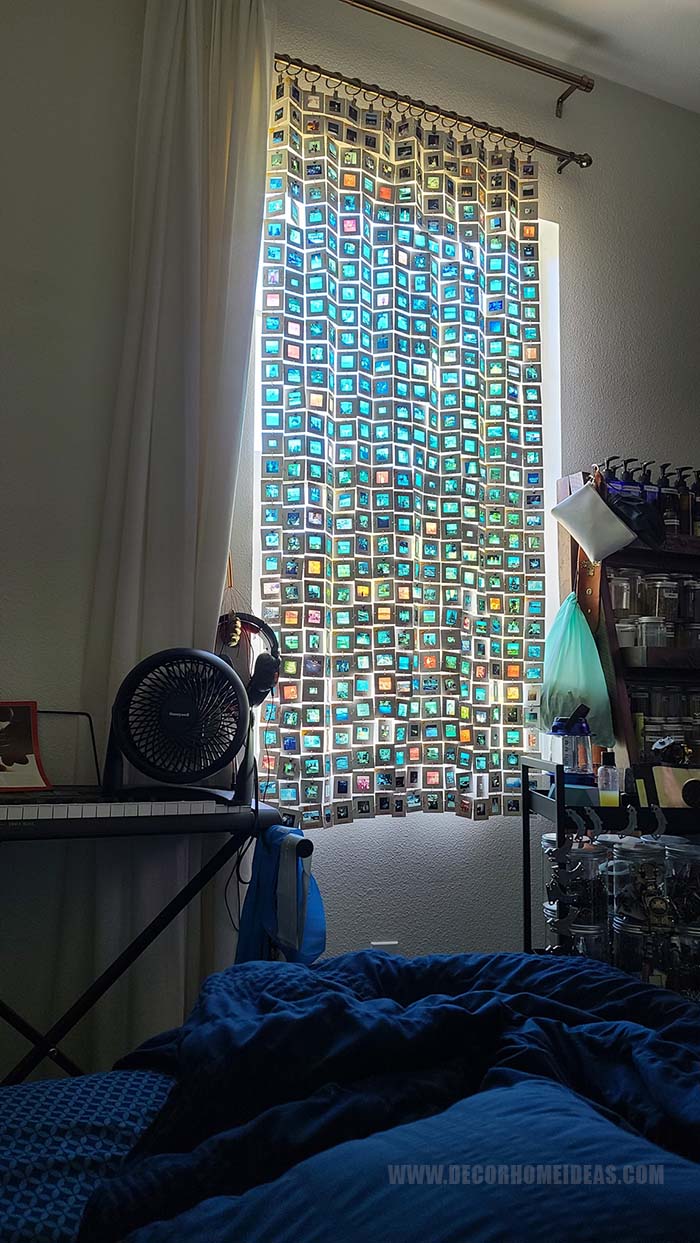 Looking for a great way to repurpose slides?
I love waking up to this every morning. When my parents died we inherited all of the family slides.
My daughter drilled holes on all 4 sides and bought large jump rings and made a curtain out of them for my window.
Depending on the position of the sun throughout the day it reflects the most beautiful patterns onto the walls and floors.
You can save these slides beforehand if you fear that the sun will fade those precious memories, it's a great way to repurpose them!
via Renata Espanata
2. 10 Minute DIY Window Valance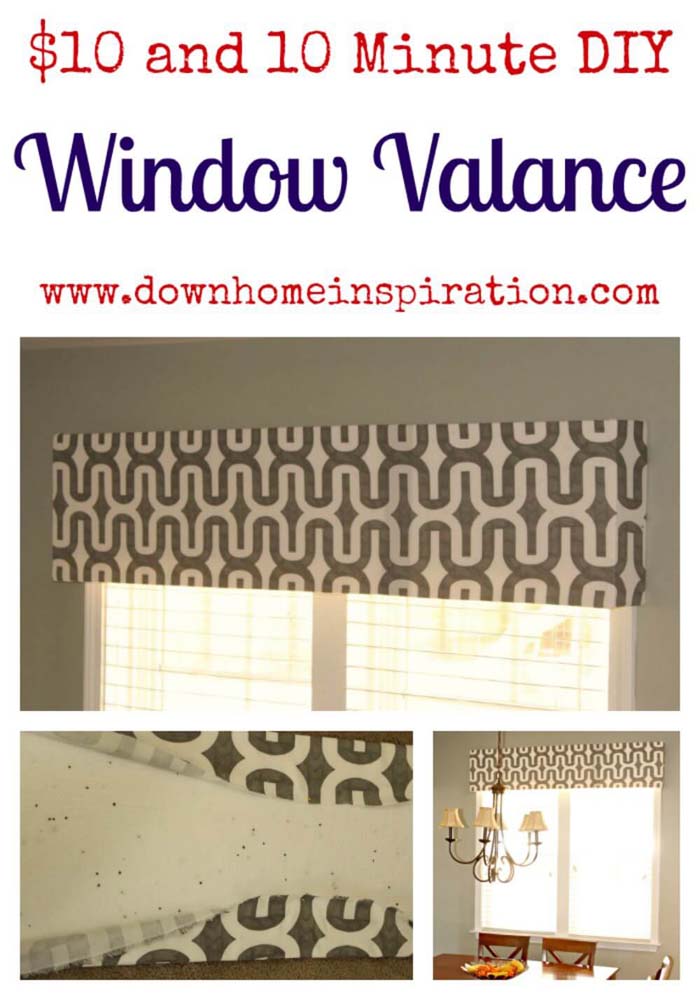 Adding a valance on the top of the window frame will instantly make the space more stylish and elegant.
Making it will cost you 10 minutes as there is no-sew or any other special skills required. Choose a modern print and fix it to a foam rectangle with pins.
3. Balloon Shades for Little Girl's Room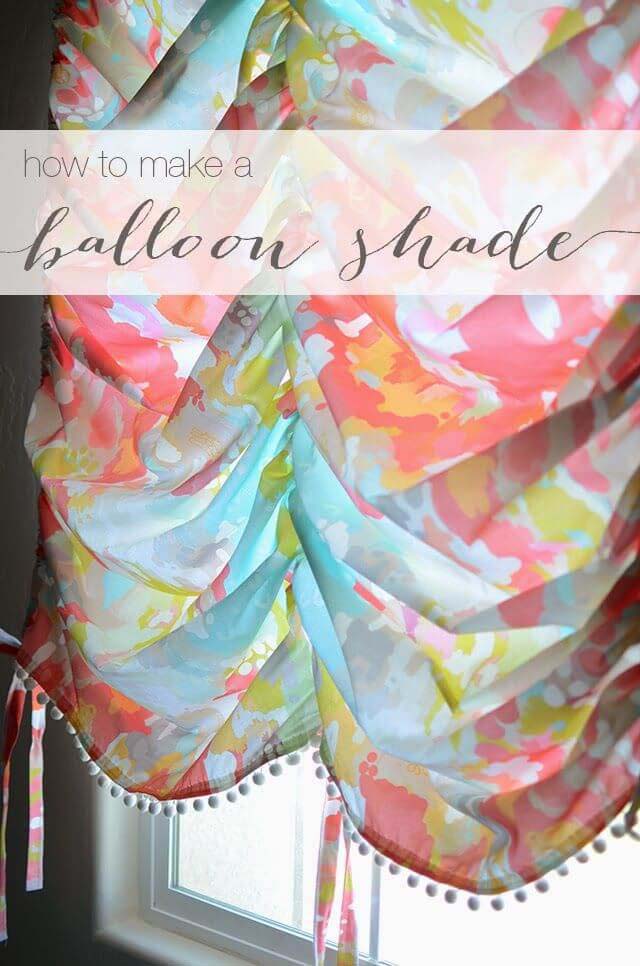 Introduce a pop of color to your kids' room with a handmade balloon shade.
Choosing a merry print like the one from the photo will make the room ambiance fairer and will hide the plain windows or shutters.
4. Bamboo Shades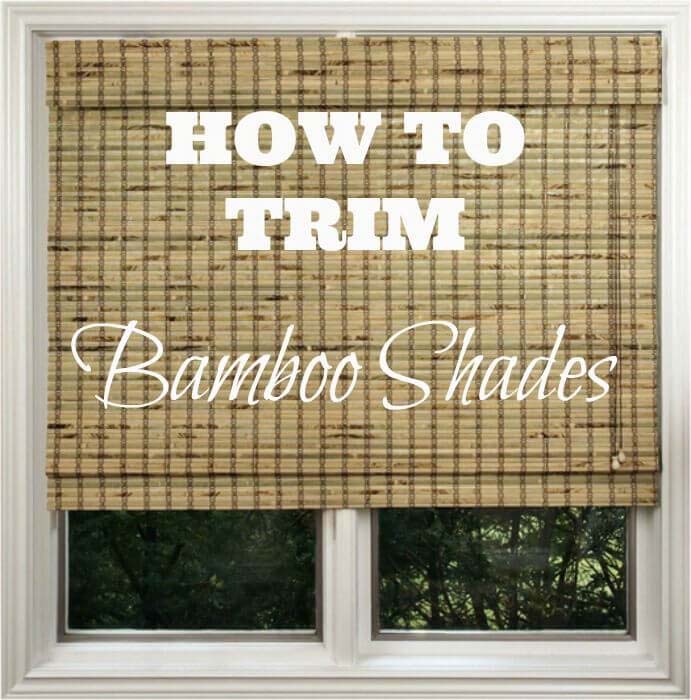 Many people prefer bamboo shades because of the natural material they are made of.
In addition to that, they function very well as a barrier to the sun and are more affordable than vinyl blinds. The tutorial below will show you how to customize any bamboo shade to the size of your windows.
5. DIY Barn Door Window Treatment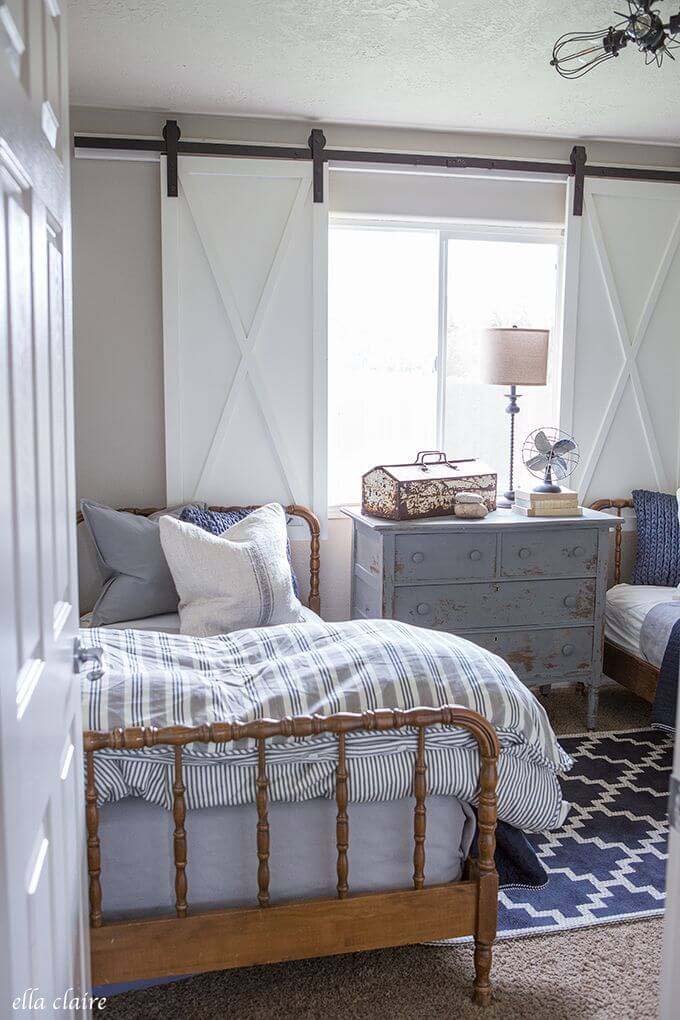 Want to add more character to a plain room? Then install two barn doors at each side of the window. The doors are actually brand new and handmade from sanded birch wood.
However, the X-ornaments make them look like antique pieces that have been given new life. If you like the outcome of this project, you may consider making the doors sliding and used as shutters, not only as window improvement.
via Home Depot
6. Bathroom Shower Curtains with Reclaimed Wood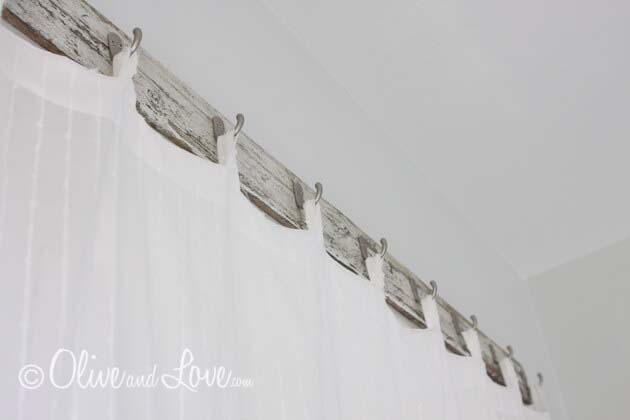 If you are looking for more untraditional window improvement, you can easily achieve it only by going for a non-standard way to hang your curtains.
35 Best DIY Window Treatment Ideas That'll Make Your View Even Better video:
Since rustic presence makes any space feel cozier, use reclaimed wood board and vintage hooks to hang your curtain.
via Olive and Love
7. Burlap Coffee Bean Sack Window Shades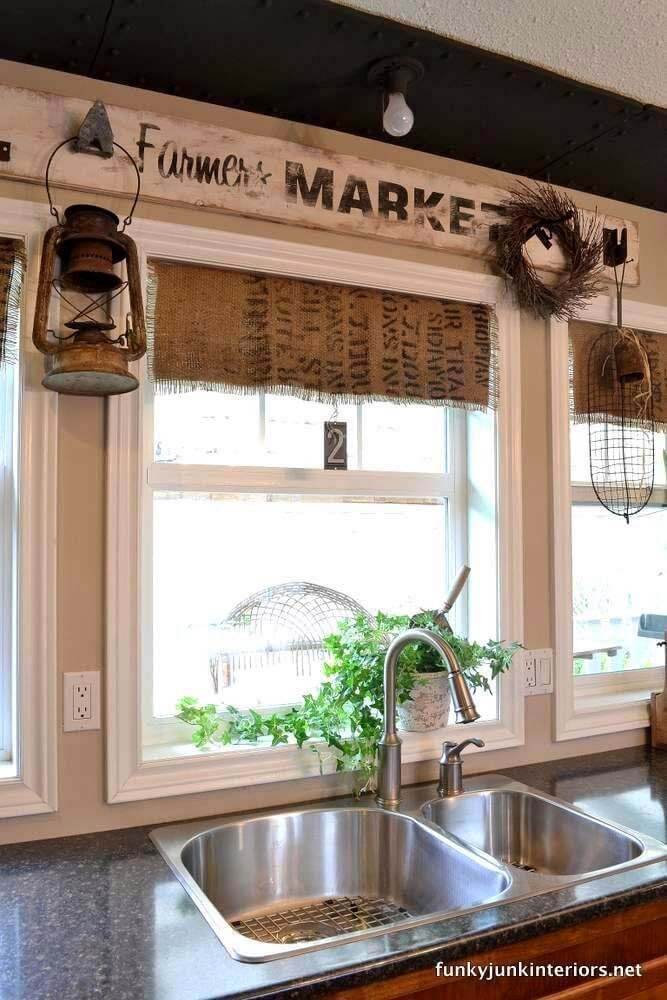 If you don't want to block the natural light coming into the room and yet you would like to see your windows decorated, choose toppers.
These ones are upcycled from coffee bean sacks. They will instantly add character to the space because of their rustic look due to the burlap and the prints.
8. Burlap Window Shades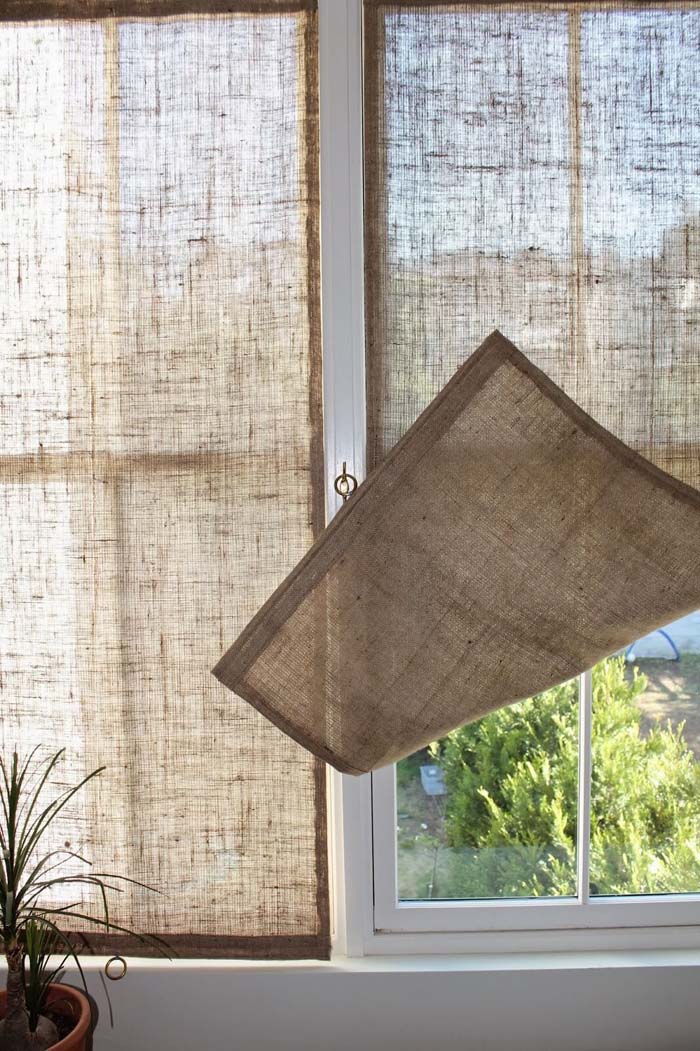 Burlap is a thick fabric but when used for shades it allows gentle dispersed light in.
If you want to stop the warmth but don't want to blind the room completely, burlap is the perfect fabric for shades. The project requires sewing but only in a straight line so any beginner would succeed.
9. Cafe Curtains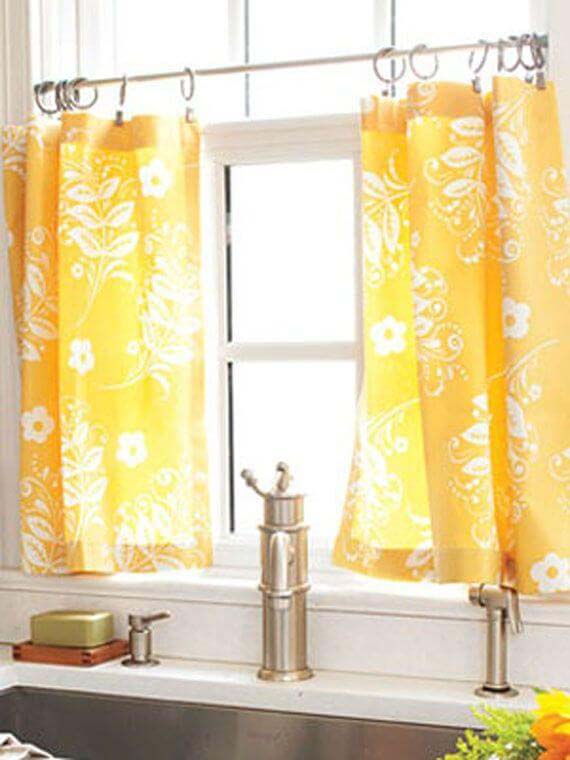 This project shows that a rod and clip-on rings are good for hanging curtains anywhere, not only in the bathroom.
The fabric pieces can be cut to size from any print you like. The sewing included requires adding a hem at the bottom and at the top.
via Woman's Day
10. Decorative Mosquito Frames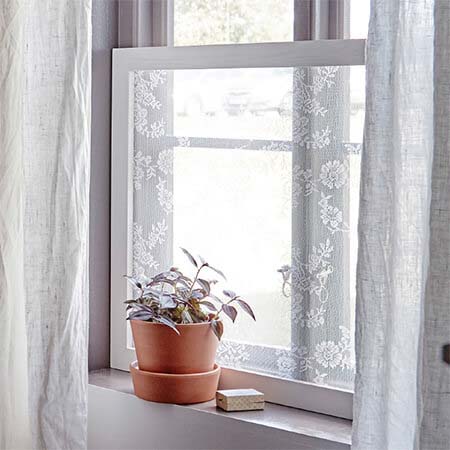 Mosquitos could be quite annoying and their biting- unpleasant. An easy and affordable way to limit their entry into our homes is to install frames.
These frames are different from the standard nets because they also have a decorative value by replacing the net with beautiful lace.
via Home Dzine
11. DIY No Sew Elegant Window Valance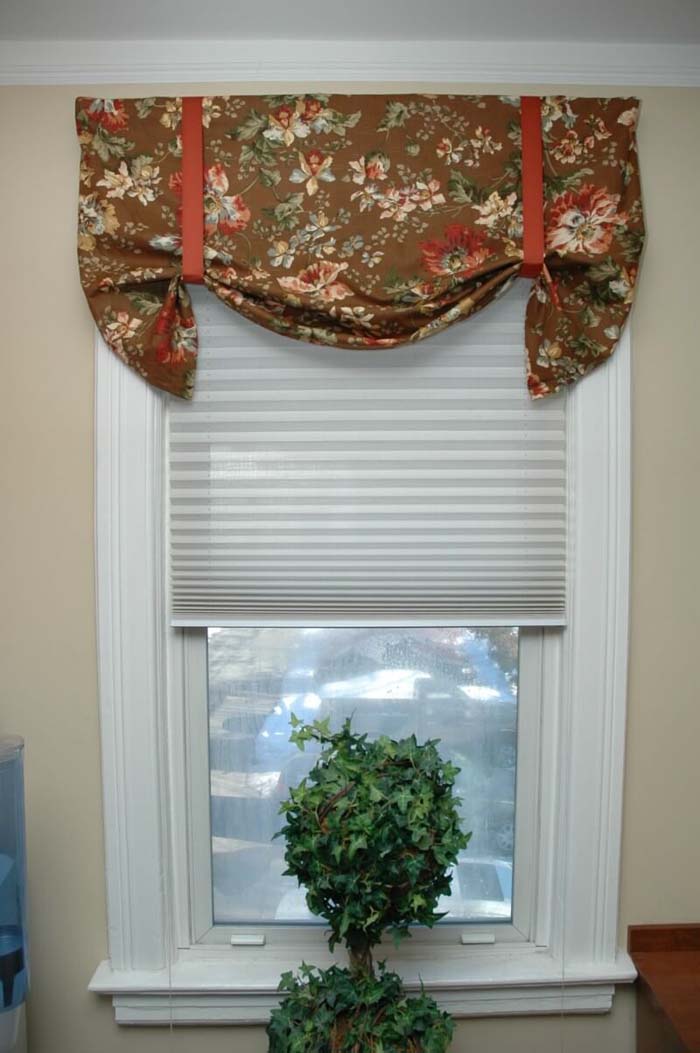 Want to add an accent to your window? Try this easy and no-sew valance.
The floral print and the wide ribbon make the valance elegant and the general look of the space- more sophisticated.
via Home Workshop
12. DIY No Sew Rolled Window Valance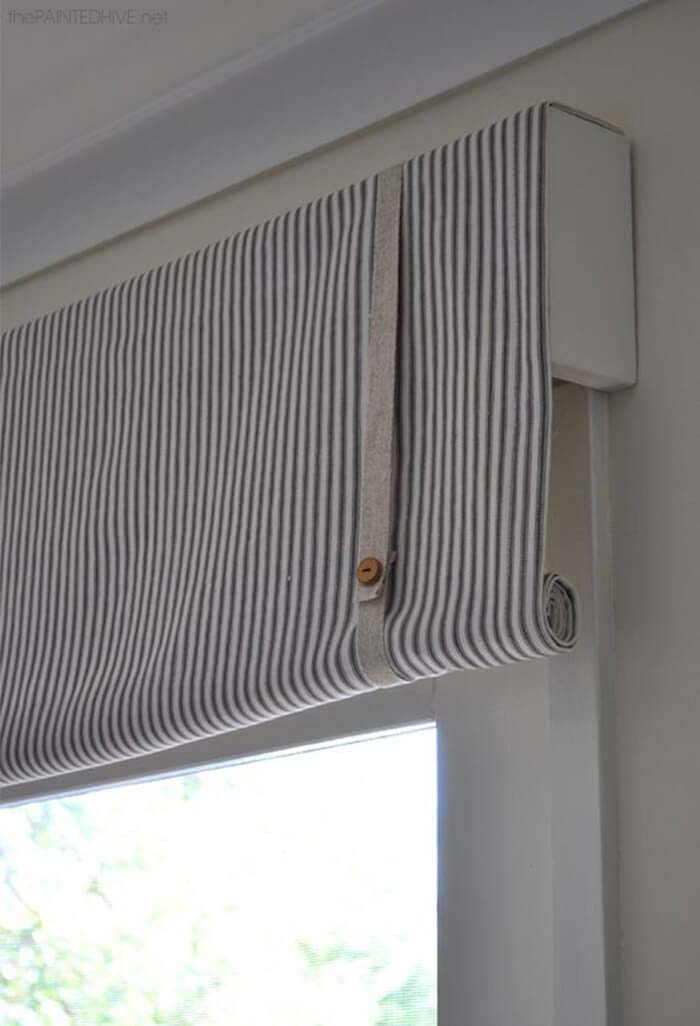 When you want to hide not that good-looking rollers, the easiest and cheapest way is to fix valances over them.
The vertical stripes and the cotton ribbon give the valances a cottage look which will add charm to the interior.
via The Painted Hive
13. DIY Roman Blinds

The hardware for these Roman blinds is taken from plastic mini blinds.
Take off some of the slats to ensure bigger clearance and achieve the fabricated effect. The best fabric for such blinds is a sturdy one.
14. DIY Roman Shades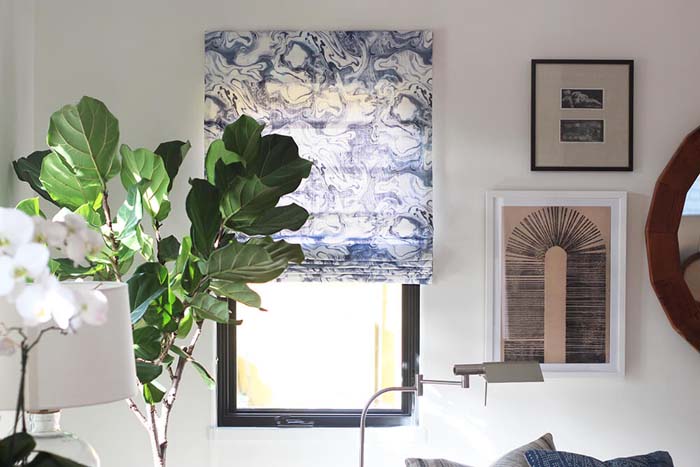 Add color, pattern and texture to your windows with these breath-taking Roman shades.
The whole process has been explained in detail so that everyone who is up to this DIY convinces themselves that making their own shades is not a difficult task.
via Honestly WTF
15. DIY Window Cornices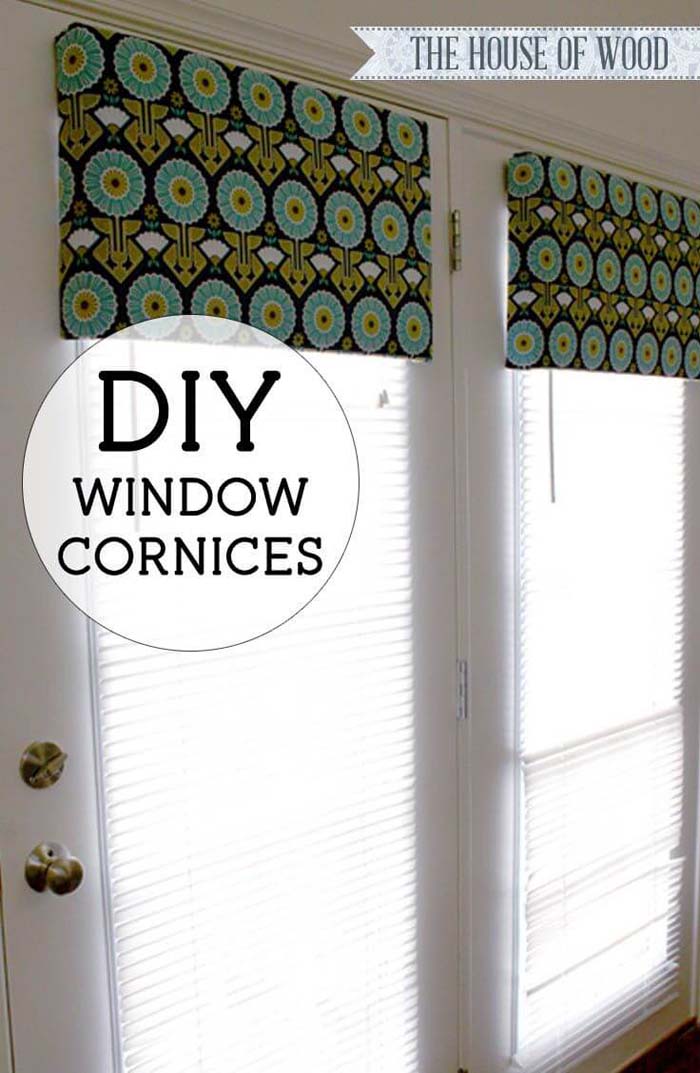 These valances are made of foam covered with fabric. The box shape gives an elegant treatment to the patio doors.
A clever trick the author gives is to use strong magnets to attach the cornices to the frames if they are metal.
via Jen Woodhouse
16. Easy No-Sew Window Treatments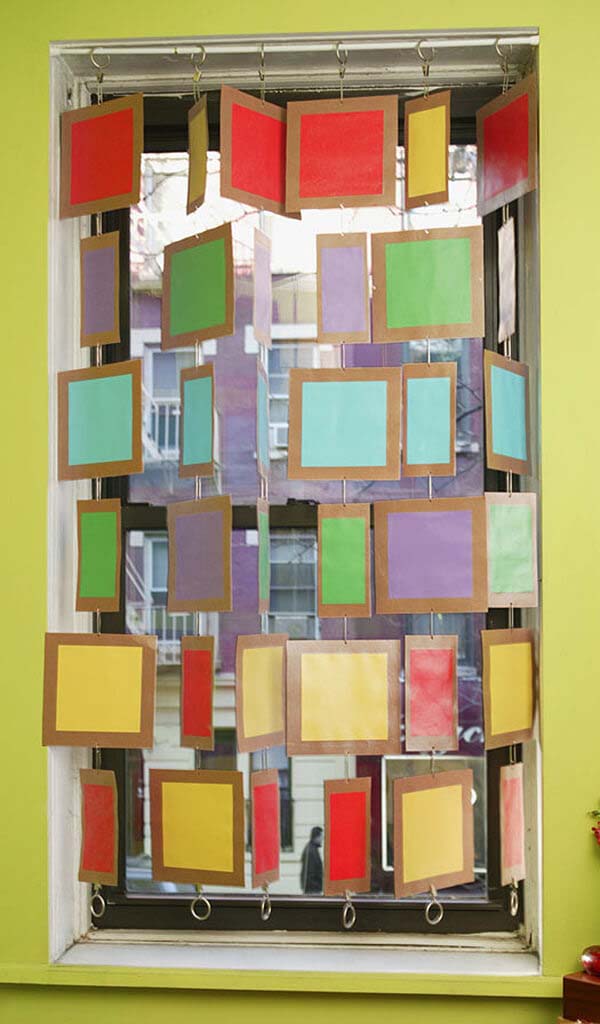 This artistic window treatment will bring color and joy to any window, even the urban one.
It is easy to do and can be in shapes and colors you like. Cut the shapes from any paper material.
via Dummies
17. Easy Roman Shade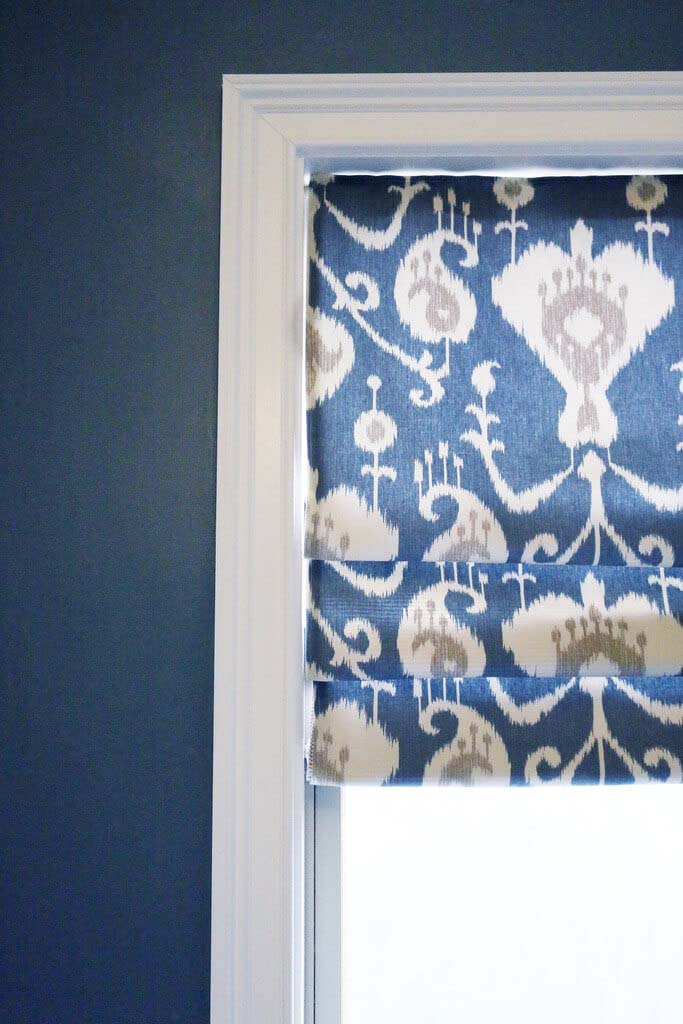 Made of two fabric prints, this easy-to-do Roman shade will suit any space from your home.
Made in only a day, it will add a color and texture accent to the interior.
via Bower Power Blog
18. Easy To Make Back Tab Curtains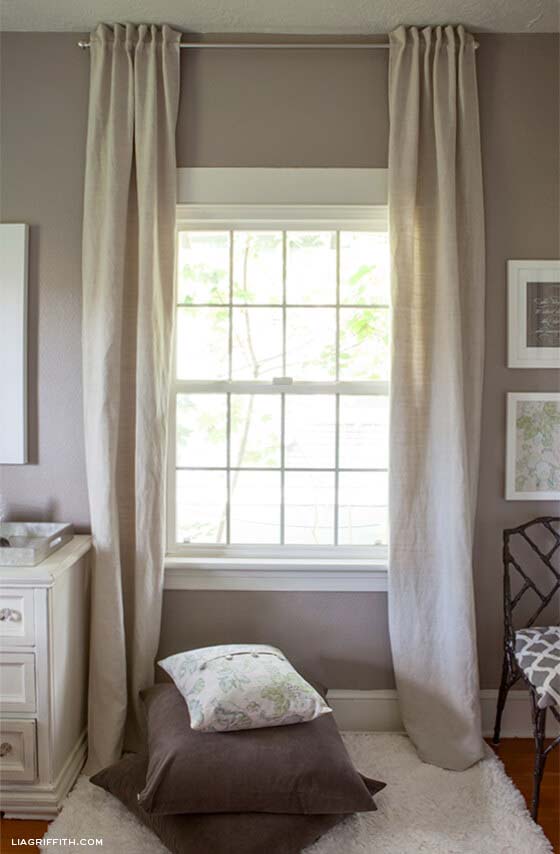 These back tab curtains can make the living, the dining room or the bedroom look larger and more elegant. The key to this impression is placing the curtain rod closer to the ceiling.
The fabric shouldn't be that much, just enough to cover the windows' width and to give the desired softness to the room.
via Lia Griffith
19. DIY Fabric Roller Shade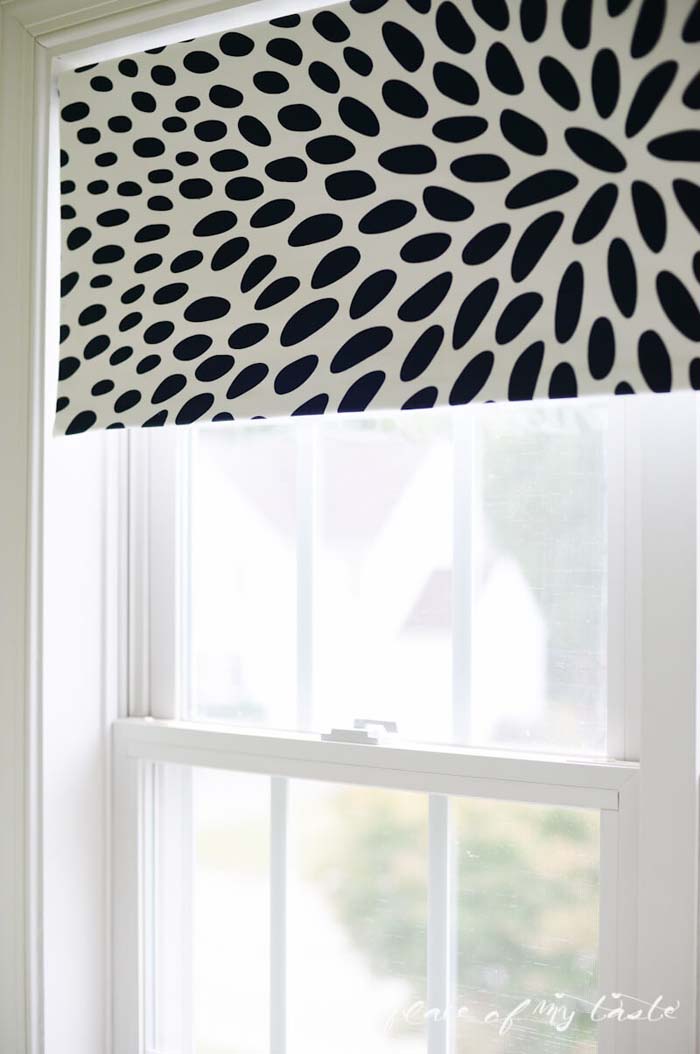 If you already have fabric shades fixed to your windows but you have fallen in love with a print that you know will make magical changes to the room interior, you can easily glue it onto the existing roller shade.
20. Fabric Square Valance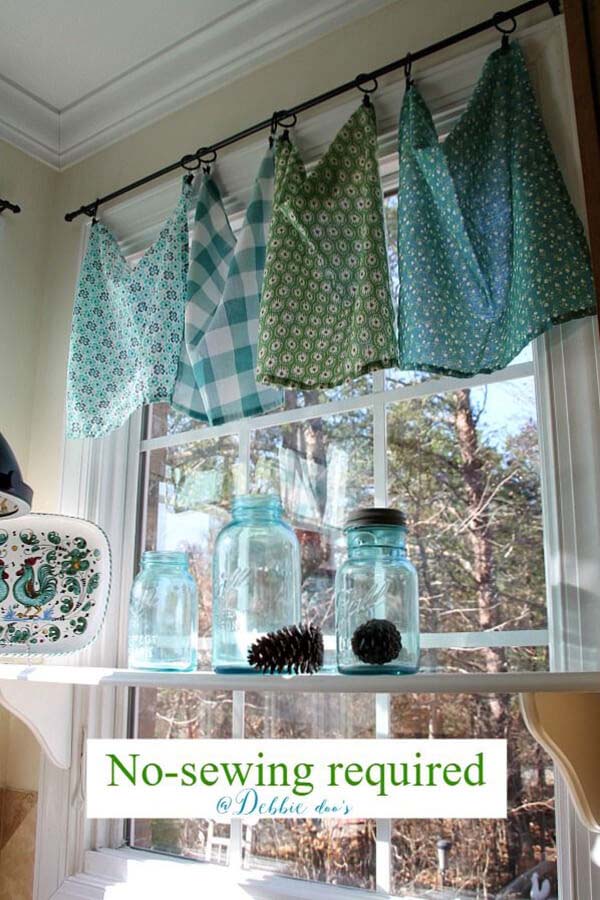 This farmhouse-inspired valance doesn't require any sewing. Square fabrics of colorful prints are attached to the kitchen rods with clips.
You would be amazed to see the color's gentle reflection when the sun comes through.
21. Linen and Lace for an Artsy Shabby Chic Look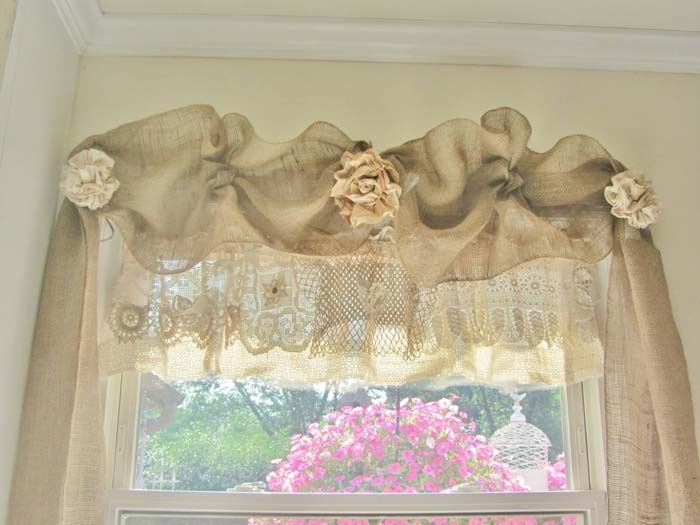 For those of you who can't sew, get inspired by this easy-to-do window treatment.
A piece of burlap is draped around the window with staples. An old lace scarf is hanging from the linen to form a delicate valance. Add brooches, faux flowers and similar accents to give the treatment a finished look.
22. Mini-Blind Makeover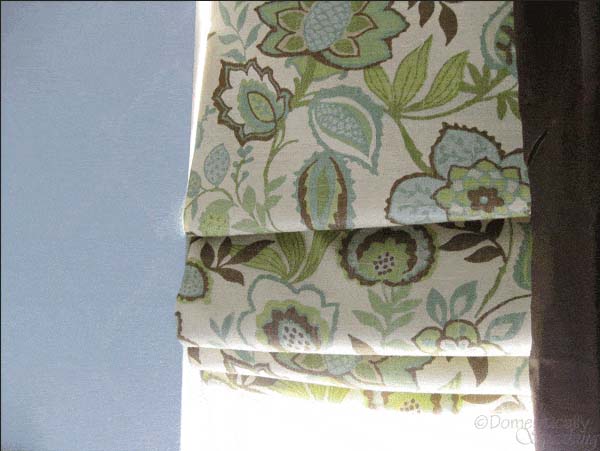 You can customize a blind even for the narrowest window by this great idea. Using some of the slats of a cheap plastic blind gives support for the modern fabric that is glued onto them.
From cheap and plain your blind will be transformed into an elegant Roman shade.
23. No Sew Cafe Curtains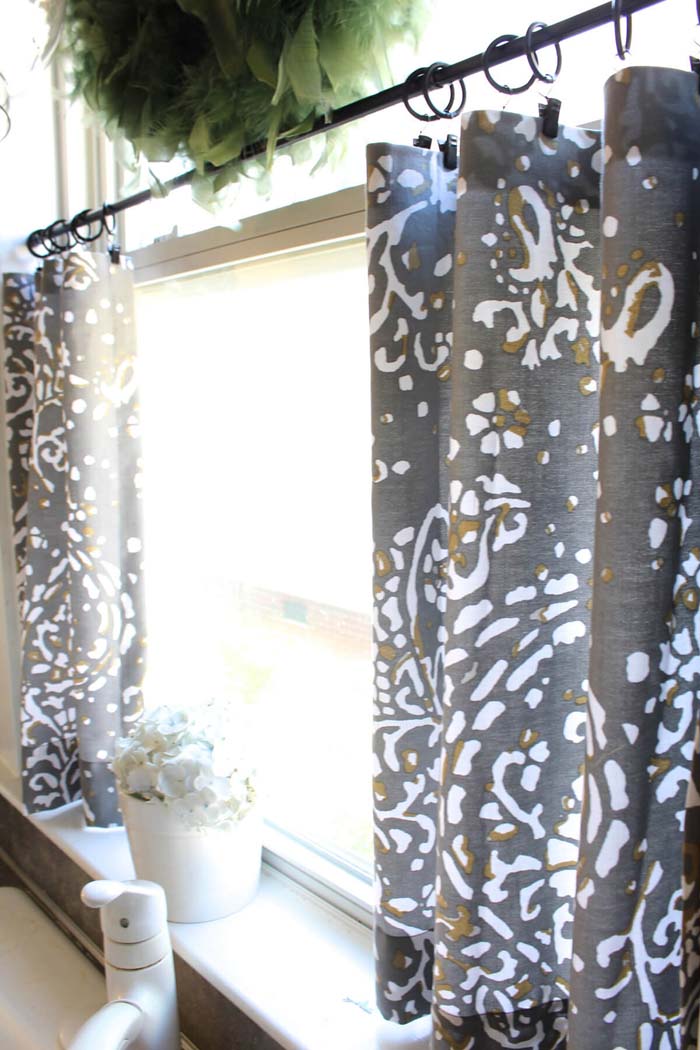 This is an easy and quick makeover for your kitchen windows.
A curtain gets cut in halves to form cafe curtains. Iron the hems, add hooks with clips on the top and enjoy the transformation of the space.
via Simple Stylings
24. No Sew Tie Up Shades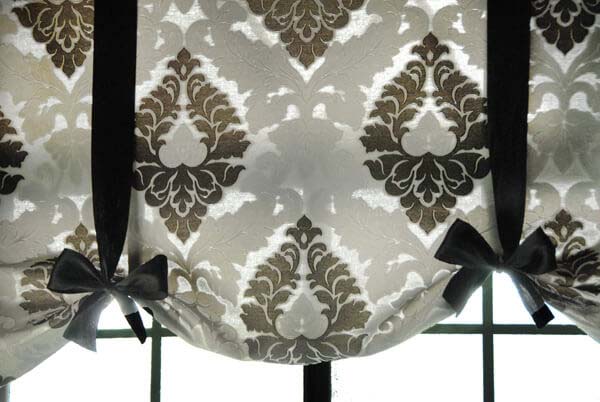 Fabric is the preferred material for window treatments nowadays because of the rich variety of prints and good shading properties.
And honestly said, it gives a sophisticated look to the room. So if you have found the best fabric for your space, make these easy and no-sew shades.
via The Rozy Home
25. DIY No Sew Window Curtains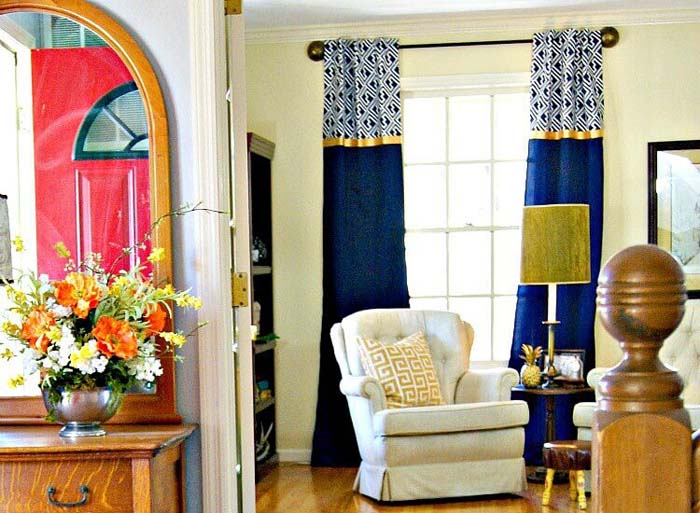 Three heavy and designer-looking window curtains for only $43? Well, that's possible with the help of the tutorial from Designer Trapped.
Plain dark curtains are extended at the top with patterned fabric. The yellow ribbon in between the fabrics gives the curtains a customized and elegant look.
via Designer Trapped
26. No Sew Window Treatment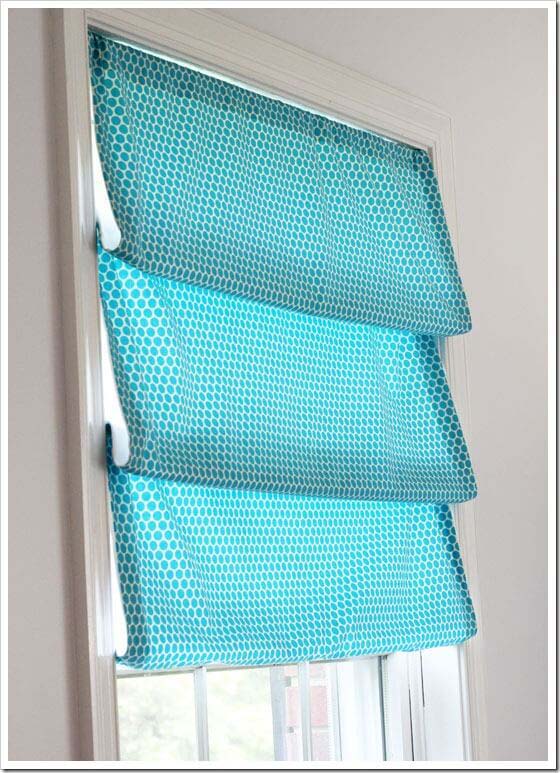 When you want to achieve the Roman shades look but don't have a plastic blind for hardware, you can imitate the same effect with this one-weekend project.
The draping is done via tension rods which lift the fabric.
via In My Own Style
27. No Sew Window Valance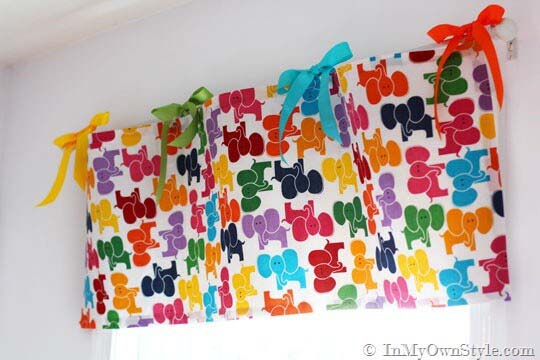 If you want to add more color to the kid's room, make a fun animal-printed fabric valance.
It requires no sewing and simple materials like fabric, curtain rods and ribbons.
via In My Own Style
28. Easy No Sew Window Valance From A Crib Sheet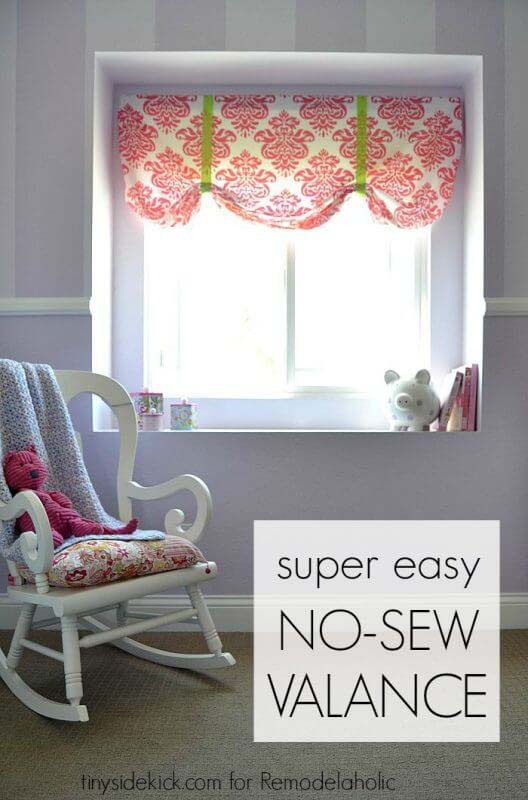 Find the balance between light and shade in the baby's room with this no-sew valance.
It is very easy to do and will add gentle colors and texture to the neutral ambiance.
via Remodelaholic
29. Painted Roller Shades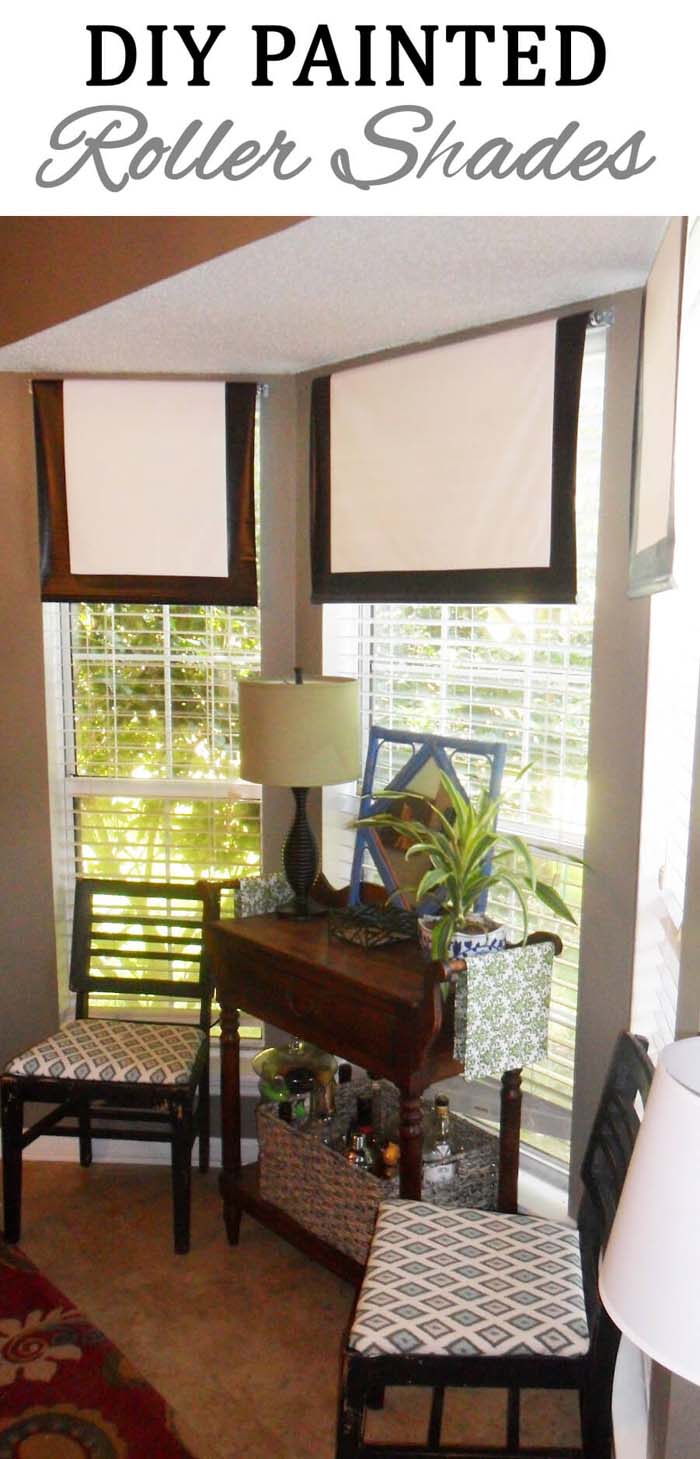 Transform the plain fabric shades into designers' blinds only with fabric paint. Outline the edges and let the brush work.
The color is up to you as long as it enhances your interior.
30. Ruffled Burlap Curtain Tutorial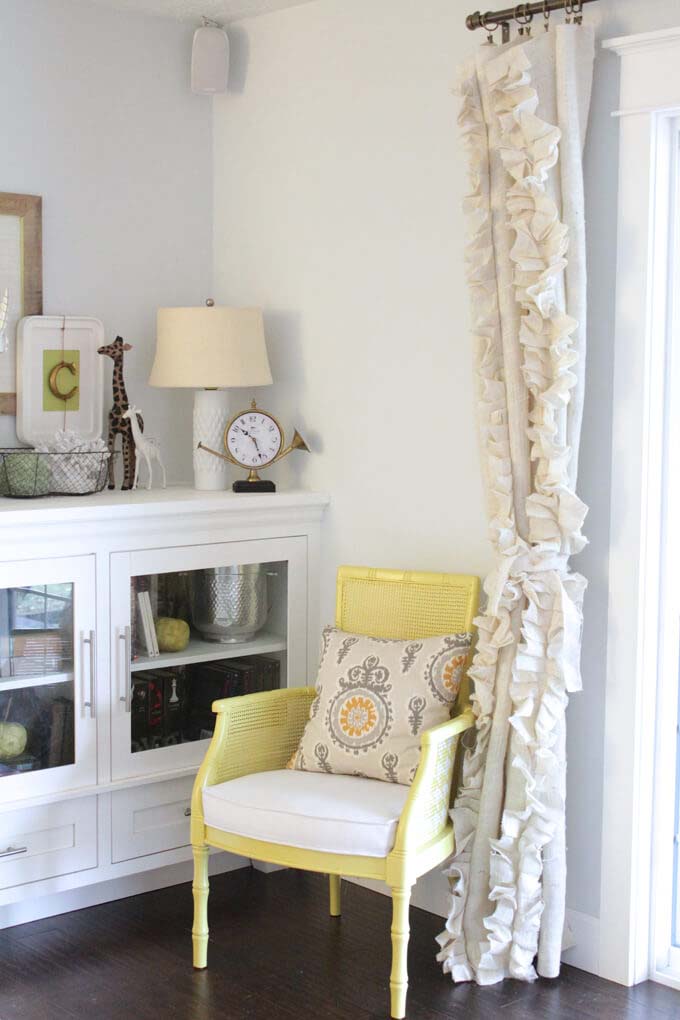 These adorable curtains will add cuteness and countryside charm to the plain windows. They are made entirely of burlap.
The texture you see is achieved by adding pleats onto the base fabric.
31. Rustic Vibe No-Sew Valance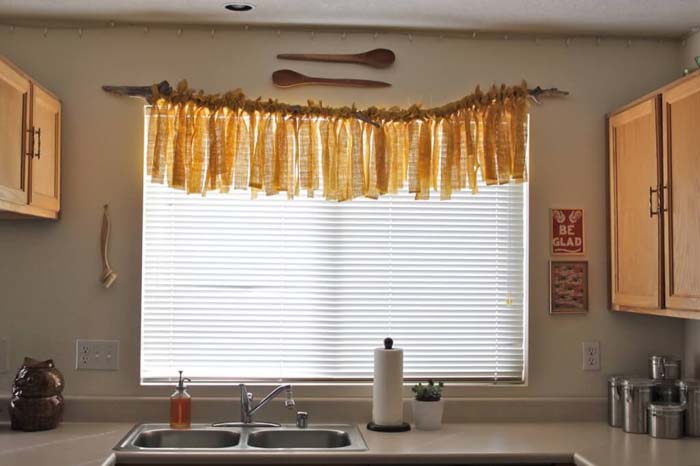 You can't go more rustic than hanging a valance onto a tree branch. Tie burlap or linen pieces around the branch or cut holes into each piece of fabric to put through the natural curtain rod.
This window treatment idea is suitable for spaces decorated in the vintage, farmhouse or countryside spirit.
32. Stenciled Window Shade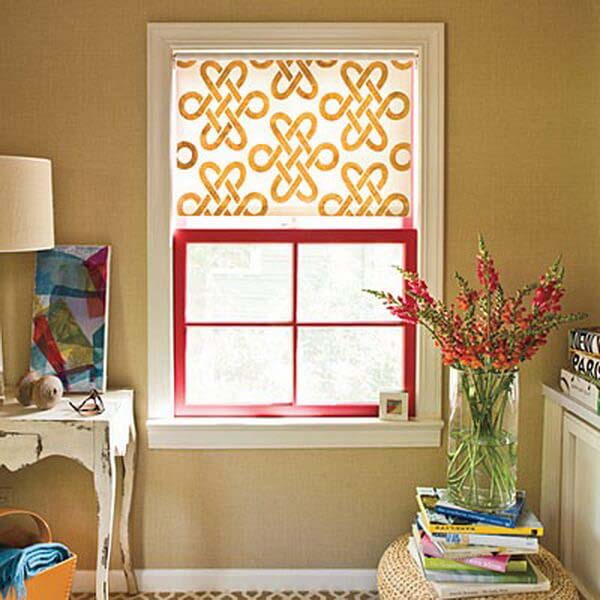 Roller shades are a cheap and a good way to partially stop the intense light. However, they come in a neutral color and that sometimes is not enough.
The tutorial below shows that the plain color could be considered an advantage as it provides a great background for stencils and colors you like.
via Southern Living
33. Vintage Shutters Indoors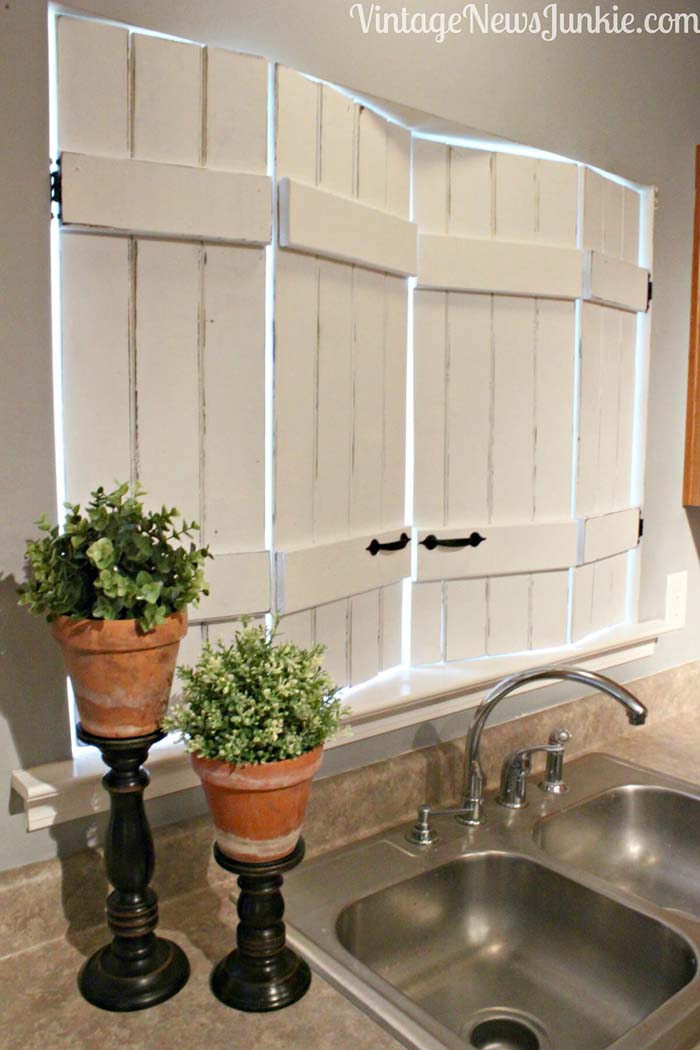 Upcycle old shutters to turn them into vintage indoor blinds.
All you need to do is to repaint them, add vintage handles and fix them to the window frame with hinges.
You will never regret repurposing these as they are a great light stopper.
34. DIY Window Privacy Screen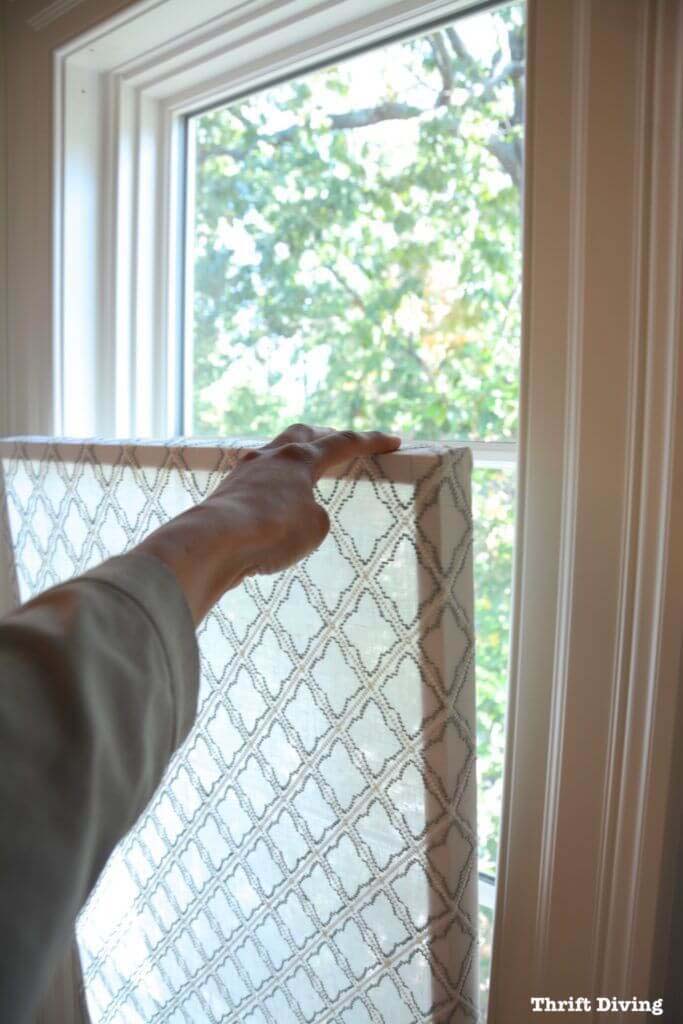 If you want instant privacy for almost no money, make a frame covered with fabric.
Insert in inside the window frame snugly. Take off when you need more air or light.
via Thrift Diving
35. DIY Window Shade In 15 Minutes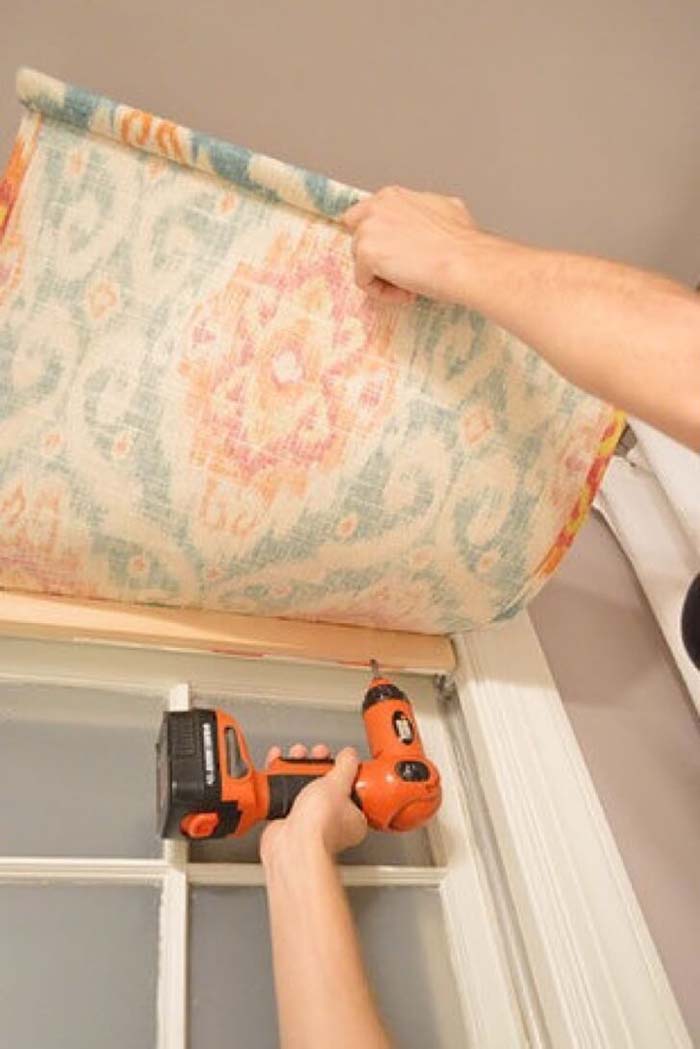 If you have left any fabric, you can use it to quickly make this easy window shade.
Hem all four sides and attach the top to a wooden slat or dowel.
via Young House Love
36. DIY Window Treatment With IKEA Dish Towels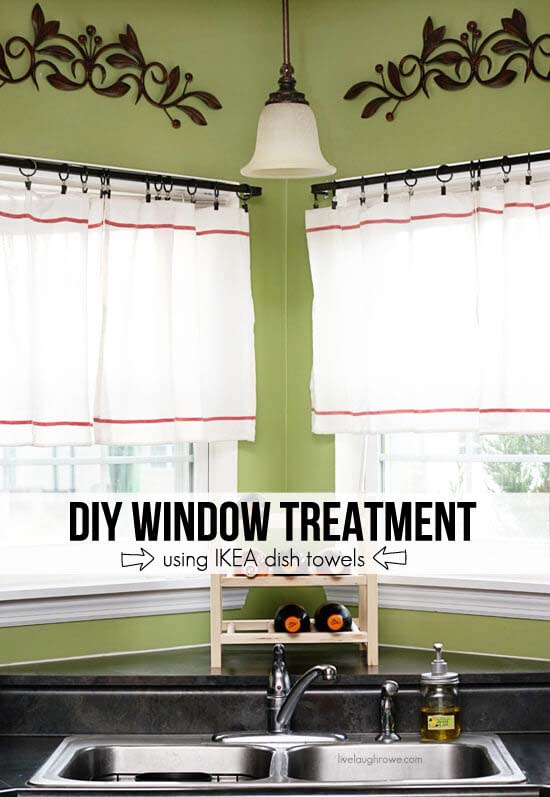 Ikea's items have shown us many times what functionality and multipurpose is.
This easy project for window treatment proves this again. Attach drapery clips onto one of the longer sides of their dish towels. Hang onto the curtain rod and voila!
Easy, cheap and functional treatment for your kitchen windows!
via Live Laugh Rowe