Window treatments are sometimes overlooked when we're decorating. A valance or cornice can be a showpiece for your windows and curtains.
A simple scarf can change the look of a room. We've collected twenty-eight of the best DIY window valance ideas that work for any room.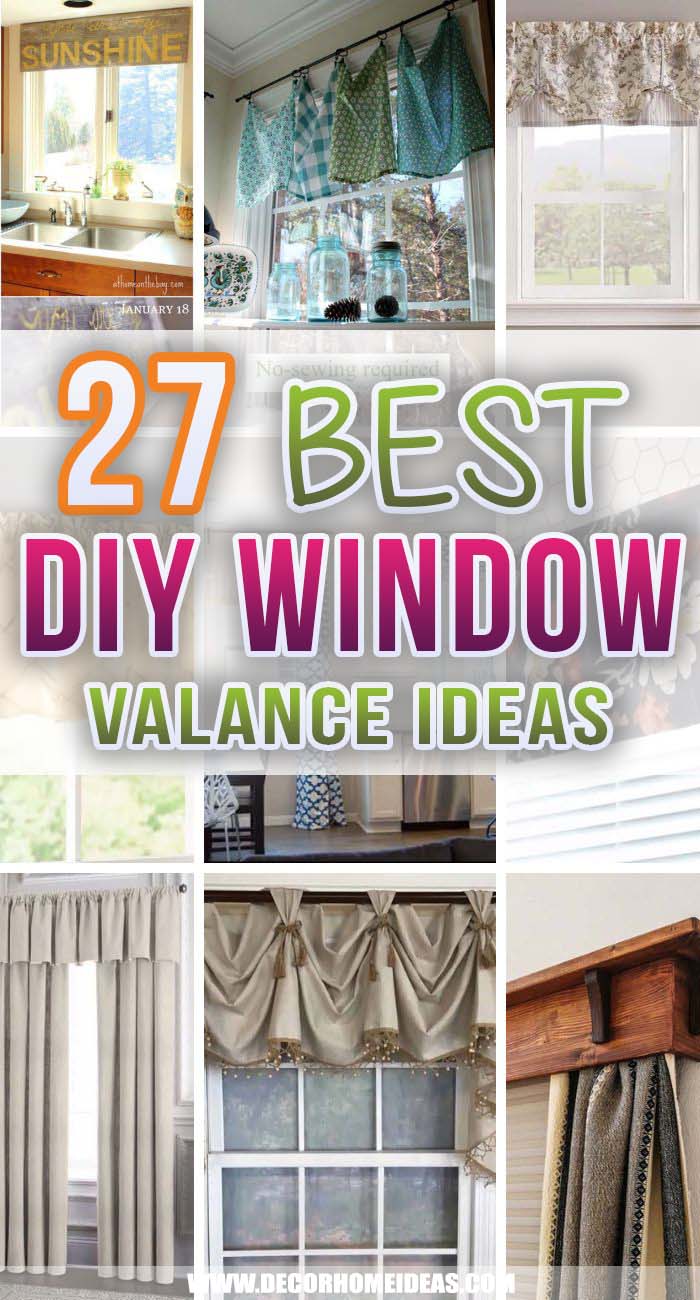 Some of these ideas use reclaimed materials. Other projects may take minimal skills in woodworking or sewing. There are some fundamental rules to follow that are pointed out in the following projects.
There are tips here that reveal options for different styles and types of windows.
Once you understand how they're made, you can apply these ideas to any room in your home. More importantly, you'll learn how to create a high end valance at a fraction of the cost.
1. Use Burlap and Ribbons to Create a Kitchen Valance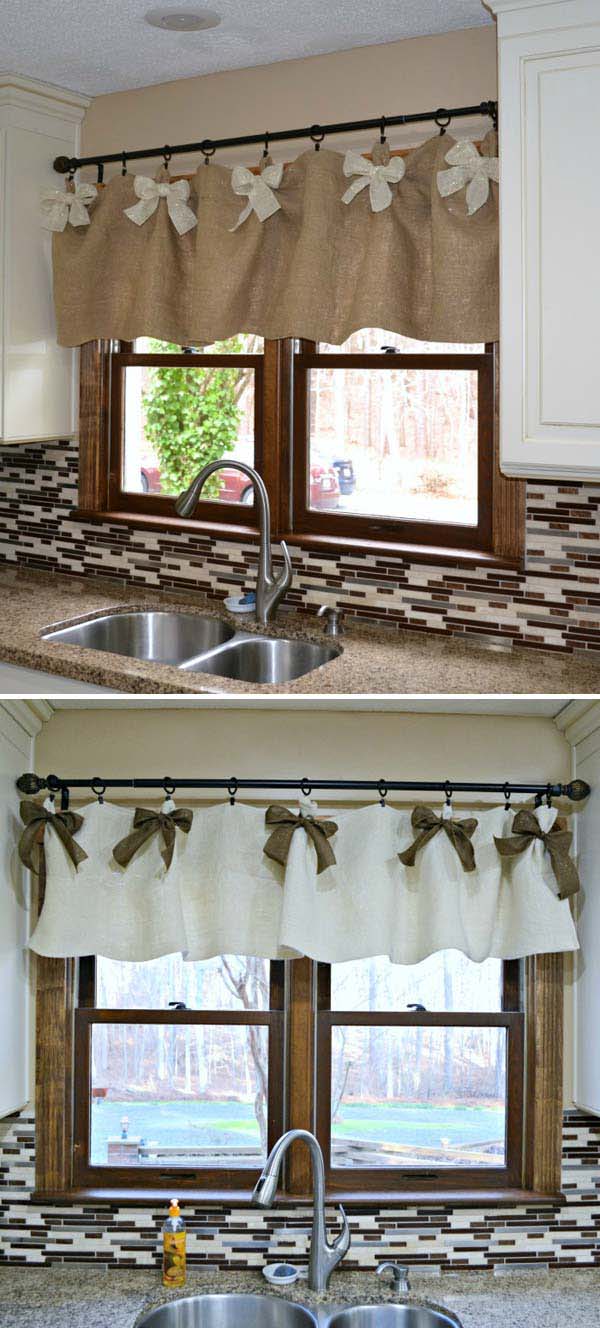 Burlap is an effective and affordable material for window treatment.
The neutral color works well with quartz tiles and brown countertops. Hem the ends and add ribbon for a finished look.
via Faithfully Free
2. Creating a Valance With Decorative Fencing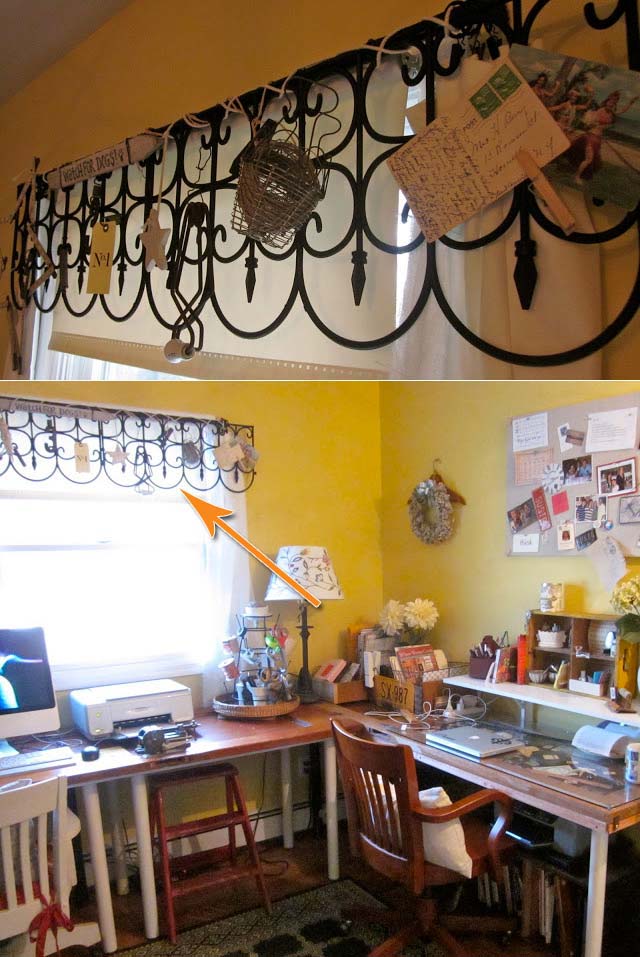 This DIY window treatment started with plastic fencing found at the home improvement store. The creator added old postcards and tags for a personal touch.
Diffuse light with a sheer curtain to soften the look of a room.
via Homeroad
3. Sew Your Own Colorful Valance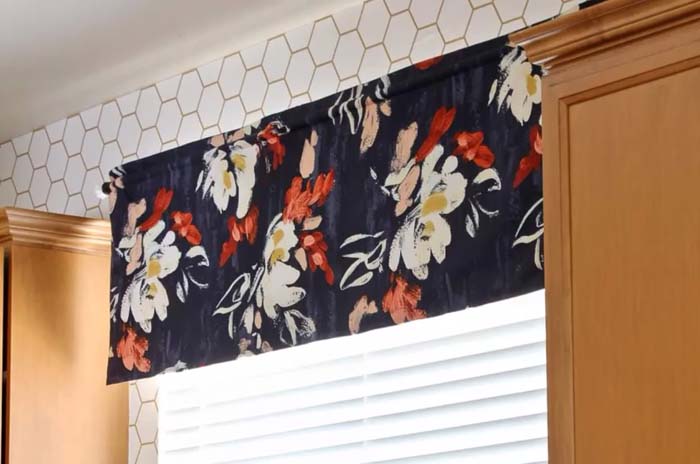 Standard blinds get a unique-looking room by sewing fabric valances that match other textiles in the room.
You can make this type of valance even if you don't sew. Fusible fabric adhesives are available as sprays, gels, and heat-reactive fabric strips. Your fabric dictates the best adhesive to use.
4. Add Glamor to Plain Fabric With Beads and Fringe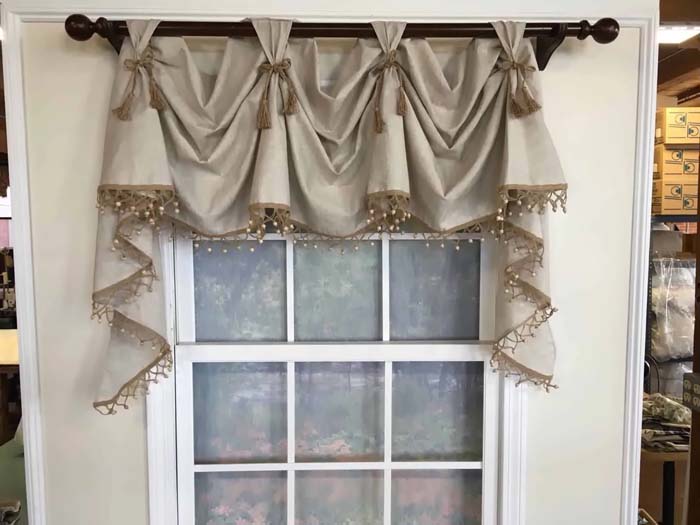 A monochromatic fabric gets a major lift by sewing a beaded fringe along the bottom hem.
The top is created using sections of fabric that are gathered and rolled over the rod, creating loops. The sections can be sewn or pinned into place.

5. Build a Simple Wood Cornice Box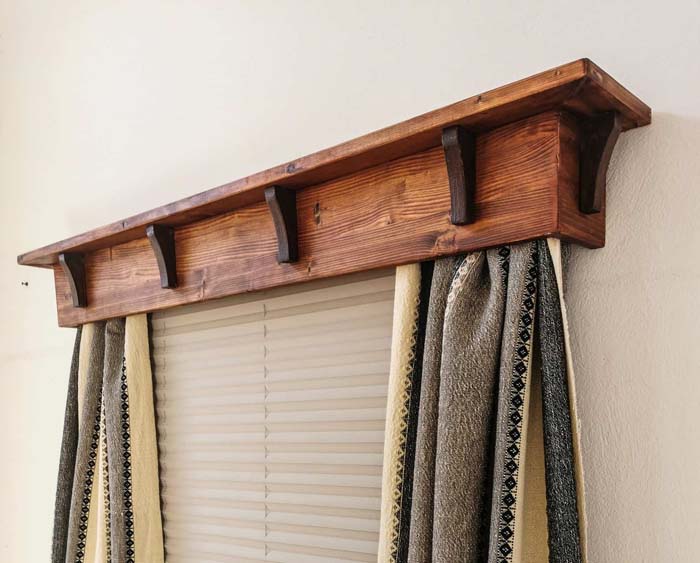 Give a simple cornice box a rustic look by using distressing techniques and adding decorative brackets.
This window treatment idea works well in homes with a rustic or farmhouse style.

6. Create a Custom Fabric Cornice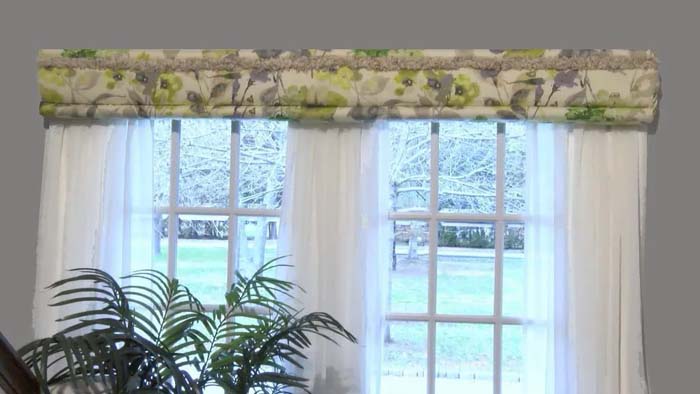 Glue fabric to foam board for a valance.
27 Best DIY Window Valance Ideas That Work For Any Room video:
It's lightweight and can be cut to any length, which is great news if you have odd size windows.
via Ronn Salvador
7. Hang a Row of Napkins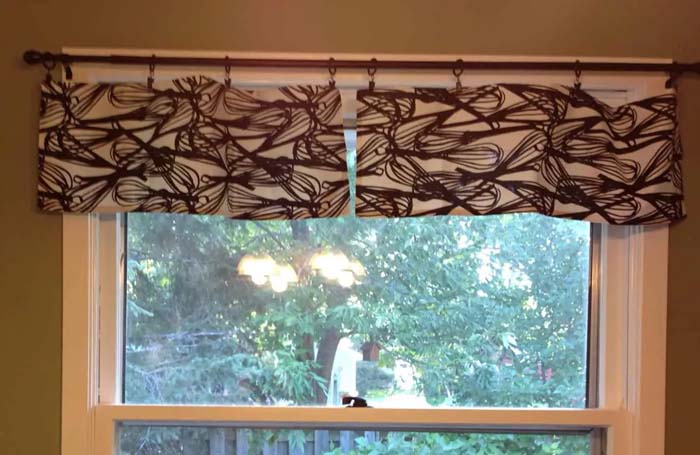 Napkins are hung from rings hooked onto a curtain rod using clip and hook curtain rings which you can pick up at any store with a home goods section.
The rings add length, avoiding the need for sewing on more fabric.
8. A No-Sew Window Treatment Using Sheer Fabric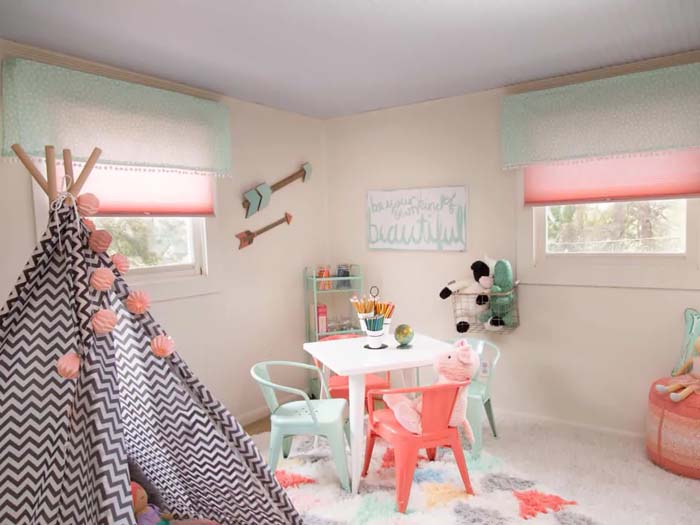 A sheer cornice extends past the window frame. Sheer roller shades add an interesting color as they filter sunlight. Put together this project in under an hour.
via HGTV
9. Craft a Unique Paper Flower Valance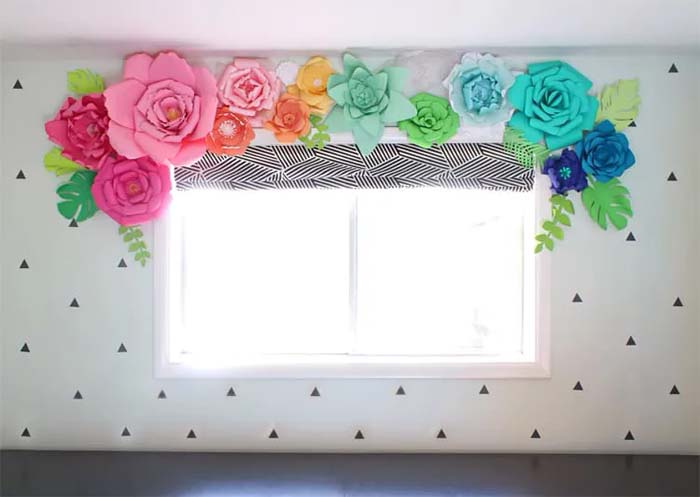 Colorful paper flowers can be glued onto a foam board valance.
Use heavier cardstock for sturdy petals. This box is used with a Roman shade.
10. Build a Realistic-Looking Picket Fence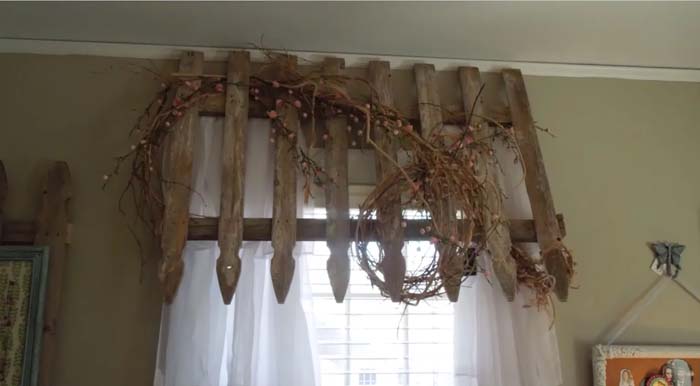 Lightweight wood is secured to a frame that acts as a cornice box.
Twist grapevine through the slats to complete the rustic look.
11. Try a Rolled Valance Project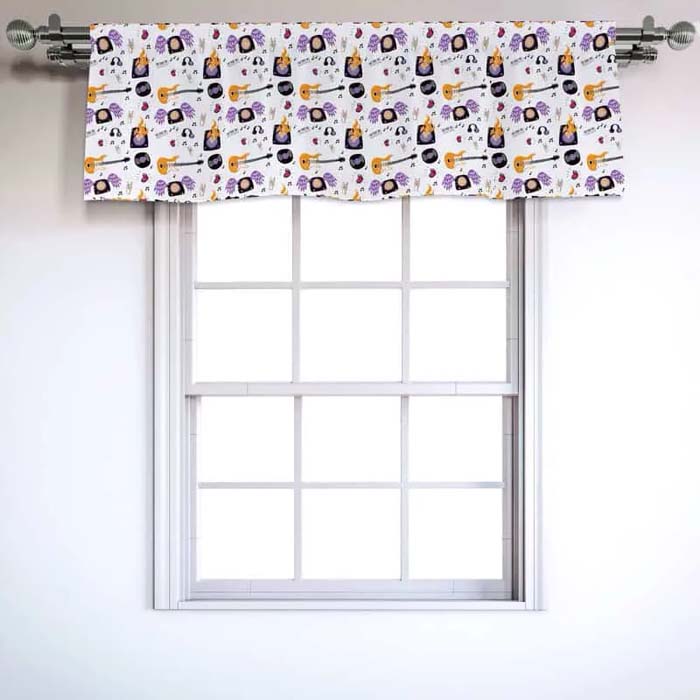 A rolled valance controls the natural light. They can be installed on a double curtain rod that extends past the window frame.
This allows you to fit a roller shade underneath for even more privacy.
12. Distressed Wood Adds Character to Walnut Valance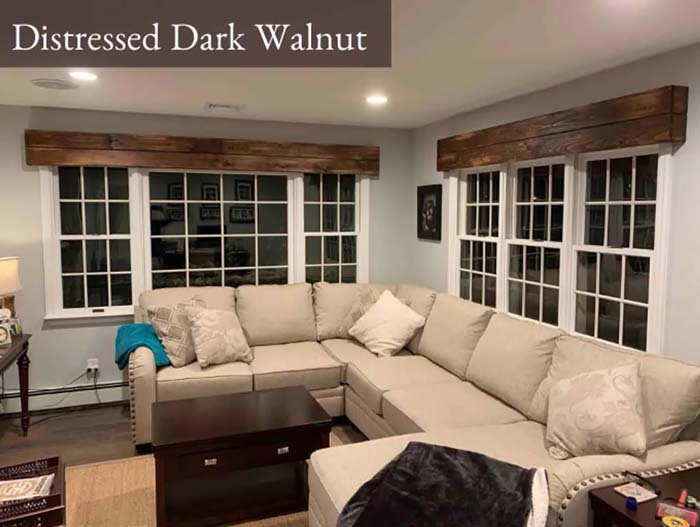 Beautiful walnut boards are distressed to match the farmhouse décor.
A cornice box will work with any type of window treatment from a sheer curtain panel to blackout curtains.
13. Add Character Using Fabric With a Geometric Pattern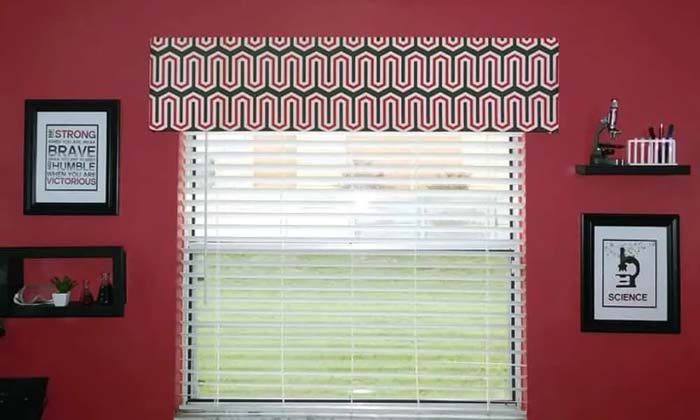 Introduce a fabric with a clean geometric pattern in your valance.
Using the same colors found on the walls and accessories ties the room together.
via My Design Rules
14. Easy to Sew Rod Pocket Valance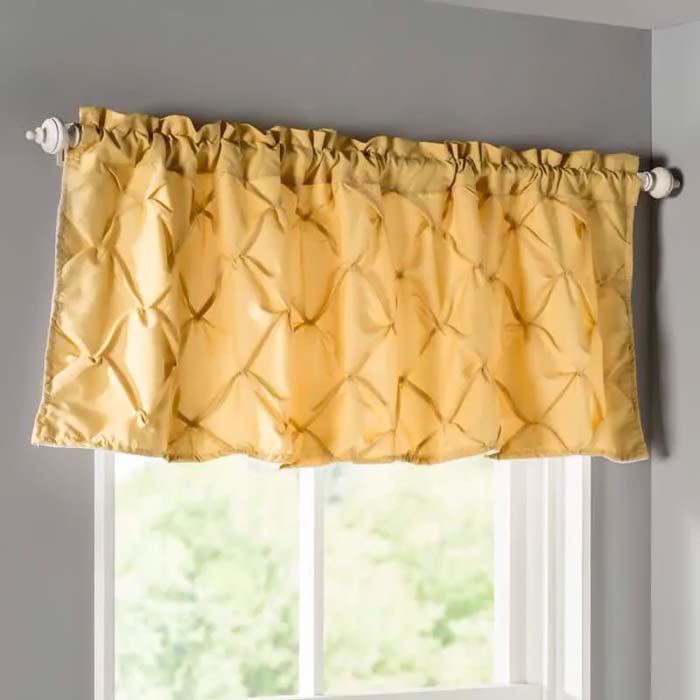 Any piece of fabric can be used as a rod pocket valance. To make a gathered look, use enough fabric equal to about twice the length of the current rod.
Sew a deep hem for the loop and sew a running stitch across the top.
15. Use Lightweight Fabric for an Affordable Valance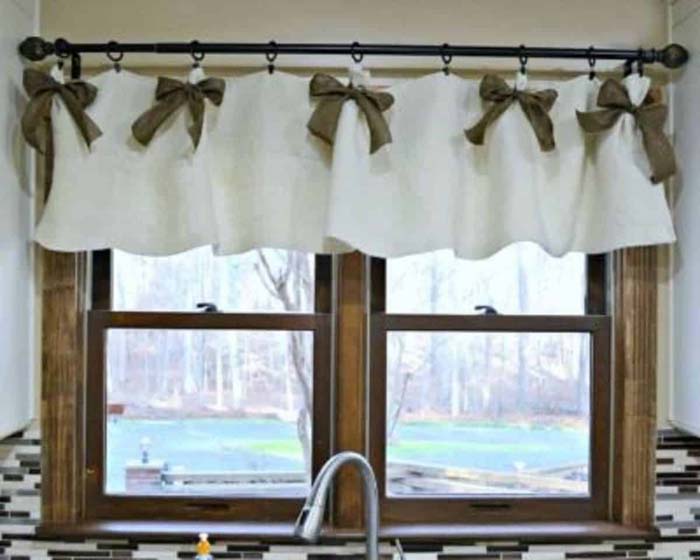 A simple piece of fabric is gathered over a black kitchen curtain rod and hung by clip and hook rings. Ribbons keep the gathered sections even.
16. Sew Matching Curtains and Roman Shade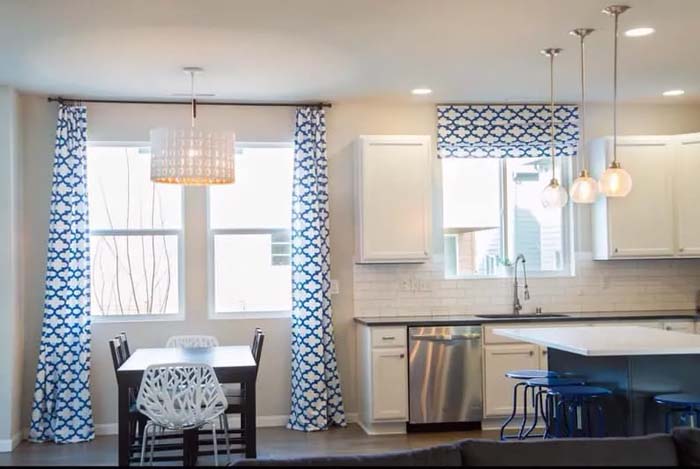 The owner used the same fabric for the breakfast area and kitchen tea curtain.
Iron fabric adhesive strips to create a hem for sliding over a curtain rod.
17. Combine Different Fabrics for a Unique Valance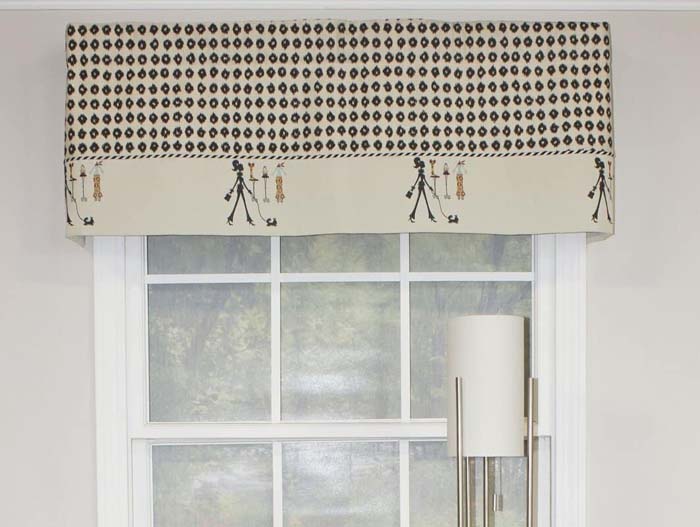 Fusible webbing can also be used to attach two different types of fabric together.
This extends the length of the window covering, creating a more interesting look.
18. Use Foam Insulation as Structure for Valance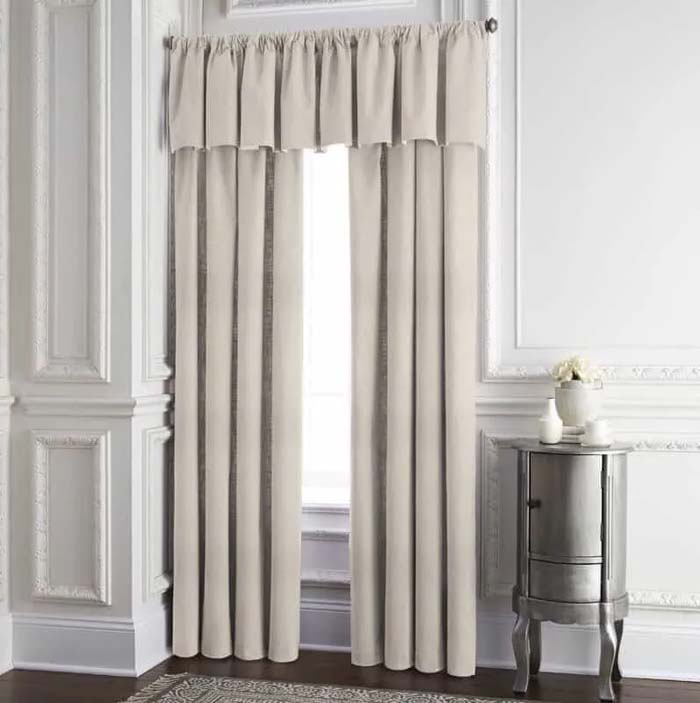 Yes, we're talking about the type of insulation you stick in dry walls.
You can also use pieces of pool noodles to create spacers in between the rings.
19. Tie up Fabric to Create a Scalloped Edge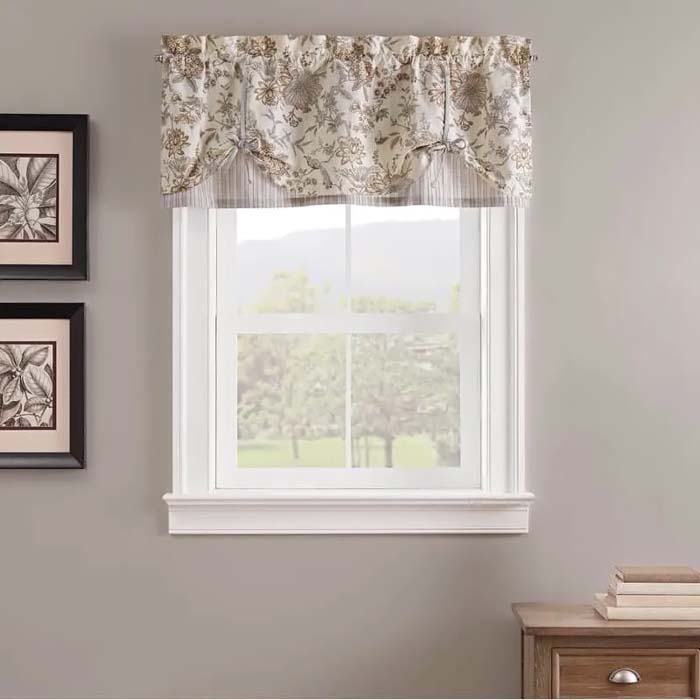 The trick to getting a puffy finished look is to use quilt batting as a liner between the board frame and the fabric.
Pleats can be gathered, pinned, and glued into place.
via In My Own Style
20. Easy Unlined Burlap Tie-up Valance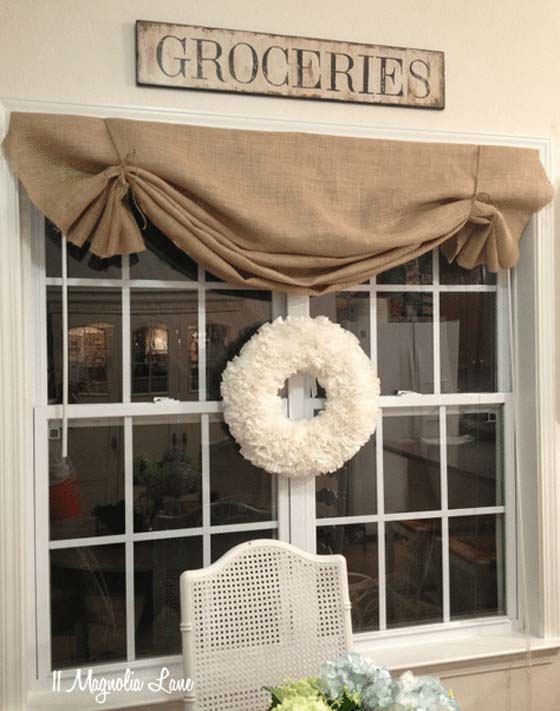 This is a very easy DIY project which consists of measuring out burlap and starting from the bottom, folding to create an accordion pleat. It's secured using jute twine.
Although it looks heavy, it lets in a lot of natural light.
via 11 Magnolia Lane
21. Reclaimed Wood Pallets Create a Rustic Valance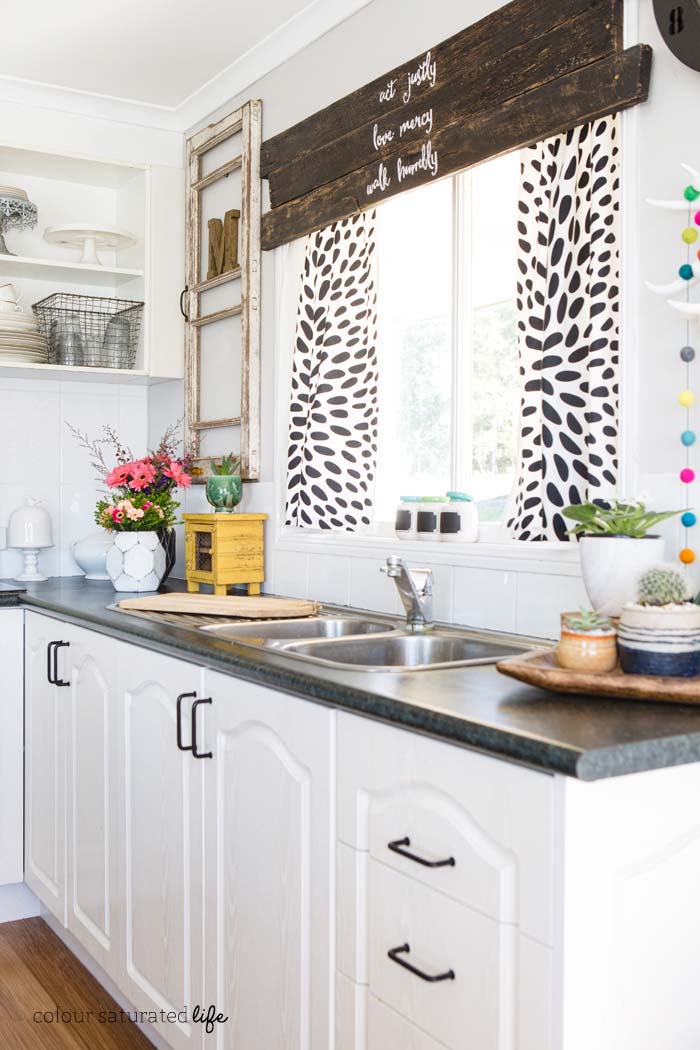 Reclaimed pallet wood comes to the rescue again.
This time, it's used as a valance secured to the wall using screws.
22. Create Upscale Cornice With Cardboard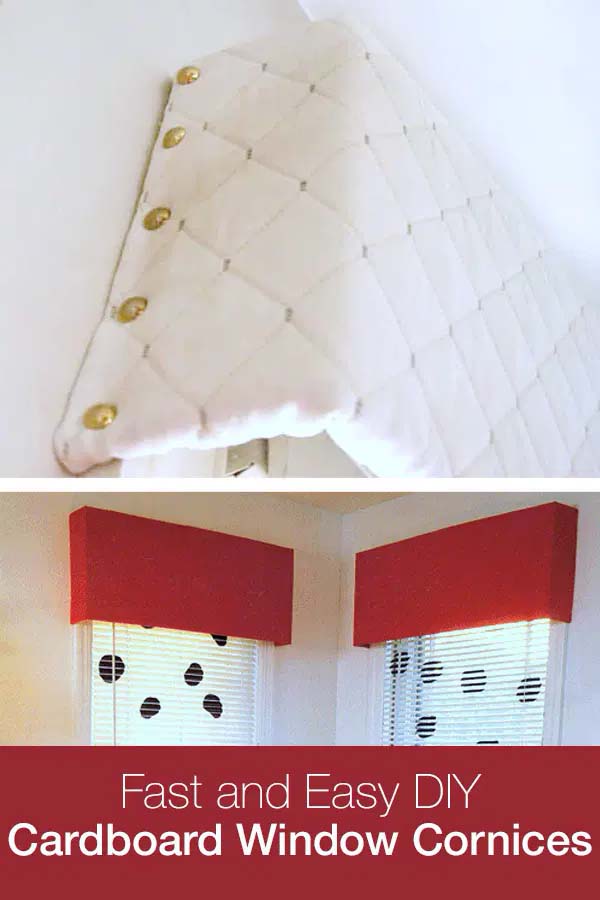 Cardboard can be used if foam board isn't available. Secure the fabric into the cardboard using thumb tacks.
Cardboard is light enough that you can attach them to a window frame or wall using command strips.
via In My Own Style
23. Upcycled Tin Becomes Unique Cornice Box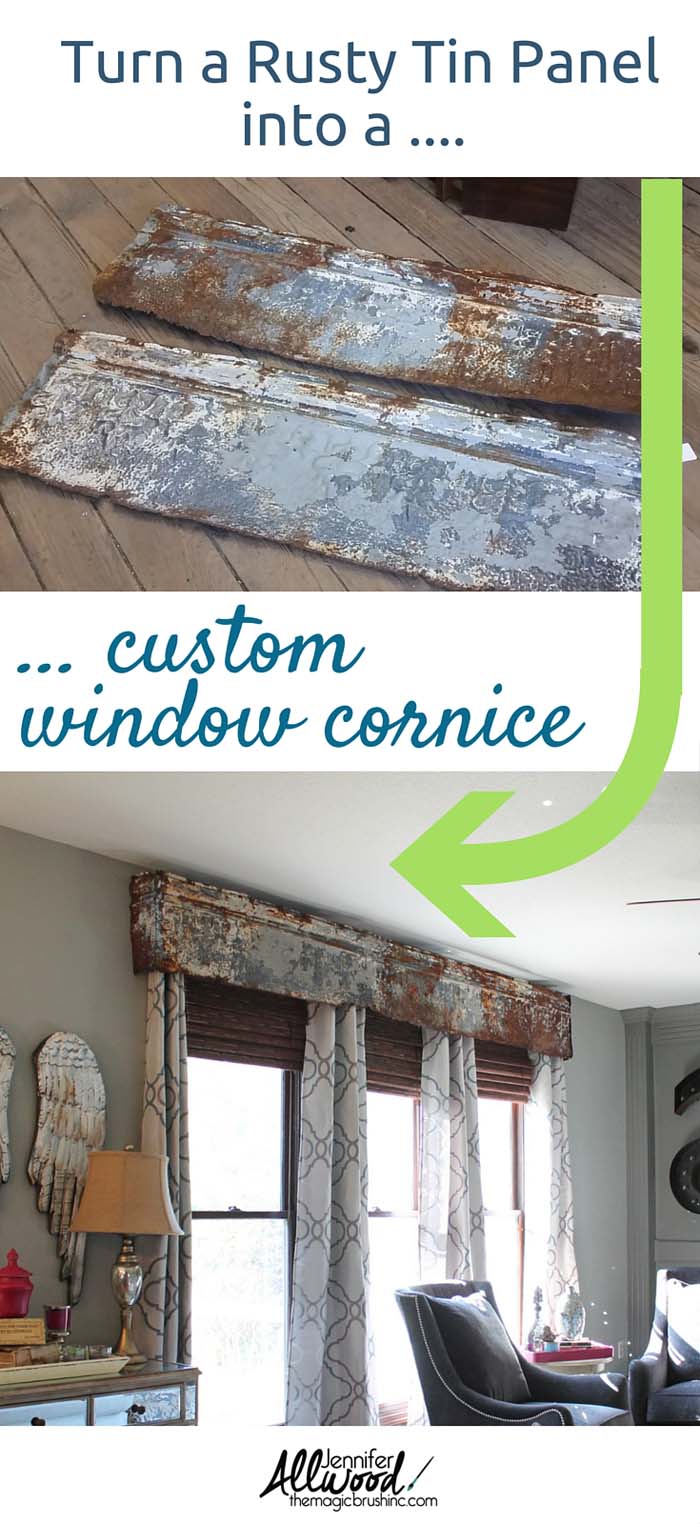 A panel of rusty tin was cut into three pieces. It was secured on a wood frame for an eclectic cornice box.
The tin was white-washed, but you can remove the rust or even paint it. The textured pattern will retain its interest.
24. Wood Wall Remnants Become Matching Cornice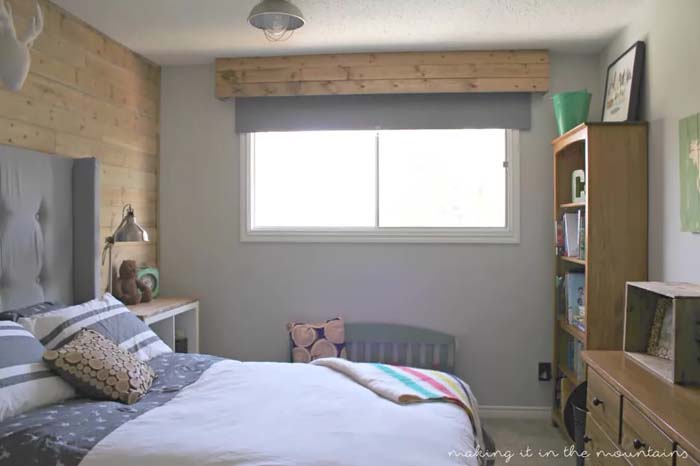 This cornice matches the wall behind the bed and the valance matches the color of the headboard.
25. Rustic Look Using Rope Stretched Between Panels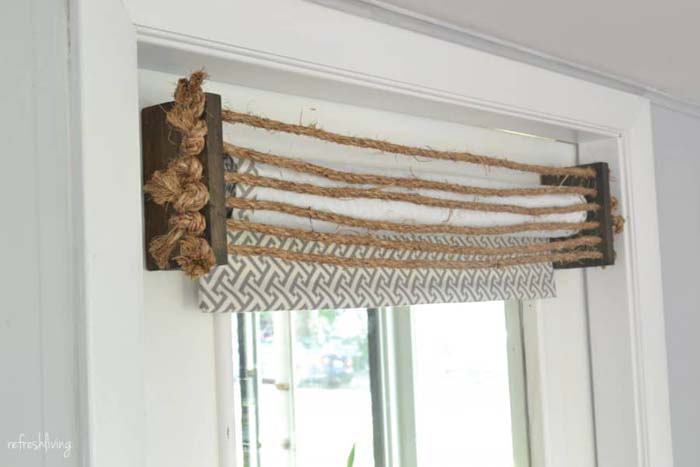 Rope adds an interesting rustic element to a valance. This valance creates texture and hides at the top of a roller shade.
via Refresh Living
26. Loosely Hang Colorful Napkins for Country Cottage Look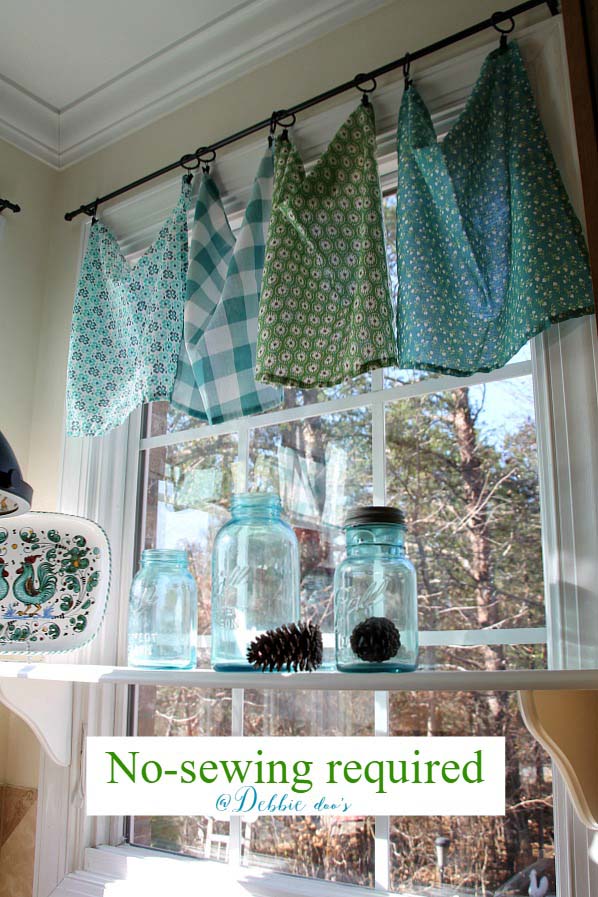 All types of table linens can be used as kitchen valances. Alternatively, you can raid your wardrobe closet to put together a scarf valance.
Use a thin kitchen rod kit so the thickness of the rod doesn't overpower the lightness of the napkins.
27. Quickly Create Personalized Valance With Wood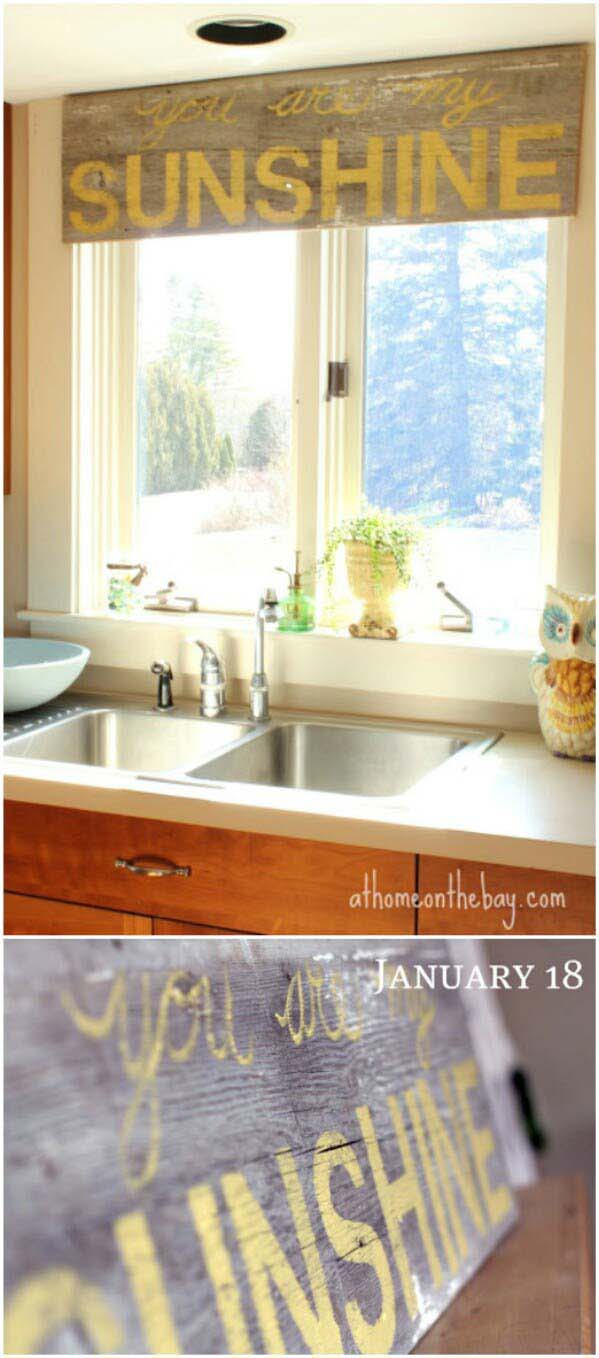 A wood board is sanded and stenciled for a unique twist in a rustic kitchen.
28. Dark Stain Adds Drama to Easy Cornice Box Project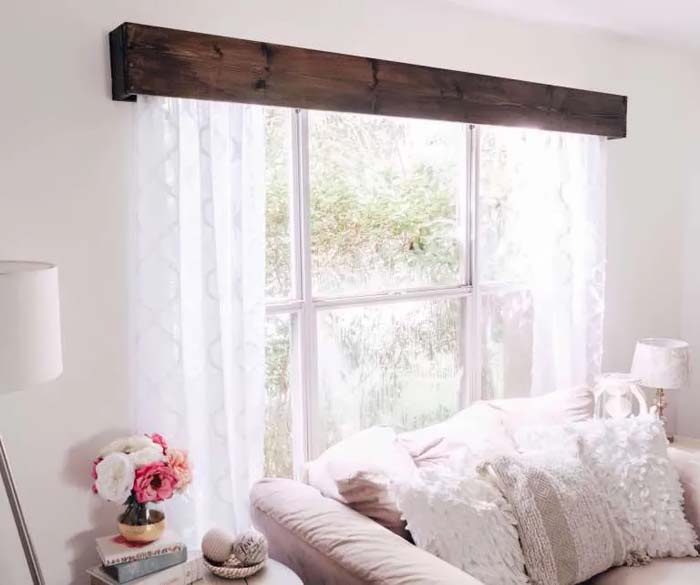 A dark stained wood panel creates a striking contrast to long lace curtains panels. Consider using a bracket in the middle of a longer cornice for added support.