Mirrors are an inexpensive way to bring more light into a room. When one is added to a dining room, it's like adding jewelry to an outfit. You may not realize how much character and flair it brings until it's installed. We have collected twenty-seven ideas for a dining room with a mirror.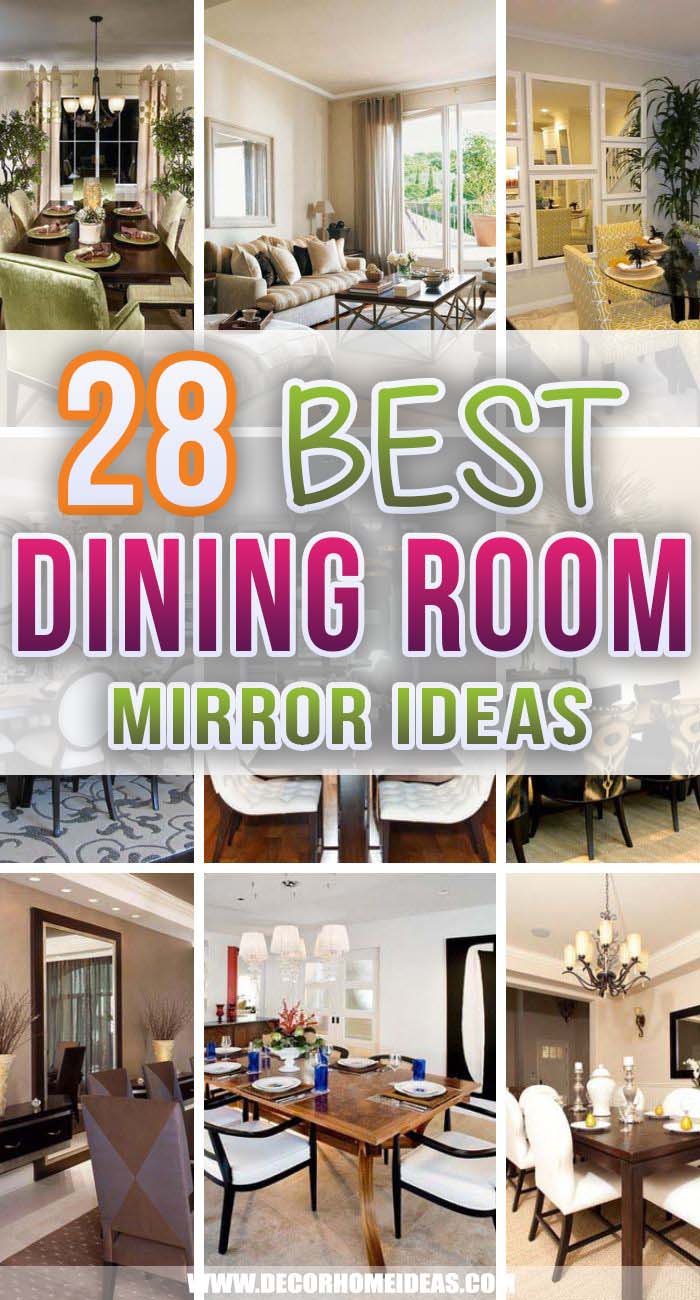 Your room's style, including any trim or moldings, will dictate the mirror type best suited for your dining area. Adding a mirror in your dining room should match the table and chairs.
It's usually hung above eye level so people don't have to watch themselves eat, but we'll show you rooms where this rule was broken beautifully.
We hope these ideas inspire you to clear the jigsaw puzzle off your table and create a beautiful room for family and friends to gather.
1. Add a Full Mirrored Wall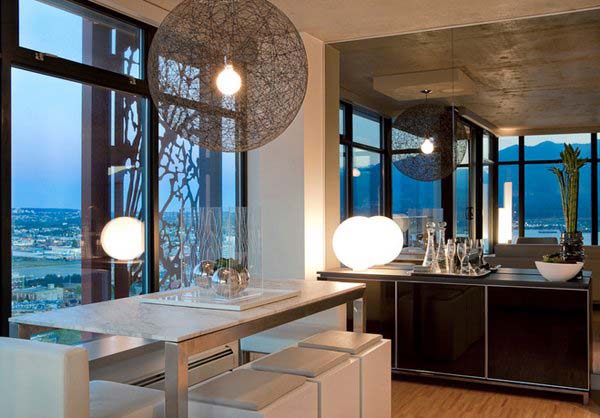 This penthouse gets a boost with a mirrored wall over the buffet. It not only doubles the size of the room, it doubles the size of the scenery.
Although it looks expensive, you can get the look of a full-length mirror wall using wall-mounted gym mirrors which you can buy online.
2. Add Elegance with Wood Framed Beveled Mirrors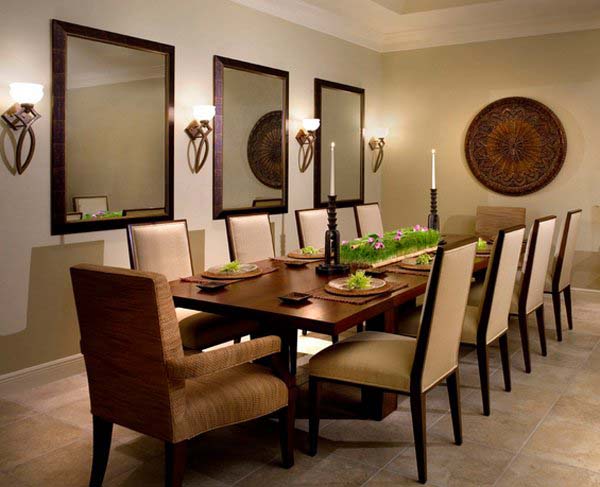 Dark wood framed mirrors on a creamy beige wall mimic the chair backs.
Placing a sconce between each mirror adds formality to an already stately looking room.
3. Add Interest to a Minimalist Room with Panel Mirrors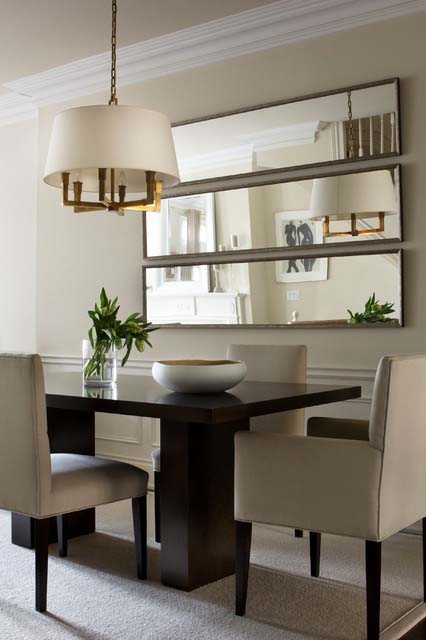 Rectangular mirror panels add depth and brightness to a minimalist setting. Placing them horizontally keeps the focus on the table and away from the room's height.
4. Add Interest with a Scalloped Edge Mirror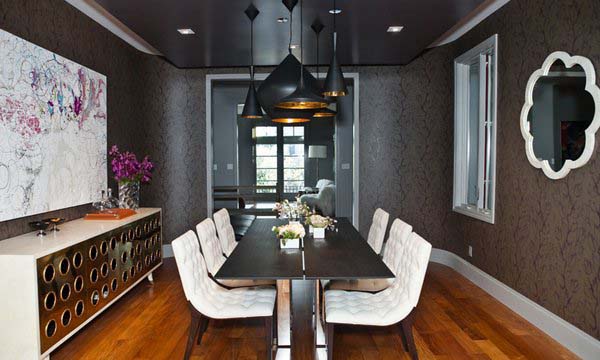 A scallop framed accent mirror lightens the feel of a dark room.
via MB Jessee
5. Add Weight to a Room Using a Dark Framed Mirror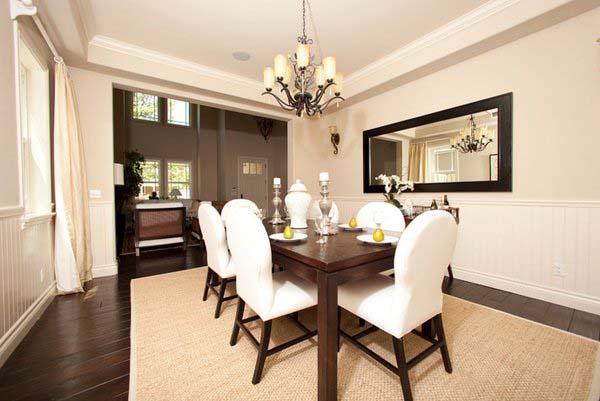 The long rectangular mirror is set in a thick frame, bringing depth to the room.
via Globus Builder
6. An Antique Mirror with a Colorful Frame Matches Accessories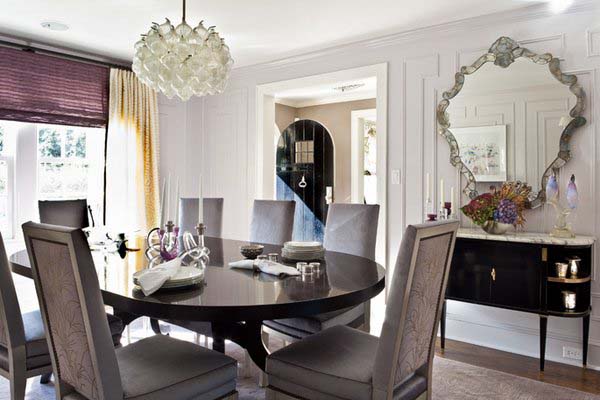 An ornate vintage mirror adds interest to an otherwise simple interior trim molding pattern.
28 Fantastic Dining Room Mirror Ideas To Add Style and Elegance video:
The subtle colors in the frame work with other vintage pieces in the room.
via Lisa Frantz
7. An Unframed Modern Beveled Mirror Adds Shine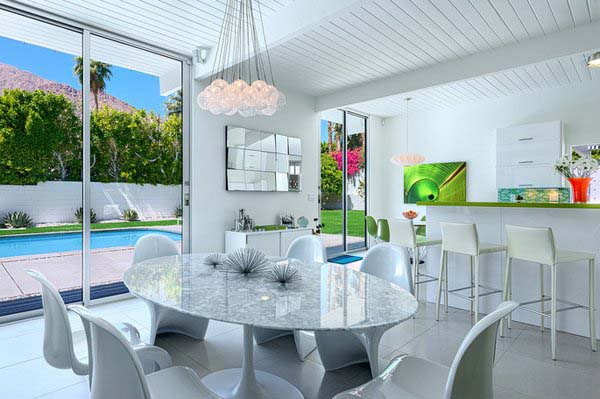 Using an unframed Cubist style mirror adds textural art to the wall without taking away from the white color scheme.
8. A Round Wood Mirror Matches the Side Table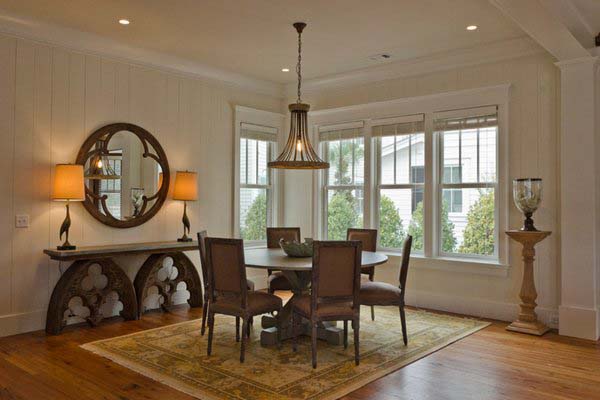 A minimal dining area gets a big lift with a large round mirror over a side table that has half circles for legs.
The clover pattern in the legs mimics the pattern inside the Regina Andrew quatrefoil mirror.
via Wayne Windham
9. A Silver Mirror Works With Gray and Neutral Palette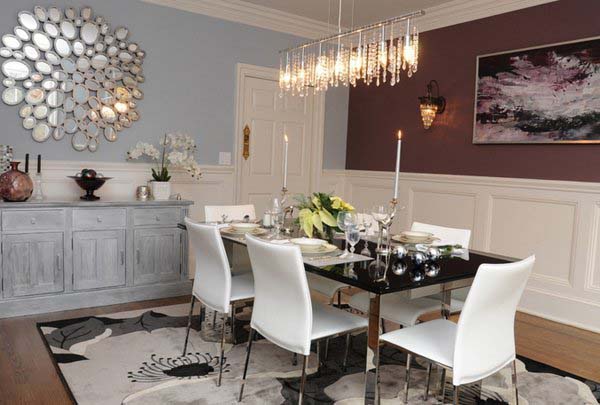 The unique Briza silver mirror by Zuri adds brightness and interest without introducing another color.
The silver works well with the gray paint and sideboard.
via Elle Decor
10. Bring Light to a Dark Wall with a Mirror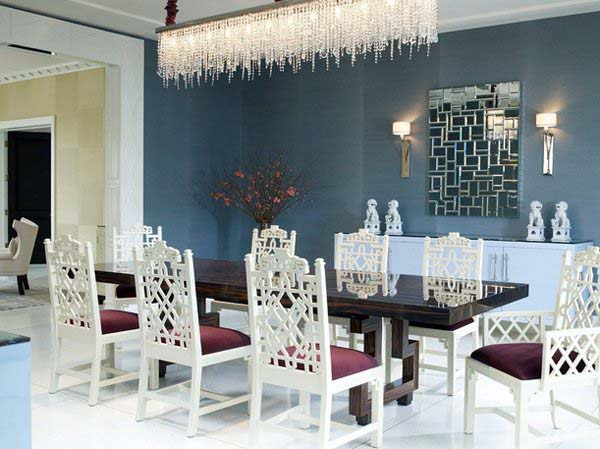 A custom faceted mirror is positioned to reflect the chandelier.
The decorative mirror matches the high polish finishes on other surfaces.
via Jamie Herzlinger
11. Build an Affordable Mirror Wall Using Smaller Mirrors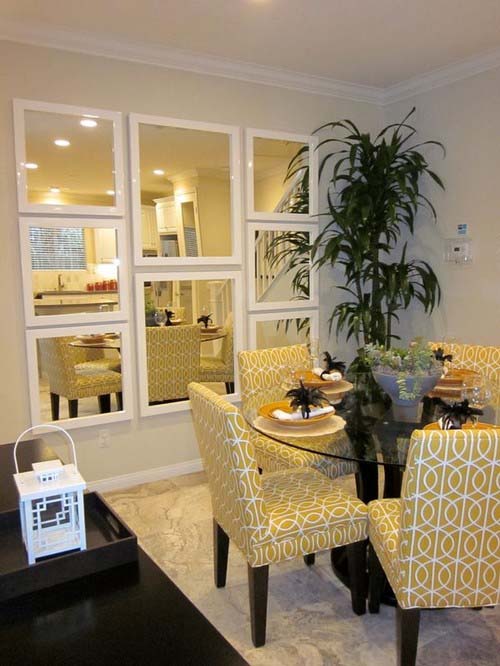 A collection of large mirrors in similar frames gives the illusion of doubling the size of a small dining area. When you're working with an empty back wall and little foot traffic, you can bring this style right to the floor.
Note the symmetrical pattern of two larger center mirrors flanked by three smaller mirrors.
12. Build Up a Large Frame for Small Mirror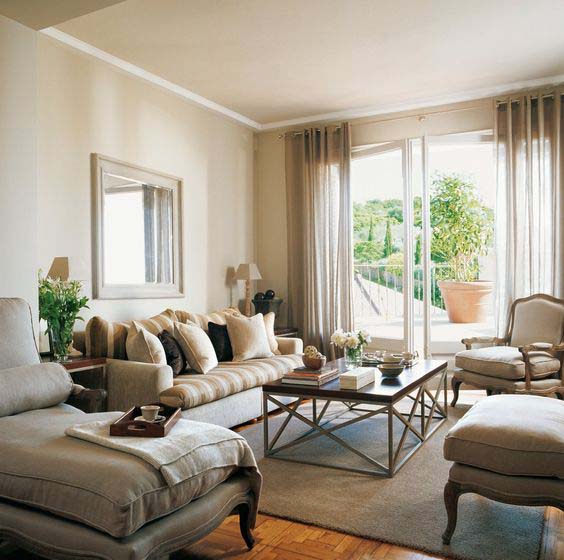 Like any picture, if your mirror is a little too small for the setting, put it in a larger frame. The beveled mirror in this room gets a huge boost after it was inset into a substantial frame.
13. Custom Installation of Mirror for Small Dining Area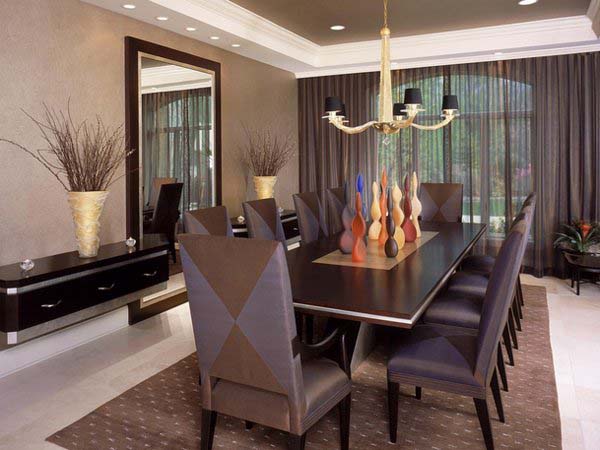 A large mirror opens up this dining area. This is a custom installation with the floorboard being trimmed away to allow the mirror to reach the floor.
14. Get a Modern Look Using Mirrors With Mirrored Frames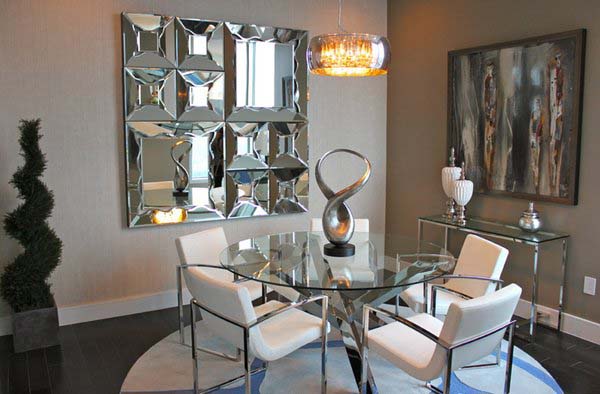 This mirror can be replicated using a close grouping of mirrors with reflective beveled frames.
It complements the chrome and glass furnishings.
15. Group of Rectangular Beveled Mirrors with Desilvered Frames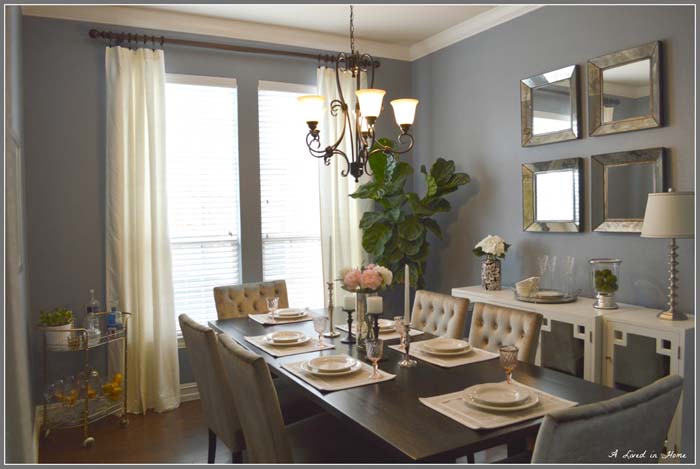 The mirrors bring light and mimic the shape of the dining area and side table. The beveled frames have been slightly de-silvered, adding an antique look to the set.
via A Lived In Home
16. Group Together a Collection of Small Mirrors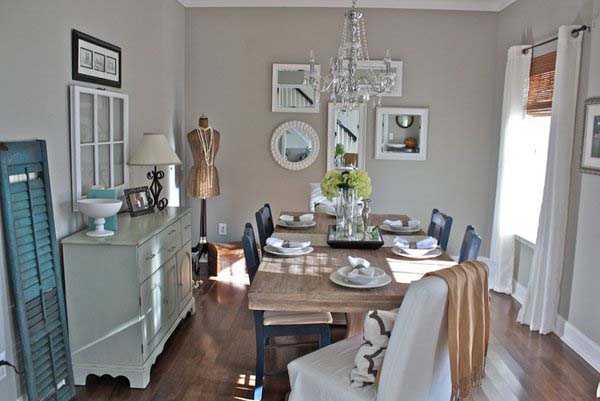 You don't have to spend enormous amounts of money on a large mirror.
Group several small mirrors together for wall décor that looks like an art collection. The trick is painting the frames the same color.
17. Large Leaner Mirror with Ornate Wood Frame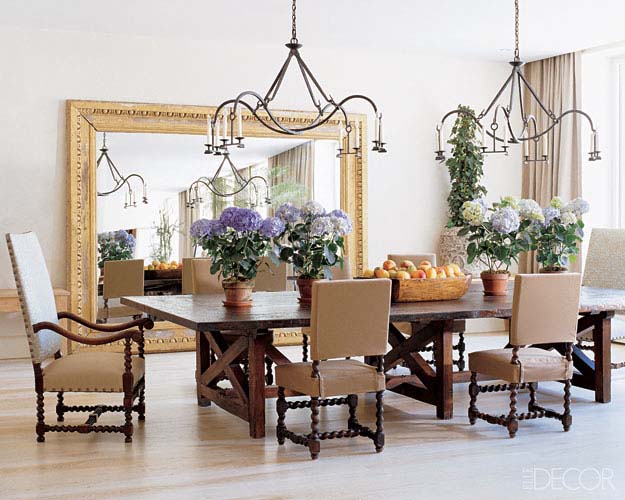 Leaner mirrors are a type of floor standing mirror that has no means of support, so it leans against a wall.
A spectacular leaner mirror, with its distressed golden frame, looks like a piece of art in this dining room.
18. Large Round Silver Mirror is a Statement Piece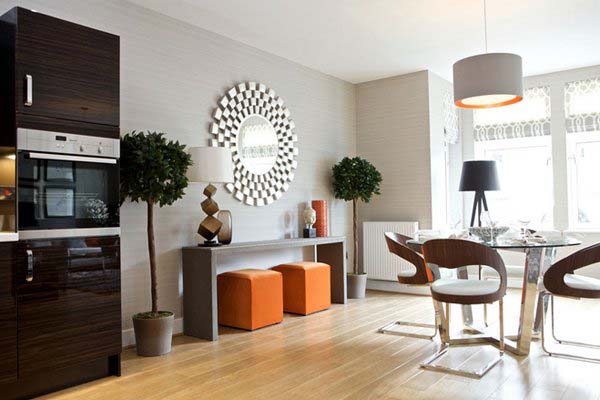 The large silver mirror is the focal point for a vignette of ottomans and a small side table.
The squares in the mirror's pattern mimic the wall's square shaped theme found in the ottomans, table and lamp.
19. Match Your Chandelier Using the Frame Color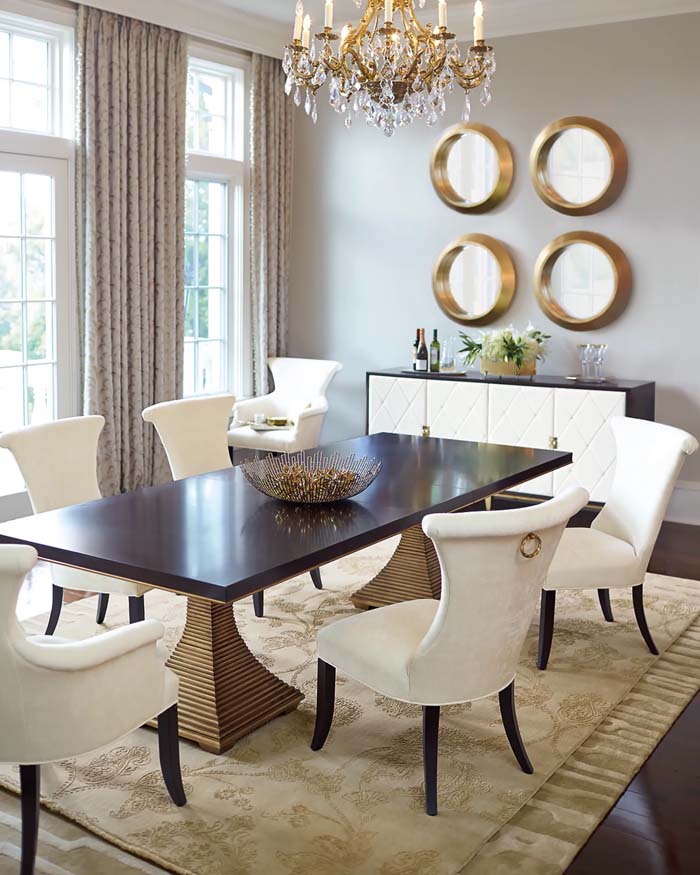 A grouping of small round mirrors looks like a jewel collection in a contemporary dining room.
The golden reflective qualities of the mirror match the chandelier. This is an easy way to tie together a room.
via Horchow
20. Mimic Dining Room Chairs with a Similarly Shaped Mirror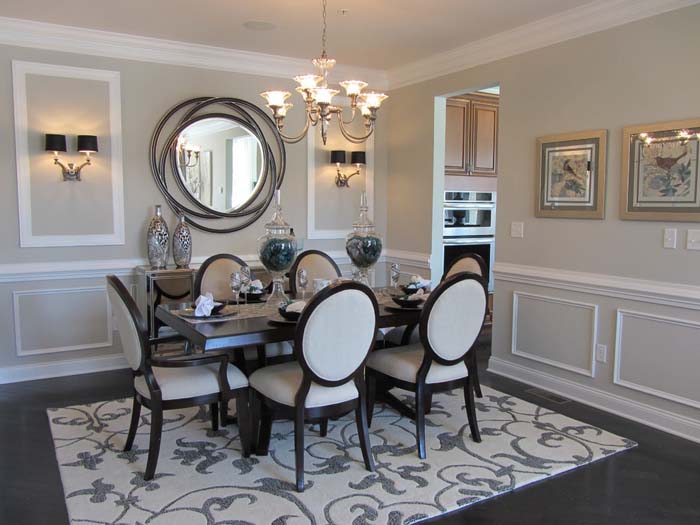 An Uttermost Odalis mirror is positioned between two sconces. It brings another modern touch to this formal dining area. The mirror's circular designs work well with the oval chair backs.
21. Mirror Wall Adds Drama to a Small Dining Room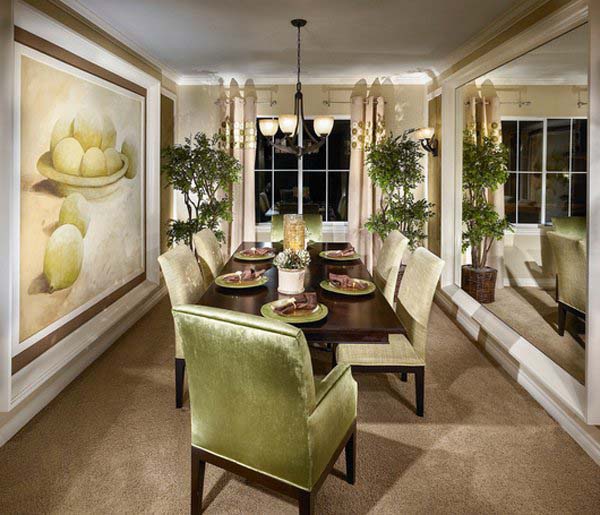 A narrow dining area is given a dramatic makeover with a mural painting on one side and a full mirror wall positioned across the room.
Get the look by building out plywood frames from the wall.
22. Oval Mirrors Set Over Rectangular Mirrors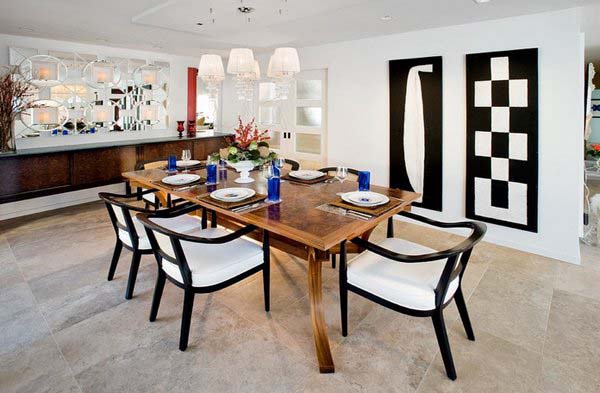 The stunning mirror over the buffet enhances the modern look of this dining area. You can create a similar look by joining together similar small frameless mirrors.
via Pavilack Design
23. Rectangular Framed Mirror Defines Dining Area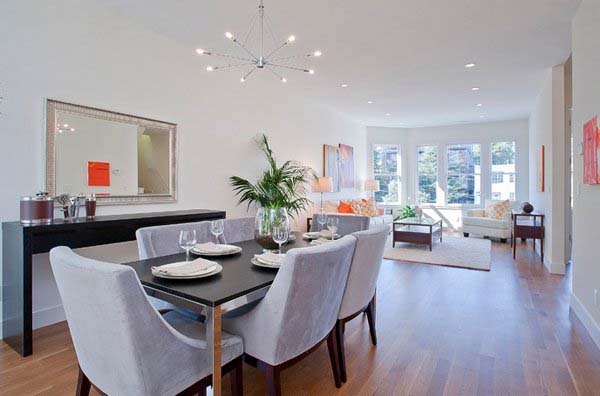 A large rectangular mirror extends nearly the length of the dining table, defining the dining space in an open-concept home.
24. Silver Starburst Mirror Adds Light Without Color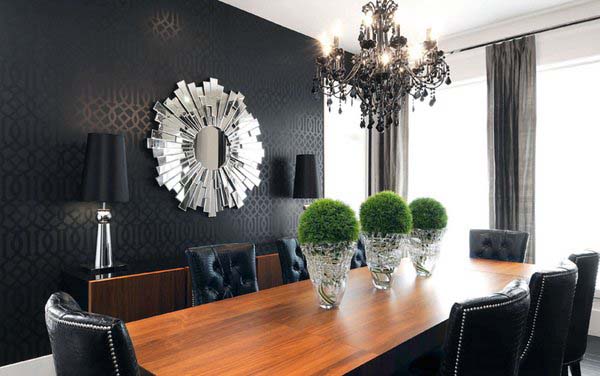 A large silver Starburst mirror was added to the wall to bring brightness into the room without disrupting the black palette.
25. Use a Decorative Mirror Over a Mirror Wall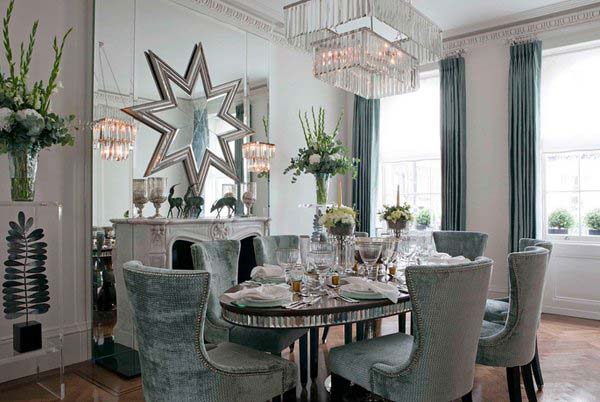 A starburst mirror is installed over a mirrored chimney breast wall.
The size and scope of this installation match the height of the room. The table is an example of mirrored furniture that's become very popular.
via Siobhan Loates
26. Use a Large Mirror To Add Light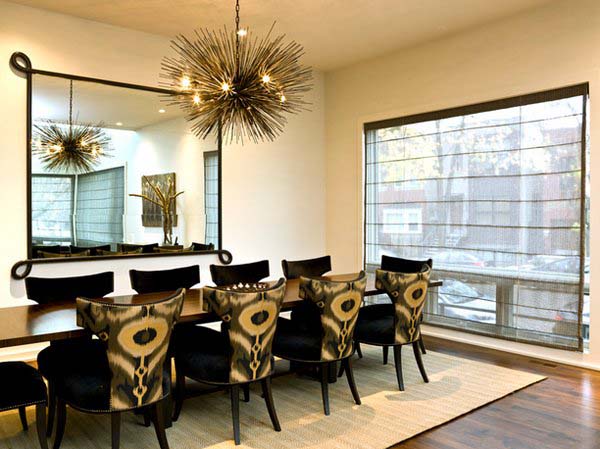 Large mirrors do double duty by reflecting light and making a room look bigger.
This Casamidy Loop wall mirror looks almost like a second window in this contemporary dining area.
via Cynthia Lynn
27. Use Rectangular Mirror In Horizontal Position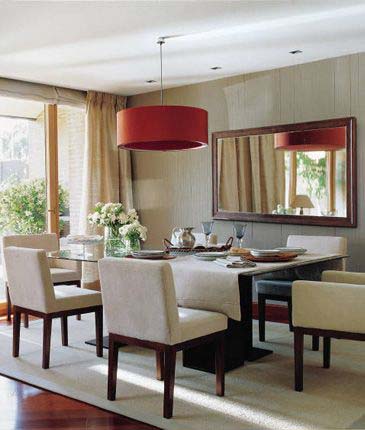 A wider mirror will make the whole space look bigger and could match the dining table.
28. Your Mirror Frames Should Match Your Furniture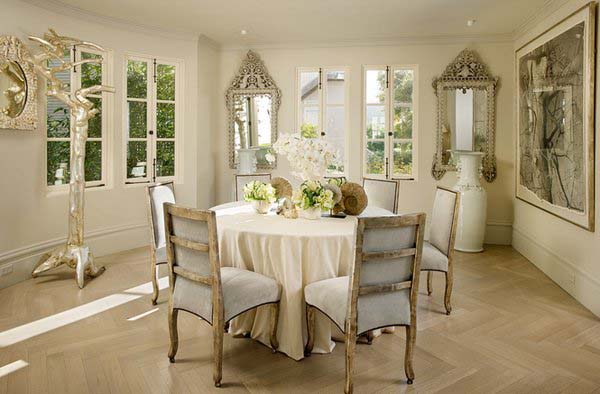 A dining room mirror doesn't have to look like it came from a home goods store.
Antique Syrian and Indian mirrors flank louvered windows, helping define the open space as a dining area.
via Candace Barnes