Making a statement wall in a room instantly gives a space a customized look, hence statement walls have become such a huge trend recently.
A few years ago statement walls were made with wallpaper. Nowadays, we tend to go back to our roots and get closer to nature. Hence, the past trend for wood paneling has recently become so popular.
Wood is textured, warm and authentic. Wood comes in various sizes and shapes. Wood can be easily adapted to the existing interior.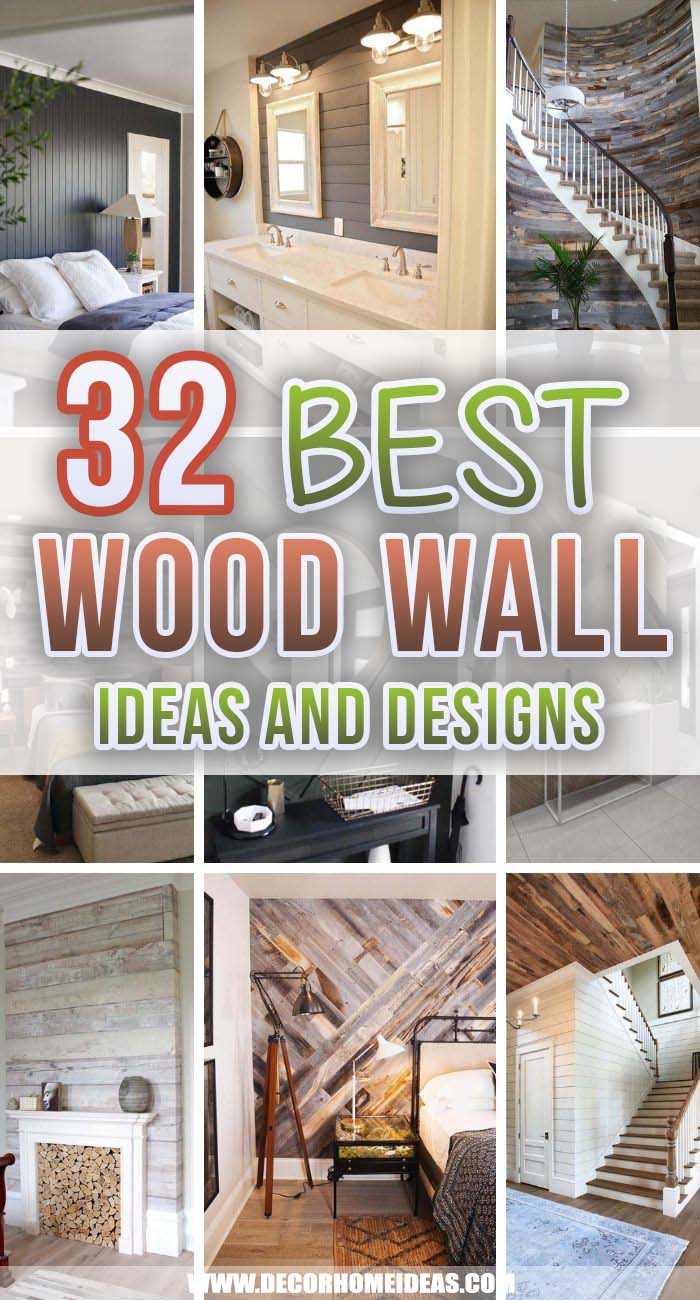 We have gathered 32 of the Best Wood Wall Ideas and Designs that will prove that wood is one of the best materials to make a statement wall to improve the home decor instantly and on a budget.
1. A Pop of Color Stained Wood Wall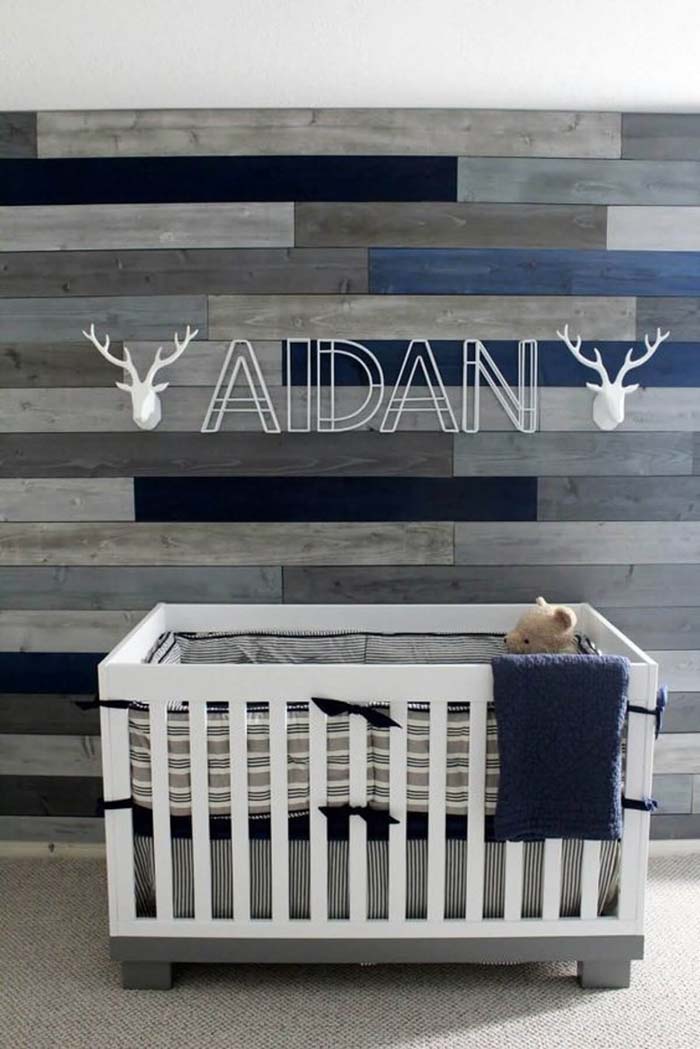 Make the nursery atmosphere warm and calming with an accent wall covered with wood panels.
The navy and grey tones in combination give the wood a modern look and at the same time create a unique texture.
via Project Nursery
2. Contemporary and Abstracted Chevron Wood Wall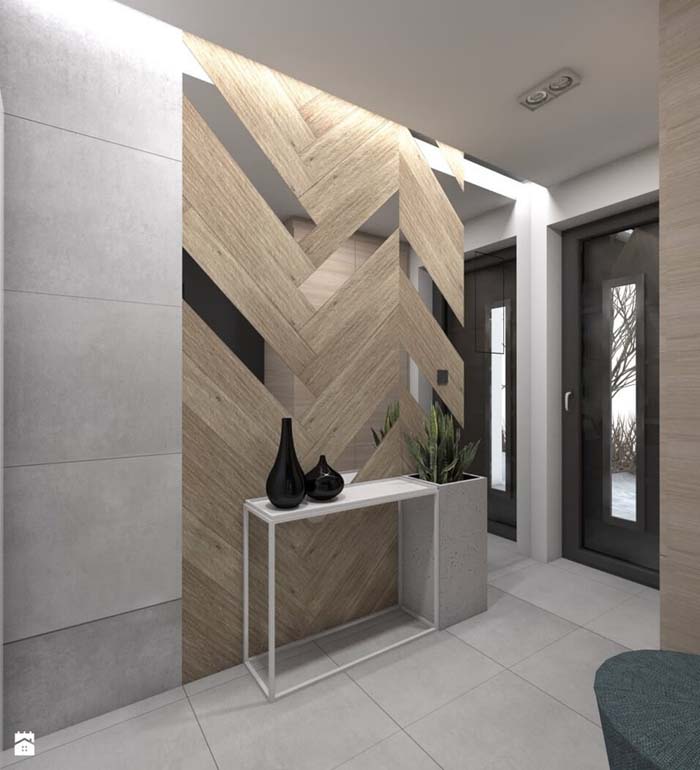 Your contemporary minimalist home will easily embrace this hallway design. The combination of wood and mirror panels greets you from the entrance and is simply outstanding.
The alignment pattern enhances the elegant detail featuring a chevron wall design. The chosen tones of the wood and the adjacent wall tiles create an appealing and harmonized atmosphere.
via Homebook PL
3. Cottage Style Bright Whites Wood Wall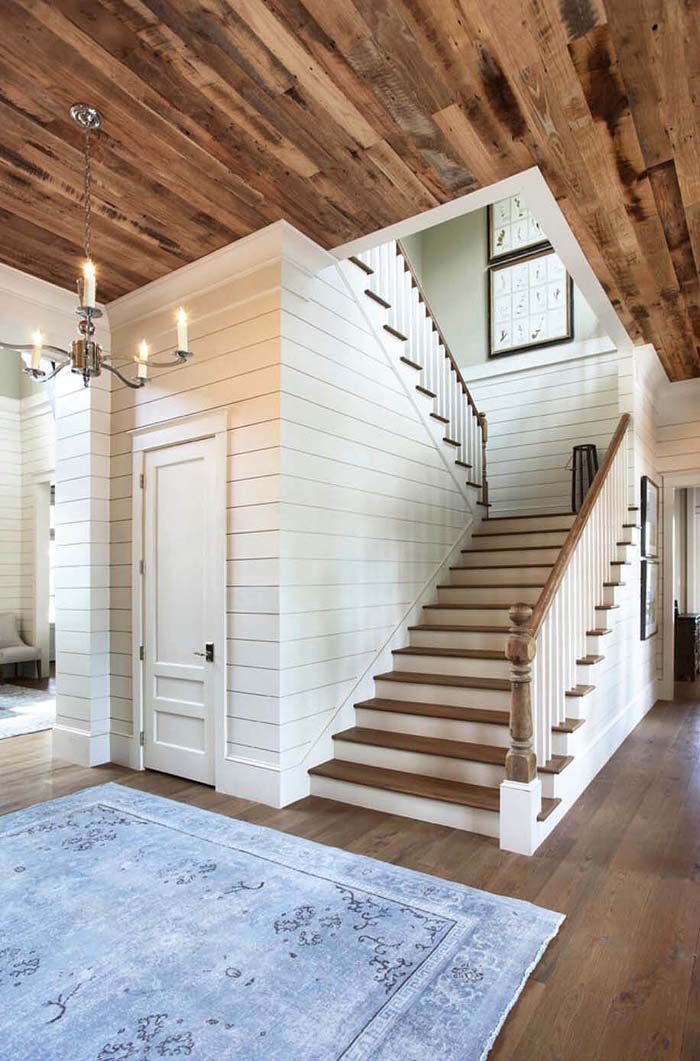 Shiplap boards are usually applied on kitchen and living room walls. This idea inspires us with their alternative application- on the hallway walls.
White shiplap boards cover the walls of the staircase and all adjacent rooms. This creates a united overall look anchoring elegance and personal impact.
It is helpful to know that installing shiplap boards on drywall is easy so that can inspire your next home makeover.
4. Cozy Reading Nook Dark-Stained Wood Wall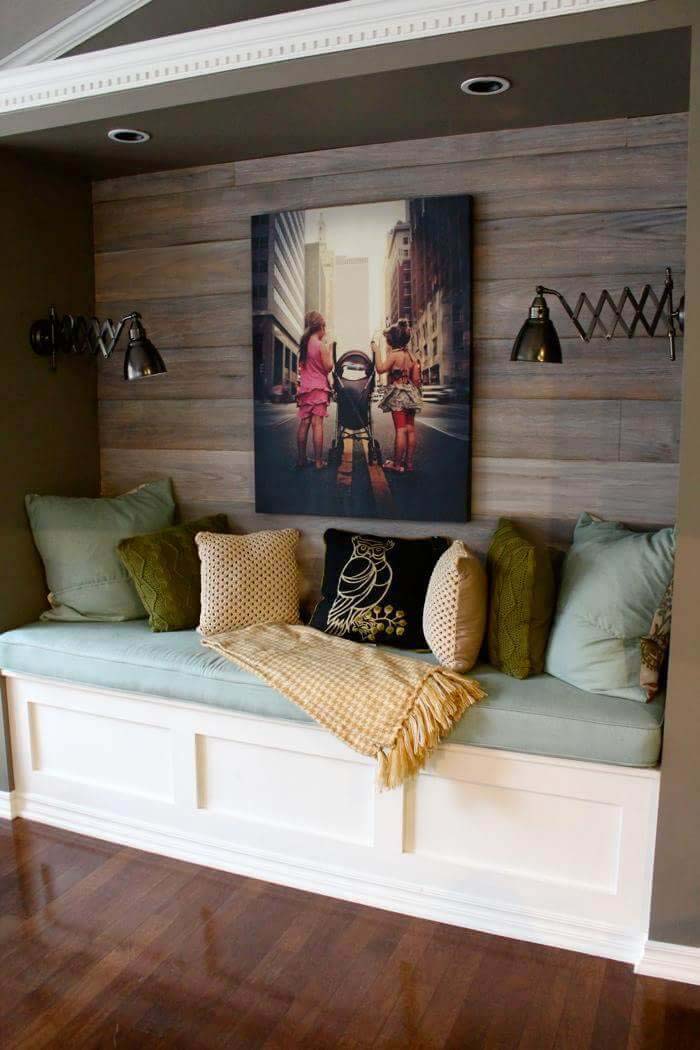 Every person deserves a special nook to relax. Built-in niches are perfect for this purpose since they don't take any of the active room space and are of a good size to create a relaxing zone.
One wooden bench with a soft cushion and a wall covered with wood panels create a calming and private atmosphere. Add pillows and sconces to enjoy the comfort of this oasis ultimately.
via Kara Pasley
5. DIY Herringbone Plank Wall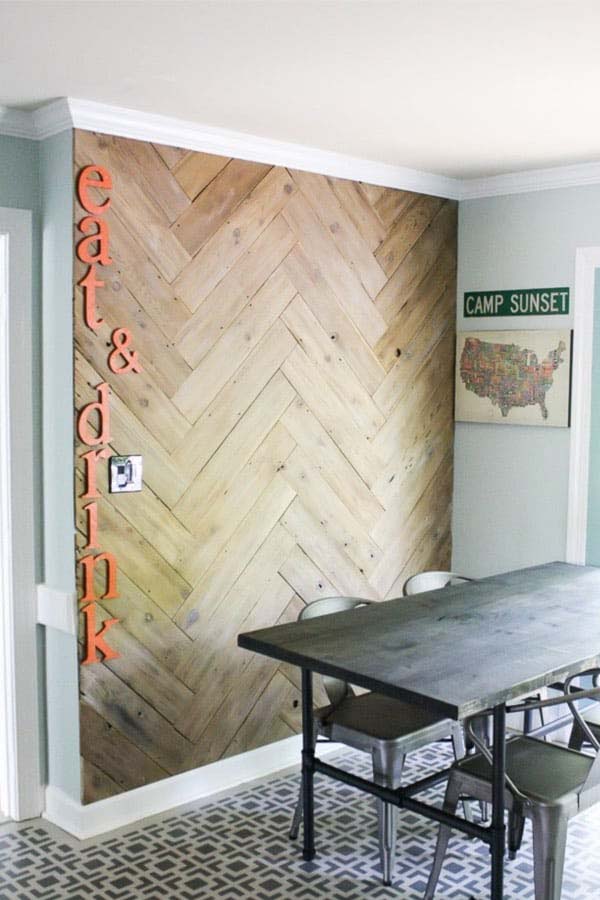 This statement wall is fascinating. It gives this modern interior a touch of a farmhouse. You can build it by yourself with reclaimed materials. If there is drywall already, don't tear it down, simply install the boards over it.
32 Best Wood Wall Ideas To Upgrade Your Space video:
The perfect herringbone pattern requires identical size boards. The final look of the wall depends on your design impact idea. Reclaimed wood with a weathered look adds a casual rustic vibe while stained boards instantly make the atmosphere cozier.
via Designer Trapped
6. DIY Weathered Wood Accent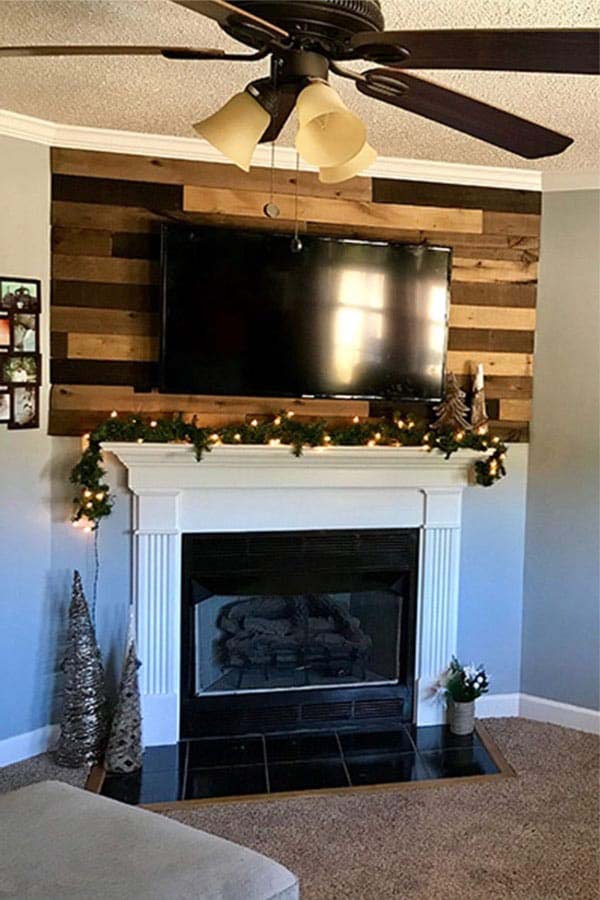 One of the greatest places to install wood planks is above the fireplace. Wood and fireplace make an amazing combination because they both add warmth to the interior.
This part of the wall can be a canvas for your creativity. Use reclaimed wood, laminate boards or new wooden panels to create your piece of art.
via Kenya Rae
7. Floral Wood Plank Wall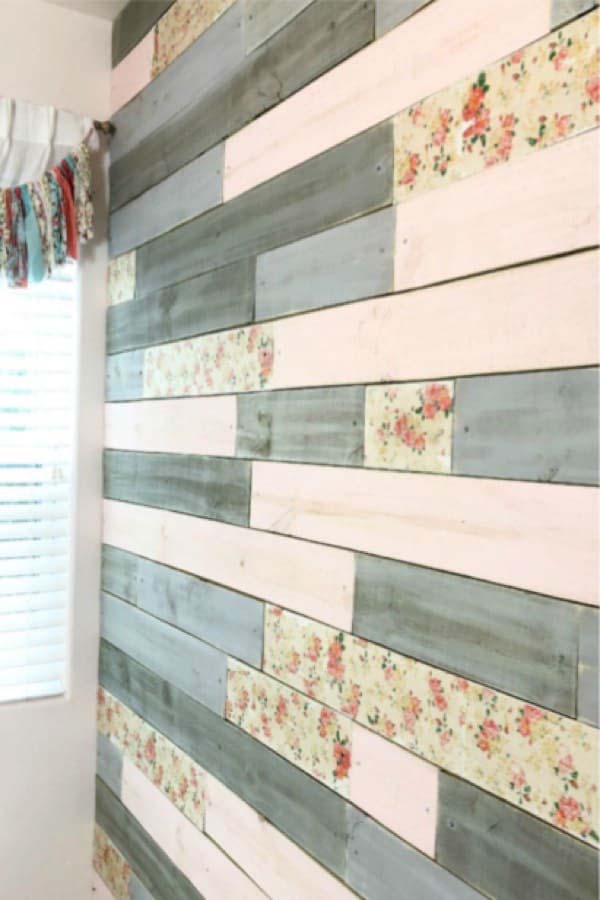 Wonder where to get floral wood planks? Just make them yourself! Stick wallpaper on the wood surface or apply a napkin with mod podge. Either way, you will transform the wood texture into a lovely shabby chick pattern.
Combine the floral planks with planks painted colors that match the floral palette. This combination will give the room an interesting chic touch.
via Tracey's Fancy
8. Hipster Vibes Criss-Cross Wood Wall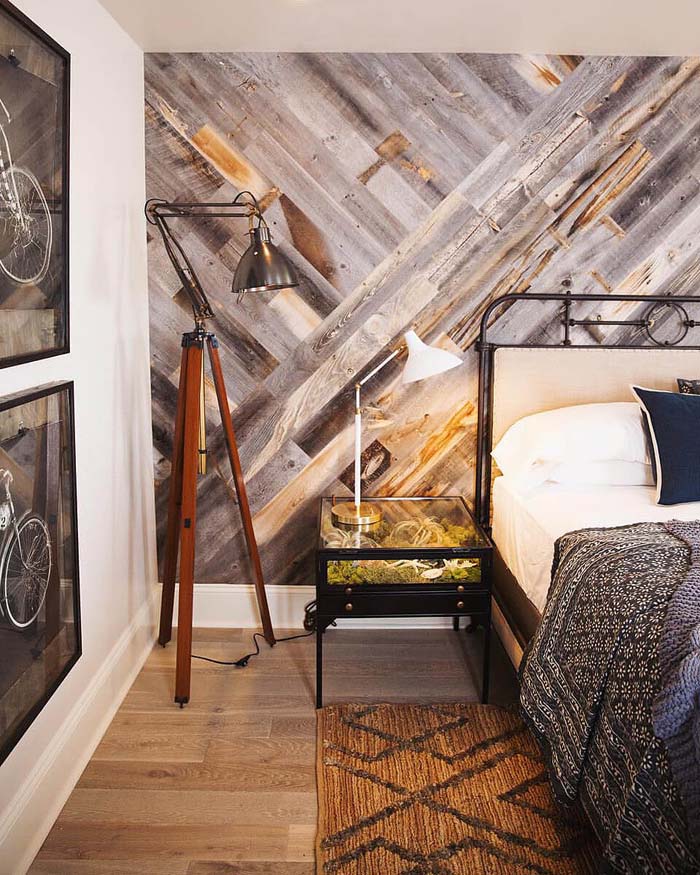 This is an amazing idea for a statement wall in a minimalist bedroom. Weathered wood planks are aligned in an interesting pattern forming an artistic texture.
The color combination is also very appealing featuring grey, orange and brown tones. This type of statement wall improves the bedroom interior instantly.
via Momtastic
9. Matte Finished Wood Wall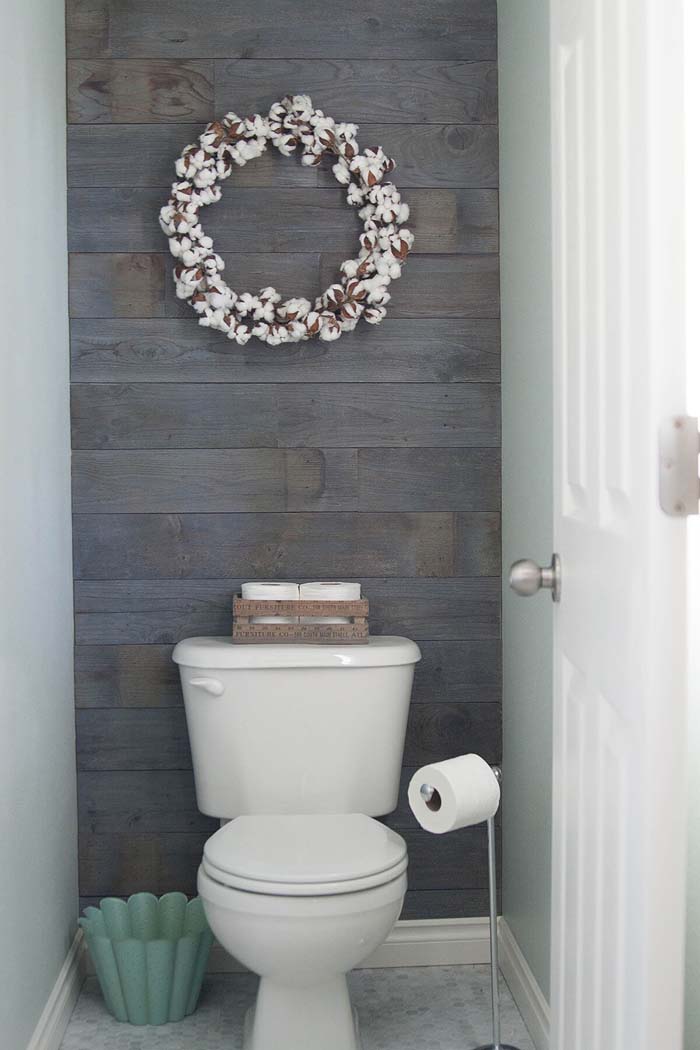 This is another great idea of how to use leftover laminate boards. Cover a wall in the master bathroom with them and you will enjoy a unique farmhouse statement piece.
The wood planks change the aesthetics of the bathroom instantly and for this home improvement, you don't have to spend any money.
Add farmhouse decoration such as a wreath or a Mason jar with a flower bouquet to give this part of the bathroom an appealing look.
10. Modern Wood Accent Wall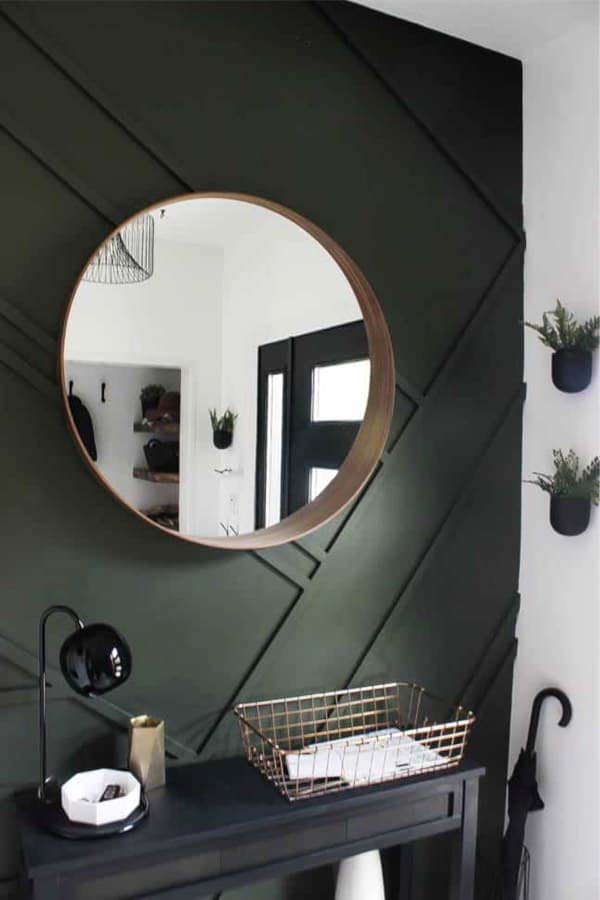 do you think that wood paneling looks old-school? This idea will prove you wrong! There are panel designs that perfectly fit the vision of modern style.
The panels have straight ledges forming intriguing geometrical shapes. The color choice is also very trendy- matte black. Added metal accents pair perfectly with the black backdrop and give it an elegant touch.
11. Multi Color Wood Wall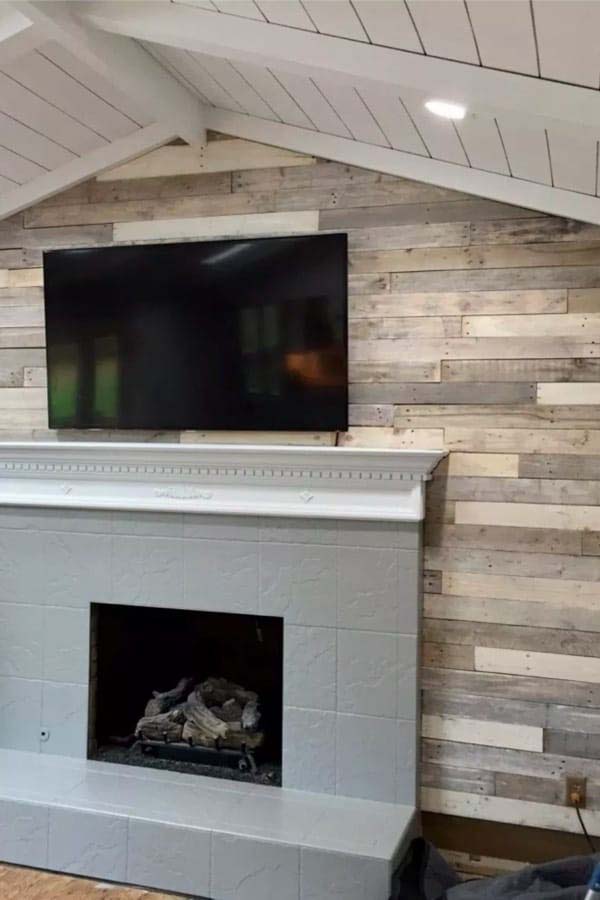 Accent wood walls can be made in a budget-friendly way. Pallet slats are perfect for this purpose. You can change their color or use them in their original look for an improved rustic look.
This idea features a contemporary color scheme matching white, beige and grey tones. This color choice is predetermined by the colors of the adjacent elements aiming to create an overall united look.
12. Multi Shaded Rough Cut Wood Wall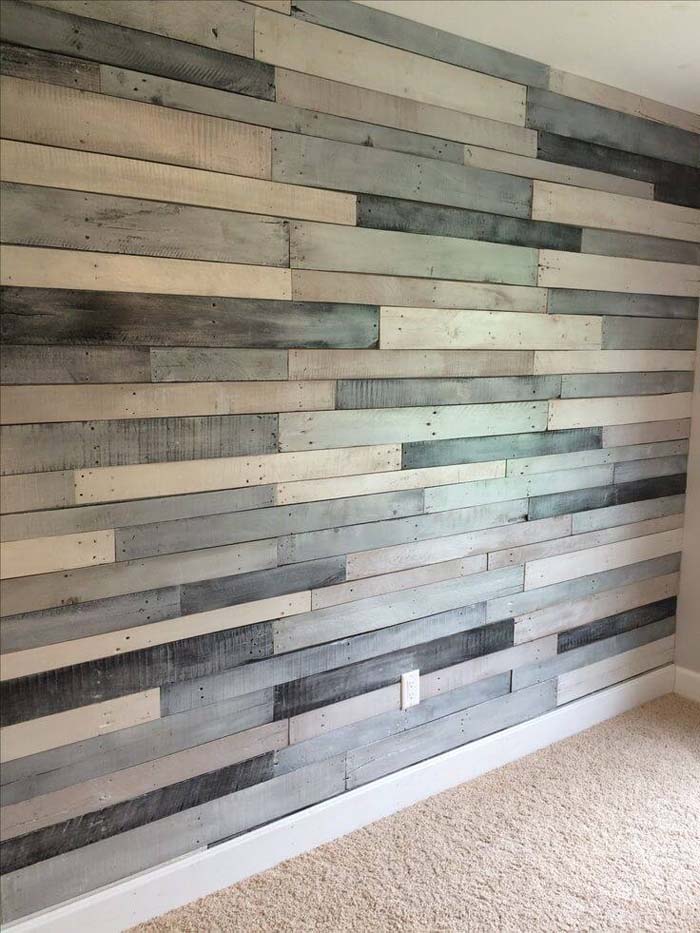 This is how your pallet wood accent wall can look if you incorporate the black color in the palette.
Although the alignment of the slats looks random, if you take a closer look you will see that this is not the truth. The black slats are of the least number but there is one black slat in every row.
It acts as an accent of this wood panel wall to pair and support other black elements in this room's interior.
via Indulgy
13. Patchwork Gray Stained Wood Wall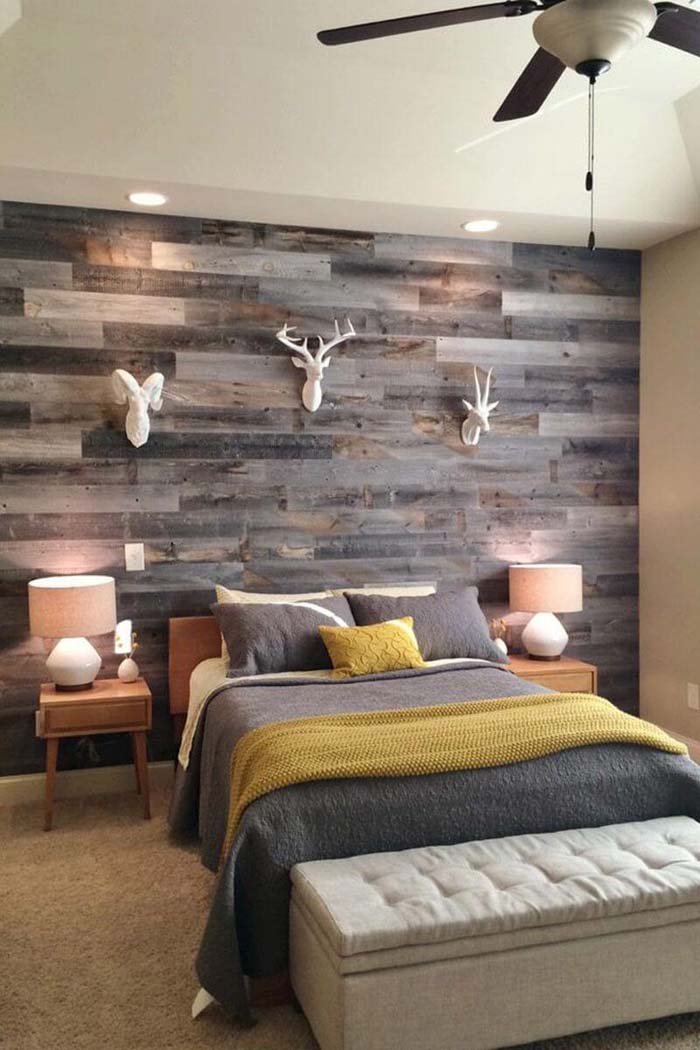 If you want to improve the coziness of the master bedroom, do it with a statement wall with wooden planks. Choose neutral colors that will set a calming mood and will match any accents.
The wood panels will give the wall texture and will redefine the overall look.
via Harper's Bazaar
14. Pretty in Gray Tones Wood Wall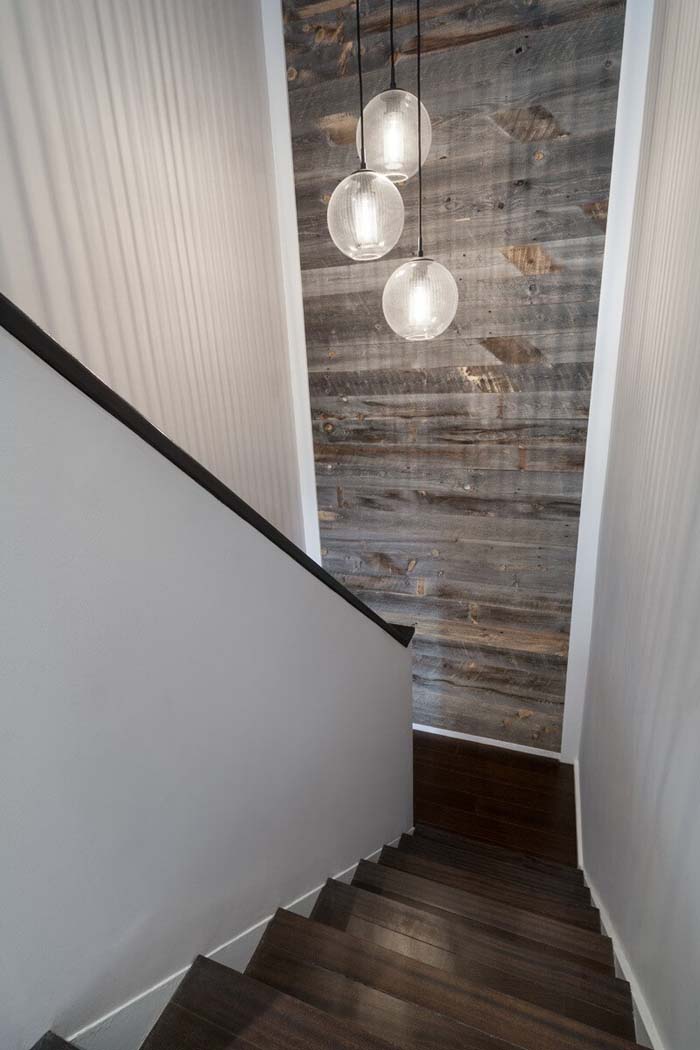 Wood wall ideas can be applied to almost any part of the house. The stairway hall is one of the places you wouldn't probably think of in the first place. However, if your front door reveals a view of the wall, make it special by covering it with wood panels.
Use colors of the wood that match the existing elements of the staircase. If the steps are covered with wooden slats, their color should be included in the palette of the wall.
15. Reclaimed Wood Accent Wall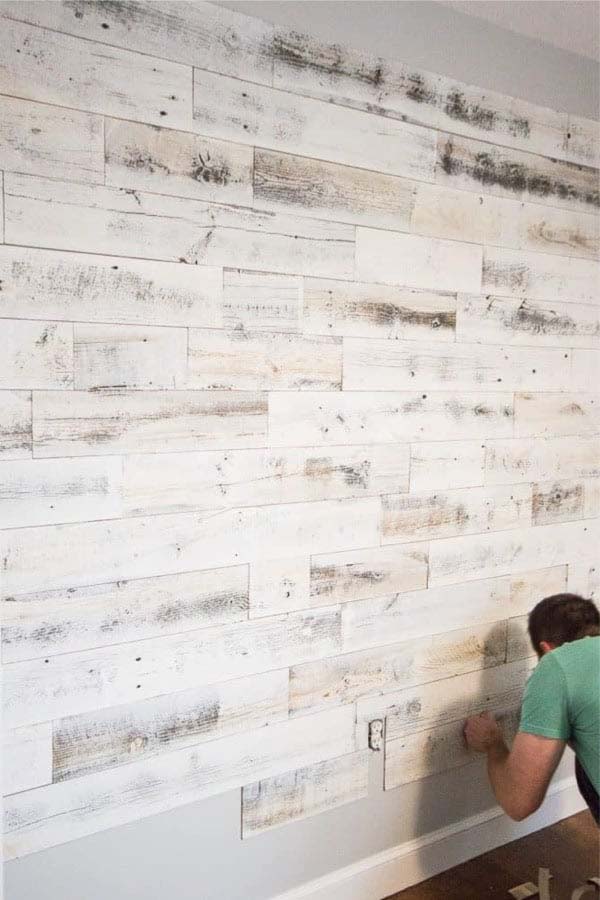 This is an amazing reclaimed wood wall idea. You can recreate it in your living room to improve the airy look or in your bedroom to set a romantic and calming atmosphere.
The installed planks are reused, however, the additional layer of paint gives them a fresh clean look. Reclaimed wood is very affordable and eco-friendly plus its disadvantages can be actually turned into a unique interior accent.
16. Romantically Illuminated Recessed Wood Wall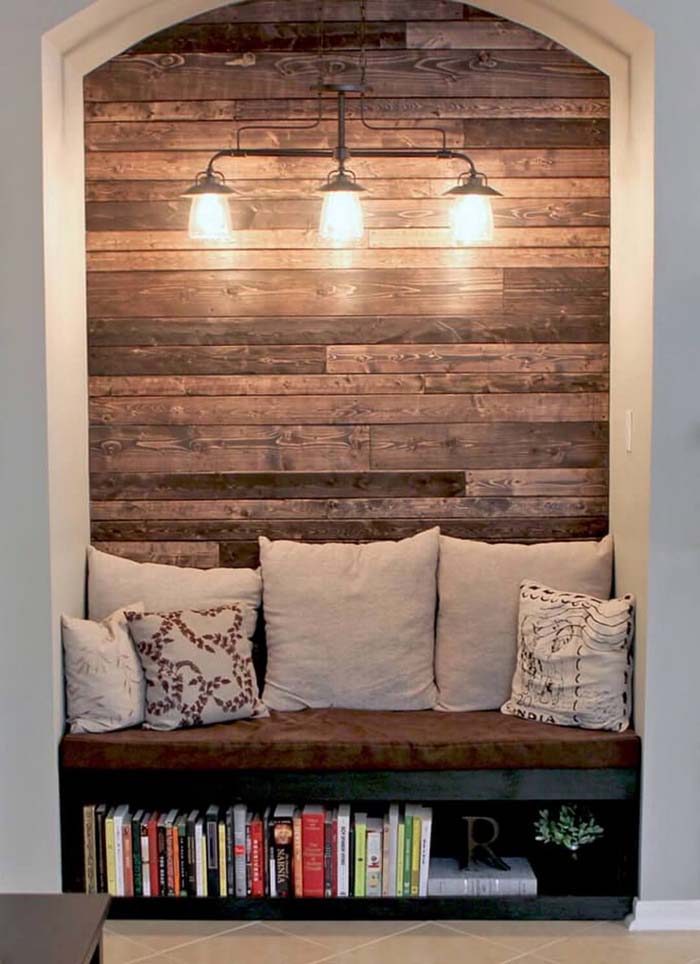 This is another inspiring idea of planking a wall of a niche with wood boards. This time the slats are reclaimed and stained dark.
They improve the visual depth of the niche and give it a typical library look. This is the actual purpose of this nook- small reading nook where you can enjoy a favorite book sitting or lying comfortably on the built-in bench.
17. Rough and Re-purposed 3-Dimensional Wood Wall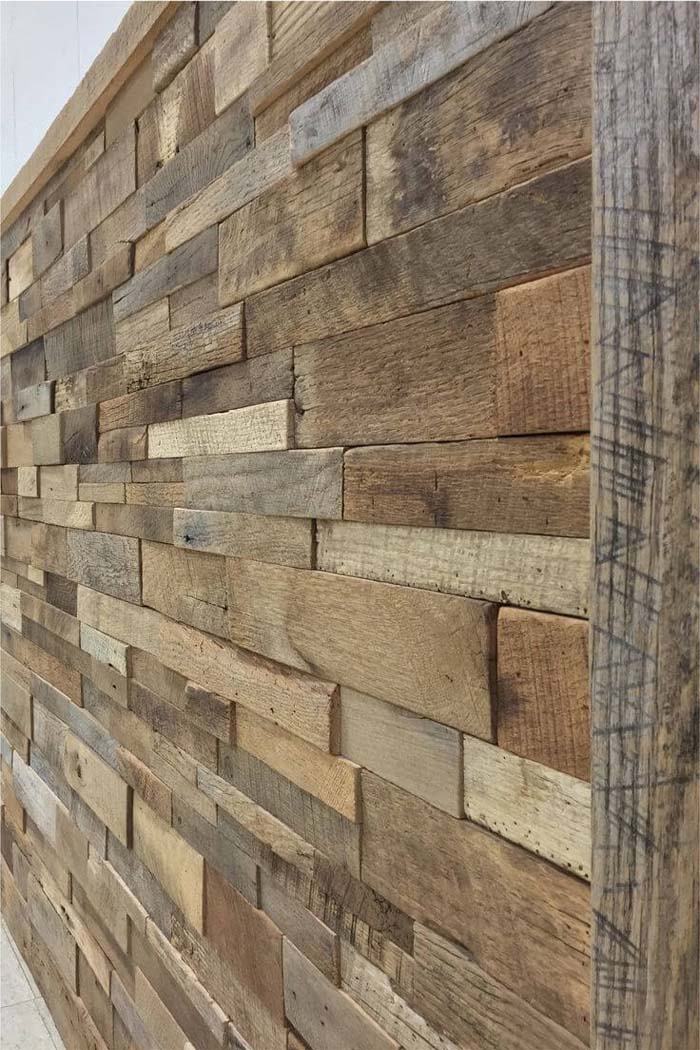 This statement wall is one of the most unique wood wall ideas. The scrap pieces used are weathered and aged over time. They don't create an even overall finish. The varying curves create a 3-dimensional look which instantly makes the room more inviting.
This material is literally priceless, you can gather different scrap pieces and apply them to drywall. Imperfection will create the most artistic statement wall ever.
18. Rough and Romantic Gray Stained Wood Wall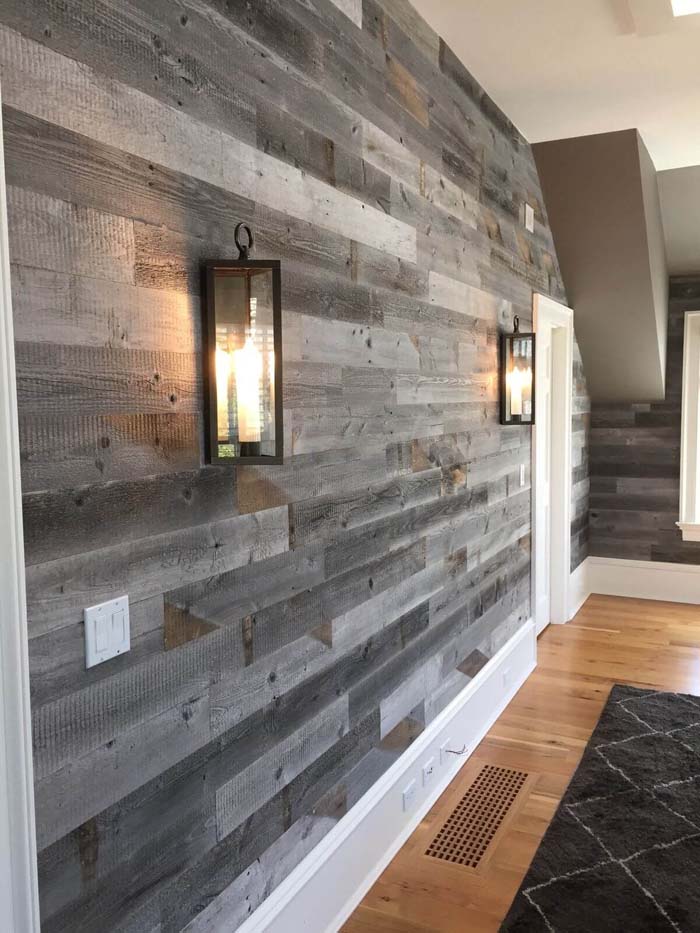 These barn-style boards are perfect for creating a statement wall in a hallway or a living room. This wood wall idea features various shades of grey and only a few splashes of brown to pair with the flooring.
Added lantern-like light fixtures enhance the outdoor motif and together they create a casually inviting atmosphere.
19. Save that Wood Pallet! Wood Wall

This tutorial will show you how easy it is to create a statement wall with wood slats without replacing the existing drywall panels.
Simple wood support from slats will ensure a good bond between the old surface and the new layer of wood planks. You can use reclaimed pallet slats or laminate for this statement wall idea.
via eHow
20. Simple and Sophisticated Dark Stained Wood Wall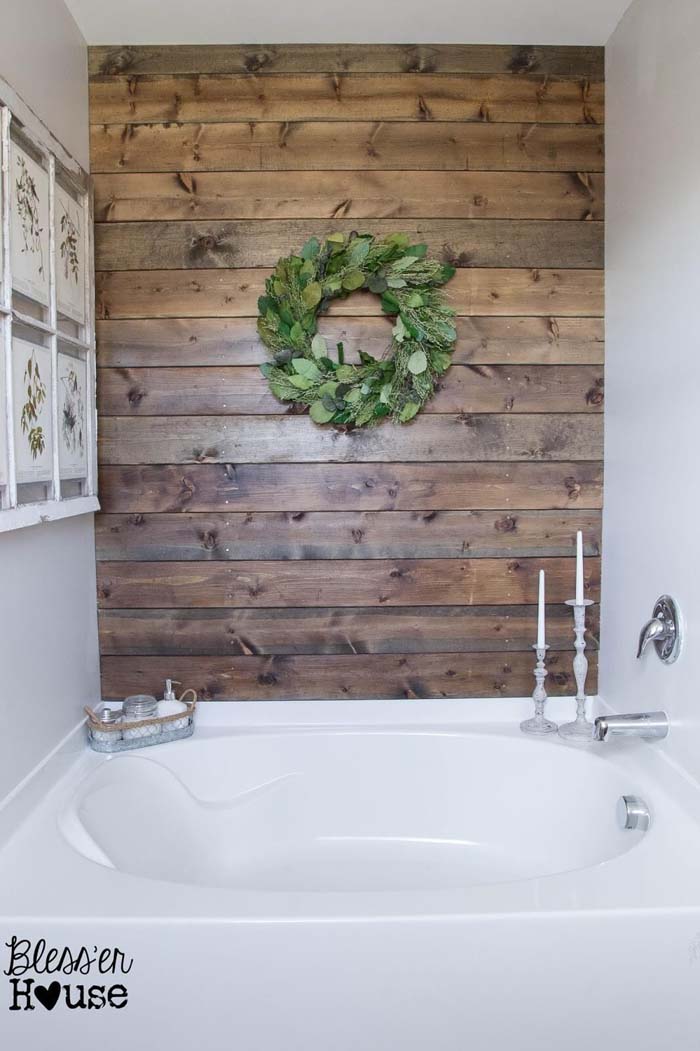 This is a DIY wood wall idea using weathered barn wood on the wall behind the bathroom tub. The wood texture and the visible nails instantly change the atmosphere into calmer and more inviting.
Added wreath and the old window frame on the adjacent wall finish off the farmhouse look of this bathroom part.
via Bless'er House
21. Simple, Smooth and Shiny Wood Wall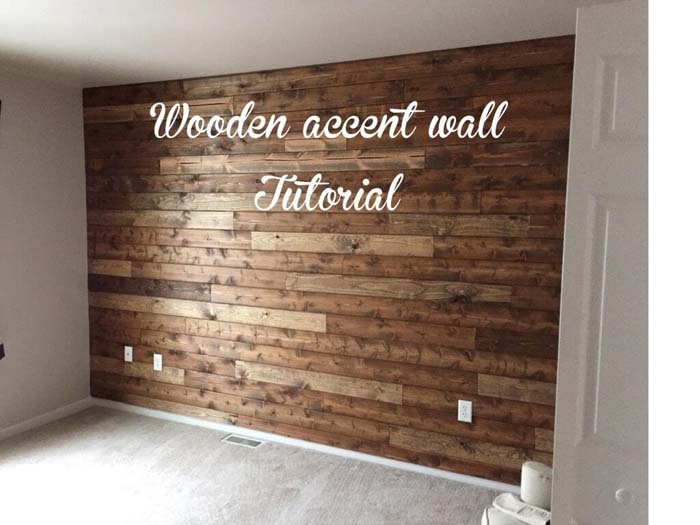 When you make your wood wall you don't have to match everything with the existing wood surfaces. For example, you can go for an alignment of the slats different from that of the floor.
As you can see here, the panels on the wall are positioned horizontally while those on the floor are vertical.
22. Stained Glass Effect Multi Stained Wood Wall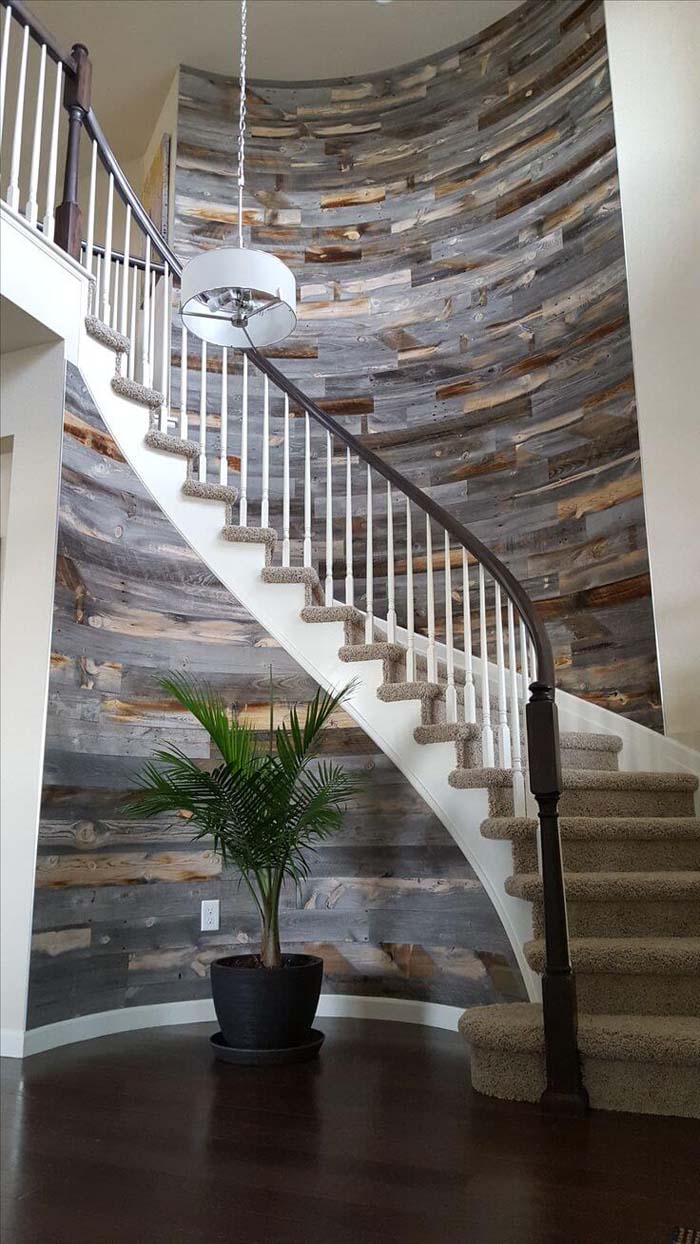 If you wonder how it is possible to bend wood slats so that they take this curved shape, we will tell you the secret.
This idea is performed with very thin planks that are peeled and then stuck on the surface. Installation is easy, the final result great! You can get them in a variety of colors including trendy grey and tan.
via Stikwood
23. Stained Wood Wall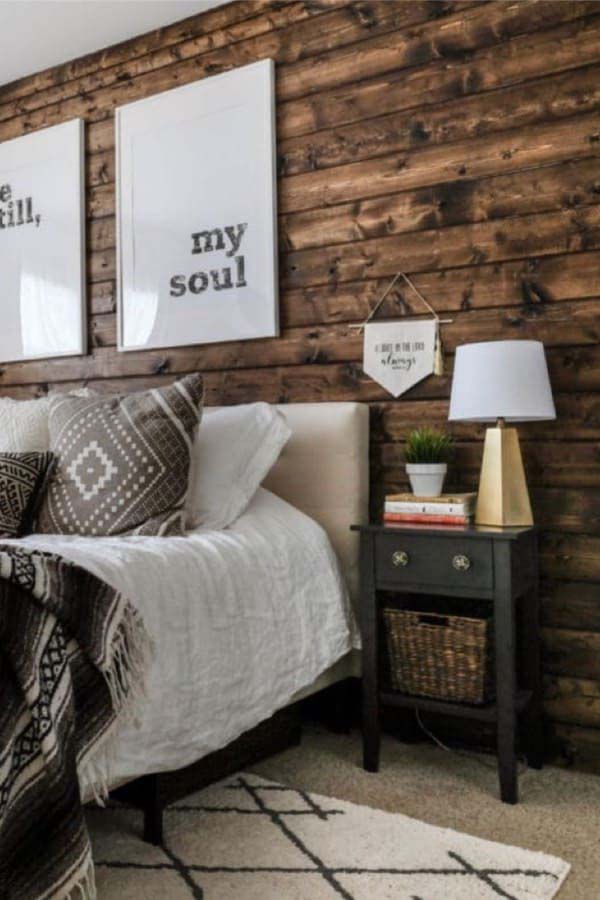 Covering a wall with wood planks can be your quick and affordable way to upgrade any room. This DIY wood plank wall looks so unique thanks to applying stain which gives it this modern rustic final look.
The wall art on this wall creates an amazing contrast and helps the statement wall give the room so much depth and visual interest during the day.
via Joyfully Growing
24. Subtle Tones Wood Wall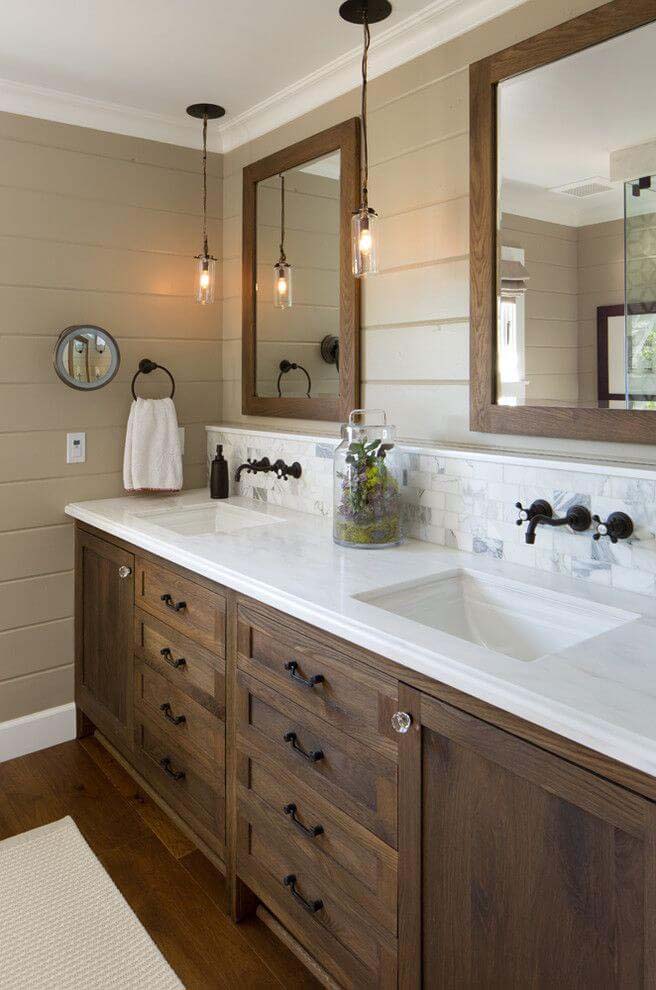 Shiplap is on-trend and can be seen as wall paneling in any room. It is preferred because it adds character and interest to the rooms and easily adapts to the existing decor.
Although most people relate shiplap with farmhouse style, there are ways to give it a contemporary or sophisticated look. One way to do that is to go for a board width different than the standard 6-inch width or paint the surface evenly in a trendy color.
via One Kind Design
25. Tranquil and Ethereal Roughly Stained White Wood Wall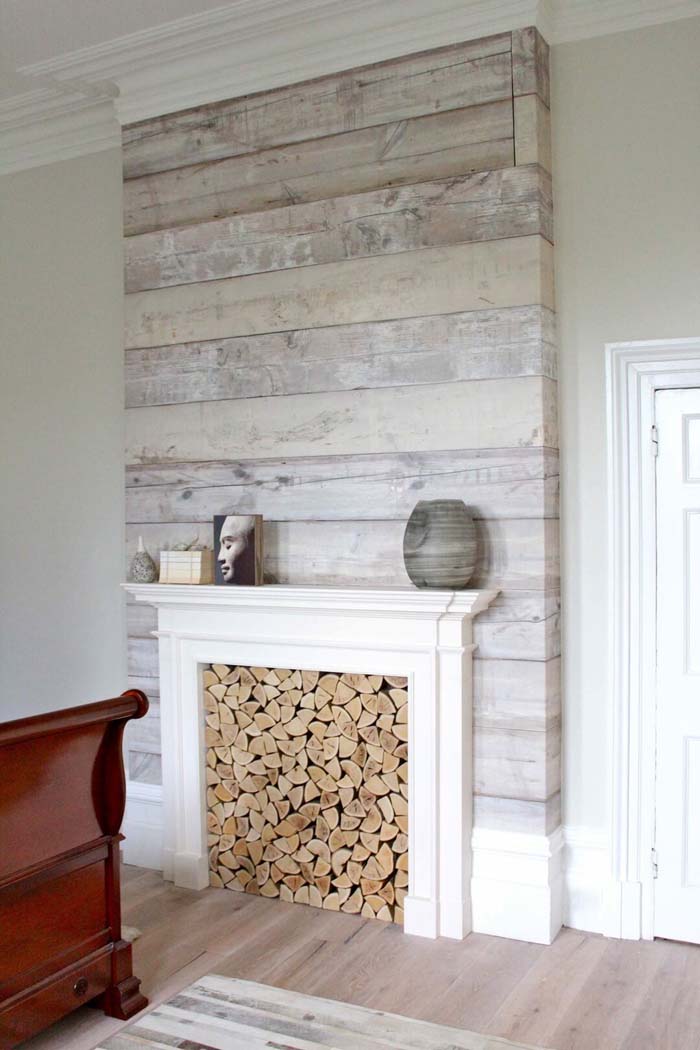 This is another great idea for improving the fireplace. Line up the wall hiding the chimney with barn wood boards.
Apply a whitewashed coat to create the trendy weathered white finish. This technique is very popular at the moment. Some people use it to refresh already installed but damaged wood paneling.
26. Updated Cabin Style Painted Wood Wall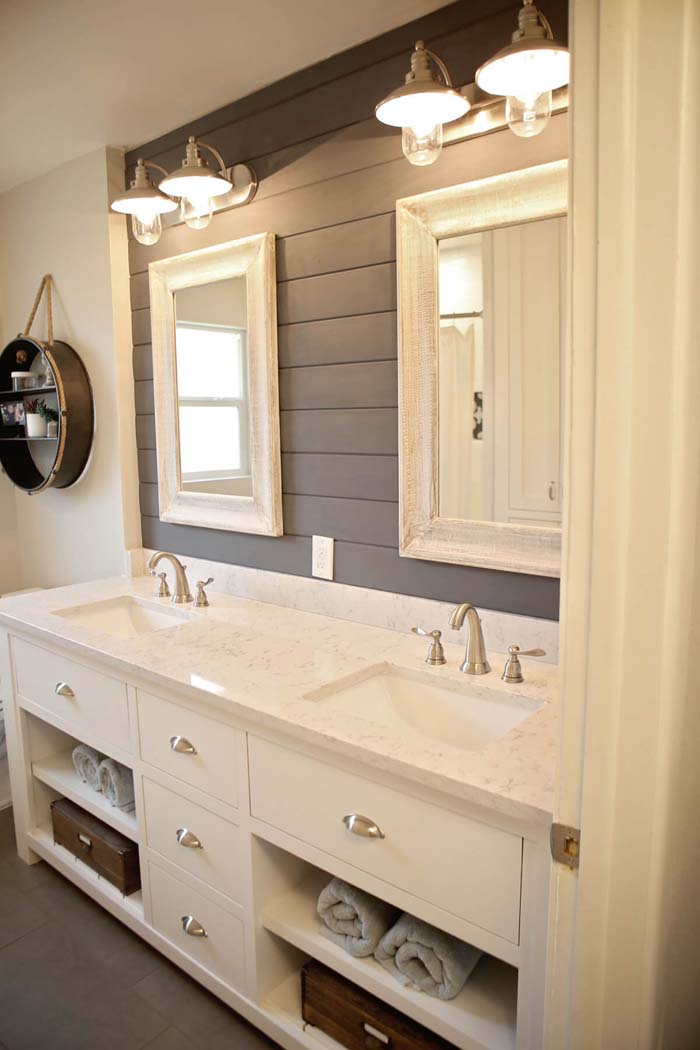 This is another example of how shiplap can look more elegant and contemporary. The standard-sized boards are coated with thick gray paint which hides the wood texture.
Combined with the white vanity and mirror frames and the sleek marble top, the shiplap gives the bathroom an aesthetic point of interest.
via Countryliving
27. Vertical Lines Wood Wall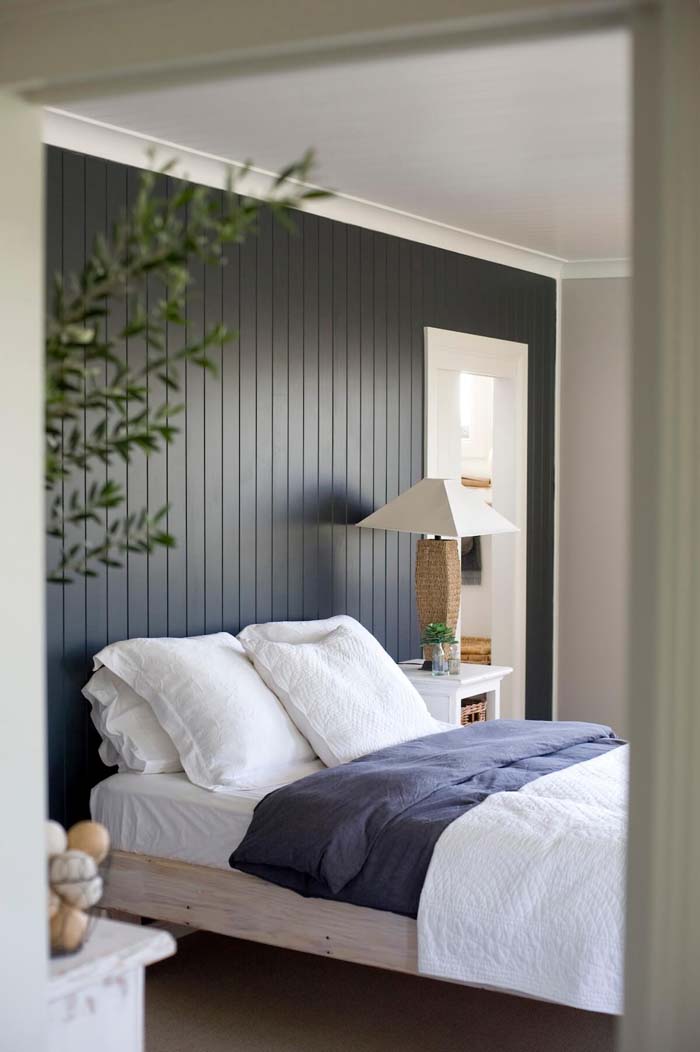 If you want to give your shiplap wall a modern twist, just apply it vertically. You see how a simple change in orientation makes miracles.
In addition to the contemporary finish of the look achieved also by the gray coat of paint, the vertical shiplap makes this small bedroom visually larger.
28. Warm Honey Stained Wood Wall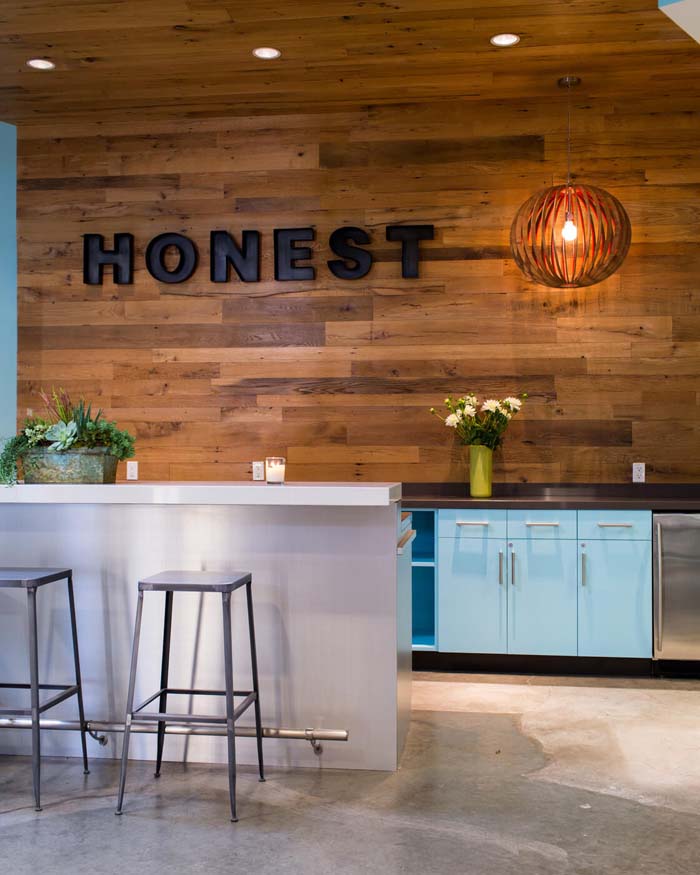 If you are looking for a way to bring to a room warm and rich texture, try this wood wall idea. It covers not only an entire wall but also the ceiling.
This continuous detail is used to differentiate the space and to make it look larger. Stain can also be helpful to improve the interior impact, especially when you are looking to add a casual and warm vibe.
29. White Shiplap Wall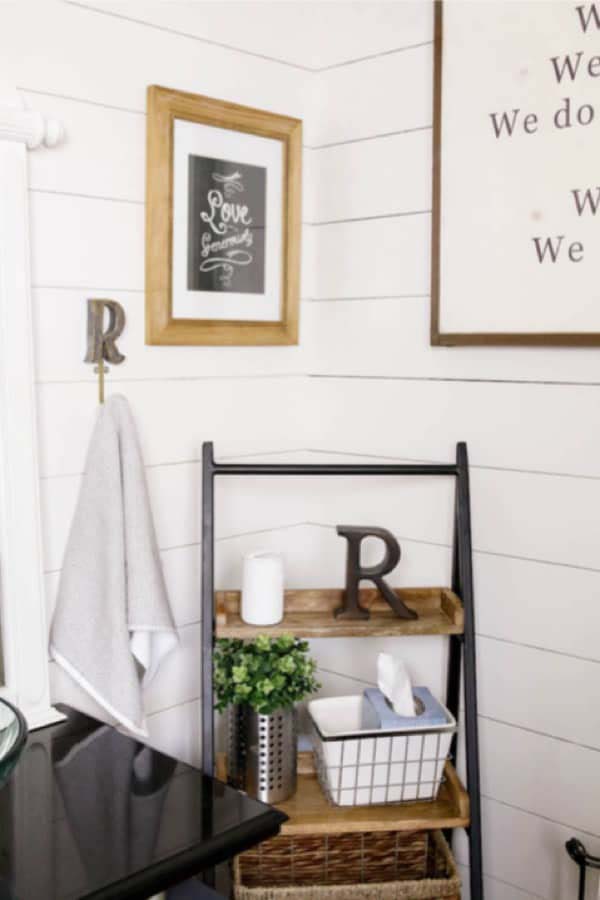 If you are looking for an affordable bathroom makeover, try this shiplap wall idea. White shiplap is perfect for this room because it visually enlarges the space and coheres with the hygiene topic applicable to this part of the house.
If shiplap is too expensive for you, you can change it with plain plywood boards or pallet slats. If you go for this last option, make sure to sand the surface well before painting.
via House Of Rose
30. Wood and Wall Horizontal Stripes Fusion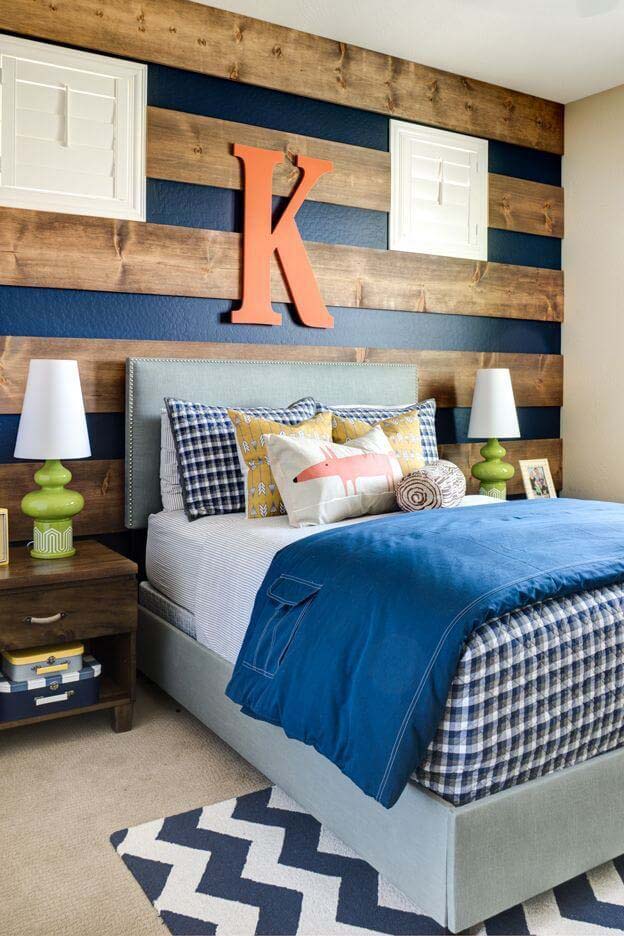 We saw an inspiring wood wall idea for a nursery room. Now, it is time to show you how wood panels can be applied in a kid's room.
The pattern is fun, the colors cheerful and suitable for a boy's room. The rustic look of the wood is mixed with the fresh blue color and together they make a modern statement wall with a wooden theme.
via Project Nursery
31. Wood Wall With Blue Accent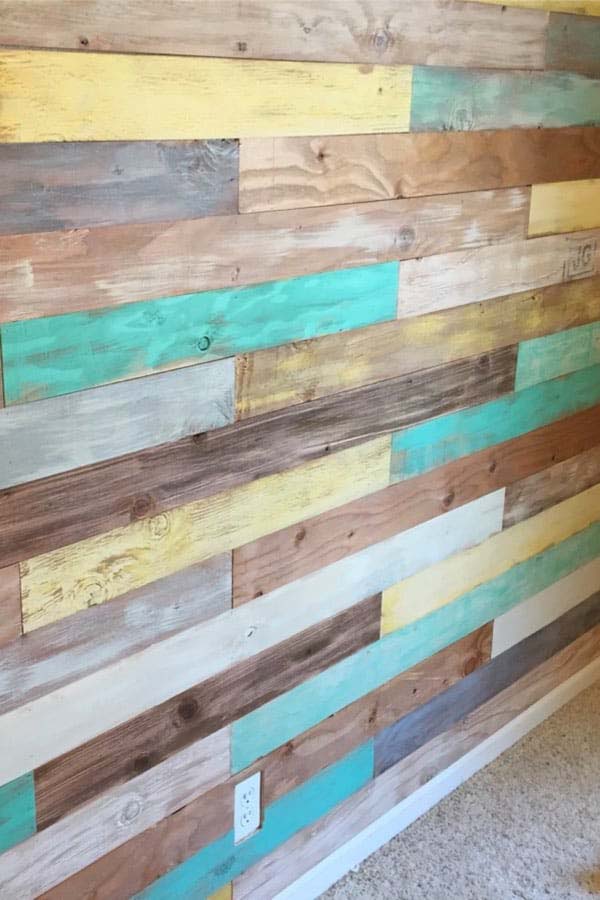 This is another wood statement wall on a budget you would like to try out. If you can't find pallet slats for free, you can buy plywood boards and cut them at identical lengths.
The paint colors together with the technique for application give each piece a unique weathered look that mimics Barnwood.
32. Zen Divider Wood Wall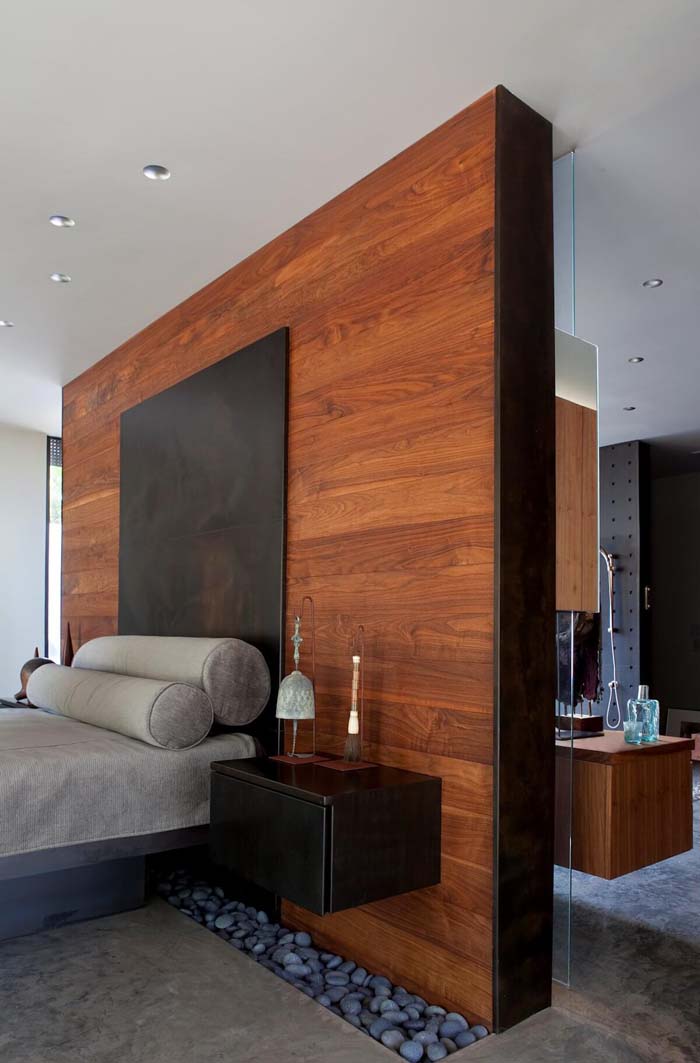 This is how the farmhouse brown wood can be given a sophisticated modern look! Alignment and surface finish is the key to this unique dividing wall.
All slats are identical in size and wood texture. They are tightly arranged on the wall to create an even and symmetrical overall look. Added stones at the bottom of the wall cohere with the aesthetic partition wall and create a balanced bedroom atmosphere.
via Arch Daily