You may wonder what colors go with olive green when decorating a room. It depends on the look and feel you want to achieve.
We've found sixteen ideas that will help inspire you to find the perfect color scheme in that overwhelming color wheel.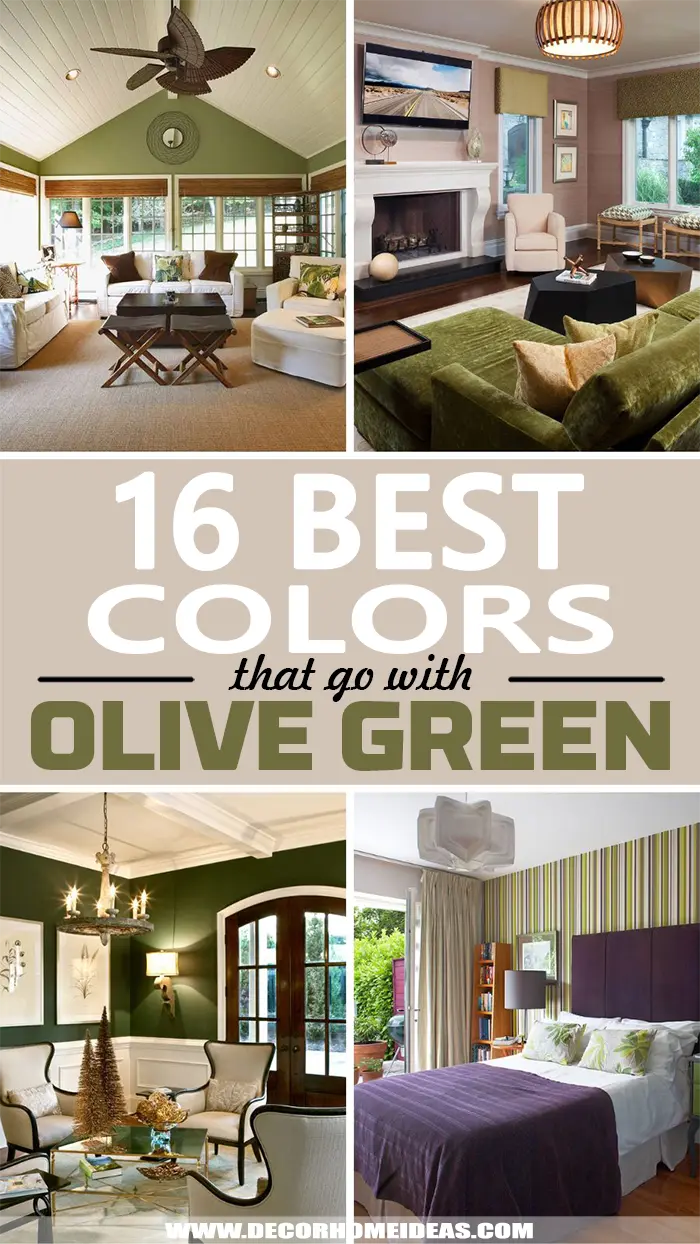 What color compliments olive green?
Neutral colors: Neutral colors such as beige, cream, and gray can help to balance out the boldness of olive green and create a calming, sophisticated look.
Earthy tones: Colors like rust, terracotta, and mustard can add warmth and depth to a room with olive green accents. These earthy tones can also create a cozy, inviting atmosphere.
Pastel colors: You might be surprised at this color combination. Soft pastel colors like pale pink, lavender, and baby blue can complement olive green and create a feminine, romantic look.
Metallics: Metallic accents like gold or copper can add glamour and sophistication to a room with olive green accents. These accents can be incorporated through light fixtures, picture frames, or other home decor items.
Is olive green still in style for next year?
It's always difficult to say precisely what will be in style. That being said, if you look at the fashion industry, olive green is a classic, versatile color. Olive drab has been in fashion for decades. There will probably be a place for it in your home for years.
1. Brown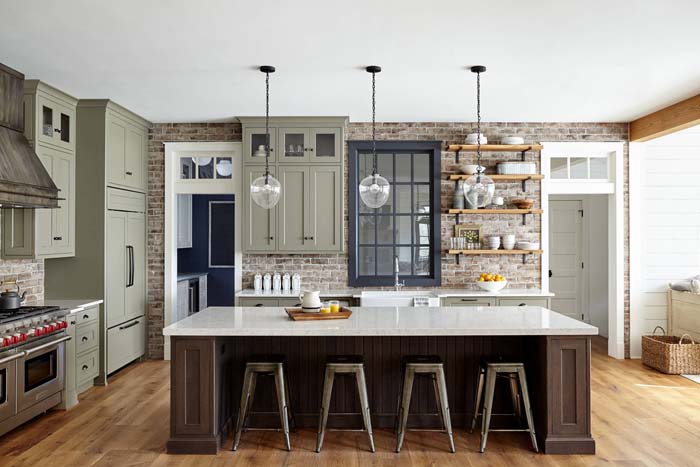 A renovated farmhouse looks great with its island with its brown base.  The brown brick is an excellent backdrop to the cabinets.
2. Pink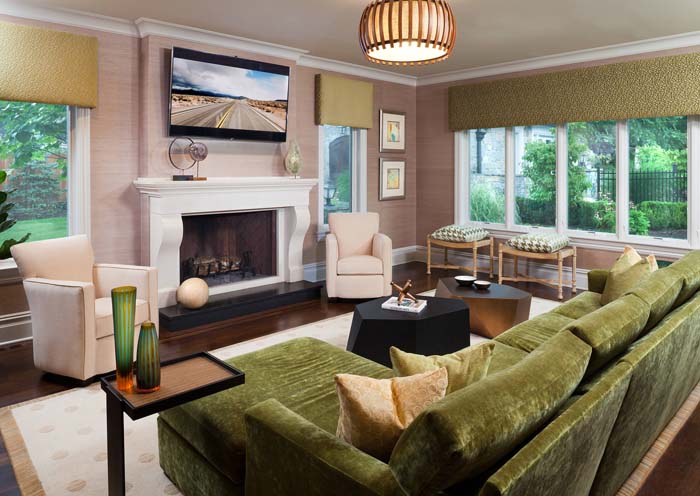 Pale pink is a complementary color that brings femininity to this living room. The olive green works with the sofa and the padded window cornice boards.
3. White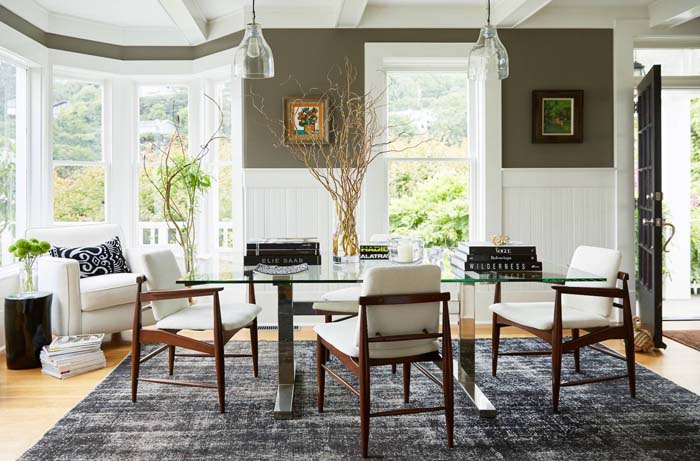 White is a versatile neutral. Choose a shade that has blue or blue-green undertones and the overall look will have a calming feel. A dark olive green paint color brings a sense of sophistication to the room.
via Urrutia Design
4. Beige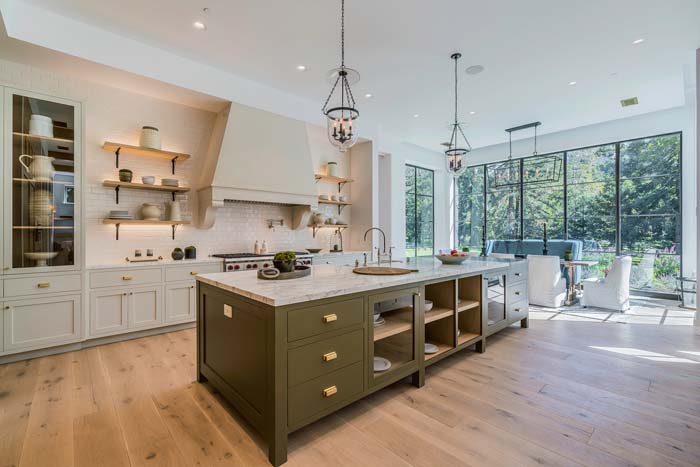 Beige is another versatile neutral. Choose a beige with yellow undertones. The warm hue will connect with the yellow in the olive color. The olive green island adds depth to the room.
The yellow undertones in the wall color, island, and light wood floors make the room glow.
via Hoke Ley
5. Burnt Orange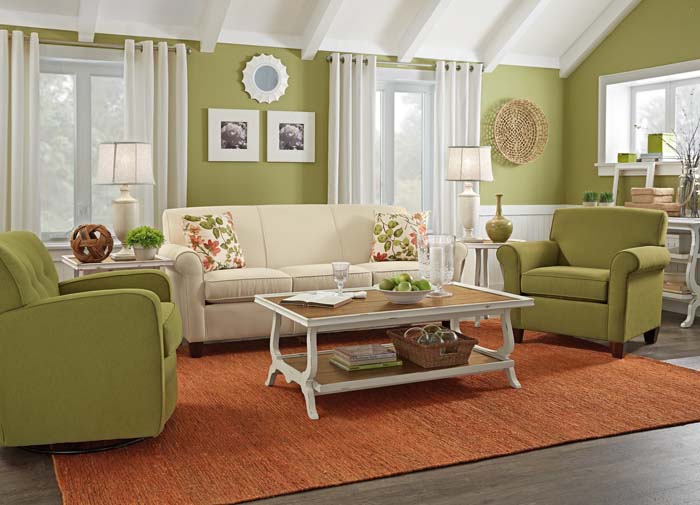 While a color palette with a bright color like pure orange can be jarring, a dark or burnt orange with olive green is a classic pairing. It adds depth while its yellow undertones prevent it from feeling heavy.
The olive green color on the walls looks like color blocks with the white curtains and ceiling.
via Woodchuck's Fine Furniture & Decor
6. Blue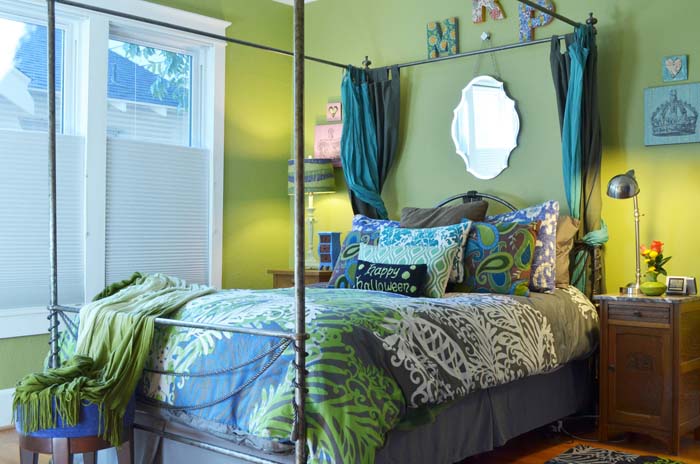 This room gets its mood from the olive green walls and blue accents.
It gets its character from the botanical print on the duvet.
via Sarah Greenman
7. Metallics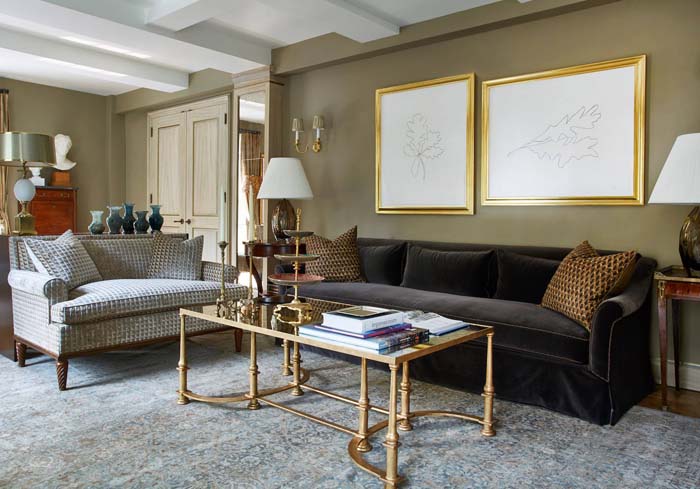 Add gold accents through the use of frames and accessories.
You can also see the use of metallics in the throw pillows.
8. Yellow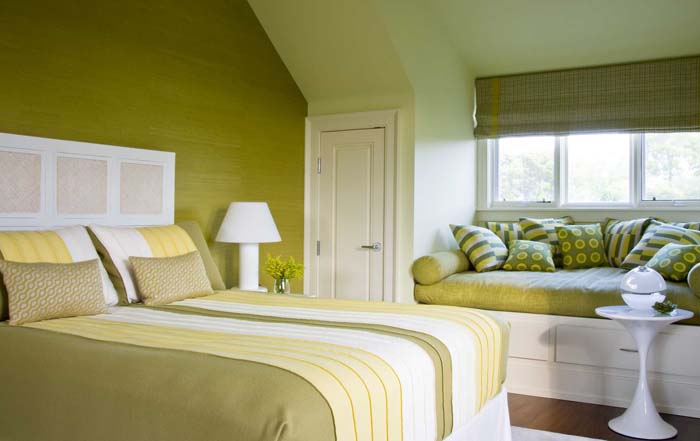 Bring yellow into the room to act as a go-between with light olive and white. This yellow adds brightness without taking over the space. The headboard doubles as wall decor. You don't want to do too much decorating on a textured feature wall like the one pictured here.
9. Black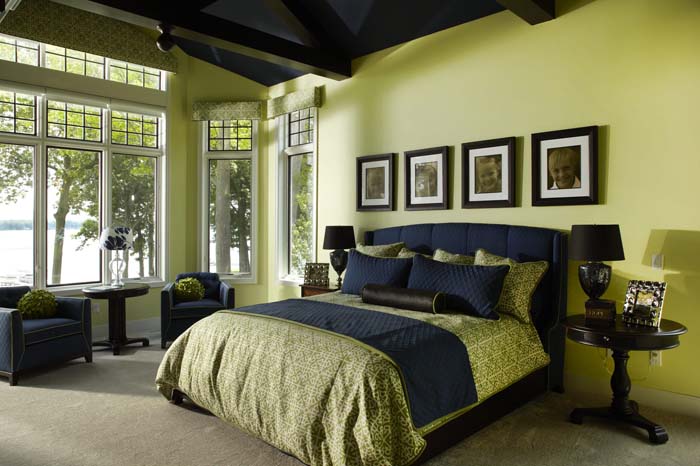 This room gets a dramatic look with a medium olive green and black shade in the headboard, ceiling, accent chairs, and other accessories.
This could also work with navy blue. The striking thing about this bedroom is the lack of a third accent color. It's done with two shades of green.
10. Tan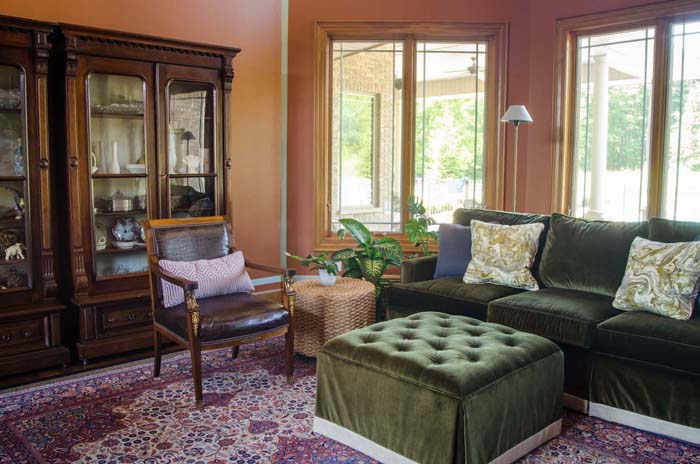 Tan is a great color that works with just about anything. The warm color turns this into a comfortable, welcoming living room.
11.  Purple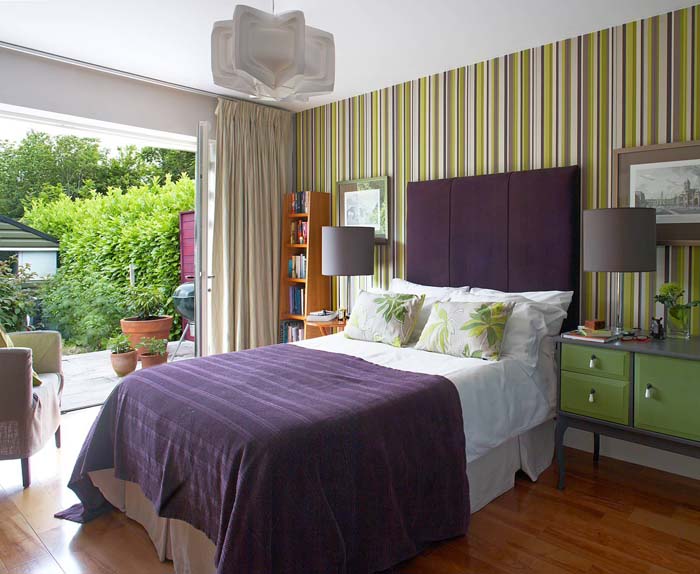 You may not think about using purple in any room designed for people over 14 years old, but it's time to revisit this royal color.
A deeper shade of purple brings welcome weight to this contemporary bedroom. The olive green's natural association with botanicals allows the room to connect with the floor to ceiling window.
12. White with Dark Olive Green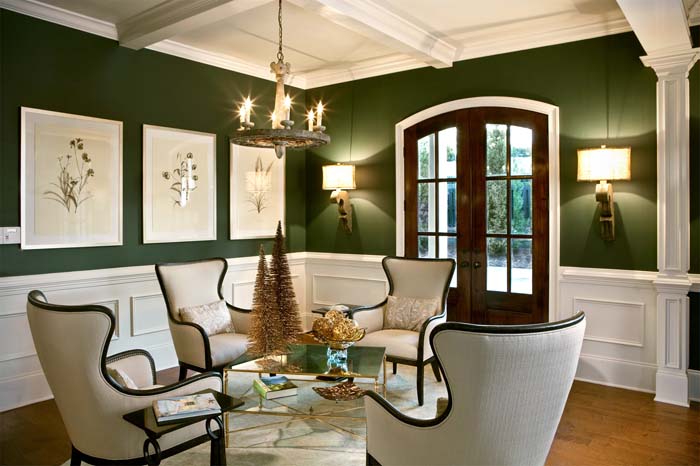 A dark olive green shade evokes memories of lounge areas in high-end hotels.
Creamy white wainscoting and a tray ceiling perfectly match the upper wall.
via LGB Interiors
13. Emerald Green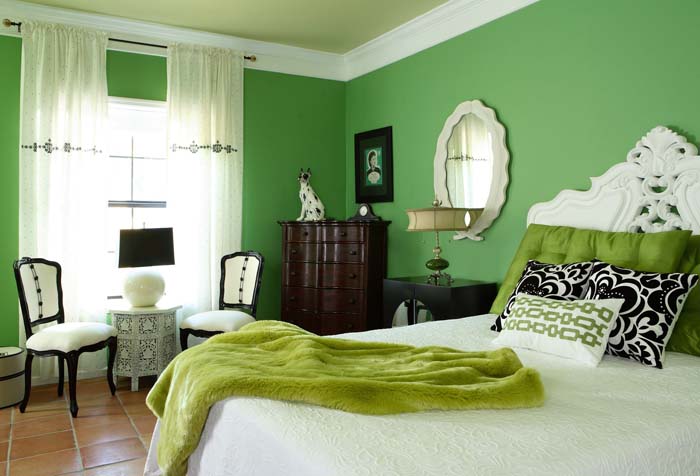 Olive green can be used as the accent color in a room where a different shade of green with more blue undertones is the dominant color.
Accessories and a olive green ceiling support this bedroom's emerald green walls.
via Design Theory Interiors of California
14. Dark Olive Green and Wood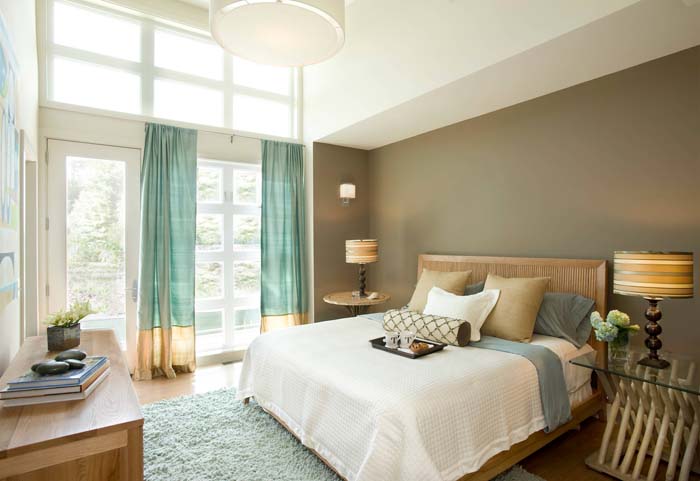 Olive green decor doesn't have to look like it came from a mid-century modern kitchen. A darker shade of olive green is used as a feature wall. This interior design brings in a lot of natural elements, such as the wooden headboard, desk, birch side tables, and lampshades.
Benjamin Moore's dark green olive paint is very close to this color.
15. Olive Green and Shiny Finishes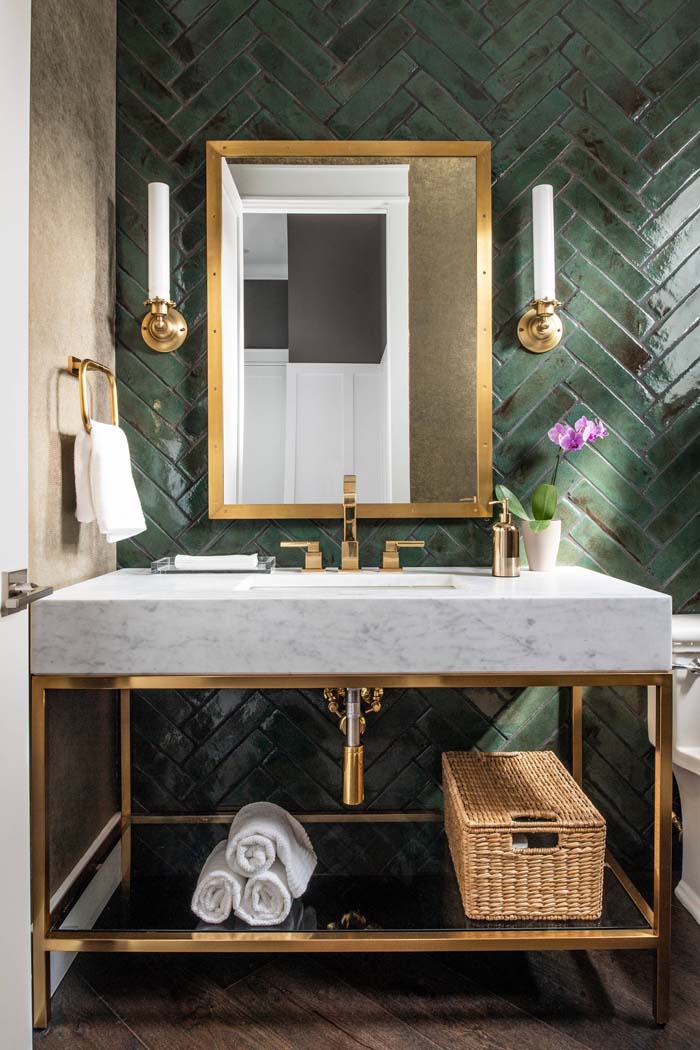 Olive green bathroom tiles are used to create a feature wall in this bathroom. Even though the surfaces are hard and straight, the look is warmed up by natural materials and golden metallics.
16. Neutrals and Olive Green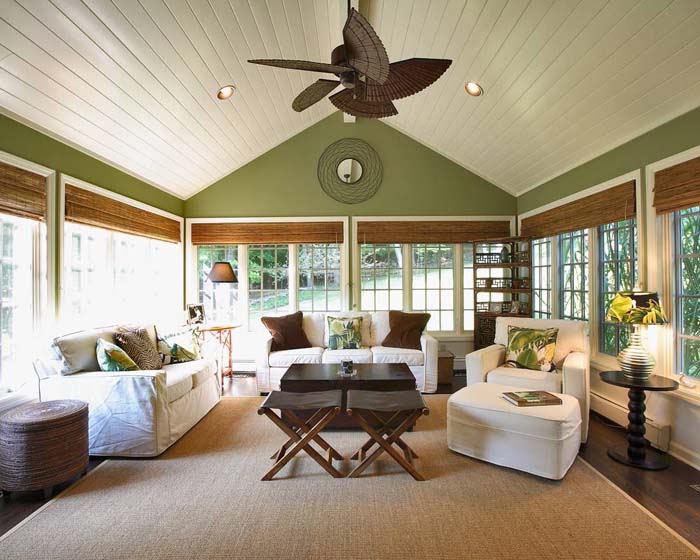 Olive green can function as a substitute for a neutral. Its natural ties to nature make it the perfect addition to a sunroom with bamboo shades and white slip-covered furniture.
via Olga Adler