From dresses to a mint green wall, the color mint is everywhere.
Mint green is a popular color for both its calming effect and its ability to go with nearly any color.
When it comes to picking the best colors to go with mint green in every room, there are a few key colors that work well.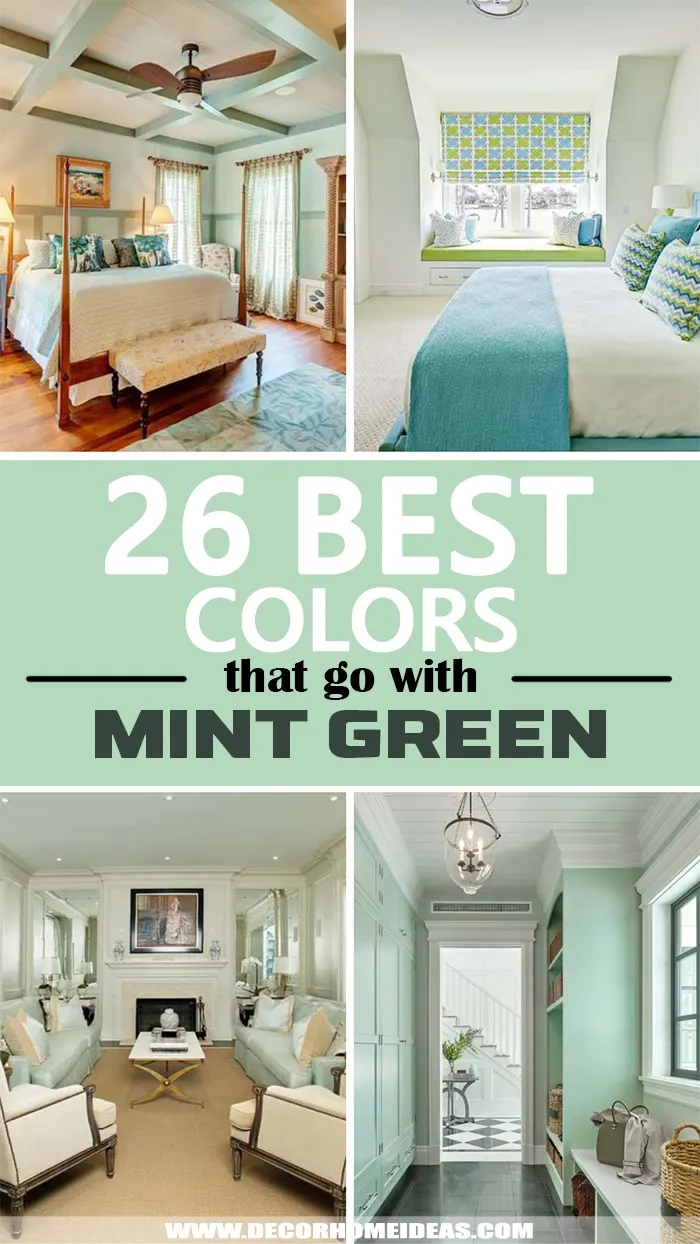 It's currently following a color trend, so look to the fashion world for inspiration. You'll find a mint green outfit in every store. When it comes to a color combo for your mint green pants, you can't go wrong with a pastel shade of pink, blue, or purple.
There are other colors that go with mint green, too, so let's take at how this translates from your outfit to your mint wall.
What color is mint green?
The color mint green is a light green color. It's also considered a fresh color that calms and relaxes your mind and senses.
What colors go with mint green in interior design?
You can combine mint green with pastel colors or neutral colors. You can also create contrast when using dark tones and patterns.
Best Colors That Go With Mint Green
1. Teal and Mint Green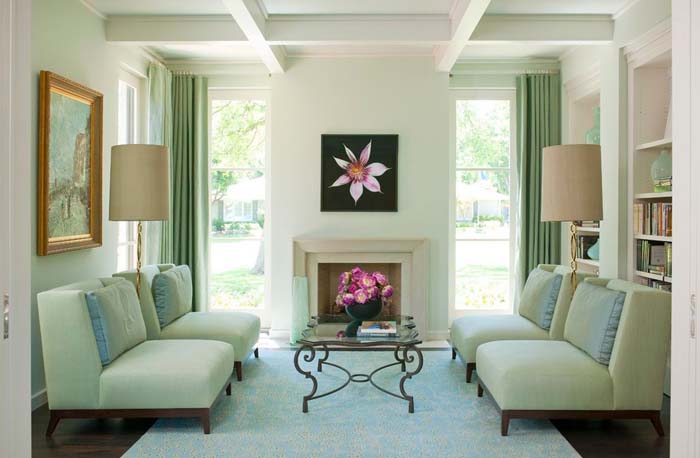 Mint green and teal are both light airy colors that change with the seasons. In the spring and summer, you'll notice the mint color. In the fall and winter, teal gets its turn.
It's a classic pairing that gets a lighter touch in a softer shade. It brings a casual, retro feel to this living room.
via SHM Architects
2. Jade Green and Mint Green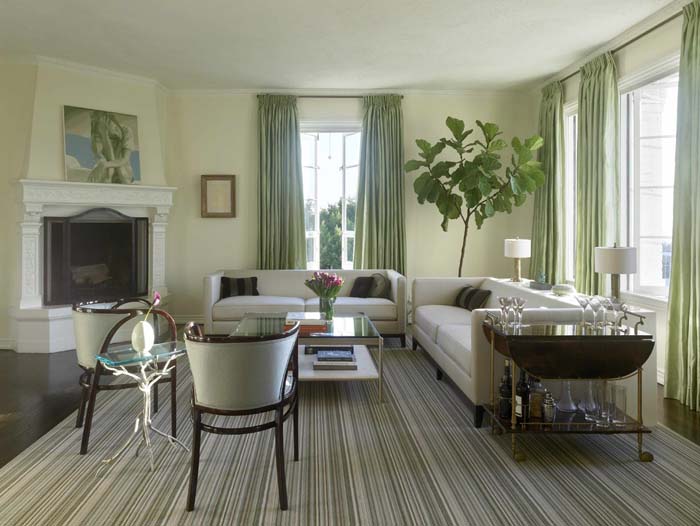 The heavier tone of jade brings out the yellow hues in the mint green paint color, giving this living room a calm feel, where yellow would be brash and energetic.
The pair works as an organic backdrop to brown and beige furnishings.
via Vincere
3. Cream and Mint Green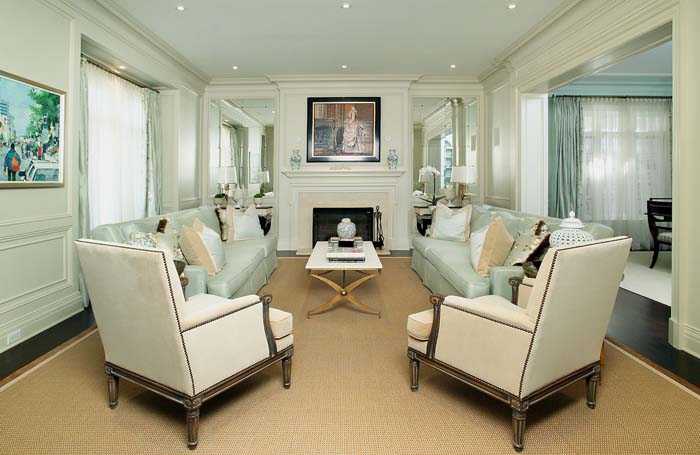 This living room proves you can go as minty as you like. It softens the dark hardwood floor and a creamy beige with yellow undertones keeps the room bright.
You can see the creamy color stands out in the chairs, coffee table, and fireplace surround.
4. Cherry Wood and Mint Green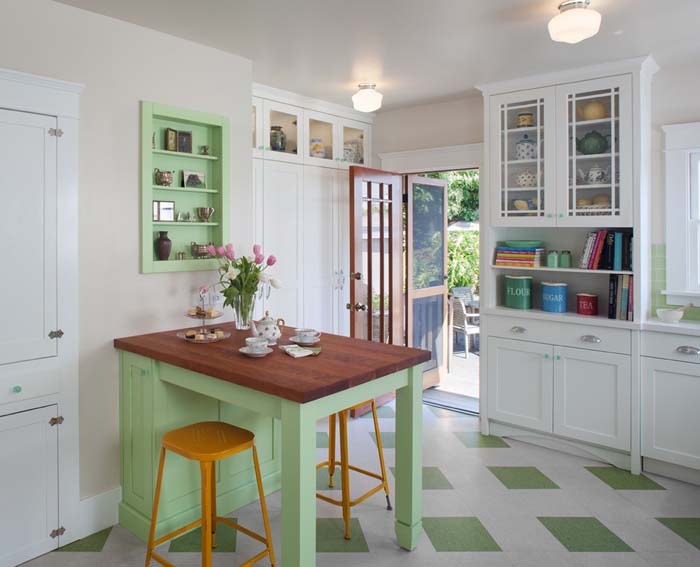 A deeper shade of mint and cherry wood is the perfect match for a retro kitchen vibe. We like how the doors maintain the wood finishes.
There are exterior wood stains to help you achieve this look. The floor tiles were set at an angle, which was a true designer classic.
5. Navy Blue and Mint Green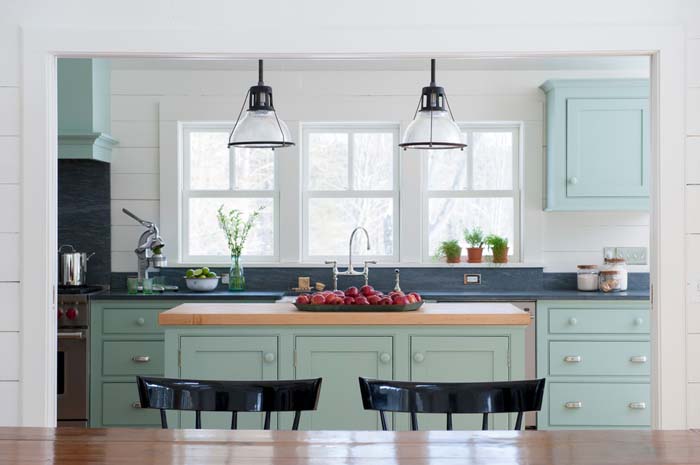 Navy blue and mint green work because of the blue undertones in mint. This farmhouse kitchen has found the right balance to create a relaxed charm.
The shiplap backsplash is another great addition when trying for a retro farm kitchen style.
6. Gray and Mint Green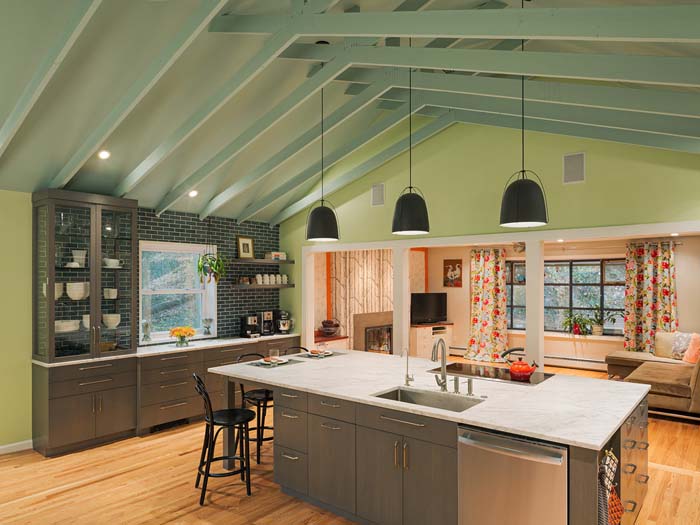 When you're looking to brighten your kitchen without feeling washed out, try this combination of battleship gray and mint green.
The designers took the mint green interior paint to the rafters and anchored the room with gray cabinets and a black brick backsplash.
via inHabit Architecture and Design
7. Brown and Mint Green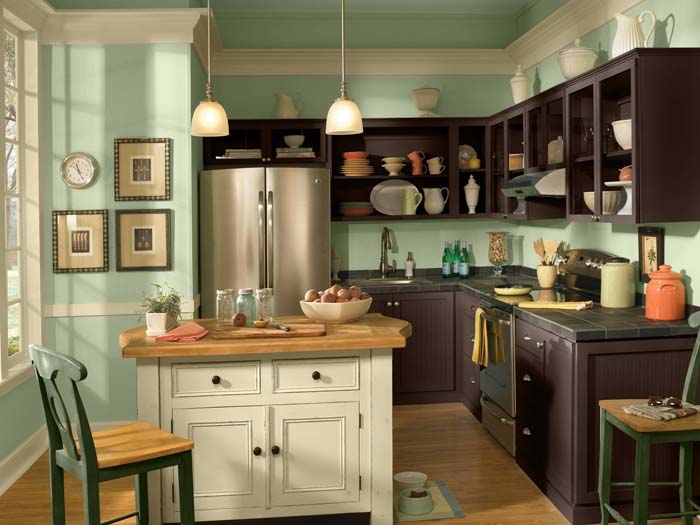 These deep, rich brown open cabinets feel like they've seen decades go by as they rest against a backdrop of mint green walls.
The cream colored trim, pops of orange, and light wood floors add the right amount of accent color to this retro kitchen.
via BEHR
8. Red and Mint Green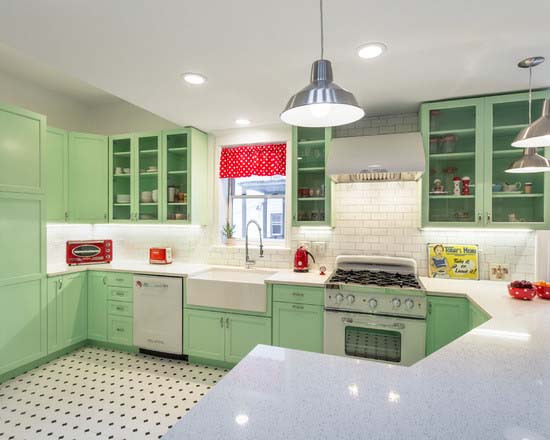 A little red goes a long way in a mint green kitchen. Note that the red is introduced in the window valance, toaster oven, and other appliances that are easily changed out. That gives the owner the option to change the look of this retro kitchen by changing out a few items.
This is the perfect time to use an online color preview app. Take a picture of your room and test out the color of each accessory before you make a purchase. It works for testing complementary colors, too.
This will save money on paint supplies, such as paint trays and paint brushes, for testing color collections.
9. Emerald Green and Mint Green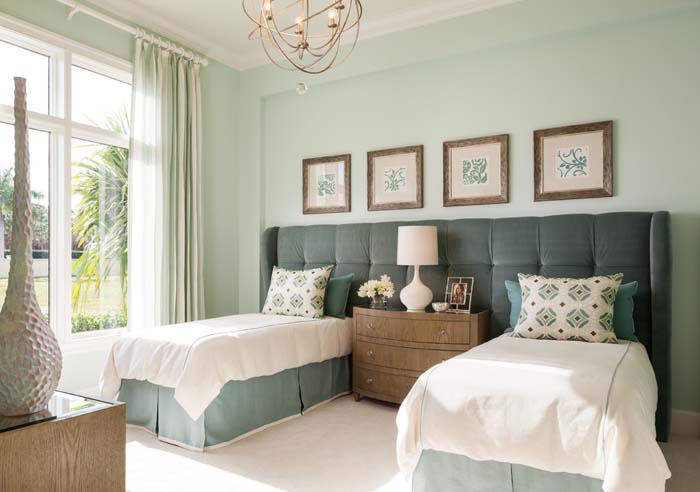 You would think that deeper shades of green might not be a good fit when paired with mint green color. In this case, the emerald brings out the yellow in the mint. It brightens the room without disturbing the calm feeling.
The trick for pairing greens is to browse color families. Order free color chips from a reliable source like the Benjamin Moore Affinity Colors.
Choose a dark green and mint green paint within the same color family. This bedroom is tempered by introducing cream colors in the rug, ceiling, linens, and accessories.
via Courchene Development Corp
10. Beige and Mint Green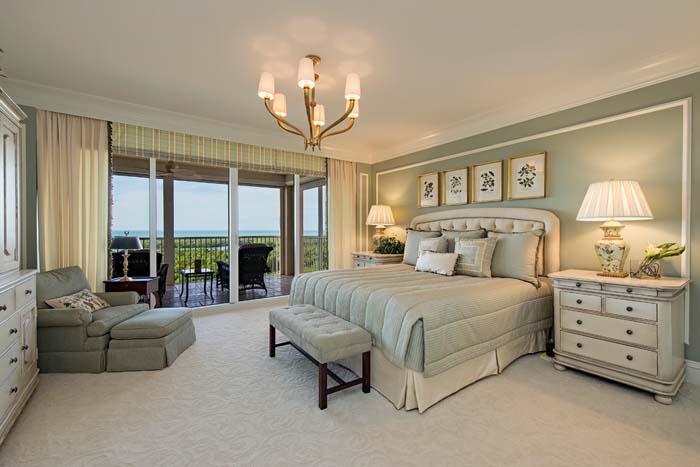 We've seen how creamy off-whites play off of mint. Now, let's take a look at beige.
While there are still echoes of the past in this primary suite, we can see how the beige brings out the bluish tint in the mint green walls and bed linens.
This is a solid choice for a coastal suite that sees a lot of natural sunlight.
11. Yellow and Mint Green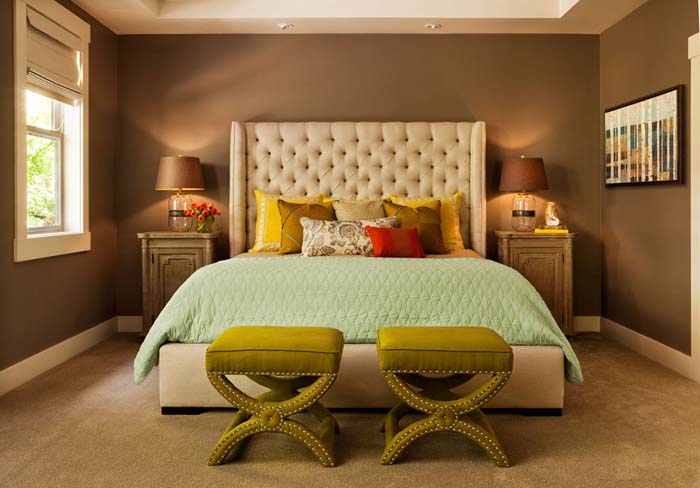 Choose yellow when you want to add a bright color to bring out the yellow undertones in the green.
The yellow pillows on this bed add a brilliant pop of color without a jarring change. In fact, it acts as a connecting piece between the footstools, red pillows and brown walls.
12. Light Blue and Mint Green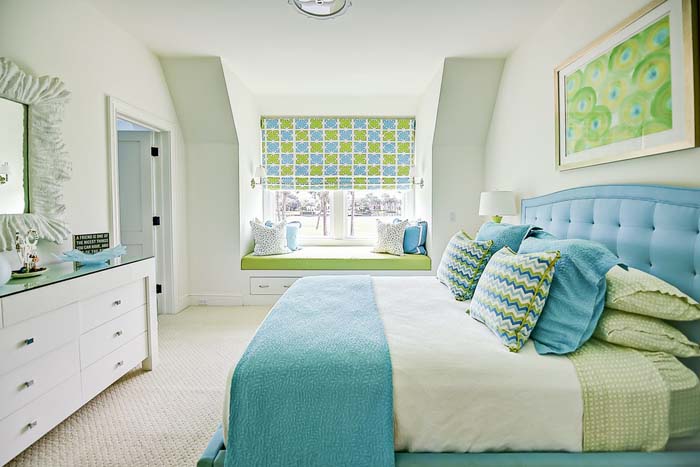 Light blue has the effect of bringing a fresh feel to a room that has mint green accents. It's a color combination that you'll often see with a sandy color in a coastal style room.
In this bedroom, from the shades to the picture on the wall, you won't see one color without the other.
via Aurora Builders
13. Blush Pink and Mint Green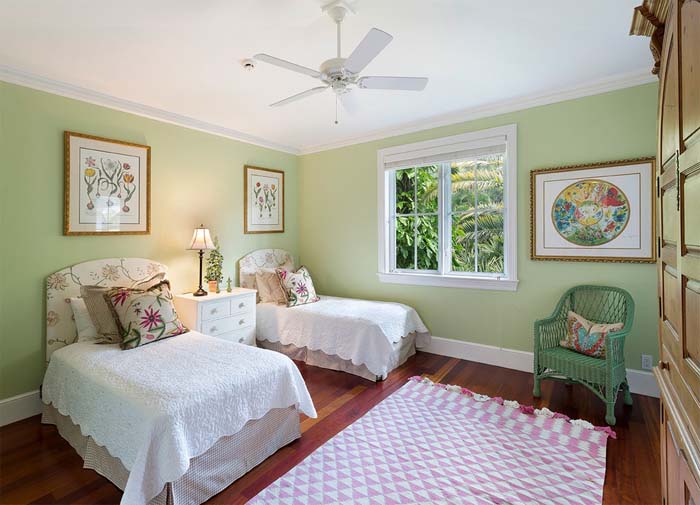 Adding pink to a room brings a decidedly feminine personality to the space. This charming fringed geometric rug adds youthful appeal.
Pressed flowers, floral prints, and embroidered white bed toppers captivate with their vintage charm.
14. Olive and Mint Green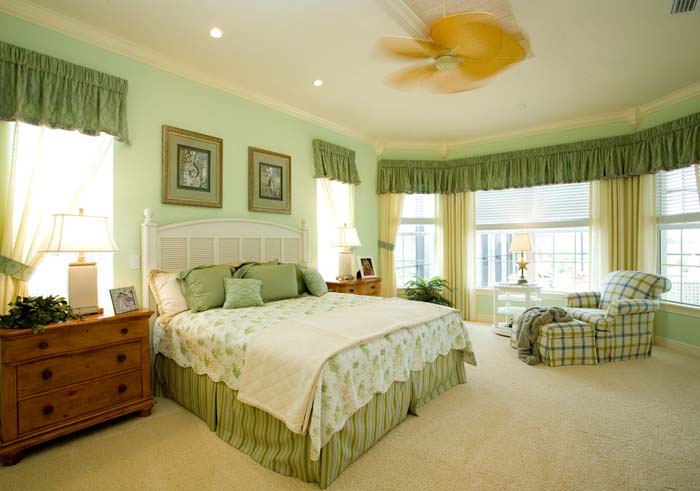 Olive and mint green are another example of how two seemingly unrelated colors can work together. The olive colour seen in the window valances and throughout the art and upholstery brings out the natural yellow hues in the mint green.
Lighter shades of wood furniture match up well with the yellow tones in this color palette.
15. Orange and Mint Green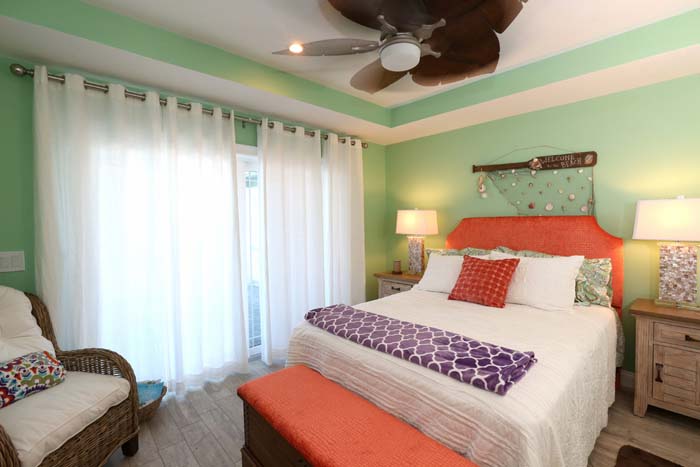 Rusty shades of orange create a solid color combo with mint green. They bring out the texture in the white bed topper.
It's one of the few bold dramatic colors that never loses its appeal.
via A.D.S. Designs
16. Light Gray and Mint Green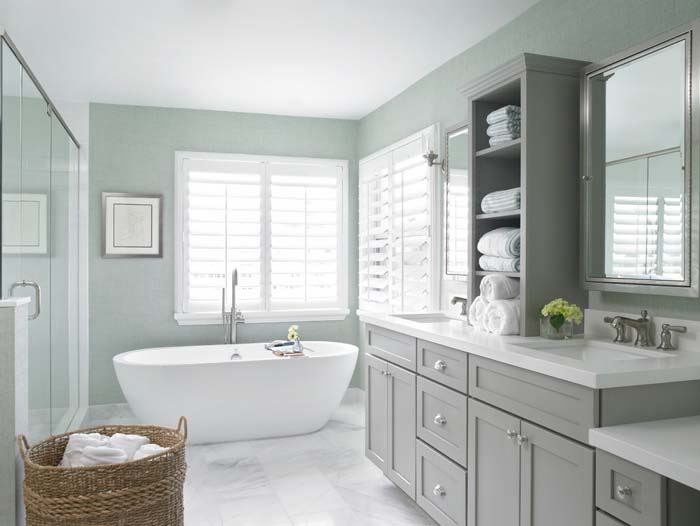 Soft, light gray and mint green brings a serene feel to this bathroom.
The white tile floor, white tub, and quartz countertops all contribute to creating a bright, fresh feeling.
via Krista + Home
17. Turquoise and Mint Green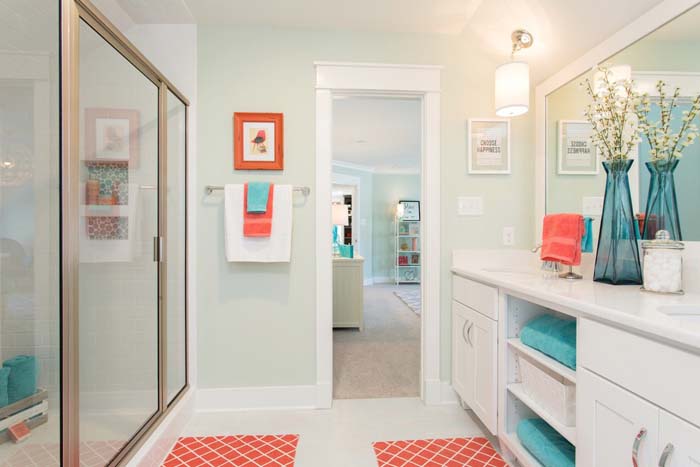 In this bathroom, turquoise and rusty orange create a clean, energetic feeling. This combo works well in a Southwestern or Mediterranean-style home.
Mint green is a calming backdrop, so the room doesn't have to rely on an off-white color that may clash with the white cabinets.
18. Black and Mint Green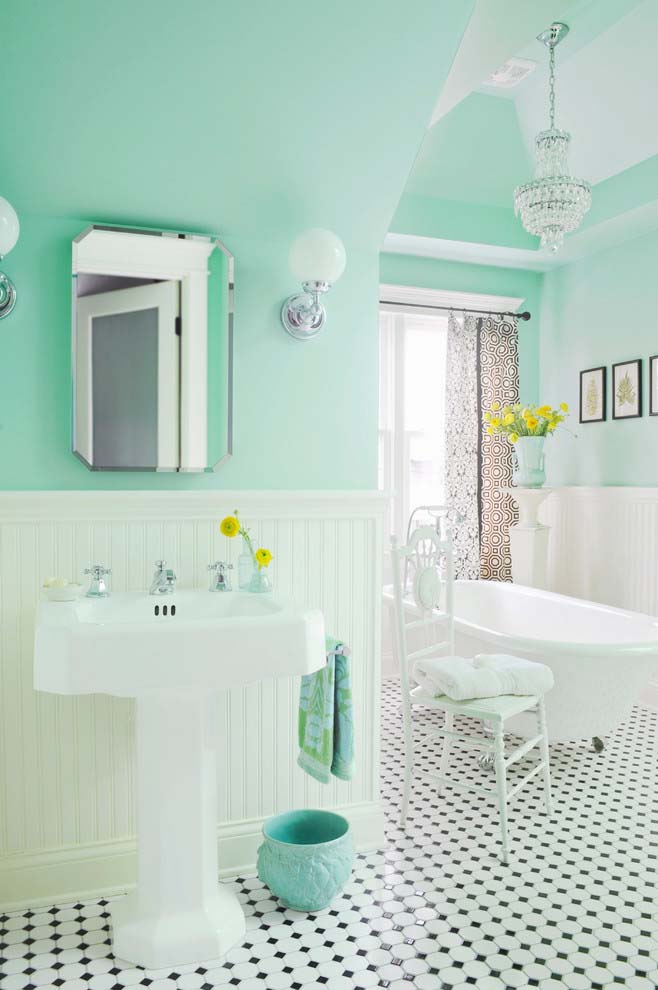 Black can feel a little stark when used with a mint green wall. It's best to use it sparingly. We see it here in the small tiles and in the picture frames.
This is a great example of a vintage style bathroom with beadboard wall panels.
via Anna Forkum
19. Aqua and Mint Green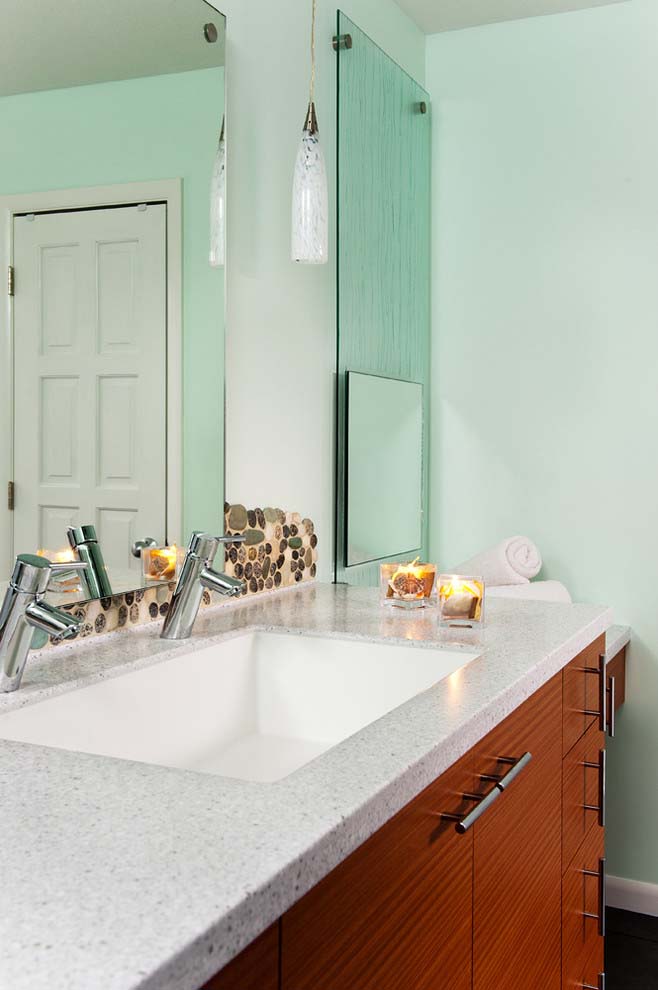 This soothing combination is light and airy.
Notice how they bring out the colors and nuances in this granite countertop.
via Kitchen Studio: Kansas City
20. Marble and Mint Green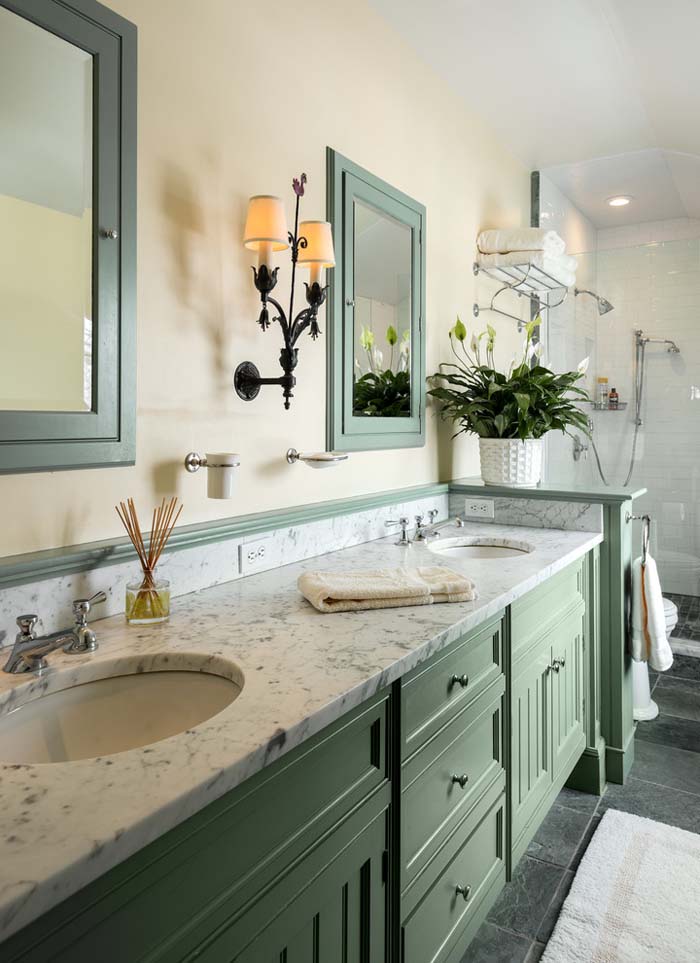 Marble veining has so much personality, it's important to find a color that doesn't clash with your counters.
Mint is a calming, organic choice that works with the black in the countertop. Shown here, it's a nice contrast to the soft yellow walls.
via Crisp Architects
21. White and Mint Green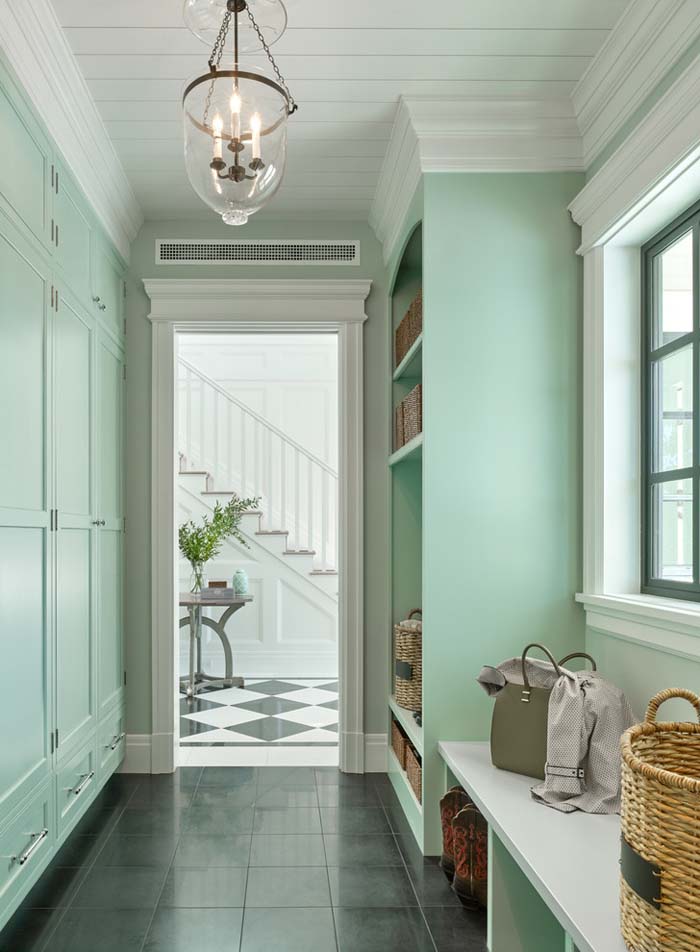 The white trim and bench in this mint green mudroom laundry area brings a fresh feel to a small space. The soft charcoal gray floor tiles add the right amount of weight.
You should see by now that white is the most commonly used neutral color that's paired with mint. Take a look at any white collection and check out the most popular whites to discover what works best for your room.
via Denise Maloney Interior Design
22. Light Wood and Mint Green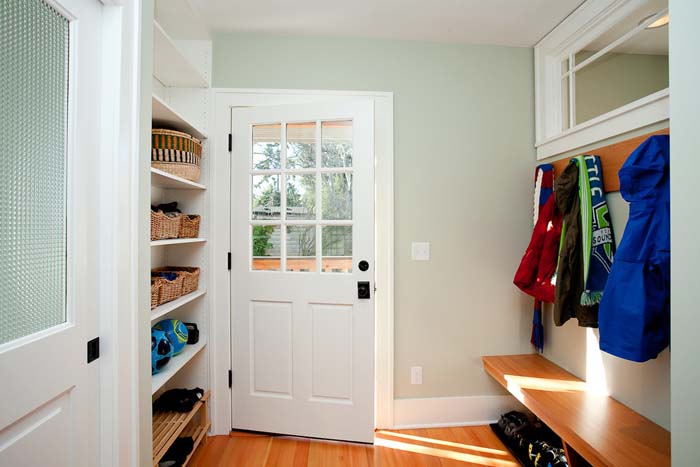 This coat room has a light and fresh farmhouse charm by using wood on the bench and in the hardwood floors.
Look also at the baskets that store all the gloves and hats.
via Crescent Builds
23. Dark Wood and Mint Green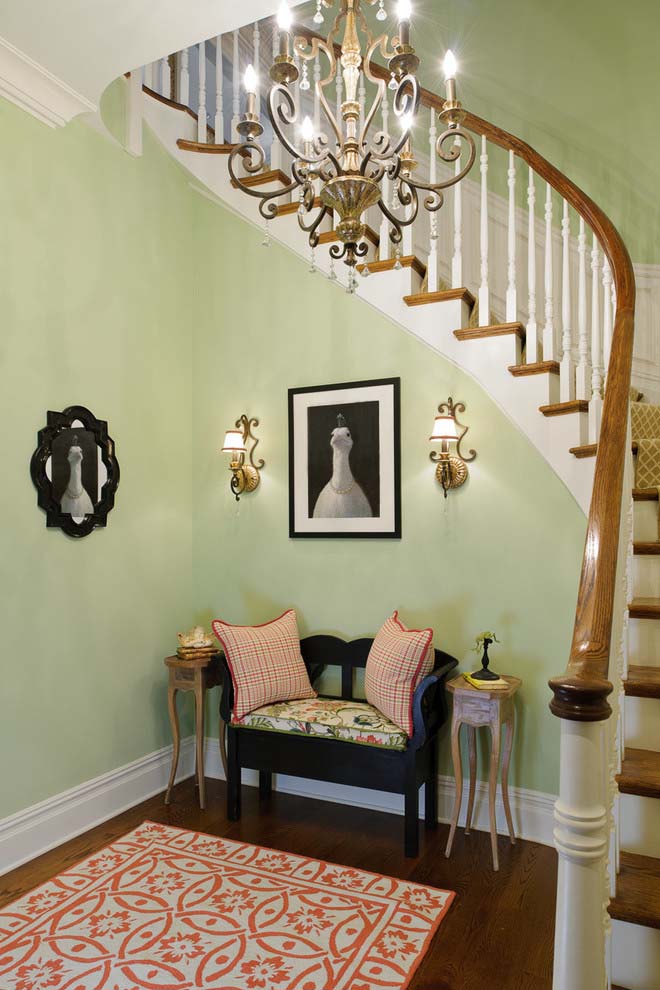 Dark wood brings a sophisticated feel to a mint green wall. When you want authenticity, consult an interior designer who is familiar with historical colors.
They can help you choose specialty paints and interior wood stains to achieve a period look.
24. Taupe and Mint Green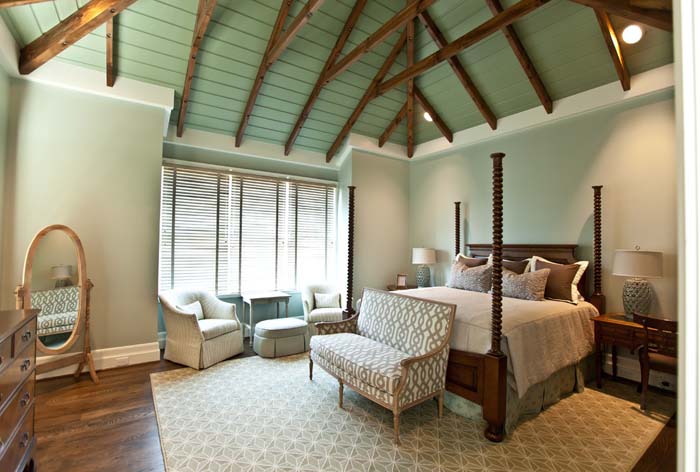 The versatility of taupe works as a base on the walls for this palette of neutral tans and browns.
Mint green on the vaulted ceiling creates an almost dreamy, forest-like feel to the room. It would look great in a rustic lodge style home.
25. Celeste and Mint Green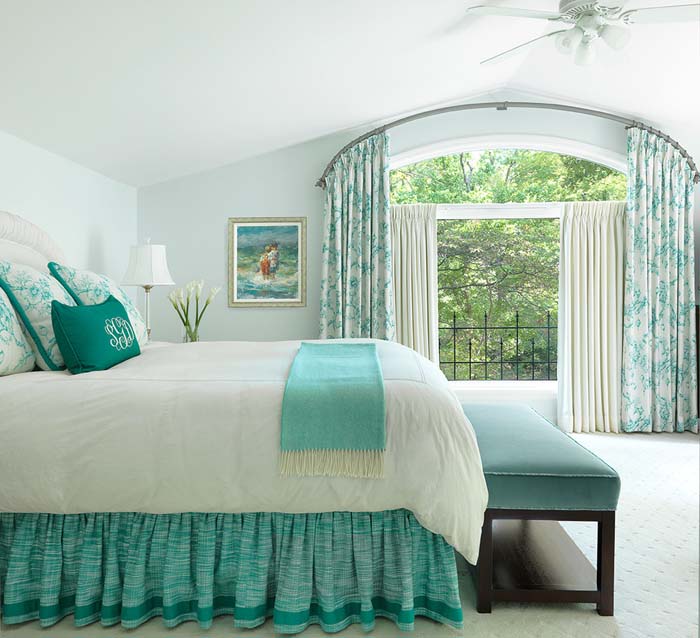 Celeste is another blue, but brings an airy, ethereal quality to the room.
Use it when you're trying to create a calm, soothing space in either your bathroom as a part of a spa experience or in your bedroom when you just need to unwind at night.
via JCR Design Group
26. Red Cedar and Mint Green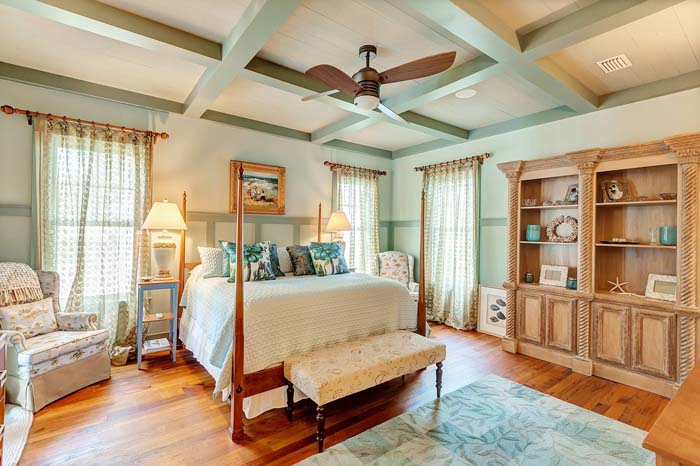 Red cedar is a classic wood that plays very well as a contrast to the greens and yellows.
It's the primary color that creates contrast, while the undertones in both the green and yellow that bond the pairing together.