If you're thinking of painting your room, you may be wondering what color walls go with brown furniture. The answer is more colors than you realize.
That's because brown furniture is the mainstay of every home decor.
Mostly found in wood furniture or leather coverings, there are significantly more pieces of brown furniture than any other color furniture.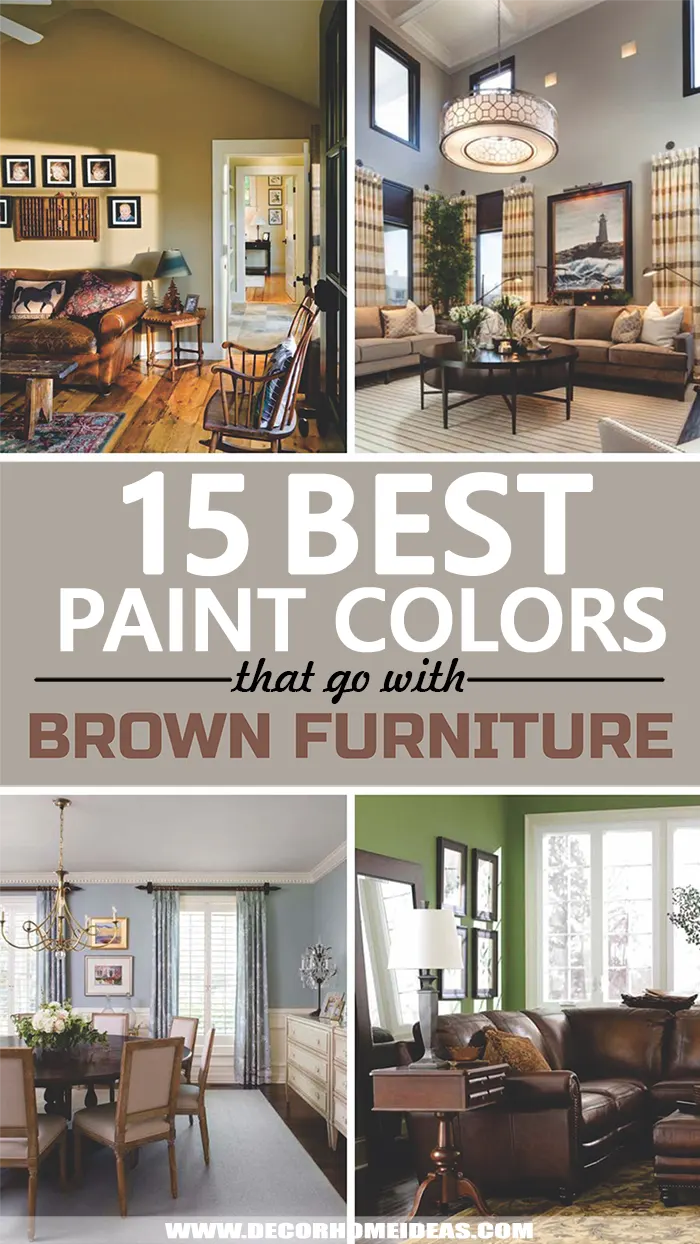 The trick to getting the right wall color is working with the undertones. Unless it's an accent wall, you want the wall to be a backdrop to your furniture and accessories.
The good news is that these undertones are found in most paint colors on the color wheel. It's just a matter of determining your style and working out whether you want a serene room that feels cool or a warm room that brings up your energy level.
Let's take a look at the colors in these rooms so you can get some ideas and inspiration for bringing your own personality into your home's interior design.
1. White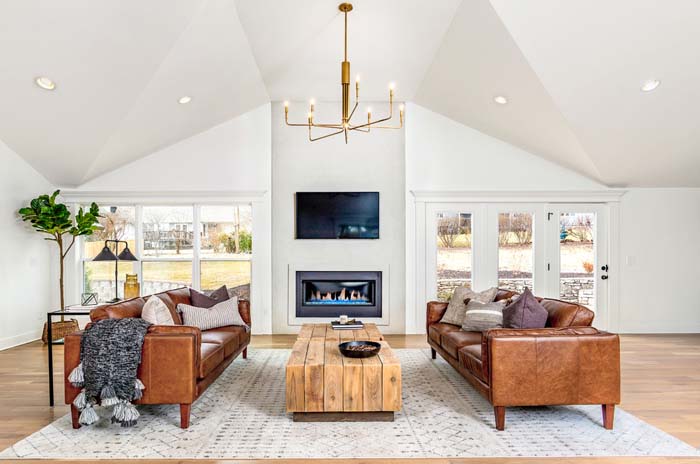 White is classic and modern all at the same time. A white wall is the ultimate neutral shade. In this living room, it's used as a blank canvas for minimalist and organic touches.
If you're a renter and don't have a choice about keeping your white walls and beige carpeting, embrace them!
There are examples in the picture that show how a toffee or caramel shade of brown adds a level of sophistication to the room. The cream-colored coffee table brings lightness to the space.
2. Black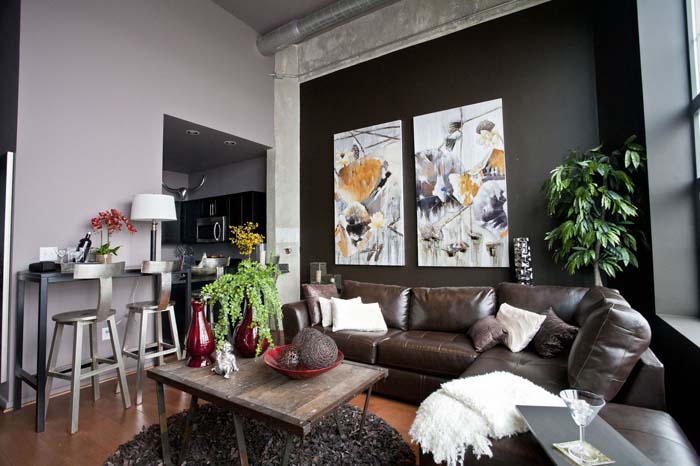 Paint your walls black for a no nonsense dramatic vibe. Try it as a feature wall in an industrial design. Here, it joins forces with the dark furniture to bring a deep, urban feel to the room.
The coffee table looks like reclaimed wood and iron. It fits right in with the clack accent wall. 
You don't have to use an ebony latex paint. Try a matte black that leans towards a deep charcoal gray to add a softer feel to the room.
3. Gray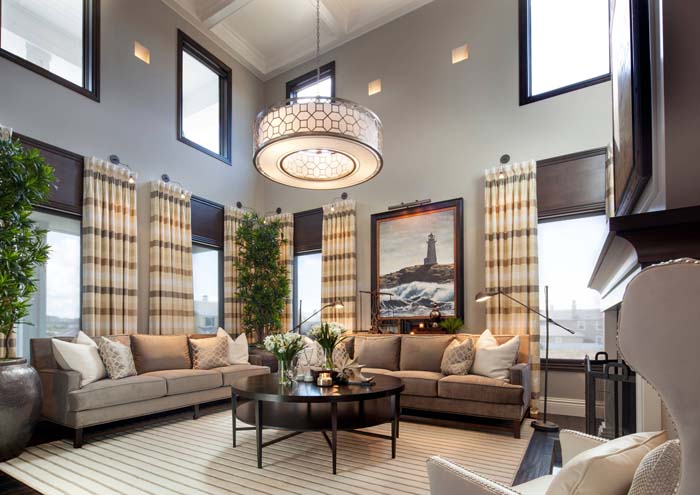 It may seem like placing a brown sofa against a gray wall is a weird color combination, but brown and gray work like two sides of the emotional spectrum. Brown furniture brings warmth and a cozy feel to a room.
The striped curtain panels pick on the neutral palette used throughout the room. Choose gray walls when you want to introduce a masculine element to the room.
via Robeson Design
4. Beige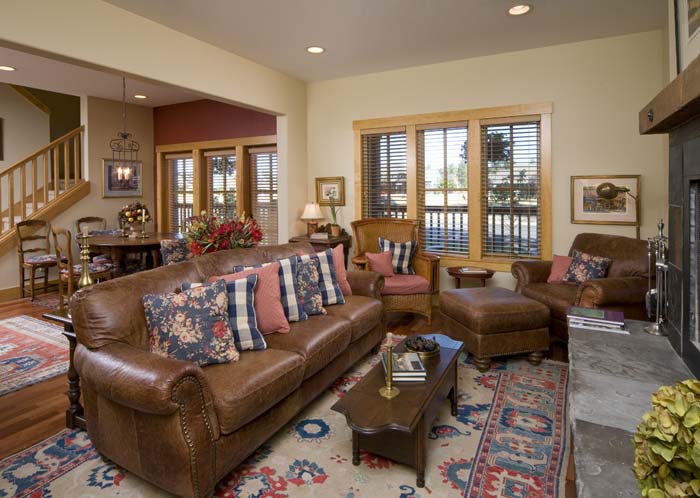 When you're looking at beige walls, pick a beige with yellow undertones.
Paired with dark brown furniture in this living room, it feels like you're looking at an antique book where the leather couch is like a book cover and the beige are yellowing pages.
The honey colored finish on the window frames keeps the mood warm. The antique blues and reds in the throw pillows and area rugs are the perfect contrast to the yellow colors in the furniture and walls.
5. Light Cream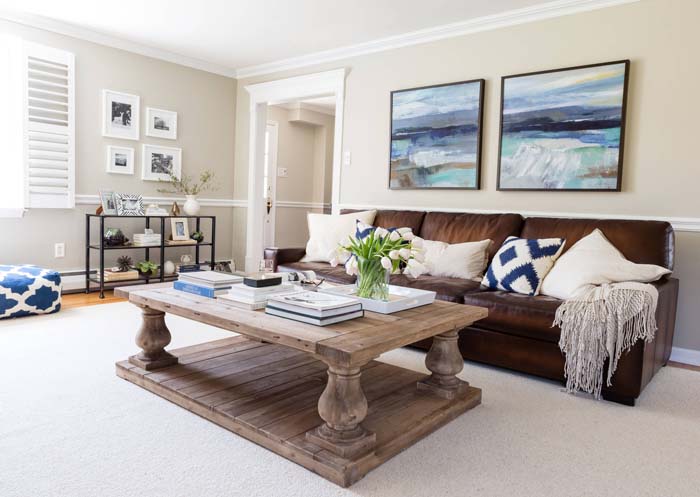 Light and airy without washing out the room. There are different shades of light and dark brown furniture.
The cream color walls act as a connector in the neutral color palette. The light cream is only used above the chair railing. The darker color under the molding helps ground the room, easing the transition to the dark brown couch.
Choosing a blue color for the accent pieces brings an element of surprise to the space.
via Larina Kase Interior Design
6. Green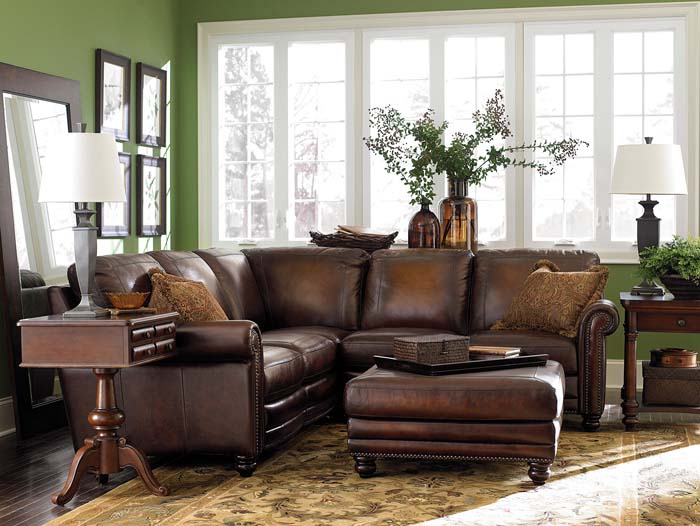 You can't get more natural, organic, and refined than when you pair green and brown. The brown leather sofa pictured here is surrounded by warm colors, but even when accompanied by dark wooden furniture pieces, the room feels light and friendly. 
This room gets its vibrance by the yellow undertones in the shade of green used. If you want to cool down the room, choose a shade of green that uses blue undertones.
7. Brown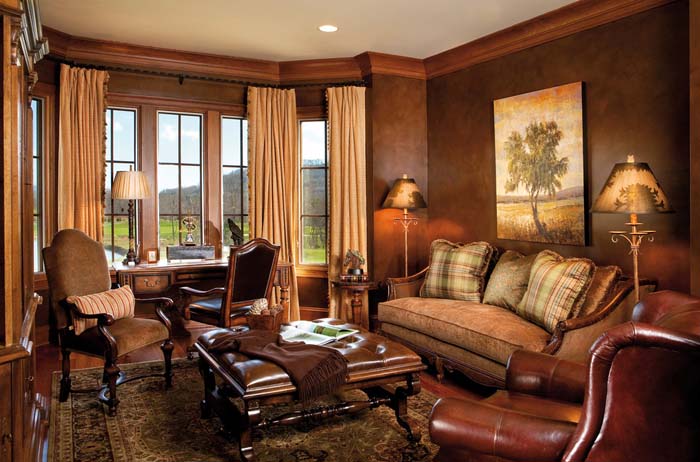 You can have a monochromatic brown color scheme. The key is how you use textures. Take a look at the far right corner.
You can easily see there's a paint texture on the brown wall. Compare that to the light brown sofa and it looks as if they're using the same brown shade in opposite values.  
Yellow undertones grab the sun's rays, creating a warm and comfortable seating area that connects with the dark wood furniture. This combination feels warm through the coldest winters.
via LGB Interiors
8. Tan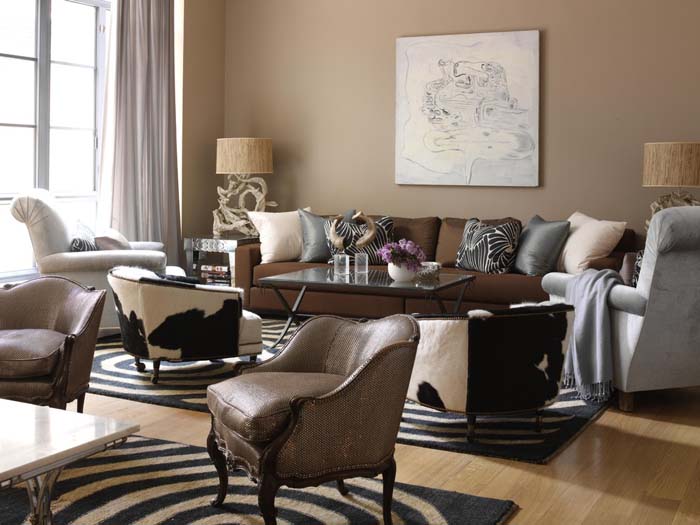 Tan walls are a great choice for bringing a calm feeling to a large room that has lots of natural light.
Many brown hues, along with other neutral shades, stand out against a tan wall. The cow pattern on the club chairs is another example of how you can use texture to create interest within the same color.
via Tara Seawright Interior Design
9. Yellow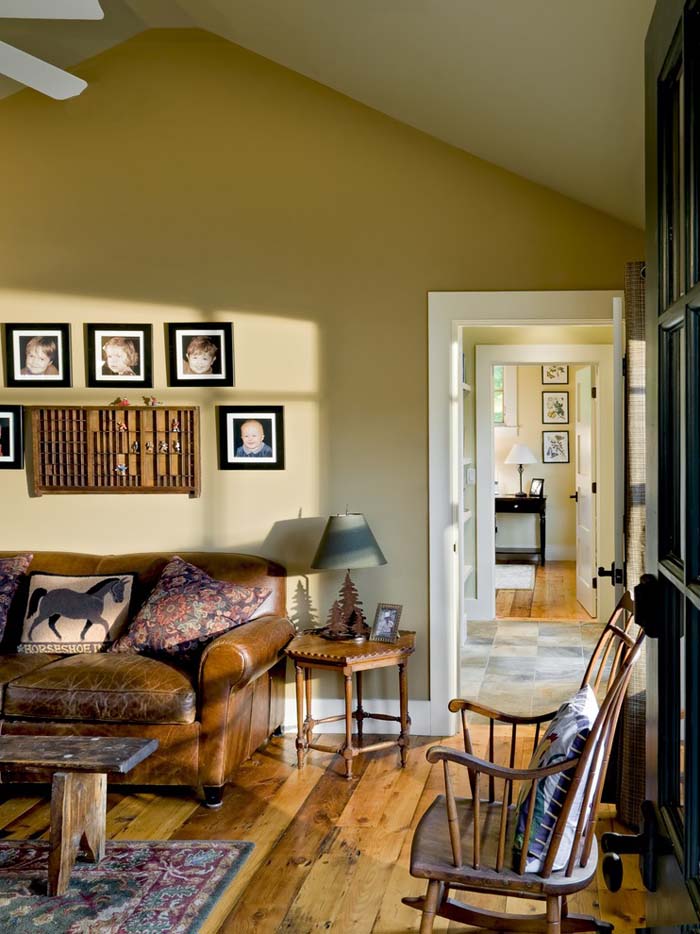 Yellow can be tricky to work with. It looks great in this rustic farmhouse living room, especially with that handsome brown sofa. The dark colors ground the room. 
Including accent pieces with a brown hue helps solidify the look. This is easy to do with rustic wood furniture.
10. Pink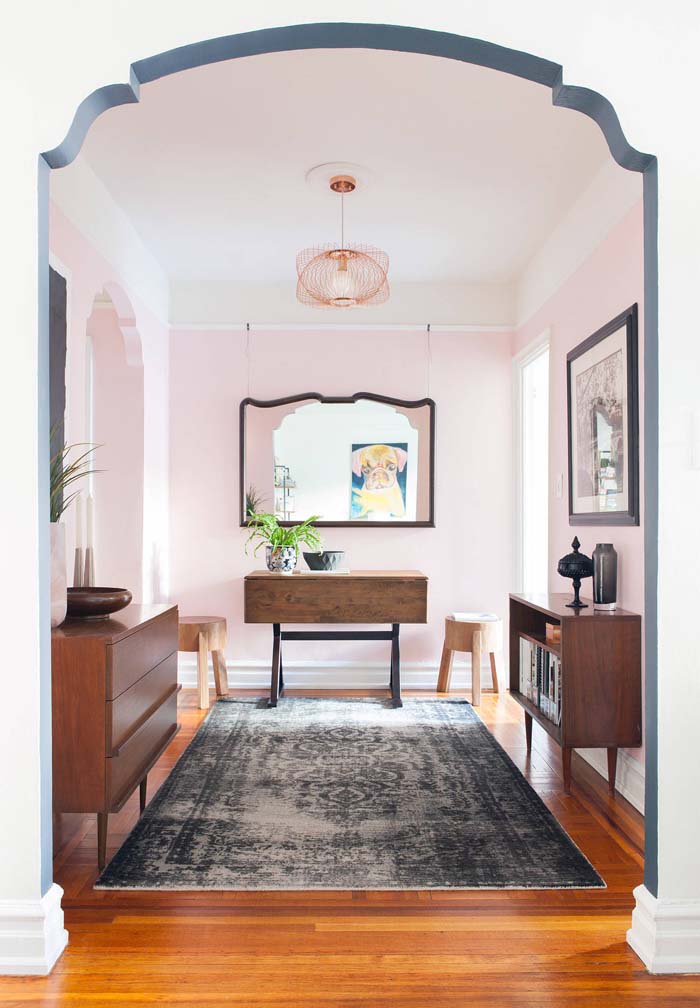 Pink is a decidedly feminine choice that works to bring out the red hues in brown furniture. Using different shades and textures can turn a simple color palette into a stunning room. How many shades of brown do you see?
There's two pale brown stools flanking the drop-leaf table. Next up is the hardwood floor.
The darker shade in some of the planks is what stands out as you connect them to the side dressers. Lastly are the darker tones in the mirror and picture frames.
via Linda Cava
11. Blue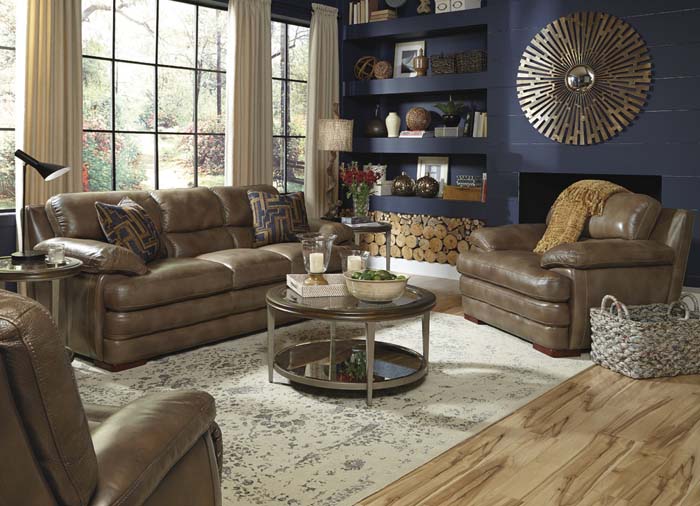 A deep blue, such as navy, will ground a room. Navy and slate blues are masculine shades of blue. They pair well with gray and brown furniture.
The masculine nature of this room is tempered by the light-colored area rug and its floral motif. The light colored curtains connect the rug, furniture and massive fireplace surround.
via Woodchuck's Fine Furniture & Decor
12. Pastel Blue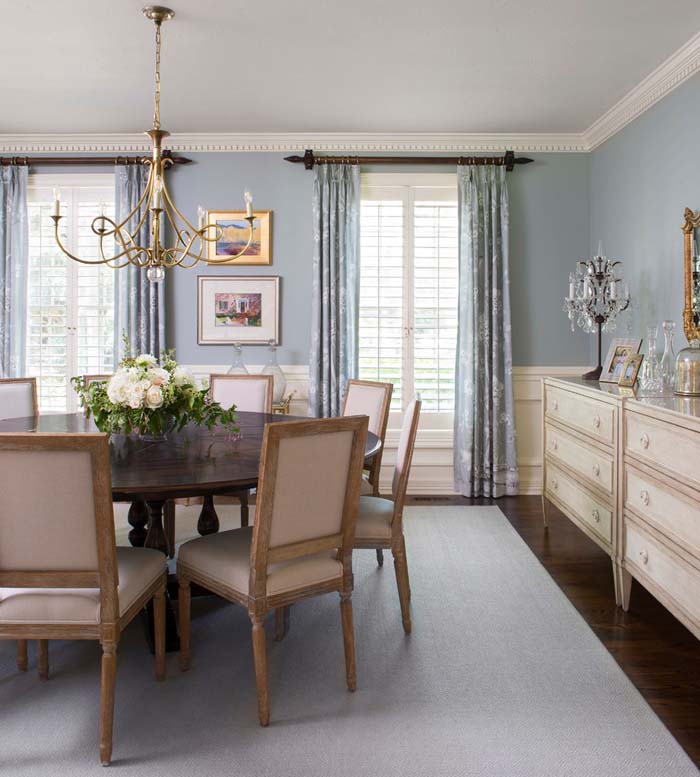 Light brown furniture can be tricky to work with. You don't want them to blend into a cream-colored wall and you don't want them to fight with a dark wall color.
The solution is to pick a color from the lighter end of the primary color palette. Pastel blue is a cool color that brings cottage charm to light brown furniture.
13. Purple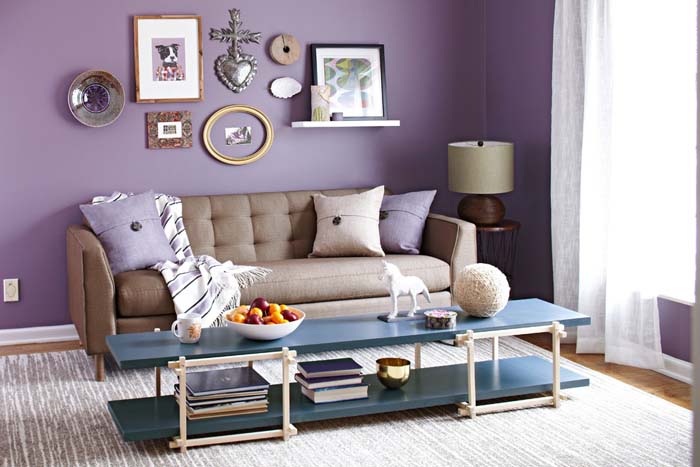 A lighter shade of purple can work with light brown furniture. This room has a distinctly mid-century feel until the purple walls come into play. The accents against the light brown couch add a pro's touch.
The couch has a linen look to it, but taking a look at the dark brown lamp and table in the corner, you can see how a dark brown sofa will work in here, too.
14. Red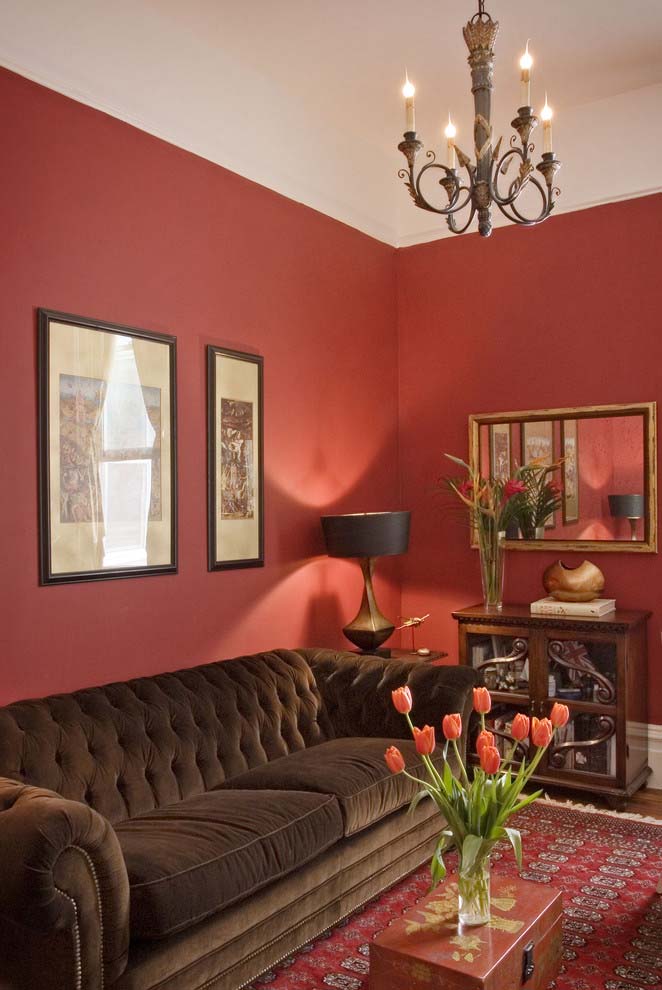 How do you use red walls with brown furniture? Like any other paint color, you pick a color scheme with the same undertones. Pick a red color that has brown undertones. These are usually in the middle of the red spectrum.
Yellow lighting and golden accents help bring out the undertones in the red walls and brown furniture.
via Bashford Design
15. Orange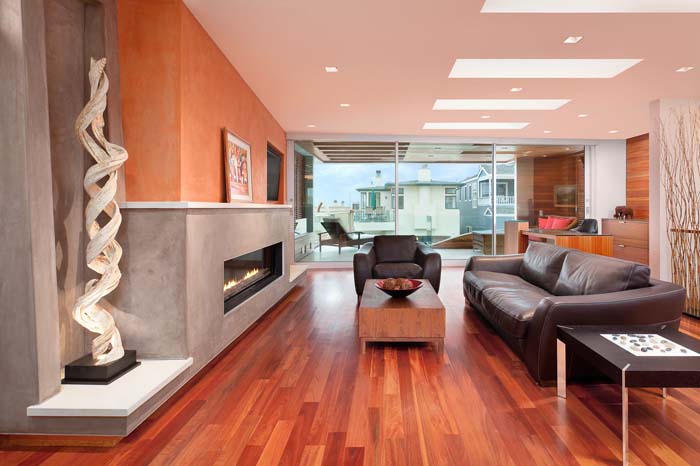 Orange is a vibrant color that will connect with any yellow undertones in your brown furniture. It's used here as an accent wall and a focal point for an open concept space.
It creates a lot of energy, especially against the gray stone fireplace and gray wall.