When it comes to planning living room decor, one of the most important pieces is the sofa.
Not only is the sofa typically the focal point of the room, but it also sets the tone for the space.
If you're looking for a sofa that will make a statement in your living room, a brown leather sofa is the way to go. But what colour goes with brown leather sofa?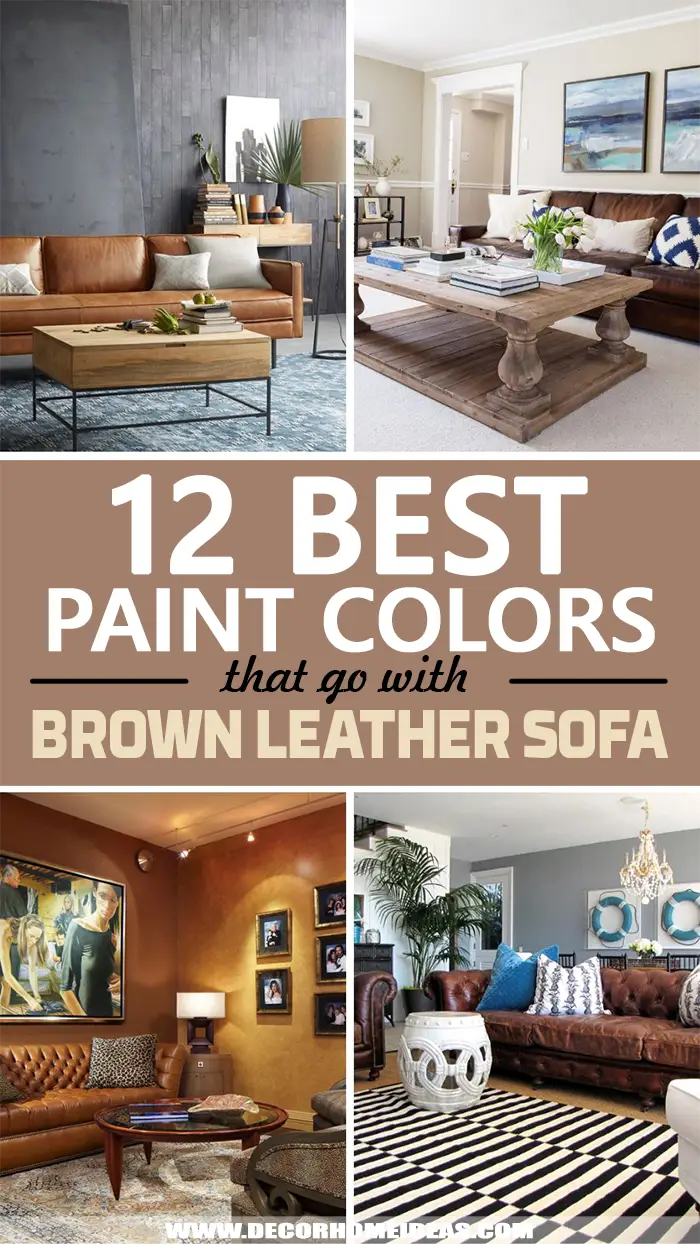 We've got some ideas for you.
There are a few things to consider when choosing a color scheme for your living room. Take a look at the other furniture in the room. Even brown furniture can clash. Is your cream-colored coffee table clashing with your tan leather sofa? 
Also take a good look at the rug. Not all warm colors work in harmony. Brown color rugs may be fighting your wall color or couch color. Interior design is about connecting the pieces to make a single statement.
What colors compliment a brown leather couch?
 A number of colors match the earthy tones of brown couches. Colors such as sage green, cool blues, greige, and the rusty orange-leaning tones of red work well with leather because their shades are typically part of natural landscapes.
Keep in mind there are many different shades of brown couches. You won't be able to pick a colour palette until you determine the brown shade of your couch.
What colors look good with brown leather?
There are a variety of colors that look great with brown leather. For a classic and sophisticated look, pair your brown leather sofa with black or gray accents. If you want to add a pop of color, try pairing a couch that's a lighter shade of brown with navy blue or green. For a warm and inviting feel, consider using earth tones like yellow, orange, or red. Using different color cushions is an inexpensive way to explore different accent colors.
What color should I paint my living room with a brown leather couch?
Designers agree that pairing a brown leather couch with neutral-toned colors will produce a timeless effect. Any color that has a warm undertone is a solid complement to a brown leather couch.
How do I style a room with a brown leather couch?
Whether you're working with a new brown leather sofa or trying to style an existing one, there are some key principles to keep in mind. First, consider the overall feel of the room and the mood you're trying to create. Are you going for a warm and inviting space or a more modern look?
There are many ways to style the space and create a cohesive look. The key is to consider the overall color scheme, textures and accessories that will complement the sofa.
Texture is an important element to consider when styling a room. Incorporating different textures through fabrics, flooring and accessories can add depth and interest to the space.
Don't be afraid to experiment with color! A pop of color can really help to liven up a space and add some personality. Try using pillows, throws, or even artwork as your source of color inspiration.
Finally, remember that less is often more when it comes to styling a room with a brown leather sofa. A few well-chosen accessories can really make the space pop without looking cluttered
1. Blue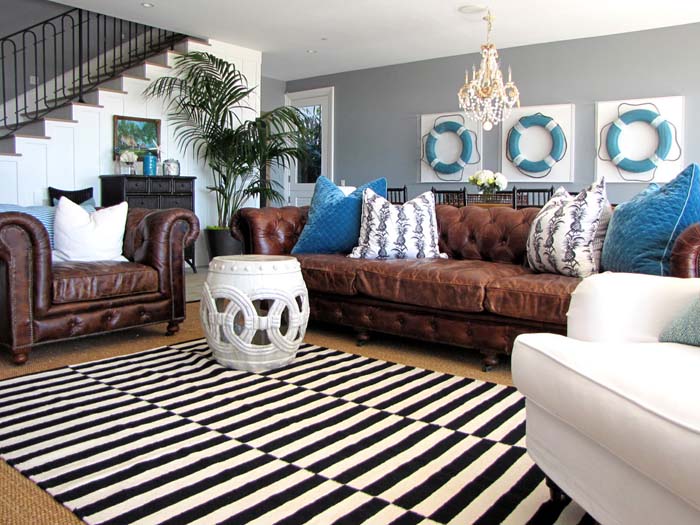 Choosing a primary accent color will go a long way towards bringing your decorating ideas together. Blue and brown go together like the earth and sky.
Blue that are on the lighter, cooler side add more interest and contrast to a dark brown leather sofa. For a light brown leather sofa, try a dark blue tone such as navy or cobalt.
via Tara Bussema
2. Tan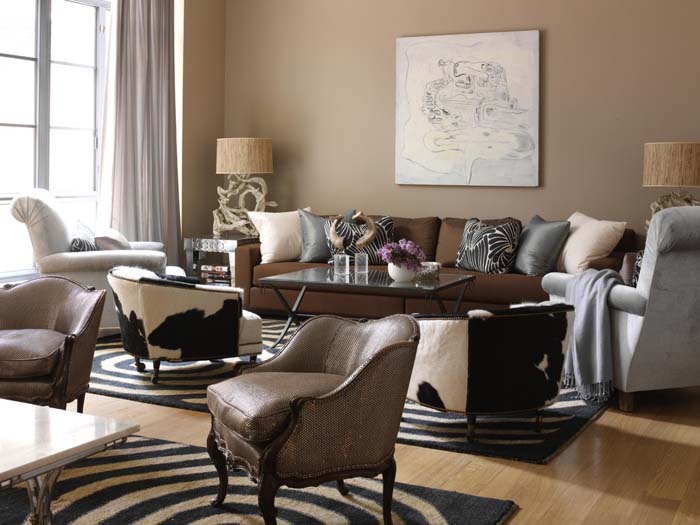 When considering what color walls to pair with a brown leather couch, tan is an excellent choice. Tan walls can help to warm up a room and create a cozy atmosphere.
They also can help to complement the brown leather couch and make it look more stylish.
via Tara Seawright Interior Design
3. Light Cream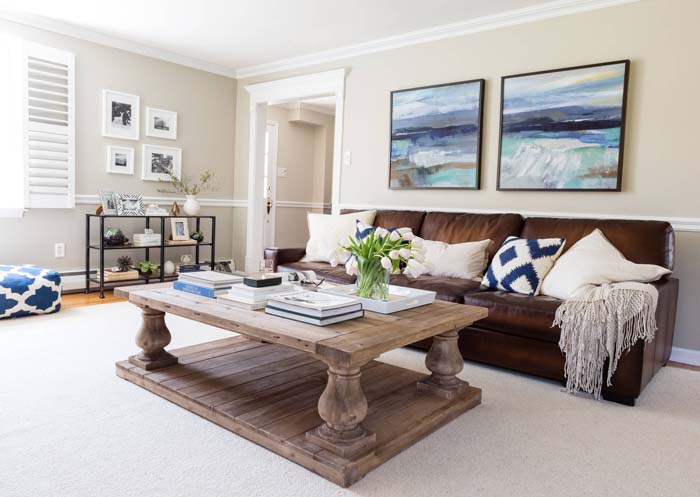 When choosing a light cream color for your walls, consider what type of brown leather sofa you have. If you have a dark brown sofa, a light cream color will help to brighten up the space and make it feel airier.
If you have a lighter brown leather sofa, a light cream color will complement the sofa and help to create a cohesive look in the room.
via Larina Kase Interior Design
4. Black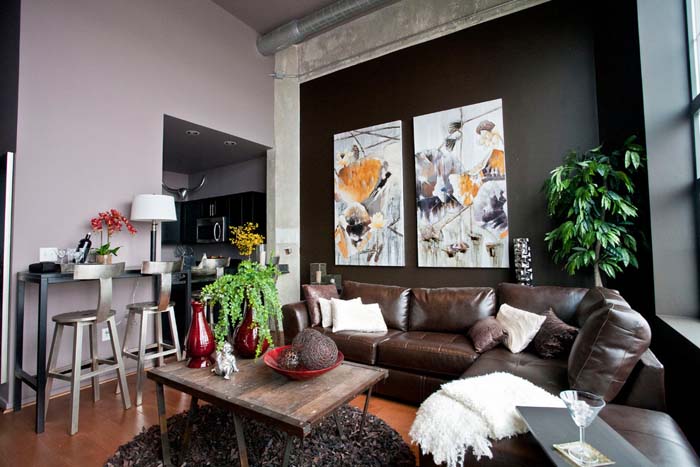 Paint your walls black for a no nonsense dramatic vibe. Black walls create a dramatic and sophisticated look that's perfect for entertaining or simply relaxing at home.
Plus, they go well with just about any style of furniture and decor. Try it as a feature wall in an industrial design.
Here, it joins forces with the chocolate brown leather sofa to bring a deep, urban feel to the room.
5. Light Gray and Golden Accents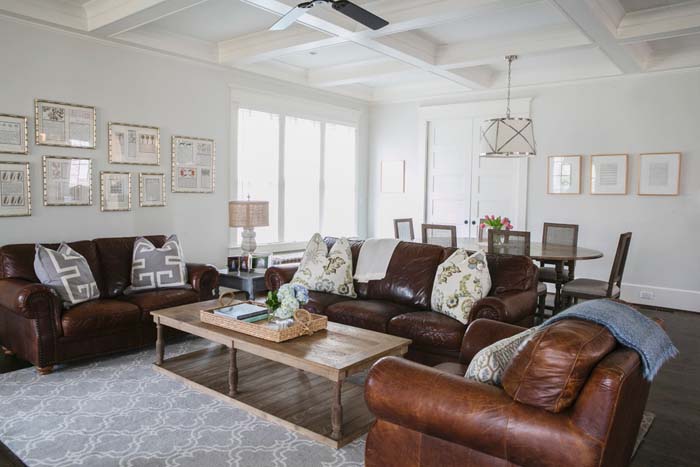 Light gray walls soften a room that has a lot of natural lighting. In this living room, it's used as a blank canvas for minimalist and organic touches that play off of the reddish brown sofa.
When it comes to using gold accents with a brown leather sofa, it's important to think about the overall look you're going for.
Consider pairing a gold accent pillow with a gold-toned blanket or chair to create a luxurious look. This room uses it to great advantage with picture frames, throw pillows, and the pendant lamp over the dining table.
via JackBilt Homes
6. Jewel Tones: Red, White, and Blue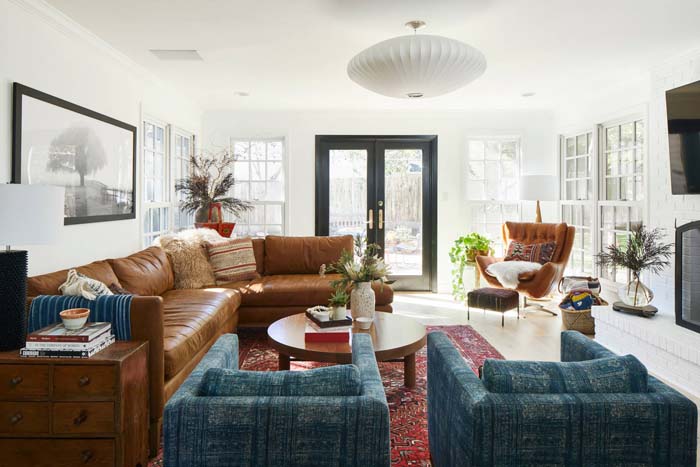 Jewel tones can define the seating area. Each white wall is defined by heavy dark framing. Think of this as layers with the white enveloping the seating area.
This color combination can work well in both traditional and contemporary spaces. It's imagined in the accent pieces. Here, we see the brown chair and wood furniture bringing the retro touch to this transitional room.
7. Beige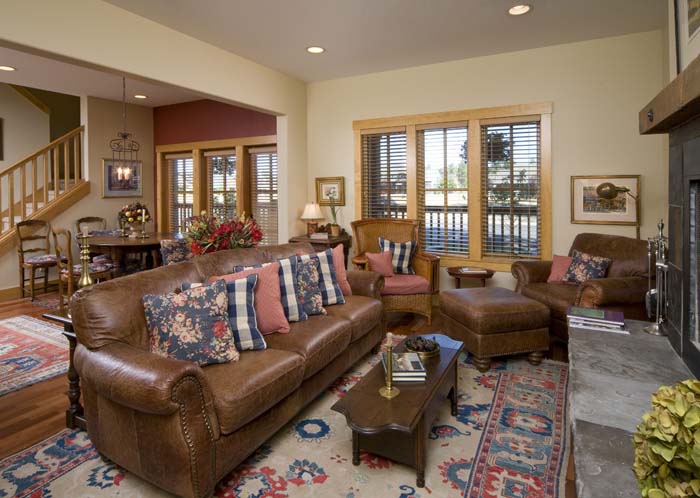 If you're really stuck on what color walls will go best with your brown leather sofa, look no further than beige. Beige-colored walls are the perfect complement to your brown couch and will give your living room a warm and inviting feeling.
Hang artwork on your wall that has similar colors to your sofa. This will help create a cohesive look in your living room.
Also, add some accent pillows to your couch in colors that complement the beige walls. The red and blues in the throw pillows and rug work great here.
8. Green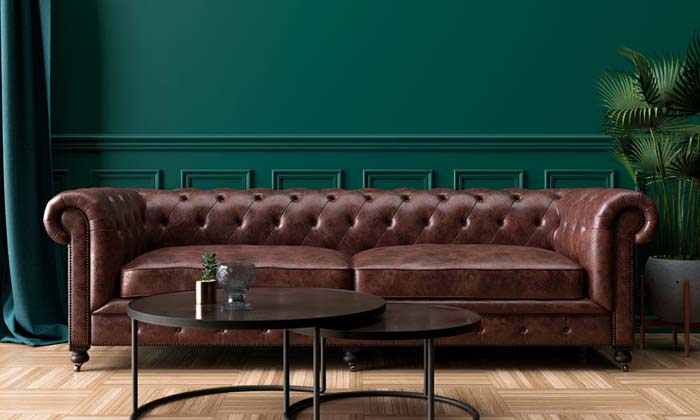 Green walls add a pop of color to any room, but they also help to create a sense of calm. Brown leather furniture can sometimes feel a bit heavy or imposing, but green walls help to lighten things up.
Even in this stately room, the organic nature of pairing green and brown becomes obvious.
The two colors complement each other perfectly, and the combination is sure to make any room feel warm and inviting.
9. Gray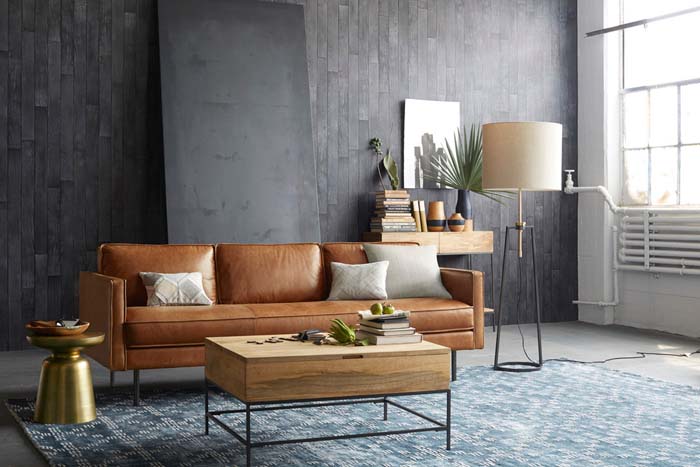 There's a certain amount of comfort and calm that happens when you choose gray as your background color.
A middle-of-the-road shade of gray brings elegance to the chestnut brown leather couch. It's a great way to add flair and sophistication to the Industrial style decor.
Rugs can make it break a colour palette. A slate blue rug adds the right amount of color. The industrial coffee table doubles as storage.
via West Elm UK
10. Light Colored Wood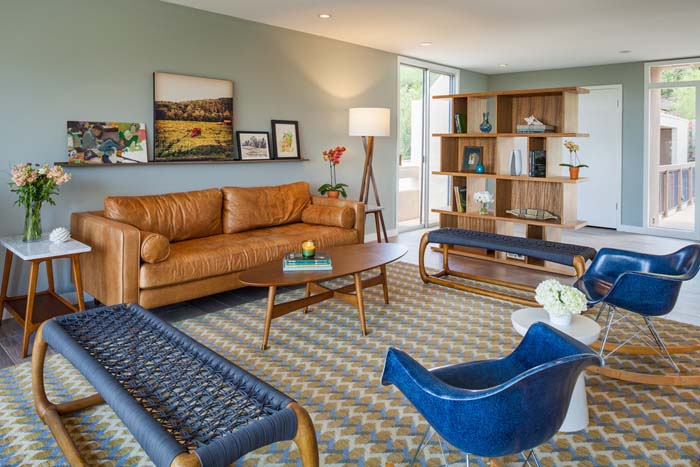 Furniture stained to match the camel brown leather couch ties together all the pieces in this Mid-Century/Scandinavian dream home.
Each piece in this room was carefully curated. The Herman Miller Eames Model RAR Rockers in ultramarine blue are just as coveted as the couch itself.
The tripod lamp and the John Vogel bench in blue add to the cohesiveness.
via Mackenzie Collier Interiors
11. Golden Yellow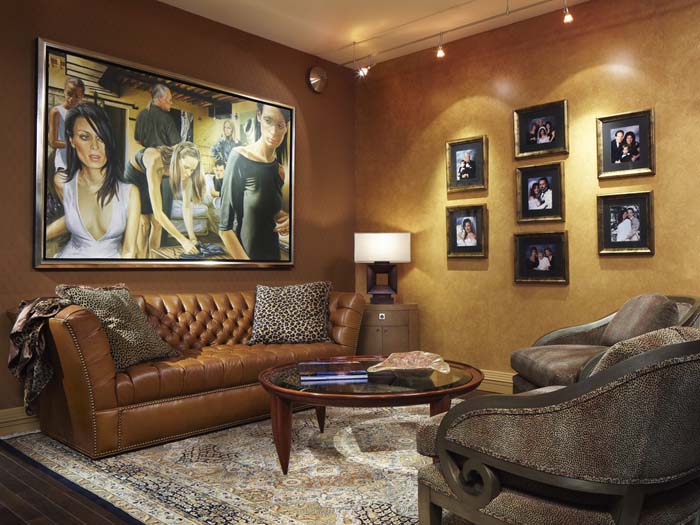 Many people opt for a warm and inviting color palette. One of the best ways to achieve that is by pairing yellow walls with a brown leather sofa. It's a warm, cheerful color combination that brightens up this small space.
Besides its reputation for having a cheerful demeanor, yellow is known for its ability to stimulate the mind and promote creativity.
The earthy colour scheme helps ground the space and works well with a brown leather couch that has red undertones.
via Arnold Schulman Design Group
12. Wood and a Neutral Palette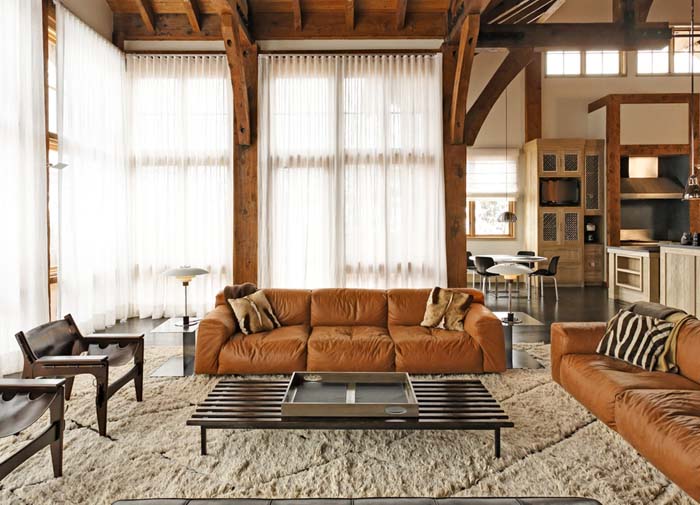 You can choose a neutral color palette for a leather brown leather couch. For a rustic look, consider using woody natural browns.
These shades will give your living room an earthy feel. Layer the room with rich wood tones or light brown walls to create a warm and inviting space. Add depth with textures.