Whether it's time to treat your room with a fresh coat of paint or you're in the middle of a renovation, you may already have furniture and trim in place.
We're here to help you discover what color walls go with dark wood trim.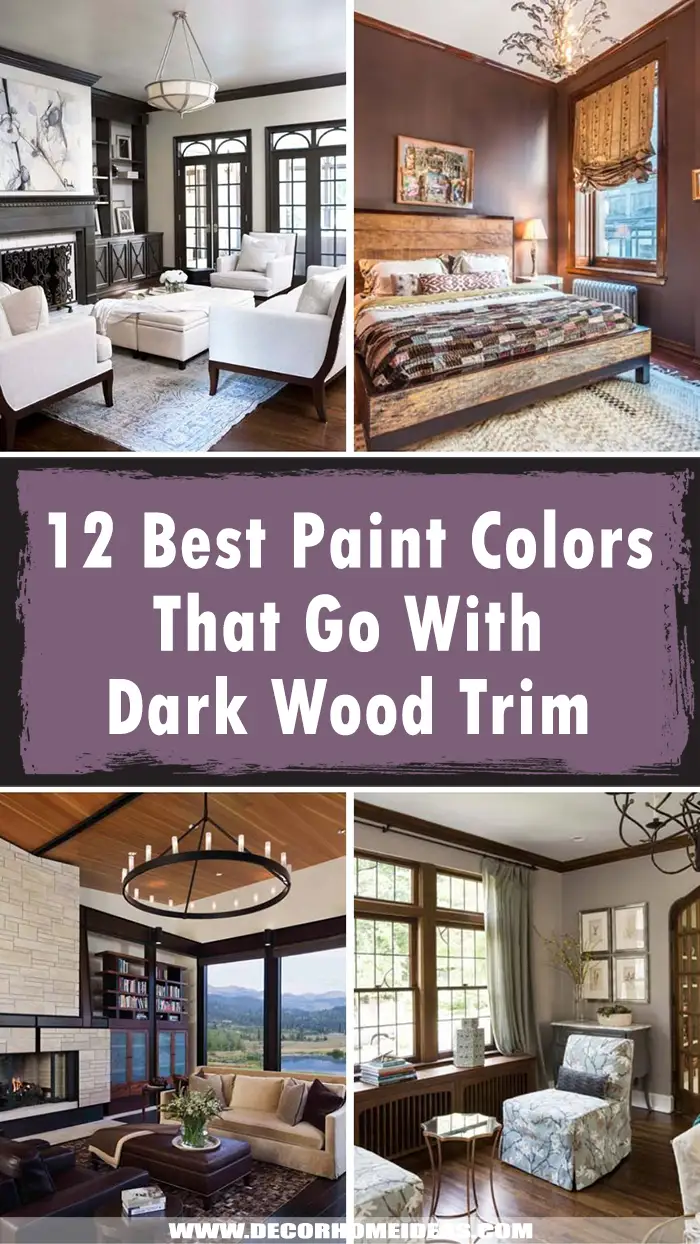 You'll want to take into account that the floor and wall colors are the background to your furniture and accessories.
Your furniture style will have some impact on your wall color choice, but not as much as you think. It's more about textiles in your furniture and accessories that will influence your decision.
What wall colors go well with dark wood?
There is no single best paint color to use with dark wood. The color choices are about the undertones of the wood and whether they're warm or cool colors..
You're looking for contrast so that your dark hardwood trim doesn't disappear into the wall. You'll also want to avoid colors that clash or fight with the trim. You're trying to strike a balance in your interior design, so aim for a complementary color.
What color goes with stained wood trim?
Every variation of a natural wood trim will have its own unique properties and undertones, so there really can't be a best wall color choice that will work in every room. Choose a paint color that works with your wood and your stain. 
Painting your room in bright colors may work against you here. Develop a color scheme that blends together your wall color, wood trim, and furniture. The dark colors near the bottom of a color swatch include deep undertones that work with natural wood trim. 
It's always helpful to grab some paint sample cans from the hardware store and test colors in the room. The right paint color may not look so great in a store, but be the perfect solution in your room.
Is dark wood trim out of style?
Not at all. Dark wood trim and light wood trim are both evergreen styles. Many people who paint their trim are looking for contrast against their wood paneling. In these instances, white trim may be more suitable than a dark wood or even a black trim. As you'll see in the following pictures, there are many ways to make dark trim work beautifully in any home. 
Let's take a look at some of the best wall paint colors for your dark wood trim.
1. White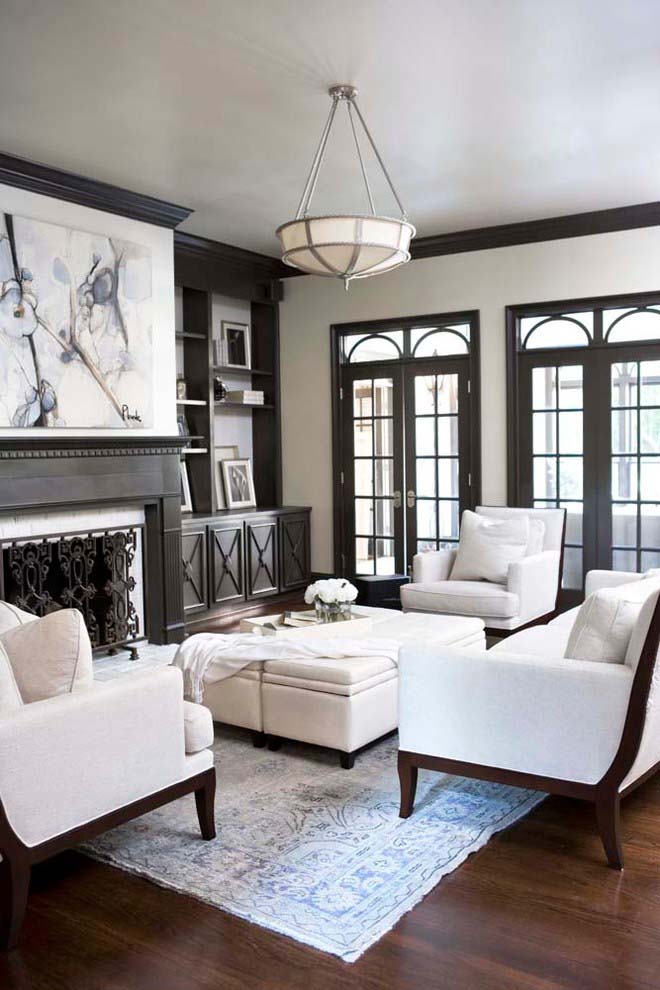 Classic white paint is an obvious complementary color to dark wood trim. White walls are as neutral as neutral gets and a great choice for capturing natural lighting.
We can see here how it works with the furniture and fireplace surround.
2. Cream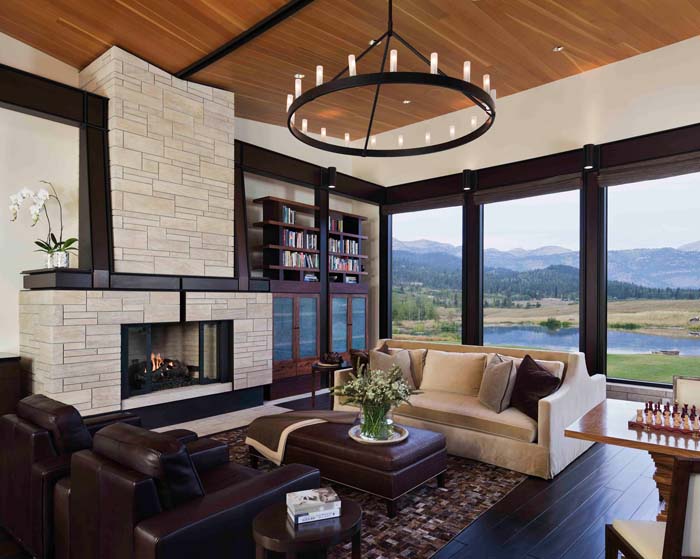 The yellow undertones in cream walls will really warm up a room with trim that has red undertones such as mahogany or cherry. 
In this living room, the light paint color not only works with the dark wood floors and trim, it adds contrast to the beautiful blues and greens in the outdoor view.
3. Light Gray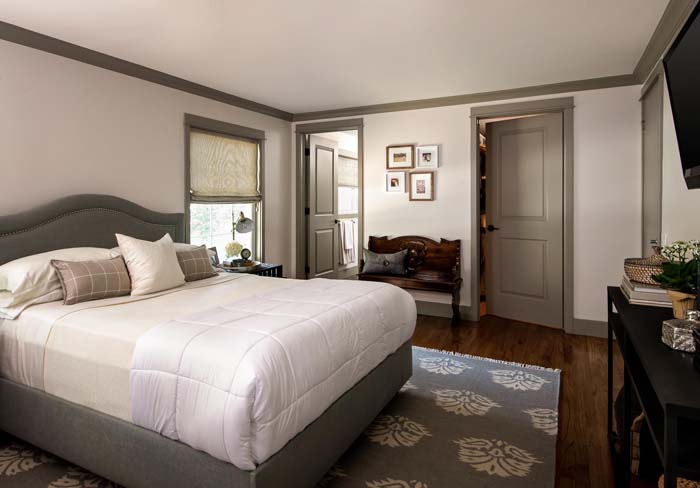 A light gray paint color works with deeper grays for a tone-on-tone look. It brings a sense of serenity to this bedroom that is decorated in neutral colors.
This room keeps the tranquil vibe going by painting the interior doors to match the trim's dark color.
Repose Gray by Sherwin Williams is one of the lightest grays on the market for interior painting.
via reDesign home
4. Yellow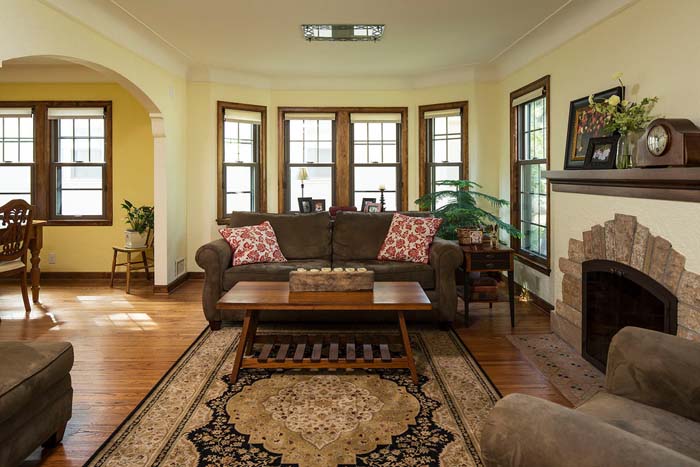 Yellow is a great choice for a wall color with dark wood trim. The wood trim, floors, and furniture here all have yellow undertones.
You can see it working with red in the accent pillows, too.
5. Beige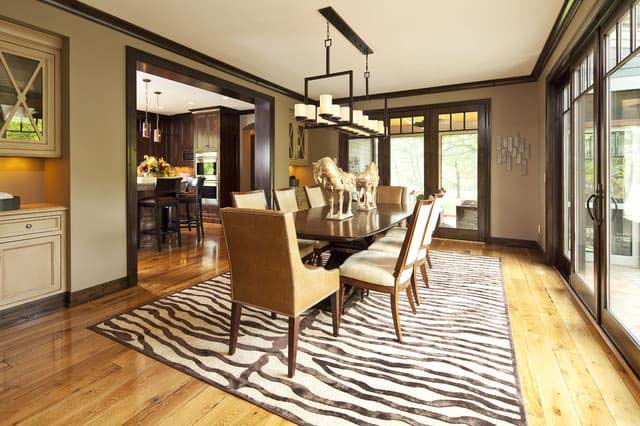 Beige can be a key color for a neutral background and will work in any room. The undertones can be green, yellow, or in the pink to orange family.
What Color Walls Go With Dark Wood Trim video:
If you want to work with beige and dark wood trim, it's best to pick an undertone of yellow or green. Pink is really the only undertone that's best left on the store shelf.
6. Gray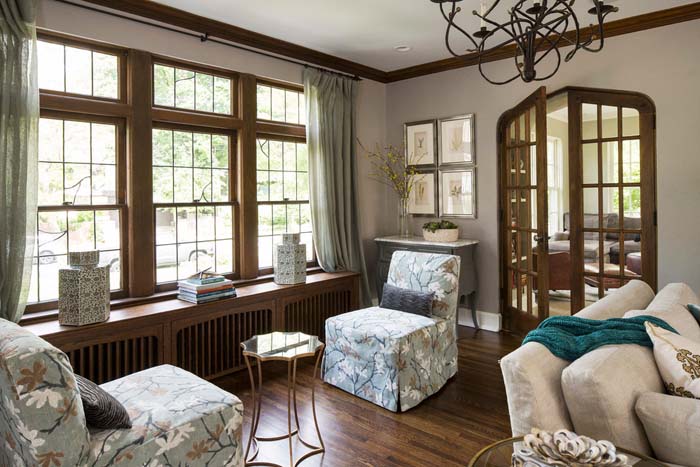 Gray may not be an obvious choice to do with dark or natural wood trim, but it's worth considering.
Pick a gray with warm undertones and you'll get a room that feels cozy like the one pictured above. Choosing textiles that include these warm tones adds depth and interest.
Agreeable gray latex paint by Sherwin Williams is a popular choice as it has warm undertones that connect with dark trim.
via Renae Keller Interior Design
7. Green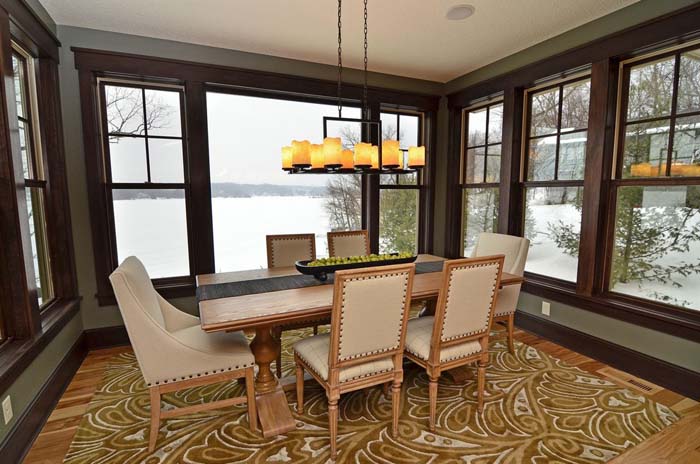 Green is a calming color and goes with dark wood like leaves on a tree.
It can have undertones that are yellow or blue, so you should have no trouble picking a color that works with your home decor.
8. Turquoise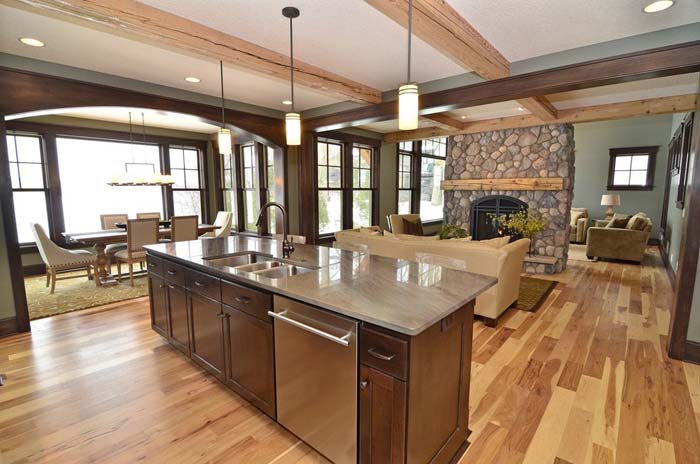 Turquoise is another earthy color that can work in many rooms. Besides the familiar deep blue color, turquoise can also have a lot of green undertones.
The deep variety blends well with dark trim, but we also see here that it can help unify a mix of light and dark woods.
9. Neutral White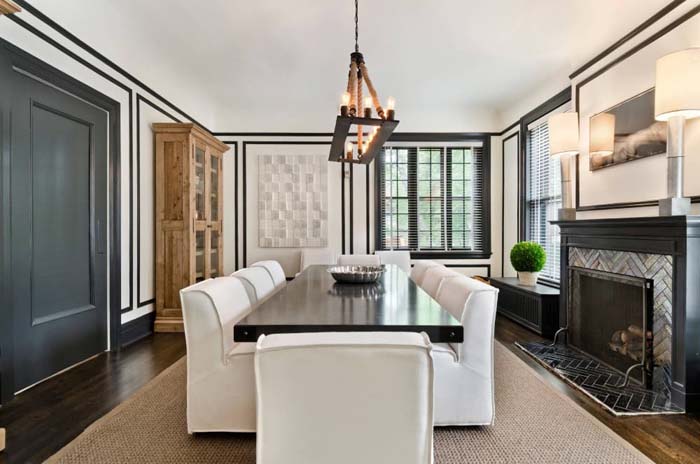 Neutral white paint is a luxurious wall color for dark trim. White with minimal undertones allows every other color in the room to pop. In the image above, it creates a connection with the table and the white fabric in the chairs.
It also allows you to create color with light. The yellow tones in the light fixtures are accentuating the yellow tones in the wood floor, run, and hutch.
10. Taupe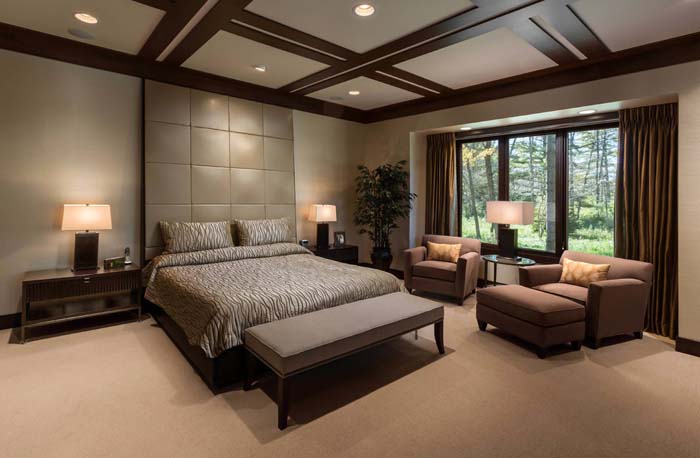 Taupe is a classic neutral color that you should add to your collection of color swatches.
As a wall color, it brings a sense of warmth to the room. It's worth considering if you're trying to get that five-star hotel vibe going in your bedroom.
via Edmunds Studios Photography
11. Purple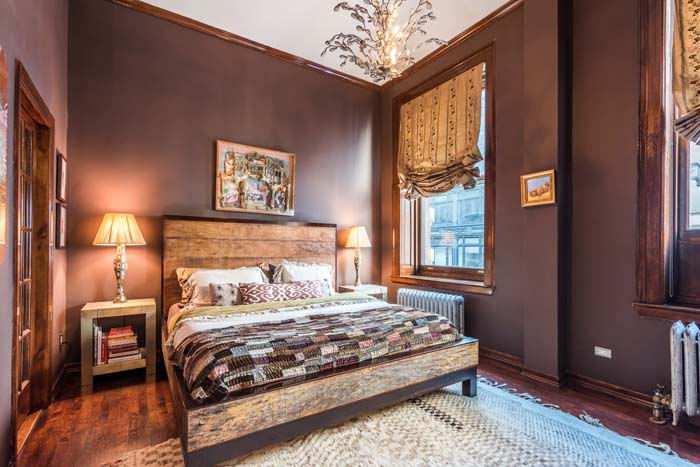 Did you turn your nose up at the thought of purple walls? That's probably because you were thinking that it was going to look like the back room at a nightclub. It's time to revisit purple.
The deeper tones of purple bring old-world sophistication to this room. A room trimmed using a red or yellow wood tone brings a glow to lighter yellow accent pieces. In this instance, it feels regal.
12. Red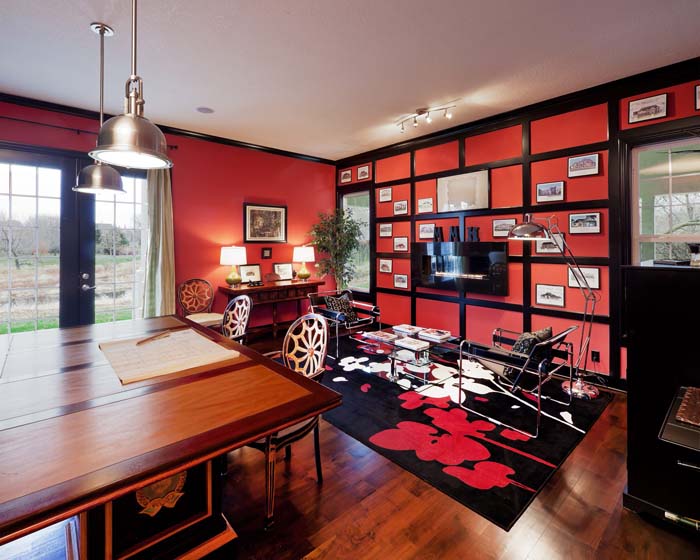 It might not be the best paint color for a nursery, but red walls are about as vibrant as an adult space will get.
There's an energy that can't be ignored in a room with walls that are painted red. Pick a deep red with orange undertones to enhance the richness of natural wood trim.
via Madi Mali Homes