Is your laundry room in need of a little love?
You're not alone — when it comes to decor, this utilitarian space is often overlooked in favor of higher-traffic parts of the house.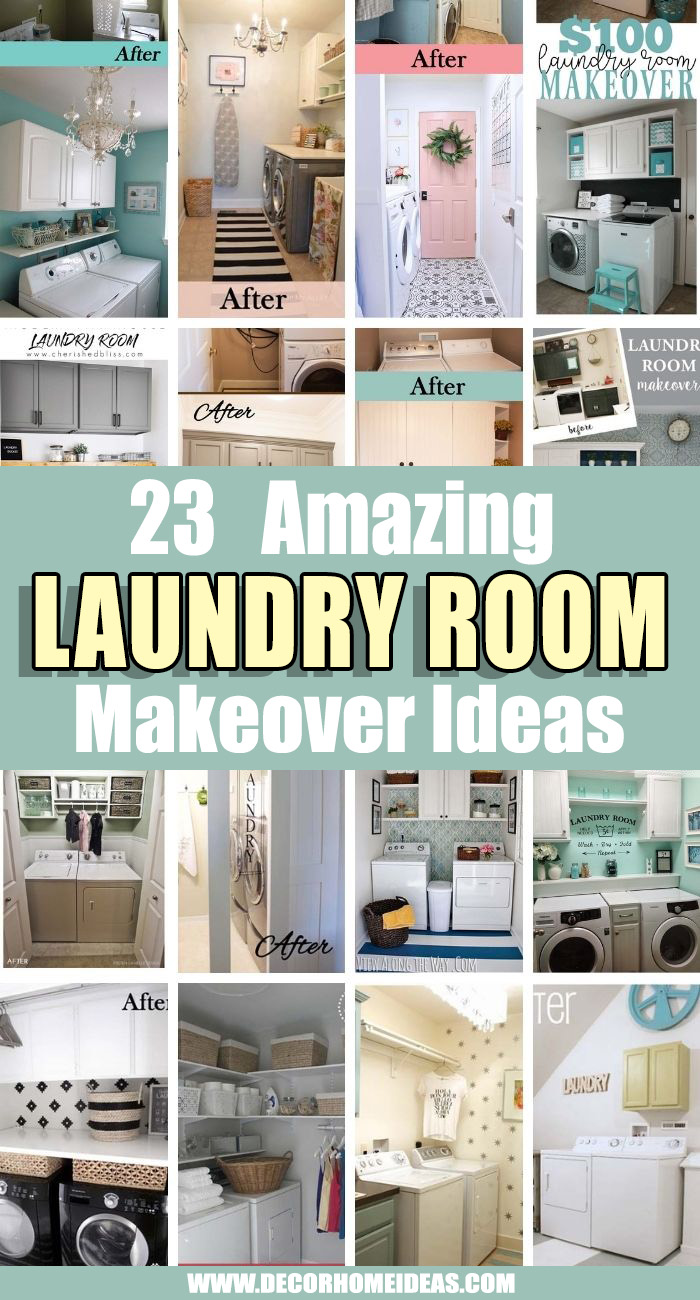 With these gorgeous, easy laundry room makeover ideas, you can refresh the space and make laundry day more fun.
1. Barn Style Glass Inset Doors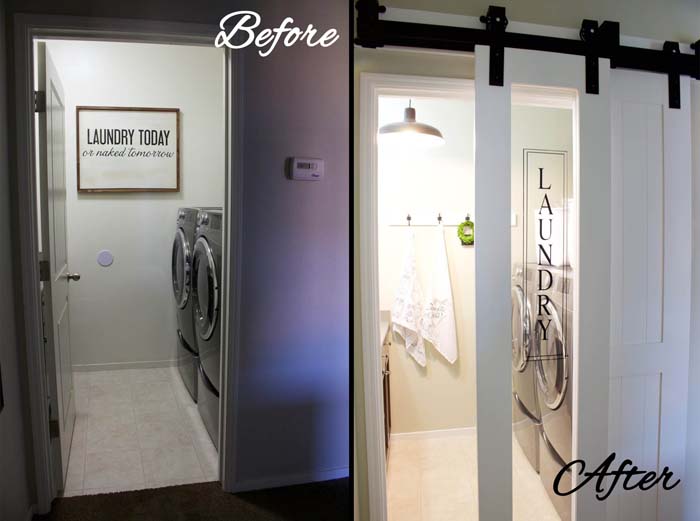 Why hide your laundry room away?
This fun makeover adds a sweet, boutique-inspired feel by replacing a traditional swinging door with a barn-style sliding door.
Instead of traditional wood panels, it integrates a clear glass panel that offers a peek at the space.
An elegant "Laundry" stencil completes the elegant look.
2. Paint And Wallpaper Easy Makeover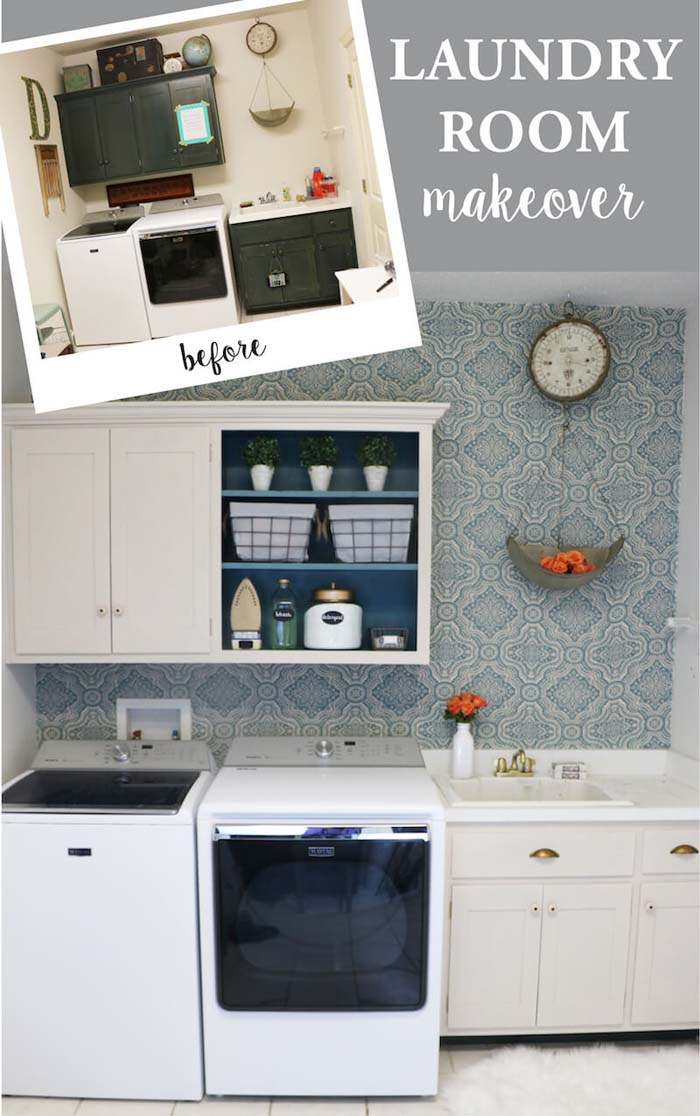 If your laundry room feels dark and dreary, a few quick adjustments can make a big difference.
Cover dark cabinets with a fresh coat of white paint — this quick, affordable trick instantly makes the space feel lighter and brighter.
You can even remove the cabinet doors to create open shelving and reduce bulk. For a trendy touch, cover one wall with a fun, patterned wallpaper; the print enlivens any room.
via Sincerely Sara D
3. Bright Makeover With Improved Storage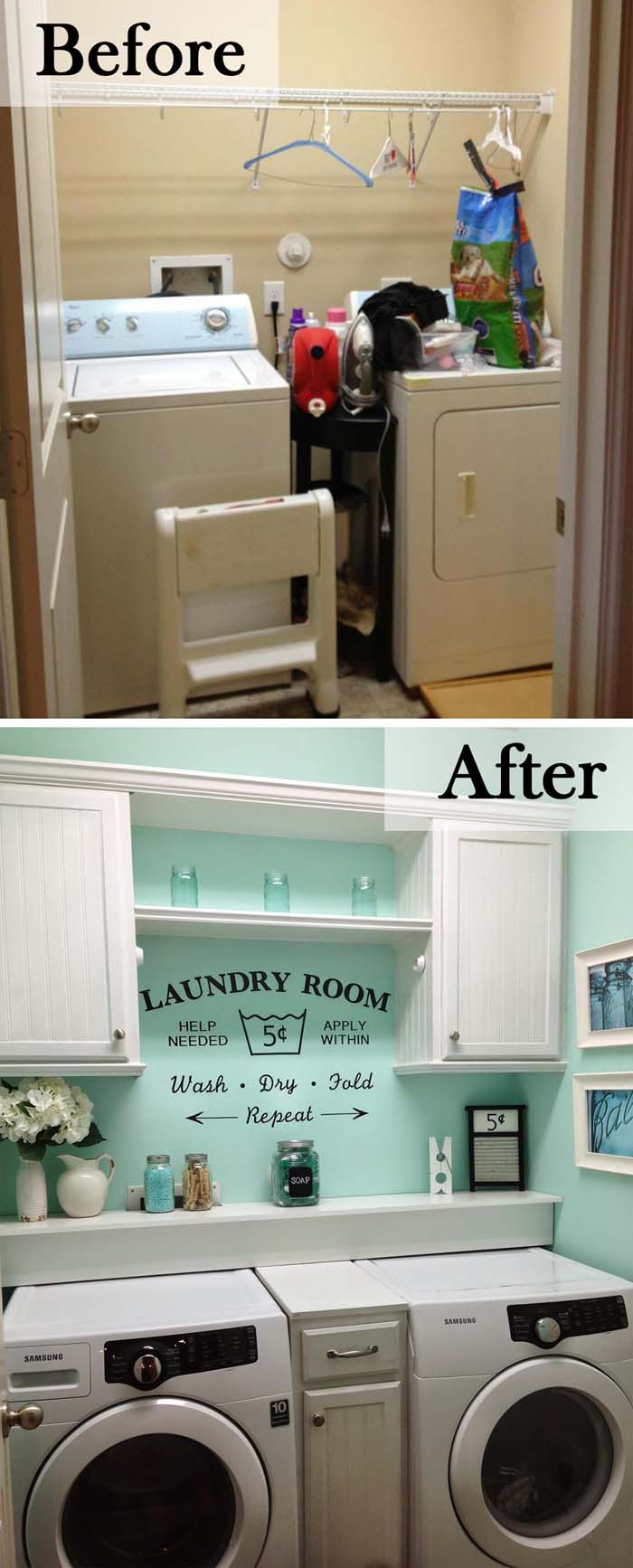 Turn a closet-size laundry room into a beautiful focal point of your home with a coat of bright paint.
For maximum impact, choose a color that's light but lively, such as teal or coral.
A few bright white cabinets add much-needed storage; they also reduce clutter, which makes the room feel bigger and more relaxing.
Use a stencil or wall decal to create a vintage laundry sign.
4. Create Folding Space With A Wood Counter

When you have a limited amount of space in your laundry room, it's a hassle to find a spot for folding and sorting.
That's where a waterfall counter comes in handy — it wraps over the top of your washer and dryer and down one side, creating plenty of usable space.
Use wood with a visible grain and a natural finish for a fresh, open look.
via Vintage Revivals
5. Stylish Hanging Cabinets

Does your laundry room feel cluttered and dirty?
A set of wall-mounted storage cubbies is a quick and easy solution. Slip storage baskets into the cubbies to hold clothespins and loose socks, and leave a few shelves open for detergents and other frequently used supplies.
We love the clever hanging bar, which makes it easy to hang clothes immediately and prevent wrinkles.
6. Bright Rustic Farmhouse Redo

You don't need much money to transform a drab laundry room.
To start, invest in a few cans of white paint — use them to cover the cabinets and walls for an instant refresh.
Rustic wood and metal accents add a farmhouse-inspired vibe, and crisp cotton sorting bins help you contain the clutter.
7. Reflect Light With Bright Turquoise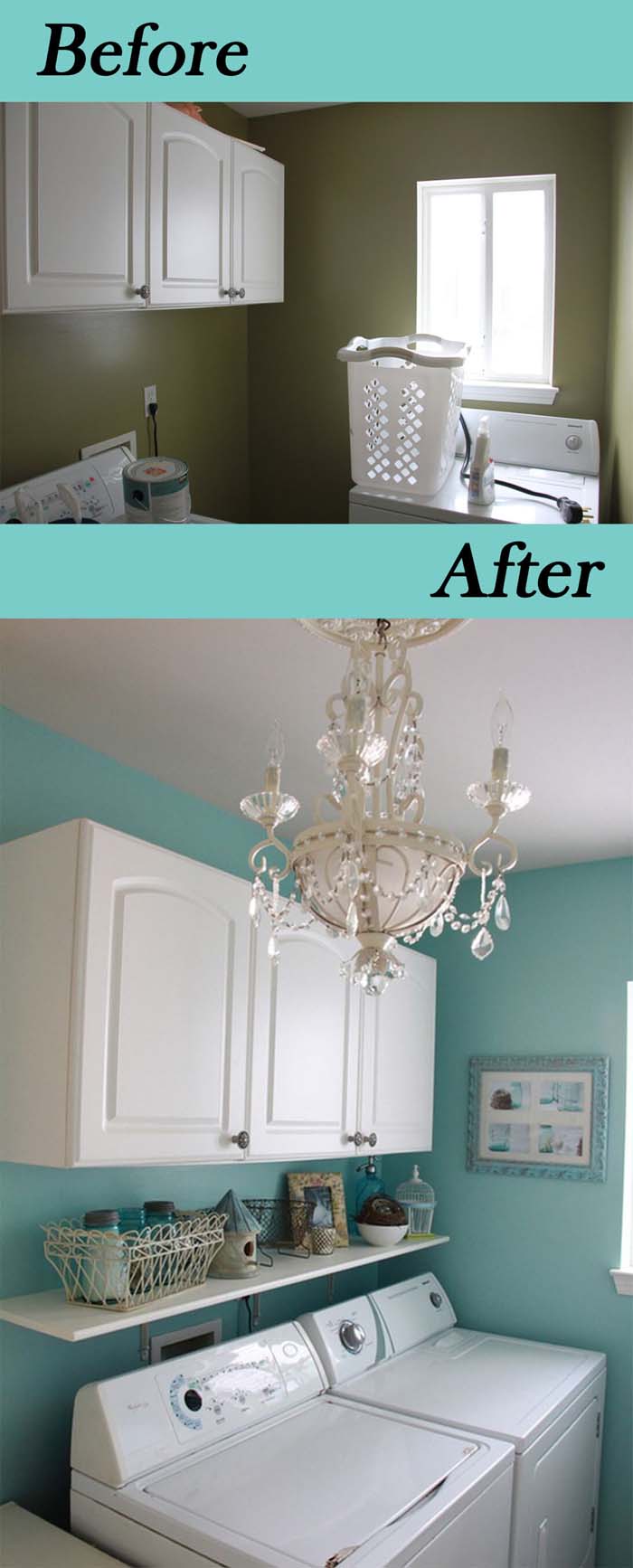 This fairytale laundry-room makeover is so beautiful, you might find yourself lingering over folding and sorting tasks!
It looks elegant, but it's remarkably easy to do. Switch out the light fixture, paint the walls, and you have a space fit for royalty..
8. Bold Black And White With Folding Counter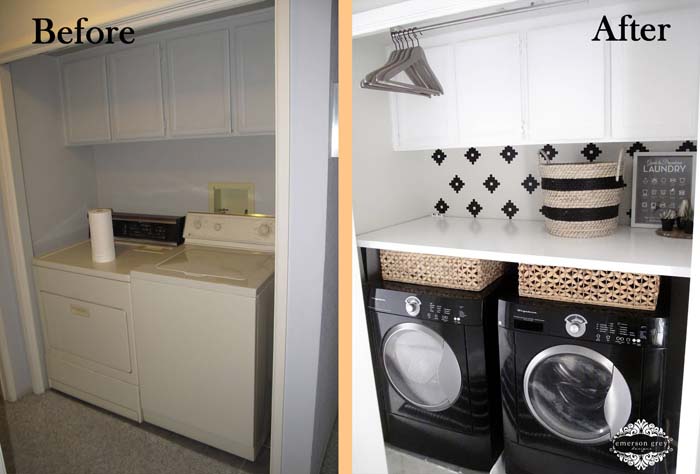 If you have a front-loading washer and dryer, this creative laundry-room solution is a great fit.
All you need to do is install a sturdy countertop above the appliances — it creates an instant workspace, so you get fold clothes fresh out of the dryer.
We love the fun wallpaper backsplash, which highlights the color of the washer and dryer and adds a trendy touch.
9. Added Storage For Organization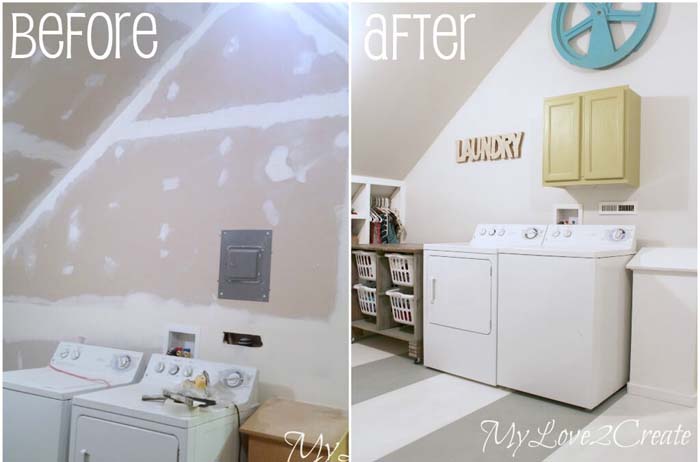 Bid farewell to clutter with a set of convenient storage pieces.
A wall-mounted cabinet keeps detergents and other cleaning products out of reach of children, and a clever laundry-basket organizer makes it easy to sort clothes by color.
Finish off your design with a few pieces of colorful wall art.
via My Love 2 Create
10. Complete Remodel With Built Ins

When you have a large laundry room, a renovation is an exciting project.
This stunning makeover makes the most of the space by adding a cozy bench and a full workspace with built-in storage.
To tie everything together, use a collection of vintage pieces: an antique sign, ornate wall sconces, clear glass jars, and wire metal baskets.
via Magnolia
11. Add Shelving Solutions For Organization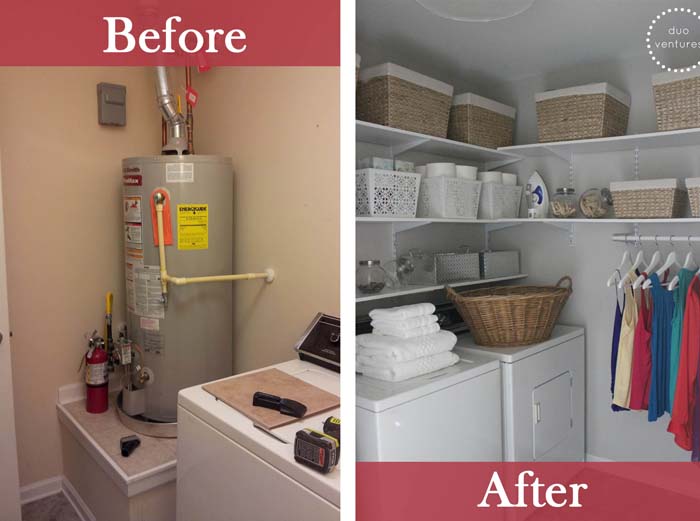 For people who do many loads of laundry per week, this organized space is a dream.
It all starts with a coat of white paint and a set of wall-mounted shelves.
Then, add a hanging bar — that way, you can hang items as soon as they're dry to ward off wrinkles.
We love the clever curtain that keeps the water heater out of sight.
via Duo Ventures
12. Light And Bright Paint And Fixtures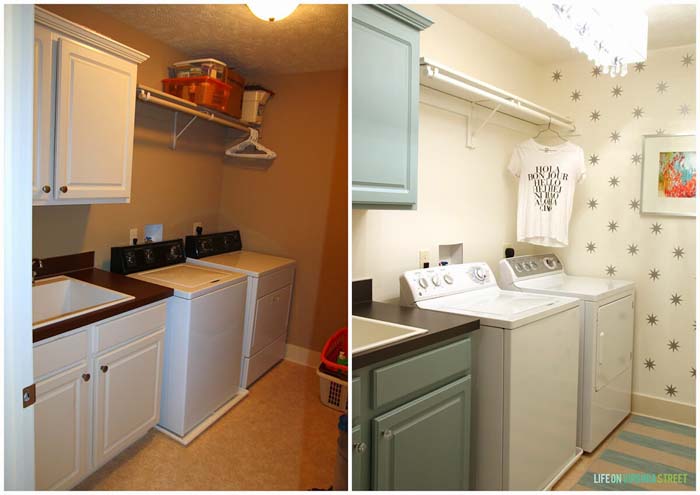 This sweet laundry room redesign is a testament to the power of a fresh paint job and a new light fixture.
The bright light makes the room feel more welcoming, and the fun star stencils add a fashionable twist.
Note how the rug on the floor coordinates with the cabinet color, creating a designer-style effect.
13. Small Makeover With A Big Impact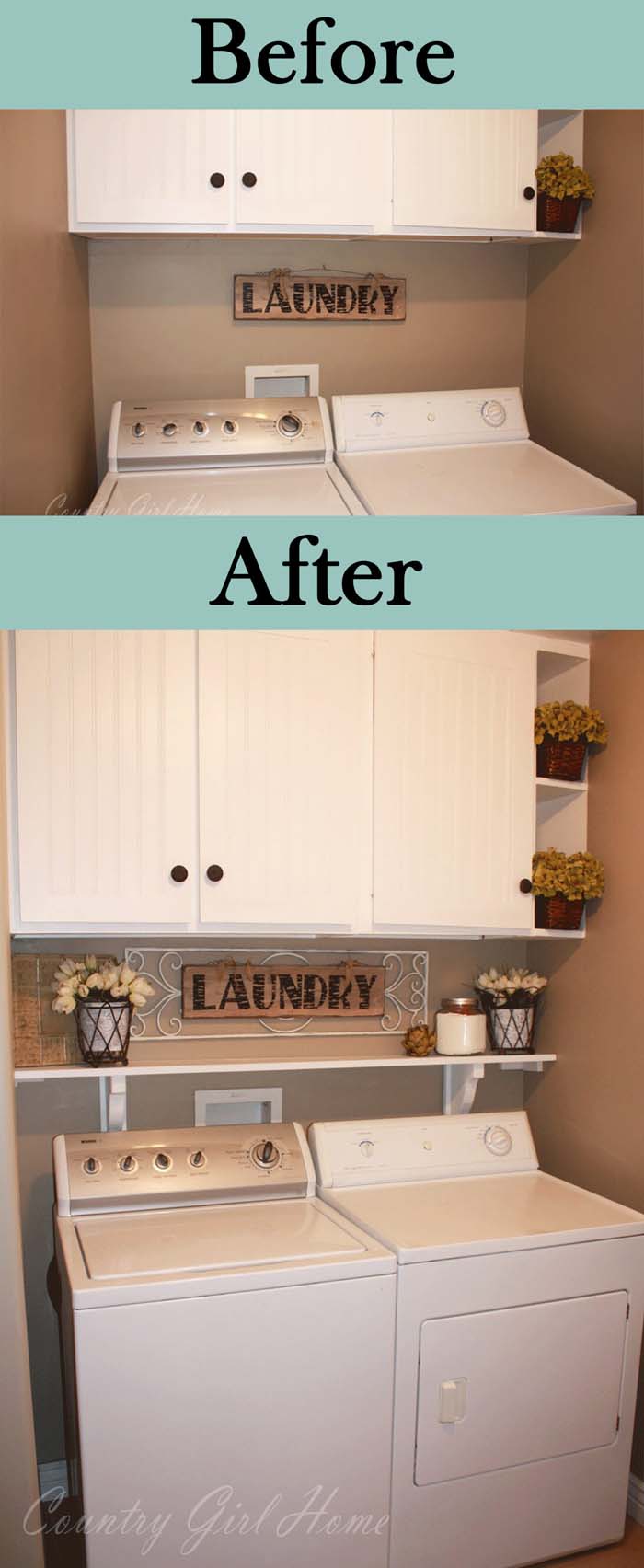 Do you have a large amount of wasted wall space between your washer and your storage cabinets?
A small shelf can have a big impact; here, it fills the space and serves as a spot for potted plants and a beautiful candle.
To anchor the laundry sign, the homeowner mounted it on a white metal scrollwork panel.
14. Added Storage Laundry Room Upgrade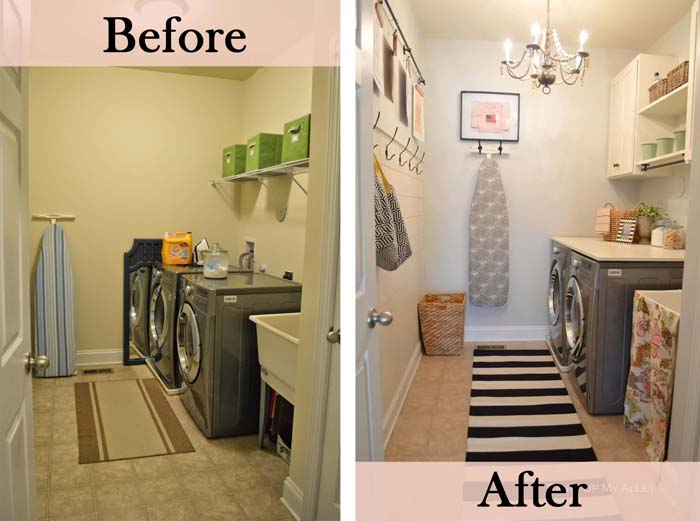 Have you ever lamented the dim light in your laundry room?
Replace the fixture with a beautiful chandelier and ultra-bright bulbs for an instant change.
Then, add accessories — a boil rug, wall art, and a row of vintage coat hooks.
If you have a utility sink, cover the base with a piece of beautiful fabric for an affordable upgrade.
15. Modern Farmhouse Complete Remodel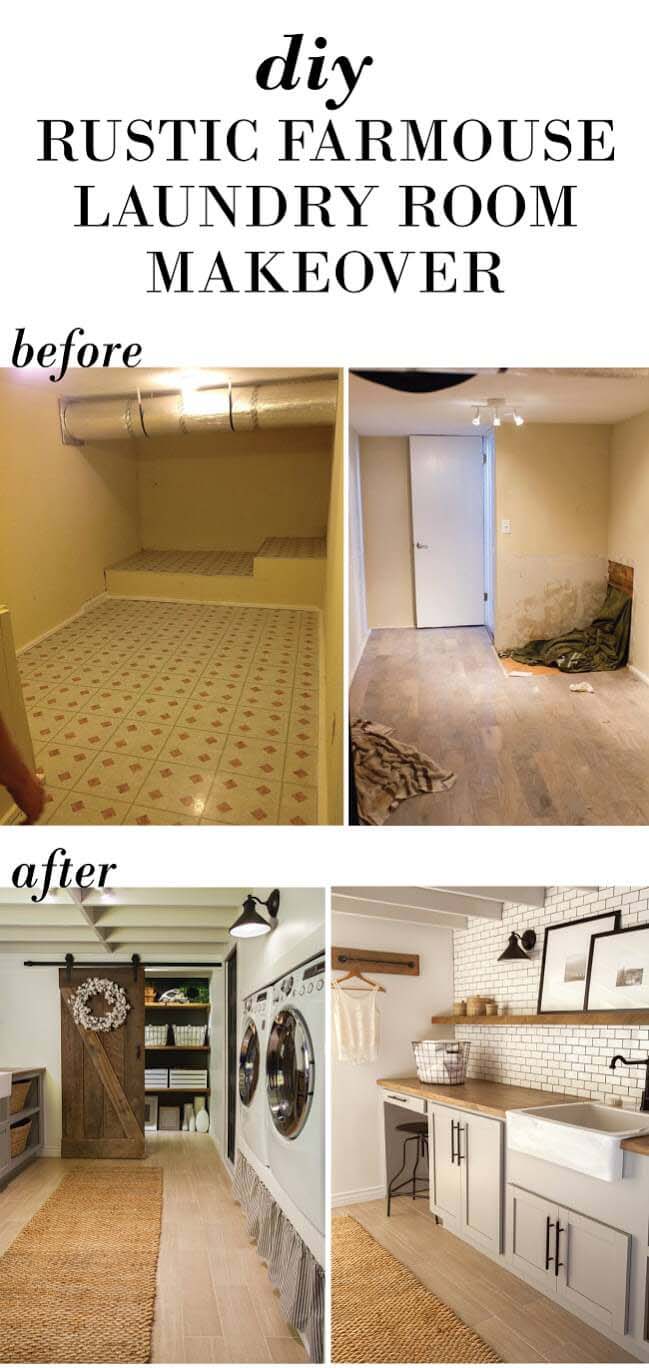 To look at this laundry room before-and-after, you'd never believe the photos were taken in the same space.
This project is all about the details, from the exposed joists to the white subway tile backsplash and sliding barn door.
The all-white palette makes the dark metal and fresh wood accents pop.
via Jenna Sue Design
16. Budget Friendly Storage Makeover

If your laundry room consists of a washer and dryer in an otherwise empty space, you can make a big difference with a thrift-store cabinet and a can of paint.
After painting and mounting your cabinet, add a few colorful storage cubes to jazz up the room. Notice the shelf in the before picture?
The homeowner moved it down the wall so it sits above the dryer and acts as a worktop.
via Life Storage
17. Side by Side Adds Storage Space

A stacked washer and dryer are a great way to maximize a tiny space, but they can leave an unsightly and difficult-to-use open area in a larger laundry room.
This makeover shows you how a side-by-side configuration can be more efficient.
Once you regain the vertical space in the room, add a set of wall-mounted cabinets and a thick, butcher-block style countertop for a convenient and stylish laundry room.
18. Stunningly Simple Shelf Addition

Add organization and style to your closet laundry room with a simple shelf.
Here, a sturdy shelf with a wide front lip adds a touch of natural wood texture to the space.
The elevated surface holds a row of neat storage bins, so you can keep detergents and other supplies out of sight.
A sweet lamp, wall sign, and woven basket echo the wood tones for a unified aesthetic.
via Cherished Bliss
19. Bold Gray Farmhouse Makeover

Help your laundry room match the rest of your modern-farmhouse decor with a few simple supplies.
To start, hang cabinets on the wall — you can find used models for cheap at construction thrift stores or garage sales.
A natural wood shelf looks lovely and acts as a handy spot for decorative art and laundry supplies.
To complete the look, cover the floor with a durable and affordable peel-and-stick tile.
via Cherished Bliss
20. Pretty Pink And Bright Laundry Space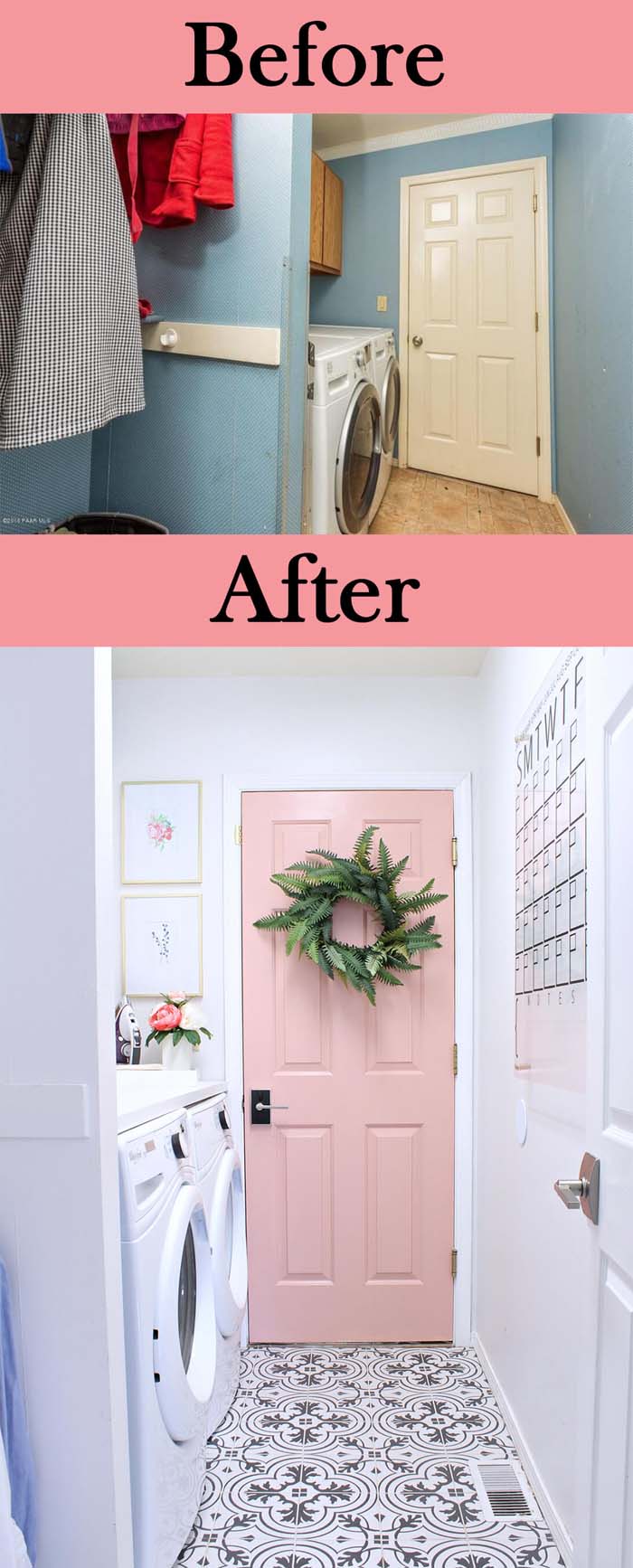 In a windowless laundry room, white is the best way to create a bright, airy feeling.
That doesn't mean you have to give up on color — instead, paint the door a cheerful shade of pink and add a bright green wreath.
The crowning glory of this space is the gorgeous floor, which you can create with a small amount of tile.
via Classy Clutter
21. Add Drama With Bold Print Wallpaper

Not in the mood to paint?
Give your laundry room an instant update with wallpaper.
The trick is to choose a bold, colorful print. Replace a utilitarian metal shelf with a beautiful white cabinet and matching wood shelves; they'll allow the wallpaper to peek through without overwhelming the room.