If you are wondering how to decorate your home, you must be having a difficult time choosing between the numerous styles and designs. What every person is aiming at is to make their place comfortable, stylish and with a contemporary touch- all these define the farmhouse interior design.
The general conception of the farmhouse interior can be specified in three words- naturality, simplicity and comfort.
Uniting our homes with nature has a major role in this style, therefore using natural materials instead of artificial textures is a common rule.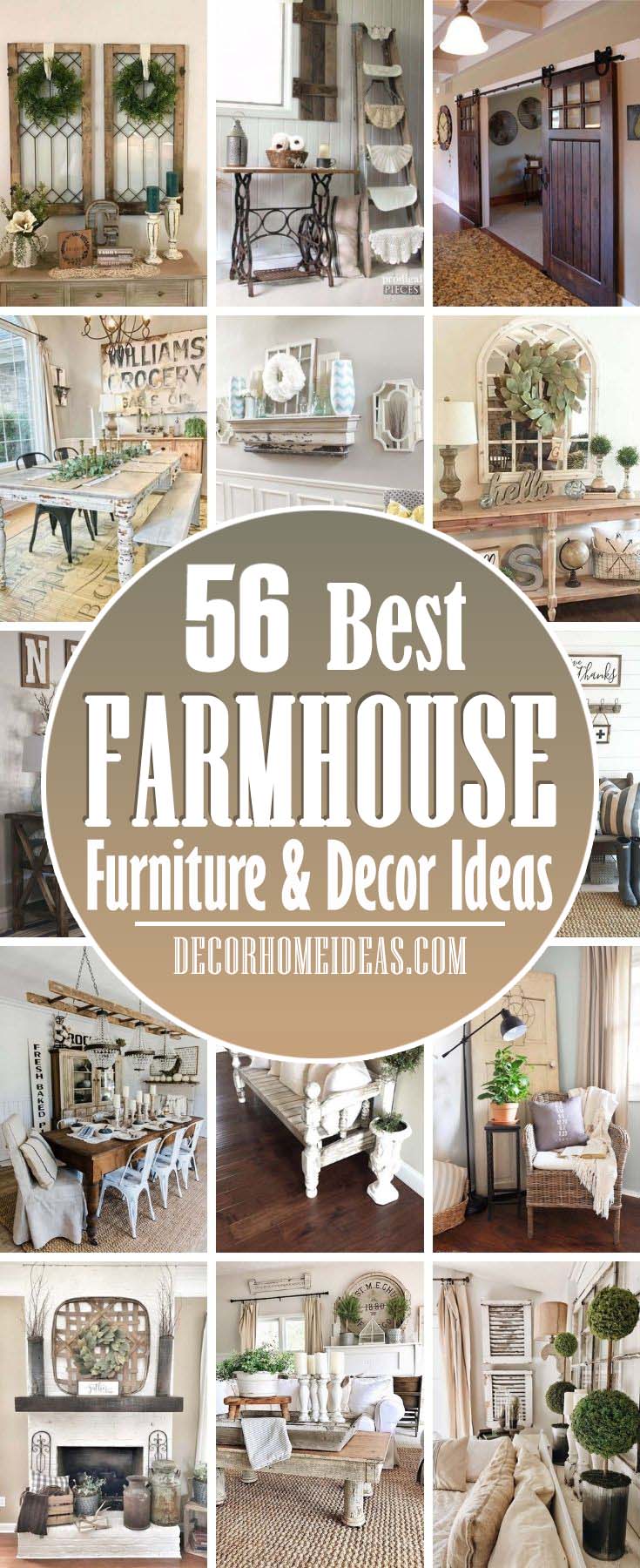 If you haven't fallen in love with the farmhouse style yet, be prepared to imperceptibly do it as its beauty, coziness and rustic warmth will transform the space into a home.
1. Rustic Wood Mason Jar Chandelier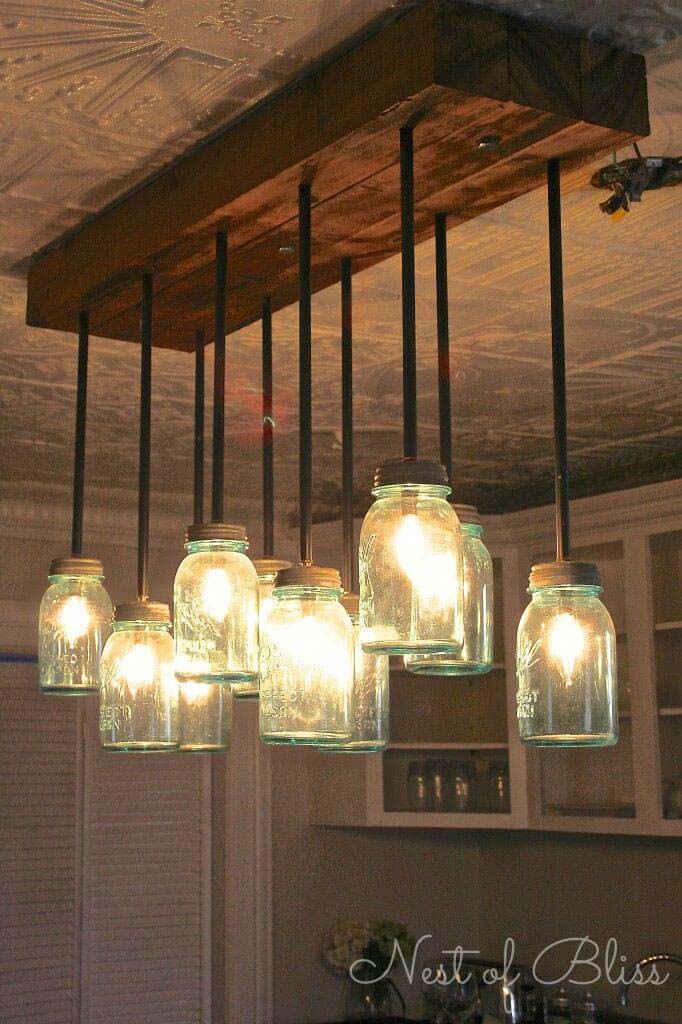 A fascinating light fixture made of a piece of reclaimed wood and jars can illuminate every space of your home.
Repurposing these items into a farmhouse chandelier will give depth to the space and will add a mystique aged feeling that will remind of the past calm times.
via Brandi Sawyer
2. Add Greenery To An Antique Basket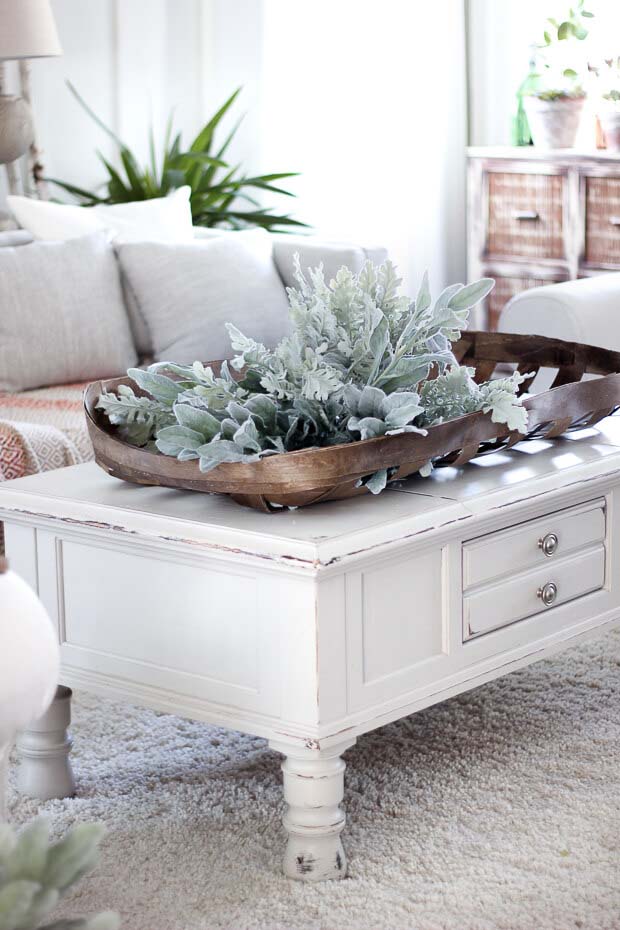 If you are looking for farmhouse accents to include in your decor, check the thrift shops first.
An old tobacco basket or a dough bowl can be used as a table centerpiece holding a bouquet of fresh flower cuts, herbs or other greenery.
via Craftberry Bush
3. Natural Wood Ladder Blanket Holder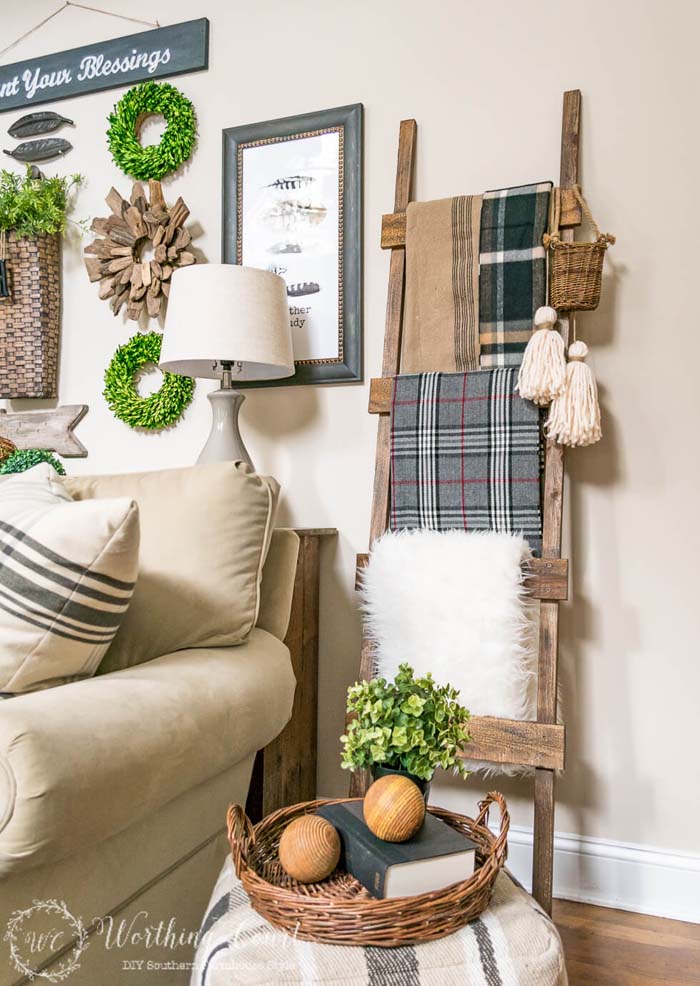 Adding a farmhouse element like a ladder isn't just a means to decorate. It can also become a practical item by exposing the set of linens and blankets used in winter.
Just lean it against the wall and use the steps to organize each of them.
via Worthing Court
4. Stunning Magnolia Wreath Décor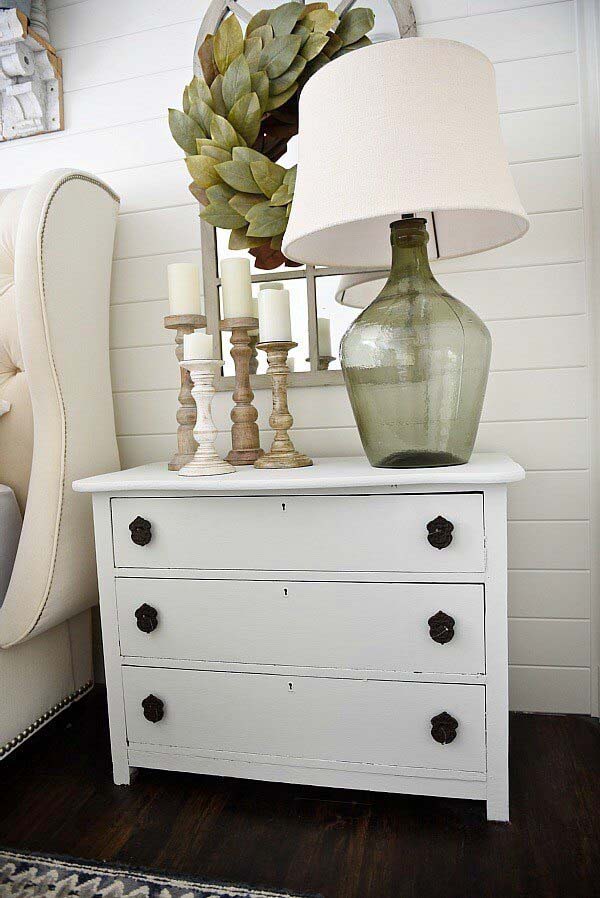 Wreaths are a great way to welcome nature inside our homes. When we consider the farmhouse style, then there isn't a better wreath than the one made of magnolia leaves.
Its silver nuance adds a lot of charm to any space. Hung on a decorative window frame, the set represents an outdoor motif that adds a lot of farmhouse charm indoors.
via Liz Marie Blog
5. An Eclectic Collection Of Farmhouse Elements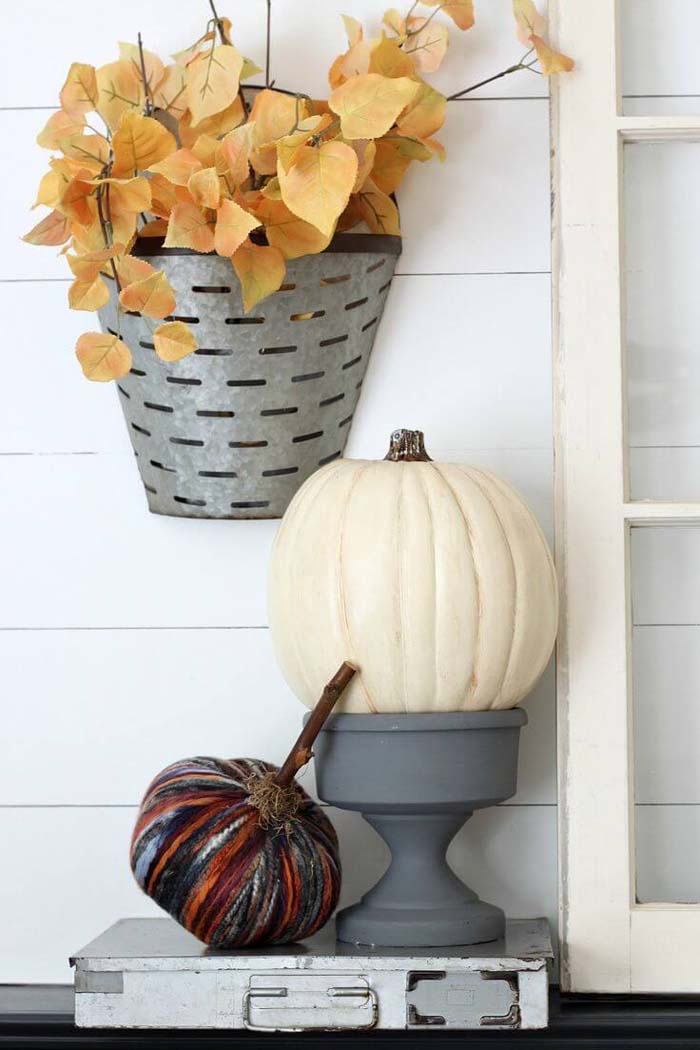 Do you wonder how to include that old wooden pedestal into your farmhouse interior?
Just repaint it in dramatic color and insert a gift from nature- a white pumpkin will pop out against the pedestal and will make a great farmhouse statement.
6. Combined Glass Vase Arrangement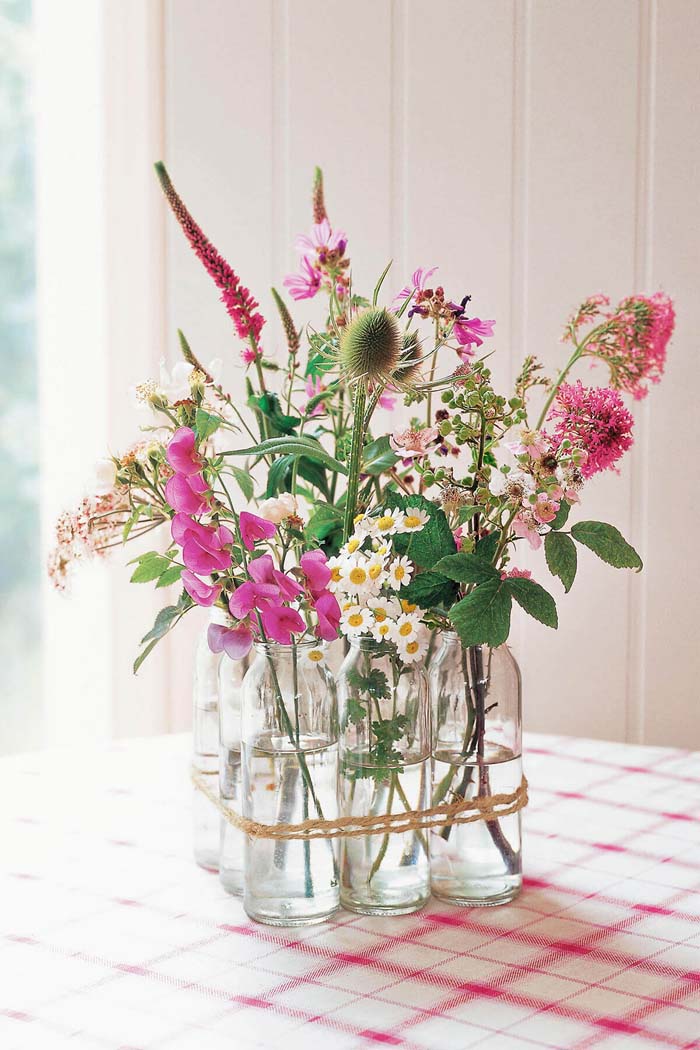 Repurposing glass bottles will not only give life to useless items. Wrapping six identical ones with twine and using them as vases for seasonal flower cuts will add interest to the table.
via Countryliving
7. Antique Tiled Bathtub Siding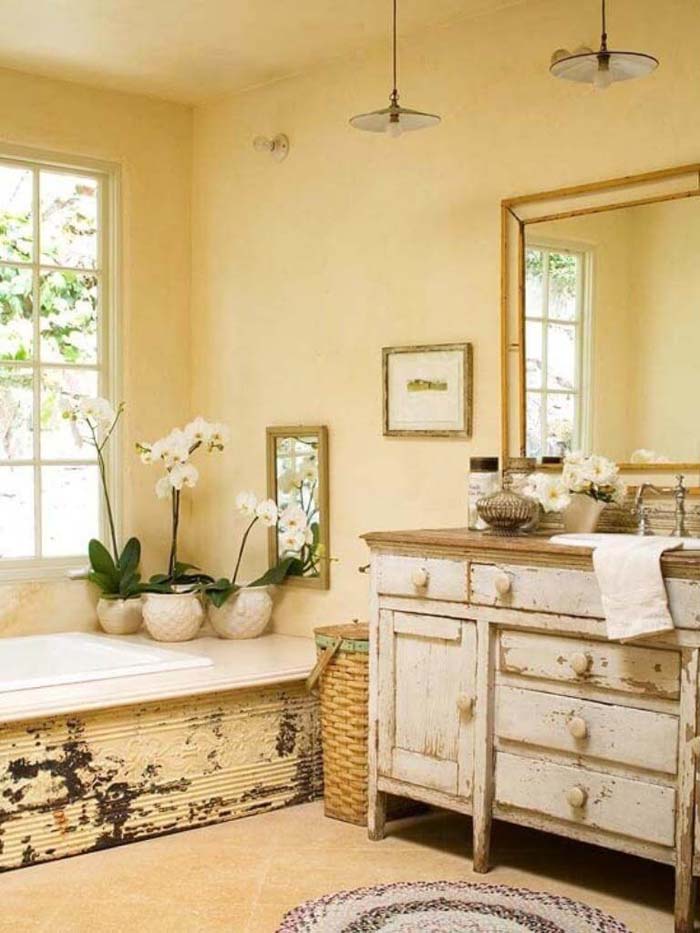 The atmosphere of this bathroom speaks for farmhouse antiqueness with a lot of aged charm.
The rusty tin basis of the tub combines with the old pantry repurposed into a vanity. Their distressed look creates a rustic feeling that instantly makes the place extremely welcoming.
via Houzz
8. White Ceramicware Tiered Basket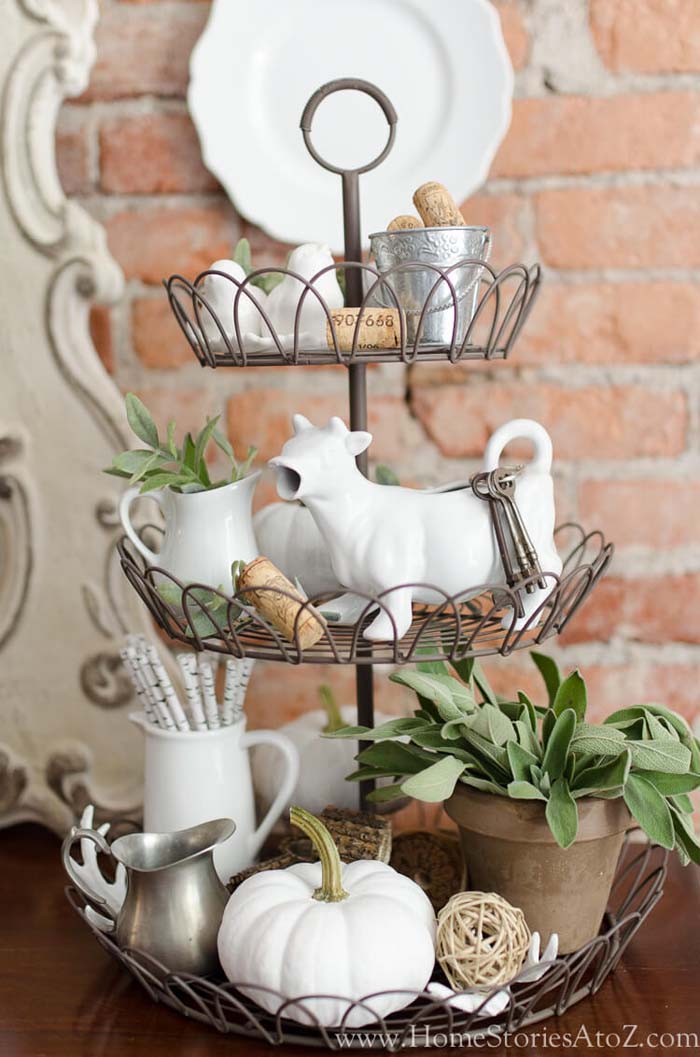 Such a tiered stand can be used as both an organizer and decoration in every space.
Made of wire, it adds a lot of rustic charm and creates a contrasting backdrop for the exposed accents.
9. Natural Green Wreath Cabinet Hangers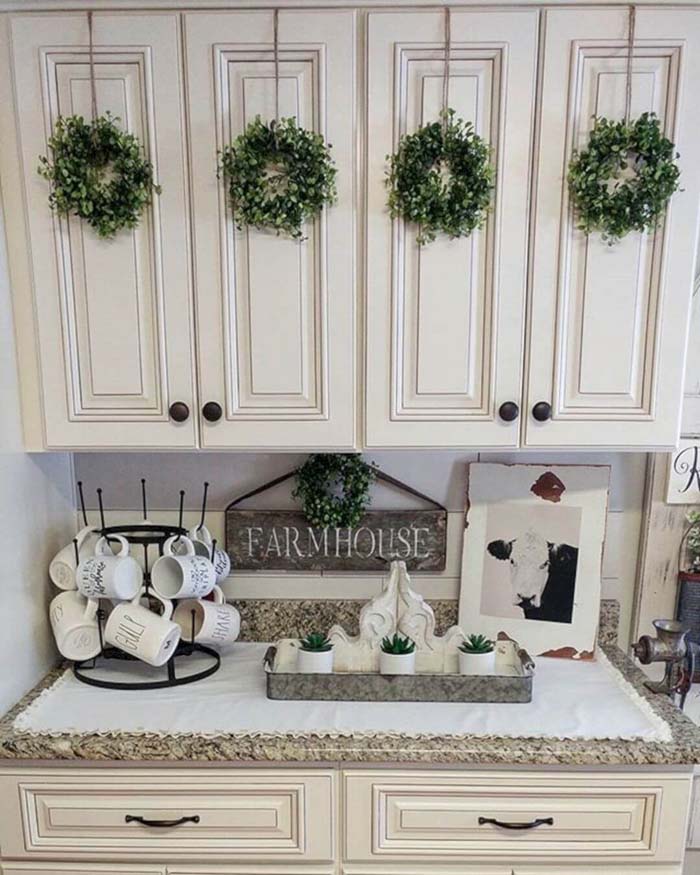 The kitchen counters are the last in the list when it comes to decoration. Placed on a higher vertical level, they can transform the entire room when a suitable decor accent is considered.
These old-fashioned cabinets add a lot of depth and height to the small kitchen corner only by accentuating them with green wreaths.
Going a level down, the farmhouse decor continues on the countertop represented by a cute sign made of reclaimed wood, a picture of a cow and a set of three succulent pots displayed against a rustic corbel.
10. Grayscale Natural Wood Elements Entry Display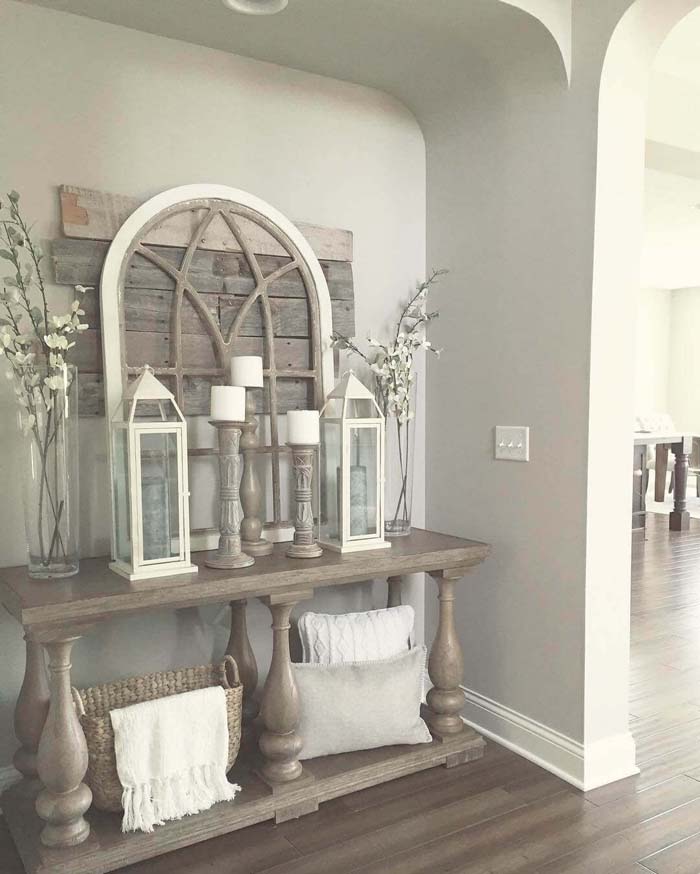 Turning the entryway into a farmhouse nook is a warranty for an easy and welcoming atmosphere at the beginning of your home.
A repurposed wooden table with ornamented legs and on two levels will ensure a display for accents and a storage place for bulkier items.
To make the nook more organized consider farmhouse containers like a wicker basket or galvanized buckets.
Decorate the top level with windowpane frames, wooden lanterns, candlesticks and glass vases, all being oversized to give the nook height.
via Beautiful Chaos
11. Upcycle A Bed Frame Shelf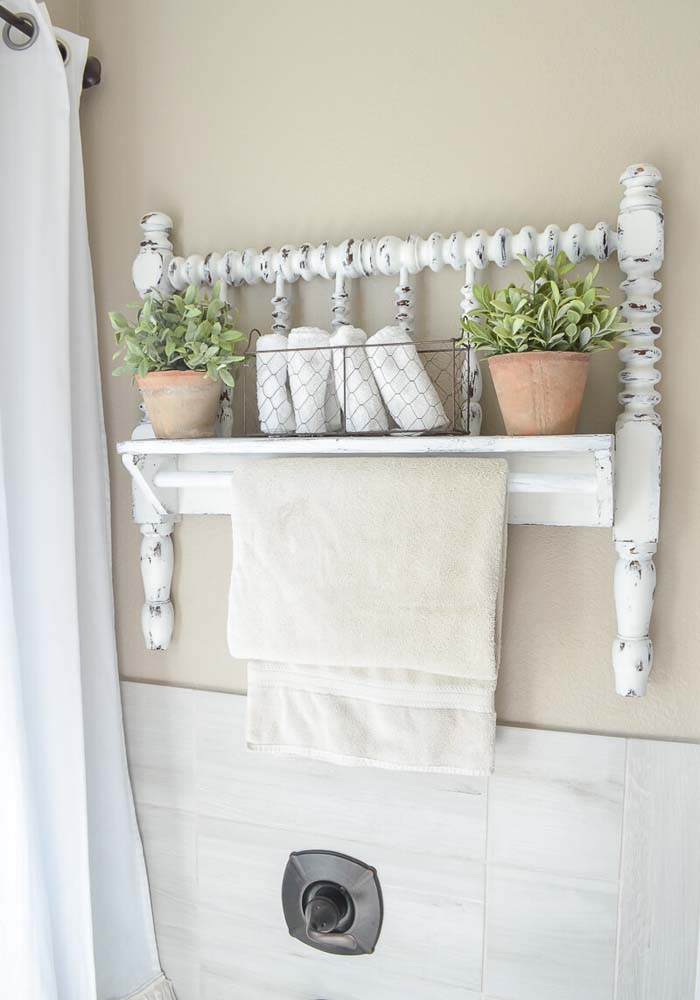 If you wonder how to organize a small bathroom or how to increase the storage places utilizing the room above the toilet?
Repurpose an old wooden bed frame into a shelf. Simply repaint it and distress it, add a small shelf to keep things organized.
Use the rod for safe storage of the towel and add some greenery to give life to the space.
via Sarah Joy
12. Vintage Crockery Floral Vase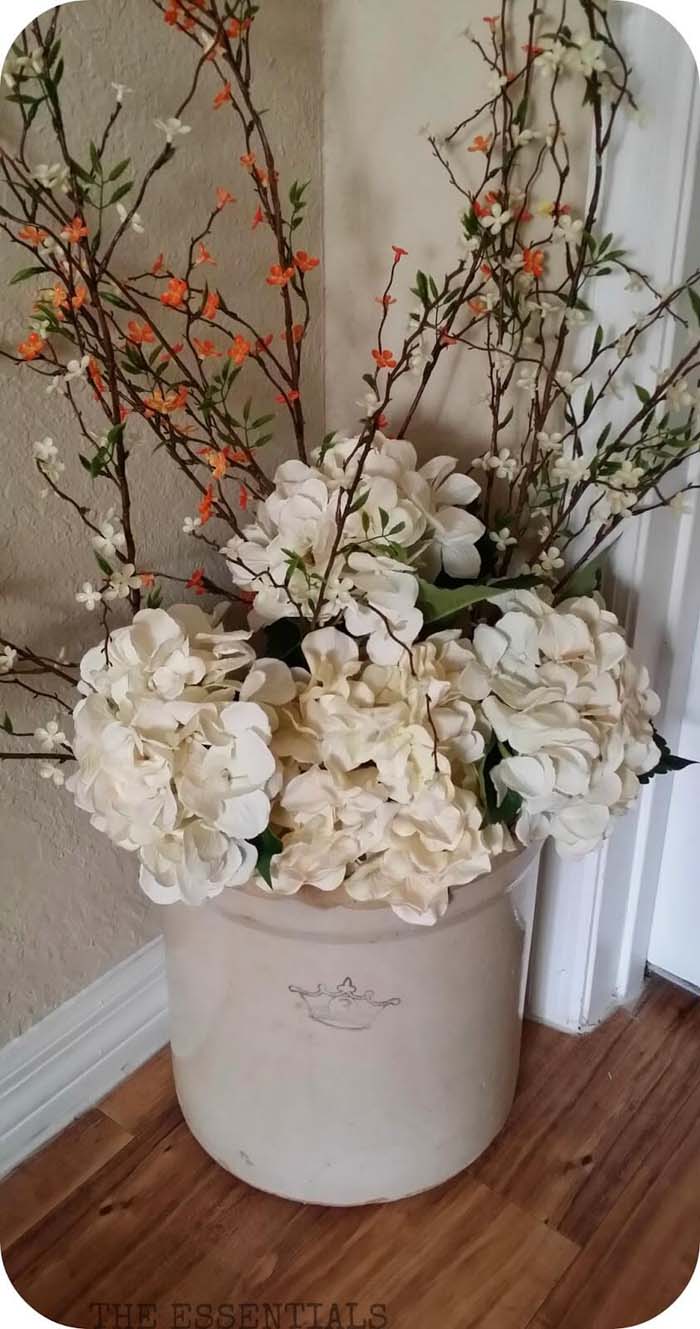 This stoneware crock is repurposed into a vase for artificial flowers to add a sensible farmhouse touch to a corner that will otherwise be left unused.
If you prefer real seasonal flowers, the faux bouquet can be replaced easily. Just insert a floral foam inside the crock to ensure that the cuts will last longer.
13. Conceal Your Pantry With Rustic Barn Doors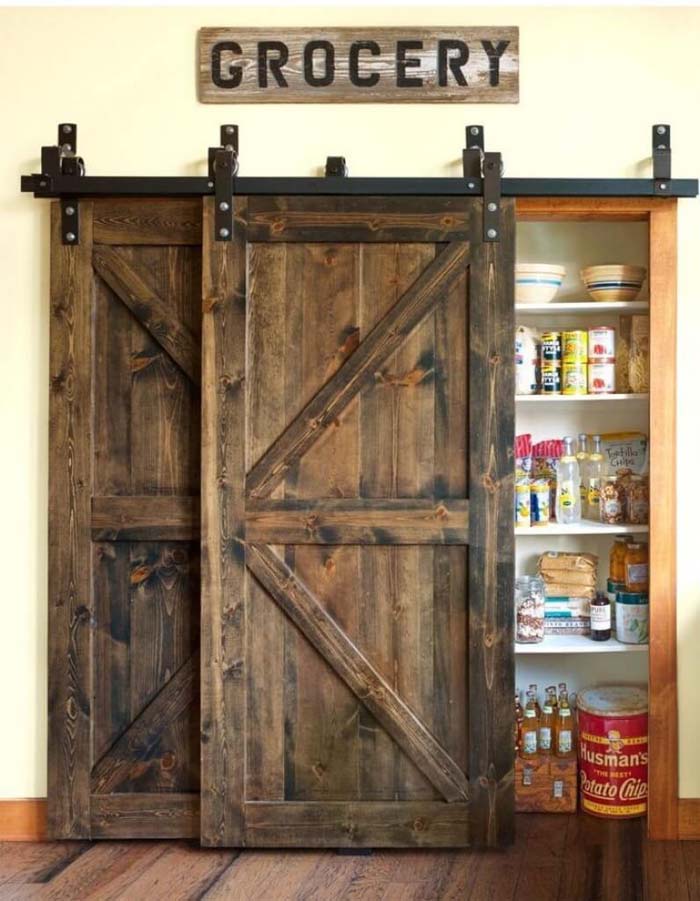 Replacing the plain doors of the pantry with barn doors will make a bold farmhouse statement. Another advantage of this door is the sliding mechanism that will ease access to the stored items even in the tiniest space.
Using barn doors is a quick and easy method to define a space as an antique and aged part even if it has just been built.
14. Mix Bold Antique Wood Pieces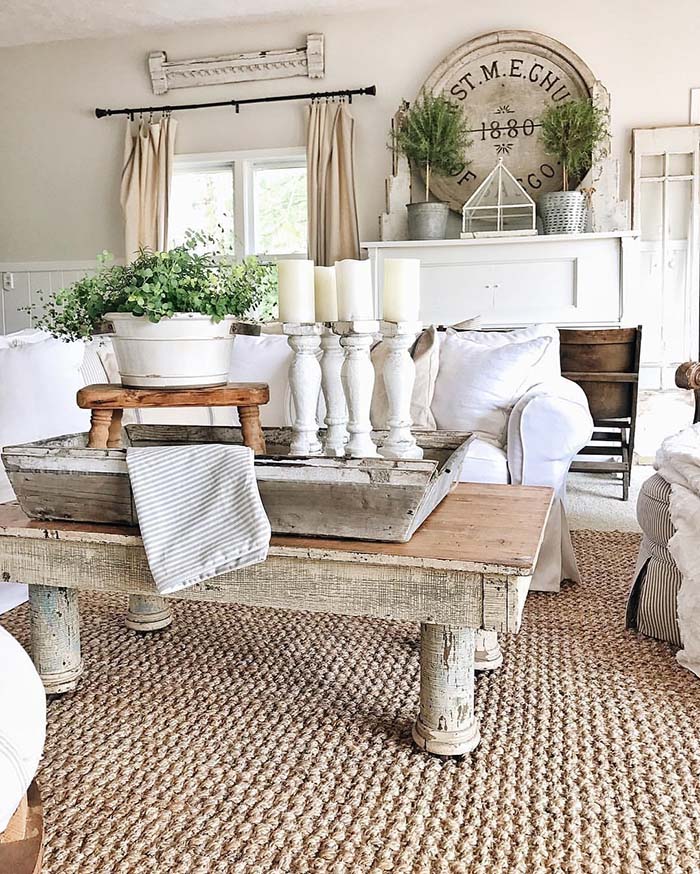 Everything about this living room is affected by the farmhouse style. Nevertheless, the presence of the antique natural atmosphere is well measured by the limited use of colors and textures.
Beige, white and brown combine in a casual way letting the wooden wall accents and the distressed butcher block table pop out.
via Liz Marie Blog
15. Repurpose A Vintage Wood Box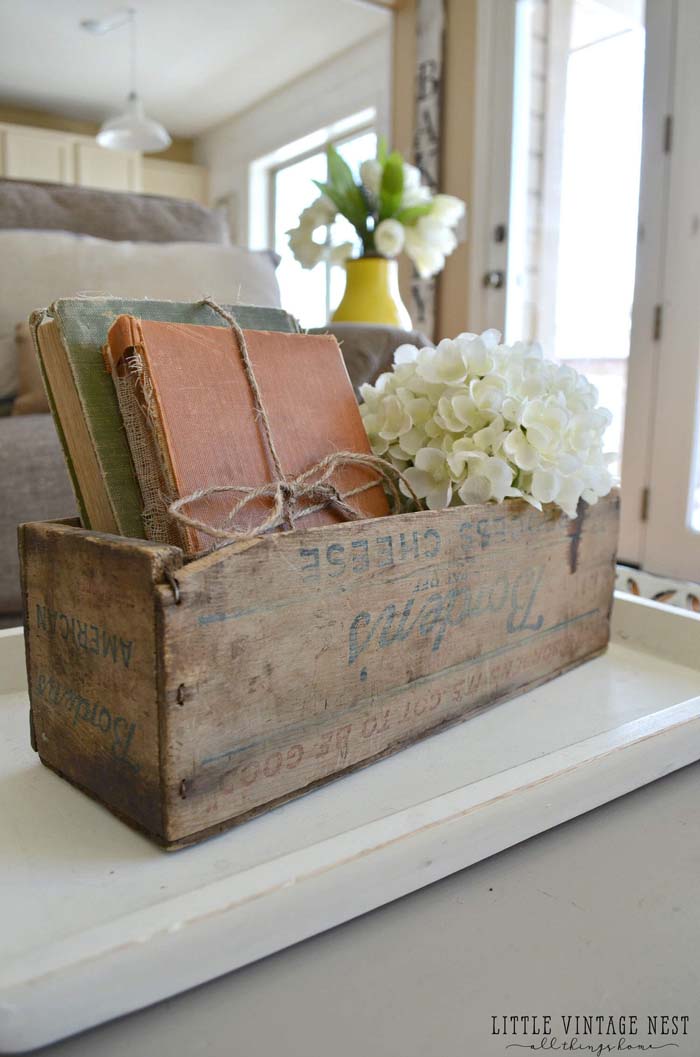 When decorating in the farmhouse style any old wooden box can be repurposed into a great storage container.
This cheese box is turned into a small centerpiece library holding antique leather memos and a small bouquet of flowers for a more homely look.
via Sarah Joy
16. New Use For An Old Cheese Grater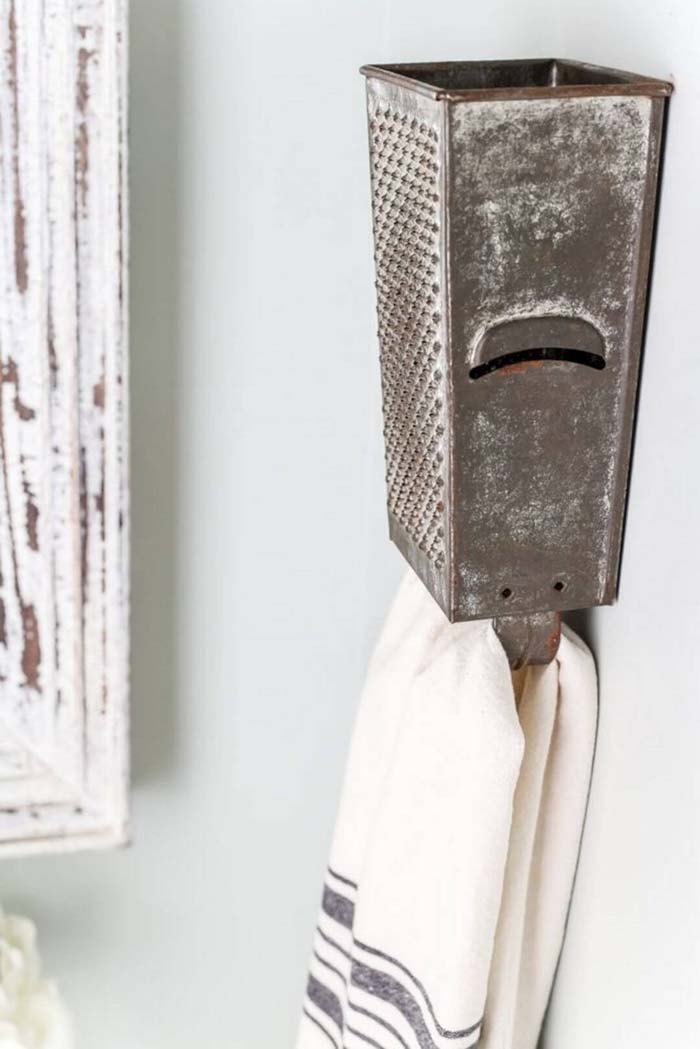 Add a pinch of farmhouse charm to the kitchen with an old rusty cheese grater.
Hanging it upside down will actually give it an alternative function as a towel holder.
via Blesser House
17. Collected Farmhouse Items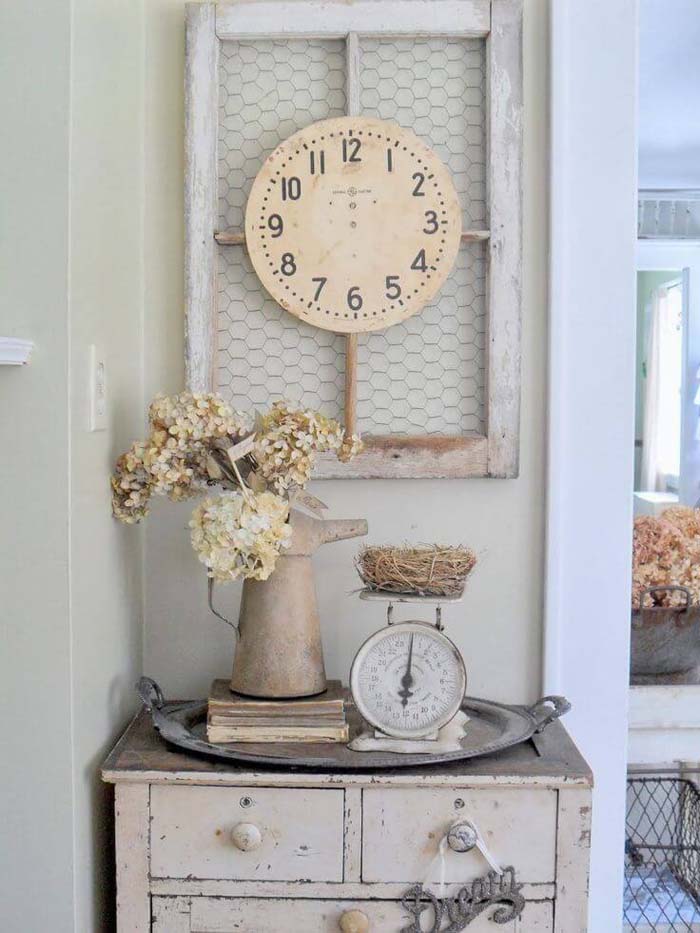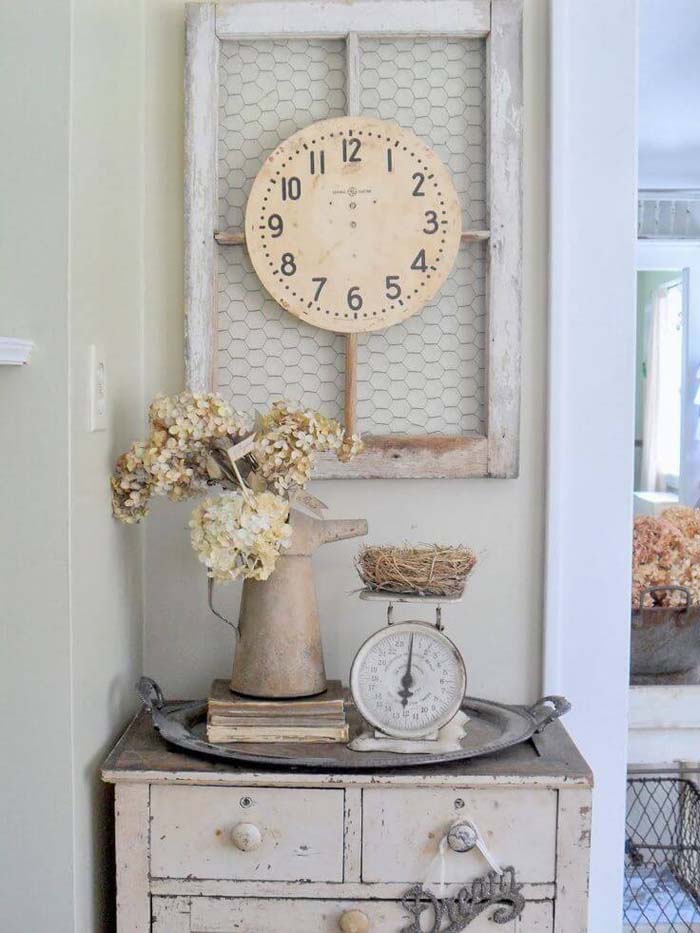 An empty small corner can become a decorative nook that anchors the farmhouse presence with little effort.
Place an old weathered dresser first. Working your way up to the ceiling, decorate its countertop first. A large metal tray can accommodate a set of antiques.
Hang a wooden frame with chicken wire replacing the glass panes. It will bring a small piece of the countryside outside indoors.
via Must Love Junk
18. Decorative Wood Tiered Display Tray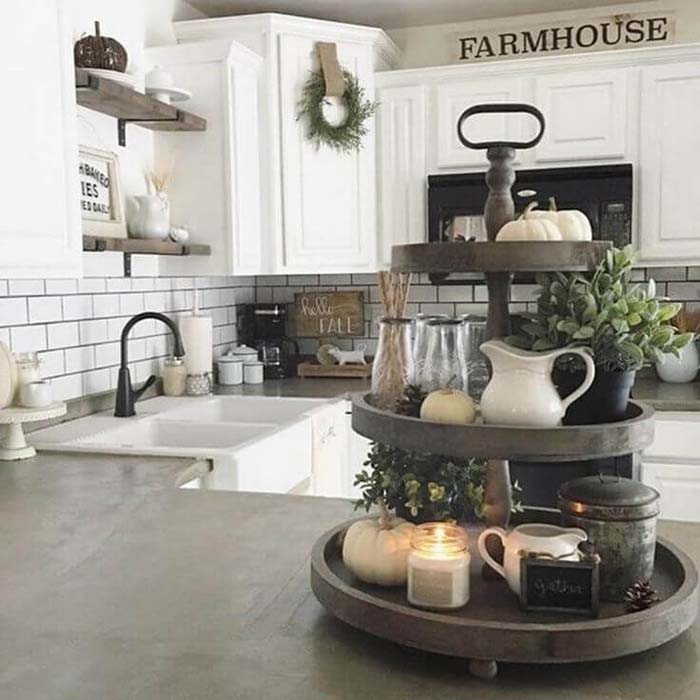 This is an example of a farmhouse kitchen with a contemporary look. The concrete countertop and the metal hardware outline the present while the wooden counters, the apron sink, white tiles and wooden shelves create a countryside ambiance.
The look is finished with decorative accents from the farmhouse living like porcelain utensils, tiered stand, wreaths and reclaimed wood signs.
via The Little White Farmhouse
19. Use Country Containers For Kitchen Utensils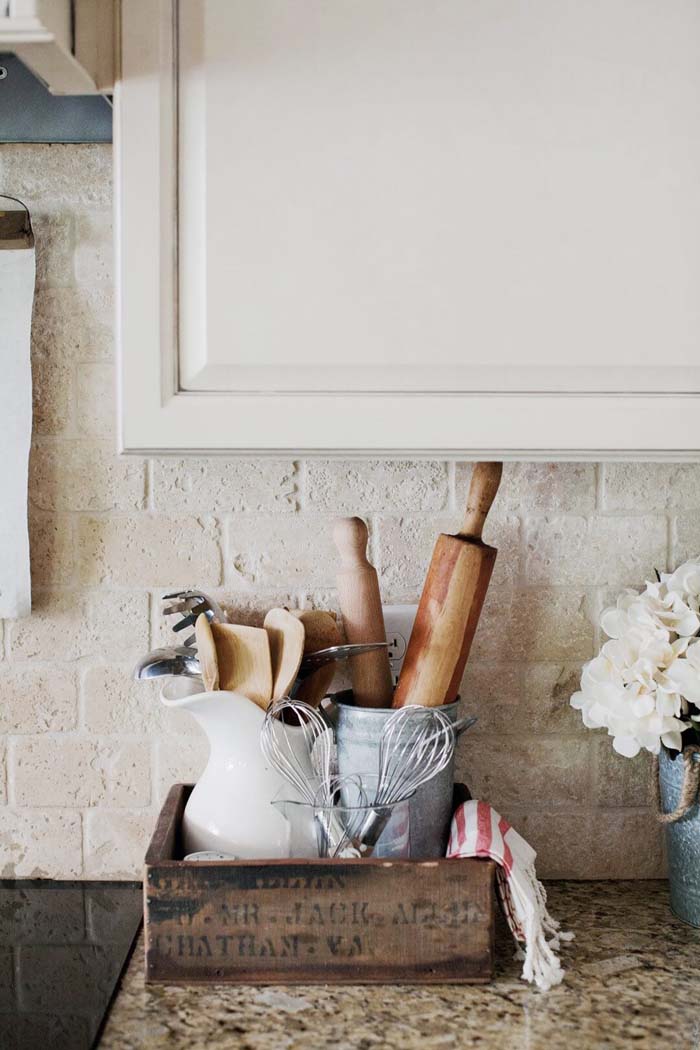 The collision between the modern marble countertop and the distressed brick wall is well managed with farmhouse accents in between.
The repurposed crate serving as a utensil holder reminds of very old times. It is accompanied by an antique vase with fresh flower cuts.
20. Bleached Wood Statement Wall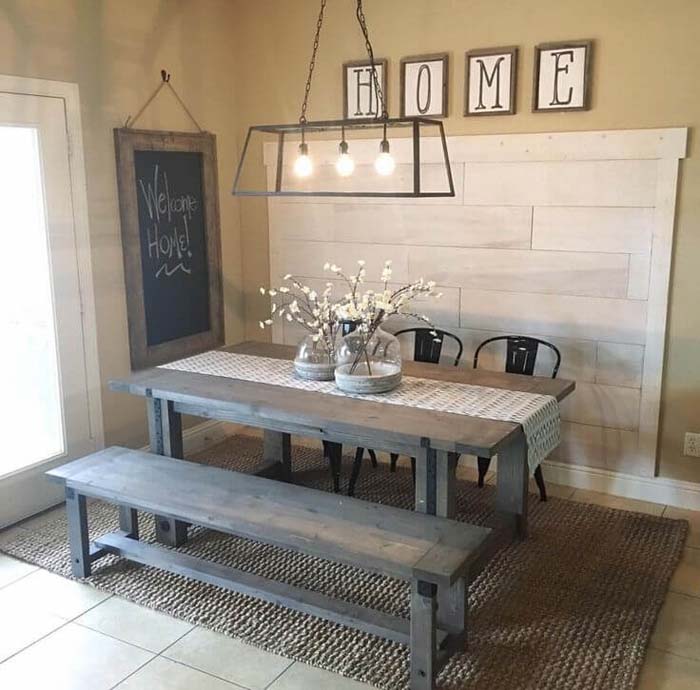 This is an idea of how to furnish and decorate a dining room in the farmhouse style.
The part that contributes to the overall look is this dining set of a reclaimed wood table and benches.
The wooden panels on the wall create a frame that anchors the dining furniture set together with the braided carpet.
The smaller farmhouse accents like the chalkboard sign, the initial wall art and the vases additionally enhance the countryside presence.
21. Shabby Chic Antiqued Wood Headboard Bench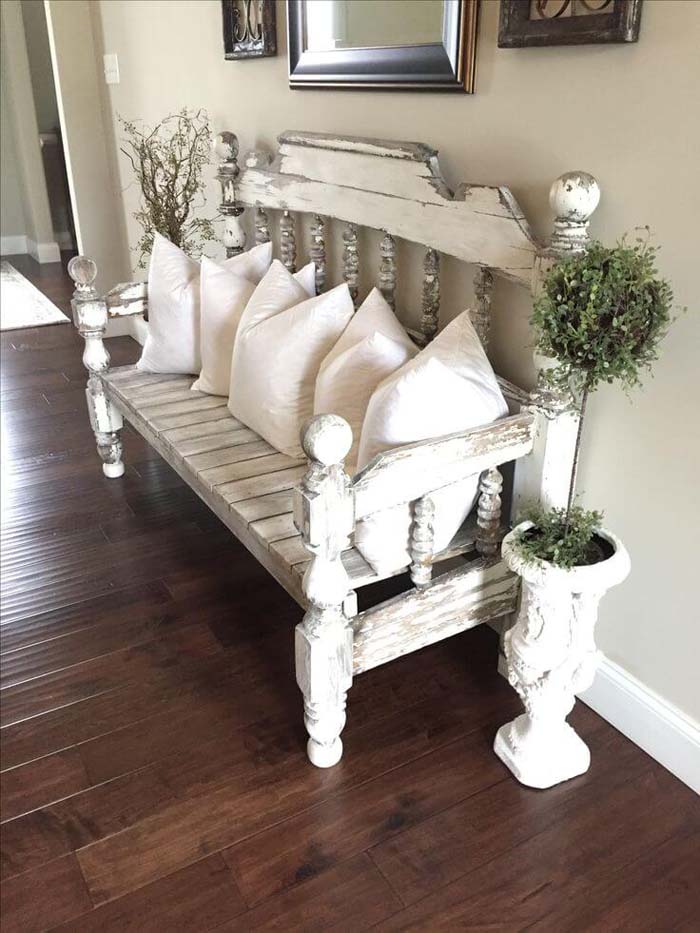 The best backdrop to expose a piece of farmhouse-inspired furniture is neutral wall and flooring.
Repurpose an old wooden headboard into an entryway sitting area. Use the parts of the headboard to create a bench with a weathered distressed look.
Add two identical antique vases on both sides and greenery to complete the farmhouse nook.
22. Galvanized Steel Rustic Containers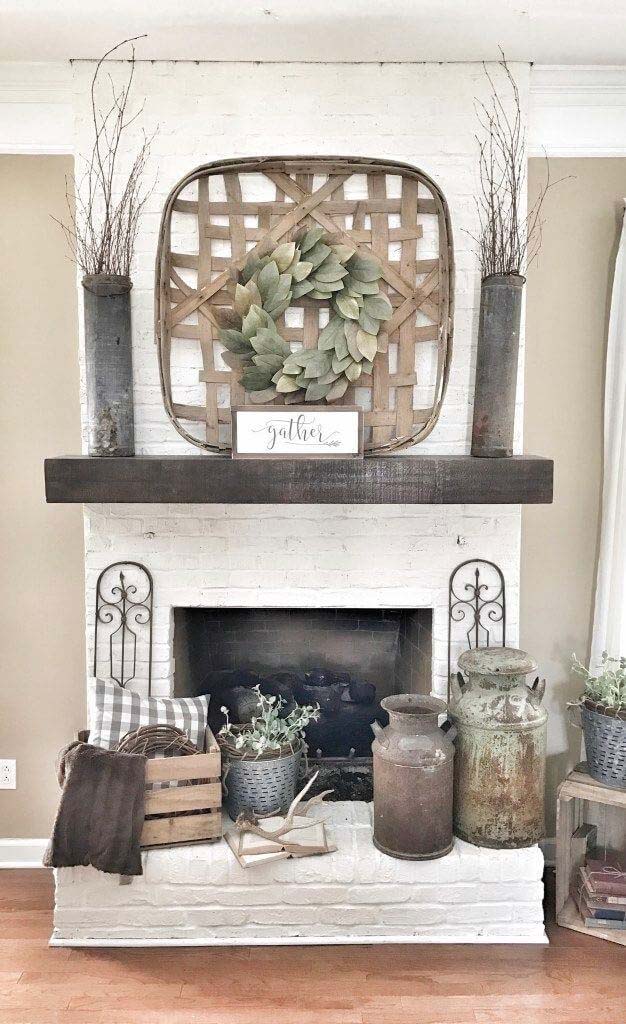 The fireplace is another nook from the house that is open to farmhouse-inspired decor.
You can decorate the mantle, the frame and the wall above it. Use old window panes, tobacco trays, wreaths, milk cans, crates to imprint the old times' atmosphere.
via Bless This Nest
23. Architectural Salvage Mantel Shelf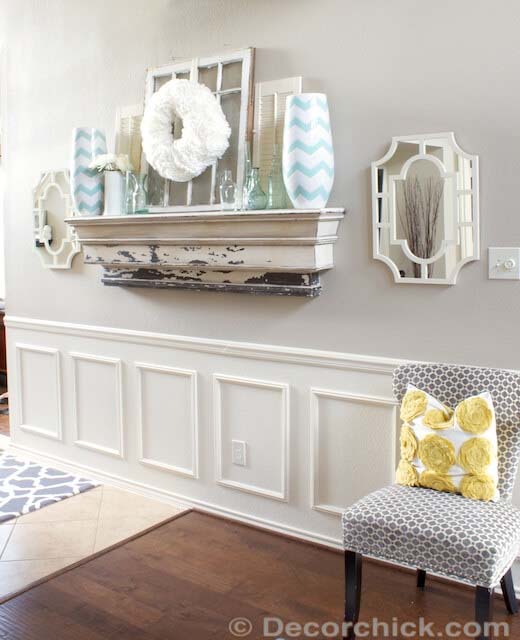 If you want to add depth and increase the airy feeling of a small space, do it with geometric patterns.
The combination between chevron and other patterns is very charming as long as it is within the same palette.
The weathered shelf and the molding define the geometry of the space in a horizontal plane, confirming the farmhouse presence.
via Decorchick
24. Display Family Photos On A Rustic Ladder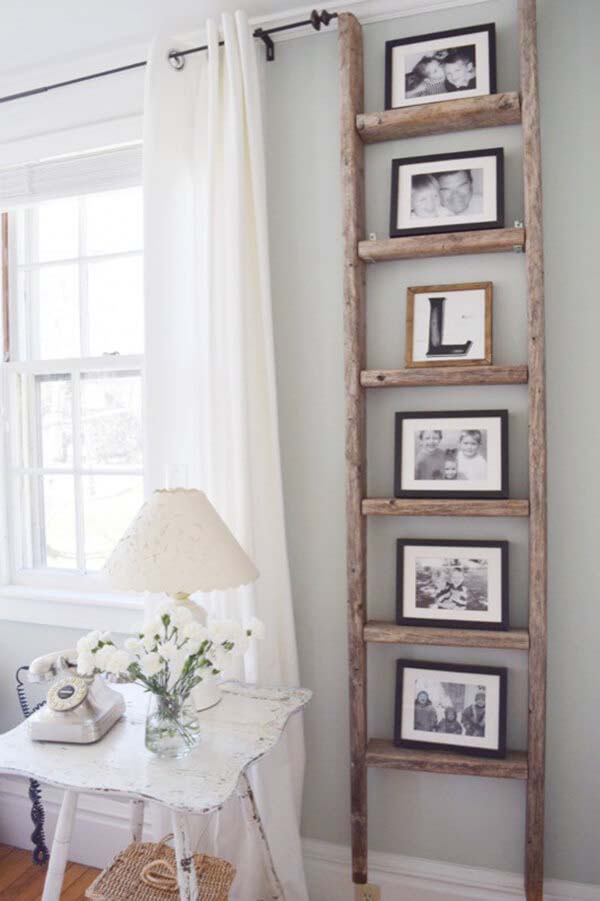 Use a farmhouse item in your contemporary interior to smoothen the atmosphere and to make it more welcoming.
An old wooden ladder will do a great job as a farmhouse accent and a photo display. The black-and-white images enhance the homely feeling and grab the attention.
25. Eat-In Farmhouse Kitchen Table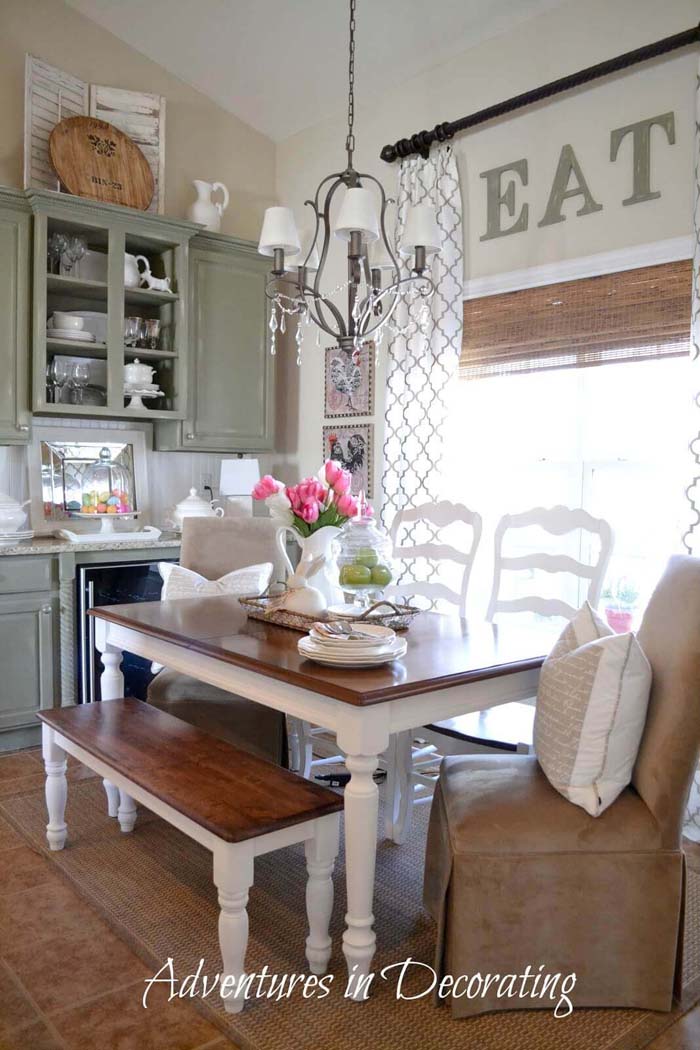 Being practical is a must when it comes to furnishing small spaces. In this case, there isn't compromise with the style as well.
The farmhouse table goes with a bench that can slide underneath it and free space when not needed. The set is complemented by two white wooden chairs with old-fashioned ornaments on the seats that match the style of the table and bench's legs.
26. Sliding Barn Style Doors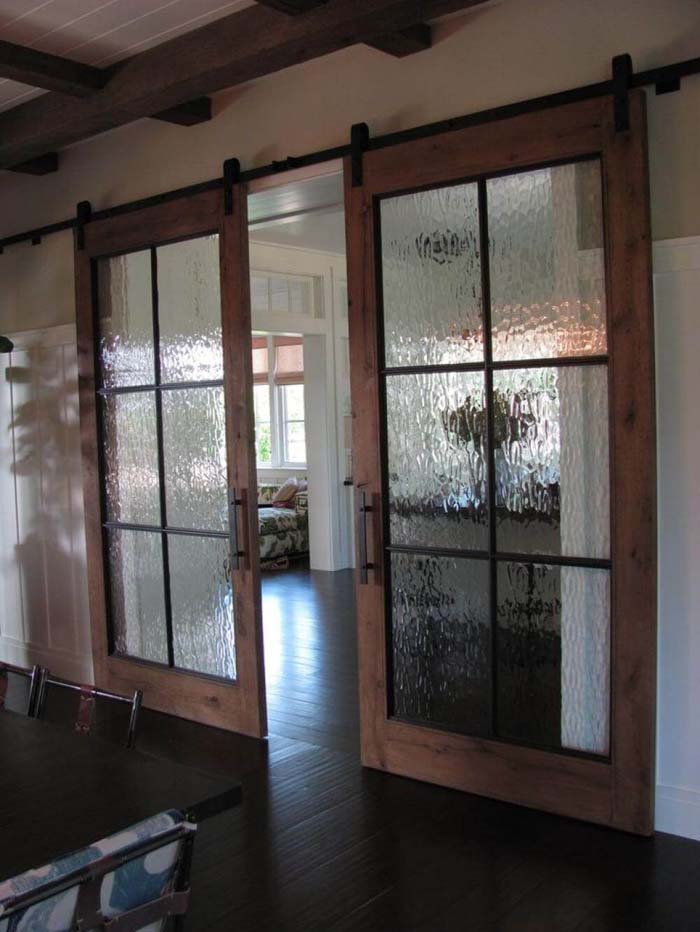 Sliding doors can be the perfect way to separate and define two living spaces with almost no effort.

If you include glass for the panes and only frame with wood, the doors will serve more like a transitional screen than a separator and will let the natural light through.
via Young House Love
27. Industrial Farmhouse Chic Bathroom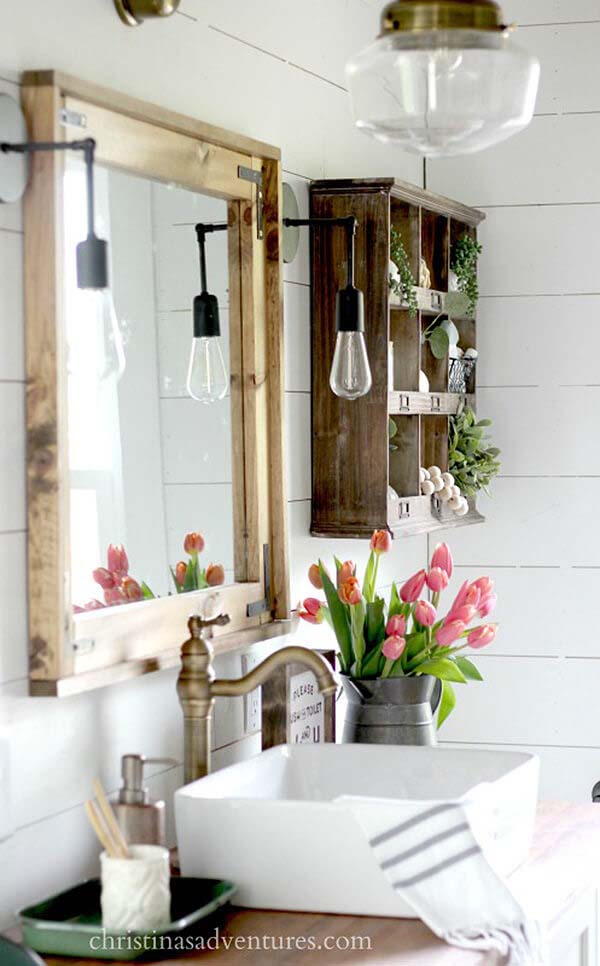 This kitchen decor is an example of a stylish farmhouse design with a lot of romantic charm.
The white small sink and the water faucet are of aged but very luxurious design. The vase made of watering can add a natural element to the ambiance.
The reclaimed wood shelving unit on the wall and the mirror enhance the farmhouse spirit.
via Christina Maria
28. Repurposed Windmill Wall Art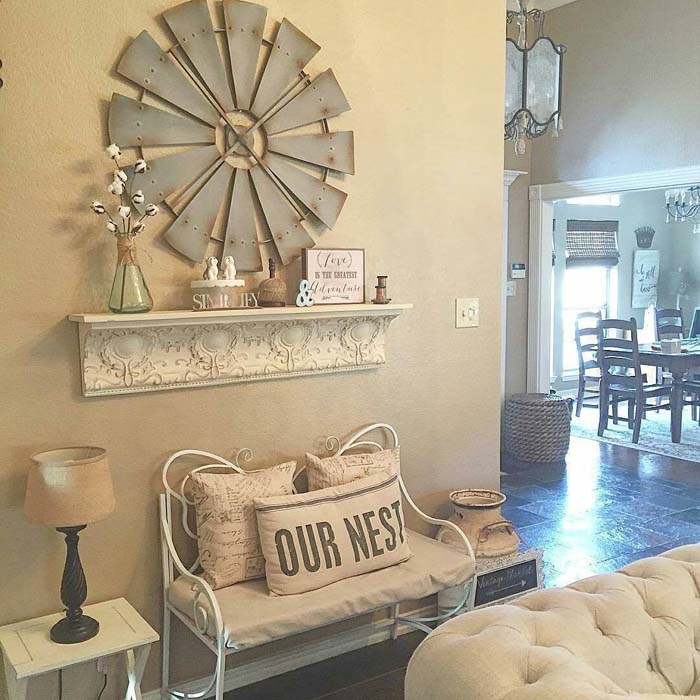 If you are lucky to have an antique piece like this windmill, you must include it in the farmhouse interior to make a bolder statement.
It can beautify a wall of the entryway, the space above the sofa, even the kitchen.
29. Shiplap Wall Sets Off Farmhouse Décor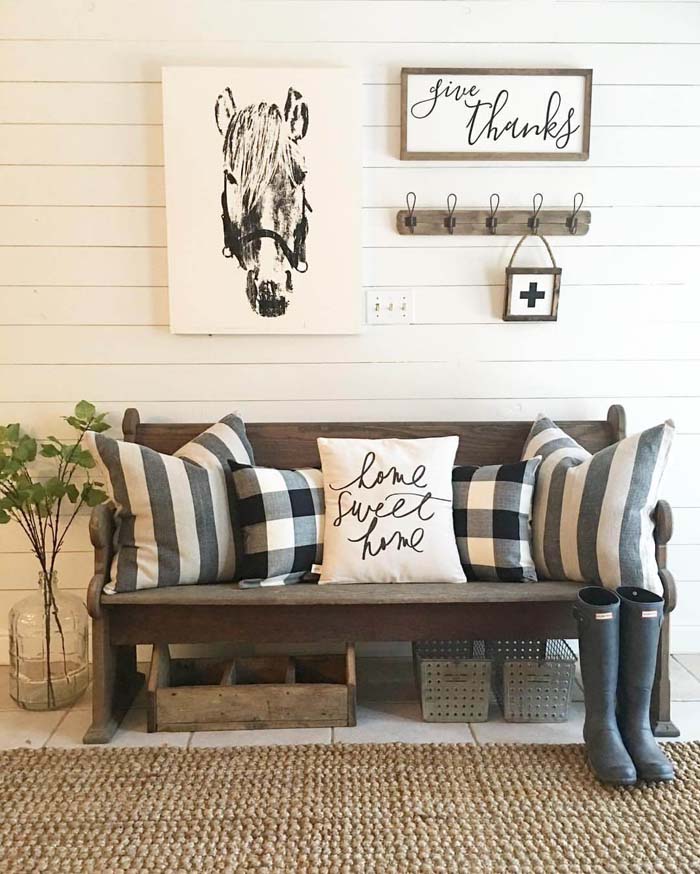 Shiplap is another material that defines the farmhouse interior style. It adds a lot of rustic charm because of the texture and pattern the wood slats are arranged and also becomes a great backdrop for a farmhouse nook
It combines amazingly well with burlap, twine carpet, reclaimed ort stained wood.
via Pine and Birch
30. Vintage School Chalkboard Sign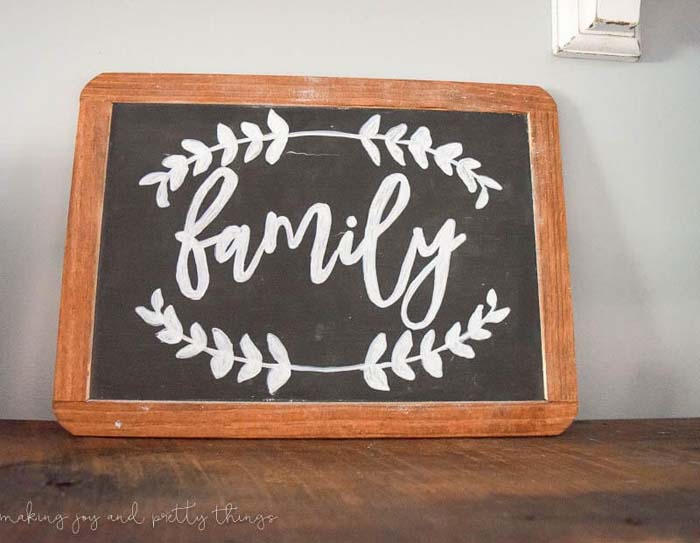 The easiest and most affordable way to welcome farmhouse living indoors is the rustic sign.
You can either DIY or get an item customized per your preferences. Most of the time the rustic signs are traced by a frame made of reclaimed wood and express a statement that has an ever-valid statement.
via Making Joy and Pretty Things
31. Natural Textures Add Farmhouse Charm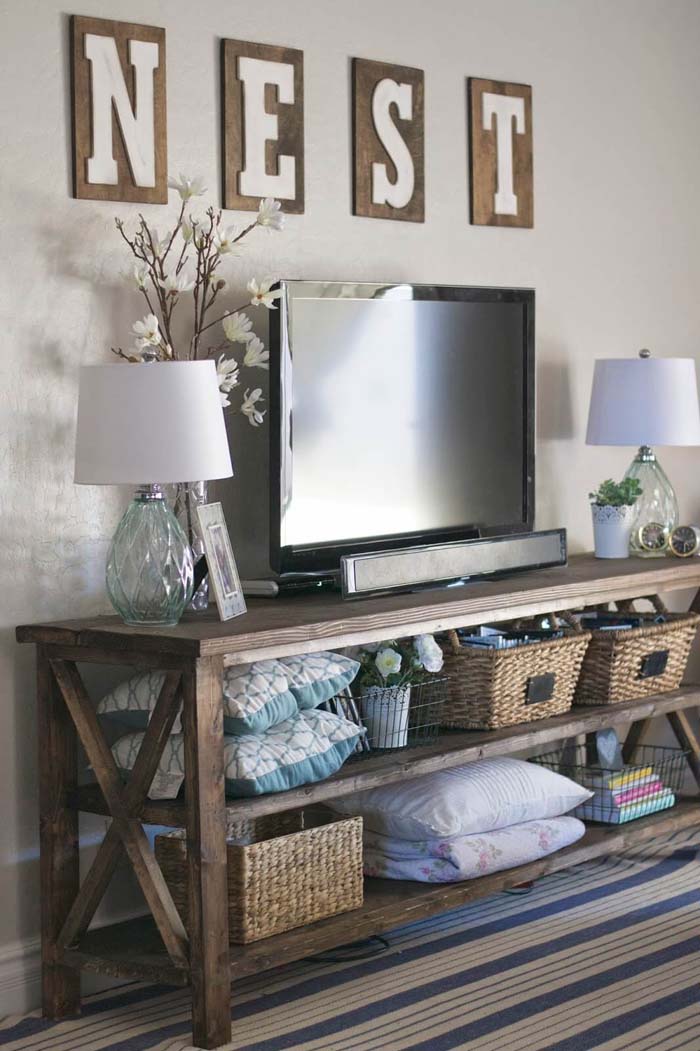 A rustic table like this one will accommodate a lot of the linen or bulkier stuff in the bedroom and will also ensure a place for the TV without overwhelming the space.
Use wicker baskets, crates and similar farmhouse containers to make the stuff more organized and neat.
via Paddington Way
32. Natural Wood Doors Evoke Farmhouse Style

Blending a modern appliance in a farmhouse decor is a difficult task. The post below gives you hints about how to solve this issue.
The TV will no longer look like an odd piece, neither will grab the attention.
33. Frame A Reading Nook With An Antique Door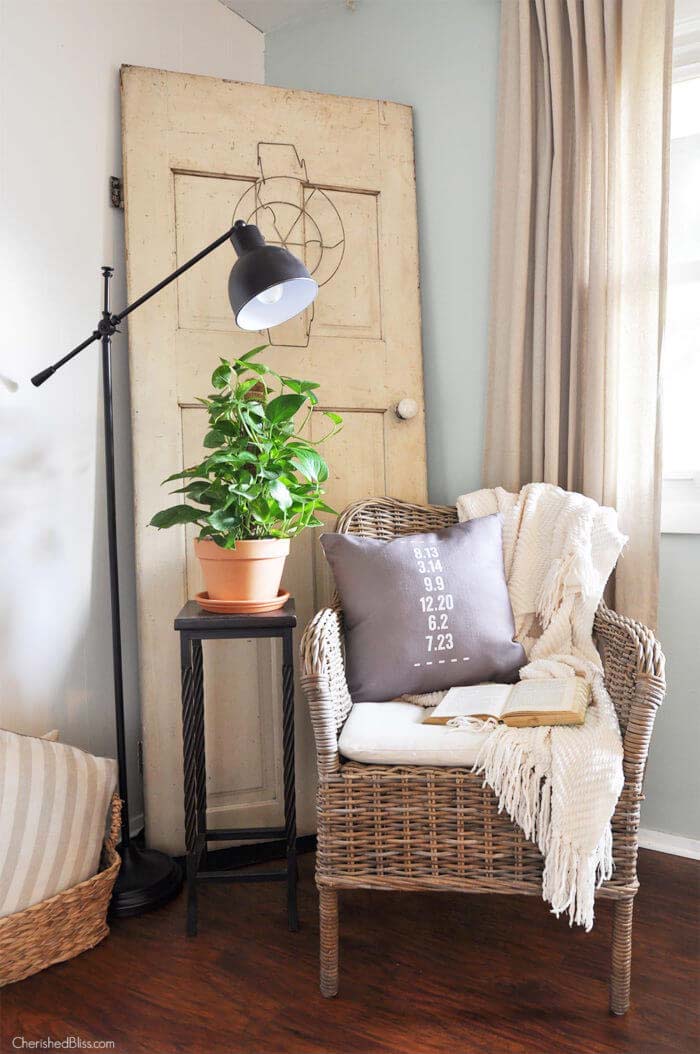 The farmhouse style has the capability to add a dose of romance to the atmosphere.
That is because of the natural colors, the soft and warm fabrics, the comfort and the homeliness the typical farmhouse decor provides.
via Cherished Bliss
34. Found Antique Sign Statement Piece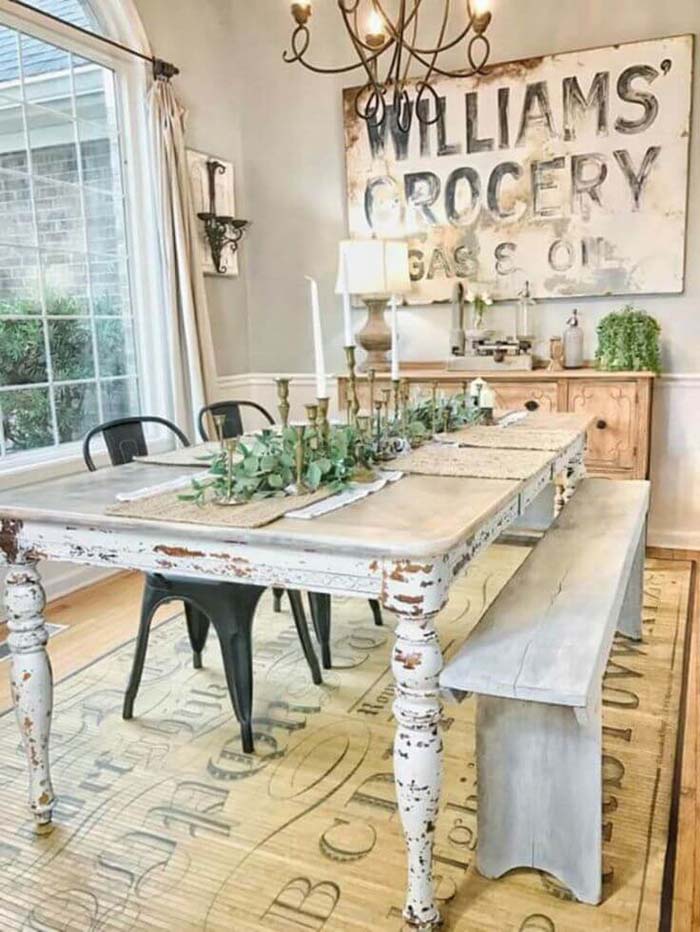 This old table has a lot of history in it. Seen in the distressed areas, the signs of usage actually give the table a unique effect.
The rustic table defines the horizontal space of the dining room, while a large reclaimed wood handpainted sign defines the vertical plane.
The sitting furniture is also inspired by the rustic farmhouse represented in a bench and two antique chairs.
35. Incorporate Farmhouse Linens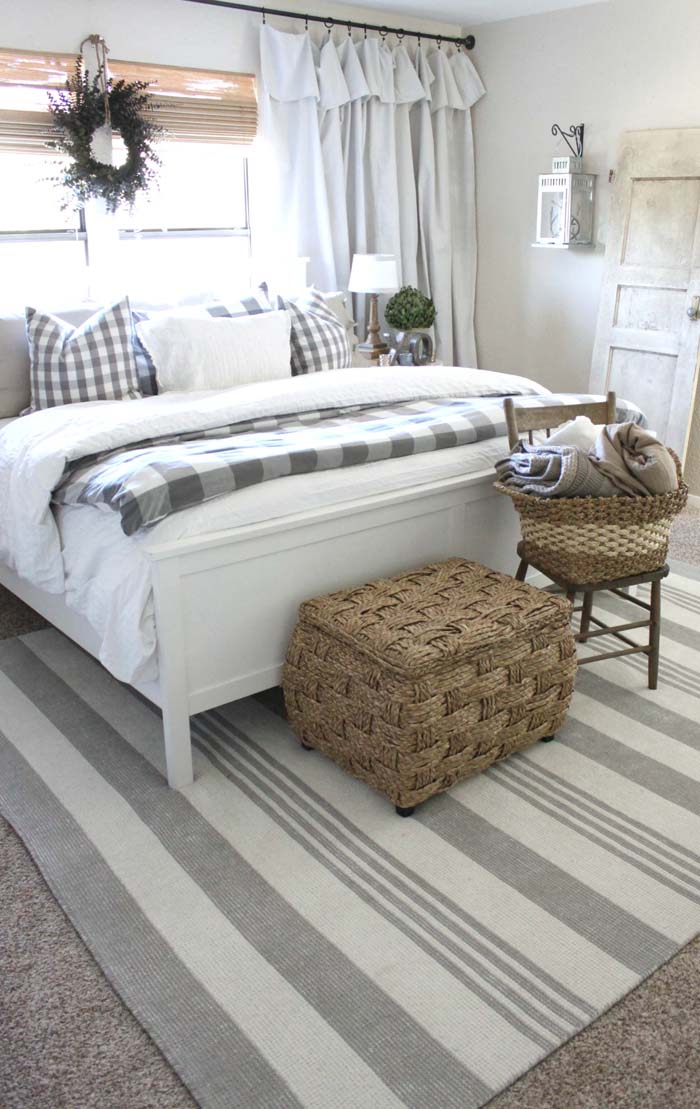 If you want to increase the calmness and the relaxing level of the bedroom, use farmhouse accents.
Considering also the practical side of the decoration, the countryside containers like wicker laundry baskets will not only add rustic charm to the ambiance but will also increase the storage spaces.
The furniture of a bedroom affected by the farmhouse living is made of solid wood and is painted in neutral colors.
The curtains are draped and made of linen or burlap which is are both thick enough to add privacy but not too much as to let natural light gently come through.
via An Inspired Nest
36. Welcoming Neutrals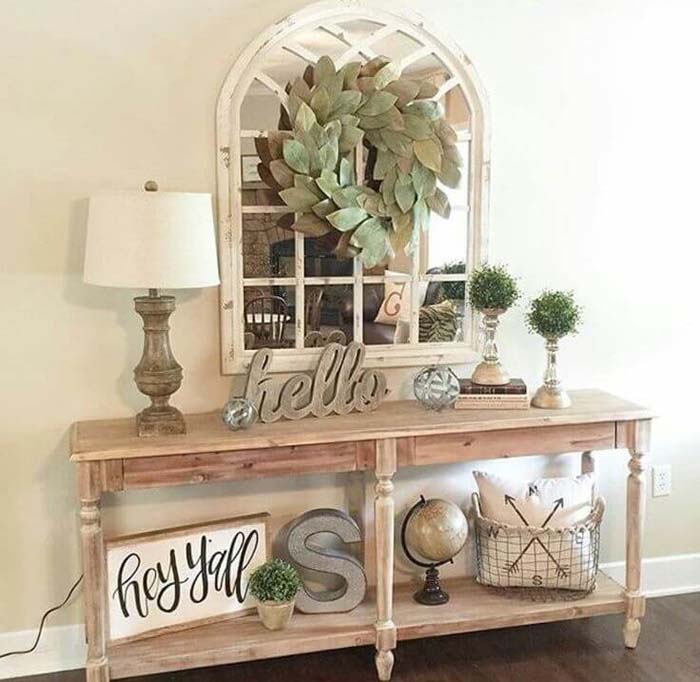 The color scheme of this entryway and the bare walls make the perfect backsplash for a farmhouse nook.
Start with placing a wooden table. If it provides levels use the bottom one for storage and the top for display of accents.
Add signs that will easily welcome the guests, wreaths, pots with greenery and any antique items that will enhance the farmhouse look.
The window-like mirror is not only beautiful but also practical as it visually enlarges the space.
37. Industrial Farmhouse Fusion Dining Space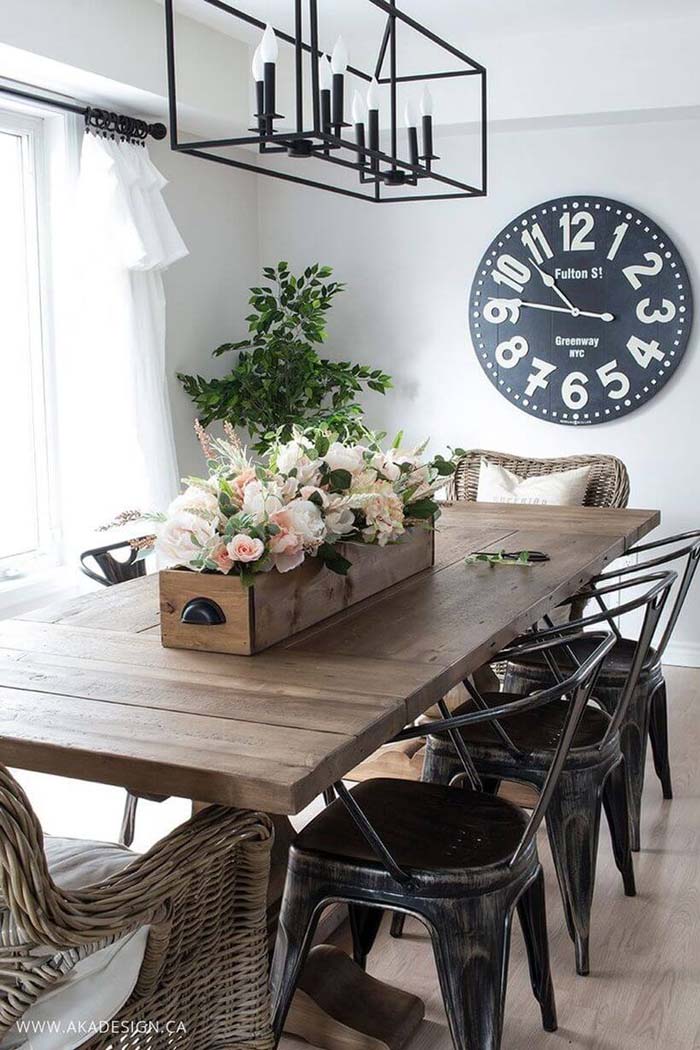 Industrial and farmhouse look particularly well into a combination and that is maybe because they create a balance between the old and the new.
This dining room proves that in an impressive way- a reclaimed wood table takes the central place of the room. It is surrounded by two wicker lounges and metal chairs.
The black color of the metal chairs doesn't look odd thanks to the chandelier made of metal bars and the curtain rod.
via Home Made Lovely
38. Rustic Wood Topped Table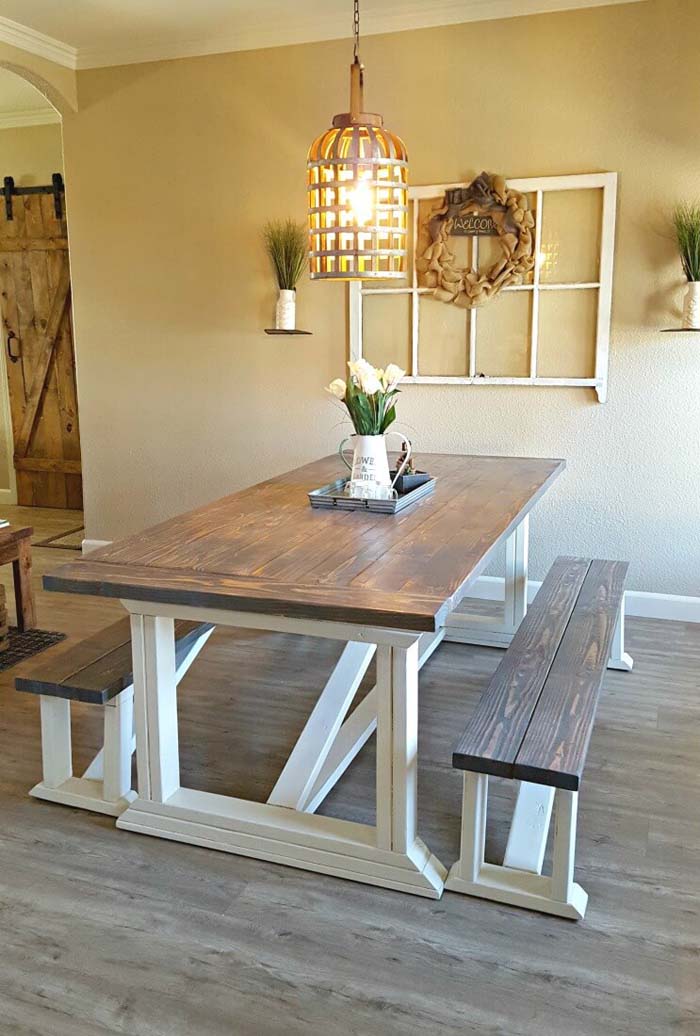 Mixing of stain colors is not an issue when the decor accents are less and not that overwhelming.
The neutral color of the walls additionally helps the transition between the colors. Each room piece somehow looks like a separate part, however they are all being unified smoothly because they follow the same style concept- the farmhouse style.
39. Antique Shutters And Linen Cushions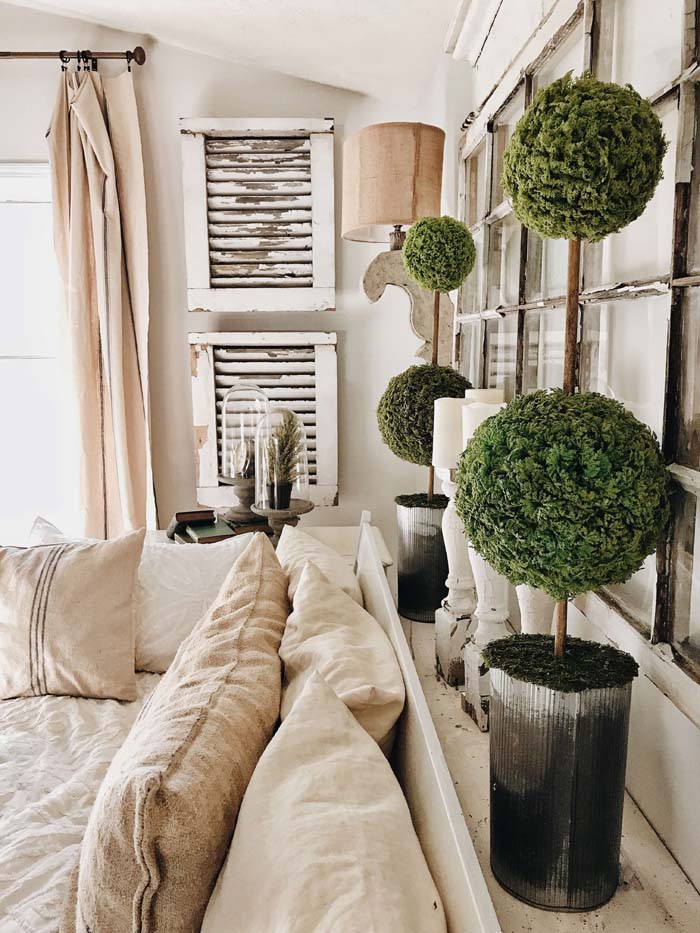 Bringing an outdoor farmhouse feature like the topiary inside the house will add a lot of freshness!
Plant them in repurposed containers or galvanized tins or buckets. Expose them in front of a weathered window that will help them pop out.
Decorate another wall of the room with another typical farmhouse accent- the shutters.
via Liz Marie Blog
40. Repurposed Vintage Furniture Items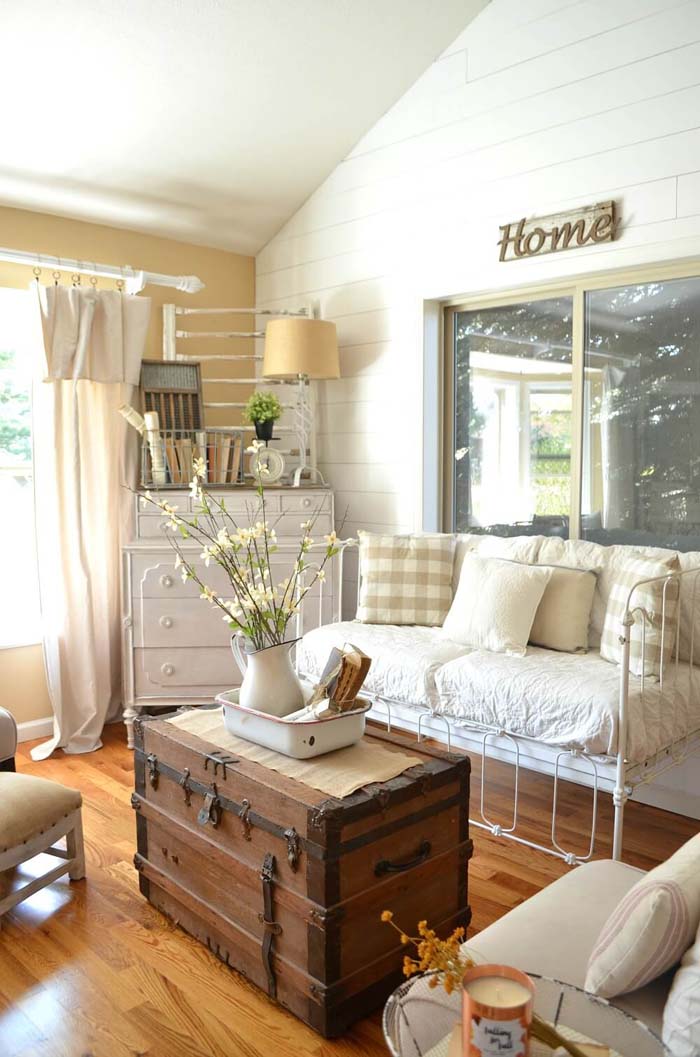 Everything about this room speaks for a farmhouse living and it will be very odd if a mass-made table is placed in the middle to ruin the welcoming beauty.
If you haven't found the best farmhouse table for this arrangement, we may have an idea for you. Get an old wooden trunk and simply lay a fabric cover onto it.
via Sarah Joy
41. Metal Accents And Fluffy Cotton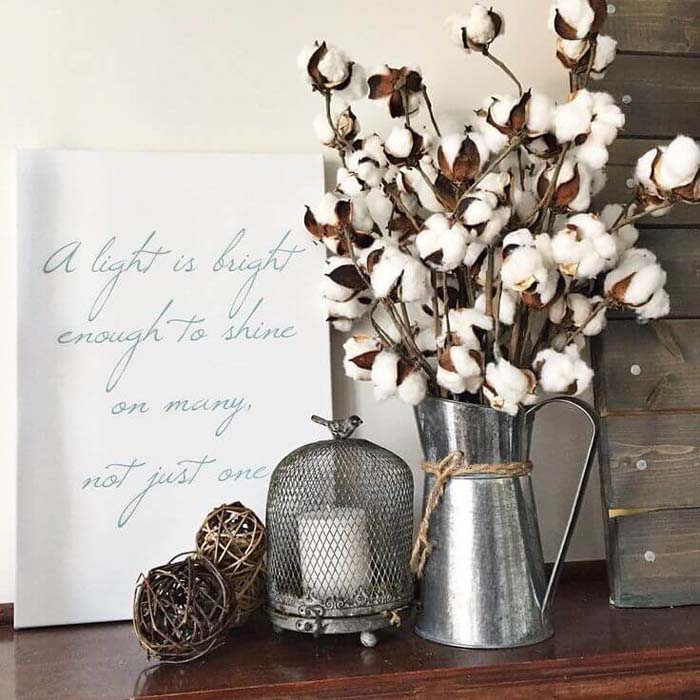 A pallet wood art, cotton cuts into a galvanized can and a small birdcage are arranged in a group to add charm and calmness to the entryway.
A sign written on a plain white piece of paper inspires with its simplicity and inspiring truthful meaning.
42. Weathered Steel Can Lights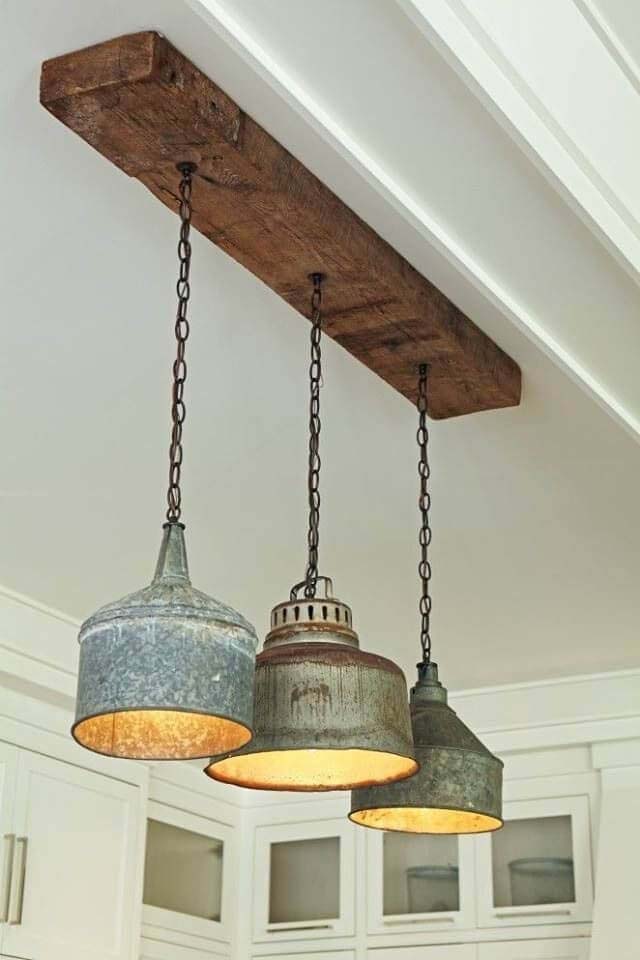 The best combination of materials for a farmhouse light feature is wood and repurposed containers. They can be glass jars or tin can halves.
This fixture adds a lot of uniqueness and charm to the otherwise clean and neat kitchen.
The lights can be suspended either on a chain or thick rope for an ultimate rustic look.
via ID Lights
43. Reuse A Vintage Sewing Machine Table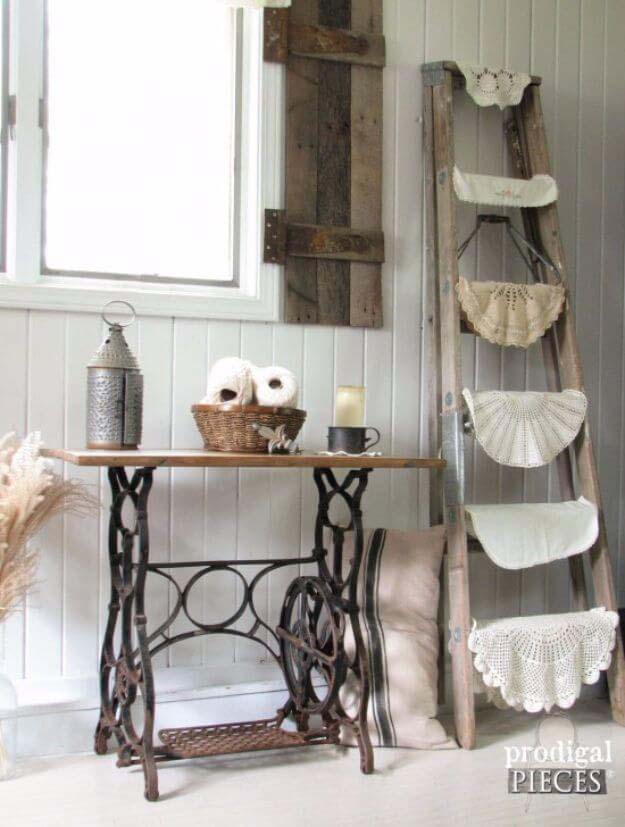 Another great piece of furniture that repurposes a typical item from the farmhouse living is a table made from a sewing machine base.
Just replace the top with a butcher block or a piece of solid reclaimed wood. Use as a side table or as an extra storage place in any room.
via Prodigal Pieces
44. Farm Animal Whitewashed Stencils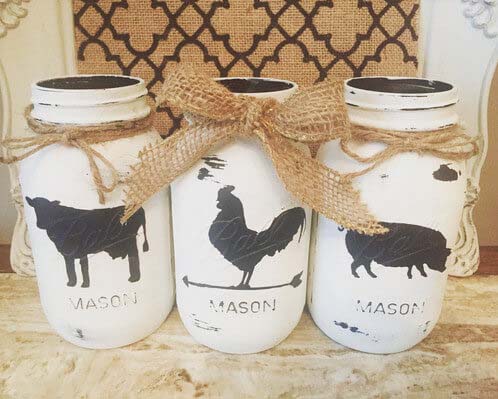 This is a great and simple DIY project that will add a lot of farmhouse charm regardless of its small size.
Paint the Mason jars with black chalk paint. Then place a stencil with an animal shape on it and cover the rest of the surface with white chalk paint.
You can distress random areas to let the lower layer pop out. Finish the art with a burlap or twine ribbon.
45. Dark Wood Lantern Candleholders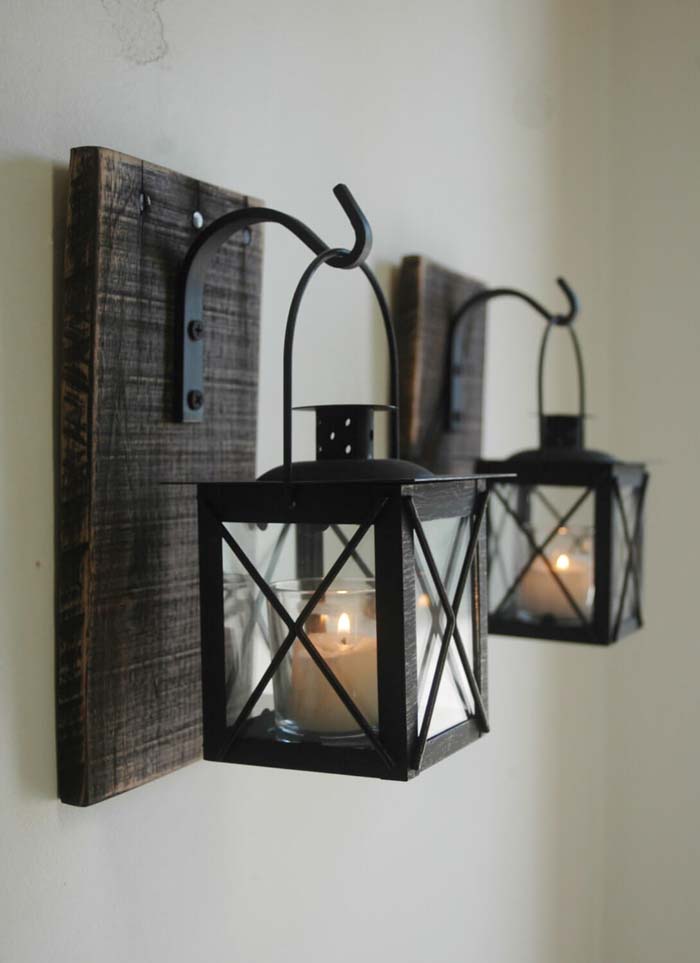 These lanterns are a smaller version of the outdoor lanterns from the old times.
They will create a very romantic rustic ambiance if placed indoors. If you prefer a more safe and child-friendly light source, replace the candles with LED ones.
via Etsy
46. Keep A Neutral Palette With Rustic Wood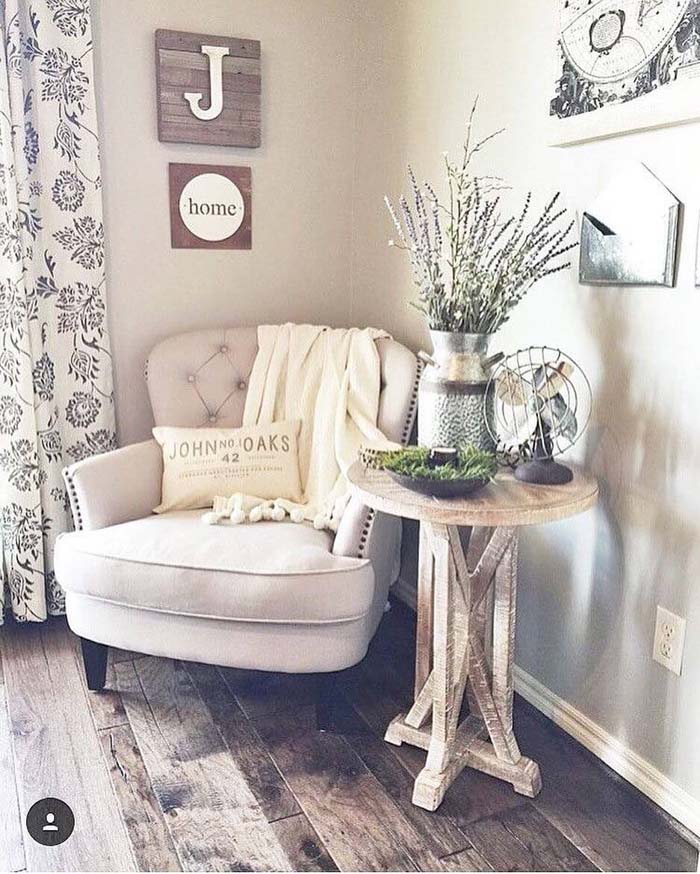 What could make a reading nook more relaxing than a few farmhouse accents? Start with a small side table where you can place your morning coffee or evening glass of wine.
Define the limits of the space vertically with signs and repurposed items like a galvanized mail box.
47. Elegant Glass Paned Barn Style Doors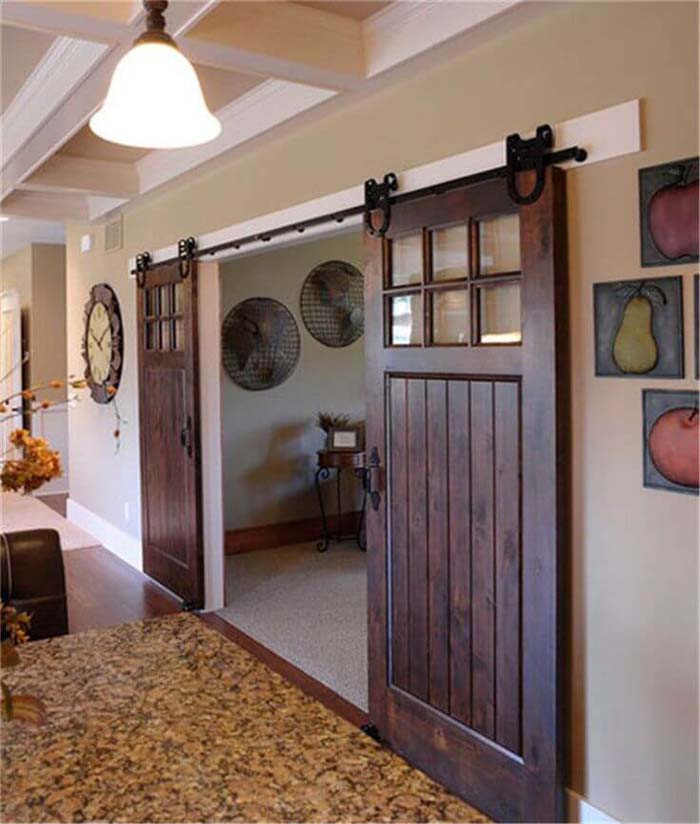 If you don't like the thick barnwood doors or the version with framed glass panes, then this option may be per your taste as it is a combination of these two.
They add a lot of privacy but also leave the top section open for natural light.
48. Repurposed Antique Church Pew Bench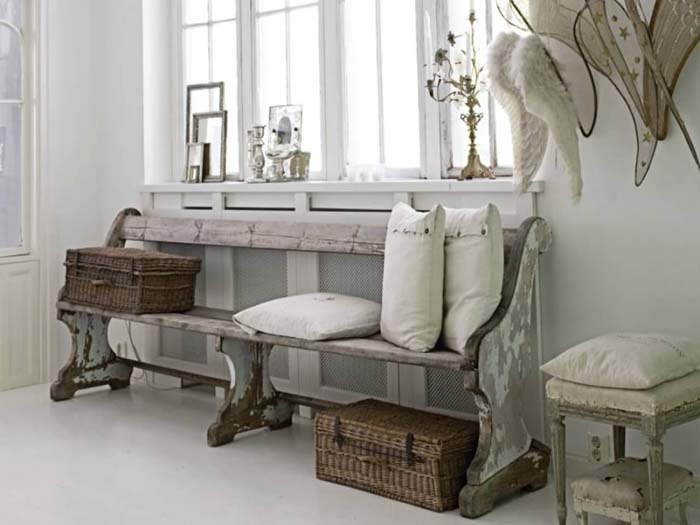 A church pew can become a comfortable piece of furniture only by placing a few pillows on it.
It can be used in every room and increase the number of sitting places without taking too much from the floor space.
49. Add Simple Green Wreaths To Vintage Windows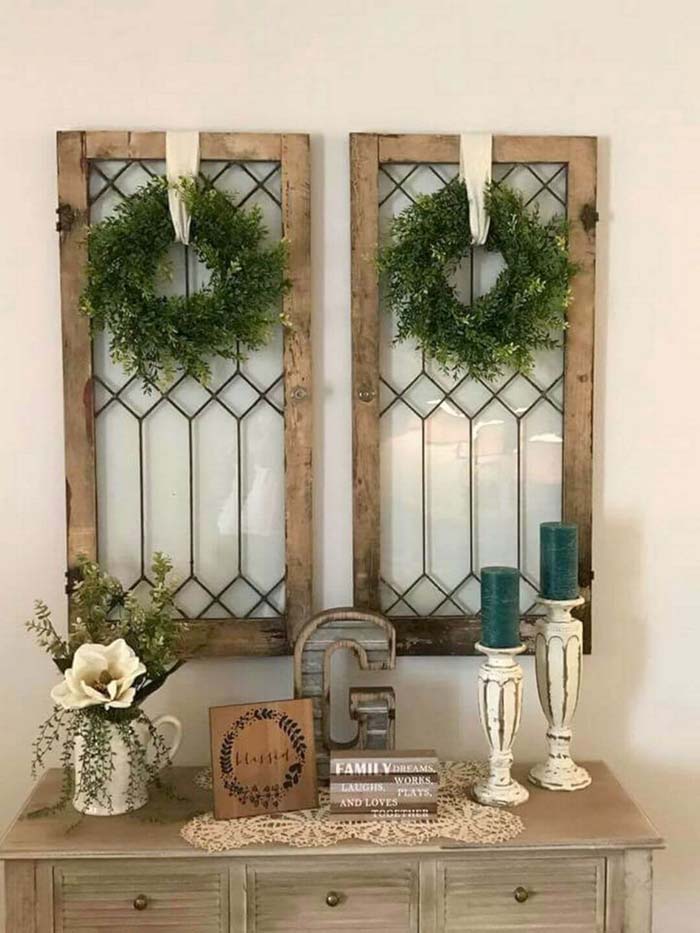 Two identical antique windows are hung in the entryway to make a smooth farmhouse transition between the outdoors and indoors.
They are decorated with a typical window accent, the wreath, which easily pops out against the transparent glass.
The top of the dresser is another display of farmhouse accents – plaques, candlesticks, porcelain can be repurposed into a vase.
50. Rustic Meets Elegant Statement Chandelier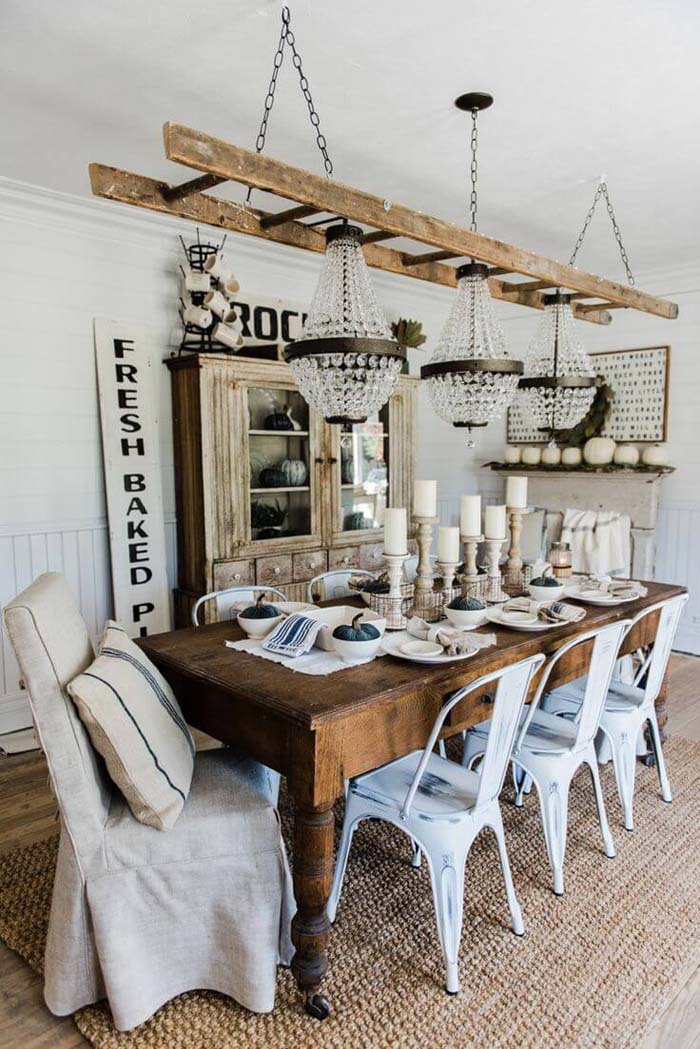 The old ladder is given a very non-traditional function – as a basis of a light fixture.
The light feature itself is unique and customized to twist the general farmhouse feeling as to avoid making it too overwhelming. This is achieved by the off-beat combination between modern crystal chandeliers and rustic support elements.
via Liz Marie Blog
51. Farmhouse Elements Gallery Wall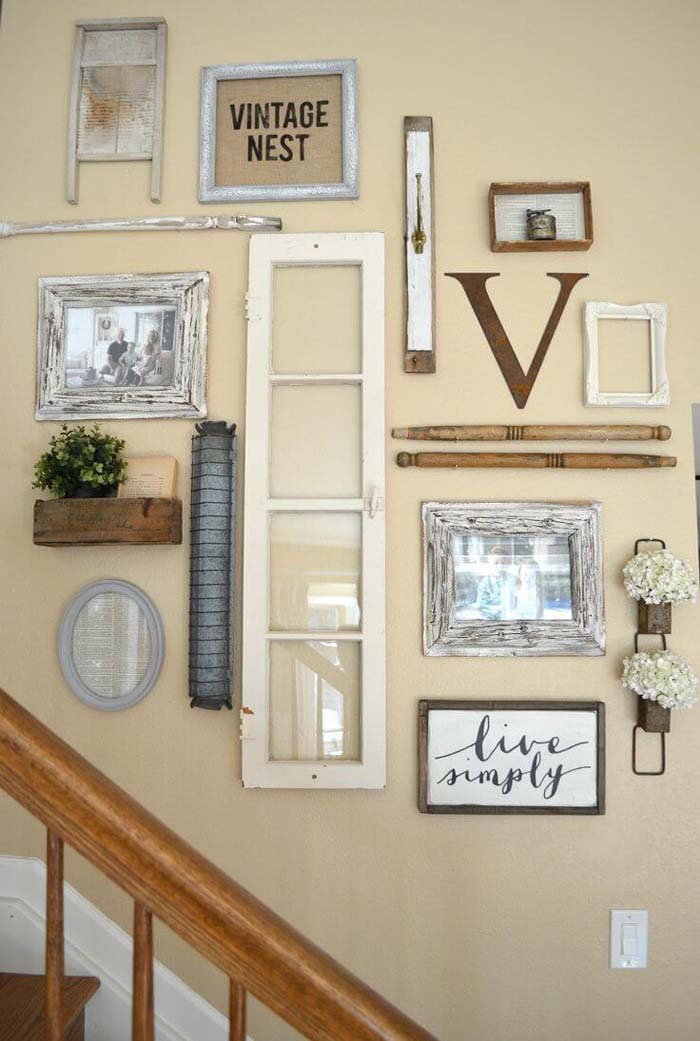 The walls of the staircases are usually not utilized. Decorating it with rustic elements like wooden frames, signs, initial wall art will make the transition between the living and sleeping areas smoother and more welcoming.
Experiment with various shapes, sizes and colors for more interest.
via Sarah Joy
52. Plank Wood Lantern Hanger Project

This is a great idea of how to add a functional rustic element into the dining room.
You can easily assemble the wall light fixture yourself. Use pallet slats or reclaimed wood to make the basis. Then hang a lantern holding a candle on the top of it and a wire basket with glass vases on its bottom.
via Worthing Court
53. Balanced Open Wood Shelf Display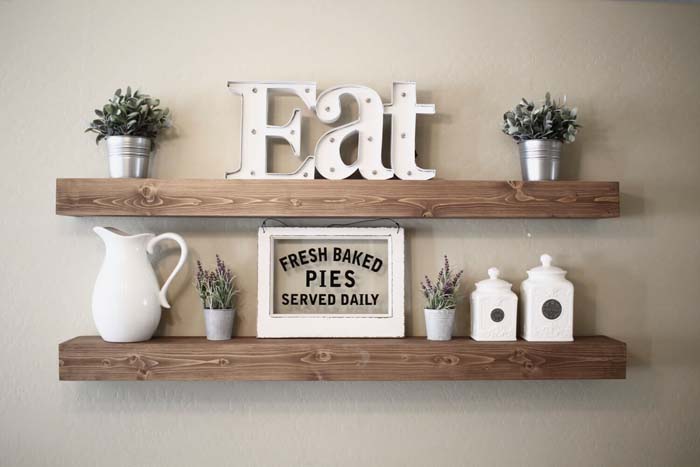 Open shelves are an easy and attractive storage solution for every room. They can be made of any material but being made of solid stained wood will create a farmhouse feel.
Use the dark color as a contrasting background for white porcelain items like vases, pots, frames, signs. Another material that will fit this arrangement well is the galvanized metal. Use it in the shape of small buckets with greenery.
via Etsy
54. Decorate A Vintage Mirror With A Boxwood Wreath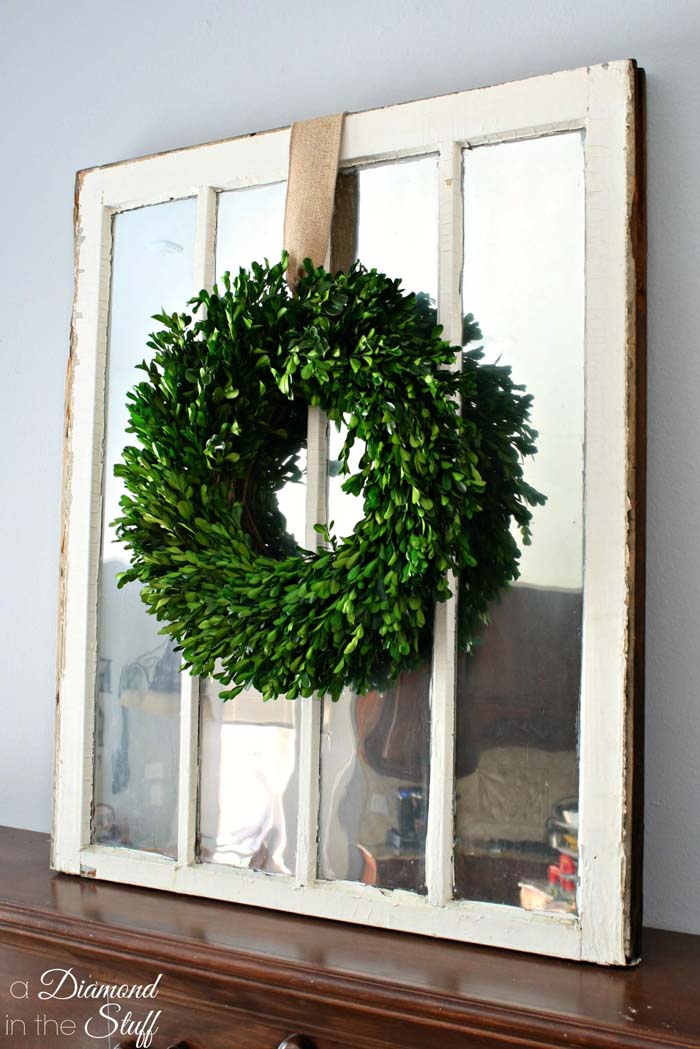 Old window panes are the perfect farmhouse decoration for a mantle or a shelf.
If you want to add depth t the space, replace the glass with a mirror. Hang a wreath from boxwood or magnolia leaves to make the rustic accent more impacting.