If you would like to add a touch of luxury to your bathroom, here are some simple ways to make it more appealing and posh.

Related: 10 Best Paint Colors For Small Bathroom With No Windows
1. Make Things More Fluffier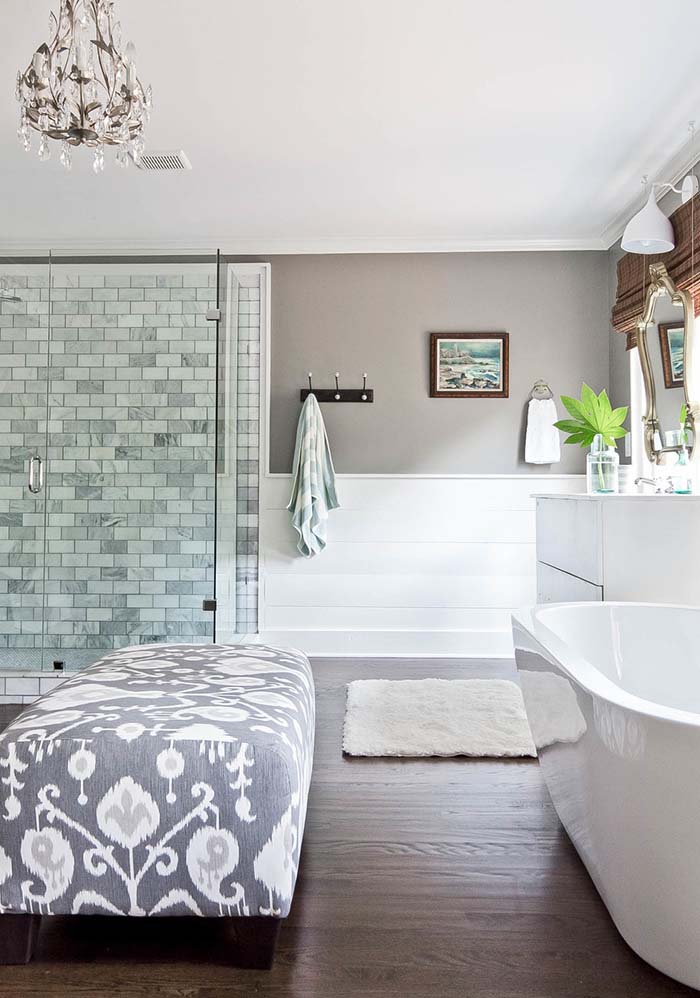 As you can see in this bathroom designed by Julie Holloway adding a rectangular fluffy rug just in front of the vanity gives it nice touch of elegance.
You can update your towels as well and combine them with the rug. Neutral colors work great.
2. Use Dimmable Lights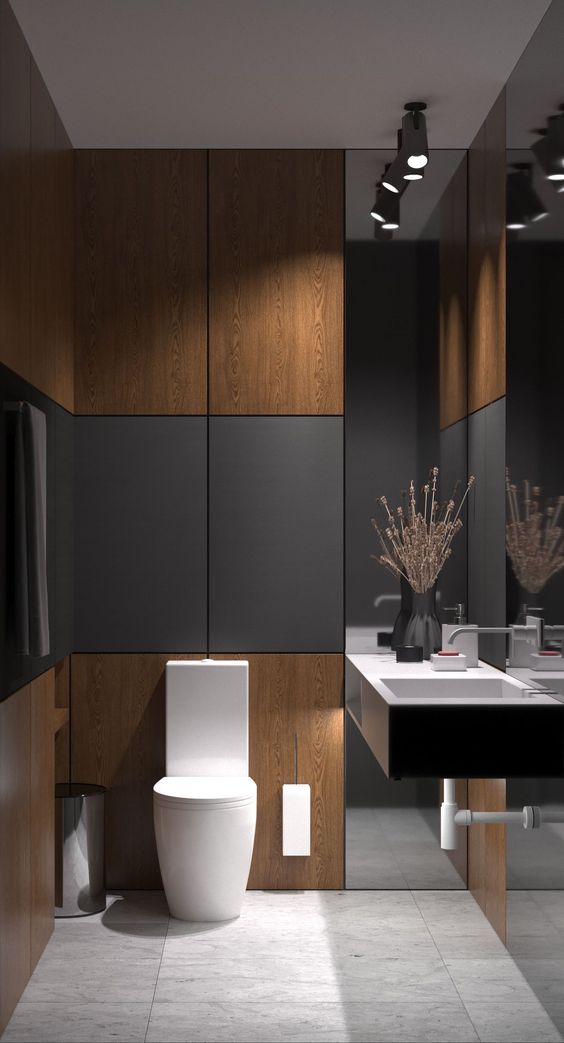 Are you tired of those bright bathrooms?
Instead, use a dimmer to adjust the light power and create more romantic atmosphere.
You can also use ambient or concealed lighting or even sconces to create relaxing mood.
3. Use Candles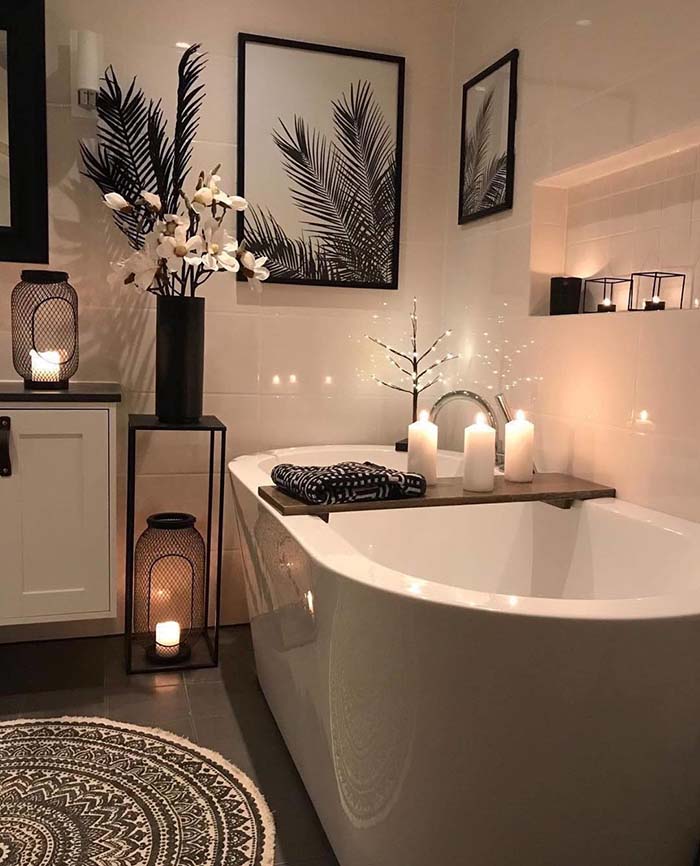 You can place candles all over the place as per your taste and lit them when it's time to bath.
You can also use lanterns for more dramatic effect or if you are a fan of rustic decoration.
Scented candles can create very different atmosphere and amplify the relaxation.
4. Replace Your Showerhead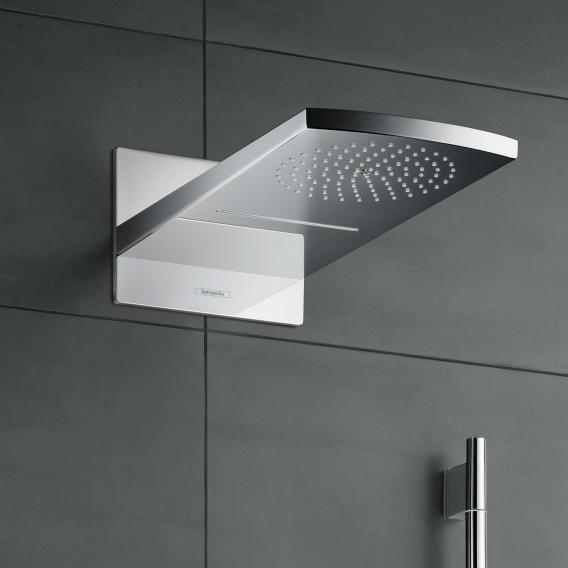 Having a rainfall shower head can give you another level of bath experience.
It's not necessary to get an expensive one as the one shown above. You can rather go with something that's really cheap like this one here.
5. Add Some Art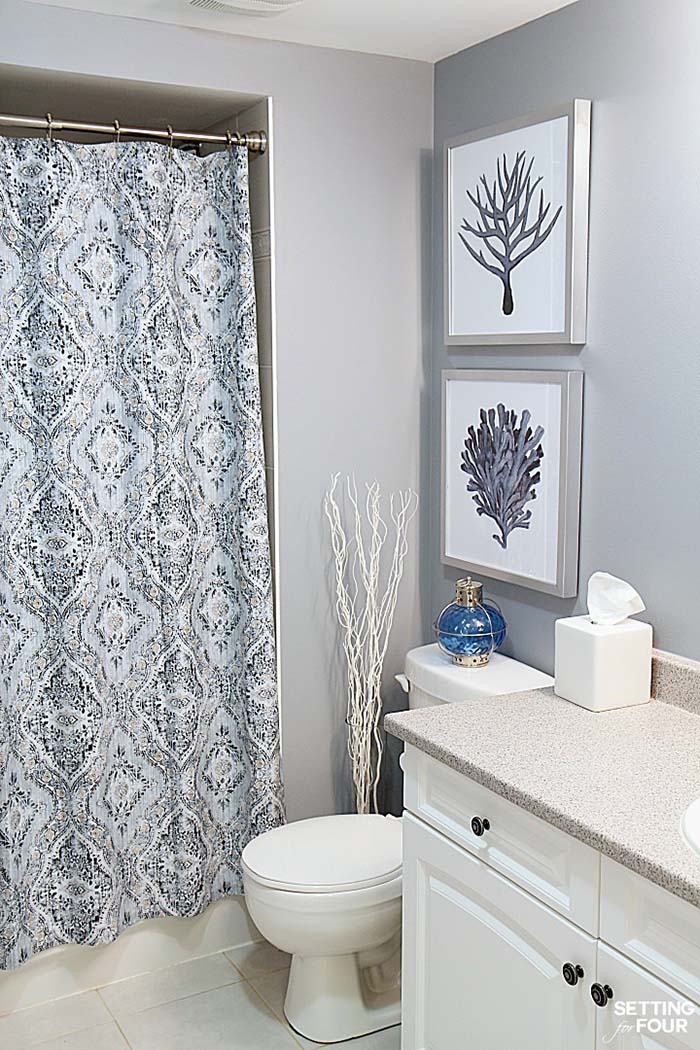 Even though we spend a lot of time in the bathroom ( especially ladies ) we often forget to decorate or put some art on the wall.
Having a painting of some kind could tremendously change the look of your bath. Moreover, adding pieces of art would make it look cozy.
If you are afraid of DIY projects there is a great tutorial on How to Hang Pictures on SettingForFour blog. It will show you how to put some pictures on the wall like in the above photo.
6. Add a Chair or Ottoman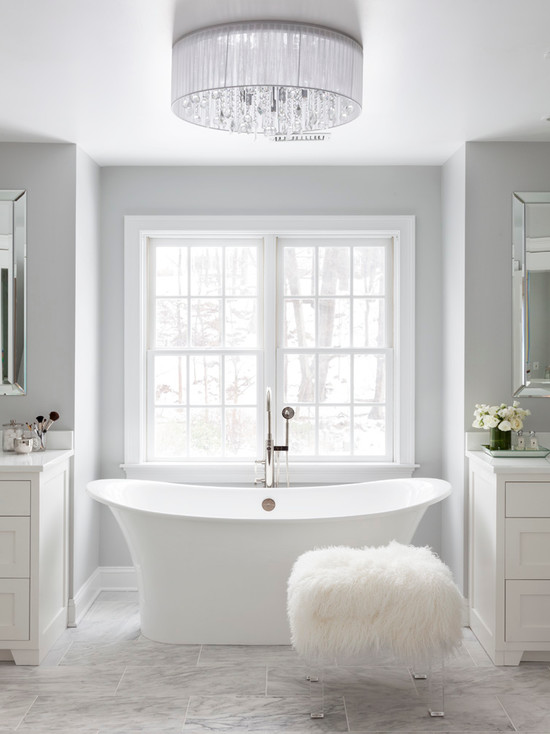 If you have plenty of space, why don't you add a chair or ottoman?
It will immediately give your bathroom an elegant and upscale look. You can choose fluffy pattern and add a rug.
You've seen all those romantic movies when someone is taking a hot bath and the other person sits closely and they just chat for hours.
The above photo is a spectacular thanks to Susan Glick Interiors.
7. Add Some Greenery Or Flowers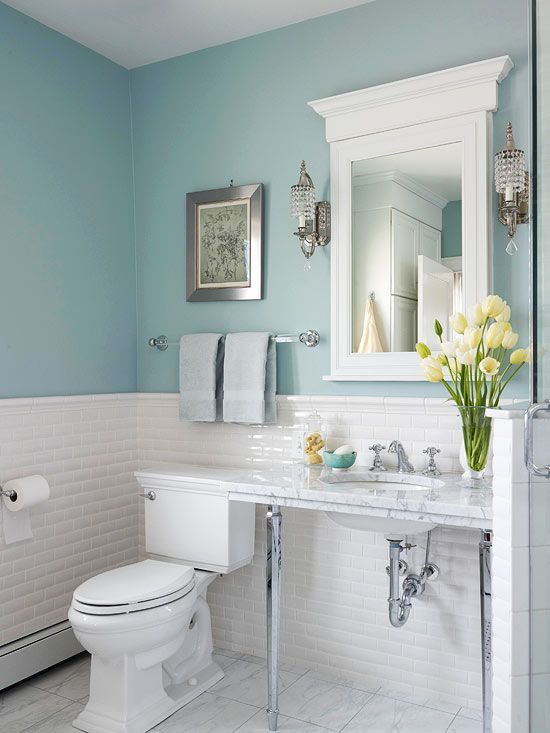 Bathroom is just one more place where you can put greenery. No matter which plant you choose it will add more color and life to the bath.
Plants could live longer due to the humidity, but they also need light, so they are the perfect decoration for bathrooms with windows.
There is also the option to use faux flowers as they don't need any maintenance.
8. Arrange Your Stuff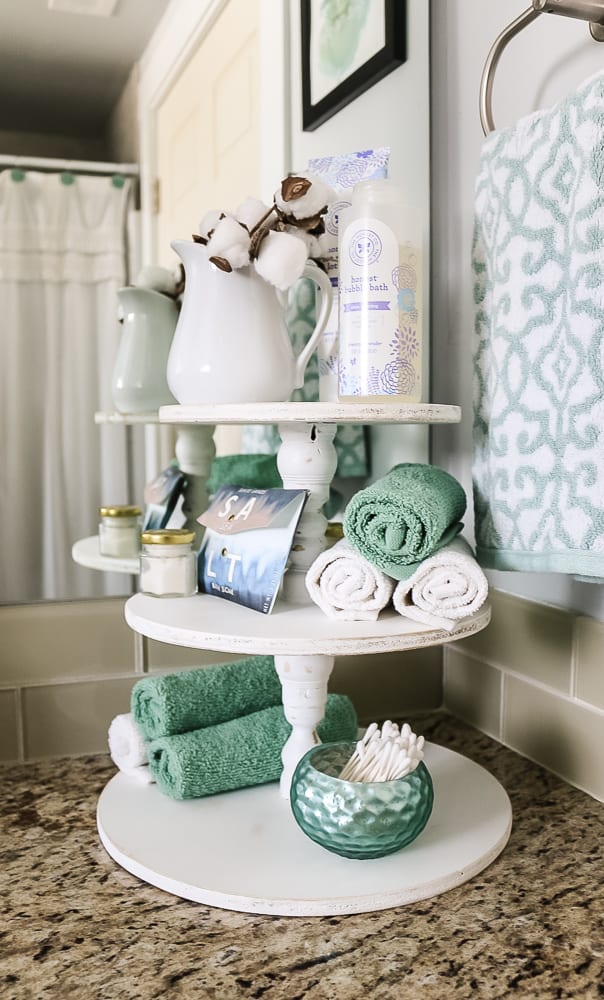 Is your vanity a mess?
The above photo is from a DIY project by Chelsea of Manzanita just to see how beautifully she managed to arrange all the stuff.
You can use similar ideas or just get tidy and put all your stuff in a more artful style.
An easy way to keep things organized is by using trays.
9. Bathtub Tray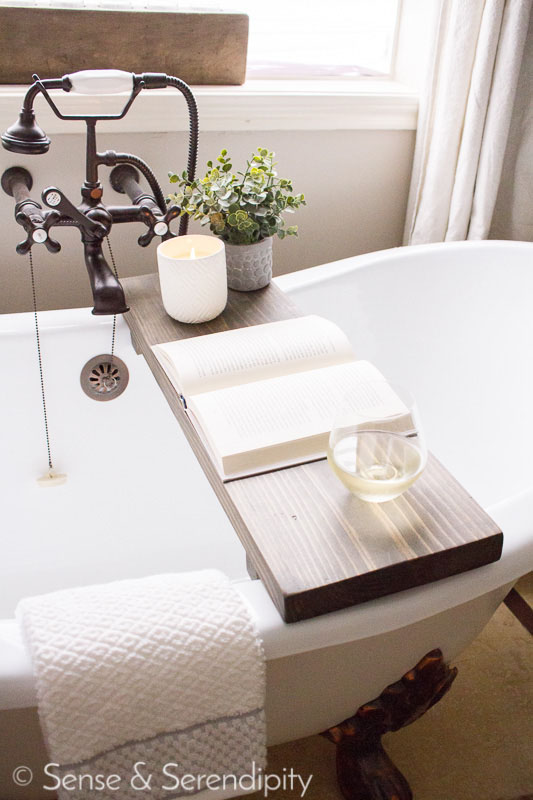 Aaaah, a bathtub tray!
It could add so much style to your bathroom and it's also so useful!
You can make one yourself following the steps by Cheyenne over at her blog Sense and Serendipity or buy one.
In either case you won't be wrong – bathtub trays are amazing!
10. Put Some Open Shelves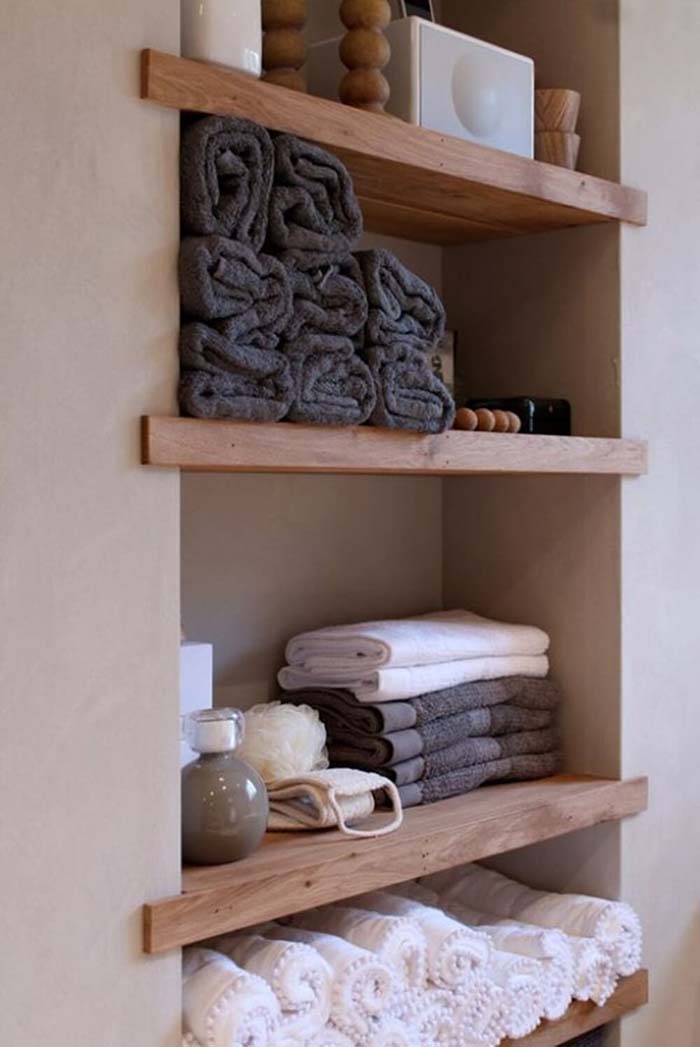 You can put some open shelves like those sold by IKEA and display your towels.
It's one of the best options if you already have some built-in the wall unused space.