If you're looking for walk in shower tile ideas, you're not alone.
Many homeowners are discovering the importance of creating a retreat from the hurried pace of the world.
Shower floor tile ideas don't have to break the bank. You can find most of these tiles at your local tile shop. Along with your designer, they'll help find the best tile for your ideas.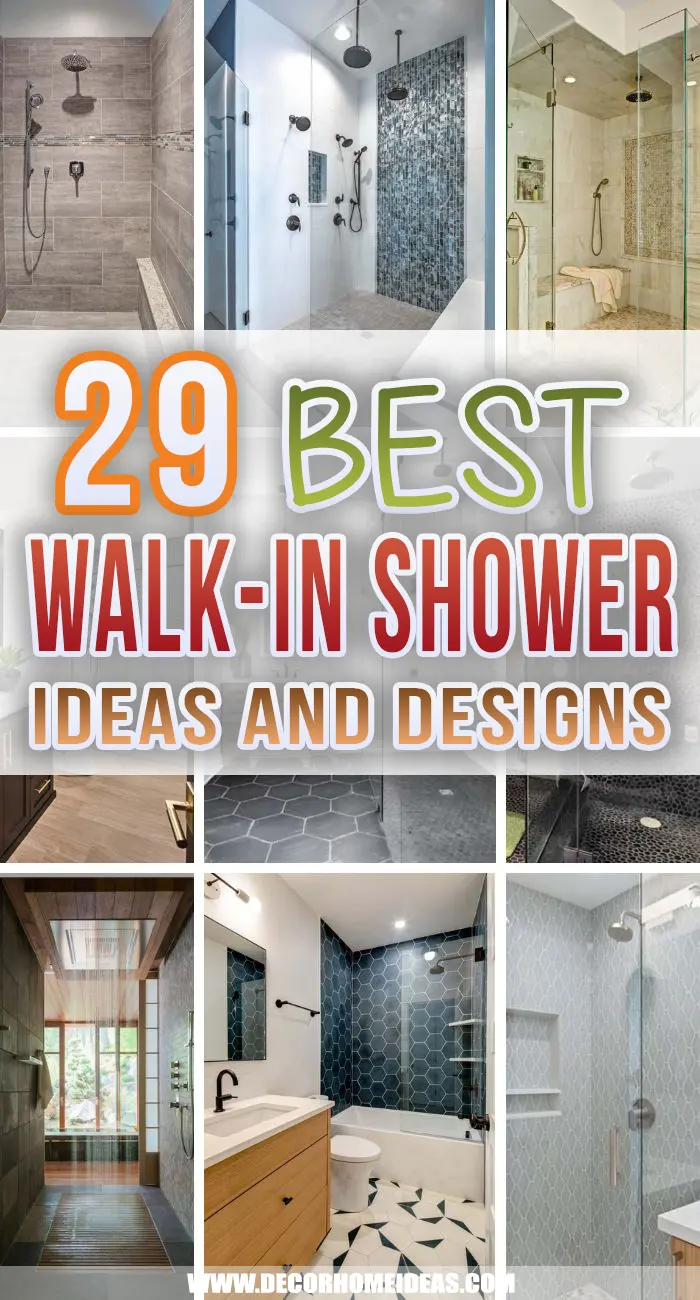 We've collected some award-winning walk-in shower ideas to help you make the best choice for your personal spa.
1. Making it Rain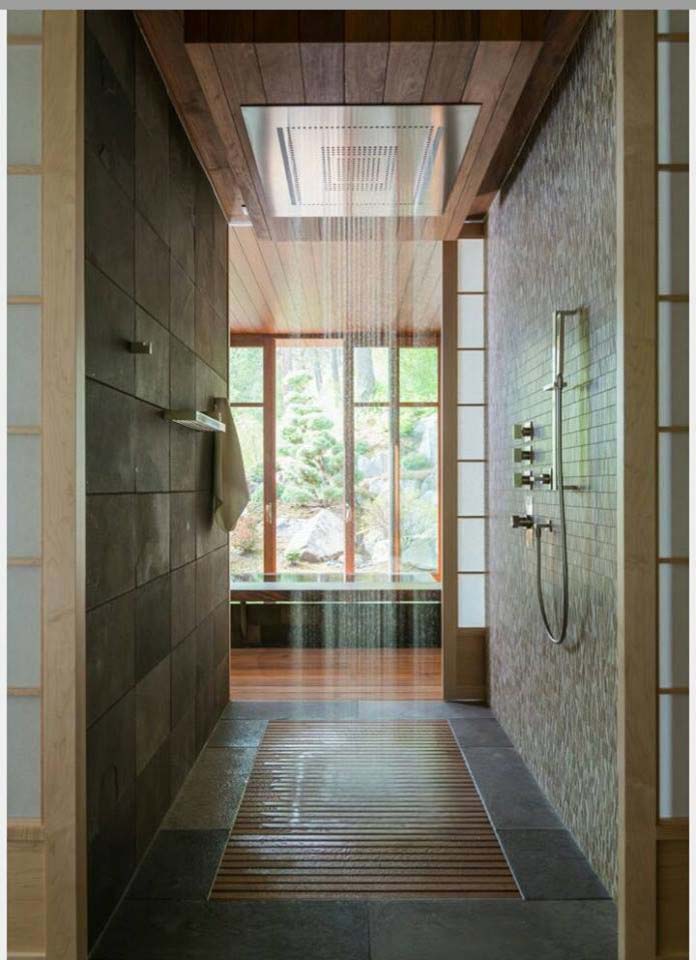 The spa experience in this Japanese-inspired design revolves around the oversized ceiling-mounted rainfall shower head.
This pass-through shower has plenty of options for controlling water flow. Translucent shoji screens let in more light.
Hardwoods and pebble tiles also contribute to the nature-like experience.
2. Mix Marble Tiles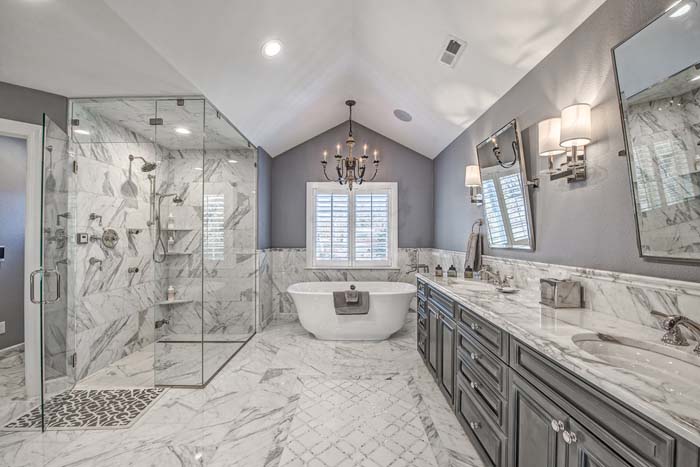 This luxurious shower takes full advantage of Venatino marble on the walls, with Carrara marble pinwheel broader and pencils on the trim.
A full glass walk in shower makes this entire transitional bathroom look larger.
via Sanctuary Kitchen and Bath Design
3. Corner Convenience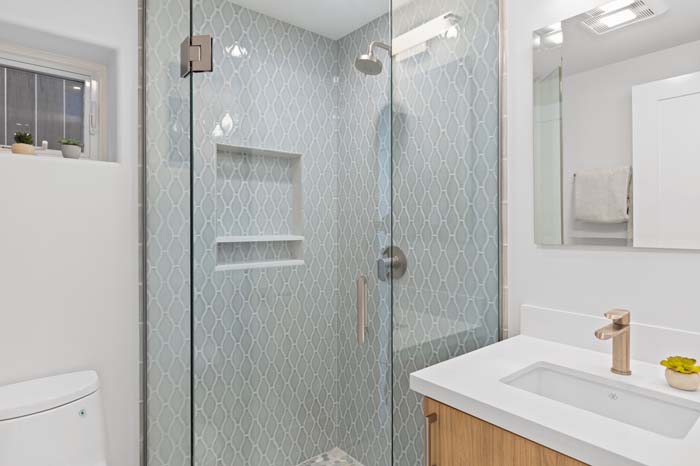 A simple walk-in looks elegant with its ice blue ceramic pattern tile in a baroque/arabesque pattern. Building into the corner is a space-saving idea for a small bathroom.
What to use for a similar effect: Gallerie 10.5" Porcelain Tile Mosaic Sheet
The easiest way to get more elbow room in a shower is to build shelves in a wall cavity. You can keep the same bath tile as the rest of the shower, or use a tile that makes the space a focal point.
via White Design
4. Beach House Design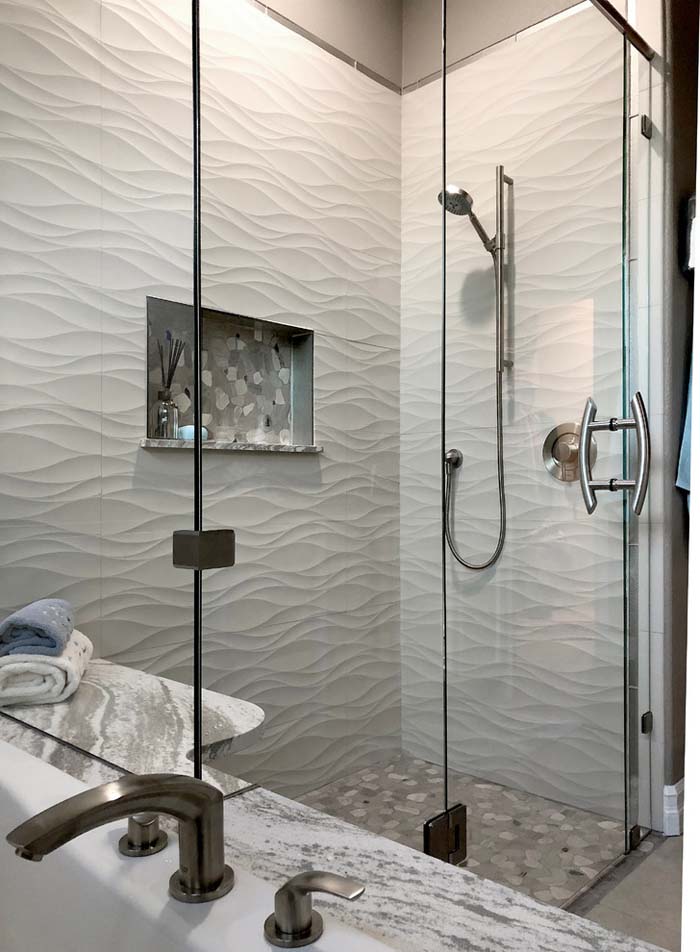 The large bench and mosaic tiled floor and shelf are notable highlights in this walk-in shower.
The shimmering glass wall tiles create a wave pattern in relief that is a hallmark of the coastal style.
What to use for a similar effect: Ceramic Mosaic Tile
via Nancy Finneson
5. Roll-in Shower Idea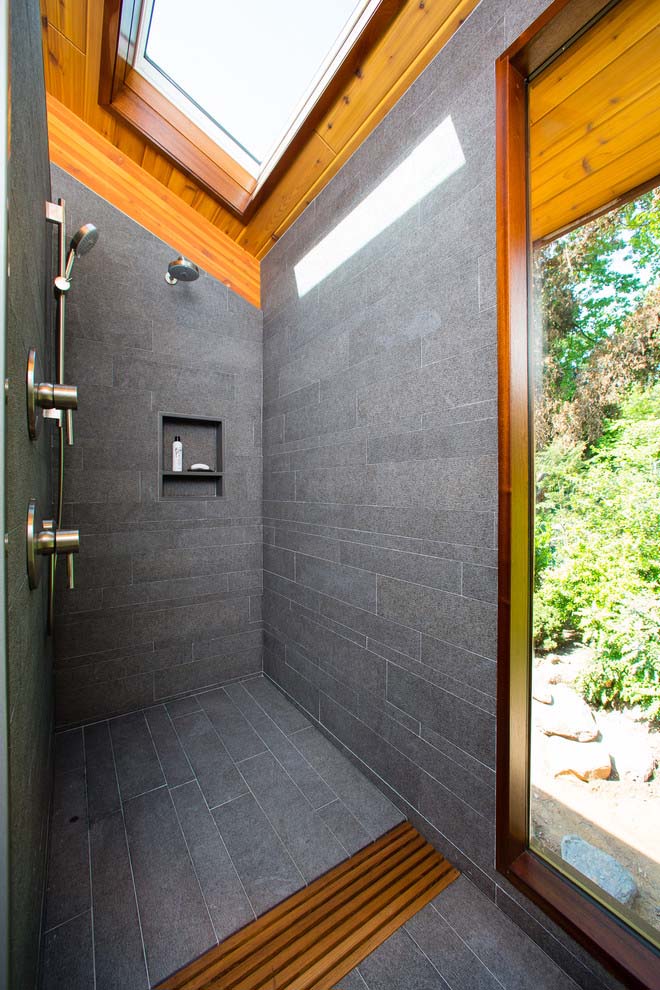 This contemporary walk-in shower with dark gray tile and wood brightens with a skylight. The curbless entry makes this shower a candidate to be a roll-in shower. These are suited for those with disabilities or who use a walker or wheelchair.
A roll-in shower should be at least 36 inches wide, four inches wider than a standard shower. It should also be at least 48 inches long.
via Workshop11
6. Double Shower and Large Window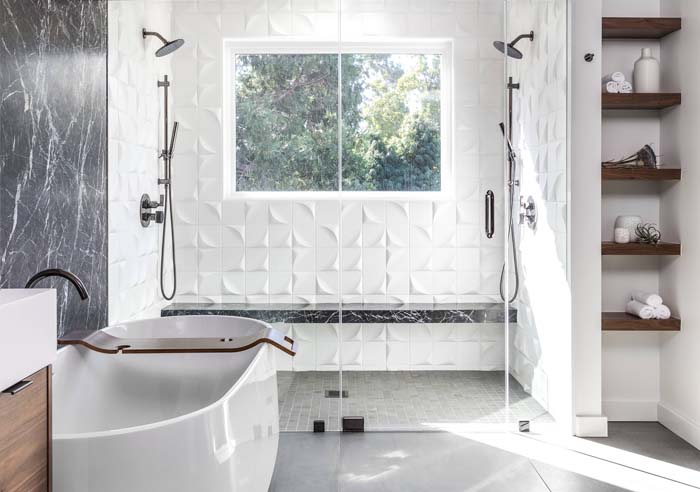 A double shower feels like a spa and a time-saver. This shower includes a long bench, which is not only convenient, it's a must-have item for both the elderly and those who have health issues.
White tiled walls reflect the natural light that pours into the room.
via GoodSpace High Performance Builders
7. Geometric Tile Pattern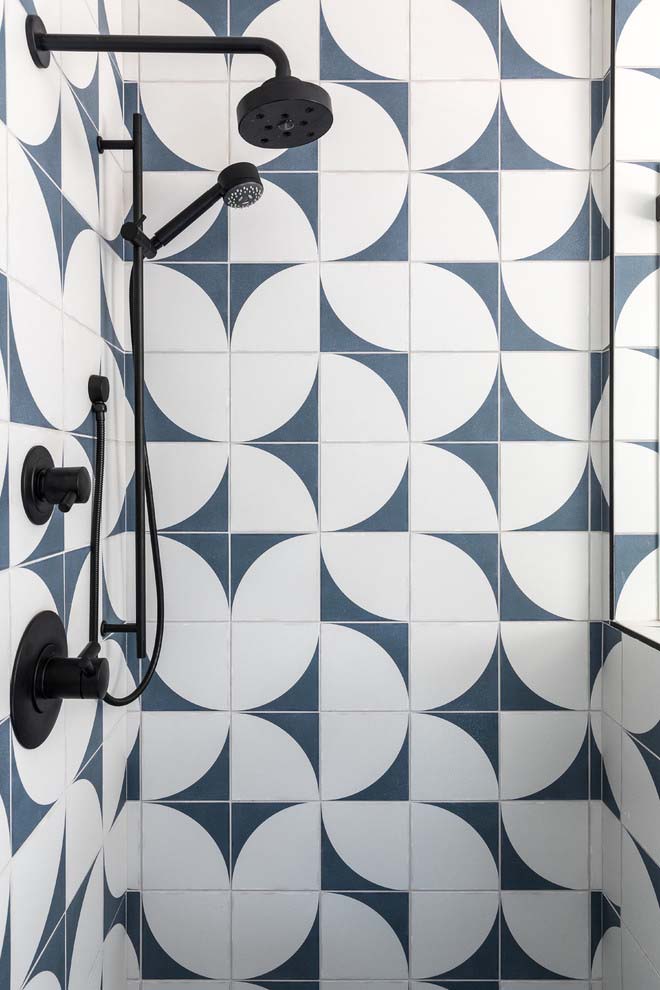 Geometric tiles create a bold pattern in this small space. Matte black hardware is another nod to the modern style.
The shower gets a boost from the window that doubles as a niche shelf space for toiletries.
via GoodSpace High Performance Builders
8. Side-by-Side Shower Heads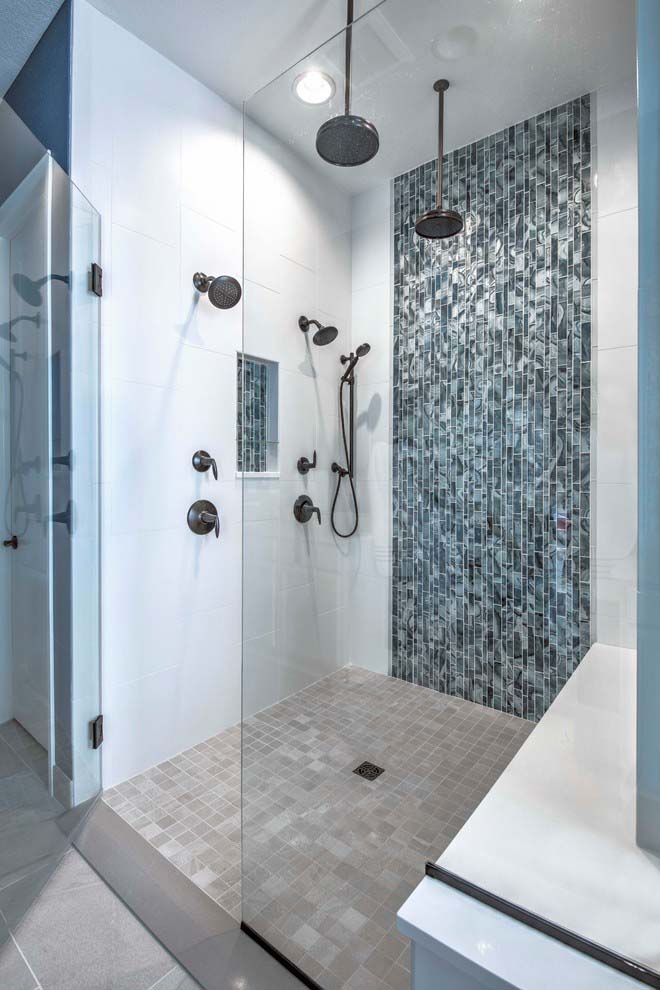 Here's another way to install dual shower heads. The contemporary shower gets a color boost by using shades of blue glass tile, creating a waterfall effect on one wall.
Beige tile flooring creates an easy transition for a low curb entry.
via Built by Krueger
9. Doorless Shower with Clear Glass Panel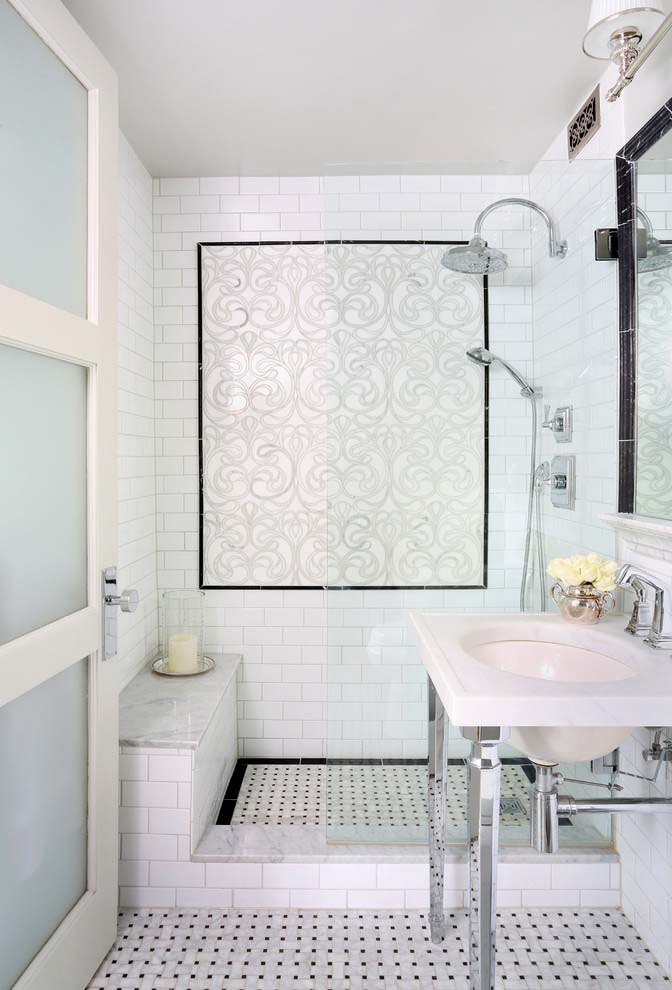 The frameless glass panel is almost invisible. A decorative tile creates a feature wall in this doorless shower room.
Darker tiles set the feature apart from the subway bathroom tiles. Carrara white marble pinwheel tiles cover the floor on both sides of the low curb.
10. Hexagonal Tiles and a Half Wall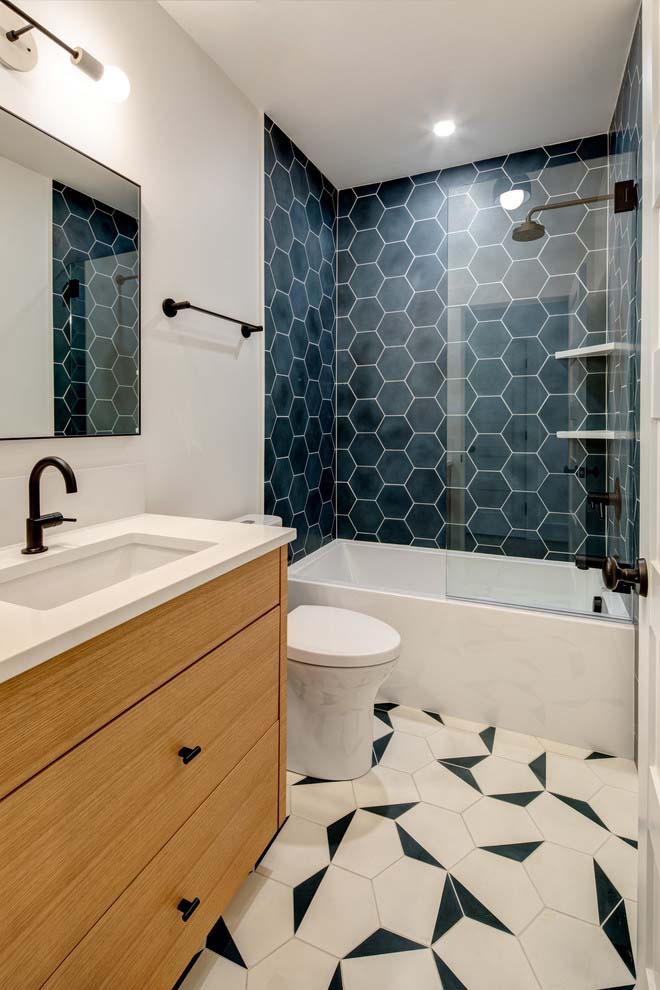 The hexagonal wall tile is a timeless classic set in a modern teal color.
While not a walk-in shower, the glass panel shows how a custom panel can be built on a half wall to accommodate design dilemmas.
What to use for a similar effect: Value Series 2″ x 2″ Straight Edge Porcelain Mosaic Sheet Floor Use Tile
11. A Color Popping Feature Wall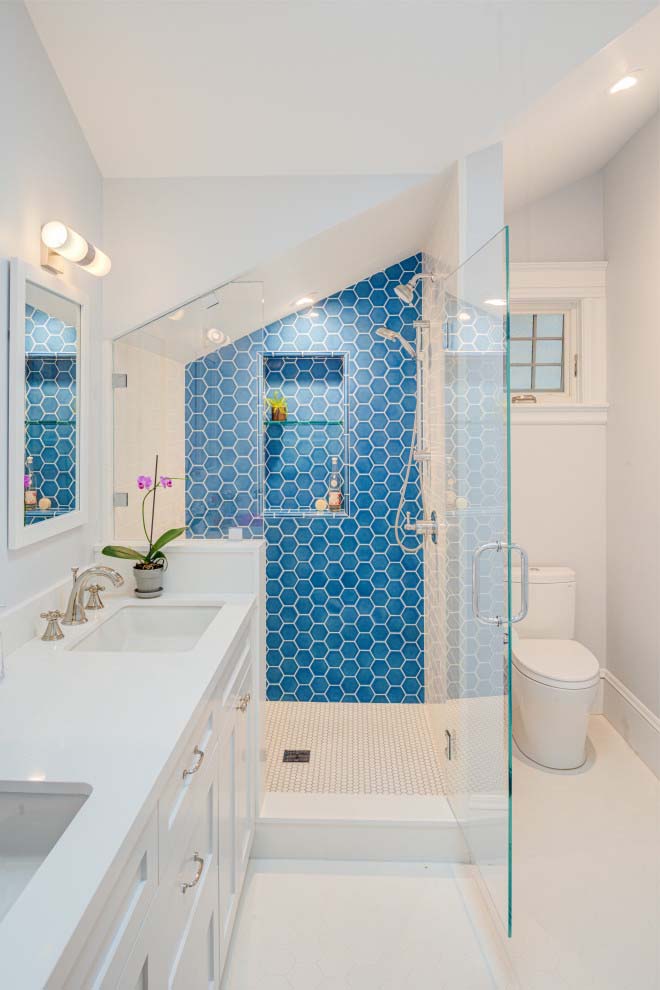 Set your accent wall inside the shower. Bright blue hexagonal patterned tile pops against a creamy backdrop.
What to use for a similar effect: Cascade 1″ x 1″ Porcelain Honeycomb Mosaic Wall & Floor Tile
You should be able to convince any interior designer to incorporate this walk-in shower idea into your layout.
12. Urban Escape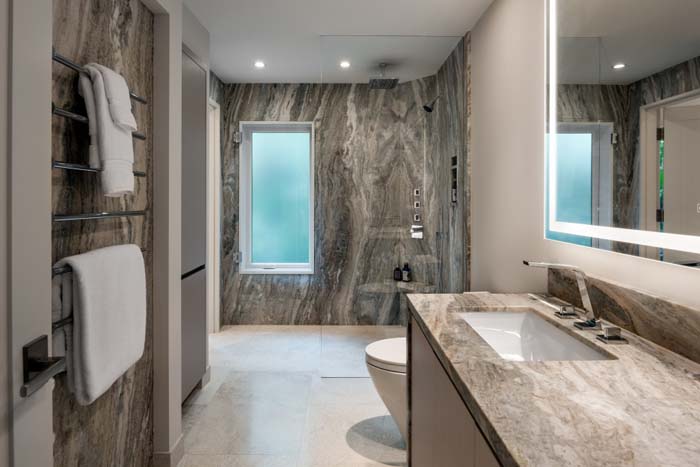 Because this shower stall is so long, it needed no door next to the clear glass panel.
A large frosted window brings in light without sacrificing privacy.
13. Subway Tile Restyled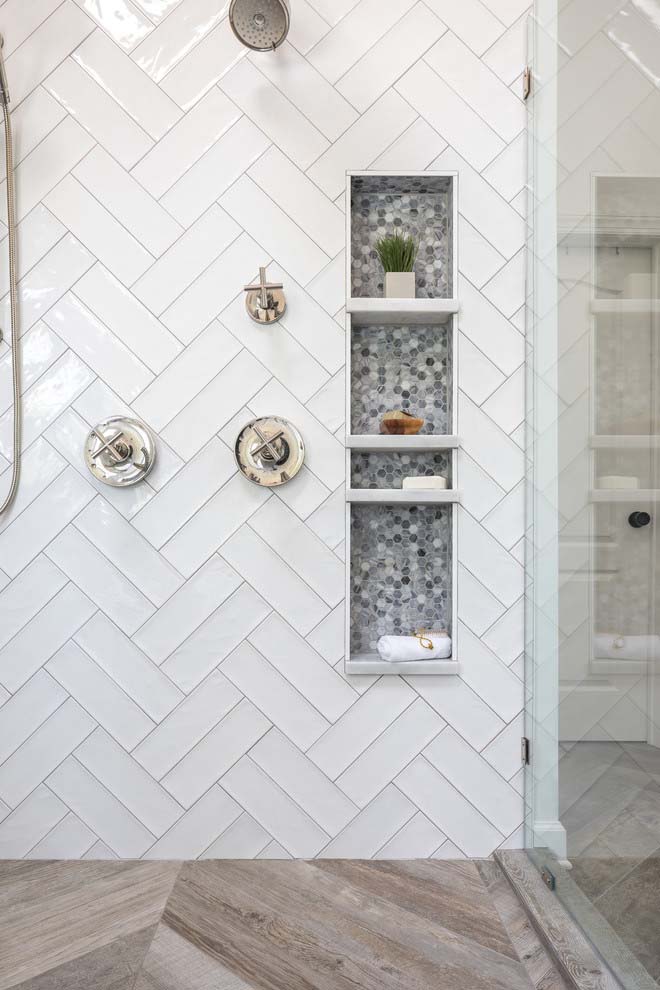 A modern farmhouse doesn't have to have an old-fashioned bathroom. The double herringbone pattern in this walk-in shower showcases a new way to use traditional subway tile.
Wood look tiles are popular in rustic homes and are widely available. The tall shelf niche with glass mosaic tile separates toiletries for a couple.
What to use for a similar effect: Moze 3″ x 12″ Ceramic Subway Tile
14. Tall Feature Wall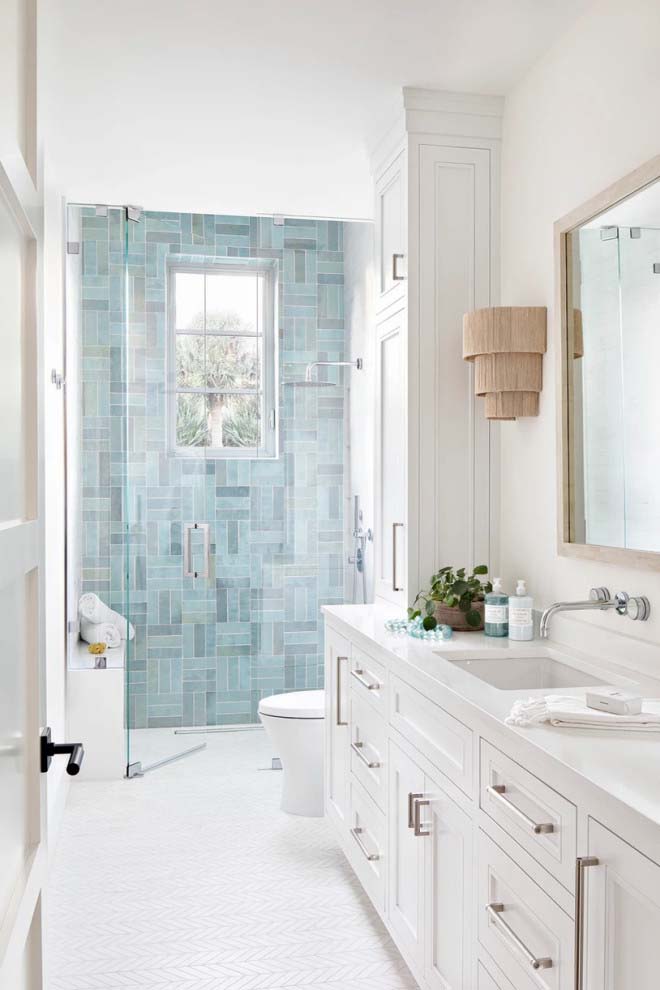 Most accent walls in bathrooms are generally panels within a larger, less expensive tile.
What to use for a similar effect: Crystile 4″ x 12″ Glass Mosaic Subway Tile
With its baby blue ceramic tile in a three-tile basket weave pattern, this wall does double duty by acting as a feature wall for the entire room.
via HW Interiors
15. Geometric Gem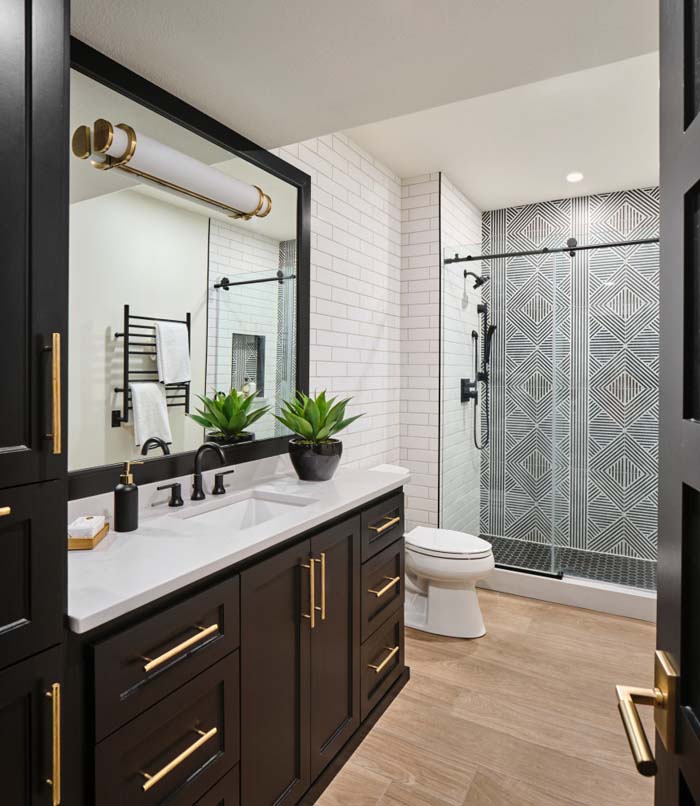 If you want to add a shower to a foundation that's already been poured, a low curb entry is a more affordable option than retrofitting a curbless entry.
The geometric pattern made with matte porcelain tiles is a more masculine approach to this bathroom.
via Haven Design and Construction
16. Magnificent Mosaics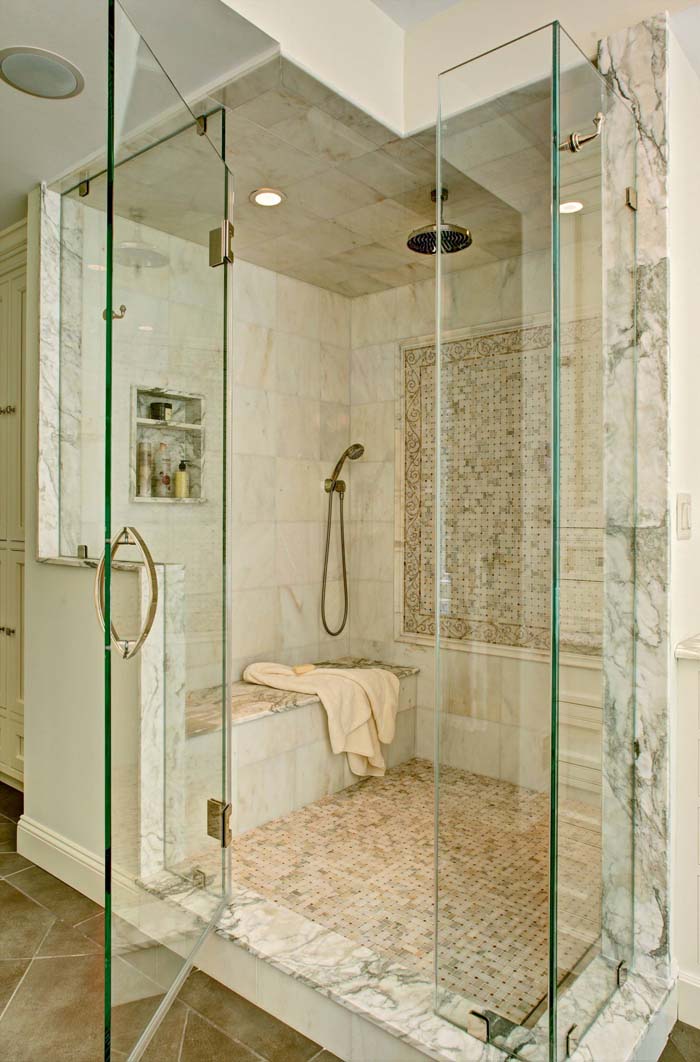 Small mosaic tiles break up the look of the Calcutta marble in this walk-in shower.
Used in the feature wall, bench, and floor, its browns and yellows pick up on the subtle golden veining in the marble tiles and brass hardware.
What to use for a similar effect: Octagon and dot Mosaic Wall & Floor Tile
17. Smooth Pebble Tiles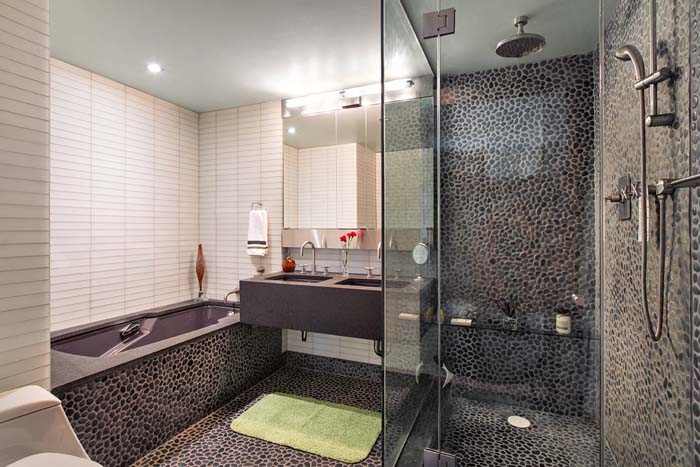 Smooth pebble tiles on the walls and floors of the shower are repeated in the vanity area and on the side of the tub.
What to use for a similar effect: Natural Stone Mosaic Sheet Wall & Floor Tile
Frameless glass walls maintain continuity throughout the room.
via Julie Schuster Design Studio
18. Realistic Penny Tiles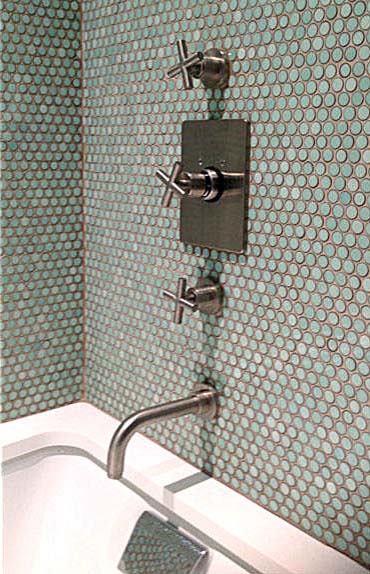 Here's a great example of how a classic bathroom design is brought forward. Penny round porcelain mosaic tiles bring a decidedly vintage look to this bathroom.
What to use for a similar effect: Joy 12.32" W x 12.99" L Ceramic Penny Round Mosaic Floor and Wall Tile
The color of the grout sells the story of walls covered in aged copper pennies. The old-fashioned styling of the hardware maintains classic continuity.
via Julie Schuster Design Studio
19. Small and Sophisticated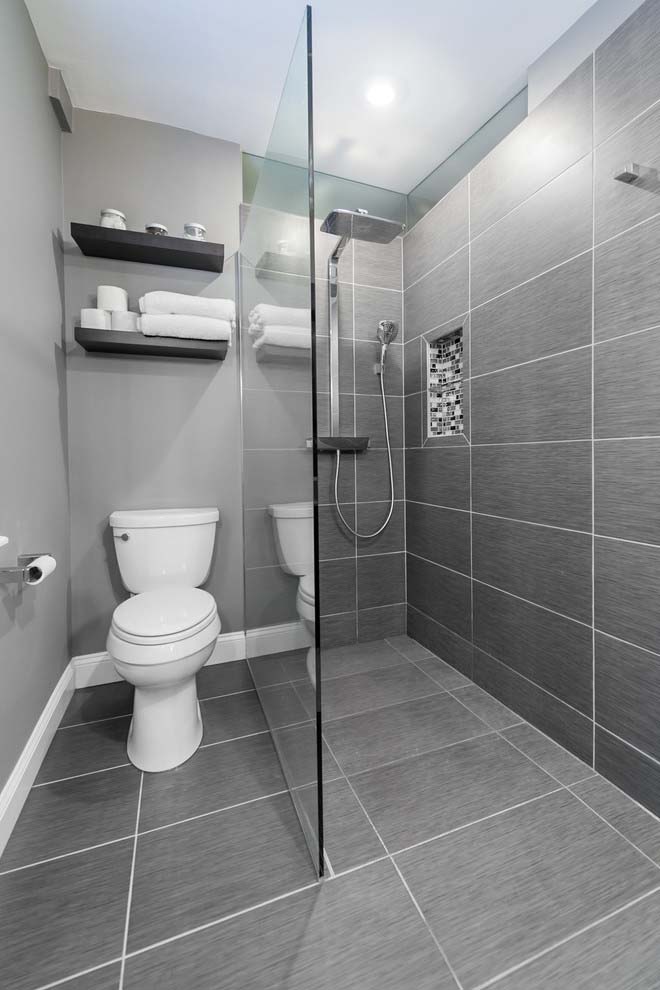 Large dark gray tiles with light grout create a feeling of a larger shower space. The curbless entryway and drain at the back wall also eliminate visual distractions that would enclose the area.
The shower head is wider than most rainfall shower heads. The sea glass colored frosted skylight adds natural light into the space.
The mosaic tiled niche shelf keeps the area clear of obstacles.
20. Accessibility for Walk-in Showers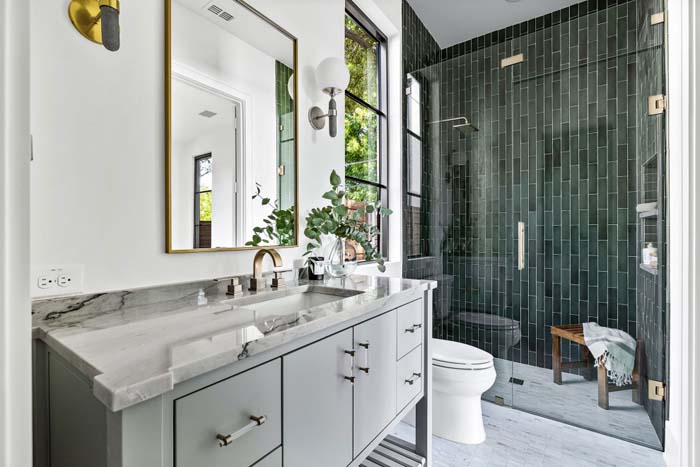 If you are designing your bathroom from the ground up, consult with an architect about installing a walk-in shower with a curbless entry.
A shower with a curbless entry means the slab has to be dropped to accommodate the height of the shower pan. This is why it's important to make your design ideas known as early in the planning stage as possible.
Setting the shower wall tile vertically makes the room seem taller. A bench and wide entry ensure this shower will meet accessibility needs in the future.
via Shaddock Caldwell Builders & Developers
21. A Window and Waterfall Wizardry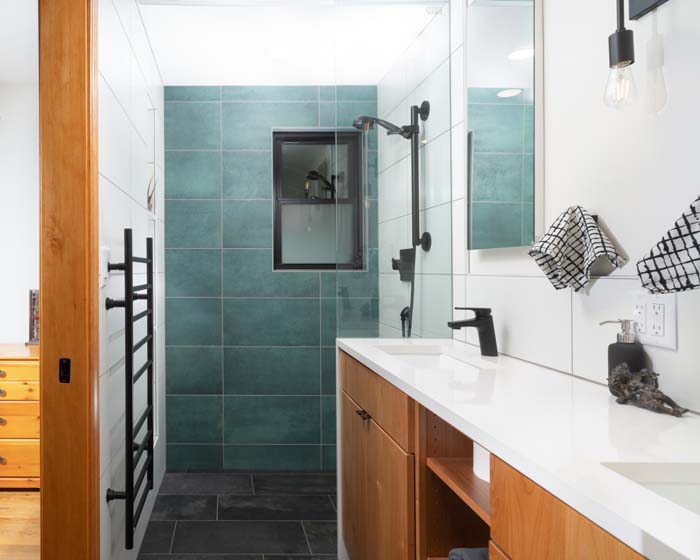 A deep colored tile like this matte emerald green means you need to pull in light wherever possible. The walk-in shower in this bathroom remodel has a double-hung frosted window.
A glass panel is mounted on the edge of the vanity's waterfall countertop and extends to the ceiling.
22. Metallic Tile Splash Wall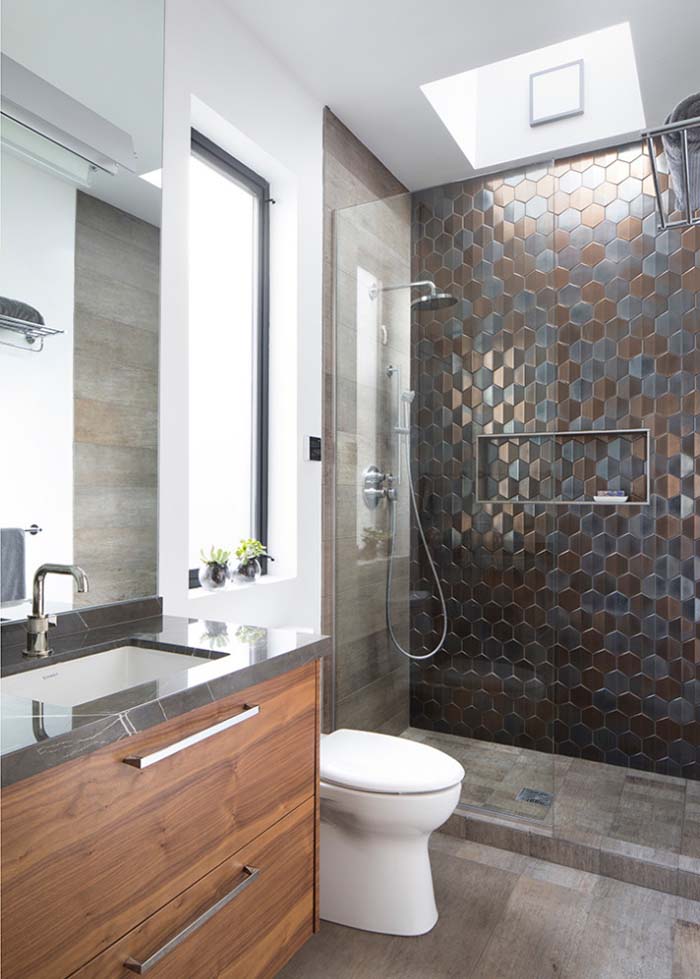 Shimmering tiles on the splash wall set an earthy, masculine tone to the room.
Wood look shower floor and wall tiles add to the outdoorsy vibe.
via SF Modern
23. Match Floor Tiles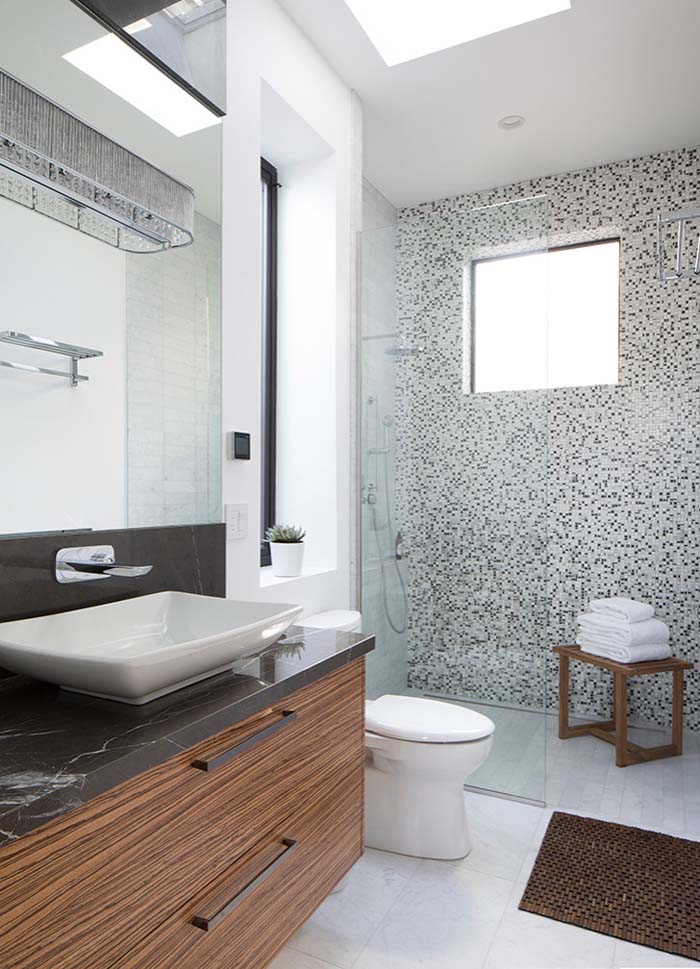 The only thing separating the shower from the rest of the bathroom is a glass panel.
A curbless, doorless entry allows the same white marble shower floor tile to be used throughout the room.
via SF Modern
24. Stripe of Rough Tile Adds Interest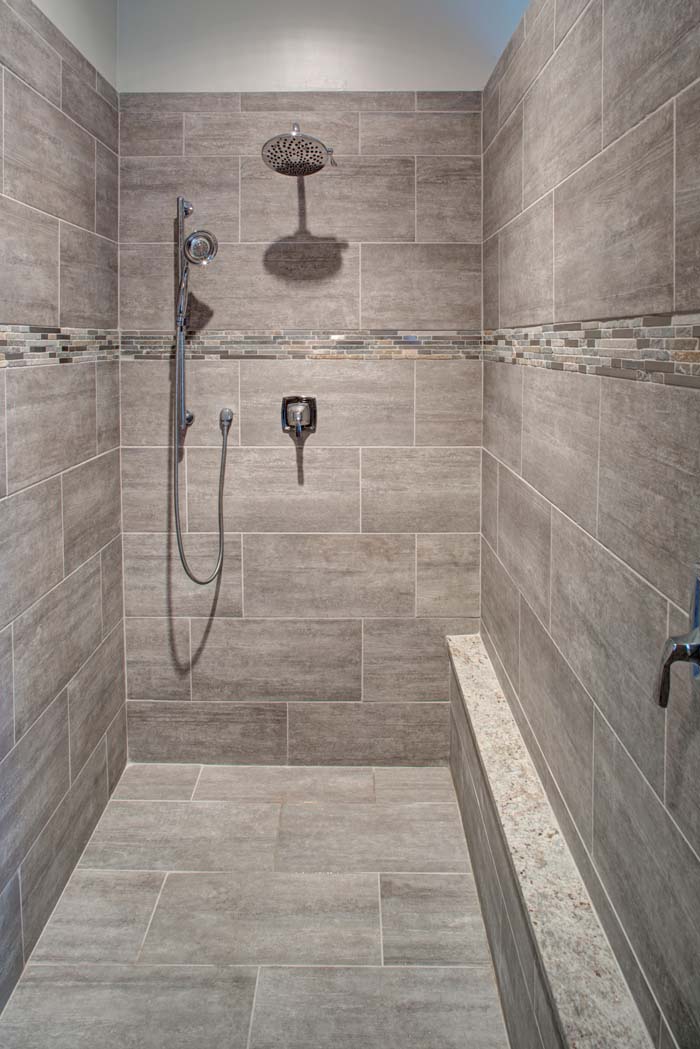 A band of mosaic accent tiles add interest to this award winning walk-in shower design. This shower enclosure includes controls on the side-wall, allowing the user to adjust the temperature without getting wet. This is great for caregivers.
Other walk-in shower ideas include a narrow ledge, dual shower heads, and a linear drain that allows water to drain off the side instead of the middle.
via ARDO Contracting
25. Minimalist Walk-In Shower Idea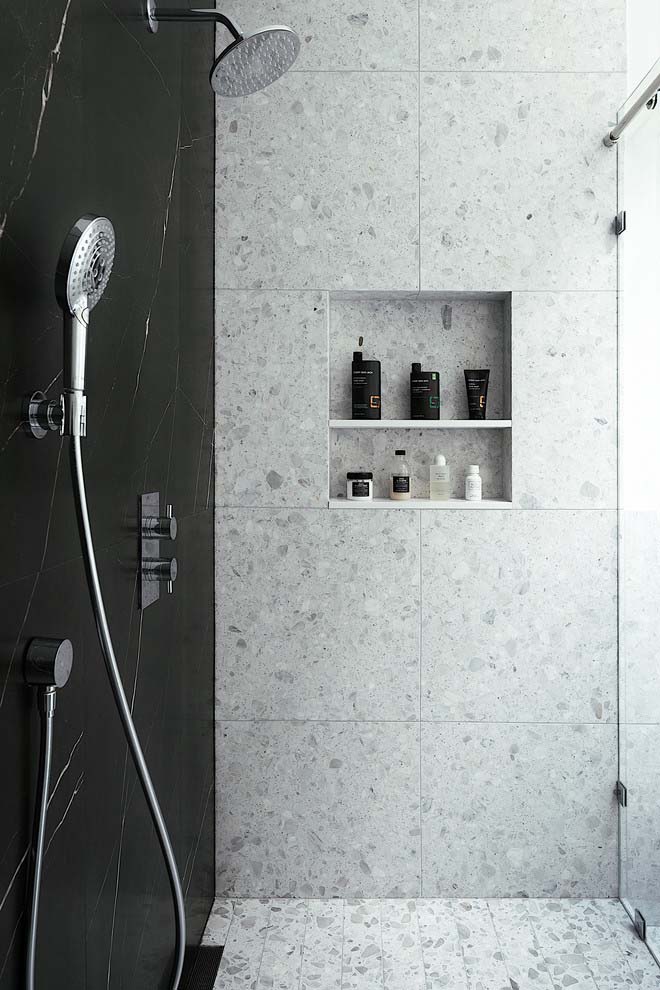 A minimalist walk-in shower includes marble tile walls and a terrazzo floor.
The shower floor tile is the same as the bathroom wall but differentiates itself with its smaller dimensions.
26. Modern Look for Subway Tiles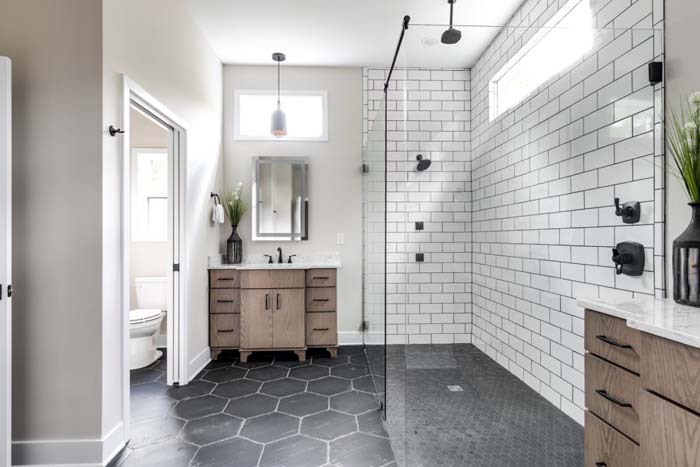 Traditional white subway tile has a fresh look with black grout. The long window allows in plenty of light.
Tiled walk in shower ideas have various solutions. Here, two different floor tiles visually separate the prep areas.
via Richmond Hill Design + Build
27. Let in More Light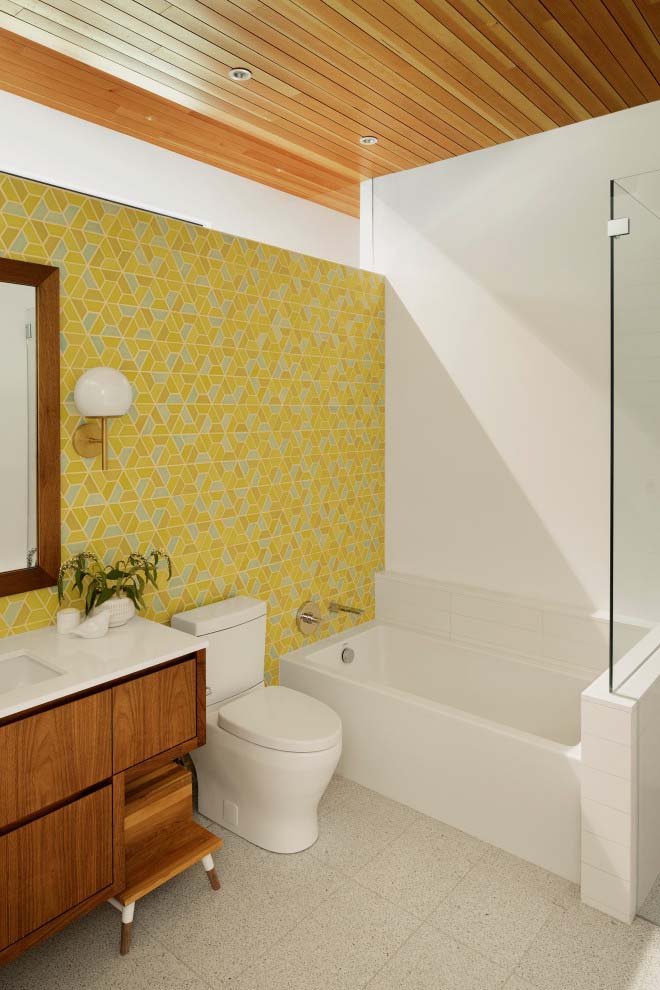 No, this isn't a walk-in shower: that's on the other side of the glass panel.
We wanted to point out the opening over the shower wall. It allows light in from another room.
28. Mother-of-Pearl Walk In Tile Shower Design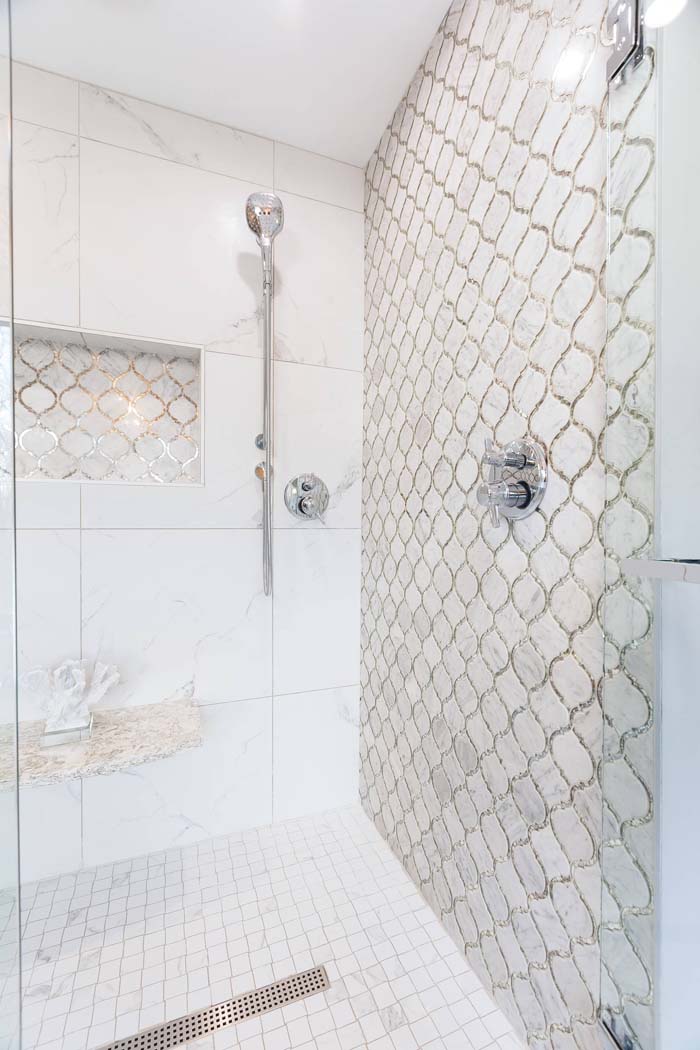 Marble tile with mother-of-pearl inlaid in an arabesque pattern raises this walk-in shower to a whole new level of luxury.
What to use for a similar effect: Recycle 11.82" W x 11.82" L Glass Tile Mosaic Sheet
The seamless door keeps the wall in view like a protected art piece.
29. Rustic Walk-in Shower With Wood Look Tile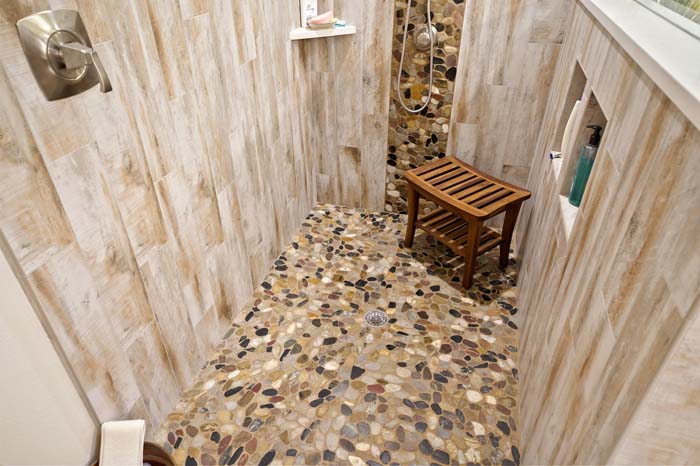 The introduction of wood like tile creates new bathroom shower tile ideas. It's used here to create a rustic look of a cabin shower area without its associated challenges.
Waterfall shower tiles made of sliced, polished stones, run the length of the wall and continue onto the floor, ending at the curbless entry.
Sandstone colored grout gives this walk in shower a natural finish.