Whatever your preferred aesthetics, from farmhouse to midcentury to Scandinavian, gray paint in your bathroom will give you a flawless oasis.
The versatility of gray gives you numerous beautiful variations you can use to dramatically change the mood in your bathroom.
What color goes best with grey in a bathroom?
This timeless neutral can be combined with bold jewel tones like purple and green to give a dramatic effect or basics like white and black to add color.
How do I make my grey bathroom look warm?
Here are some tips on how to make your gray bathroom look warm:
Add wood accents. Add wood furniture, such as a vanity or shelves, or use wood-look tile or flooring.
Use warm lighting. Choose warm-toned lighting, such as incandescent or halogen bulbs, to create a cozy and inviting atmosphere.
Add pops of color. Try adding a colorful rug, towels, or artwork.
Use plants. Plants are a great way to add life and color to any space and help improve air quality.
Add mirrors. Mirrors can help to make a space feel larger and brighter. They can also reflect light, which can help to create a more inviting atmosphere.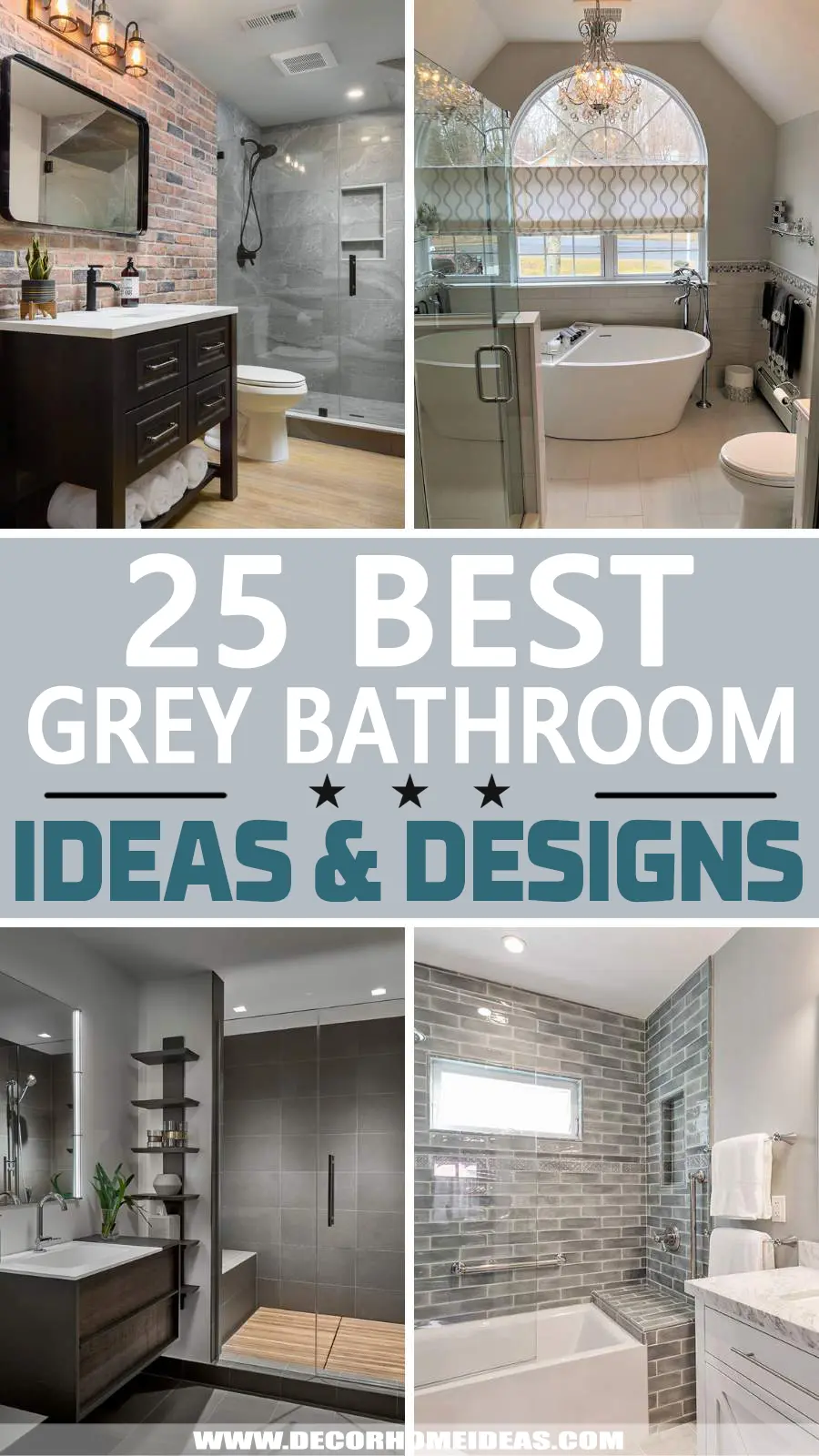 We've compiled 25 of the best grey bathroom ideas to show you how grey can transform your bathroom with a little effort and imagination.
1. Go For a Lavish Look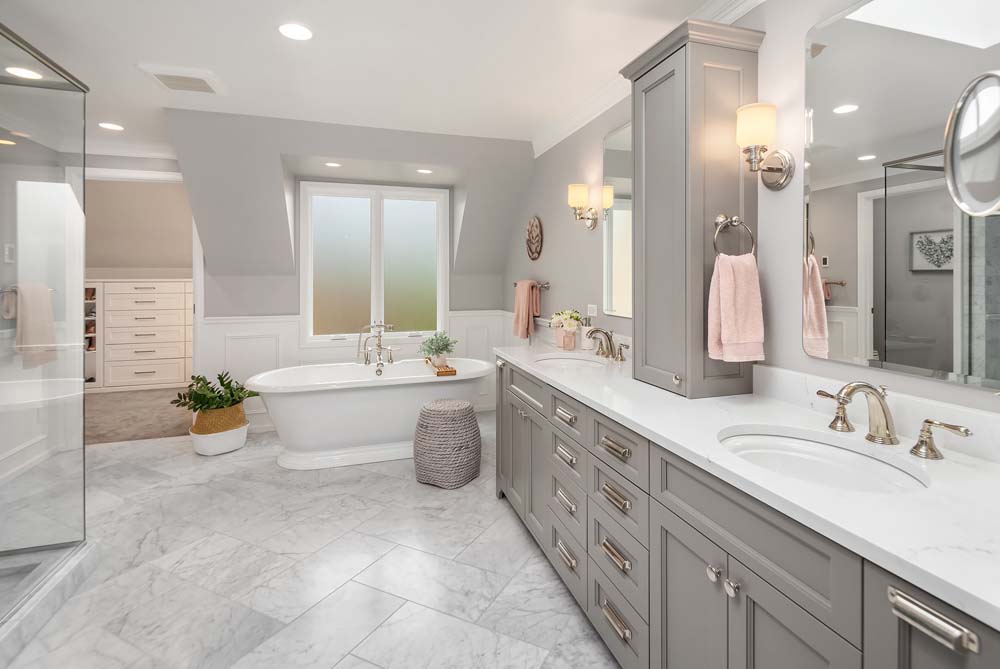 This bathroom design uses shades of dark gray on the sink vanity that marries well with a herringbone-patterned Carrara marble floor tile and a white vintage soaking tub.
The polished nickel faucets and handles add a luxurious feel to the bathroom. The recessed spotlights and wall sconces provide the perfect lighting.
2. Use Cement Tiles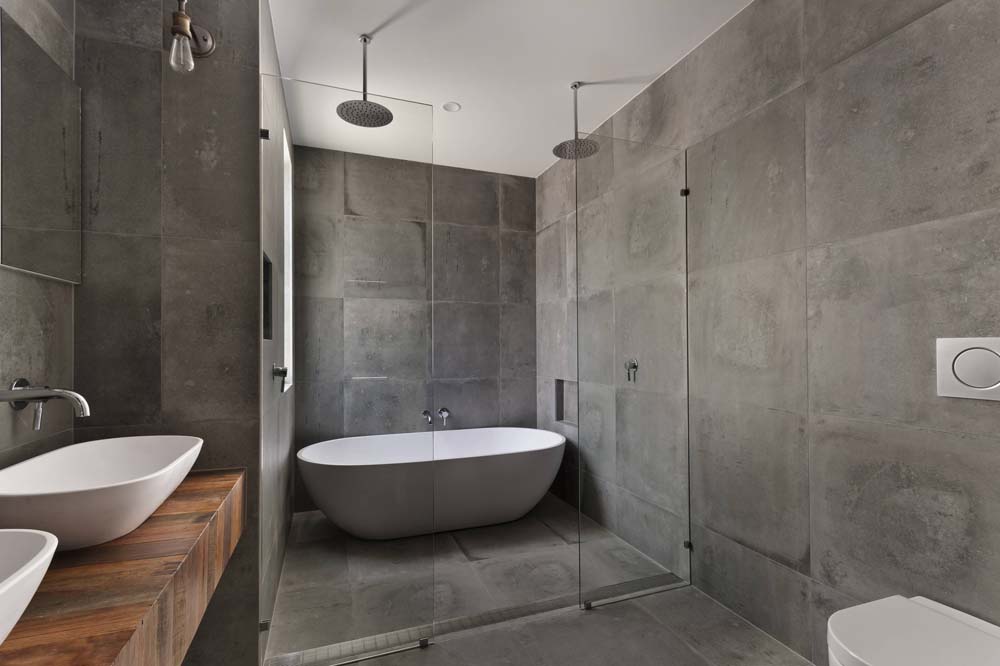 This bathroom design is an excellent example of integrating rustic elegance into a contemporary bathroom. The gray cement tiles on the floor and walls contrast nicely with the white tub and sink bowls.
The wooden floating vanity completes the farmhouse look with style.
3. Install a Gray Countertop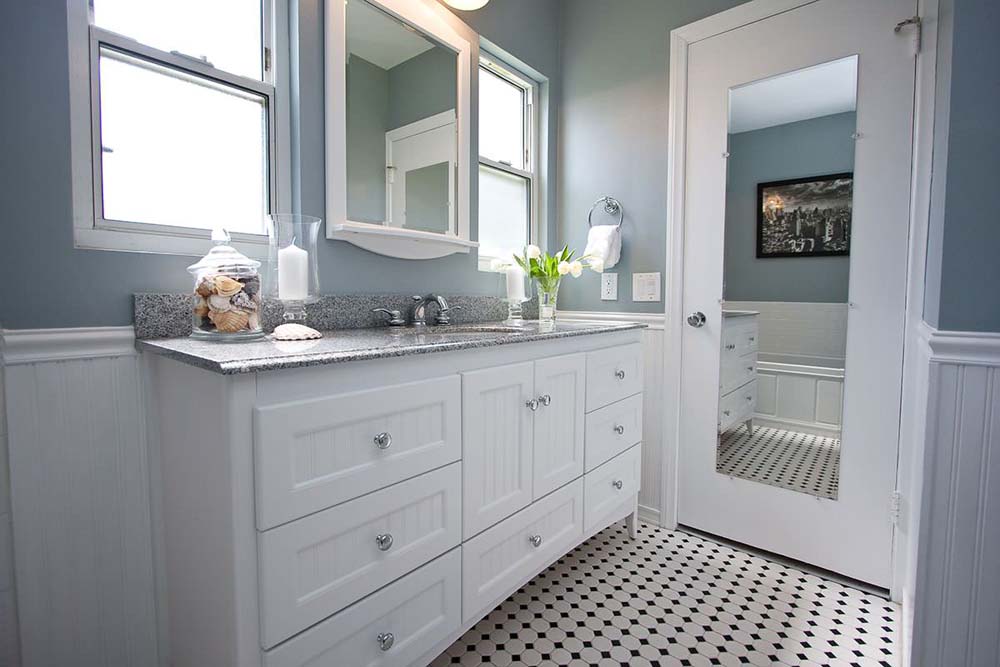 via One Week Bath
Suppose you'd like to have one gray element in your bathroom. In that case, this gray granite countertop makes a strong case for a considerable option.
The white beaded inset cabinets, pale blue walls, and white beadboard contrast with the granite countertop, making it a focal point. The black and white mosaic floor and beveled mirror on the door add timeless charm to the design.
4. Focus on the Vanity Cabinets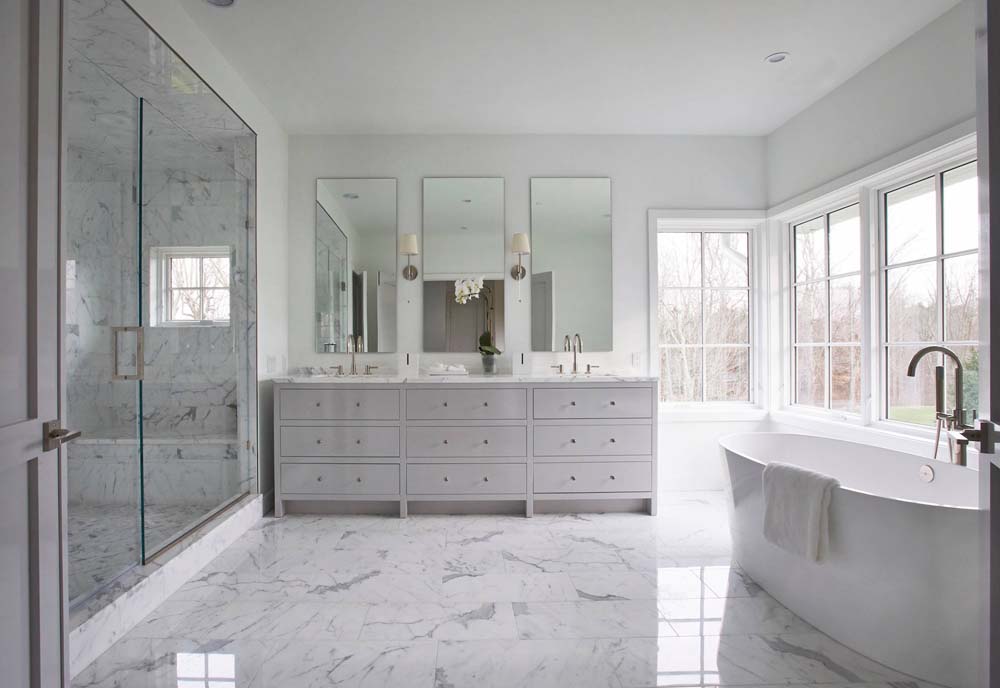 The light taupe-gray cabinets in this design look streamlined and sleek next to fellow neutral accents such as the white marble floor and countertop and the white freestanding bathtub.
The three mirrors above the vanity reflect natural light, giving the bathroom a warm, cozy atmosphere.
5. Paint a Small Section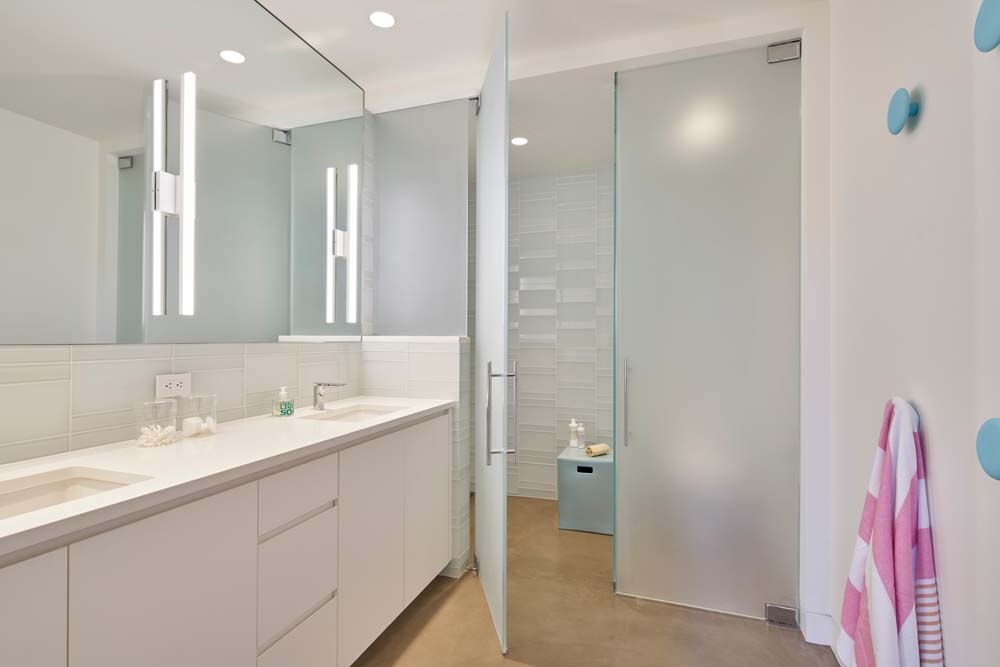 via Mattingly Thaler Architecture
Focusing on a small area for your gray decor is an excellent way of creating a focal point. The immersive vanity mirror reflects the light in the bathroom, making the light gray section stand out in a seemingly dominant white color scheme.
The storied design bursts with timeless details like acid-etched privacy door glass, matte and gloss Lucian floor tile, and jute wall tiles, creating a cozy, relaxing oasis.
6. Tone Down the Mood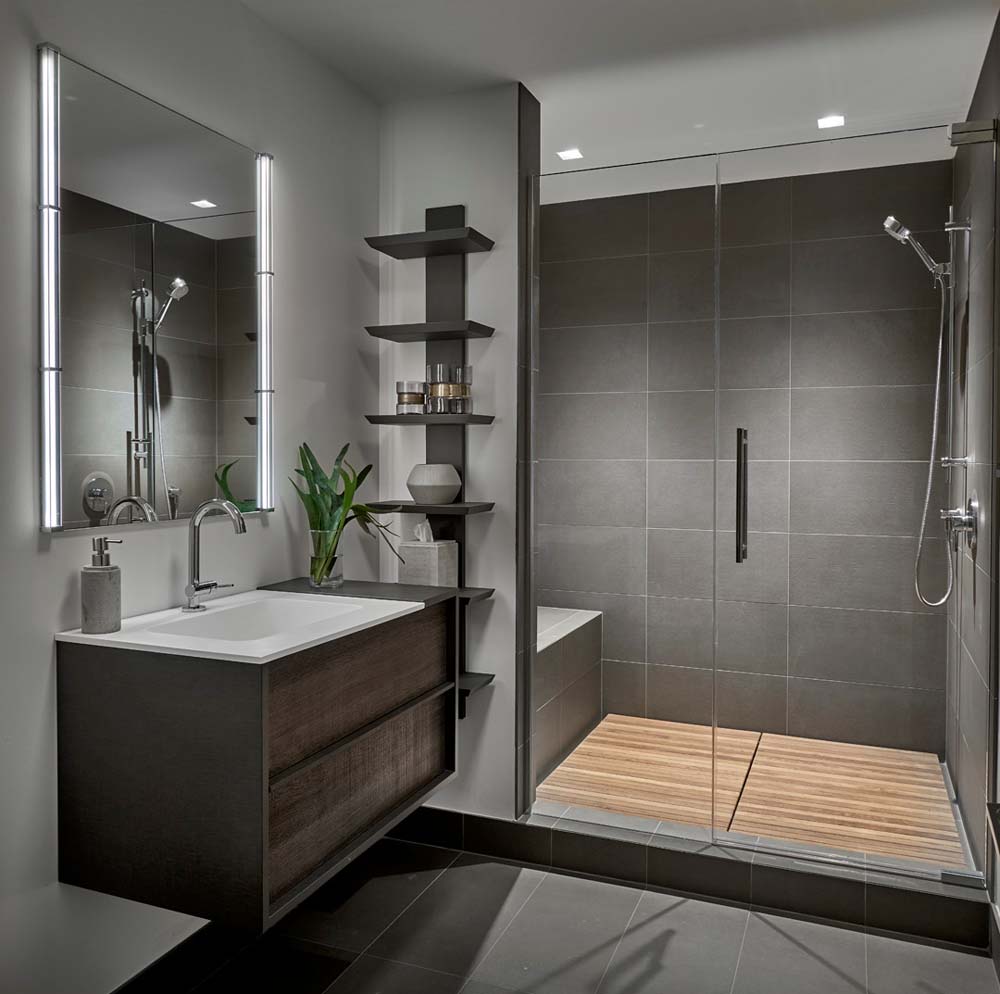 This gray bathroom design uses various shades of gray throughout to create a luxurious sense of zen.
A dark shade of gray has been used on the bathroom tiles, vanity, and tiered shelving, complemented nicely by the old silver-gray walls. The shower floor features a custom-built teak shower tray that provides a seamless look.
7. Go For a Farmhouse Look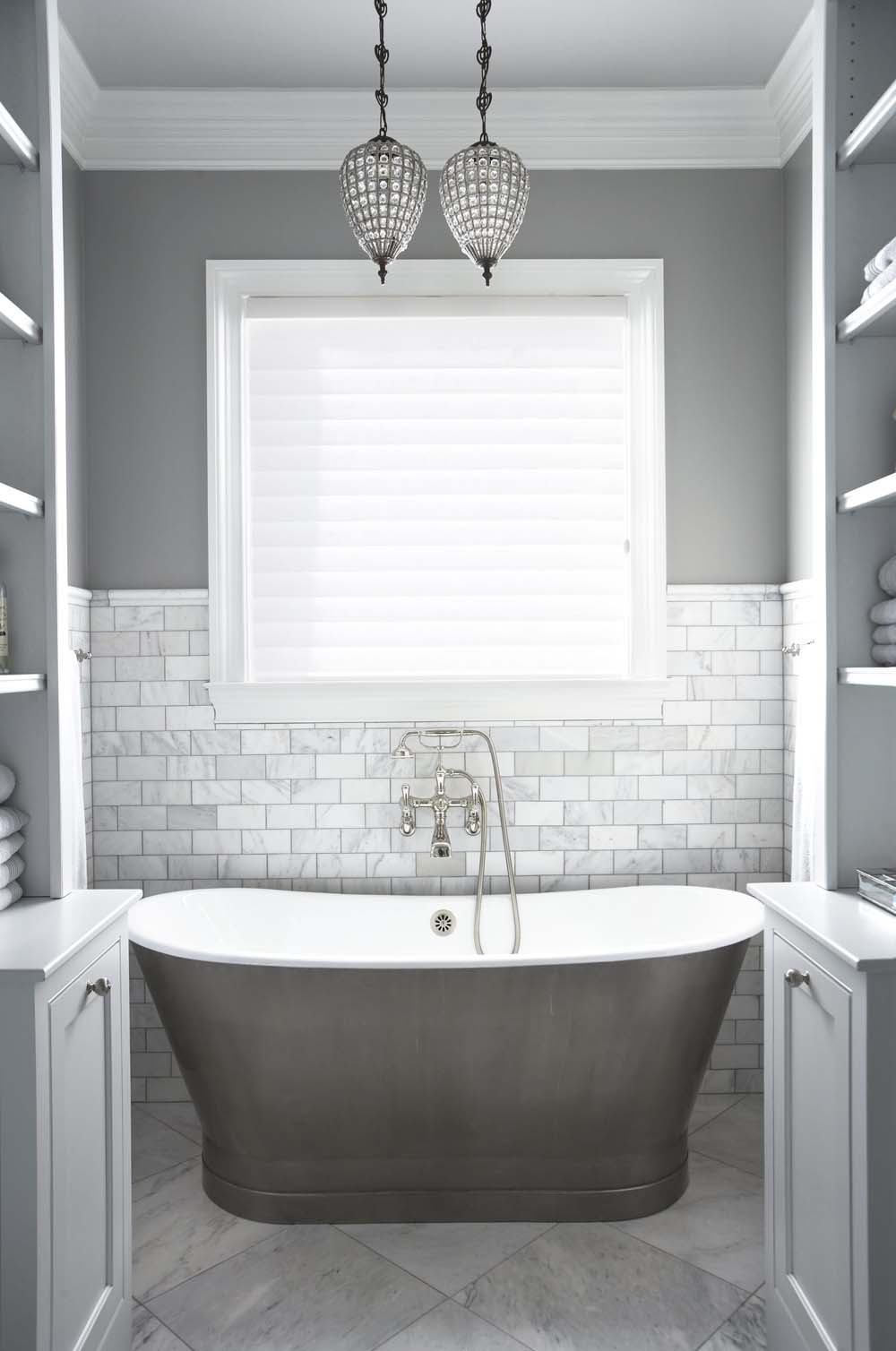 This bathroom design uses platinum gray to transform this vintage-inspired bath. The honed carrara marble floor and wall tiles complement this timeless bathroom with white accents and retro-style fittings.
8. Embrace an Accent Wall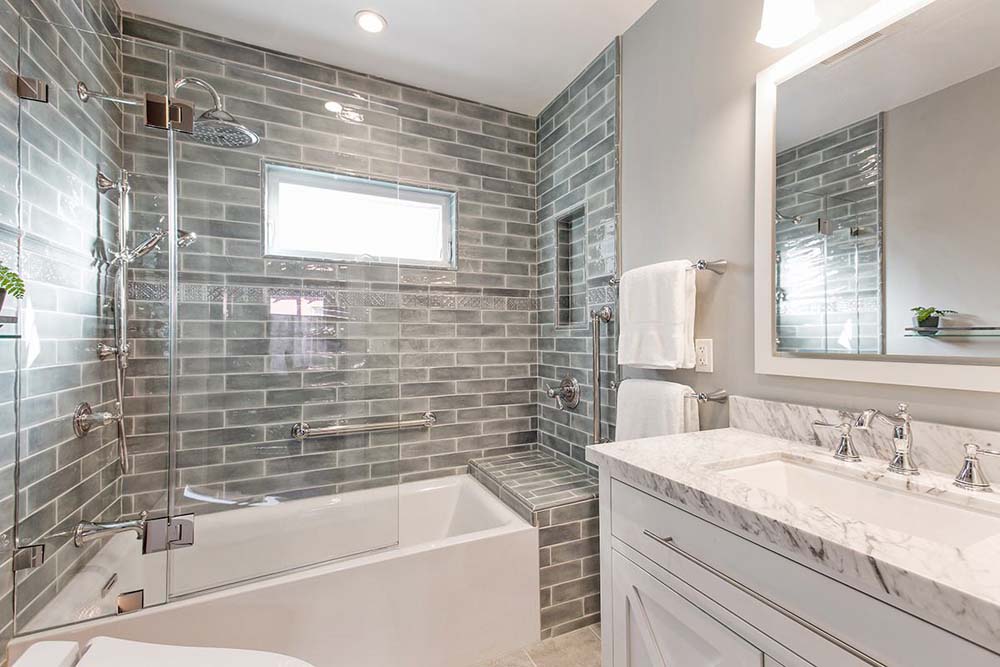 via National Association of the Remodeling Industry
The blue-gray subway tile on the accent wall in this design helps achieve a sparkle effect reminiscent of a luxury hotel ensuite.
The white tub and vanity and silvery accents complement the gray tiles, resulting in a beautiful, dramatic bathroom with a shiny contrast.
9. Aim for Minimalism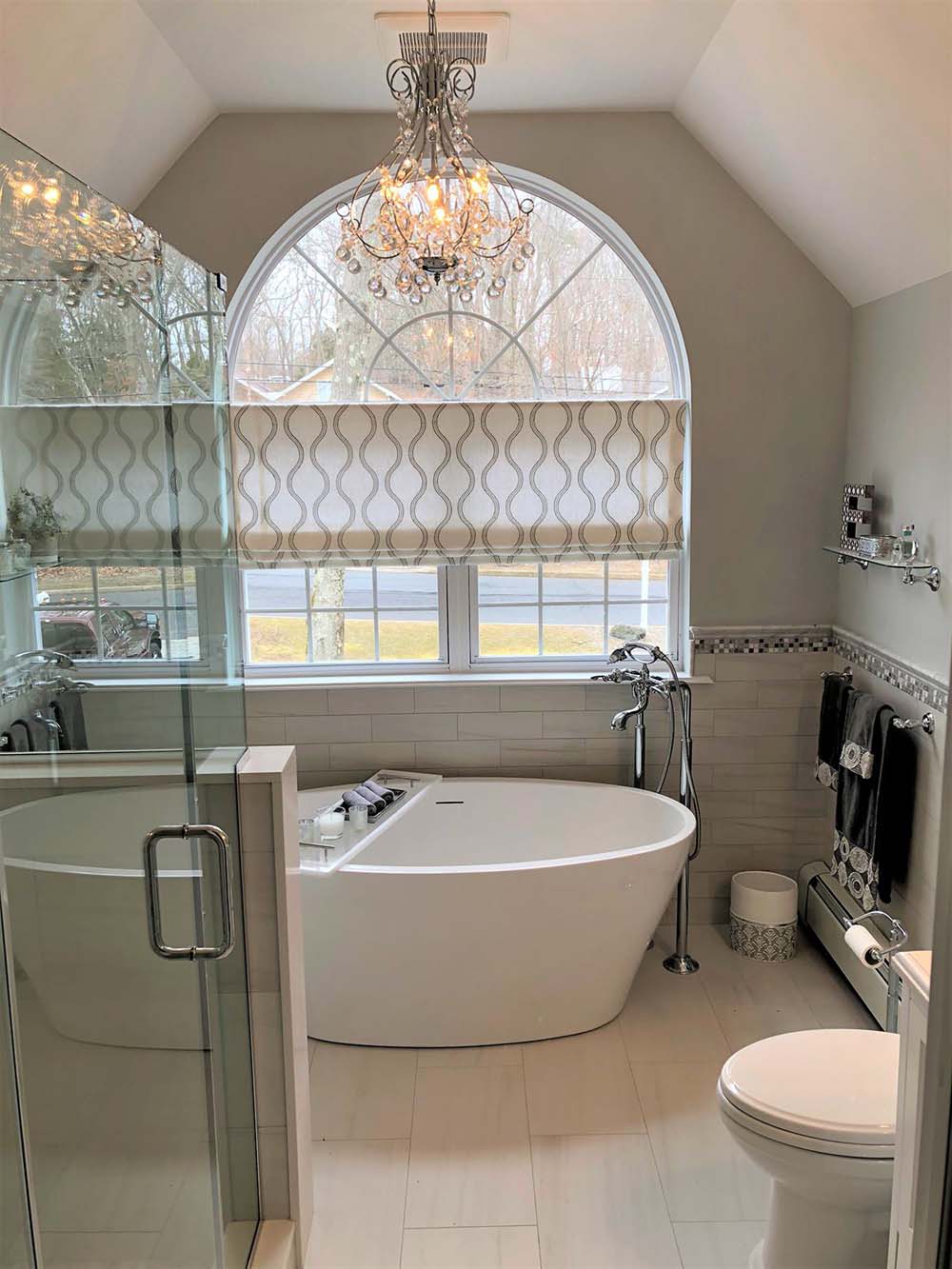 This pared-down bathroom design is the perfect example of minimalistic elegance. The warm gray wall color and light abalone gray subway tiles blend with the white tub and floor tiles to create a serene sanctuary.
The rustic chandelier creates a stunning textural atmosphere, making the small bathroom more adorable.
10. Bring Warmth with a Wood Vanity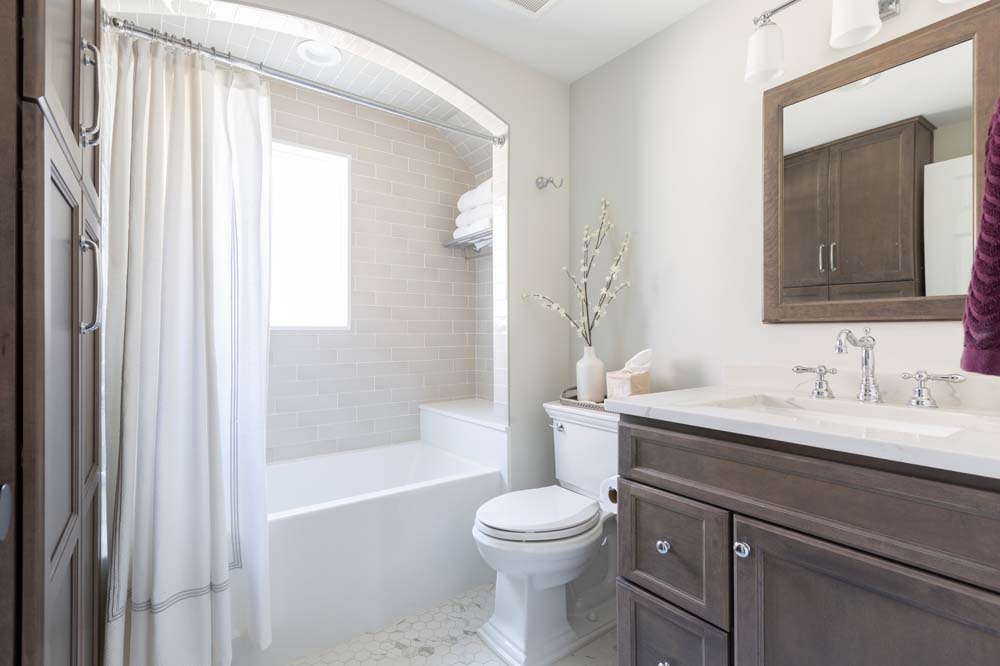 This bathroom design paired a mink gray wood vanity with a white marble countertop and white floor tiles, resulting in a moody atmosphere that exhumes cool sophistication.
The beautiful shower arc and white shower curtain give the bathroom a touch of classic elegance.
11. Take a Bold Step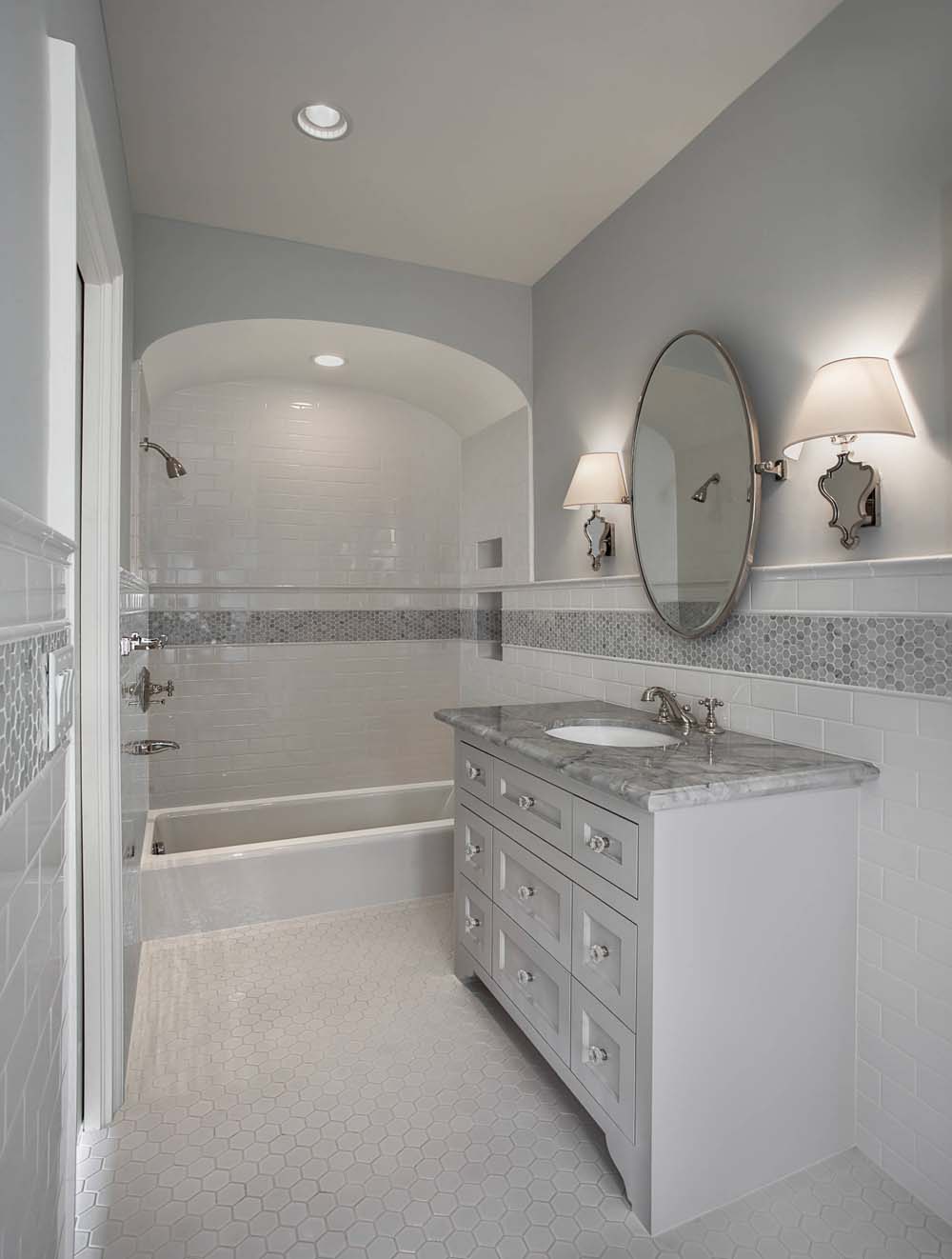 This neutral bathroom is enveloped in shades of light and dark gray, from the walls to the bathroom cabinet and countertop, giving the small bathroom a sense of dimension.
The floor boasts white mosaic tile, matching a decorative gray subway tile strip.
12. Deck Out the Walls with Waves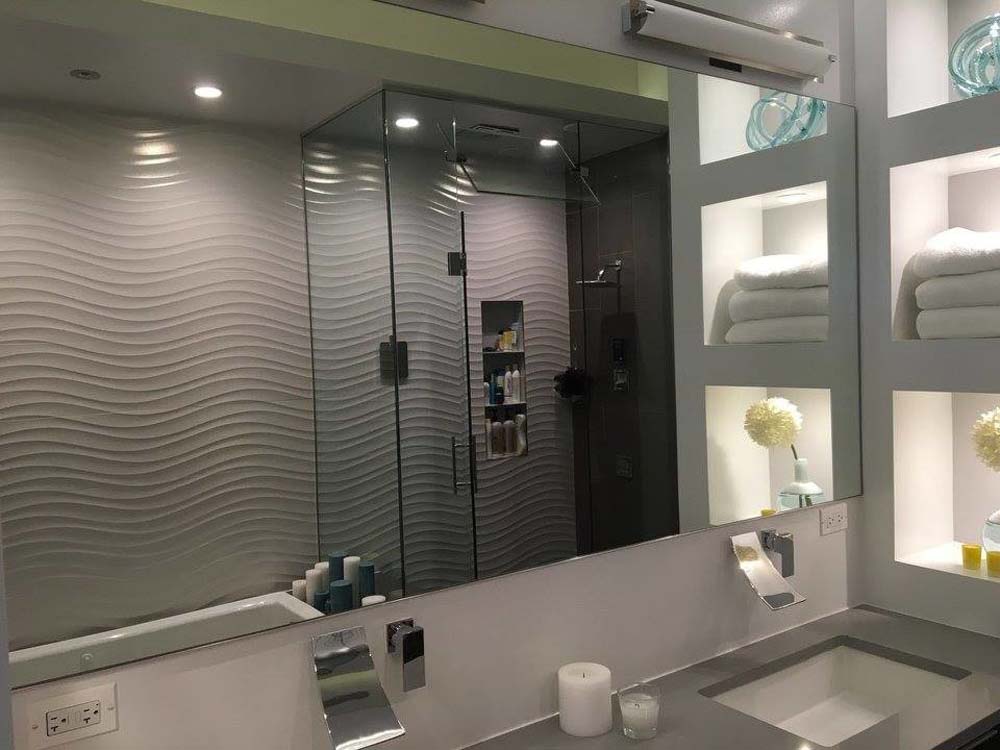 From the Ambra wave tiles on the bathroom walls to the well-lit bathroom cabinet, the contrast between gray and white takes the interior design of this bathroom to the next level.
The silver gray countertop and polished silver faucets complement the rest of the decor. At the same time, the walk-in shower adds a subtle yet playful dimension to the whole look.
13. Contrast Gray with Black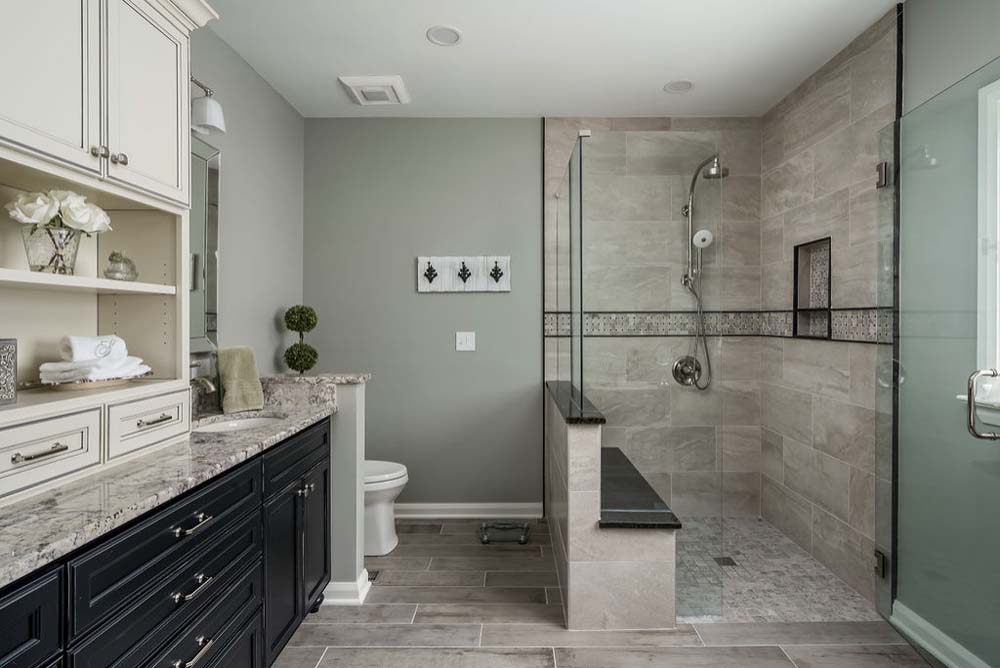 The black cabinets in this bathroom design combine with the Benjamin Moore owl gray bathroom walls and gray floor tiles to make this bathroom look grounded and refreshed. 
The contemporary bathroom continues with the trend with gray wall tiles and a bench with black accents, which contrast nicely with a white mosaic tile floor.
14. Illuminate with Gray and White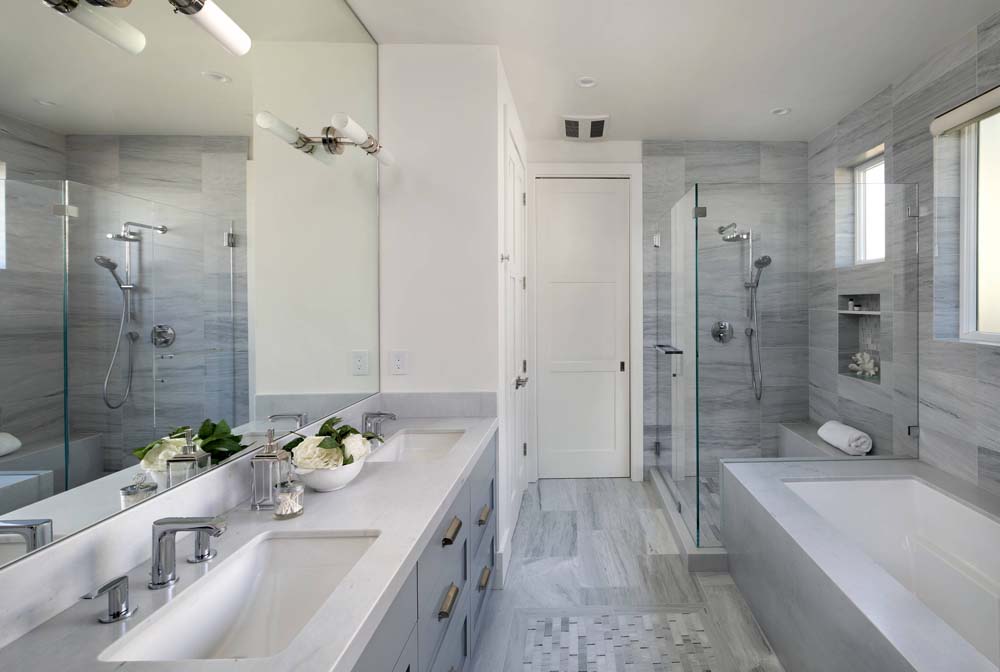 via JPM Construction
While gray is considered a traditional color, it often finds its way into eclectic spaces, as seen in this design.
The gray patterned floor tiles, cabinets, tub, and wall tiles combine with the white closet and marble countertop to create a calming and energizing atmosphere.
15. Combine Tones and Patterns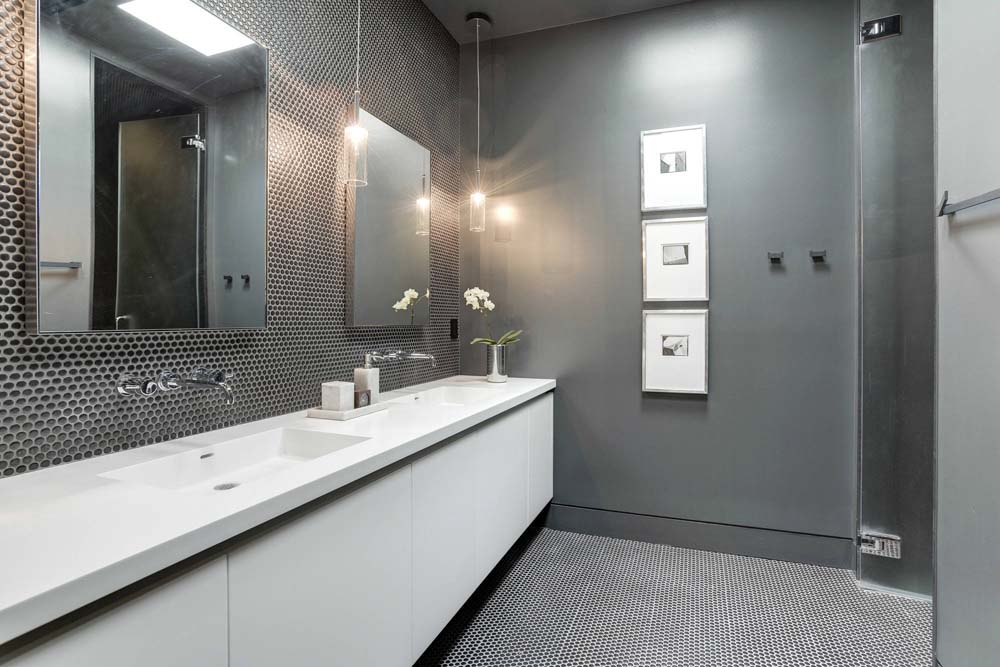 This bathroom design plays with patterns and tones to add texture to the lively bathroom.
The vanity wall features glossy black penny round tiles with light gray grout, which match the simple glazed penny round tiles on the floor. The classy white wooden floating vanity adds color and energy to the design.
16. Maximize Tranquility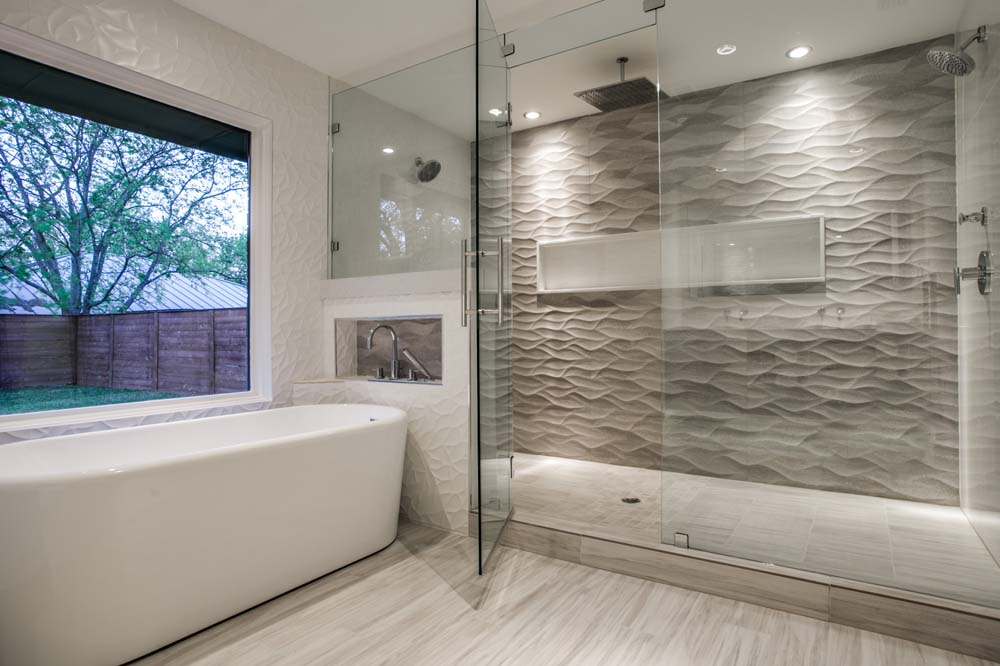 via Tanner Homes
The glamorous white freestanding bath and Porcelanosa on a natural tile with a matte finish in the walk-in shower give this bathroom design a spa-like feel.
The floor tile includes an intermixing of grays with a bit of cool white resembling a wood grain pattern to create a polished contemporary look that feels comfortable and warm.
17. Change the Vibe with Patterned Flooring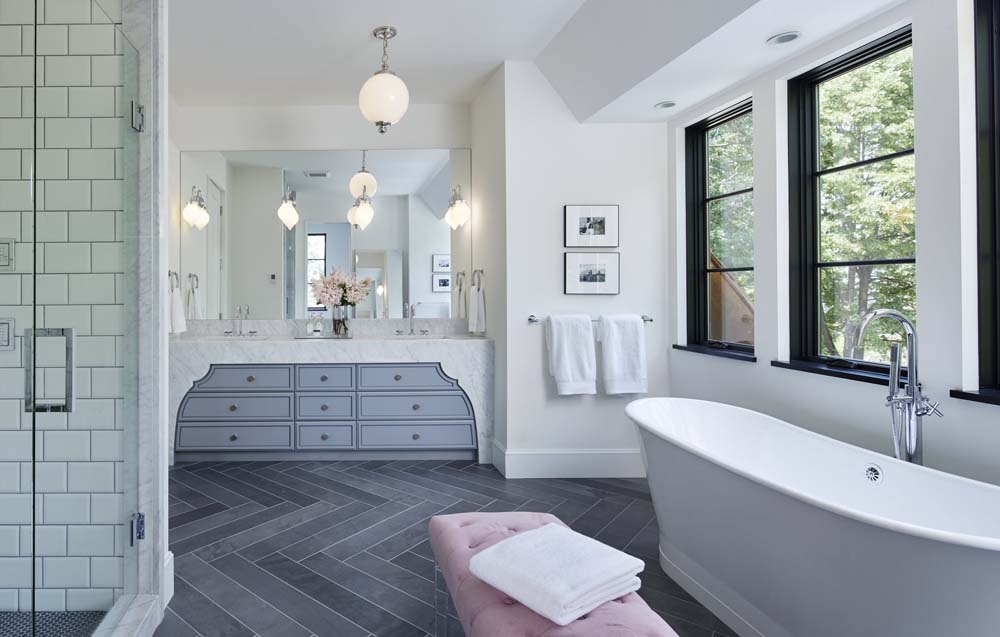 The herringbone-patterned dark gray floor tile adds color and personality to this bathroom design, making it more enjoyable and functional.
The custom-built gray and white vanity acts as a focal point, and the pink ottoman bench creates harmony in the design.
18. Punctuate with Light Gray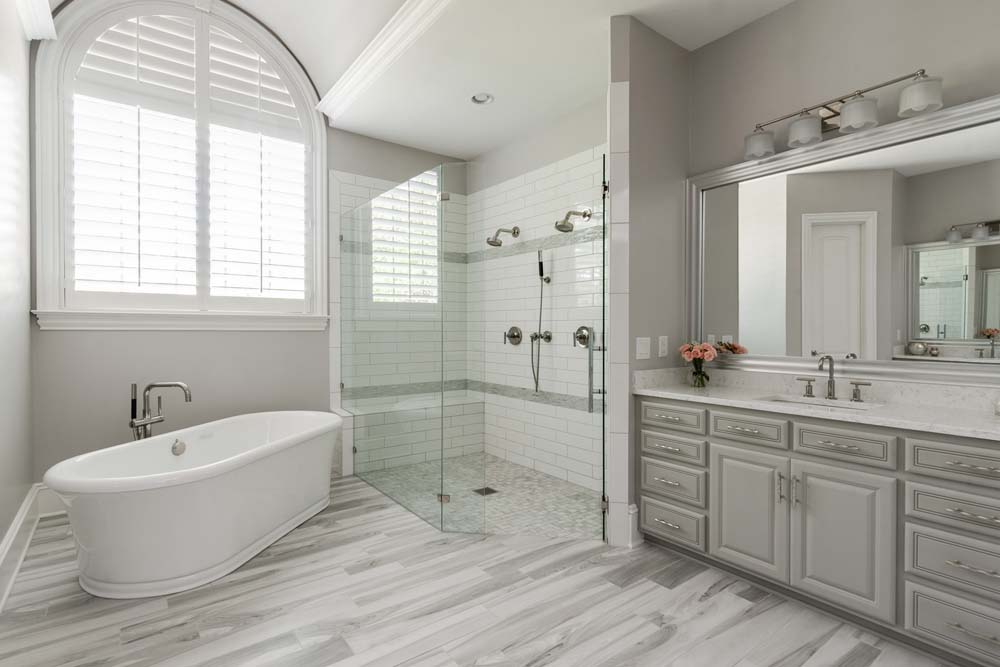 via Leslie Williams Interior Design
White accents automatically make a light gray bathroom airy and breezy. For instance, the light gray walls, floor tile, and cabinetry look luminous against the luxurious white soaking tub and subway tiles.
19. Bring Farmhouse Elegance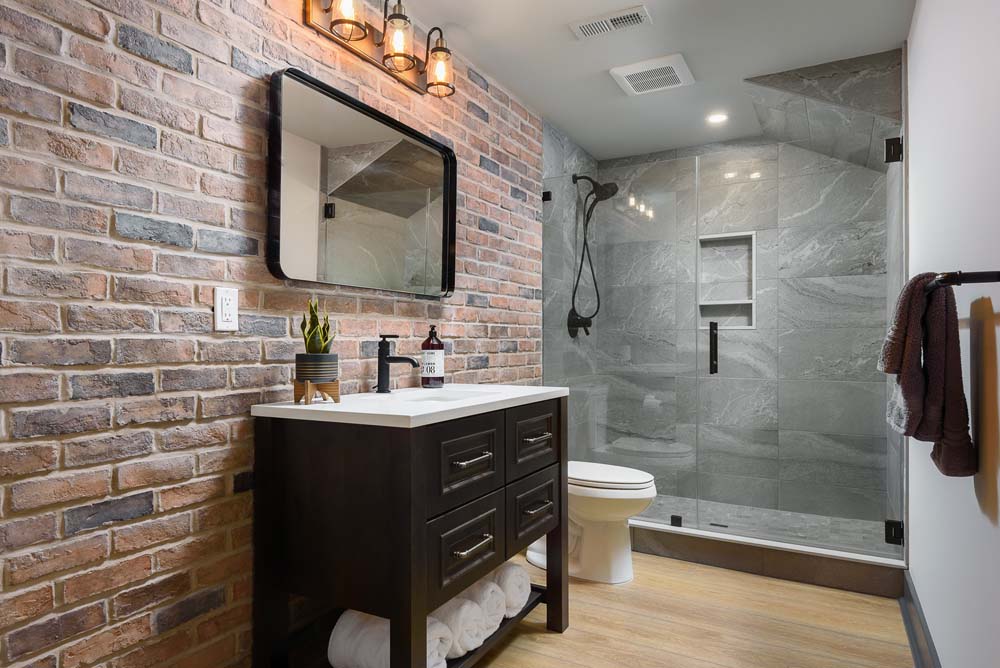 via La Bella Casa Interior Designs
This modern farmhouse bathroom uses earthy tones and a gray feature wall to create a lovely backdrop for the bathroom.
The brick veneer gives the bathroom design a farmhouse charm, while the gray bathroom tiles soften the space and complement the light hardwood flooring.
20. Add a Feature Wall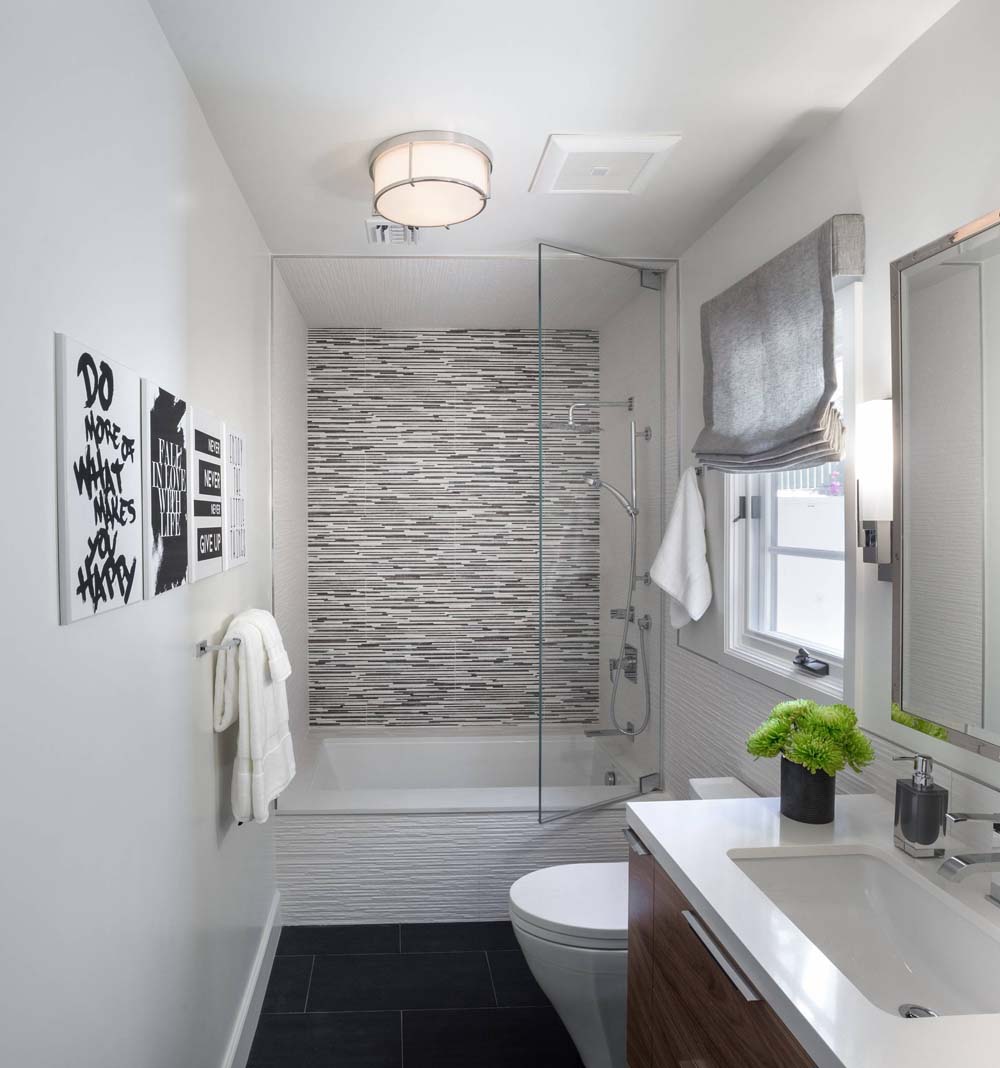 via Tim Reid GC
This bathroom design features a stunning gray tile backsplash that adds texture and interest to the wall behind the bathtub.
The wooden floating vanity, black floor tile, and gray window curtain combine to create a multi-layered but harmonious look.
21. Use LED Lighting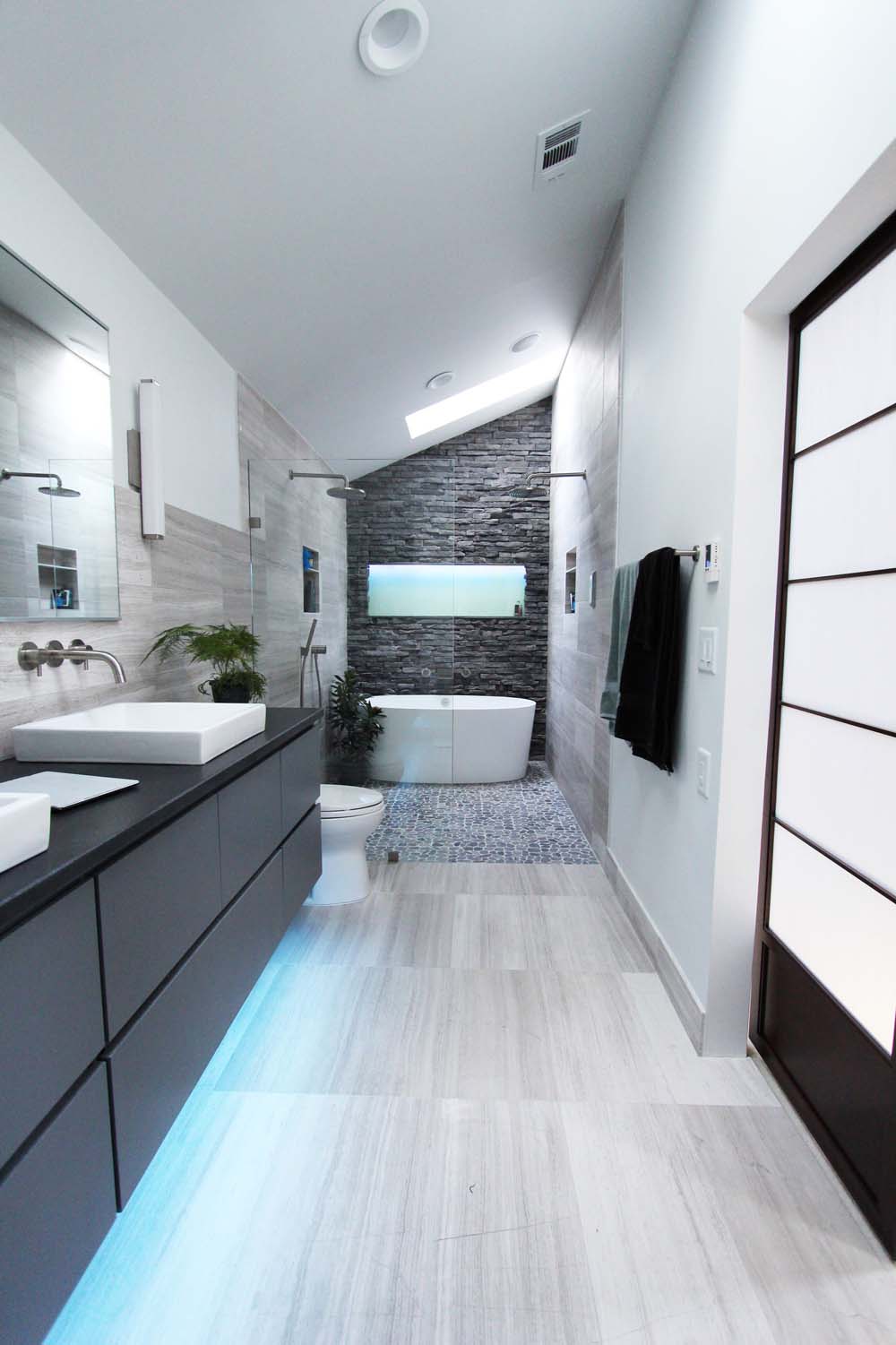 This bathroom design takes the contemporary approach to the next level.
It features a gray vanity with drawer fronts, a limestone floor and walls, and a dusty gray pebble shower floor that contrasts perfectly with the white walls. The LED lighting below the vanity and on the iron stack stone wall shelf brighten up the space in style.
22. Create a Luxe Spa Feel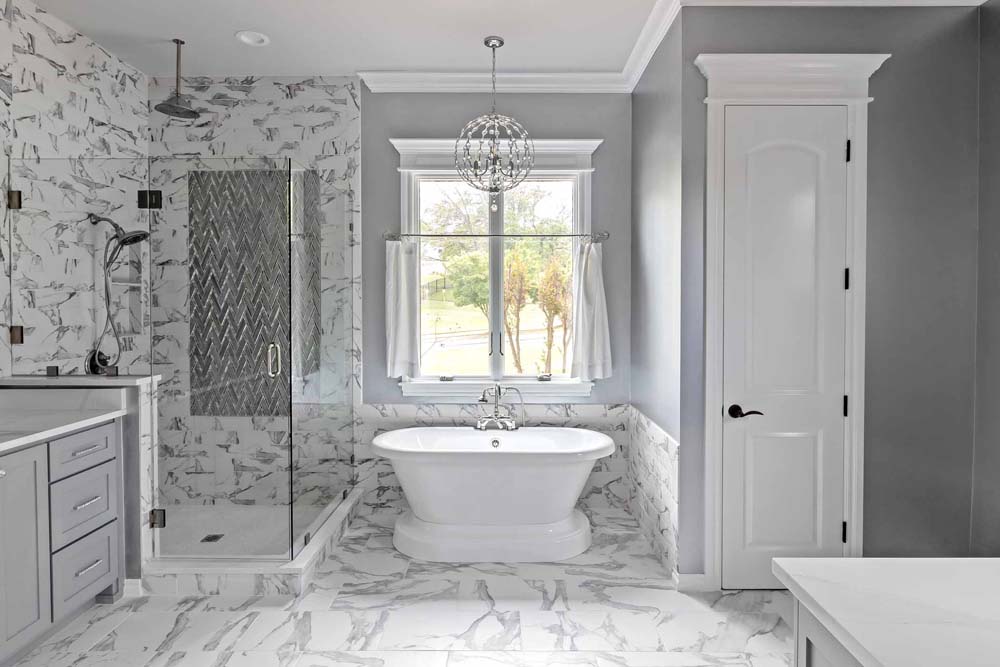 via Home Innovations
This bathroom design uses its massive gray marble shower to create a luxurious spa retreat. The beautiful marble stone extends onto the flooring for a cohesive look.
Paired with gray walls, cabinets, white accents, and a touch of natural light, this bathroom design simultaneously conveys a note of drama and luxury.
23. Stand Out with Blue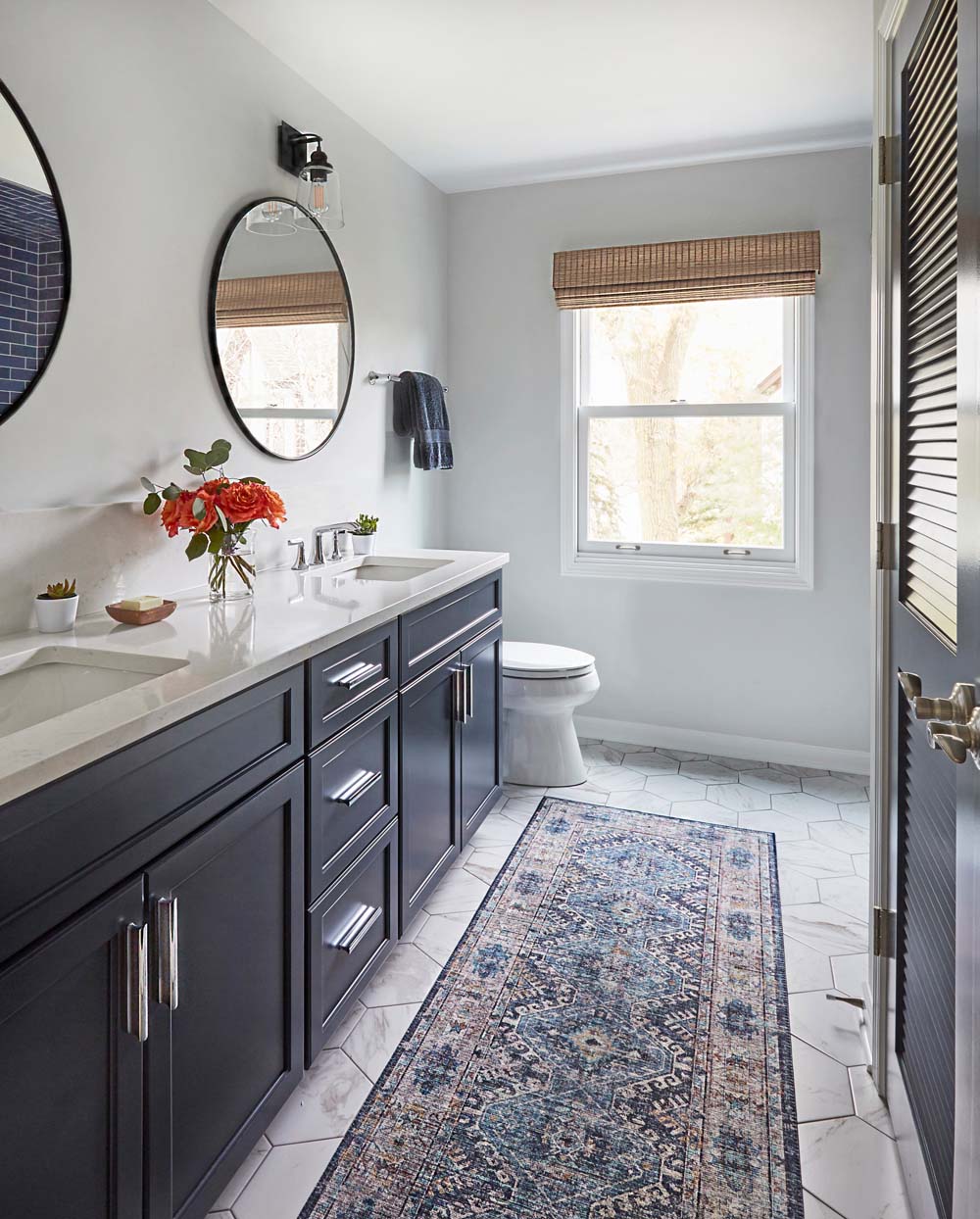 via TKS Design Group
Consider blue if you want to incorporate some color into your gray bathroom decor.
This design pairs gray walls and mosaic tile floor with a hale navy cabinetry and custom-made blue rug, adding a burst of energy that gives this bathroom a clean, sleek finish.
24. Let the Marble Do the Work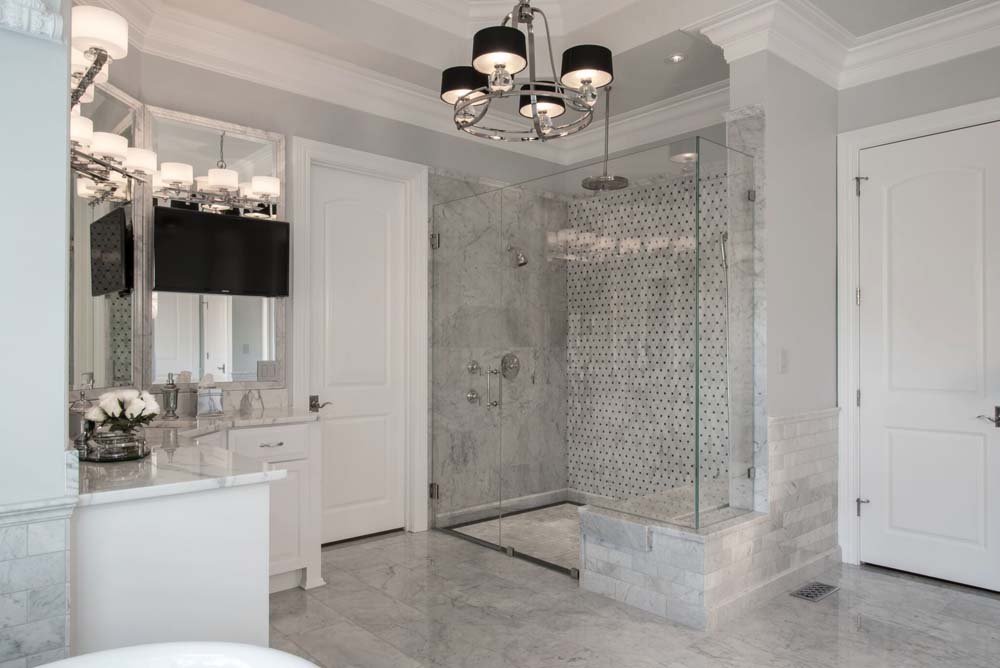 This designer chose a subtle approach to this sumptuous gray bathroom, and we support him completely!
The white and silver accents complement the gray marble backsplash. At the same time, the matte black light bulb covers on the chandelier bring the whole decor together in one lovely package.
25. Saturate the Walls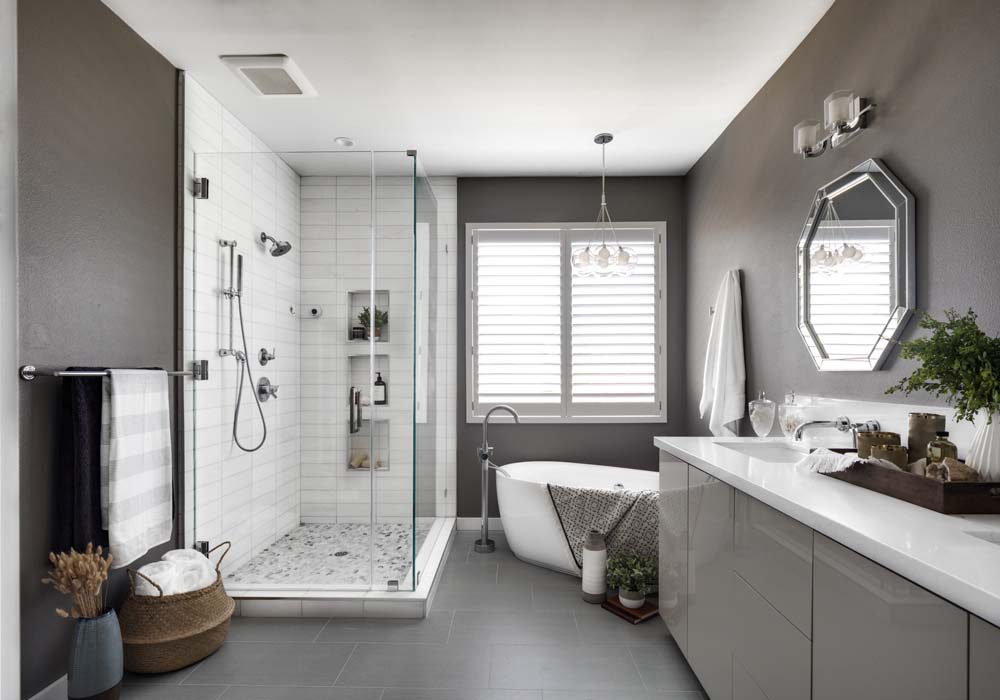 via Kennedy Cole Interior Design
This bathroom design uses a dark shade of gray with a slightly warm temperature on the walls and floor and a lighter shade on the bathroom furniture to create a seamless, monochrome look.
The white countertop, subway tiles, freestanding bath, and pebble shower floor add color to the gray bathroom and make it feel more spacious.