While people tend to focus on renovating their living rooms and kitchen, the bathroom can sometimes get forgotten. Yet it is arguably the room that gets used the most.
There are many ways to spruce up a bathroom with homeowners using designs from around the world.
In this article, we've rounded up some up-and-coming trends from around the globe—as seen in trade fairs and from industry-leading brands that you can incorporate into your own bathrooms.
Since 2017, bathroom interior design has been captivated by the Scandinavian aesthetics which focus on clean lines and maximizing light.
While these remain popular, this year's trade fairs are deviating towards more industrial and functional designs in the bathroom. Here are some of them:
Big And Bold Over Subtle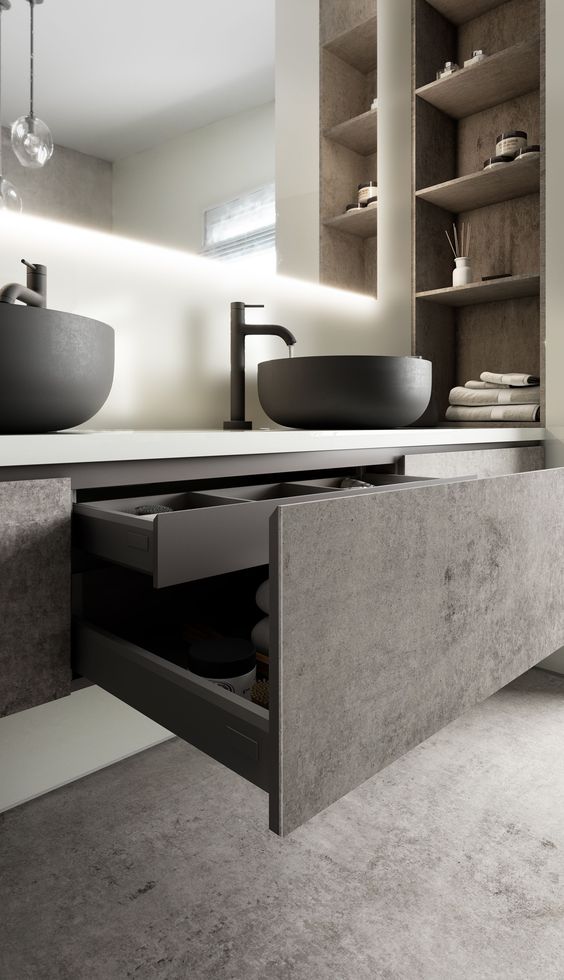 Some of the things that stood out at the last Salone Internazionale del Bagno in Italy were big and bold vanity and bathroom pieces.
The high contrast of huge pieces in a smaller space emphasizes the furniture. In addition, bold pieces are often complimented with open shelving in lieu of closed cabinets.
In line with this, statement walls in powder rooms are also in.
This adds flair and drama, in contrast to the Scandinavian accent pieces that dominated the last couple of seasons. A large plane of onyx sandwiched between two pieces of glass, for example, can make a great divider between the wet area and powder room.
Using patterned wallpaper over paint is also one of the key highlights you can try right now.
Sustainable and eco-friendly over opulent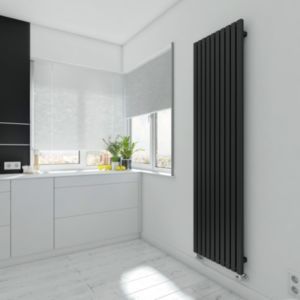 As more and more consumers and brands alike care more about reducing fuel emissions, sustainable and resource efficient trends are in.
Homes that conserve water and use heaters efficiently are becoming increasingly popular as energy costs around the world increase.
The Guardian reports how homeowners in the UK are now veering away from using gas boilers and are converting to modern energy efficient heating systems.
British policymakers want to completely phase out gas heaters by 2025. This in turn is changing how people view their current boilers.
British plumbing company HomeServe advise local homeowners to get their boilers checked regularly, as older models are likely to have less efficient heat output.
This has led to more homeowners changing their boilers and investing in sustainable models that will both increase the heat output and reduce energy costs.
Intuitive designs such as bath fans and low-flow showerheads are also being seen in bathrooms across the world. By opting for eco-friendly solutions, designers are reacting to the global demand for more sustainable options.
Comeback of Terrazzo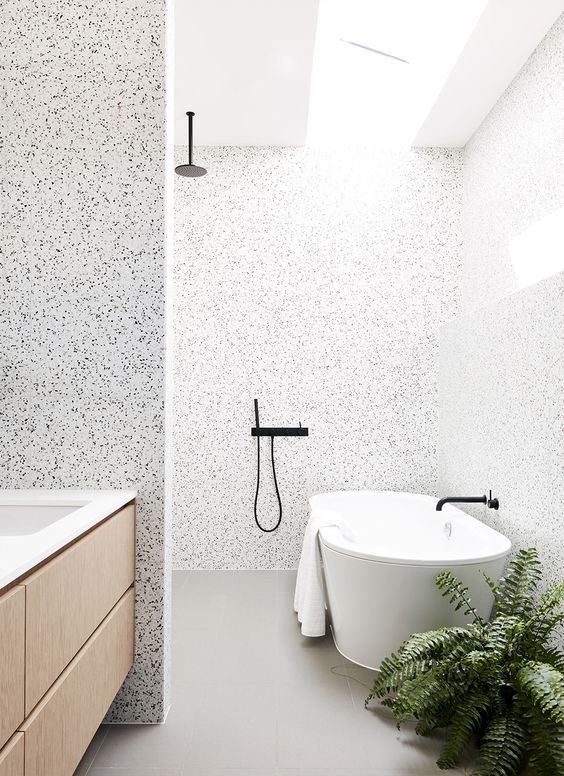 Australian designers are taking a cue from their Italian counterparts as terrazzo is almost everywhere in their bathrooms.
Apartment Therapy highlights that this comeback is due to the durability and longevity of the material. It's also a very versatile yet stylish material as it can come in a variety of colors and textures.
Currently being expanded into the kitchen and even the living room, terrazzo is returning to homes across the world.
New developments have even enabled terrazzo to be used for bathroom ceilings. The explosion of its popularity in Australia is seen by some as an extension of the industrial design that's abuzz in the region.
Industrial design over glam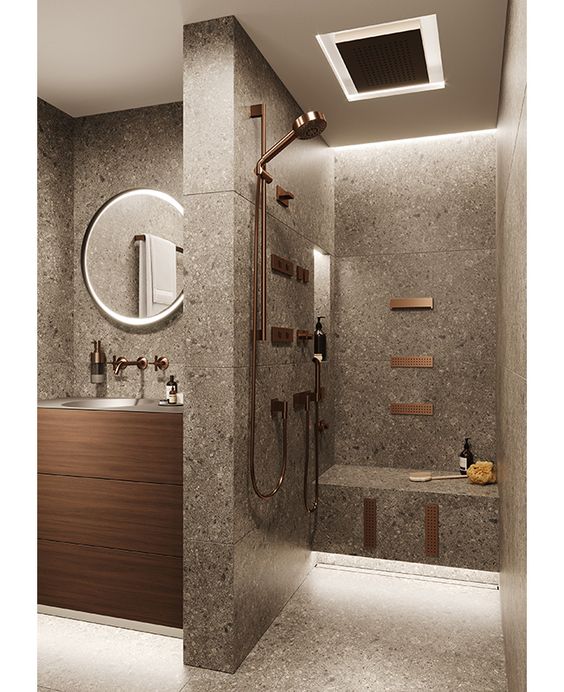 Dark interiors and natural wood fixtures which were popular last year are also spilling over to this year's designs.
A darker shade of blue and gray used in small amounts can help emphasize the industrial feel of a bathroom.
This can also be seen as a parallel trend with the adaptation of the Japanese Wabi Sabi design which focuses on the negative space in the layout.
Metallic taps and fixtures also compliment the industrial look of 2019 as seen in this year's ISH Frankfurt in Germany. Dornbracht's Meta by Sieger Design best exemplifies this with the pitch-black sink with a brass faucet.
Floating over fixed vanities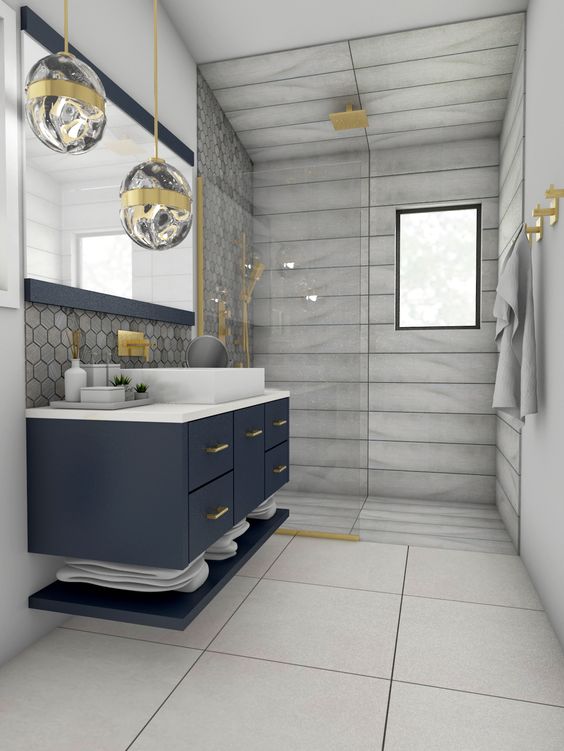 Designers and manufacturers took elevating the bathroom aesthetic to the next level with floating vanities.
Elevated sinks and toilets give the illusion of space. By bolting sinks to the wall, the bathroom looks streamlined and modern.
Trade fairs in China showed how one level wet rooms are the best layouts for a floating vanity as it adds depth to the room.
Asia One's list of floating vanity designs shows how this trend is also popular here in North America, with examples coming from places ranging from British Columbia to Colorado.
By adding mood lights below, floating vanities can accentuate dark colored bathrooms. Alternatively, elevated fixtures and vanities also fit the trend of designing smaller spaces and apartments.
Smart toilets over console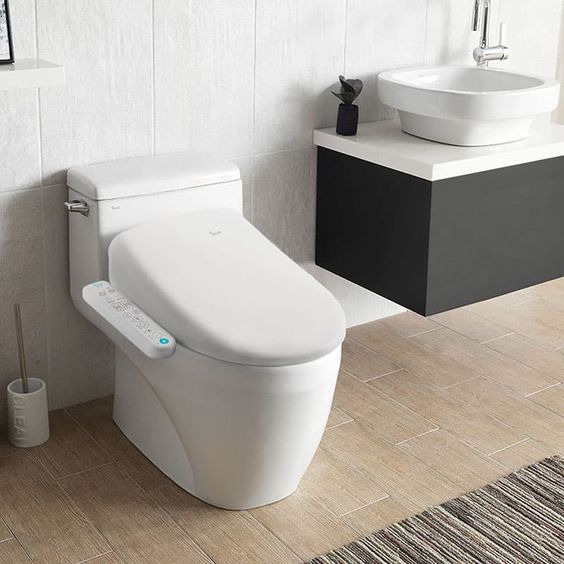 The rise of smart toilets is on the horizon.
This widely adapted concept in Japan, popularized by brands like Toto Washlet, is now making its way to the West.
While some think these technologies have yet to mature, a Digital Trends report on the CES 2019 toilets shows otherwise. From automated toilets with high tech sensors to ones with built-in communication with Alexa, smart toilets are the future.
The idea of round-the-clock connectivity is hitting the bathroom design scene as digitally connected showerheads and self-demisting mirrors are becoming mainstream at trade fairs.
With Scandinavian aesthetics taking a backseat, industrial and modern values are taking the reins in today's bathroom design trends.