Don't know about you but when I think of rustic bedroom decor, all I see is wood, peeled paint, and archaic style furniture. It is surely a very romantic, welcoming, and sweet way to decorate your chamber.
Really, who wouldn't be pleased by wood beam high-ceiling, farmhouse pendant lights, natural textiles, and weathered antiques?

Besides, similar to the other interior design styles, the rustic one could be many-sided: with touches of natural, vintage romance, decaying chic, minimalism, or industrial style.
If you still don't believe me, here are 20 lovely rustic bedroom decor ideas that may just inspire you to go country chic as well.  😉
1. Bring Vintage Touch to Your Bedroom with a Rustic Headboard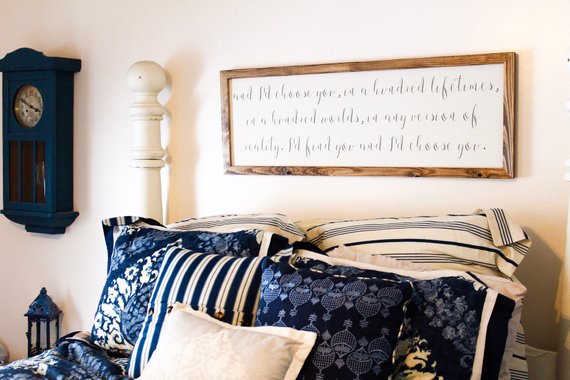 If you want to give a strong vintage appearance to your bedroom, this wall decor might be the right answer for you!
It could be the focal point of your rustic decor bedroom. I love how the unpretentious wooden frame fits the cream-colored walls.
Learn More: Here
2. Get Ready for Bedtime with a Stunning Sphere Chandelier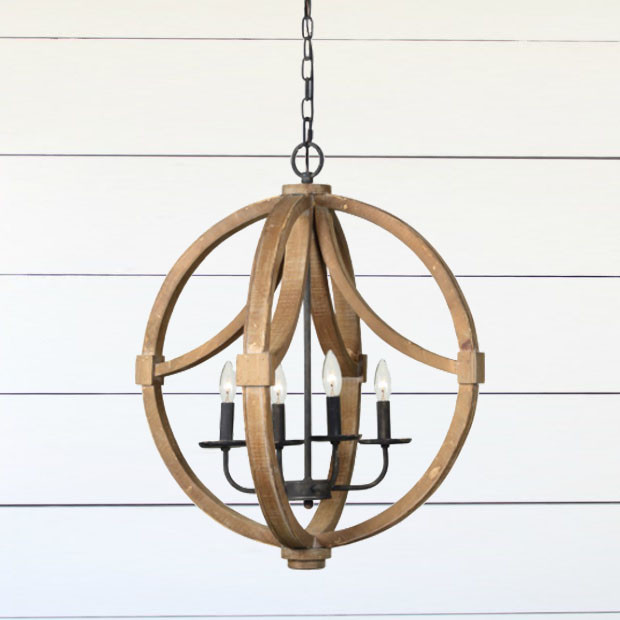 This stunning sphere chandelier made of wood and metal would pair well with almost any rustic modern bedroom decor.
The wooden spherical frame encircles 4 composed lights that come together at the bottom creating an extraordinary look.
Learn More: Here
3. Illuminate Your Bedroom with an Antique Touch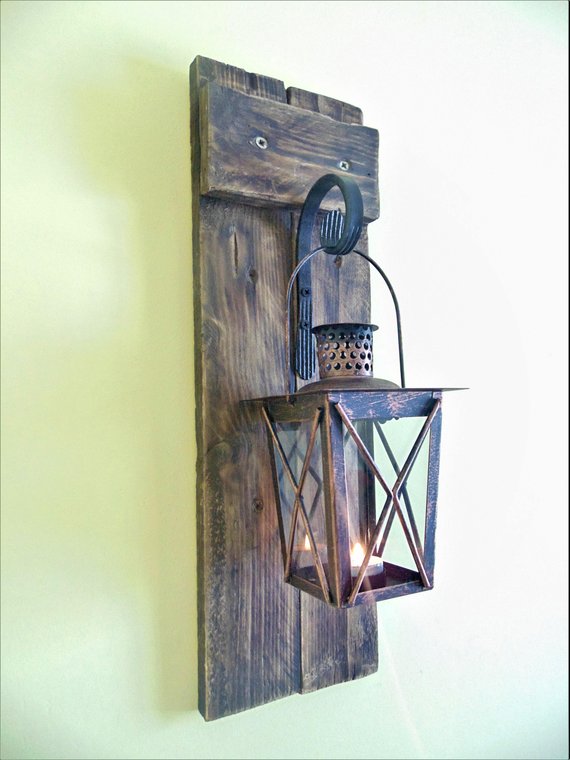 This archaic looking metal lantern for hanging on the wall brings me a strong feeling of an old castle decor.
Imagine this lamp as a centerpiece of a master rustic bedroom with antique furniture and reclaimed wood floor. Gorgeous, huh?
Learn More: Here
4. Add Rustic Charm to Bedroom with a Foldable Bed Tray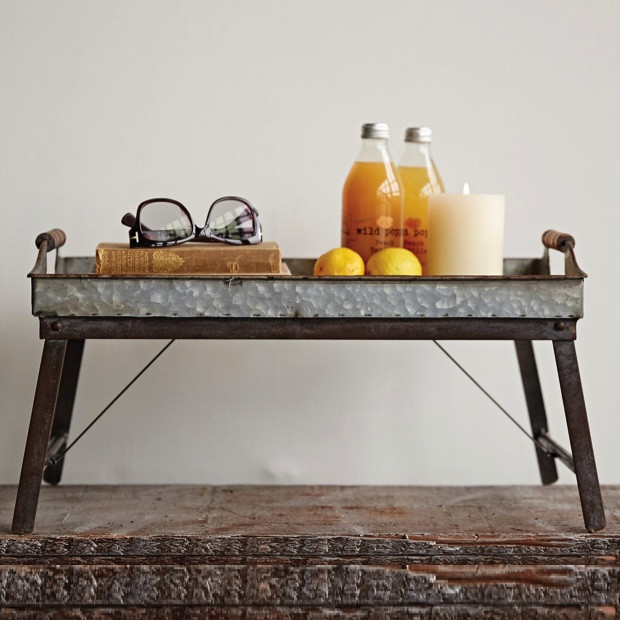 This metal foldable bed tray would give an industrial touch to your rustic chic bedroom decor. It could be used as a one-of-a-kind riser, or as a breakfast-in-bed tray with vintage barn appeal.
In fact, this perfectly proves my point how many-sided is the rustic design.  😉
Learn More: Here
5. Transform your Room with a Rustic Ladder Shelf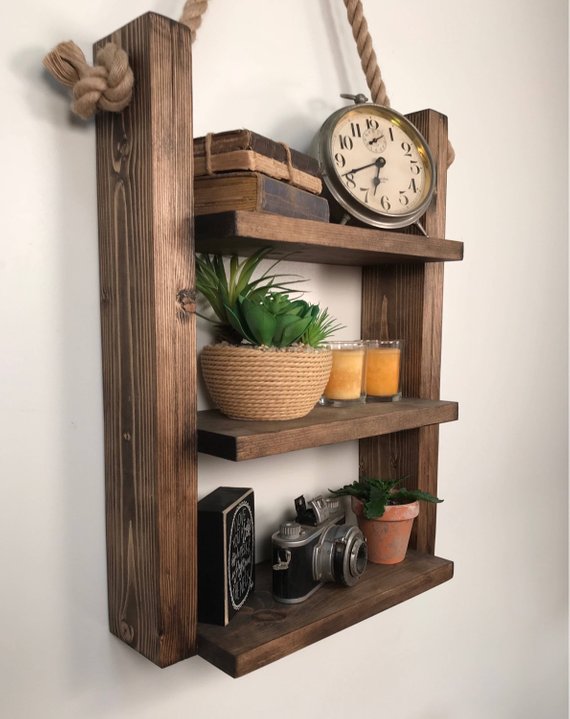 This lovely handmade hanging rope and ladder shelf will fit well any DIY rustic bedroom decor. In fact, it could be utilized in every room of the house without worry.
It is not just practical, it surely makes a strong statement.
Learn More: Here
6. Add a Touch of Rustic Elegance with Metal Candle Lanterns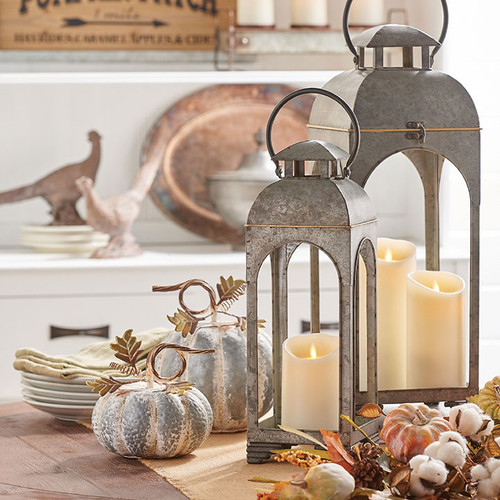 Wherever you choose to display it, this beautiful unpretentious galvanized metal candle lantern will induce a strong rustic sense of allure and romance.
It's a great way to add ambiance and texture to your rustic country bedroom decor.
Learn More: Here
7. Bring Style to Life with a Rustic Wall Decor for Newlyweds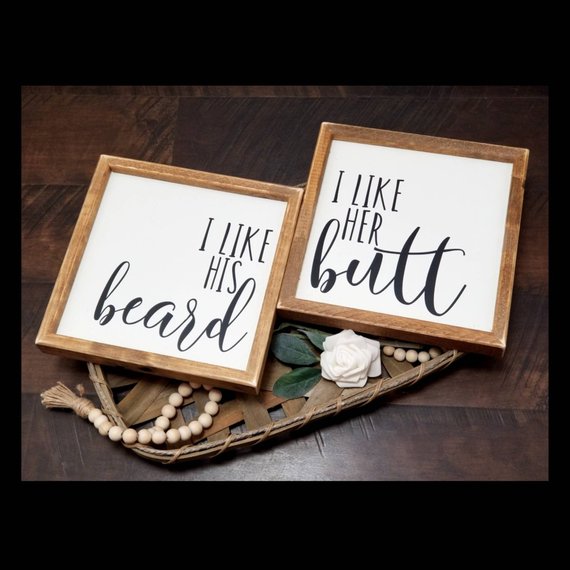 This rustic bedroom wall decor is both fun and stylish.  😉 The frames made of reclaimed wood give a strong farmhouse feel to this DIY decoration.
It could be the ideal wedding gift for the master bedroom of newlyweds.
Learn More: Here
8. Add Character to Your Room with a Pocket Watch Wall Decor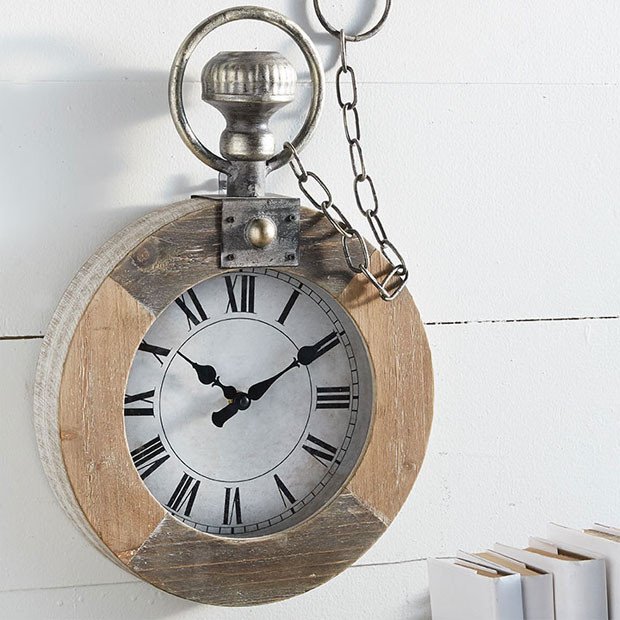 When I first saw the picture of this large pocket watch hanging on the wall, I thought that might be the best addition to my rustic bedroom decor.
Wrapped in peeved wood, this oval-shaped wall clock has a Roman numeral face and hangs from a metal chain which makes it even more authentic looking.
Learn More: Here
9. Add Farmhouse Charm to Your Room with a Barn Washboard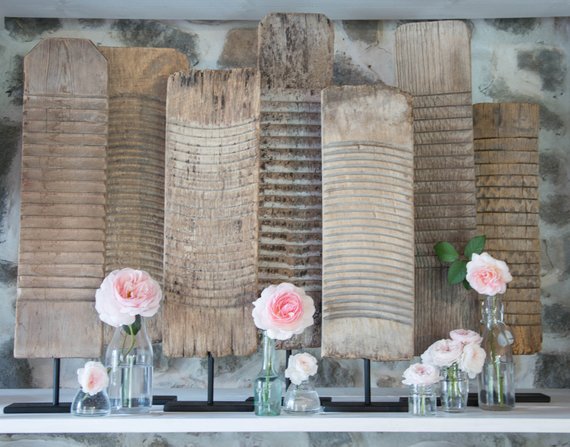 I am sure you will just fall in love with this farmhouse washboard on a metal stand. It looks so authentic, unsophisticated, and will transform into the centerpiece of every master bedroom!
It is definitely my favorite DIY rustic bedroom decor!
Learn More: Here
10. Elevate Your Bedroom Decor with a Vintage Window Frame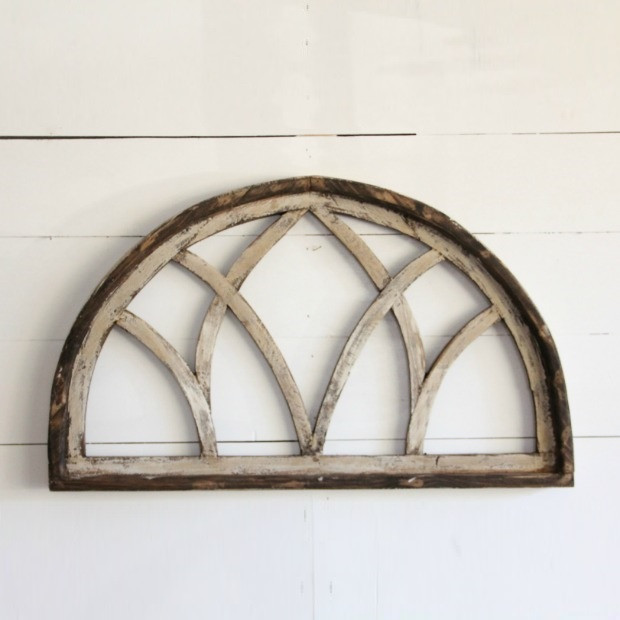 This stylish Venetian window frame will surely give your rustic bedroom wall decor an aged finish.
It has tons of great applications. For instance, it could just lean on a shelf, be displayed as a mantel art, or above the bed art.
Learn More: Here
11. Utilize a Rustic Ladder for Your Towel Storage Solutions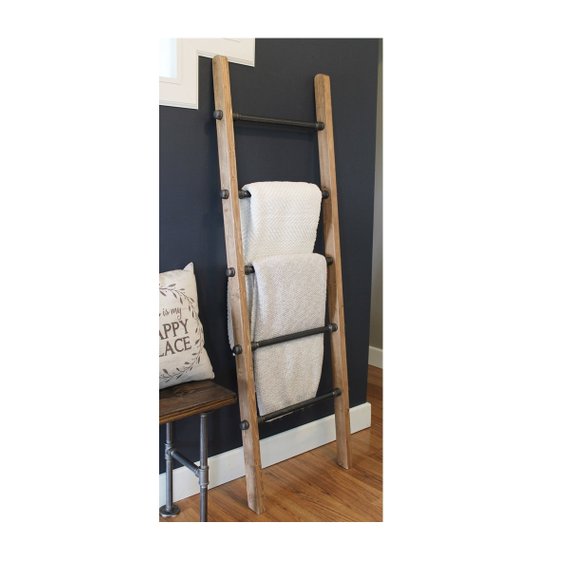 I am dying to share with you this picture of a barn style towel & blanket ladder made of unused iron pipes and reclaimed wood.
It is a stylish addition to every country bathroom decor or bedroom and a real space-saver! Plus, it would give your bedroom a unique look!
Learn More: Here
12. Transform Your Home with Rustic Tobacco Baskets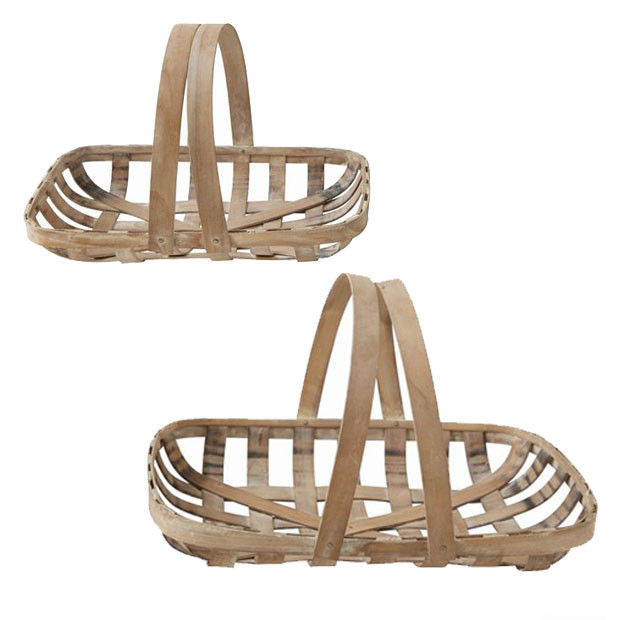 Are you looking for some rustic bedroom ideas that would take your breath away? Then, this pair of archaic-looking tobacco baskets is what you really have a need for!  😉
They would look stunning displayed on the coffee table full of decorative boxwood balls or some seasonal fruits.
Learn More: Here
13. Upgrade Your Bedroom with Stylish Farmhouse Frames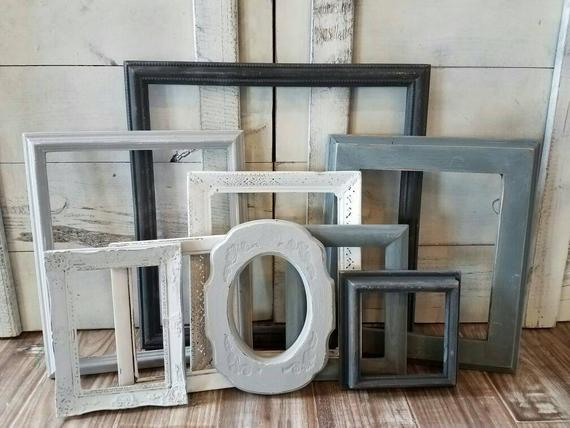 This beautiful set of vintage photo frames painted in ombre grey would surely give your rustic bedroom a sophisticated look.
I like the fact they are coming in different sizes and shapes so your rustic bedroom wall decor won't be flat-boring and lifeless. You can create tons of projects with old picture frames.
Learn More: Here
14. Get the Ancient Castle Look with a Linen Throw Pillow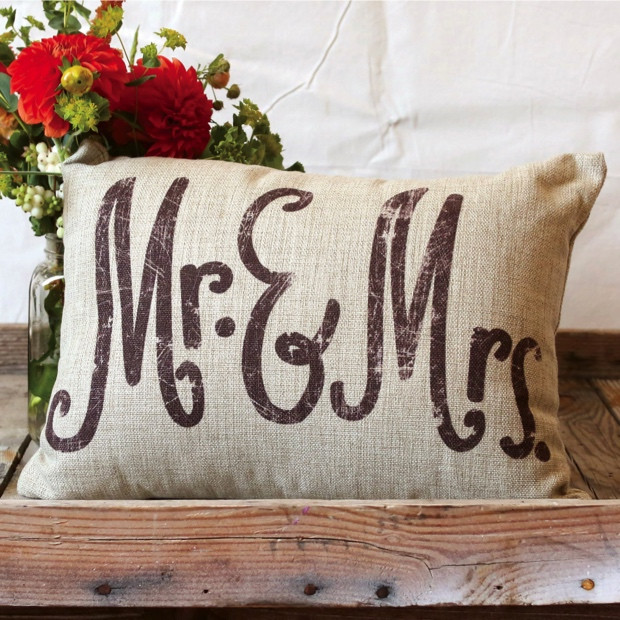 Last year, I gave this Mr. and Mrs. Rustic Linen Throw Pillow as an anniversary gift to two of my closest friends.
They really liked it as it perfectly fits their rustic farmhouse bedroom decor and gives some additional shabby chic to their home.
You can even create a rustic wooden box centerpiece.
Learn More: Here
15. Make Your Room Feel Luxurious with Rustic Wicker Balls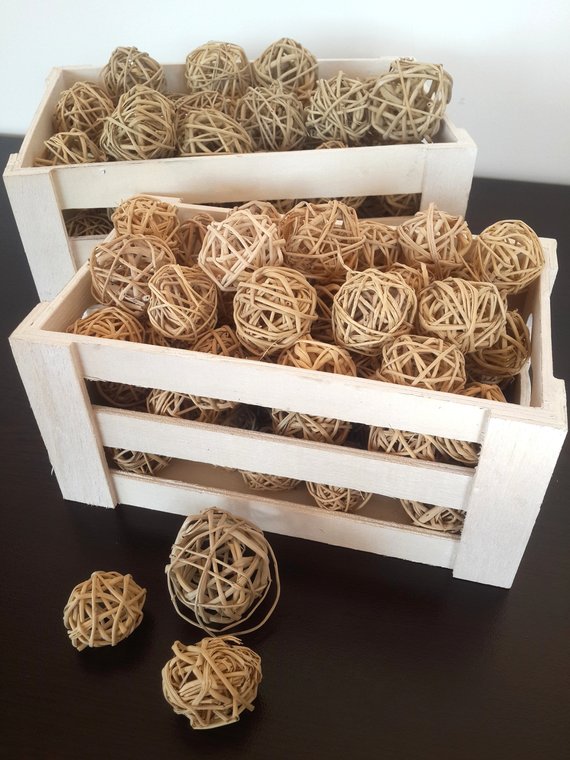 I bet these natural organic wicker balls are something that you have already seen several times.
Nowadays people are using them as wedding decoration and rustic decor for the bedroom. They are both fun and unpretentious.
Learn More: Here
16. Transform Your Bedroom with a Timeless Iron Frame Mirror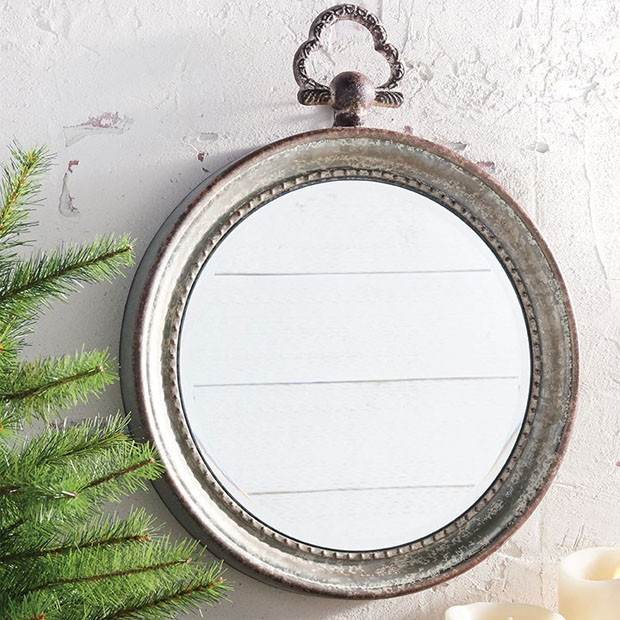 This beautiful element will add texture, timeless beauty, and a strong vintage appeal to your rustic bedroom decor.
The iron frame makes a strong statement and transforms the mirror into the focal point of the bedroom space. It's also a cheap mirror decoration idea for your bedroom.
Learn More: Here
17. Enhance Your Bedroom with a Beige Canvas Trio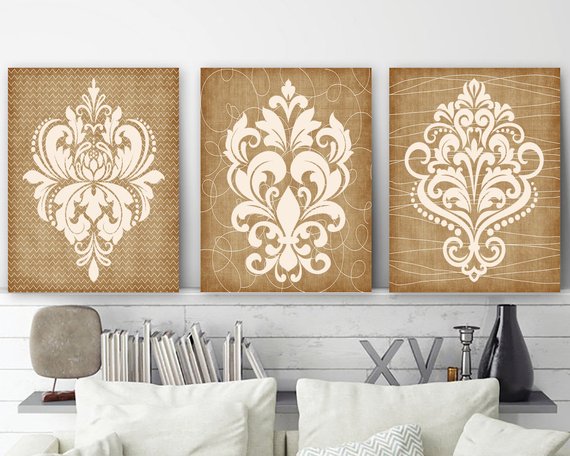 This stunning trio of the beige canvas is the best addition to (almost) every rustic bedroom decor!
They are joyful, look spiritual, and give the space a welcoming feel.
Be sure they will steal the entire attention and become the focal point of the bedroom!
Learn More: Here
18. Create a Vintage Atmosphere with Your Comforter Set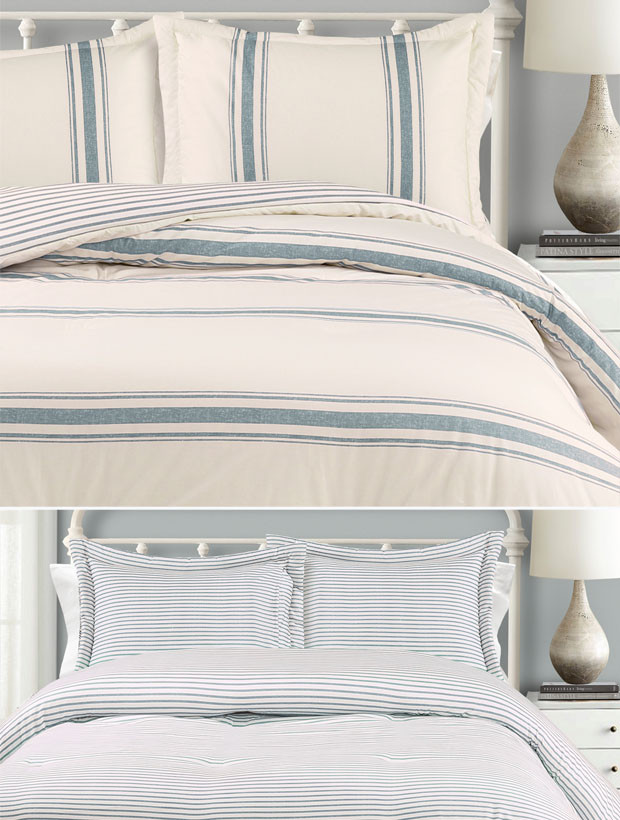 The old-fashioned hued stripe design of these bed sheets are an ideal addition to every rustic modern bedroom decor.
It is so simple and yet so stylish. A real show-stopper for either a guest bedroom or a master suite, don't you think?  😎
Learn More: Here
19. Achieve a Unique Look with Rustic Shelf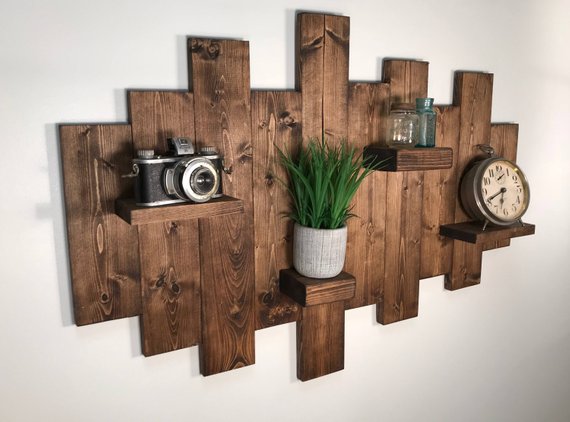 This DIY rustic element is both a shelf and a wall art.
It is a nice way to perk up any bedroom wall. Keep in mind it could be displayed in every corner of the house.
I love how it contrasts with the bright color of the walls.
Learn More: Here
20. Enhance Your Rustic Decor with a Vintage Table Lamp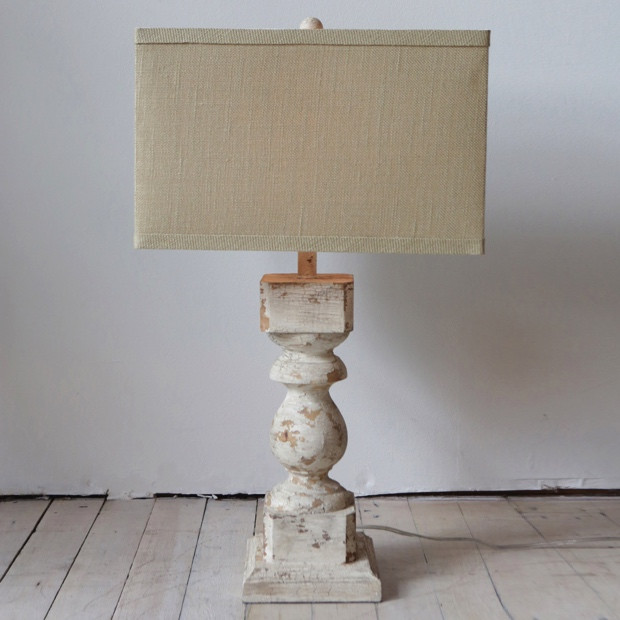 At the end of my list of rustic bedroom decor ideas, I would like to show you this vintage table lamp made of distressed wood and linen shade.
It is simply ideal for those of you who want to add a tiny portion of outdated English charm to their rustic bedroom decoration.
Learn More: Here
Enlarge your rustic ambiance by bringing some of the beautiful statement pieces into your bedroom I just showed you!
Believe me, they will add extra life to your home space and will help you show the world your personal taste of interior designing. Make sure you follow your instincts and enjoy the whole process of decorating!  😛