When you're growing plants indoors, direct sunlight can help you achieve the best growth.
That's where window shelves come in — they show off your greenery and ensure even light distribution.
Since most shelves have multiple tiers, you can expand your indoor garden. These practical and beautiful shelves make it easy to choose the right style for any window size and location.
1. Tiered Hanging Rope Shelves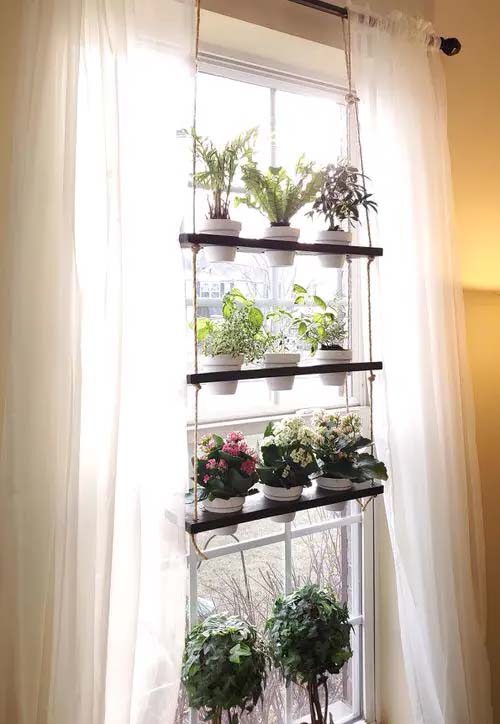 Make the most of a large bay window with a tall plant shelf.
Featuring three tiers and minimalist elements, this shelf stores your plants and allows natural light to flood into your home.
Choose a model that extends the full height of the glass, or balance a shorter shelf with a few topiaries placed on the windowsill.
via Etsy
2. Make A Focal Point Of A Small Window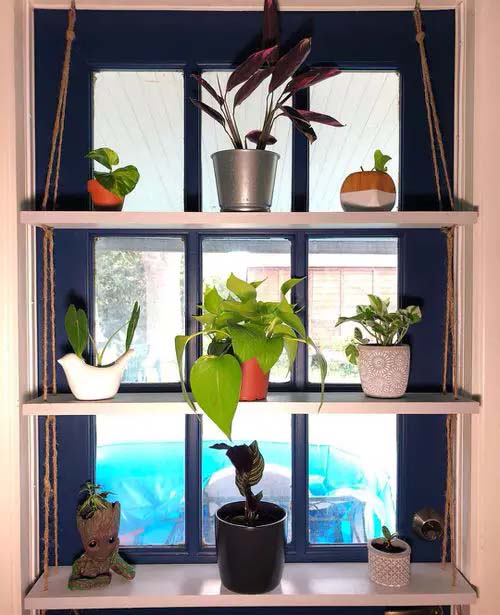 Do you have a small window in an out-of-the-way location?
Add a shelf to hold your plants without affecting the brightness of the room.
As a bonus, the potted plants also add a bit of extra privacy without the need for curtains.
3. Matched Pots Hanging Herb Garden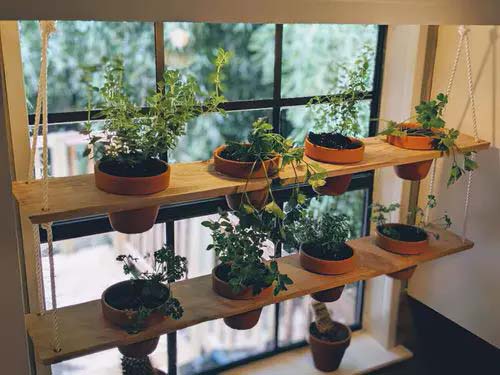 Transform a collection of small plants in identical pots into an art installation with a simple shelf.
Here, the holes in the shelves are slightly smaller than the top rim of the pots, creating a charming recessed look.
As a result, the greenery becomes the star of the show.
4. Natural Wood DIY Shelves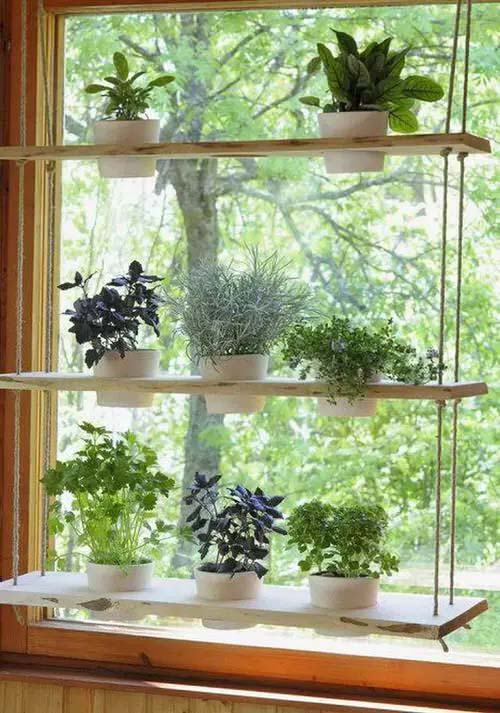 If you have a few pieces of scrap wood lying around the house, you can create a plant shelf that enhances any room.
The trick to achieving an open and airy look is to sand down the wood until its natural light finish appears.
Then, use white pots and light-colored rope.
The lighter elements disappear, helping the greenery blend into the natural environment outside your window.
5. Wall Mounted Glass Plant Shelves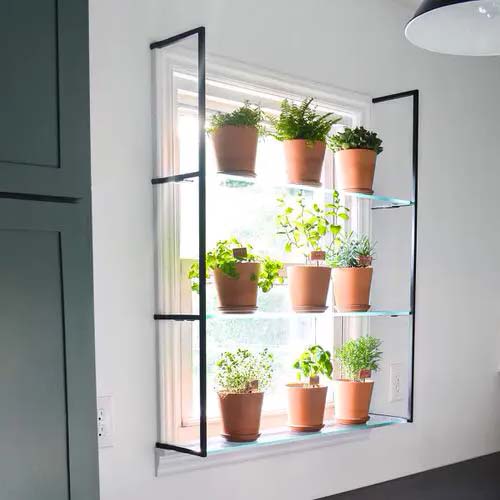 When you want to display large plants, the weight of the soil and pot can be too heavy for a hanging shelf.
That's where this clever shelf can help — it extends out from the wall at multiple points, creating stability and strength.
6. Floating Shelves For Trailing Plants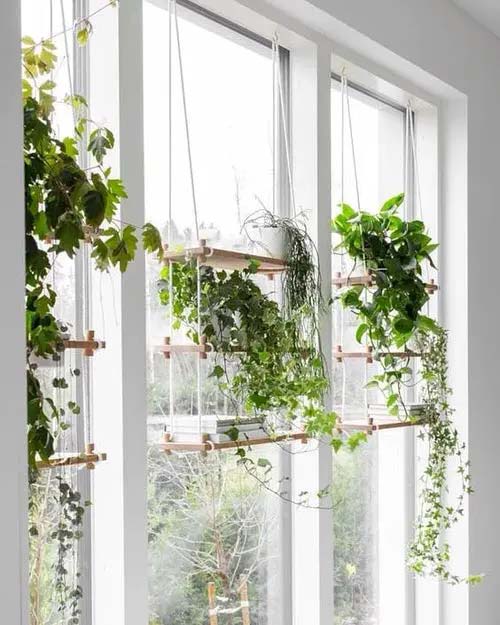 Create an optical illusion with floating window shelves.
Using minimalist materials and hanging ropes that match the window frame, this piece creates the illusion that the shelves are hovering in midair.
This is a lovely, elegant way to turn creepers or vines into a natural window covering.
via Nestsetters
7. Clear Shelves Allow Natural Light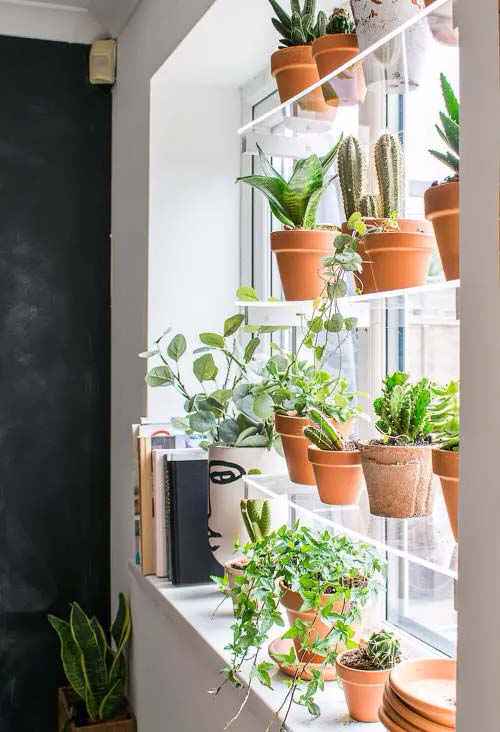 Match the vibe of your crisp, modern home with glass or plastic window shelves.
The clear material reduces visual obstructions, so your plants appear to be hovering in the air.
As a result, the focus stays firmly on the plants and pots.
via Grillo Designs
8. Macrame Single Hanging Shelf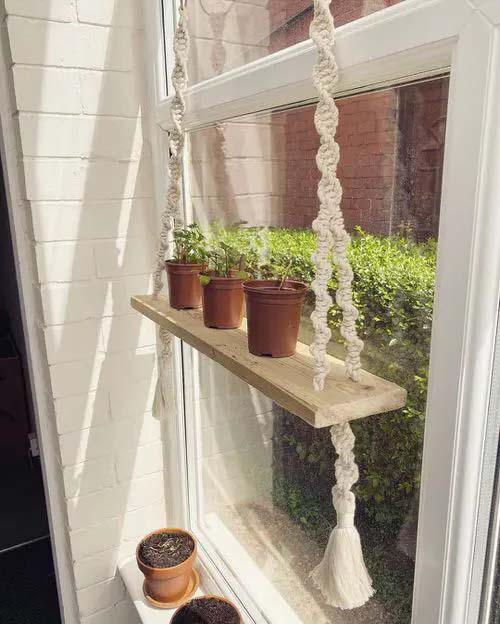 Bring a bit of boho-chic style to any room with a macramé hanging shelf.
The knotted rope supports add a subtle touch of texture, and the natural wooden shelf complements your laid-back style.
Hang the shelf from a curtain rod and complete the piece with a row of small potted plants.
9. Decorative Window Succulent Garden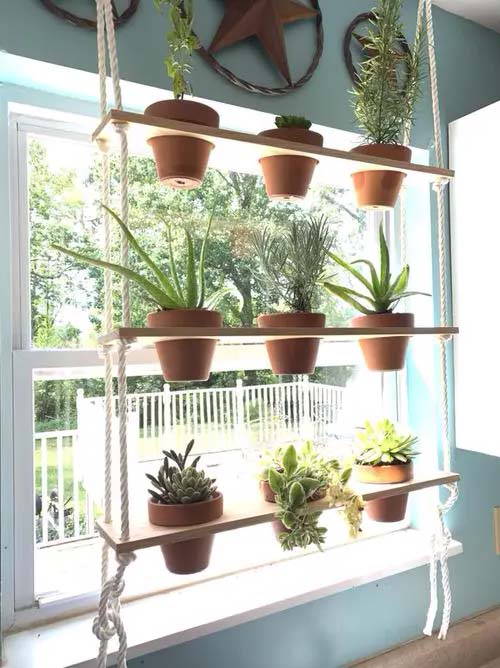 Succulents are among the easiest plants to grow at home, even if you're new to gardening.
Keep your gorgeous greens safe with a unit that features pre-cut holes.
All you need to do is drop each pot into a hole for a secure hold.
via Rock This Out
10. Eclectic Pots Add Visual Interest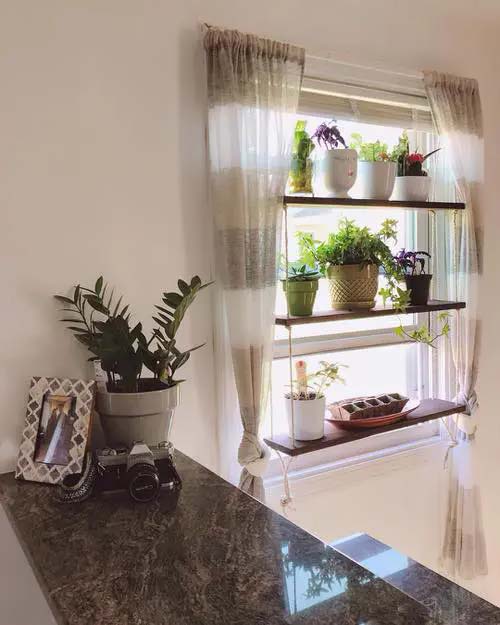 Are you looking for a way to garden in the winter?
Place a heavy-duty hanging plant shelf in a window that gets plenty of direct sunlight.
The exposure can help counteract the effects of dimmer winter light, and the wide shelves give you a spot to sprout seedlings or place potted plants.
11. Showcase Mini Blooms With Window Shelves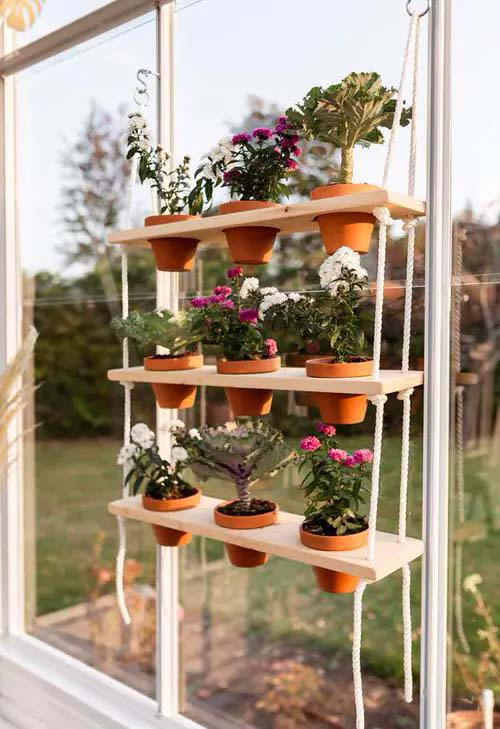 Bring a burst of color and life to a large window by filling a hanging shelf with potted flowers.
The green leaves and vibrant blooms add instant energy to any space.
This is a great way to start plants inside before the spring thaw.
via Etsy
12. Simple Potted Herb Natural Wood Shelf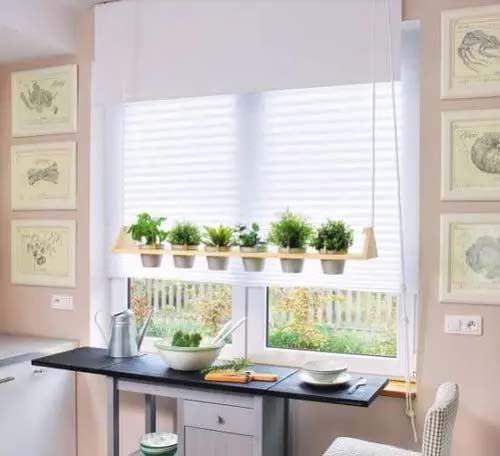 An herb garden is a must for any home chef.
This sweet shelf is a great way to grow your herbs and keep them handy for quick cutting when you're working in the kitchen. The best part?
It's as beautiful as it is practical.
13. Multi Planter Window Focal Point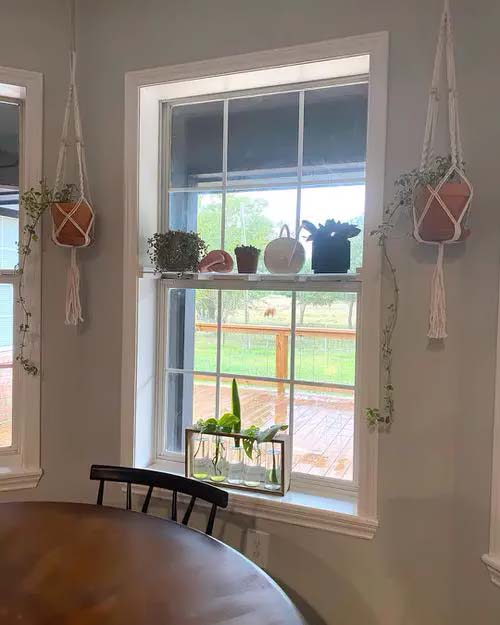 Does your hanging plant shelf look lonely?
Anchor it as a part of your decor with a pair of macramé potted plant hangers.
By adding in additional greenery, you can establish a theme — you might even add a few small plants to the windowsill for even more natural color.
14. Effortless Floating Glass Shelf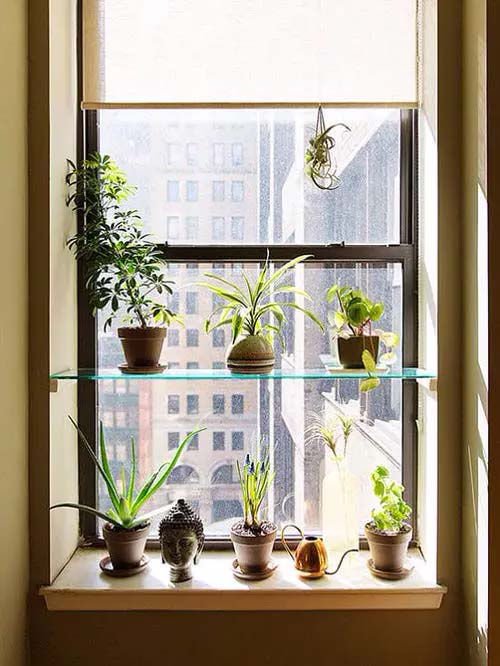 This stunning display proves that you don't need much to make an impression; a single plant shelf gives you plenty of space for display.
The secret is to add another row of plants on the windowsill to create symmetry and extra color.
via Ms. Weatherbee
15. Lone Window Shelf For Larger Plants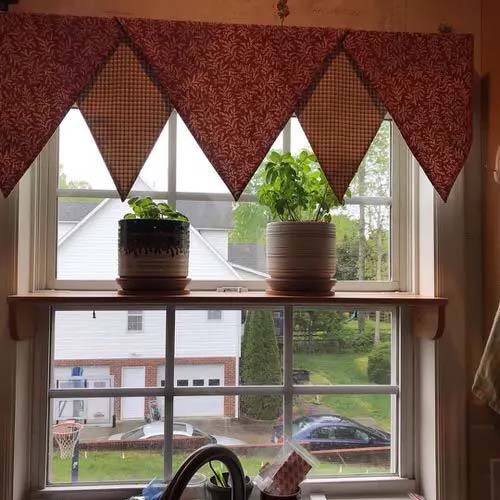 Want to add a pop of greenery to a small window?
Add a single plant shelf topped with two or three potted plants.
By placing the shelf where the upper and lower window panels meet, you can complement the construction of the window and maximize natural light.
16. Plants Float Against White Blinds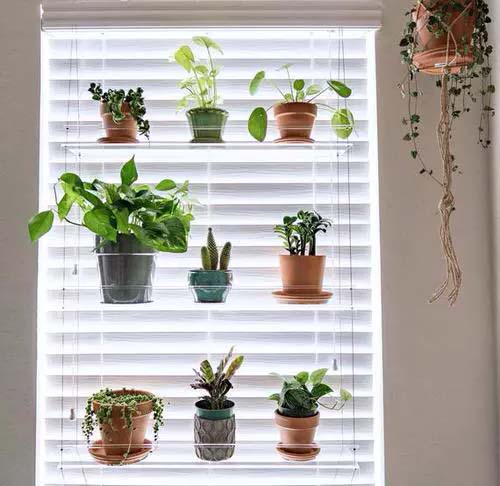 Enjoy the privacy of blinds and the beauty of plants with the help of transparent shelves.
Clear acrylic or glass shelves seem to disappear, ensuring that the green leaves pop against the white blinds.
This setup enables you to open or close the blinds without moving your shelf.
via Etsy
17. Casement Mounted Succulent Shelves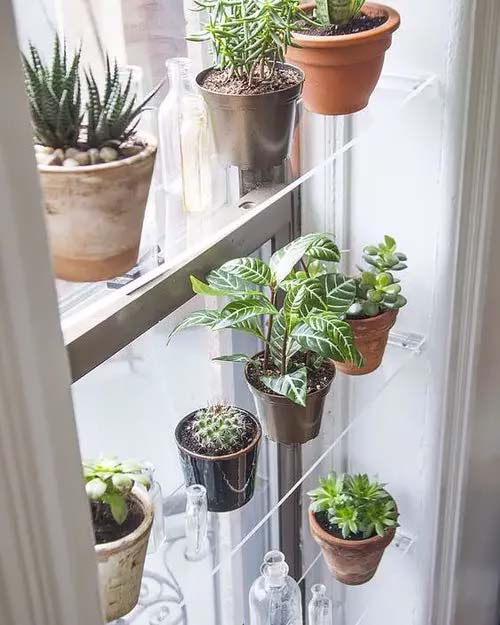 Here's another clever way to use transparent shelves — install them on the interior of the window casement.
By placing them about an inch in front of the window itself, you can showcase your plants while still allowing the window to open and close.
via Design Sponge
18. Pretty Hanging White Bedroom Garden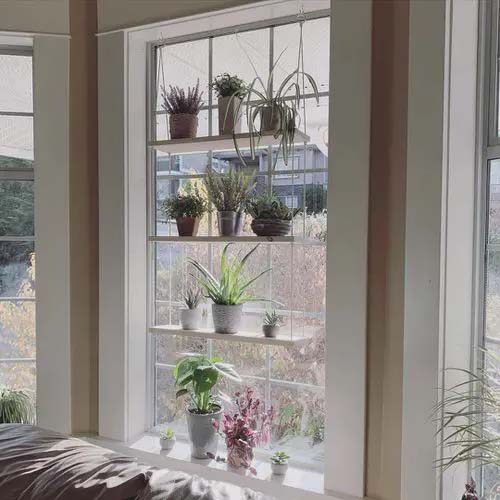 Replace one of your bedroom window treatments with a vertical plant shelf.
The leaves of the plants obscure the view into your room, adding privacy and allowing sunlight into the space.
Complete the effect by using the windowsill as a shelf.
19. Fun Colored Pot Collection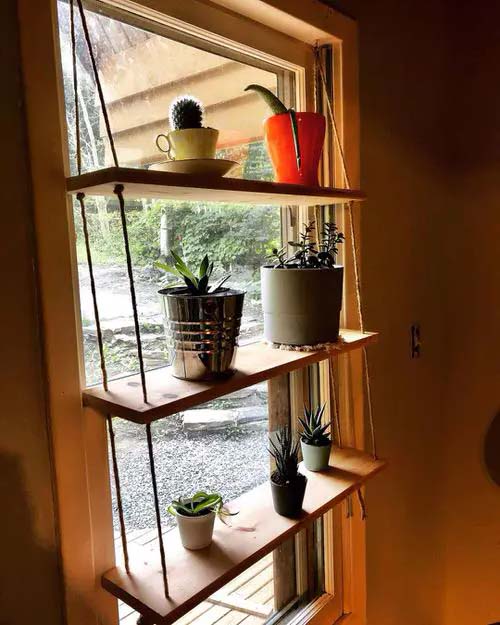 Complement the vibrant shades of your house plants by potting them in colorful pots.
When you place the pots on a set of window shelves, it creates a joyful blend of colors and textures that brighten your space.
20. Long Shelves Hold A Variety Of Greens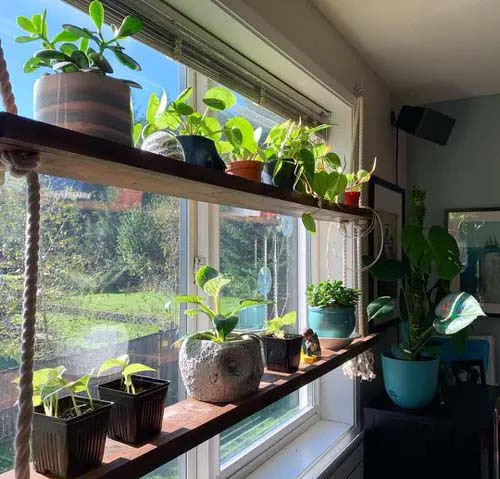 If you prefer contrasting shapes and textures over symmetry and order, this plant shelf is a fun way to decorate a room.
By choosing pots in a range of materials, shapes, and colors, you can accent the eclectic charm of a boho-chic home.
Maintain a unified look by selecting a common theme — you might pick pots in the same height or fill dramatically different pots with the same plant species.