All cat lovers know that their beloveds do seek a way to escape the closed space every time a chance appears.
If you live in a house with a garden or even in an apartment, you may have considered the idea of letting your cat out on fresh air, to let it observe the outer life as often as possible.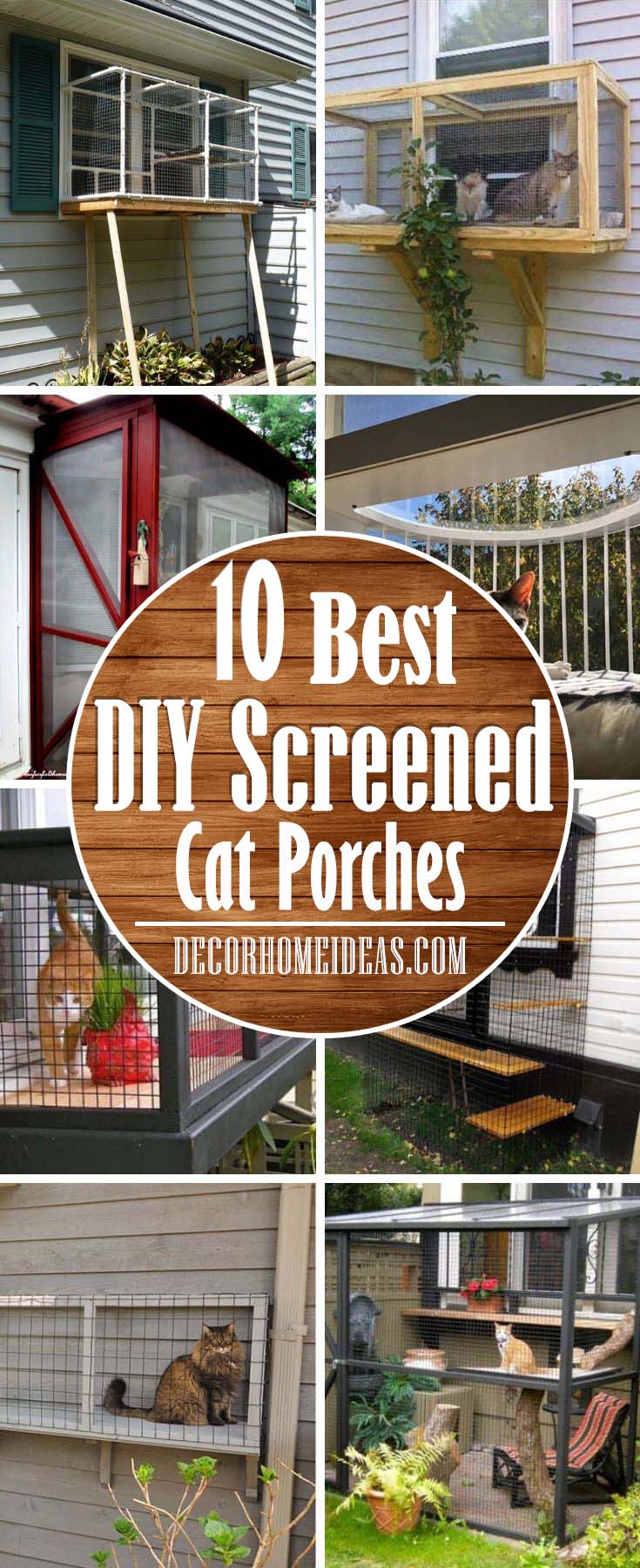 It can be a real challenge though because it hides some risks – there is a big chance that your cat gets hit by a car or gets in fights as it is not used to the outdoor dynamics.
The possibility of getting sick or eating something inappropriate is also very high.
How can you avoid these misfortunes and yet let your pet enjoy the outside world?
Here is a clever idea that combines safety and outdoor experience at the same time – screened cat porch also known as catio.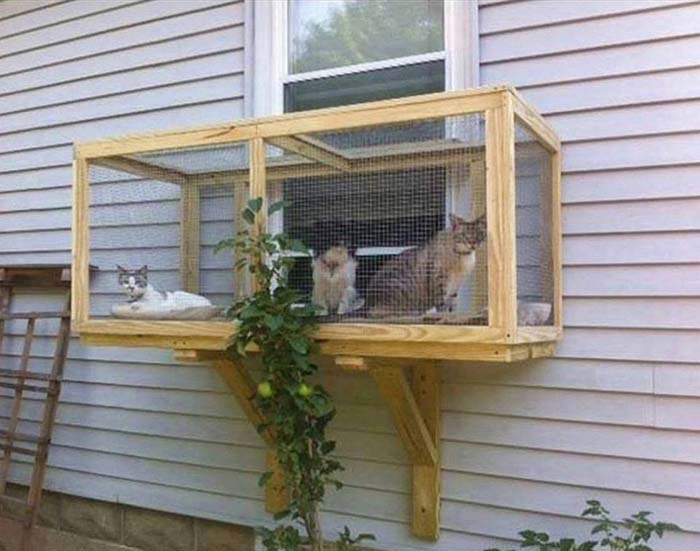 It can be built on your patio or on your apartment window. 
Its size may vary – from a small one that will let your cat lie and study the outside world to one of a bigger size that will allow your cat to walk freely along the cage.
You can decorate it with its favorite pillows. It can become a lovely place for your pet to take a nap.
We all know how cats love to spend their time in dreamy naps. Its toys may also be part of their special screened porch.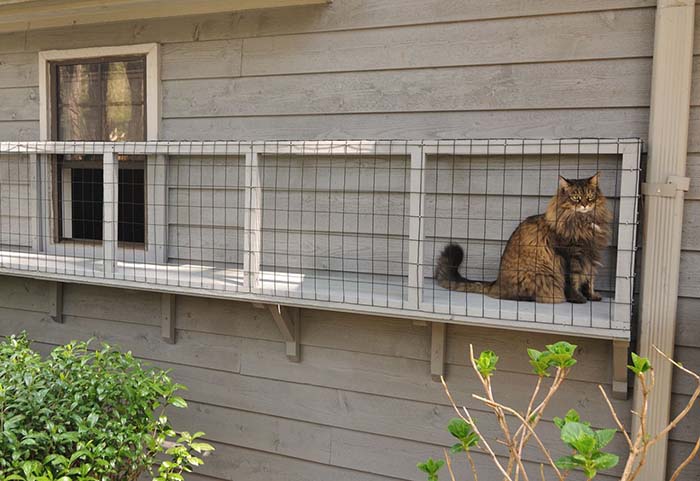 Seeing something familiar will make them get used quicker and will let them feel more comfortable in their new place for rest.
Honestly said, these porches are great! Your indoor cat may enjoy life outside!
They are the perfect solution if you need to go outside your house and do some gardening. You can let your cat go to its porch and only take a glance from time to time to check on it.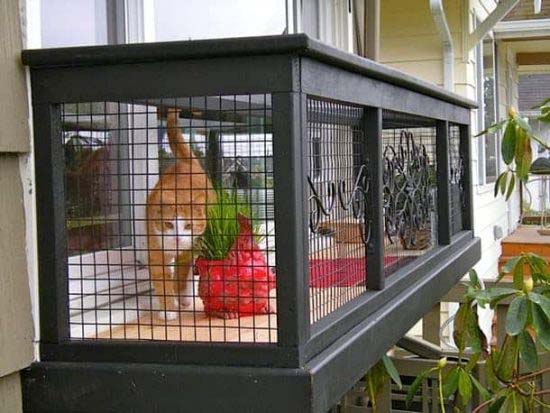 These porches are so safe that your cat cannot escape out from there, it can only return back to your home.
What we do know is that cats are always eager to go outside and also don't mind boxes. That is the basis of the idea for the screened porch.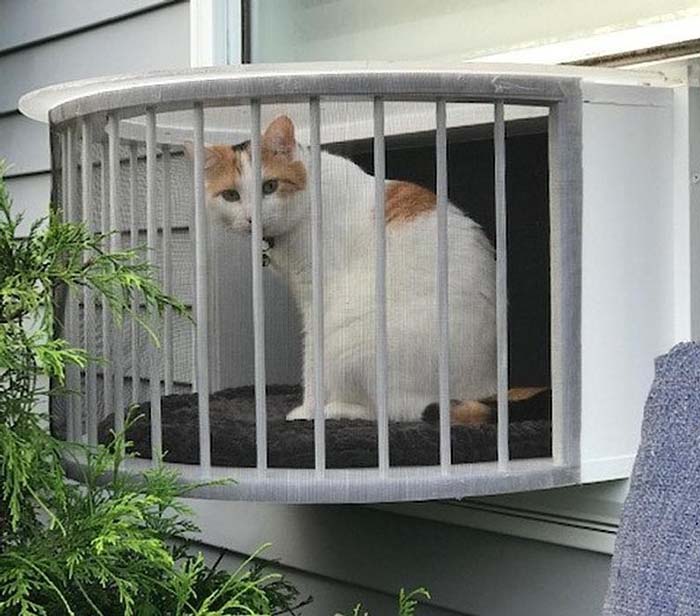 A finished catio you can buy for your pet and just fix it at the desired window!
You can find ready products here and just install them at the place you desire.
They are called Cats Solariums and offer comfortable suitability for all seasons. They are handmade.
The materials involved are plexiglass and maple wood. You can choose among back panels of different sizes depending on your cat's size and weight.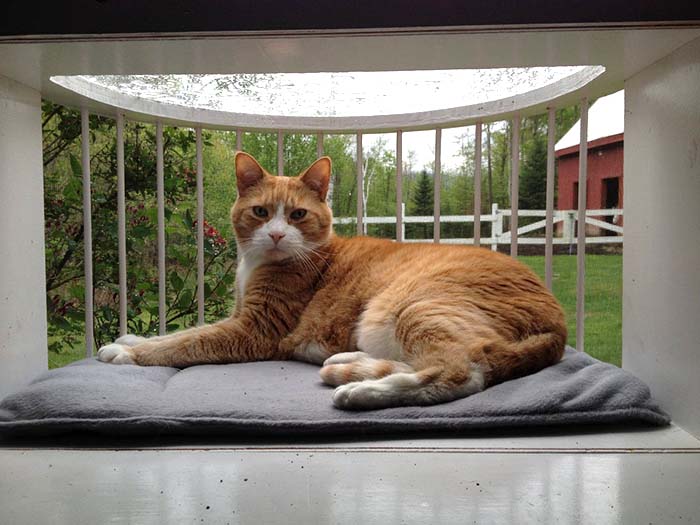 These panels are actually the door through which the cat enters its porch. You can add a mesh screen for additional protection – for your cat, against insects and raindrops.
That mesh screen is easily attached with velcro. The other options the manufacturer offers are weather enclosure, custom pillow, cat landing.
The weather enclosure is suitable for the cold winter. It isolates the cold air from your cat's solarium.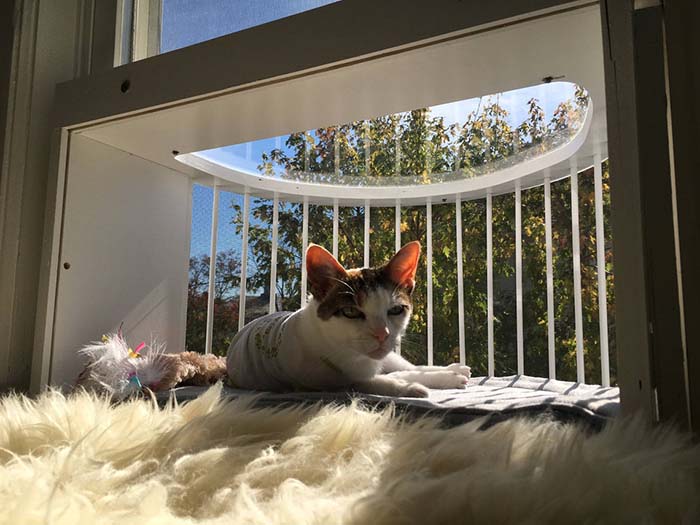 The landing is very convenient if your cat porch is positioned higher. That landing will help your cat step in and out of the solarium.
The custom-made pillow fits the size of the porch. It can be easily detached, washed and air-dried. The wooden material of the cat porch is plywood covered with marine-grade paint. It provides a long life of the product through the high resistance created against the sun and water.
The manufacturer provides a detailed description of the way to fix the solarium yourself.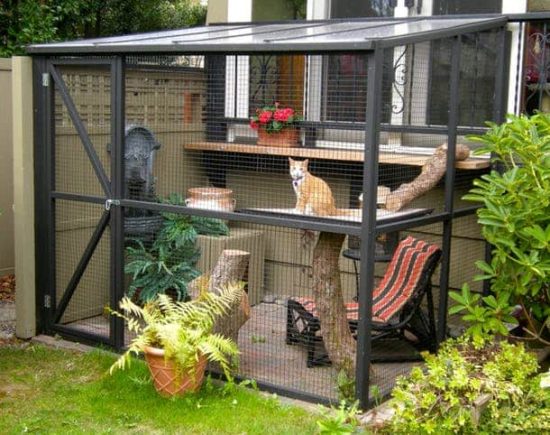 via Catio Spaces
Luckily, it is easy as a piece of cake. The tool you need to fix the solarium to the chosen window is an Allen wrench which comes as a bonus to the purchased package.
The complete assembly will take not more than 20 minutes if you follow the instructions published on their website.
If you would like to create an airy place for your beloved cat using DIY instructions, you can find some ideas here that cat lovers are making around the world.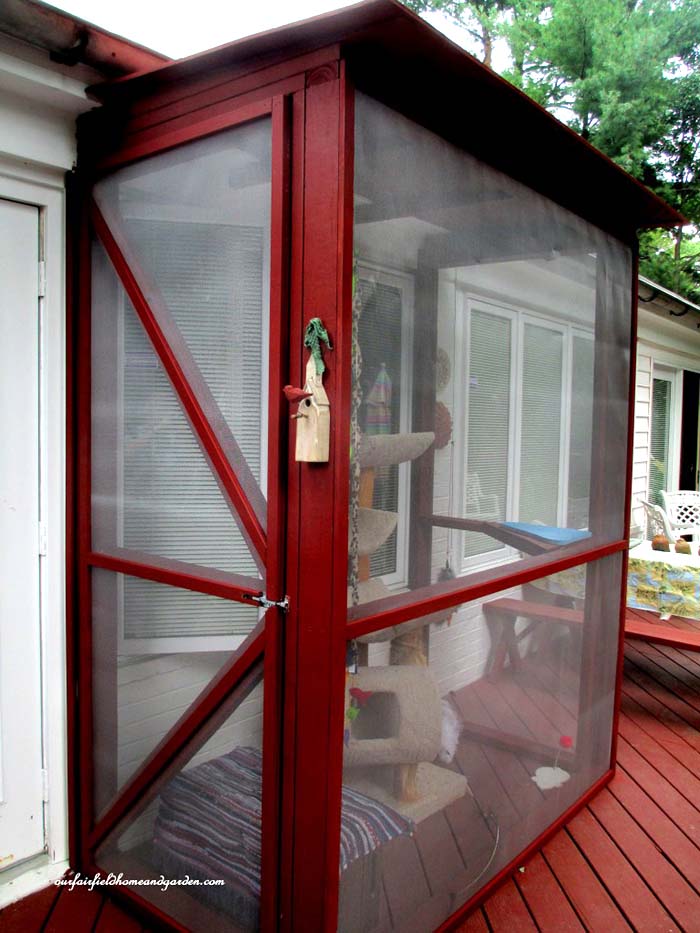 via Our Fairfield Home and Garden
Using the leftovers from any repair work you have done on your house or apartment through the years, you can create a nice outdoor porch for your cats.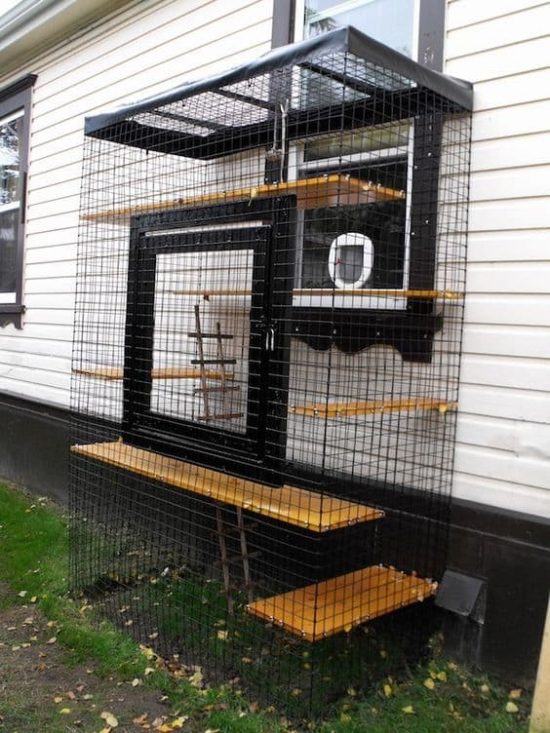 Some laths, wire mesh, bolts and paint of your choice. This is all you need to create a protected area, detached to your window and yet giving some fresh outdoor space for your cat.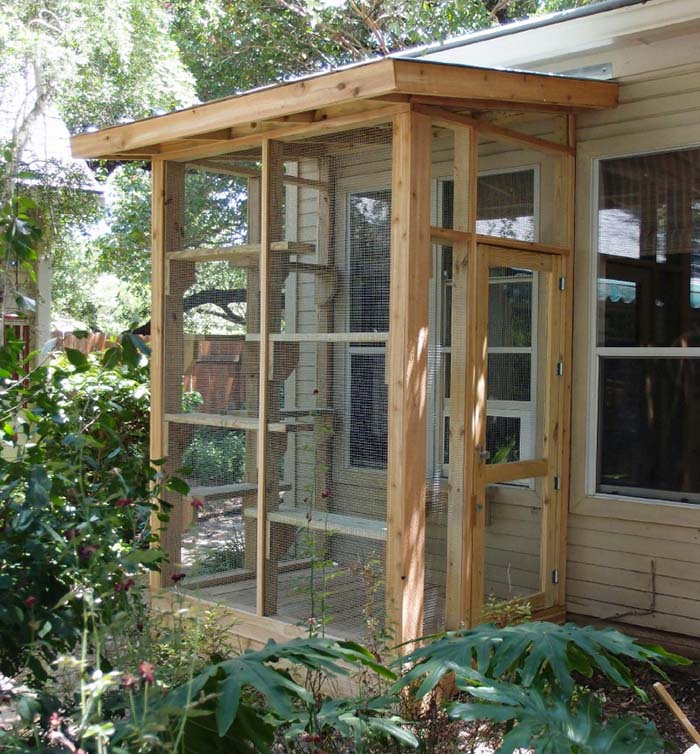 The size is up to you, as well as the height. What you only need to do is to open your window and let the cats walk into their new favorite space.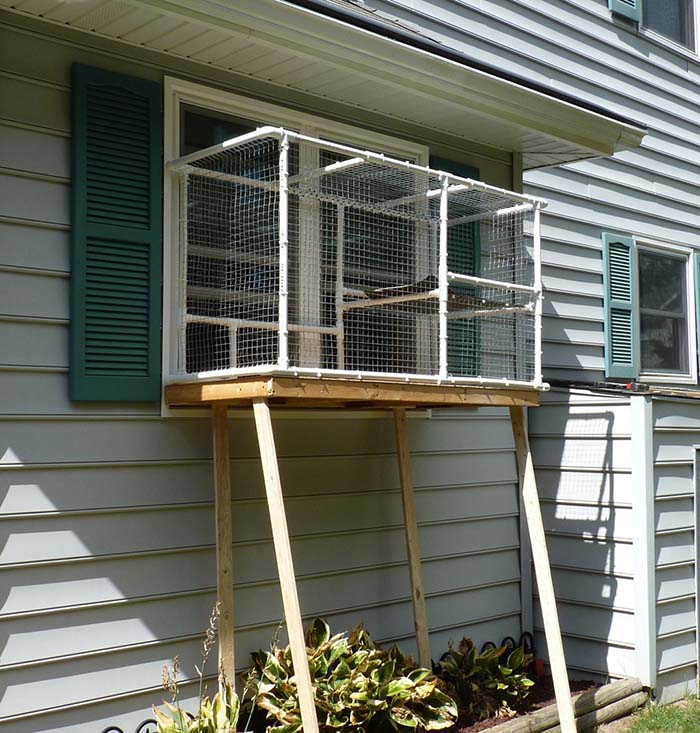 via 26th Avenue
Your cats will be more than happy and you will be able to do any work in your garden while they are always within your sight.