A kitchen island with built in seating might look like a weird idea for your kitchen, but if you have enough space you need to consider this option.
One of the most important benefits of having such a kitchen island with seating is that you could easily accommodate your whole family for breakfast or dinner.

Of course, there is also a downside as benches and booths mean everyone has to get up when someone wants to get up.
If you are looking for some small and inexpensive kitchen islands with built in seating check these offers HERE.
1. Enjoy Family Meals with Kitchen Island Benches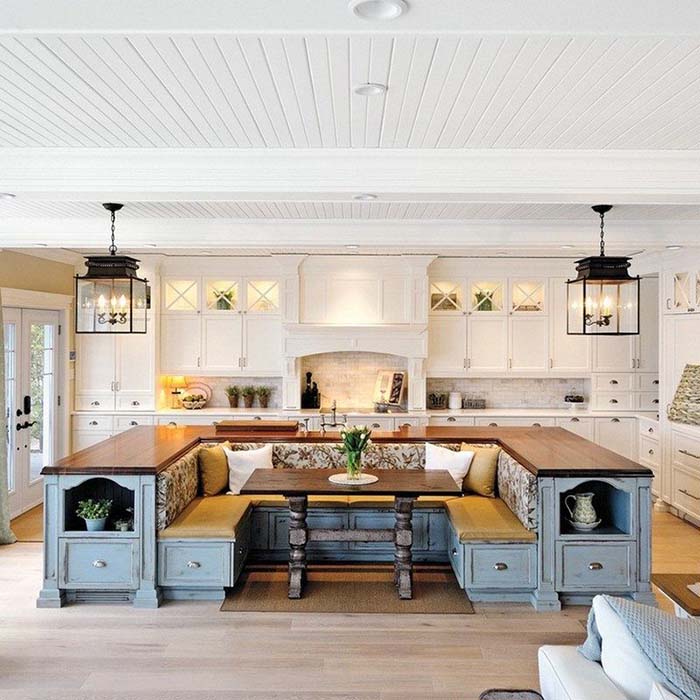 When most people think about having seating at a kitchen island, their first thought it to have an overhanging counter with barstools.
While barstools can be a great place to have a quick bite or chat with the chef, they are not conducive to having a family meal.
It is becoming increasingly popular to integrate benches into islands to achieve the best of both worlds.
2. Optimize Your Kitchen with a Bench and Table Combo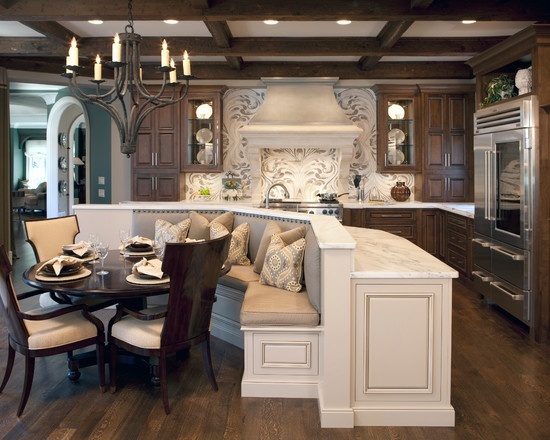 Designing kitchen island seating can often seem like a compromise between having a practical – but less formal – bench or having a traditional table.
However, these components can be used together effectively to create a unique space.
3. Bring Farmhouse Charm to Your Kitchen with Island Benches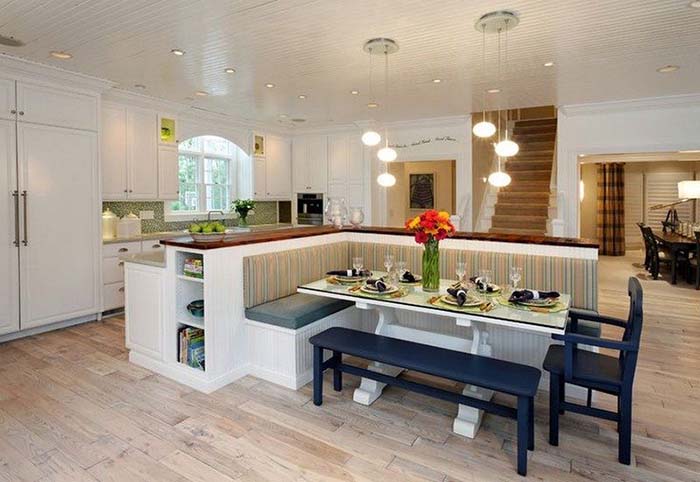 If you want to have the style and functionality of a country-style picnic table but lack the space, consider a kitchen island design with built in bench seating.
This hybrid design allows you to have a large table for family dinners even in a smaller kitchen.
4. Give a Kitchen a Stylish Makeover with a Free-Standing Bench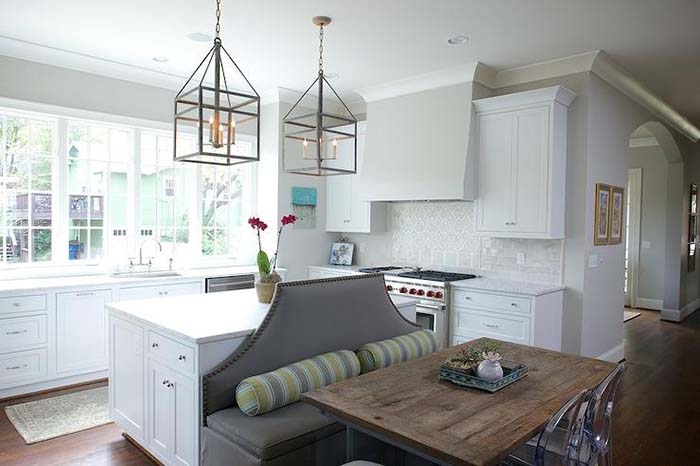 Photo: Credit
If you desire to integrate seating into your kitchen but don't want to undergo the expense of replacing kitchen cabinets, considering adding a free-standing bench to the back of your island.
This allows additional seating without requiring a permanent fixture.
5. Add an Outward-Facing Bench to Your Kitchen Island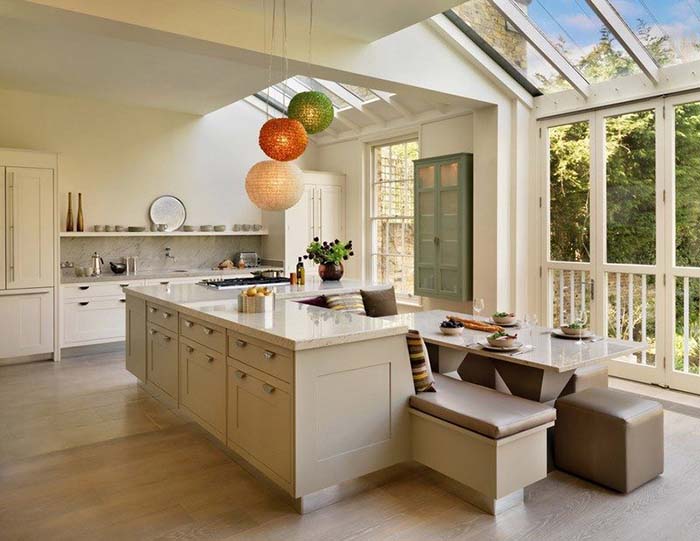 Often, kitchens are designed with counters that face outwards, but lack seating for guests to enjoy the view as well.
Integrating outward-facing benches into your island allows the cook, and their company, to enjoy the view.
6. Design a Small but Functional Tabletop Island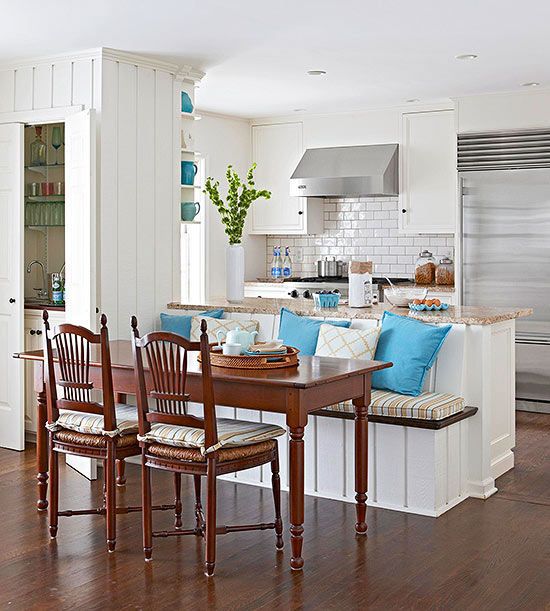 When looking to design a kitchen island with built in seating, it is common to make the mistake that "bigger is better."
However, even a small table can add a charming seating area for breakfast or a light meal.
7. Create a Charming Seating Area in Your Kitchen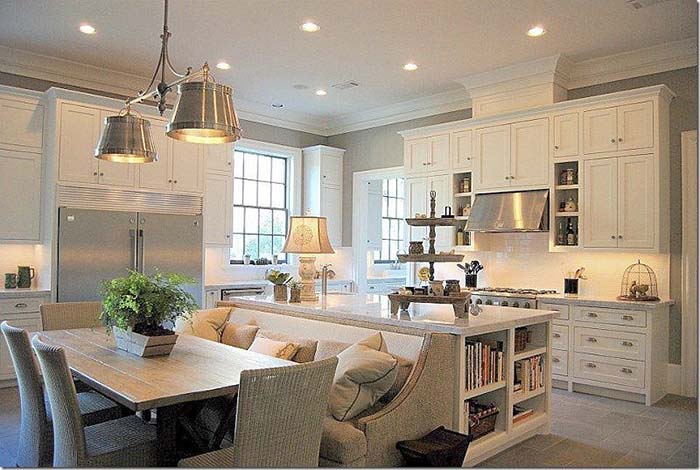 Just because you want a kitchen island with bench seating doesn't mean it has to have the comfort of a park bench!
Consider using upholstered pieces to make your island beautiful and luxurious.
8. Make the Most of your Kitchen with a Double-Sided Island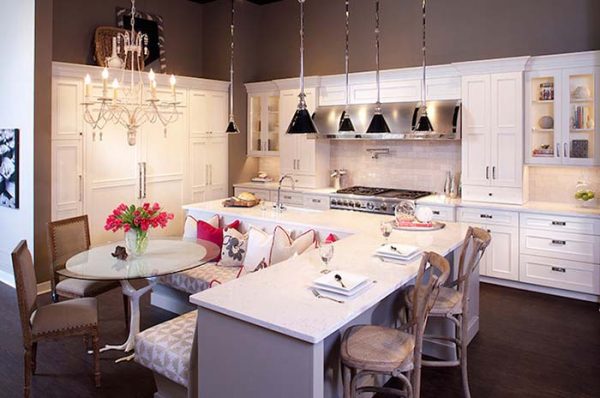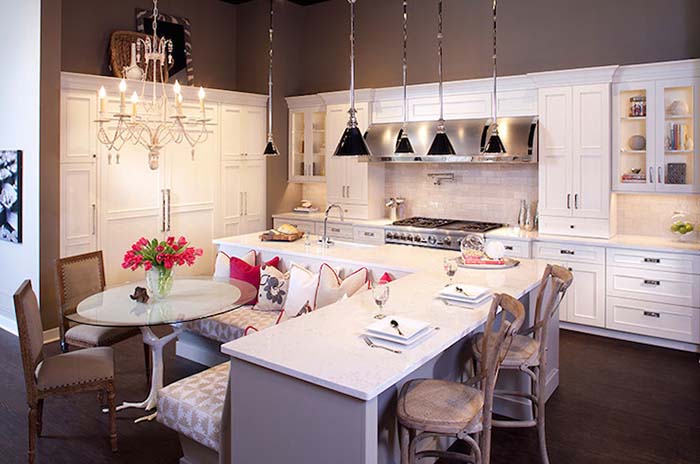 Many people long for the informality of bar-stools while still maintaining a place to have a more traditional meal.
By creating a double-sided island extension, the space can serve both functions!
9. Add Comfort and Style to a Kitchen with Removable Cushions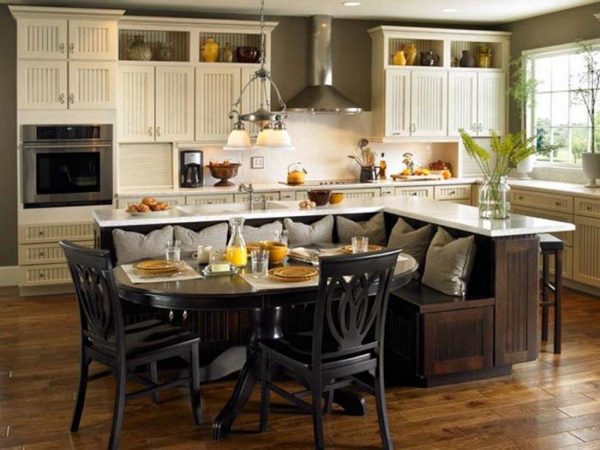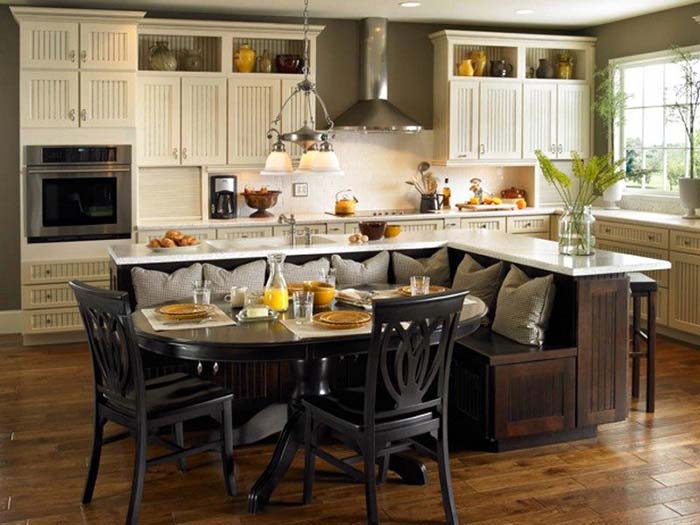 If you want the comfort and style of upholstered benches but worry about cleanup or odor accumulation, consider using removable throw pillows or cushions to combine comfort with practicability.
10. Transform Your Kitchen with a Reading Nook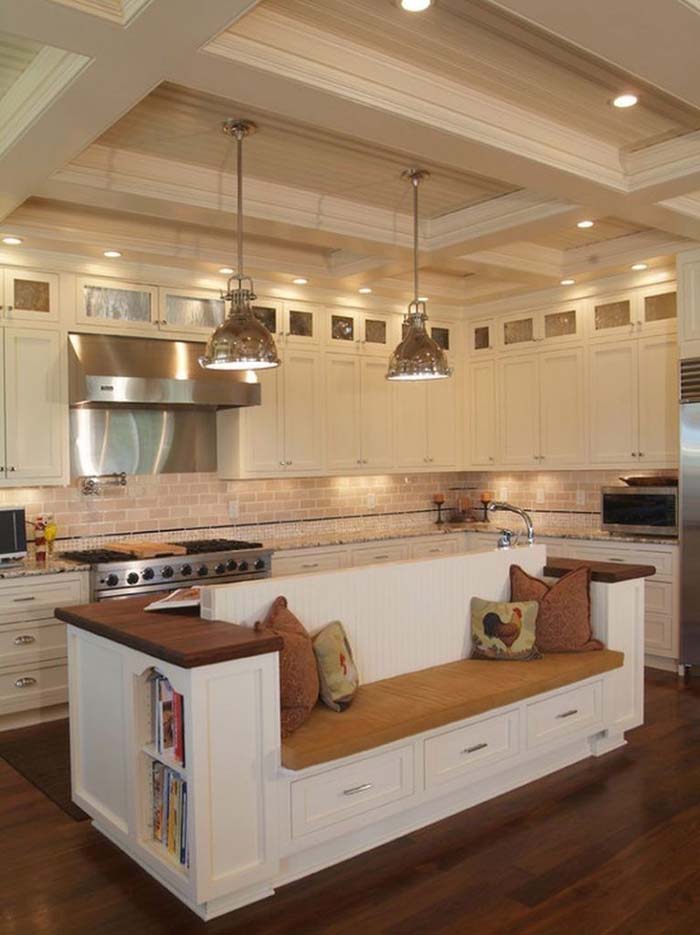 If you're designing a kitchen island with seating, remember that the space can be used for more than just meals!
A small nook to read a book or enjoy a cup of coffee can be a beautiful and cozy addition to your kitchen.
11. Enjoy Practicality and Style with Spacious Seating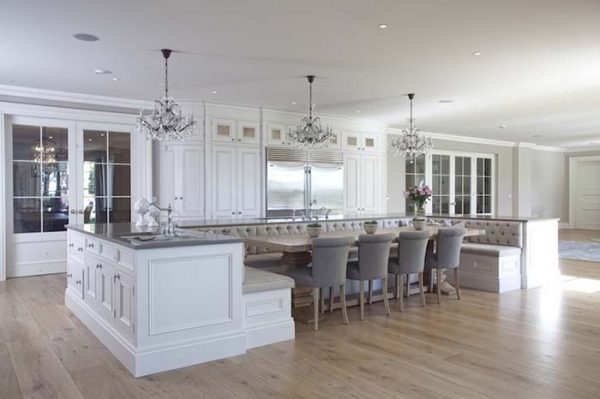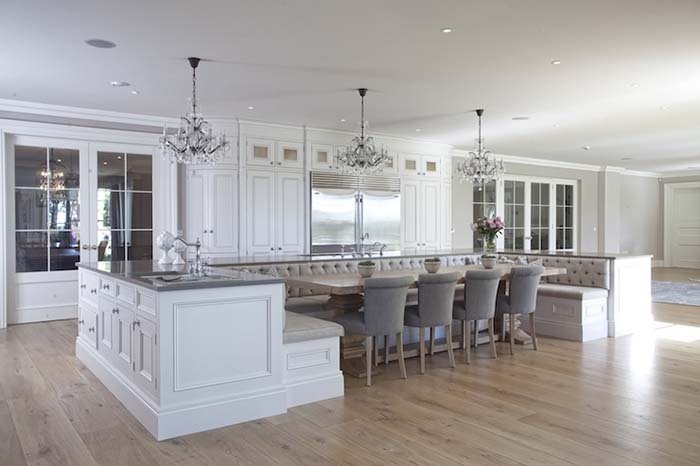 Don't limit the size of your island seating.
It's common to see a seating arrangement that looks small and out of place in a larger kitchen.
If you have a large kitchen, it makes functional and aesthetic sense to size the seating in concert with the room.
12. Add a Curved Bench Seating for a Stunning Centerpiece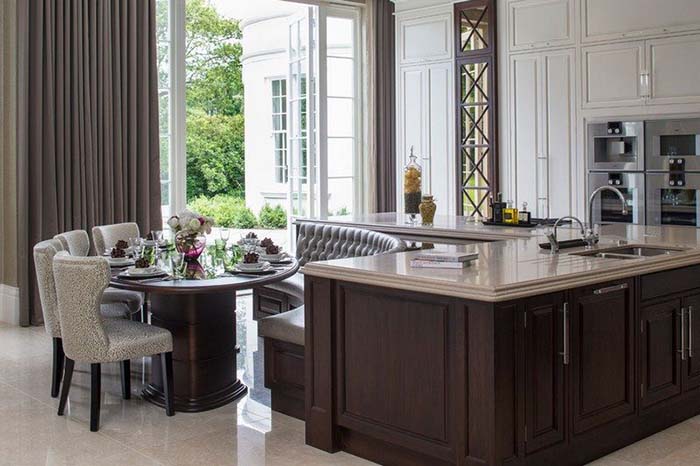 Kitchens are traditionally spaces filled with straight lines, squares, and right angles.
While many components of a kitchen are necessarily built for certain shapes and functions, creating a kitchen island with built-in bench seating is an excellent opportunity to have fun and be creative with angles and curves.
A rounded bench can become an eye-catching and useful centerpiece
13. Revamp Your Kitchen Island with Contrasting Colors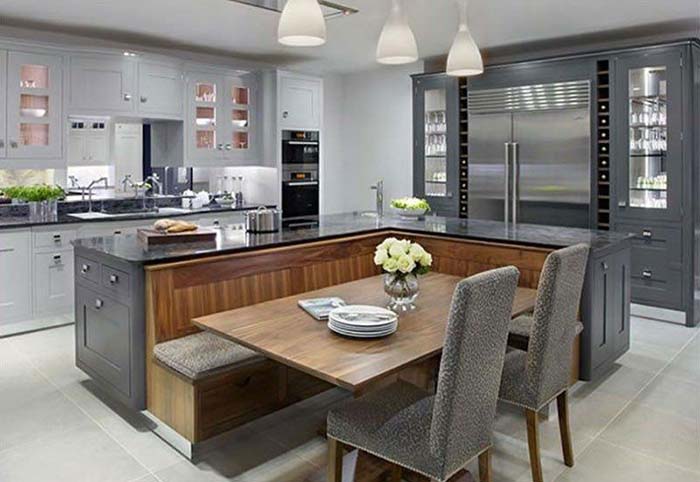 In most situations, built-in seating will feature the same materials and finishes as the cabinets and counters that surround it.
However, building kitchen seating in a contrasting but complementary finish is a clever way of adding visual interest to any kitchen.
This is also a fantastic way to breath new life into an older kitchen: paint is a powerful but inexpensive renovation tool.
14. Increase Kitchen Storage with Benches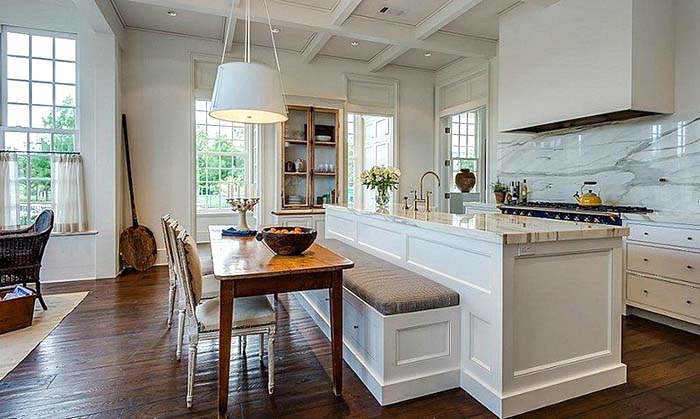 If there is one thing a kitchen can never have too much of, it is storage.
Integrating benches into an island is not only a fantastic place for guests to enjoy themselves, but adding cabinet doors to the benches provides additional storage.
For those occasional-use items that always seem to be in the way, tucking them away in a storage bench is a great option.

15. Add Visual Interest with Complimentary Patterns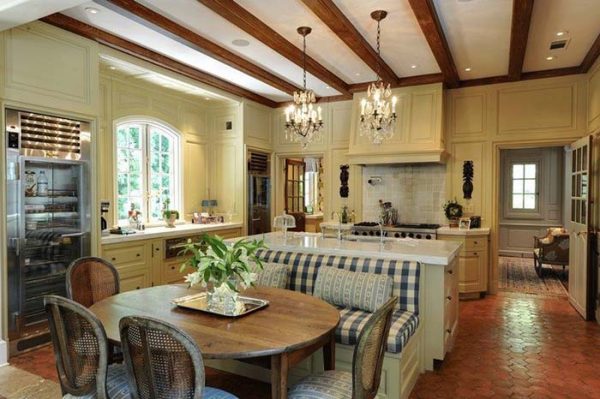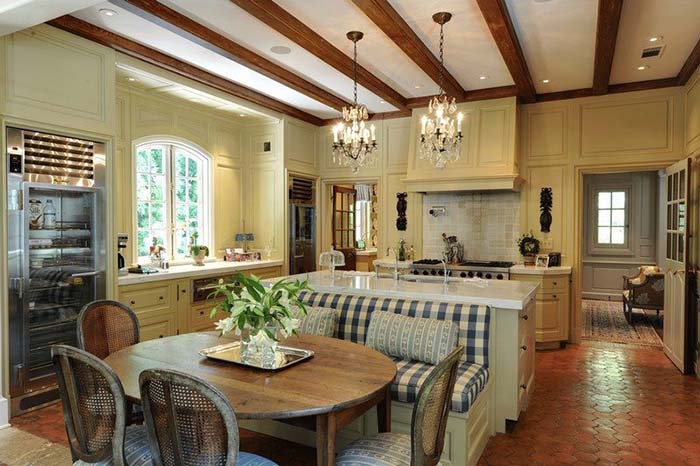 There is a lot more to design than matching colors and patterns.
If you are in the process of designing an island seating arrangement, look to use varied but complementary patterns and fabrics; the variation will add style and interest.
16. Get the Most Out of an Island Seating with Adequate Lighting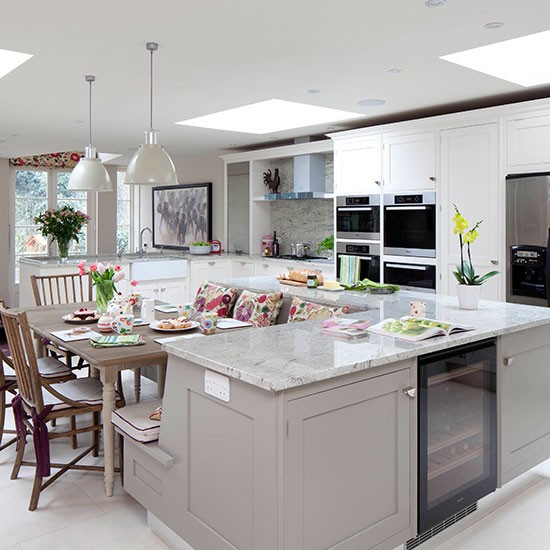 Photo: Credit
It is common to see island seating without proper lighting considerations.
If you are renovating your kitchen and incorporating island seating, remember to include sufficient lighting to make the seating space bright and enjoyable.
17. Add Elegance and Functionality with a Leaf Table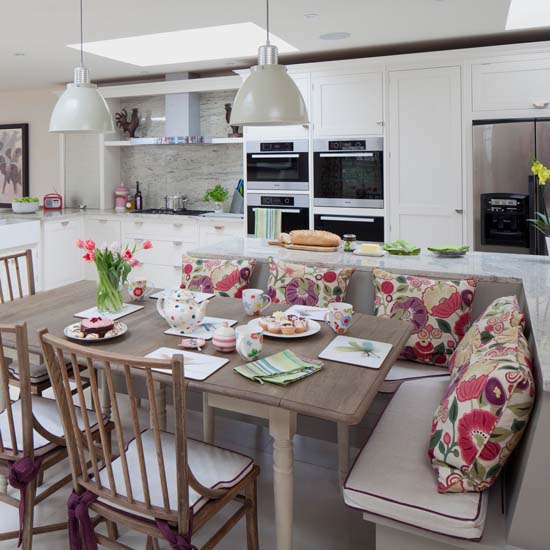 Leaf tables, or tables with removable or folding sections, are an excellent way to provide occasional seating for more people without requiring a table that regularly consumes too much space.
18. Transform Your Kitchen Island into a Holiday Paradise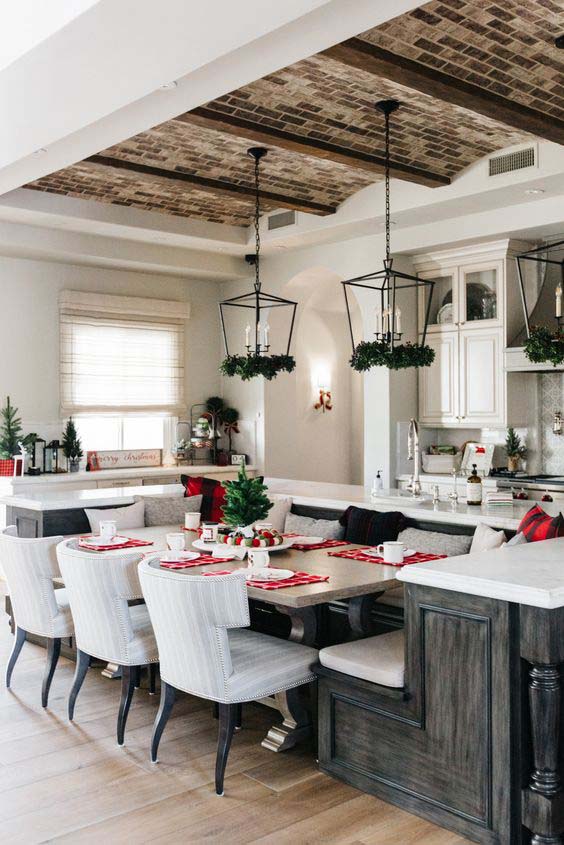 Not only does having built-in seating on your island add a great place to relax, but the additional table space is a wonderful place to display Christmas centerpieces or holiday decorations without impacting your crucial counter working space.