Are you in a period when you are looking for ideas to give your space a refresh?
Redecorating the entire space could be quite money and time-consuming. We are here to tell you a secret- you can give your home a brand new look with simple changes or additions.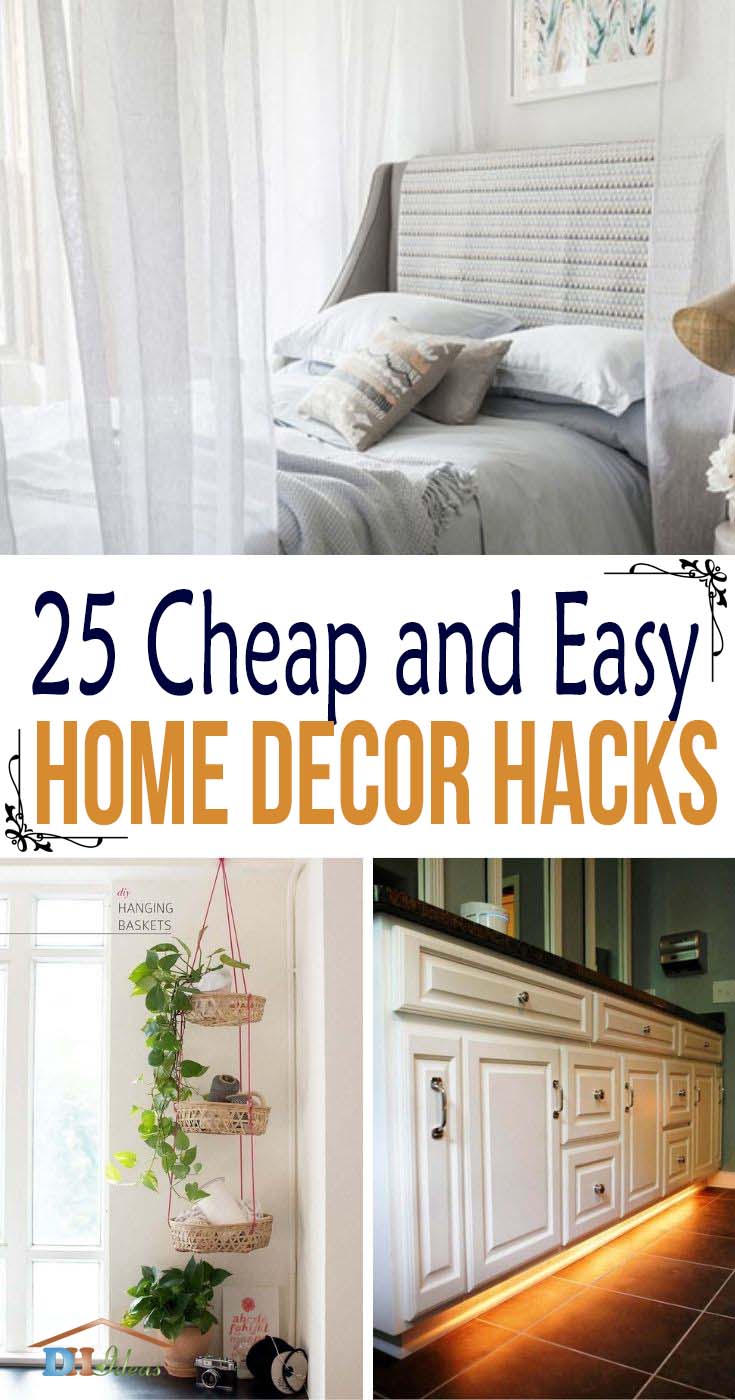 And if you think that inexpensive decor is one-horned, then you haven't seen our collection of 25 Cheap and Easy Home Decor Hacks that will spruce up the aesthetics of your own place!
1. 3-Tiered Tropical Hanging Accessory Hammock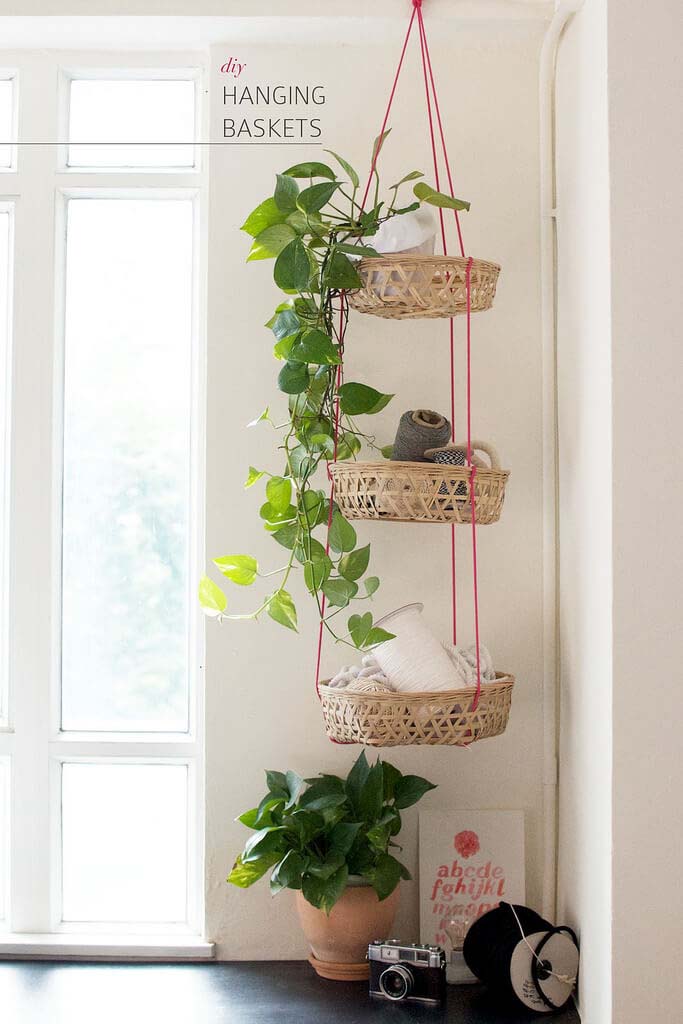 An empty corner lit by the natural light coming through an adjacent window is a space with decor improvement potential. Make it your personalized corner where your hobbies and skills are displayed. A tiered hanging basket set collects knitting accessories.
Place a vine in the top section to add green texture against the neutral wicker material. In case there is a flat surface under the hammock, use it to display more of your special instruments related to your hobby.
via Collective Gen
2. A Truly Portable Suitcase Bar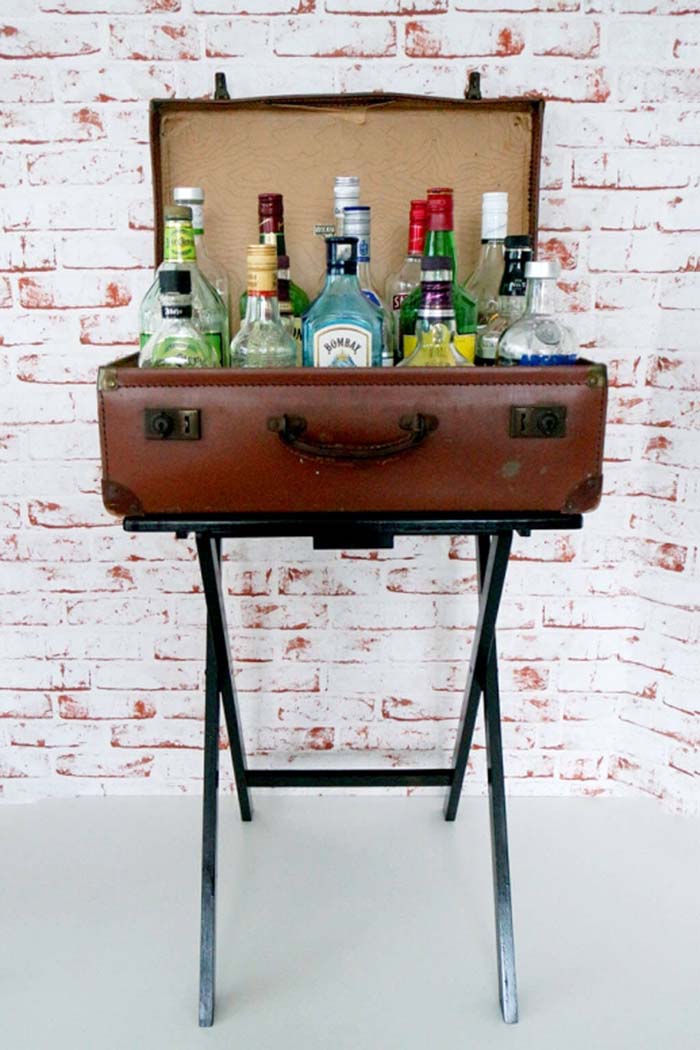 This upcycling idea repurposes a vintage leather suitcase into a practical side table. Having a dedicated space for your drinks collection is always a good idea.
The foldable legs added to the base of the suitcase let you move the drink storage anywhere you want.
3. Add Dimension to Doorways with Plinth Blocks

For a finished look of your door or window frames, clad them with plinth blocks. You can find them in a variety of styles and at a cheap price at most of the home decor stores.
You would be amazed at how easy it is to mount them yourself and what an appealing transition they will give to your doors and windows.
4. Amazing DIY Frosted Glass Door Design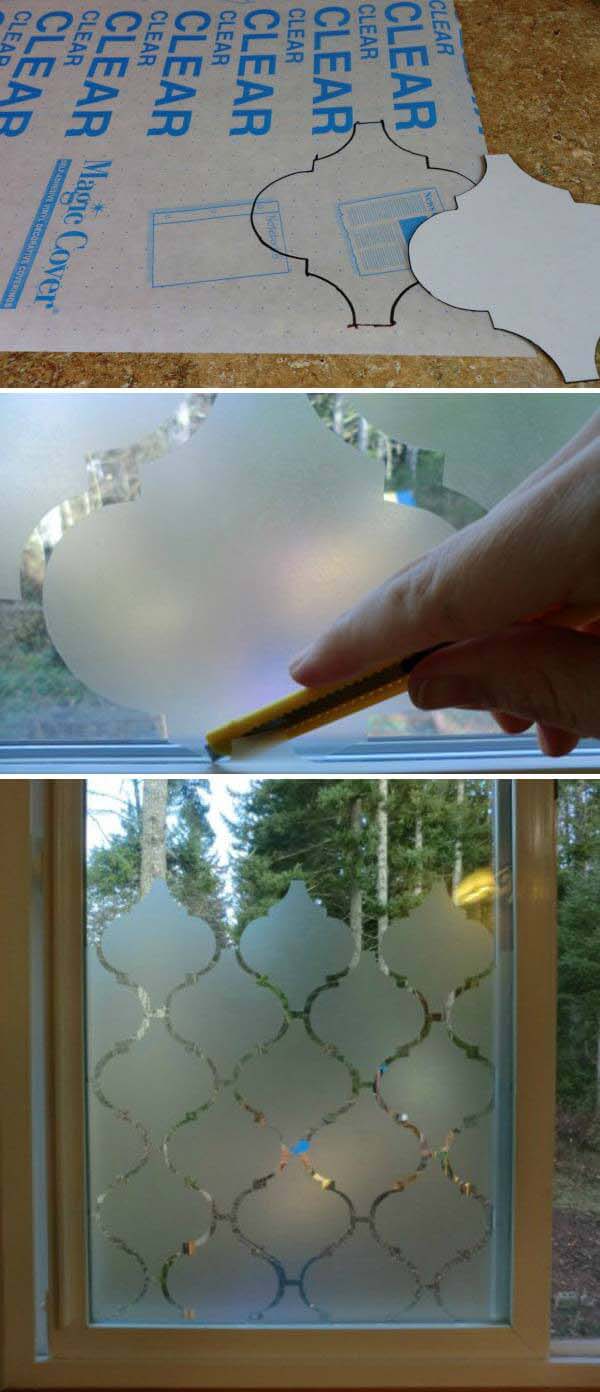 An inexpensive way to add privacy to a window that cannot be equipped with curtains or shades is by applying contact paper to the inside surface.
That hack could be your solution for bathroom or entryway windows where you need light but also means to limit the view of eyes from outside.
Cut the contact paper in any shape to create a unique pattern and watch the new look of your window as frosted or etched glass.
via Thrifty Fun
5. Breath of Fresh Air Charging Station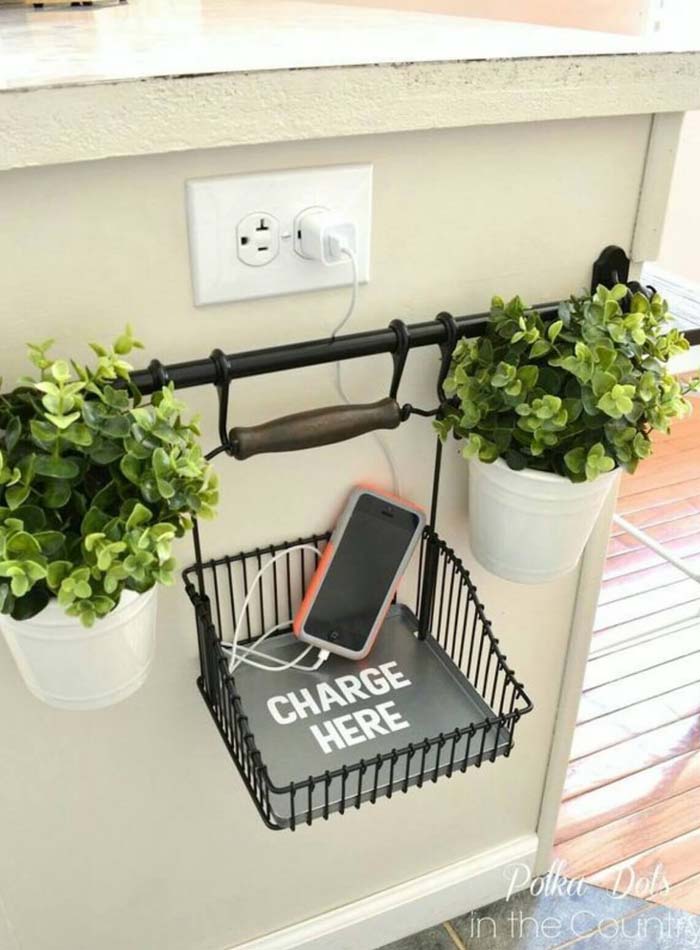 Okay, isn't this charge station genius? I bet you haven't ever thought about installing such a practical storage unit to the outdoors.
If you have a dedicated basket for your phones on the porch, there will be no running to the living room when the phone is ringing.
6. Bright and Graphic Blackout Curtains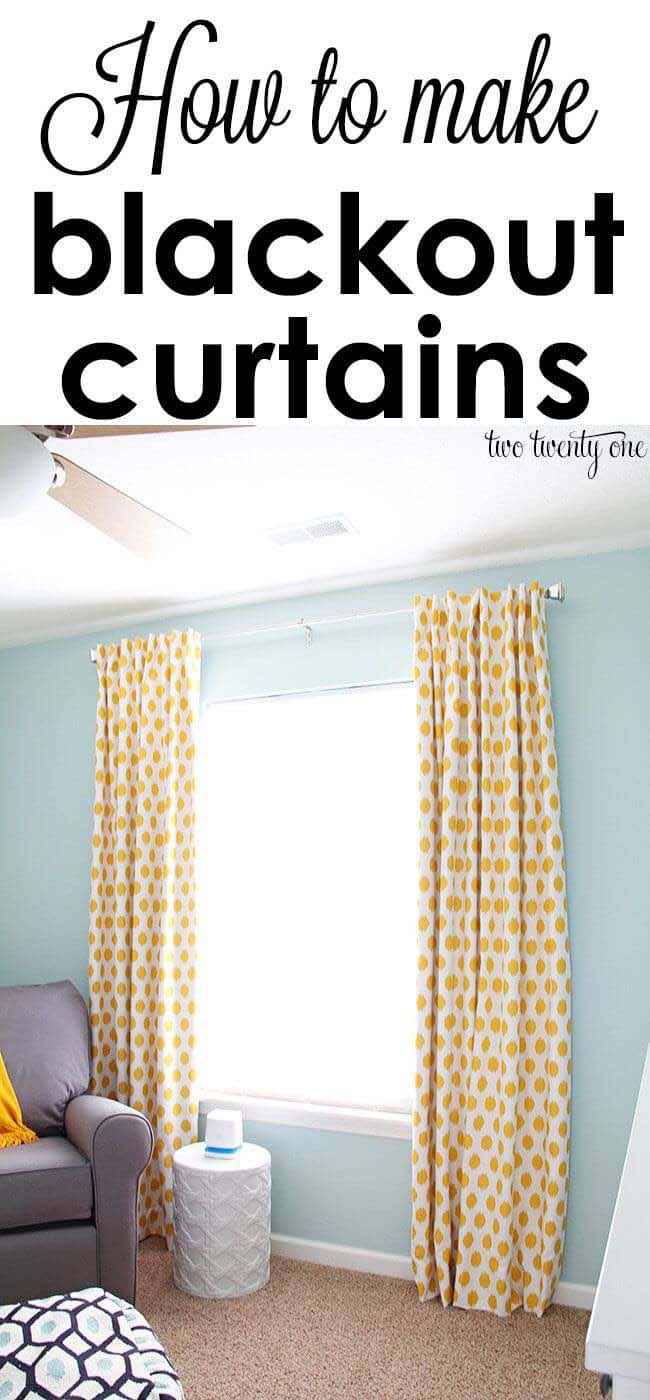 Adding blackout curtains to a bedroom creates a relaxing atmosphere and takes care of your good sleep. Sewing yourself the fabric could save you a lot of money.
Don't worry it is not as hard as you think as long as you have another pair of hands to help you and follow the detailed instructions below.
via Two Twenty One
7. Budget Customized Fabric Bed Canopy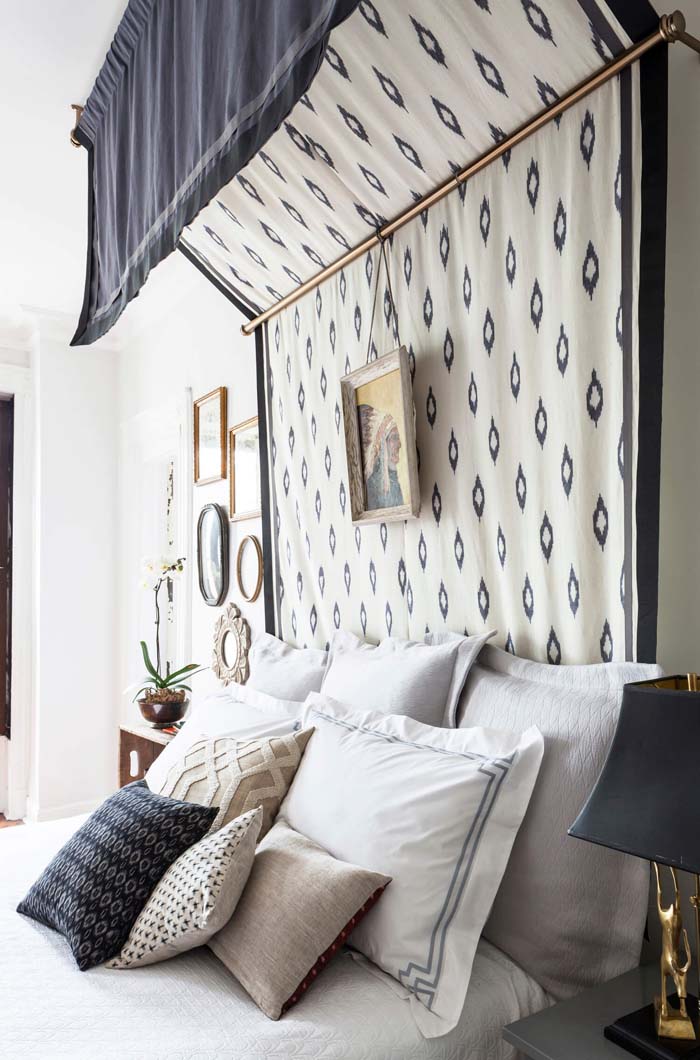 Adding a canopy to a bed instead of a headboard is a glamorous idea for refreshing the bedroom vibe. No special skills and supplies are needed for this DIY project, just a piece of fabric you like and two curtain rods to keep the material in shape and stretched.
Only in a day, the handmade canopy will be ready to let you enjoy your fancy bedroom makeover welcoming you to spend the ultimate relaxing time there.
via Design Sponge
8. Cheap and Easy Home Decor Hack Ideas for Fireplaces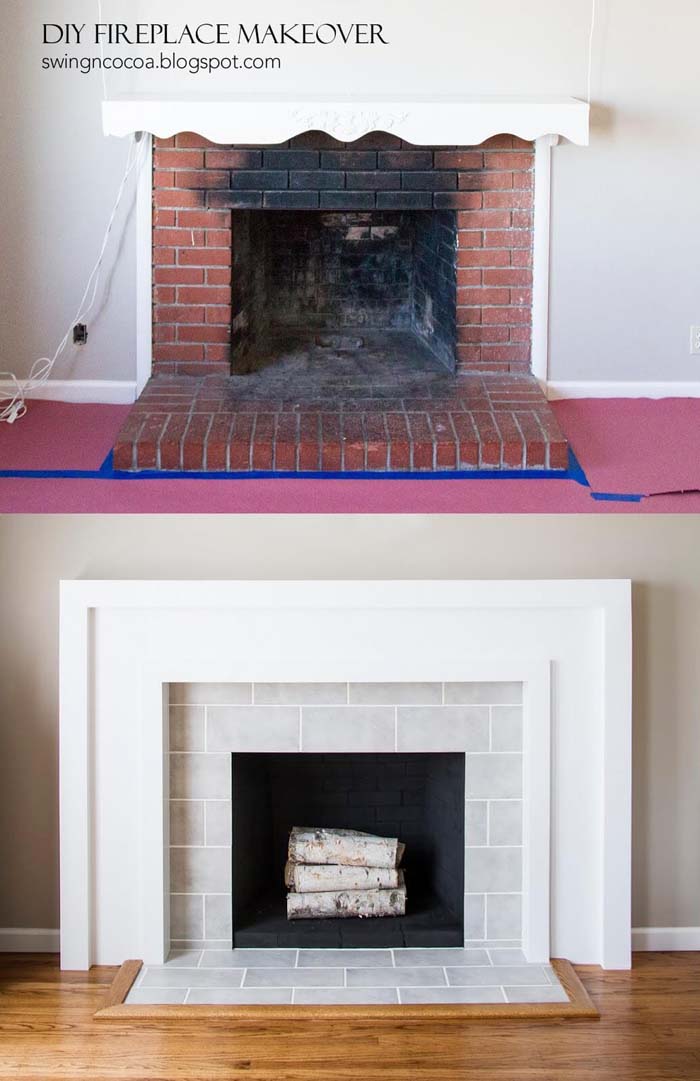 This fireplace makeover idea will not only transform the fireplace but the entire area. If you are lucky to have a real fireplace, then you know how often it requires maintenance. However, sometimes it is time for a drastic change even if you constantly clean the soaked soot.
This project reveals the advantages of cladding the fireplace with tiles. Cleaning is much easier and the look is far more modern and appealing.
via Swing N Cocoa
9. Cheap and Easy Home Decor Hack Ideas for Windows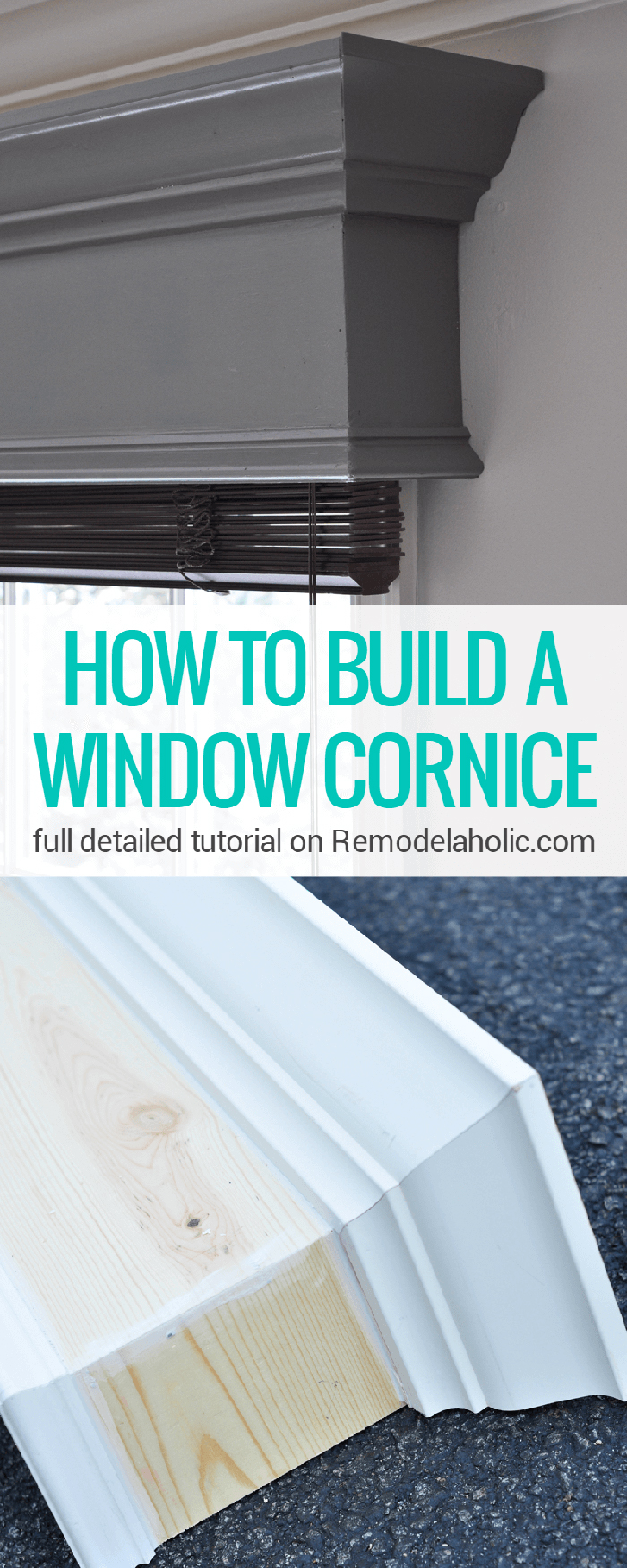 A creative and affordable hack for a quick transformation of the windows is adding a window cornice. If a carpenter makes it for you, it would be from a solid wood piece and quite expensive.
Thinking of the investment side, there is a far more affordable alternative to make the cornice yourself with pieces of wood.
Once all the pieces are assembled together, simply screw it above the window. The added element adds loads of elegance and gives the room dimensional interest.
via Remodelaholic
10. Cottage Kitchen Cabinet Chalkboard Insert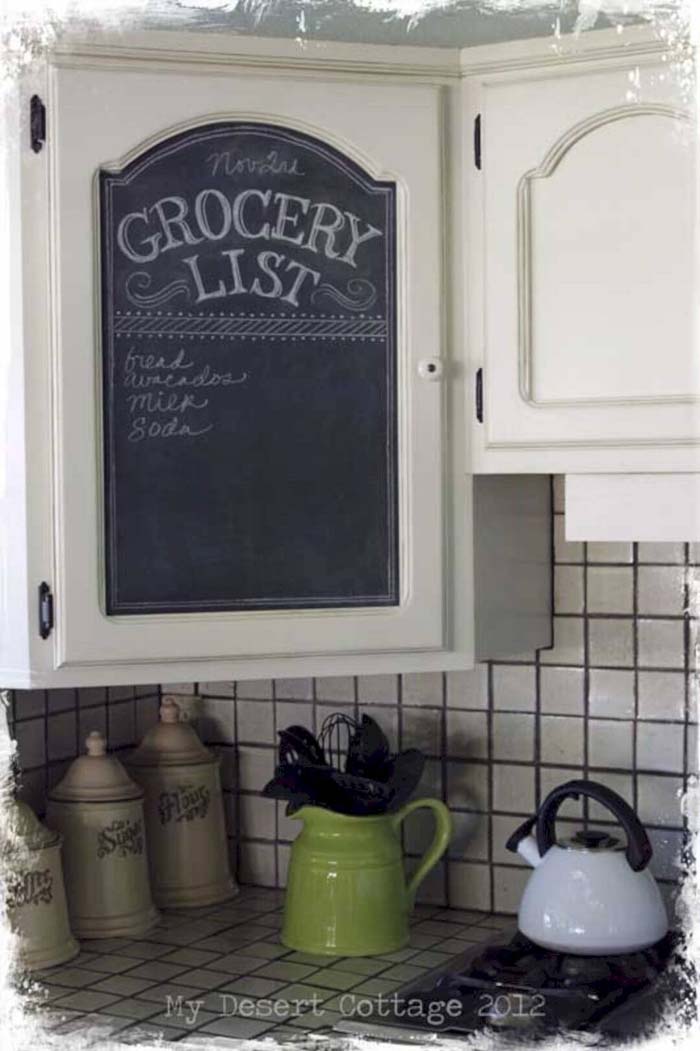 A great and practical idea for a quick kitchen farmhouse decoration! A cabinet door becomes a canvas for a beautiful handwritten grocery list in one quick step. Trace the shape of the cupboard door on a piece of masonite and then apply coats of black chalk paint on it.
The greatest thing about this idea is how flexible it is as you add something to the existing cupboard without changing it permanently.
Chalkboard surfaces are very versatile and add loads of charm to any space, especially if there are other farmhouse accents to cohere with.
11. Custom Wallpaper with Southwestern Stencil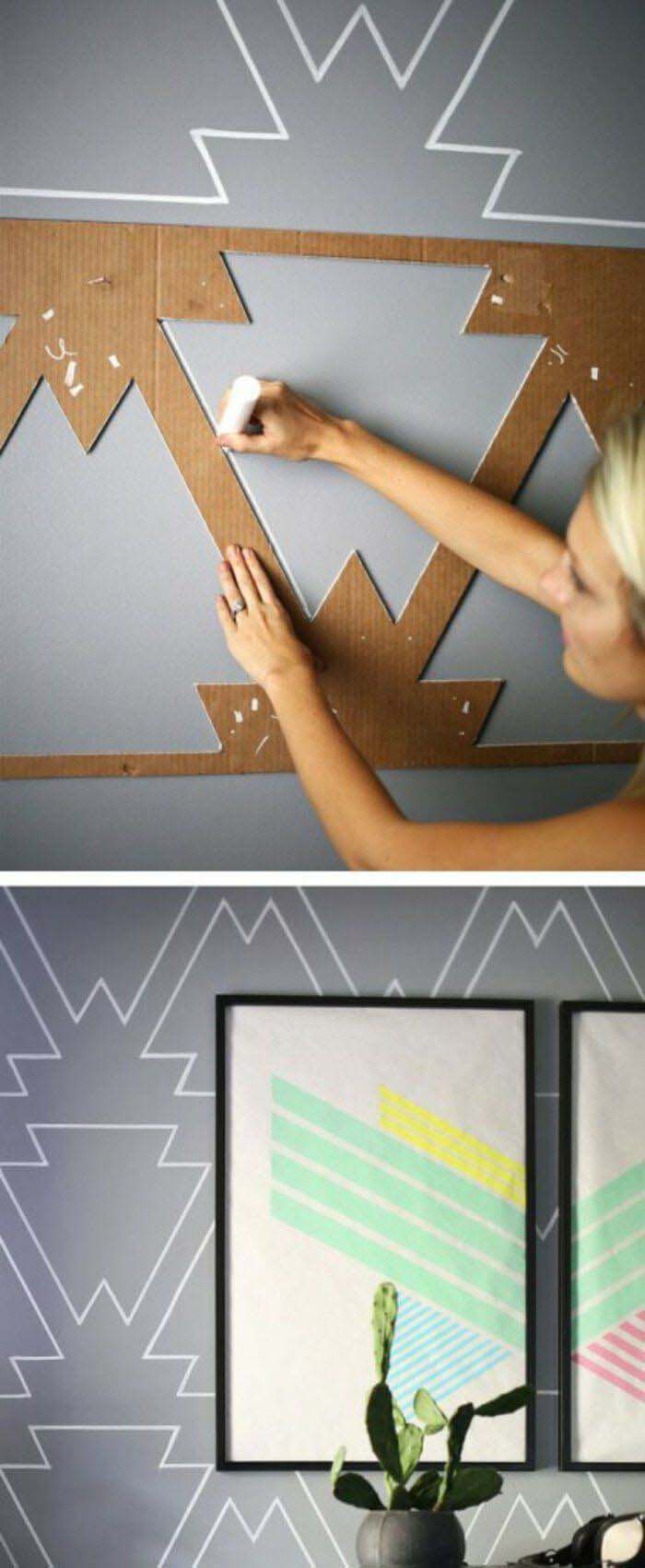 Another quick makeover idea lets you give any wall a brand new look and function as a statement wall without any time-consuming efforts or sensible investment.
This idea is suitable for neutral one-color walls, otherwise, the update won't be visible or will create a chaotic look. First, decide what the pattern will be and on how many rows/columns of shapes there will be and what the distance between them will be.
Then, transfer the pattern idea to a piece of cardboard. Painter's tape and push pins will help you keep the pattern at the desired spot while you are tracing the outlines with a paint pen.
via A Beautiful Mess
12. DIY Shabby Chic Shadowbox Planter

Do you like live decor? It is already time to make it yourself because you couldn't find a better how to tutorial than this here.
An Ikea challenge takes the shadow box garden idea to another level where the interest comes not only with the non-traditional type of planter but also with its design.
The geometric shapes made from cut pieces of the Lack table legs form nests for the succulents. This design creates an amazing interior impact thanks to the lovely contrast between the greenery and the white wood pieces.
via Craft Berry Bush
13. Don't Replace It, Repaint It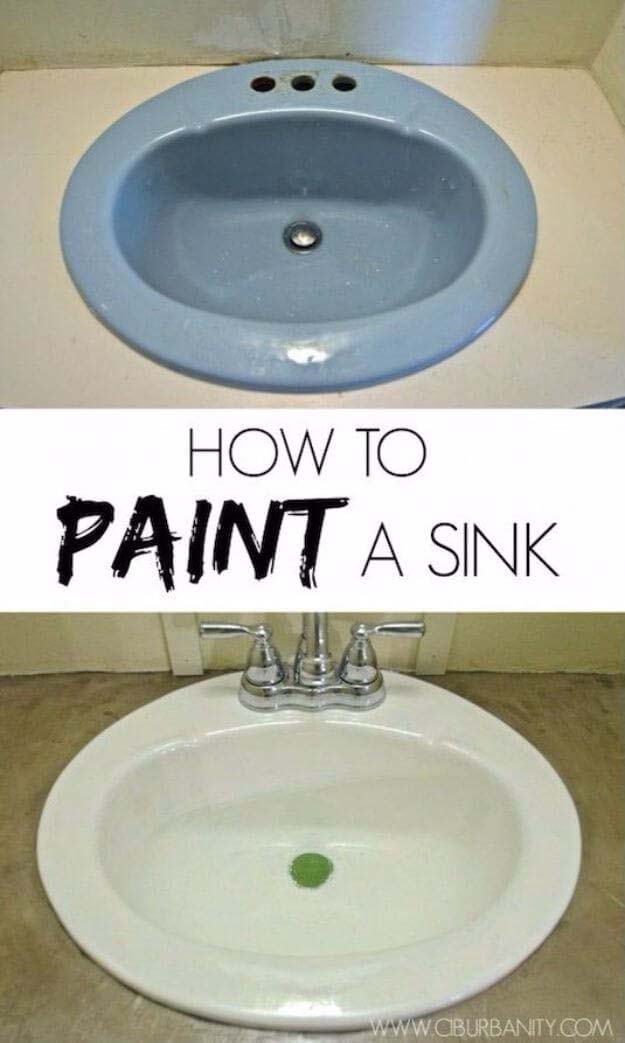 Not ready for a kitchen or bathroom repair? Do a quick makeover of your sink! No replacement, no special tools, nothing you couldn't do yourself.
Nowadays there are paints for ceramic that let you cover evenly the surface with no traces from the original color. Make sure to dismantle all pipes and the faucet with a wrench before you start.
14. Elegant Under Cabinet Light Idea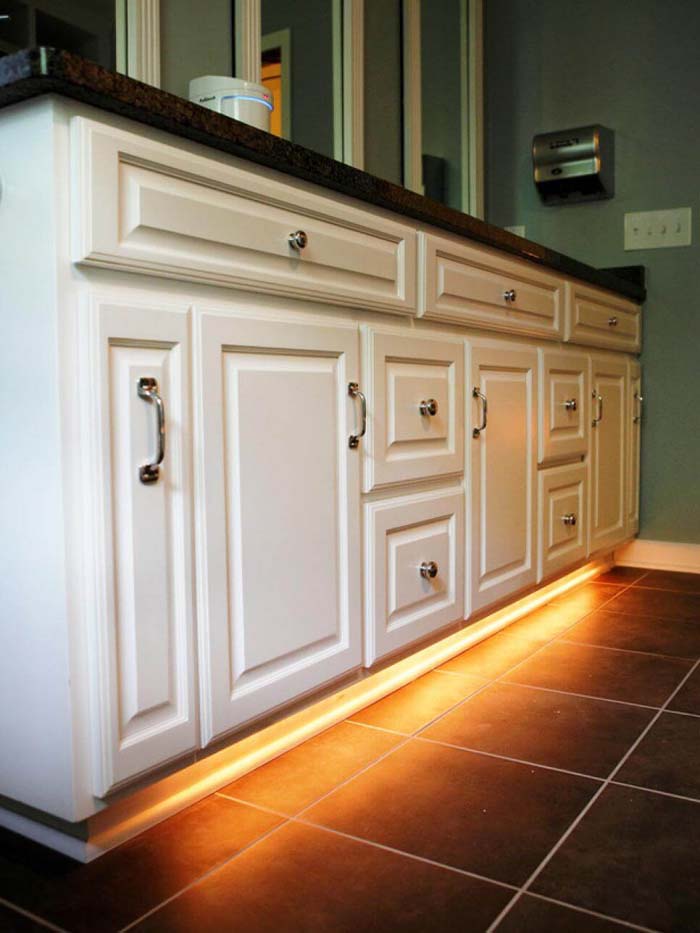 Add the so much-needed light to your kitchen to the bottom of it? It sounds strange but not when you actually do it.
Under-cabinet light idea modernizes the kitchen in no time and lets you see more of what is going on in the lower part of this room.
via DIY Network
15. Fill a Cup with Succulents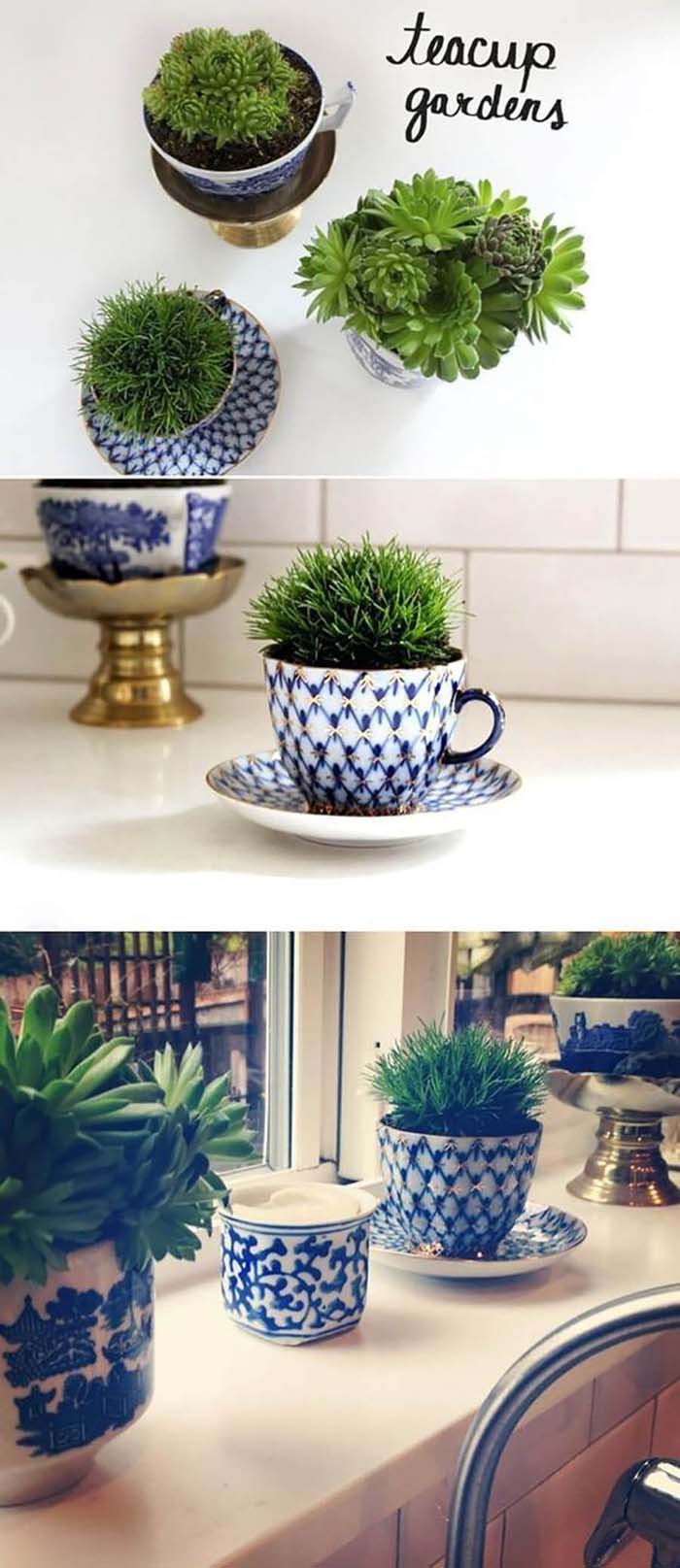 Do you have a collection of vintage cups gathered in time from different thrift stores? You'd probably not use them in their original application since they don't make a set.
A great home decor improvement hack that lets you display them all is repurposing them into planters. Succulents and moss are the best plant kinds for such an idea since there will be no drainage holes.
Moisture the plants with a spray bottle once in a while. "Serve" the cups together on a window sill or on the mantel to add a shabby chic charm to the room.
via Her Campus
16. Finish Out Your Bathroom Mirror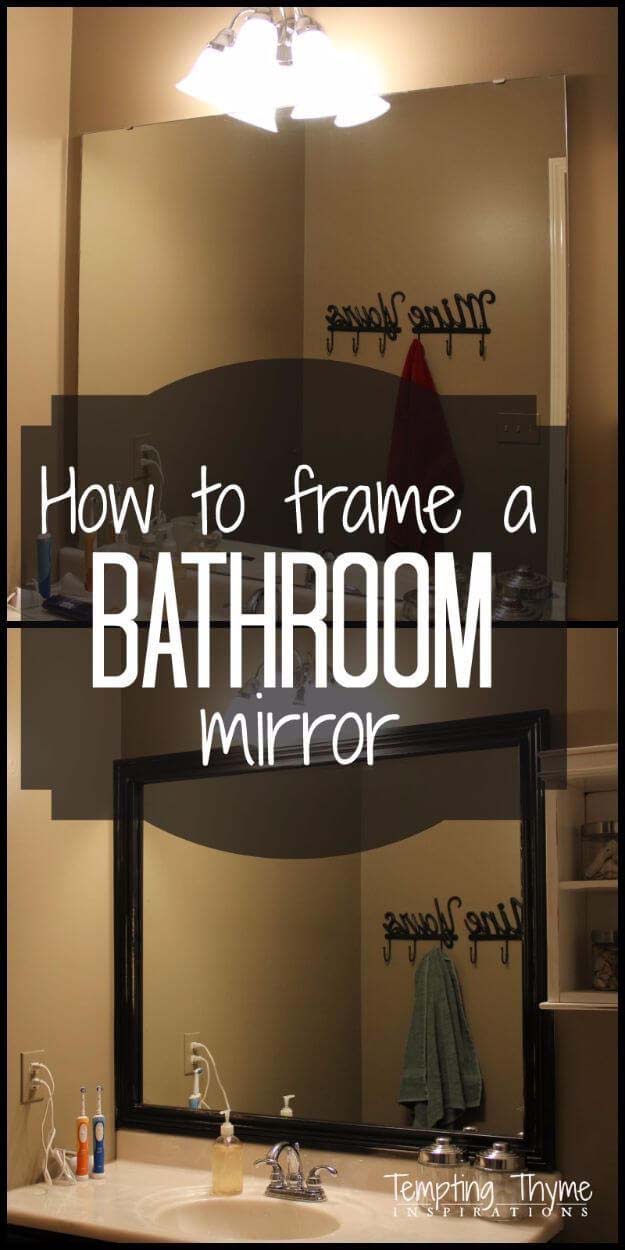 A bathroom without a mirror is like a bedroom without a bed. Because of the activities in this room, it could be called a practical piece of decoration.
If you couldn't afford a more expensive mirror in the past or you couldn't find one in a style that suits your bathroom design, it is super easy to re-model it.
This decor hack showcases a frame from molding pieces cut at sizes to let the ready mirror fit in. Apply a few coats of stain or paint to achieve the desired color.
via Tempting Thyme
17. Go Full Farmhouse with Cabinet Baluster Accents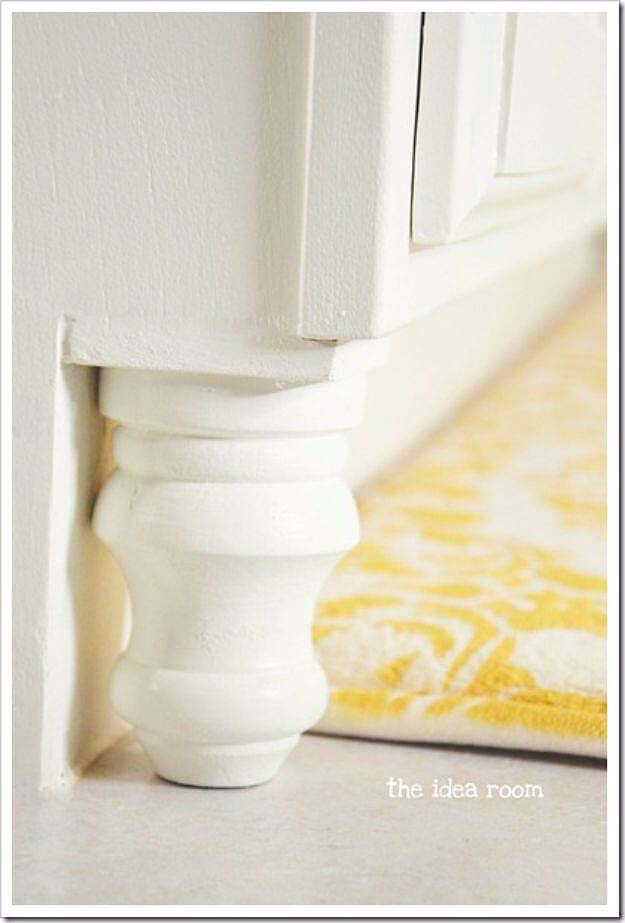 A little and easy remodeling idea turns the regular cabinets into stylish and expensively-looking furniture.
The custom look comes from adding two baluster accents and painting them the color of the cabinetry.
If you can't find wood accents ready-made at the needed length, you can upgrade them by adding square pieces of wood to the top of the balusters with wood.
via The Idea Room
18. How to Build a Crate Bookcase

Crate repurposing ideas are so inspiring! Whether because of the farmhouse charm or because of the practical functionality thanks to their size, crate craft ideas are great, especially when it comes to storage!
A simple and quick DIY crate idea lets you assemble a bookcase simply by stacking the crates over each other. You can give them additional support and stability with laths screwed at the back.
And now the greatest part comes! Experiment with their texture to match them with the interior or to create a dramatic focal point!
19. Instant Makeover for Garage Sale Ceramics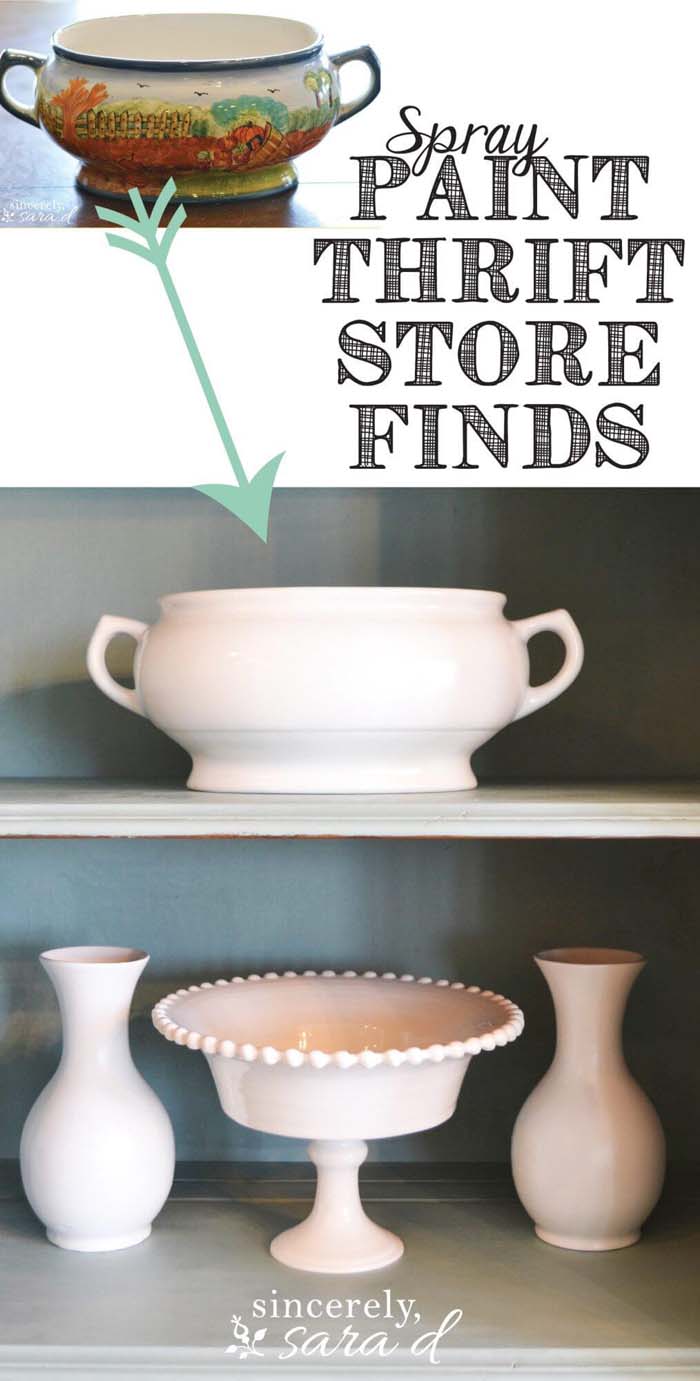 If you like decorating with decor dishes, then you know how expensive they are. There is a budget-friendly alternative for this type of decoration which requires digging in the thrift stores and good white spray paint.
When you choose your ceramic tableware, don't judge by the colors, take a look at their shape. Once you cover the ornaments with white paint, they will glow with their brand new expensive and elegant look.
via Sincerely Sara D
20. Make Your Own Floor-to-Ceiling Wall Mirror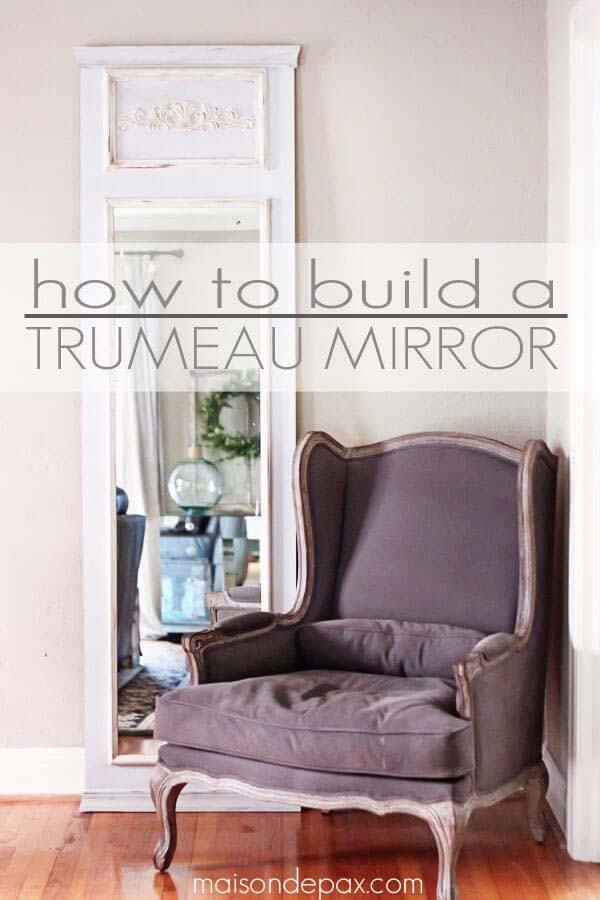 A tall mirror in the bedroom or in the living room will increase the natural light amount and will visually enlarge the space.
You would probably think that this is an antique piece you can't find anywhere…Well, it isn't, it is a brand new MDF structure that has been given an aged look with trims and carvings.
Some chalk paint, some distressing and stain on the carving pieces and the newly made piece gets the elegant look of a trumeau mirror.
via Maison De Pax
21. Paint and Fabric Office Chair Transformation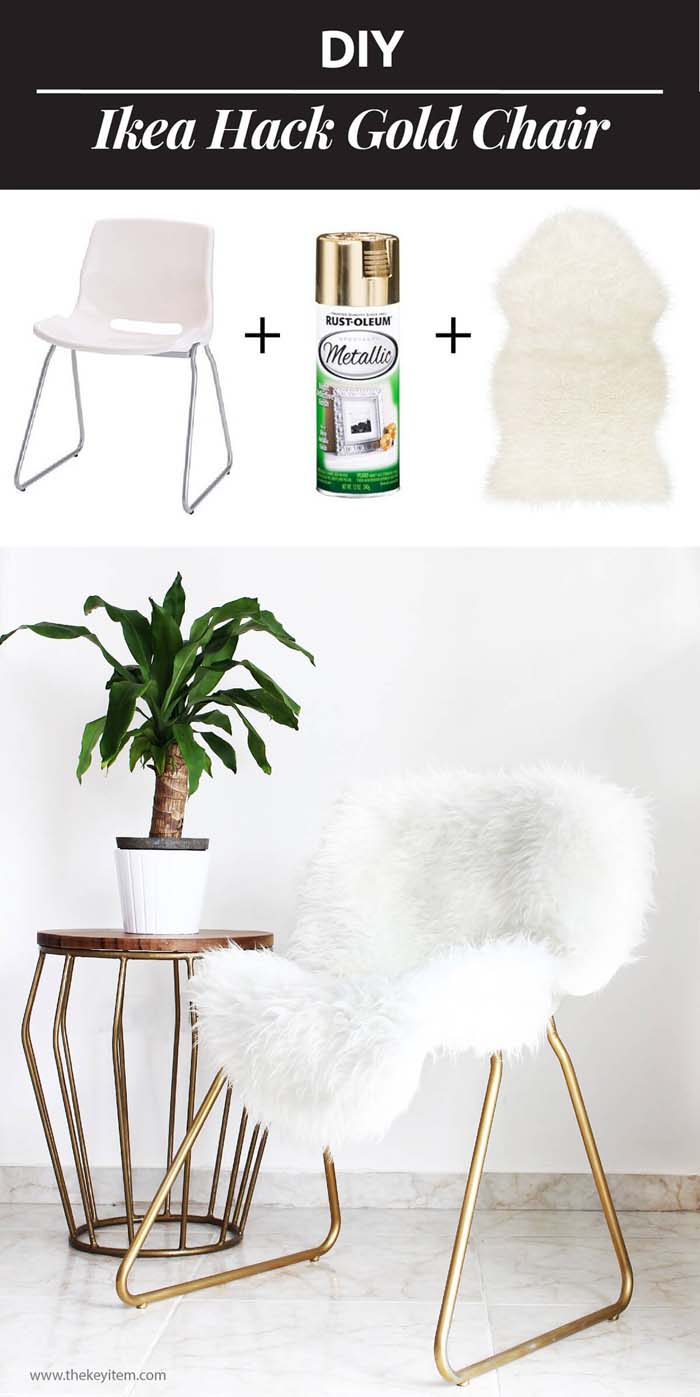 Gold and rose gold accents are always on trend and while buying new pieces of furniture in this color could be something you can't afford right now, to faux this finish is far more acceptable.
This hack starts with an Ikea challenge aiming to give a plain plastic chair a fashionable look. To use the gold metal finish as an accent in the room, make sure to cohere it with other decor pieces in the room by giving them the same spray paint finish.
via The Key Item
22. Pretty Patterned Return Air Grille Concept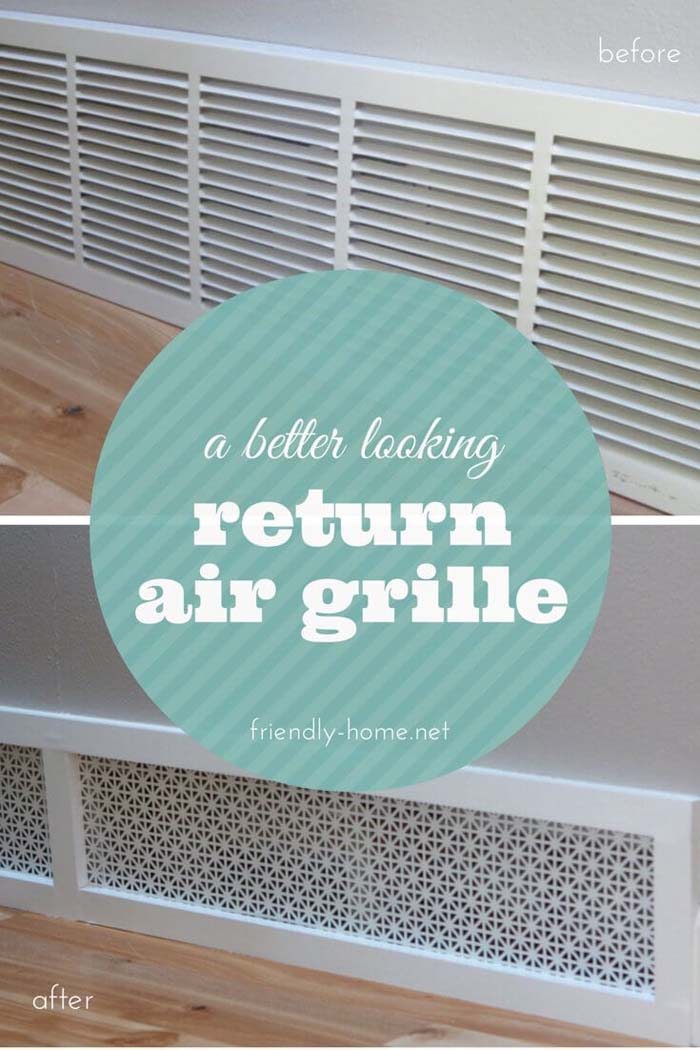 The standard make of the air grilles is quite unattractive and that could be quite annoying if you see it regularly.
Our cheap and easy idea for fixing this problem is to replace the grille with a good-looking patterned sheet of metal. Take walk to the local hardware store and choose the pattern you like.
Cut the pieces with tin snips and apply a coat of paint. To give the metal sheet pieces a finished look, frame them with wooden laths.
via Friendly Home
23. Sweet and Simple Hanging Bookshelf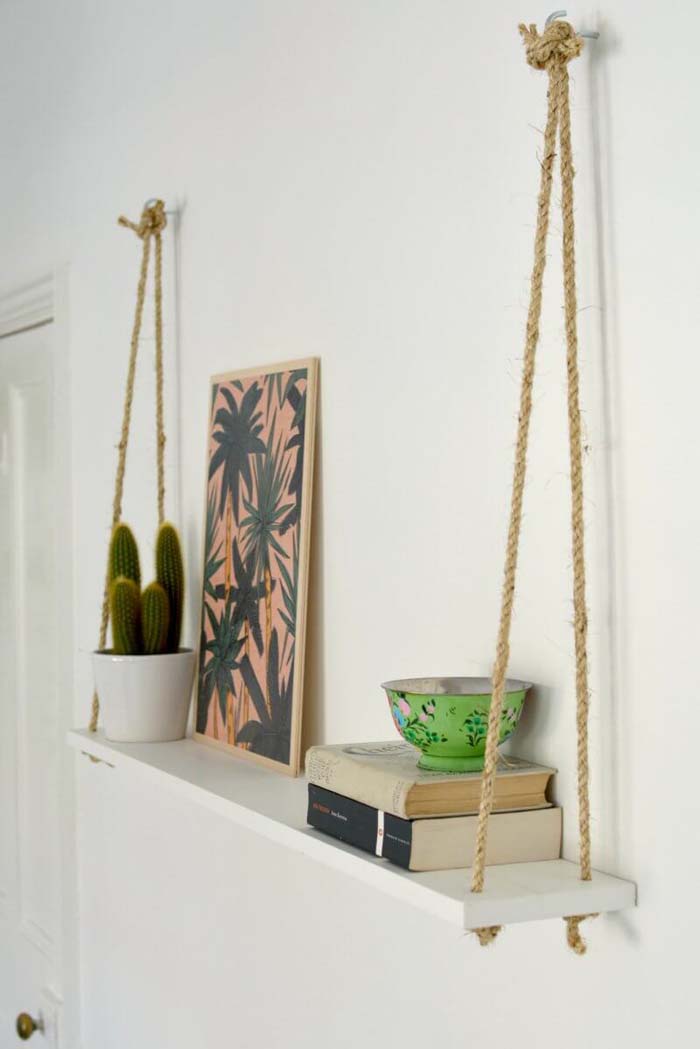 This decor hack is a cheap way to add some extra storage space in your bedroom or living room and at the same time add a pinch of handmade chic.
Dedicate two hours of your time and a few basic supplies you may already have- a piece of wood at the desired length, thick rope, a drill and 2 large hook screws. 
via Burkatron
24. The Exposed Brick Look for Less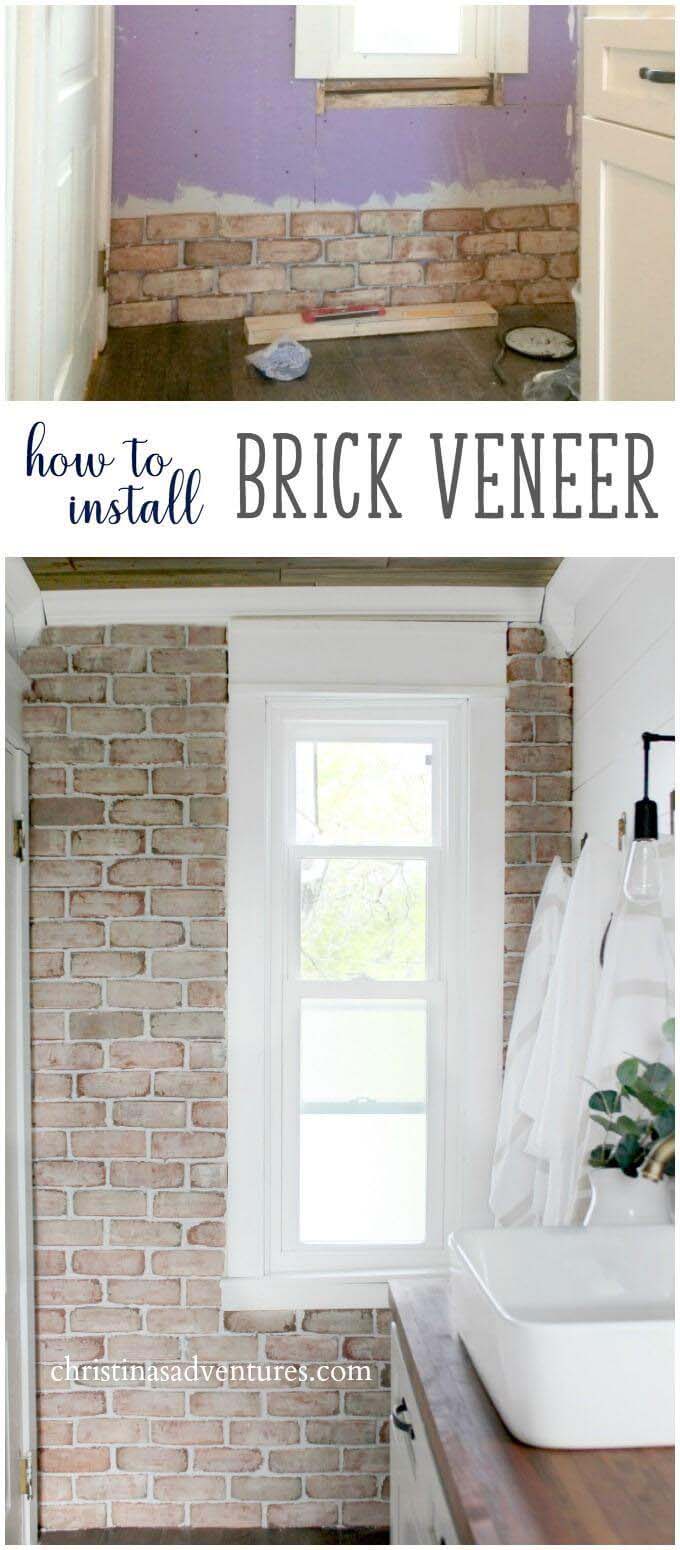 If you have a farmhouse room, then you need a statement wall matching the decor. What could make you feel the charm and coziness of the country style better than a brick wall?
Re-building the wall is not an option, covering it with wallpaper mimicking the finish usually doesn't satisfy our expectations. What else could save us from a dramatic overhaul?
The brick veneer! These are single bricks that have the exact texture and look of the typical solid brick. They are cheaper, lighter and installing them is pretty easy to make your dream of an aesthetic farmhouse statement wall come true with your bare hands.
25. Vibrant Post-Modern Art Accent Wall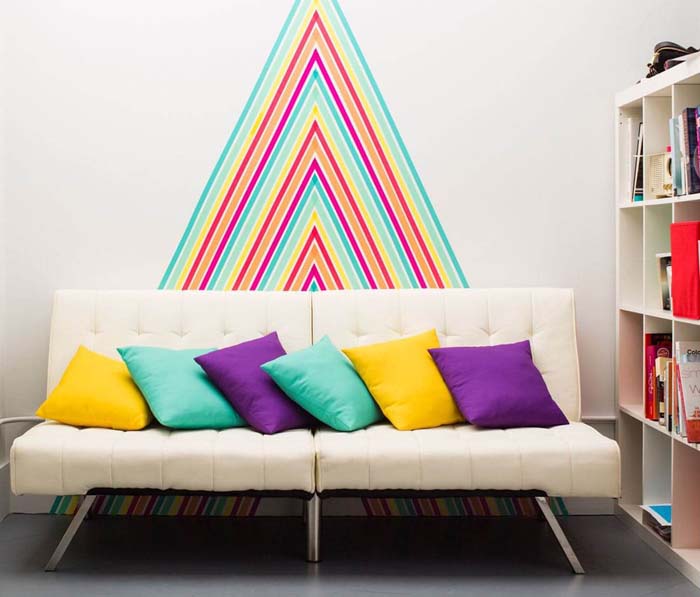 This decor hack turns a blank wall into an artistic piece. The idea comes as a temporary decor idea which makes it even greater. You can change the colors and the shapes any time you like. Wonder how? With washi tape!
via Brit Co