Brick fireplaces can be the star of your room or the visitor that never knows when to go home.
If your fireplace is outdated and looking run down, painting it can be an easier project than refinishing old brick.
We've collected some of the best painted fireplaces for you to check out.
Is painting a fireplace a good idea?
Your fireplace can make or break your room. Painting a fireplace can help you realize the style you're looking to achieve. 
Keep in mind that once you paint over a red brick fireplace, you can never go back. Painting brick closes pores that cannot be easily removed. This holds true whether you use masonry paint or simple flat paint.
What color should I paint my fireplace?
Neutral colors like tan and off-white are calming influences. If you want your fireplace to be the focal point of the room, you can try vibrant colors that complement the room's color scheme.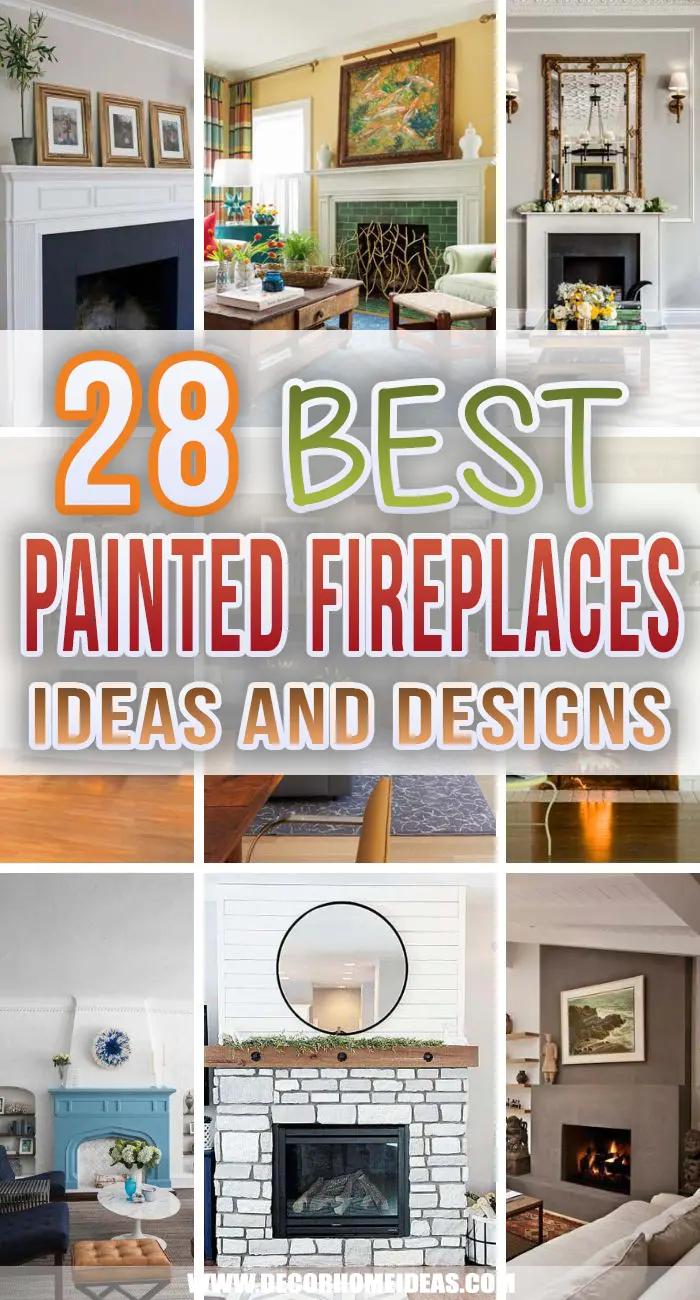 What type of paint do you use on a fireplace?
You can use interior latex paint that's resistant to heat. Painted brick should be able to withstand temperatures up to 200 degrees Fahrenheit. The interior firebox itself will need a specialty paint you can find at the hardware store. Don't paint the fire box using exterior brick paint.
A Couple of Tips for Painting Your Brick Fireplace
Even though it's a relatively small surface area, painting your brick fireplace can take several hours to complete. Don't try to get this done the day before a party.
Use a wire brush to clean any soot that's collected in the mortar joints over the years.
Paint the mortar after the primary paint color is finished. Use painter's tape to catch drips and use a brush for a pro look.
1. White Fireplace with Black Shiplap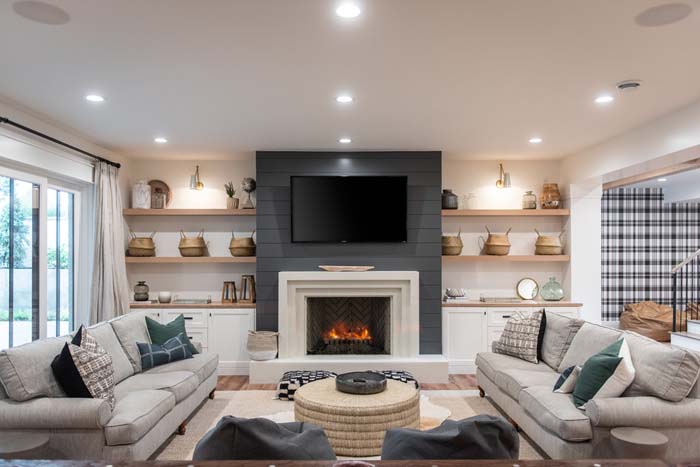 Newer fireplace builds allow the firebox and hearth to be surrounded by other building materials. The fire surround looks like marble while the back wall is painted in black shiplap.
It's a nice contrast that stands out against the white shelves and cabinets on the sides.
2. White Brick Fireplace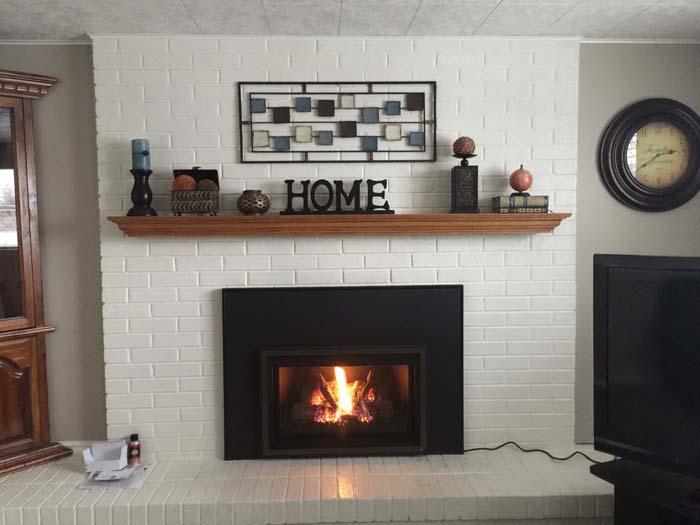 The clean, white painted brick fireplace is a classic look that still stands the rest of time. The surround and overmantel are one piece, separated by the wooden mantel.
This flush design brings a modern aesthetic to a rustic design.
3. Light Gray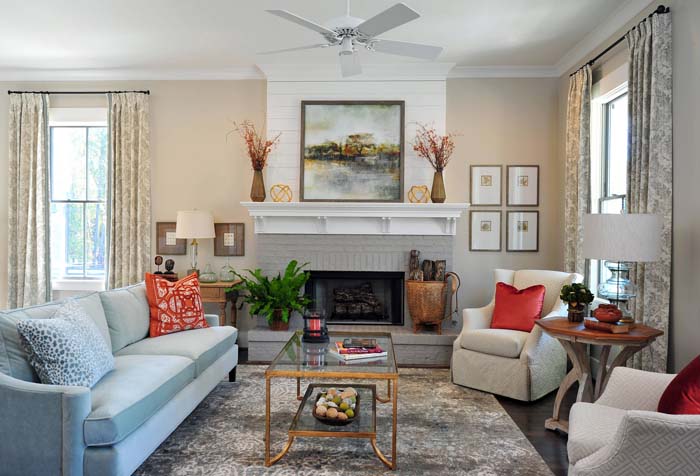 Light gray blends into the background of a yellow living room. Choose a matte paint finish to show off other features. 
A not-so-secret tip that can save you time and money is by using chalk paint. Using chalk paint allows you to skip past stripping, sanding, or even painting a primer coat.
Chalk paint is water-based, so it meets the requirement of being a heat-resistant paint. It also goes on in just one coat, so you can use a paint roller to apply it. You can pick up larger volumes of chalk paint at Home Depot.
via Our Town Plans
4. Black Brick Fireplace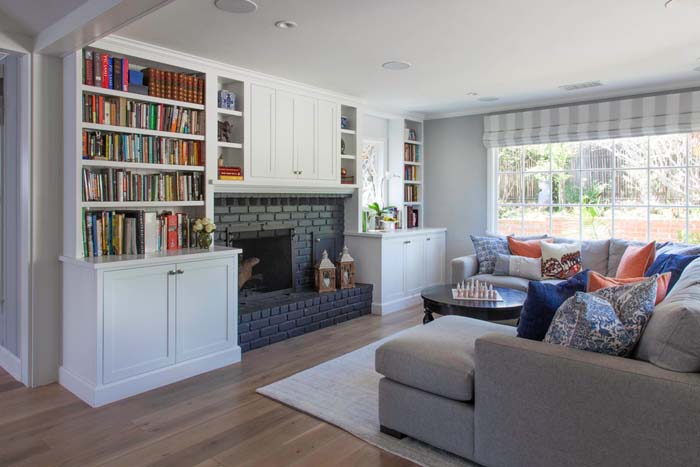 A black brick fireplace doesn't have to overwhelm a room. The paint color doesn't have to be true black paint either.
There are slightly lighter shades of black just as there are off shades of white paint.
5. Blue Brick Fireplace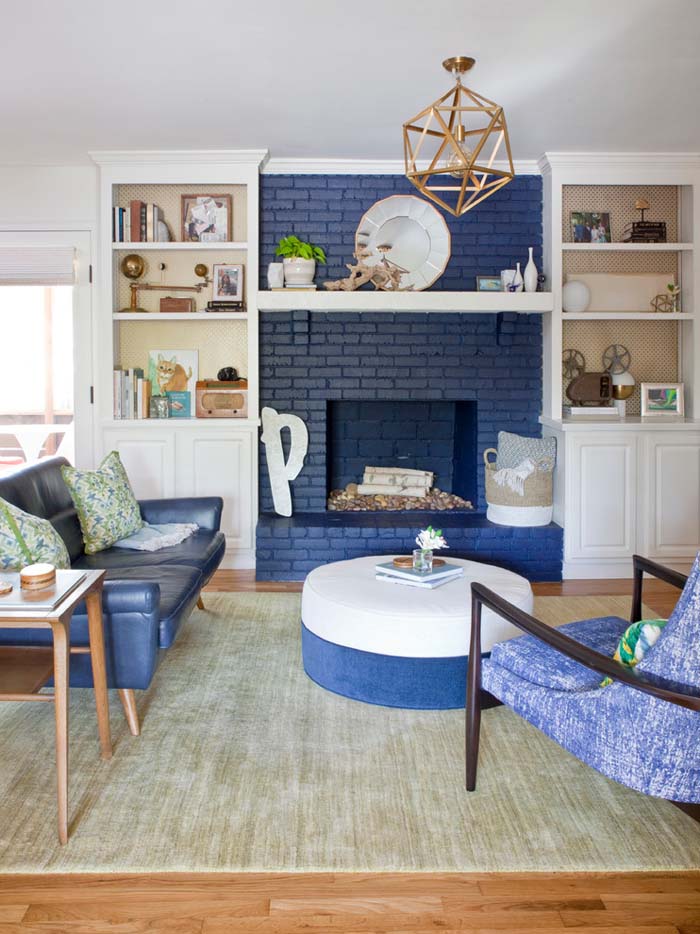 A Mid-century modern living room turns the entire fireplace into a feature wall with the use of a medium to light blue paint color.
This particular shade falls between cornflower blue and royal blue. As these colors were used in French toile, they bring a vintage ambiance to the space.
via Susie Mae Design
6. White and Gray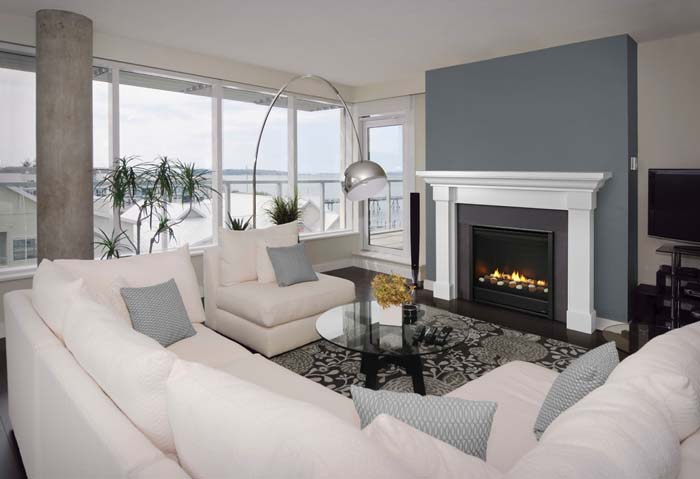 This fireplace poses a different problem than a traditional red brick fireplace. This is a direct vent gas fireplace with a ribbon burner.
The flames and heat still need to be accounted for as the flames are real. That said, it's easier to paint these types of fire surrounds. 
The white facing in a semi gloss paint is strikingly modern against the matte finish of the grey overmantle.
7. Coastal Blue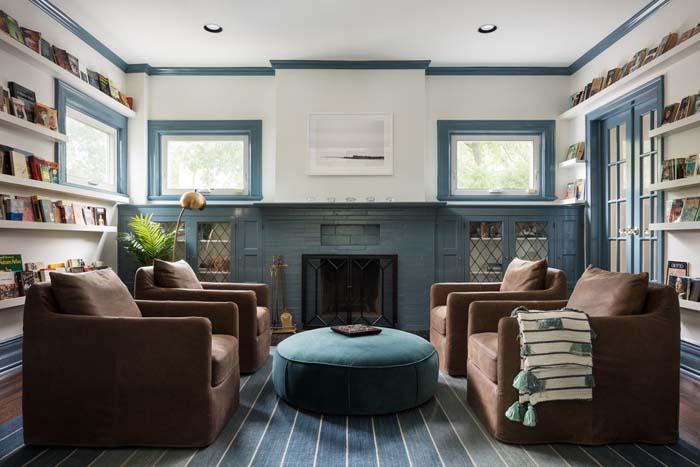 A home along the shoreline uses a cool color palette to keep the feeling light and breezy. This living room keeps most of the darker colors in the lower half of the room, including the red brick fireplace.
Using off-white paint on the upper half keeps the room feeling fresh.
via M&P Design Group
8. Shades of Black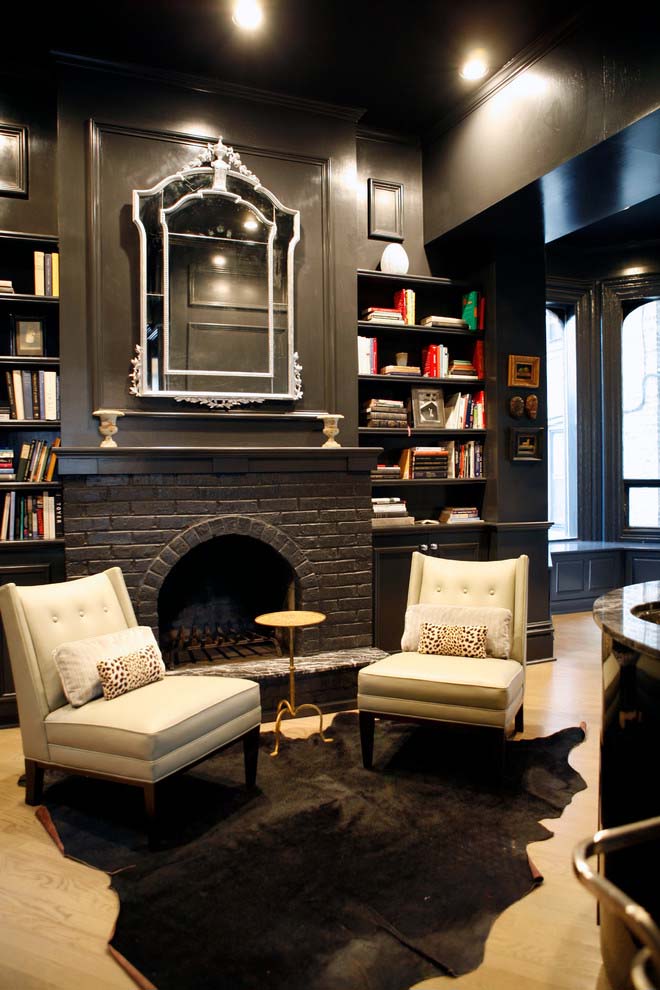 The yellow lighting in this from the recessed ceiling lights brings out the yellow tones and undertones in the black paint in this contemporary library.
The fireplace is really black and should be a lesson on how light can affect the overall look of your room. The fireplace is painted a lighter black color than the surrounding bookcases.
9. White Brick Fireplace with Light Gray Mortar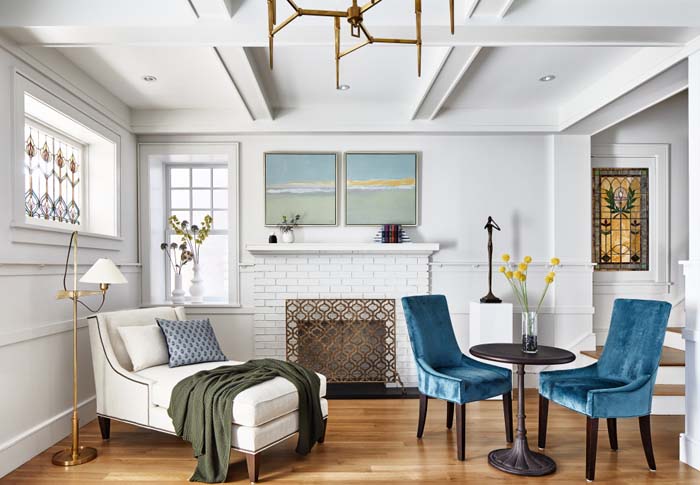 White in a room with an eclectic mix of styles, from the velour chairs to the stained glass windows.
The standard white brick fireplace gets a lift from the Moroccan pattern on the fireplace panel. Instead of using a single color for the fireplace paint, a gray mortar defines the brick, adding character and texture.
via Breeze Giannasio Interiors
10. Fountain Blue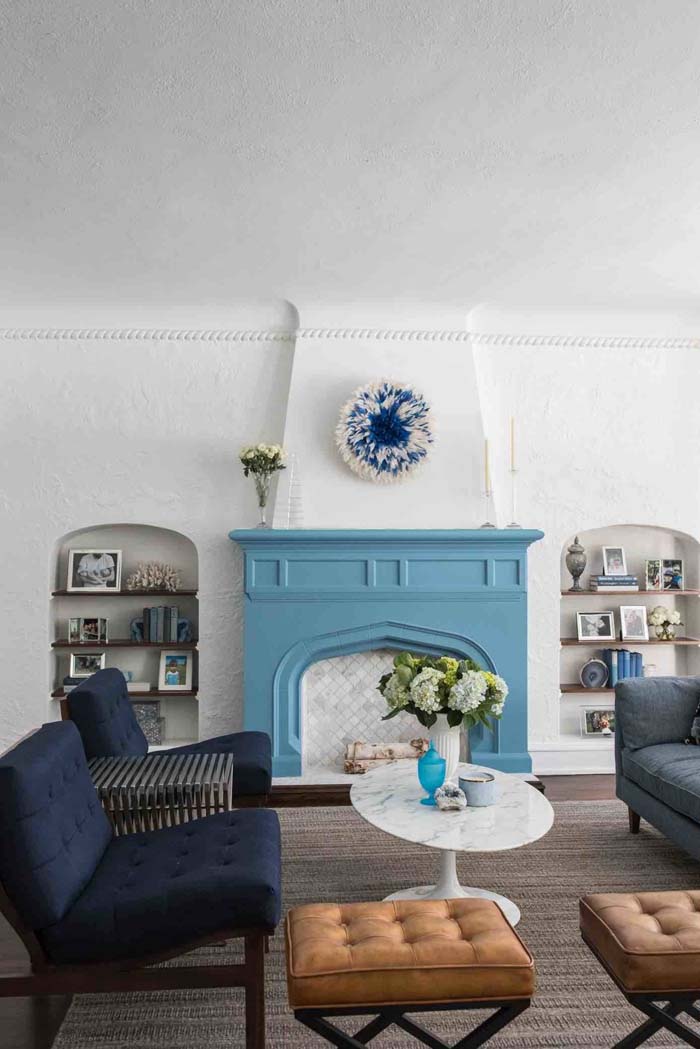 A Spanish style living room adds modern influences. The light blue facing and mantel become the focal point.
It brings out the tile in the sealed firebox and becomes a strong counterpoint to balance the white walls and built-in shelves.
via Crystal Blackshaw Interiors
11. Cinderblock Gray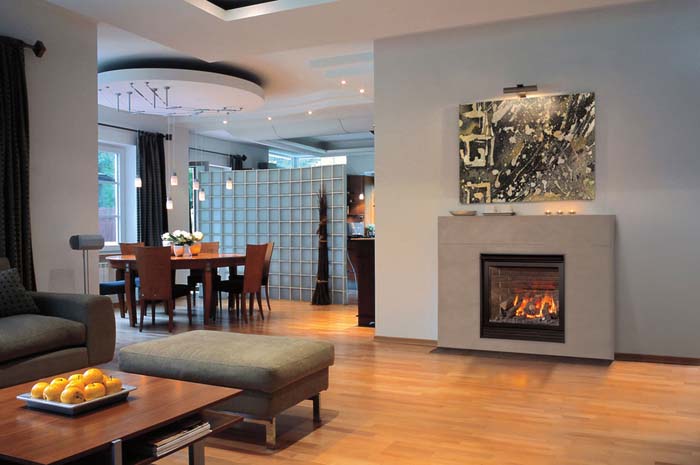 A ventless gas fireplace gets a classic throwback style with a gray color reminiscent of an old cinder block building. This is a good candidate for a chalk paint makeover.
You can easily paint over the existing color when you redecorate the room.
12. Gunmetal Black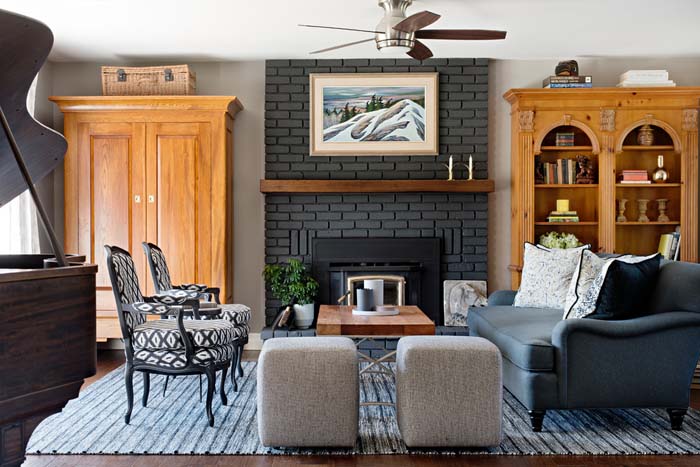 Dark brick fireplaces are not for everyone, but those who love them would never go back to a light or white colored fireplace. Done correctly, they can add drama and elegance to a room.
This black brick fireplace with velvety mortar also has a beautiful wooden floating mantel.
13. Patterned Tile Fireplace Surround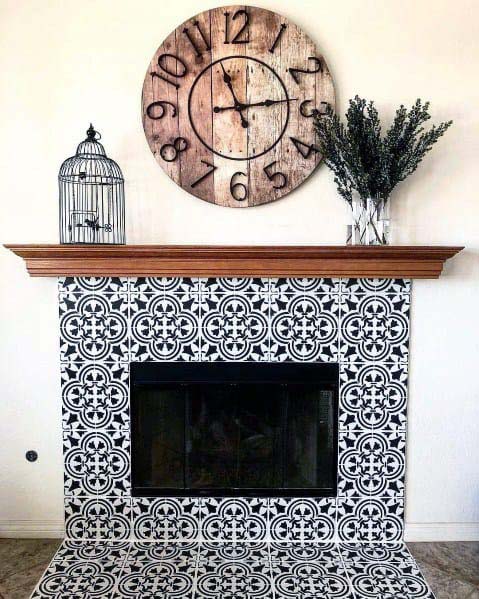 The black firebox is framed with a tiled fire surround and hearth.
While tiles like these can be found at Home Depot, you can save money by painting the fireplace white and then going over the area with a stencil. Doing this frees up the options for your color palette.
14. All Brick Fireplace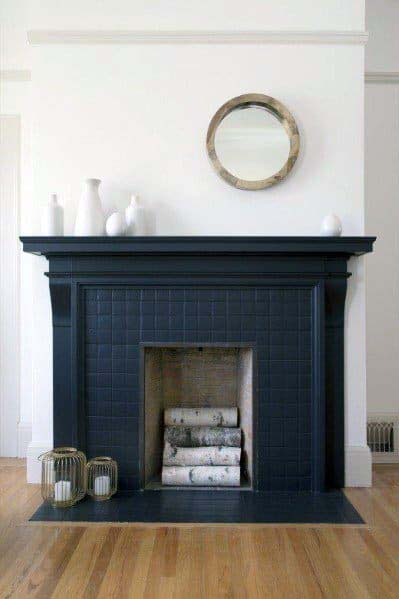 Wanting to hold on to the Modern style of black and white, the homeowners used black tile for the fire surround and hearth.
They continued with the black color onto the rest of the fireplace, including the traditional mantel.
15. Brown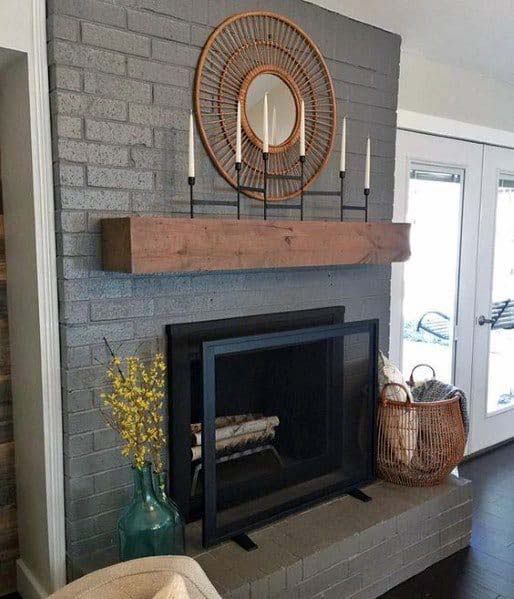 A traditional fireplace with a flush surround is painted in a bronze wash, allowing some of the undertones of the original brick color to shine through.
Sticking to a single wall color and using a floating mantel brings height to the room.
16. Gray and White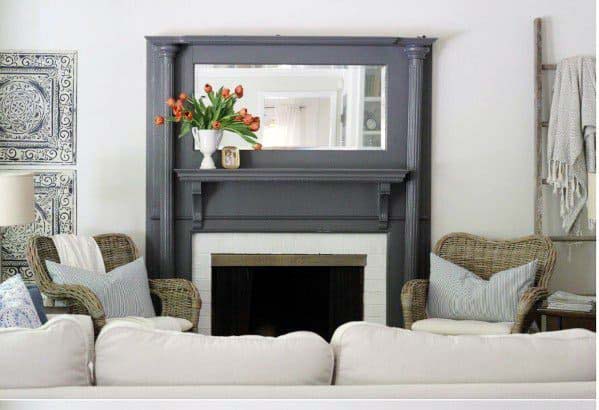 A stunning gray fireplace with tall pilasters has a symmetrical look with a wide mirror on the overmantel and a white brick fire surround.
17. White and Black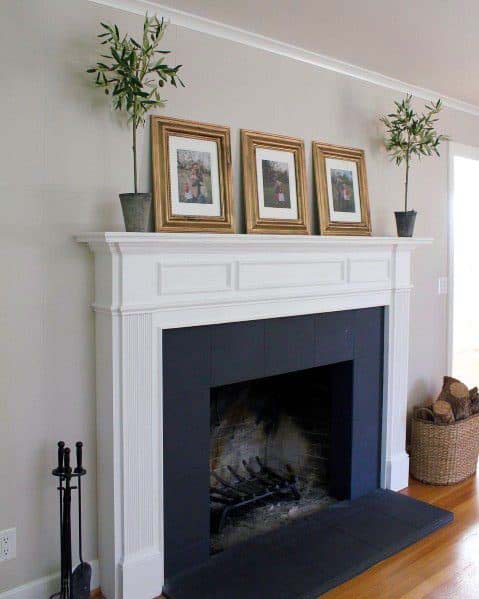 A white fireplace facing can have many options. Depending on the vibe of your room, you can paint it with a glossy finish, semi-gloss, or matte.
You can even have it painted with a faux marble finish. We see the basics here, but think about how this would look as a duo between white and ebony marble finishes.
18. German Smear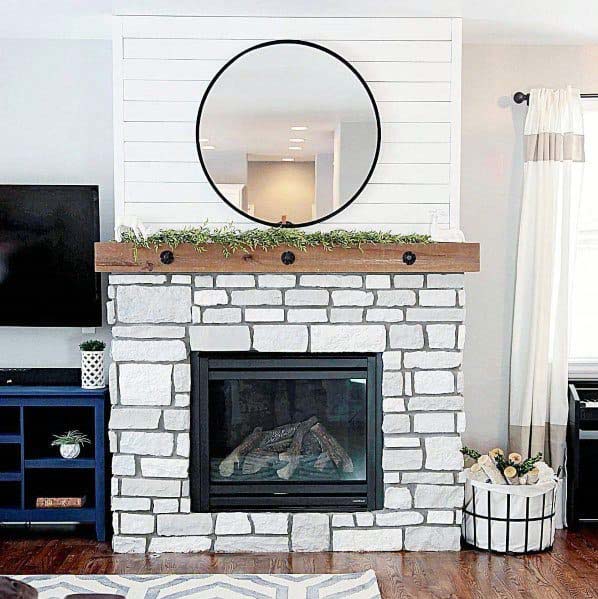 The German smear follows the country cottage style. The idea is to create a stone fireplace over your existing fireplace brick. Create heavy irregular grout lines by applying white mortar on the red brick and across the surface.
You can see the end result of this technique here. It creates a realistic look with the overmantel finished in shiplap and the floating wooden mantel.
19. Traditional Gray Fireplace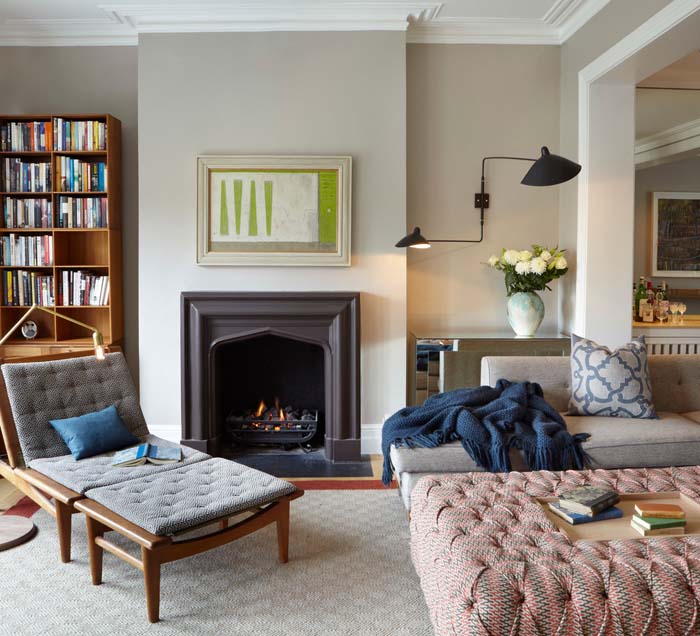 If you're looking for a contemporary style for an older fireplace, consider a tone-on-tone look.
The darker gray fireplace with no mantel holds to a traditional style and gets its update from the color itself and its gray color against the gray walls.
via Sigmar
20. Creamy Brick Fireplace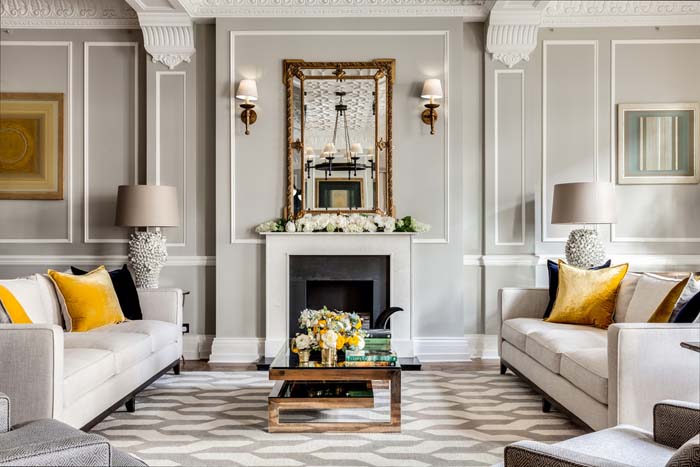 The style is decidedly traditional. The modern touches come from using muted neutrals with pops of color.
The fireplace holds to the room's decor with a soft white surround paired with a black matte hearth.
21. Patterned Tiles and Stone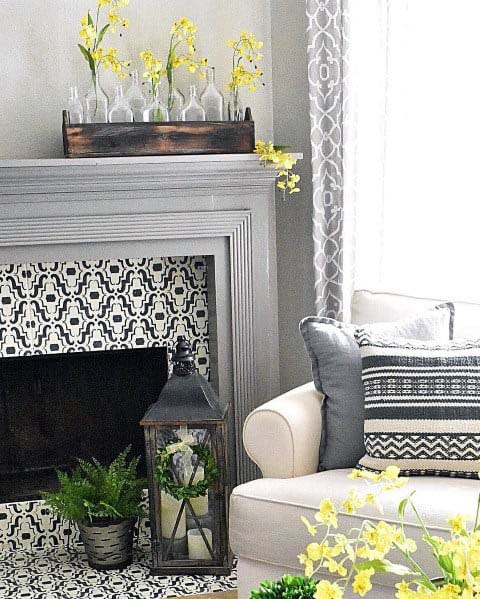 Even if you have other patterns in your room, you don't have to shy away from introducing a pattern in your fireplace. The straight lines and medium gray tones of the mantel and facing frame out the fire surround tiles.
Working together, they play off of the same color scheme found in the rest of the room.
22. All White Brick Fireplace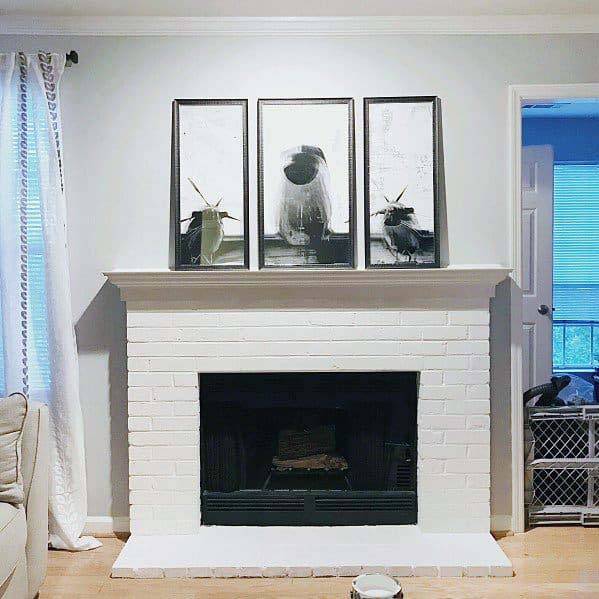 White brick and hearth, spill onto the sand-colored hardwood floors.
Three framed abstract art pieces bring a modern edge to this coastal home.
23. Whitewashed Wonder (German Schmear)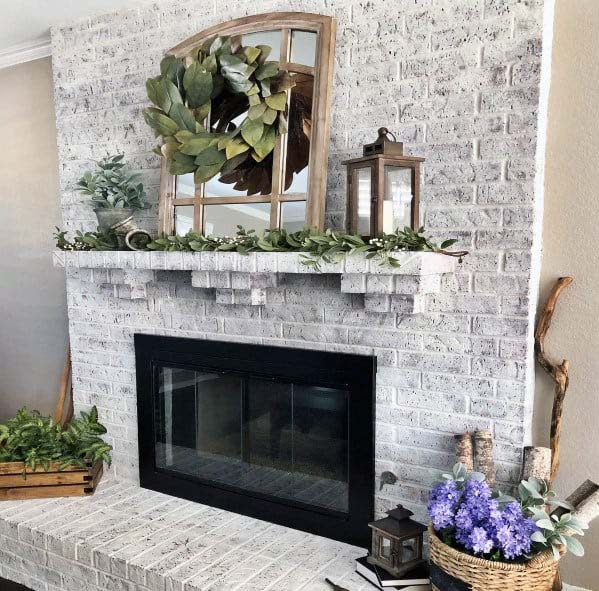 Another way to execute the German smear (or schmear) technique is by painting your existing red brick fireplace white. A painted brick fireplace usually involves primers and prep.
This white brick fireplace is like a whitewash, but by eliminating the primer, some of the original brick paint shows through, giving you an organic look.
If you're looking to change the color without losing the realism of your stone or brick, there's a paint kit called Brick Anew that keeps the organic look of the fireplace.
24. Creamy White Brick Fireplace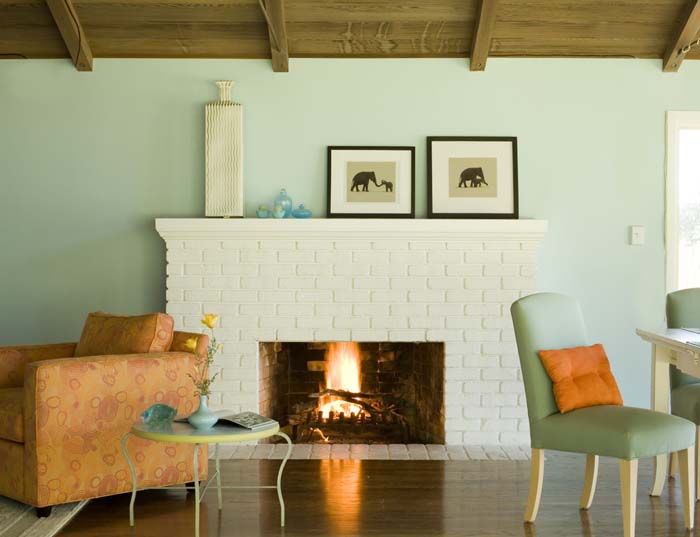 This oversized fire surround is all brick. Brick fireplaces can feel overwhelming in a room. They can also hold back a space that's trying to feel light and contemporary.
By painting the entire fireplace white, it becomes a soft, calming focal point that plays well with the mint wall and peachy accessories.
25. Modern Sophistication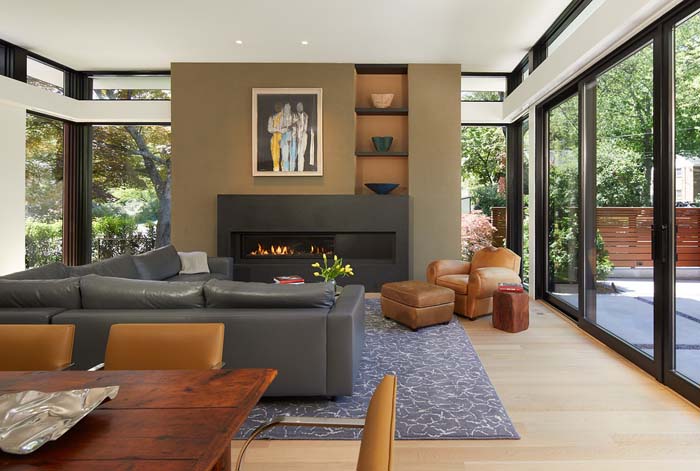 A dark gray ribbon fireplace adds to the neutral palette.
It matches the sectional sofa and provides a complementary color to the brown furniture and floor.
26. Dark Plaster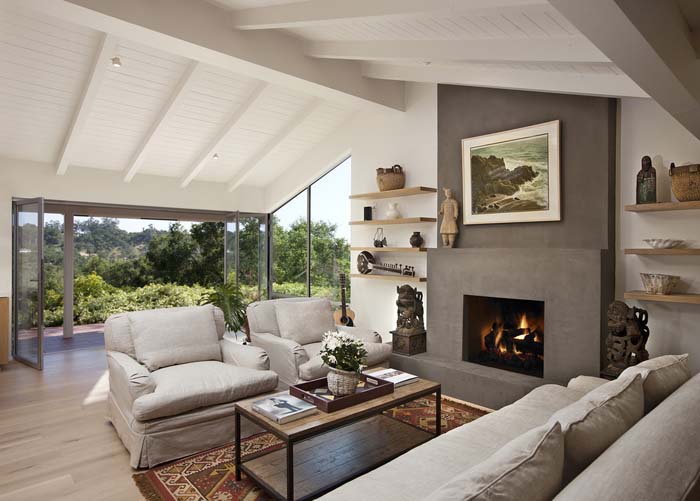 You can approach plaster the same as you paint brick. The biggest difference is you can add dye to the plaster, ensuring any latex paint topcoat won't easily chip away.
This dark plaster surround provides a calming experience in a bright, airy room.
27. Green Brick Fireplace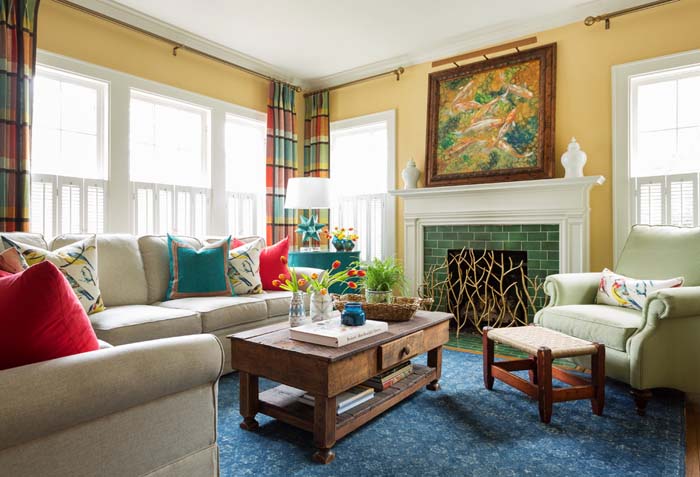 Who says you can paint your fireplace green? This eclectic living room glows with its yellow walls and jewel toned accessories.
The fireplace facing is painted in a white and the brick fire surround embraces a natural green with gray mortar.
via Kathryn J. LeMaster Art & Design
28. Gray Brick and Wood Fireplace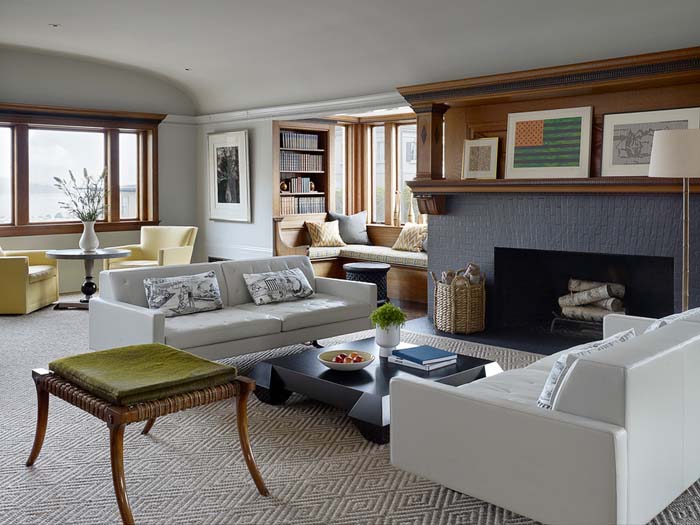 A Tudor style room needs to hang on to its heritage while getting a fresh makeover. The large fireplace was painted dark gray.
The wood stained mantel and overmantel transport you back in time.
via JKA Design