The beauty of charcoal gray couches is their versatility. They're just as at home in a small space as a large one. Sometimes, so many choices for living room ideas can feel overwhelming. Keep reading to discover what colors go with charcoal grey couch.
It isn't just about different shades of a wall color, and whether your fabric sofa is dark or light grey. It takes a little understanding of interior design to get it right. We'll break it down for you.
What color is charcoal grey?
Charcoal grey is black with white added to it. Black has no color, but white will have undertones. Charcoal gray will inherit these undertones. These are all on the cool side. Take a look at the selection from Ashley Furniture to get a clearer picture of the undertones.
What goes with dark grey furniture?
This will depend on what kind of mood you're trying to achieve. Muted tones keep the room calm. You can lighten that mood by changing out the colors to brighter tones.
Wall colors are determined by all the elements in the room, not just your charcoal sofa. Light colors will make the couch stand out. Your charcoal gray couch will disappear against a dark wall color.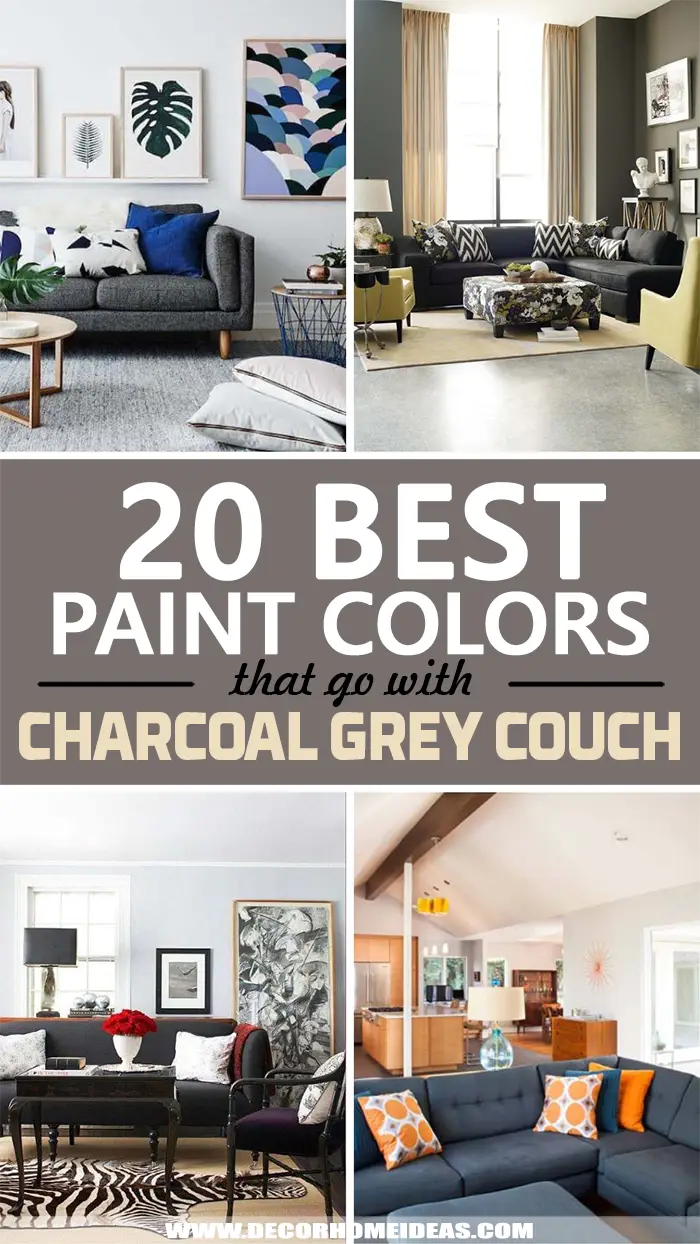 You also need to consider the fabric of your charcoal gray couch. A microfiber grey couch will react to light differently than a black leather sofa.
1. Brown and Charcoal Grey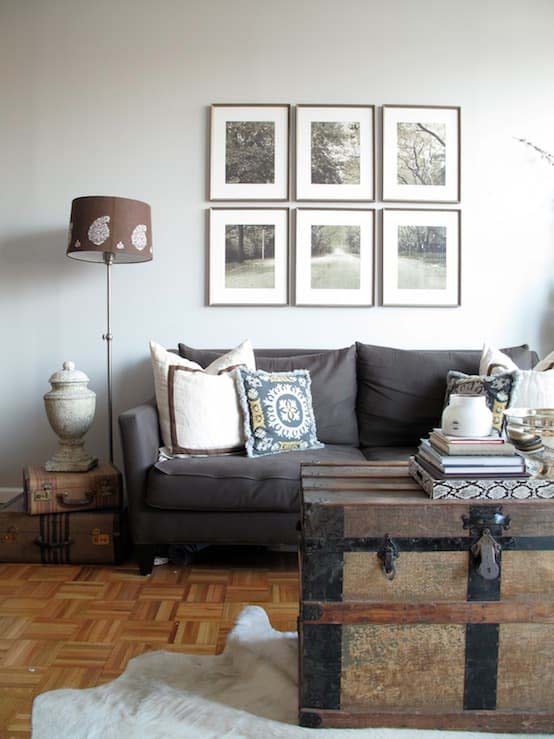 Brown is the earthy, neutral tone that allows you to introduce wood. In this setting, a gray couch is used in concert with brown to create a dark, rustic mood. 
via Design 59
2. Lime Green and Charcoal Grey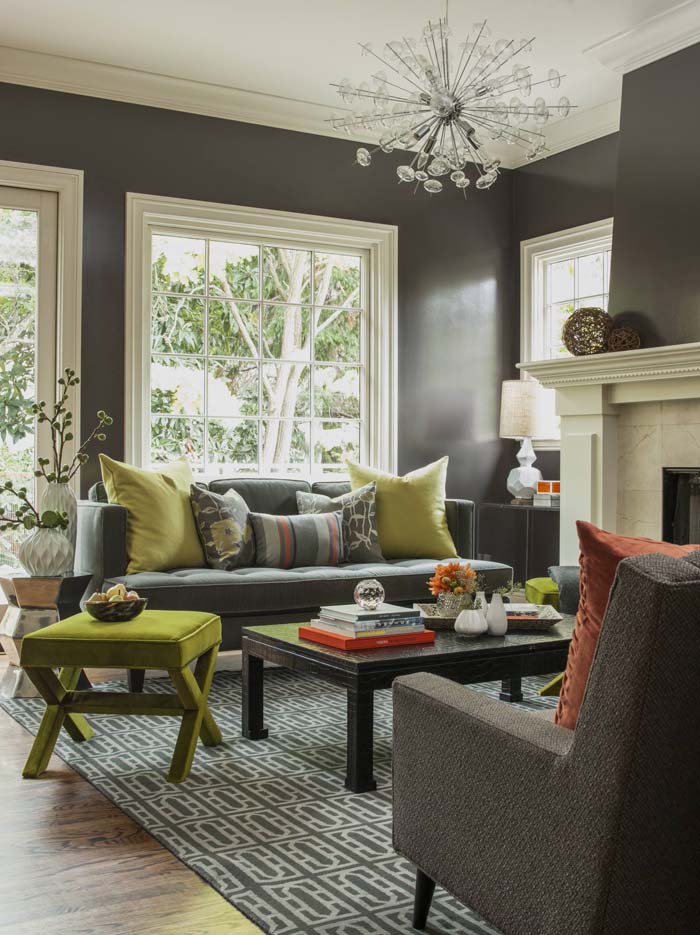 A shade of green with a lot of yellow undertones draws your attention to the deeper charcoal gray couch.
As opposed to a partnership, like we saw with the brown against a light-colored wall, against grey walls, the couch's role is to provide a backdrop for the cheerful, citrus accents.
3. Orange and Charcoal Grey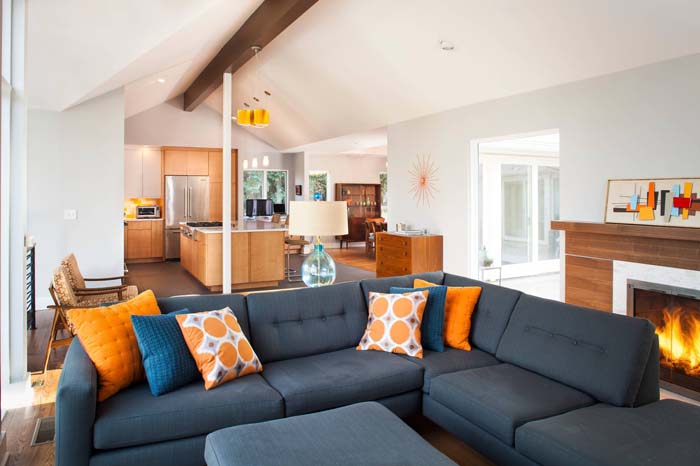 Speaking of citrus accents, orange throw pillows liven up the large corner sofa. It helps connect the room with light kitchen cabinets and an island.
Use orange with a dark gray couch that has blue undertones. Use a muted orange color if you like the color, but want to tone it down a bit.
4. Blues and Pinks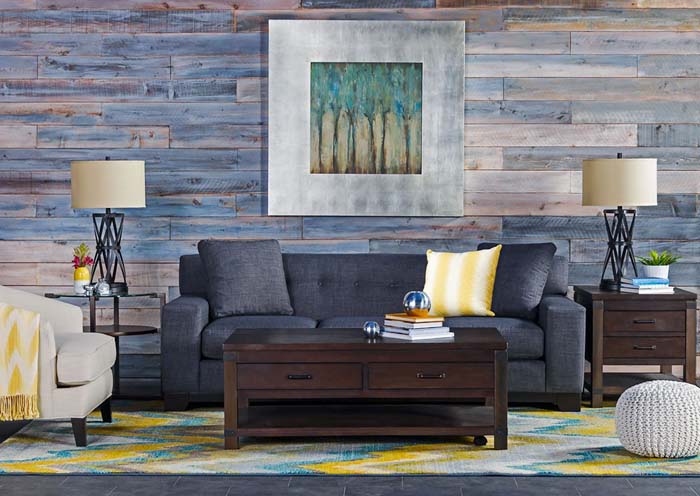 The blue undertones are very strong in this dark grey couch. Yellow is an unexpected color in this otherwise mellow living room awash in soft blues and pinks.
Deliberately introducing a bright color like yellow infuses the room with energy.
This works with a charcoal gray that has a blue or pink undertone.
5. All Natural Neutral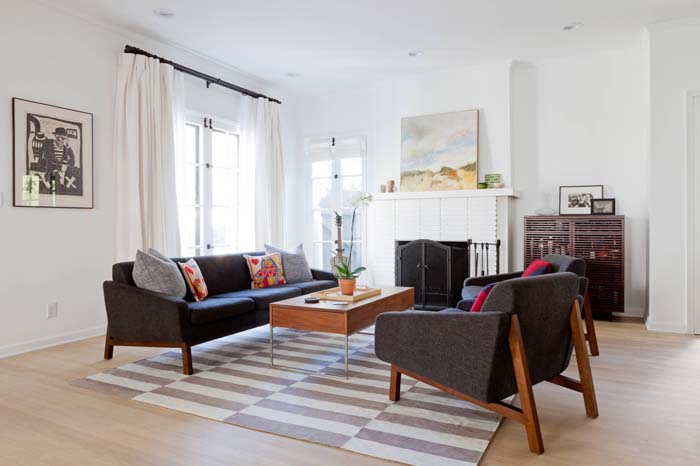 When you want to add depth to a room, add dark colors. A large white room, or room with a neutral color scheme, can feel empty without a place for your eyes to rest.
A dark gray sofa is the perfect resting spot for your eyes. It's important to consider the color of every piece of living room furniture. The charcoal gray accent chairs provide balance to the room.
via 22 INTERIORS
6. Burnt Orange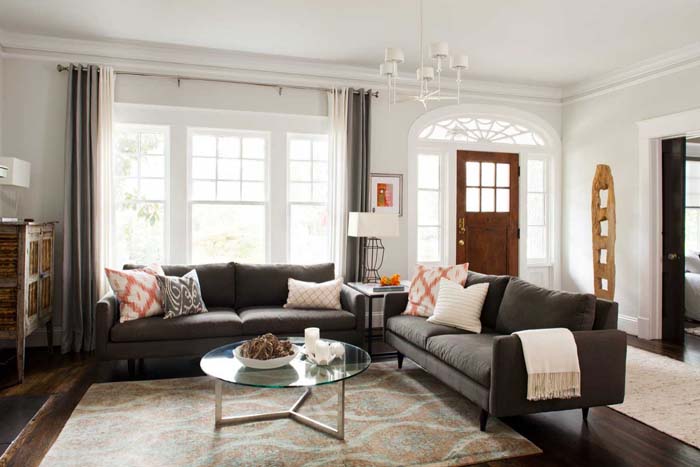 Here's another example of how even a small amount of a bright color adds energy to a room. The orange connects with the orange hues in the brown door and area rug.
Light gray walls keep the light from creating dark shadows.
7. Gold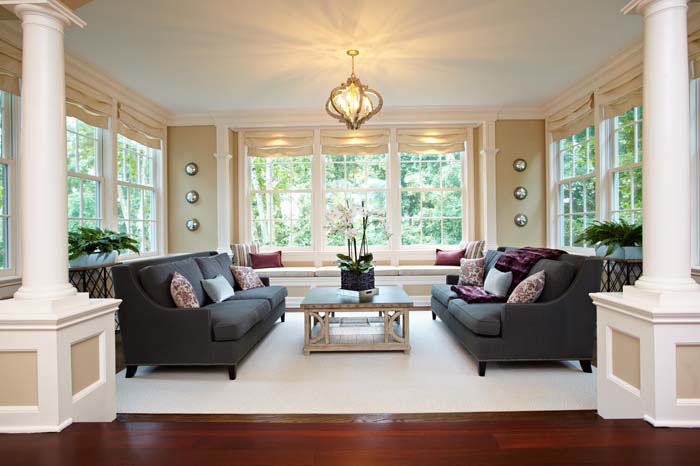 Charcoal gray and gold is a dynamic combination. The deep gray is like the modern version of the little black dress. Gold is the classic accessory color. Together, they create a high end look.
The throw pillows and blanket are a clue that the undertone of the gray furniture is violet.
8. Wood and Charcoal Grey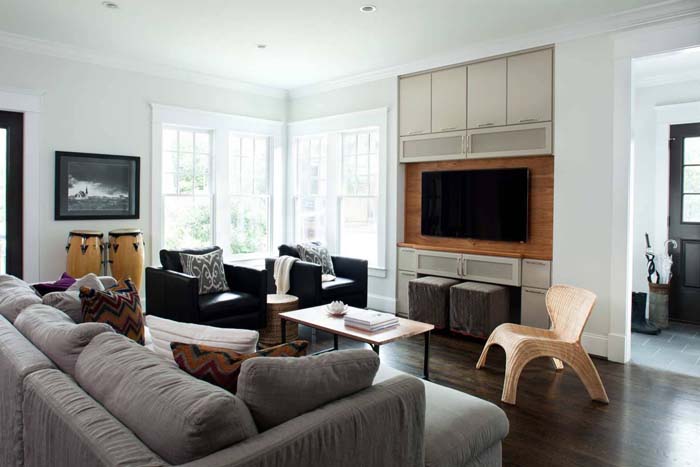 Is wood really a color? Well, no, but it really needs to be considered separately from a standard brown color. Wood can introduce a texture and vibrance all on its own. Stained wood with yellow undertones can play with the light. Ebony can shine, reflecting its own special glow.
The point is that you don't need to shy away from wood when you have a charcoal gray couch. You just need to understand that it needs to be treated like a color palette with undertones as well as texture. A couch with blue-green undertones works here.
9. Pink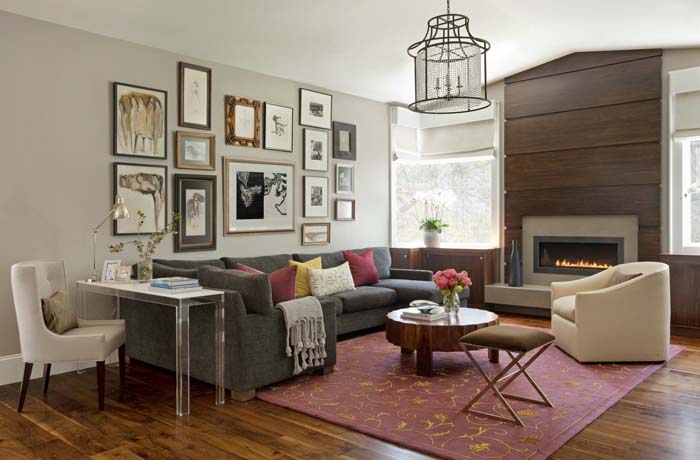 While pink is a decidedly feminine color, it doesn't have to look like a teenager's bedroom.
The warmth of the red can bring out the red tones and hardwoods as we see here in the hardwood floor and the fireplace overmantel. It works as a transitional color to a charcoal gray couch with pink undertones.
10. Dusty Rose, Navy, and Charcoal Grey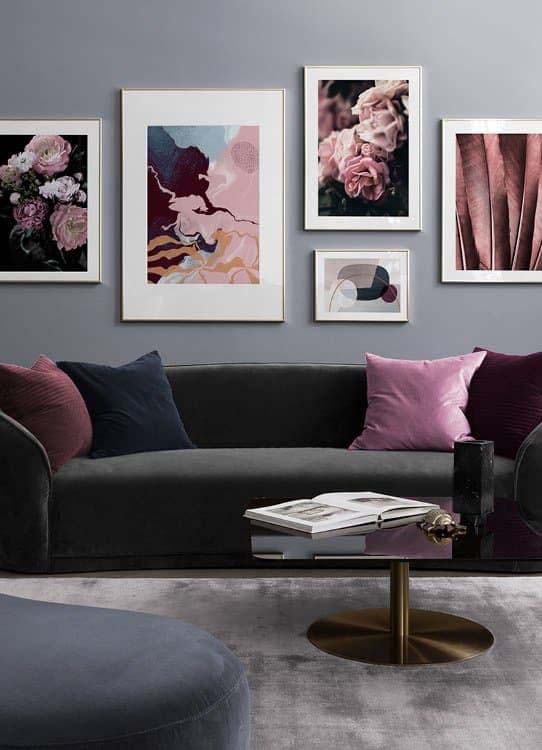 This trio of colors works across the spectrum.
A dark grey sofa with a blue or a pink undertone can work. Dusty rose acts as an accent color in the wall decor and a throw pillow.
11. Peacock Blue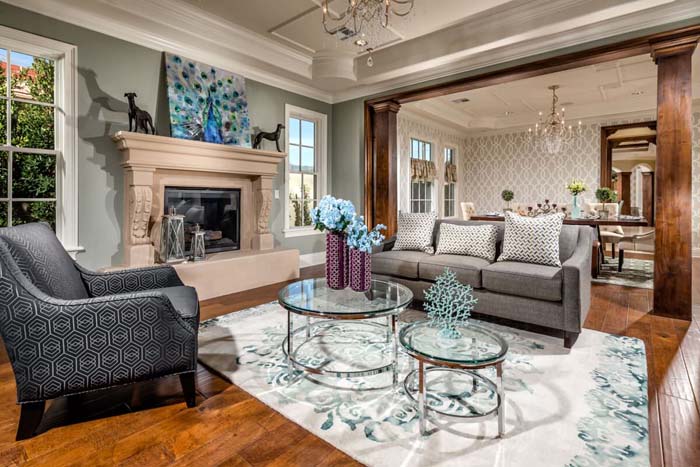 Check out the pops of color you can use with a charcoal gray couch. A couch with blue-green undertones works best with bright blues like a peacock and turquoise blue.
The green acts as a transitional color here between the couch and the yellow in the hardwood floors and trim.
via Guettler Photo
12. Teal and Charcoal Gray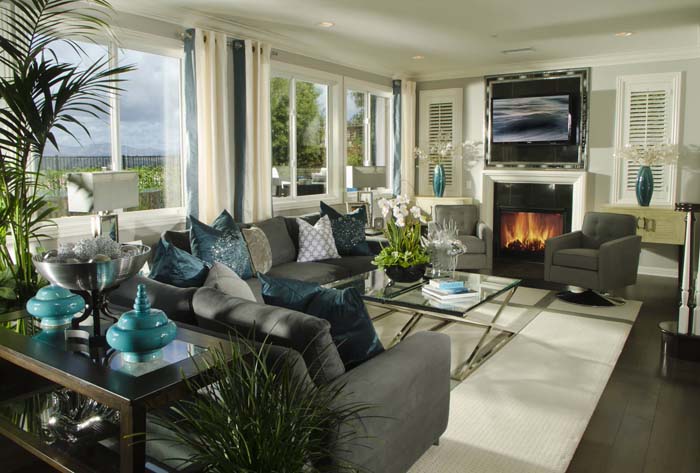 Teal works the same way as the peacock blue above. A charcoal gray couch with green undertones has a natural feel as it connects so well with botanicals and other green hues in the room.
This is how you can have a charcoal gray couch in a coastal style room.
13. Blue and Green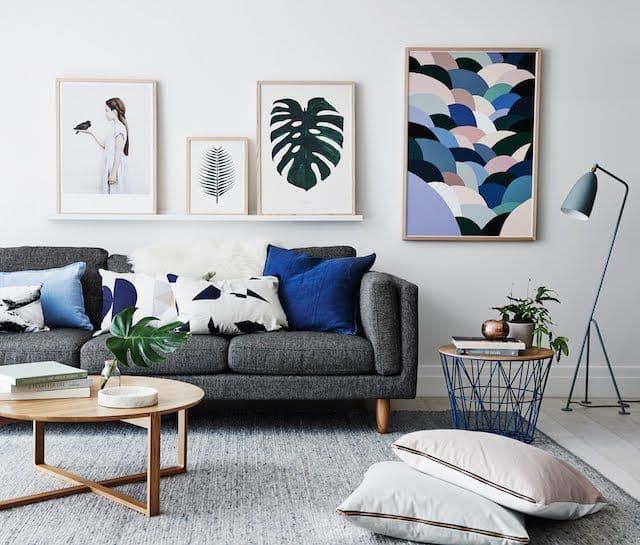 Charcoal gray and blue is classic and safe. Blue goes with any charcoal gray sofa, no matter the undertones.
The room above shows different blue hues mixing and matching with different gray colors. Green botanicals and even pink accessories will work together.
The trick for pulling this off is keeping the wall color light and with blue undertones.
14. Shades of Gray Monochrome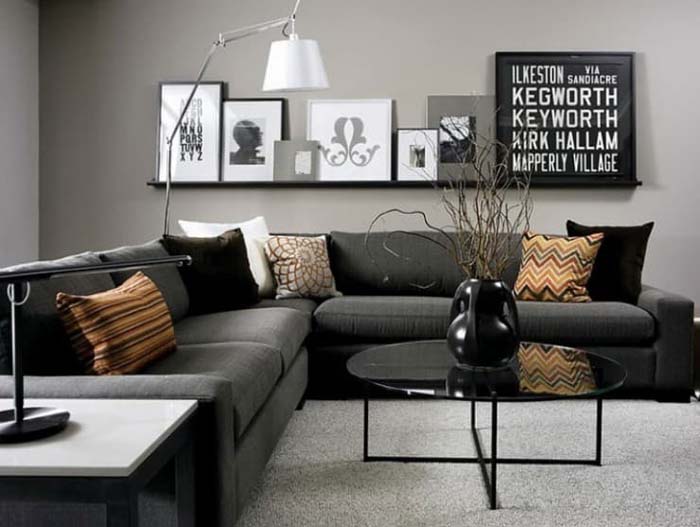 The only pops of color in this grey living room are the muted browns in the throw pillows.
Otherwise, this is a study in a gray monochrome design from the charcoal gray paint on the walls right down to the carpet. It's a very masculine, modern style.
15. Red, Black and White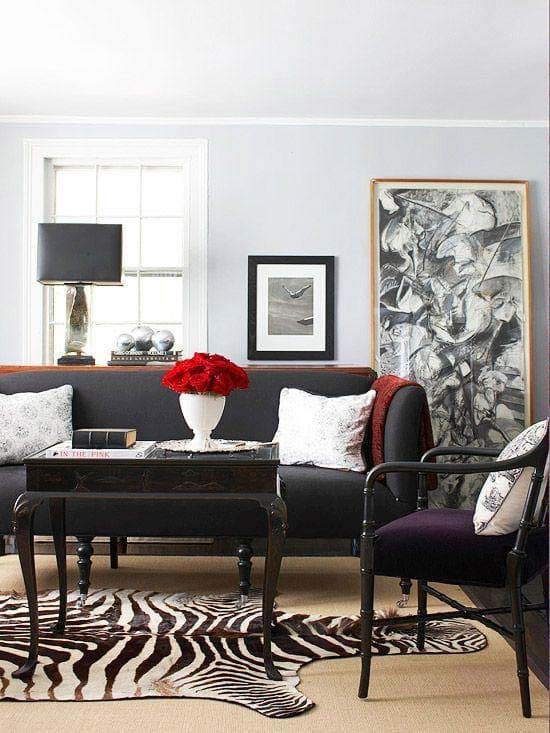 You can make a statement with bold black and white graphics. The large area rug and art piece are the showstoppers here.
The gray sofa is merely an underscore, but the choice ensures it doesn't distract from the art. Red accents pop and the purple accent chair connects with the sofa's violet undertone.
16. Vintage Neutrals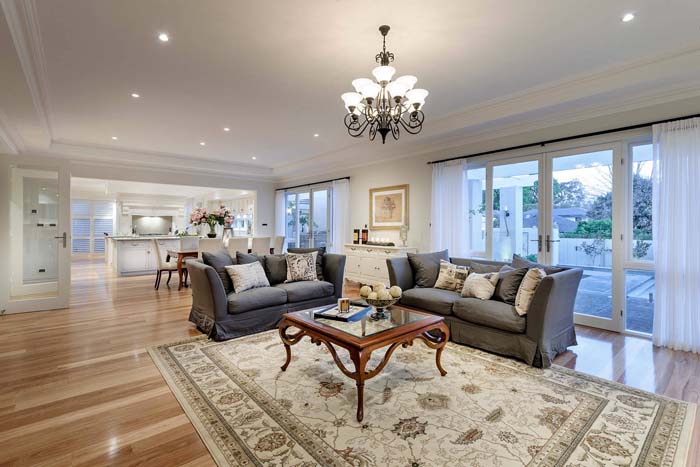 Furniture with a vintage look wouldn't hold up in a white space. Painting the walls off-white and adding a beige rug are the right choices for this room. Sheer curtains are the only true white elements in this living room.
The gray couch may be new, but it gets an aged look from its skirt.
via Oswald Homes
17. Botanical Green and Earthbound Brown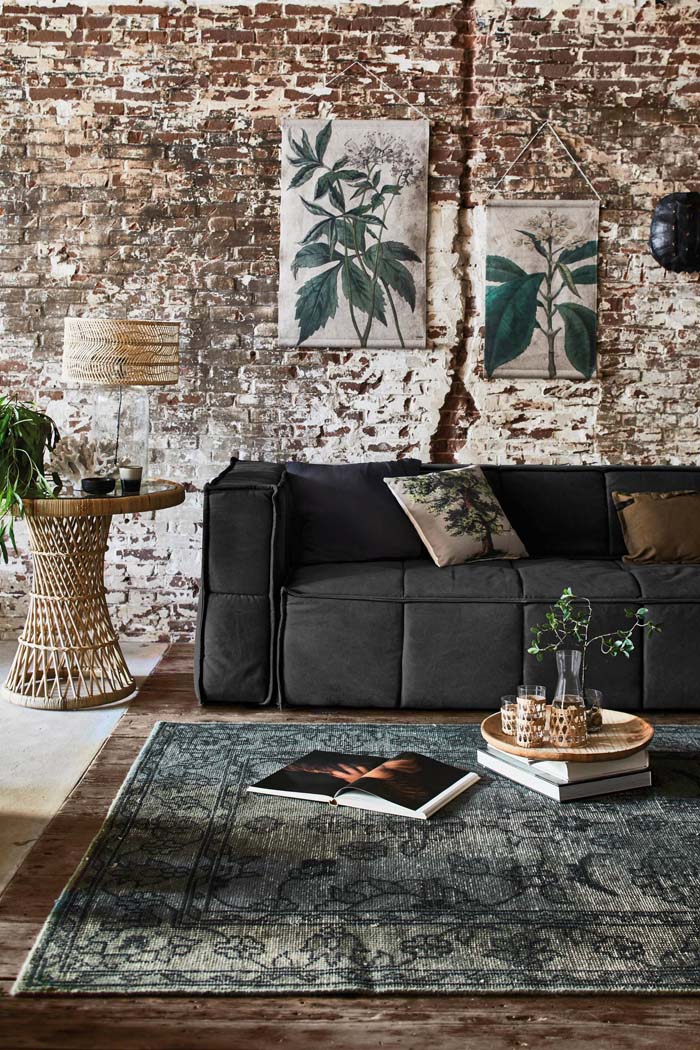 It's a little tricky to introduce gray into a brown and beige color scheme. A dark charcoal gray couch is consistent with the rest of the dirty color palette. It works beautifully with the antique rug and other rustic elements.
What brings it all together is the simplicity of the botanical motif. It changes everything from being industrial to have a rustic, organic ambiance.
18. White Walls and Beige Floors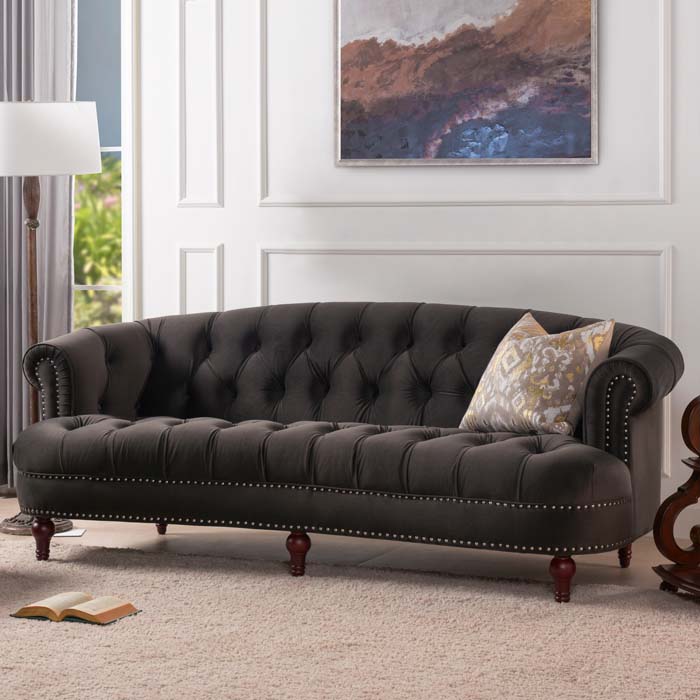 A common occurrence in apartment complexes is trying to reconcile a white wall with a beige carpet. Pick a gray sofa with a pink or blue undertone, depending on the undertone of the carpet. 
Golden accents help with the transition. You can spot it here on the picture frame, throw pillow, and sofa.
19. Bright Yellow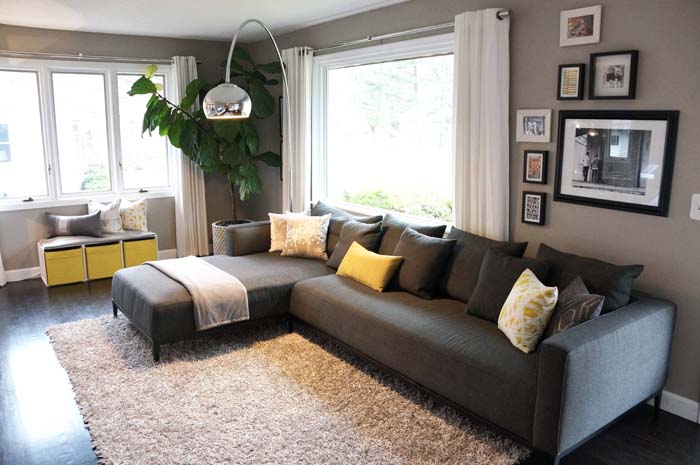 Contrasting colors can bring a room to life, but it's best to stick with a single paint color to make a statement.
A dark wall color and dark grey sofa get a boost with contrasting punches of yellow accessories.
via Design Style'd
20. Patterns, Yellow, and Charcoal Grey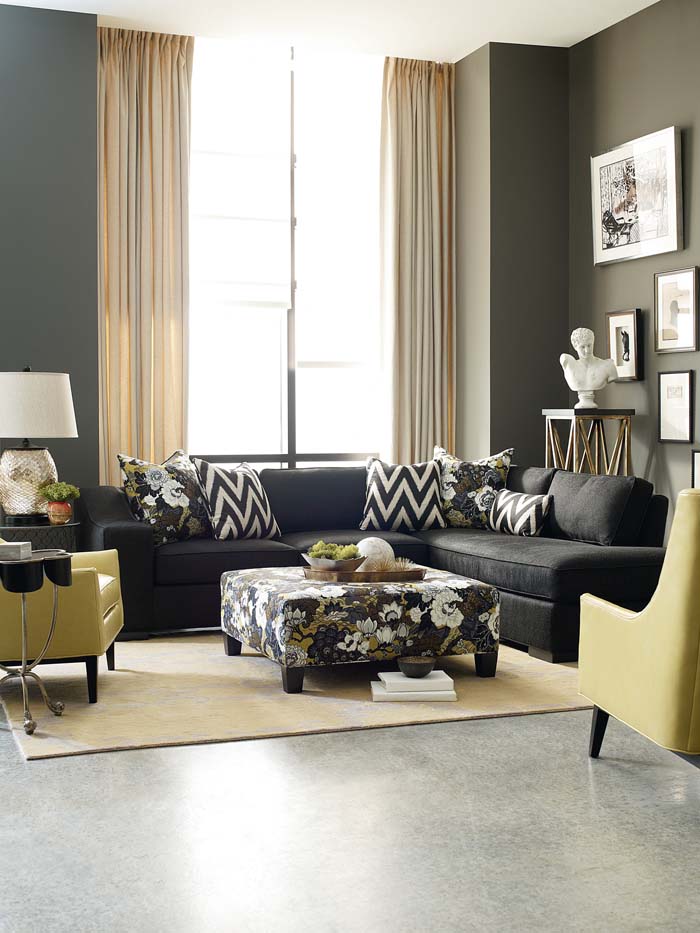 Instead of using a solid color for the coffee table, a pattern is introduced that includes the entire color scheme of the living room.
The curtain panels need to be considered as another neutral. Keep in mind whatever color curtains you choose needs to work with the other colors in the room.