Yellow is a happy, cheery color that is bold and entertaining. It can give your house a warm and inviting vibe.
You've found the right article if you're looking for the greatest front door colors for a yellow house. We'll cover some classic colors as well as some newer trends.
Whether you're in the design phase or in a panic, realizing your front door paint color doesn't match your new yellow house siding, don't worry, just read on.
We've got front door color ideas that will help you pick the right color door for your yellow house.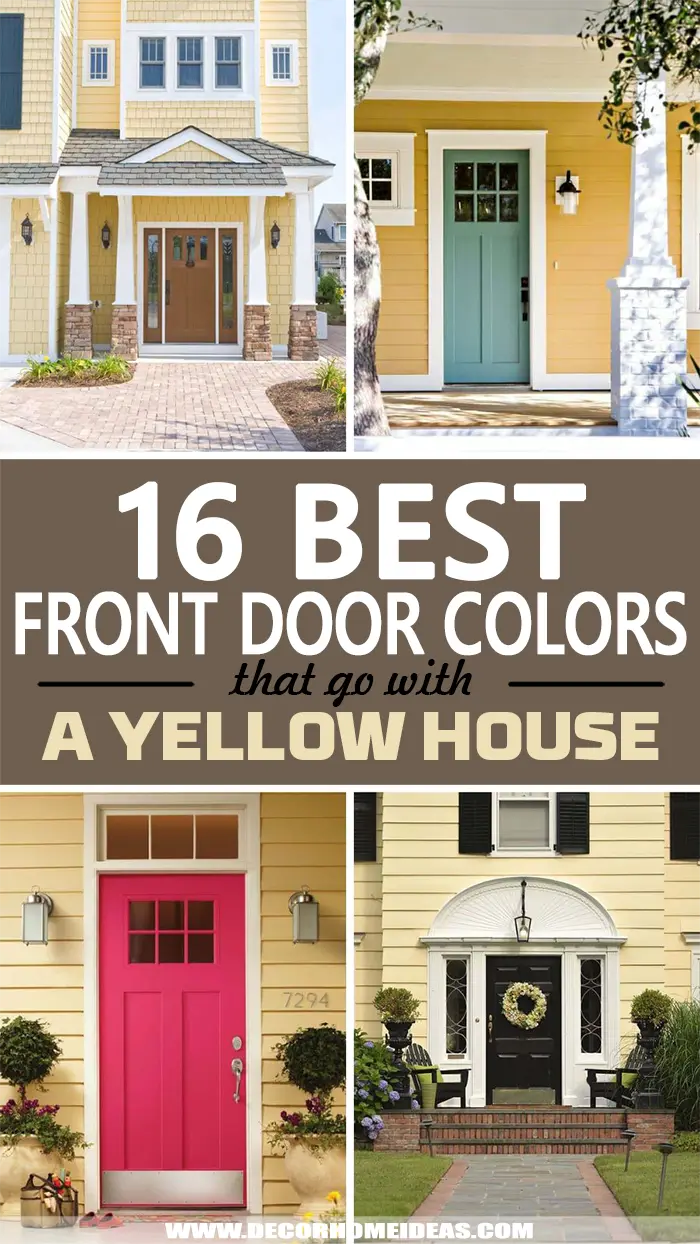 What door colors go with a yellow house?
If your goal is a front door that has timeless style, go with white. It has classic appeal and works with any style of home, from traditional to modern. It's also the most popular front door color. The best front door colors for yellow house exteriors are determined in part by the undertones found in the yellow paint. If white isn't your thing, gray goes with just about any color.
Should front door be lighter or darker than house?
It depends on how light or dark the exterior paint color is. The general rule is the exterior door should be a different color. Whether it's a difference in shade or a complementary color depends on the siding. If it's neutral, go with the personality of the rest of the entrance, otherwise, choose a contrasting color. If the exterior is a light color, go with a dark shade. If it's dark, go with something light.
What Color Door Increases Home Value ?
According to Zillow®, the best paint color for increasing your home's value will be either black or slate blue. If you're trying to sell your home, cement gray and pale pink doors should be painted over. By the same token, if you want your home to look less valuable to a tax assessor, keep that pale pink door!
1. Navy Blue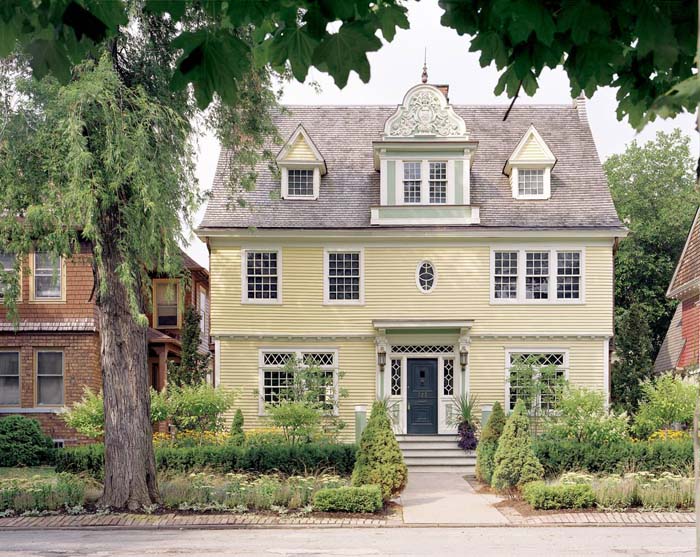 Navy and yellow are both blue and yellow are both primary colors on the color wheel, making this a classic choice. Adding navy blue to a pale yellow house creates depth and sophistication. You'll see this combination along most coastal neighborhoods.
Navy isn't the only blue front door color you can choose. In fact, most any shade of blue will work with a yellow house.
2. Red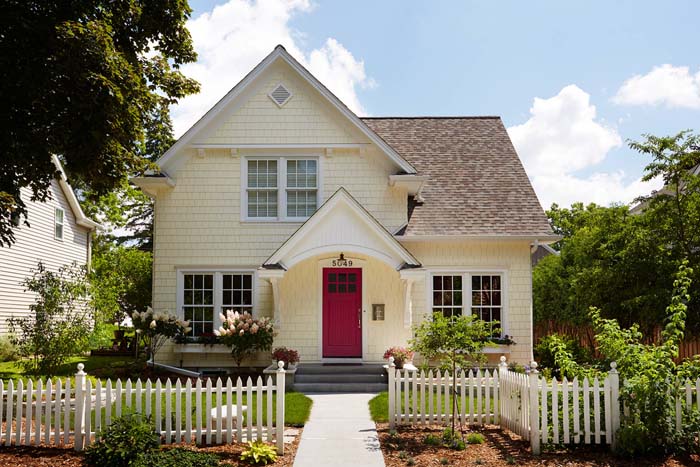 A red front door brings an element of surprise to a yellow house. The brightness brings a cheery vibe. A red door with dark undertones has an organic feel, making it a great choice for cottages and older homes.
Talk to an interior designer about how to integrate a bold color like this with the inside of your home.
via Anchor Builders
3. Black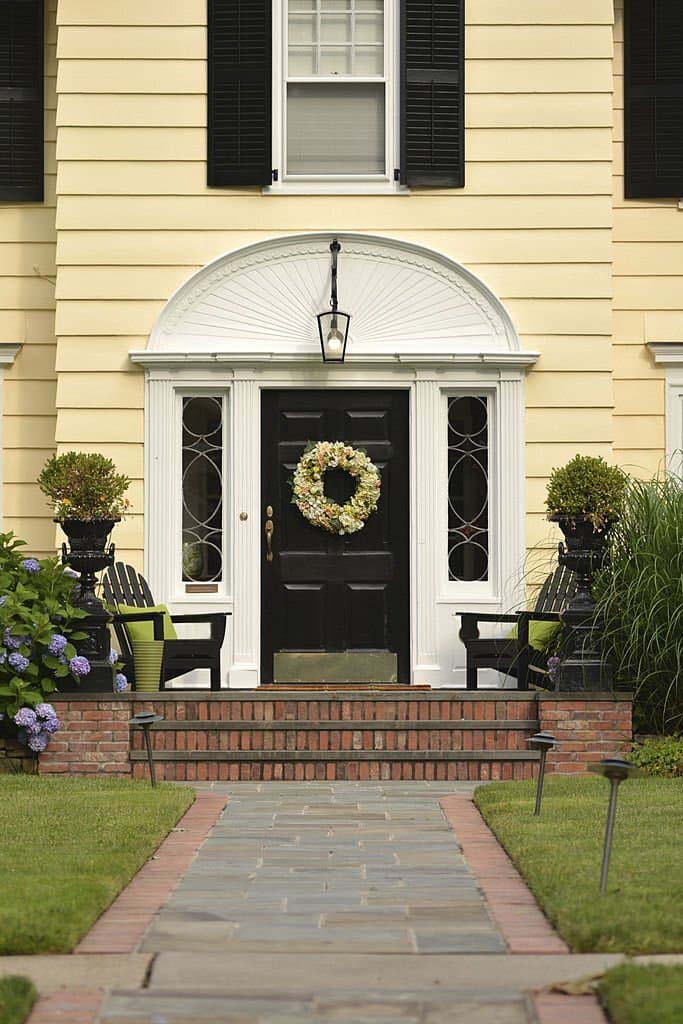 A black front door brings a stately feel to this yellow house. It has no color, so it goes with everything. This makes it a great transitional color for connecting the red brick porch and yellow siding. It stands out even more with the white trim and black shutters.
It's common knowledge among real estate agents that an easy way to sell a home faster is by painting it yellow. So, if you're trying to sell an old house fast and get the most for your money, choose yellow siding and a black door.
4. Cherry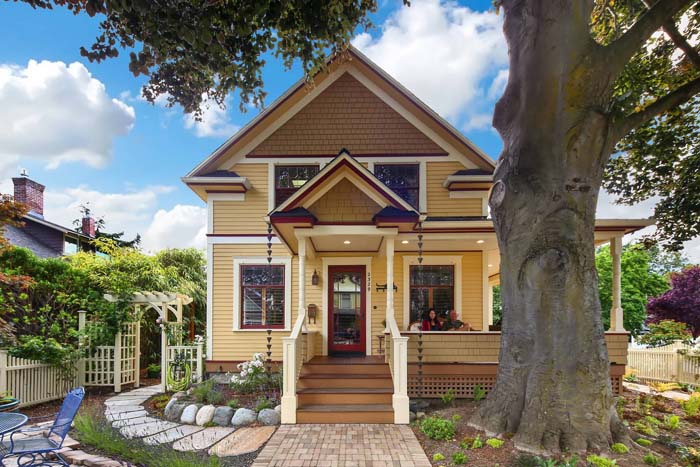 Deep cherry can be a paint or a wood stain. The deep color works well with this mustard yellow color of this house, with its brown accents and white trim.
Notice how the color scheme is used throughout the exterior, not just on the door.
5. Wood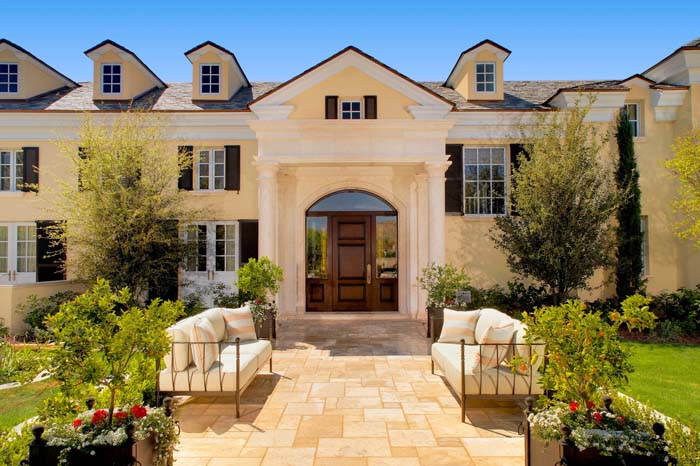 A dark wood door brings old world sophistication to this traditional home. The natural beauty of wood can be exploited for its warmth.
Keep the stain dark for a traditional style home. If your home is contemporary or modern, try a lighter colored stain.
via PHX Architecture
6. Green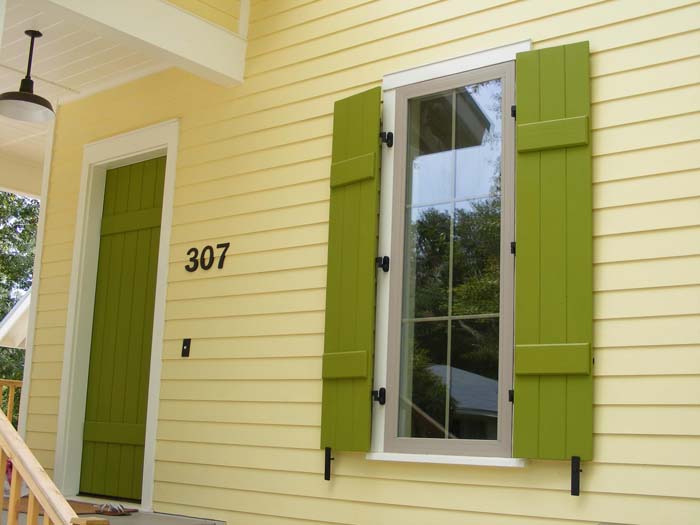 A bright green door has a welcome, vibrant energy. The board and batten style match the window shutters. Different shades of green that work well with a yellow house include Hunter, Olive, and Emerald green.
A lime green front door would be a bold color choice, but might be right for your exterior color. The choice depends on your taste and the undertones of the yellow paint.
7. Dark Gray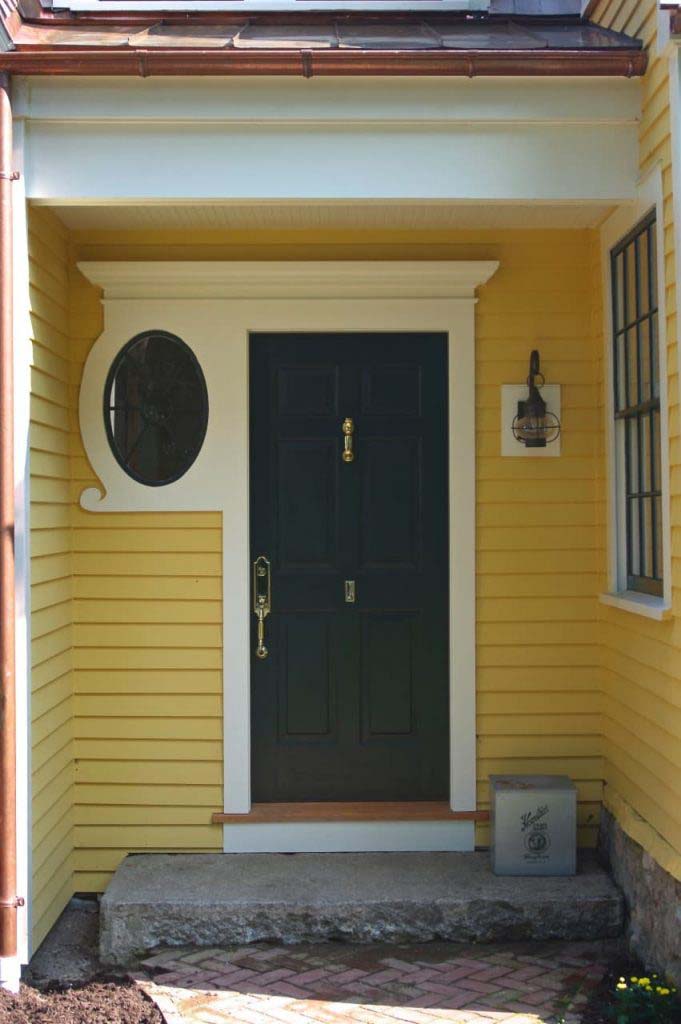 Dark gray will work with any yellow house color from traditional to modern. It's a great alternative to black for making a statement.
You can choose from a single solid color, or go with a variation. For instance, in the home pictured above, the panels or the panel frames could get a lighter shade of gray that matches the color of the granite slab porch.
8. Brown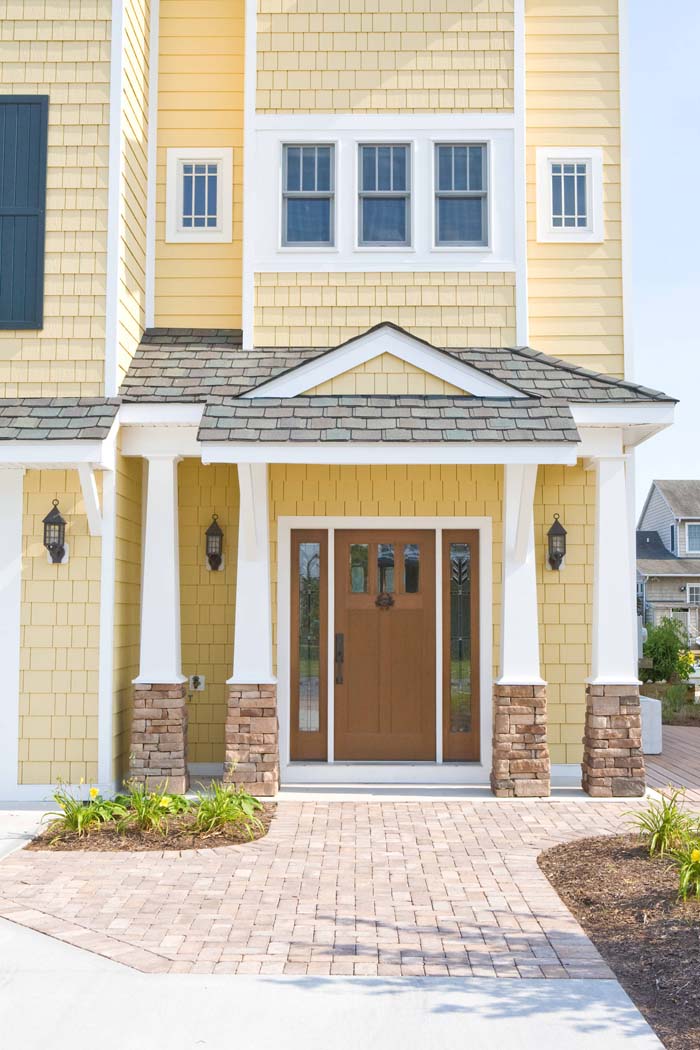 According to Better Homes and Gardens, a neutral color like brown will outlast any decor trend. Brown is decidedly organic, which is in keeping with the natural elements found in the exterior of this house.
Note the subtle brown hues in the brick and roof shingles. The yellow undertones in the neutral brown blend seamlessly with the yellow exterior.
9. Orange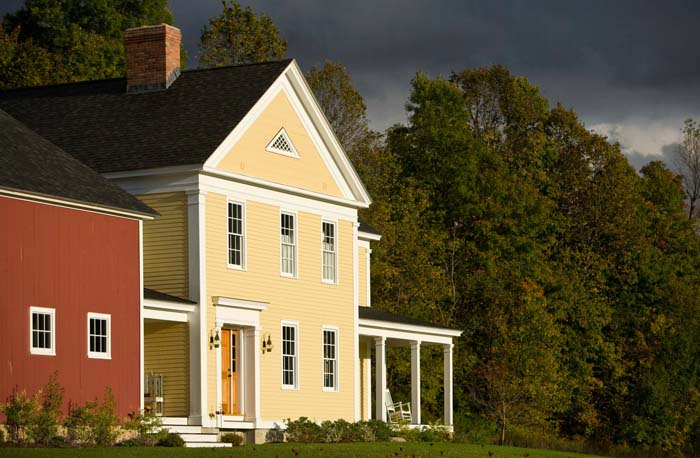 Because it's upbeat and friendly, orange is a fantastic color for a front door. A muted orange color doesn't have to look gaudy or over the top. Painting your door orange can look great and stand out in your neighborhood.
It complements the yellow exterior of this home, which is a refreshing change from the traditional farmhouse white we see in most articles on Southern living. We especially like how it works with the deep barn red color on the side building.
10. Pink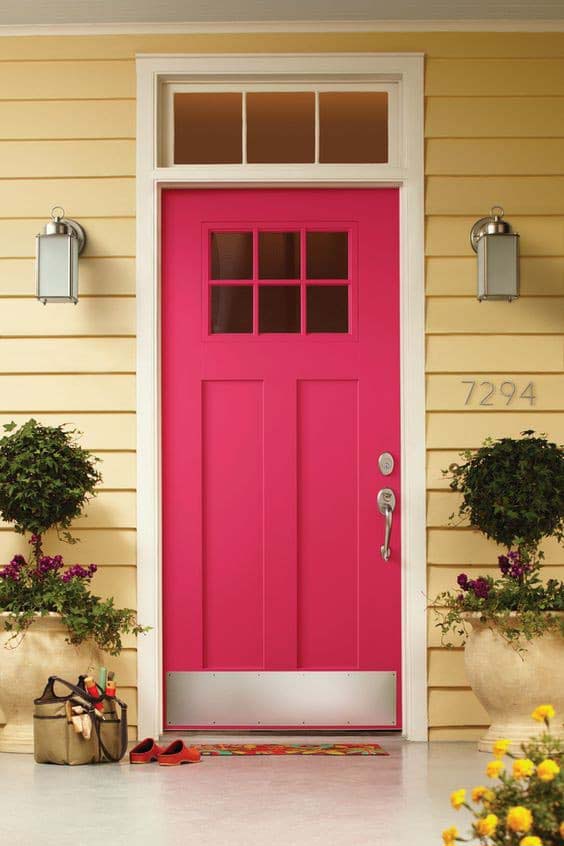 Does pink really work with a yellow home? If pink is your favorite color and you want a pink door, you can always find a way to make it your own. It has a lot of personality and feminine charm. A pink door could work very well with a cottage style home.
Different hues of pink will work with different shades of yellow. Coral is on the peachy side of the spectrum while fuchsia can light up the block. As long as it works with your yellow paint, that's the most important thing.
11. Turquoise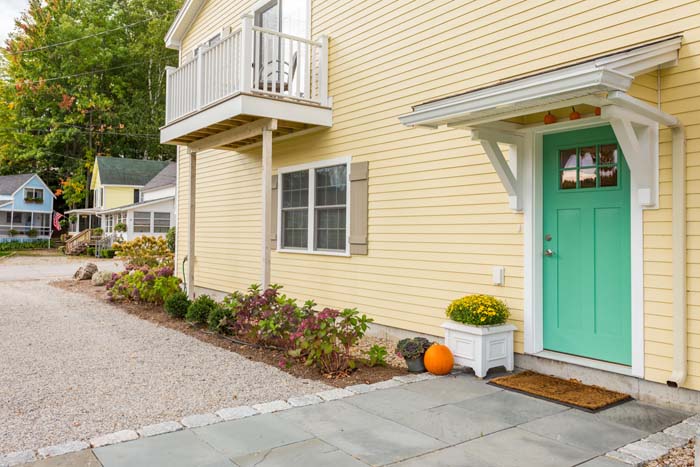 Turquoise is a great door color for a coastal, cottage, or boho style home. It's a bright, fun color that makes everyone feel comfortable.
Notice here how both the door and siding are in the same color palette.
12. Purple
Purple is a fresh and funky color for a front door. It adds a lot of character to an entrance. The darker shade shown here is more reserved.
If they wanted something a little less royal, the panel frames could be painted in lavender or even a middle shade of gray.
via Revision
13. Teal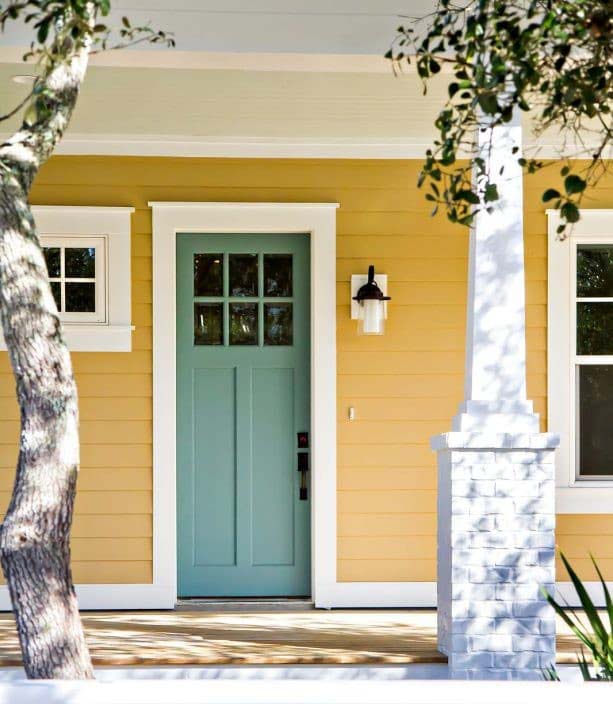 Teal is a softer, muted version of the turquoise we saw above.
If you have a muted, almost mustard yellow siding as shown here, teal's subtle shade of blue-green is a solid option.
14. Yellow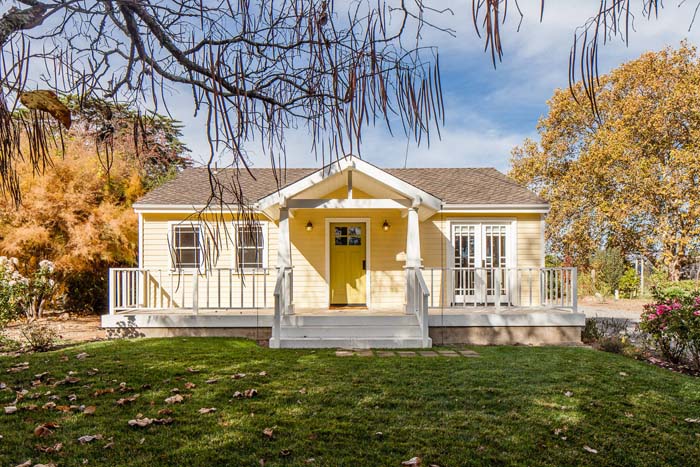 A yellow front door against a yellow house can work. Notice how they used two different shades of yellow. The side of the home is a softer yellow, while the yellow door itself is a pure jewel tone.
The cottage home keeps its subtle personality with white trim, a light brown roof, and a light brick foundation.
15. Gray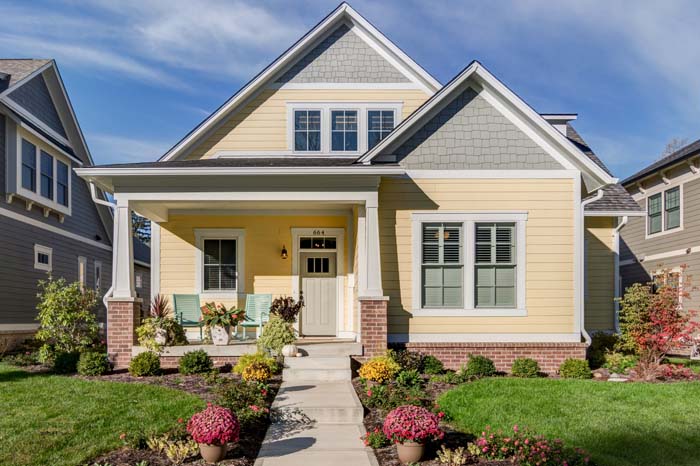 Gray is a versatile accent color that can fade into the background when necessary.
The exterior of this yellow house has so much going on, a light shade of gray on the door keeps the eye on the home's trim and contrasting gray siding.
16. White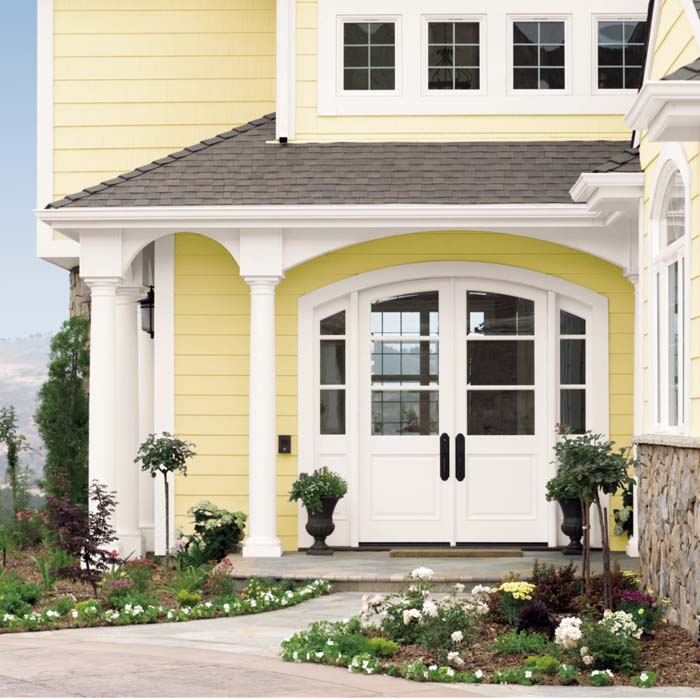 White is a stunning color that brings a classic, sophisticated style to any home.
Shown above, it works with the trim to accentuate the architectural design of the home's trim, especially the pillars and arches at the porch's entrance.
via Behr