Owning a red brick house isn't without its challenges.
The biggest challenge for better curb appeal is choosing a color for your front door. It should match your overall trim and color scheme.
Brick comes in a variety of colors and you'll have to take into consideration if your home is built with tan bricks, painted brick, or is the traditional red brick that comes to mind when we think of a red brick home.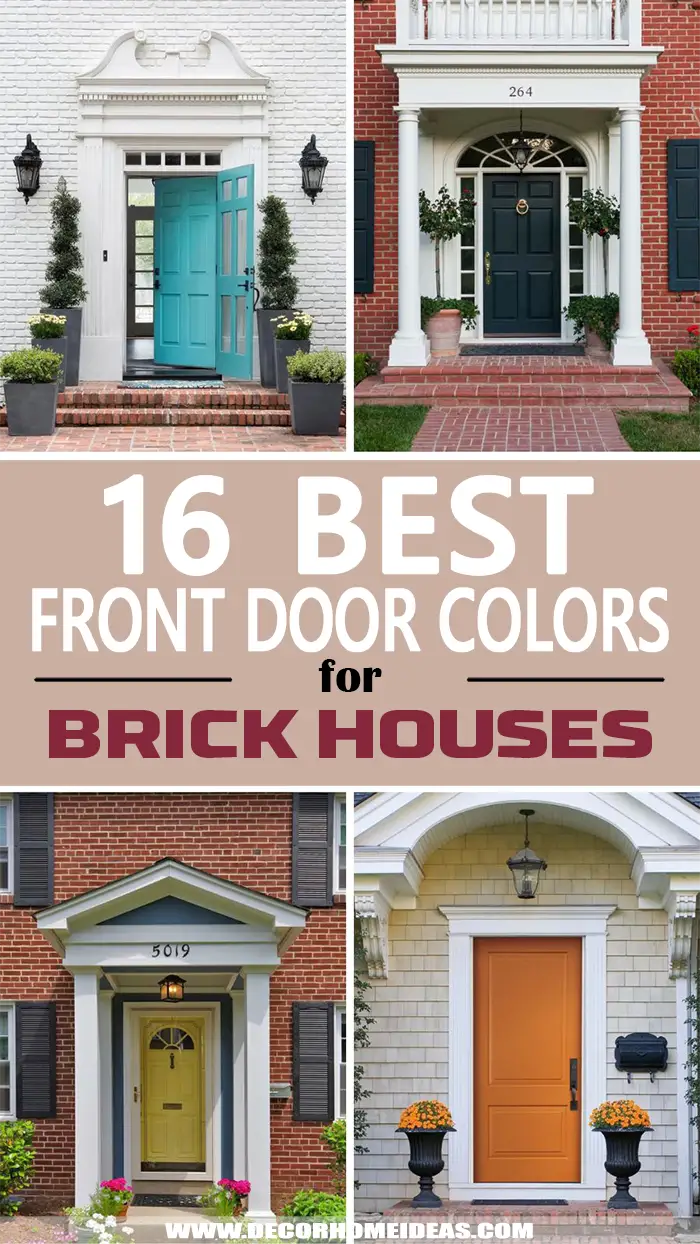 You also need to consider style and climate. Warm colors work well in the winter months, while cooler colors feel great in warm climates.
Take a look at the sixteen best front door colors for brick houses listed below.
1. Black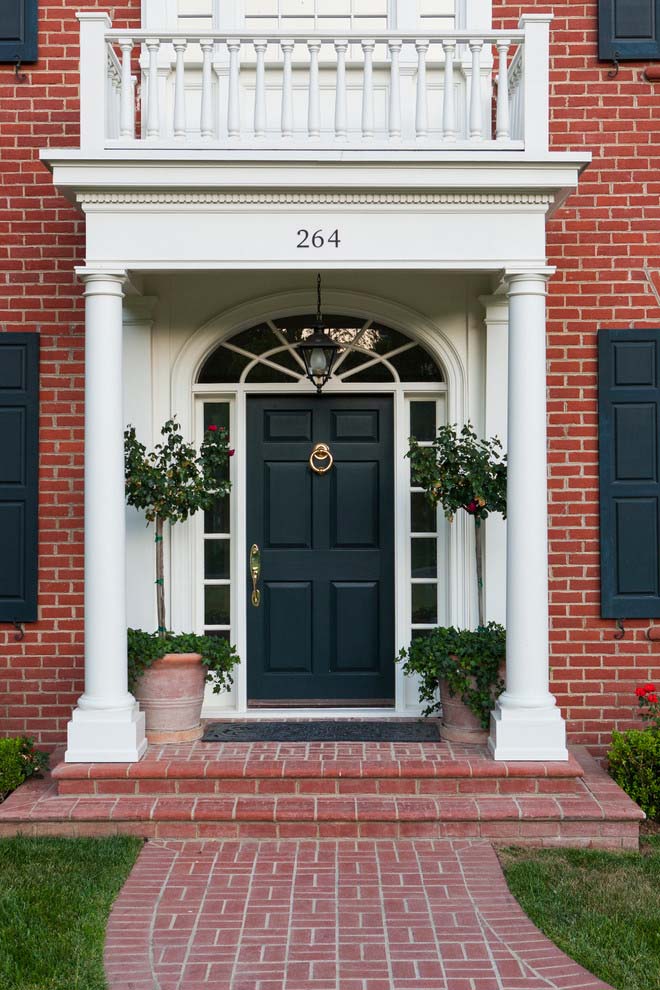 # Bold black doors will never go out of style. The contrast against the white trim of the pillars and widows walk above is classic and stately.
This door has been magnificently built out in white trim around the sidelights and arched transom. The brass hardware adds classic sophistication.
via SoCal Contractor
2. Navy Blue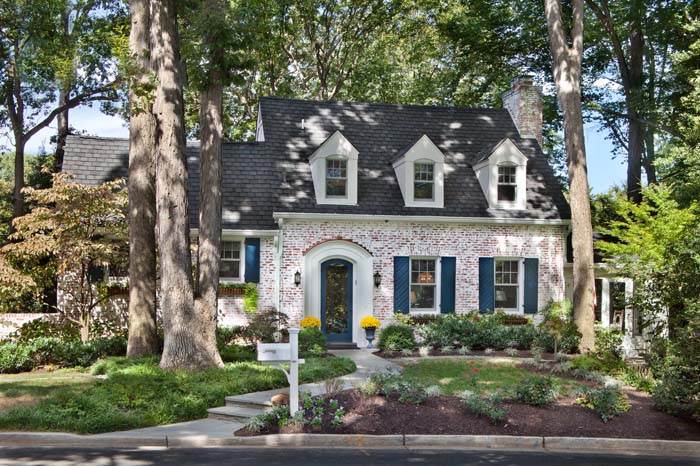 Just about any home's style can look better with a navy front door. You can see it here in an oversized white frame set against whitewashed red brick. It's a charming look that gives a real sense of family to the overall curb appeal.
When choosing your front door color, one of the biggest factors to keep in mind is the color of the roof. This dark roof adds to the cottage charm of this home, and the navy door doesn't detract from the overall color scheme.
3. Brown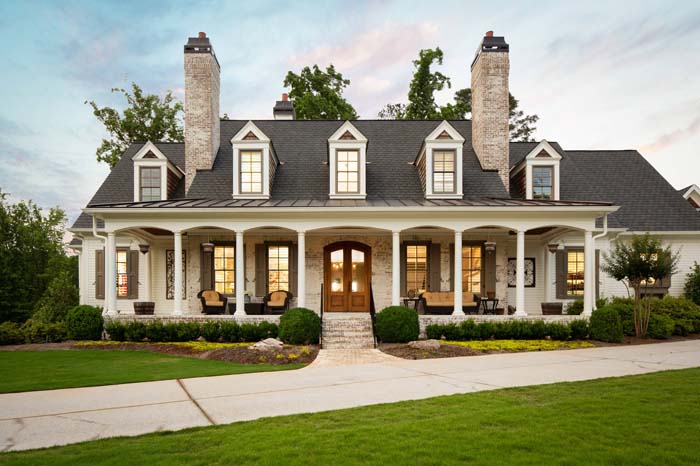 Brown is the most neutral of all neutral colors. It works well here with the light beige and tan bricks of this home.
By choosing a light color for the front porch's pillars, the addition of the brown door adds depth and dimension to the overall design.
4. Turquoise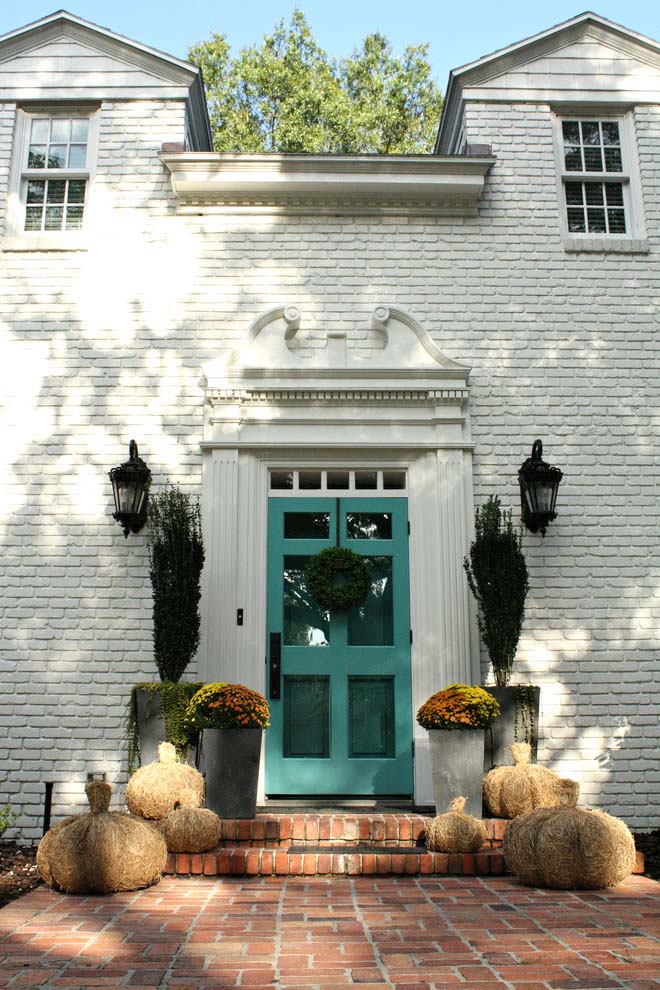 Turquoise blue is a great choice for a coastal palette. This color can work in a variety of house styles. With shades that run from sky blue to sea green, you'll certainly find a color that suits your decor.
It's working here with the tans and yellows in the brick porch entrance and pops against the white brick background.
via Mina Brinkey
5. Wooden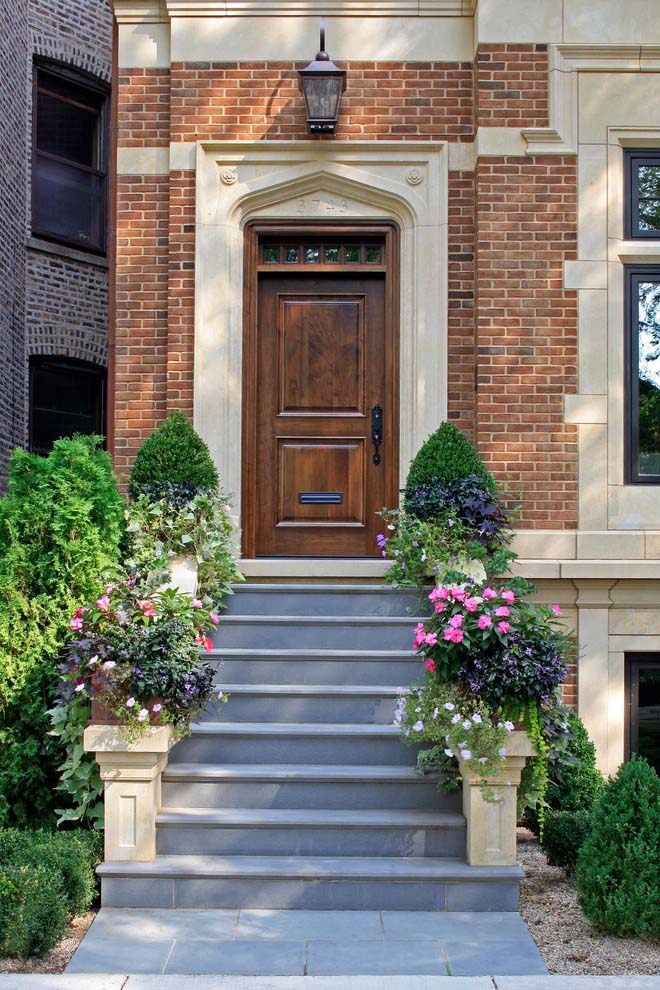 Wooden doors will never go out of style. Choose a stain that matches the undertones of your brick. The one pictured above is all about matching the orange hues.
The stained glass transoms, iron handle, and the mailbox slot solidify the era of this head-turning brownstone.
Note the brick itself is more brown than red. This is a color of brick that's easy to match with a wooden door.
via bba ARCHITECTS
6. Dark Wood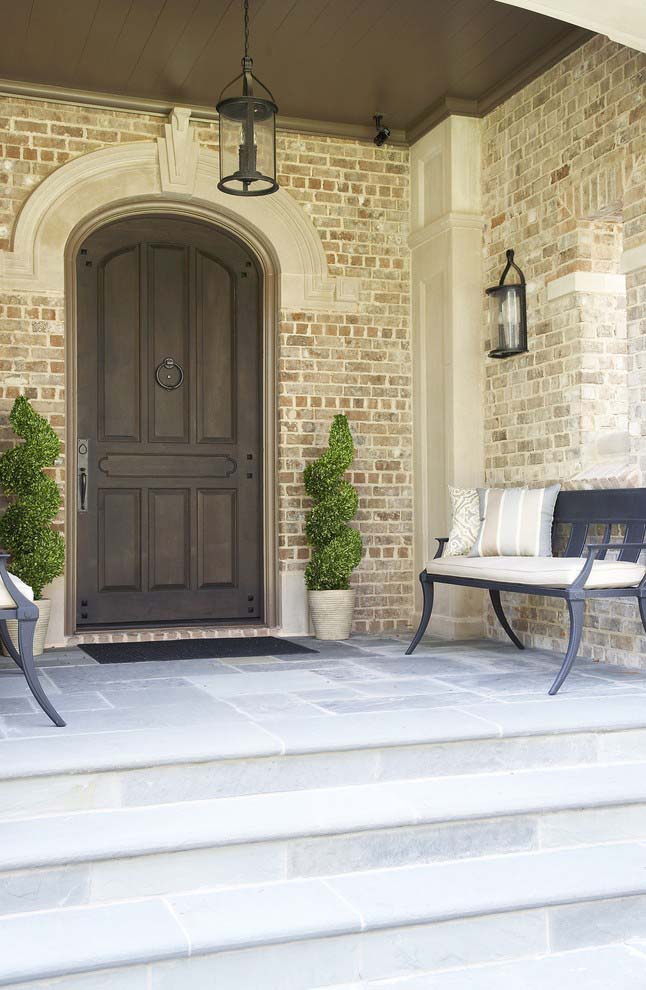 Dark wood brings out the best in this brick home. The neutral browns and tans play off the deep, rich color with the dark bronze hardware.
Wrought iron benches and lanterns add weight to the entrance.  Topiary trees add pops of color and texture.
It's a good choice when your entrance gets a lot of sunlight. Seen here working with the brown overhang, the deep tones warm up the home while preventing a washed out look.
7. White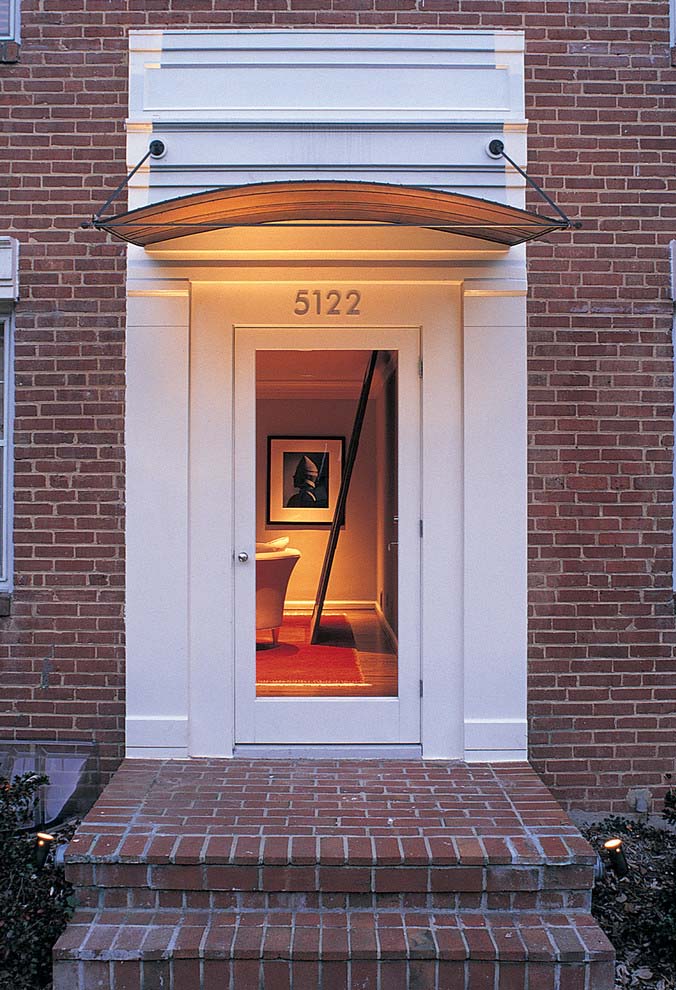 White is the start of something good and makes everyone feel welcome. When it comes to matching a red brick home with white grout, it's a natural choice. Even when the brick starts to show its age, a white door, shown here with white trim, makes the home look new again. 
Light is a secondary element to this doorway. The entrance into the home acts as a galley. The light is reflected onto the street numbers using two garden lamps pointed upward to the porch canopy. The canopy itself emphasizes the modern feel. 
In a case such as this, the white door is almost necessary so as not to distract from the framed gallery design.
via FORMA Design
8. Grey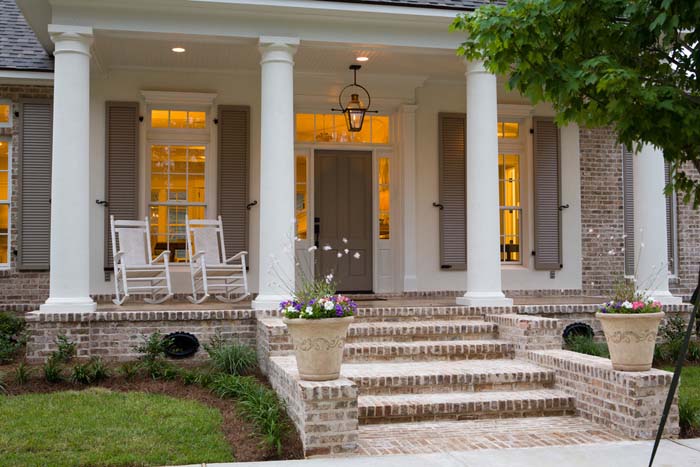 Grey has become a catch-all color solution for every part of your home and for good reason. The undertones can run warm or cool, making it easy to match with any other color. It's paired here with tall louvered windows painted to match.
They contrast the white pillars and entrance, but in a very subtle way. Everything looks fresh and serene against the whitewashed brick walls and stairs.
This is a great color scheme that adds sophistication while keeping the house looking cool and inviting.
9. Yellow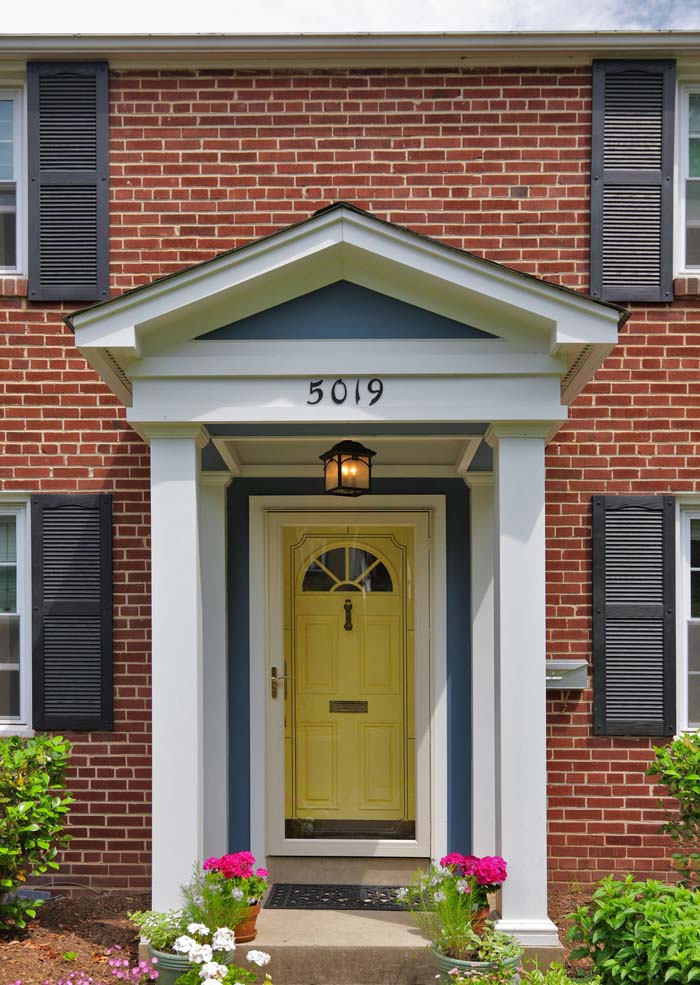 Yellow can pick up on the rust colors and orange undertones found in certain bricks. It's a lively, cheery color, and has just the right amount of surprise to capture your attention.
The deep gray in the trim and louvered windows add depth, making the doorway look bigger than it is.
If you decide to paint your door yellow, you have the choice of going with a super cheery color or you can soften the mood by using a goldenrod shade, which has more orange and red hues in its undertones. It's more provincial than classic yellow.
via Merrill Contracting & Remodeling Incorporated
10. Red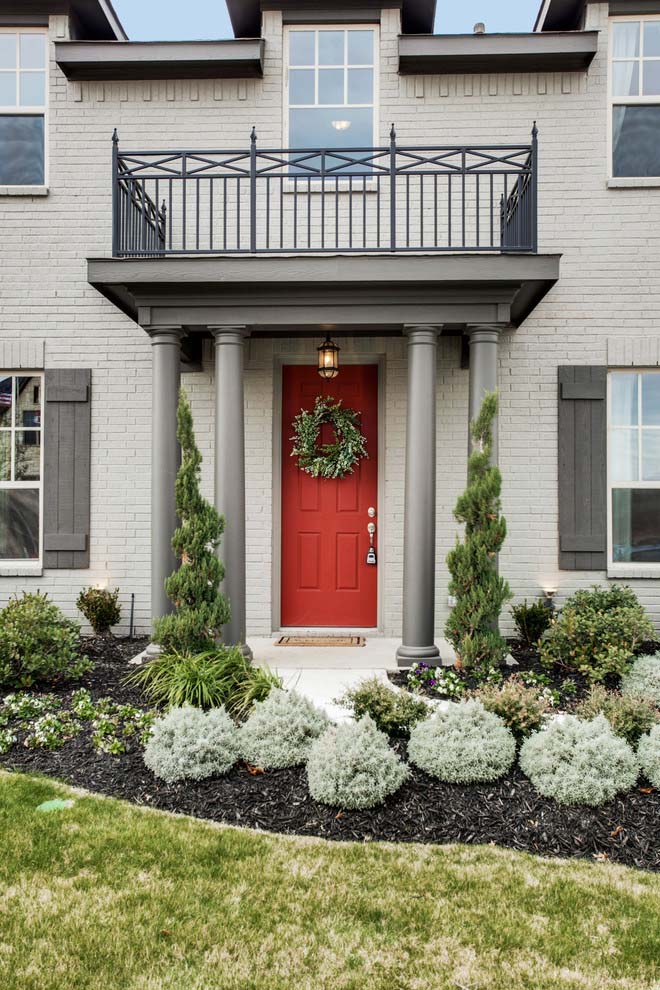 Red is a bundle of energy at your entrance. In many cultures, it's considered a color of good fortune. Pictured above, it's a star in the middle of the off-white brick home and silver-gray trim. A red front door against a white brick house is a statement-maker and conversation starter.
It is definitely the perfect Christmas color, especially shown here, with the green wreath and spiral topiaries.
Check with your HOA before choosing to be a bold neighbor. It might not be an acceptable color under their bylaws.
via Clarity Homes
11. Blue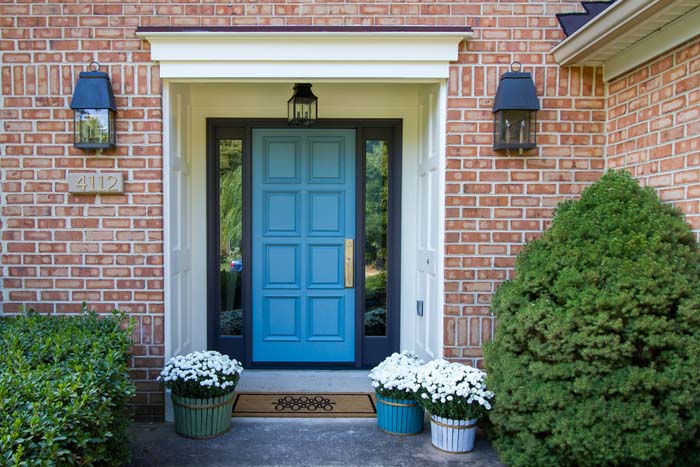 Blue is the calling card of our planet. You can't live here without seeing blue, so it follows that it works on doors. It's a great choice if you're looking for a color with personality and charm.
We have touched on painting the front door turquoise or navy blue when you have a brick house. Every other shade can work as well. Check into royal blue, sky blue, cornflower, and sapphire blue as well. Each shade will bring a different vibe to your home.
12. Dark Gray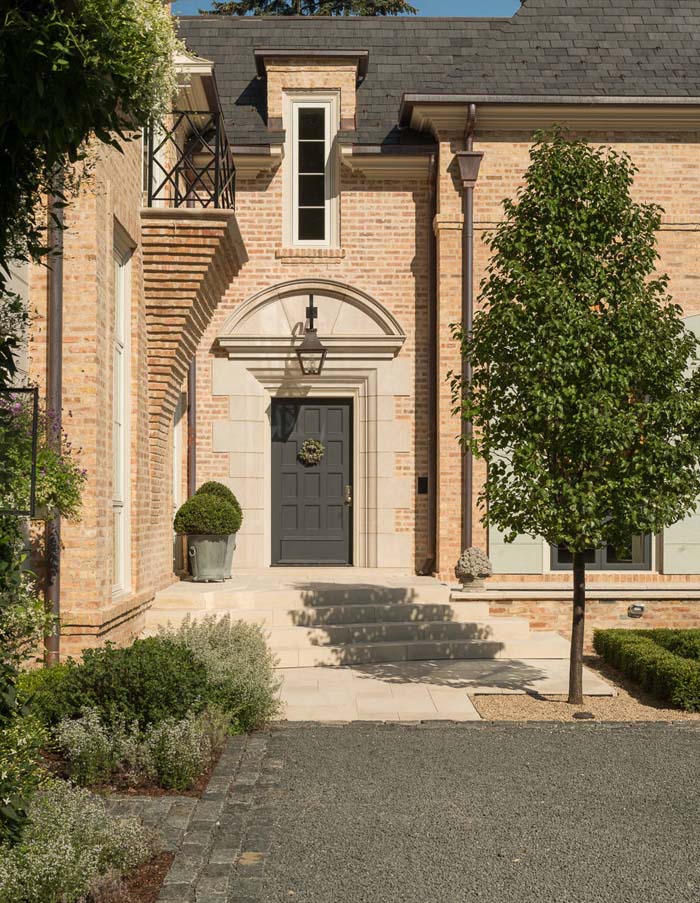 Dark gray brings an old-world feel to even the newest of homes. Choosing a dark gray with the right undertones is extremely important. A cool feeling comes from undertones rich with blues and violets, while you'll notice warm grays are tinged with green or red.
It's a great neutral color that can be used to bring a sense of calm or energy, depending on the color of your brick and the undertones. It's best to pick a good sealant with a dark color, as it can fade quickly under sunlight.
via AXB INTERIORS
13. Green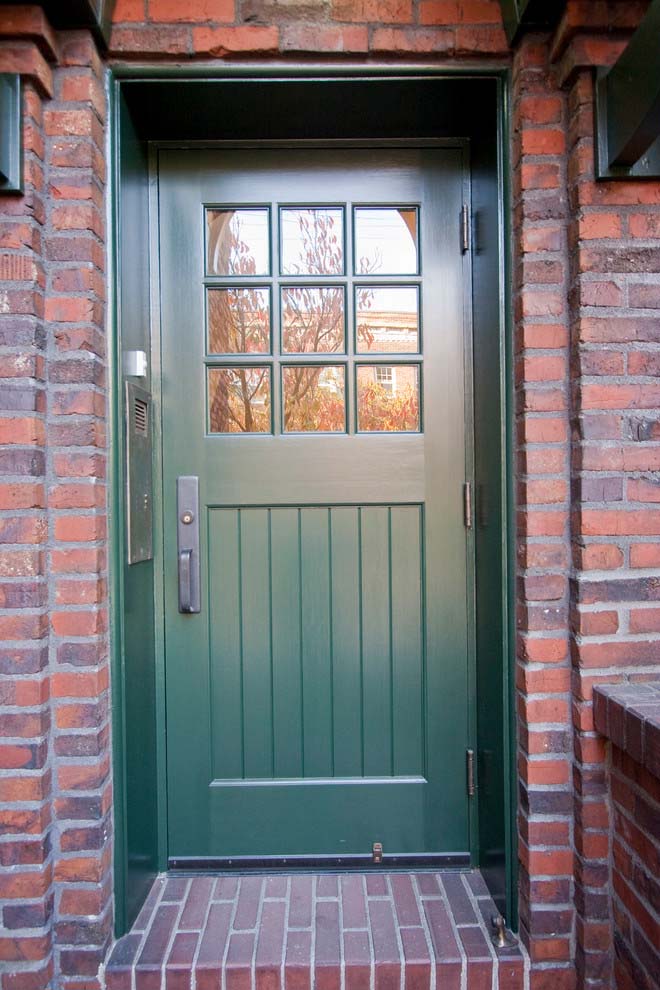 Green is one of those colors that you can make work with any color scheme, including a brick house. Like any other color, the shade and undertones will make all the difference. This beautiful forest green matches the deep bluish shades in the old brick home. 
If you're looking to make a bold statement, try a Kelly green front door. It will definitely stand out against a white brick house. Are your bricks more tan than red? Look to the shades near olive green to remain true to a neutral palette.
As an accent, we like the idea of using brushed metal door handles. Seen here, it adds to the rustic charm of the entrance. This color in particular picks up on the gray mortar.
14. Purple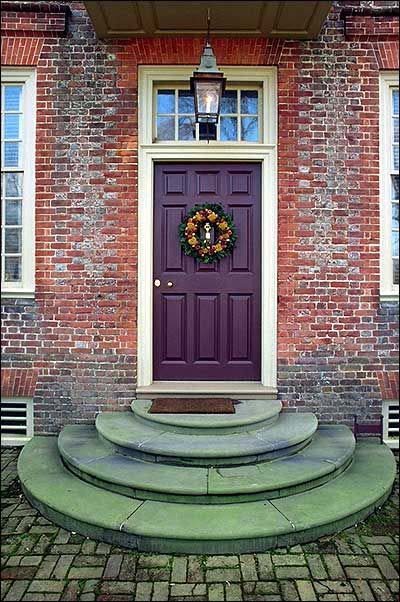 Deep purple is a surprisingly decorative color for any front door, much less when paired with a brick house. How do you make this work?
It's about finding common ground. First, we see red undertones. Then, take a look at the blue undertones. They start to connect with the blue-gray pinning.
Finally, a creamy white door frame adds the right amount of separation. It's very close to the grout color.
15. Pink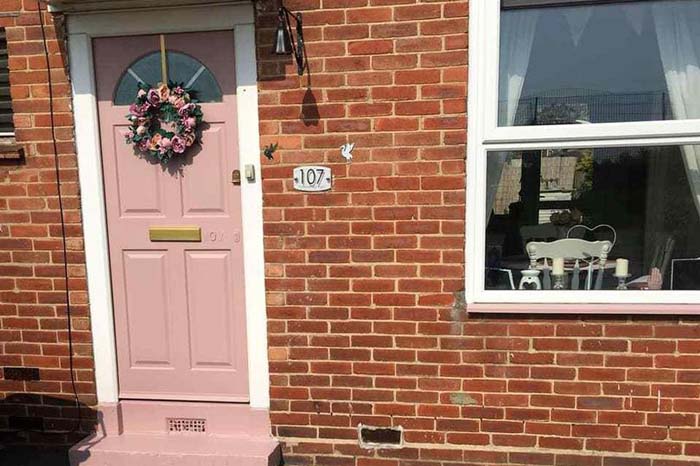 Another unexpected color that works surprisingly well with a red brick house.
This pink is more of a dusty rose, which has some peachy tone. Yellow hues are made apparent in the brass mail slot and door bolt. This works with the orange hues in the red bricks. It gives the overall look a retro feel.
Just take a look at the old orange and pink prints from the 60s and you get the idea.
Keep in mind that using a white trim is key here. It literally frames the door as a piece of art against the brick wall.
via Dailystar
16. Orange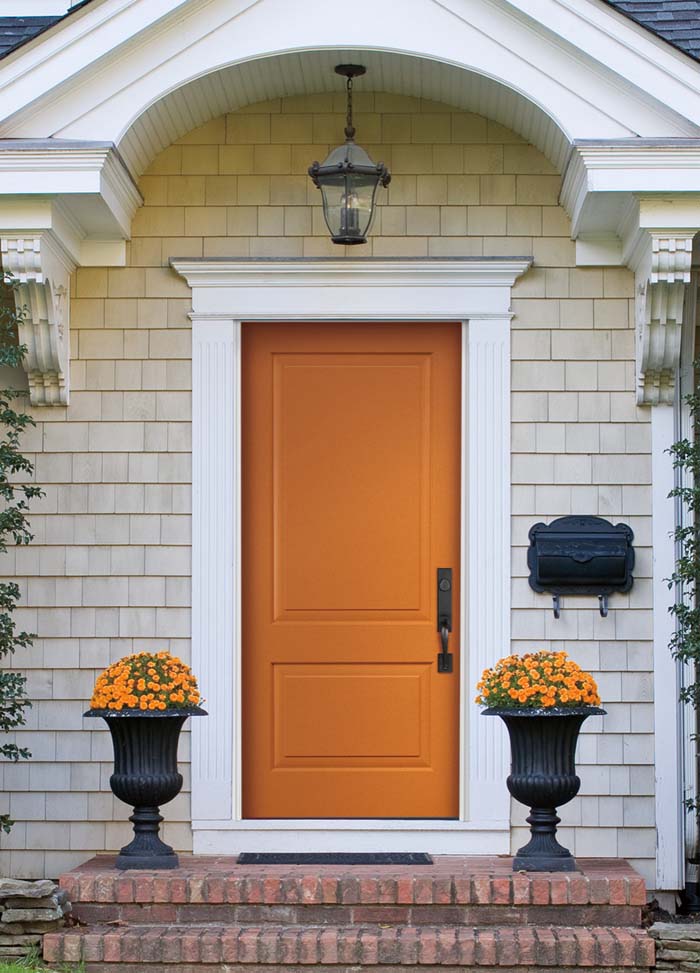 A true orange door is vibrant and an obvious choice if you're looking for a "wow" factor. Although it's shown here with cedar shingles, you can see how it matches up with the red brick porch steps and would make a fantastic entrance to a white brick house.
The hue itself is a deeper tint than a basic pumpkin orange. It's more like a pumpkin spice. Black is the classic accent color for orange and is strengthened here by using black flower planters, mailbox, and lamp.
Best Front Door Colors for Different Shades of Brick
Front Door Colors for Red Brick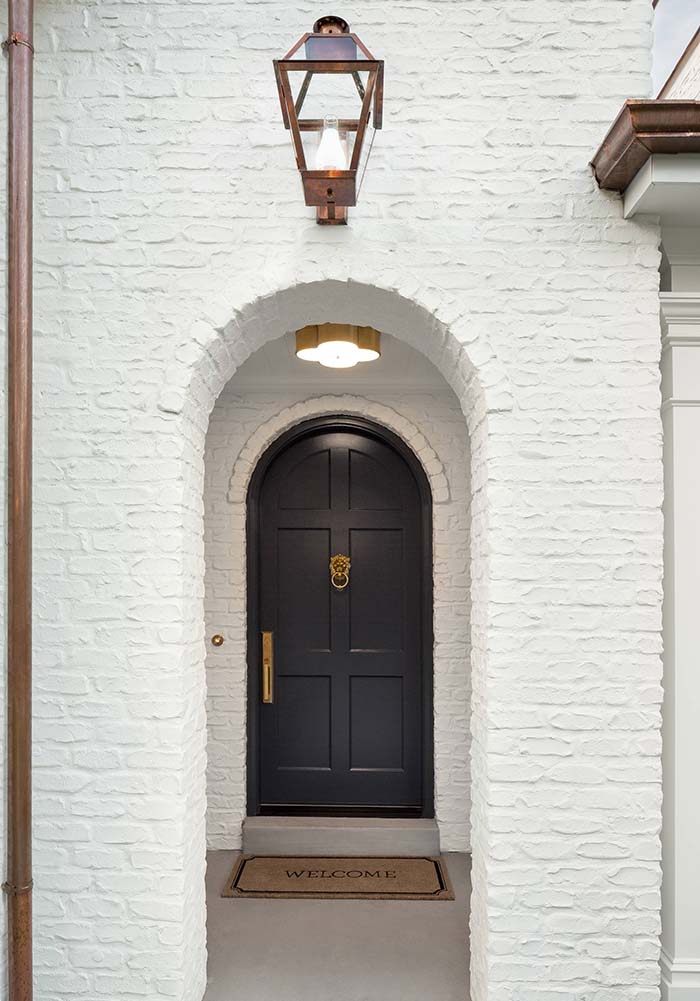 Your front door can match or contrast the hues in red brick homes. In cases like this, the easiest shades to match will be white or creamy white and at the other end of the spectrum, look at blues and grays.
via The Fox Group
Best Front Door Colors for Orange Brick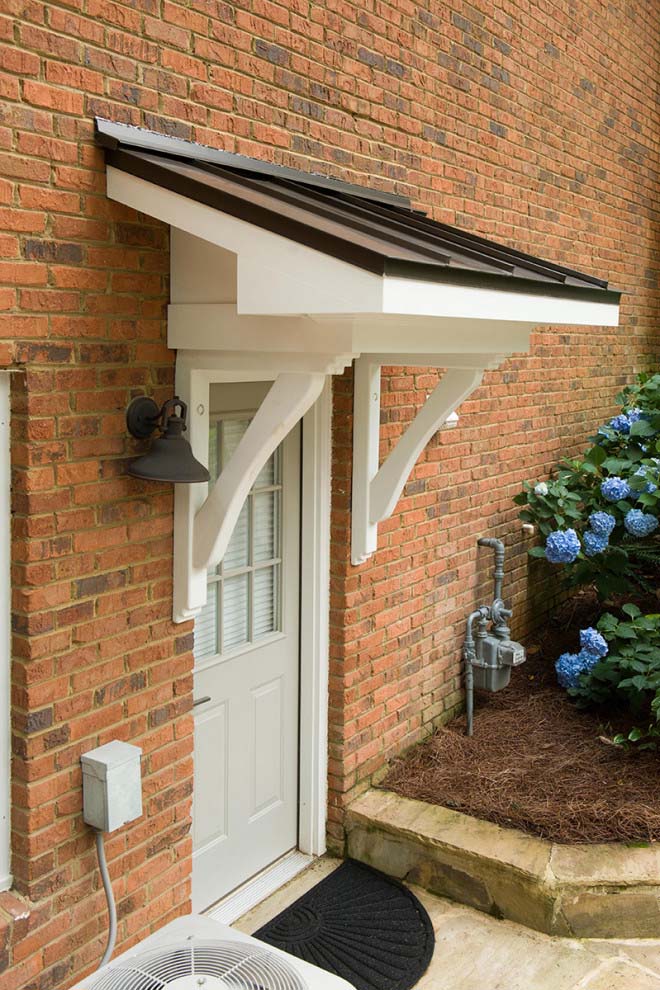 Look to neutrals for the front door of your orange brick home. Creamy whites have a yellow undertone and keep the mood fresh and light.
For a more serious look, try stained wood or deep brown.
Best Front Door Colors for Gray Brick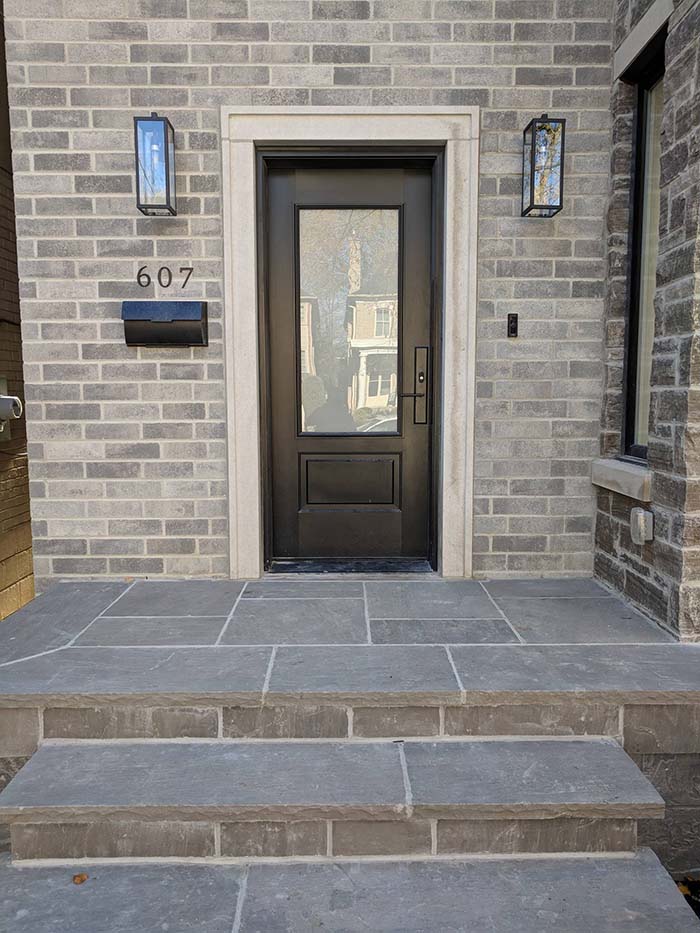 Since gray is a neutral color, you're matching undertones here. Try deep brown, navy blue, black, or the newer greige shades which mix beige and gray.
Best Front Door Colors for Earth-Tone or Brown Brick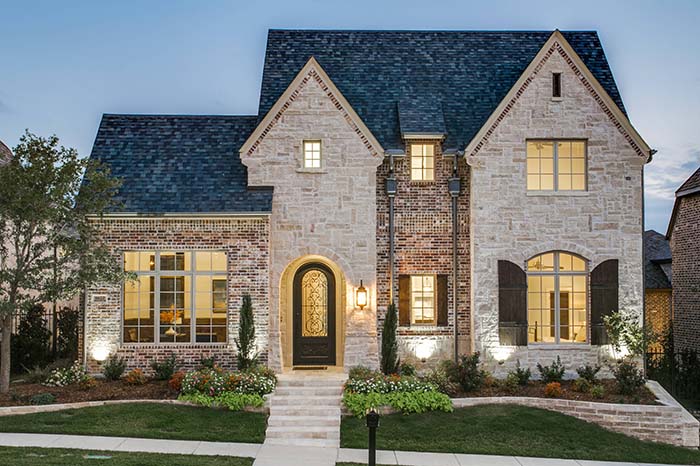 Brown will go as a tone-on-tone color. A deeper brown is very sophisticated. You can also try any number blues such as a greenish turquoise or teal on the brighter side, or go darker with navy.
via PWR Designs
Best Front Door Colors for White Brick or Light Brick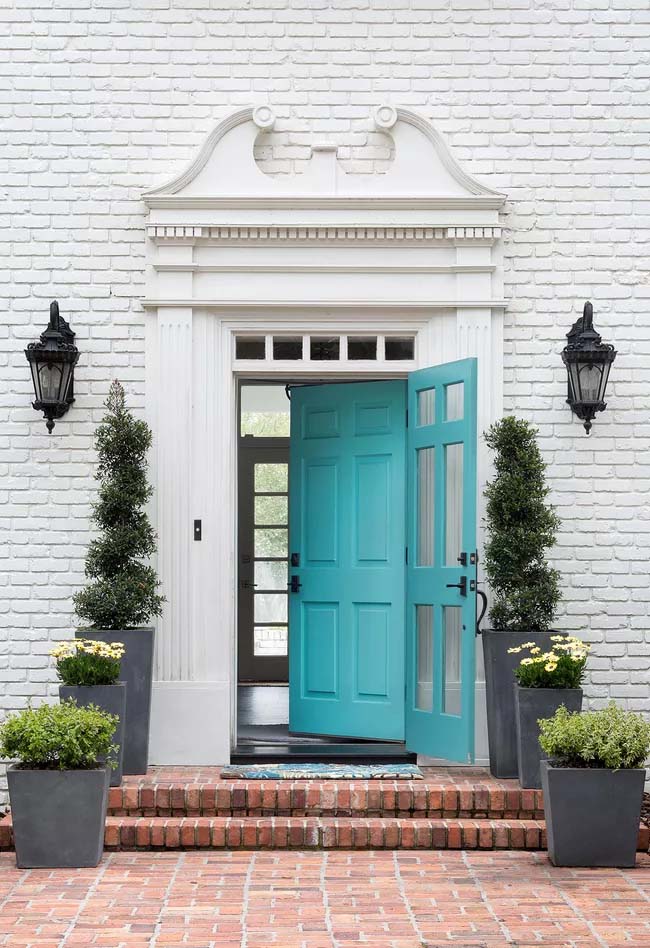 If you have a light or white brick home, you have a light and cheery house. Play it up with a bright blue such as teal or go high class with cobalt blue. Deeper greens and grays will bring color without feeling edgy.
via Jessica Glynn