Once you get a dog you quickly realize why it is called man's best friend. If you are already a dog owner, then you know how important is to keep it healthy and safe.
Dogs are different in regards to characters, abilities and looks but there is one common characteristic all dogs share and that is their natural curiosity.
If you want to protect your dog from escaping from your backyard or entering a veggie garden on your property, then you should check the dog fence ideas here.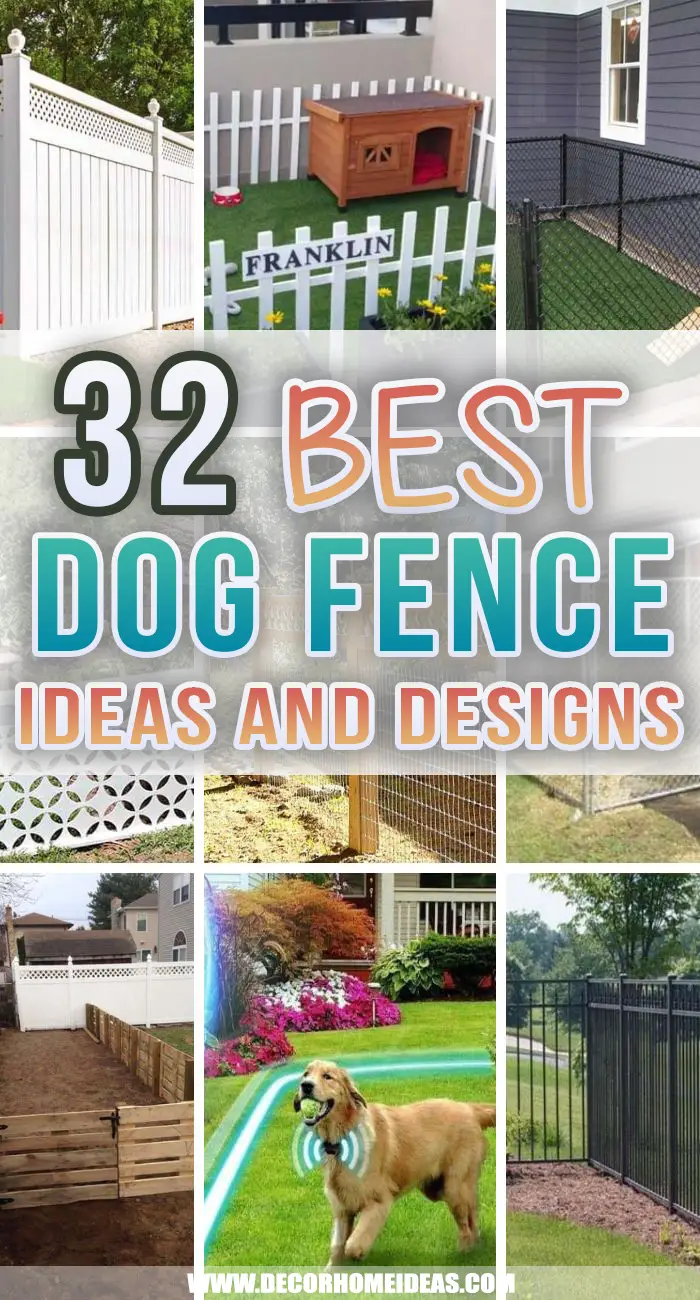 There are many types of dog fences but before we start listing them, let's check what you should first observe before you decide on the type of fencing:
• What is the cheapest fence for dogs?
The cheapest dog fences are those made from cheap but durable fencing materials. PVC deer block complies with these requirements. Metal wire fences are commonly used because they can be DIY with tools already on hand. Another material that can be reused to create a cheap dog fence is the wood pallet.
• What type of fencing is best for dogs?
The best fence for dogs is one that is customized to their size and character. The vinyl fences could be called the best option because they are very durable and resistant to any outdoor conditions.
• What is the best height for a dog fence?
Before you start building your dog fencing idea, you would consider giving it a universal function because once you have a dog, you will always have a dog (or two or three). The minimum height is 4 ft and the best is a 6 ft. tall fence, especially when the dog is a jumper.
1. Welded Wire Mesh On Wood Panels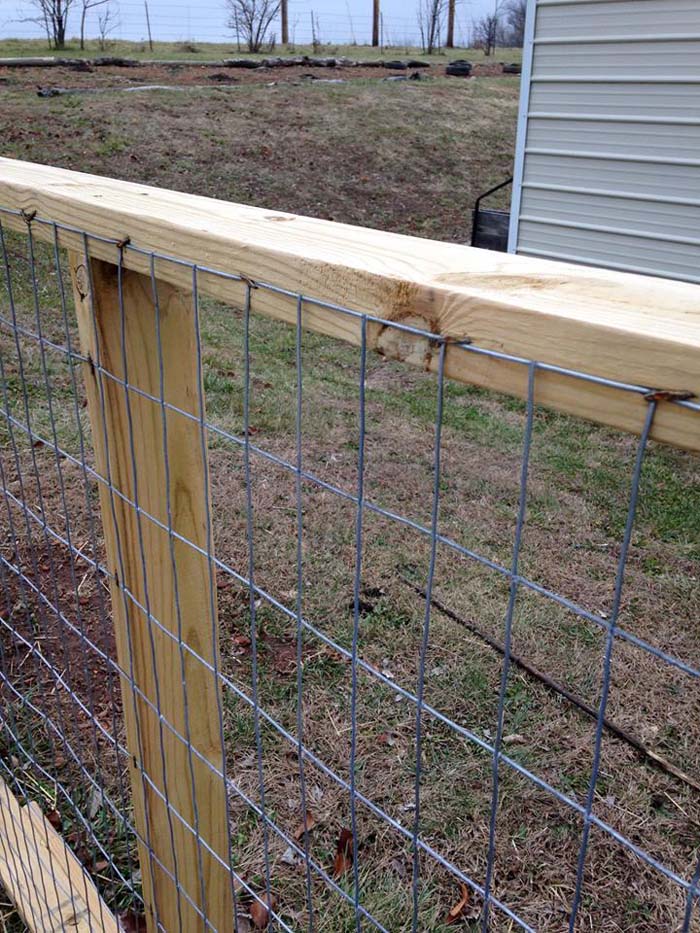 This example in our collection of dog fence ideas is an easy DIY project that can be customized to your own project. The welded wire comes in a roll available in various sizes.
Choose the opening size according to your dog.
Easy installation is ensured by attaching the metal wire to panels made from wood posts. This combination will surely secure your pet for many years.
2. Welded Wire Mesh On Posts And Boards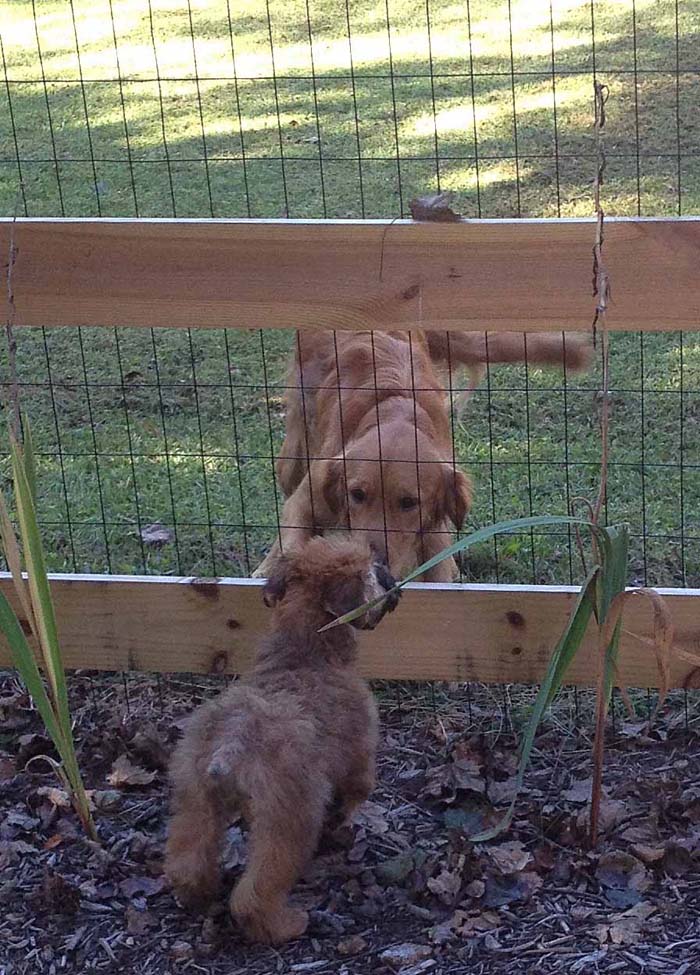 This is a similar dog fencing idea but it is upgraded by adding an extra wooden material in the middle of the welded wire panel.
That addition is needed when the fence is extra high or when the stretching of the mesh needs to be improved.
3. DIY Split Rail Fence With Wire Mesh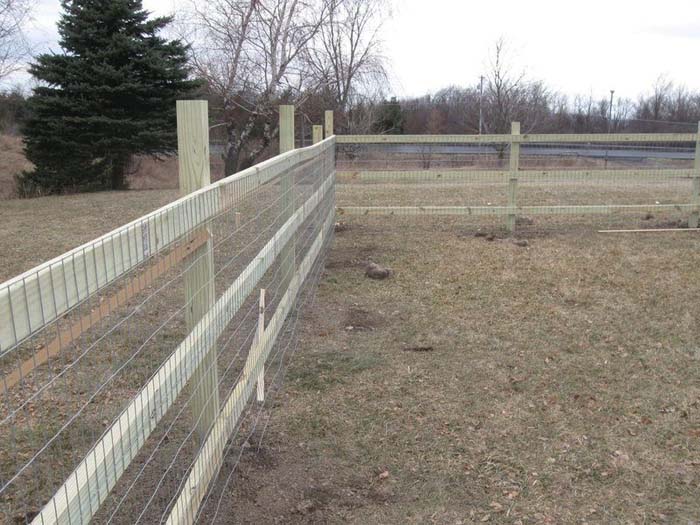 This design of this fence has been called a split rail fence but actually, it only mimics it because there aren't any interruptions of the welded wire.
It follows a wooden structure made from vertical wooden posts and longitudinal boards in three rows. This combination gives the fence rigidity and durability.
via Home Fixated
4. Dog-Proof Decorative Fence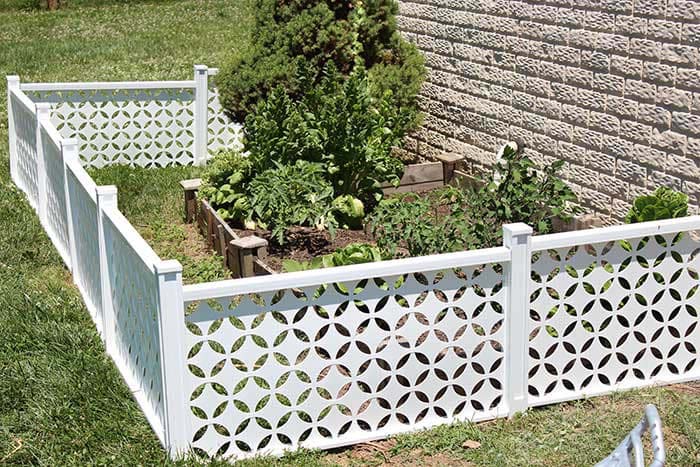 Some dog fences are made to give a garden nook protection from them. If you are happy to release your dog to run all over the backyard but you want to save your flower or veggie garden, you can always install a decorative fence.
Most of the types sold on the market come in a complete set for DIY. The majority are made from vinyl which is good-looking, durable and requires low maintenance.
via Sunny Day Family
5. Lattice And Mesh Fencing Idea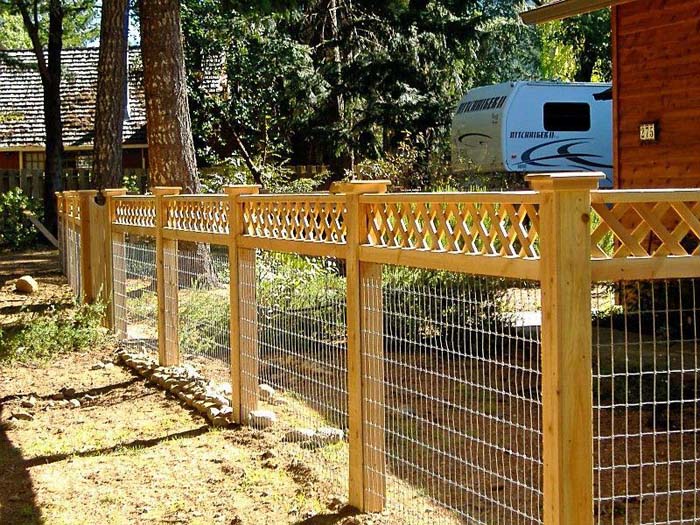 If the dog area is attached to your house, you would love to opt not only for function but also for a good appearance of the safety feature.
This dog fence idea features panels partially covered with welded wire and partially with lattice wood ornaments.
This is a good combination not only for your eyes but also for your dog's eyes because despite the barrier they will be able to see the view.
6. Farm Fence With Wire Mesh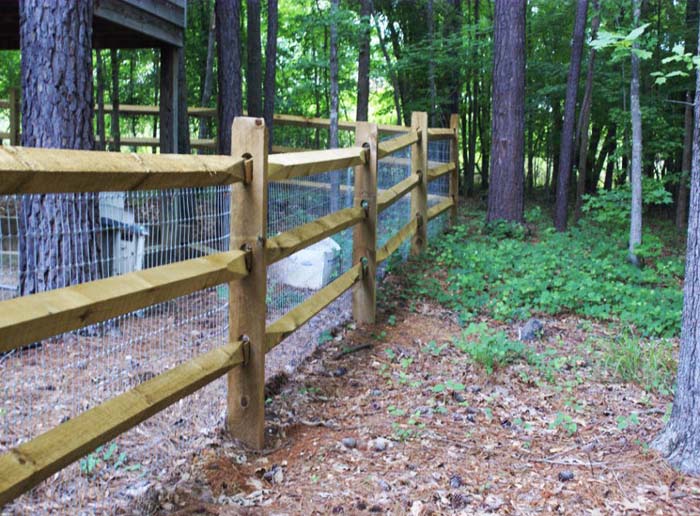 This dog fence type is inspired by the farm fences for strong and jumping animals. In addition to the crossed wood beams, there is a welded wire layer that starts from the bottom and ends at the last longitudinal beam.
The opening of the wire is very small, probably because of the size of the pets staying behind it. Another advantage of the welded wire mesh is that it is galvanized so the weather won't leave its print on it.
7. Fence With A Gate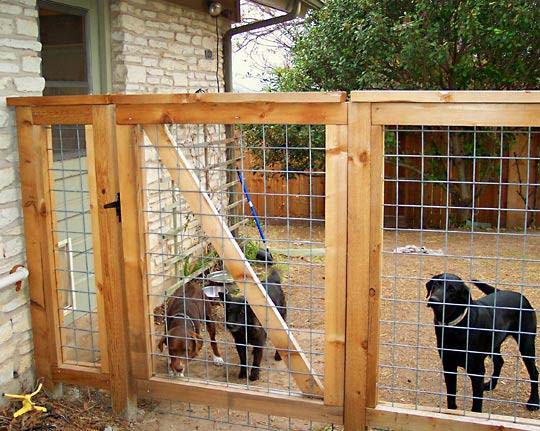 This fence type is more like a barrier attached to existing vertical supports. It is made to suit the opening and features a few wooden panels filled with welded wire mesh.
The middle panel acts as a gate. This could be very helpful if the barrier is created in the middle of the yard.
The fence is also quite tall to protect the pets from escaping and also foreigners from getting in.
via Viking Fence
8. Cattle Wire Fencing Idea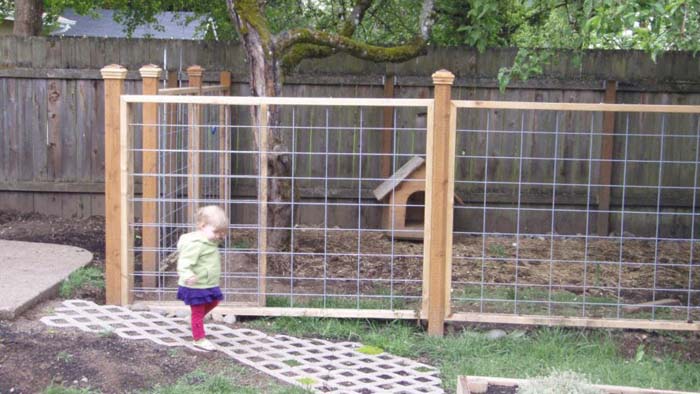 The extra wide opening of the mesh is great for dogs because they won't understand that they are kept within certain limits.
This type of wire mesh is called cattle wire fencing and can be easily attached to wood or metal support structures.
It is also quite affordable so if you want to make a dedicated area for your dogs, the cattle wire fencing is a good option.
via Houselogic
9. Decorated Dog Fence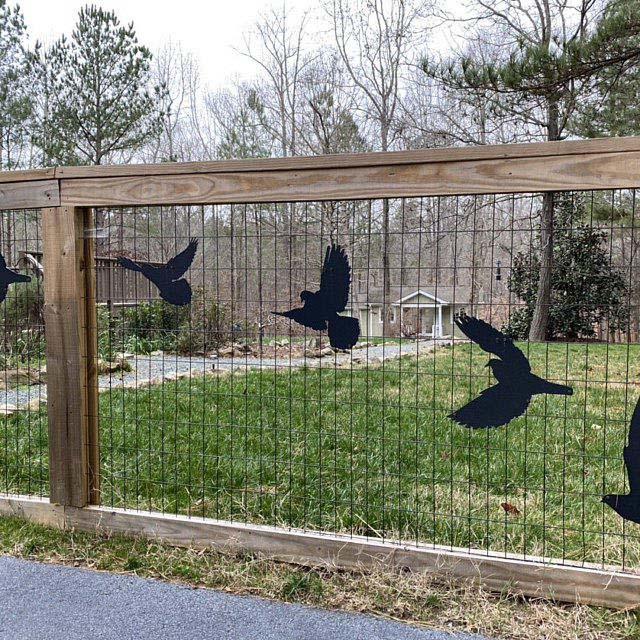 There is a way to make the simpler dog fence more eye-pleasing. You can purchase special wire mesh ornaments to create a point of interest.
The ornaments offered at Etsy are nature-inspired- birds, butterflies, etc.

10. Stylish Garden Fencing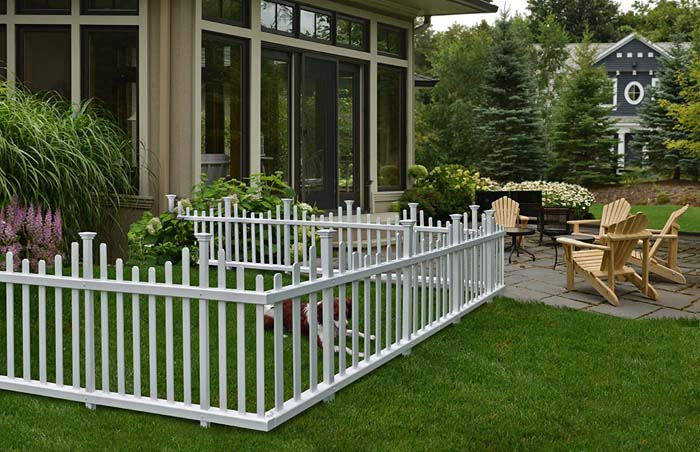 This type of vinyl picket fence is great as a temporary solution for a big dog or for a small puppy.
Its look aims to create a visually appealing close-to-you area where the dog can stay for a while.
It is easy to install with the longer posts included in the set. They only have to be inserted in the ground.
This type of fence can be used vice-versa as garden fencing to prevent the dog from accessing it.
11. Dog Zone With Green Chain Link Fence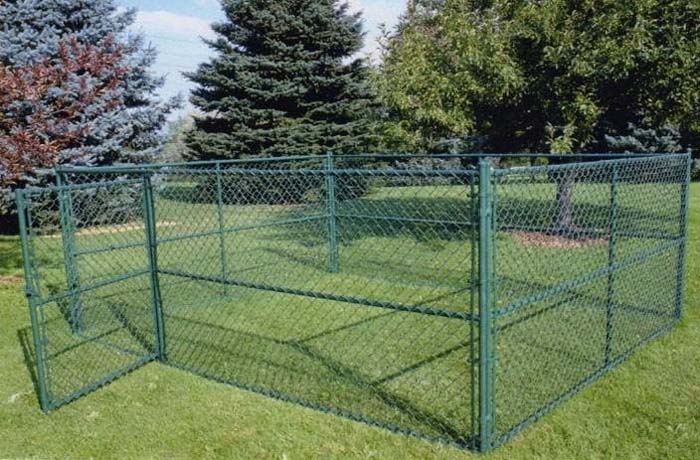 Chain link mesh is surely the most affordable fencing material. If you want to give the fence an appealing overall look, choose the mesh in green or spray paint it green as shown in this image.
The color will create a flawless transition between the new structure and the existing green landscape.
via Gun Dog
12. Dog Area With Concrete Floor And Chain Link Fence
If you prefer to build a dedicated area for your dogs to stay in when you are out of home, this is a good kennel idea.
It is created next to the garage, as an extension of it. There is a concrete foundation for easy cleaning and solid walls.
They feature a combination of picket fence panels and chain link wire panels. With these two panels, you can manage the visibility scope of your pets.
13. Chain Link Mesh On Wooden Structure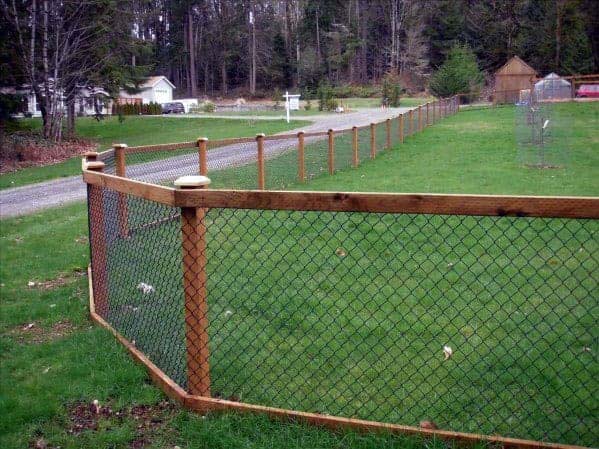 If you want to give the plain chain link fence a great rustic look, upgrade it with a wood frame.
Pine boards and posts are cheap and good for outdoor exposure.
Their reddish color creates a beautiful contrast with the green landscape and the metal wire.
14. Kennel With Metal Parts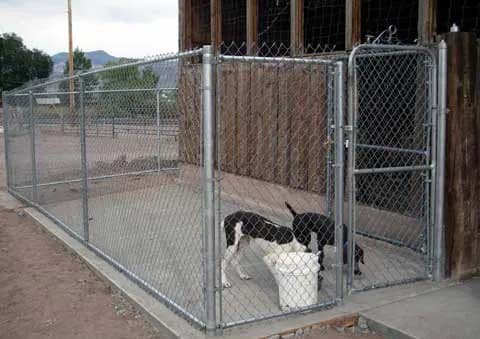 The galvanized chain link wire is more resistant to outdoor conditions than the plain one. It is worth paying a bit more if you are building a permanent enclosure or fence for your pets.
The chain link fencing can be given a better look if supported with galvanized metal tubes.
15. Enclosure Of The House With Woven Wire Panels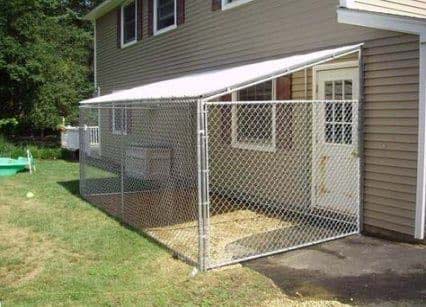 This is how a kennel for dogs can look when built right next to your house. That will let you keep an eye on your dogs from the windows of the room facing the kennel.
The roof can be made from a vinyl board or a thick nylon sheet. The metal support is great for more active dogs.
16. Black Welded Wire And Metal Posts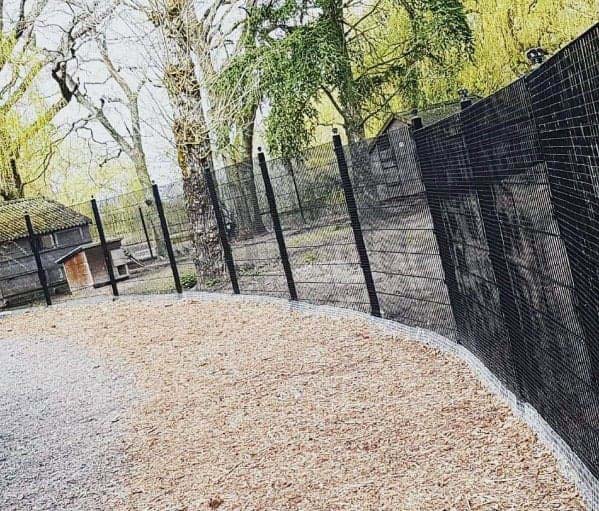 This black metal fence creates industrial interest in the outdoor landscape. The height of the fence panels aims to keep active jumpers within the limits of the fenced area.
Another interesting idea you can source for your dog fence from this image is the ground layer. It is covered with mulch which improves the appearance of the dedicated zone and also ensures easy maintenance.
17. Mounted To Wall Kennel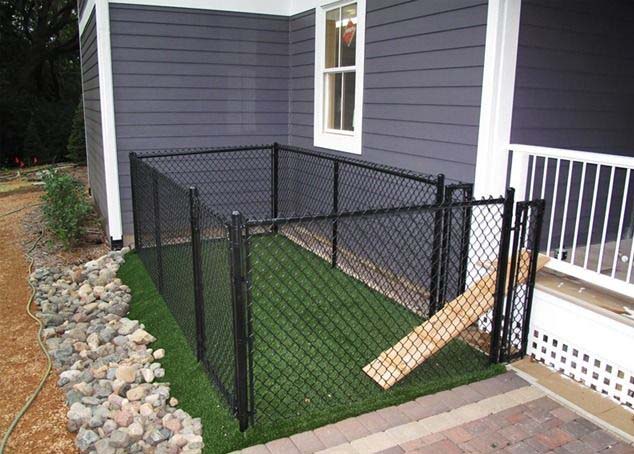 This is a small dog play area created in a corner outdoor space. It is built over a faux grass layer which gives the nook a natural look and will also isolate the dog from the concrete ground.
This pen model is good for any dog size because the openings of the chai link mesh are small.
18. Mounted To Wall Fence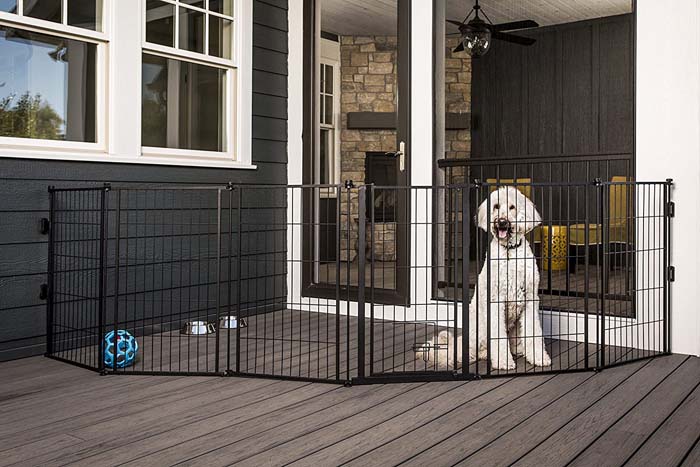 This dog gate is great for small puppies or for curious dogs. It features six 24-inch panels. The end panels can be attached to two vertical supports with screws or be assembled together to form a pen.
With this type of gate, you can keep your dog within a designated area on the deck or on the patio. It is tough and weather-proof.

19. Low White Picket Fence Idea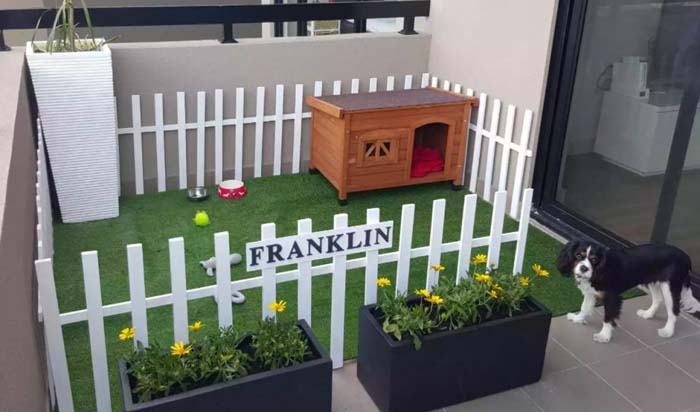 Looking for dog fence ideas for an apartment balcony? Check this short picket fence pen. It can be applied also on a deck or a patio if you want to create a play area for your dog.
The fence idea is a low picket fence that is easy to be assembled and installed with the hardware in the set.
Covering the ground with faux grass is a clever idea because it gives the designated area a homely look.
20. Temporary Fence For A Baby Dog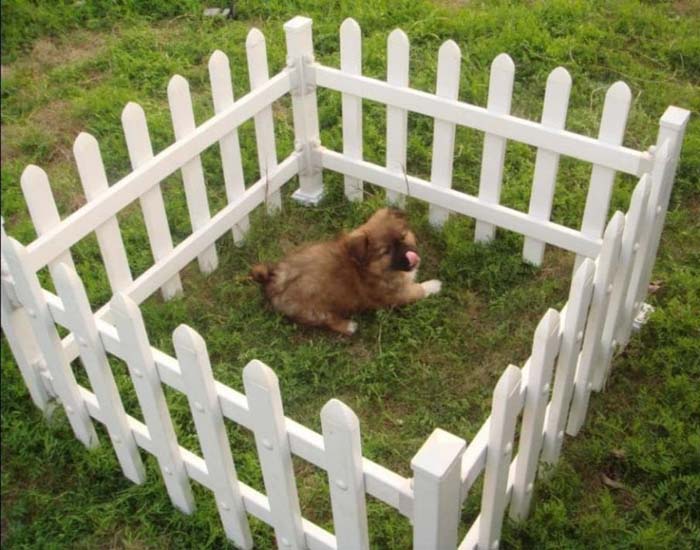 This picket fence set resembles a pen for small puppies. You can keep them inside when you have work in the garden or want to do something outside your house.
This is only a permanent solution for your dog while it is a baby.
21. Wooden Fence Idea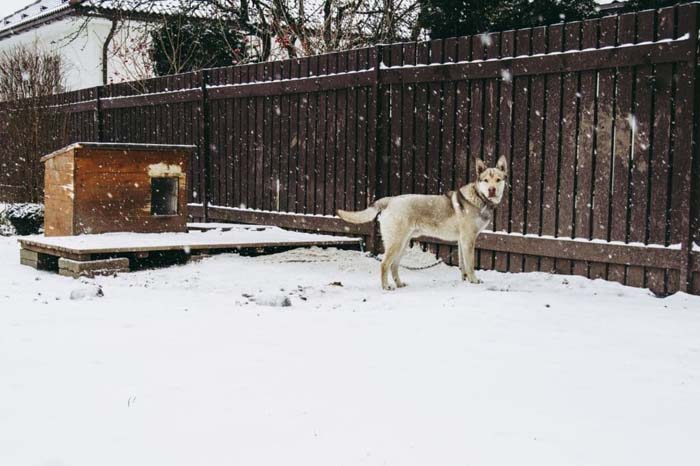 When your dog grows up, it will need a good barrier to keep it away from trouble. This wooden fence idea is one of the best ones for dogs with character. The boards are assembled tightly leaving almost no space between them.
This picket fence design will ensure that the dog has limited sight of the view behind the fence. This is a feature to consider if your dog is larger and more aggressive.
22. A Barrier Fence From Pallets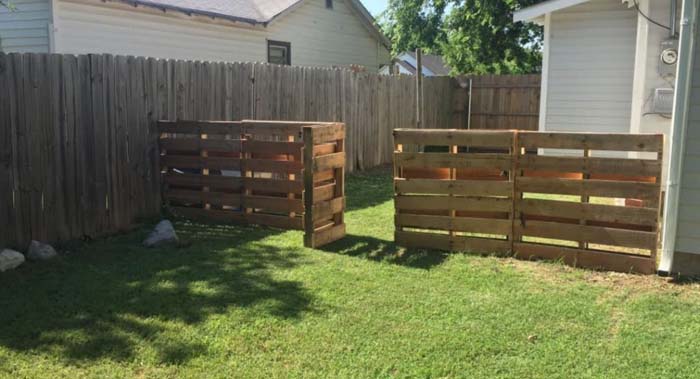 You can create a play area for your dogs with pallets. Upcycling pallets into fences is great not only for the environment but also for your budget.
In addition to that, they add a casual farmhouse touch that matches the garden landscapes.
23. Pallet Fence Idea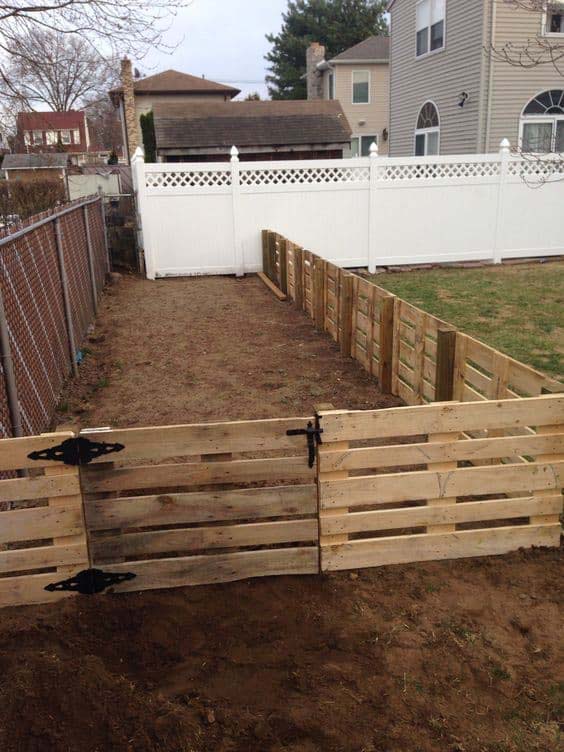 While the example before was more like a barrier, this one is a typical fence structure. The pallets are placed with their longer side on the ground.
There are wooden posts that keep them in a vertical shape and also provide toughness to the fence. One of the pallets is equipped with hinges to act as a gate.
24. Portable And Folding Mesh Barrier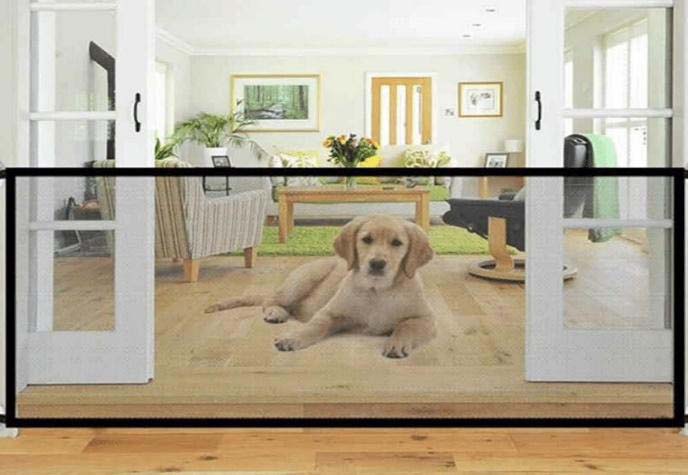 This dog barrier idea is good for indoor applications. It is made from fabric mesh to prevent a dog from entering a certain area of the house.
It is suitable only as a temporary solution when your dog is small and you are teaching it good habits.

25. Freestanding Foldable Fence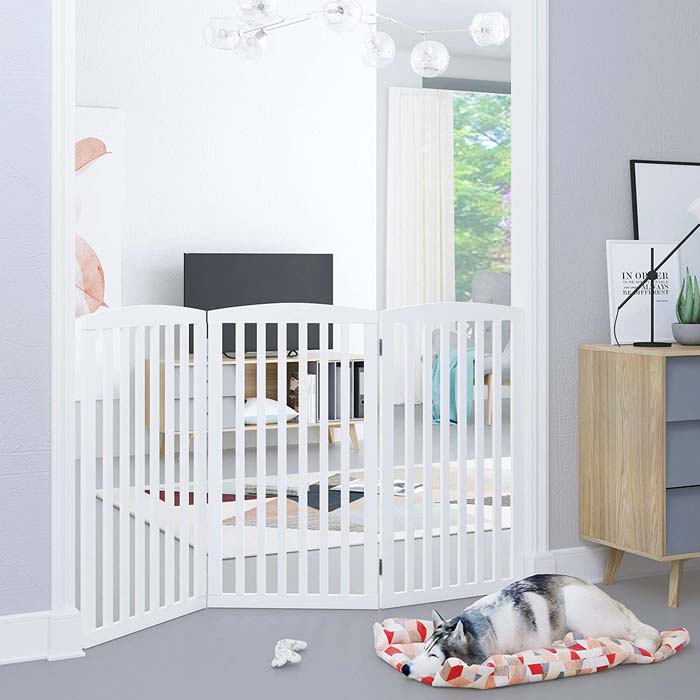 If you are looking for an easy temporary barrier for your pet, this foldable partition is a great product.
It is made of MDF wood, painted in white to match the majority of home interiors.
The slatted design gives the dog a view of the other part of the house which is great because it won't feel lonely or deserted.
This foldable barrier can be used for all standard doorways, staircases or bedrooms.

26. DIY Pet Gate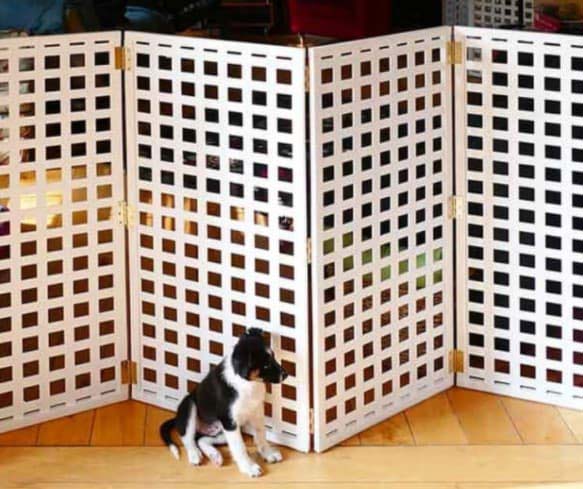 If you have loved the foldable screen for pets but you need a taller version of it, why not make it yourself?
Once your dog grows up, you will surely find a new application of the pretty movable partition. The screen can be folded to one side or taken out of your way easily.
You can also customize the project by using another wood pattern such as lattice or another color of the wood if you want to create a bolder farmhouse look.
via Jennifer Maker
27. Commercial Grade Fence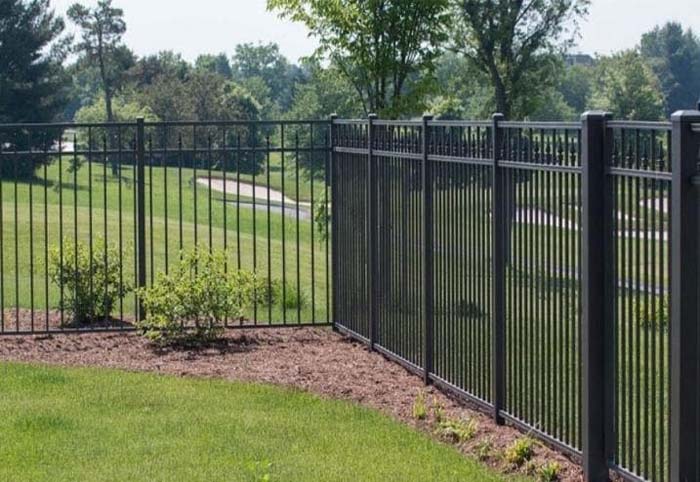 This type of metal rod and posts fence is for large strong dogs. It is tough, tall and at the same time good-looking.
This is thanks to the option for adding an ornament to the end of the rod which mimics a wrought iron make.
28. PVC Vinyl Fence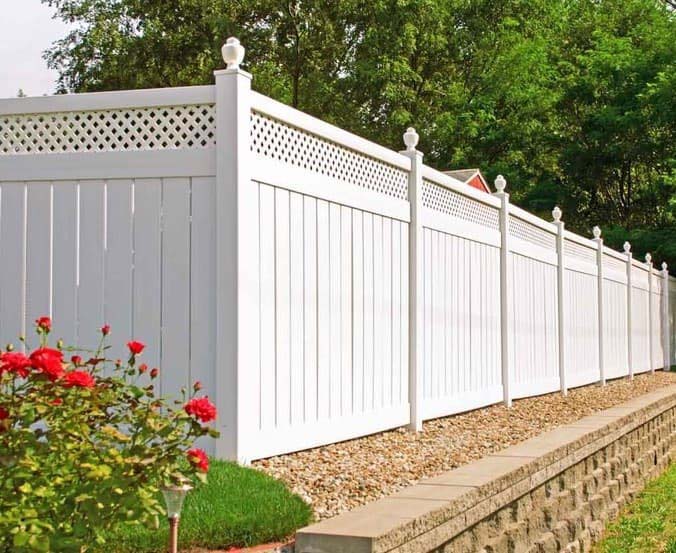 If you don't want to escape from the traditional fence look but at the same time you are looking for a tougher and more durable solution, go for the vinyl fencing.
Indeed, it costs a bit more than the standard wood fence but it will keep your pets better protected. If you want to minimize your spending on the vinyl dog fence, check the sets for a DIY assembly.
29. Cheap and Easy To Make Chain Link Fence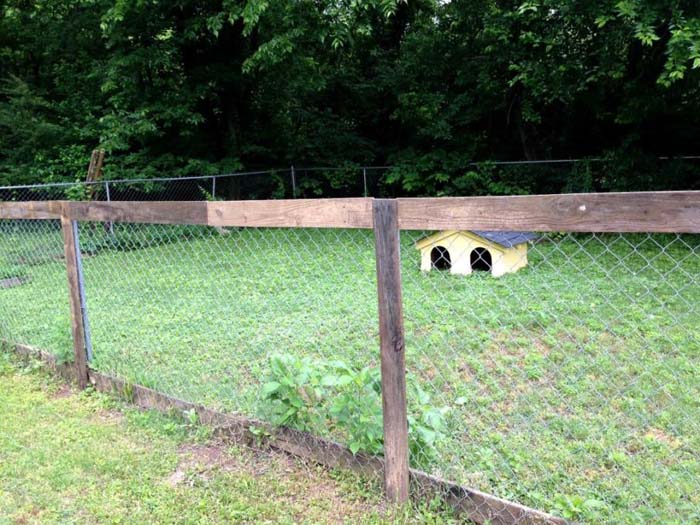 This example wants to inspire all of you that think that they should get rid of the ugly chain link or chicken wire fence. Before you dismantle the fence, take a second thought and read the article below.
The existing dog chain link fence has been turned into a charming rustic fence by adding fence boards.
No need to rework anything on the existing fence support. Fixing the boards to the metal pipes happens with pipe straps that are well hidden by the boards.
30. Backyard Dog Fence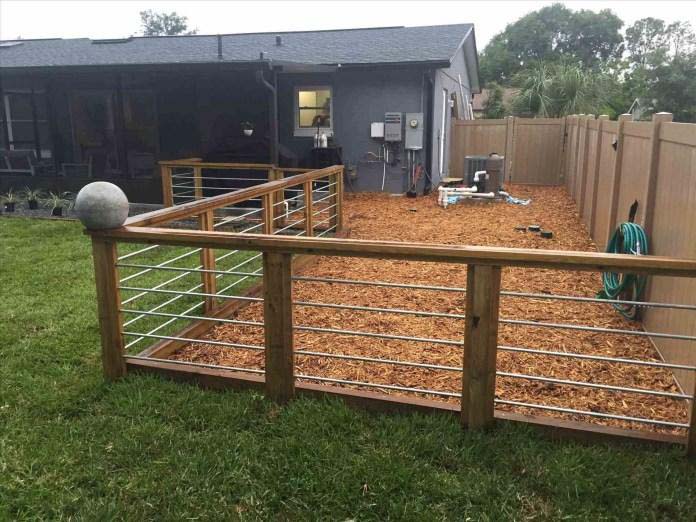 This is quite a big playpen for dogs; it looks pretty good! The combination of metal rods and wooden posts has been surely chosen to create a rigid fence structure.
Luckily, it also makes a good aesthetic addition to the backyard yard.
31. Low Pallet Fence
When you quickly need a fence to trace a dog play area, it is most clever to use pallets. If you don't find the needed quantity for free, then you can surely buy it on a deal.
The size of the pallet limits your options when it comes to the height of the fence so if your dog is of a larger breed, then you should choose this dog fence only for a permanent solution.
In case your dog is small and not keen on jumping, then the fence can stay for as long as you wish. You can stain the wood or paint it to give it more character and a better appearance.
via Hometalk
32. Invisible Pet Fence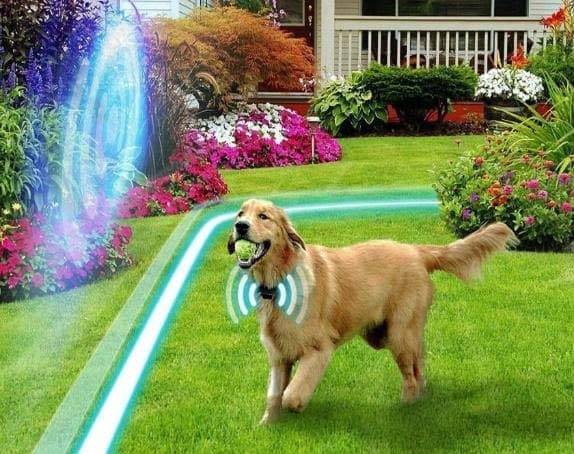 Invisible pet fences are an innovative solution for keeping curious dogs within a set area. There are a few well-known and good-working models already on the market.
You can choose depending on the area coverage, the number of accessories to be worn by the dog and other extras. This product type is actually an electric dog fence with limits set by you. The shock collar on your pet's neck gets activated when the dog crosses the invisible boundaries.
If you want to create a fence for your dog, why not try an invisible type first and see if it works for your dog? It will surely save you a lot of effort and money.