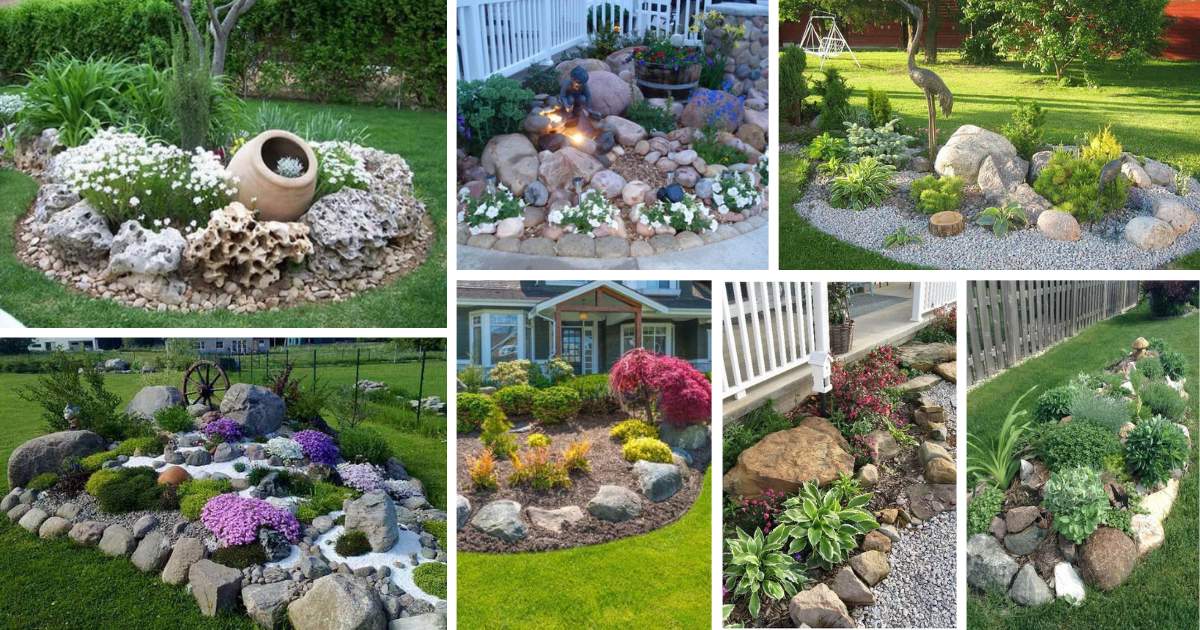 A rock garden is what you need to add to your landscape to refresh it with natural beauty.
What is the most low-maintenance garden?
A well-maintained garden is a joy for all senses but it can cost a lot of work, especially with its maintenance including weeding out. There is one visually appealing garden type that keeps weeding out to a minimum and that is the rock garden. It offers a low-maintenance and inspiring landscape focal point.
What items to put in a rock garden?
Any rock can be part of the hardscape of the rock garden. Choose drought-tolerant varieties like succulents, alpine plants, and woody herbs. Use shrubs to create a visual interest in height and low creeping varieties to cover the larger stones. Don't forget to add a whimsy feature such as a fountain, a bird bath or another garden decoration.
1. Nature Art Rock Garden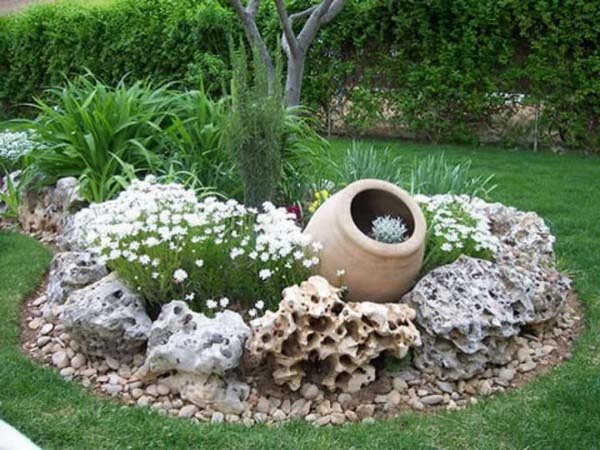 Rock garden ideas usually showcase round and smooth rocks but in this rock garden idea, we see a print by nature. Large rocks act as a border of this rock garden bed.
The hollows in the stones give the arrangement an artistic overall look. The plant varieties vary in height and texture to create together a symmetrical fresh bouquet.
2. Small Mountain-like Rock Garden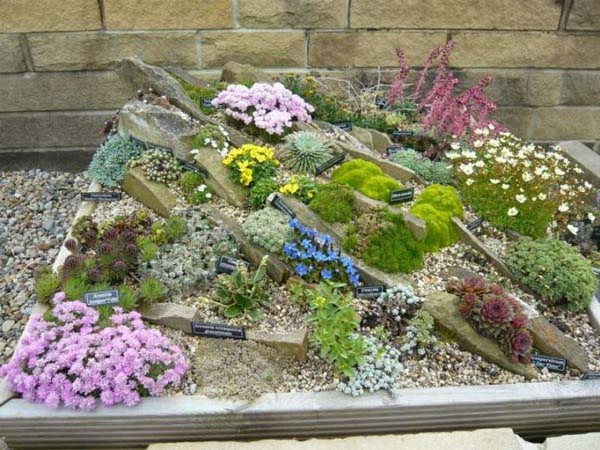 Another idea for rock gardening features an arrangement of ascending height of all flat rocks. This low-maintenance rock garden idea resembles a small-scale mountain.
Succulents, moss and seasonal flowers cover the rocks creating a vivid natural carpet.
3. Succulent Rock Garden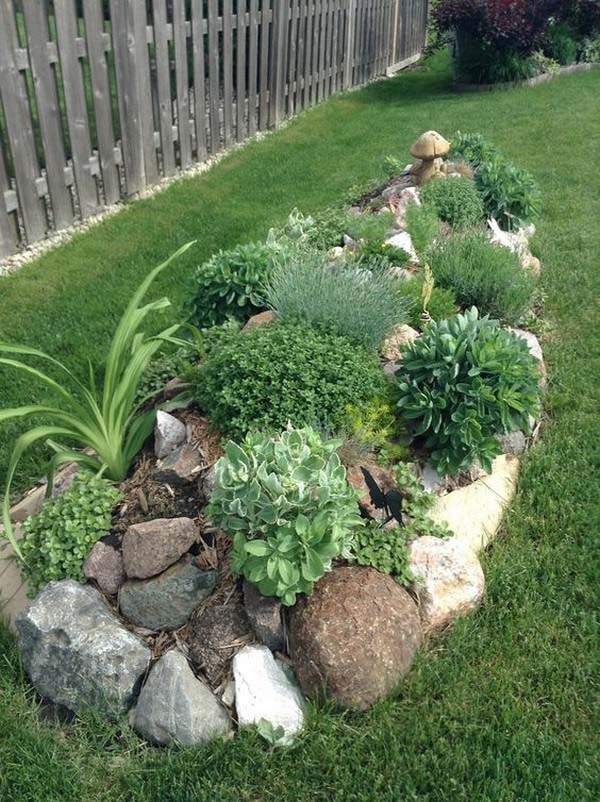 This is a unique rock garden idea with cacti and succulents that will instantly become the outdoor space's focal point. The garden shouldn't be big.
A compact one being narrow but long will add a sculptural touch to the even green lawn.
These varieties require minimum maintenance and are drought-resistant.
4. Rustic Alpine Rock Garden Idea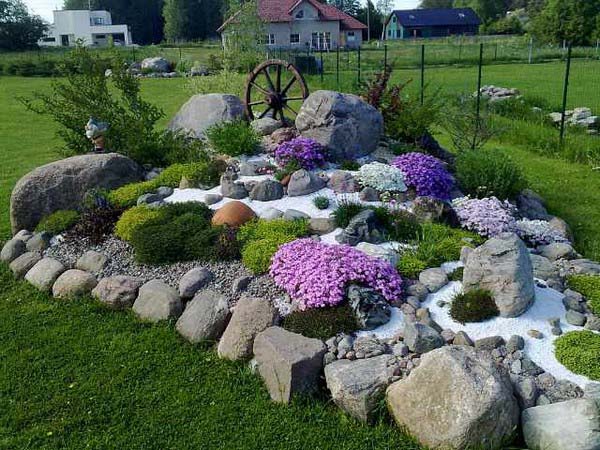 Enjoy an elegant rustic look in your backyard with a rock garden, flowering tufts, and low greenery. The flower varieties and the ground cover kinds form lush tufts which require minimum maintenance. The color scheme is green hues and accents in pink and purple for a cottage look.
Large stones outline the garden bed while small rocks are used as an overlayer of the soil and filling of the gaps between the large stones.
5. Rock Garden With Seasonal Flowers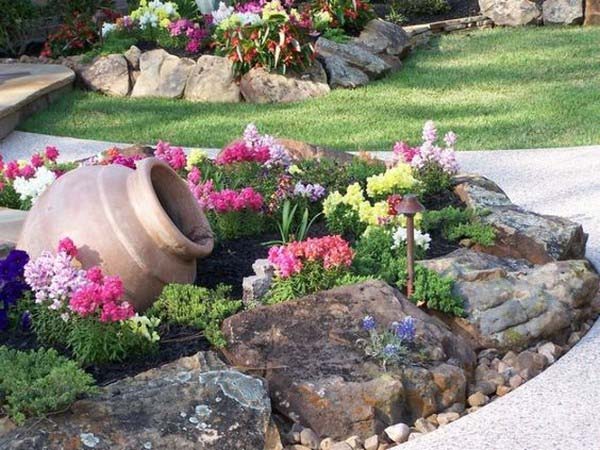 Are you looking for rock garden ideas with blooming flowers? This garden idea will sensibly impact the back or front yard. The blooms' bright colors contrast the large stones' grey hues and the mulch overlayer.
The fragrant seasonal flowers are complemented with rustic decorations, which enhance the interest of this low-maintenance rock garden.
The rock garden features a border of the garden bed made from large stones and a filling of small rocks.
6. Irregular Shape Rock Garden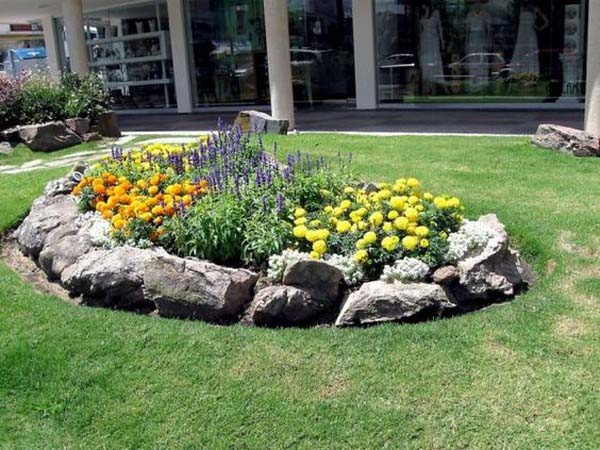 This is one of those rock garden ideas that impacts with its non-traditional shape.
The blossoms of the tagetes resemble lamps spreading brightness in a sea of grass. They are planted within the limits of a round-shaped rock garden in the middle of the front yard.
7. Dry Creek Rock Garden Idea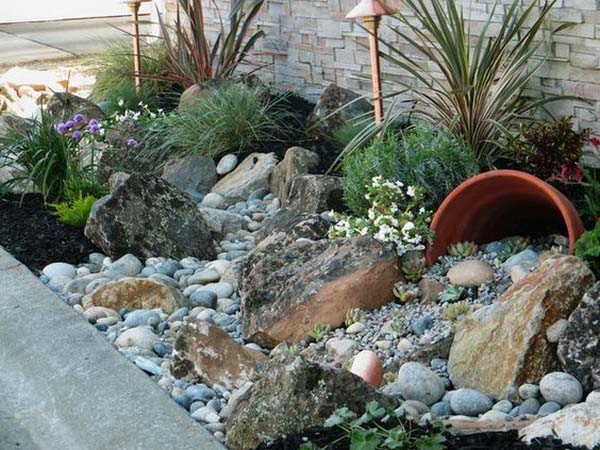 To achieve the maximum visual interest in the rock garden, use different textures of plants and rocks. Vary them in height, color and size to create a cohesive arrangement.
This low-maintenance rock garden idea is a good example of this practice featuring a dry creek as a focal point.
8. Edging Rock Garden Idea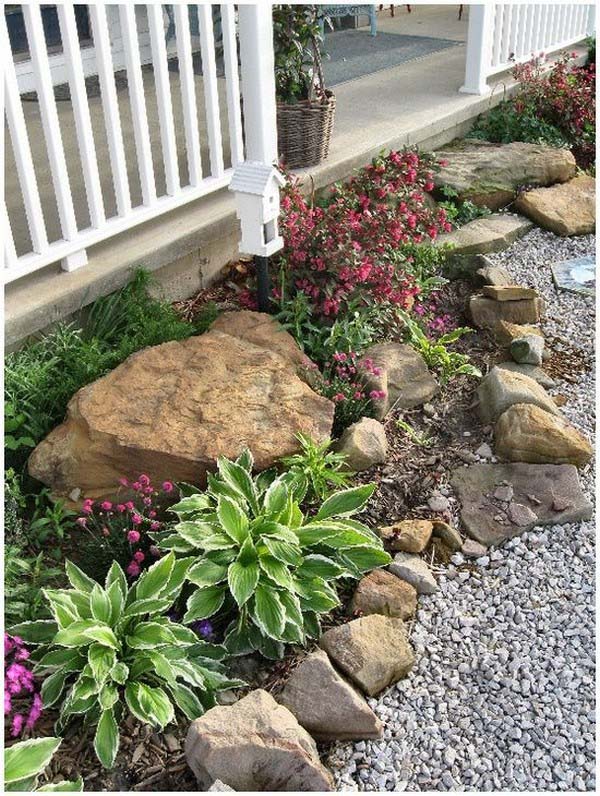 Rock gardens are not only beautiful but also functional. Placing the rocks as an edge next to the front porch fence will keep small pebbles and mulch in place.
The edging rock garden is also great for designing the landscape and create a beautiful nook with plants.
9. Alpine Plants Between The Rocks Idea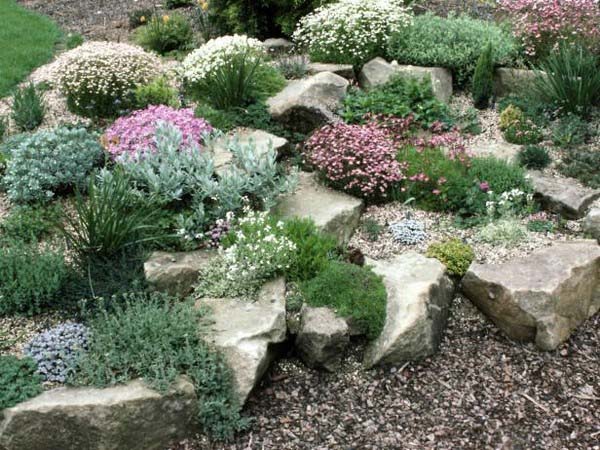 Filling the spots between the rocks with alpine plants, either flowering or green, will add interest, color and texture to the outdoor space.
Native plants for the mountains are usually low in height or ground covers and do not require any specific care.
10. Fairy Garden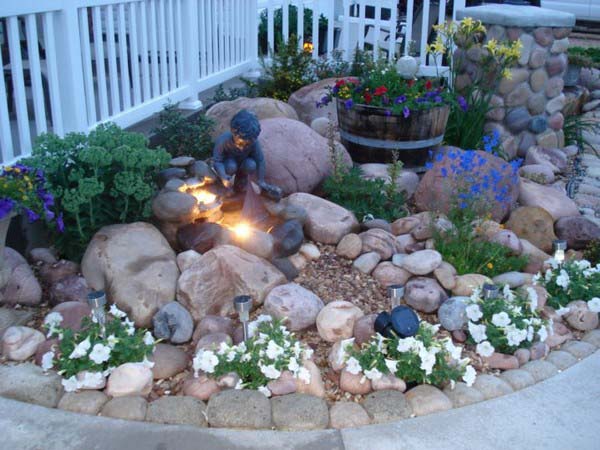 Create your small but whimsical rock garden with small figures and items for an enchanted look. You can add a small fountain or use a rustic bucket and a water pump instead.
A water feature and a rock garden collaborate perfectly together to create a relaxing outdoor corner.
Add solar lamps and other small-scale items to complete the scene.
11. Raised Bed Garden Idea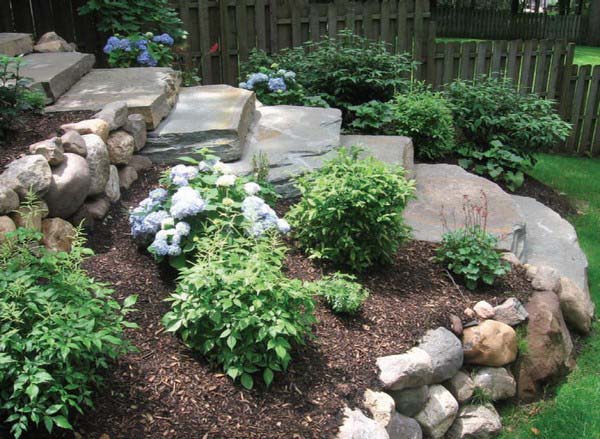 This is another way to use rocks functionally and decoratively. The garden bed is raised and large stones act as support keeping the mulch in place. The visual interest they create is expressed through contrasting their grey hues with the dark brown mulch.
This is a great landscape idea for a sloping yard and a beautiful way to decorate the sides of a stair made from stepping stones.
12. Rock Garden With A Fountain From Flagstones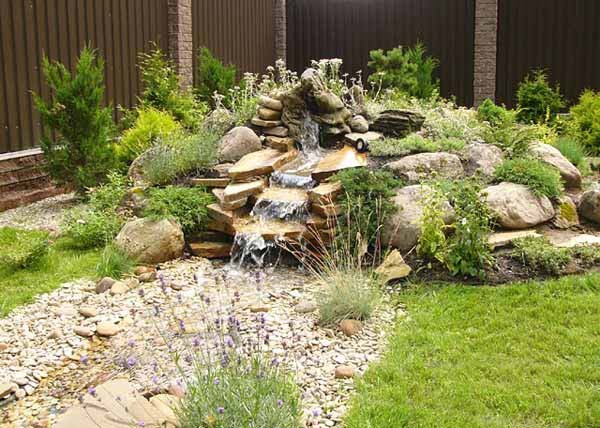 Sandy soils do not offer many options for gardening but they are perfect for a rock garden with alpine type of plants or ornamental varieties that are drought tolerant.
Rock gardens go perfectly well with a water feature. A fountain made from flagstones or a ready-made fountain surrounded by the rock garden will turn this nook into an oasis. The murmur of the water will tranquil your senses and the water will attract wildlife.
13. Blended Rock Garden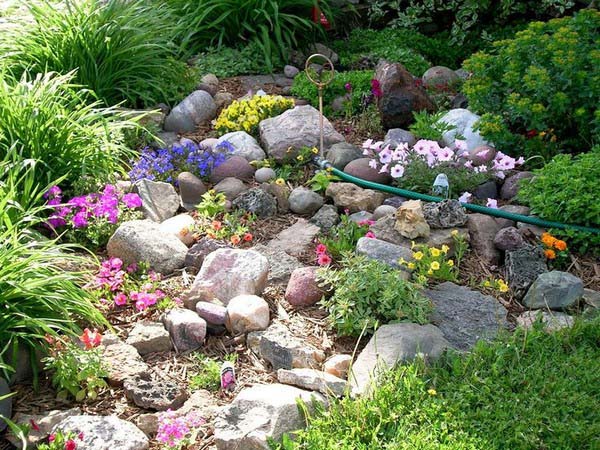 This rock garden is designed to blend seamlessly with the surrounding landscape. There is no border between the nooks of the outdoor space, actually, the green ornamental grass and shrubs are like a transition element between the rock garden and the surrounding backyard.
When you create such a blending rock garden always consider the partial shade made from the adjacent plants.
14. Rock Garden With Mulch And Large Stones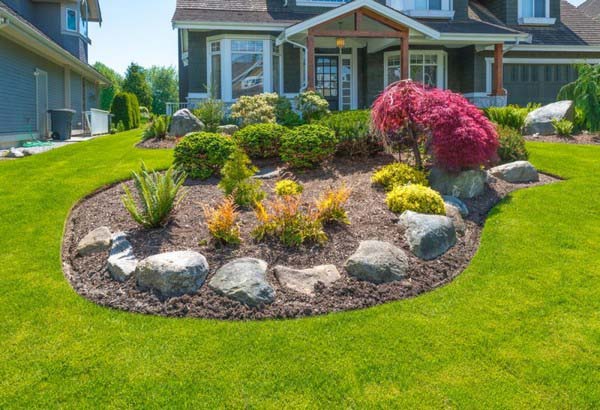 This well-maintained lawn is given character with a rock garden oasis in front of the house. The mulch differentiates the garden from the surroundings, creating a beautiful contrast for all plant varieties to stand out.
Stones are a stunning finish touch to this small garden bed giving it a more natural look.
15. Pebble Rock Garden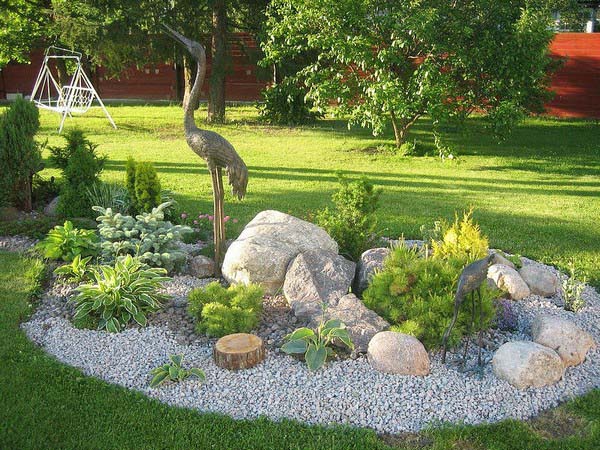 Adding an overlayer of pebbles over the soil will make maintenance even lower.
Small rocks like gravel will keep the weeds away and ensure good alpine plant varieties' drainage.
16. Rock Garden With Evergreen Plants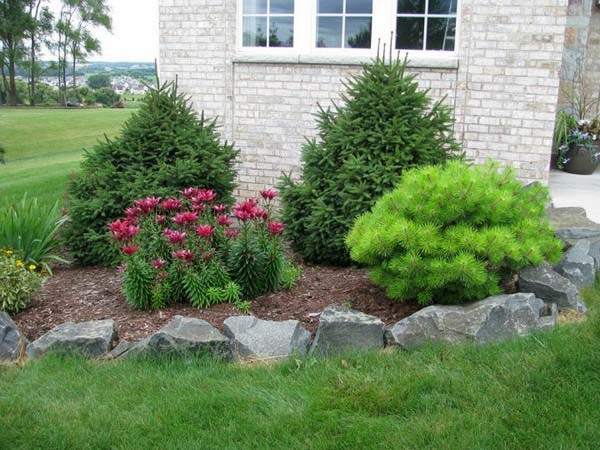 Extend the joy of the fresh garden look by planting alpine plants in the rock garden bed. Evergreen shrubs and low varieties will cheer you up with their evergreen foliage and lush green hues.
17. A Relaxing Corner With A Rock Garden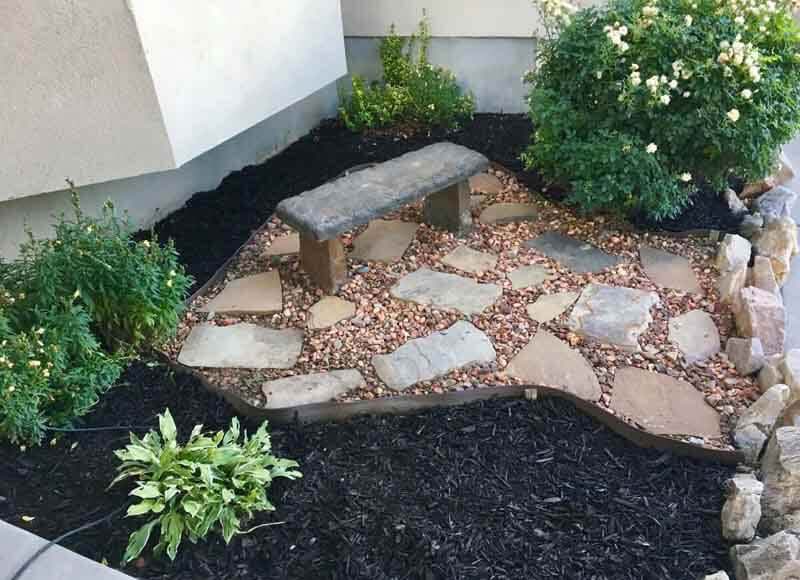 This idea from our collection of low-maintenance rock gardens features a sitting nook with a small bench and a surrounding garden.
The rock garden plants featured here are only a few shrubs planted in a garden bed with a mulch overlayer.
18. Japanese Zen Garden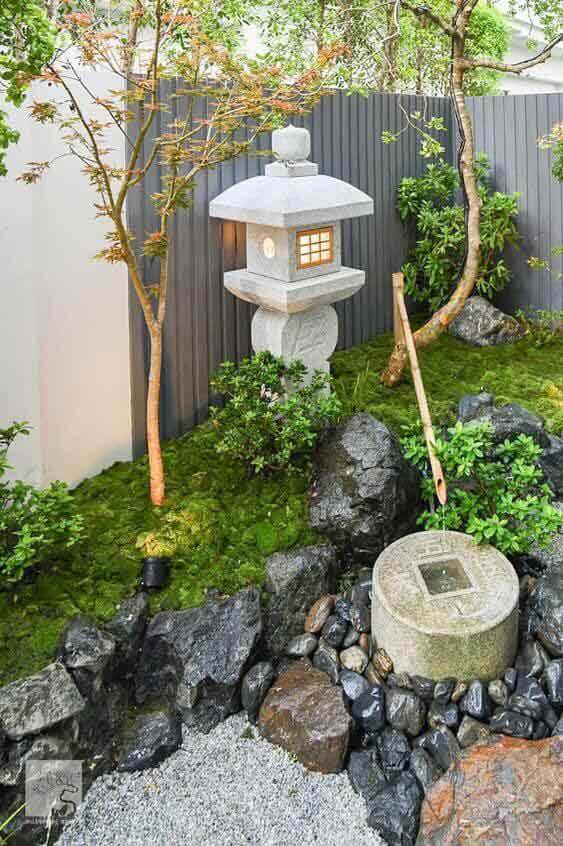 Some garden designs in our collection of low-maintenance rock gardens feature an exotic overall look. The dark stones embracing a light stream flowing from a bamboo spout feel the Japanese influence.
The stone collector beneath the spout is an antique piece that enhances the enchanted feel in this relaxing corner.
19. Covered Rock Garden Idea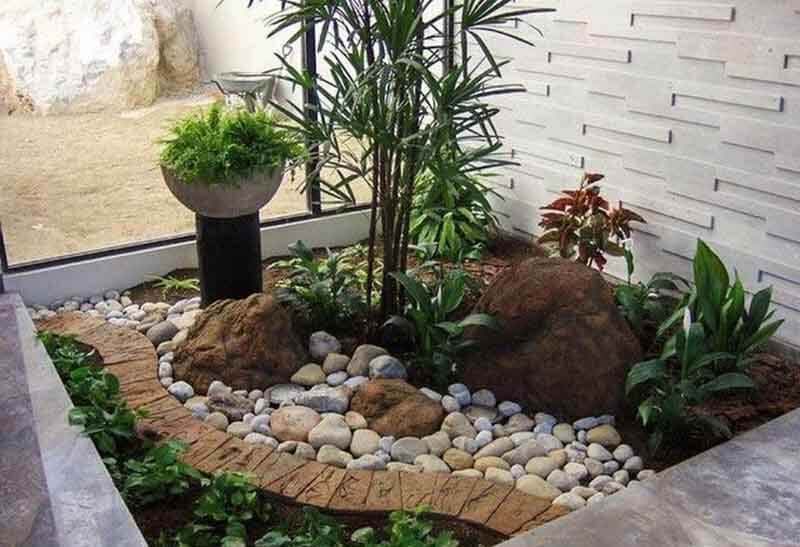 Landscaping a rock garden doesn't always mean a part of the garden covered with rocks. You can make it in any free space on your property, even a covered corridor.
20. Create Circular Patterns Throughout Your Garden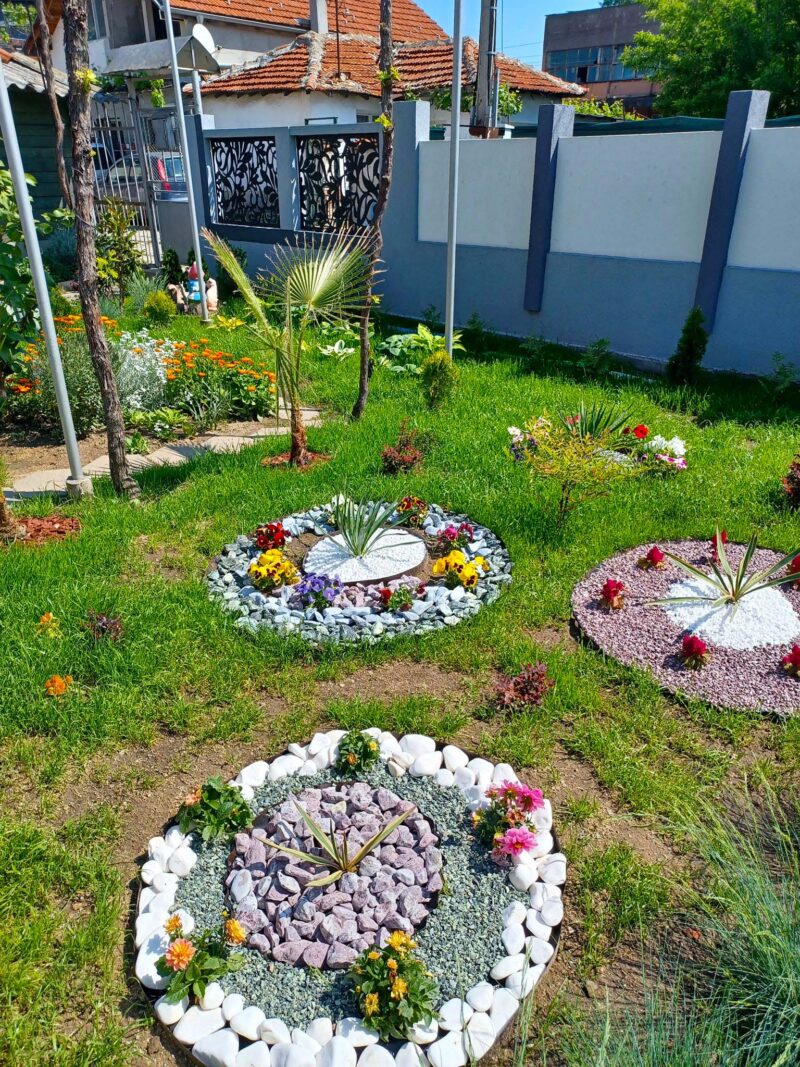 via Maria Gluahrska
This idea from our collection of low-maintenance rock gardens is performed on a covered porch, in a small corner. The arrangement including river rocks, flagstones and large stones and ornamental plant varieties impacts the overall atmosphere adding an exotic flair.