"Nothing improves the function and appeal of a landscape like a properly designed walkway." This is the quote that inspires our post today.
It is dedicated to walkways built from pavers. For many years now pavers succeed in replacing concrete flooring and there are many reasons for that.
Pavers are easy to install, even with your own hands. Secondly, maintenance is lowered to a minimum. Paver walkways are far more cost-effective than laying concrete mixtures.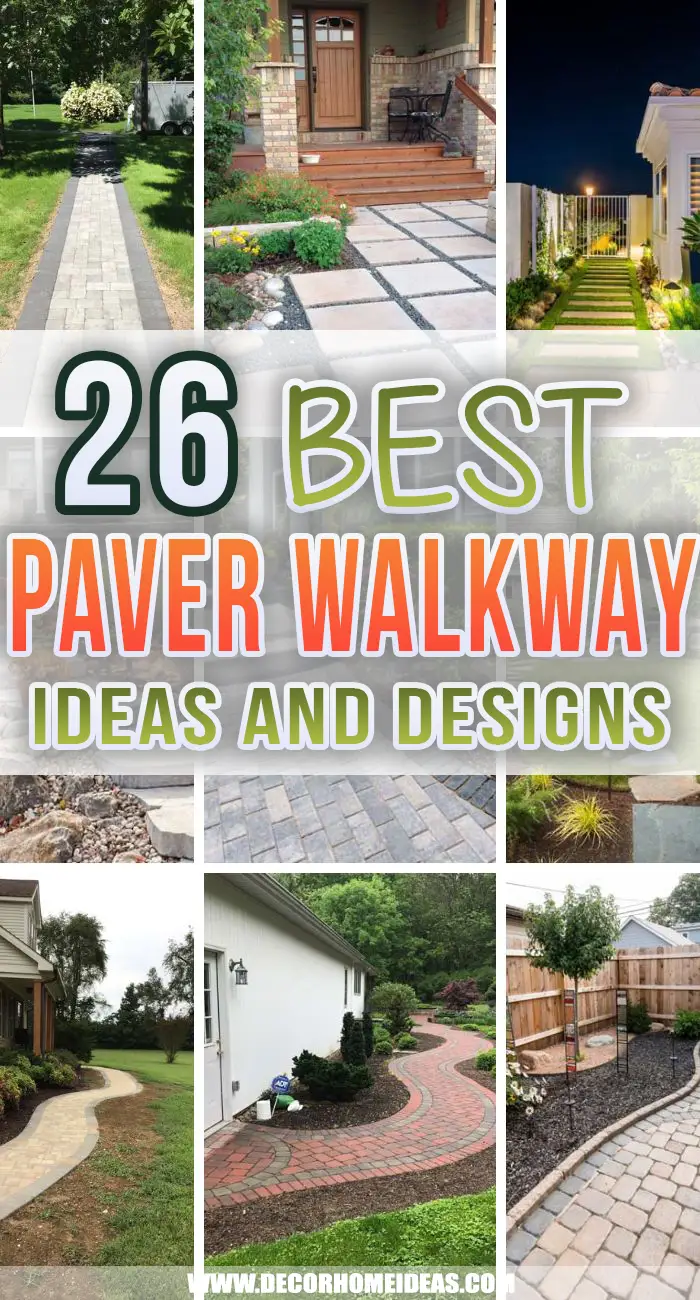 Last but not least, nowadays there is a wide variety of textures, shades, sizes and alignment patterns that enhance the aesthetic of the outdoors.
While in the past there were only three types of pavers, nowadays we can choose from 7 main types which differ in the structure material. You can find paver blocks in concrete, brick, flagstone, marble, travertine, porcelain and cobblestone, rubber and plastic.
Choose the best paver material according to the place for installation, its durability and your budget. And if you don't have an idea of the paver types and how they can be used to improve the curb appeal of your garden, our article 26 Best Paver Walkways Ideas And Designs will help you do it.
1. Concrete Paver Walkway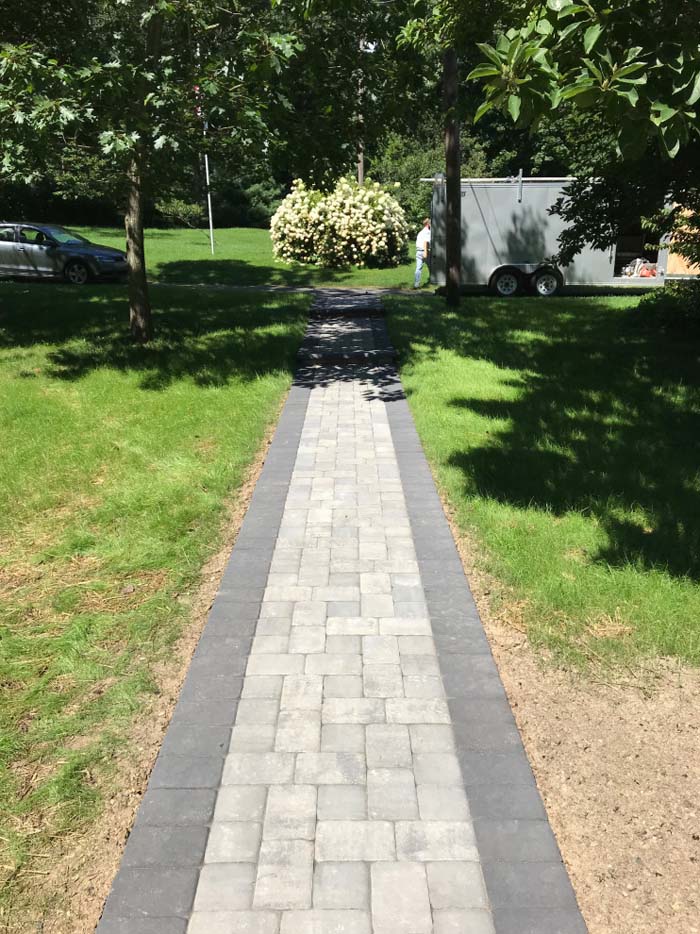 Concrete is the most used material when it comes to outdoor applications. And instead of laying it in a continuous layer, the concrete pavers help you fight one huge problem- the cracking of the cement.
Concrete pavers are offered in different sizes and shapes. Being separated in blocks minimizes the load bearing and prevents them from cracking.
via Stoney Mountain Construction
2. Flagstone Pavers For A Whimsy Gardenscape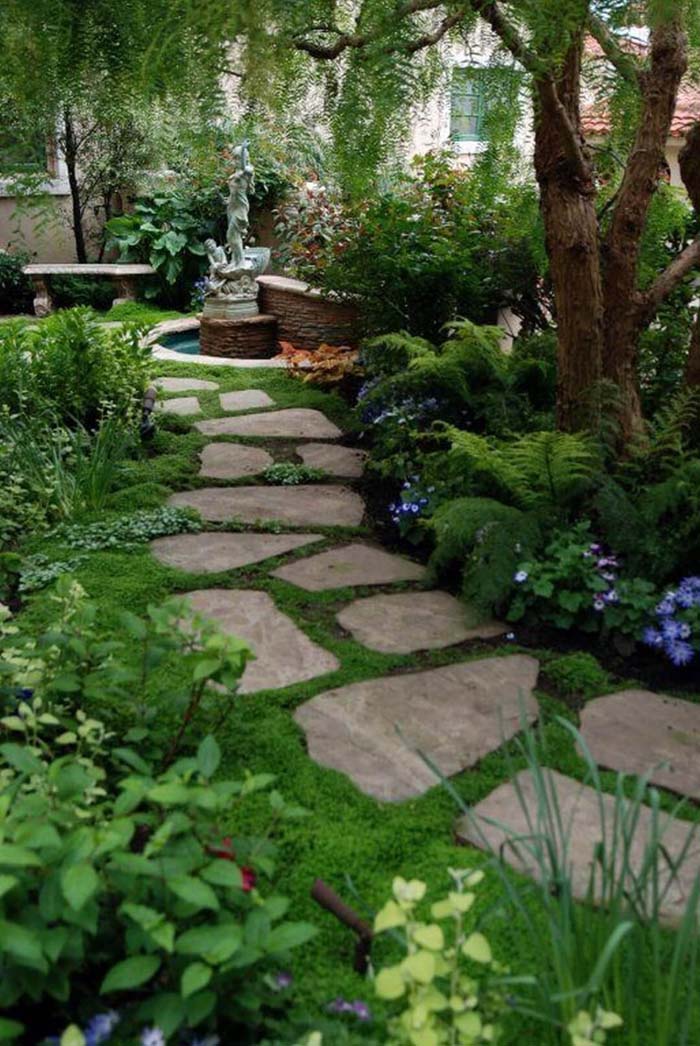 Flagstone is the most popular stone paver type. It is preferred for its natural look and large size.
This walkway alignment features large flagstones positioned at a distance leaving gaps for grass to grow.
The stepping stone path is curved to trace a lane through the garden that is surrounded by flowers.
If you choose flagstone paving for your walkway, you should know that it is not sustainable for high-traffic areas because it can easily break. This is why people use to install it mostly in their gardens.
3. Concrete Blocks And Gravel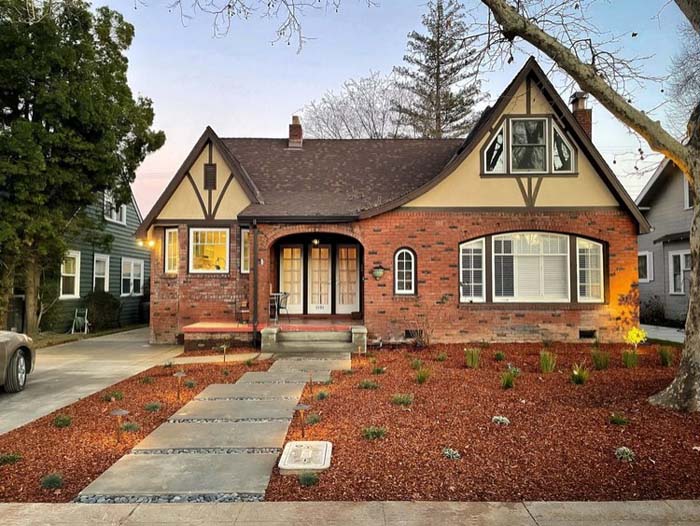 This is a customized concrete paver walkway. It features large rectangle blocks placed onto a crushed gravel base. Filling the gaps with gravel is visually aesthetic but also limits the growth of weeds.
This concrete paver walkway is straight leading you directly to the front porch of the house.
Its neutral color blends beautifully with the rustic architecture of the house giving it a contemporary touch.
4. Hew Stone Pavers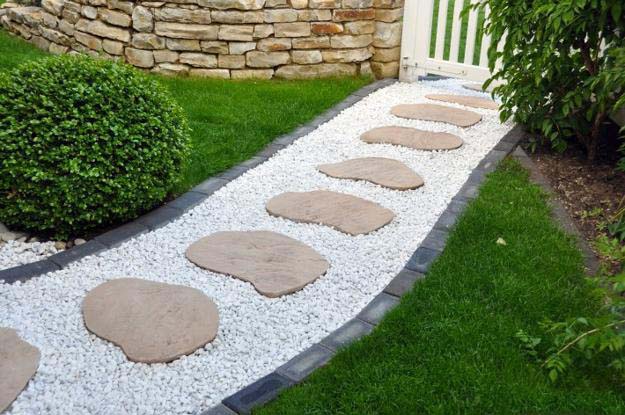 This stepping stone type is called hew stone paver because of the forced modification of the natural shape of the flagstone.
It has round edges that are untypical for a natural stone. The pavers are laid on a white gravel bed forming a symmetrical walkway to the garden gate. The gravel base is differentiated from the garden with simple brick pavers.
This paver walkway offers a rustic aesthetic which is great for landscape designs with grass, trees and flowers.
5. Porcelain Paver Walkway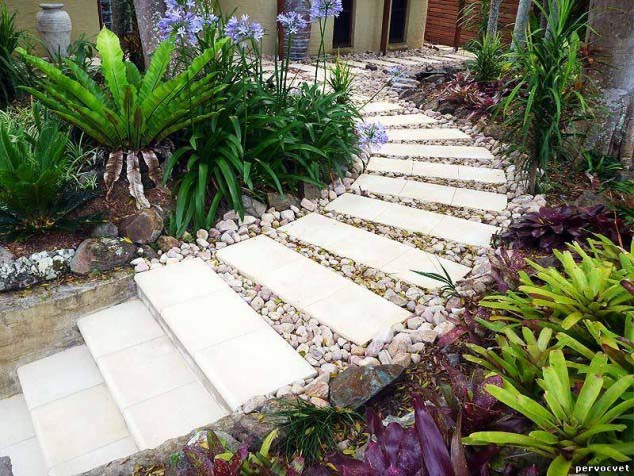 Porcelain pavers are made from clay which is tempered by baking at very high temperatures.
This treatment makes the clay very durable and also gives it a nice shiny surface.
You can find porcelain pavers in a wide variety of textures sich as wooden and stone.
Another advantage the porcelain pavers offer is their price which is far more affordable than other paver types on the market.
6. Natural Look With Flagstone Pavers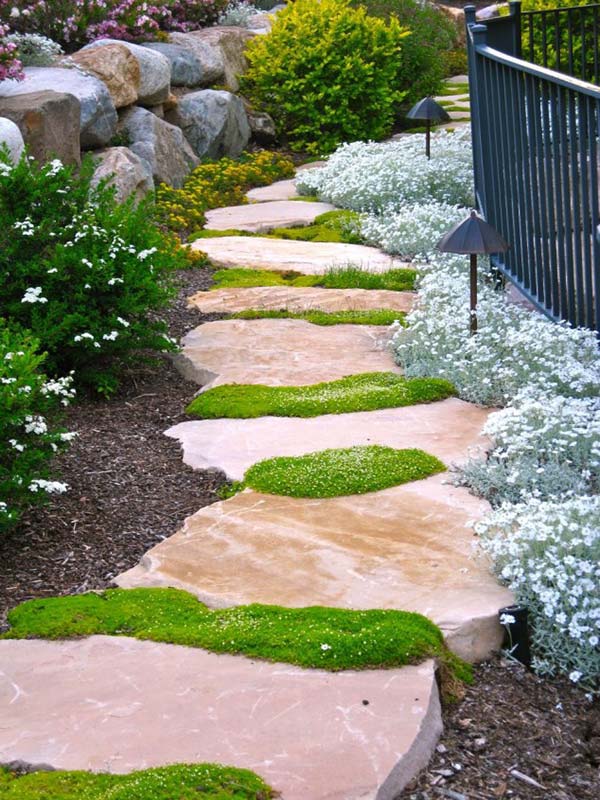 As we already mentioned, the flagstone paver is one of the most commonly used paving types for the garden.
If you go for a natural-looking stone, then you can create your own unique pattern inspired by the individuality of each stone.
The flagstone pavers look best when placed at a distance with gaps filled with gravel, mulch or greenery.
You can plant moss or grass in these gaps and create a forest walkway in your own garden landscape.
7. Natural Stone Porcelain Pavers Walkway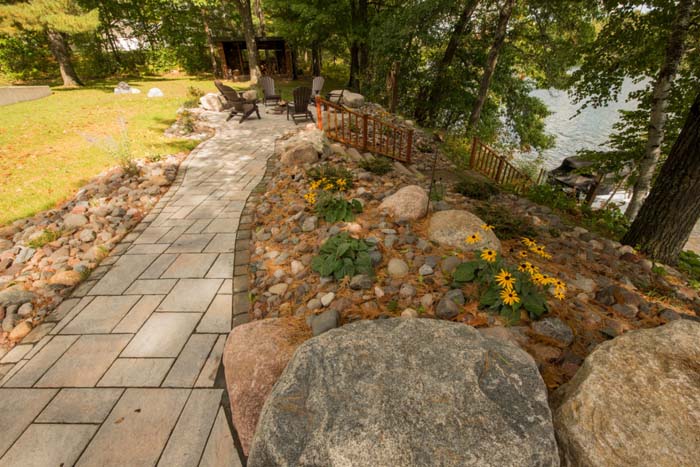 This is one of the textures of the porcelain pavers offered at the market. The shades and the texture remind natural stone but without unevenness and irregular shapes.
The porcelain pavers come as blocks with perfect lines that ensure appealing alignment and easy installation. Because of the stone texture, they are a good choice for a walkway through a rock garden.
8. Bluestone Paver Walkway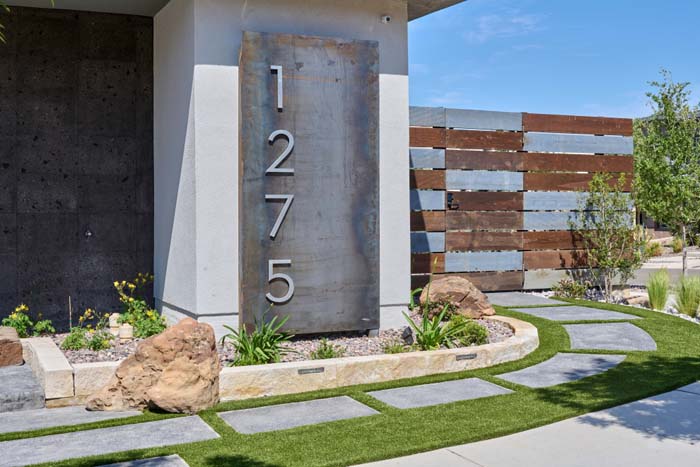 Like concrete stone, Bluestone is a stone that is best for a walkway that is subject to high traffic. The Bluestone pavers are easy to mold and cut in any basic shape and this is why you can nowadays find them in the shape of bricks, slabs, small tiles or crushed gravel.
The Bluestone has taken its name from its attractive blue hue which makes the outdoor features more eye-catching.
via Go Designs
9. Paving Stone Walkway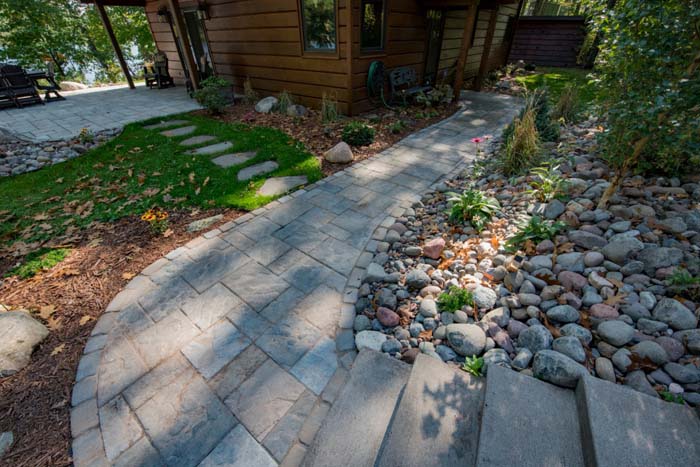 This paving stone walkway impresses with the natural stone texture of the pavers and the perfect geometric lines of the blocks.
The perfectly sized blocks are made from reclaimed stone mixed with concrete and then molded. Adding these two additives ensures the modern look of the authentic stone flooring material.
This type of paver is perfect for walkways with thick and curved patterns ensuring no gaps and durability if they are subject to intense traffic.
10. Brick Walkway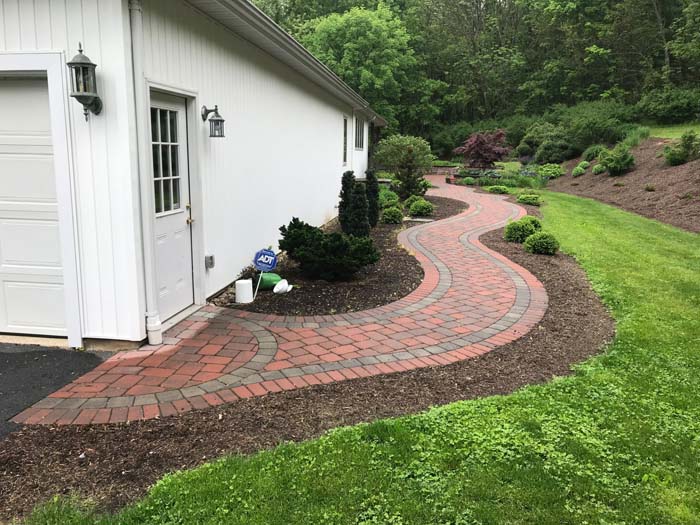 Brick pavers are a traditional walkway material choice and are so charming with their old-school look. They are preferred for their durability and toughness.
They are also easy to maintain and their shape offers a number of alignment patterns.
Another advantage the brick pavers offer is their shade variety which can be used to create a point of interest in the pattern of alignment as shown in this inspiring paver walkway idea.
via Stoney Mountain Construction
11. Thick Alignment Of Flagstone Pavers for An Artistic Layout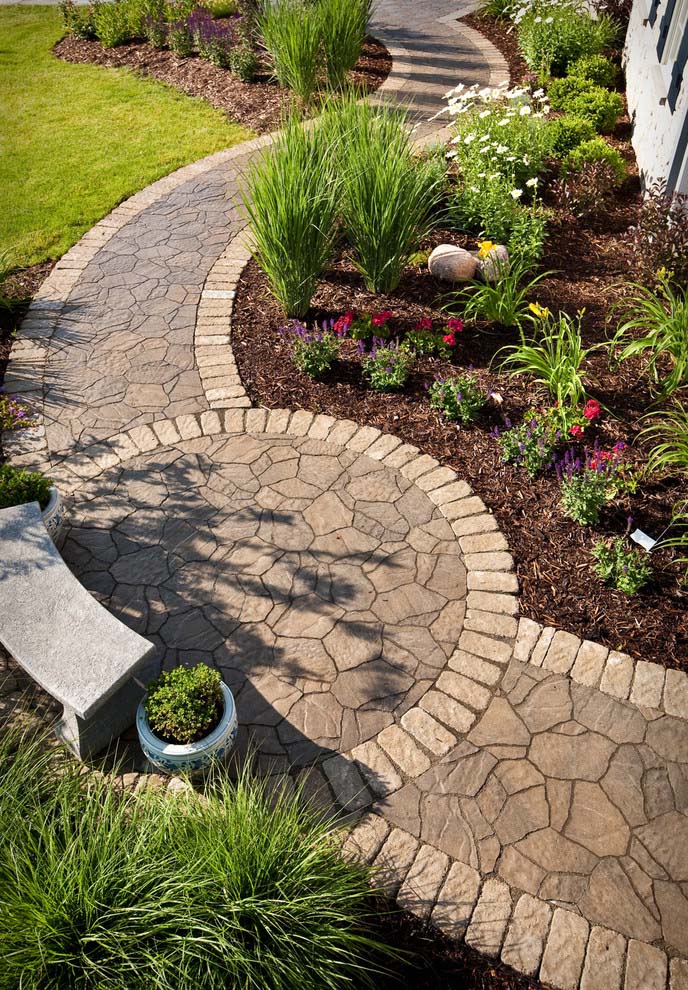 The smaller sizes of flagstone pavers are used for creating a thick pattern of alignment for walkways that are more loaded.
The shapes of the flagstones are irregular so when you lay them on the ground bed, you need to spend some time to make the perfect pairing.
The gaps between the flagstones are filled with paver sand or soil similar to the basic pavers to ensure good stick to the ground and between the pavers themselves.
To create a finished and even look, frame the flagstone pavers with brick pavers in the same shade.
12. Large Porcelain Stone Pavers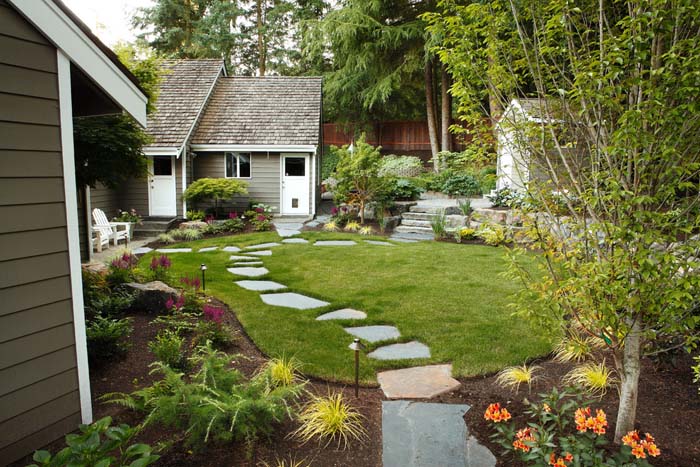 The porcelain stone pavers can be found in irregular shapes which mimic the natural flagstone look.
Why would they be preferred over the traditional flagstone paver?
Because they don't crack that easily and a far stronger than the thin flagstone pavers. Also, you can get them in the color you like to create your own landscape aesthetics.
13. Marble Paver Walkway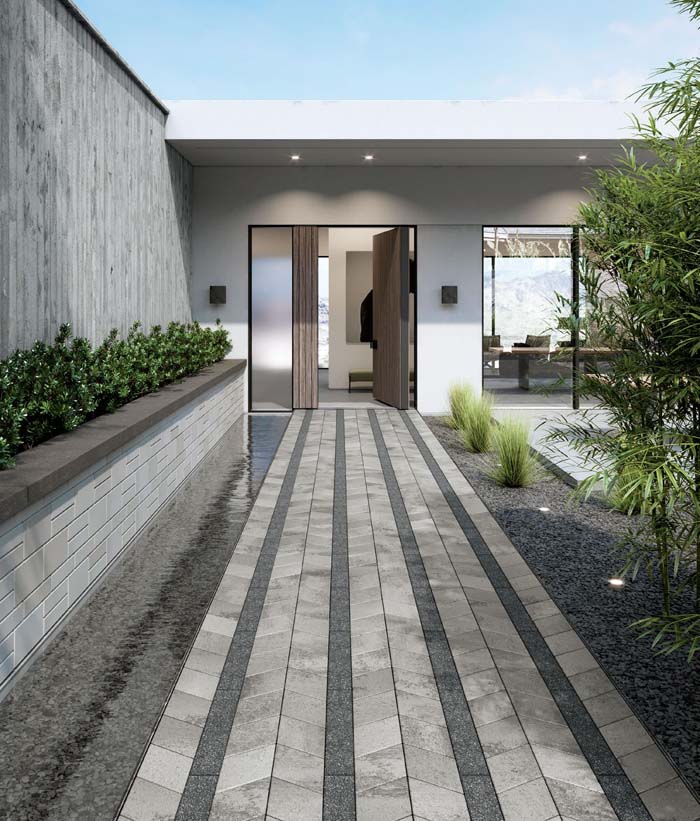 When you hear marble paver, don't imagine a smooth and reflective surface. Actually, this name comes from the basic material the pavers are made from.
The marble pavers are used for creating a more stylish and chic walkway feature. The marble pavers are pretty durable as well but they are not good for pool decking because they are not sufficiently absorbent.
via Astro Masonry
14. Plastic Pavers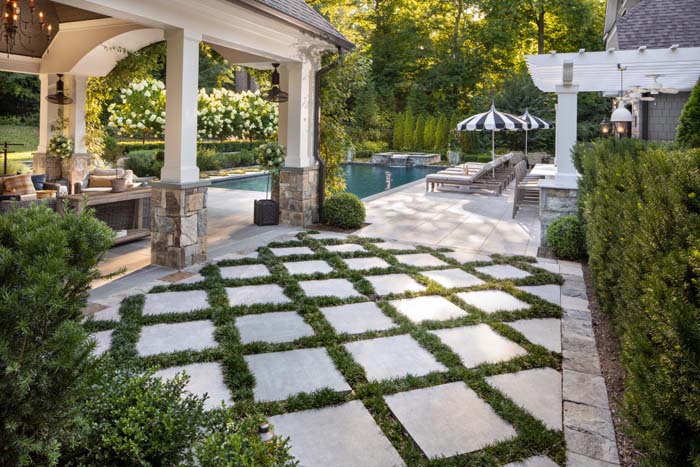 Plastic pavers are a contemporary paving solution that is created to offer eco-friendly outdoor flooring at a good cost and sufficient durability.
The pavers are made from recycled plastic waste and come in a variety of shapes, textures and patterns.
Here the walkway design features square blocks laid over the ground leaving equal spaces between them for grass to grow.
The mix of these two elements makes sure that the interesting and contemporary walkway design pairs with the garden landscape and pool decking.
via Morgan Howarth
15. Travertine Pavers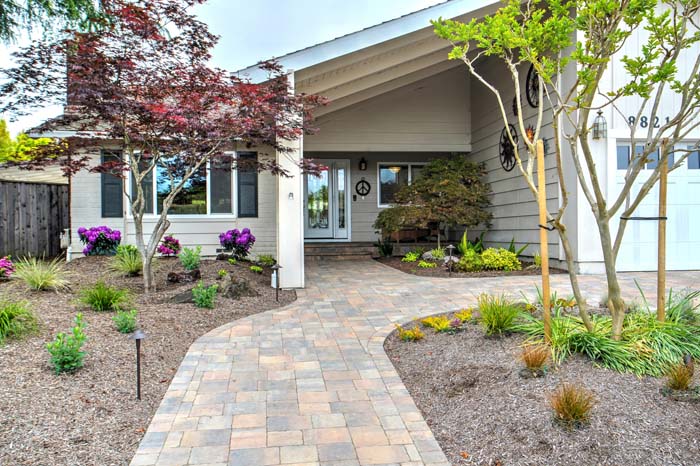 The pattern of this walkway is achieved by tight alignment of travertine pavers in different earthy tones.
The travertine pavers are the best option for adding a curb appeal to the outdoors. These pavers are very durable, with beautiful natural stone texture and easy to be found all over the world.
via Garden of Ease Landscaping
16. Brick Pavers For A Traditionally Looking Walkway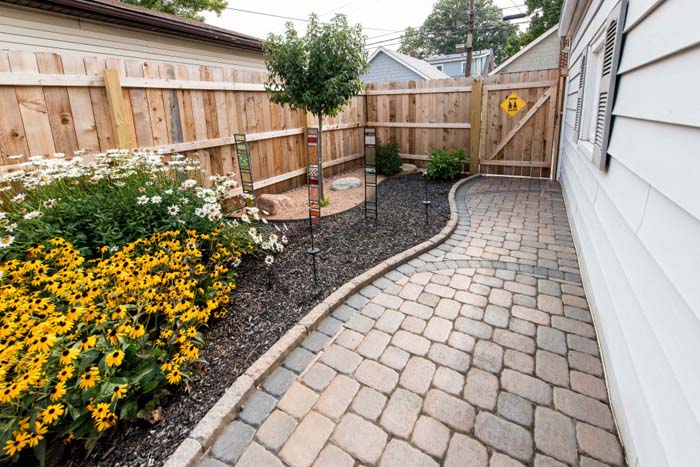 Brick pavers are best for sidewalks because of their durability. This sidewalk is made to differentiate a garden path that leads straight to the gate.
Today we can enjoy the versatility of upgraded brick pavers choosing them in different colors to create eye-catching patterns.
17. Bluestone Paver For A Classic Look Of The Walkway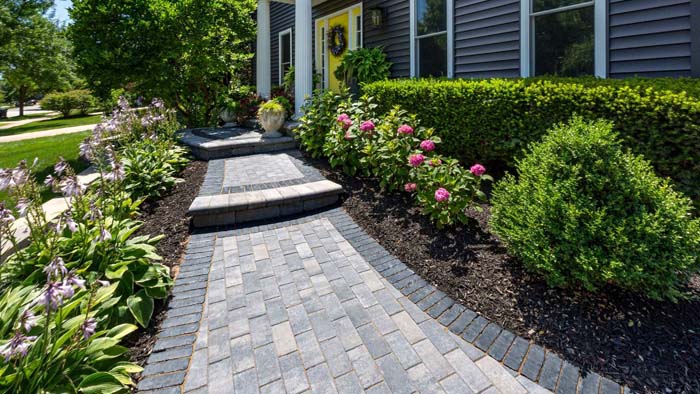 The classic rectangular shape of the Bluestone paver is great for creating an elegant outdoor walkway that complements a well-maintained garden landscape.
It is good for outdoor upgrades that need to be durable, cost-effective and appealing. Installation is easy and maintenance low.
The walkway idea here features three shades of Bluestone pavers used to create a finished look of the walkway.
via Astro Masonry
18. Special Stepping Stones For A Cascading Walkway Design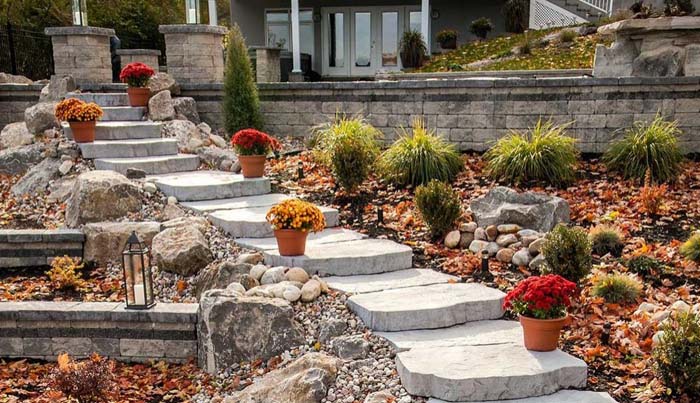 Producers of paving stones have specialized in creating amazing stepping stone designs that can be used in a cascading pattern as an outdoor stair or as a flat walkway.
The design of this walkway is cascading to follow the natural terraced terrain of the garden. The stones are sturdy and create an amazing country feel in this backyard.
via Astro Masonry
19. Stamped Concrete Walkway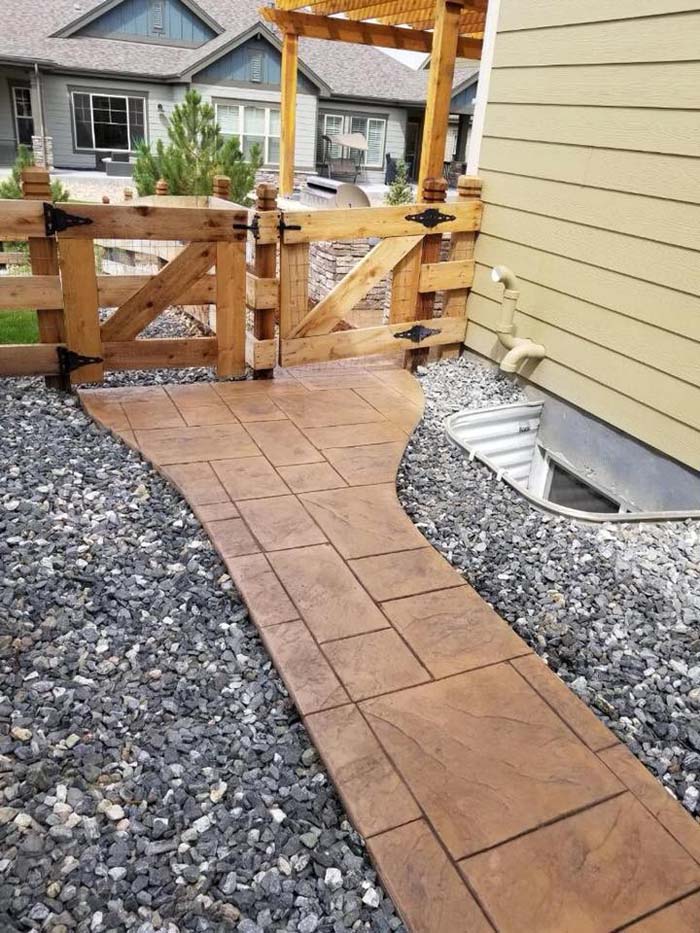 Concrete is known to be a durable material but as we said it easily cracks when it covers a wide zone such as the patio.
This is probably one of the reasons, concrete stamping has been created. With specific tools, the concrete layer is pressed to take up a new shape and size.
This minimizes its tendency to crack and is quite affordable. Another advantage the stamped concrete offers is the stylish pattern of the shaped concrete layer.
20. Modern Paving Stone Walkway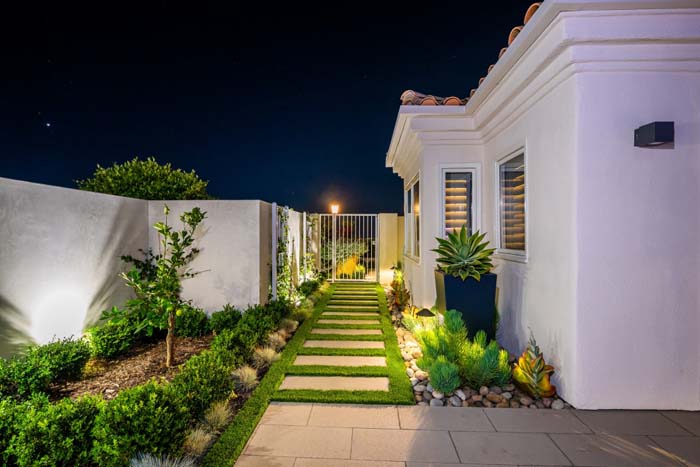 These porcelain slabs are positioned in perfect symmetry to create a zen walkway in a modern home backyard.
The grass framing is a natural touch to the overall ultra-modern outdoor design which is highlighted by the landscape lighting.
21. Paving Stones On Black Gravel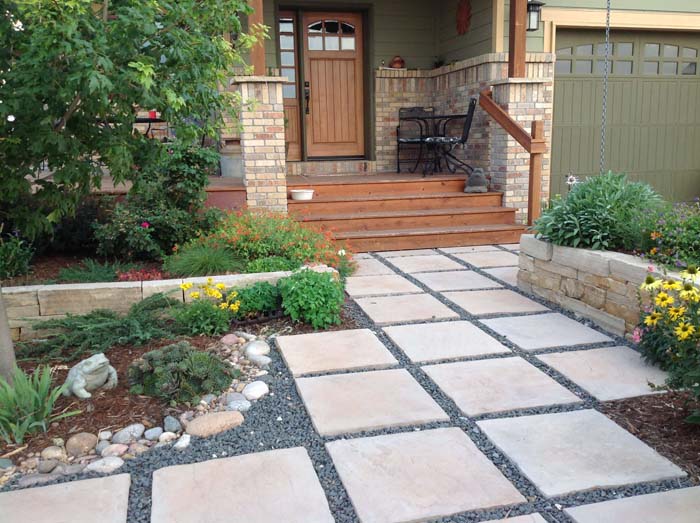 One of the most aesthetic and durable walkway structures is featured in this walkway idea. Blocks in square shape are placed in a black crushed gravel base.
The gravel is used in place of the typical sand grouting to keep the stones fixed and to create a beautiful contrast with the light color of the slabs. They help the clean lines of the pavers stand out and create a bold point of interest.
via The Horticulture Consultant & Design
22. Stone Paving and Felt Concrete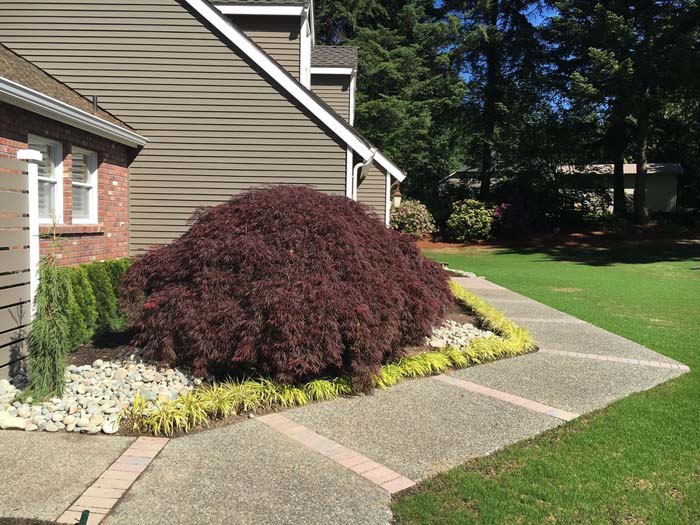 This is one of the most innovative structures of paving materials which offers a great decorative effect and high durability.
Natural river stones or pebbles are incorporated into this solid walkway material. Traditional brick pavers interrupt the solid layer to create a point of interest and break the monotonic look.
This solid paving material is offered in five colors and thicknesses up to 3 centimeters. It is very durable and easy to maintain, hence it is preferred for public areas, residential homes, parks.
via Sunny Seattle Construction
23. Natural Stone Pavers For Patio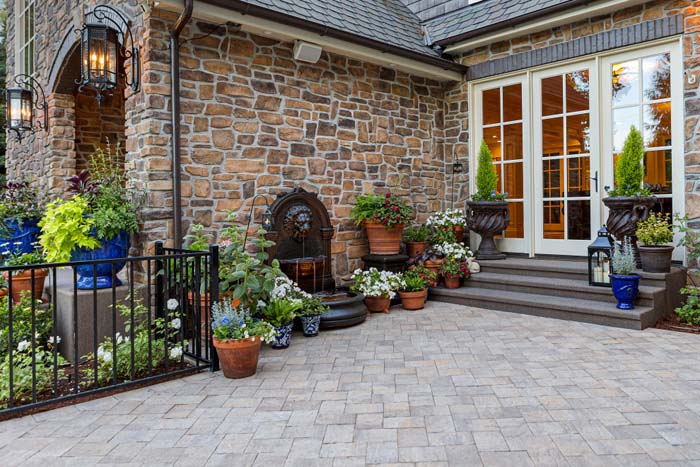 If your walkway needs to cover a large area and is at a location with frequent load, the travertine pavers are the best choice.
Here the appearance offers a herringbone pattern that offers a timeless trend and classic touch to the outdoors.
24. Pavers And Large Gravel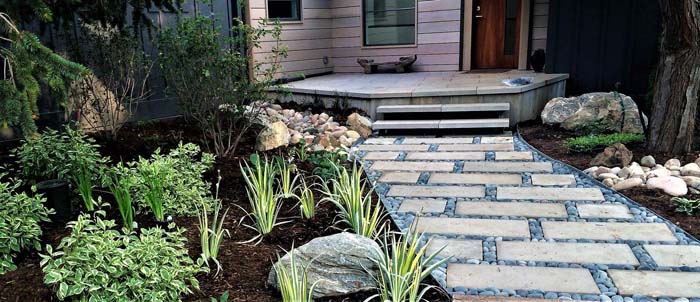 For a bolder design of your walkway, you can replace the pea gravel with large river stones.
To create an appealing pattern and a rigid bond between the gap filling and the slabs, first lay the pavers on the ground in the desired pattern and then start arranging the rocks manually aiming to not leave any gap between them.
via Aria Alfresco
25. Travertine Walkway With A Natural Stone Texture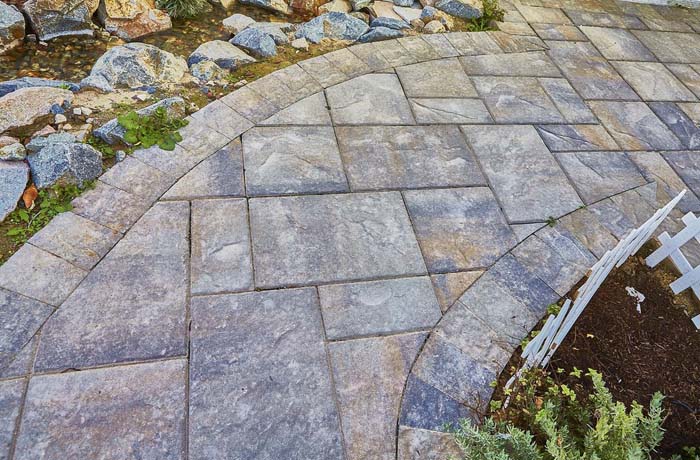 When you create your hardscape feature, choose the material not only by outer appearance but also by durability.
The travertine pavers offer the texture and natural beauty of the stone which will improve the curb appeal of your property.
When compared to other paving materials, they stand out with their good price, easy installation and strength.
via Go Pavers
26. Stone Paver Walkway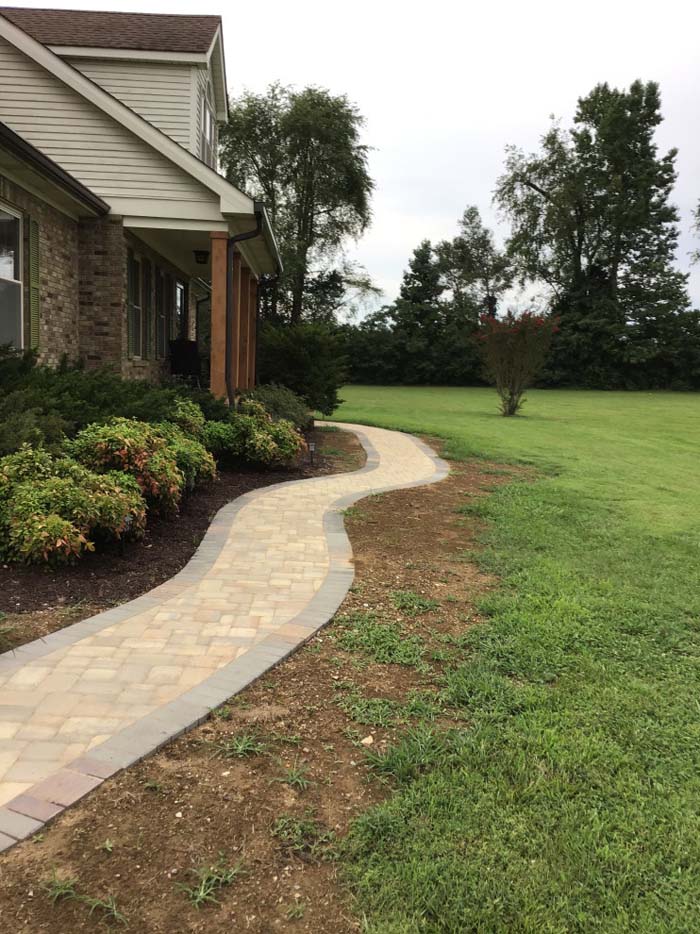 This curved walkway offers a fresh update to the outdoors of this traditional property. The design is simple but yet functional.
These two are offered by the cost-effective pavers in natural stone texture and colors which accentuate the existing brick facade.