Every year, more people discover the advantages of planting a raised garden over a conventional garden bed. Build a raised garden bed properly and you'll have fewer problems with more vegetables and flowers. They don't have to be expensive either. Raised garden beds use less square footage than traditional gardens. Their portability allows you to place them where they'll receive optimal sunlight.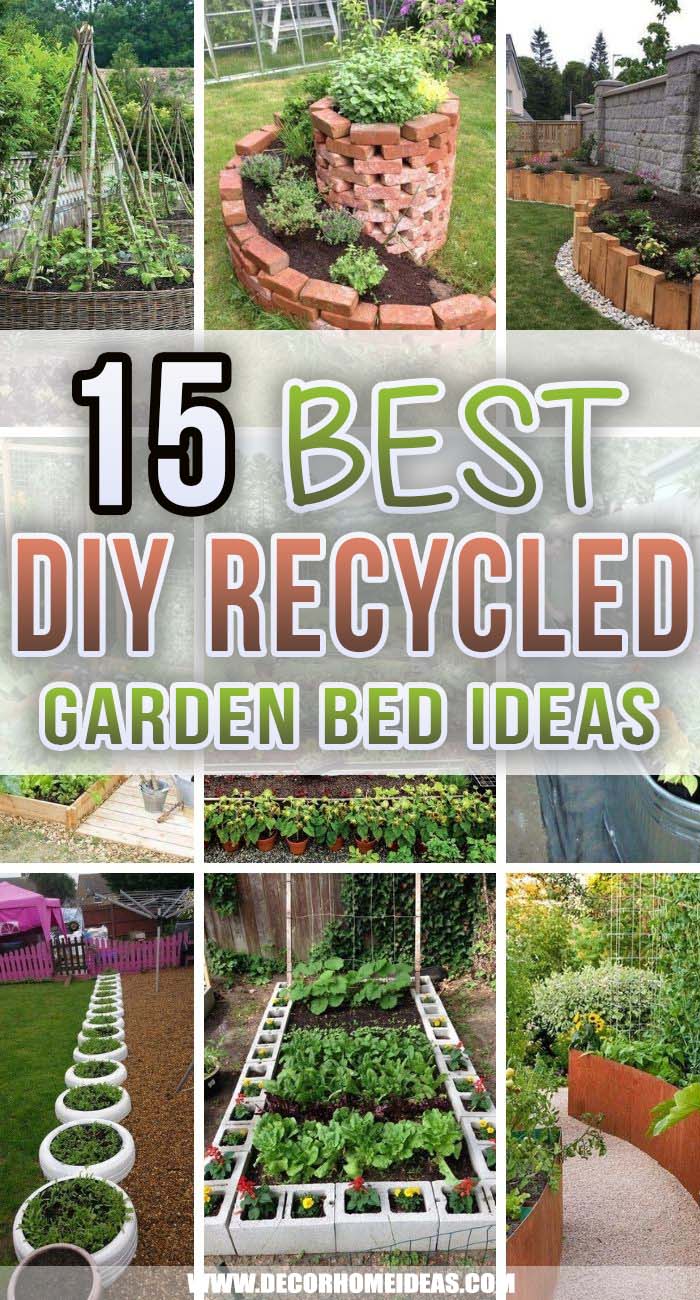 We've collected 15 recycled DIY raised garden bed ideas that are easy on your budget.
This is why they're becoming popular in urban communities. You can build a garden right in a park and provide food relief for your neighbors.
1. Create Spiral Herb Garden Bed From Bricks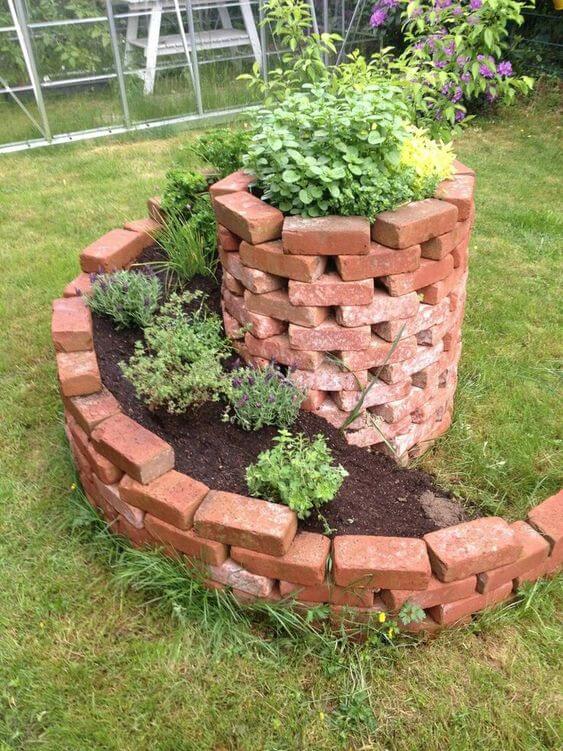 Spiral herb garden beds have a unique look. The garden holds a lot of plants in a small amount of space. This is a great idea if you have access to reclaimed bricks. Make sure you're using bricks that come from a source that wasn't exposed to a lot of chemicals.
When planning an herb garden, pick a spot that receives about five hours of sun every day.
2. Raised Garden Bed Using Bricks Without Mortar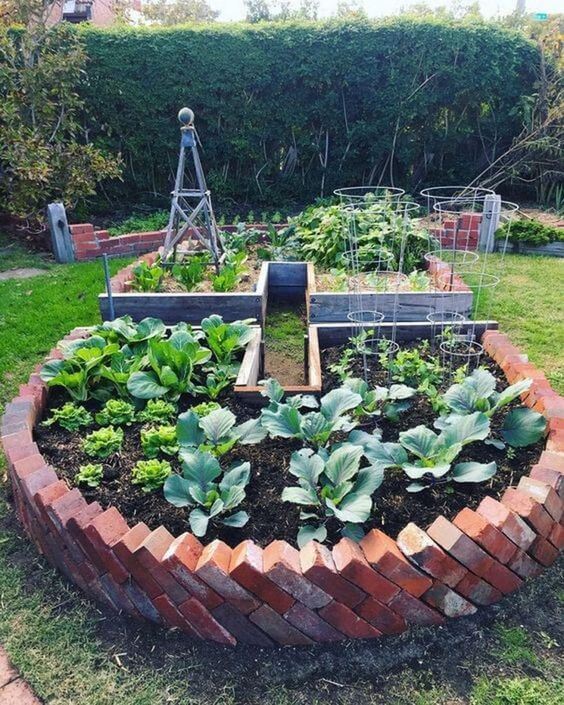 When you're building a raised garden bed with bricks, you don't need to secure them with mortar if the overall height is kept low.
The first row of bricks is set partially below ground level to stabilize them. You can see how the bricks of the arcs are set at an angle, while the middle, flat sections are set in a traditional offset pattern.
3. Use Spaces in Cinder Block Raised Garden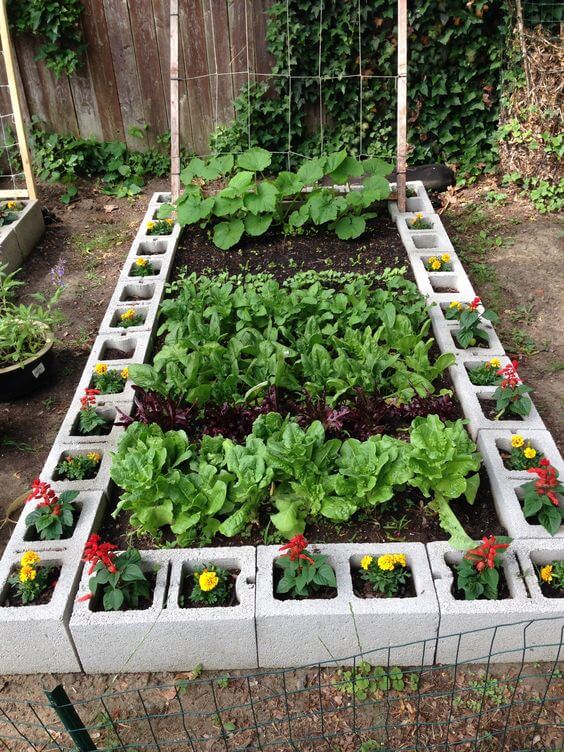 Cinder blocks are a fast and easy way to use newer cinder blocks that are made from cement. Old cinder blocks can have ash that leaches into the soil.
Check the pH balance of the soil to make sure it remains at the proper level for your plants.
4. Recycle Plastic Bottles for a Colorful Raised Garden Bed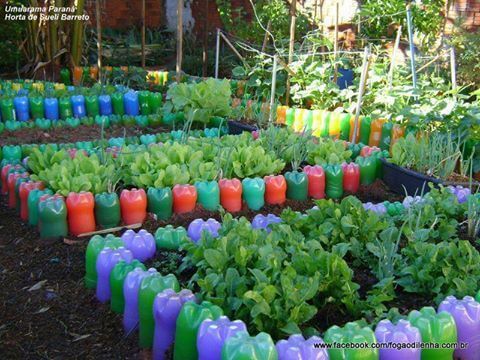 Plastic bottles can be decorated and filled with soil. Simply strap or glue them together to build the wall. This will work with different sizes of bottles depending on what you're planting.
5. Fabric Raised Garden Beds Encourage Air Pruning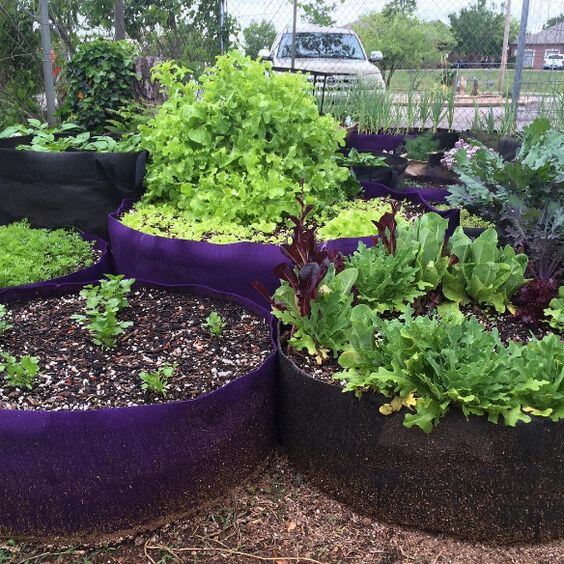 Fabrics similar to felt are manufactured specifically for raised garden beds. These fabric beds are the fastest way to set up a raised garden. They come in different heights and widths for use in different projects.
The beds allow more oxygen to reach plant roots. The gardens don't hold moisture, so it's important to keep your beds watered on a regular basis.
6. Stylish Steel Raised Garden Bed by Formboss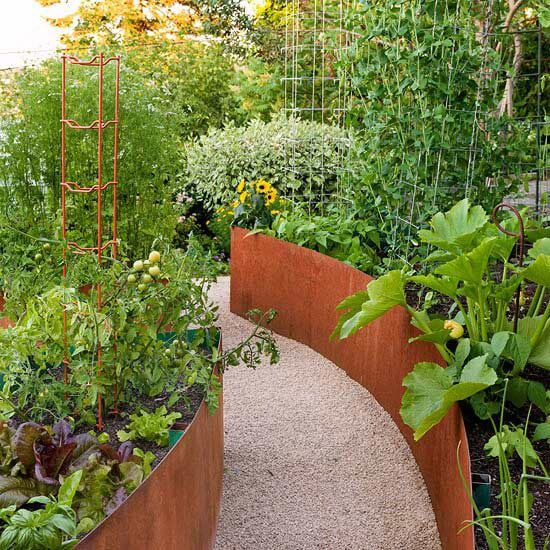 FormBoss is a sheet metal product from an Australian company that comes in a variety of thicknesses. Its ability to follow any contour makes it a popular solution for irregularly shaped gardens.
Its primary use is garden edging, but can be ordered in widths that will give you the height needed for use as a raised garden bed.
Galvanized metal is an excellent choice for building raised garden beds. They don't rot or break down like wood. They get warm in the sun, but not enough to harm your plants. They're lightly sandblasted, so the metal will not affect your vegetables.
7. Raised Garden Bed Using Logs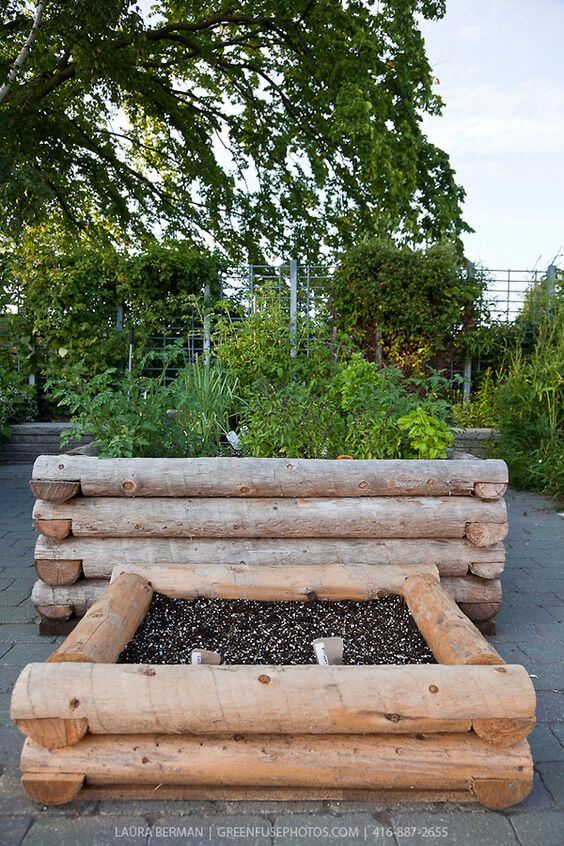 If you have access to free logs, this is your best option for building beds. Over time, the logs will decompose, enriching the soil.
At that point, replace them with new logs. If the wood is hard enough, the decomposition process won't be noticeable for five to six years.
It's for this same reason that pressure-treated lumber and railroad ties should never be used for a vegetable garden.
8. Powder-Coated Metal Raised Garden Beds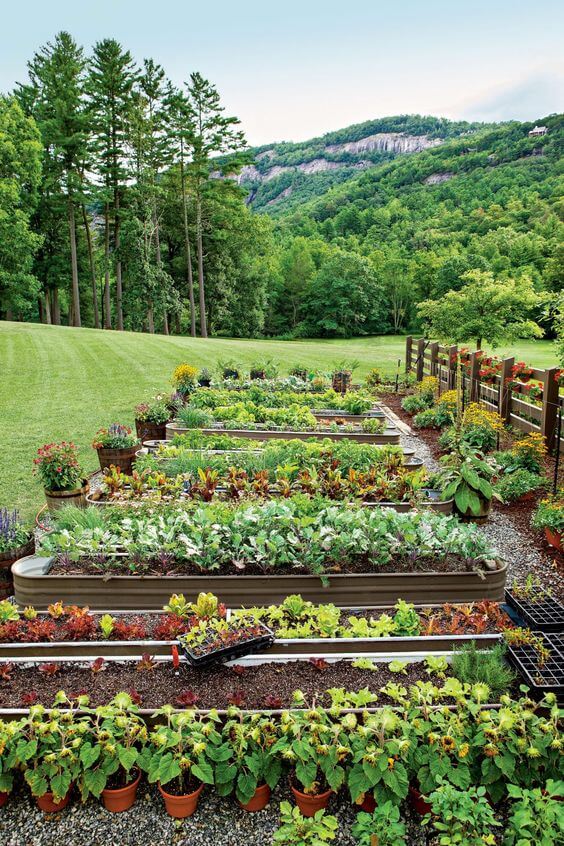 Even if you have the space for a large garden, modern raised garden beds take a lot of the labor out of planting. You won't have to be concerned with tilling the soil or clay beds. Just add a garden liner, proper drainage, and the proper potting soil mix.
As they can be built on city rooftops, raised garden beds are being used to teach gardening to inner-city school kids. They're used by restaurants, too.
9. Upcycle Old Tires for Raised Garden Beds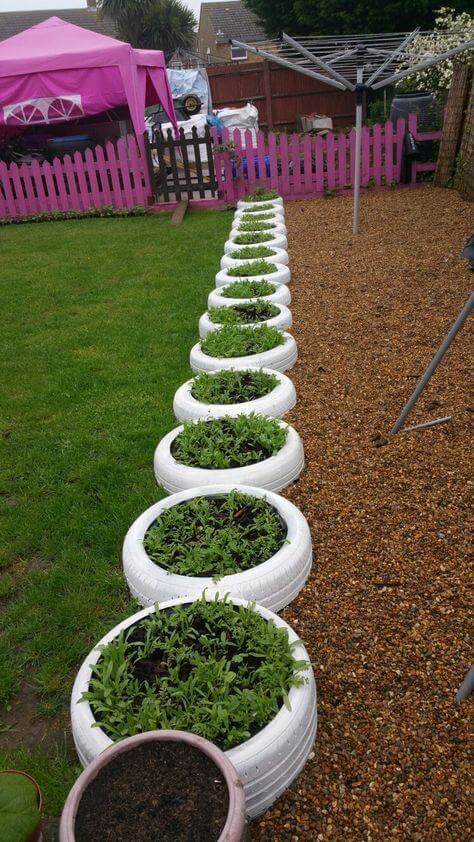 Using tires as the form of raised garden beds had become a popular upcycling project. They can be used with vegetables or as an upcycle project with shrubs or flowers.
You may have to remove some of the sidewall material to make more room for growing plants. Paint them to complement your landscape.
Related: 33 Amazingly Creative Ways To Transform Old Tires Into Garden Décor
The metals used in building tires won't leach out until the outer side begins to deteriorate. The chemicals used are not water-soluble, so they won't leach as you water your garden.
10. Classic Red Brick Stacked Raised Garden Bed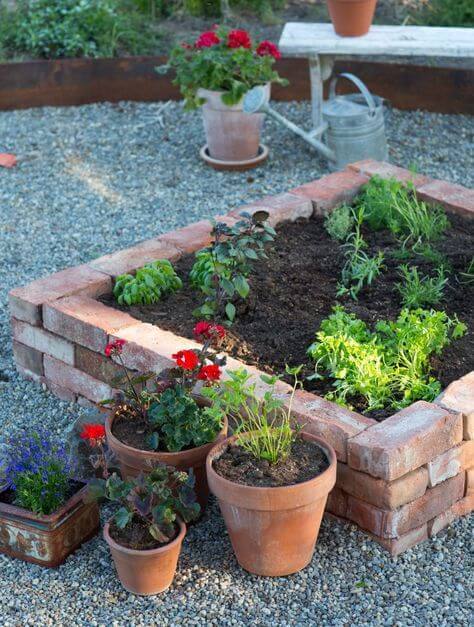 This is the simplest way to use red bricks for your garden bed. They're aesthetically pleasing and will work with all but the most formal landscapes.
The Earthen color of terracotta pots works well with red bricks.
11. Build Raised Garden Bed Using Quarry Stones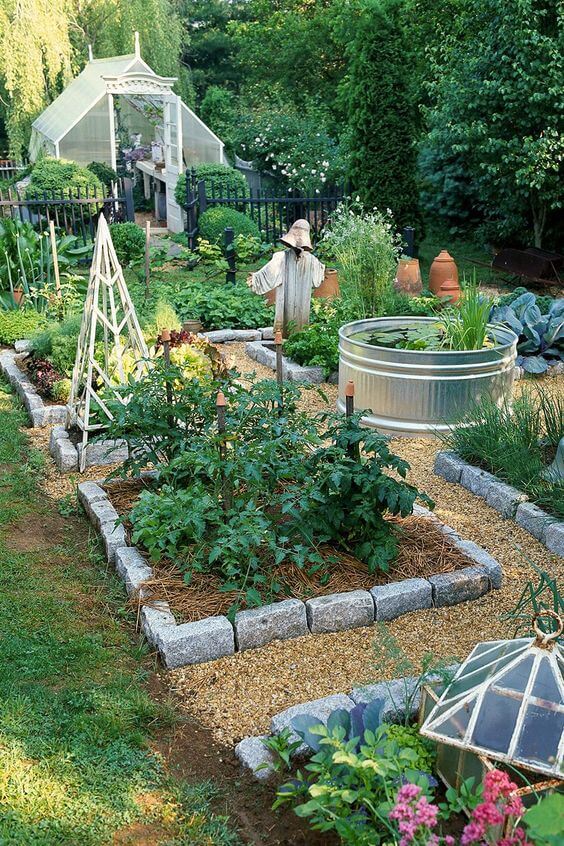 Building raised garden beds with large stones is tiring but worth the effort.
They have a natural, organic beauty and will last for years with only minor adjustments needed to hold the soil in place.
Since you don't have to worry about mulching the paths around the beds, you can choose whatever aggregate suits your style.
12. Raised Garden Beds Using Farm Water Troughs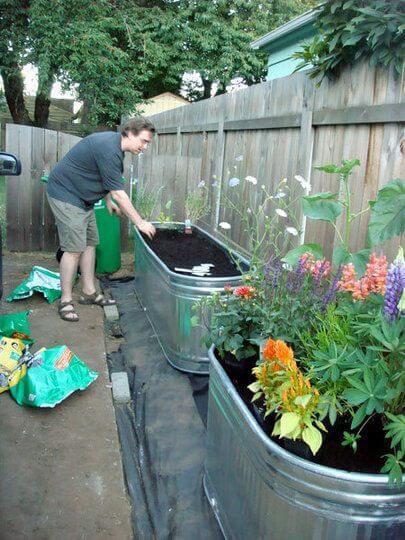 Water troughs make ideal raised garden beds for gardeners that have difficulty working low to the ground.
They're tall enough to accommodate plants that need deep soil. You have to either punch holes in the bottom or add rocks for drainage. Pick them up at a farm supply store.
13. Raised Garden Bed Uses Scrap Lumber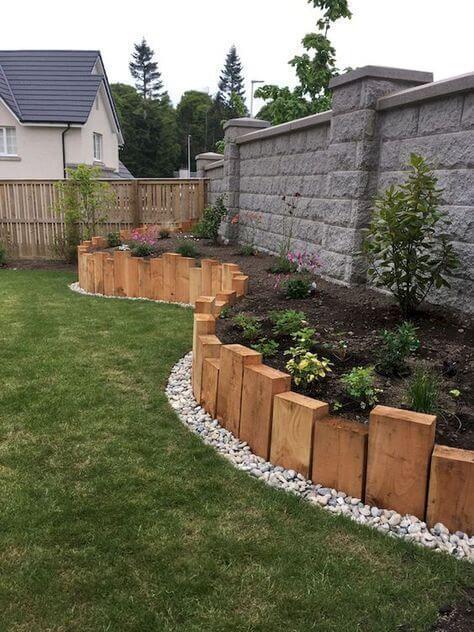 Here is an easy way to make use of scrap lumber. The boards are cut to a uniform width. Staggering the height adds interest and is easier to achieve as opposed to creating a uniform height.
Adding white rocks as edging creates a nice border along the grass line.
Stay away from pressure-treated lumber and pallet wood that may have been exposed to chemicals.
14. Raised Garden Bed Using Wooden Planks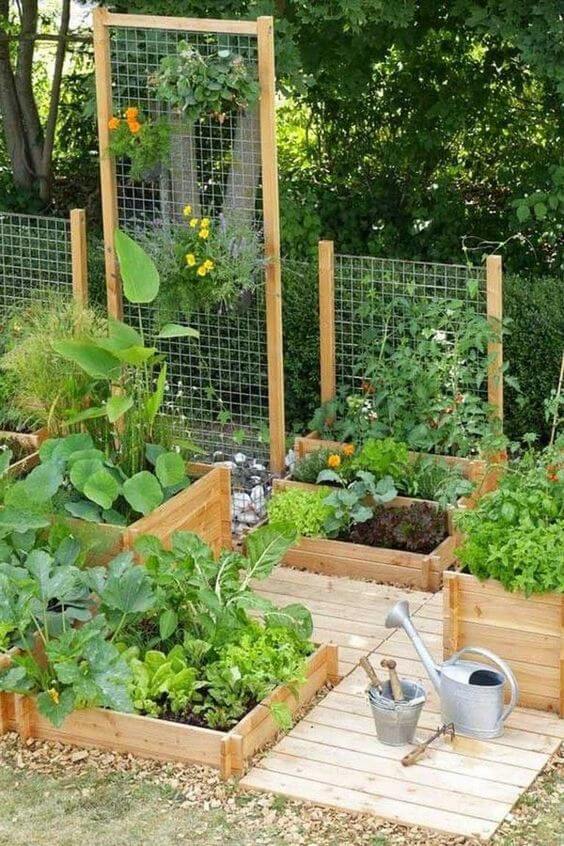 Raised garden beds made of wood may not last as long as gardens made of other materials, but their aesthetics are tough to beat.
Use the same wood for creating a trellis for a cohesive look. Find a screen that has a protective coating to avoid metals from contaminating your edible plants.
15. Build Raised Garden Beds by Weaving Willow Baskets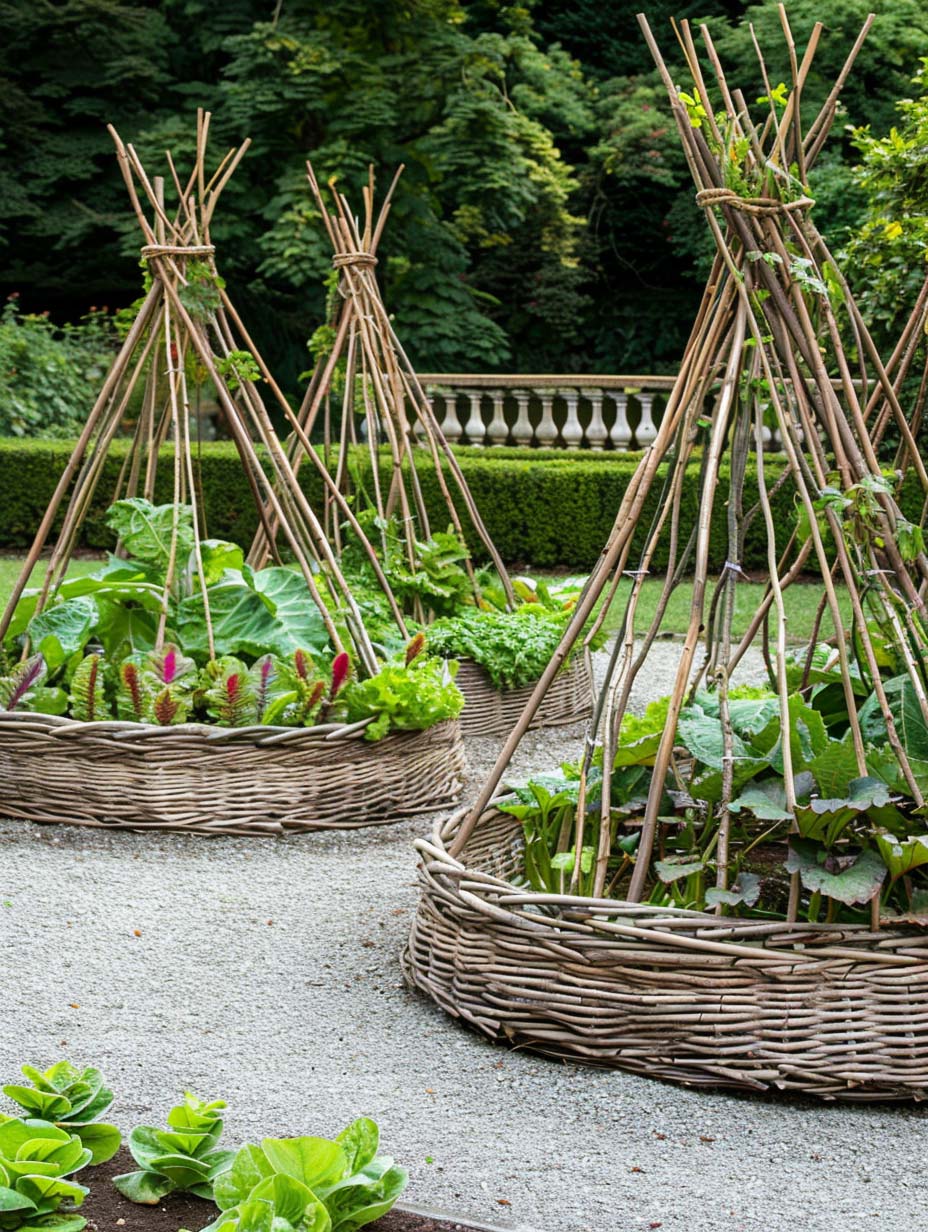 You can create stunning raised garden beds when you have a basic grasp of weaving with supple willow branches. Using branches as cages adds height and drama to this garden.
16. How to Make a Garden Planter From a Plastic Kiddie Pool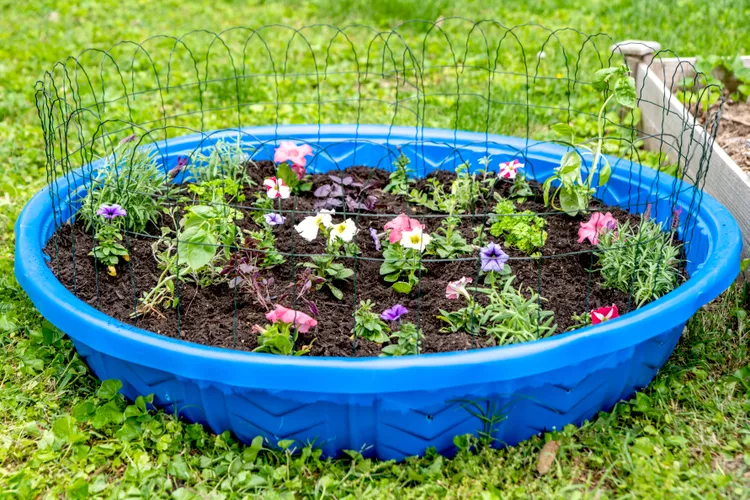 Transforming a rigid plastic kiddie pool into an informal garden planter is an affordable and effortless DIY project. It offers an excellent way to upcycle an old family splash pool that the children no longer use. You can grow shallow-rooted plants such as herbs, vegetables, and annual flowers in this planter.
via The Spruce