The vintage style is old-fashioned in a charming way, very romantic and appealingly cozy and that has defined it as a preferred decoration tendency for the bedroom.
When implementing it in the heart of our home, we need to be careful not to overload the interior with its presence because that will create a disbalance that is unacceptable, especially for this room.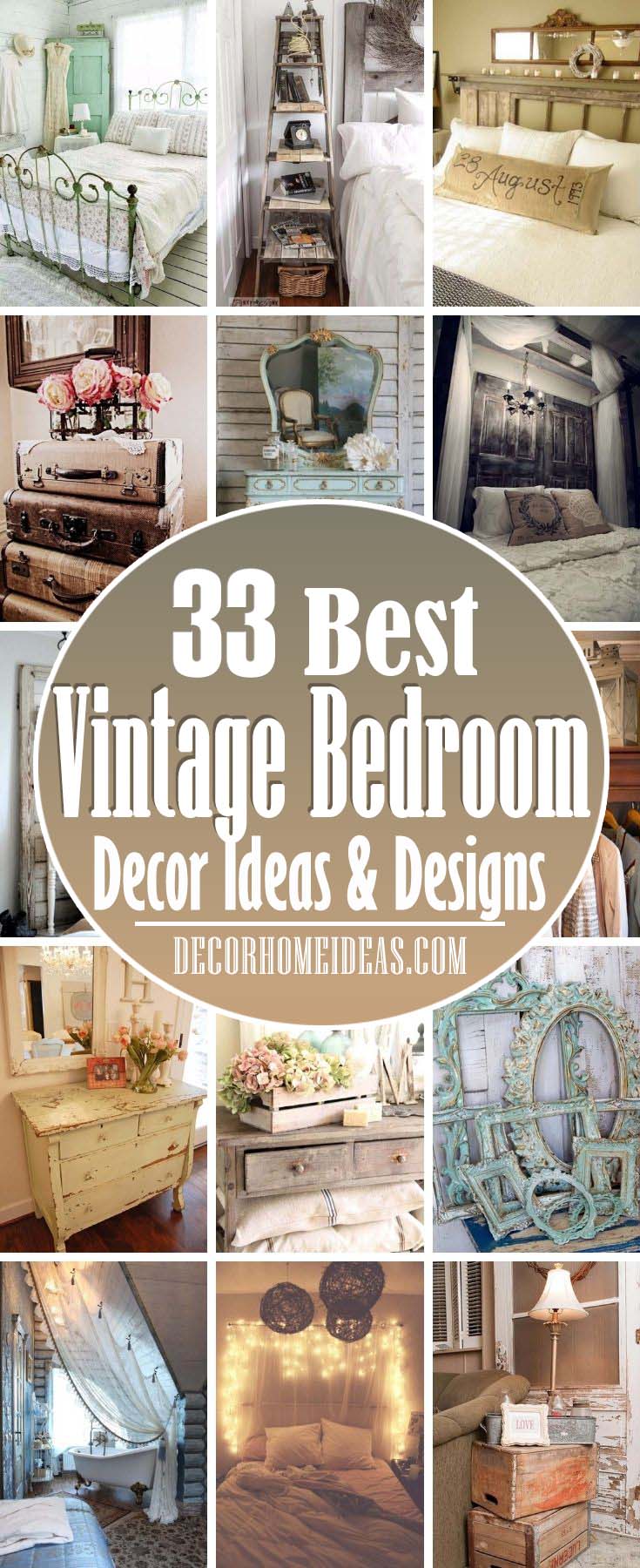 These are our 33 suggestions for vintage bedroom decor and designs which combine the best of the contemporary and old worlds in balanced conjunction.
1. A Vintage Bedroom for Two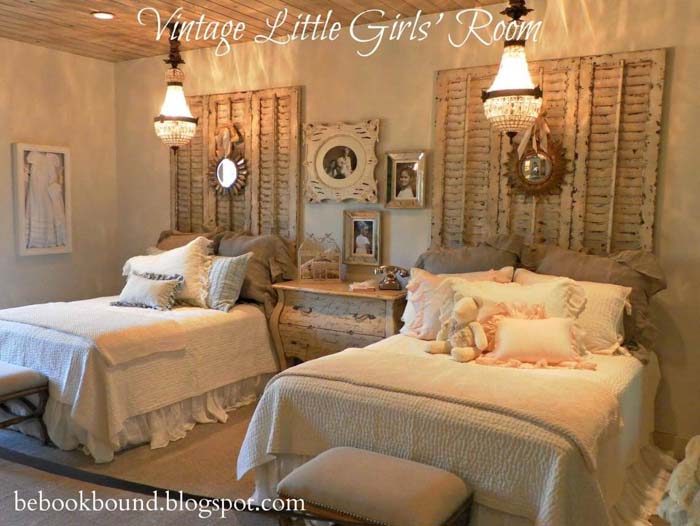 This vintage bedroom is a shared space for two sisters. The beds and the drapery over them are identical.
The headboards are replaced by tall weathered shutters that define the space for every girl.
The plain vintage dresser between the beds is complemented by antique frames with black and white photographs.
via Be Book Bound
2. Accessory Organizer Made From An Old Door Frame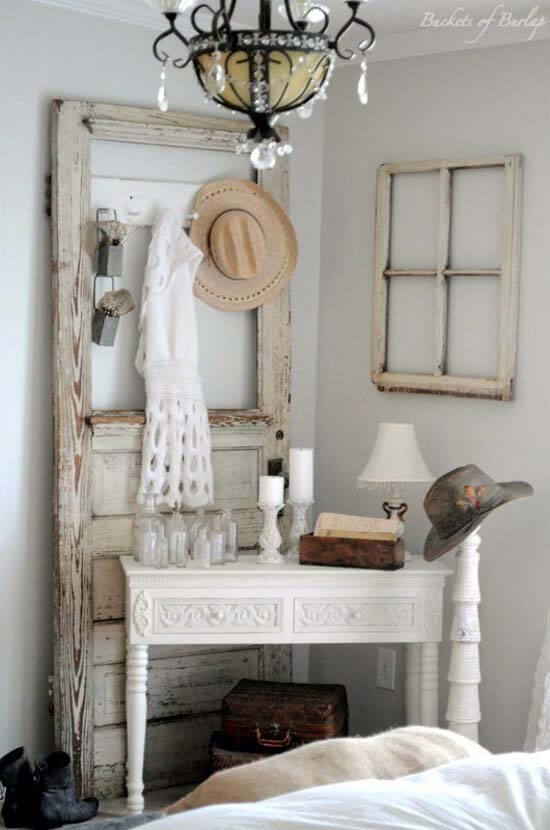 Make a vintage corner in your bedroom that will add romance and coziness to the entire room.
An old repurposed door becomes a backdrop of a wooden ornamented vanity. The glass is replaced by a coat rack which increases the storage places and organizes regularly worn accessories.
The arrangement is completed with a window of the same weathered look to create the illusion of a small homely nook inside the bedroom.
3. Antique Luggage Vanity Table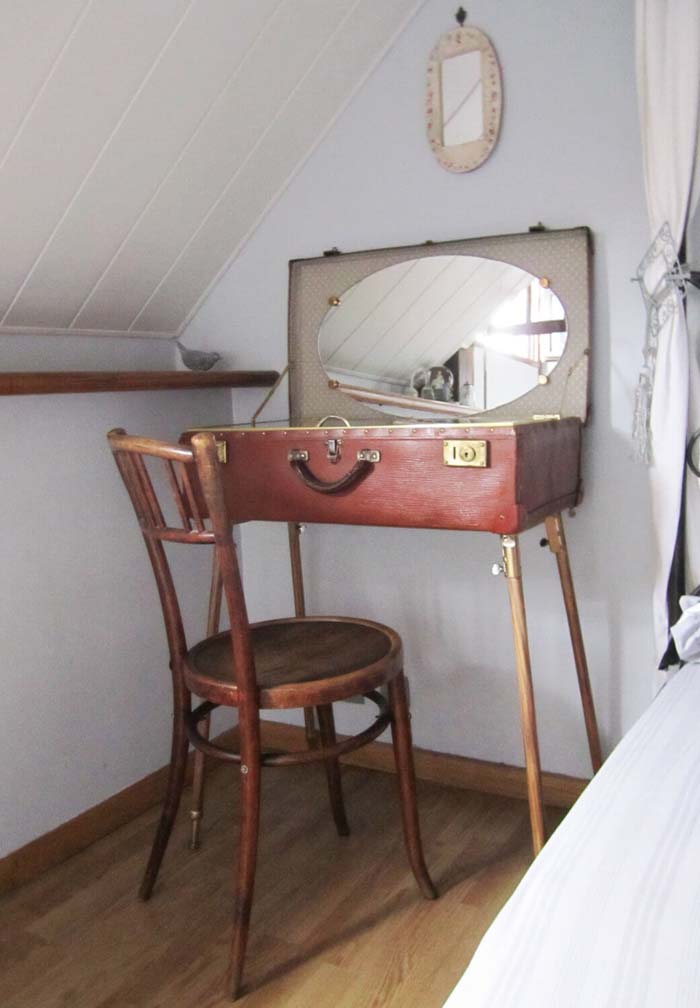 The old leather suitcase could be both useful and giving a point of vintage interest to the bedroom.
Suspended on wooden legs, it is at a comfortable height to do the normal preparation activities before going out.
The inside can store all kinds of make-up and accessories the standard vanity does.
via Etsy
4. Carved Vintage Bedroom Decoration with Floral Print Pillows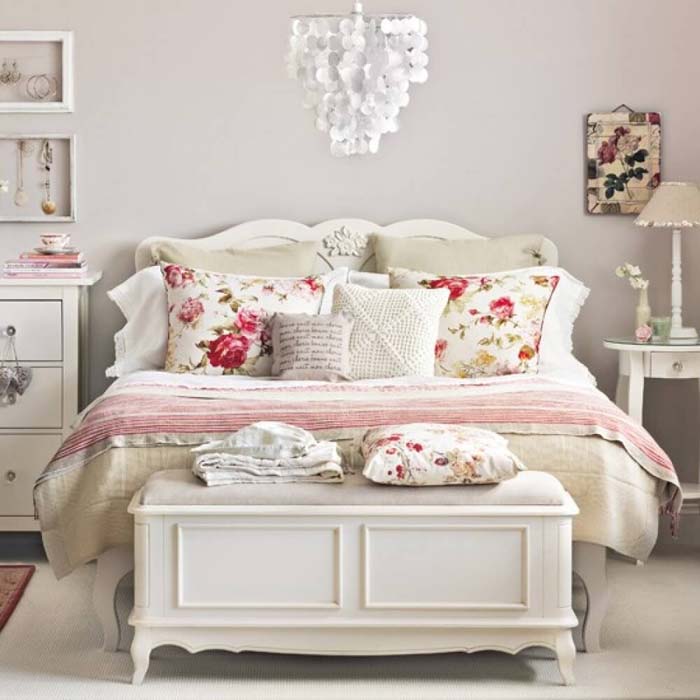 The spirit of the old times is tangible and clearly stated with the furniture choice.
The vintage style is represented by the predominance of the wooden material, the white color and the floral motifs on various items from the room.
via Delight Full
5. Chalk-painted Mason Jar Vases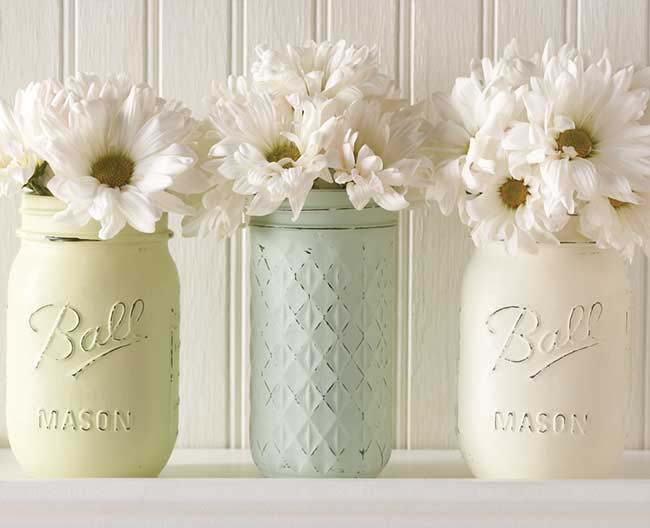 The delicate tones of white, pink and cream are usually related to the vintage style.
A set of Mason jars from the Dollar Store is an affordable way to welcome the romantic vintage vibe to the bedroom.
Their outside is painted with chalk paint and then a bit of sanding has been done on the protruding edges to achieve an aged and weathered look which is so typical for the vintage style.
via Buying Rid Blog
6. Classic Chandelier And Vintage Wall Art Collage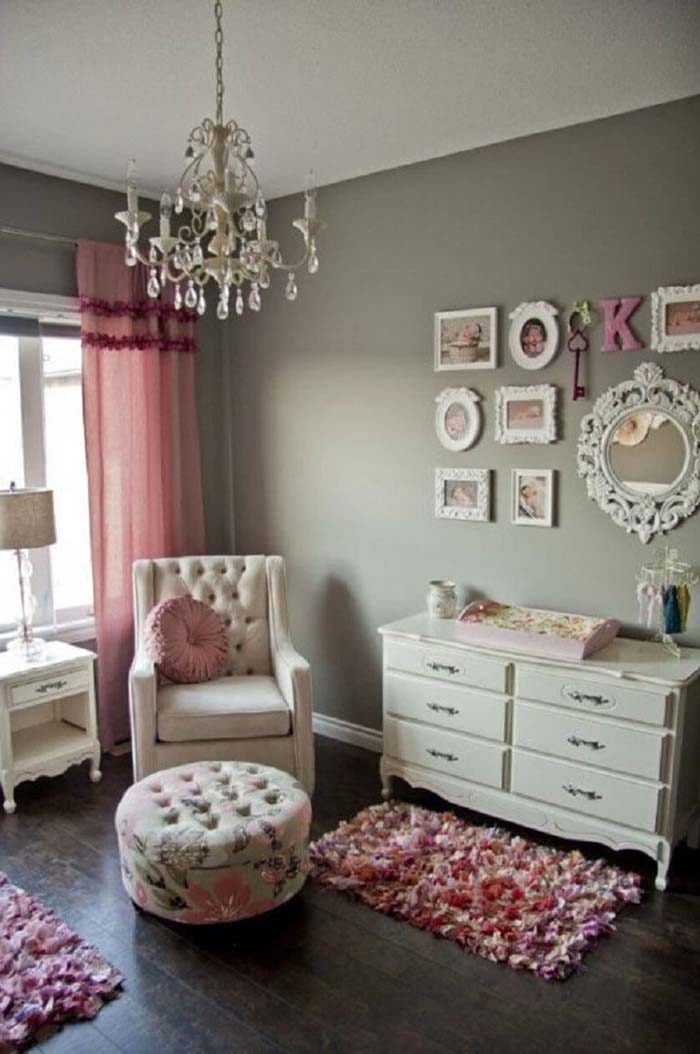 The floral motifs of the ottoman, the carpets and the wooden decoupage tray anchor the style preference chosen for this bedroom.
The vintage style outlines a balance between the curved designs of the chandelier and the legs of the dresser and the nightstand and the straight lines of the furniture and some of the frames.
7. Corner Wardrobe Made From Distressed Doors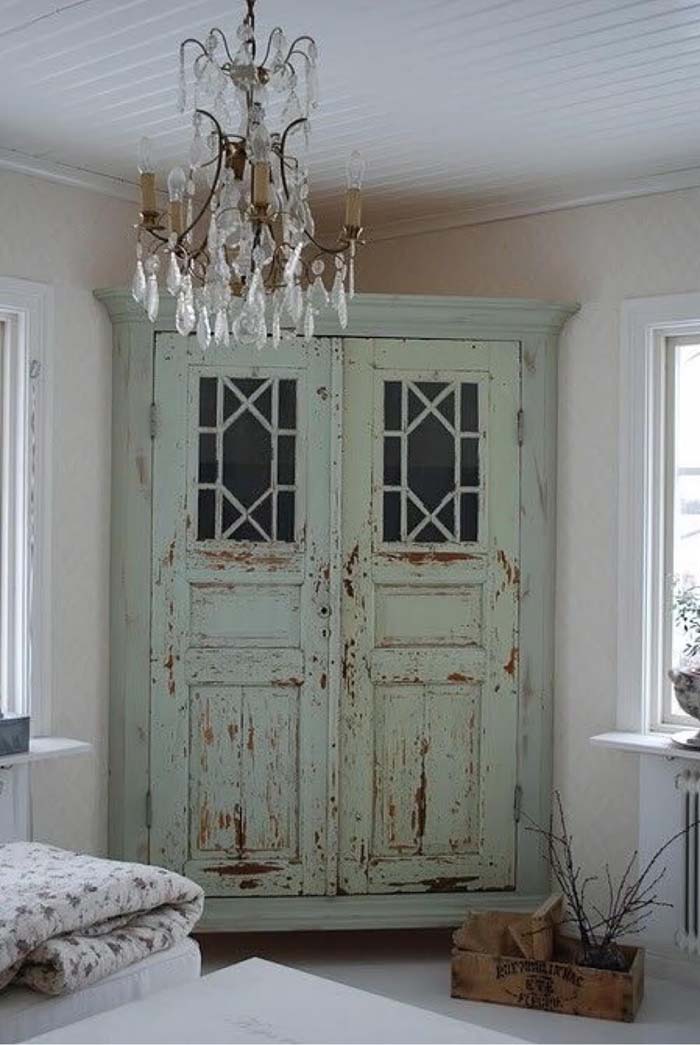 The vintage decor in the bedroom can be a focal point and a spacious organizer for clothes or accessories.
If you like the charming vibe it adds, you can easily make it yourself and utilize dead space in the room that will otherwise be unused.
A pair of weathered doors preliminary touched up using the whitewash technique are attached to a molding frame fixed to the walls.
To make shelves and close the bottom and the top, cut triangular pieces of wood.
8. Crystal Doorknob Curtain Tiebacks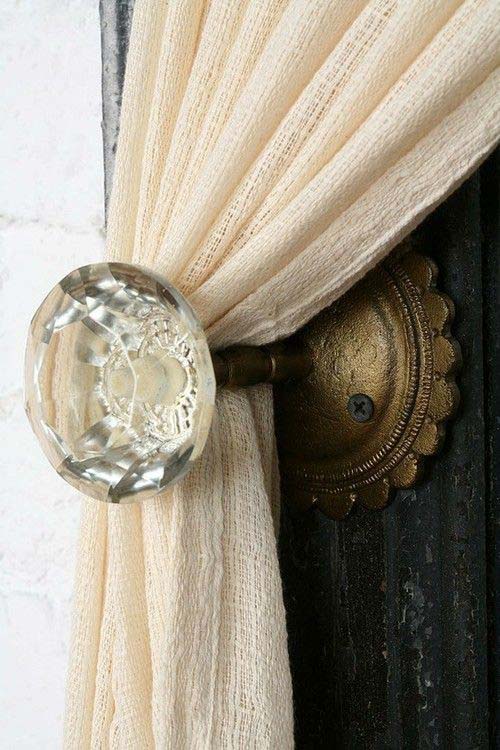 Small accents could have a great impact if their location and design is smartly chosen.
If you want to increase the vintage vibe in your bedroom, even a doorknob could do that.
Placed on the window frame, it will be clearly seen and will be also a practical accessory for tying back the curtains.
9. Decorative Tree Branches With Twinkle Lighting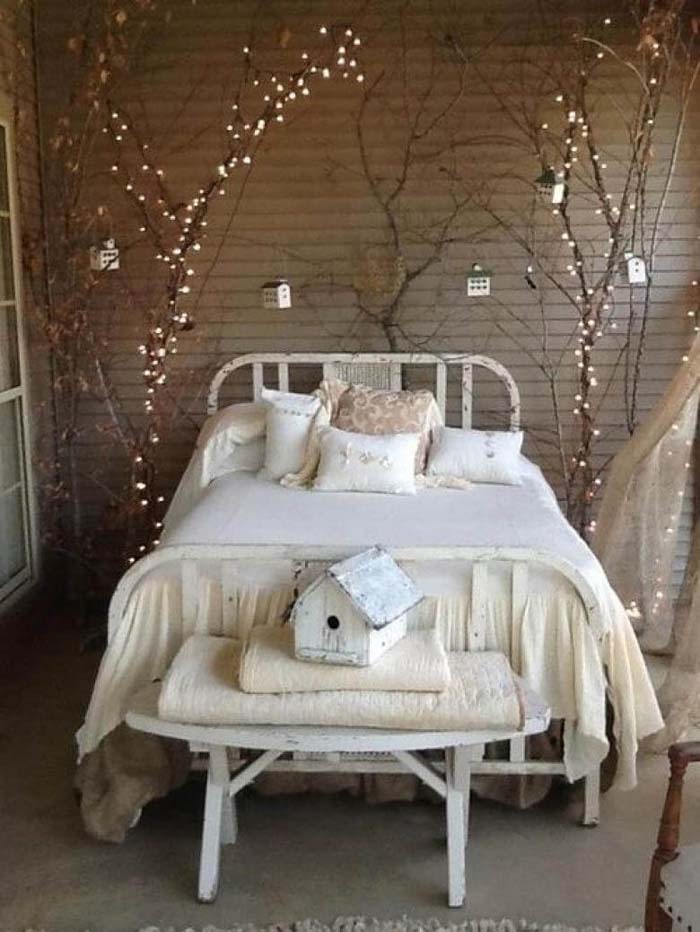 The vintage style is known for the use of mainly natural materials. A bedroom with wooden furniture will incorporate partially this design.
If it is aged, distressed or with old-fashioned ornaments, it will be more tangible.
This interior can be additionally backed up with accents from nature. Some wood twigs behind the headboard create a romantic forest setting that will make the atmosphere cozier and more relaxing.
Weave around them some fairy lights to use as gentle illumination during the night.
10. Distressed Hall Table With Ornate Framed Mirror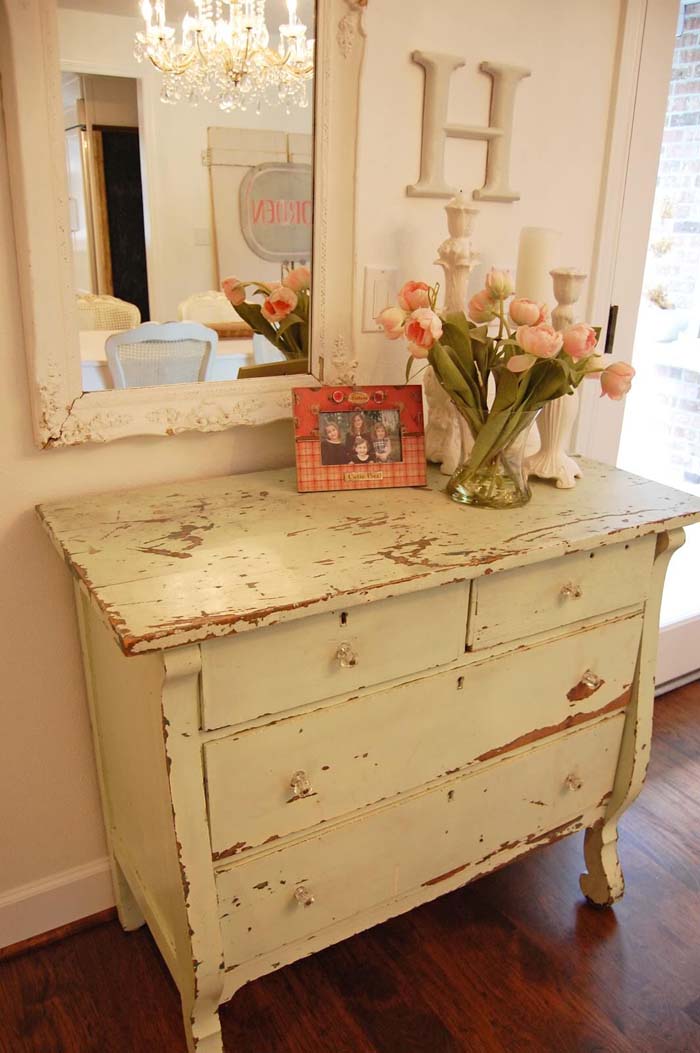 Any old dresser could be turned into a vanity for a vintage bedroom. Leave the paint distressed to increase the aged feeling this piece of furniture breaths indoors.
Hang a mirror with a wooden frame right above it to make the nook more comfortable and useful.
via Maison Douce
11. Dramatic Headboard Made With Reclaimed Doors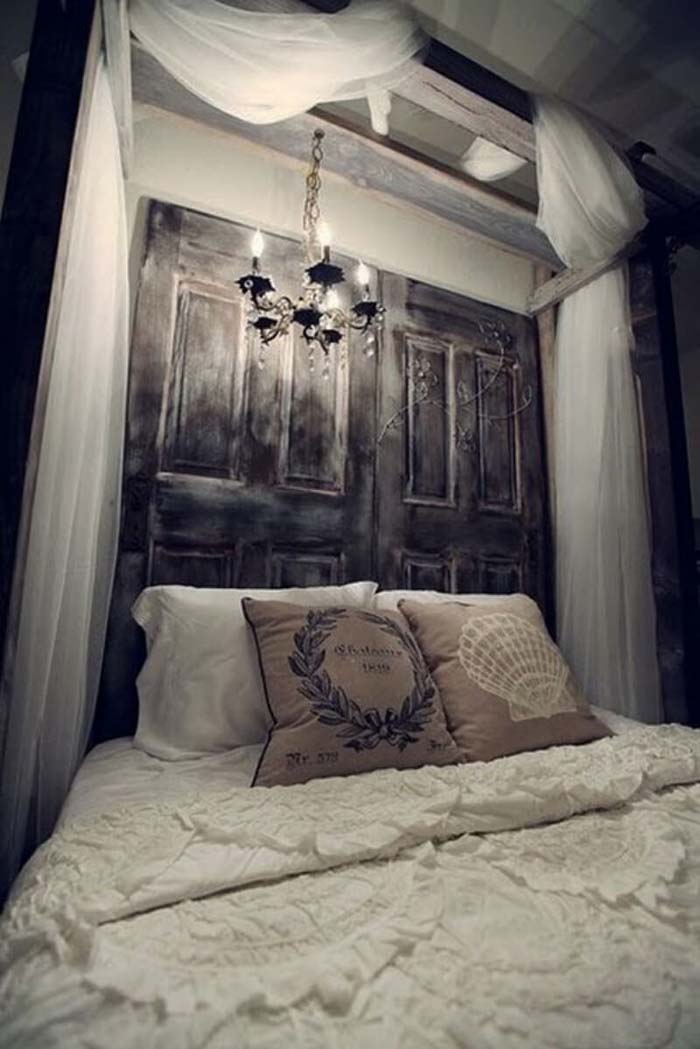 Another way to invite the vintage style is to change the standard headboard of the bed with one made of reclaimed wood.
It is up to you if it will be well painted or left unfinished to add more contrast and drama to the space.
All you need to make it is two old doors and good hardware to secure them to the wall and to the bed.
12. Easy Headboard From Whitewashed Shutters And Window Frame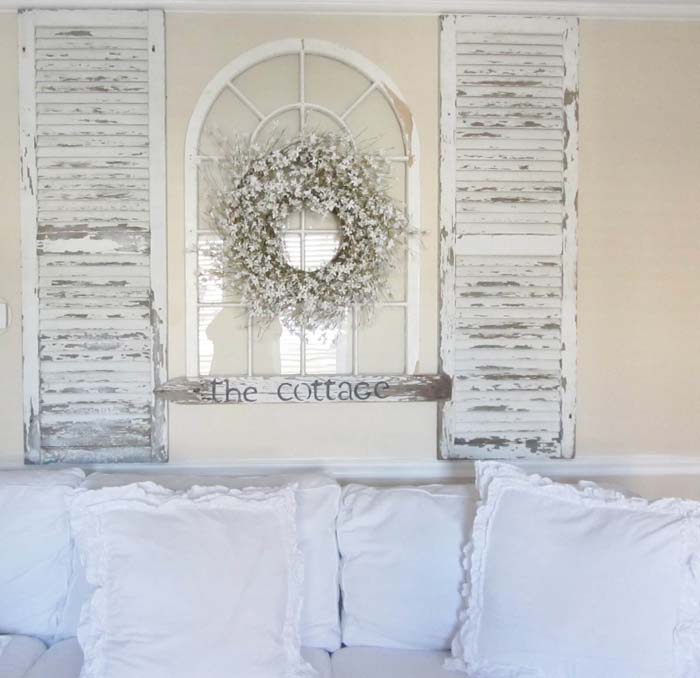 Any old windows, shutters or doors can be turned into a vintage headboard for the bed.
These two whitewashed shutters give space for additional accents like the window that will make the room look airier and more homely.
Use the window frame as a display for a wreath and for a symbolic sign.
13. Elegant Vintage Bedroom Design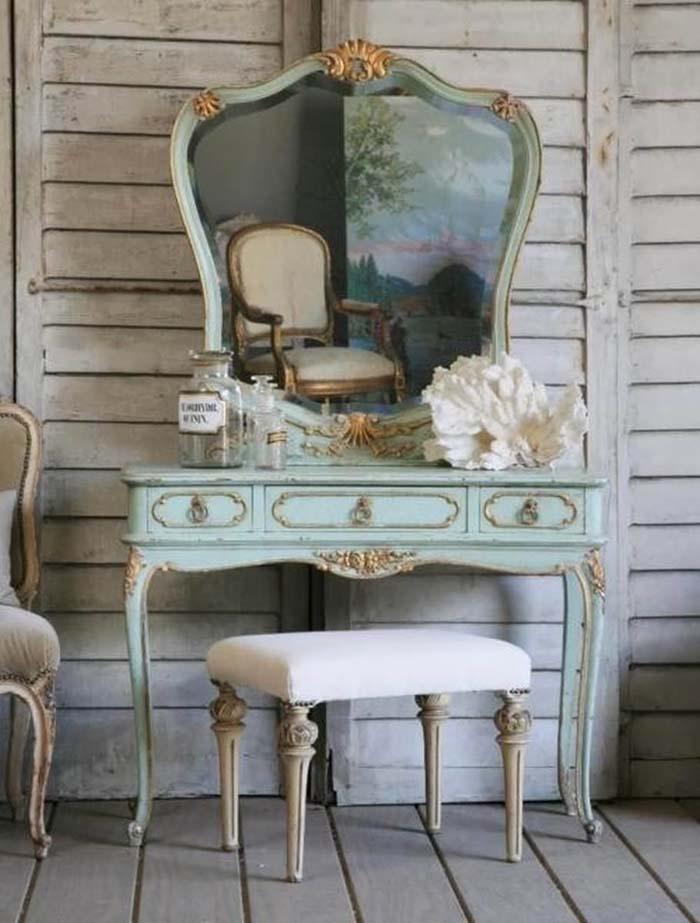 Any antique furniture made of natural materials, patina or such left to age in the years will add a significant amount of vintage charm to the room.
The design of this vanity speaks for elegance and value that will never go out of style.
via Sagina
14. Luxury Meets Old-school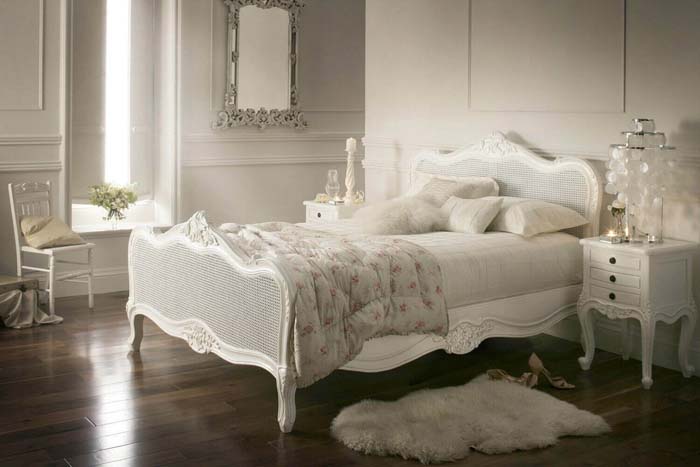 Vintage is one of those styles that flawlessly combine with the existing contemporary architectural and interior designs.
So if you want to renovate your bedroom, you can do it by changing some of the furniture and the accents.
Focus on natural materials, ornate and curved designs, white color palette.
15. Mini Packing Crate Vanity Organizer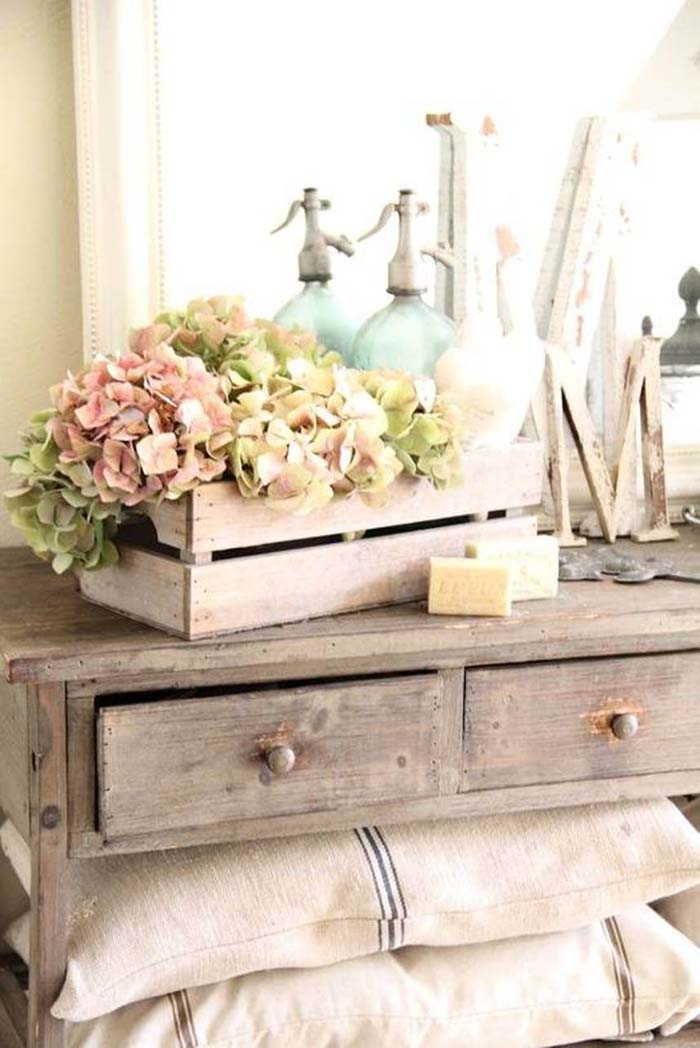 If you are looking for an organizer for your vintage vanity, you may not be able to find what you are looking for.
Instead, you can make it yourself by repurposing a small wooden crate into a container.
Whitewash it to make it look more elegant and decorate with flowers to emphasize the new feminine application.
16. Mock Four-poster Canopy Bed With Linen Drapes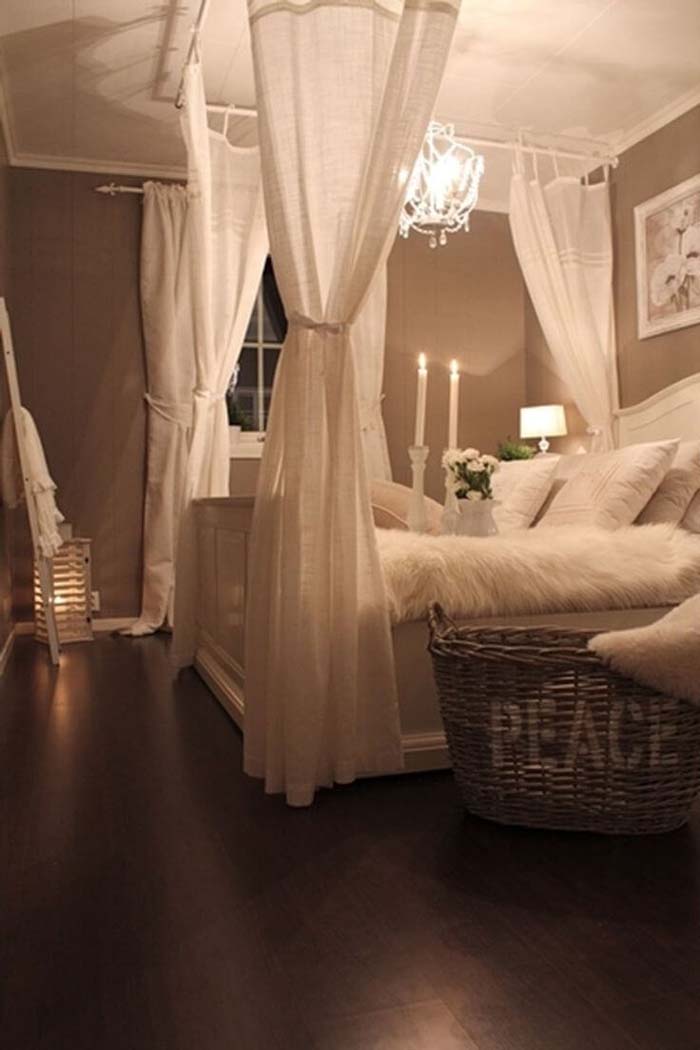 Increase the privacy level of your bedroom with a linen canopy. Although this fabric is plain, that feature will actually give the space a vibe of natural romance and coziness.
The ways to attach the fabric are many and most of them can be made with tools already on hand.
Fix curtain rods or plastic rails to the ceiling and hang the drapes with hooks.
17. Moroccan-inspired Vintage Birdcage Lantern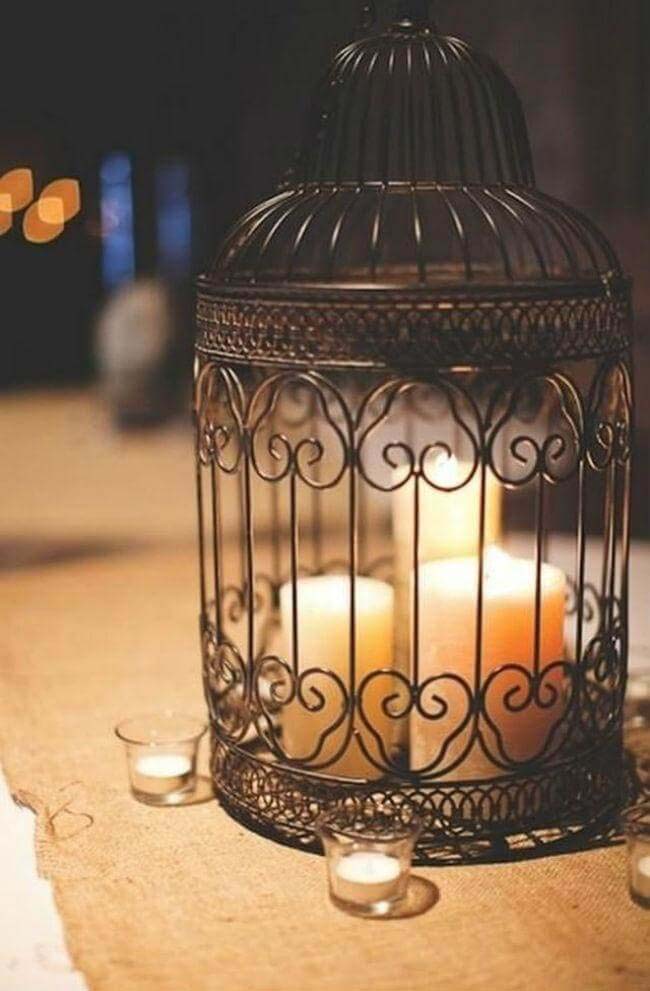 The bird cages are antique things made of metal and therefore they are related to the vintage style.
You can use them in many ways- as a decorative accent, as a flower holder or as a light feature.
via Szines Otletek
18. Old-fashioned Lantern Display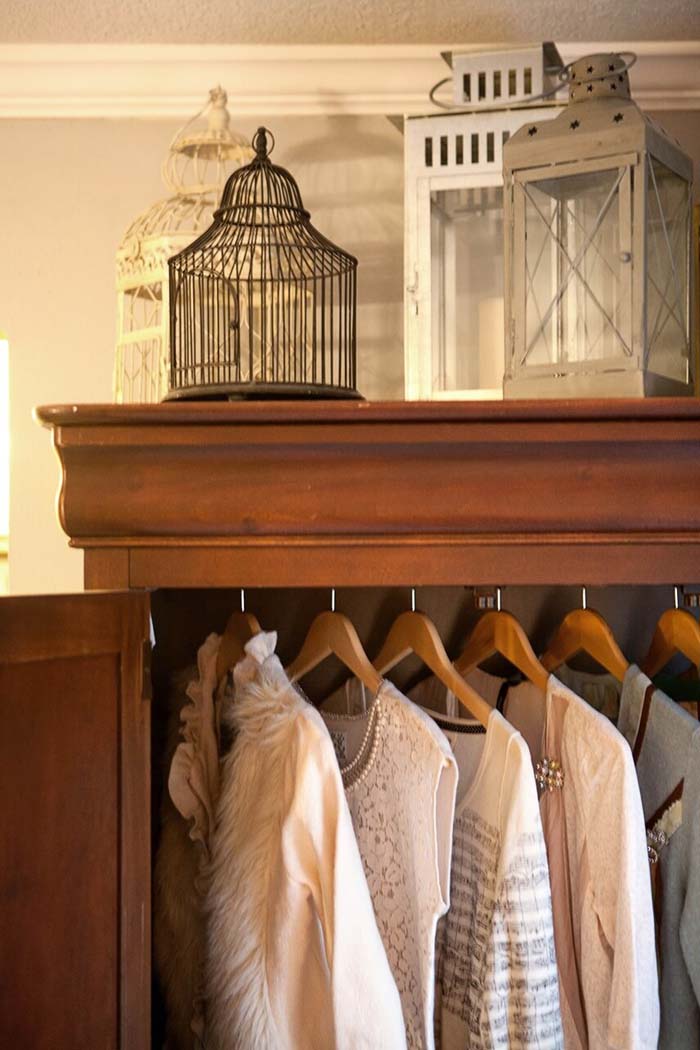 Grouping a collection of lanterns in the bedroom will give a vintage focal point to the bedroom.
You can set the over the wardrobe, on a nightstand, on the vanity or on a shelf.
19. Old-world Style Headboard And Room Divider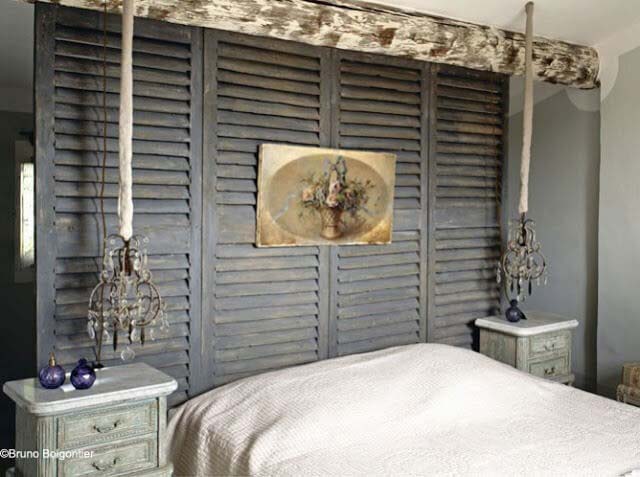 Repurpose four shutters to create a full-length panel that will serve as a space divider, a headboard or both.
Paint if you want a cleaner look or leave the wood weathered for a more tangible vintage vibe. Use the divider as a backdrop for nightstands and decor.
via Elle FR
20. Ornate Picture Frames With Chalk-paint Patina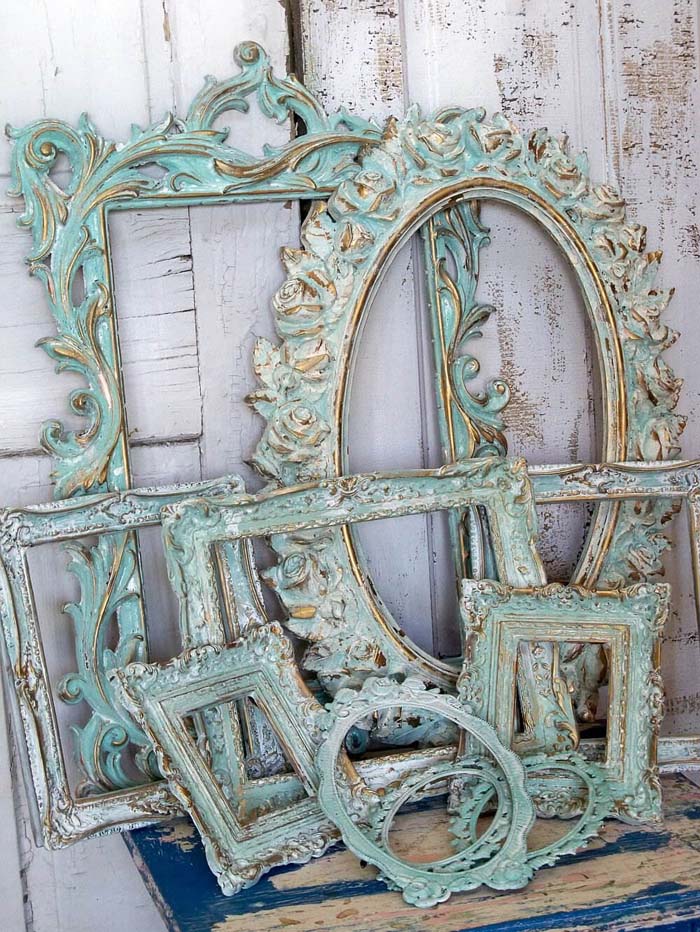 Add vintage interest to one of the bedroom walls with a collection of antique frames.
Such frames could be found at a thrift shop. To achieve an identical look, paint them first with metallic paint and then lay a nice coat of chalk paint.
Do some sanding on the edges and the ornaments to reveal the patina.
21. Polaroid-style Instagram Wall Art With Twinkle Lights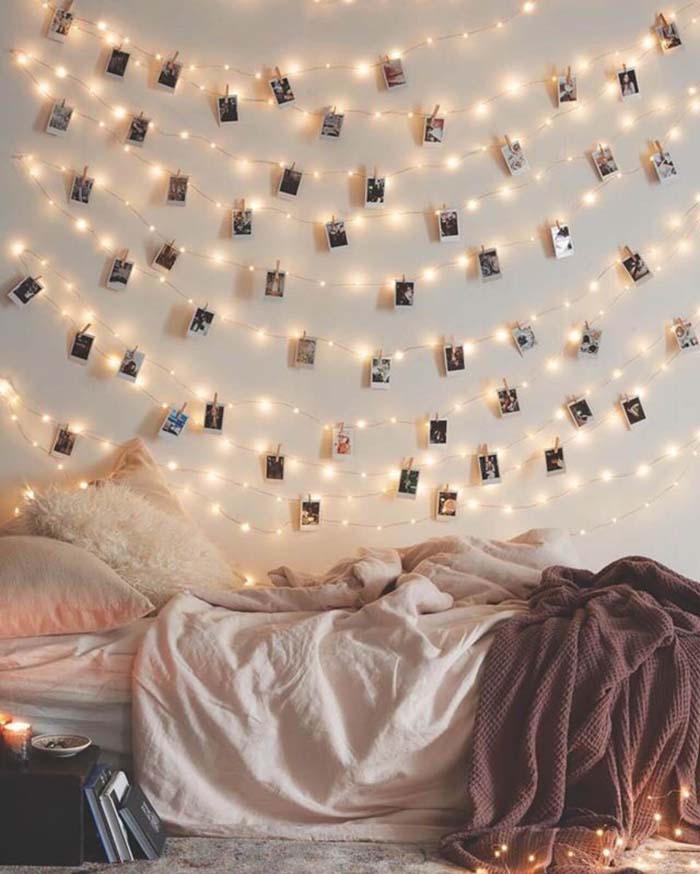 Any simple decoration could also add a vintage touch to the bedroom.
Layering a few strings of twinkle light will give a soft illumination for the nights but also a display for nice memories.
22. Trimmed And Tassled Semi-sheer Privacy Curtain On Ceiling Hooks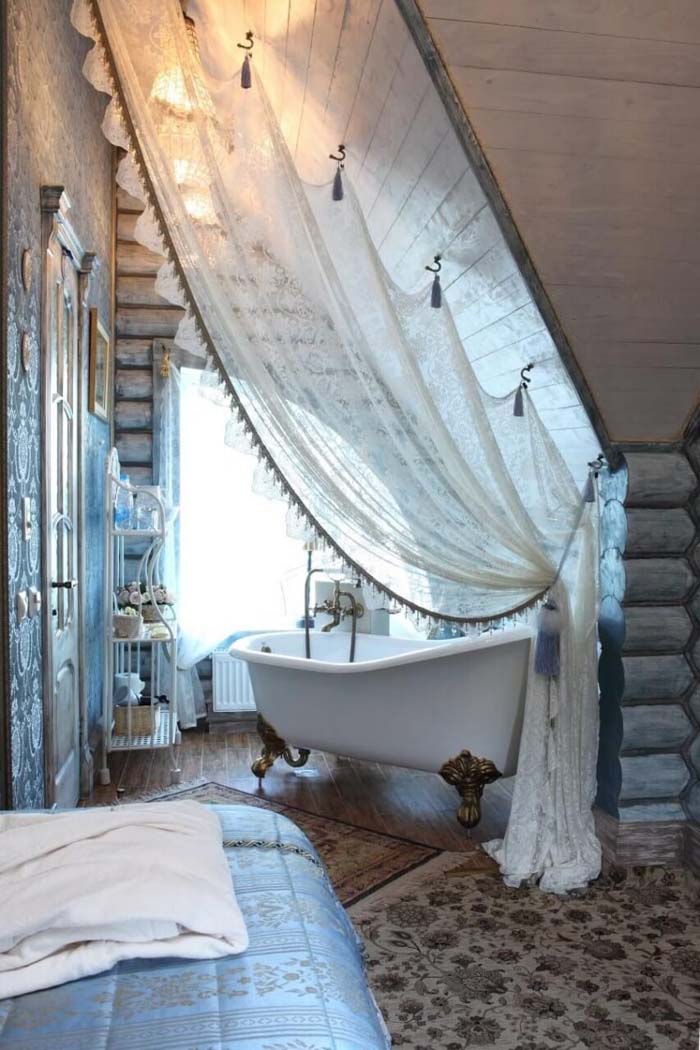 Having a bathtub in the bedroom is a luxury extra every woman wishes for. If you are lucky to have such a nook, separate it from the sleeping area with a beautiful curtain.
It will add just enough privacy without closing the space and making the nook feel and look odd.
Adding tassels to the sheer panel will ensure a vintage look of the privacy feature.
via Remont Boltai
23. Reclaimed Door Turned Floating Headboard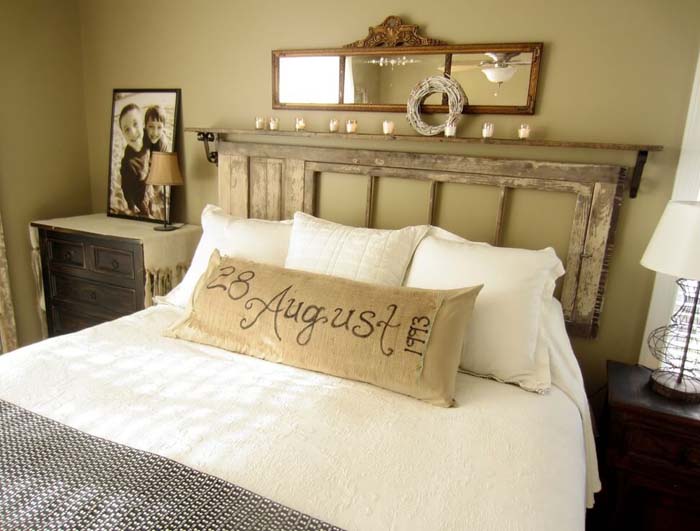 Using a wooden door as it is as a headboard will give a vintage charm to the bedroom in a budget-friendly and effortless way.
Add a shelf above it to use as a display for candles, frames and wreaths.
24. Reclaimed Wood and Mason Jar Votive Holders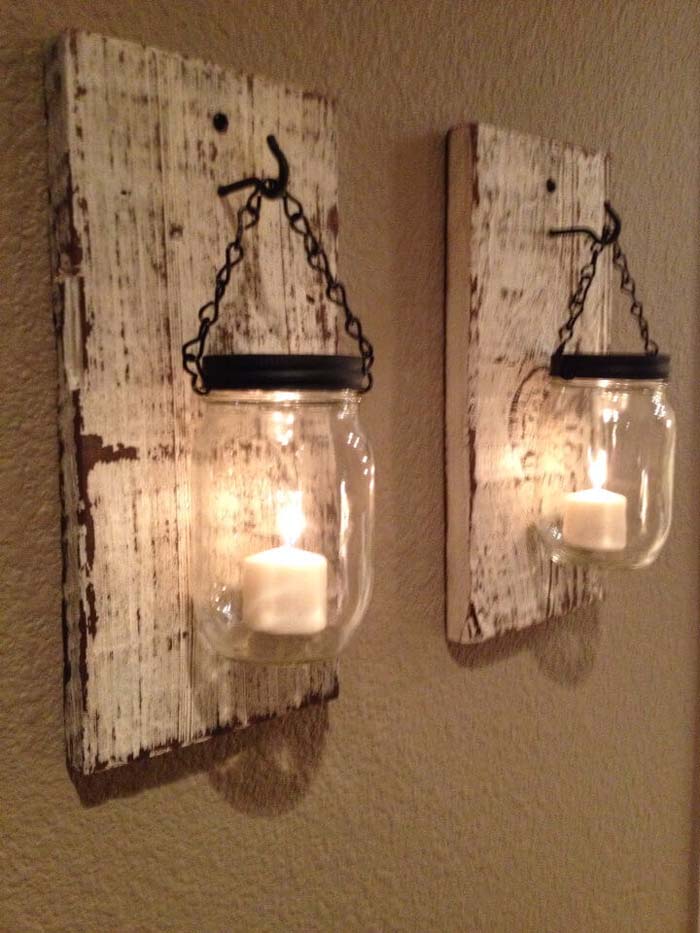 A set of wooden scones will add a vintage vibe to the bedroom whether placed on both sides of the bed or on another wall.
These are offered on the Internet but if you prefer the customized look, you can make them yourself.
You need a pallet slat to start with. Give it a weathered look by painting and then distressing it. Add a cup hook and hang a mason jar with a chain on the lid.
via Etsy
25. Reclaimed Wood Headboard With Built-in Reading Lights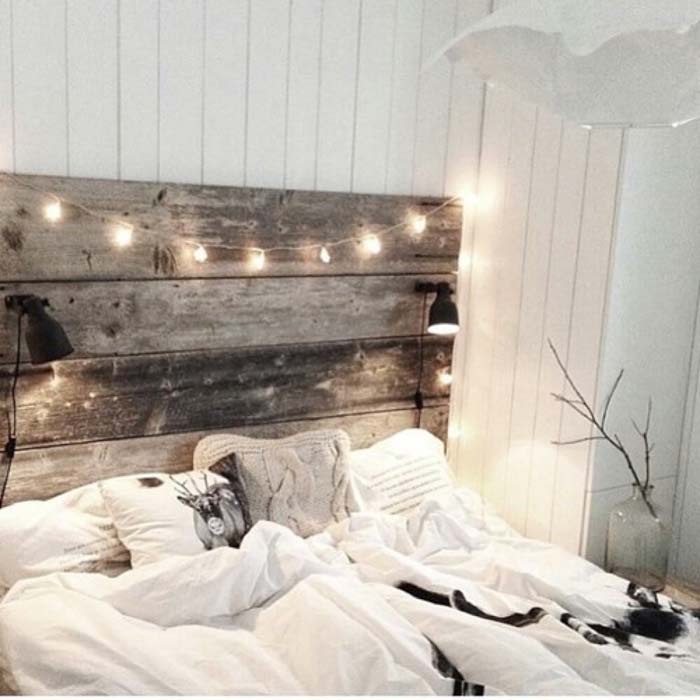 If you have a pile of wood left, it is time to use it for an instant vintage update of your bedroom.
A few pallet boards would be enough to make a long and wide enough headboard. Give them a good sanding to smooth the surface. Then use the whitewash technique to let them look aged.
You can use the headboard also as a display- hang fairy lights, a wreath or a frame.
26. Rustic Brass Bedframe With A Light And Airy Color Scheme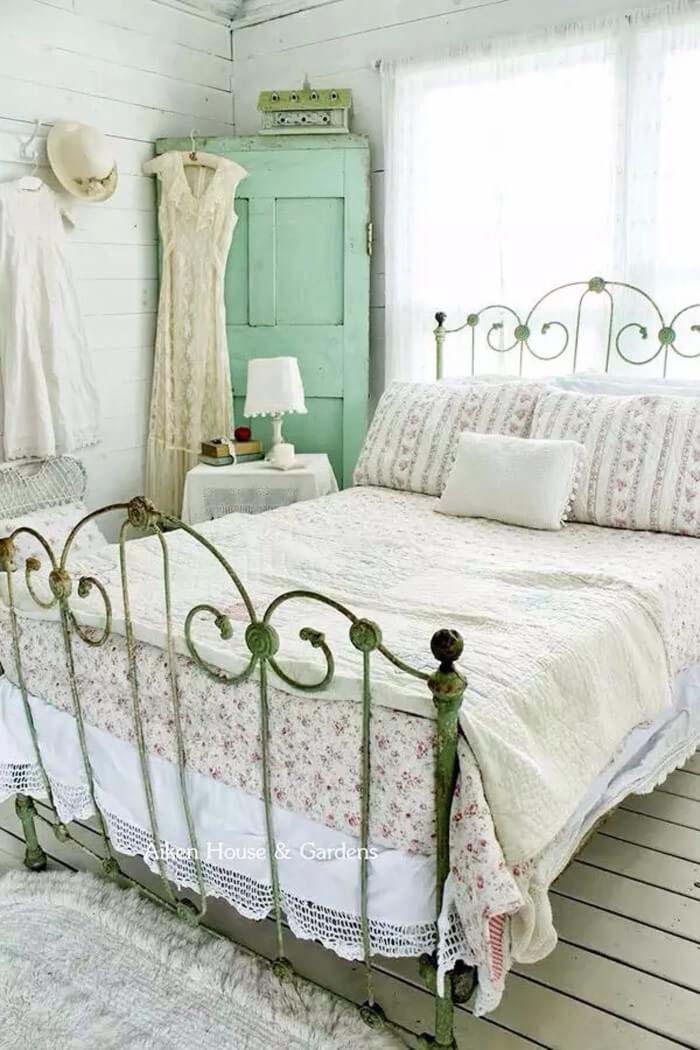 A brass bed frame will increase the vintage atmosphere of the bedroom. Along with its art expressiveness, it will bring the nostalgic feeling of the past.
Its weathered green color pops against the white walls and fabrics and matches another rustic accent in the room- the repurposed door.
27. Salvaged Window Frame Wall Hanging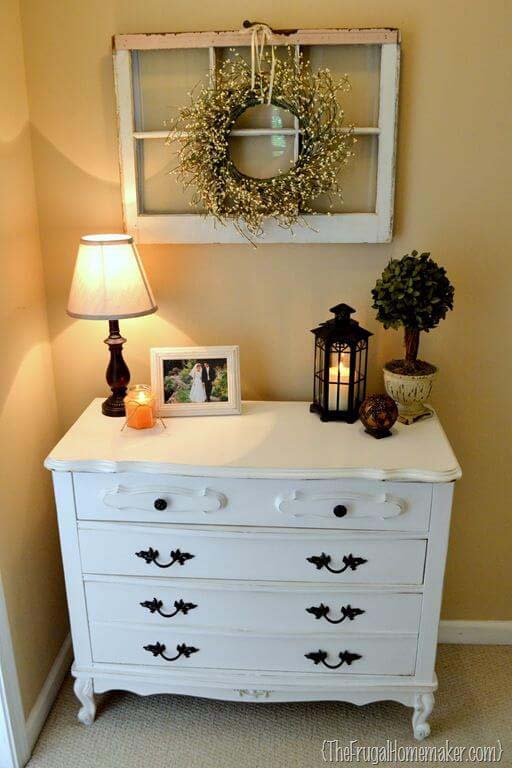 Continue the vintage decor vertically by hanging an upcycled weather window above a dresser or a vanity.
It will make the space feel airier and will let you use it as an interesting display for other accents.
28. Easy Vintage Side Table From Stacked Packing Crates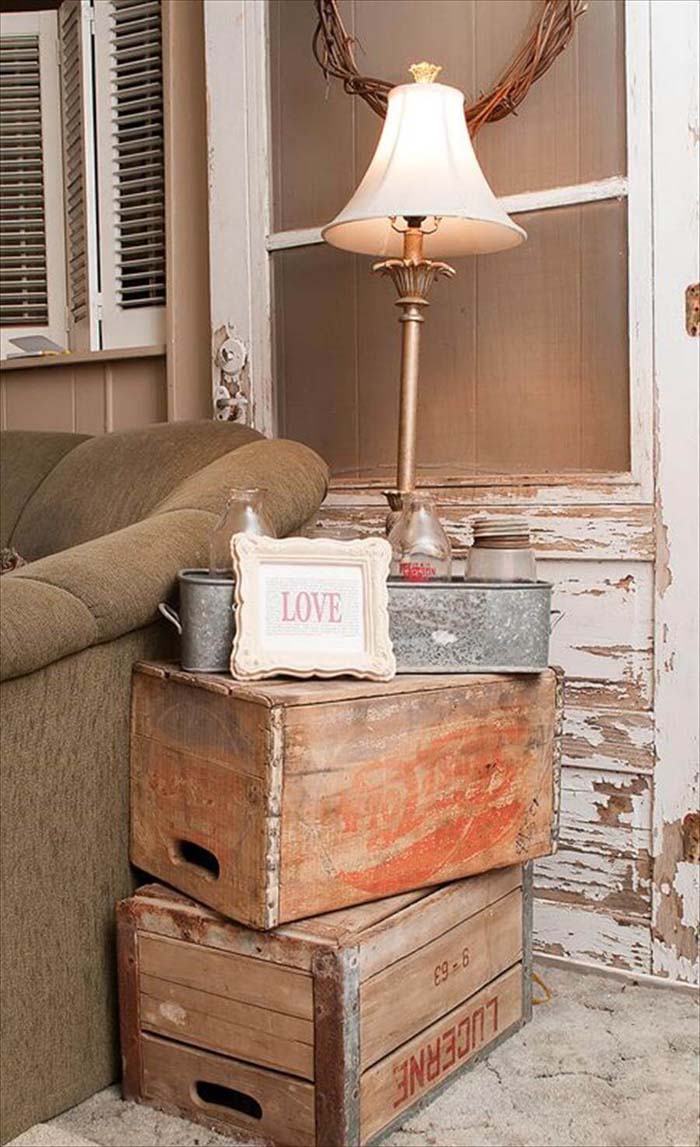 Using two crates as a nightstand or a side table will add character and vintage individualism to the room.
Making this non-traditional piece of furniture is easy. Get two crates and stack them. They can be attached to each other with plates and screws or left as they are.
If you are using them as a nightstand, place a lamp on the top and a galvanized container that can store your reading glasses.
29. Super Simple Stacked Luggage Nightstand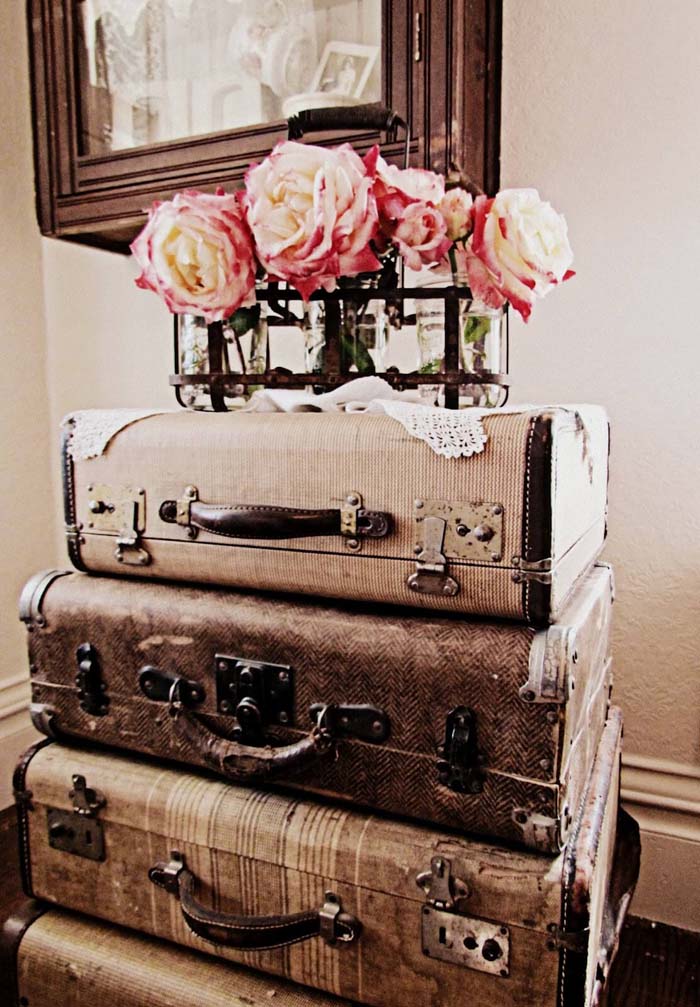 Following the ideas for repurposing old things, the weathered leather suitcases stacked in a pile are an alternative of the standard nightstand.
Stack them according to their size and place a lamp on the top one. Such arrangement will add interest to the bedroom with its variety of patterns and textures.
30. Twinkle Light and Sheer Gauze Curtain Headboard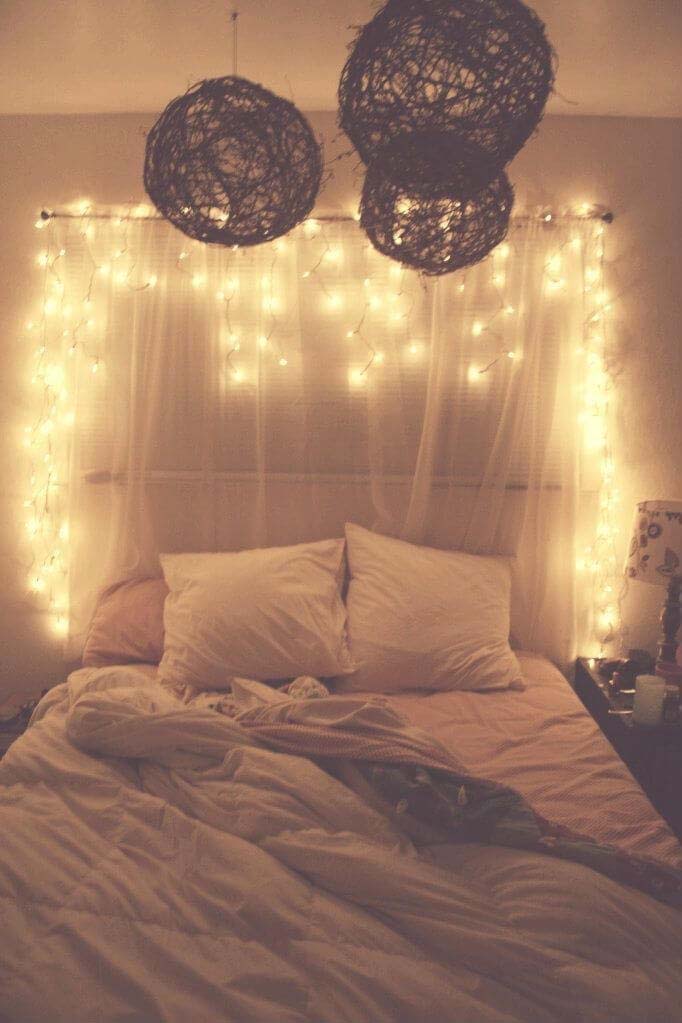 Are you looking for an affordable and appealing headboard redo? This one is what you are looking for.
You need a curtain rod or a rail to hang plain sheers that will imitate a headboard.
Weave a string of fairy lights around the rod and drape some along the length of the sheer to create a magical focal point in the bedroom.
31. Upcycled Orchard Ladder Turned Nightstand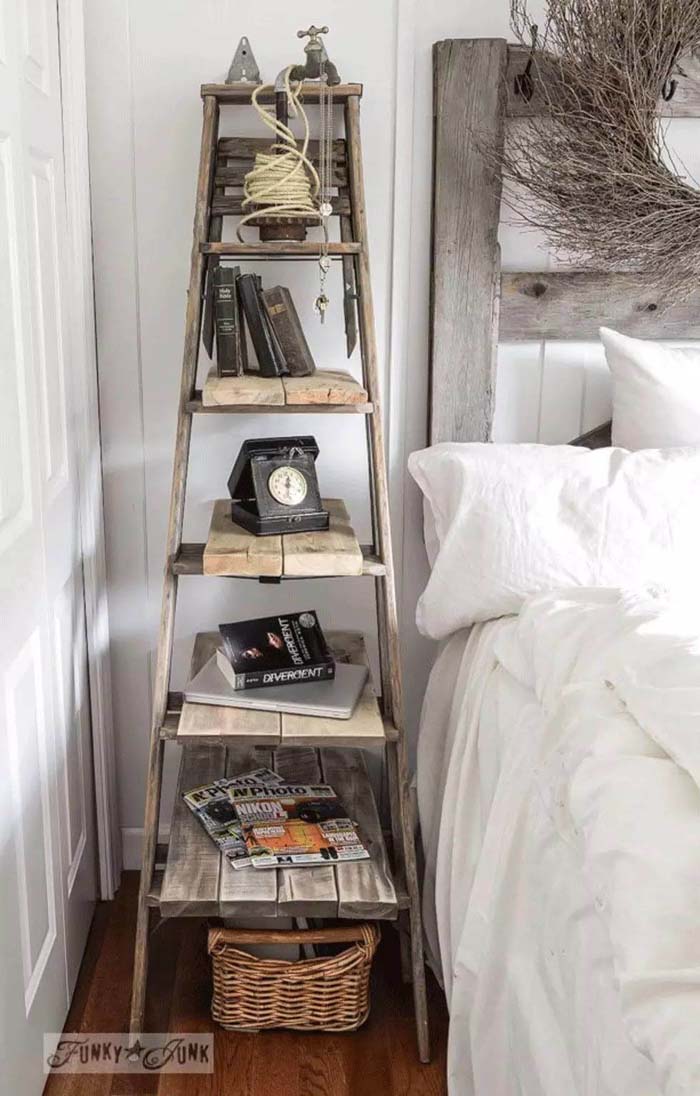 Is your bedroom small? Do you need more storage spaces? There is a vintage solution for this situation.
Repurposing an old ladder will provide you with many storage levels without taking much of the floor space.
32. Upcycled Vintage Bedroom Décor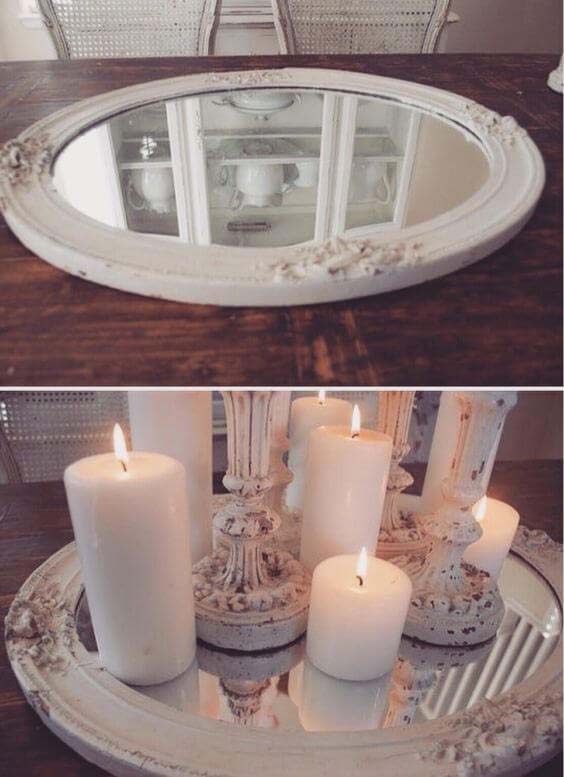 A quick and easy way to create a vintage accent for any room is to make a centerpiece arrangement.
Start with a vintage tray or mirror that will be the basis for the rest of the elements. A set of wooden candlesticks and a few votive candles.
Light them in the night to increase the intimate feeling of the bedroom.
33. Vintage Frame And Lace Trim Jewelry Organizer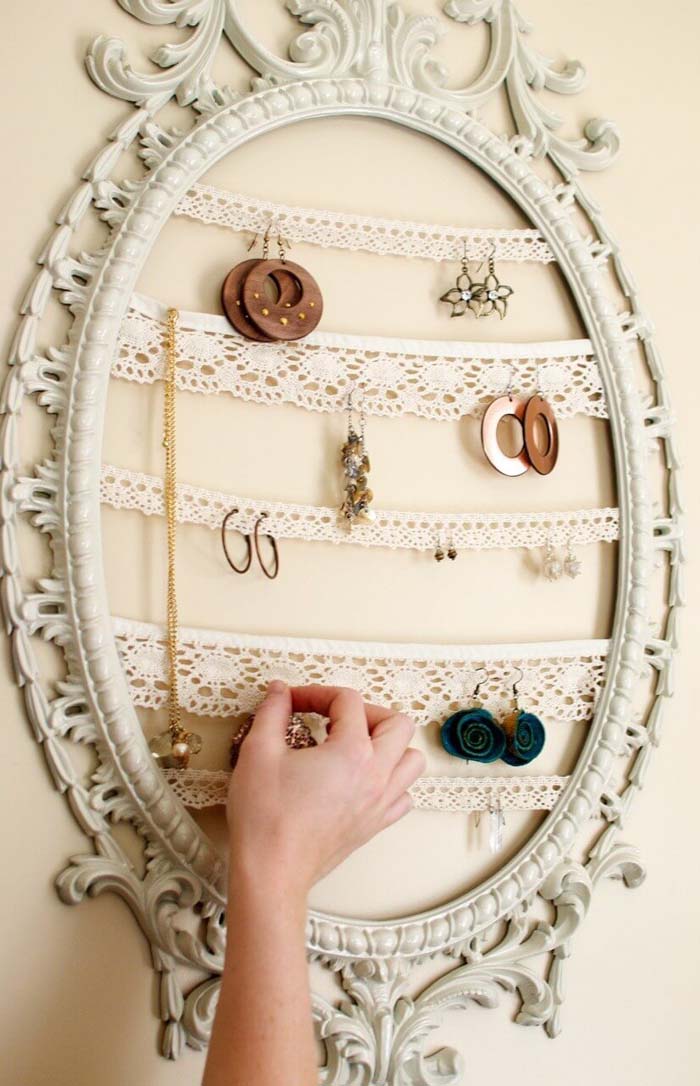 An old mirror frame from the thrift shop can become a multifunctional decor of a woman's or teenage girl's bedroom.
Take off the mirror glass to make space for lace strips placed along the width of the frame. The knitted texture of the lace will turn the wall art into a jewelry display.