You've decided that you want to create a layered landscape but don't know what to do next. We've come up with some tips on creating a layered landscape in your garden.
You'll find suggestions for what types of plants and flowers go in each layer.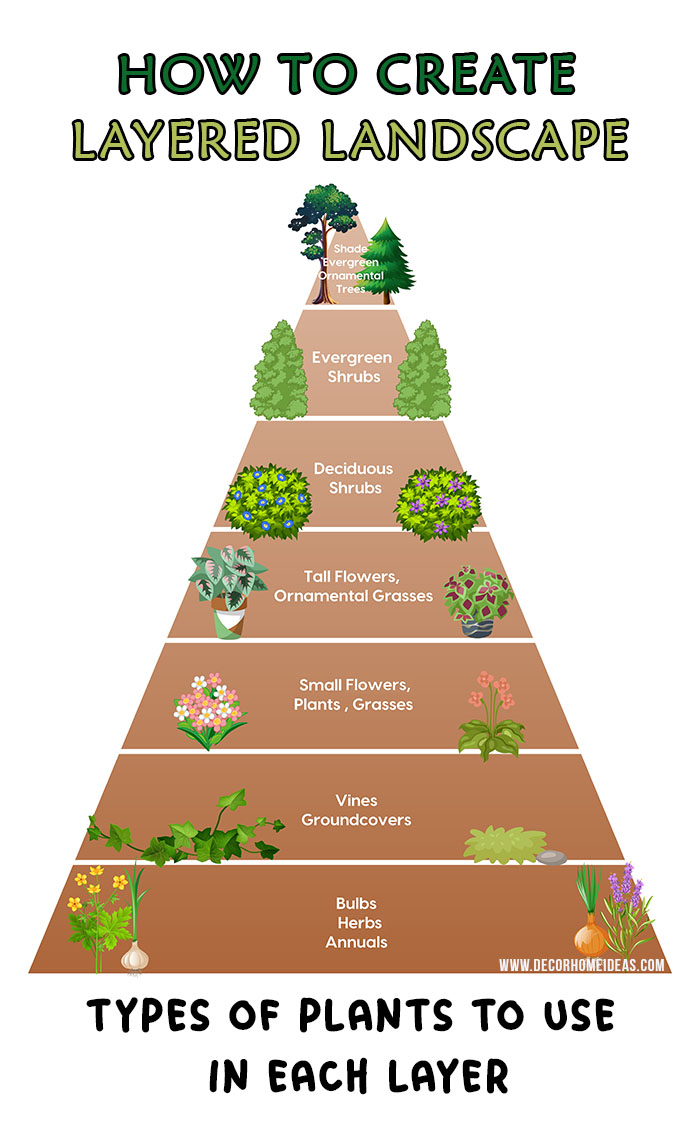 There are many plants that can be used in a layered garden. One of the most popular plants is a rose.
Roses can be used in any layer of the garden, from the top of the garden to the bottom. They can be used as a border, as a ground cover, or as a centerpiece. Other plants that can be used in a layered garden are hostas, daylilies, irises, and daffodils.
Each of these plants has its own unique features that can be used in a layered garden. For example, hostas are great for adding color and texture to a garden, daylilies can be used as focal points, and irises can be used to add a pop of color.
How do you make a layer landscape?
The goal is to create a flowing visual picture. The basic design for layering, from the tallest plants to the ground cover, is shown in the graphic above.
How do I layer my garden?
The garden bed should be at least 5 feet from the foundation of your house. Following the graphic, you'll experiment with color and height by mixing and interweaving the plants.
Keep in mind that the colors will change and blooms will fade and die. You'll want to try different plants to keep the color and interest going for as long as possible during the growing season.
Quick Tip: If in the middle of the year, you see that your vision isn't panning out, you can always drop in some potted plants to add color, texture, or just "fill in the blanks."
Types of Plants and Flowers To Use In Each Landscape Layer
1. Bulbs, Herbs, Annuals
These are the first to bloom and will catch your attention in the spring. Weave some of these in and out of your ground to middle layers for early color.
Bright Lights Cosmos ( Cosmos Sulphureus ) are orange and gold. They grow in 7 to 14 days and reach a height of 3 to 4 feet.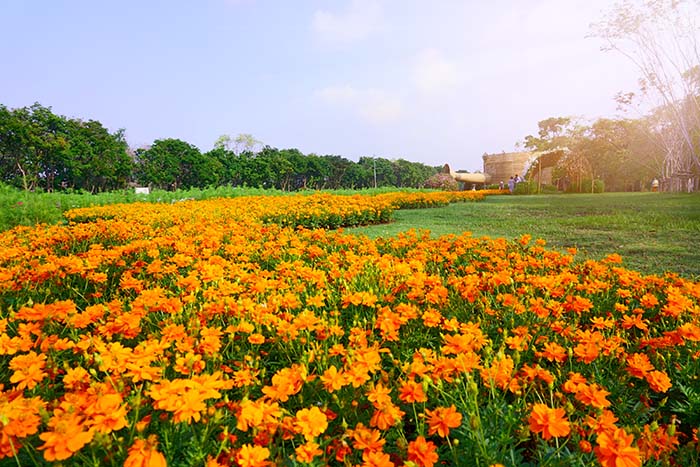 Dill ( Anethum Graveolens ) grows 2 to 3 feet high. It can be invasive but doesn't like the heat. Plant it in the spring to add its green, feathery texture to your low layers.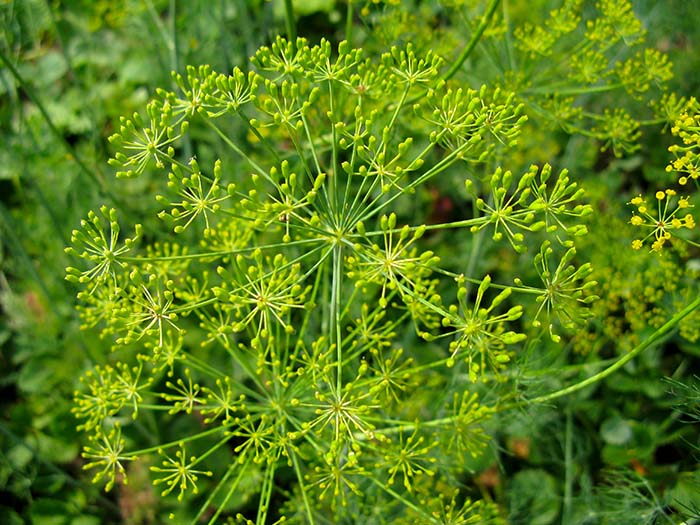 Gomphrena 'Fireworks' grows to 4 feet tall. They take longer to grow, so start them indoors sometime in February. Once they take, they're drought tolerant.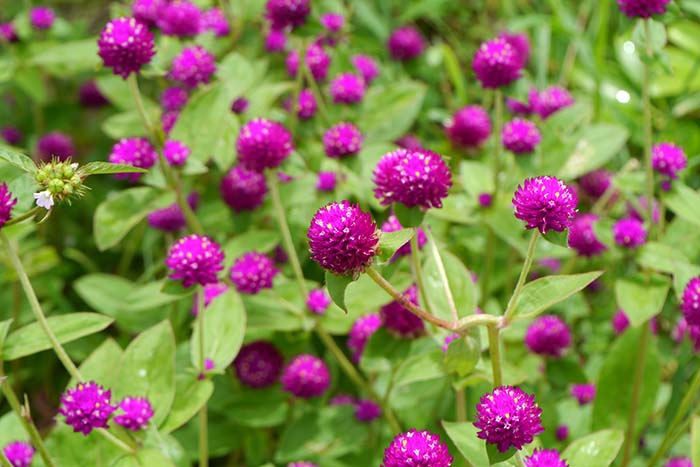 Quick Tip: Bulbs like sun, soil that drains well, and friends. You can crowd them together, which makes them ideal layering buddies. 
Try "Bulb Lasagna" to get continuous blooms. You'll layer the bulbs at various depths so they come up, one after the other. You'll have to research which bulbs come up when in your area, but the results are worth the extra effort.
2. Vines, Groundcovers
Herbs and groundcovers can be spread along the path. Herbs and even some vegetables will work as ground cover. Heads of lettuce can be used, but good luck holding the rabbits at bay.
Creeping Zinnia (Sanvitalia procumbens) flowers add a golden touch to your path.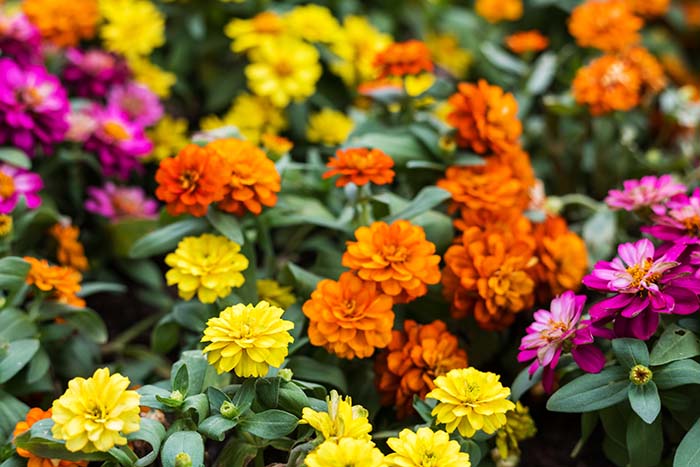 Curly Parsley makes it easy to add greenery to your garden and freshness to your pastas.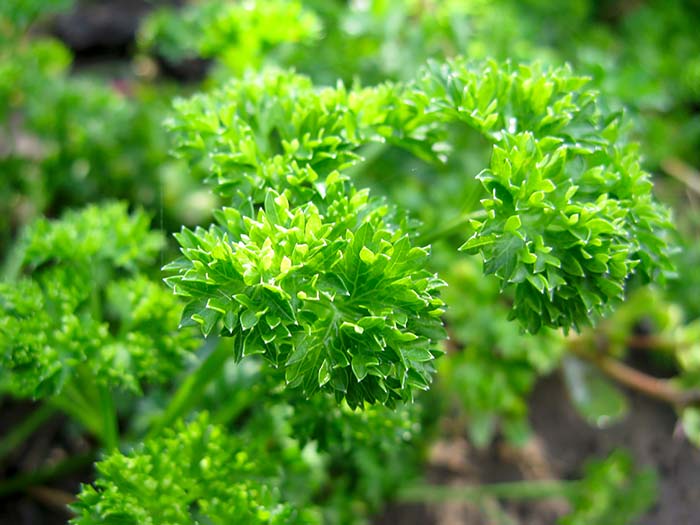 Mint is fast-growing but may become invasive. They're great for keeping away rodents.
Black Mondo Grass has a unique, dark color. Try the Dwarf 'Nana; in your bottom layer.
Japanese Forest Grass or Hakone Grass – Grows in zones 4 to 11, so it's easy to add texture with this choice.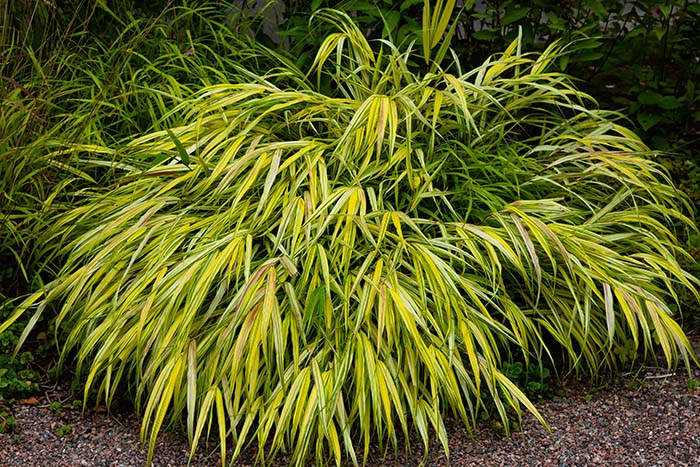 Quick Tip: Coleus Bulbs come in a lot of varieties. If you decide you need a little color, these plants fill out quickly.
3. Small Flowers, Plants, Grasses
Your mid-layer or layers can be made of small plants, flowers, and ornamental grasses. Small flowers add hints of color while grasses add texture. It's important not to forget about grasses. They can add color and height to your garden all season. In fact, you could create a layered garden with grasses alone.
Ruby Grass 'Pink Crystal' starts out pink and changes to white as it matures.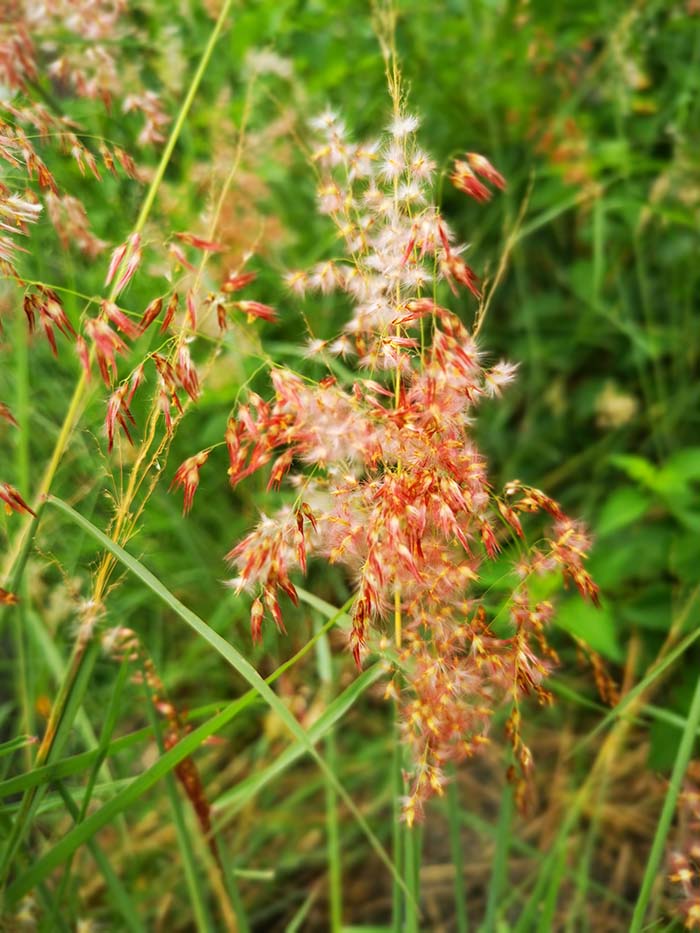 Blue Fescue ( Festuca Glauca ) thrives in zones 4 through 11. There are plenty of blue varieties. You're sure to find one that will work in your layered garden.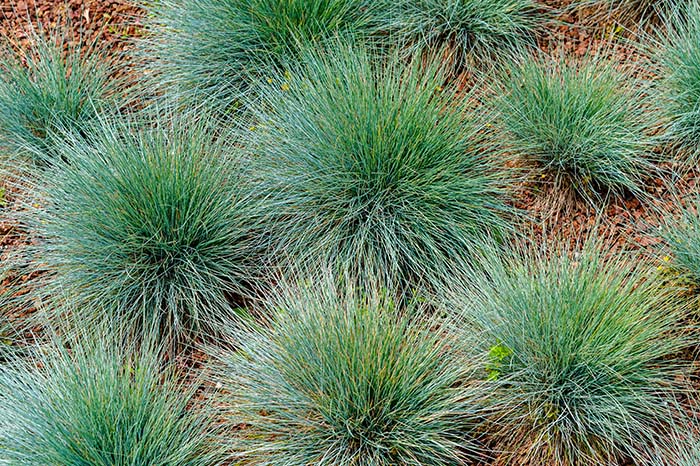 Johnson's Blue Geraniums mature at about 12 inches. If you want a perennial that will keep its blooms most of the season, 'Rozanne' is a favorite of gardeners.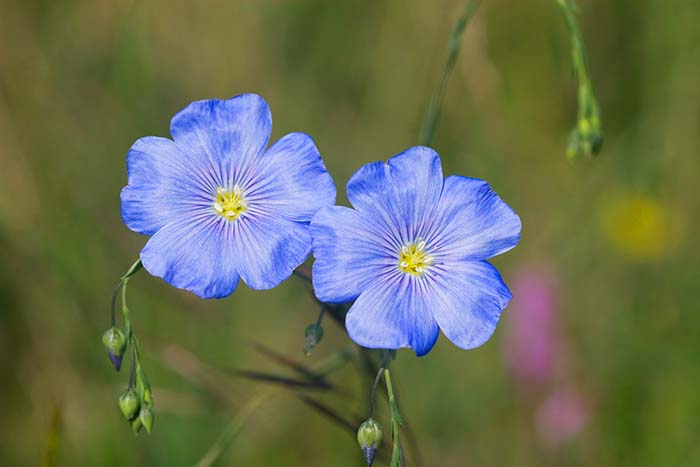 Quick Tip: If you're looking for a lime-green plant to use as a filler, don't forget about the hearty Hosta. They work as ground cover or as a first layer.
4. Tall Flowers, Ornamental Grasses
Tall flowers and grasses can bring texture and color to your garden. This is a great place to bring out the character and style you want your landscape to convey.
Bunny Tails ( Pennisetum Massaicum 'Red Bunny Tails' )  row in zones 7 through 10. This drought-tolerant grass is a good choice for dry climates.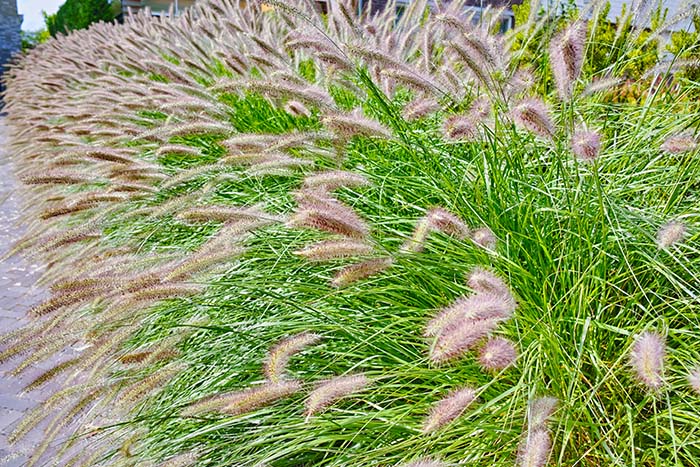 Feather Reed Grass ( Calamagrostis Acutiflora 'Karl Foerster' ) will do well in zones 4 through 9. It grows up to 4 feet high and is a good choice for smaller gardens.
Daylilies are a consistent winner. They grow and die quickly, but the seeds will drop and germinate, giving you rounds and rounds of blossoms.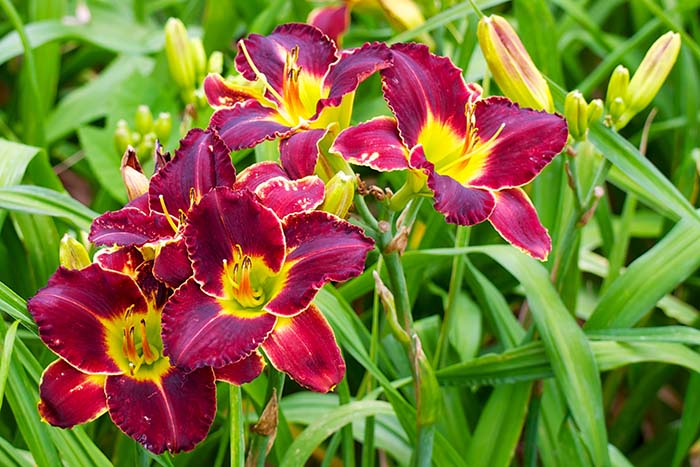 Torch Lilies are a show-stopper. Their orange and red blooms stand nearly 6 feet tall.
Joe Pye Weed is a perennial with purple and pink flowers. It's another standout that can reach a height of 7 feet.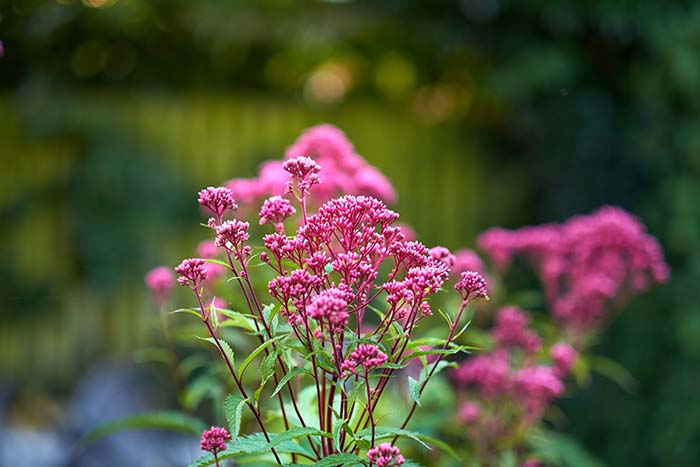 Bush Clover is a flower to consider when you're trying to attract pollinators. It's hearty and grows to nearly 5 feet tall.
Quick Tip: Salvia plants are always a hearty choice. Add them where you need color or a layer that grows to about three feet tall.
5. Deciduous Shrubs
This mid-layer plant should bring color and contrast to the garden. 
Knockout Rose Bush. Roses can work just about anywhere in a layered garden. The Knockout Rose Bush will continue to bloom for about 9 months through the year.
This makes it a great choice for a middle layer in your garden.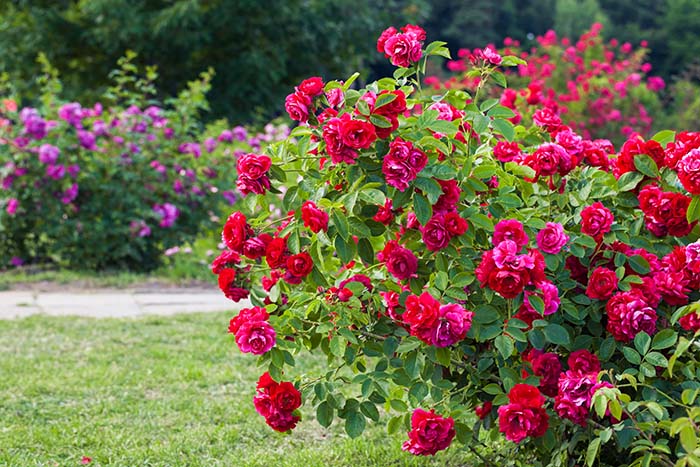 Beyond Midnight Bluebeard is deer and drought resistant. The deep blue blooms will not disappoint.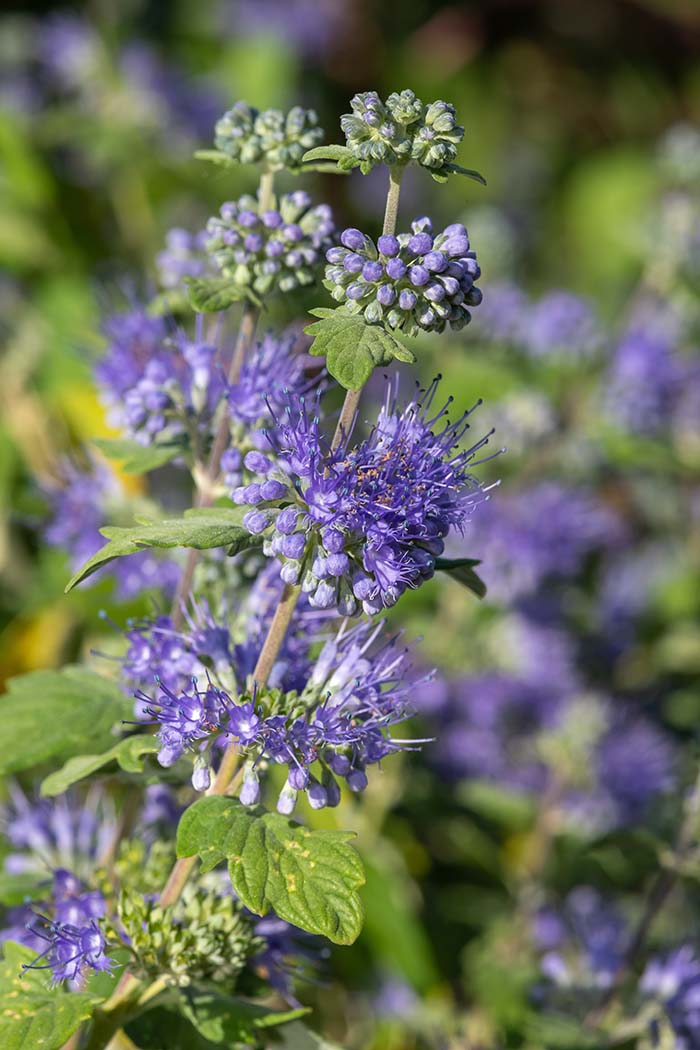 Hydrangea plants are a go-to shrub for landscape designers looking to keep the color going until the first frost.  Look to varieties like Candy Apple for blooms that will last through the fall. QuickFire is another late-blooming variety as is Mophead.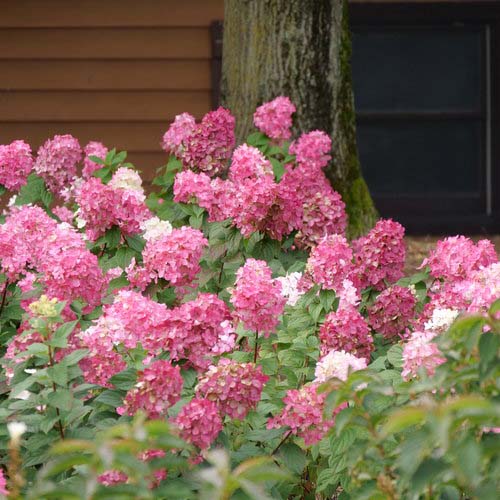 6. Evergreen Shrubs
Yes, they're usually considered "border bushes," but Evergreen shrubs can provide weight, depth, and texture to your layered garden.
Dwarf Loropetalum 'Purple Daydream' has beautiful reddish-purple flowers in the spring. It's a good choice when you need a shrub that's resistant to deer.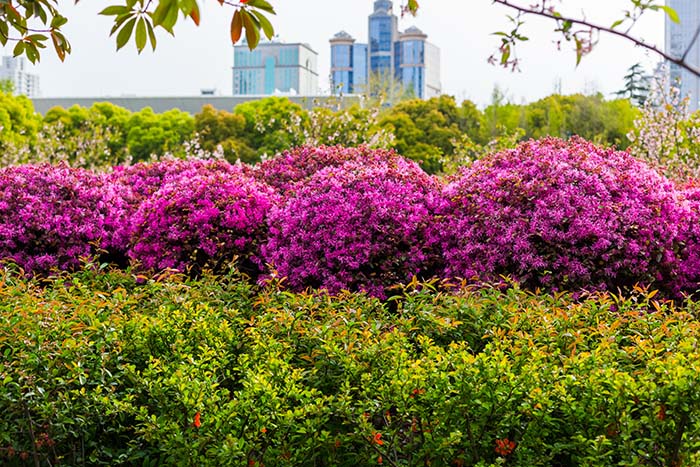 Rhododendron bushes are popular and hearty. Their aromatic and colorful blossoms will announce when spring has finally arrived.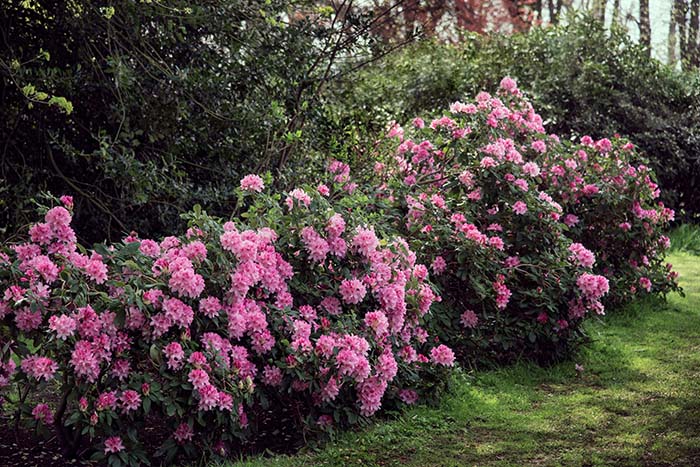 Boxwood 'Northern Charm' is a classic shrub whose versatility can't be overlooked. Its green foliage will take on various shades throughout the year.
7. Shade, Evergreen, Ornamental Trees
This is where you get the chance to block the view of your neighbor's Great Dane or second-story balcony. 
Japanese Maple 'Bloodgood' is a slow-growing ornamental tree. It's a great option for a front yard tree and adds year round interest to any home landscape.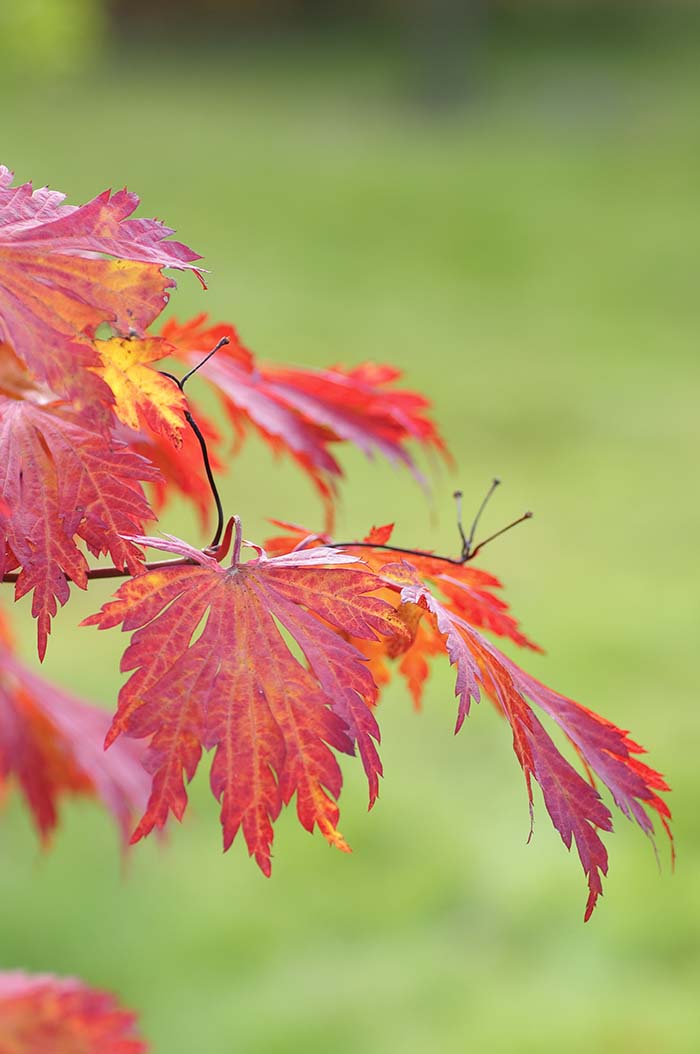 'Weeping Higan' Flowering Cherry is a gorgeous ornamental tree with pink blossoms. It tops out at 20 feet high.
Crabapple trees not only have bright blooms, they're good for the pollinators. The fruit isn't edible, but they provide great color and shade.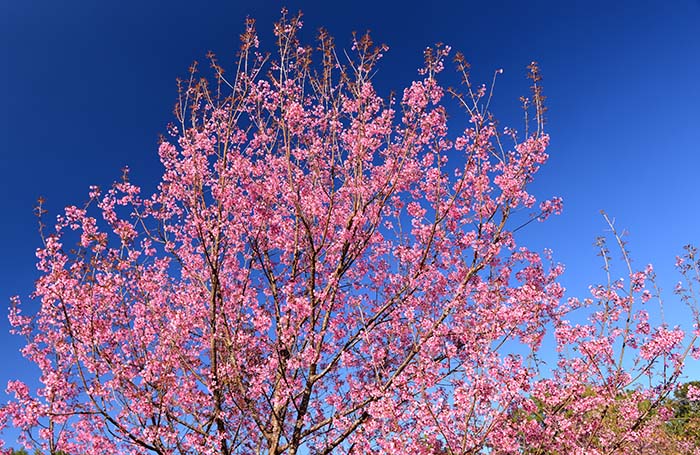 Serviceberry trees have white blossoms that will produce a deep purple berry. They taste great, but you'll be fighting your feathered friends for the bounty. In the fall, the leaves turn a stunning shade of orange.