Stone paths assembled in a mosaic pattern are extremely beautiful and very durable. Thanks to the versatility of stones in sizes and colors, there is a wide variety of patterns of arrangement.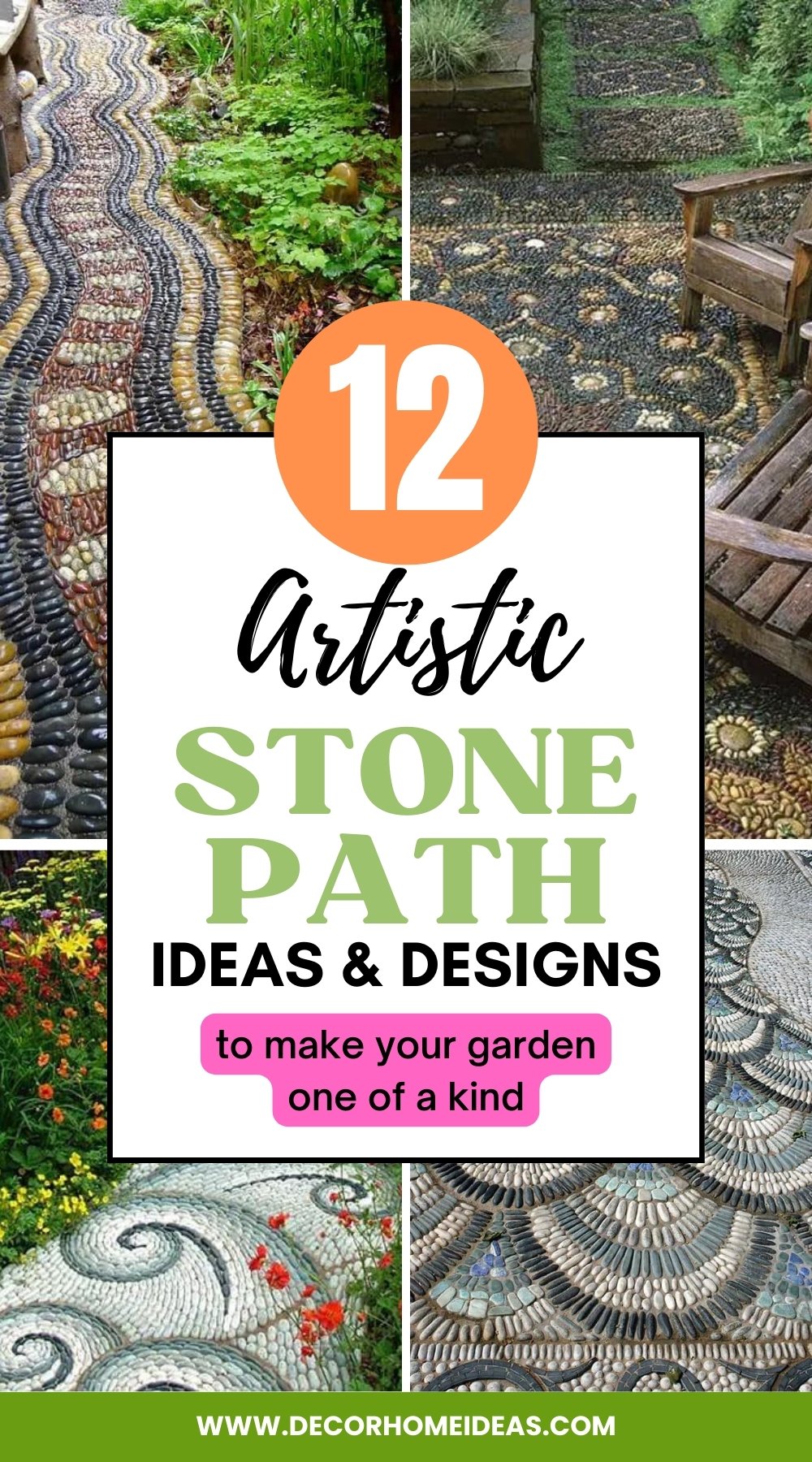 With the next stone path ideas and craft garden art you can create a ground masterpiece inspired by the beauty of the natural materials and made with your own hands.
1. Mosaic Stone Path With Waves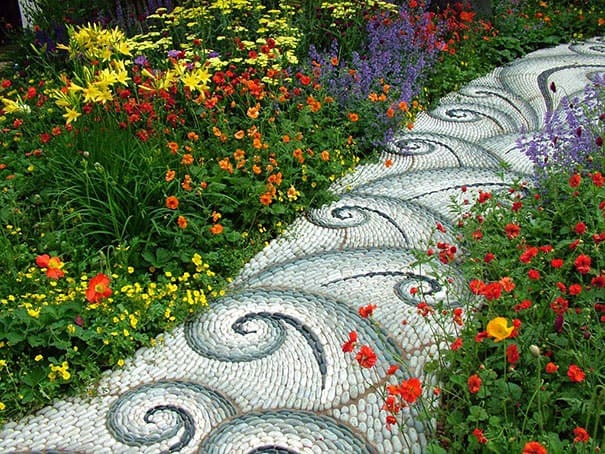 This path idea can be achieved by arranging densely three colors of stones. The arrangement of the dark-colored stones configures wave shapes that stand out against the white-colored ones.
2. Shell Mosaic Idea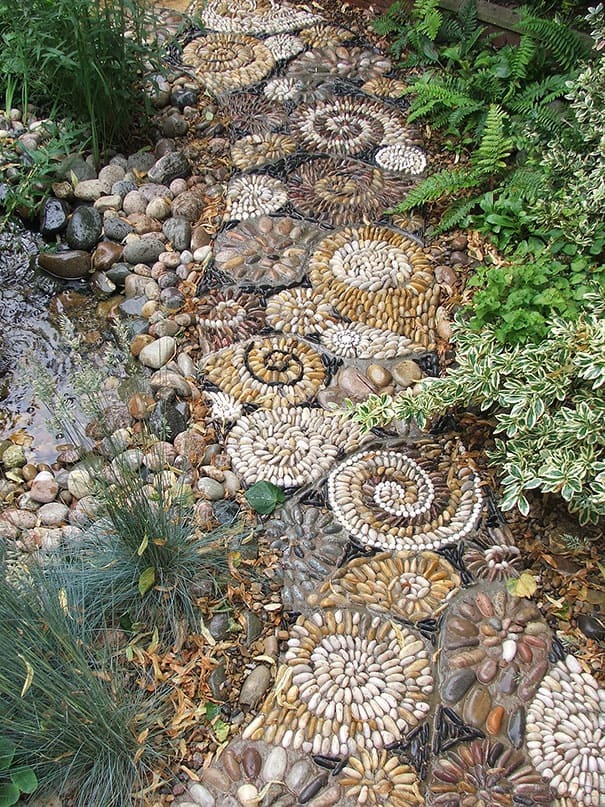 Combining different sizes and colors of pebbles gives you the opportunity to create interesting shapes in a mosaic pattern. In this garden path idea, the pebbles are used to form spirals that resemble shells.
3. Peacock Mosaic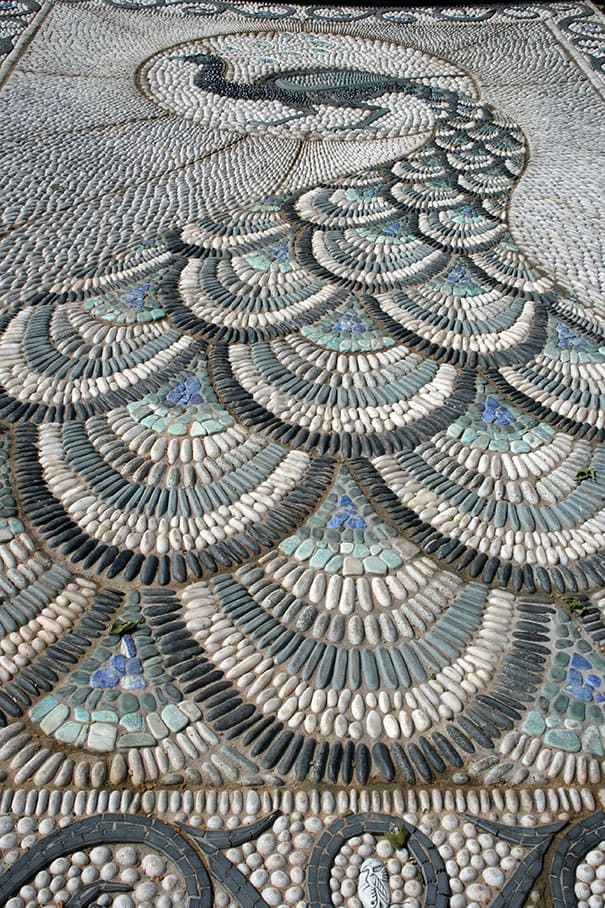 In this path idea, the varieties of stones create an opportunity to outline a peacock image. For this idea, planning the arrangement is very important before grouting the stones in the ground.
4. Spirals And Flowers Mosaic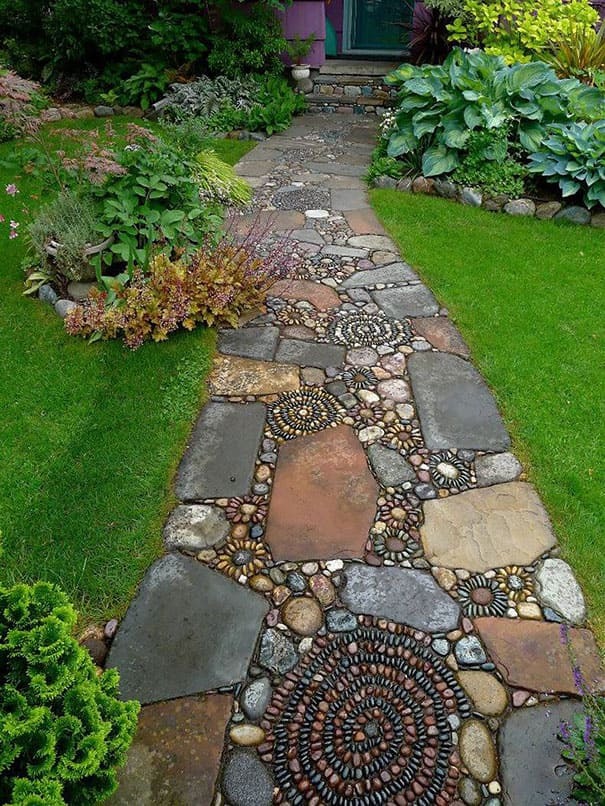 To save time from arranging tiny pebbles into curious shapes, you can mix and match large flag stones with river stones and pebbles. The smaller stones fill the gaps between the larger ones resembling spirals and flowers.
5. Spiral Mosaic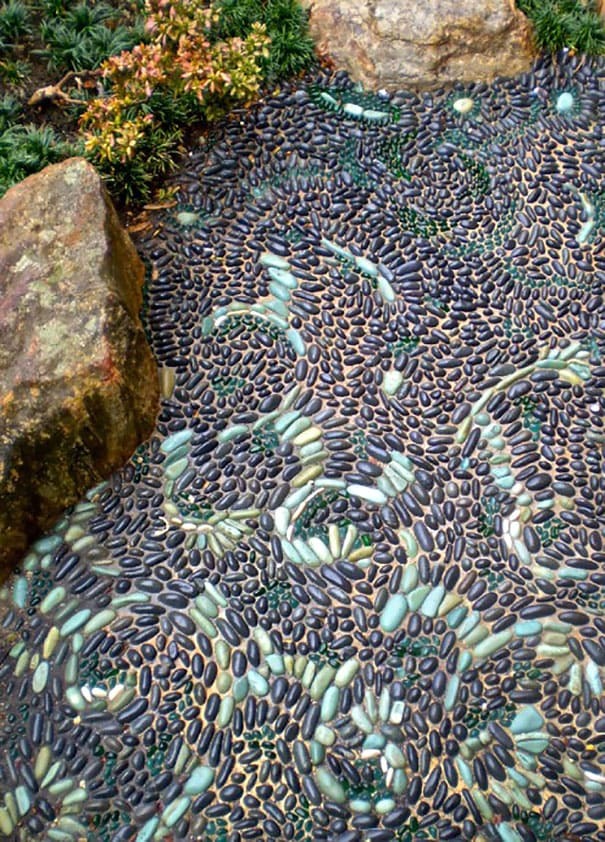 In this path idea, the light-colored pebbles are arranged like spirals. Their light color stands out against the black stone filling and makes this path very artistic.
6. Moroccan Mosaic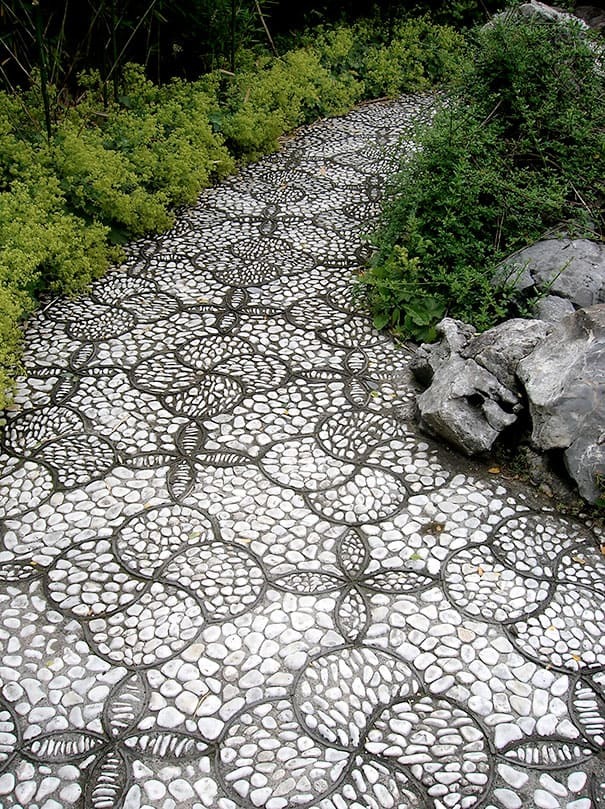 Use concrete molds to outline Moroccan-inspired shapes in the path and then fill them with white river stones. The final result is an amazing stone carpet weaving its way through the garden.
7. Mandala Path Idea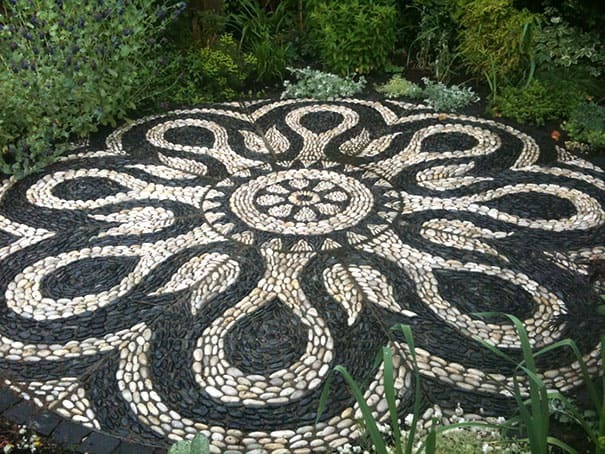 This path looks more like a rug of stones. The black and white stones make it possible to create a Mandala pattern.
8. Artistic Path Idea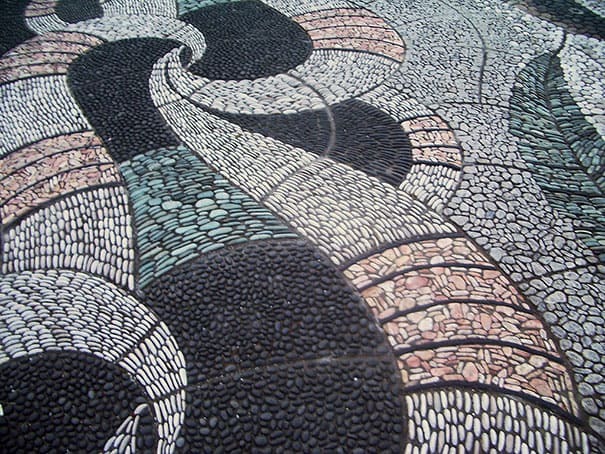 In this path idea, stones are arranged in a whimsy pattern. Black stone sections alternate with light-colored ones to create an artistic canvas on the ground.
9. Stone Path With A Vase Arrangement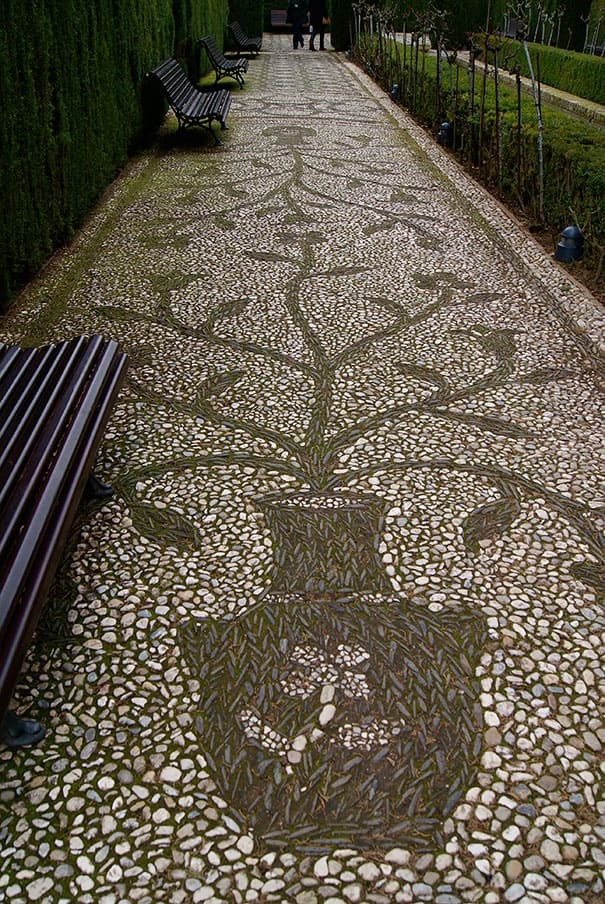 In this path idea, the dark-colored stones outline a vase with a flower. Here, you can use river stones and pebbles for the path and black stones for the vase and the flower.
10. A Path Looking Like A Carpet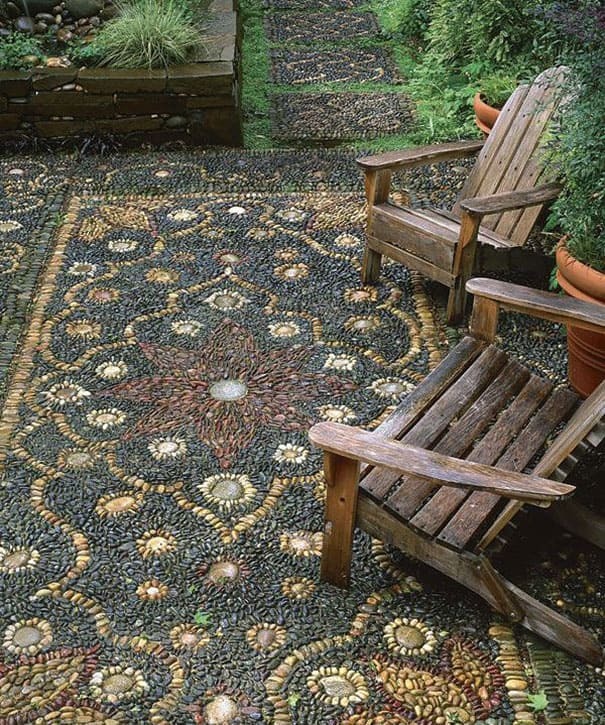 A traditional carpet has inspired this path idea. The motifs and the arrangement can be seen in a real Persian carpet but when implemented outdoors, they are created with stones of different sizes and colors.
11. Mosaic In Curved Stripes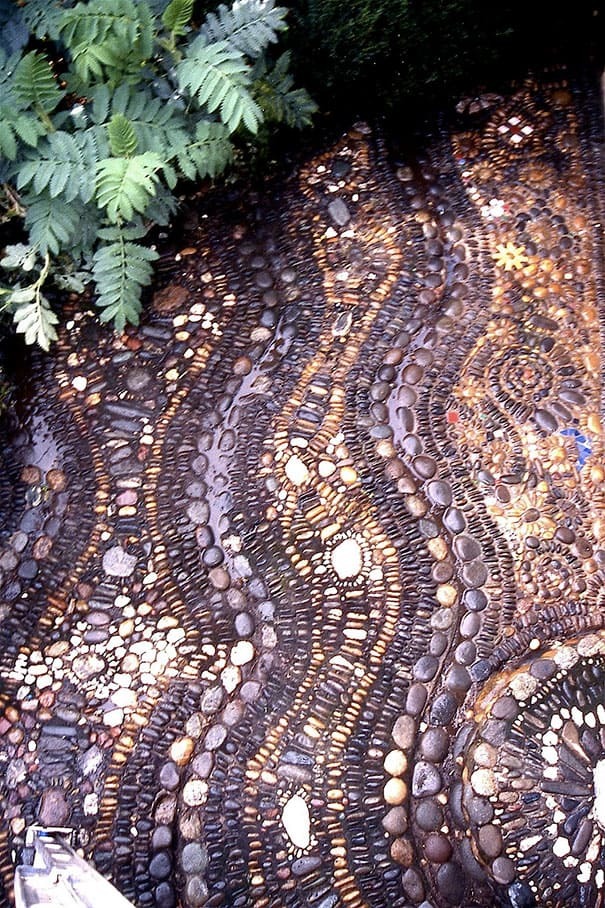 Use the versatility of the stones to "draw" curves with stones and pebbles. Match them by color forming one long strip and then continue with the next stone color.
12. Stone Path With Stepping Stones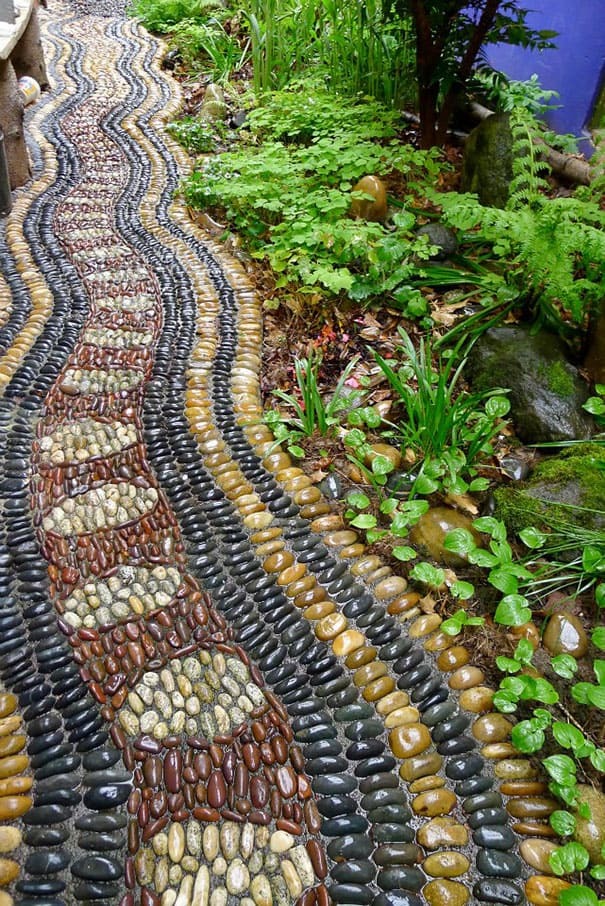 This is another inspiring path idea showing the versatile arrangements with stones. The lightest colors stones in this path idea resemble stepping stones.
13. Modern Path Idea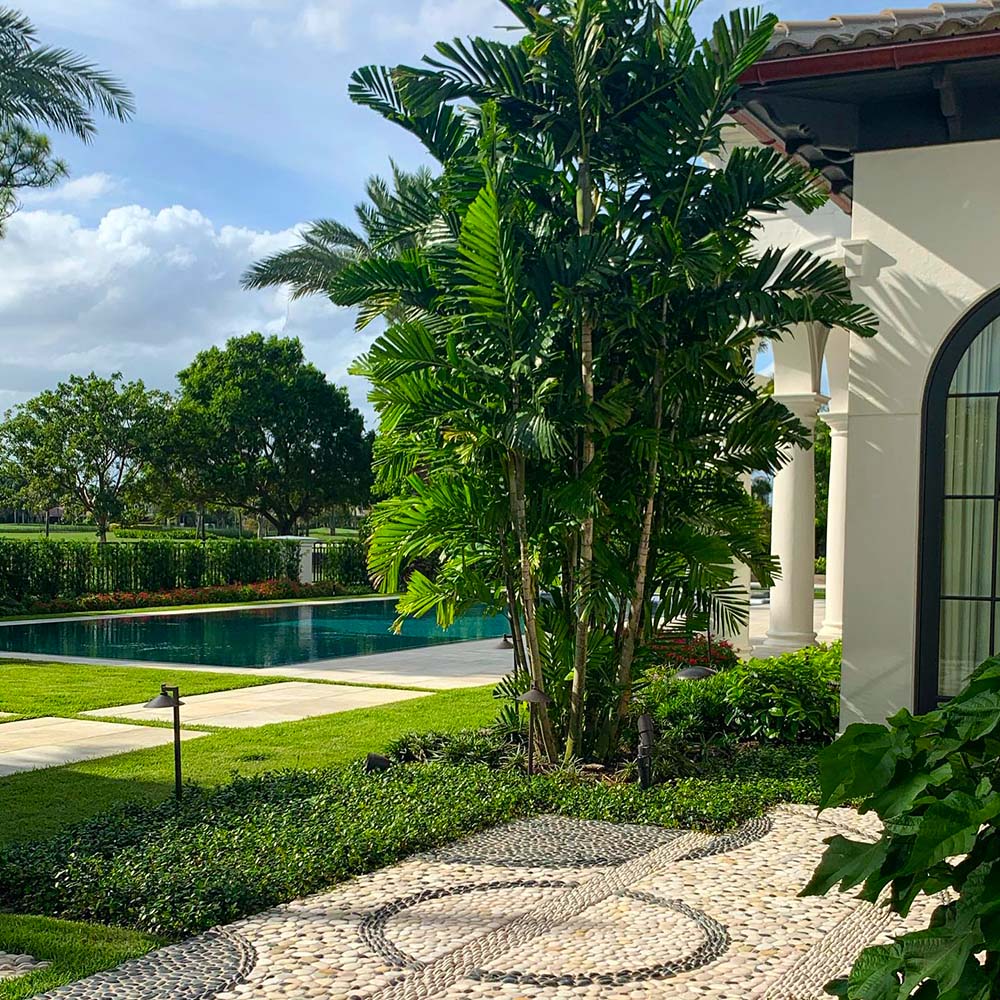 The circles in this path idea give it a modern look. Colors of stones are down to three only to keep the minimalist flair.