Have you ever been lying on the couch, so relaxed and cozily settled, that any interruption like having to charge the battery of your phone to order a meal could drive you crazy?
I believe that you have been in that situation so many times that you have secretly dreamed about a magical appliance where you could only plug in your phone without making any step or dragging a 30-foot extension cable around you.
That dream can come true by these genius behind-the-couch tables with integrated outlets right into the top of them.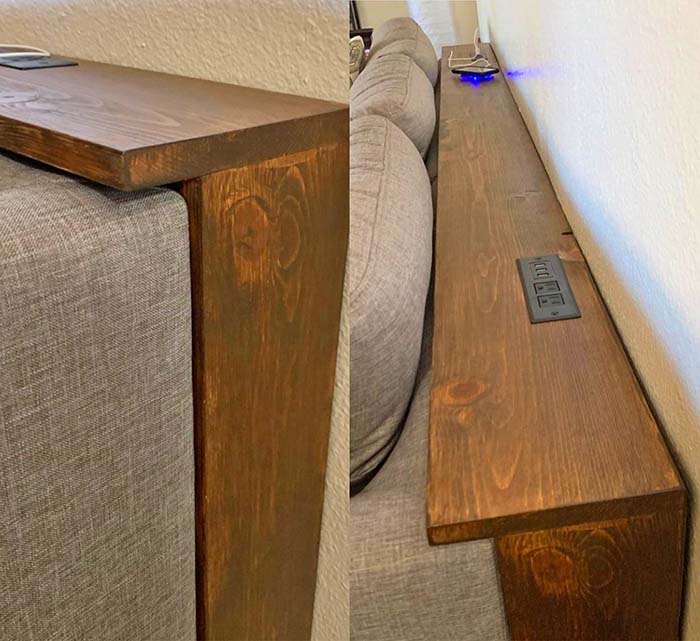 The first idea for the table behind the couch with built-in outlets was custom made by Redditor chapmanator.
His post of the masterpiece to the Woodworking subreddit was very well-received. Although this particular table cannot be found for sale anywhere in stores, that man offers the plans on Etsy for building it yourself.
If you are not a person happy about the DIY method, you can scroll through all other options for that table there which offer a ready to be installed product. You can even find such with already built-in outlets for your devices. Check this particular ready-to-install table.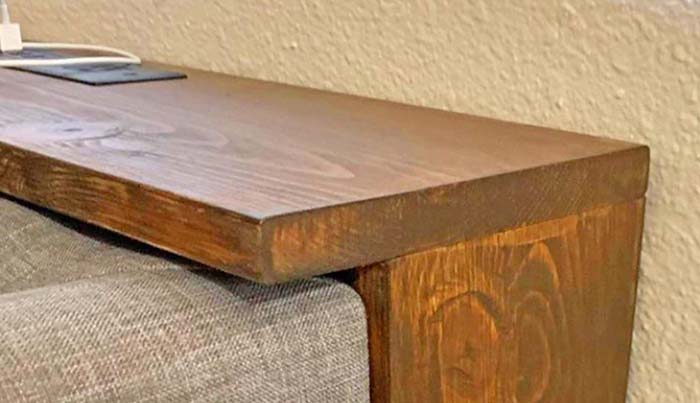 If you are interested in more details about how to create this table, you can find them on the Reddit post where the creator has shared the materials used, as well as the products needed to integrate the outlets in the table.
In the comments about that post, someone has suggested that these outlets can be called "Couchlets" which is a very apt description of these functional ports.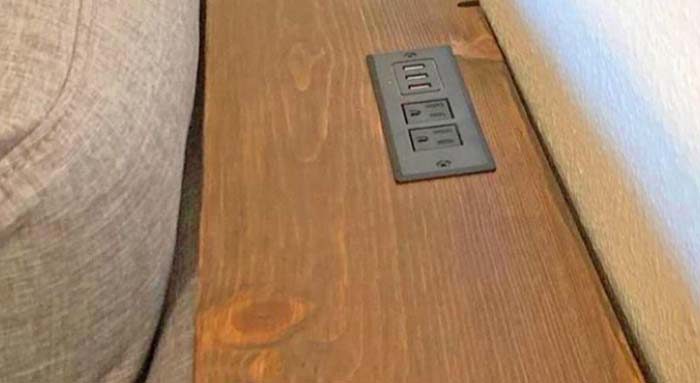 Chapmanator has given further details about the USB power strips he had used.
He has installed two different YaBland desktop USB power strips on each side of the table which has two "couchlet" ports,  together with 3 USB ports.
If you have made yourself a table or have bought a finished product, you can buy these and install them into it.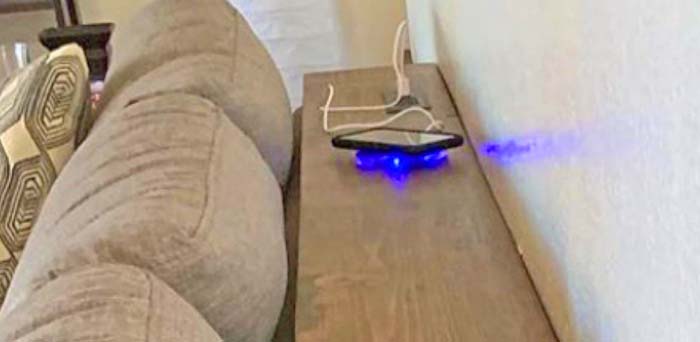 He had made the behind-the-couch table using stained pine boards that cost only 20 $!
Using 1×6 and 1×8 boards, he had created a 100 inches table in total.
For less than 80 bucks you can have a table behind the couch which includes the wooden material, 2 power strips which cost approximately $20 each, all needed wiring and other small items you may require.
More examples below: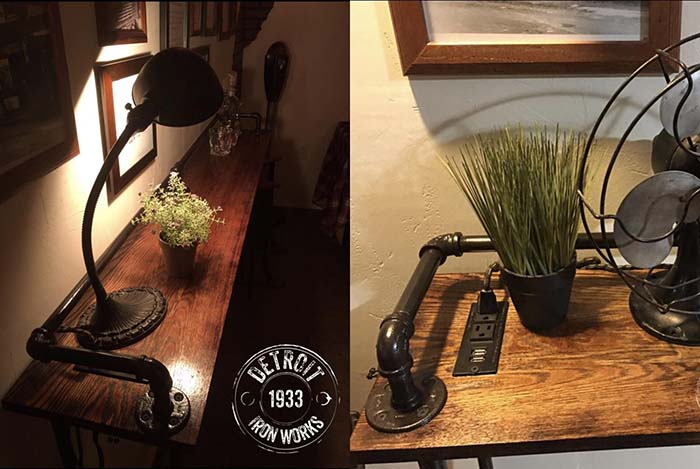 This is a toasty oak sofa table with vintage iron pipe legs equipped with outlets and USB plugs. Available in 2 options – bar or counter height. Bar height is perfect next to a pool table. Counter height would be an awesome addition as a sofa or console table for the entryway or behind a sofa.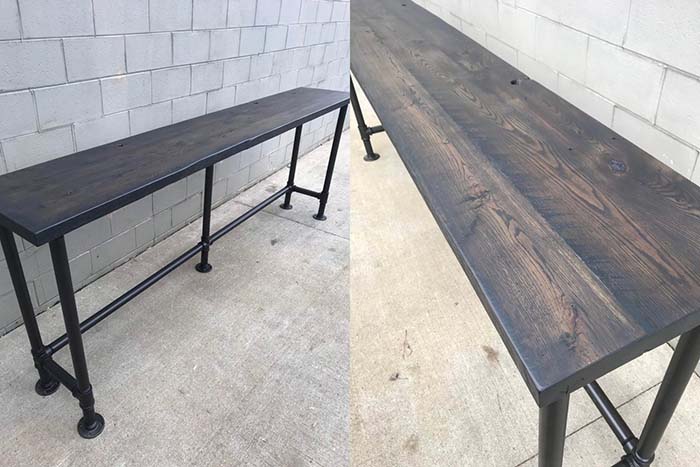 This sofa or bar table is inspired by a customer idea, BigTexas, and is really big. It has 1-1/2 chunky pipe legs for the best support but still has a clean look to it.
The reclaimed barn wood is stained in a color of your choice and sealed with a heavy-duty matte finish. This is a great piece for a space behind a couch, sofa or along a wall for some extra seats.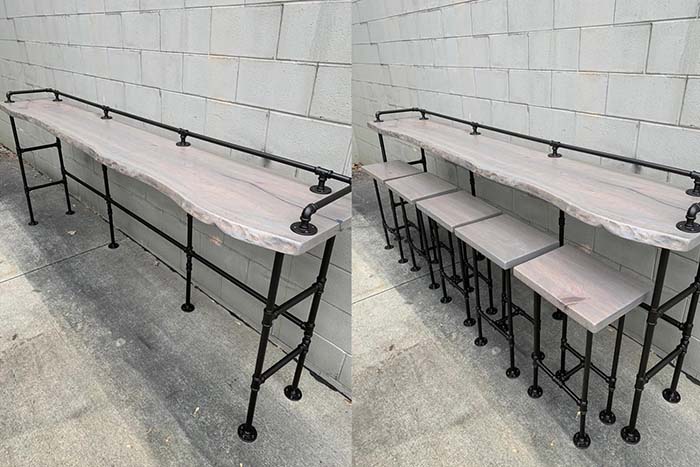 This live edge wood sofa bar table is great for a space behind a couch or sofa. The beautiful live edge wood and steel pipe legs give this piece a unique industrial look while maintaining its rustic feel.
The wood used for this table is planed and sanded for an ultra-smooth top finish and sealed in a matte finish.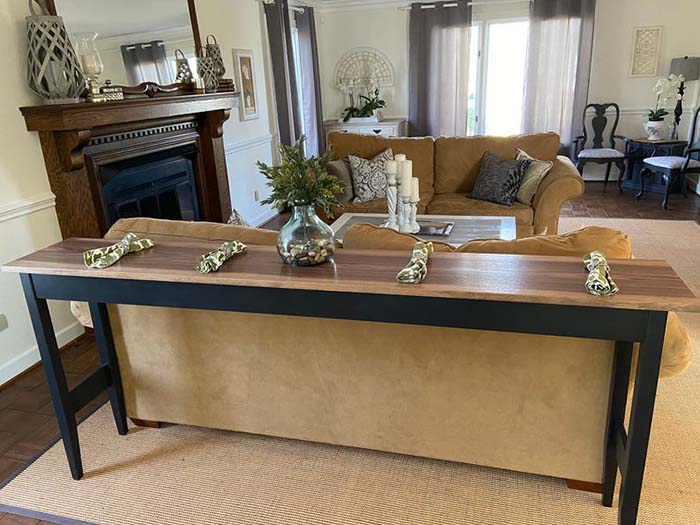 This Pub Table is designed to be a beautiful and versatile piece of furniture, being as attractive as it is utilitarian.
When behind a sofa, it allows a table surface for those sitting on the couch and for those standing or sitting on bar stools behind it. You can also incorporate USB ports or power outlets.
It also works great as a stand-alone pub-style table in your eating or entertaining areas.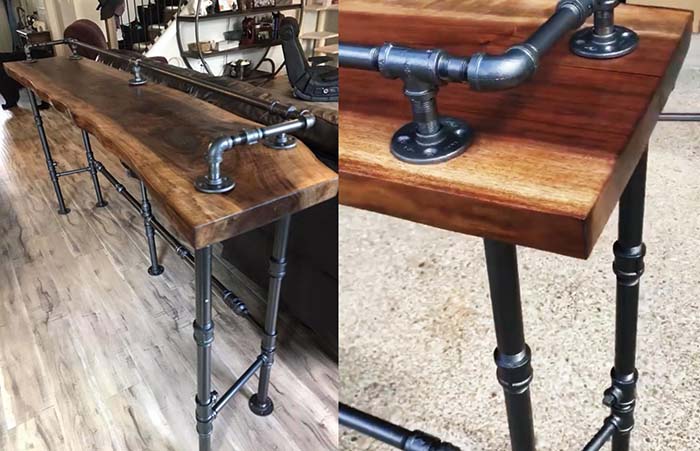 "This counter or bar table is your meeting point with your family and friends. I am sure there will be great conversations at this table, which is made with care and love. It is guaranteed to be a conversation starter every time a guest sees it!"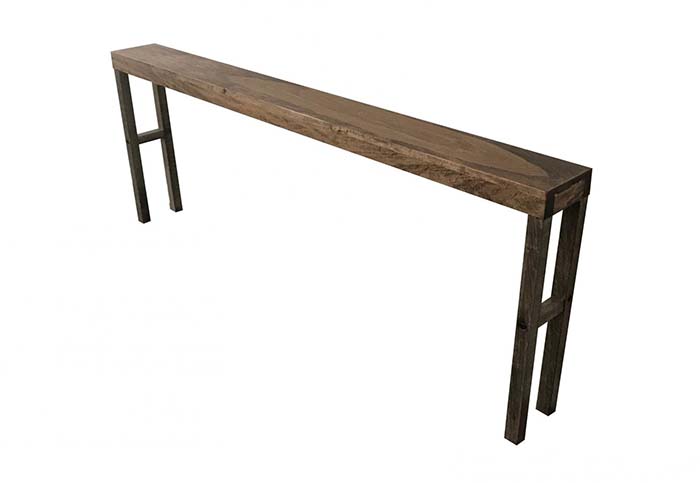 Finding that perfect behind-the-couch table to fit your space can seem like an impossible task! They're all too long, too short, too narrow, or too deep. That's because brand-name tables are one-size-fits-all. This one is different as it is custom built to fit your unique space.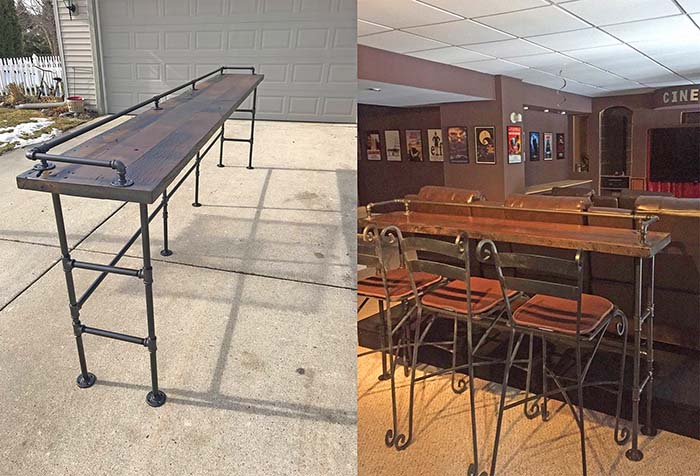 One more custom made behind the sofa table which you can further customize to fit your needs.