Are you always admiring those organized, well-spaced and appealing gardens that you see on the Internet or in magazines?
A beautiful outdoor space doesn't mean a big investment and a landscape designer involved.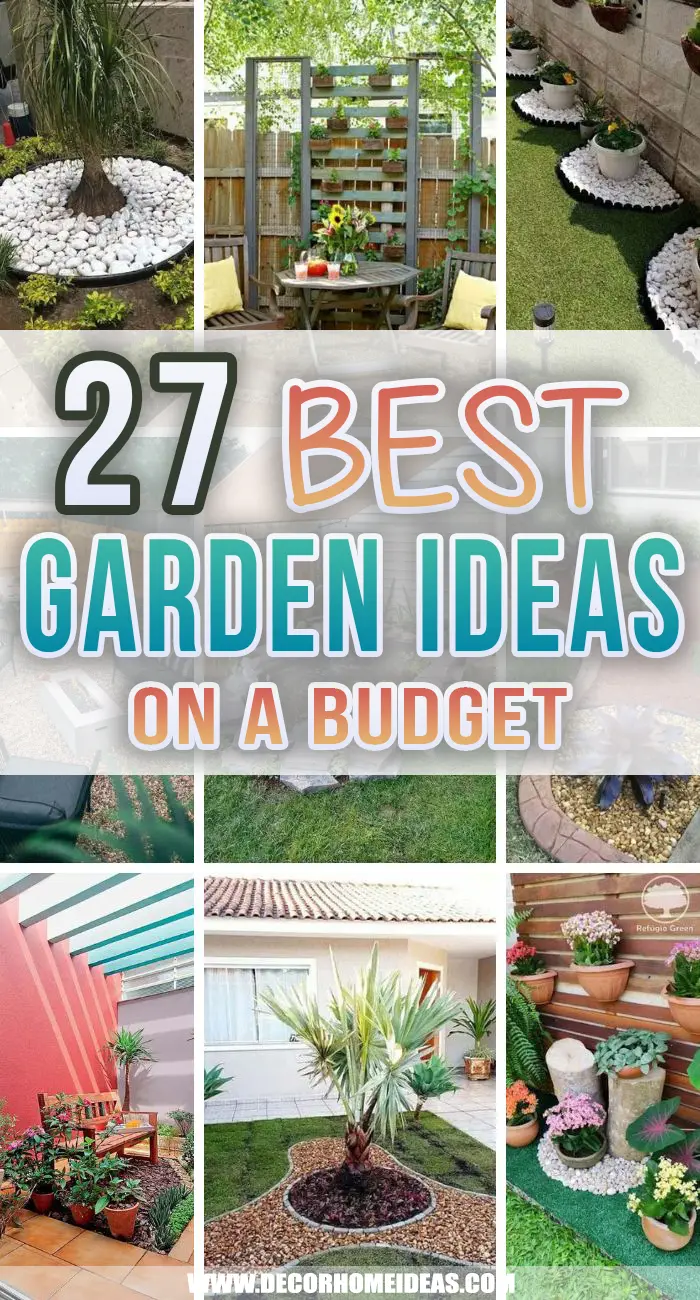 These 27 Great Ideas To Transform Your Garden Will prove how you can easily beautify your outdoor space without breaking the bank.
1. Create An Artistic Garden Bed With Gravel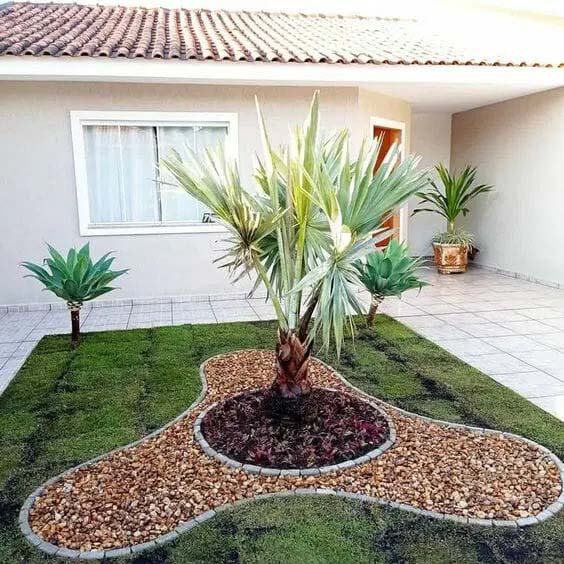 Define your front garden with garden edging around the flower beds. Instead of using special landscape materials, you can repurpose pavers and gravel into garden edging.
Choose an interesting shape to make the overall look fancier.
2. Cover The Garden Bed With Mulch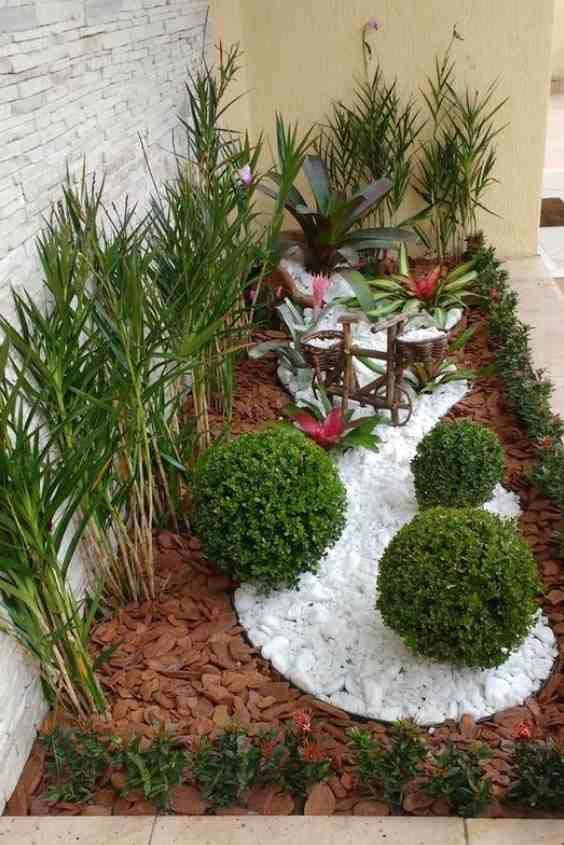 Another good and inexpensive combination for upgrading a garden look is to use river stones or pebbles and mulch.
To differentiate the two cover materials from each other, use a plastic bed or sheet as a border.
3. Create A Fish Pond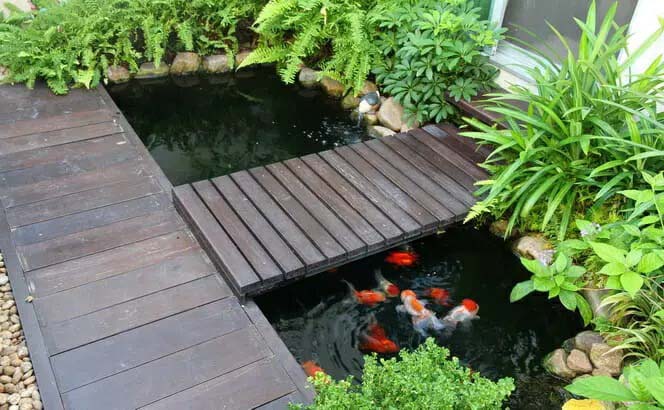 Nothing gives an instant uplift of the garden like a water feature. That can be a waterfall, a simple pond, or a fish pond.
To make it on the cheap side, you would have to involve more of your free time and effort but when you see it ready, you would never regret doing it.
4. A Walkway In The Garden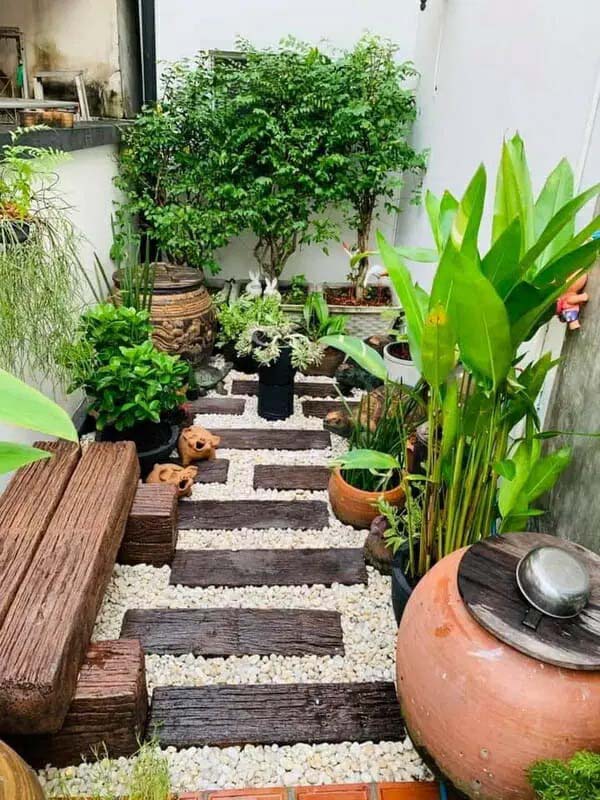 Trace a good-looking and comfortable walkway in the garden to access a sitting corner or to walk along a beautiful garden landscape.
Use reclaimed wood for the steps and gravel to fill the gaps between the boards.
5. Make A Garden With Exotic Plants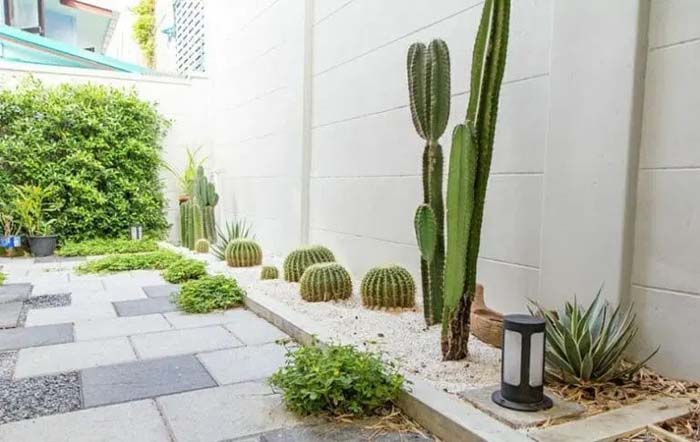 Create a garden along the fence with an exotic look. Succulents are easy to grow and maintain.
Plant them in a garden bed that is suited for their kind. Use suitable lighting to highlight the bed at night.
6. Add A Firepit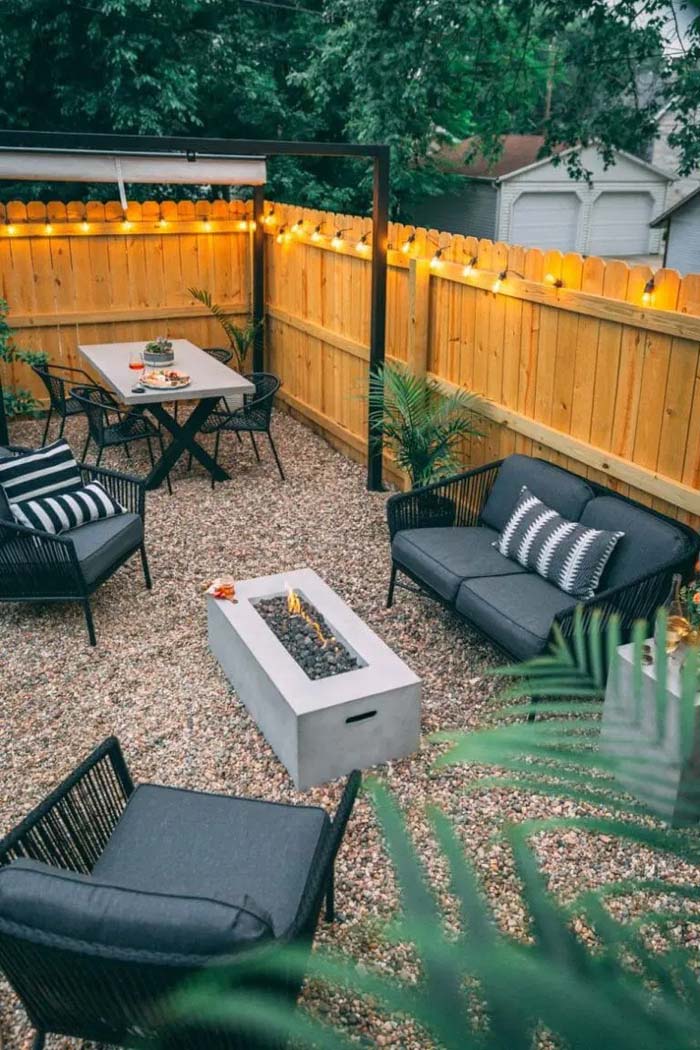 Another outdoor feature that improves the curb appeal instantly is the firepit. It is also a great way to spend the evenings with your family or to arrange an outdoor party.
The cheapest way to add a firepit in your yard is to make it yourself from bricks or pavers.
7. Create A Floating Deck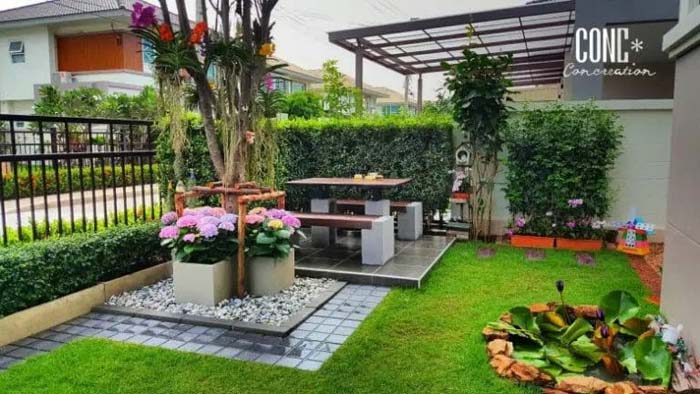 Define a zone for seating on a floating deck. If you haven't built such yet, there are inspiring ideas to make it on a budget.
Reclaimed wood or pallet wood is the cheapest material for a floating deck. The stain will give them good outdoor protection and also the desired look.
If you are looking for a more modern design, you can try building it with a modular deck system that mimics concrete or brick texture.
8. Enhance The Relaxing Vibe With Lighting And Hammock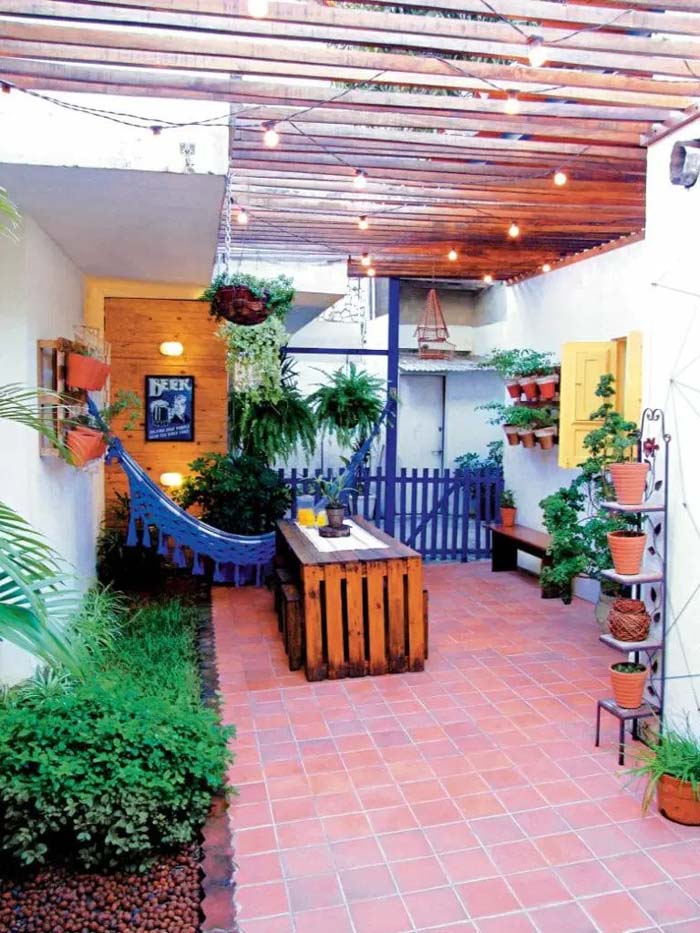 Adding inexpensive features like outdoor lights and a hammock will make the garden a homely look.
Use the hammock color to create an accent or to enhance a bold element in the garden nook.
When you choose the light source, mind its position and how it will affect its look.
Strings of lights look great when suspended on a pergola. If there is no ceiling covering the seating nook, you can use solar lights for the ground to trace an edge garden.
9. Make A Fountain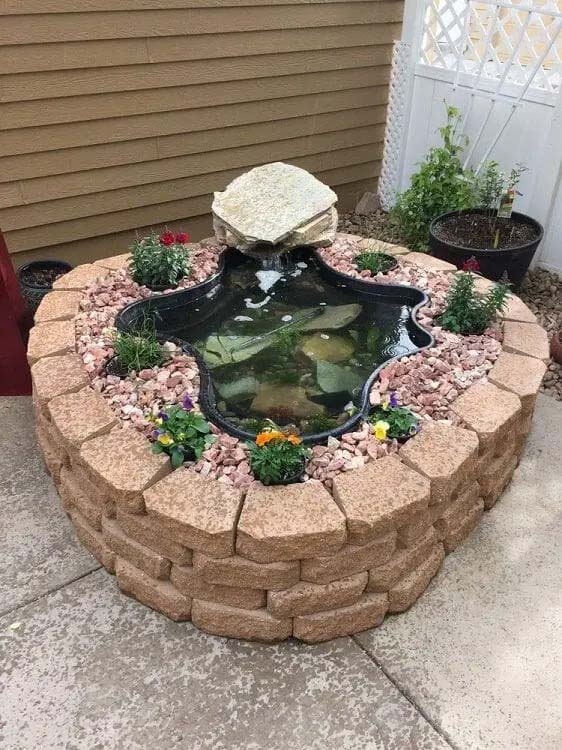 Making yourself a fountain is easy if you already have an idea of its look. Will it be a combination of a garden, a birdfeeder or a simple water feature?
Once you decide on its design, get a fountain set.
You can create your fountain from stacked stones if you are looking to recreate a realistic water feature…or you can go for this functional feature combining garden and waterfall in one.
10. Create A Garden On The Balcony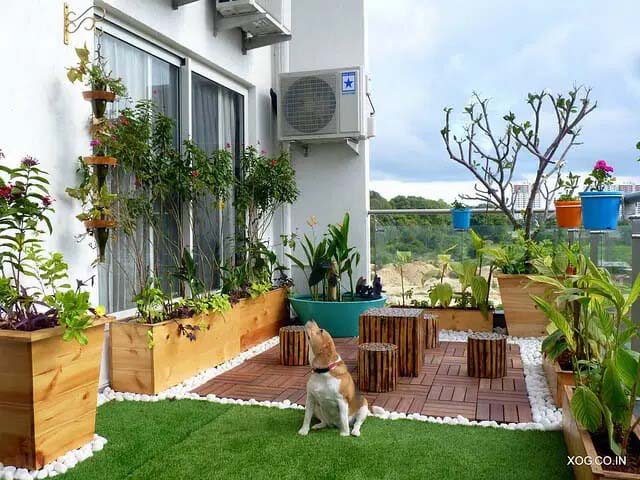 You can have a small garden, a patio and even a playpen for your dog on the balcony. Use materials that mimic the texture of the elements of the traditional garden to mimic a natural look.
Faux grass and deck tiles are affordable and durable materials. Differentiate the zones with river rocks.
11. Make A Vertical Garden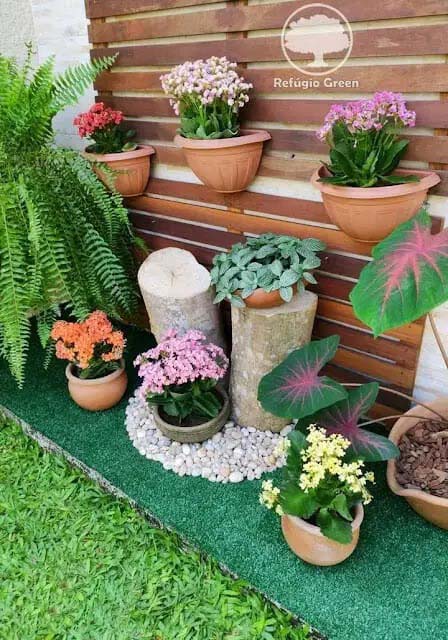 There is nothing like enough plants. If you feel the same, you probably need more space for your plants.
Build a vertical garden from pallet slats or reclaimed wood.
This additional structure is also a good way to cover a weathered fence section.
12. Create A Geometrical Shape With Rocks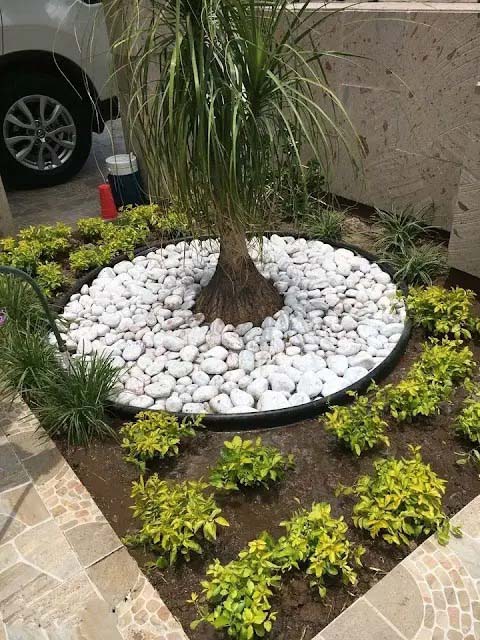 Use river rocks to create amazing geometric shapes in your garden. Use plastic sheets or basins as moulds and then cover the sections with the chosen stone material.
Combine the perfect river bed with symmetrically planted greenery. This will give your garden the look of a professionally planned landscape.
13. Japan-inspired Rock Garden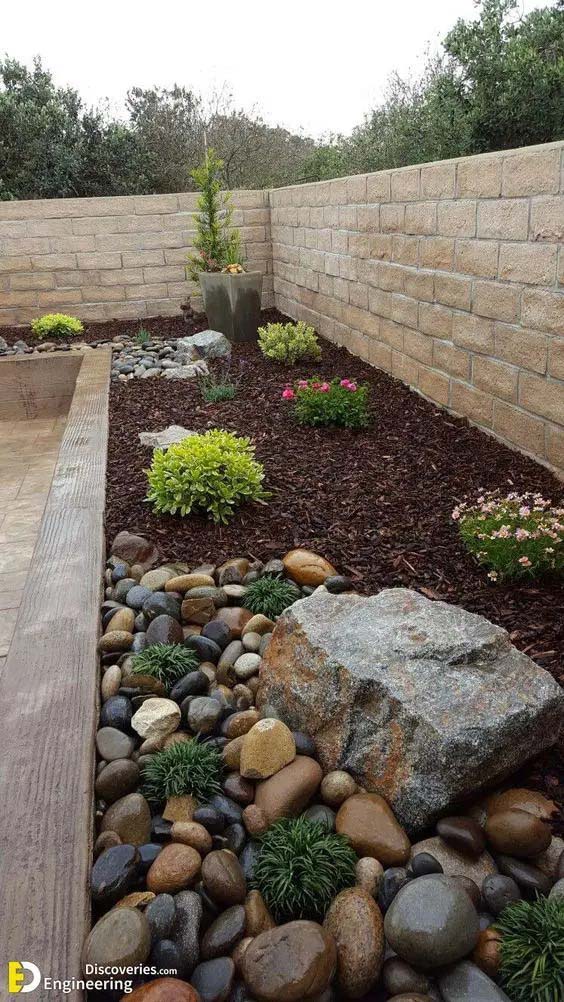 When you upgrade your garden, source ideas from different cultures. You would be amazed at what interest can be created with free materials.
Rocks, for example, can be used for defining a traditional rock garden or for decorating a section from a bigger garden. You can see such garden landscape in Japanese gardens where they use rocks to bring more nature inside their homes.
14. Small Garden Beds With Rocks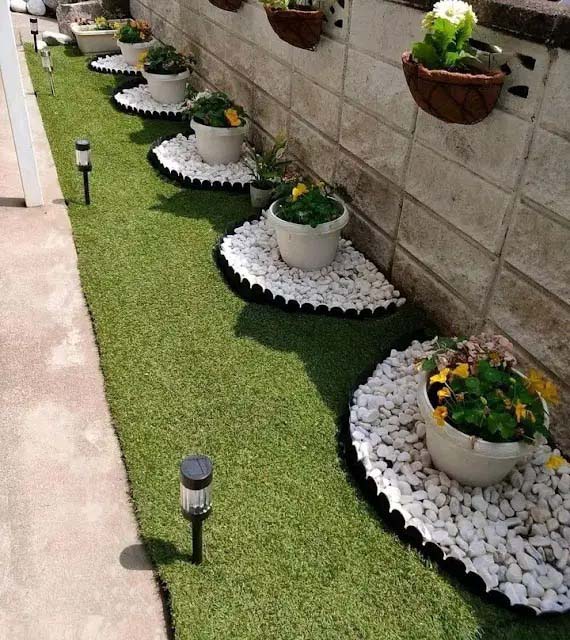 Have you covered the entire garden with concrete? If you miss the green landscape and the beauty of the seasonal flowers, you can always "faux" a garden that will require much less maintenance.
Define the garden size first and then cover the concrete with faux grass. Use small fence sets to form garden beds and then fill them with mulch or pebbles.
The last step is to put pots with favorite flowers in the river beds.
15. Rock Garden With Pots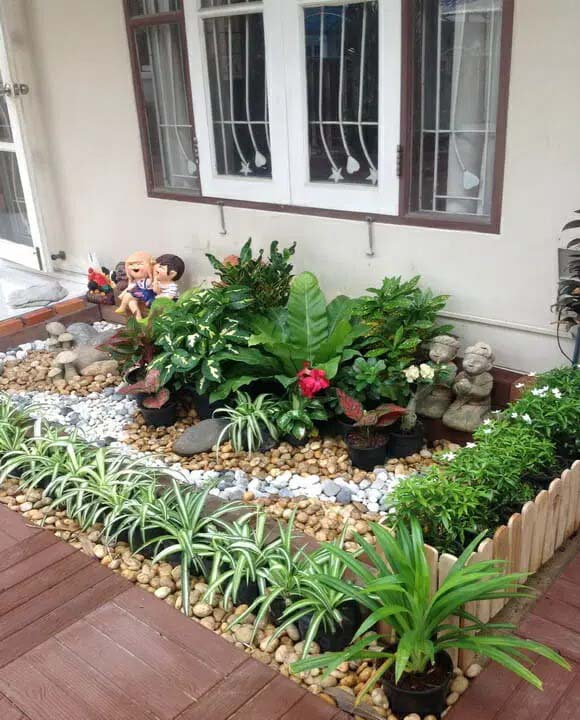 The same idea can be used for "fauxing" a rock garden. Choose the section of your covered yard where it will be made and cover it with rocks.
Use statues, a fence set, pavers, and a waterfall to decorate the rock garden.
16. Create A Corner Garden With A Waterfall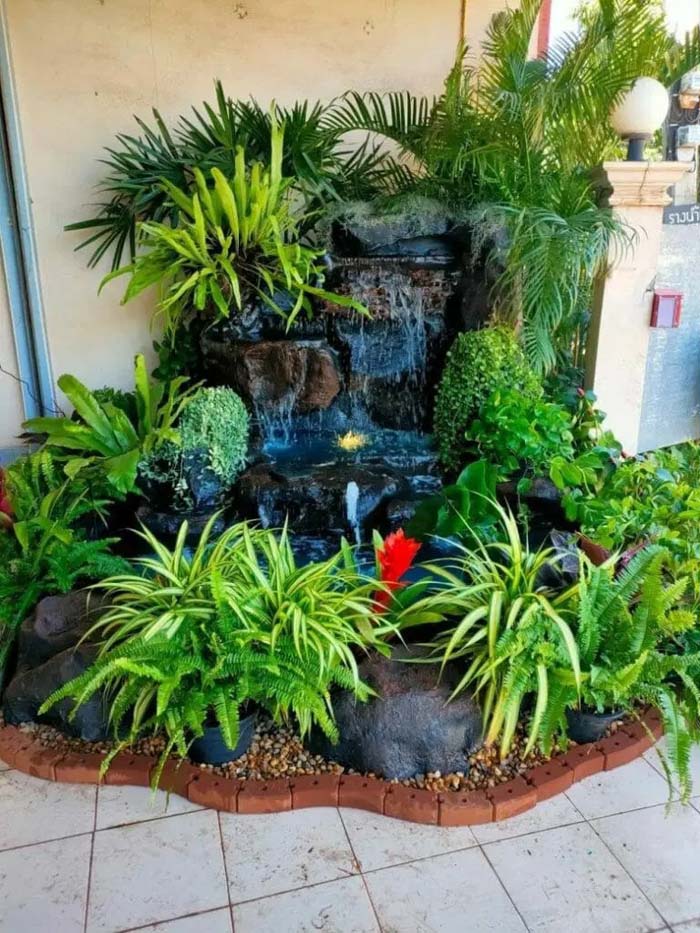 Beautify every space of your outdoors, including corners. You already know that gardens can be made not only on the soil surface.
Outline the garden with bricks, fence or pavers, then cover the ground with pebbles or gravel.
Use large stones to create cascading pedestals for the potted plants. For a tremendous finish, install a fountain set at the top of the garden to enjoy its look and murmuring sound.
17. Sunroom Garden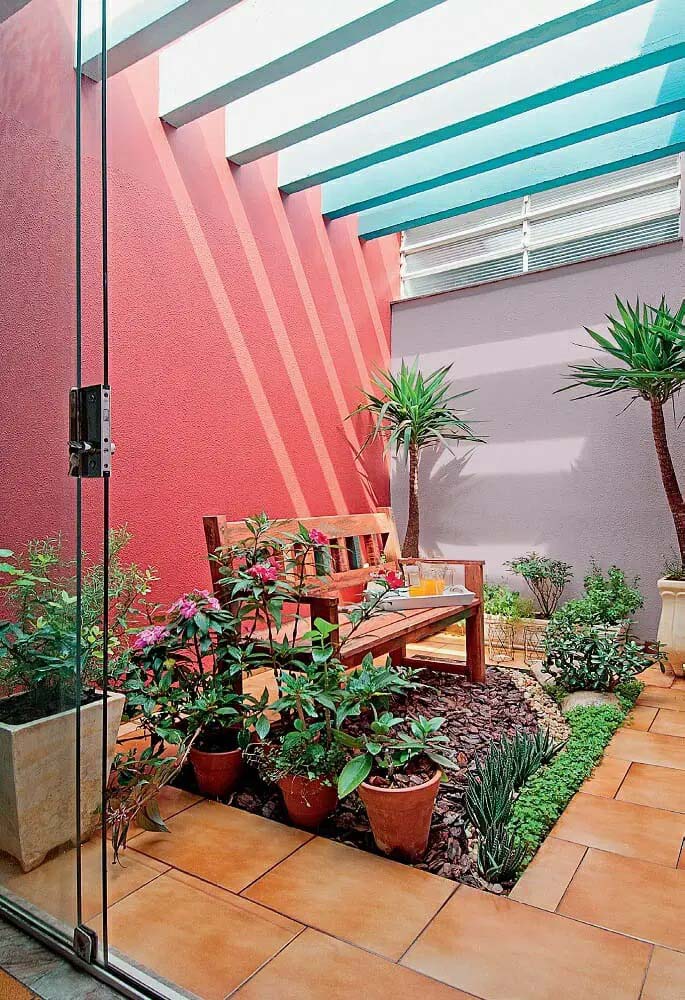 If your property doesn't offer a big backyard or a front yard, you can create a small natural oasis within your home. If you already have a sunroom, this is the best place to recreate the outdoor landscape.
Bring a few plants into the room to brighten it up and place a comfortable seating set to enjoy the surrounding.
18. Make Your Own Pond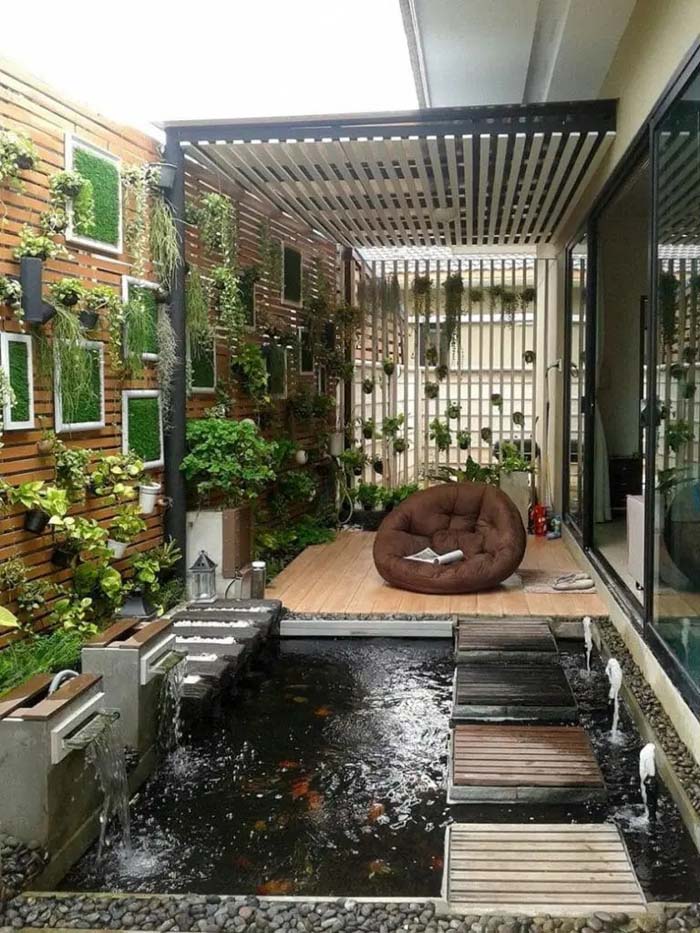 If you have a small yard, you must be wondering how to utilize it best. This garden idea will inspire you with its appealing look and functional spacing of the zones so that all possible features of a garden are available.
The garden is represented by vertical fence supports for the suspension of living wall art and plants. There is a deck to accommodate a seating set, a pond with a waterfall to make the ambiance relaxing and a walkway to cross the pond.
19. Upgrade The Fence With Climbing Plants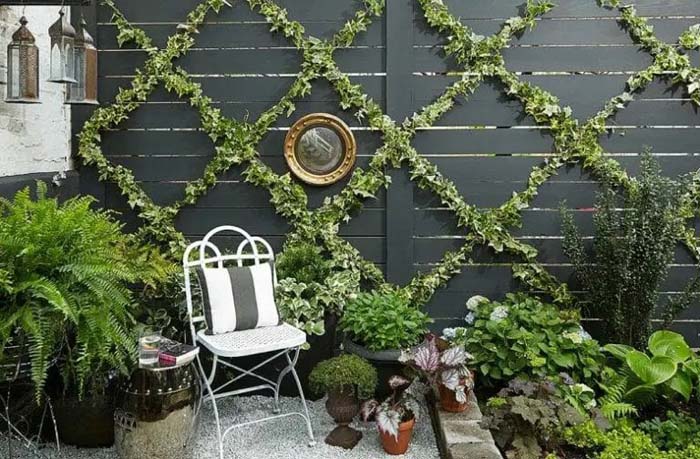 Another way to make a small yard greener or to upgrade your garden without any investment is to decorate the fence with living plants.
For that idea, only climbing plants are suitable because they can work all the way up the fence.
Use a cord or rope to define the direction of growth of the plant and why not experiment with the pattern?
20. Create An Island From Mosaic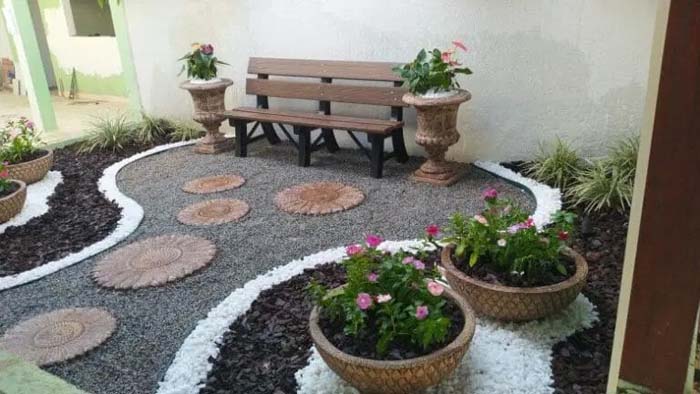 If you have already formed a relaxing nook in your front or side yard, you can give it an uplift by changing the ground texture.
Use mosaic garden systems made from recycled materials to create a unique shape and texture. Pebbles and mulch can cover the boring soil and create interesting waves in synchrony with the mosaic pattern.
21. Dry Waterfall Idea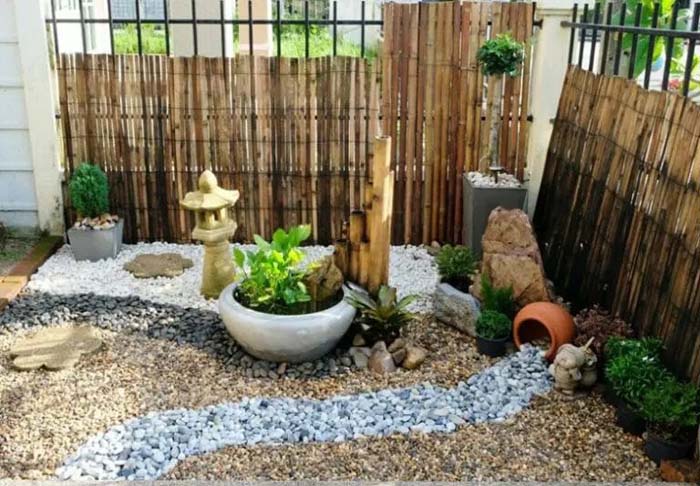 Another quick and easy idea that will instantly transform your garden is to create a dry waterfall.
Usually, this looks like a tilted pot and a curved strip of stones or gravel on the ground starting from the inside of the pot.
Recreating the stream with tufts of flowers also creates an adorable landscape interest.
22. Do It Like The English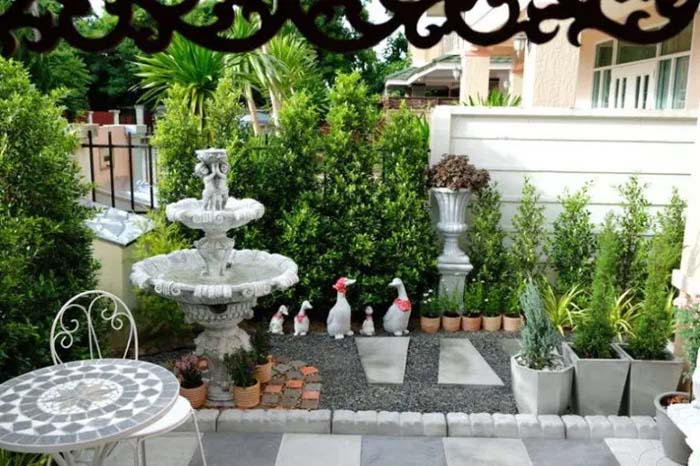 One of the greatest and easiest ways to give your garden landscape an appealing look is to organize it well! English people are famous for this.
Arranging your garden in an English style includes limiting the green areas and including more potted plants. Add statues, water features, and coordinating pots to achieve a united look of the elements.
23. Create A Chillout Corner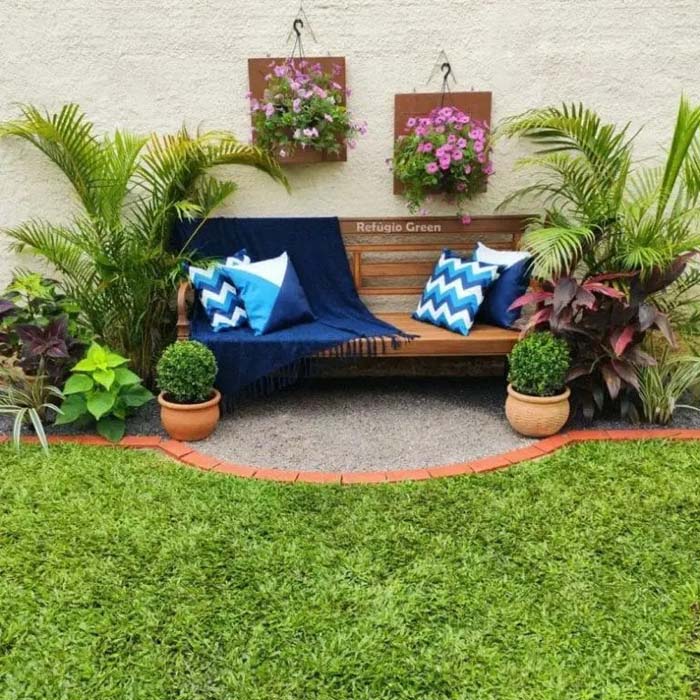 Spruce up the outdoors by defining a space for relaxation. This nook doesn't need more than a bench and a few flower pots around it.
Make sure that there is a visual connection between your chillout nook and the rest of the space.
24. Edge Your Garden With Pavers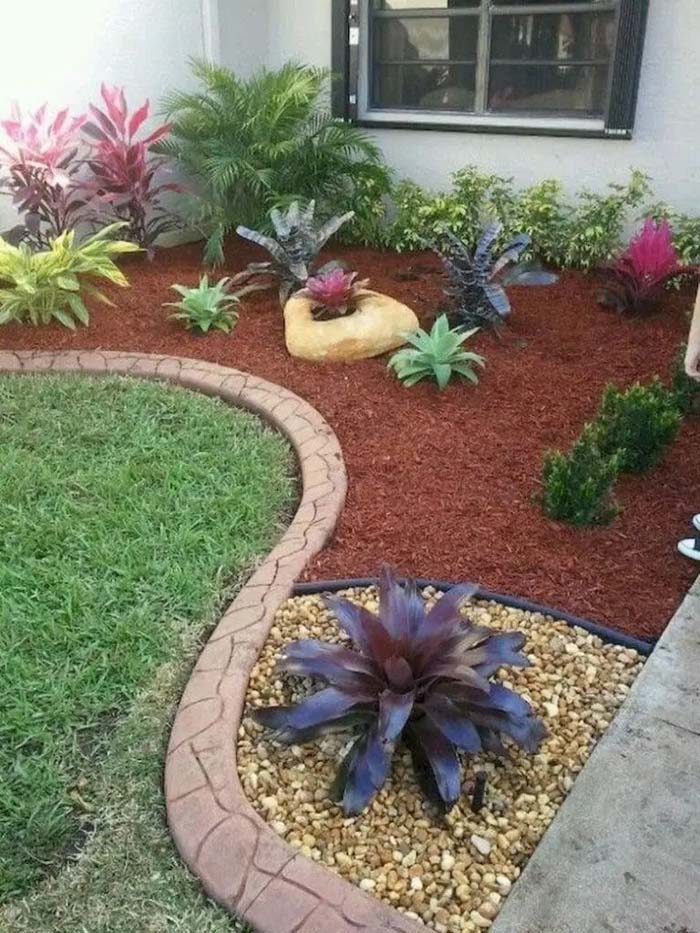 Another easy idea to transform your garden is to add edging to the borders. That is a simple and affordable element that is often neglected from the garden landscape scope.
Pavers, stones, bricks or concrete can be used to add edges to the garden beds. Once they are in place, you will enjoy the lovely contrast created by the close alignment of green grass and voluminous border.
25. Define The Relaxing Nook With A Vertical Garden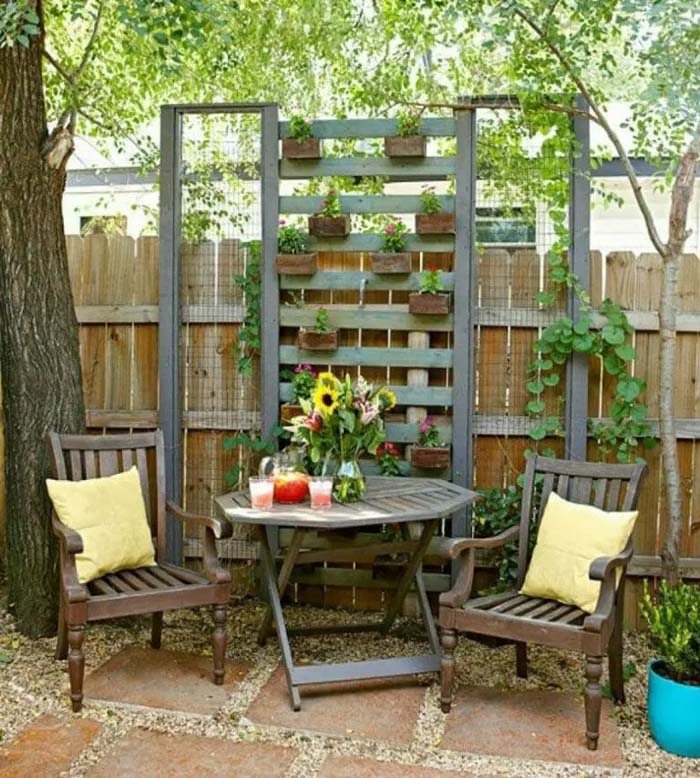 Adding a comfortable sitting chair to a corner of your garden is not enough to make the nook appealing and welcoming.
The décor of the space needs to be designed for relaxation as any other landscape design. Add a functional vertical structure behind the sitting set to ensure the definition of the nook and its connection with nature.
The screen consists of three repurposed elements- the middle one holds flower pots while the side ones are equipped with twine strings to act as trellises for climbing plants.
26. Make A Pond From A Truck Tire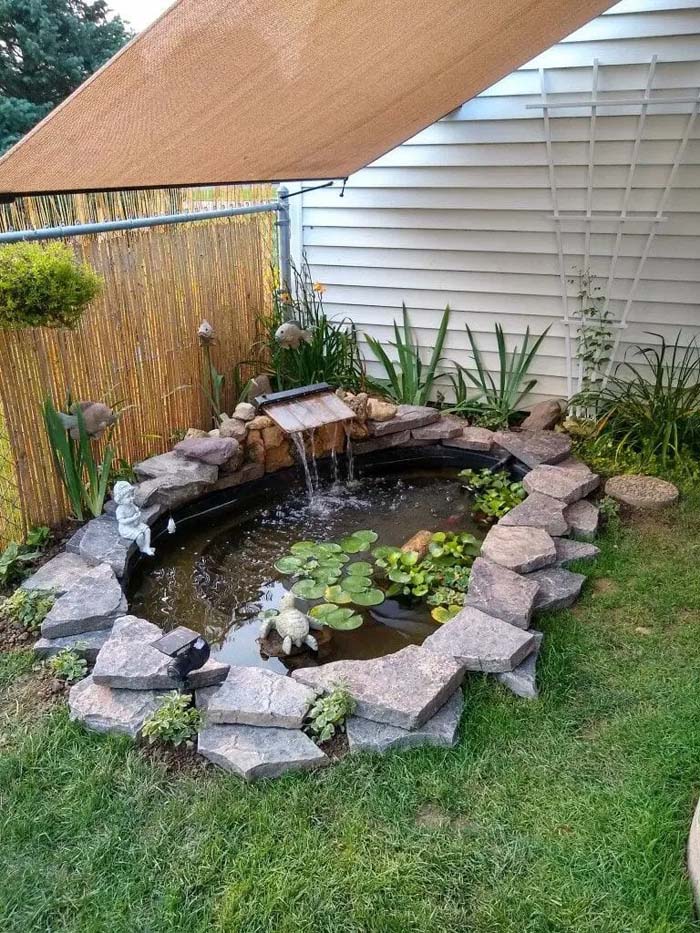 When you are looking for a garden transformation on a budget, check what you have in your garage that can be recycled. The truck tires, for example, are an amazing source of garden decoration.
You can use them to make flower beds or to create a calming pond.
27. Decorate Your Garden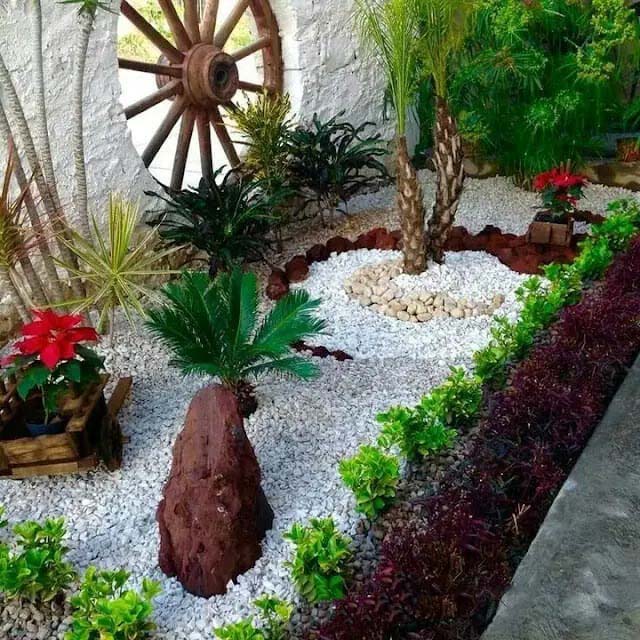 Treat the outdoors as an indoor space. Use garden decorations to create thematic garden areas or to add a point of interest.
Old wheels, old pottery or country farm containers can be repurposed and reused in the garden.
Another free way to get unique decorations for your garden is to gather them from nature- large river rocks, a weathered trunk or a log can be included in the garden landscape design.