If you're thinking of adding a natural pond to your backyard for ducks, do it! Backyard duck ponds are a wonderful way to add a touch of nature to your outdoor space.
Whether you're looking to provide a habitat for wild ducks or create a small oasis for some of your own pet ducks, there's an unlimited amount of creativity at your disposal when it comes to developing backyard duck pond ideas.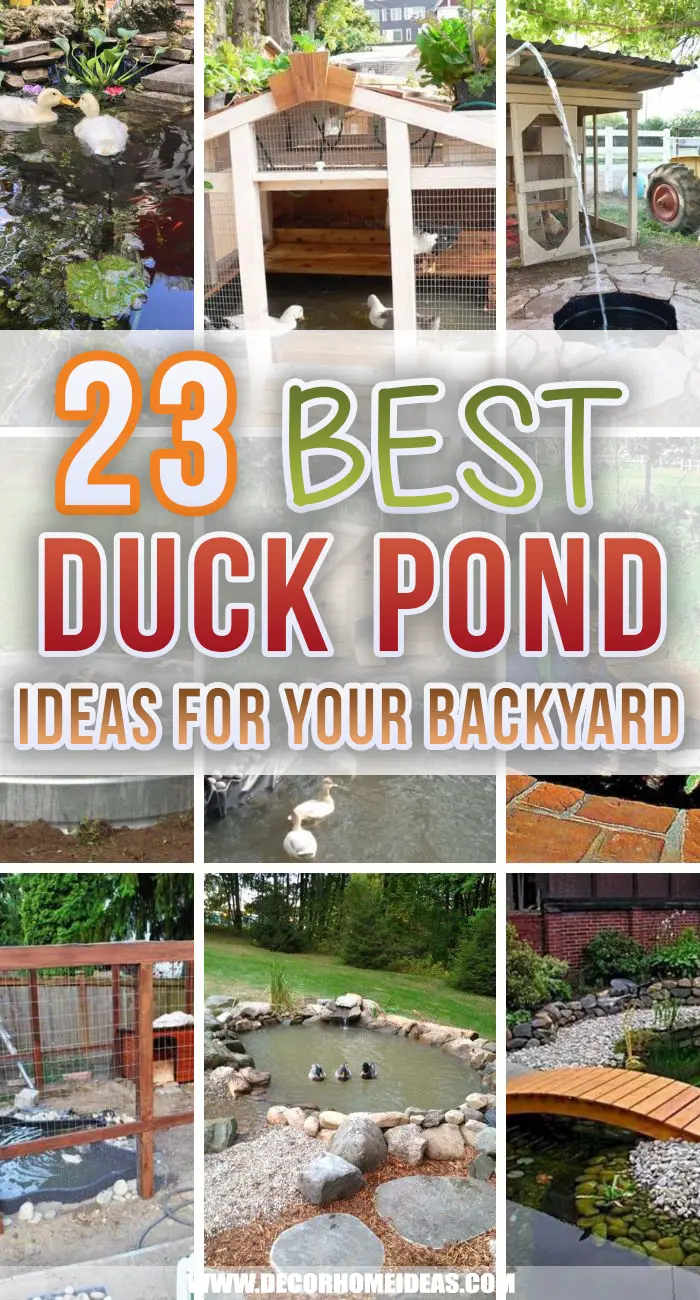 With careful planning and preparation, you can create a unique duck pond with beautiful water features, lush vegetation, and plenty of room for swimming and waddling.
Duck ponds aren't essential if you want to keep ducks. They just need access to fresh water. They're more likely to thrive if they have a place to dunk their heads underwater and swim around a bit.
What is a good size for a duck pond?
If you want your ducks to have an environment close to their natural habitat, allow six to nine square feet in the water per duck. They like to submerge their heads, so the water should be deep enough to allow for that activity.
What can I use as a duck pond?
Ducks are happy with any type of container. The challenge is how to eliminate duck waste and keep your duck pond clean. A kiddie pool is easy to clean because you just dump out the water. It will be easier on you and the environment if you get a pump with a filter that can recycle the water. There are plenty of DIY pond ideas online to help you achieve your duck pond dreams.
1. Tub Liner DIY Duck Pool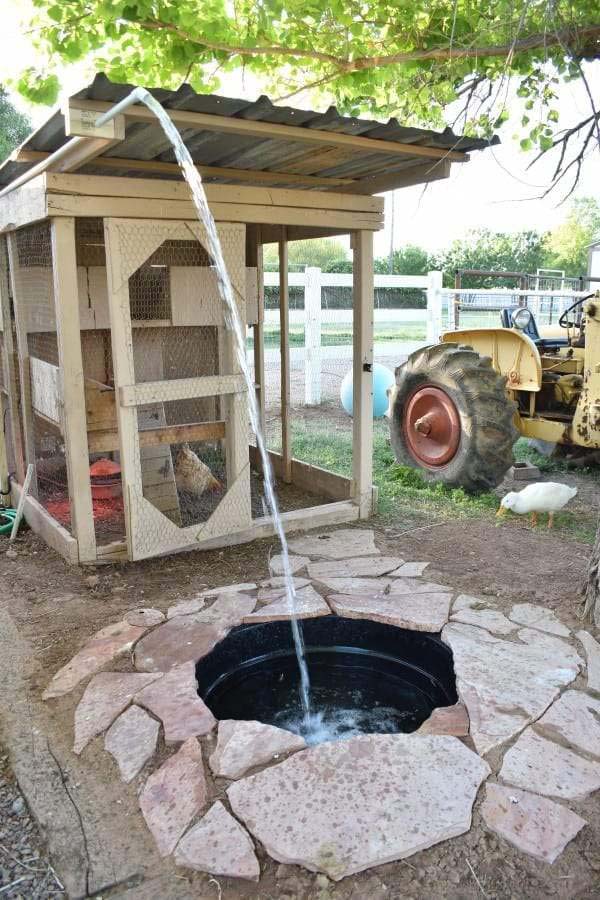 A small pond outside a chicken coop is built using a tub liner and drain. The freshwater source comes from the house water supply that's redirected with a spigot when necessary.
The little duck pool is drained using a valve and can be redirected to any part of the yard. If you're so inclined, you can build a French drain to channel your pond water.
It's a superb DIY duck pond idea that gives backyard ducks access to fresh water.
via Tee Diddly Dee
2. Fancy Backyard Duck Pond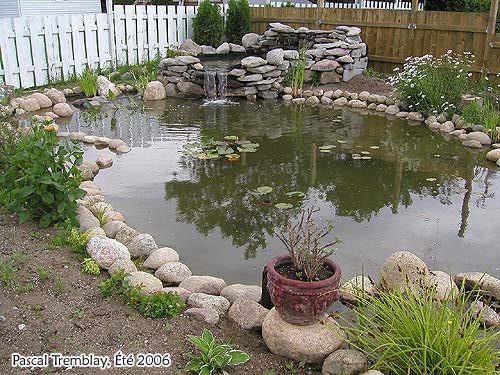 If there's a section of your yard that doesn't drain well, why not turn it into a fancy backyard duck pond? Here's an example of a large pond with a waterfall feature. This is more about a garden pond that becomes part of your entire backyard landscape. 
The one thing that every water garden pond owner needs to be aware of is algae. You can't rely on fish or water plants to control algae growth. A pond this size would benefit from the addition of a bale of barley straw to slow algae growth.
via Instructables
3. Duck Pond Idea: Two Waterfalls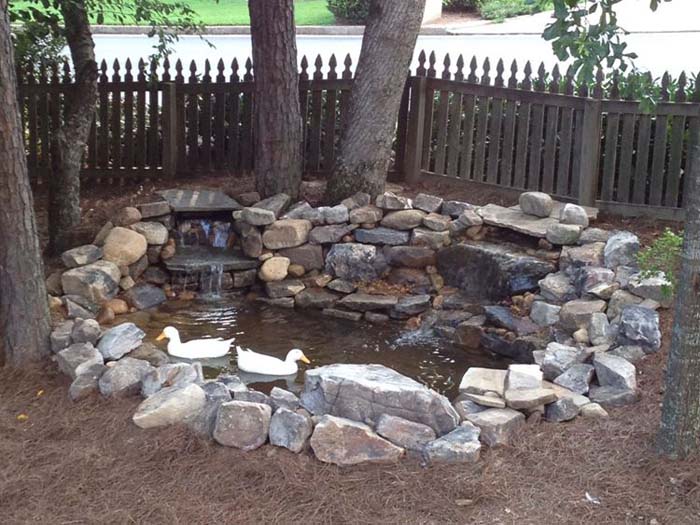 Here's a nice backyard pond idea for an uneven area of your yard. It is built up with large rocks and a small retaining wall near a steep drop off at the perimeter of this yard.
A small waterfall or two brings a calmness to the pond.
4. Keeping Ducks in an Enclosure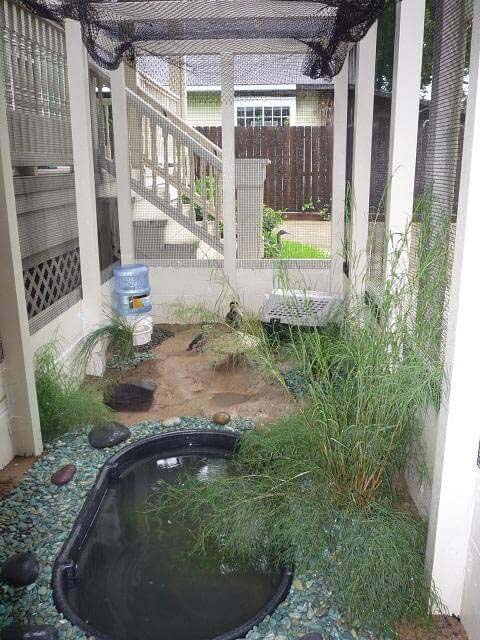 A plastic tub is set into the ground and the entire enclosure is set up next to the house where the structures create a safe place for the ducks.
A pond pump can redirect water so that it flows away from the home, past the pen.
Plant clumps of taller grasses for camouflage and you're likely to find duck eggs there in the morning.
5. Plastic Kiddie Pool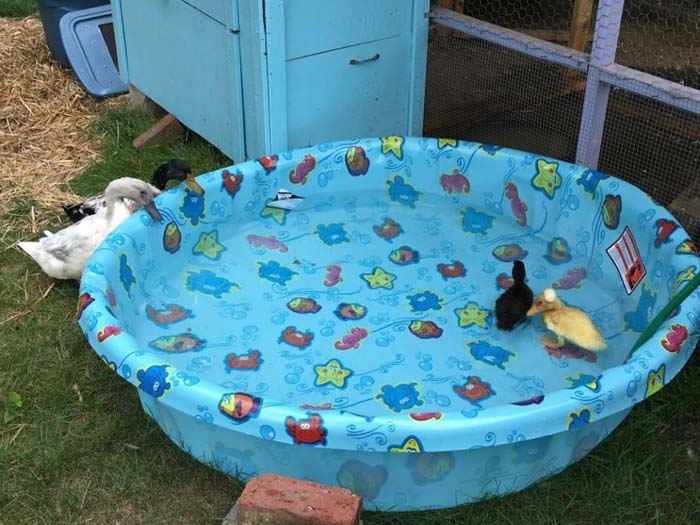 A child's plastic swimming pool is enough pond for most ducks.
Bricks were set up so the little ones can get in and out. It might not look as elegant as a permanent backyard pond, but it can't be beat when it comes to cleaning and maintenance. Just be sure you're ready to get wet.
6. Above Ground Duck Pond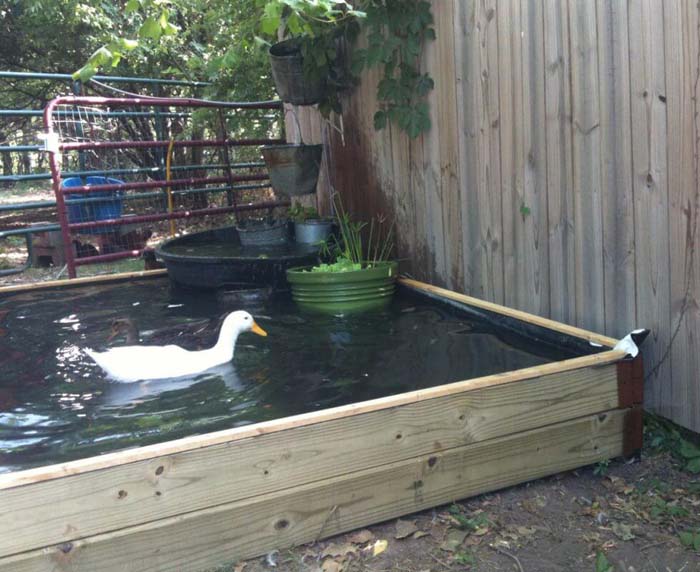 This duck pond idea is a pool liner set inside a rectangular structure built with wood planks. You can weigh it down and create interest by adding potted plants in smaller tubs.
It's a simple above ground pond idea.
7. Aquatic Fish Pond and Duck Pond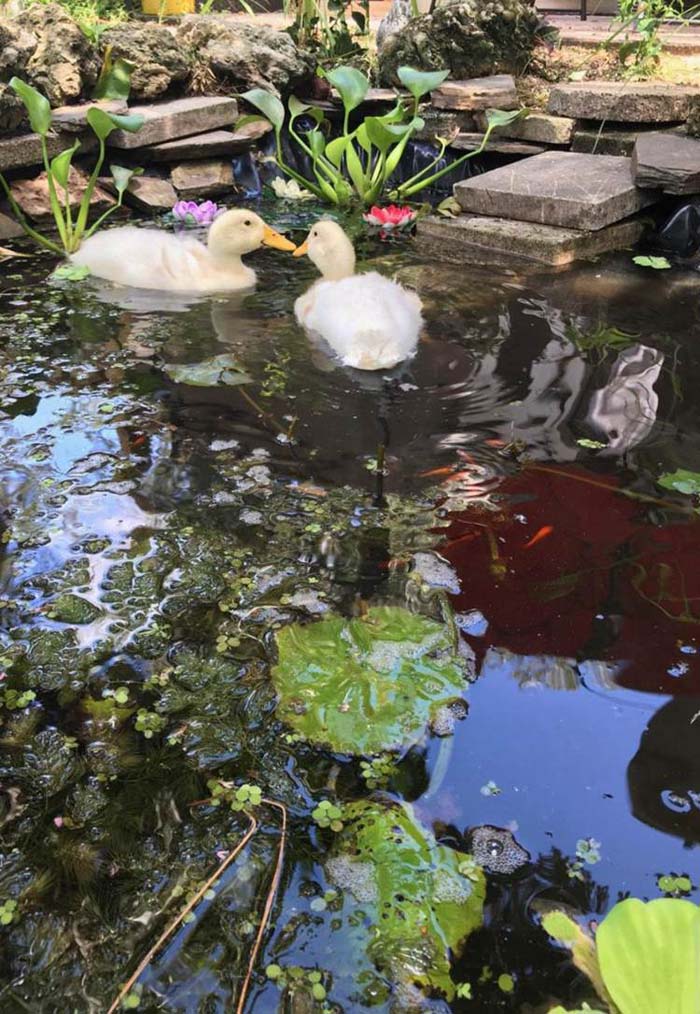 Ducks will thrive in a professionally landscaped pond. Here, you can see the steps created out of slabs to allow the ducks easy access in and out of the water. Water lilies, duck weed, and other aquatic plants are welcome hiding spots for ducklings.
You can see in the photo that this is also the perfect fish pond. Koi and goldfish are great choices for use as pond fish, as their color makes them easy to spot and enjoy.
8. A Baby Pool for Ducklings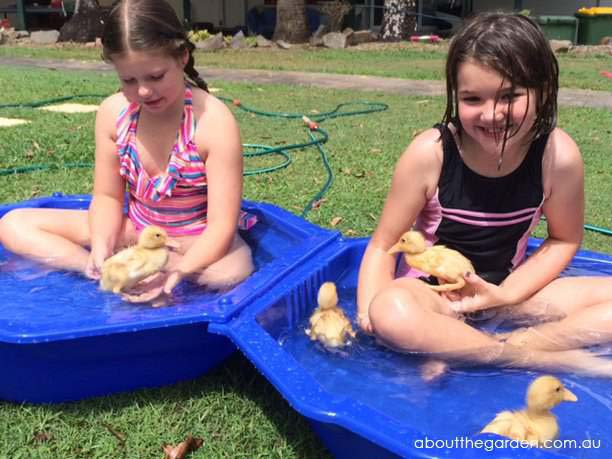 While a plastic baby pool will work for ducklings, they'll soon outgrow this and have a need for a larger pond.
You can check out the how-to post to learn how to build your own duck pond, but if your ducklings are younger, a kiddie pool will suffice for now.
via About the Garden
9. Duck Pond with a Bio-filter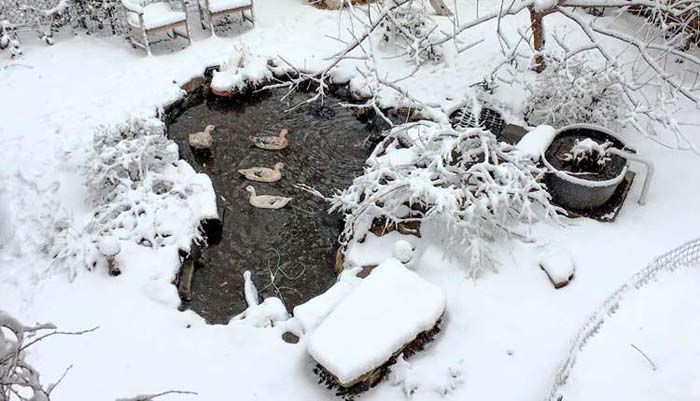 The DIY article goes in depth on how to build a duck pond that includes a waterfall and bio-filter.
Filters are important to keep the water fresh and to prevent the build up of anaerobic bacteria (the kind that makes still water smell bad).
via Tyrant Farms
10. DIY Duck Pond from Old Tire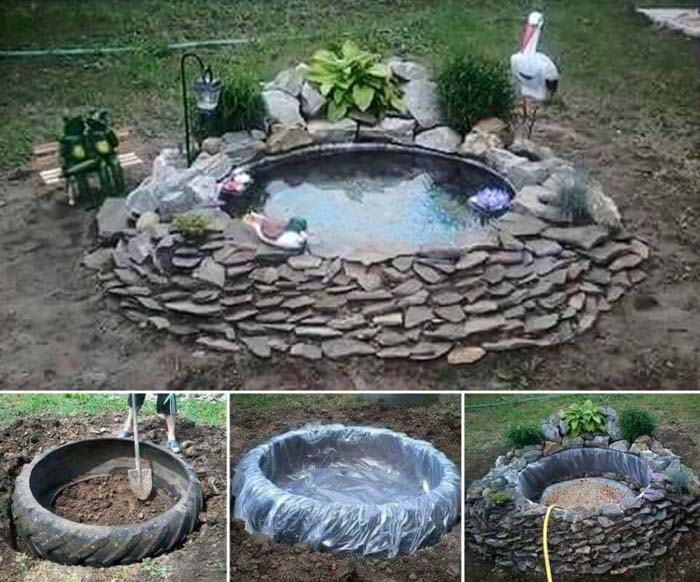 Here's another fun duck pond project. This is built using an old tractor trailer for the form. The slope made from stacked stones makes it easy for little ducklings to access. 
It's a nice idea when you're trying to avoid digging deep holes in your yard.
11. Reuse Kiddie Pool for Ducks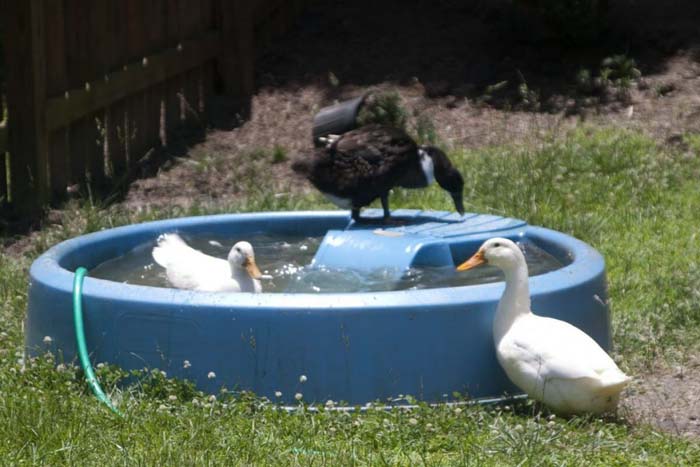 It may be that you never intended for your kids' pool to become a duck pond, but if they love it, just roll with it. The built-in slide is a nice resting spot.
12. Include a Pond Near Seating Area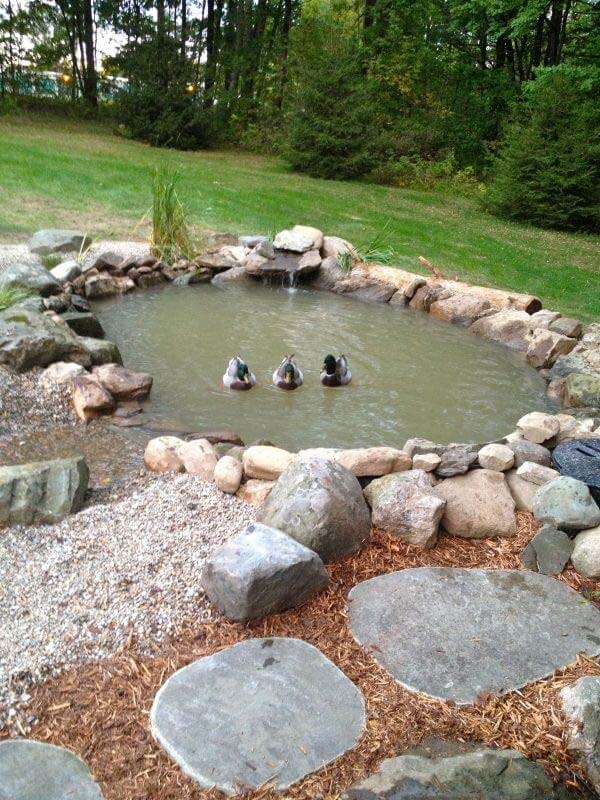 A pond adjacent to a seating area in the backyard makes it easy to enjoy the wildlife.
The small waterfall at the back is an easy way to introduce fresh water and have a serene water feature.
13. Enclosed Duck Spa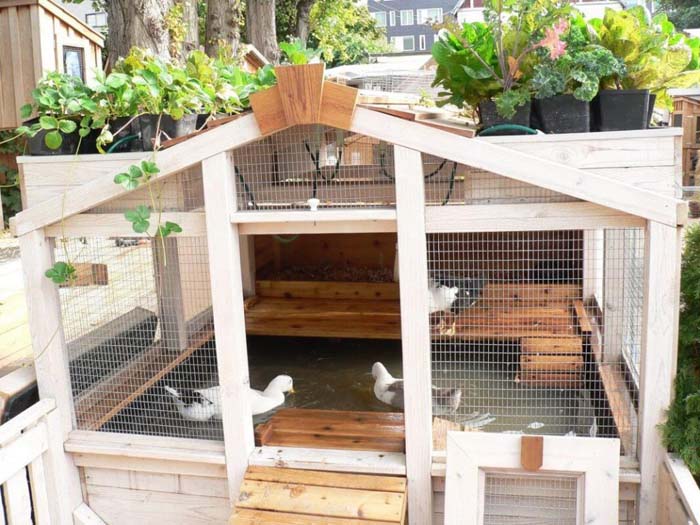 If you want to keep domestic ducks in an urban area, more consideration needs to be given to their protection. An enclosed shelter allows them to thrive while still remaining protected.
A container garden on the roof makes use of the blank space.
14. Full Duck Pond Enclosure with Shelter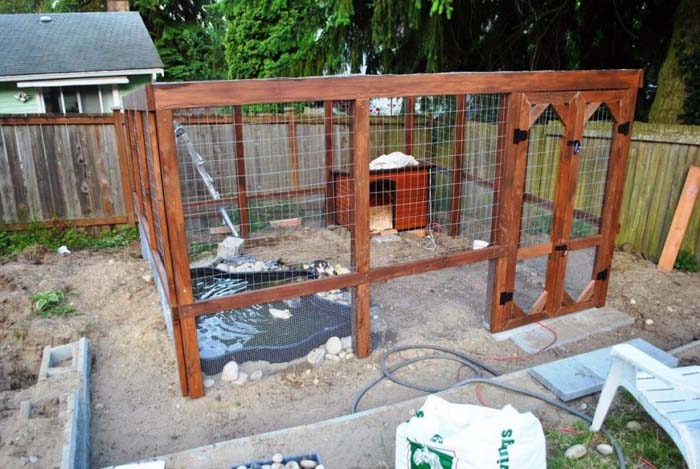 Suburban backyards that have room for a full enclosure should consider a pond.
It allows them to enjoy the water without worrying about feeling threatened during a transition from one area to another.
15. Formal Seating Area with Duck Pond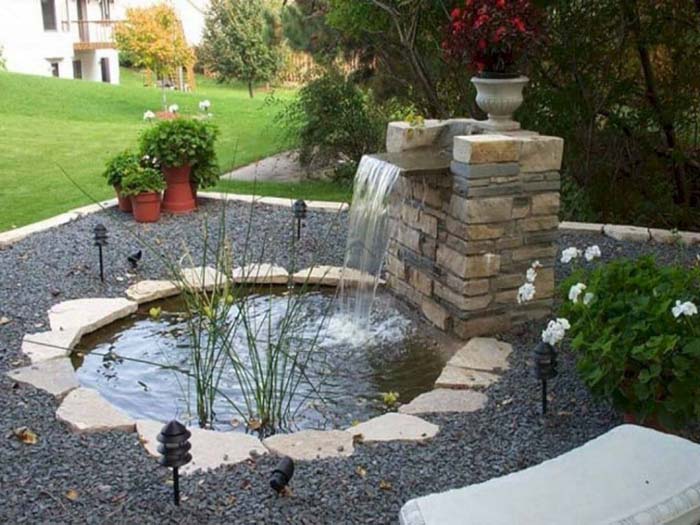 Duck ponds don't have to maintain a farm fresh look.
A formal seating area with a waterfall feature will suit your ducks just fine.
16. Use a Koi Pond for Your Ducks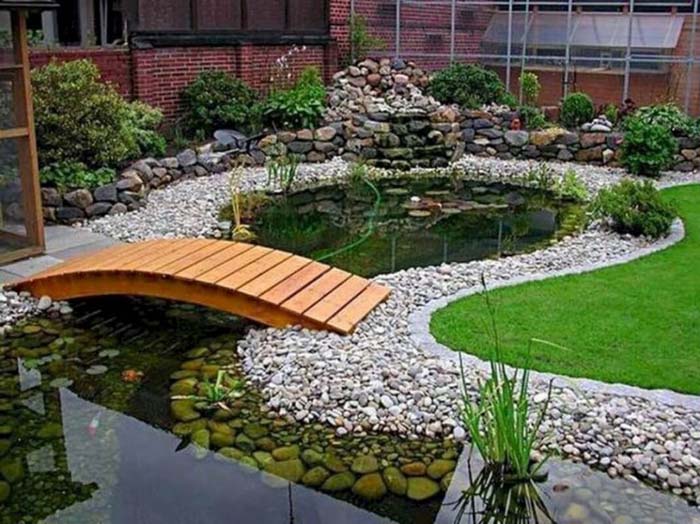 A gorgeous Asian-inspired koi pond will have your ducks meditating all day.
Soft river rocks create a welcoming perimeter and the foot bridge adds a sophisticated touch to the scene.
17. Duck Pond From Reclaimed Bathtub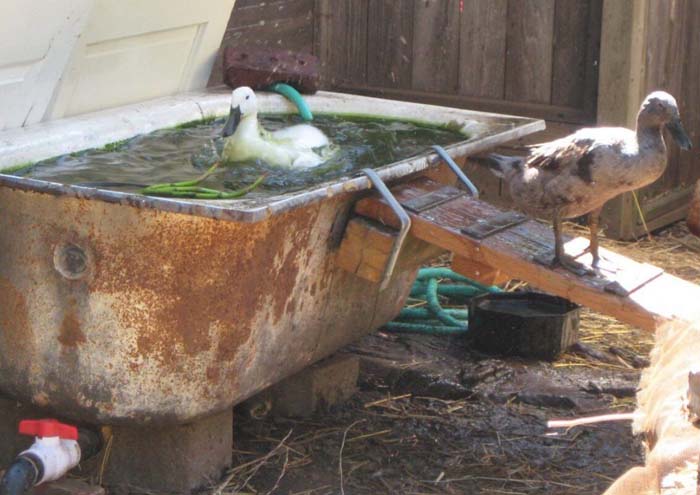 You don't need an Olympic pool to keep ducks happy. A reclaimed tub is set on cinder blocks to keep the plumb line working.
A spigot was attached to the drain to make clean-up easier. The water source is a standard rubber hose. A heavy door is used to cover the tub when not in use.
18. Full Scale Duck Pond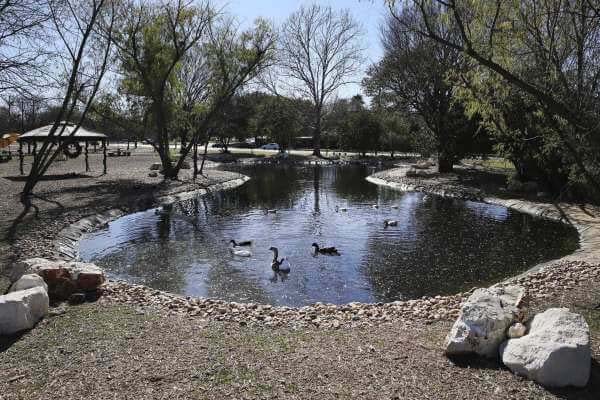 Your duck pond ideas can be as big as your outdoor space allows. This big pond becomes another organic element and won't need to be cleaned as frequently as a small pond.
While it's plenty big enough for domestic ducks, wild ducks will enjoy it, too.
19. Duck Pond and Shelter in a Pen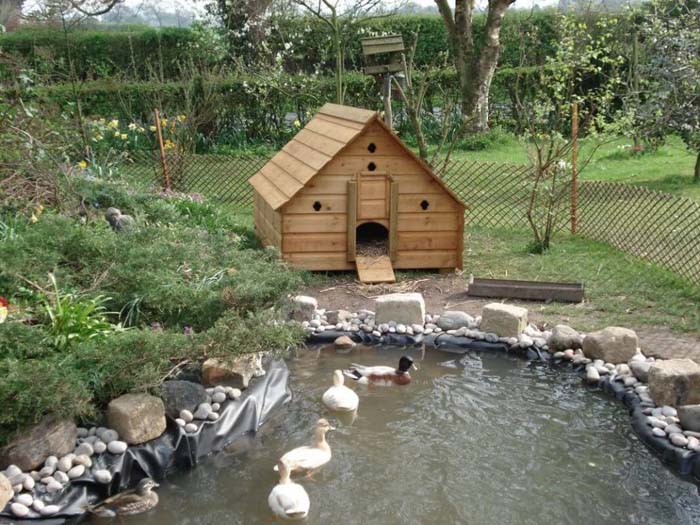 A pond liner can be seen weighted down around the edge of this water feature.
A lightweight fence is more about containing duck poop to one area of the yard than it is about keeping predators out.
20. Concrete Duck Pond Idea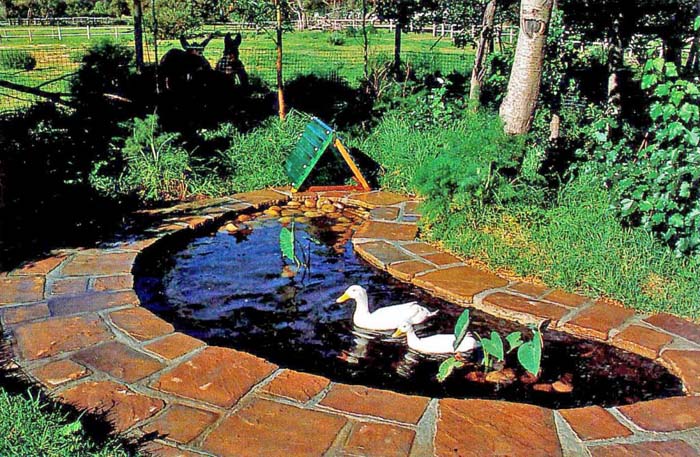 Build your duck pond to look as natural or man-made as you see fit. If you would like a more stable surface than gravel, create a perimeter made of stamped concrete.
Be sure and build a graded ramp that the ducklings can use to exit the pond without struggle.
21. Gravel Duck Pond Idea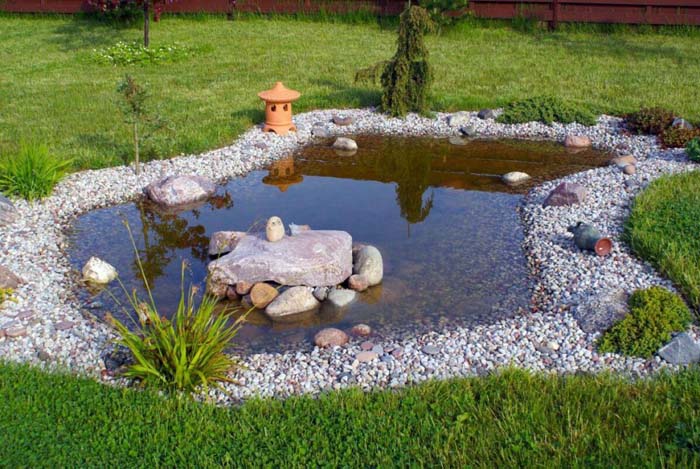 Here's an easy duck pond idea that takes advantage of a low-lying area in the landscape. Gravel is the main aggregate used for the base.
To protect the drain from clogs, set up a fake boulder over the top. The small Asian ornament can be used to cover a spigot for the water source.
22. Repurpose a Canoe as a Duck Pond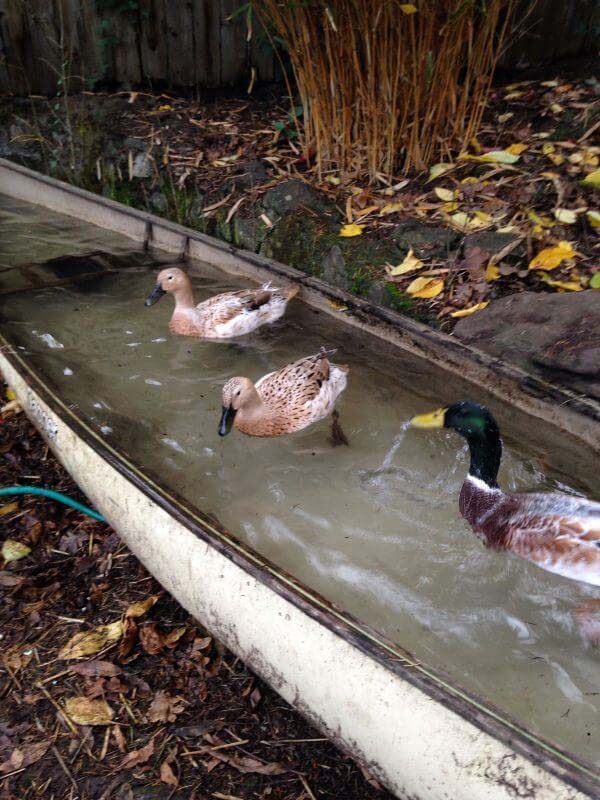 Many duck pond ideas are born out of old items. A worn out canoe gets new life as a duck pond. It's easy to add a drain and water source.
Plus, they're lightweight and portable enough to move anywhere in the yard that's best suited for your feathered friends.
23. Stock Tank Duck Pond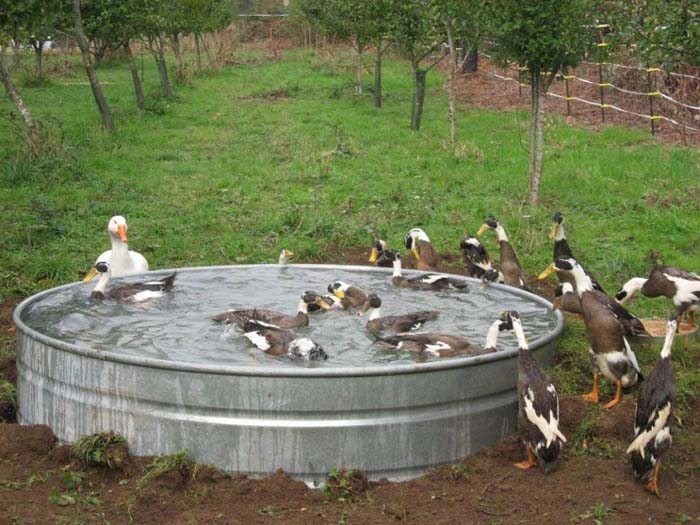 A stock tank from Tractor Supply is a rugged solution for hosting lots of ducks in a small outdoor space. There's a drain at the bottom of these troughs for easy cleaning.