A beautiful lawn is the first highlight of a beautiful home. Growing a lush green lawn not only beautifies your space but also provides the perfect environment for relaxing. One of the ways to ensure your sod is healthy is by using the right fertilizer.
The use of sods has become one of the most common trends in landscaping. Sods can completely change the appearance and feel of your garden when prepped right.
Some of the main factors you should consider in new sod care are fertilization and watering. You must ensure the care routine is done well for your lawn to develop roots and thrive.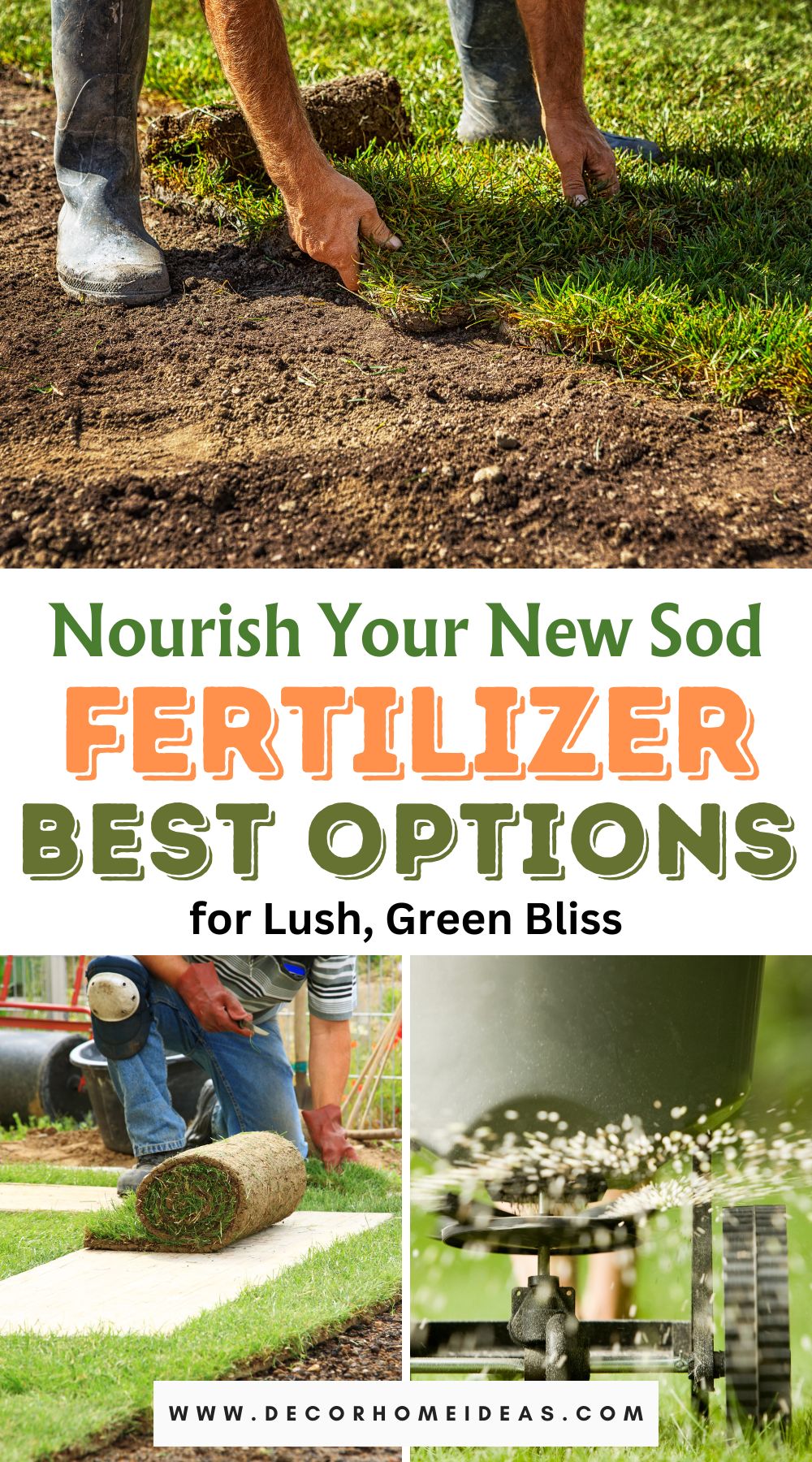 Different types of grass have different needs, and as such, it's important to apply fertilizer that's suitable for your type of grass. One of the critical components of these fertilizers is phosphorus, which is essential in developing roots in your new lawn. 
Here are some of the most effective fertilizers you can use for your lawn.
What is the Best Fertilizer For New Sod?
The best fertilizer for your new sod should promote the development of roots and contribute to the development of healthy leaves. When applying the fertilizer, ensure you follow the instructions on the packaging.
1. Dr. Earth Supernatural Liquid Lawn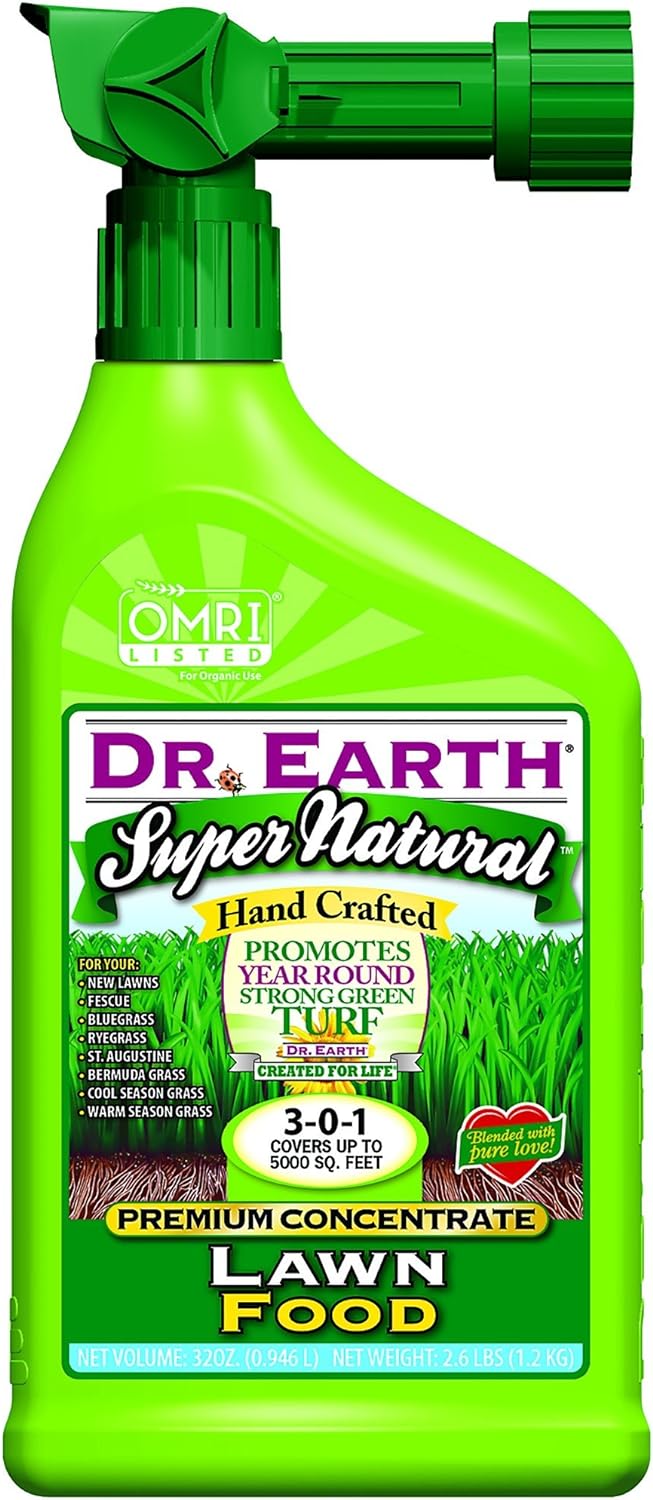 Key Pros
Easy to use
It can be applied anytime
Promotes a vibrant green color 
Customer review 4.7/5
It's an effective, easy-to-use fertilizer you can quickly get online. Dr Earth Supernatural Liquid Lawn isn't only easy to use but will accelerate the development of new grass no matter the time of year you apply it. 
One of the main advantages of using this fertilizer is that it promotes a lush green color once the lawn is established. It's essential to sufficiently water your lawn once you have applied the fertilizer to facilitate the absorption of nutrients by the grass. For the best results, keep watering the lawn throughout the growing season.
Additionally, the fertilizer won't affect your soil's pH; you can use it with almost any soil type. You can use Dr Earth Supernatural Liquid Lawn for newly planted grass seeds, new sod, and reseeding. It's also easy to apply since you can simply use a hand sprayer for application.
If you notice your lawn is frailing or that the color of the grass has changed, then it may be time to try this fertilizer.
Get it here: Amazon
2. Scotts Turf Builder Weed and Feed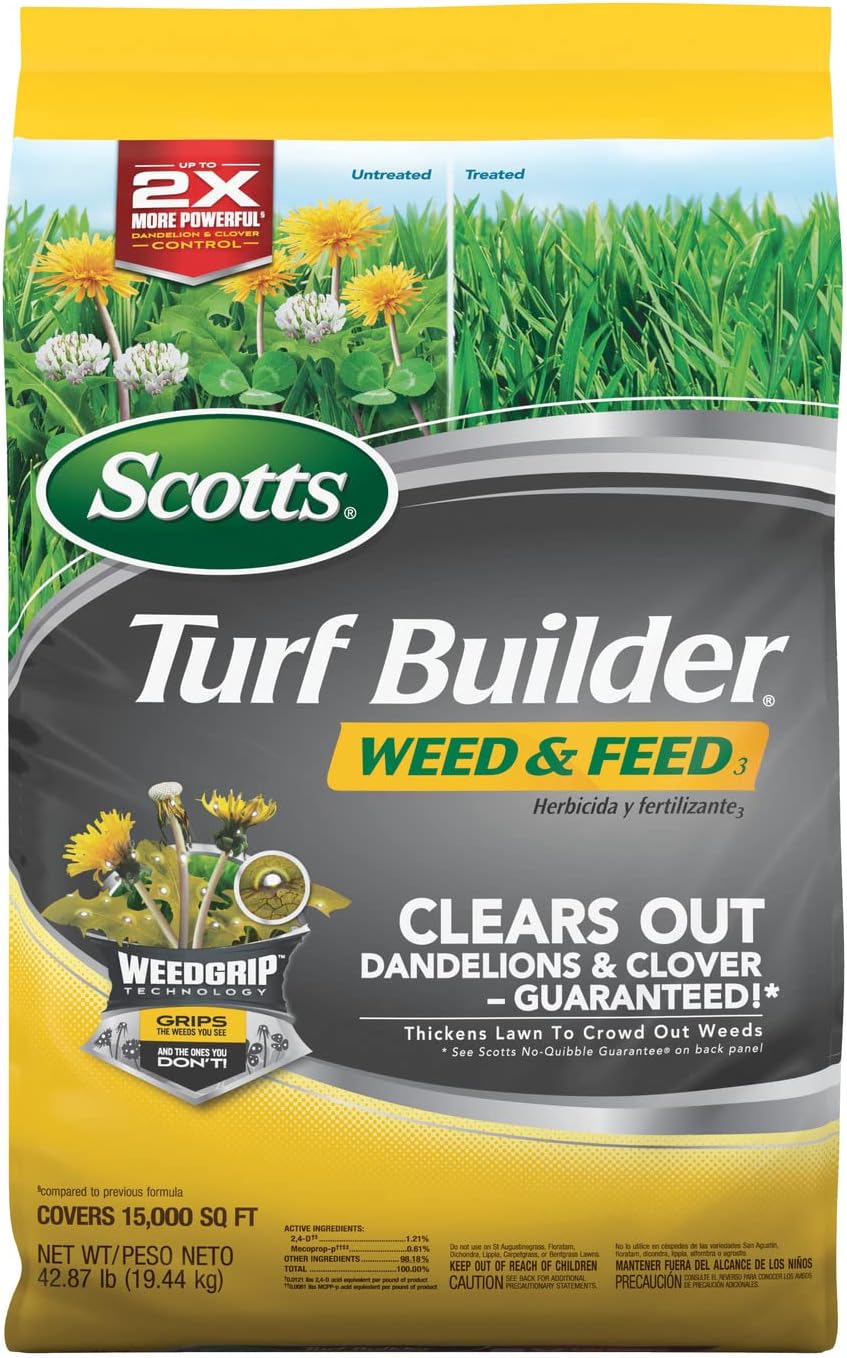 Key Pros
Both Fertilizer and Weed Killer
It can be used for warm and cool weather grasses
Powerful clover and dandelion Control
Covers up to 5,000 square feet 
Customer Review 4.4/5
This is one of the best options, especially if you want to cover an expansive space. The fertilizer can cover up to 5,000 square feet and is easy to spread.
You can use the fertilizer for different types of grass, including Ryegrass, Centipede, Zoysia, Bermuda grass, Kentucky bluegrass, and Bahiagrass. 
With Scotts Turf Builder, you get two-in-one benefits: a fertilizer that accelerates the growth of your lawn and a herbicide that'll prevent the development of weeds. Another advantage is that you can use it even in the dormant seasons. However, certain varieties will only be effective in spring and fall.
Get it here: Amazon
3. Sod Fertilizer- Covers 600 Square Feet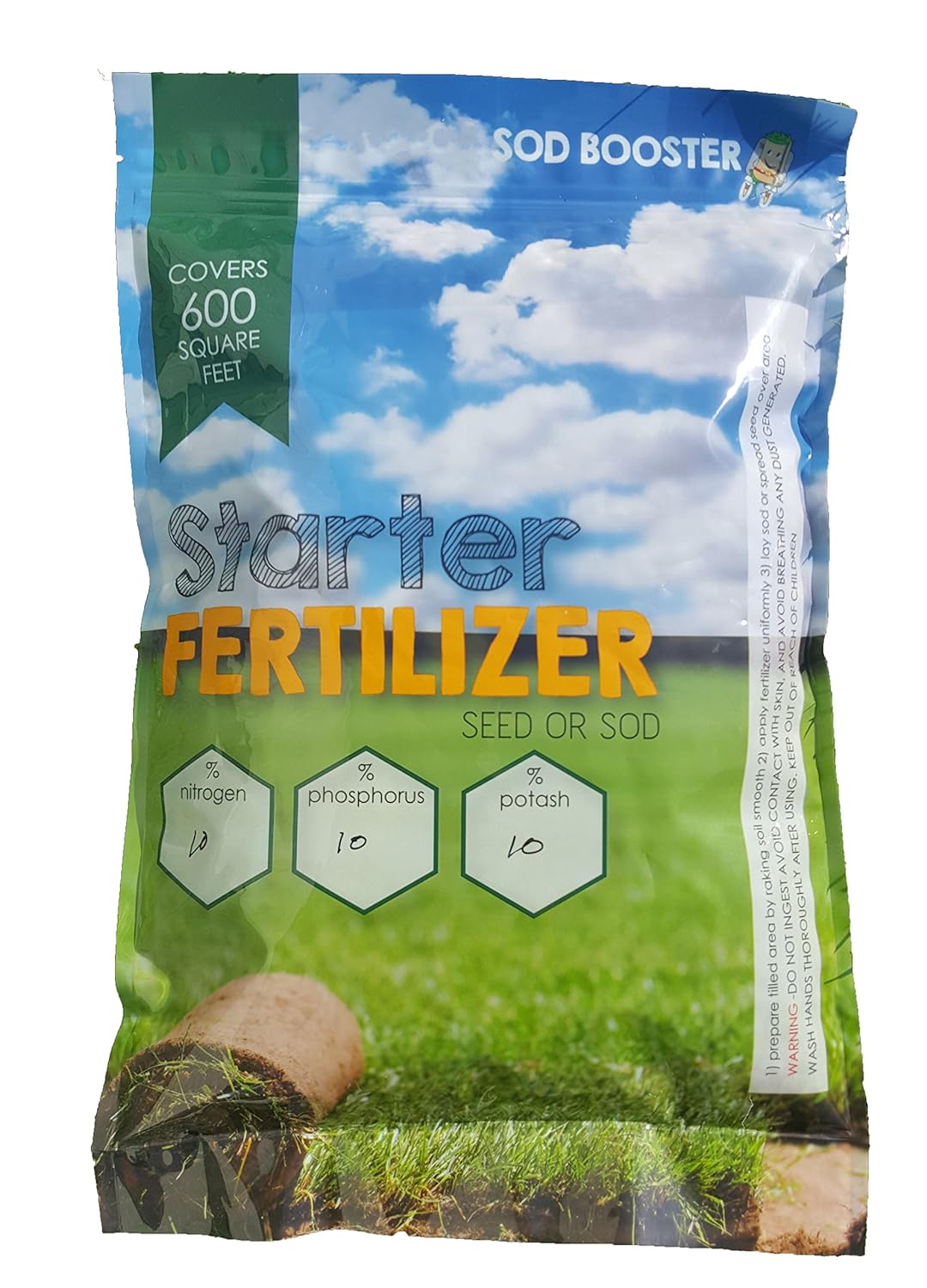 Key Pros
A Quick-release fertilizer
Easy to measure and apply
It can cover up to 600 square feet!
Balanced 10-10-10 Formula
Customer review: 4.3/5
Another effective fertilizer that homeowners can use to promote healthy lawn growth. Besides promoting healthy growth, it's also easy to use and works well with various grass types.
As Sod fertilizer is specialized for sods, it contains all the nutrients needed for the growth of healthy sods. The fertilizer is made of a perfect mixture of nutrients that encourages turf development.
What makes the fertilizer even more preferable is its good ratio of usage. Sod fertilizer covers an entire pallet. This is to say that if you have installed four pallets in your yard, then you'll need five bags of fertilizer. If you install only one pallet, then use one pack. Easy, right?!
Regarding the application method, the fertilizer should be applied directly to the soil before planting the sod. This provides time for the nutrients to settle in the soil. The application will be practical if you do it during the growing season, so avoid applying it during the cold seasons. A slow absorption rate during the cold seasons could lead to chemical build-up in the soil.
Get it here: Amazon
4. Dr. Earth Super Natural Liquid Lawn Fertilizer 32 oz RTS
Key Pros 
Non-toxic
Made from recycled ingredients
Contains NPK in ratio 3-0-1 (Nitrogen, phosphorus, potassium)
Can cover 1200 square feet 
Customer review: 4.4/5
Another product from Dr Earth that could transform your lawn. This is yet another liquid fertilizer!
Liquid fertilizers aren't only sustainable in the long run but are also non-toxic, making them safe for pets and children. This is the fertilizer if your lawn is a place to chill and relax. 
The fertilizer contains a unique formula that suits turfgrass, bringing more color and vibrance to the lawn. Dr. Earth Super Natural Liquid Lawn Fertilizer 32 oz RTS is an all-season fertilizer that you can use for warm and cold-season grasses.
To achieve optimal results, apply the fertilizer to already established sods, even though you can also use it for grass seedlings. 
Don't get alarmed by the funny smell you may notice from the fertilizer. That's its typical smell and will likely disappear in a few days. A small price to pay for a beautiful lawn!
5. Penterra Soil Penetrant and Wetting Agent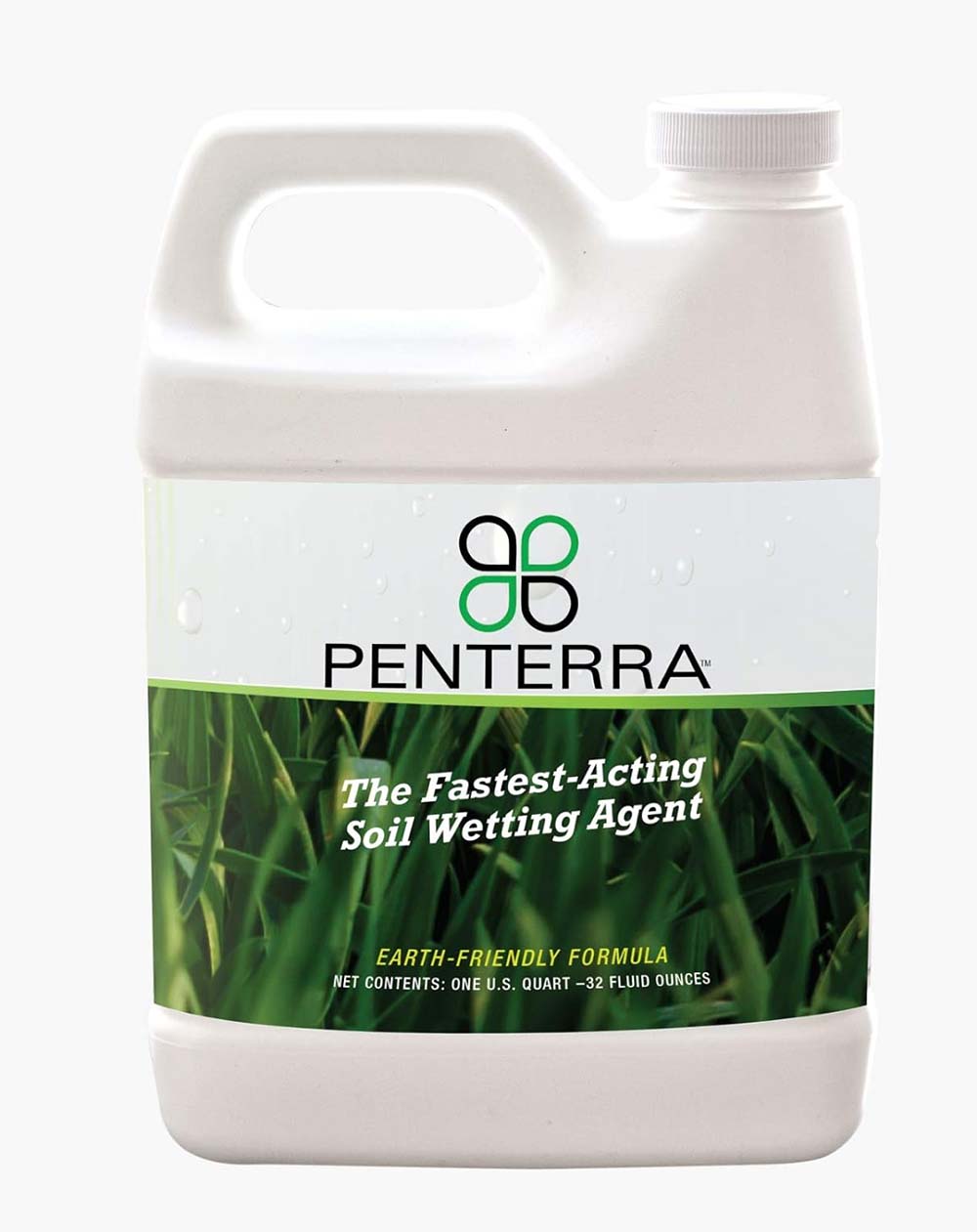 Key Pros
Controls moisture levels in the soil
Encourages water penetration and uptake
Liquid fertilizer
Can Loosen up the soil
Customer Review: 4.3/ 5 
Penterra Soil Penetrant and Wetting Agent is another fertilizer that'll benefit your lawn. This fertilizer promotes water movement and the rate of absorption in roots. It also deters erosion and improves nutrient intake in the grass, even for hardy landscapes. 
Penterra soil Penetrant fertilizer is the perfect option for those looking to loosen up too compact soils to promote better root system development. 
One of the key differences between this fertilizer and other fertilizers is its application method. Since it's a liquid fertilizer, you must dilute it because the ingredients may be too strong. Ensure you check the instructions on the packaging before applying. 
Penterra will not only fertilize your plants but also solve common issues such as lawn dry spots and encourage water intake. The fertilizer is also effective in improving the soil structure, ensuring it's hydrated for extended periods. 
Typical fertilizer applications are in sports fields, resorts, and even golf courses. So you can be sure proper application will give your grass the best glow.
However, one precaution you should take when using the fertilizer is to ensure you don't apply it before seeds have germinated if you are growing your grass from scratch.
Get it here: Amazon
6. Scotts Turf Builder Thick'R Lawn Bermudagrass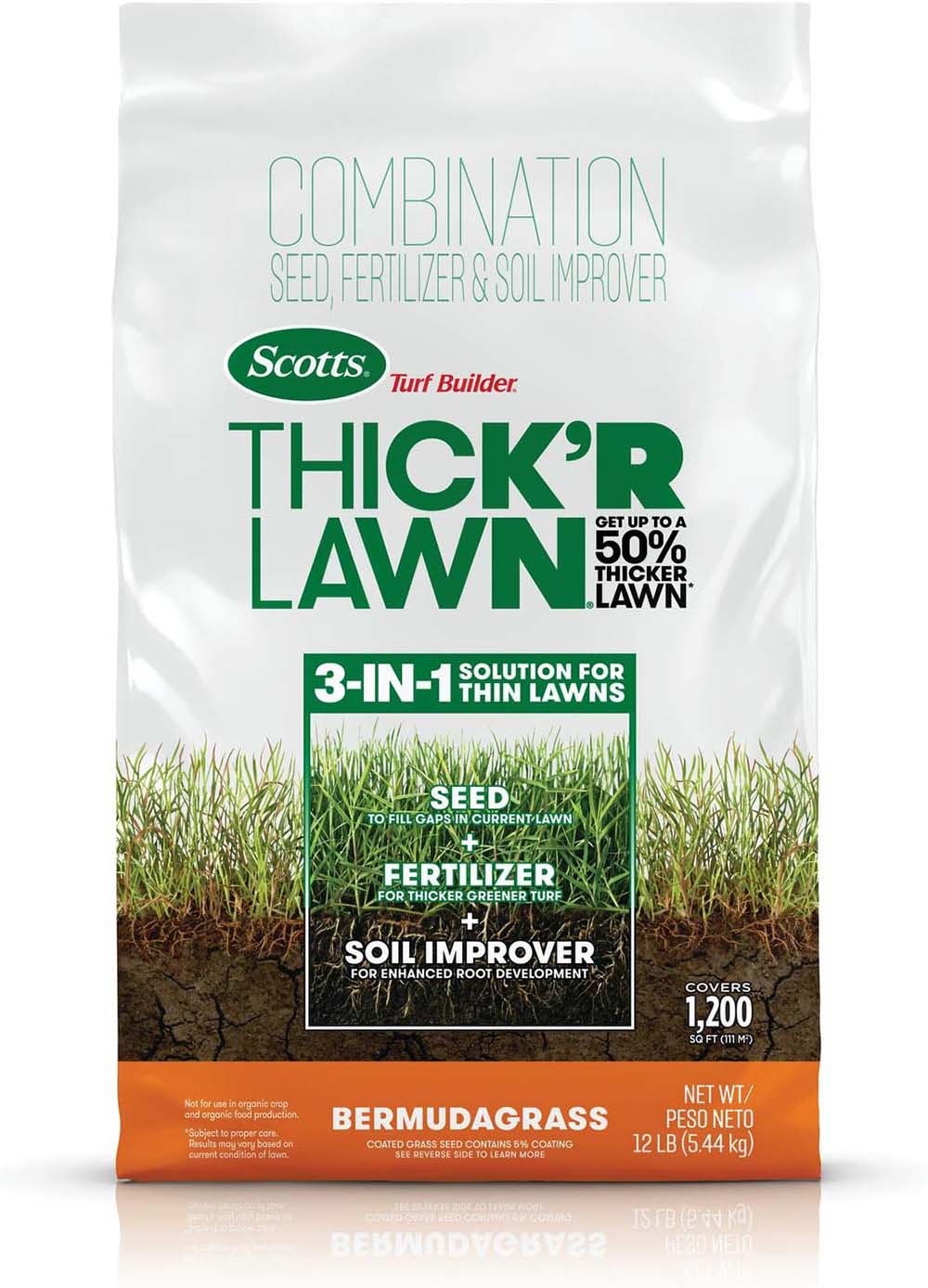 Key Pros
Promotes the growth and development of roots
Delivers all essential nutrients 
A 50% thicker lawn
Fix patches and gaps in the lawn
Customer Review: 4.1/ 5
A granular fertilizer that's perfect for the growing season, from late summer to early spring. Once you have applied the fertilizer, it's essential to water your plants for maximum absorption. 
This grass feed differs from other fertilizers since it contains grass seeds that'll fill out patches in your lawn. The seeds also make your lawn 50% thicker. Moreover, the fertilizer promotes the growth of big and robust roots.
Even though you can apply it to different types of grass, the fertilizer will yield the best results when applied to Bermudagrass. 
Get it here: Amazon
Commonly Asked Questions
When is the best time to fertilize my new sod?
If you are fertilizing for the first time, the best time to fertilize your new sod is about six weeks after planting. After this time, grassroots are already well-developed and can easily absorb nutrients.
In some cases, the roots may have trouble developing, requiring early fertilization, which should be done four weeks after planting. The fertilization time will also depend on the type of grass you have grown. Some grass types, like St. Augustine grass, must be fertilized about one month after planting. 
If you need help determining when to fertilize your lawn, perform a soil test. A soil test shows the concentration of chemicals in the soil and what nutrients the soil needs to grow and develop your grass.
How often should you fertilize new sod?
The frequency of fertilization mainly depends on the type of grass that you have grown and the fertilizer you are using. Liquid fertilizer, for example, will be effective if applied once a week. 
On the other hand, if you're using a slow-release fertilizer such as granular Nitrogen fertilizers, apply it once during the growing season. These fertilizers have an abundance of nutrients enough to last throughout the season. 
For other types of fertilizer, the frequency of fertilization should be between 3 to 4 times during the growing season. This is roughly once a month, but be sure to follow the manufacturer's instructions as displayed on the packaging. 
After fertilizing a new sod, what's next?
Fertilization isn't the only care guide for your lawn, so you should continue taking care of the yard by watering it regularly and ensuring the soil doesn't dry out. 
It isn't advisable to mow your lawn immediately after fertilization as this could cause too much stress to the roots trying to absorb the nutrients. Wait for about two days before mowing. 
Summing Up 
With so many options available, choosing the right fertilizer for your lawn may be challenging. However, the choices we have provided are some effective products that may work for your new sod.
When choosing a fertilizer for your sod, consider these three points: the type of soil you have, the type of grass you have grown, and the amount of fertilizer you'll need. 
The best fertilizer for your lawn should supply all the needed nutrients to the soil, like potassium, nitrogen, iron, carbon, and phosphorus. These nutrients encourage better root formation, creating a vibrant, healthy lawn!