Garden houses are an excellent addition to the backyard. Maybe you think that having one requires plenty of free space but with our collection of 15 Fantastic Garden House Designing Ideas you will see that it is possible to create a charming and welcoming garden house even in a small backyard.
The examples here will show you traditional garden houses and such that are affected by the modern designs and architecture trends. All of them are united by one thing- they are surely the most special feature of a backyard and a place to enjoy nature and comfort in one.
1. A Tuscany Relaxing Corner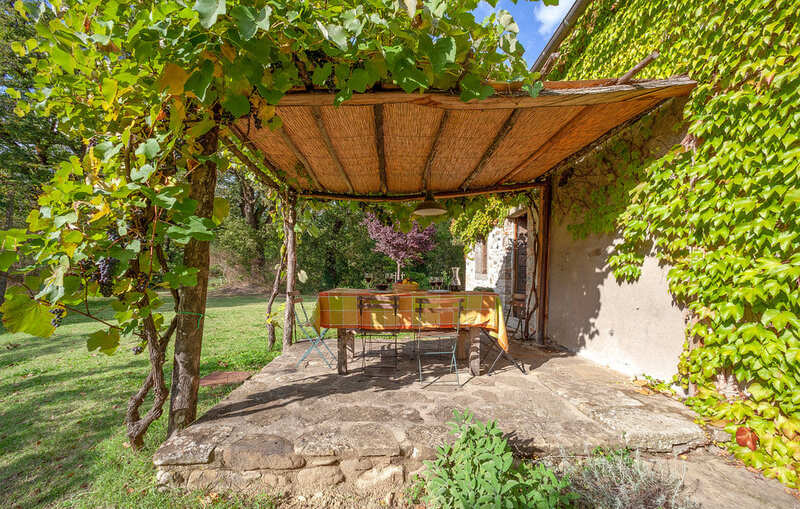 The wall is covered with decorative vines to enhance the natural look of this relaxing corner underneath a thatched shade. A large table sits on a raised stone platform. The overall look of this backyard nook is warm, casual and welcoming as if having a holiday at Tuscany.
2. A Minimalist Patio Oasis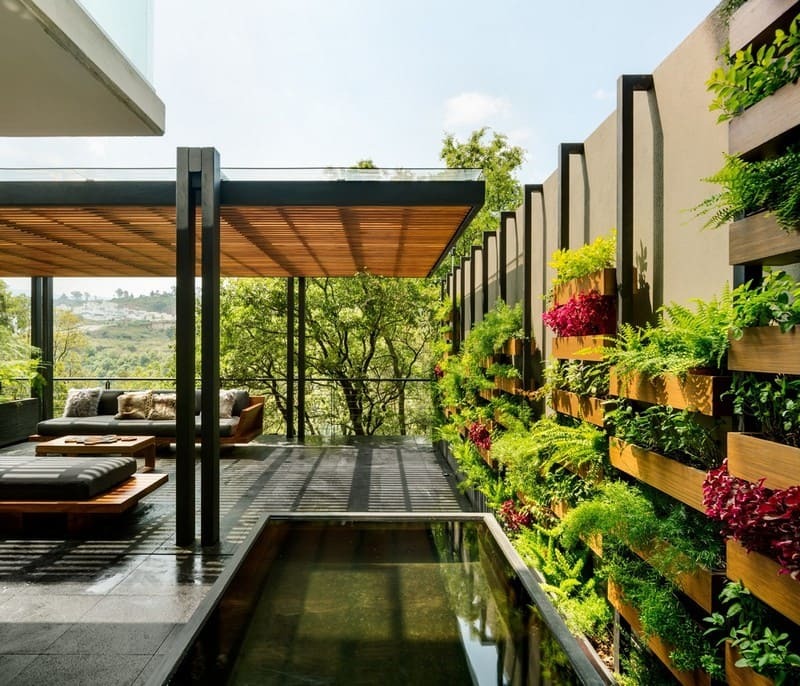 A pool and a vertical garden built on the patio wall set a welcoming vibe. All furniture pieces are designed in a minimalist style featuring comfort and clean lines. The color palette is neutral to let the surrounding greenery stand out.
3. Cottage Style Nook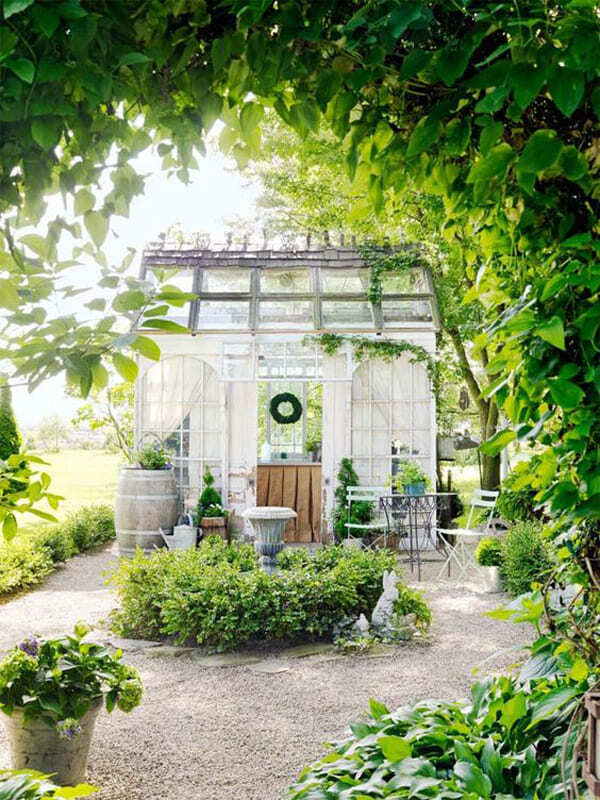 This cottage garden area is meant to take you to a fairy tale. The sunroom is made from recycled windows letting the sun inside and giving the structure a farmhouse look. A barrel, a watering can and a tin pot are part of the nature-inspired decoration. A sitting set for two people stays in front of the sunroom to ensure a comfortable stay outdoors with fresh air and an inviting atmosphere.
4. Vintage Relaxing Nook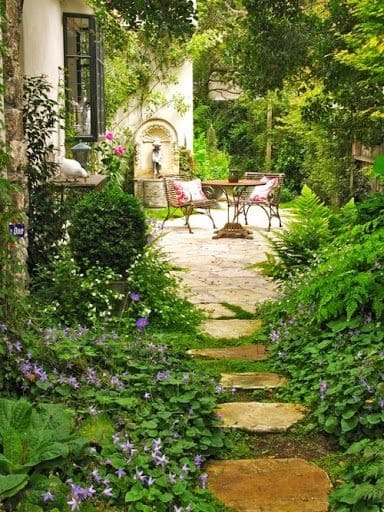 A stepping-stone walkway leads you through a lush garden to a vintage sitting set for two people. It is huddled up between the house and the tree garden. Next to it, there is an antique fountain which enhances the calming flair of this nook with its murmuring sounds.
5. Hanging Garden Idea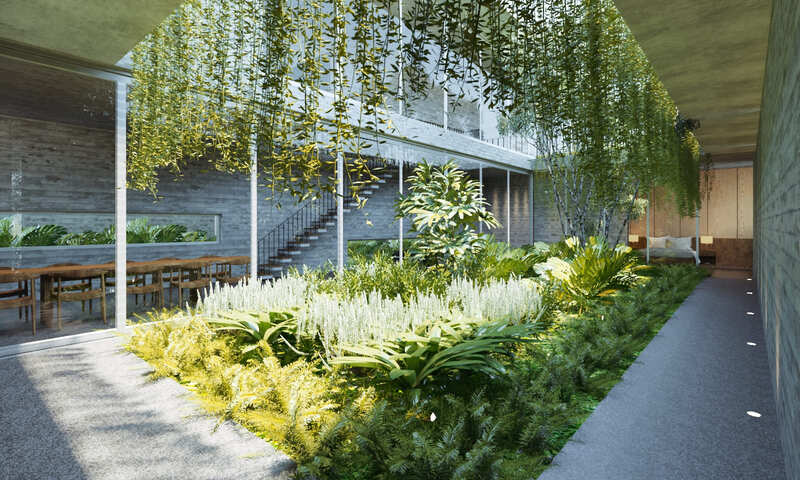 This garden is situated in the center of the property and is surrounded by the building. This architecture gives the opportunity to create a hanging garden and a ground garden. The vines hang down like a living drapery. The ground garden features green varieties planted in a pattern.
6. Tropical Garden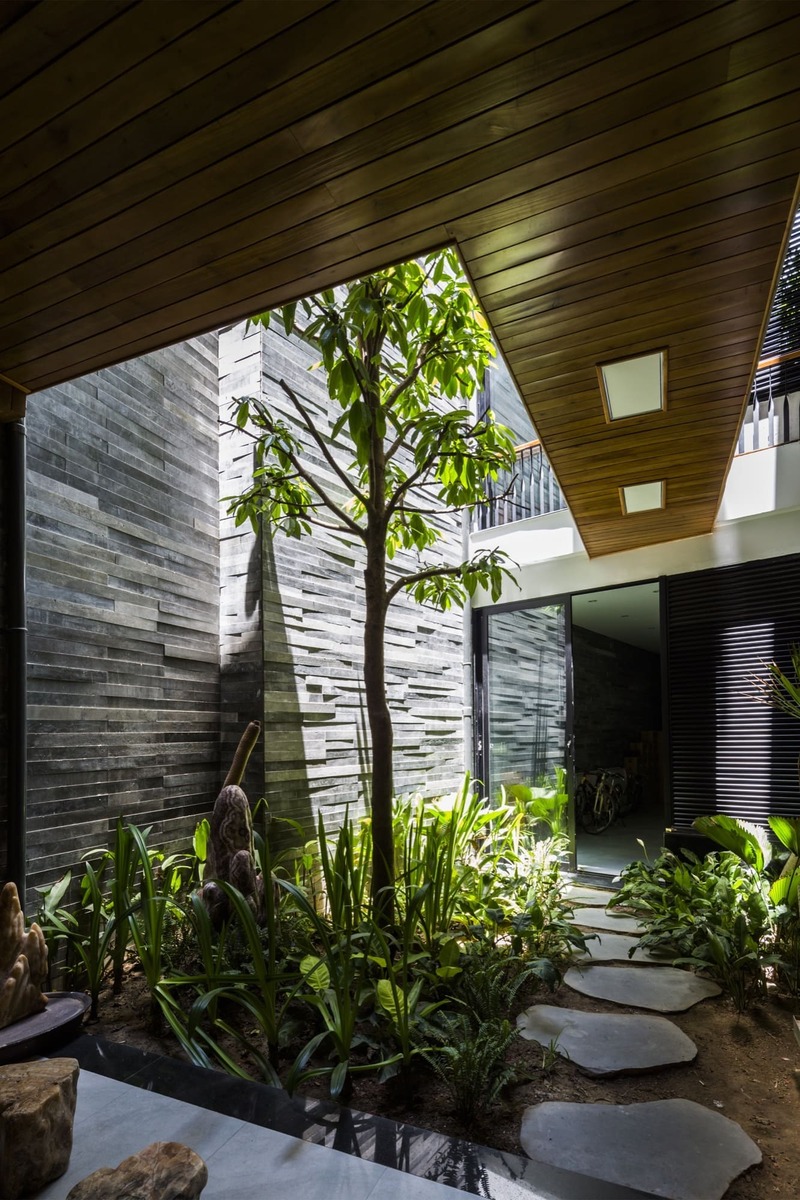 This small garden is created in a small internal backyard. Despite its size, it is very well positioned on both sides of a stepping-stone walkway.
The varieties are ornamental to match the overall Asian-inspired architecture and to balance artificial and natural.
7. Relax Next To The Pond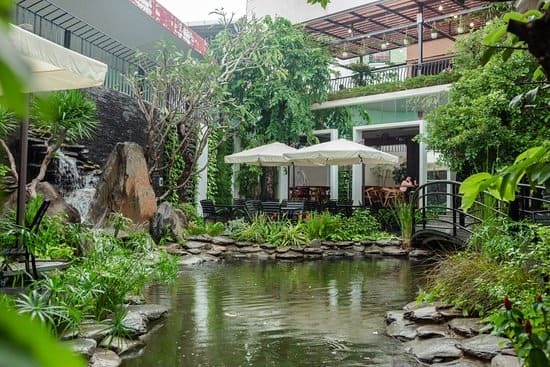 If you have a pool, a pond or a fountain, you should create a sitting corner near the water feature. The look and the sounds of the water make the setting relaxing and inviting. The sitting areas are structured like islands among water and greenery.
8. An Indoor Garden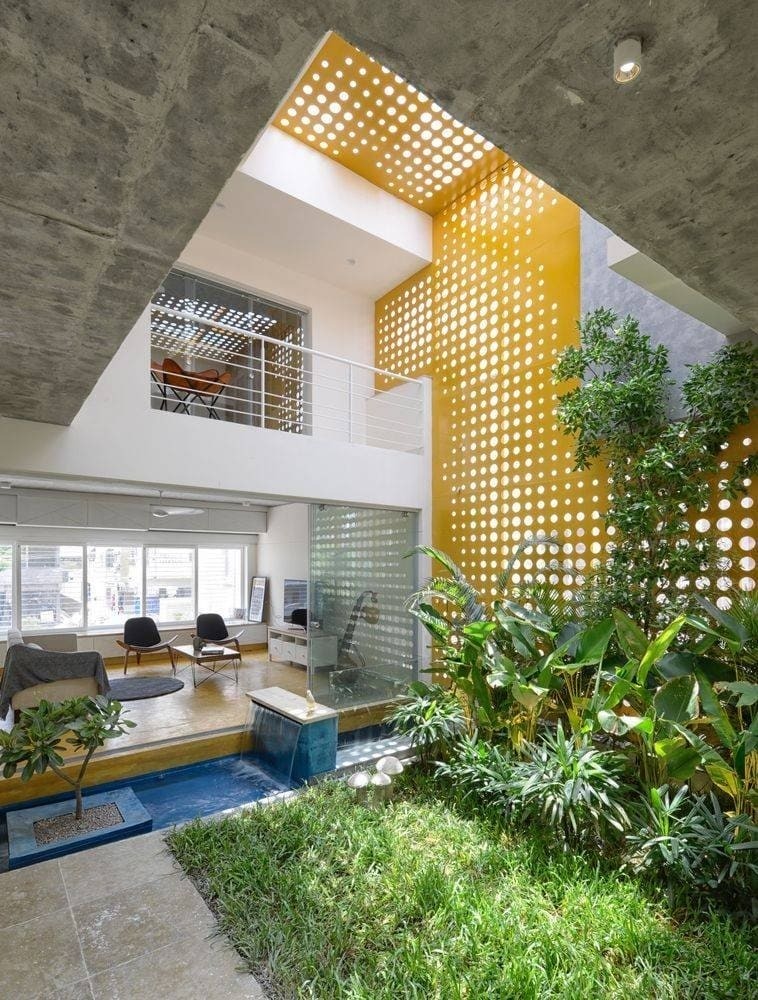 The living room has a direct look and access to an inside small garden. A metal wall with holes acts as a source of light and also as a trellis for the climbing varieties. The garden is built next to a narrow fountain which complements the natural area inside this home.
9. Calming Nook Under A Pergola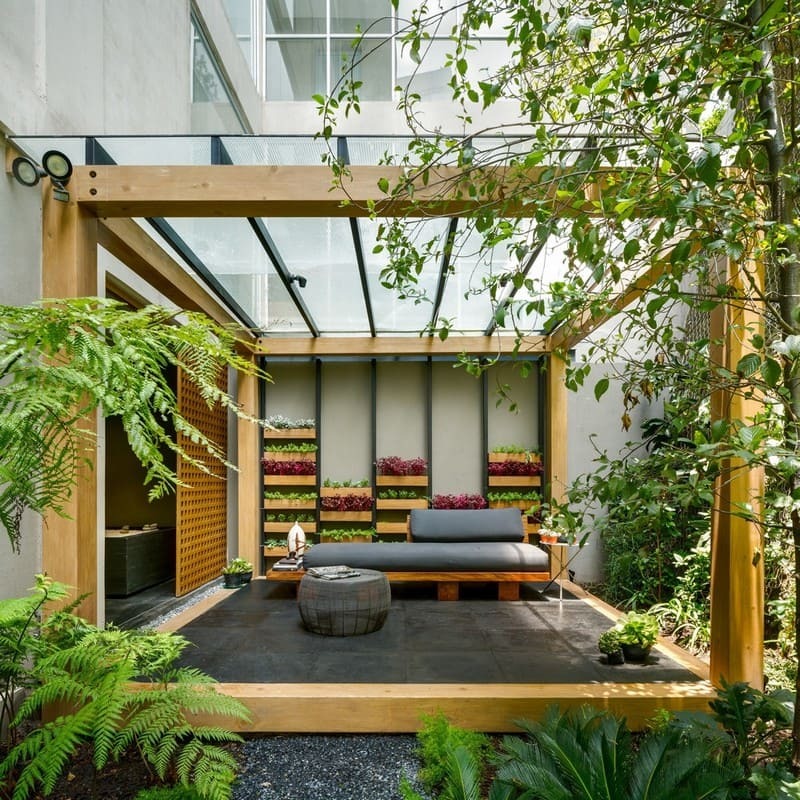 This patio is built next to the house to access it easily. The design features a covered pergola from wood, metal and glass. These materials configure a minimalist look. Added vertical planters soften the clean lines and the otherwise neutral overall look of the outdoor nook and complement the surrounding plants.
10. Sunroom In The Backyard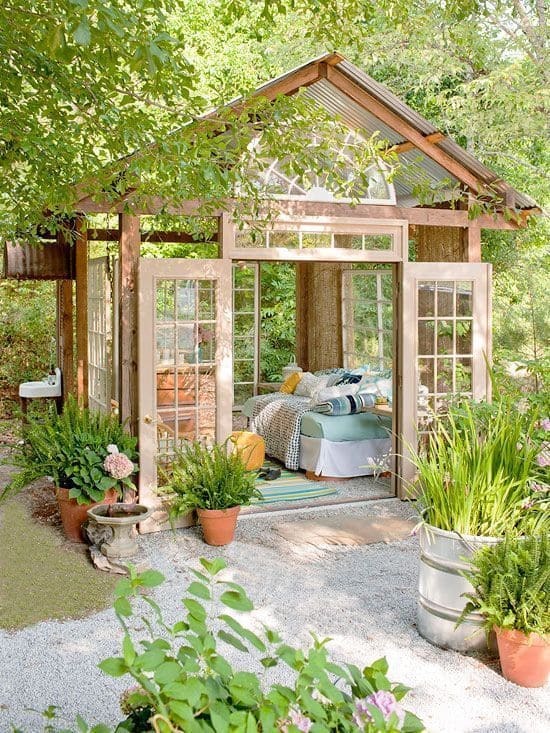 This small sunroom is built in the backyard next to the lush tree area. The house is furnished with a day bed and a chest of drawers. The decoration in this sunroom is as if you are inside the main house. This makes the place very homely and welcoming.
11. Easy-To-Make Relaxing Nook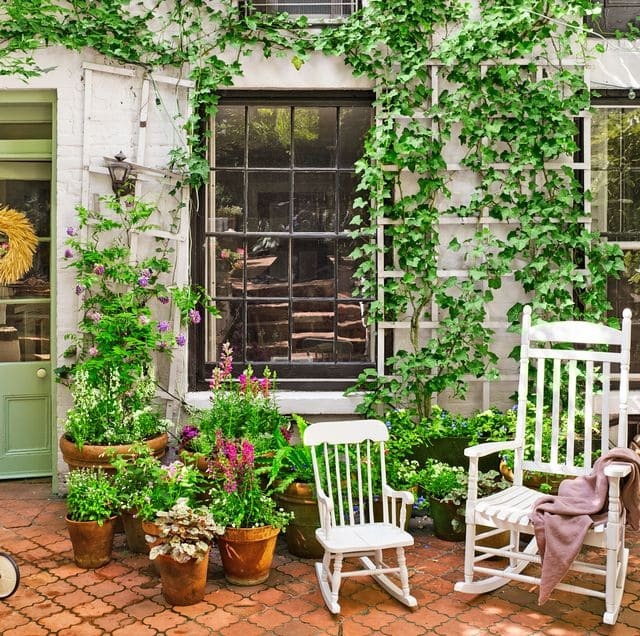 Two rocking chairs and a few flower pots and you have a special relaxing nook to enjoy fresh air, nature and calming surroundings.
12. Daybed Underneath The Sky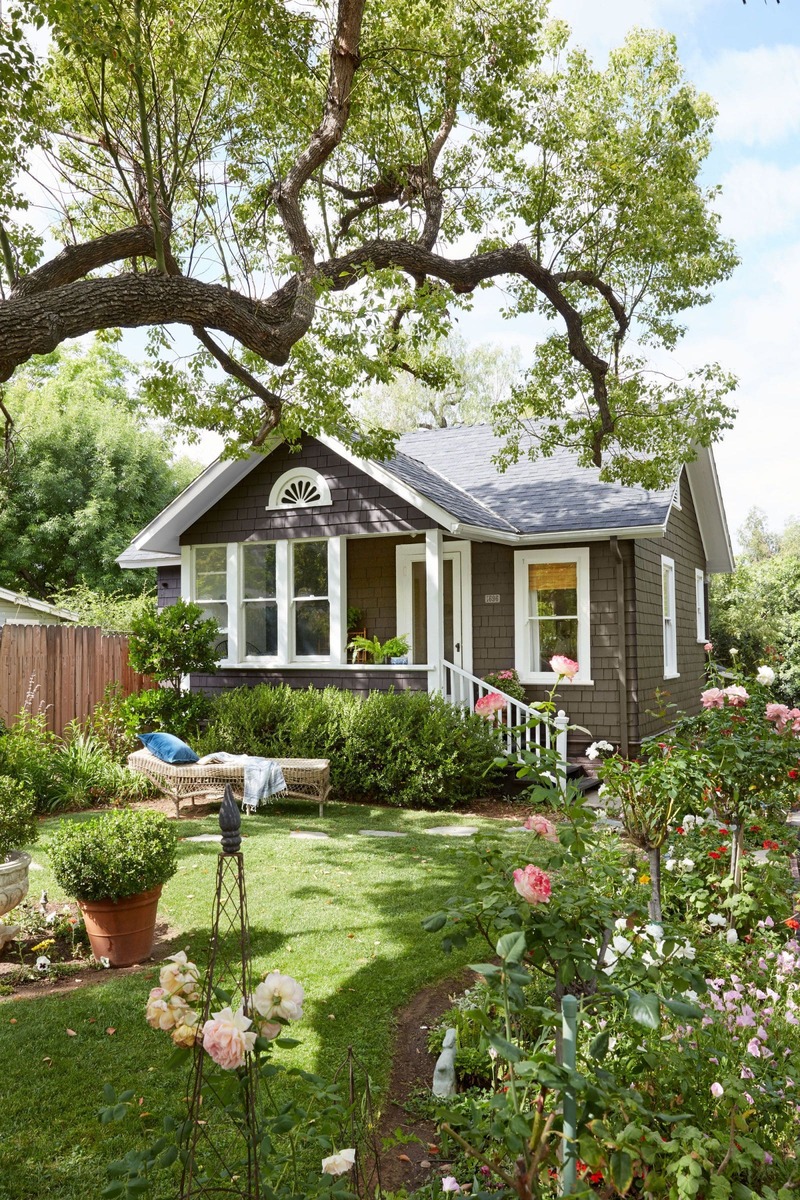 You don't need a big backyard to make it beautiful and inviting. A daybed stays at the beginning of the garden to admire the well-maintained lawn and flower garden bed.
13. Exotic Relaxing Nook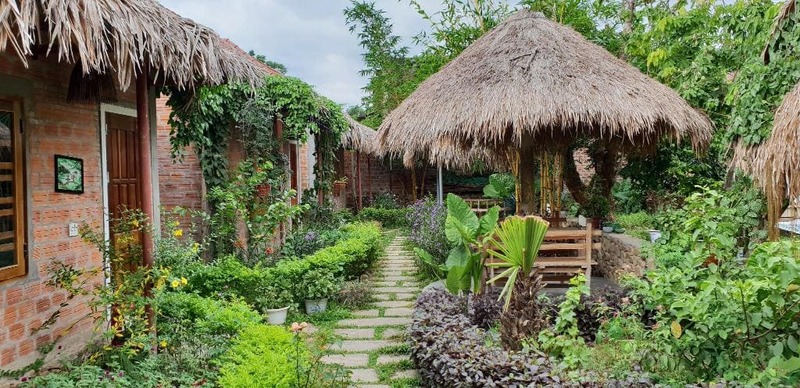 Straw is used for coverage of an umbrella above a sitting nook in this backyard idea. This material complements the eaves of the bungalows and sets a holiday vibe to the overall atmosphere.
14. Pergola With Curtains To Ensure Privacy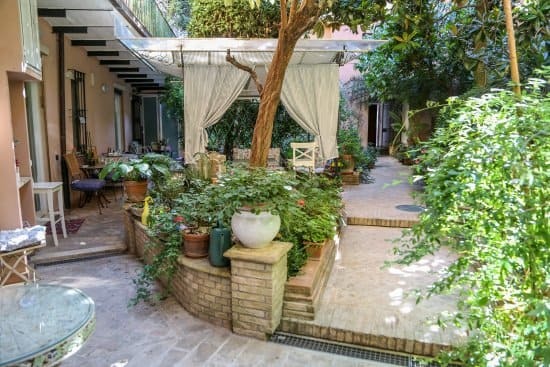 If you want to make the outdoor sitting nook under a pergola more private, cover the sides with curtains. Sheer curtains are best as they will let air go through and yet keep the curious eyes out.
15. A Sitting Nook Underneath The Shade Of A Tree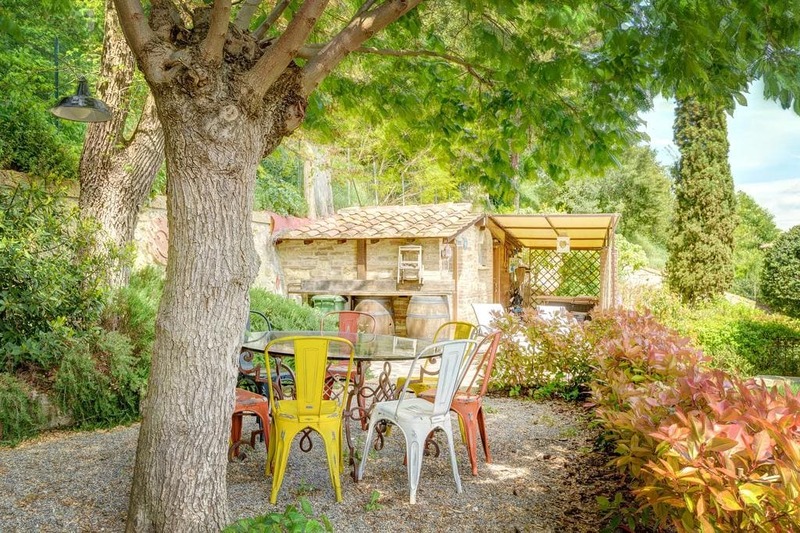 This relaxing area is formed under the thick shade of an old tree. The sitting nook is surrounded by plants which aoutline its space in a naturally inspiring way.
Chairs are painted different bright colors and set a jolly mood.