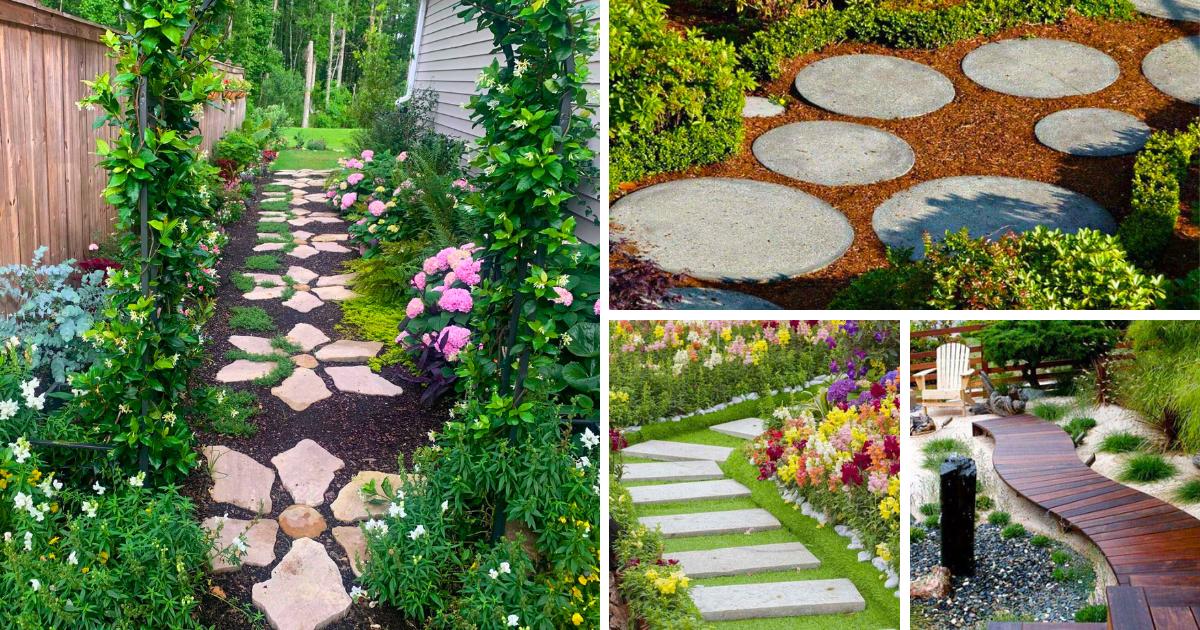 Creating a garden path is one of the best ways to upgrade the outdoor space, define spaces and improve the curb appeal of your property.
With these 19 DIY Garden Path Ideas, you can sculpt your unique walkway without effort or investment.
You can use free materials like river stones, reclaimed pallet slats, and leftover flagstones to shape stepping stones or make unique shapes with concrete.
1. Brick And Concrete Garden Path Idea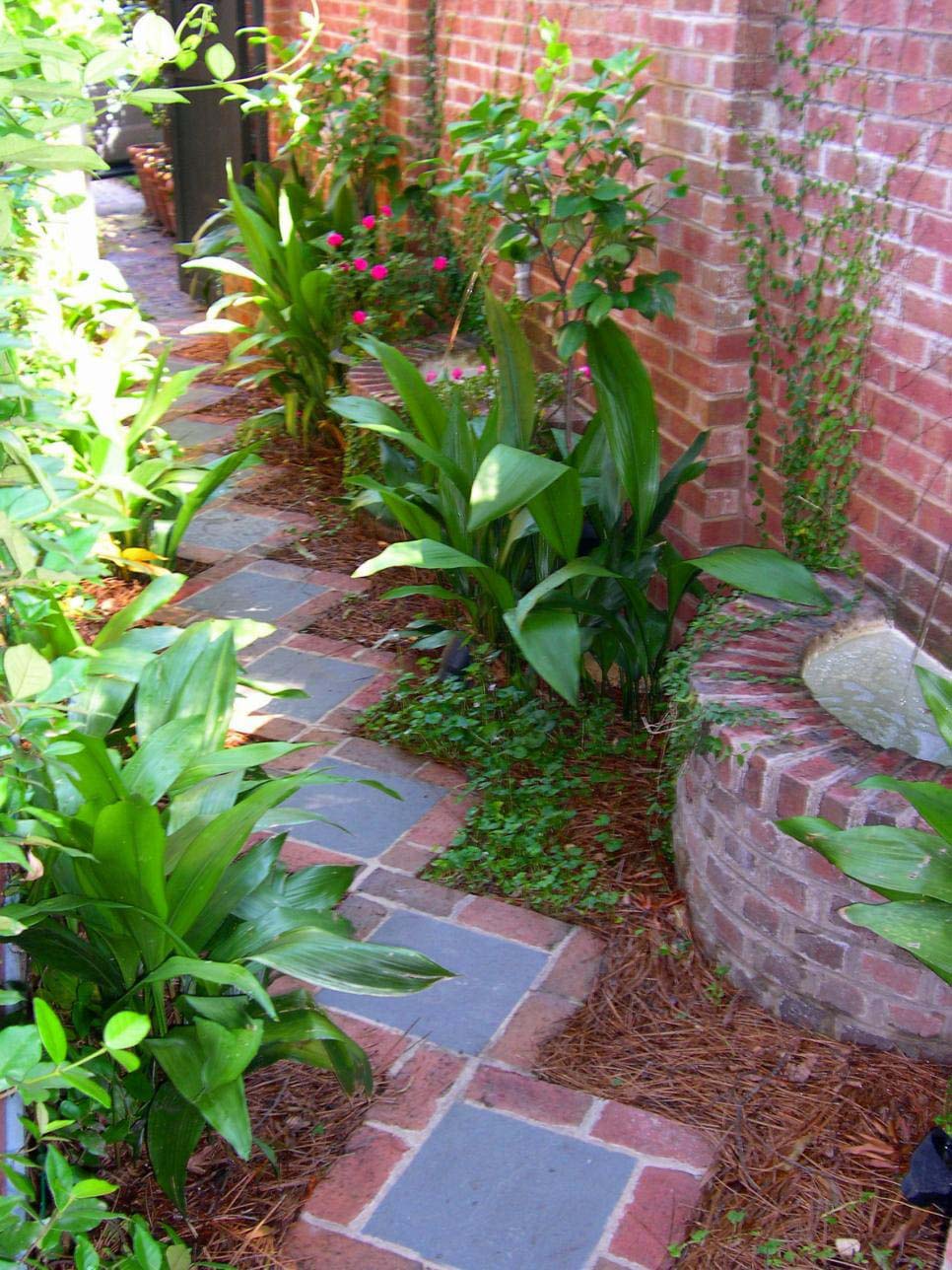 Match the garden path with the adjacent brick fence by making yourself rustic stepping stones. Each square requires seven bricks. They act as a mold for the concrete filling.
You can customize the stepping stones' size, shape, and alignment and create your unique garden path.
2. Raised Garden Path From Wooden Slats
This garden path idea features fabrication from wooden slats. This has probably determined its raised design which ensures good water drainage.
All slats are treated with varnish to withstand the outdoor conditions. Wood as a material is quite flexible to define the path into the shape you want.
3. Rock Garden Path Idea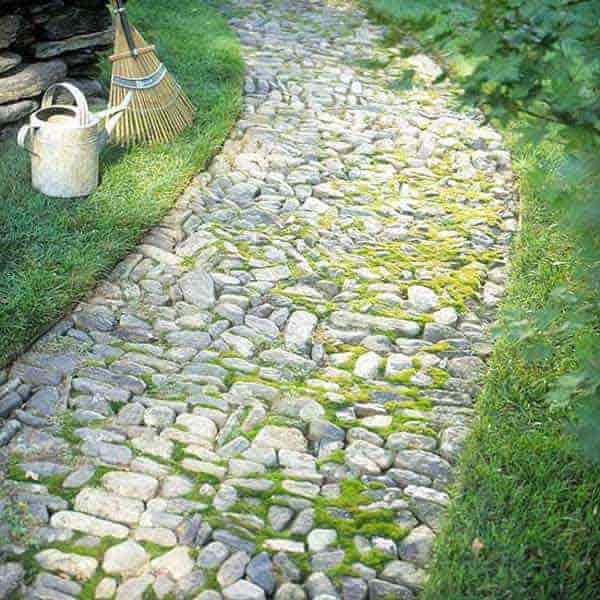 Are you looking for a DIY garden path with a natural look? This garden path idea is more than that! It is inexpensive, even free! All you need to do is to collect stones from a river bed, for example.
Prepare the garden path bed by digging out some of the soil where the stones will sit tightly. In time, grass and moss will grow in the gaps between the stones, giving the rock walkway a whimsy look.
4. Leaf Stepping Stones For A DIY Garden Path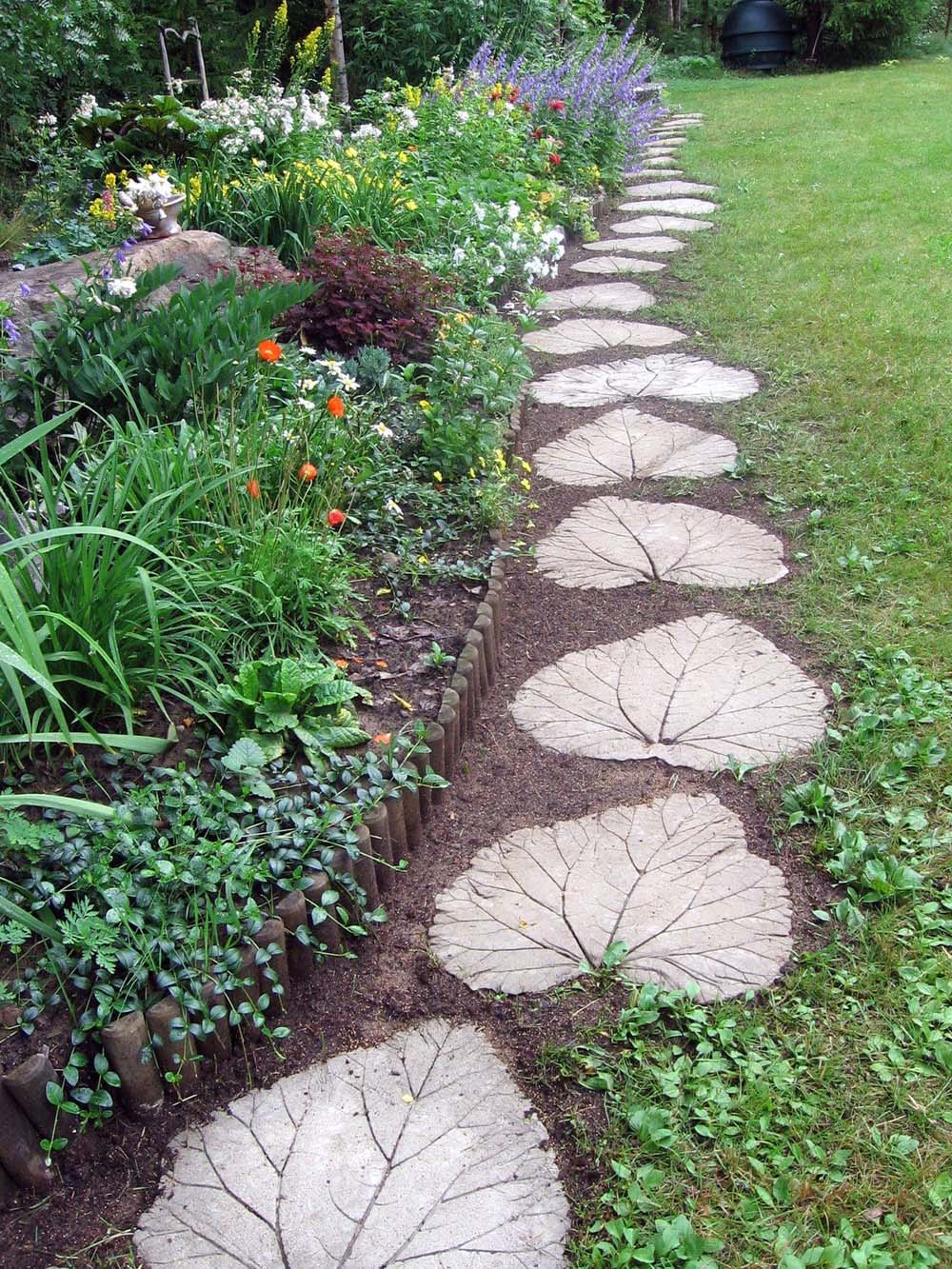 Another inspiring project for a natural-looking garden path features a walkway through the garden from leaf-shaped stepping stones.
Prepare a concrete mixture to create the stepping stone. As a mold, find half a dozen leaves from a burdock.
5. Garden Path In A Gravel Bed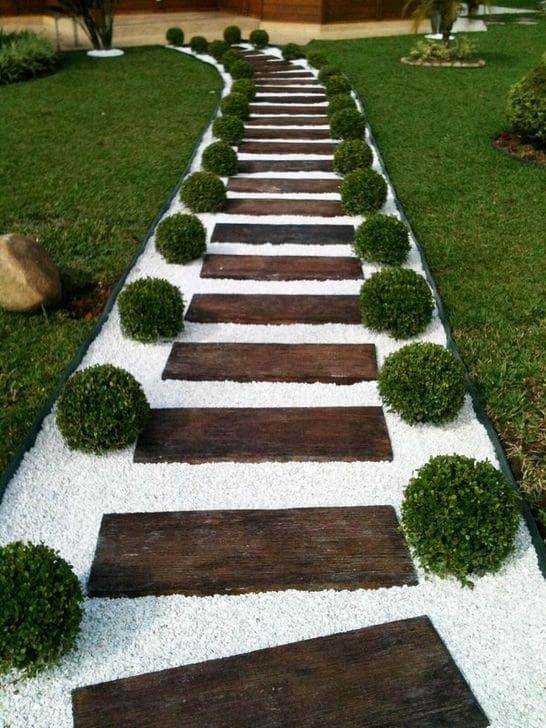 If you imagine your garden path from wood, then think about how to protect it from water retention in the soil. One option is to make the walkway raised, the other one is to provide drainage. And there isn't better and cheaper drainage than gravel.
Gravel will also create contrast for the wooden slats and greenery to stand out.
6. DIY Garden Path With Log Slices
Are you wondering how to limit the dirt on the boots when maintaining the veggie garden? Hammer down wood slices in the soil to make a unique path between the garden beds.
7. Reclaimed Wood Idea For A DIY Garden Path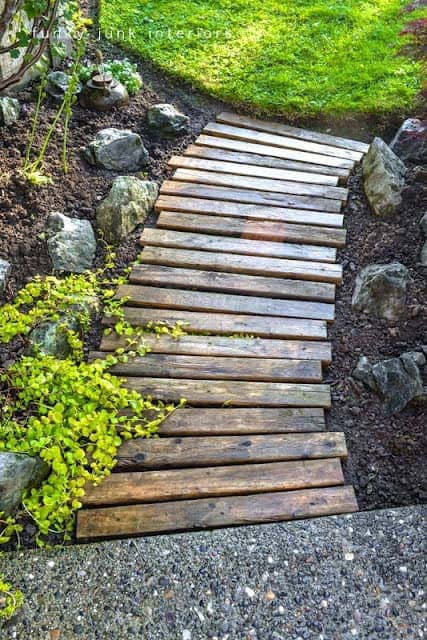 Do you have slats remaining from a DIY project? It is time to use them and turn them into a walkway with a rustic flair.
Prepare the bed for the slats by digging out a small part of the soil and leveling it. Slats must be varnished before final positioning on the ground.
8. DIY Stepping Stone Garden Path Idea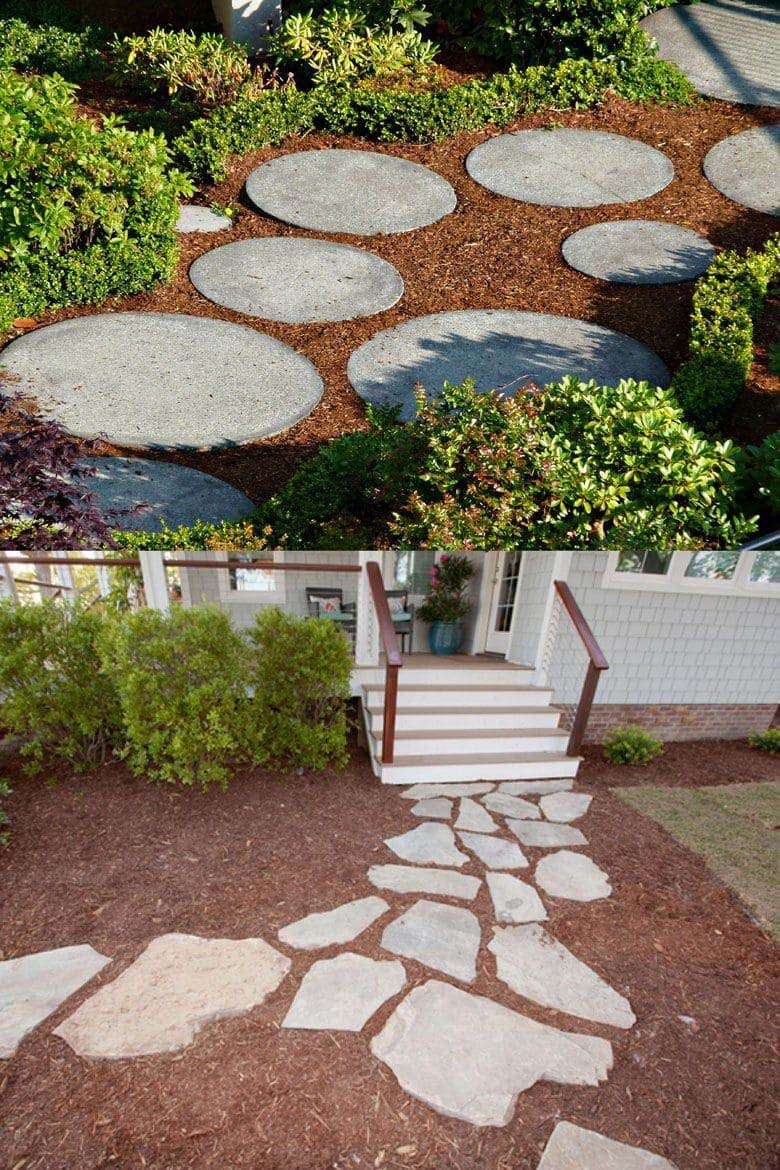 Garden paths are a great way to improve the curb appeal of your property. Their functionality as a clean transition between the yard and the house makes them an essential part of the landscape.
You can easily make a garden walkway with flagstones or make yourself stones from concrete. The second option is for those of you who want to personalize the look of the walkway and give it a unique character.
9. Pebbles And Slats Garden Path Idea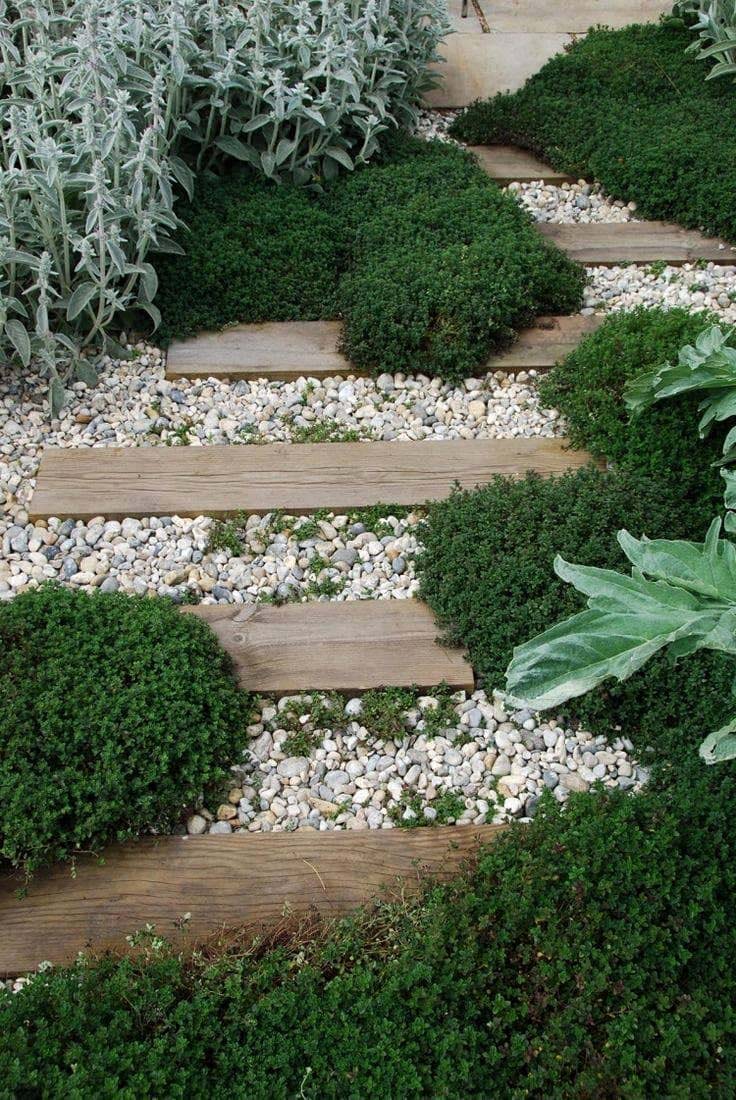 Looking for a cost-effective walkway idea? You are at the right place! Among all of the garden path ideas here, there are designs that will cost you nothing.
To make yourself this amazing walkway, you need pebbles and wooden slats. Pebbles are great for landscaping because they add texture and color that match the surroundings.
Slats are a natural material that coordinates with the gravel bed and stands out against it.
10. DIY Brick Path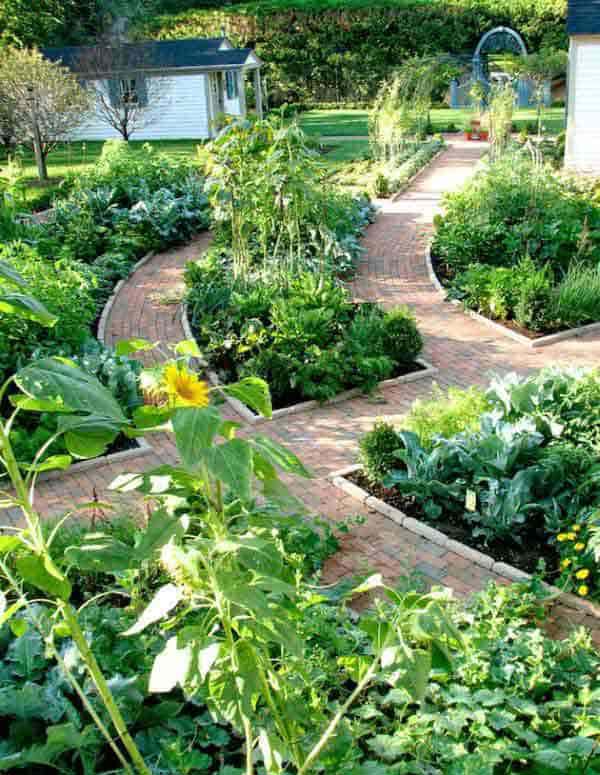 Brick pathways are a traditional landscape feature preferred because of the brick's durability. They suit most natural landscape arrangements such as English or cottage gardens.
Brick garden paths are also very famous because you can play with the pattern and size.
11. Wood Logs As A Garden Walkway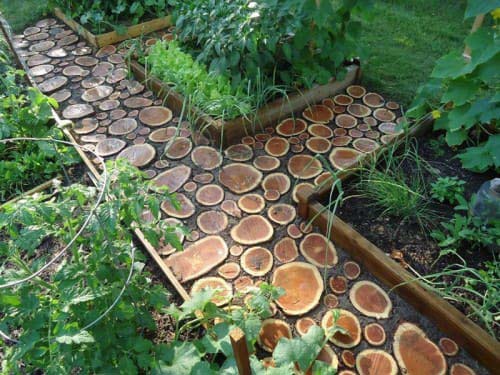 Wood logs are perfect for creating an enchanted garden path. This is a cost-effective DIY idea, especially if you have logs left from the winter.
If they are insufficient, you can cut them in slices and turn them into wood stepping stones.
12. Brown Gravel And Graphite Stepping Stones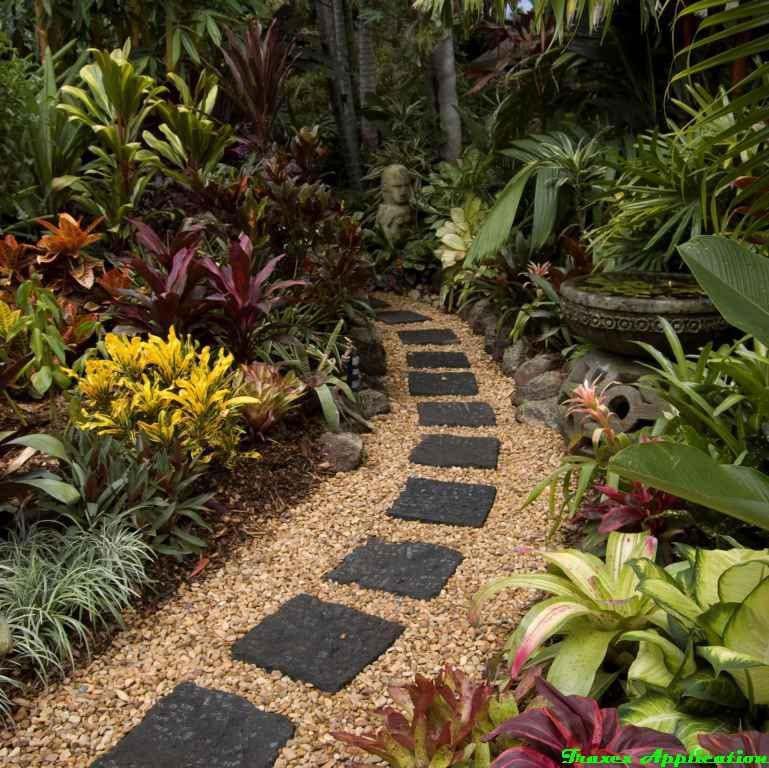 Gravel garden walkways require low maintenance and look amazing. For this DIY garden path, you need to prepare the bed first, pour the gravel and then lay the stepping stones.
Use a hammer to fix the stones well into the gravel bed.
13. Asian-inspired Garden Path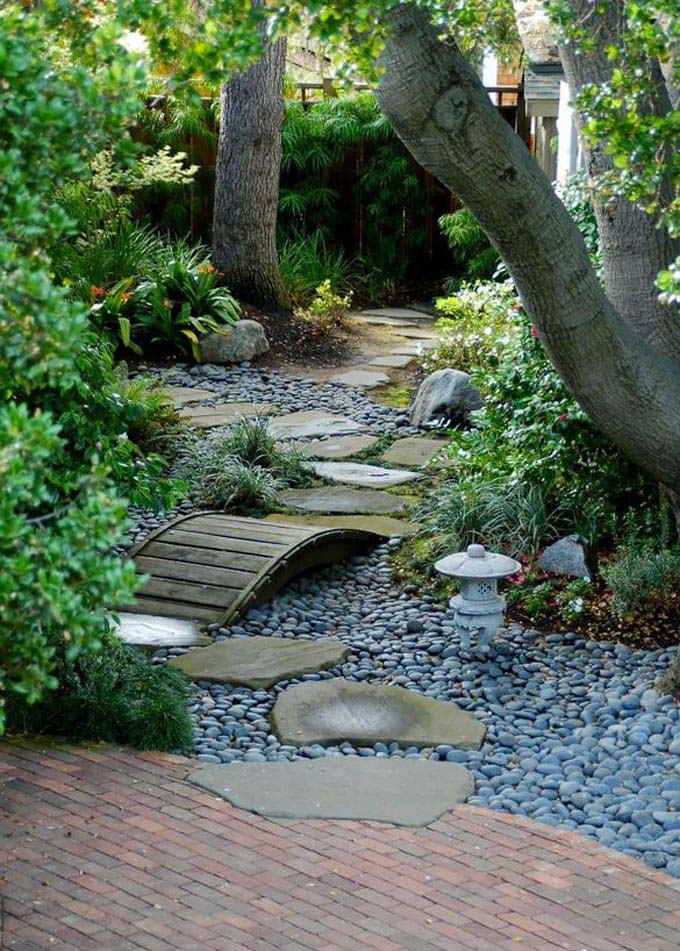 The landscape arrangement in this idea is so relaxing and appealing. The washed stones create a curved line resembling a stream while the large stepping stones act as a walkway through it.
The small wooden bridge enhances the enchanted feel that this garden landscape creates.
14. A Walkway On The Grass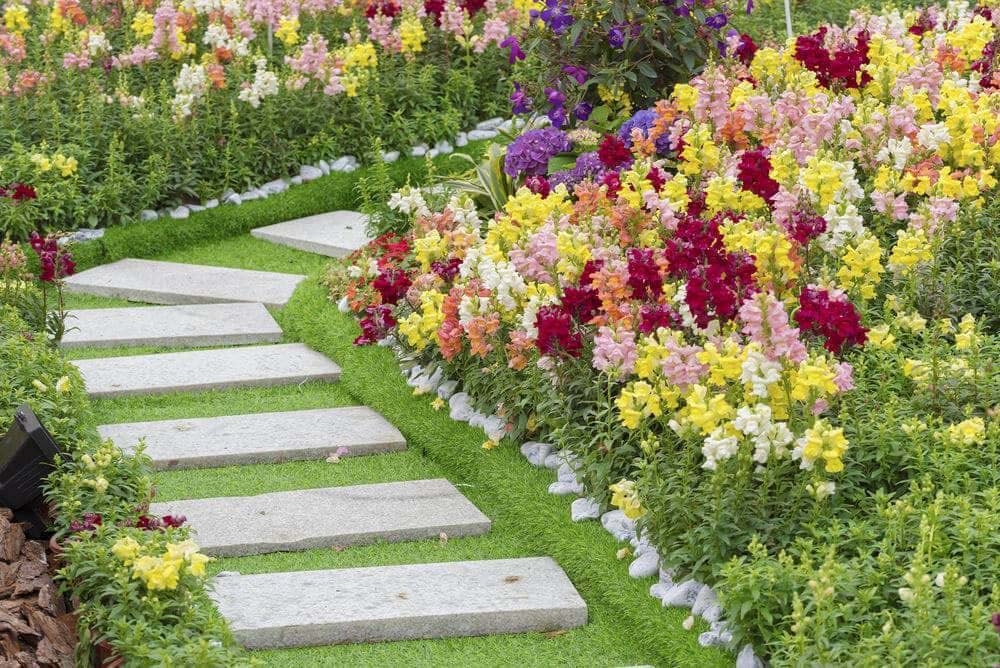 This grassy DIY garden path is so beautiful. To recreate it, you need a garden bed with a well-maintained garden and large slabs.
You can also use flagstones and concrete stepping stones.
15. Mulch Walkway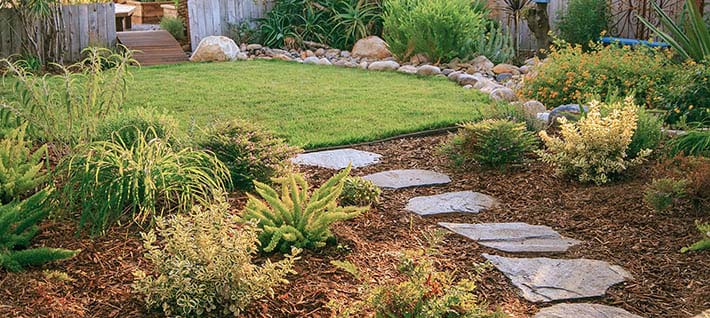 Mulch walkways look very natural and at the same time stylish because of the bold contrast they make with the surroundings.
Mulch is great to build a walkway the inexpensive way. The mulch will also ensure low maintenance and good drainage.
16. Upcycled Bottle Path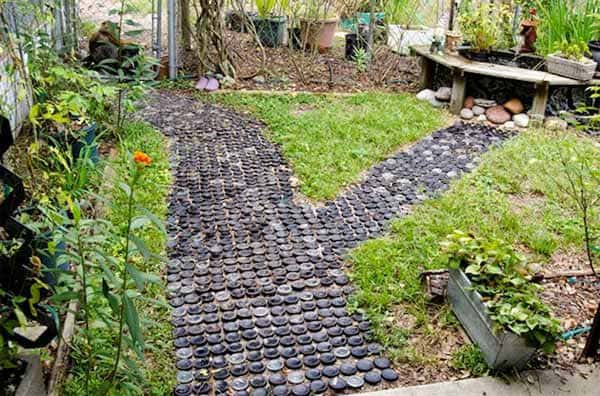 Glass bottles can be repurposed into material for a solid and whimsy walkway. Insert them with their bottle looking down deep into the soil leaving only the bottom above the ground.
The glass bottom is durable and can withstand the loading that a walkway is put under.
17. DIY Garden PAath With Wood Chips And Flagstones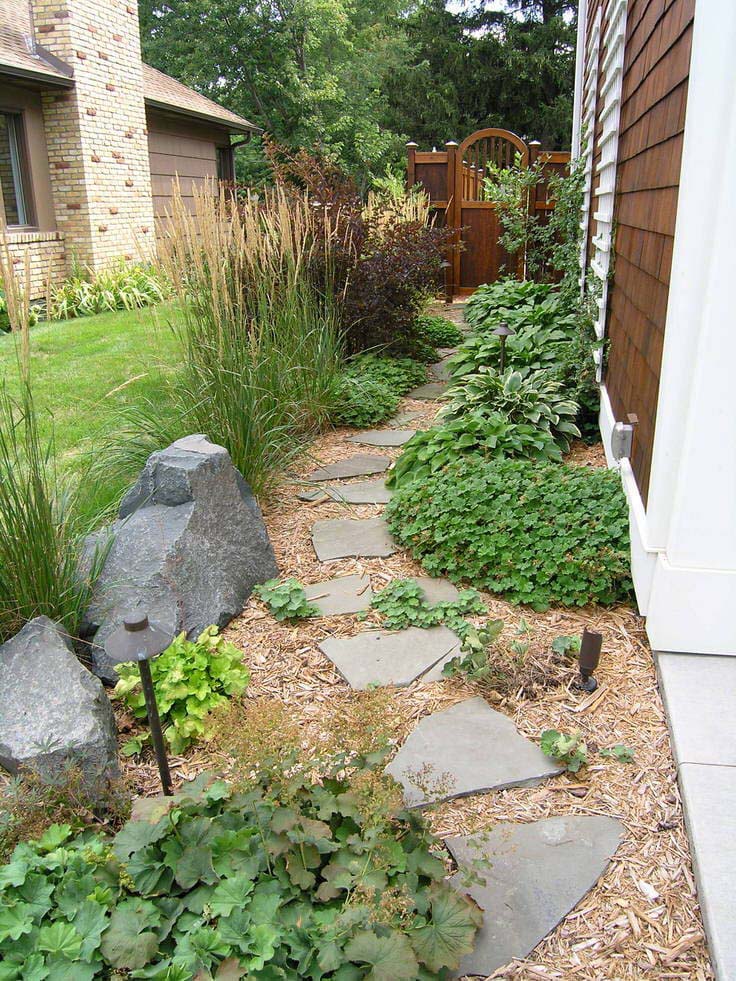 Here is another idea for a garden walkway with mulch. As you can see, the mulch is of natural wood color. is another combination of rock and mulch to create a pathway. In this idea, the type of mulch used is wood chips.
The stepping stones here are large pieces cut from slabs. Each stepping stone is of a different shape which makes them more natural and coherent with the mulch layer.
18. Easy Stepping Stone Path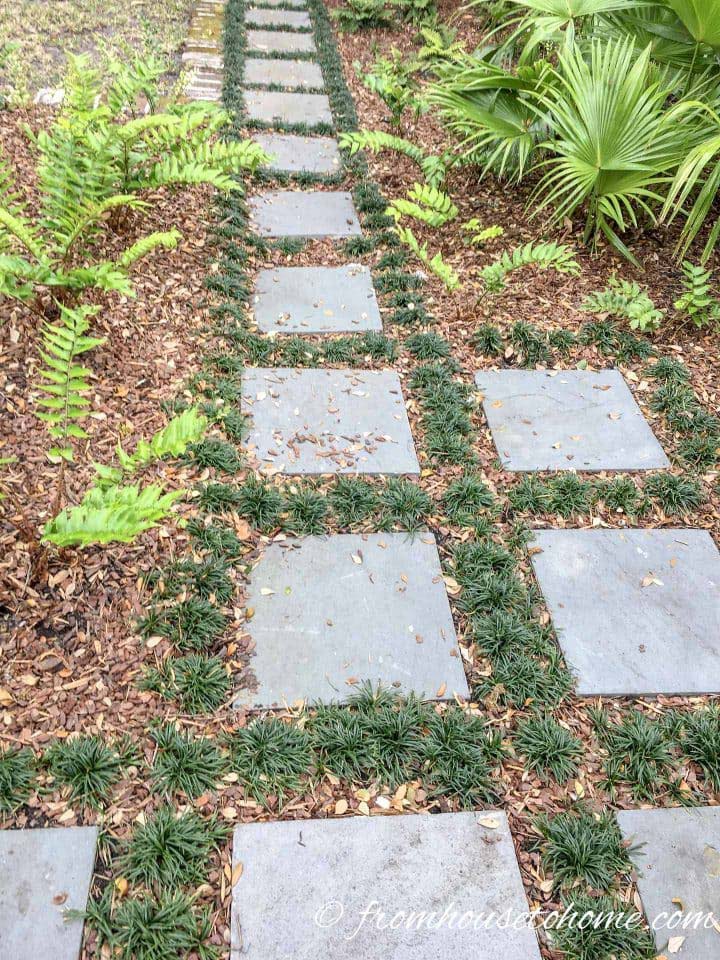 There is nothing simpler than installing slabs directly on the ground. The ground can be the lawn or an area with a mulch overlayer as shown above.
Instead of investing in expensive ground covers, you can plant grass, thyme, succulents around the slabs to use as decoration and to enhance the natural look of the walkway.
19. Easy Upcycled DIY Garden Path With Pallet Slats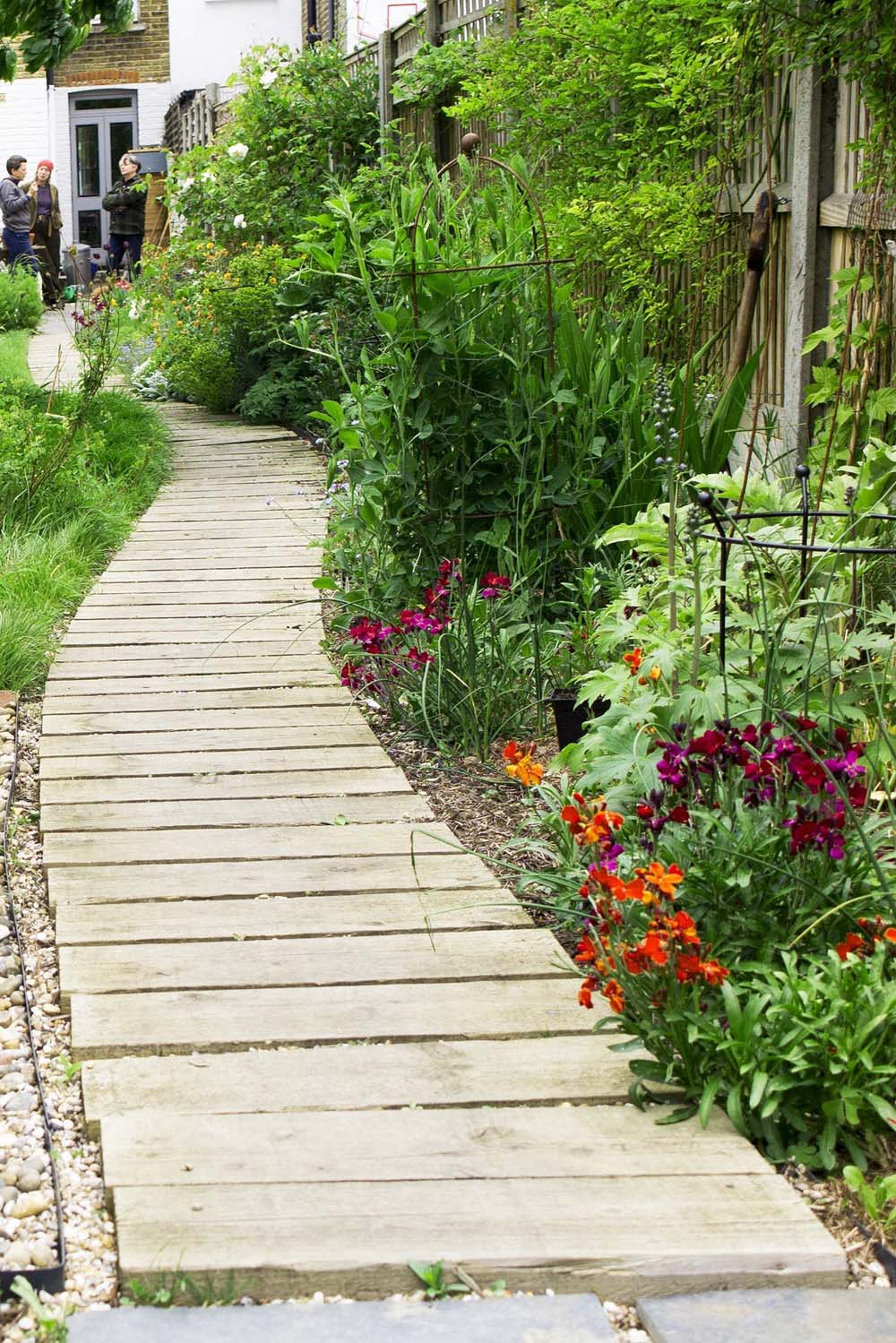 This is another great and inspiring idea for a DIY garden path with wooden slats. This time the wood material is taken from pallets.
You can get them for free and disassemble the slats with simple power tools. Instead of placing them directly on the soil ground, cover the area with gravel and then put the slats. You can arrange them tightly or leave gaps between them.
20. DIY Flower Stepping Stones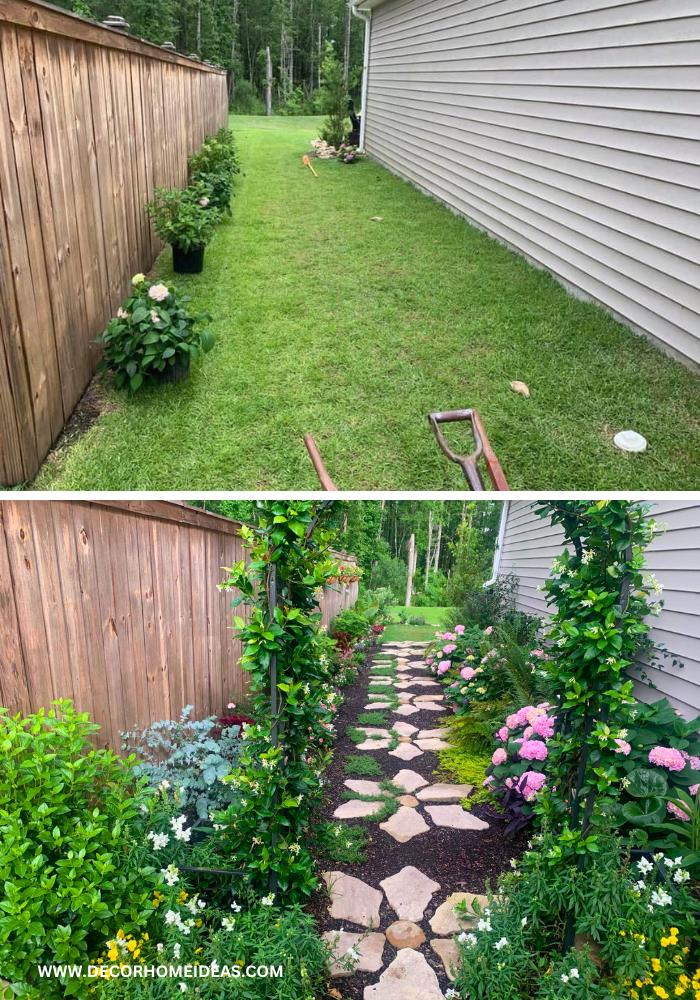 via Mark Allen Oldag
This path is perfect for a cottage garden landscape. The stepping stones resemble large flowers. Before placing the flagstones, the ground is prepared by taking out the grass roots, good cleaning and leveling of the soil.
You can leave the ground clean or plant grass seeds between the stones and enjoy a green carpet between the flowers.