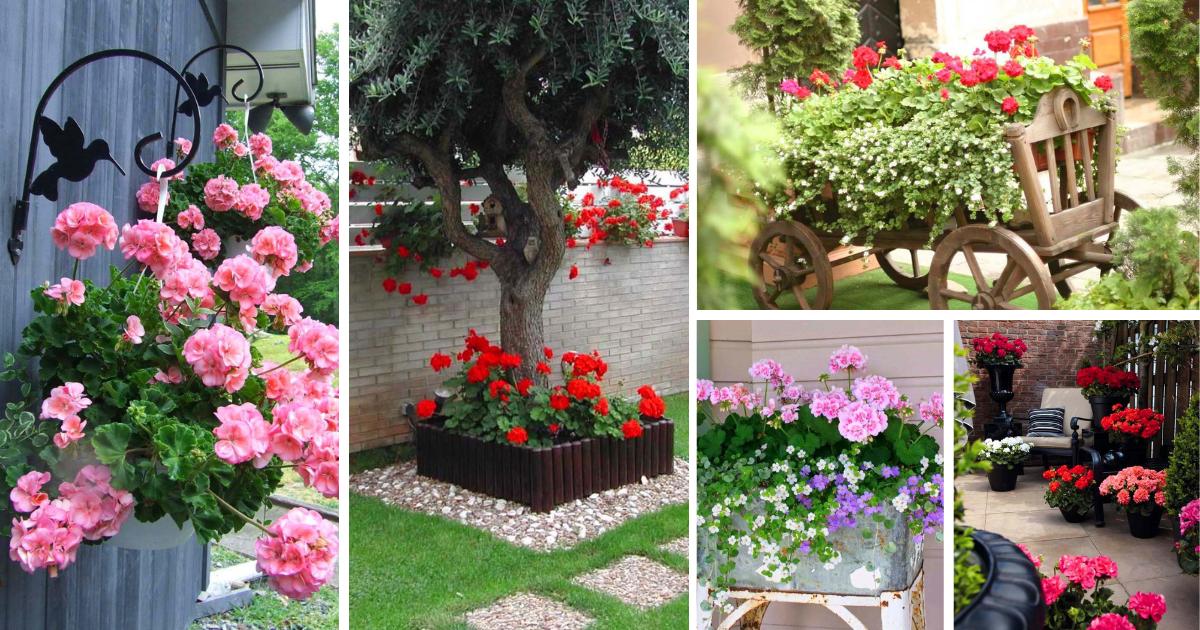 Geranium is one of the most popular garden and balcony plants. The combination of easy care, beautiful leafage, and blooms turns it into a centerpiece in the landscape.
The Geranium is a spectacular flower and you can easily include it in your own decor with our 34 Gorgeous Geranium Landscaping Ideas.
1. Geranium Tufts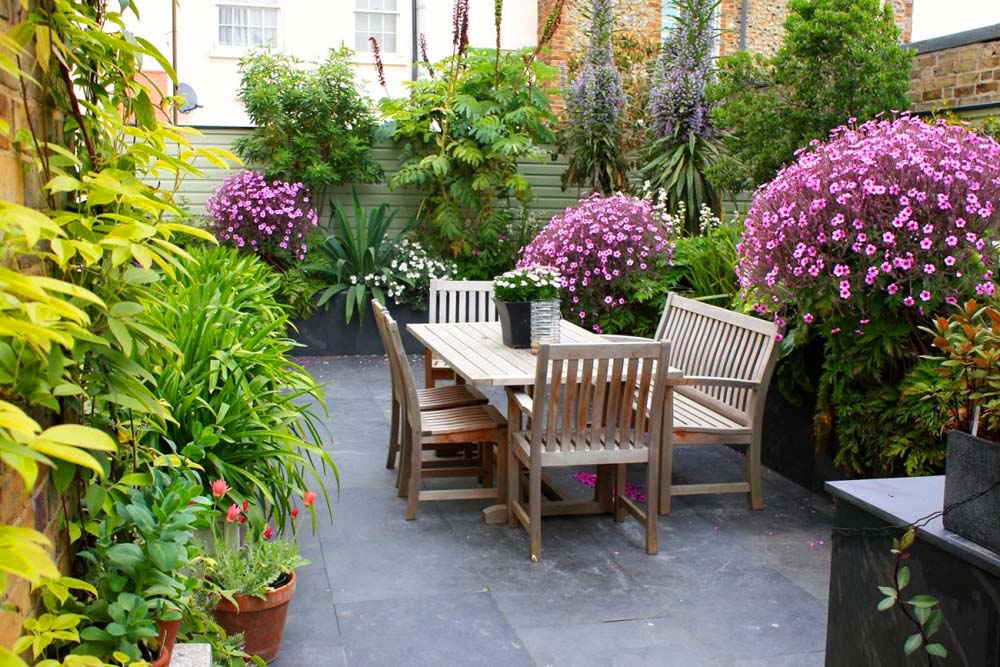 Some Geranium varieties develop lush tufts with blooms. They are perfect for landscaping around a relaxing corner. The colorful screen they will create will enhance the tranquil feel and add a natural beauty touch to the nook.
2. Geranium Bed With A Bench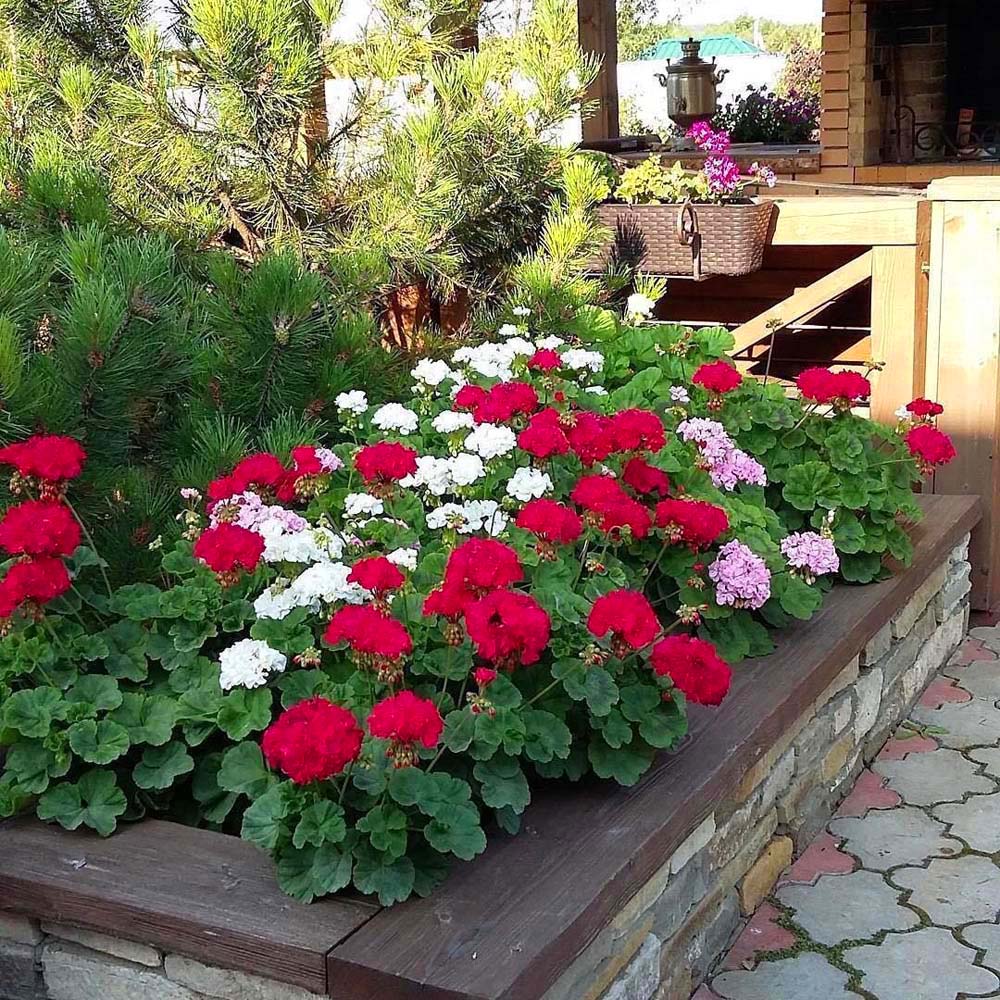 The low maintenance requirements of the Geranium make it so preferred plant variety for any place in the garden. In this garden idea, Geraniums in two colors are planted in a raised garden bed combined with a bench.
3. Geranium Pots To Beautify The Railings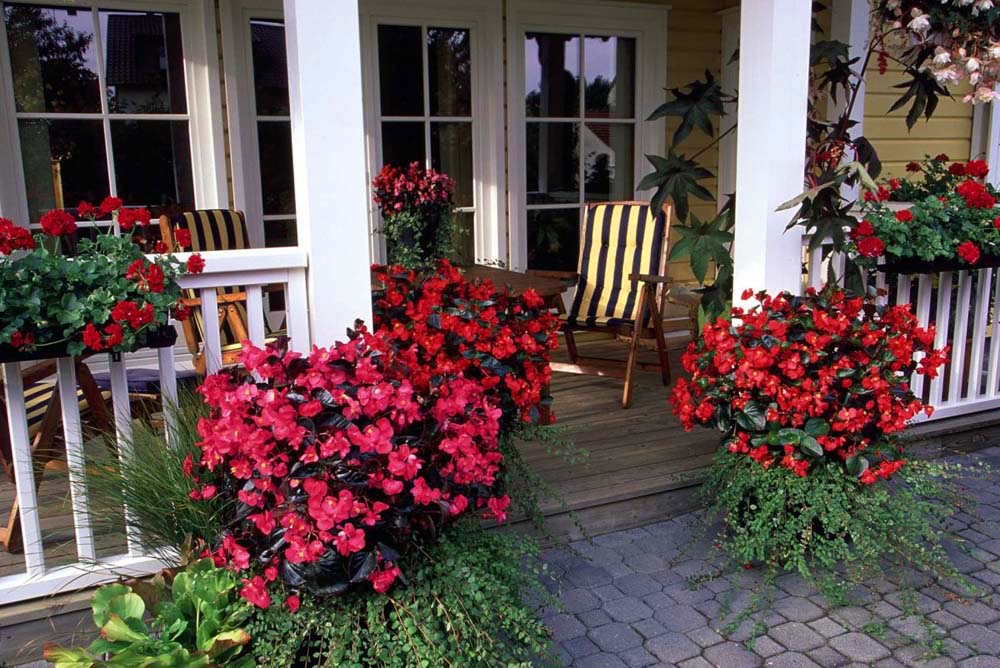 Geraniums look perfect in hanging flower pots. The rich red makes them stand out against the white railings.
4. Geranium For A Country Type Garden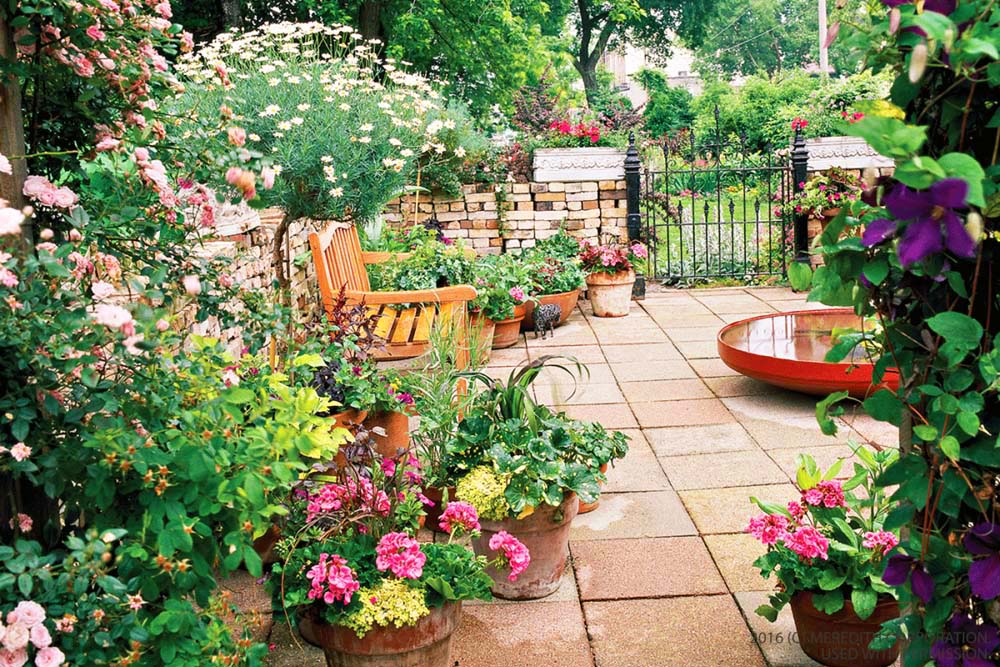 Geraniums fit perfectly a rustic or country type of garden. Add them directly to the garden bed or present them in weathered terra cotta pots.
5. Edging Garden With Geranium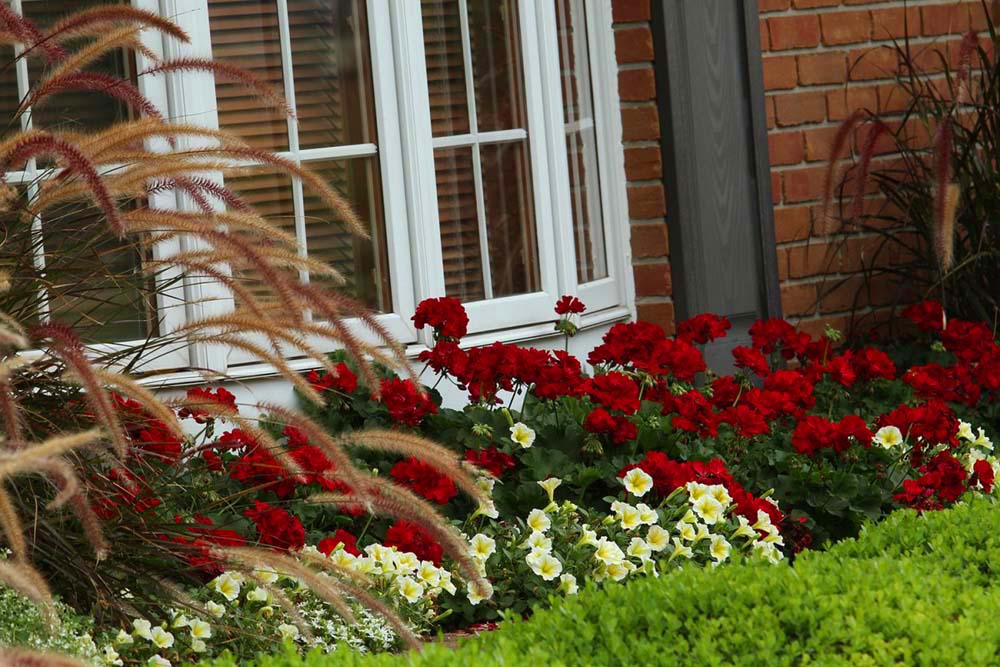 You can add Geraniums to a flower bed around the exterior walls. They match well with low-creeping varieties and evergreen shrubs.
6. Windowsill Geranium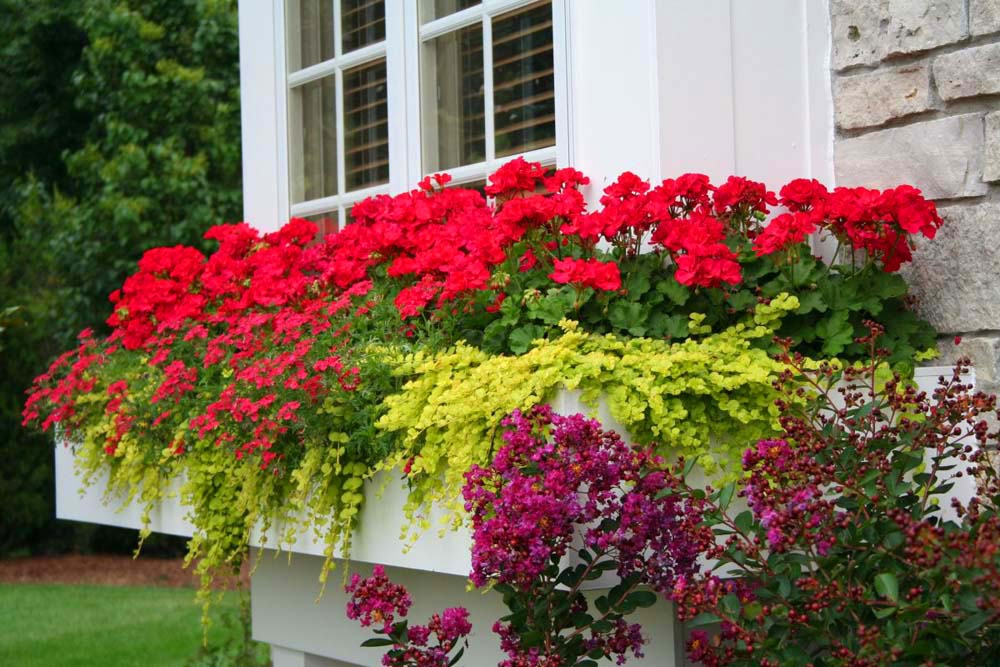 If you enjoy decorating with flowers, here is an idea for a windowsill decoration with living plants. It features low-creeping plants and red Geranium.
7. Geranium and Hydrangea Bed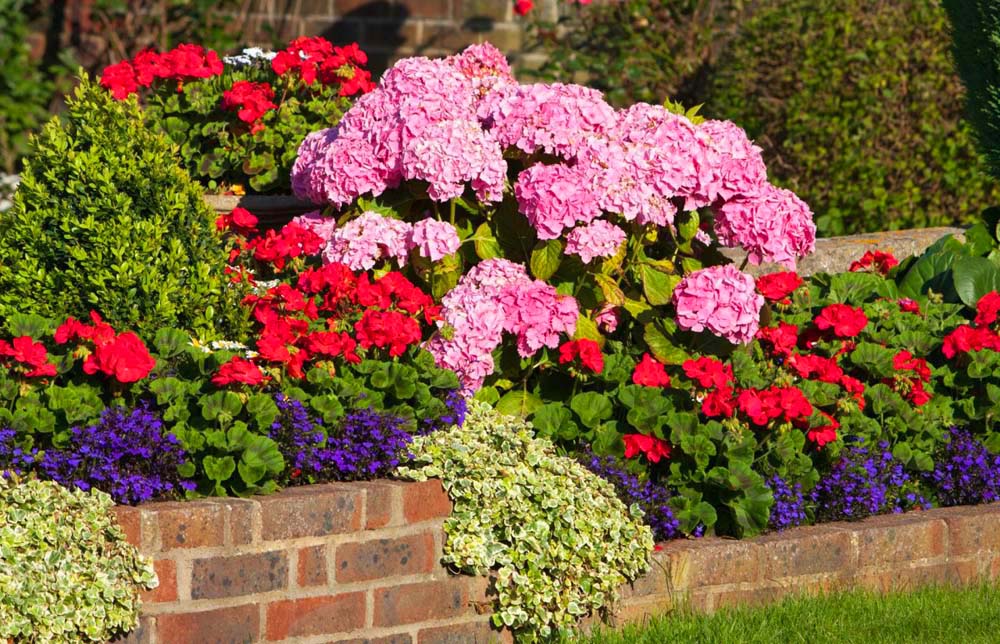 Geranium blooms are very resistant and can be used to add to a seasonal garden bed.
They look well as medium-height flower in combination with the large blossoms of hydrangea and low-creepers.
8. Hanging Baskets With Geranium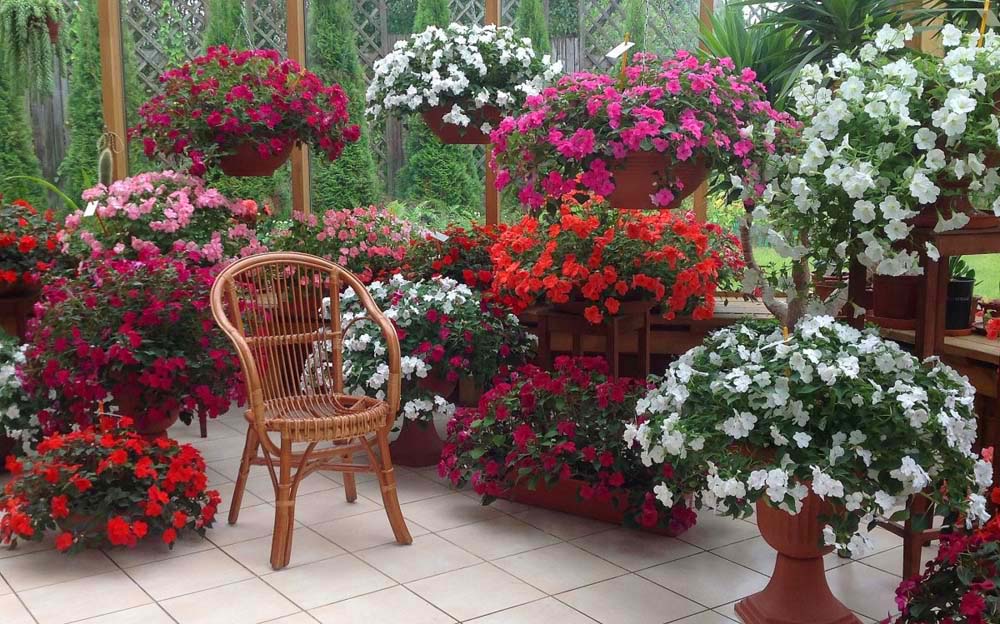 The porch can become more welcoming and friendly with hanging baskets planted with Geranium.
Keep all Geraniums the same color or create a beautiful pattern alternating two colors of the blooms.
9. Geranium Flower Pot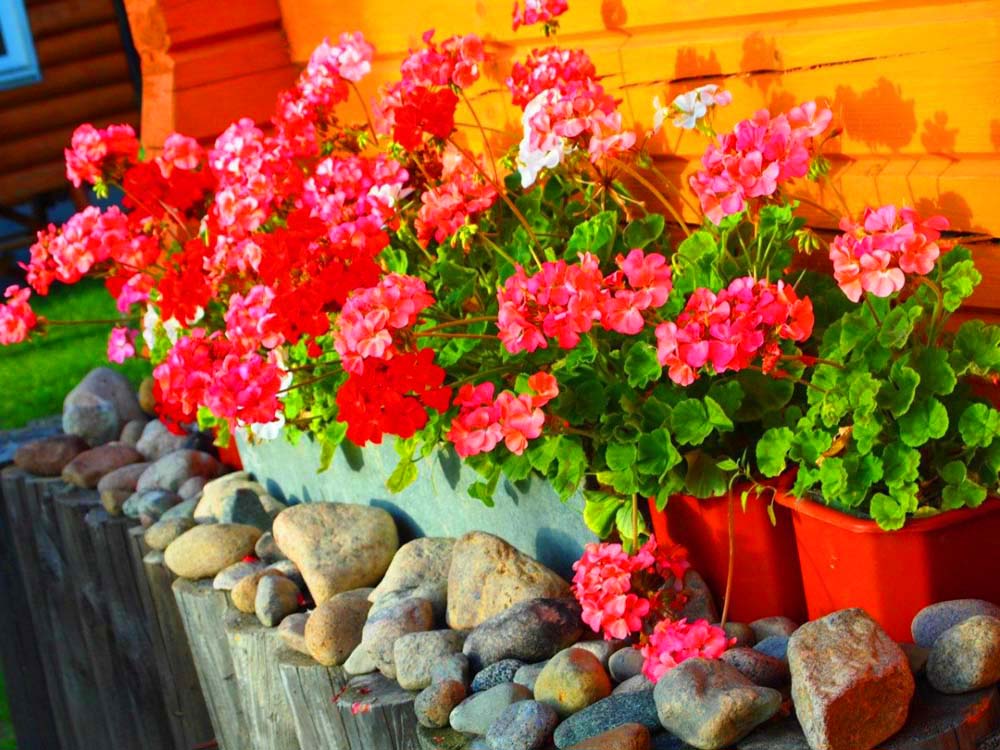 The Geraniu doesn't need any "plant company" to look well.
Planted on its own it fills the flower pot with its interesting leafage and peeks its rich blooms out.
10. Covered Garden With Geranium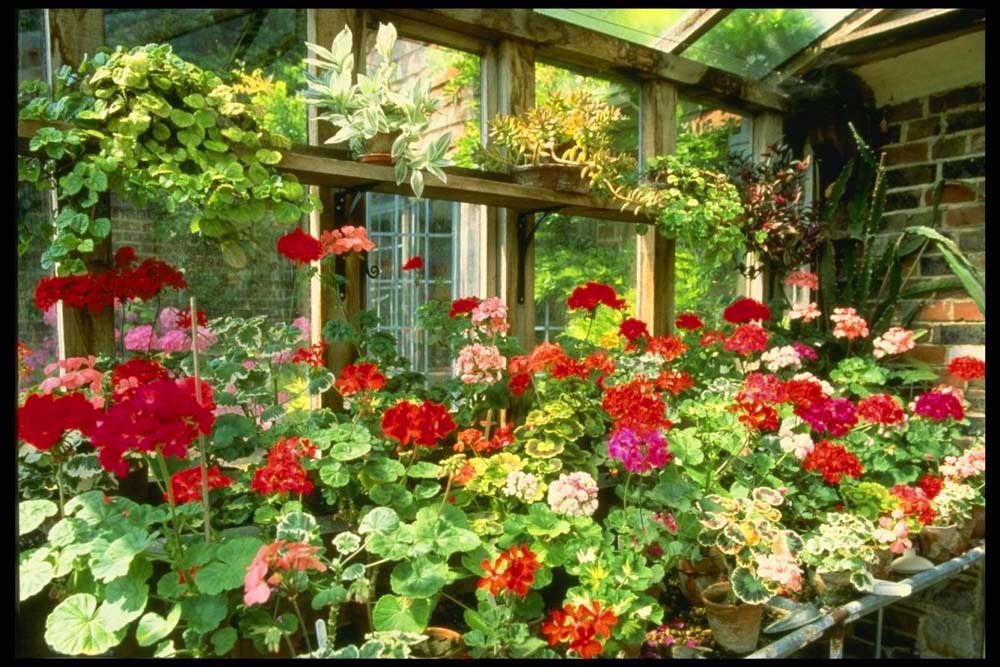 When the temperatures fall down, move the Geranium to a covered space.
You will enjoy its blooms all winter long as long as the temperature in the room doesn't fall below 15 ⸰ C and the light is enough.
11. Geranium In Wicker Baskets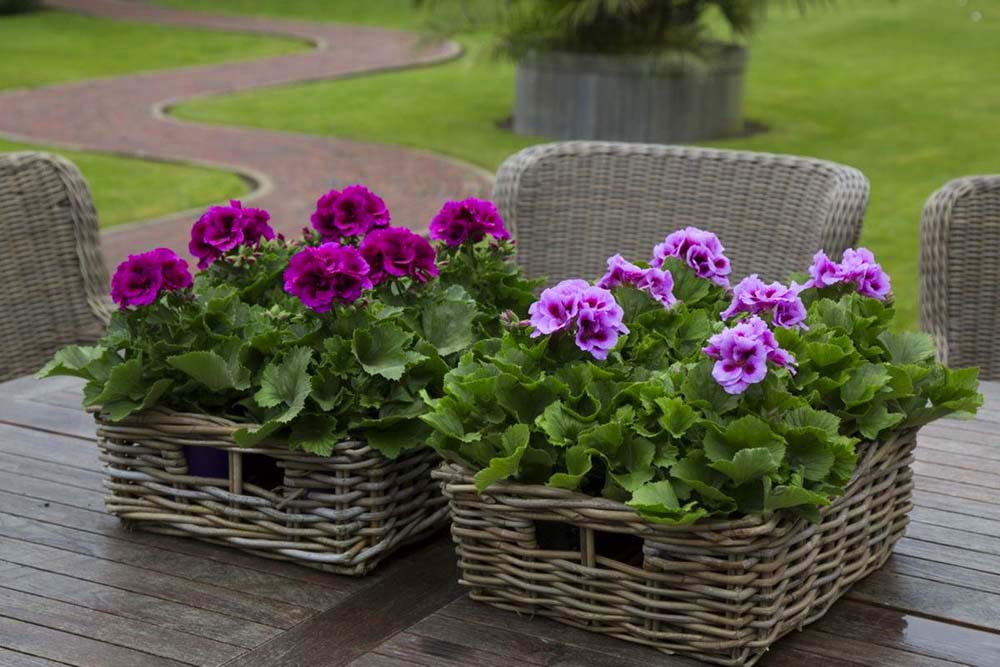 The Geranium can be your summer table centerpiece. The best containers for this plant are rustic ones- wicker baskets, wooden boxes or wire baskets.
12. Geranium In Galvanized Buckets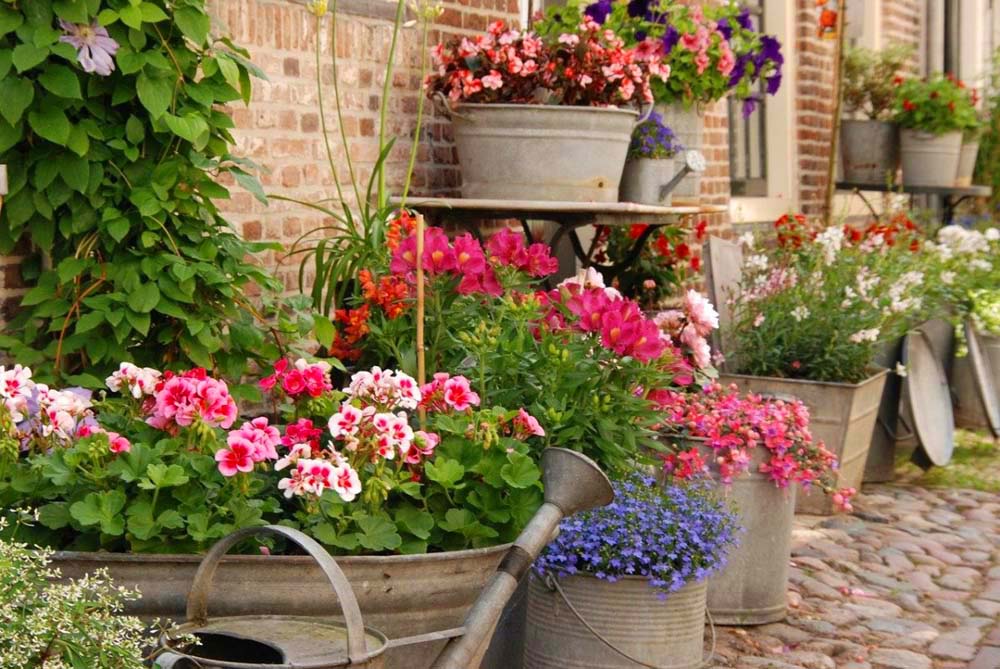 The rustic nature of the Geranium makes it suitable for planting in country containers. Galvanized pitchers, buckets and tubs work great as repurposed pots.
13. A Cart Full Of Geranium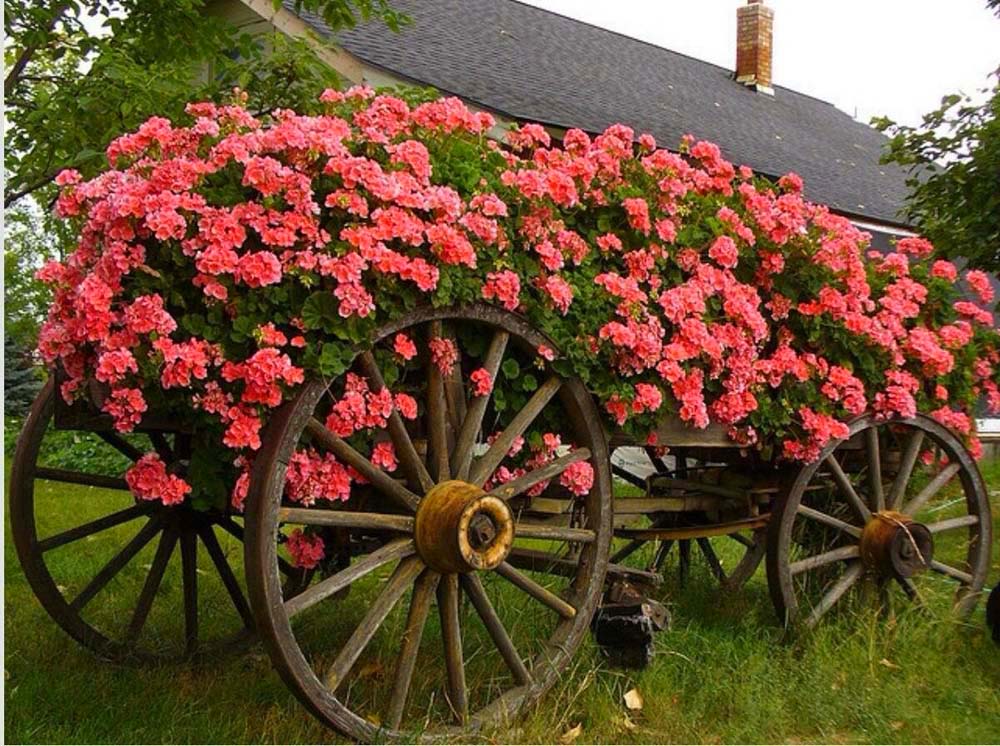 Another interesting idea to strengthen the Geranium's rustic look and nostalgic feel is to plant it into a cart.
The cascading variety is perfect for this application as it will quickly fill the inside of the cart and start to form cascading blooms.
14. Geranium Walkway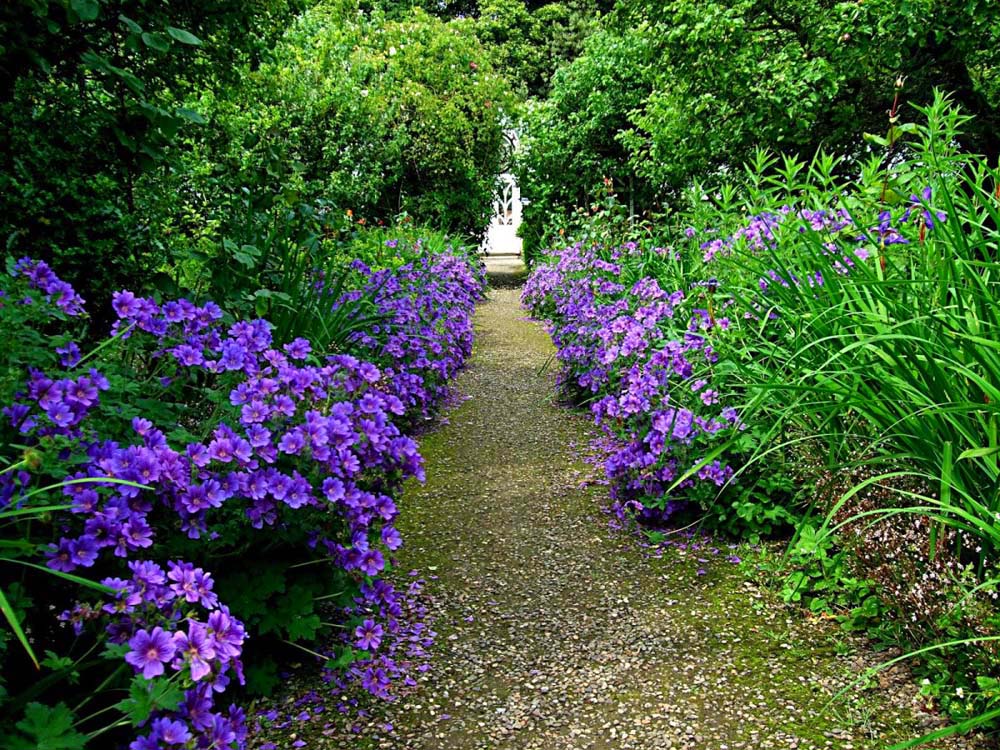 This walkway leads to the front door of the house. The sparkling lilac blooms of the Geranium welcome all guests and accompany them to prepare for a pleasant stay.
15. Geranium In Galvanized Pots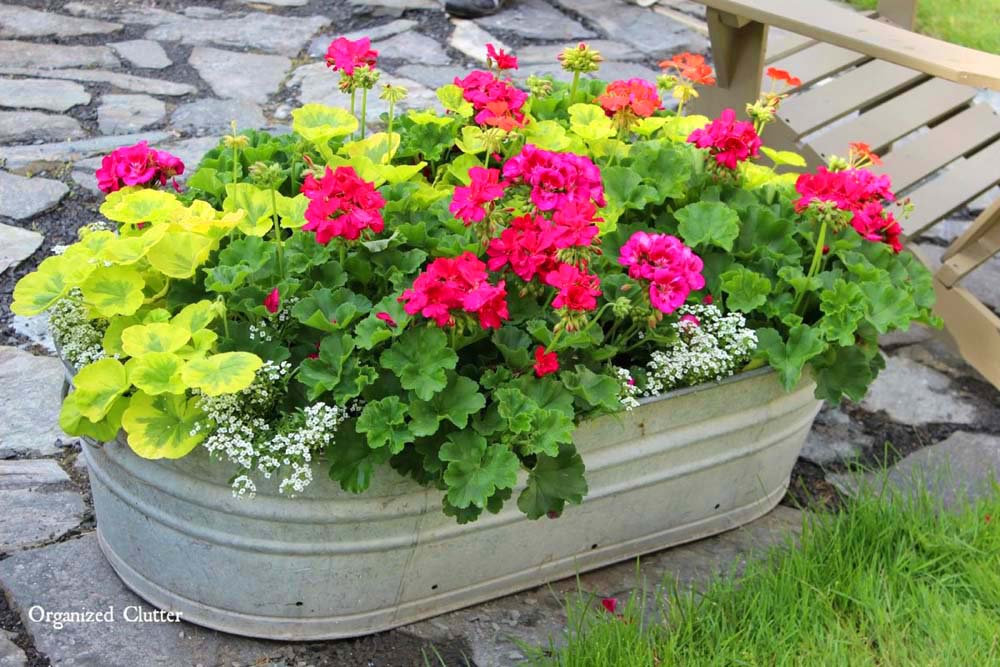 You can make the patio more season-friendly with flower pots planted with Geraniums. The galvanized tubs match the stone paving and together they set a neutral backdrop for the colorful Geraniums.
16. Geranium Planted Directly In The Ground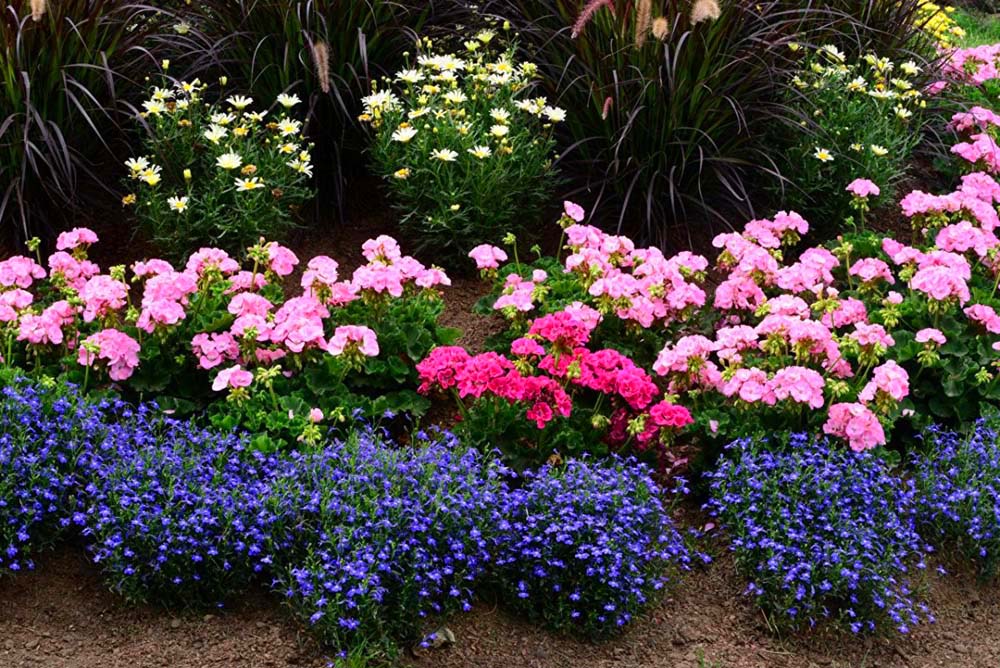 The geranium can give you great satisfaction from the green thumb practice. With minimum maintenance and efforts, they can turn the garden into a colorful oasis.
17. Arch Decoration With Geraniums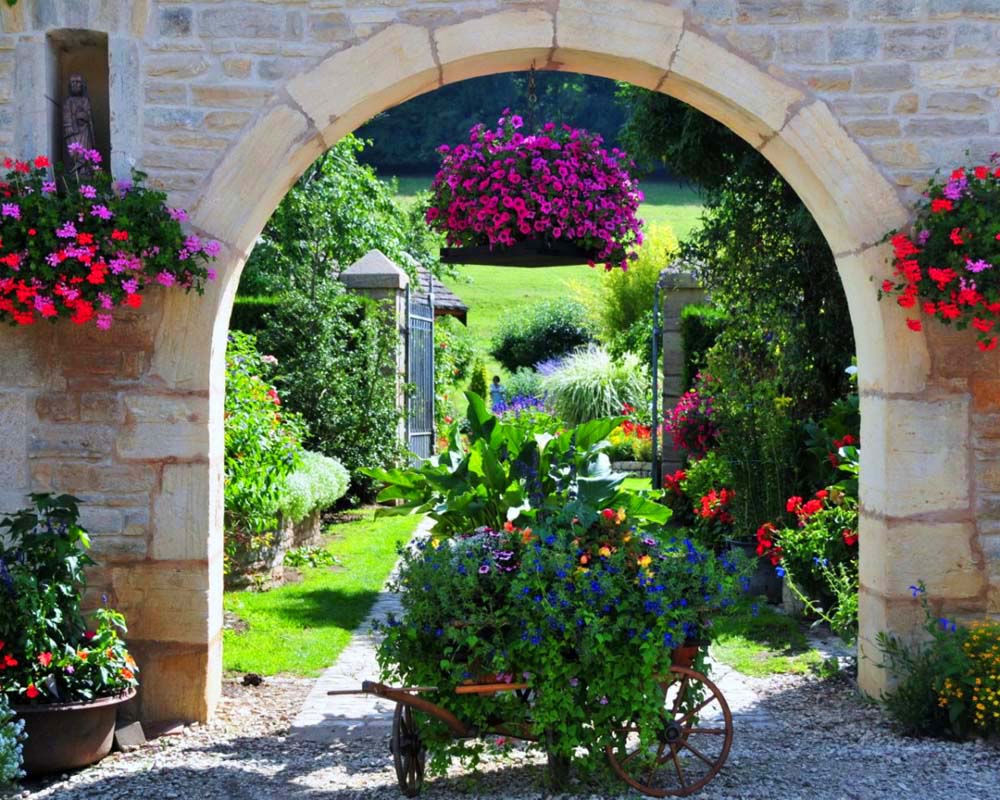 Combined with antique architecture, geraniums add a whimsical flair to the landscape.
18. Geranium On All Steps Up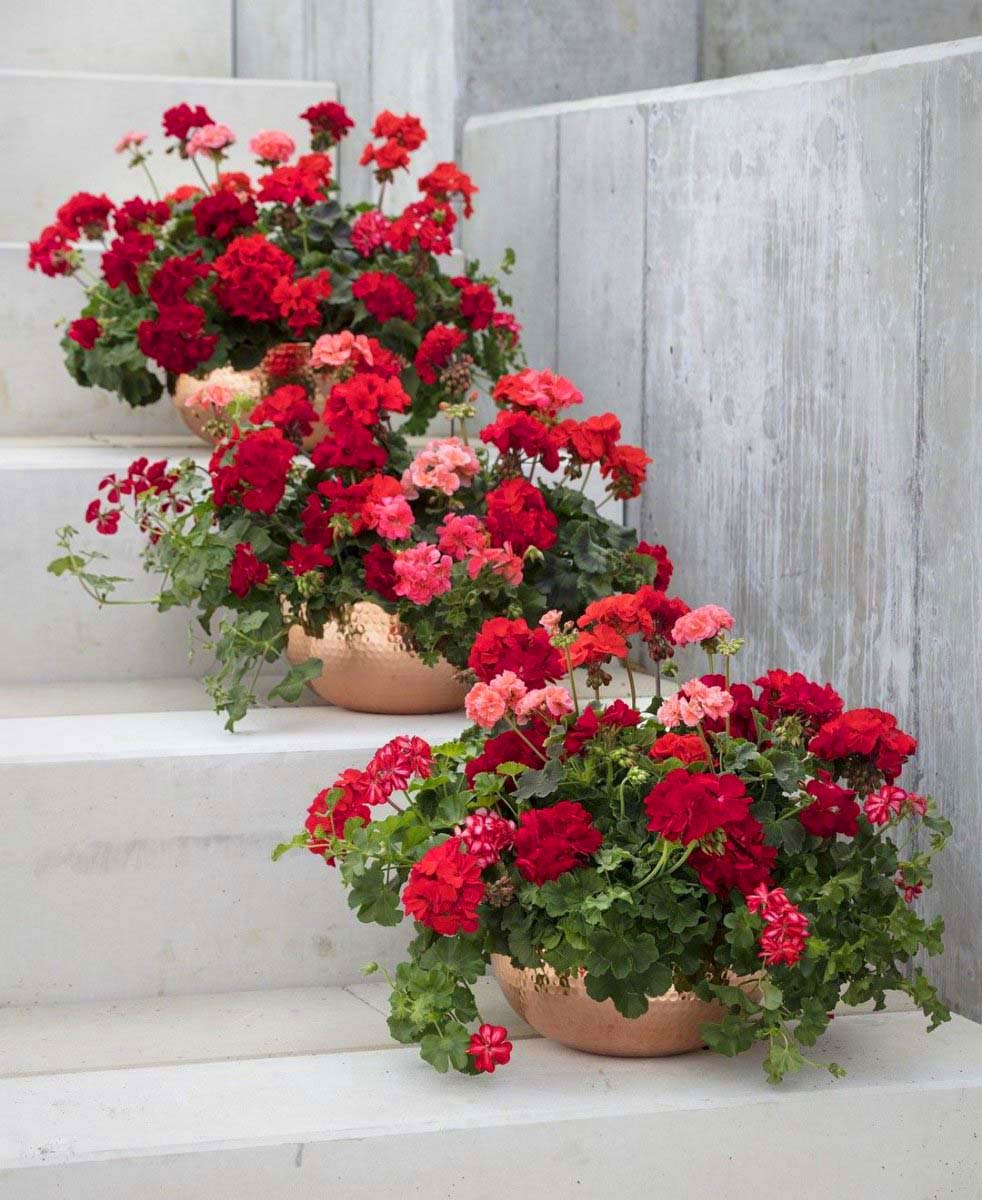 The diversity of colors and shapes of the Geranium, it turns out to be one of the most preferred outdoor plants.
19. Cascading Geranium On The Window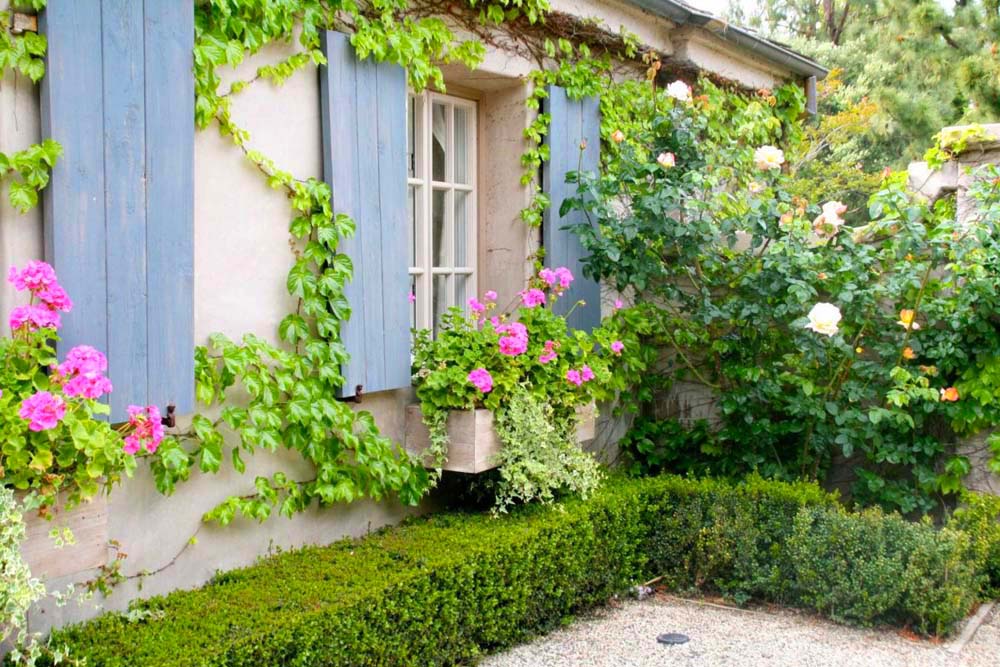 The geranium is perfect for the decoration of windows because of its cascading growth. You can frequently see its blooms on a balcony or in window boxes.
20. A Garden Bed Around A Tree With Geraniums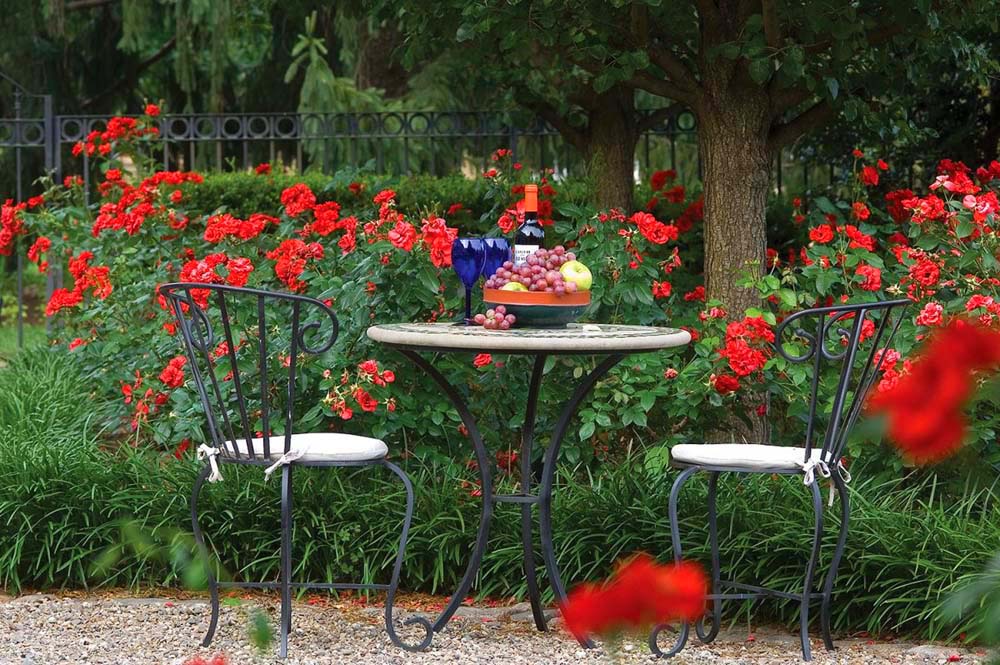 Geranium can develop well at partial shade. This growth characteristic makes it suitable for garden beds around trees.
21. A Balcony To Remember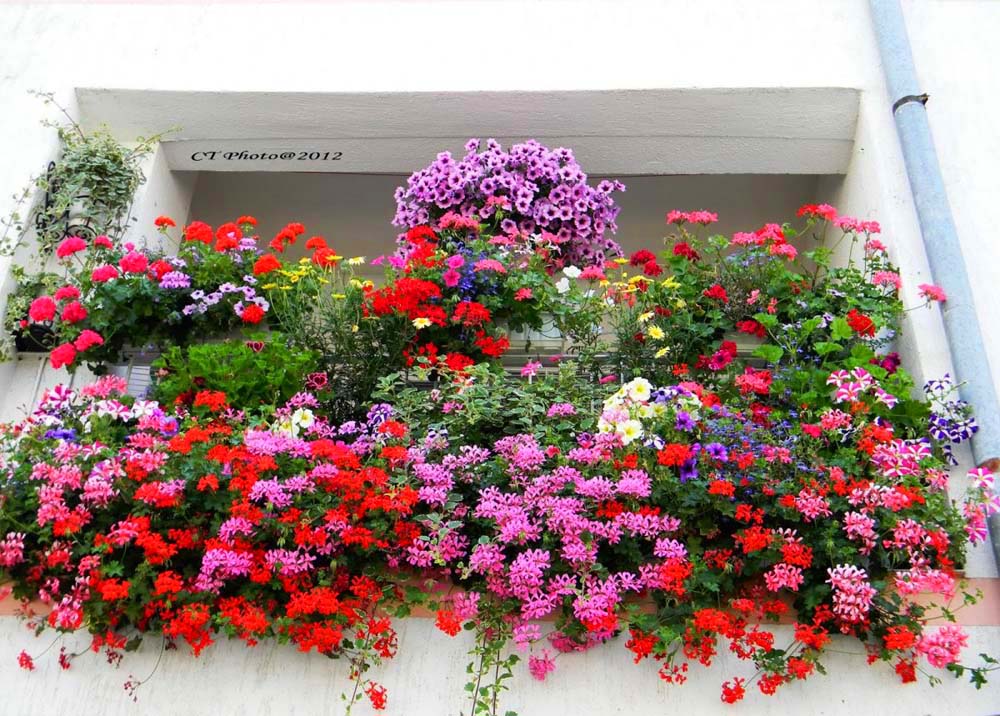 The diversity of vivid summery colors of the Geranium turns this balcony into a fairy tale scenery.
22. Geranium In A Rock Garden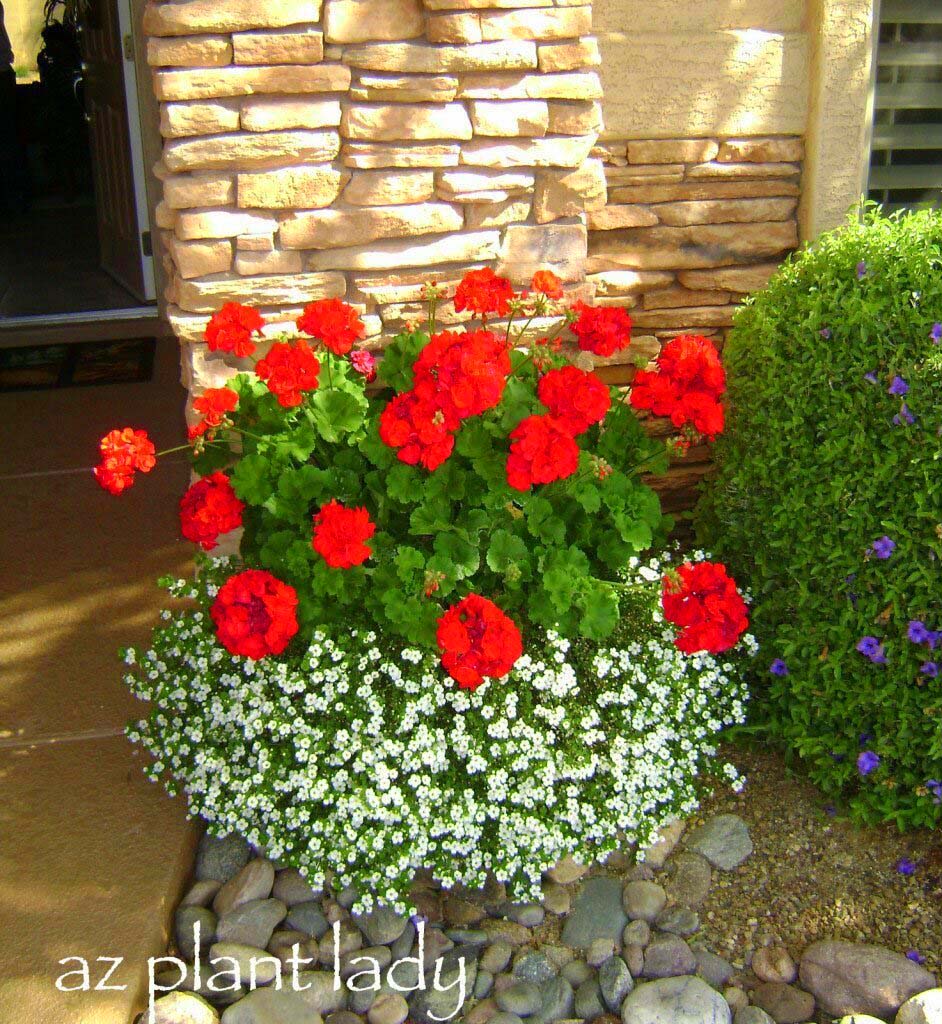 Who says that only drought-resistant plants can be part of the rock garden? If you want to see a colorful carpet of blooming plants, add Geraniums to the garden bed.
23. Geraniums In Weathered Wooden Boxes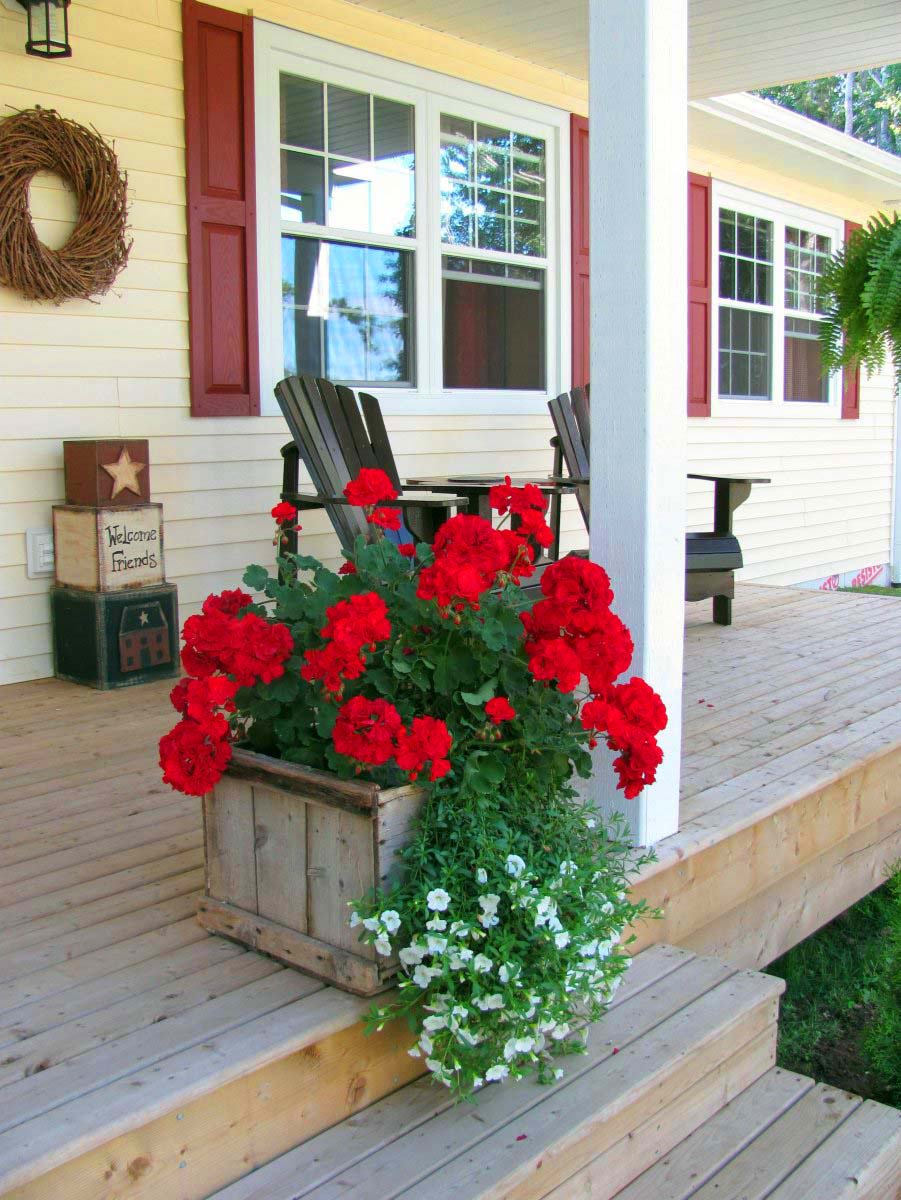 Geraniums are perfect for vintage decor for many reasons but mostly because they bring nostalgia. Planting them in non-traditional, even worn-out containers, enhances their retro beauty.
24. Geranium Garden Backdrop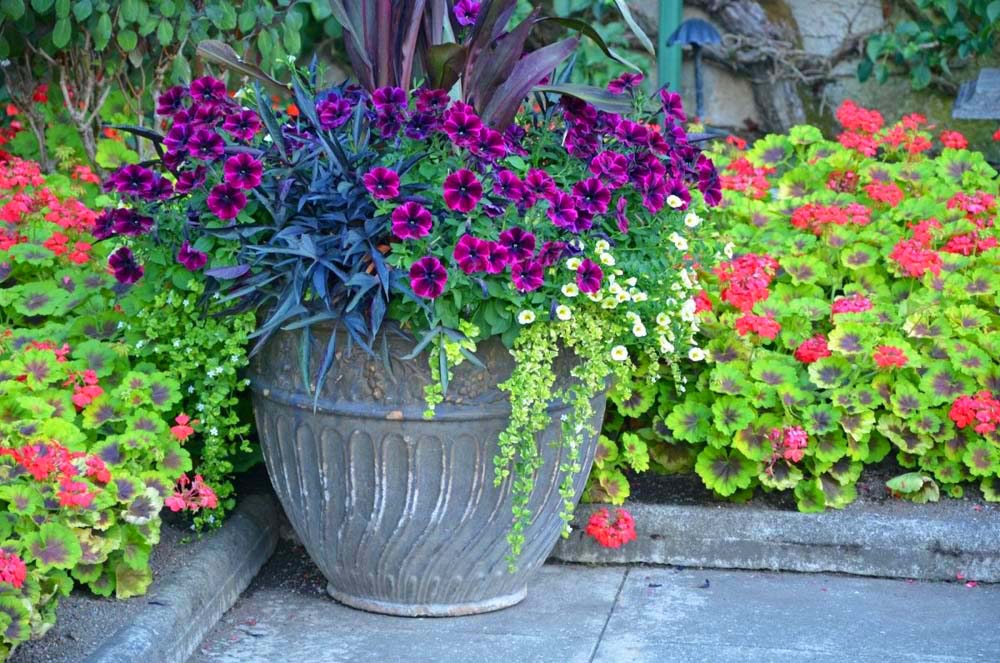 The retro flair of the geraniums makes them the perfect backdrop for antique flower containers.
25. Keep The Landscape Simple But Appealing With Geraniums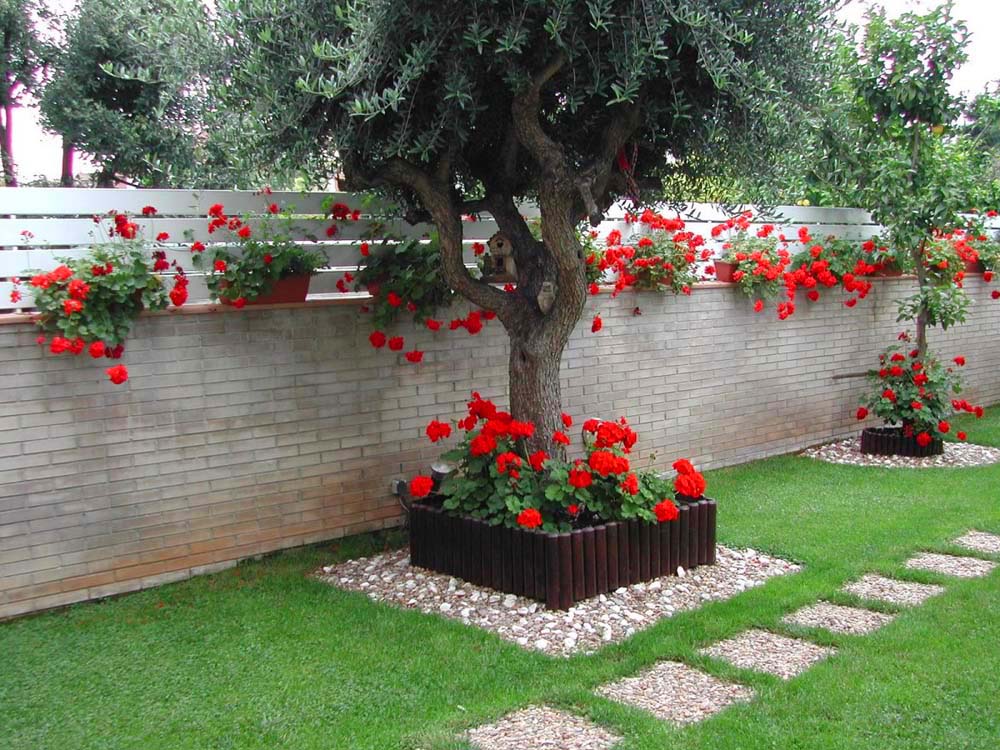 You don't have to plant a wide number of plant varieties to make the garden appealing.
On the contrary, the fewer the varieties, the better the visual effect will be if you seek an elegant landscape.
26. Pink Geraniums In Hanging Baskets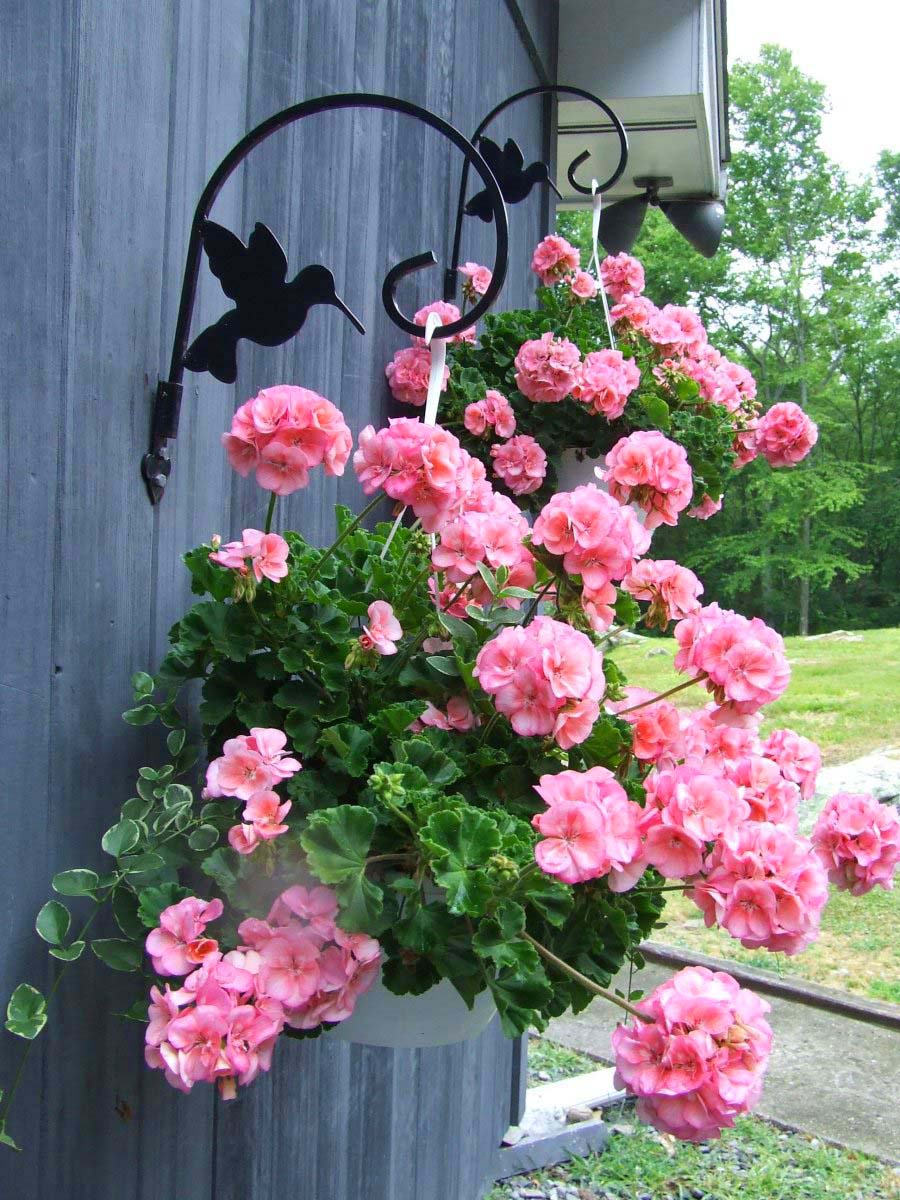 Pink Geranium is very delicate despite its large blossoms.
You can reveal its beauty by hanging it on a wrought iron bracket with a vintage silhouette.
27. Geraniums In Coir Flower Pots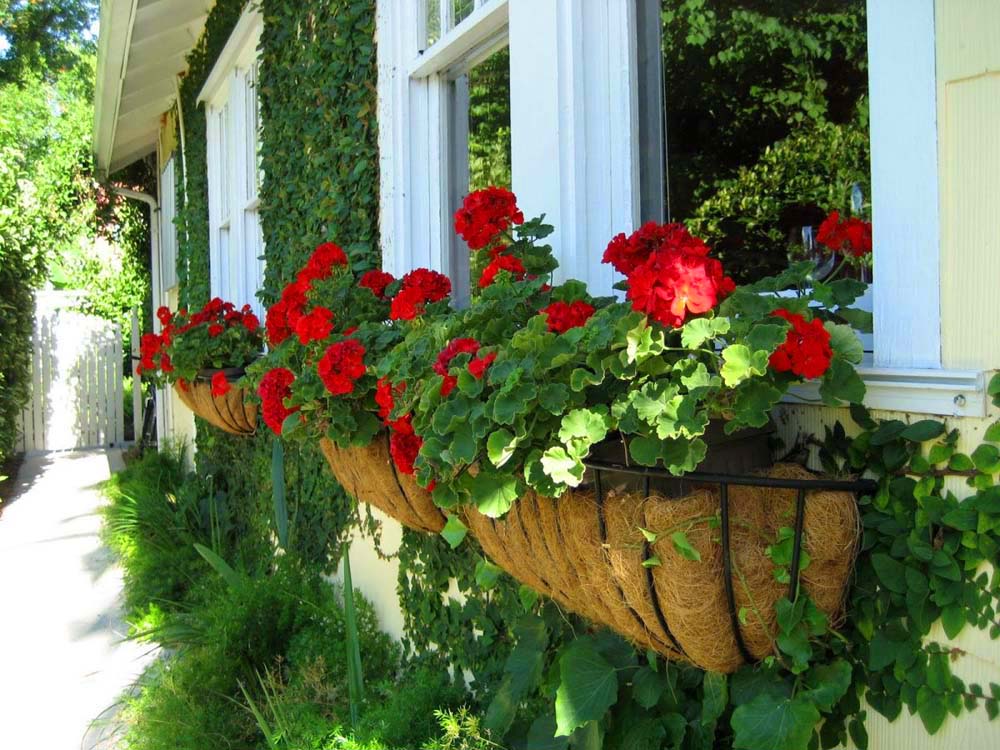 The coir flower stands in this idea, give the Geranium flowers a contemporary look.
28. Geraniums With Vines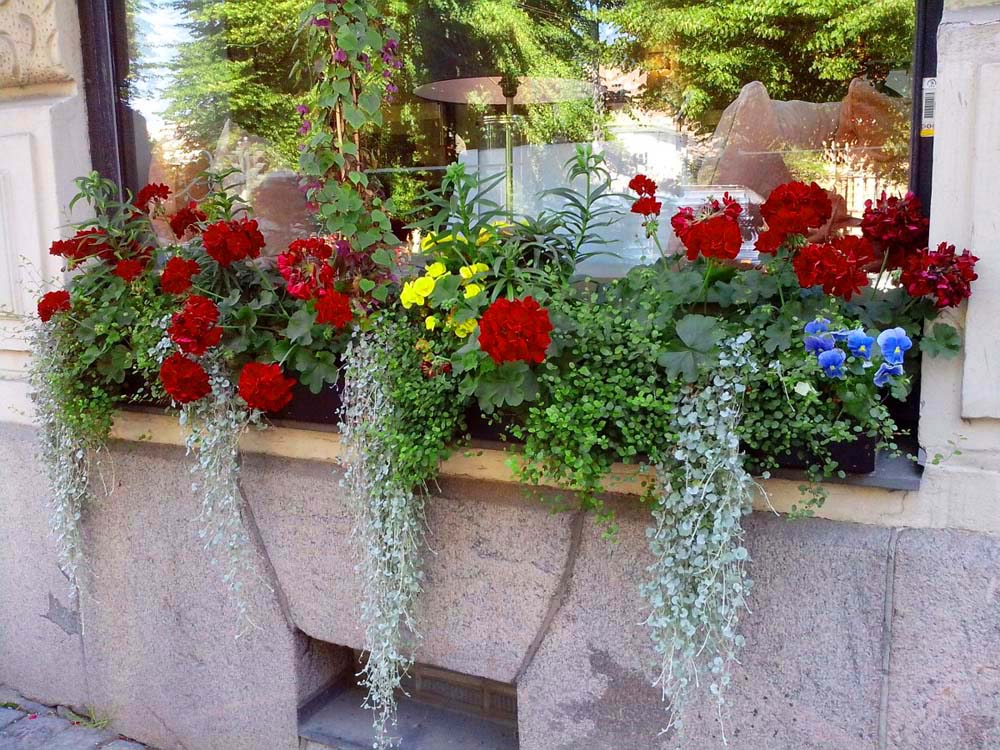 The Geranium looks good in combination with many plant varieties, especially those that are not developing blooms. Check this idea for a window box decoration. The cascading Geraniums alternate with delicate vines in two colors.
29. Rustic Window Decoration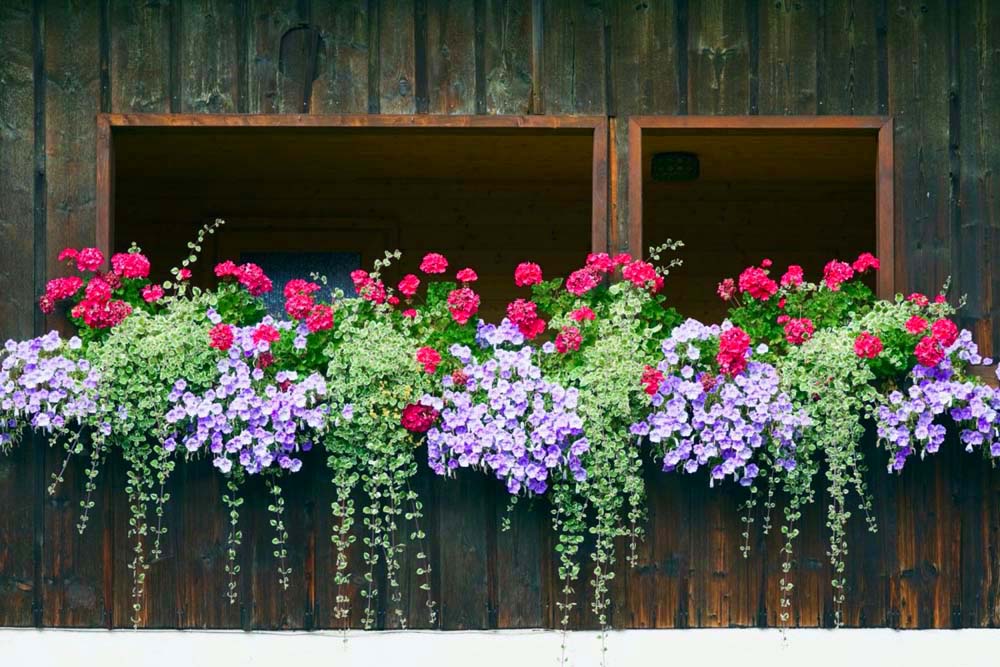 Geraniums develop fairly quickly which makes them suitable for window box decoration. Add some greenery and why not another blooming variety to create a summer oasis?
30. A Geranium Gallery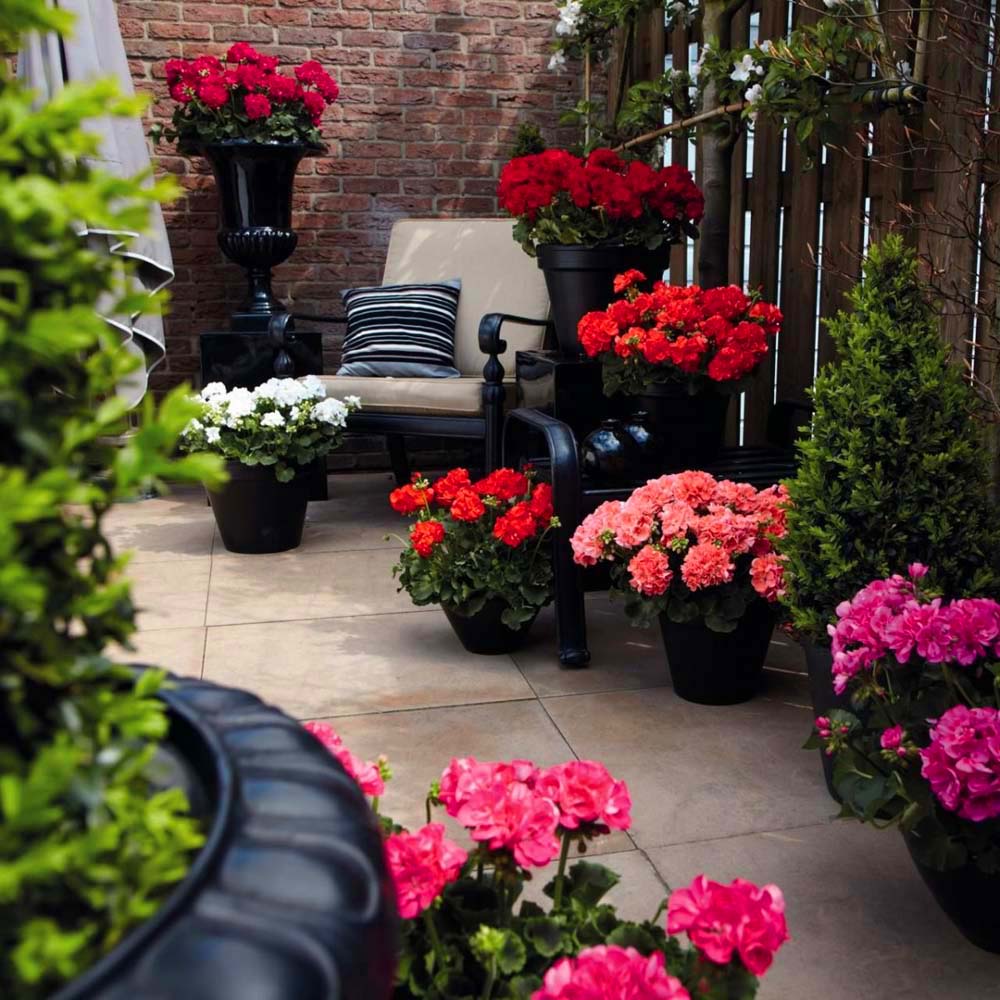 If you are a fan of the Geranium family, you can use your passion to create a unique landscape. Don't mix the Geranium varieties but leave them separated in individual containers. Arrange them symmetrically on the patio or on the porch.
31. Geranium In A Wicker Picnic Basket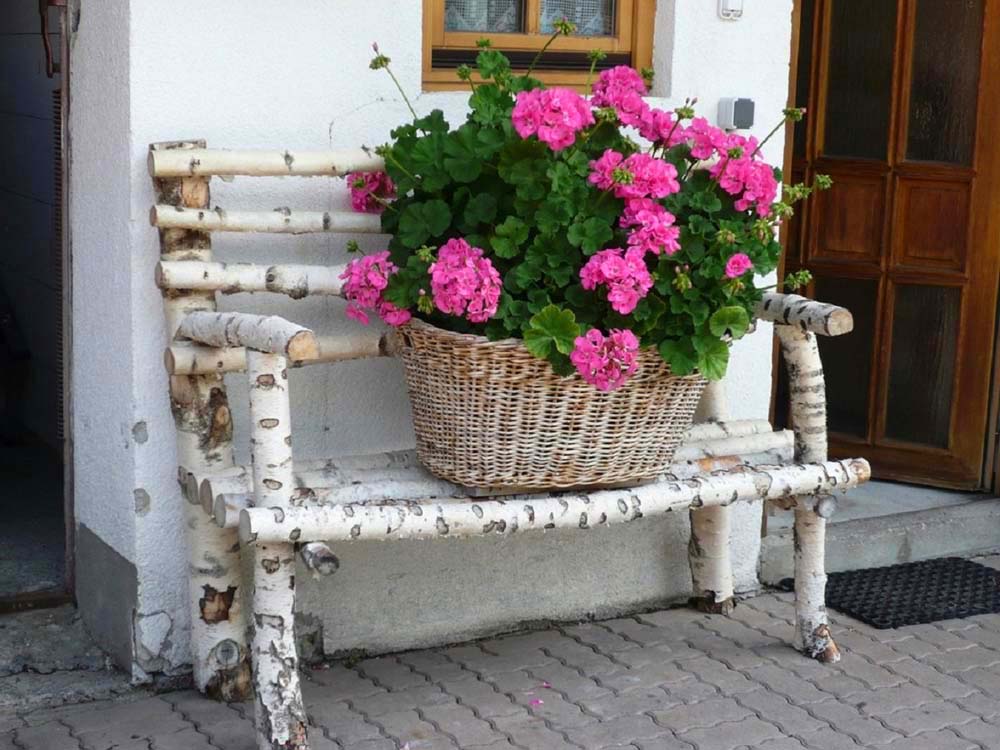 Looking for the right geranium container? The old picnic basket is what you need- it is charmingly rustic and it provides enough space for the plant to develop.
32. Farmhouse Decoration With Geraniums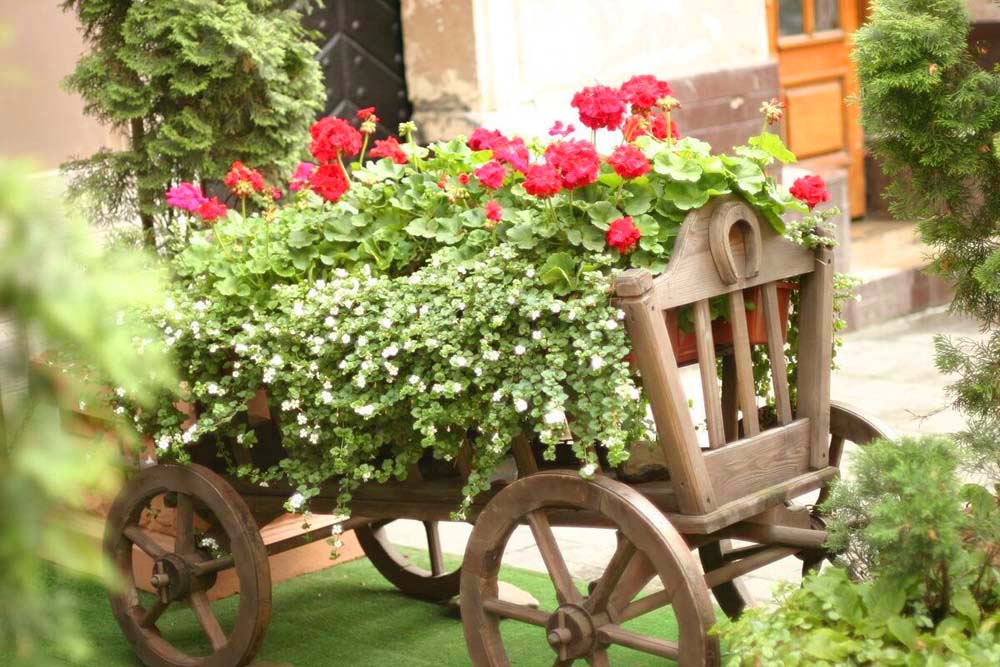 Do you like the small flower stands in the shape of a cart? You can paint the wood or leave it natural before you plant the Geraniums.
The cart is spacious enough to let the plant grow and let the excess water drain.
33. Geranium Stands For Summer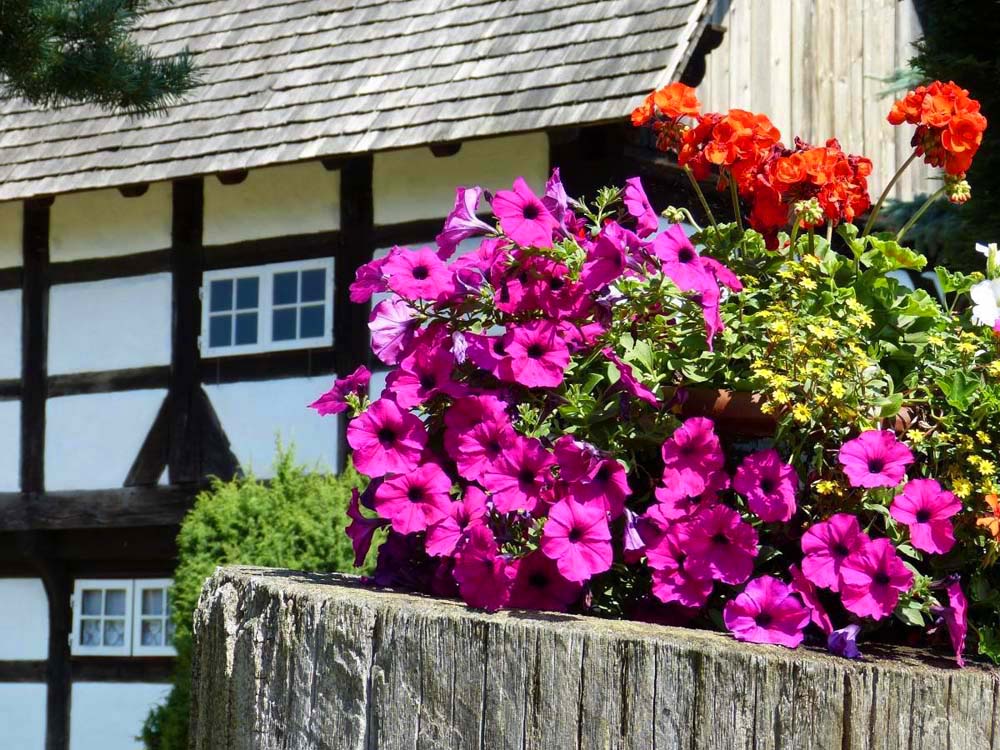 Which are the flowers that come first to your mind when you hear the word "summer"?
I bet that they are Petunia and Geranium, probably because they have become an irreplaceable part of the outdoor landscape.
34. From Trash To Treasure Geranium Flower Stand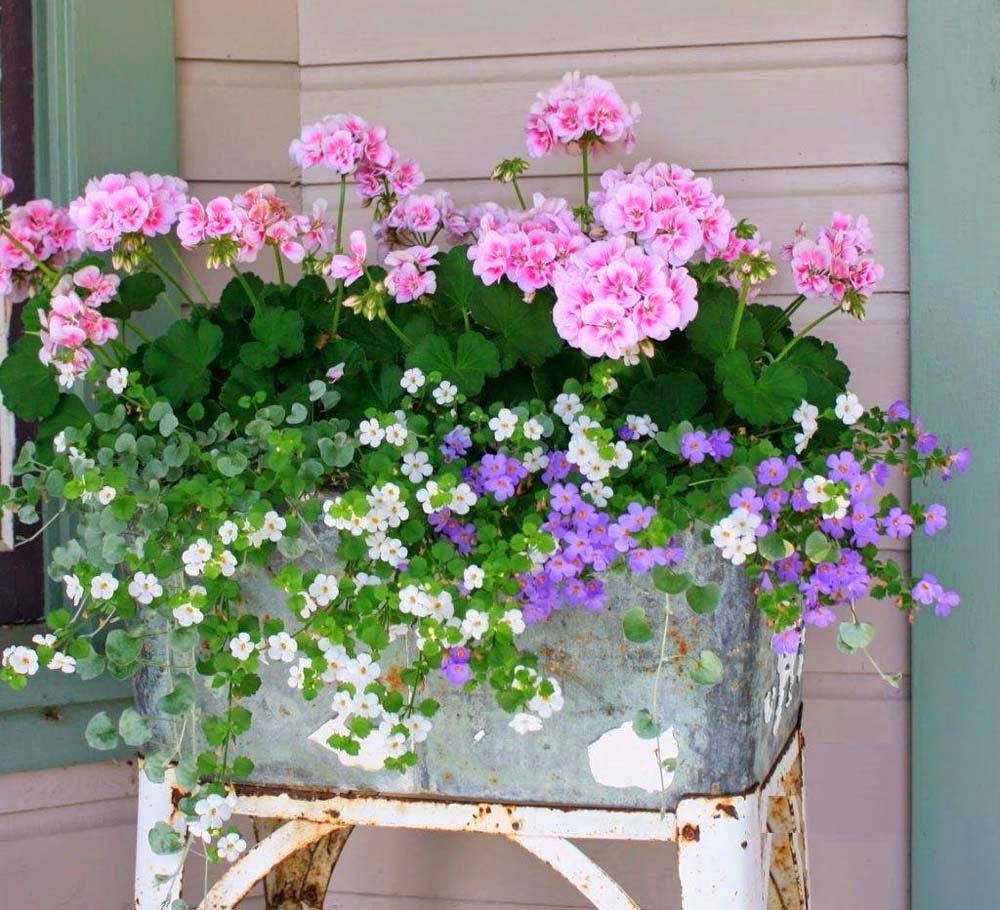 If you are looking for unique vintage containers for your Geraniums but haven't found anything suitable on the market, check your garage.
Are there old pieces of furniture and rusty containers? Take them out and do not refurbish their surfaces. The rust and the damages are what will turn the flower stand into a focal point where you can care for your gorgeous Geraniums.