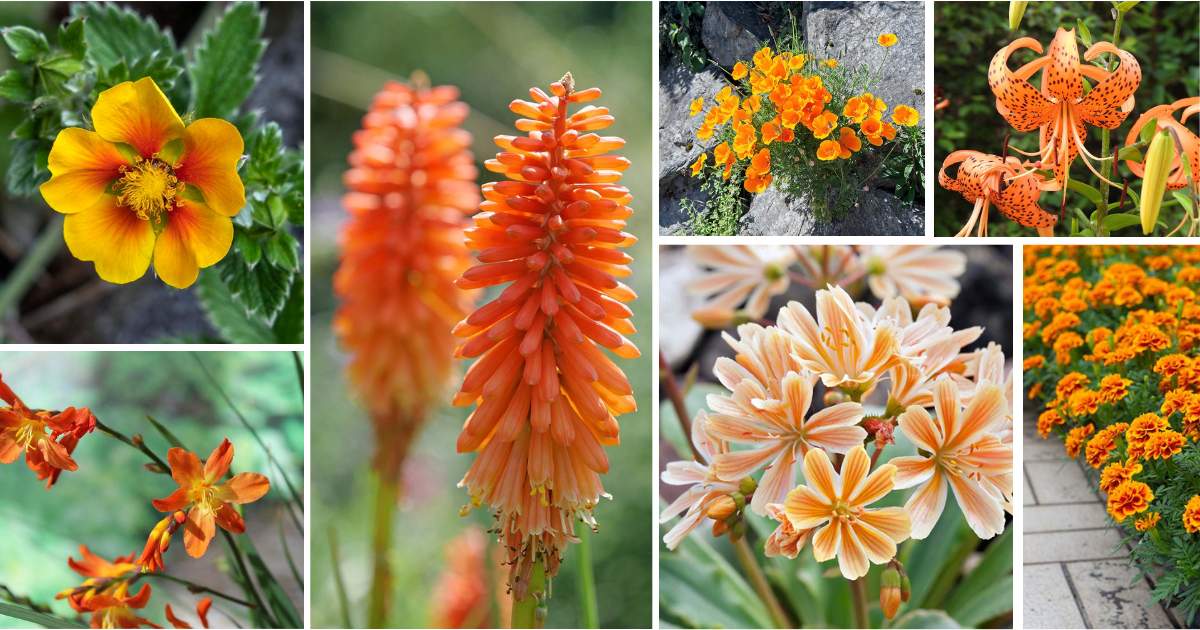 Orange flowers are bold and noticeable! If your garden is missing a pop of fiery color, the orange perennials are sure to bring that missing interest.
All of the amazing perennials with orange flowers here require minimum to no care once established.
You can combine the warm orange color with white, yellow and red flowers, evergreen shrubs and trees. You are only a blink away to find out how versatile and gorgeous the orange perennials are!
1. Peruvian Lilies (Alstromeria)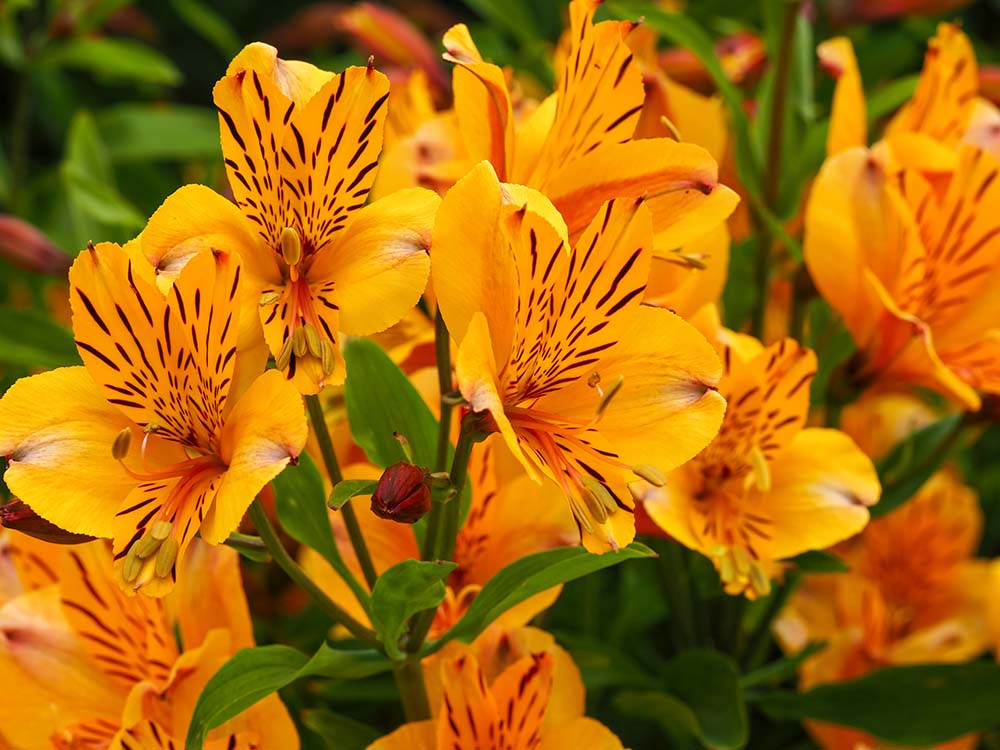 Alstromeria is famous for its bright lily-like orange flowers with yellow centers. The flower is compact when grown in a pot. When planted directly in the ground it can take some room so make sure that you free space between the seedlings.
The best location for the Peruvian lily is partial shade and indirect light. Water the lily every week and keep the soil moist,, especially in summer when the temperatures get high.
2. Milkweed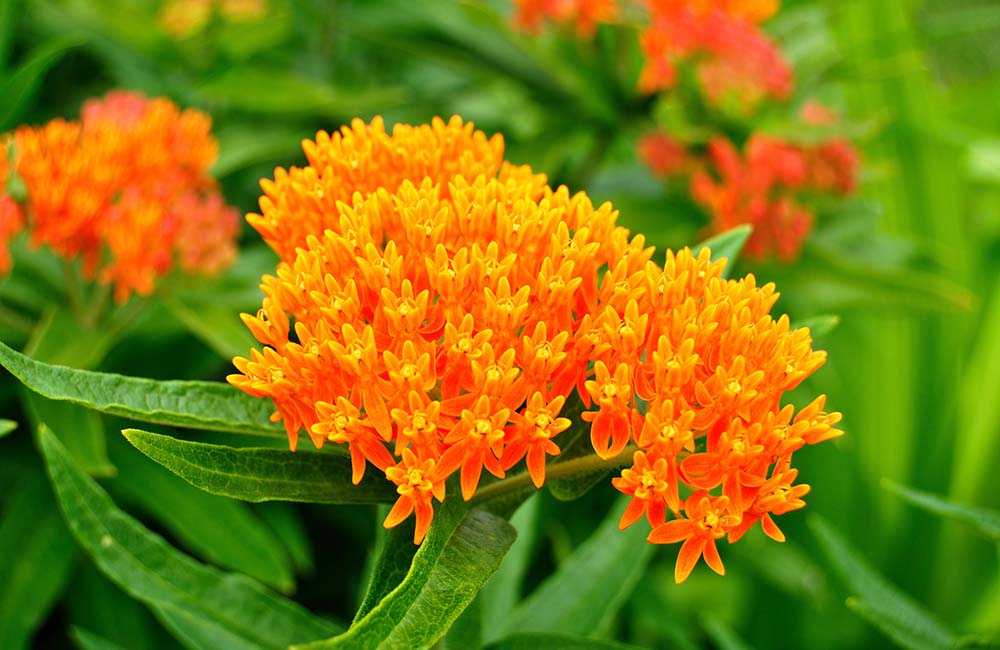 Milkweed grows quickly up to four feet in height. It needs full sun to establish and produce its amazing tuft flowers. The plant is pretty tough and it can resist drought and it tolerates poor soils.
3. Marigold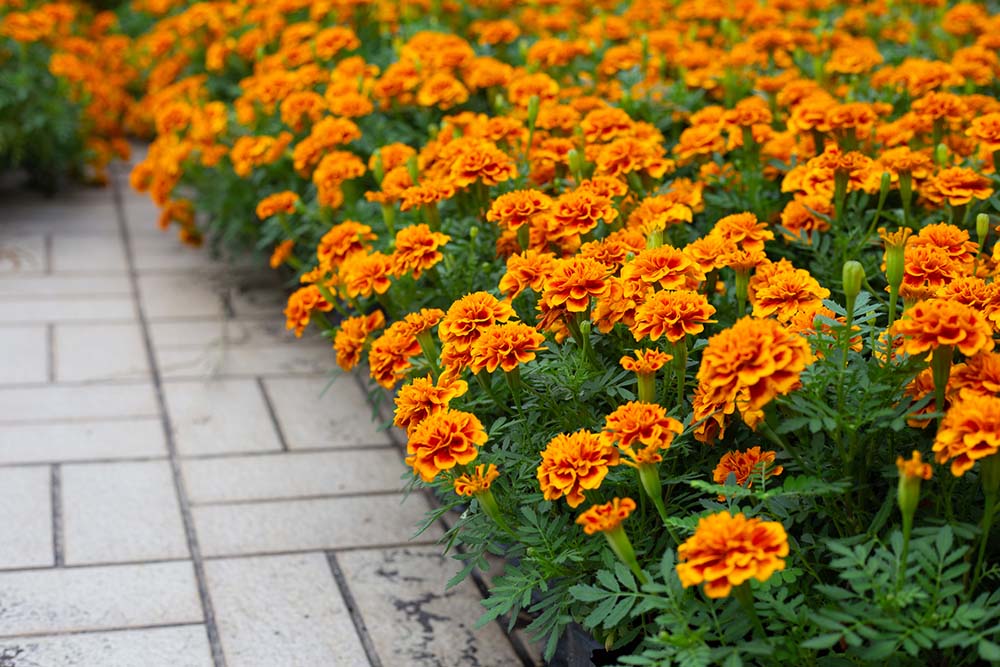 This is another tough orange flower in our collection. Marigold needs full sun, at least 6 hours per day. It is heat and drought-tolerant and offers many benefits in addition to its cheerful orange blooms.
The Marigold is known to repel some of the most harmful insects, hence many gardeners plant it next to or between their vegetable seedlings.
4. Blanket Flower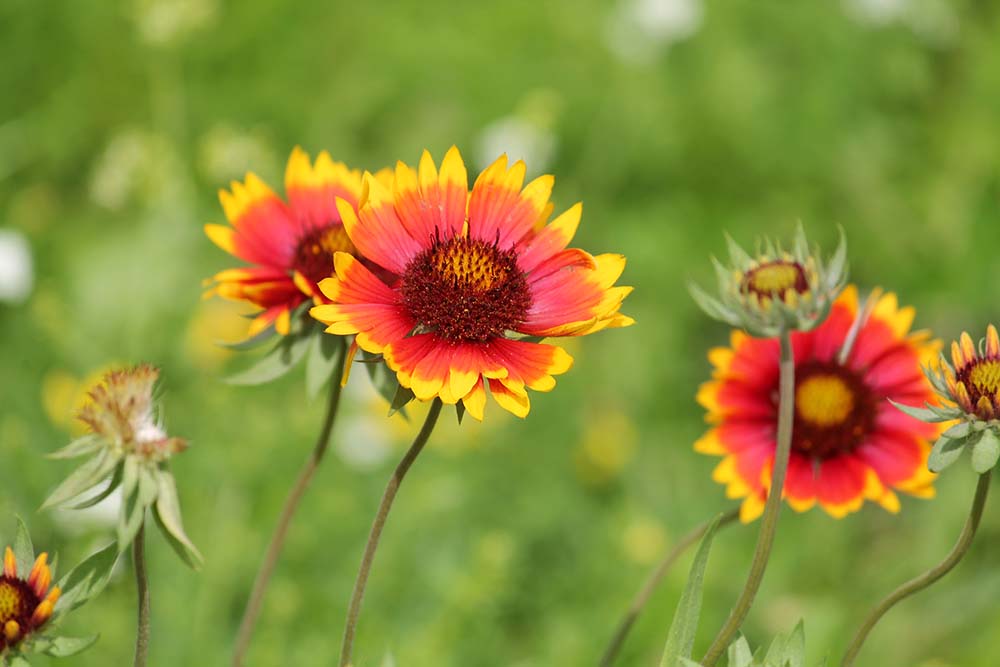 The Blanket flower looks like fire in the field with its large deep orange petals with yellow edges. Like the previous orange perennials, the Blanket Flower also prefers a location with full sun and well-draining soil. The flower is drought-resistant as is its native habitat.
Don't forget to remove the dead heads to encourage flower production all summer long.
5. Rock Rose ( Helianthemum )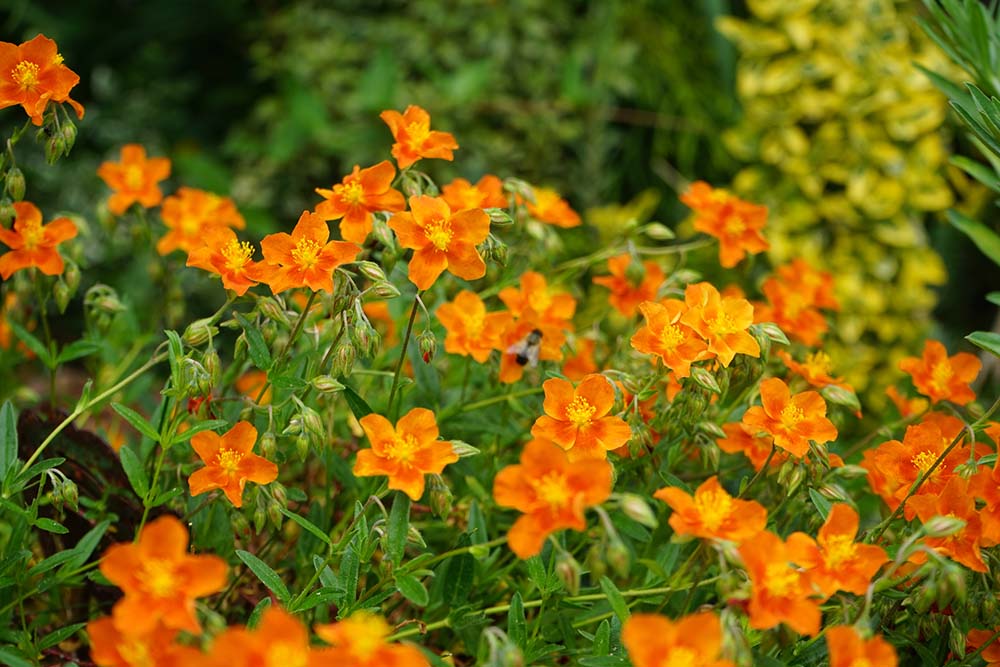 The Rock Rose is the most delicate orange flower in our collection of orange perennials. The blooms are five-petalled and thin as tissue paper.
The perennial doesn't require any special care. As its name suggests, it can grow on rocky, sandy soils and tolerates drought, make sure that the location is sunny.
6. Orange Princess Globeflower ( Trollius )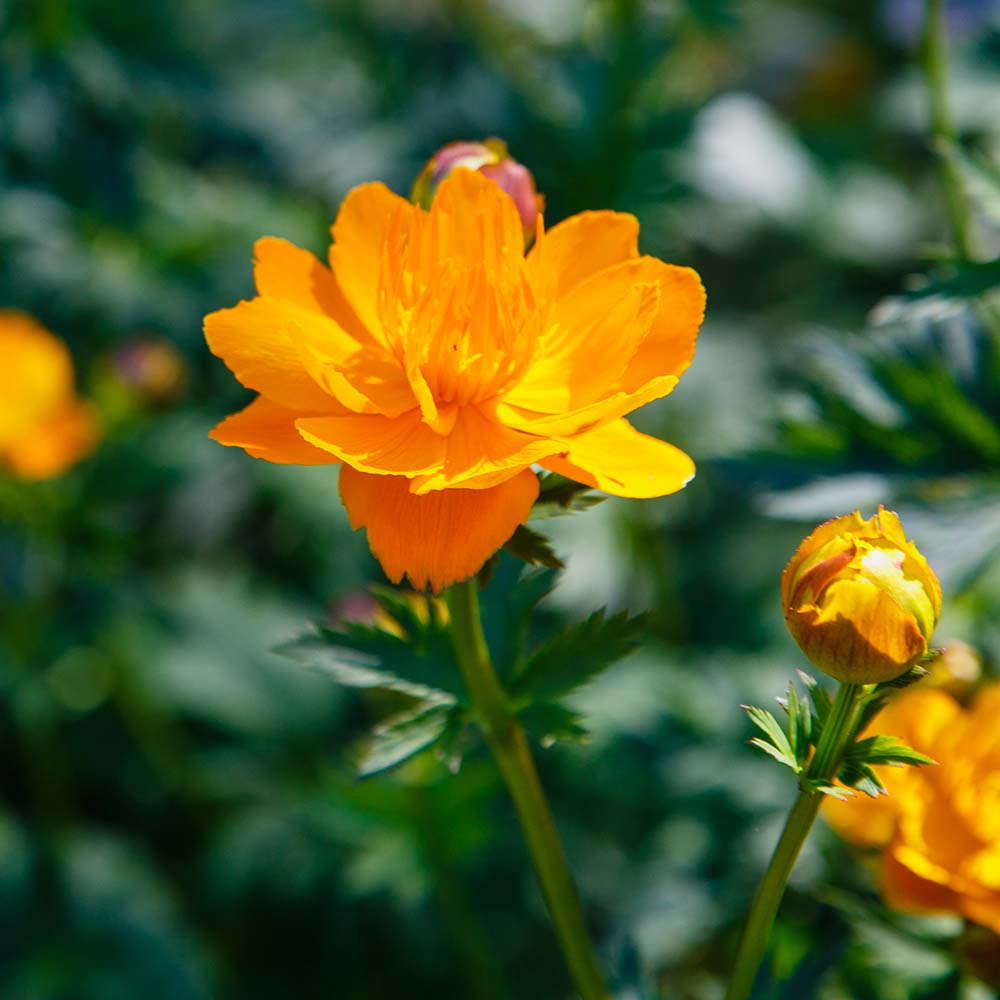 This orange perennial blooms with milky orange flowers. It is a low-maintenance plant, needing a sunny location, well-draining soil and frequent watering.
Pruning of the Globe Flower is important to preserve the buds for next year's flowers.
7. Wallflower ( Erysimum )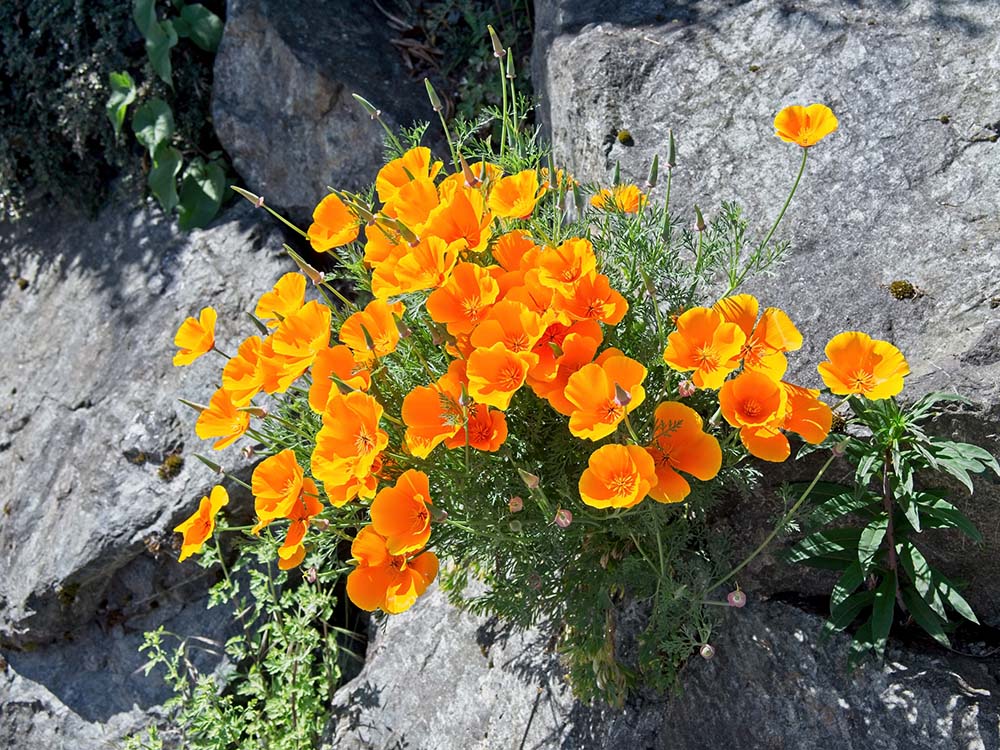 The Wallflower is an attractive plant usually used in rock gardens. Its fragrance comes from the four-petalled blooms. This orange perennial is pretty easy to care for. It needs a sunny location and well-draining soil.
8. Torch Lily ( Kniphofia )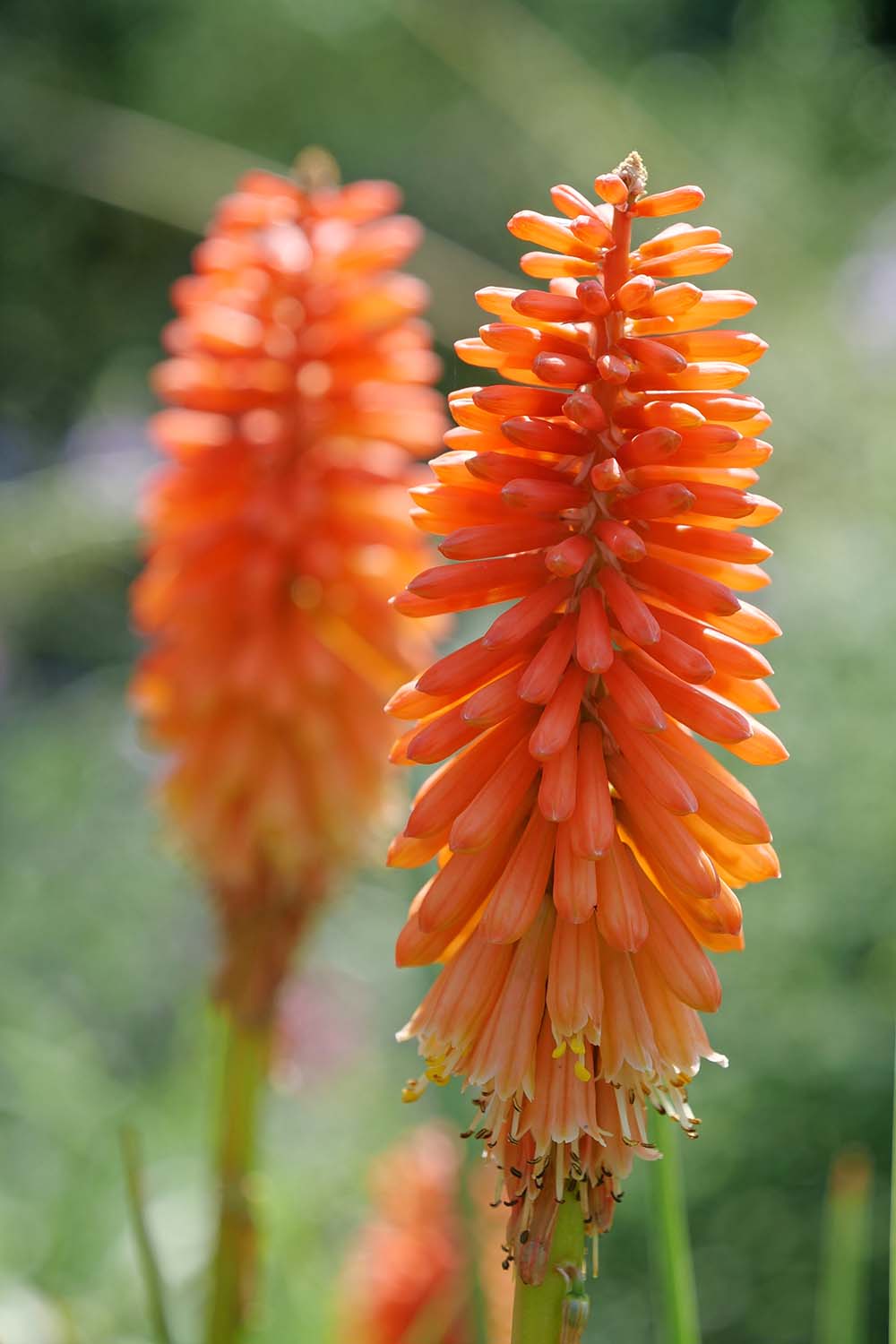 The Torch Lily is also known as the Red Hot Poker plant because of its conical flowers. The petals vary from red to orange and yellow, almost looking like a torch.
This orange perennial needs full sun, well-draining soil and frequent watering in the hot months. It is a favorite plant of wildlife attracting bees, hummingbirds and butterflies.
9. Sneezeweed ( Helenium )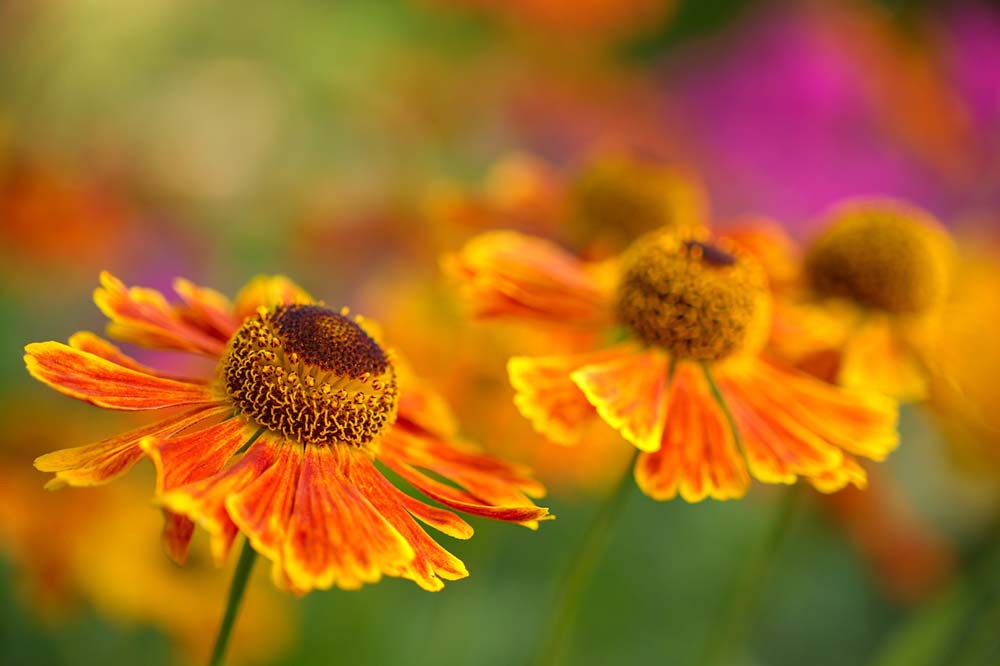 Like all orange perennials so far, the Sneezeweed plant also prefers a location with full sun to reveal its vibrant orange flowers.
This perennial can reward you with blooms from early summer to late fall if you plant it in spring. The daisy-like flower likes moist soil so make sure that you water it generously at least once a week.
10. Oriental Poppy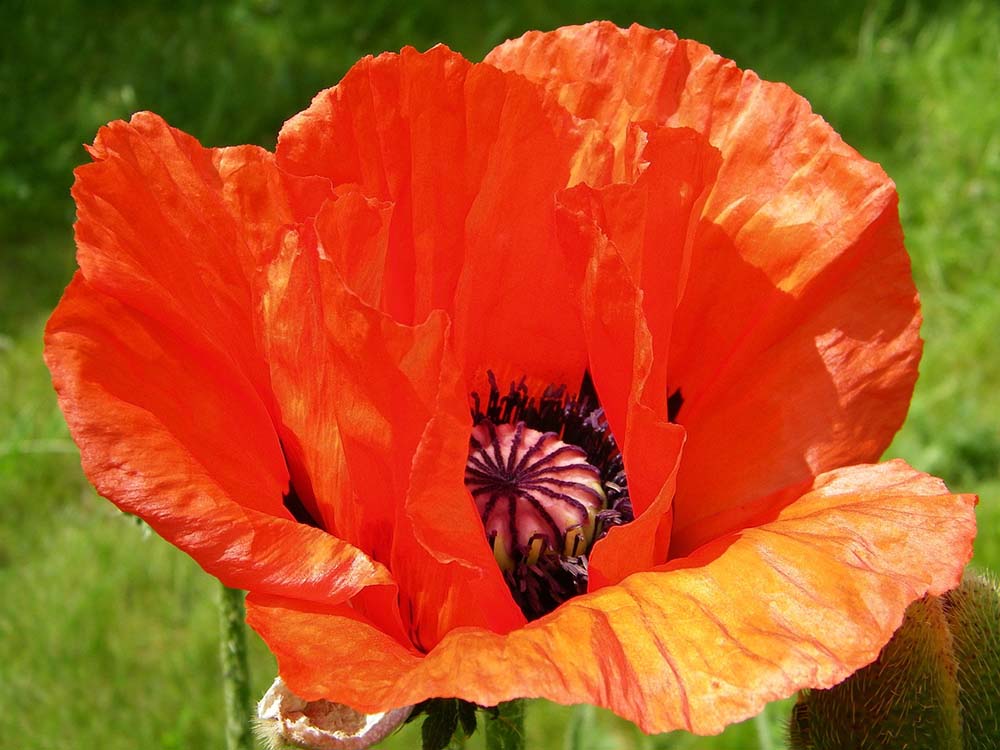 The fire-colored blooms of the Oriental poppies make a striking impact in the spring garden. This orange perennial doesn't require much once it has been established. Deadheading the faded blooms will encourage the production of new ones during the blooming season.
11. Tiger Lily ( Lilium Lancifolium )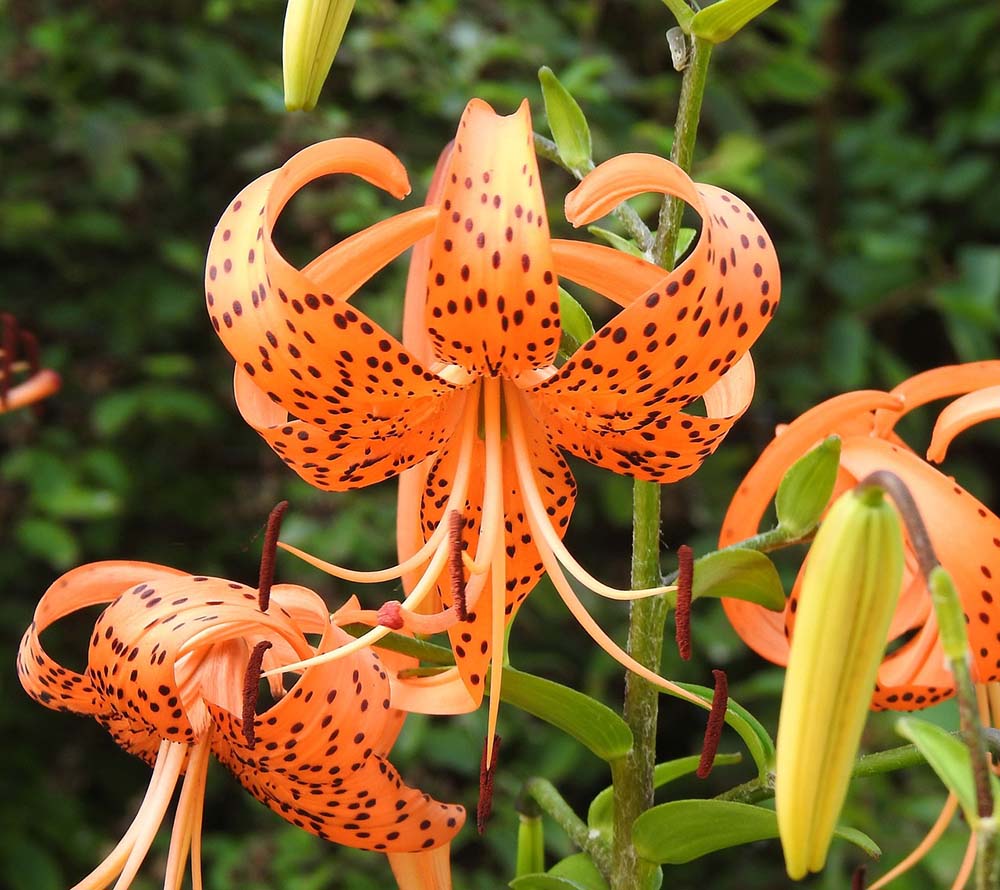 The Tiger lily is simply gorgeous! Once it has been established, it rewards you with tall orange flowers with dark red speckles and that with minimum care.
This orange plant prefers a sunny location but it can also benefit from partial shade, especially in the afternoon. The key to encouraging the thrive of the plant is good drainage of the soil, otherwise, its bulbs may rot.
12. Geum ( Avens )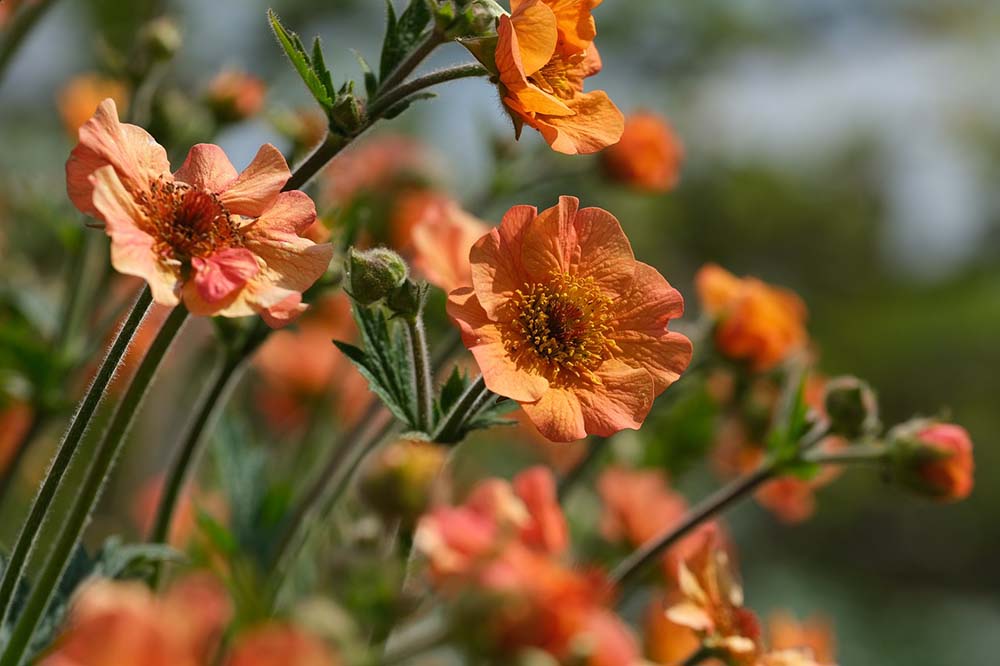 If you want a flower variety that can bloom from spring to fall, this is the Geum. It blooms with peach-colored blossoms on tall stems.
Geums are basically trouble-free plants. Once they have been established, you only need to care for frequent watering. This can also be solved by making the ground retentive by adding organic materials before planting.
13. Crocosmia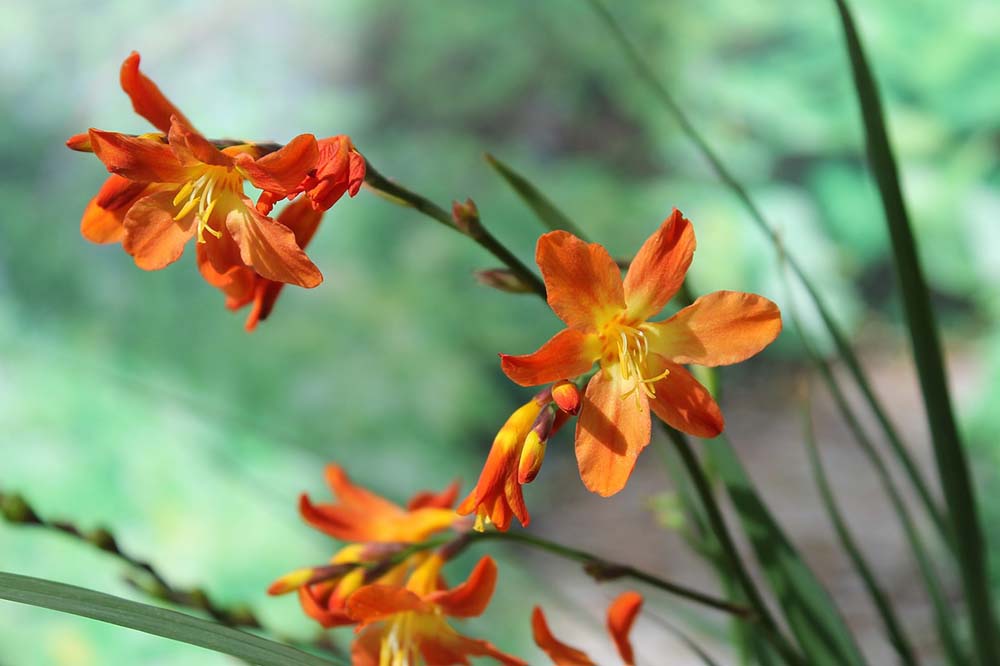 You may know Crocosmia as a cut flower rather than a garden flower. It features a dozen of exotic orange blooms on a dark green stem.
It is also known by the name Falling Stars and it thrives best at full sun. Partial shade is also an option but the sun will encourage it to renew its blooms.
Once the blooming phase is over, keep the leaves so the bulbs get the energy needed for next year.
14. Blackberry Lily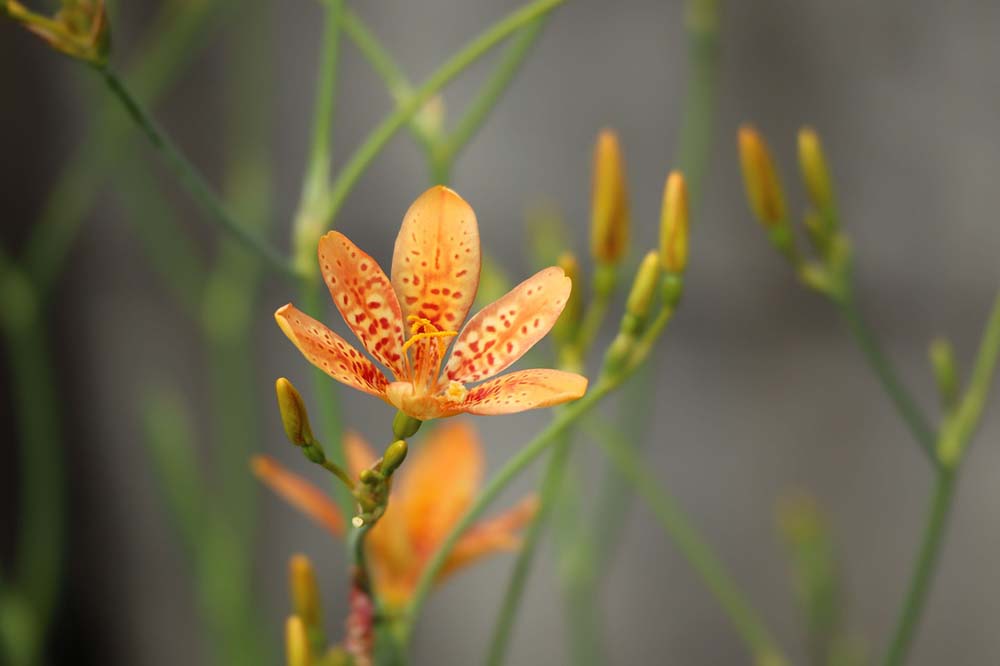 This is another amazing orange perennial which can make your garden stunning! Despite its name, the Blackberry Lily doesn't belong to the Lily family.
It is representative of the iris family and features delicate orange flowers with red speckles on them.
This perennial tolerates partial shade but full sun is the better location. Water the lily every week and plant in well-draining soil.
15. Bird of Paradise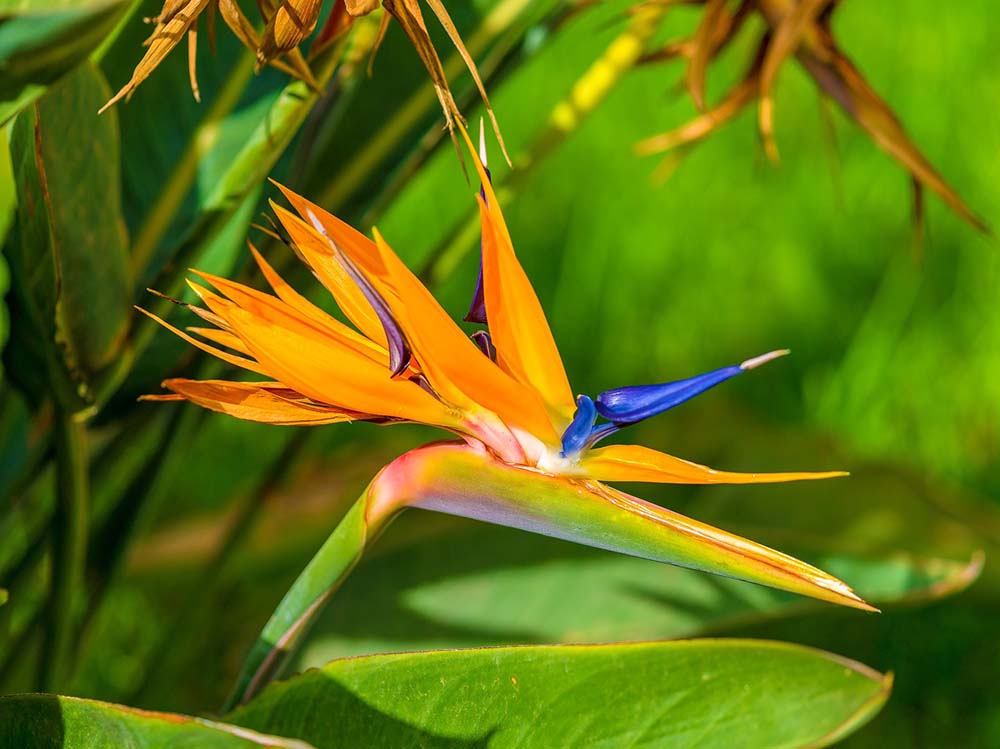 Isn't the Bird of Paradise a masterpiece of Mother Nature? Some people say it resembles the head of a tropical bird, others – a bird in flight.
The unique flower isn't a plant difficult to care for. It needs a sunny place and well-draining soil.
16. Chrysanthemum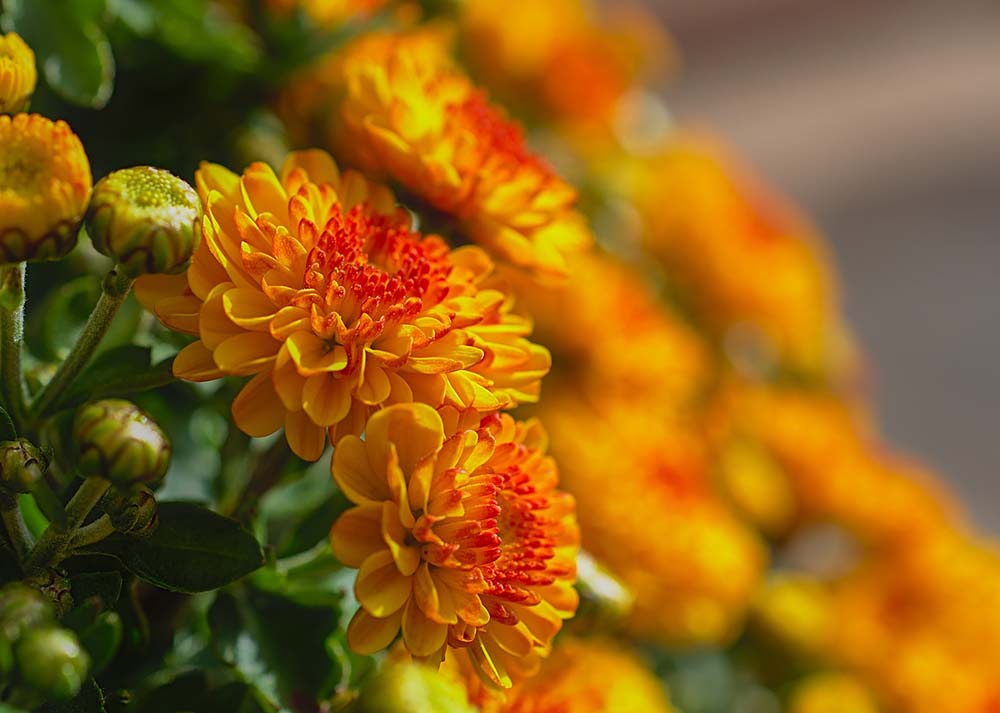 The Chrysanthemum can be found in various shades but the orange blooms make the flower more attractive.
All Chrysanthemums are very tough perennials. Similar to the previous orange varieties, this perennial also prefers a sunny spot and well-draining soil. Their shallow root system requires frequent watering.
17. Dahlia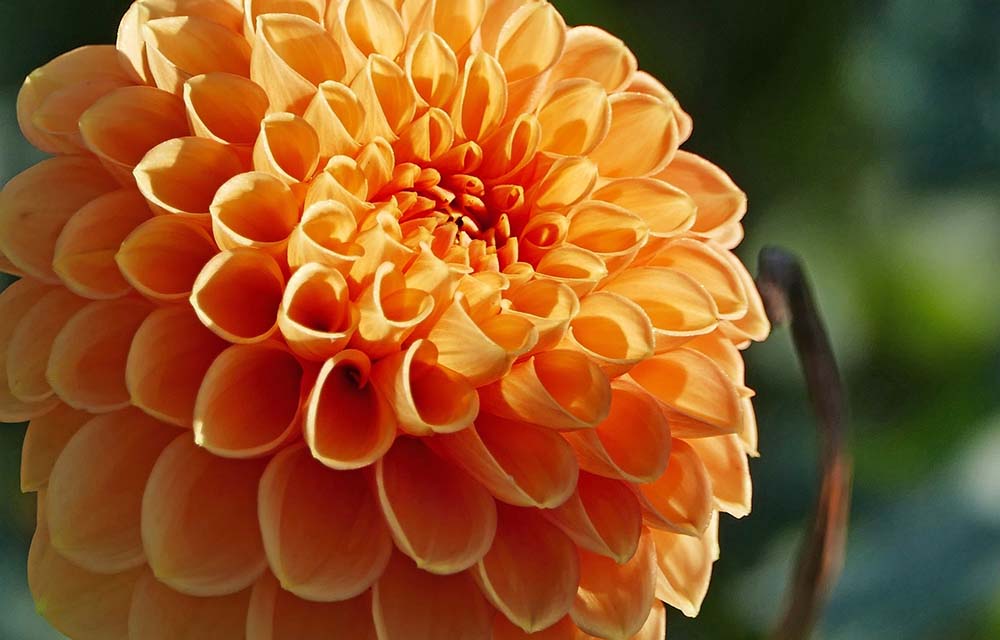 The perfectly shaped funnel petals of the Dahlia make it so unique! When colored in orange, the Dahlia makes a bold statement in the garden.
This orange perennial loves to receive sun at least 6 hours per day, especially the morning sun. The soil must be rich and the more you fertilize it, the bigger the plant and blooms will be.
18. Cinquefoil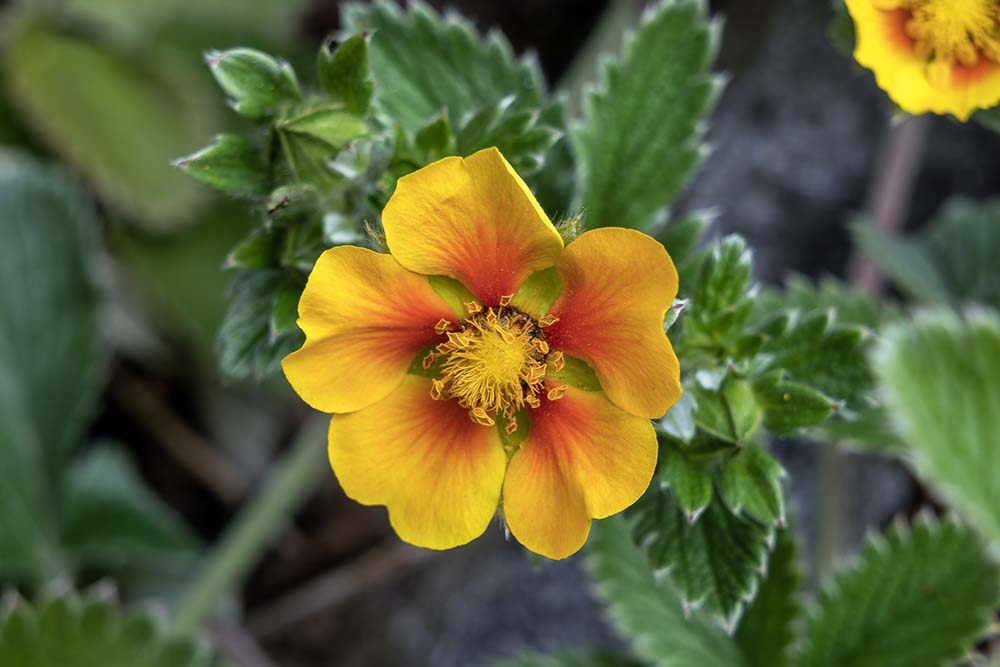 The Cinquefoil is one very tolerant shrub. It can grow in any kind of soil as long as it drains well. Once established, it can resist drought.
The shrub features small orange flowers on dense branches with elliptical leaves.
19. Orange Daylily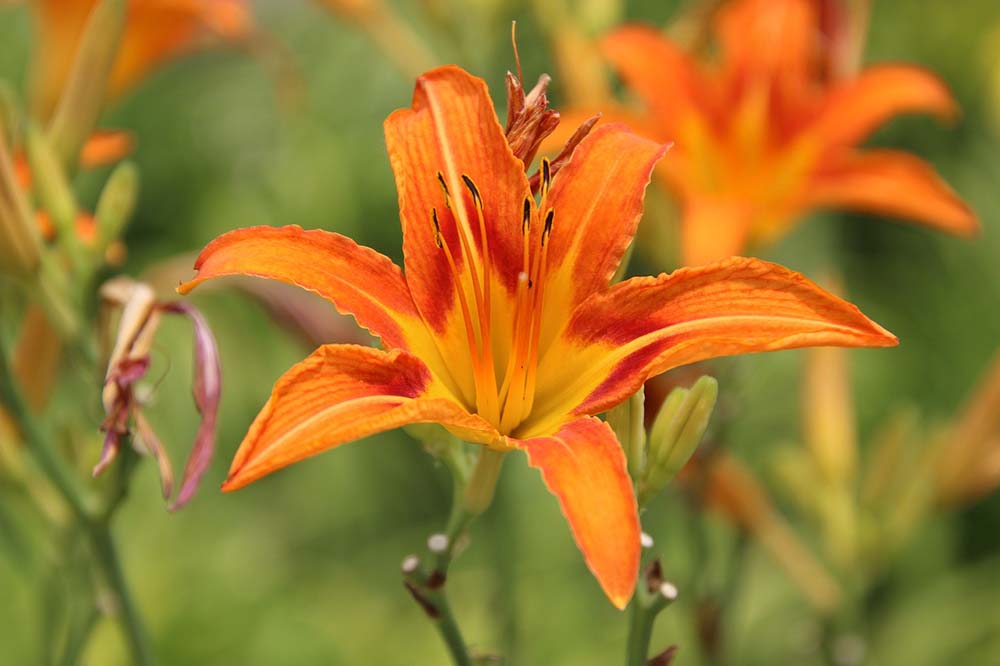 The Daylily is one of those perennials that require no care when established. In fact, it can become quite invasive and cover the entire garden.
The name of the flower comes from the shape of the bloom. Unfortunately, the blossom lasts only a day but soon after the plant will produce new.
20. Gerbera Daisy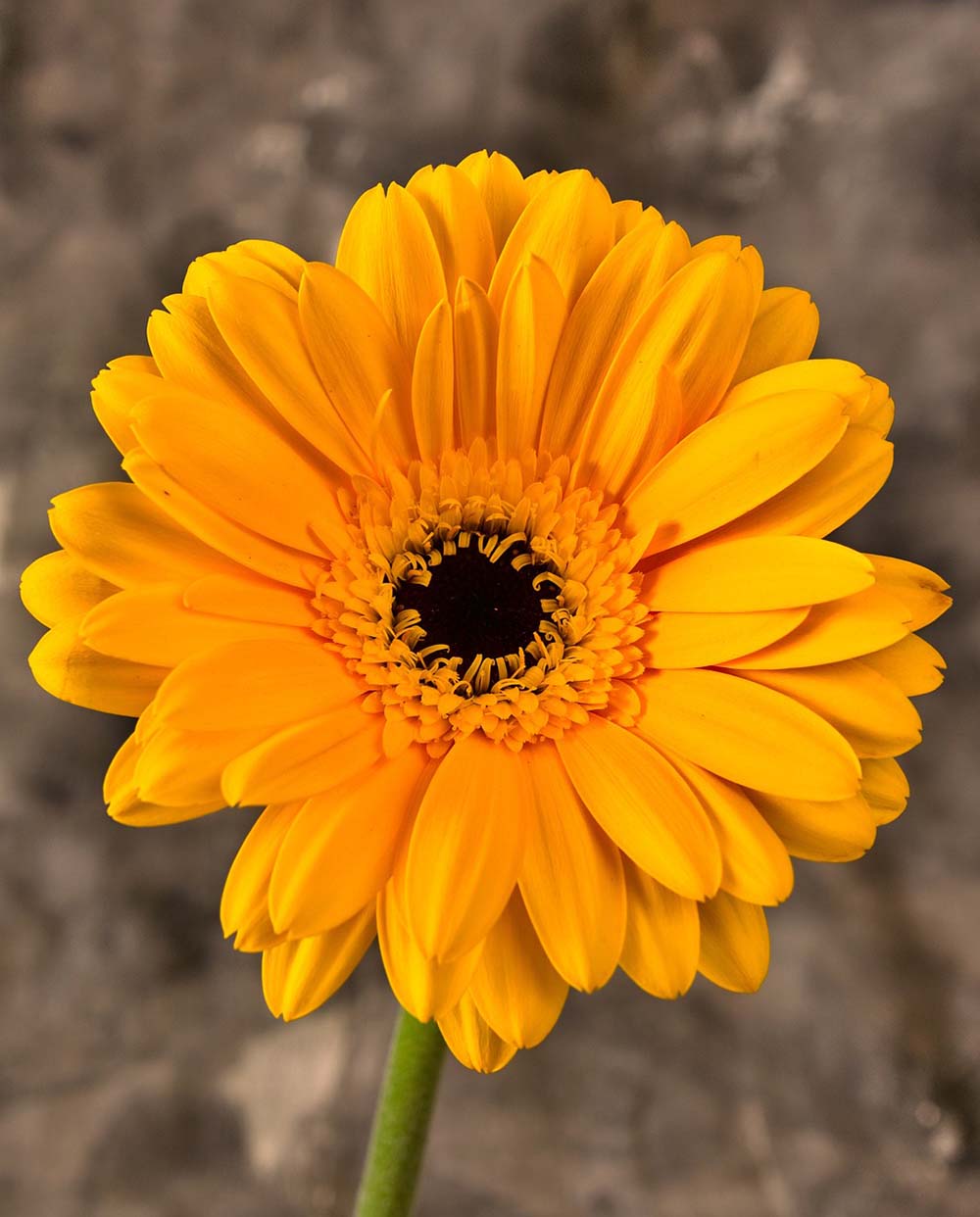 The Gerbera Daisy is another tough orange perennial that fascinates with its wheel-shaped blooms and dense foliage.
The most important care tip for this orange perennial is to deadhead the blooms in order to encourage production of new ones.
21. Rainbow Bitterroot ( Lewisia cotyledon )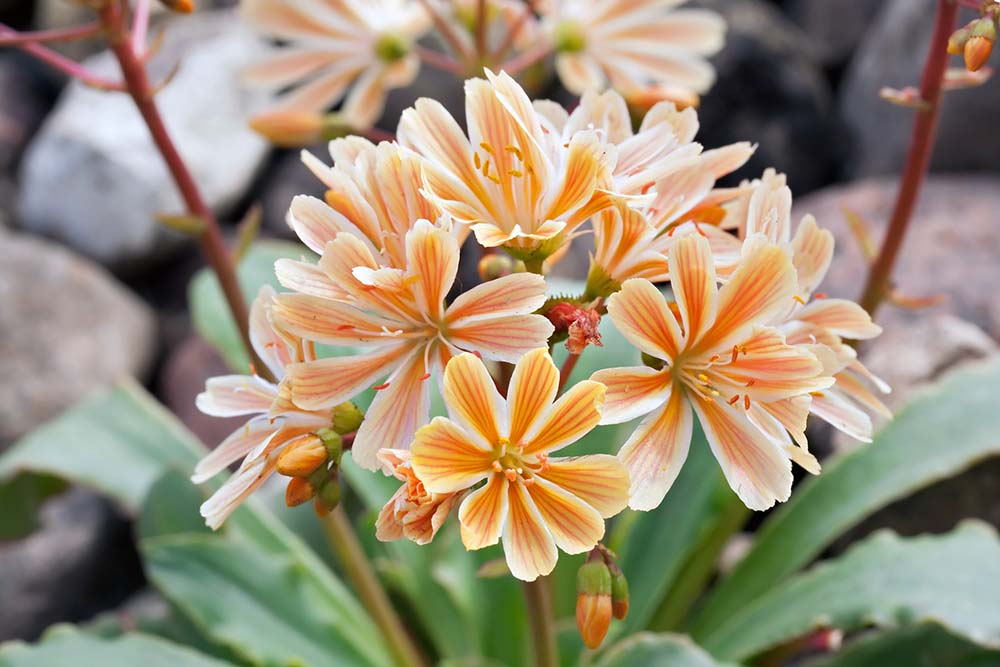 The Rainbow Bitterroot is commonly mistaken for a succulent because of its waxy foliage and its little care requirements.
It is often grown in edging or rock gardens and if prune properly, it can grow as a bush.
22. Ranunculus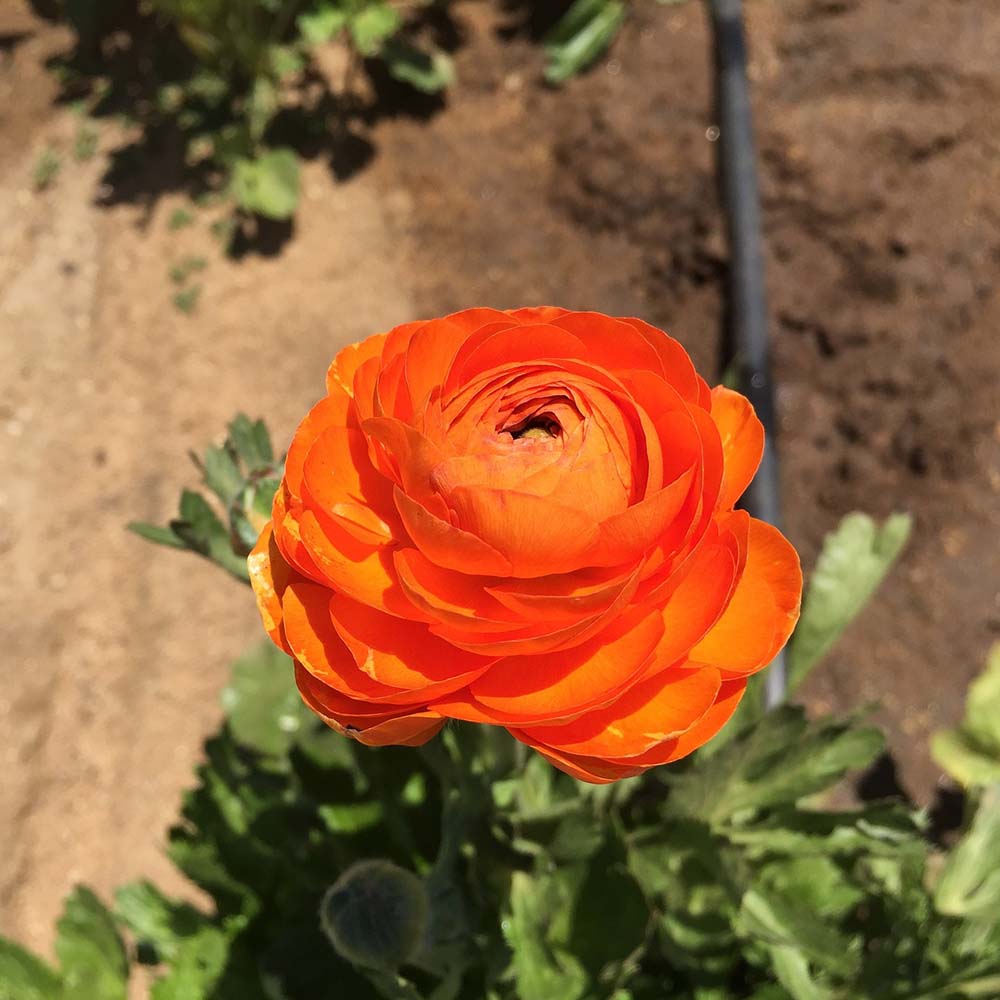 Ranunculus is the botanical name of Persian Buttercup flower. Its flowers remind the blooms of the peony but on a smaller scale. The petals are dense and crepe paper-like.
Because of its delicacy and beauty, you can often see this orange perennial as a cut flower in floral arrangements.