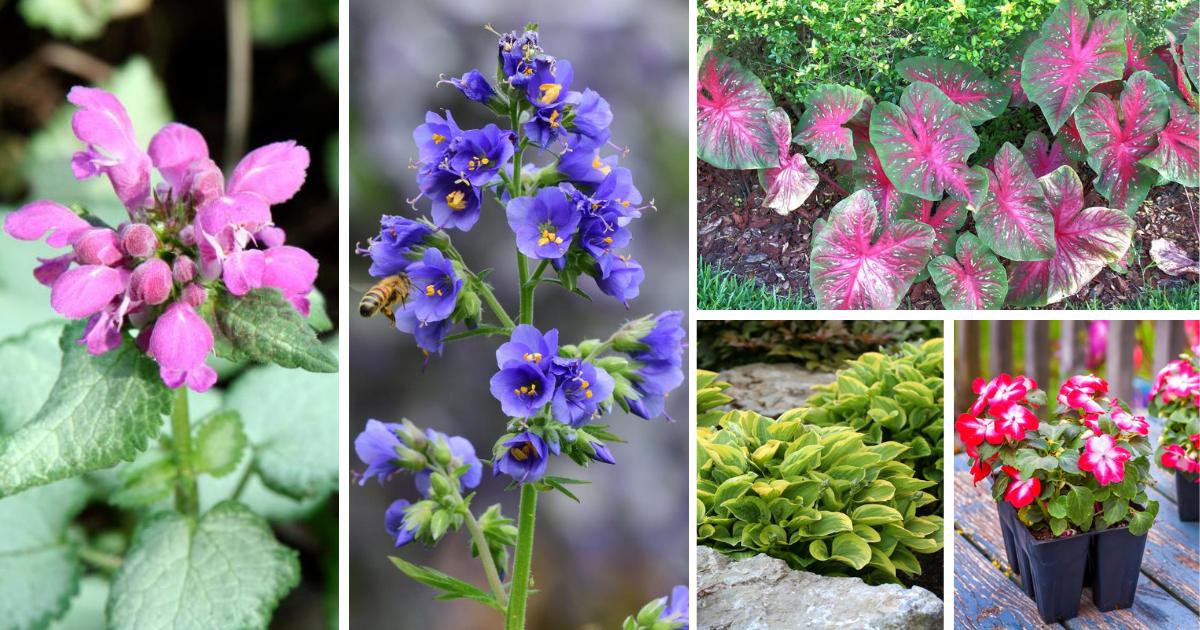 If you have ever thought that there are only a few or no flower varieties that can grow without light, or growing them could be a challenge, this article will prove you wrong! There are plenty of outdoor plants that grow without sunlight and all of them require minimal care.
1. Caladium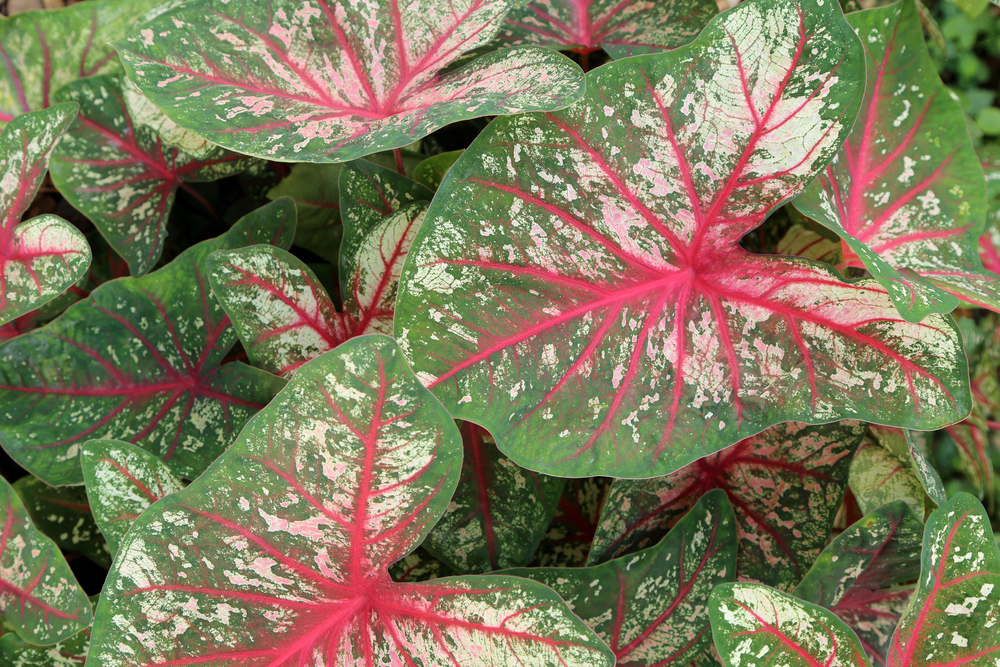 Botanical Name: Caladium
USDA Zone: 3-10
Caladium is a great representative of the best Outdoor Plants That Grow Without Sunlight. To maintain their large leaves variegated with hues of pink, red and green, they need a shady place.
2. Astilbes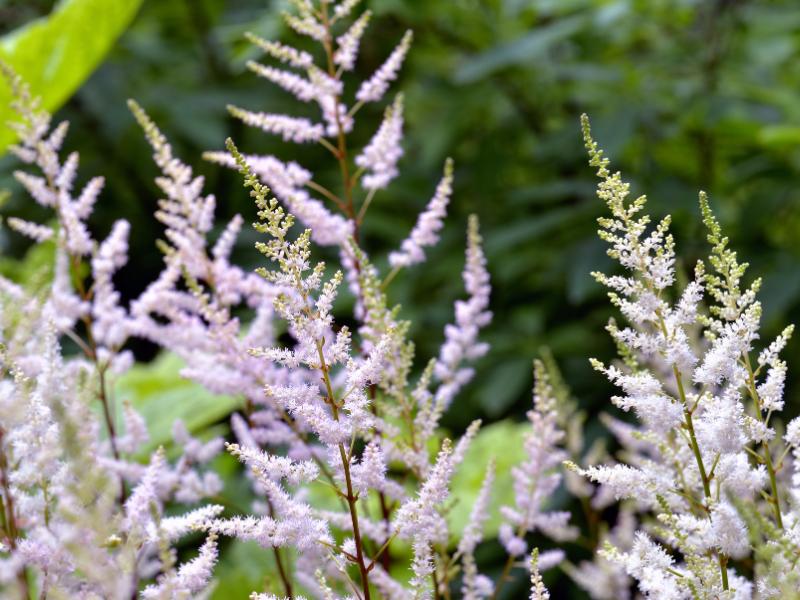 Botanical Name: Astilbe
USDA Zone: 4-8
Astilbe needs to grow in partial shade and humid soil to thrive. Full sun or full shade is not an option because they will reduce the flowering.
3. Lungwort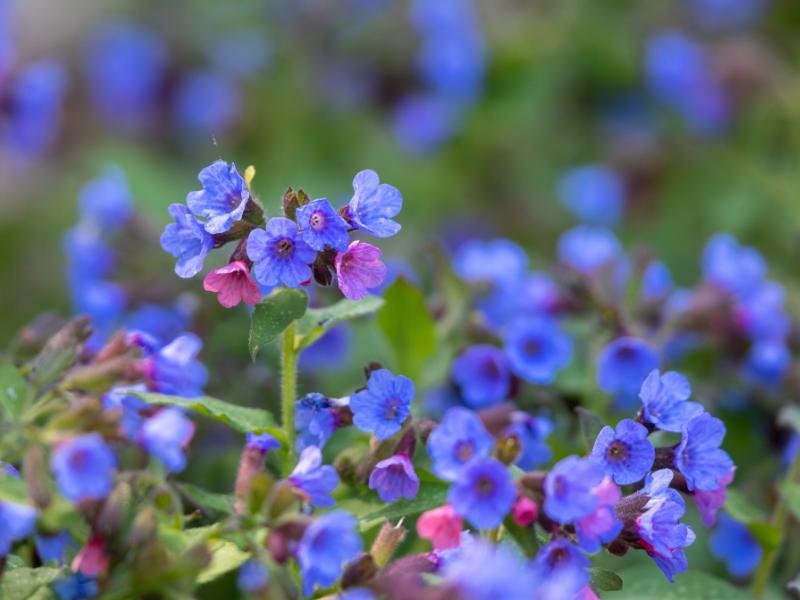 Botanical Name: Pulmonaria
USDA Zone: 3-9
Lungwort thrives in partial to full shade. Once established, the flower requires minimum care and rewards with unique foliage that changes its color. The flowers are tiny bell-shaped blue blooms.
4. Hellebores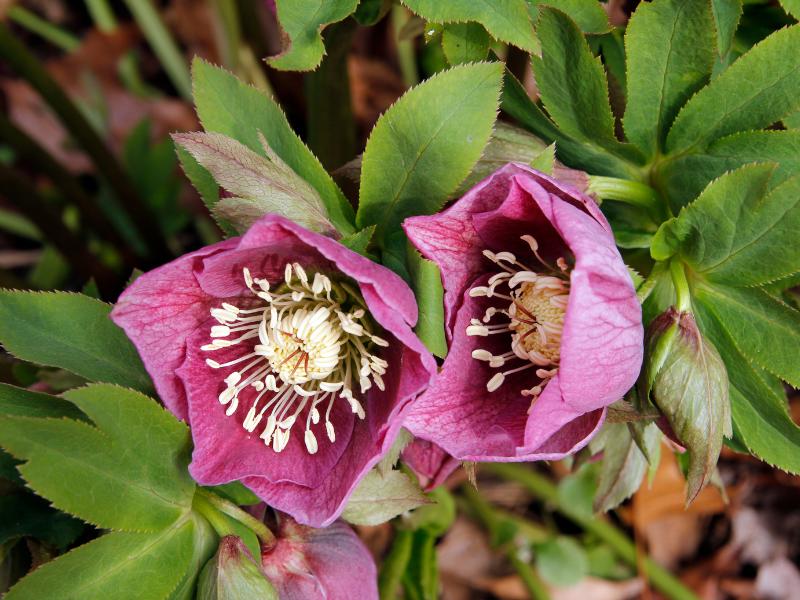 Botanical Name: Helleborus
USDA Zone: 6-9
This annual flower prefers partial shade as a location and fertile well-drained soil. The only care you should apply is the cleaning of the dry blooms. This will ensure production of new blossoms.
5. Foamflowers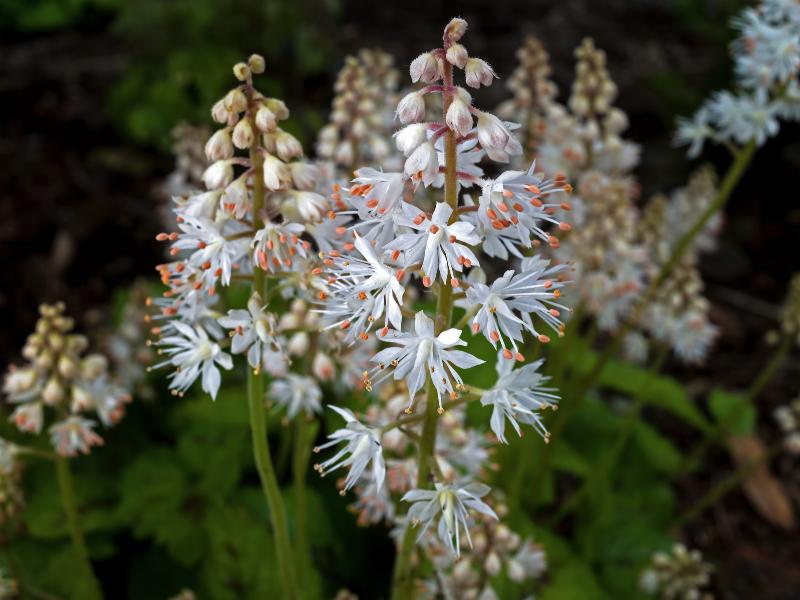 Botanical Name: Tiarella
USDA Zone: 3-9
This perennial wildflower needs its native conditions to thrive. Partial shade, rich and moist soil will thrive its growth and eventually, the delicate white to pink flowers will emerge on the thin green stem.
6. Toad Lilies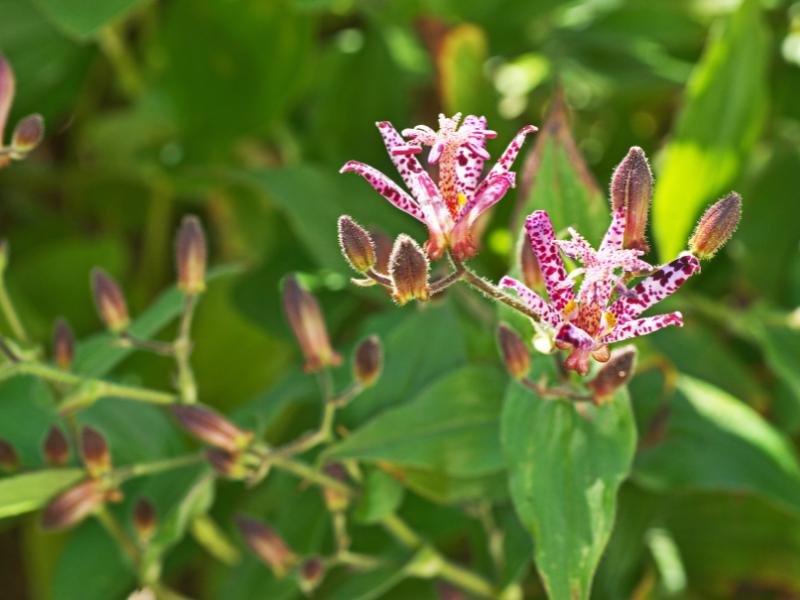 Botanical Name: Tricyrtis
USDA Zone: 4-9
Toad lilies prefer partial to full shade and nutrient soil. A sign of lack of moisture is spotted brown leaves along their edges. If you maintain these growth conditions, the toad lilies will show up their unique blooms.
7. Jacob's Ladder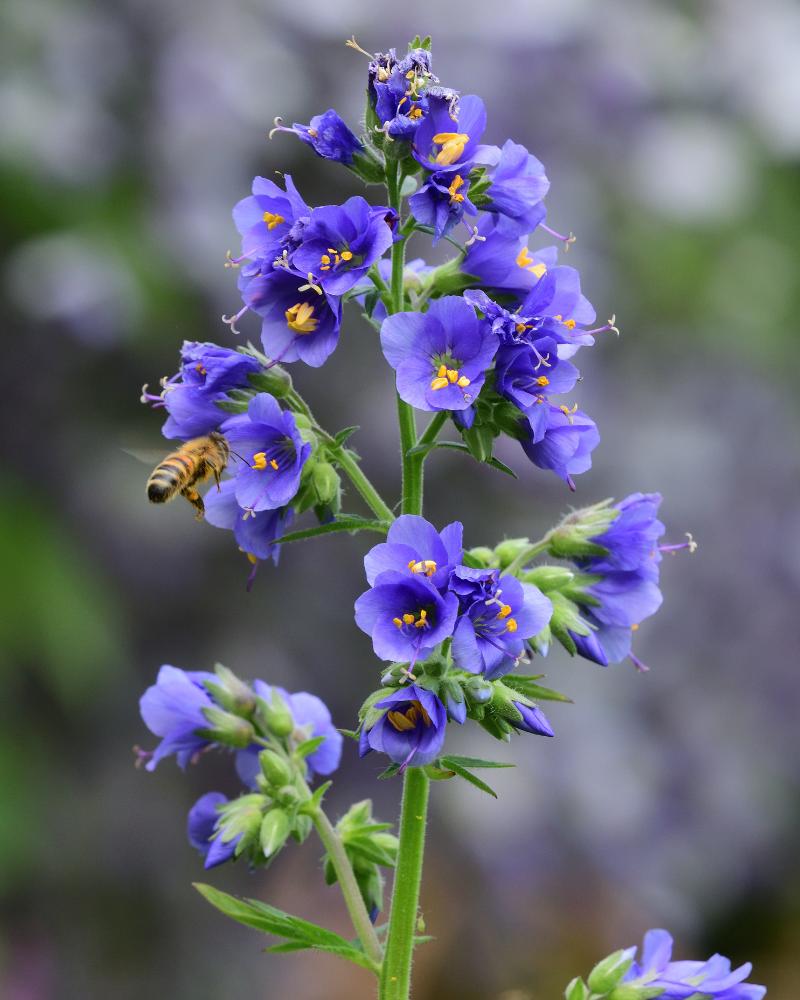 This is another great representative of low-maintenance plants that grow without sunlight. The key to keeping it thriving is good watering until the establishment of the plant.
The plant develops bell-like blue blooms on every cluster growing on the tall stem. When the blooms fade away, take them off to encourage the production of new ones.
Botanical Name: Polemonium caeruleum
USDA Zone: 3-8
8. Solomon's Seal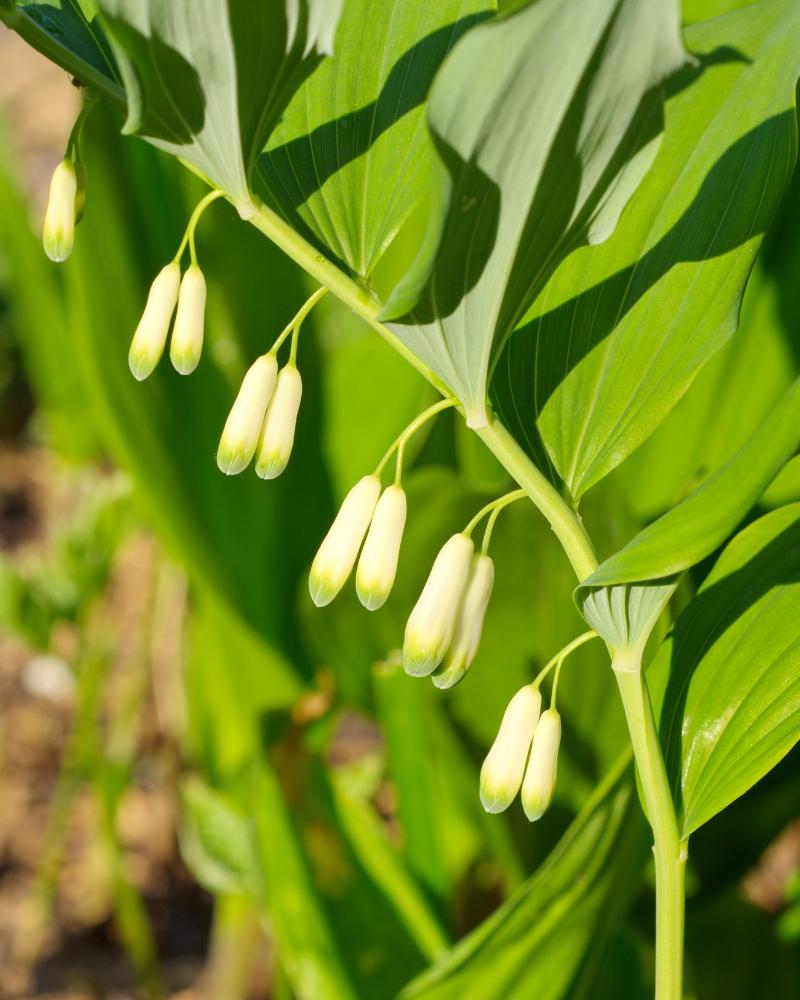 Botanical Name: Polygonatum
USDA Zone: 3-9
This is another plant that is easy to care for and prefers a shady place to grow. The flowers grow vertically on the stem revealing white bell-shaped bloom with green edging.
Keep the soil moisturized and well-drained.
9. Baneberry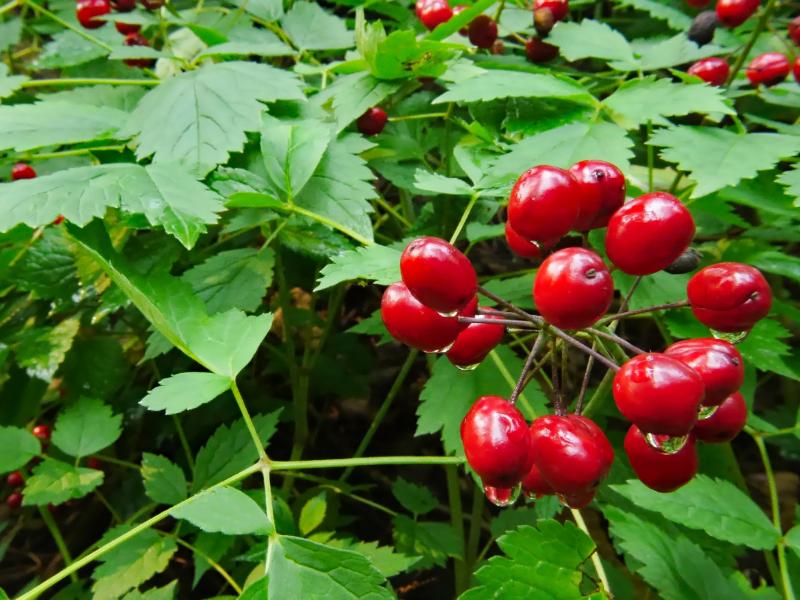 Botanical Name: Actaea
USDA Zone: 4-8
Judging by the name, the Baneberry develops shiny red berries which are not edible. The plant is in the shrub family and in nature it is met where there is humidity and rich soil. Keep the growth conditions similar to the native ones to enjoy the beauty of the Baneberry shrub.
10. Wild Ginger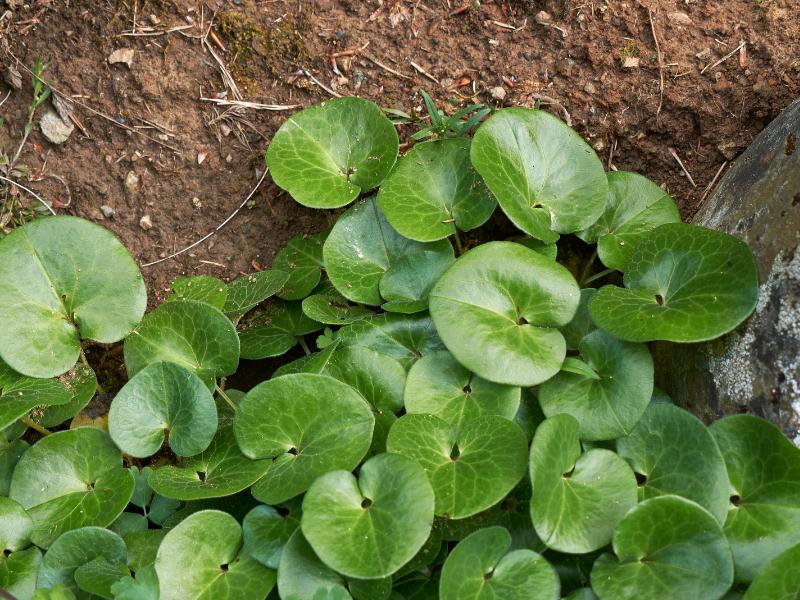 Botanical Name: Asarum
USDA Zone: 4-8
This shade-loving plant is a low creeper with green heart-shaped leaves. Its blooms stay beneath the leaves at the base of the plant and that makes them barely visible. People like to have it as part of their landscape because of its low care requirements.
The variety is perfect to plant around large trees.
11. Barrenwort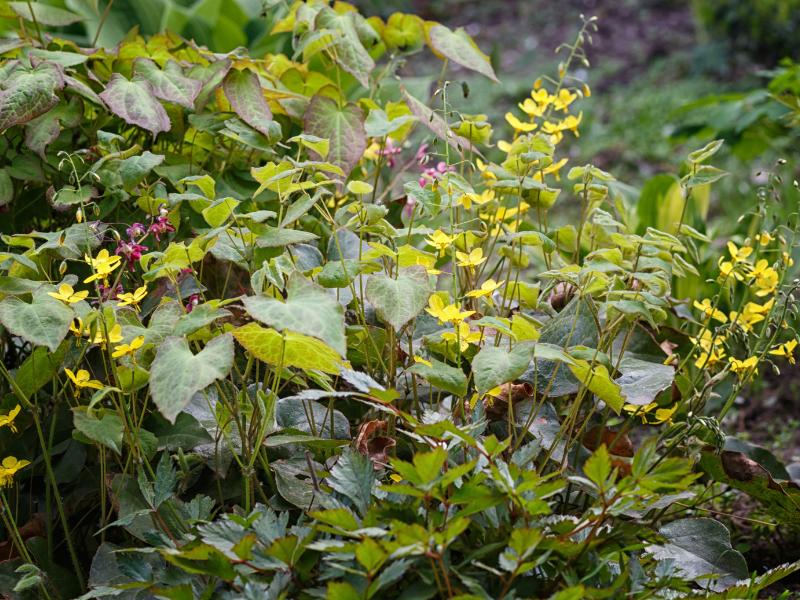 Botanical Name: Epimedium
USDA Zone: 3-9
This is a fantastic plant to grow in places where there is low to no light. The Barrenwort features star-shaped notched leaves. The blooms are pink to green (when they fade) and very delicate.
People love this plant because it requires almost no care- it is a shade-lover, drought-tolerant and resistant to deer.
12. Sweet Woodruff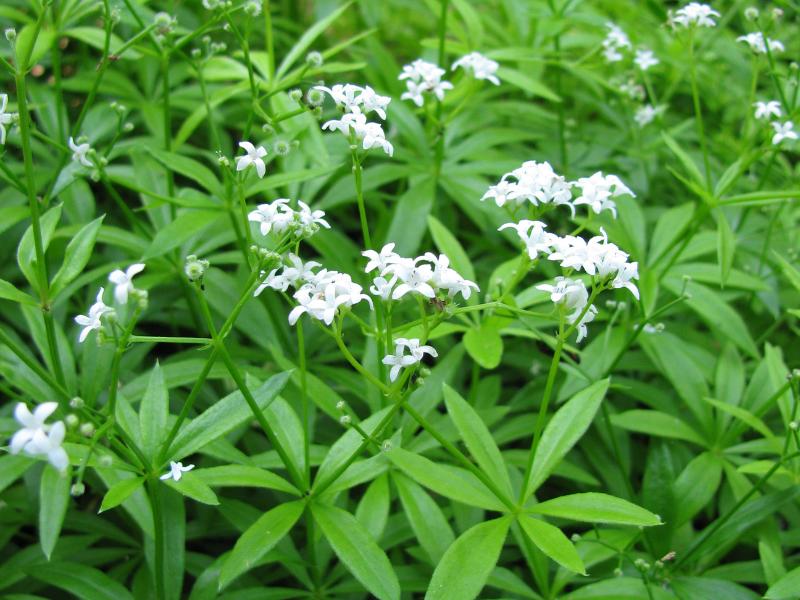 Botanical Name: Galium odoratum
USDA Zone: 4-10
Similar to other varieties that grow without sunlight, the Sweet Woodruff needs regular watering. It is tolerant to drought but it will not be as lush as when grown with frequent watering.
The lush foliage of the Sweet Woodruff makes it a great groundcover in places without light.
13. Goat's Beard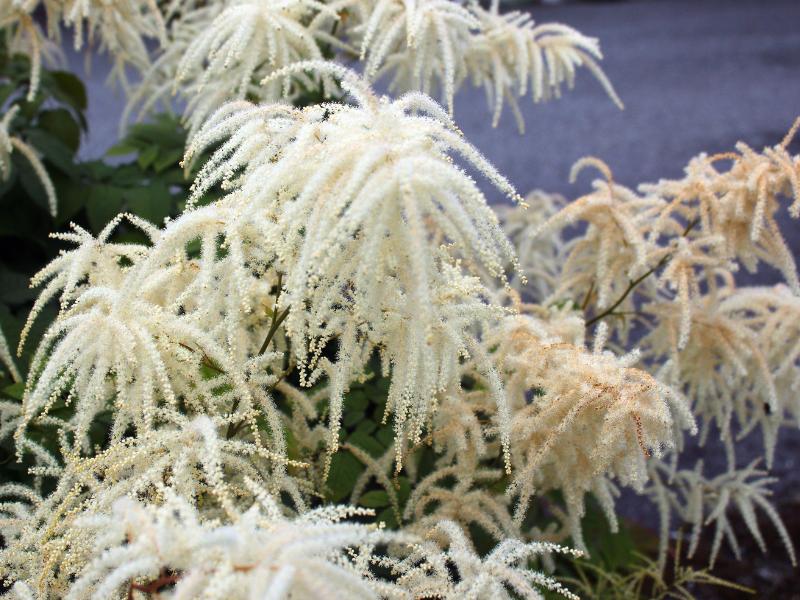 Botanical Name: Aruncus dioicus
USDA Zone: 3-7
This plant belongs to the rose family. It tolerates low light but doesn't grow well in drought conditions. The plant has a male and a female variety each producing flowers but those of the male plants are more erect than those of the female.
14. Hosta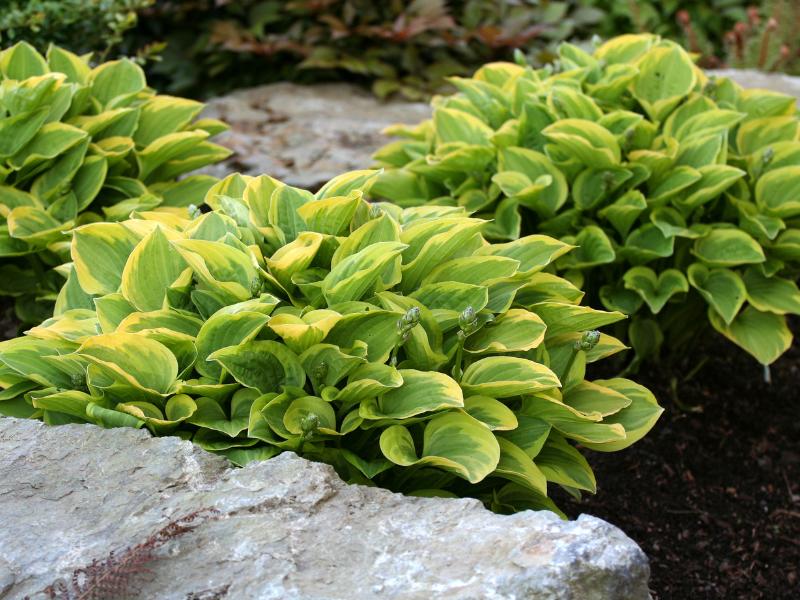 Botanical Name: Hosta
USDA Zone: 3-10
Hostas are great to create a pop of color with lush foliage in the landscape. These plants are popular for shade gardens. They prefer rich organic soil and moisture. Although hostas are mostly grown for their leafage, they also produce flowers in summer featuring white or purple flowers on tall stems peeking out the foliage.
15. Brunnera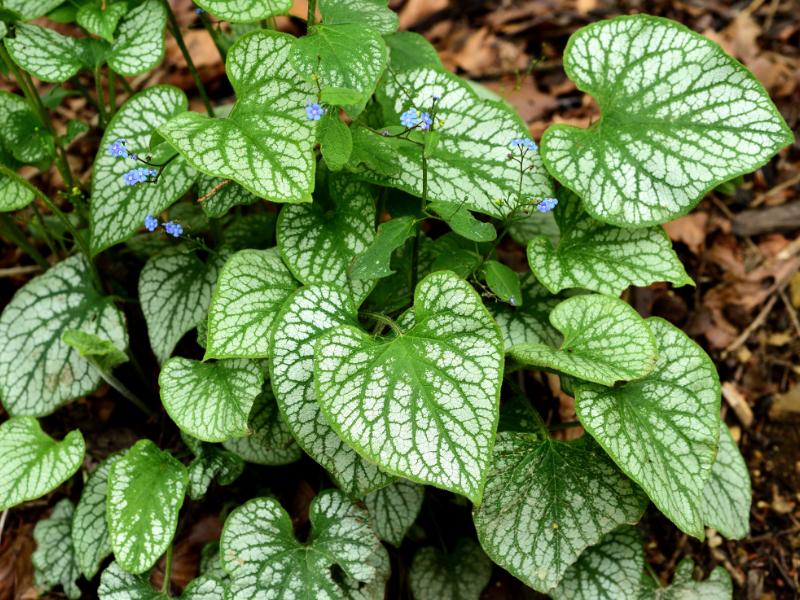 Botanical Name: Brunnera macrophylla
USDA Zone: 3-9
This is a gorgeous outdoor plant that requires low care and grows at locations with low or without sunlight. Where there are snails, people tend to plant Brunnera rather than Hostas which suffer from snails' attacks.
The Brunnera is a groundcover that forms small tufts. It likes moist, low light and cool temperatures.
16. Dead Nettle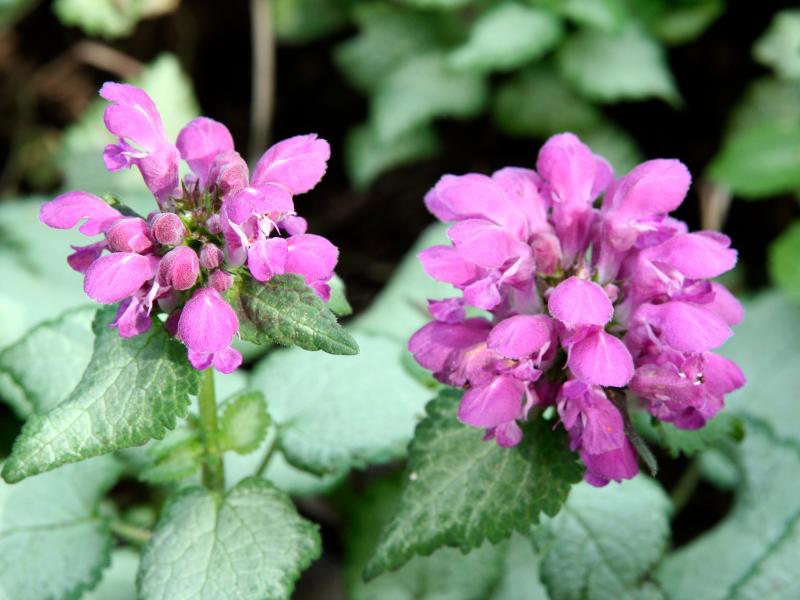 Botanical Name: Lamium
USDA Zone: 4-10
Dead Nettle is another great outdoor plant that grows without sunlight. In warm regions the spotted Dea Nettle is evergreen. It prefers moist, rich in humus and well-drained soil. This low creeper is appreciated both for its foliage and flowers.
17. Bugleweed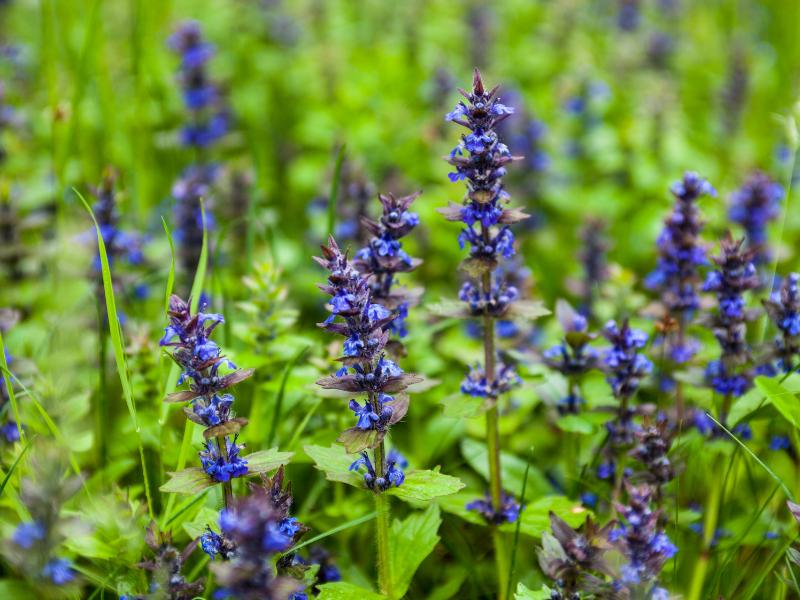 Botanical Name: Ajuga reptans
USDA Zone: 3-10
Bugleweed is another great representative of the Best Outdoor Plants That Grow Without Sunlight. It looks amazing as a plant filling large shady areas where no other plant can grow. You can often see it as part of a rock garden or planted around trees and shrubs that make shade.
The plant needs plenty of water until it establishes. Once it is established, it can tolerate drought but make sure that you water it generously once a week.
It features shiny green leaves with flower spikes in purple, blue or violet.
18. Creeping Jenny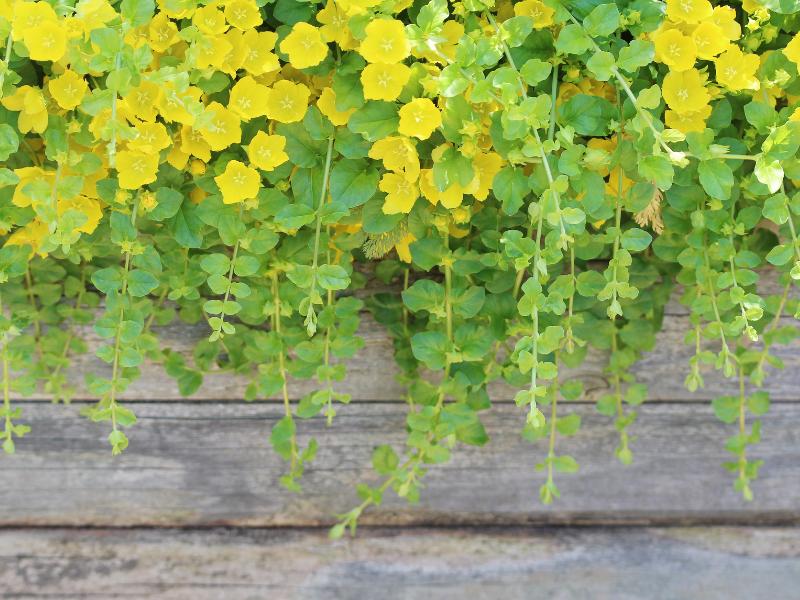 Botanical Name: Lysimachia nummularia
USDA Zone: 4-10
Creeping Jenny is an invasive perennial which likes sun to partial shade conditions. Depending on the amount of sun it gets, its foliage differs. Some people prefer to control the Creeping Jenny by planting it in containers rather than in the ground.
It is a great ornamental creeper that offers coin-shaped leaves and brightly colored flowers.
19. Pachysandra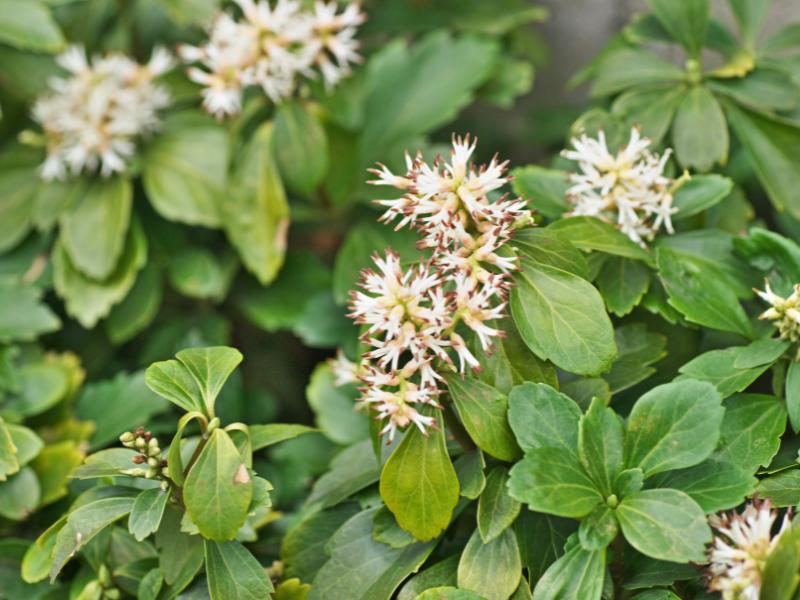 Botanical Name: Pachysandra terminalis
USDA Zone: 4-8
Pachysandra is one of the toughest plants ever, that's why it is a common part of the landscape. This groundcover prefers partial shade to no light at all.
Soil should be well-drained and moist. Water the Pachysandra well until it establishes. After that, it can tolerate any challenging conditions.
20. Wild Geranium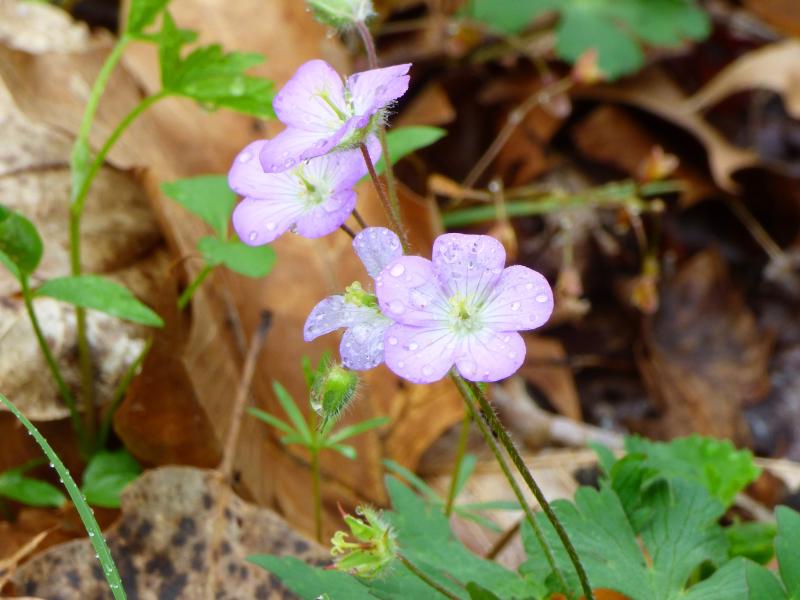 Botanical Name: Geranium maculatum
USDA Zone: 3-8
Another inspiring representative in our collection of outdoor plants that grow without light is Wild Geranium. It requires little care and thrives in places with low to no sunlight.
Clean the dead heads of the plant as you would do with the cultivated geranium. Ensure that the soil is nutrient and watering is often.
21. Tractor Seat Plant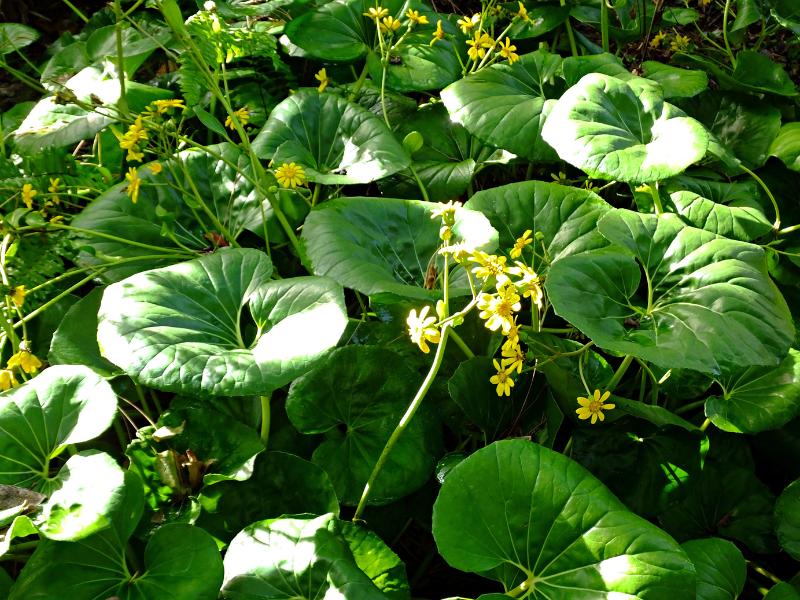 Botanical Zone: Farfugium japonicum
USDA Zone: 2-11
This is a tropical plant with showy foliage that will make a great ornamental touch to your landscape. Tractor Seat plant thrives in partial shade, humus-rich soil and constant moisture.
The Tractor Seat plant features round glossy green leaves and bright yellow flowers that bloom in autumn.
22. Meadow Rue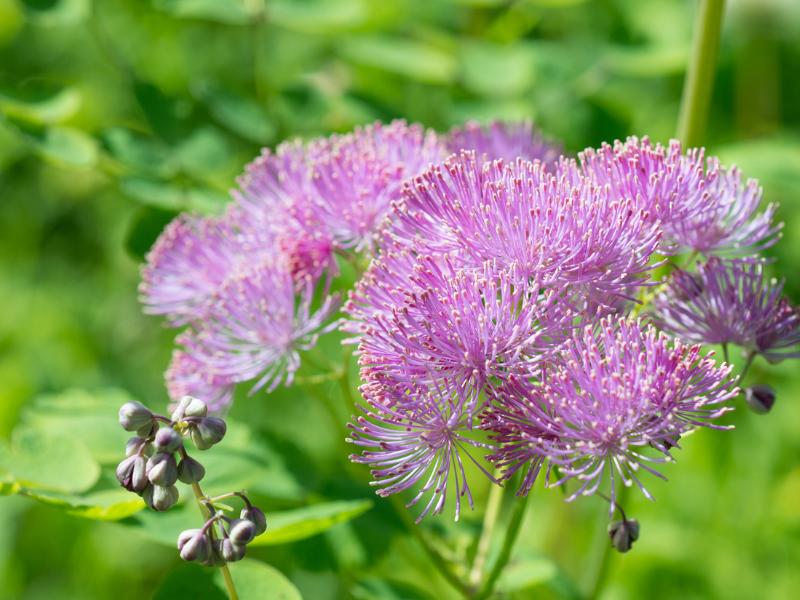 Botanical Name: Thalictrum
USDA Zone: 3-8
Meadow Rue is one of the best outdoor plants that grow without sunlight. It prefers partial shade, rich and moisture-retentive soil and often watering.
It is a plant variety that grows pretty slowly for a wildflower. It needs almost three years to mature into a flowering plant.
23. Virginia Bluebells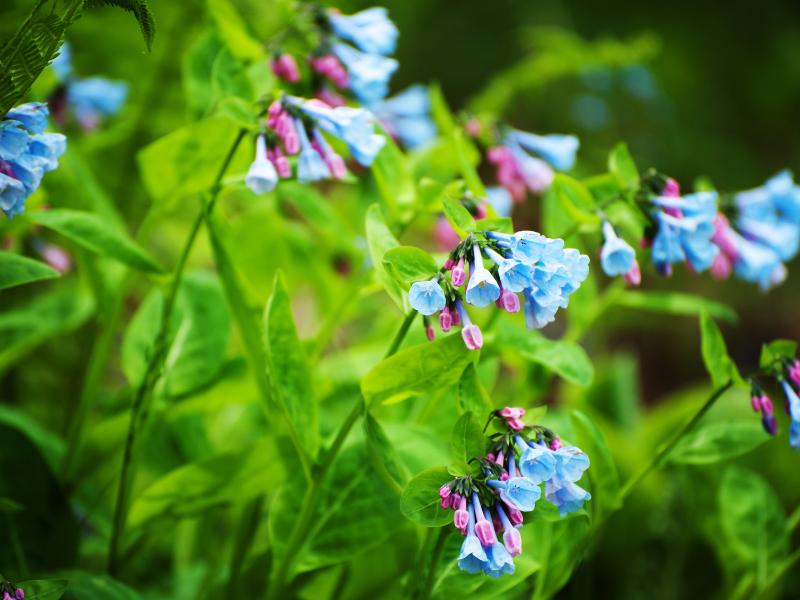 Botanical Name: Mertensia virginica
USDA Zone: 3-8
Finding plants that grow without sunlight may seem challenging for you but as you can see so far, there are plenty of varieties that prefer shade conditions. Virginia Bluebells is one of them. It features bell-shaped flowers on the top of tall stems colored in shades of blue and pink.
This plant loves partial to full shade and frequent watering.
24. Columbine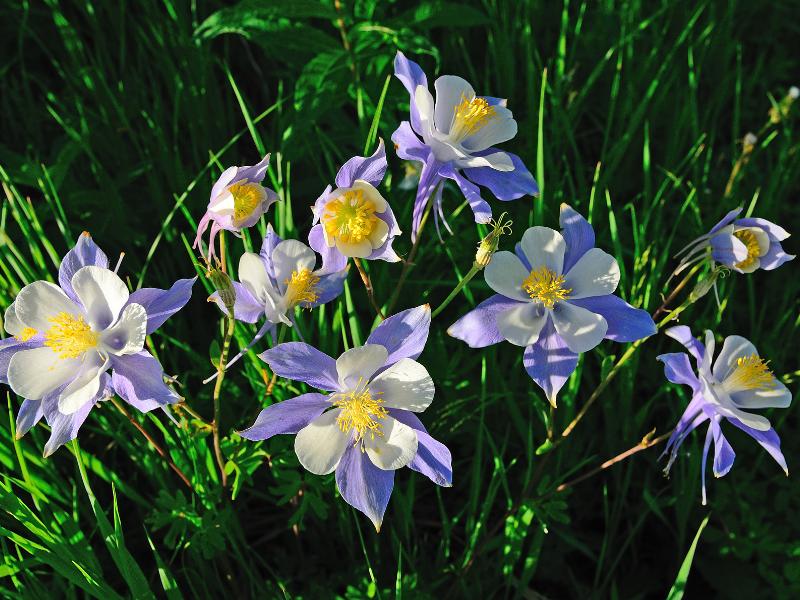 Botanical Name: Aquilegia
USDA Zone: 3-8
Columbines are perennials usually used in rock gardens, woodland gardens or cottage gardens because of their attractive clover-like leaves.
They do not tolerate full sun well so they are perfect for a garden beneath an old tree. They bloom with long and narrow flowers in the middle of spring.
25. Bloodroot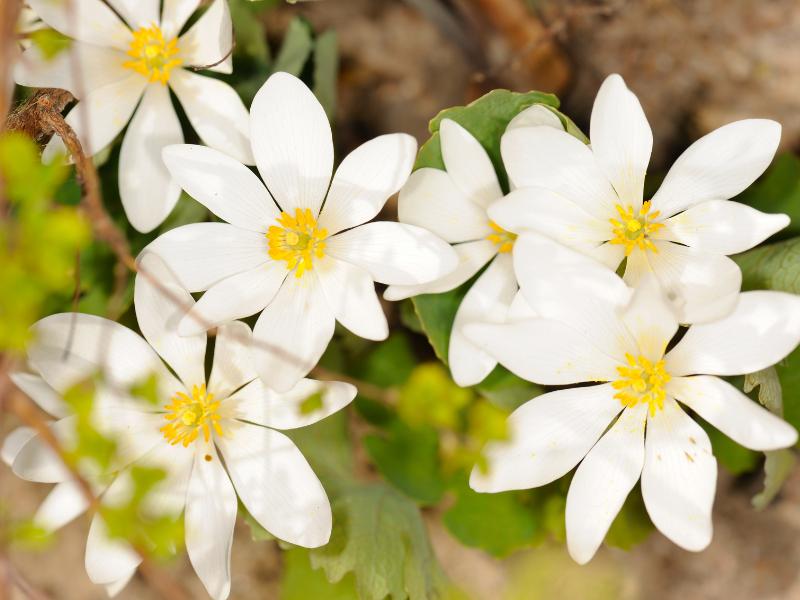 Botanical Name: Sanguinaria canadensis
USDA Zone: 3-8
Bloodroot is one of the best outdoor plants that grow without sunlight but be careful, they are poisonous to humans and animals! It creates leaves with intriguing shapes and colors and beautiful white flowers which last for short.
The Bloodroot flower is usually part of a woodland garden or a garden beneath a tree where the shade of the leafed-out tree will protect it.
26. Woodland Phlox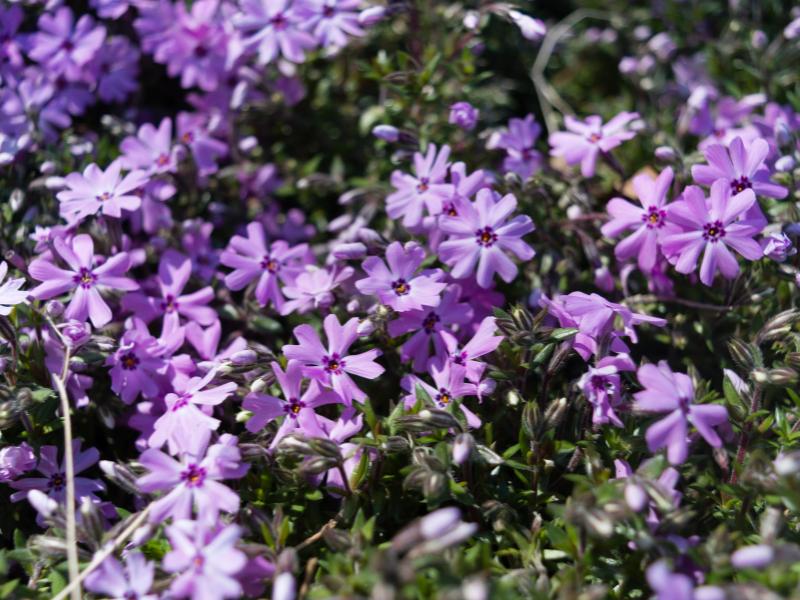 Botanical Name: Phlox divaricata
USDA Zone: 3-8
As the name suggests Woodland Phlox grows in woodsy conditions- partial shade to no light, moist and well-draining soil.
This perennial is usually preferred for ground cover or edging plant adding an authentic natural touch to the landscape with its lance-shaped leaves and fragrant blue flowers.
27. Wild Bleeding Heart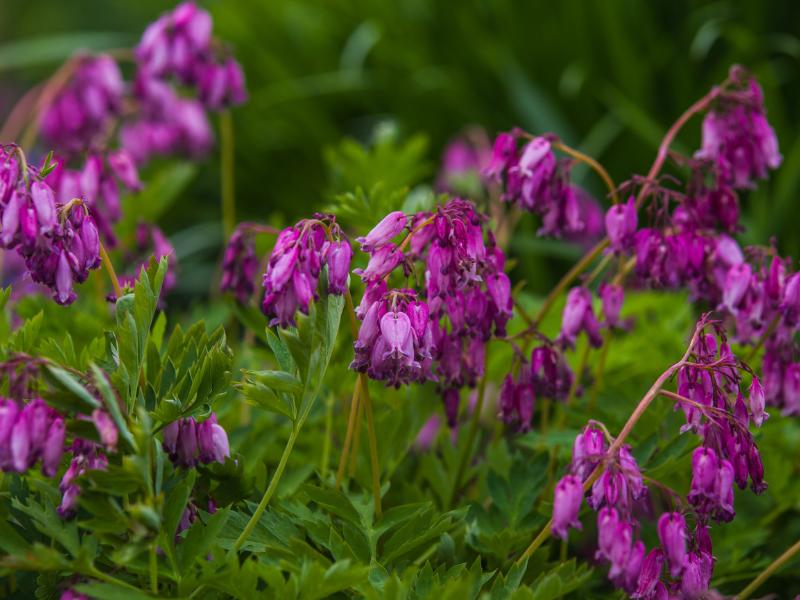 Botanical Name: Dicentra eximia
USDA Zone: 3-9
The purple heart-shaped flowers of Bleeding Heart require a location protected from wind and direct sunlight. In fact, the plant does best in partial to full shade. Keep the soil moist and well-drained to enjoy the delicate beauty of the Wild Bleeding Heart plant.
28. Shooting Stars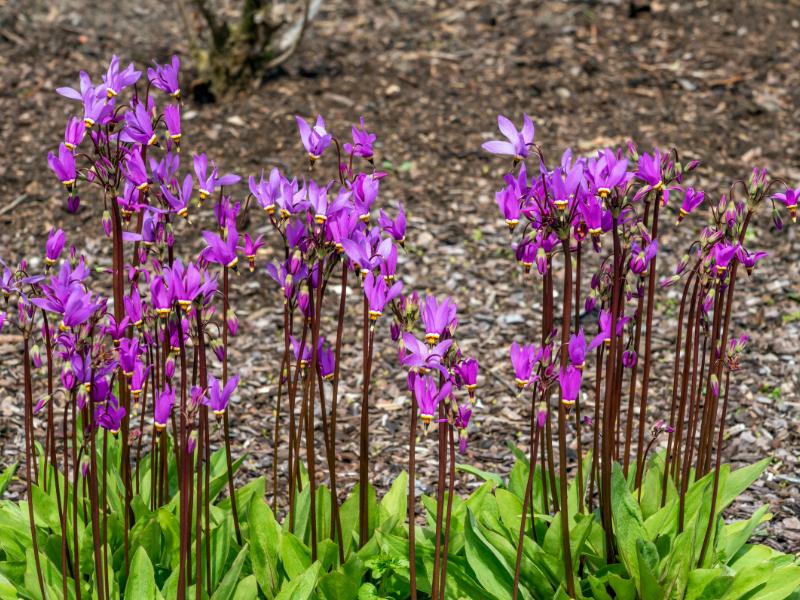 Botanical Name: Dodecatheon
USDA Zone: 4-8
Another interesting representative of the best outdoor plants that grow without sunlight is the Shooting Stars. It can tolerate the sun in cooler regions but if it is planted in a warmer one, better locate it under a tree that provides shade.
29. Trillium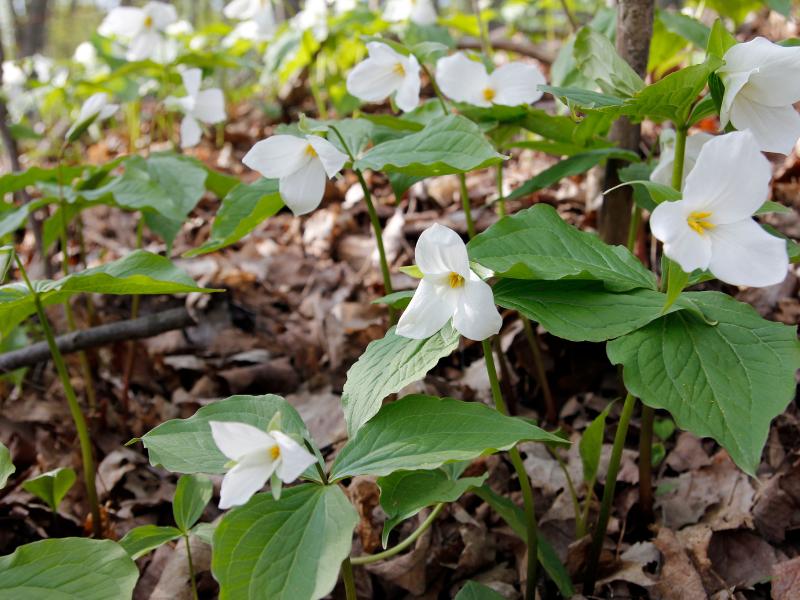 Botanical Name: Trillium
USDA Zone: 4-9
Trilliums got their name from the arrangement of their main parts always in threes- three leaves and three petals.
The plant is native to the forest so make sure to recreate the same conditions for your Trilliums- shade, moist and good drainage.
30. Iris Cristata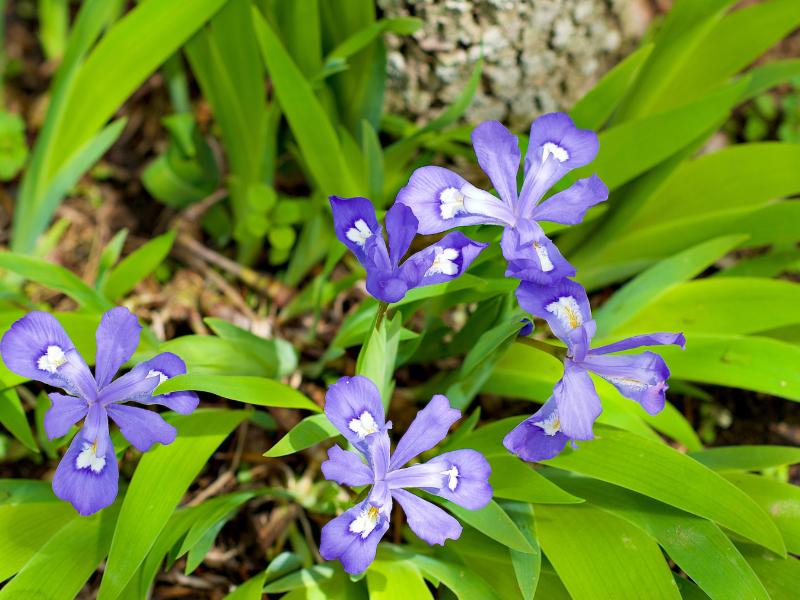 Botanical Name: Iris cristata
USDA Zone: 4-9
The Iris Cristata tolerates partial to full shade and is one of the most attractive outdoor plants that grow without sunlight.
Gardeners put this perennial in shaded rock gardens, woodland gardens and edging gardens where the blue-colored flowers and sword-shaped leaves stand out.
31. Fuchsia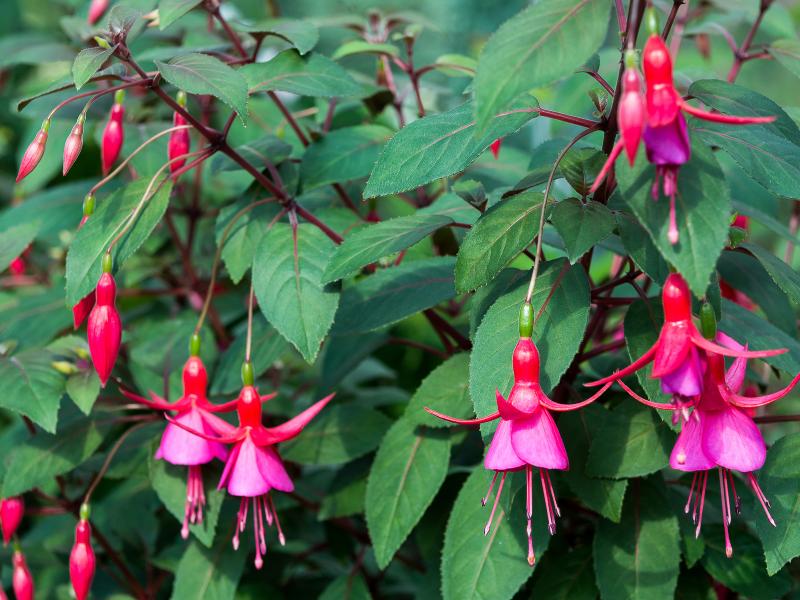 Botanical Name: Fuchsia
USDA Zone: 6-11
The Fuchsia plant needs good hydration and keeping it in shade will help with this care requirement. Fuchsia is a popular plant which is usually preferred for planting into hanging baskets because of the cascading look ofthe foliage ad the flowers.
32. Wax Begonia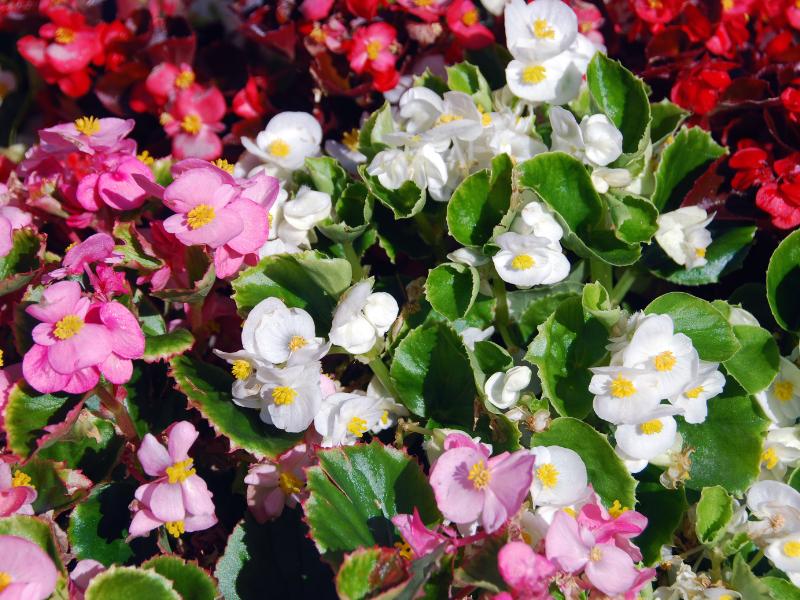 Botanical Name: Begonia semperflorens
USDA Zone: 9-11
This versatile plant is one of our favorites in the collection of best outdoor plants that grow without sunlight. You can grow it in a container, as a garden perennial in warmer climates and an annual in colder.
The Wax Begonia needs shade in the warmer regions which will keep the moist in the soil. Aim to water it at least once a week.
33. Pansy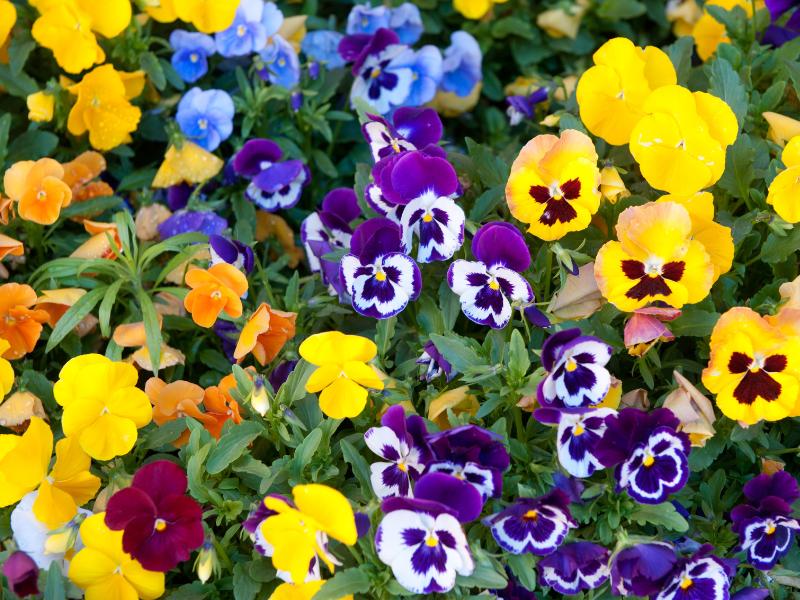 Botanical Name: Viola
USDA Zone: 2-10
The Pansies are an obligatory part of the garden! Those cute colorful blooms light the garden up in early spring and late fall.
Violas are also known to tolerate partial to full shade which toughens them and prolongs the blooming phase.
34. Impatiens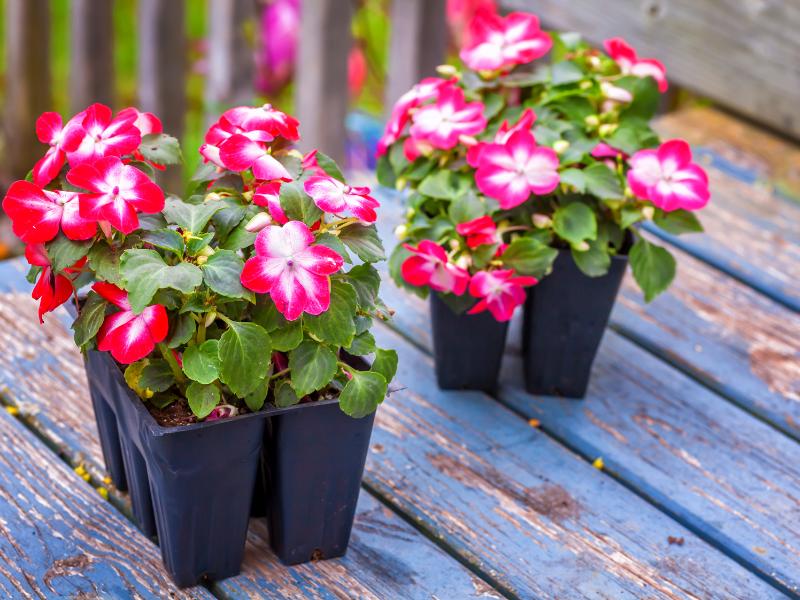 Botanical Name: Impatiens
USDA Zone: 10-11
The Impatiens need moisture and keeping it under shade will keep it hydrated. These plants are perennials, but people use them as annuals in containers, hanging baskets and window boxes.
The Impatiens is one of the flower varieties with a wide range of colors of blooms.
35. Torenia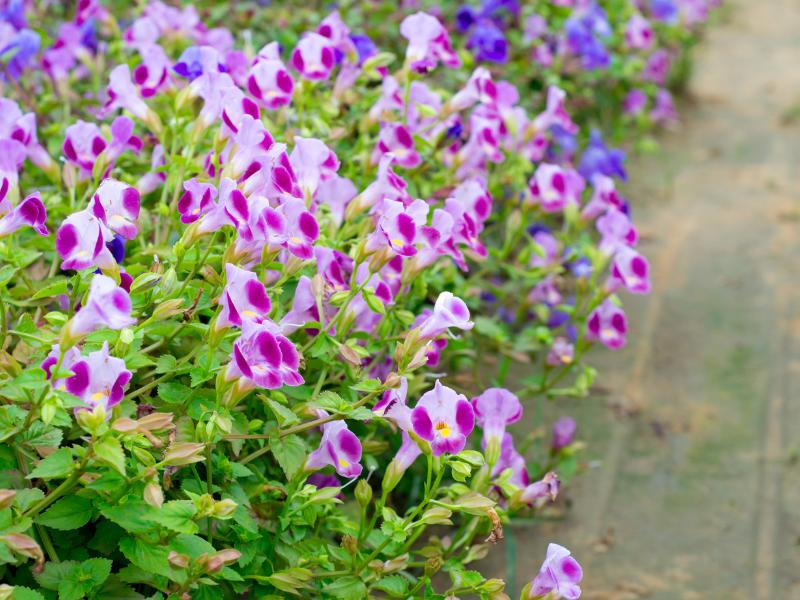 Botanical Name: Torenia
USDA Zone: 3-11
These shade-loving plants can be grown indoors and outdoors. The key to its thriving is growing it in partial or full shade, consistently watering and well-drained soil. And if you think that the lack of sun will be an obstacle for the delicate blue blooms to appear, the most shaded area will make the plant bloom profusely.