Having a small backyard or backyard already utilized functionally? This can't stop you from implementing your dream to have a garden, even a small one.
With this collection of Small Garden Ideas In Your Backyard you will be able to make a small natural paradise somewhere in the backyard.
1. Rock Garden With Pots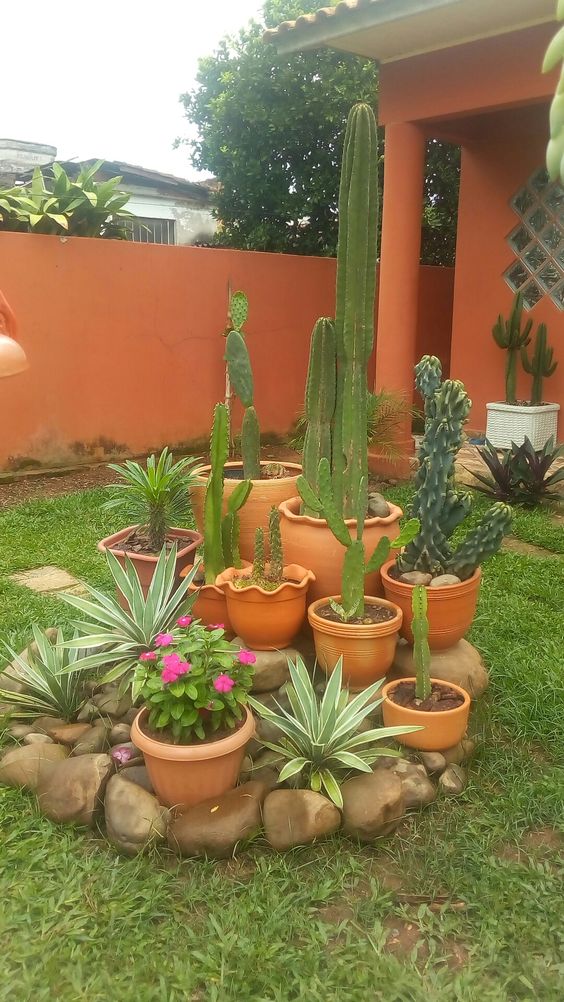 This garden is an alternative to the rock garden but with potted plants. The base is rocks of different sizes which form a round shape.
This idea is very easy to make and also very clever because you can easily rearrange or even change the plants according to the season. Pots give you more flexibility in changing the place and stacking them. This idea is also very budget-friendly and easy to maintain.
2. Small Garden With Spilled Flower Pot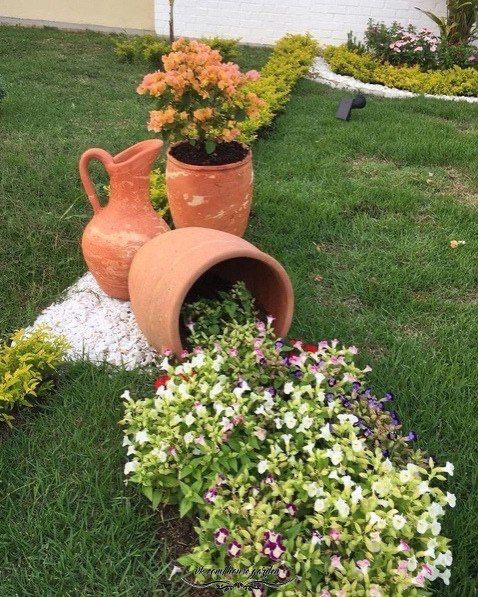 Having a pond is a great outdoor extra. Creating it from flowers is just amazing. For this idea, you can use broken pots because the cracks won't be visible.

Varieties that are good for this application are petunias, sweet alyssum, creeping snapdragon, million bells, and creeping zinnia. Spiller plants flow out of the tilted pot and create a more finished and professional look to the tiny garden.
3. Round Small Garden With Flower Pots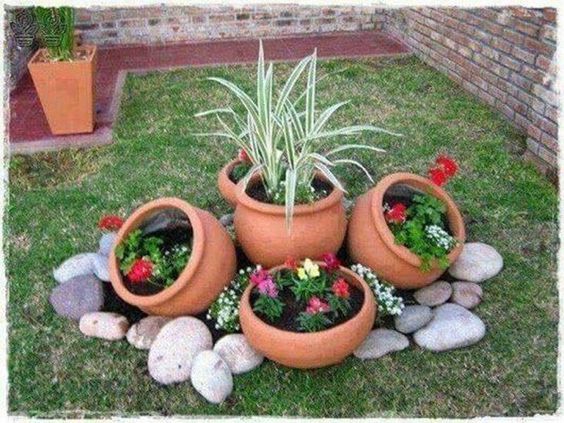 You need only 5 terra cotta pots to create this tiny but attractive garden. You can arrange the pots tilted at an angle or leave them standing upright.

Use river rocks to edge the garden from the rest of the backyard.
4. A Small Rock Island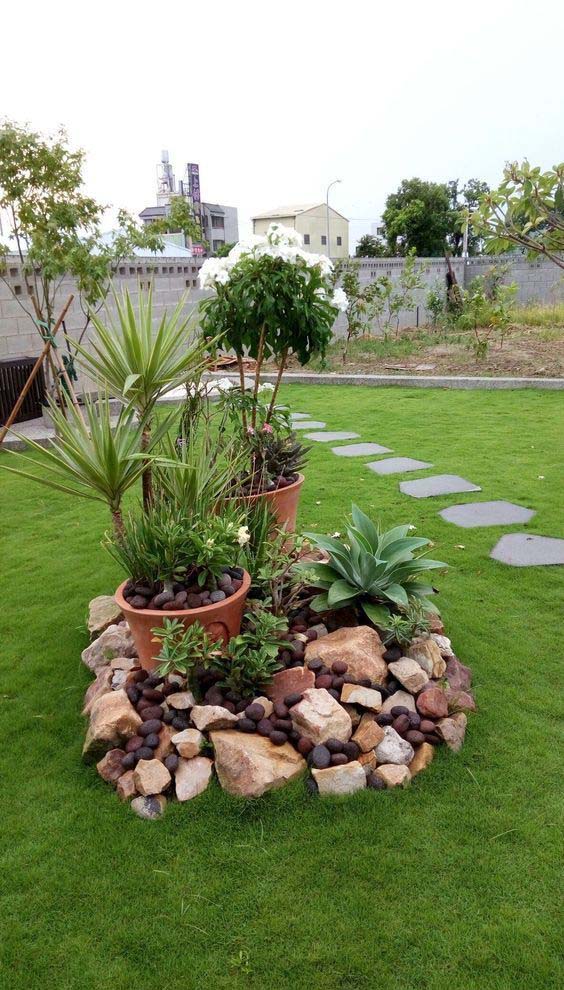 This garden looks like a rock oasis in the middle of a perfectly maintained lawn. It is given dimension in height by stacking stones and filling the gaps between them with river rocks.
The greenery featured here is a mix of succulents planted in the soil and exotic plants in flower pots. The difference in height and the good arrangement give this small rock garden a finished overall look
5. Small Garden With a Focal Point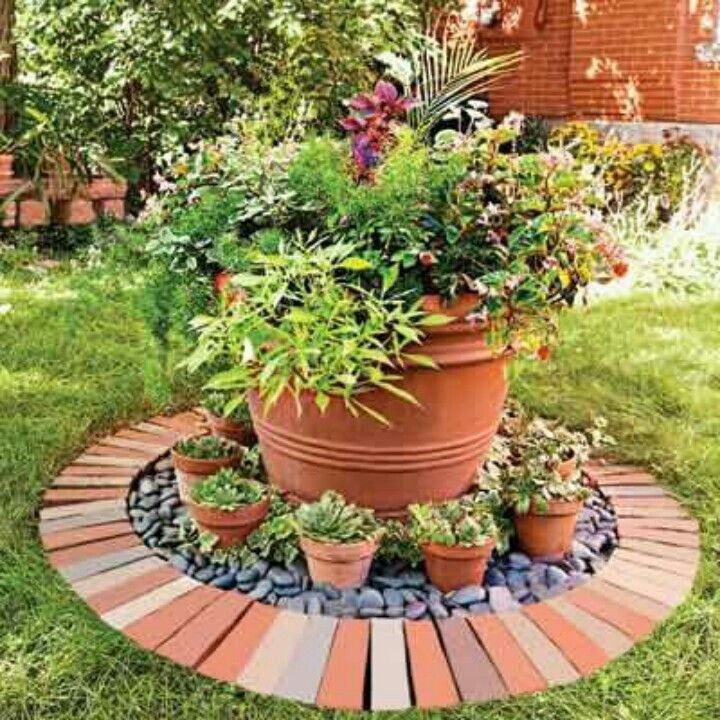 This is another very creative idea for a round small garden. Here, the focal point is a large terra cotta pot that holds a wide variety of flower kinds. They create a whimsy small garden alternating in height, texture and color.
The garden is defined with edging made from brick pavers. The soil is covered with river rocks which in addition to the decorative effect also stops the weeds. Tiny terra cotta pots with succulents surround the centerpiece to enhance the natural look of the small garden.
6. Pea Gravel And River Rocks Garden With Exotic Plants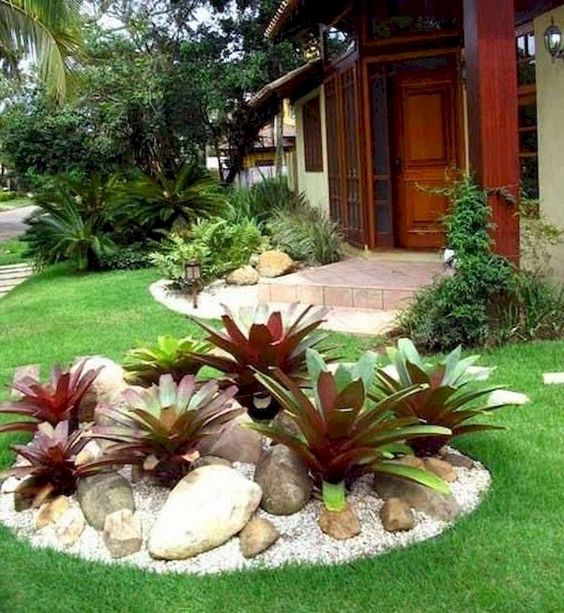 Depending on the size of the small garden, you can combine pea gravel with bigger stones as a cover over the soil. Together they will create a beautiful natural base for the chosen plants.
Since the gravel ensures good drainage, succulents and exotic plants like palms and bromelias are suitable to complete the rock garden.
7. Rectangular Small Garden Around A Tree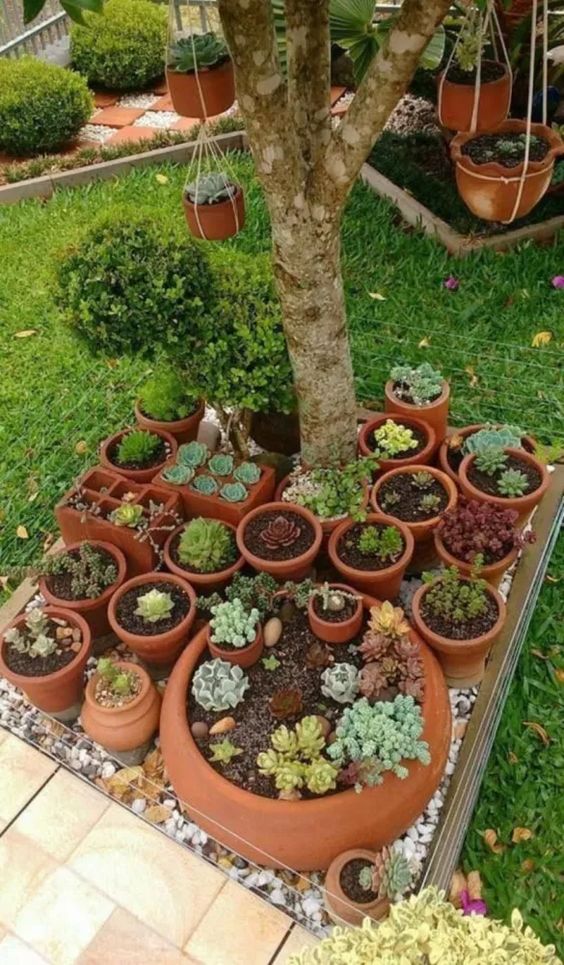 To recreate this idea, you will need pots of different sizes and shapes- from tiny to large and round and rectangular. These ranges will help you achieve the perfect rectangle shape of the garden around a tree.
The plant varieties should be carefully chosen taking into account the shady conditions under the tree crown.
8. Small Garden Edged With Clay Roof Tiles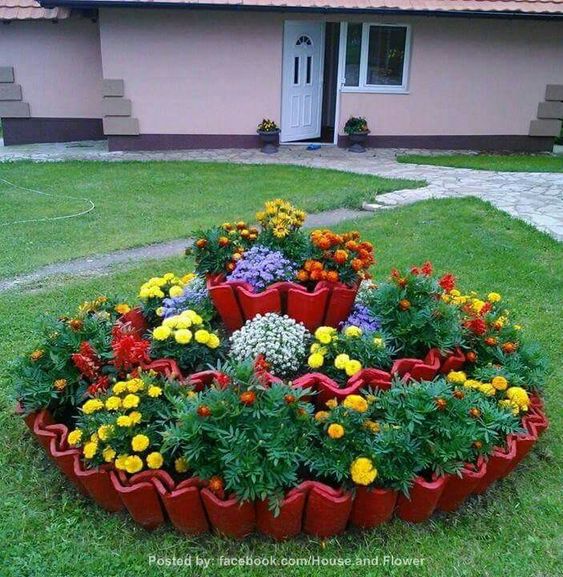 Another great and inexpensive material you can use to outline your small garden is clay roof tile. Insert them in the ground at an angle to shape the circle.
Here, the idea inspires by its tiered pattern. Each level is nicely differentiated with roof tiles. Then the flowers are planted, and the garden will look like a garden art piece.
9. Corner Small Garden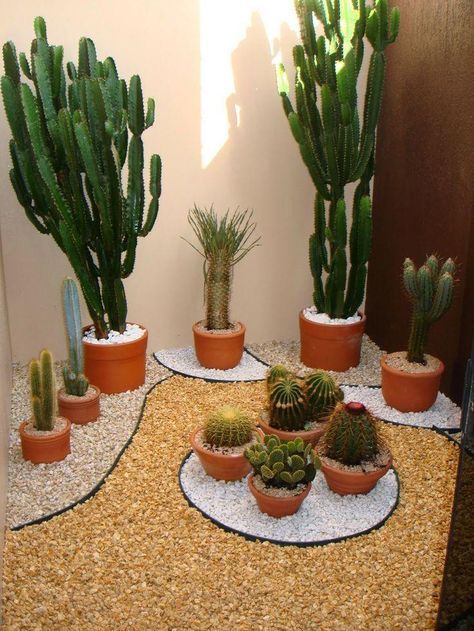 This garden has been created in the corner of a small and narrow yard where there is no soil left. To give the covered area a natural look, a layer of small pebbles (or gravel) is spread on the concrete ground.

Then cacti in flower pots are added to the prepared garden base. This idea can be recreated with other plants minding the sun access.
10. Decorative Small Garden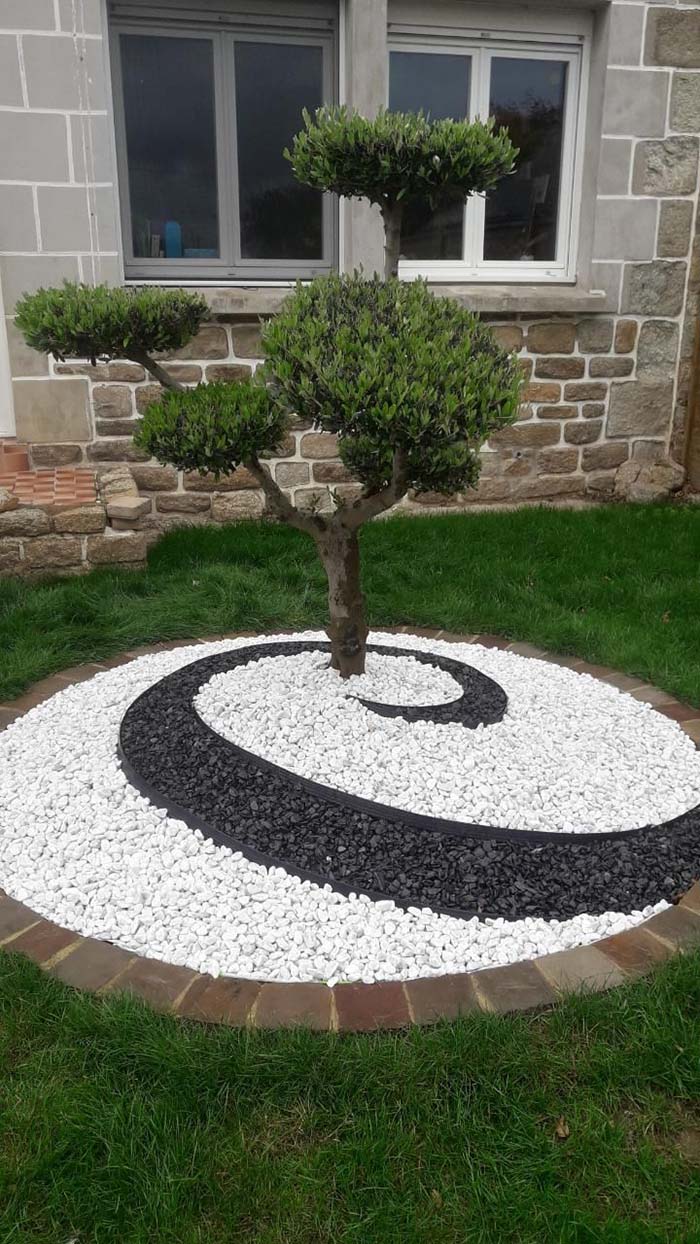 This small garden enchants us with its zen arrangement and Asian aesthetics. The artistic pattern of the base is created with lining which sets the shape of the gravel filling.
An edging from stone pavers is added to give the garden a finished stylish look. The plant chosen to beautify this garden is potted and coordinates with the minimalist Asian landscape.