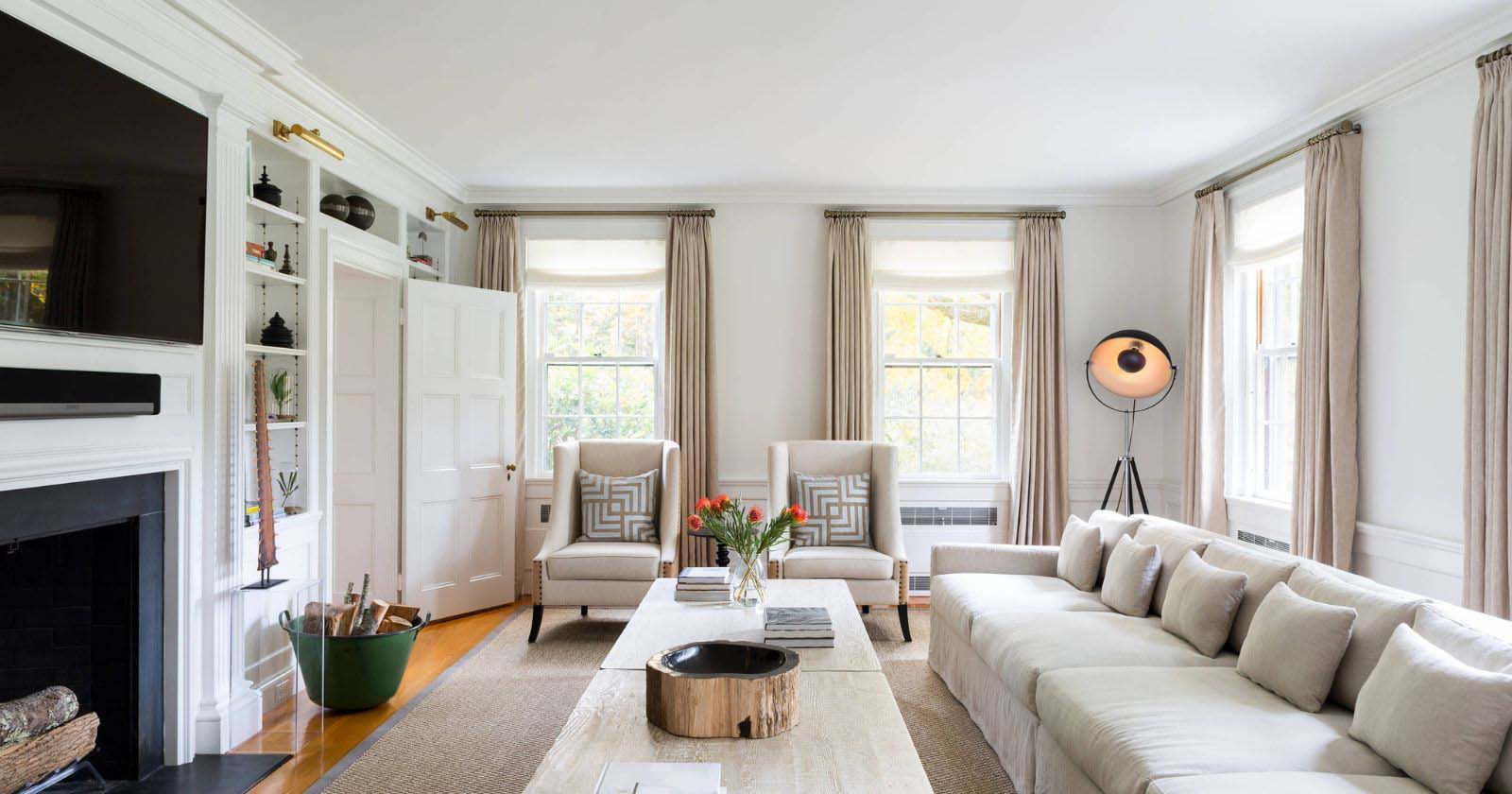 The world of interior design has shifted from the famously rich, glamorous approach to a more minimalist and straightforward outlook on design.
As such, numerous design trends involve white walls since they serve as the backdrop for any decorating style, from a stunning modern farmhouse to luxurious classical looks.
White walls also match almost every color, giving you unlimited options for designing your space. So if you've ever wondered what color curtains go with white walls, keep reading to find out.
What color goes best with white walls?
You can choose from a wide range of curtain colors for your white walls, including subtle colors like yellow or gray and darker shades like brown, red, or orange.
Which curtains are best for white living room?
The best curtains for a white living room will complement the room's overall color scheme and style. Some popular choices include:
White curtains with a subtle pattern or print
Light-colored curtains made from sheer or semi-sheer fabric
Bolder curtains in a contrasting color or pattern
We've handpicked the 22 best curtain colors to embellish your white walls. Let's have a look.
1. Patterned Black and White Curtains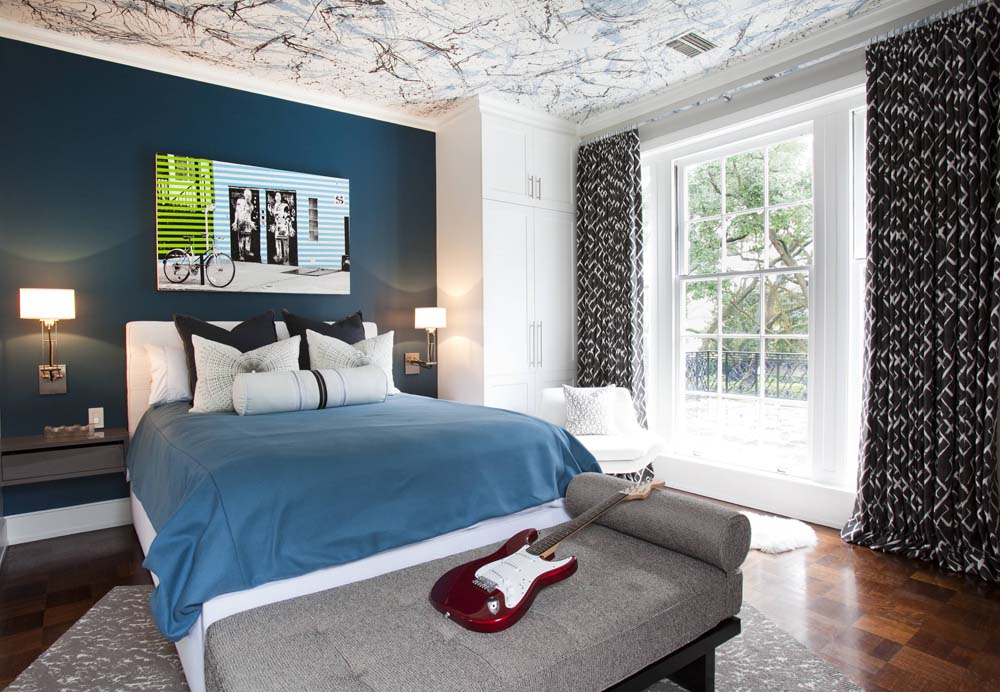 The black curtain in this design uses a white pattern to tone down its contrast. This enables the curtains to blend perfectly against the white walls.
The navy blue accent wall adds extra light to the bedroom and perfectly matches the blue bedsheet. The gray bench and wooden floors add a subtle vibe to the whole room.
2. White Curtains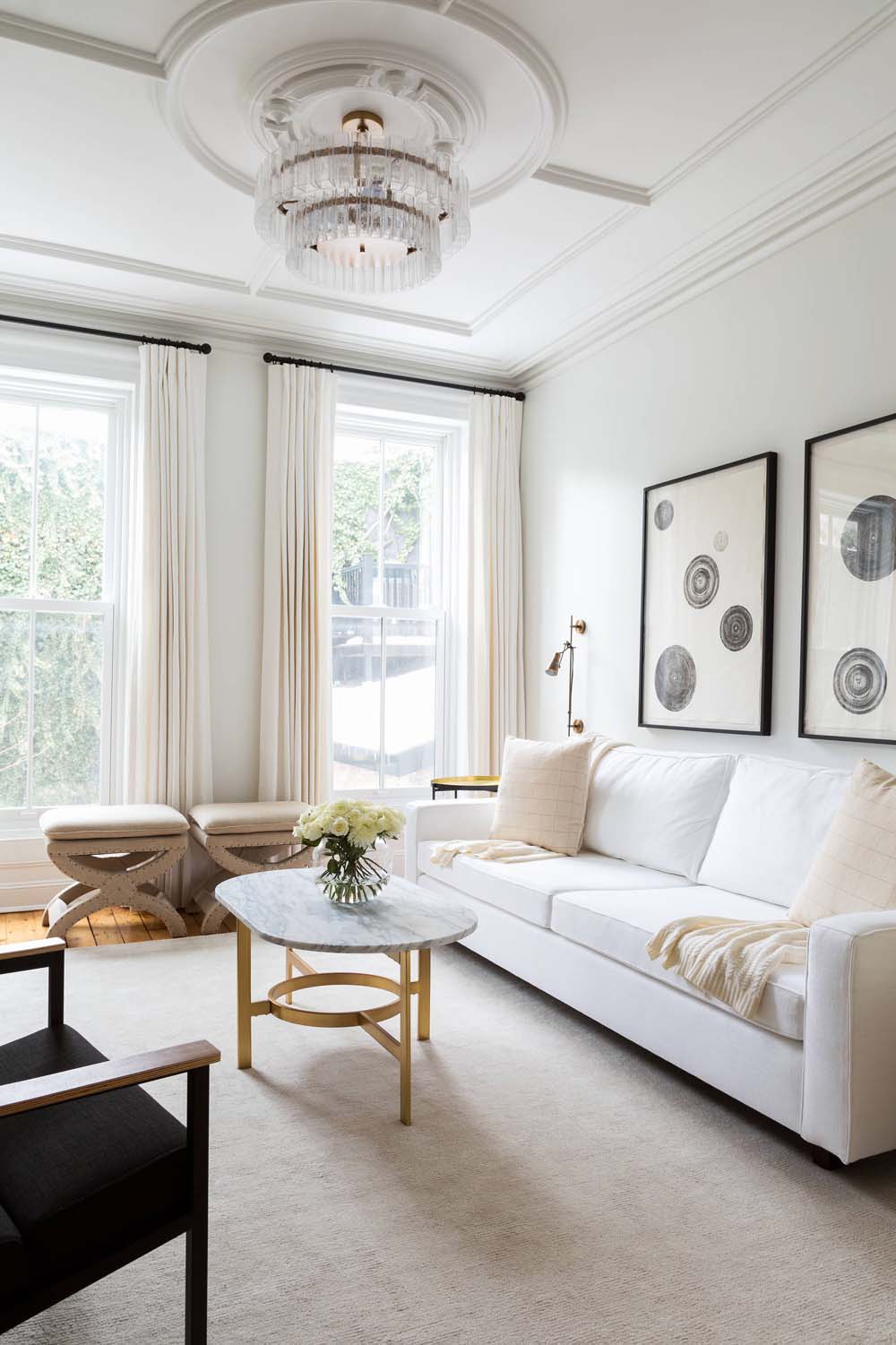 via Chango & Co.
Choosing white curtains for your white walls will create a bright and airy feeling in your room. White color curtains create a harmonious flow around the room, giving you a panoramic view.
The white color scheme in this design makes the room bright and luxurious, with the white hydrangea roses adding to the charm. Add some sheer curtains to create a soft glow in the room.
3. Beige Curtains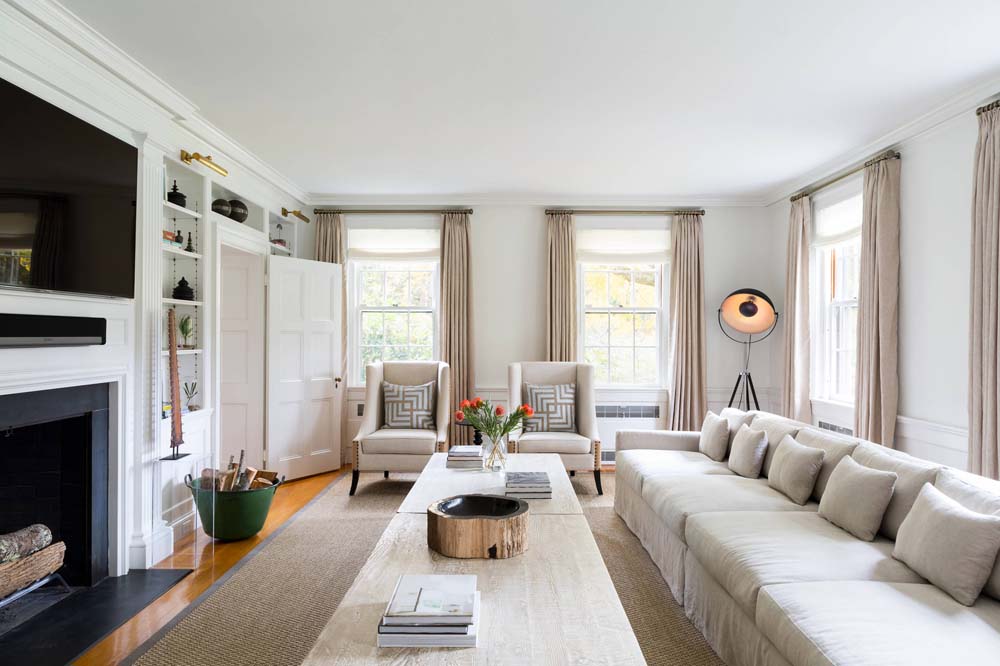 via Chango & Co.
Beige color curtains are a neutral, versatile option that can blend with any wall color. They are particularly best suited for places in need of brightness.
Beige curtains can add light without being too overwhelming, making everything around pop, as seen in this design. The curtains break up the color scheme, making everything more visible.
4. Silver Gray Curtains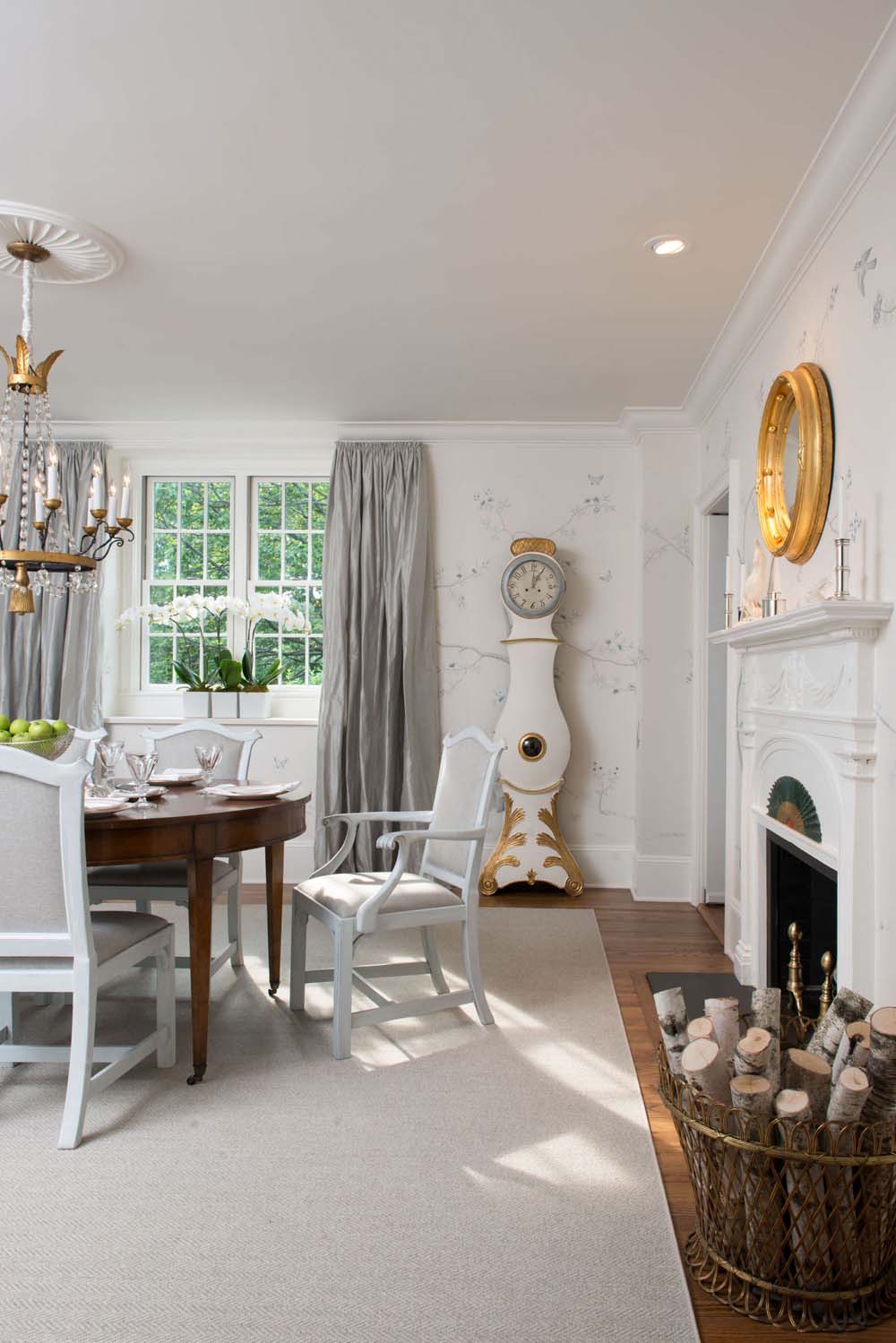 If you want a twist of elegance with your window curtains, these silver-gray curtains might be the perfect option.
These light gray curtains give the room a French country chic look, covering the white wall up to the crown molding. Their room-darkening abilities make them perfect for bedrooms and living rooms.
5. Patterned Cream Curtains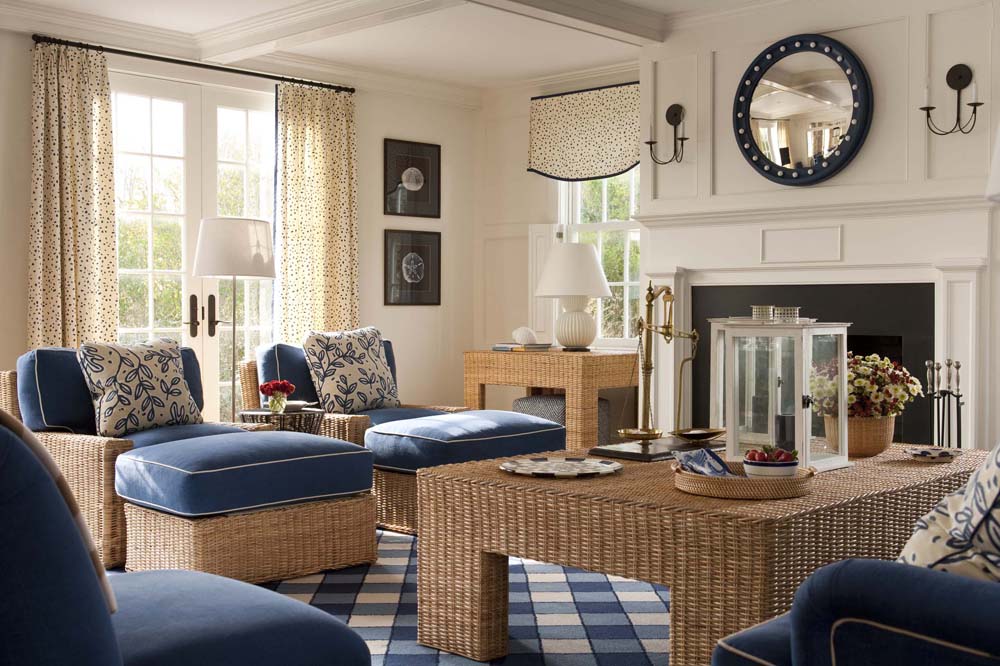 via Pinemar
Patterns are an excellent option if you prefer something more unique than solid-colored curtains. Patterned curtains come in many different styles and work with any paint color.
These cream-patterned curtains become the focal point as they lie on the slightly off-white walls. The woven furniture creates a natural vibe, while the black accents add contrast.
6. Floral Blue Curtains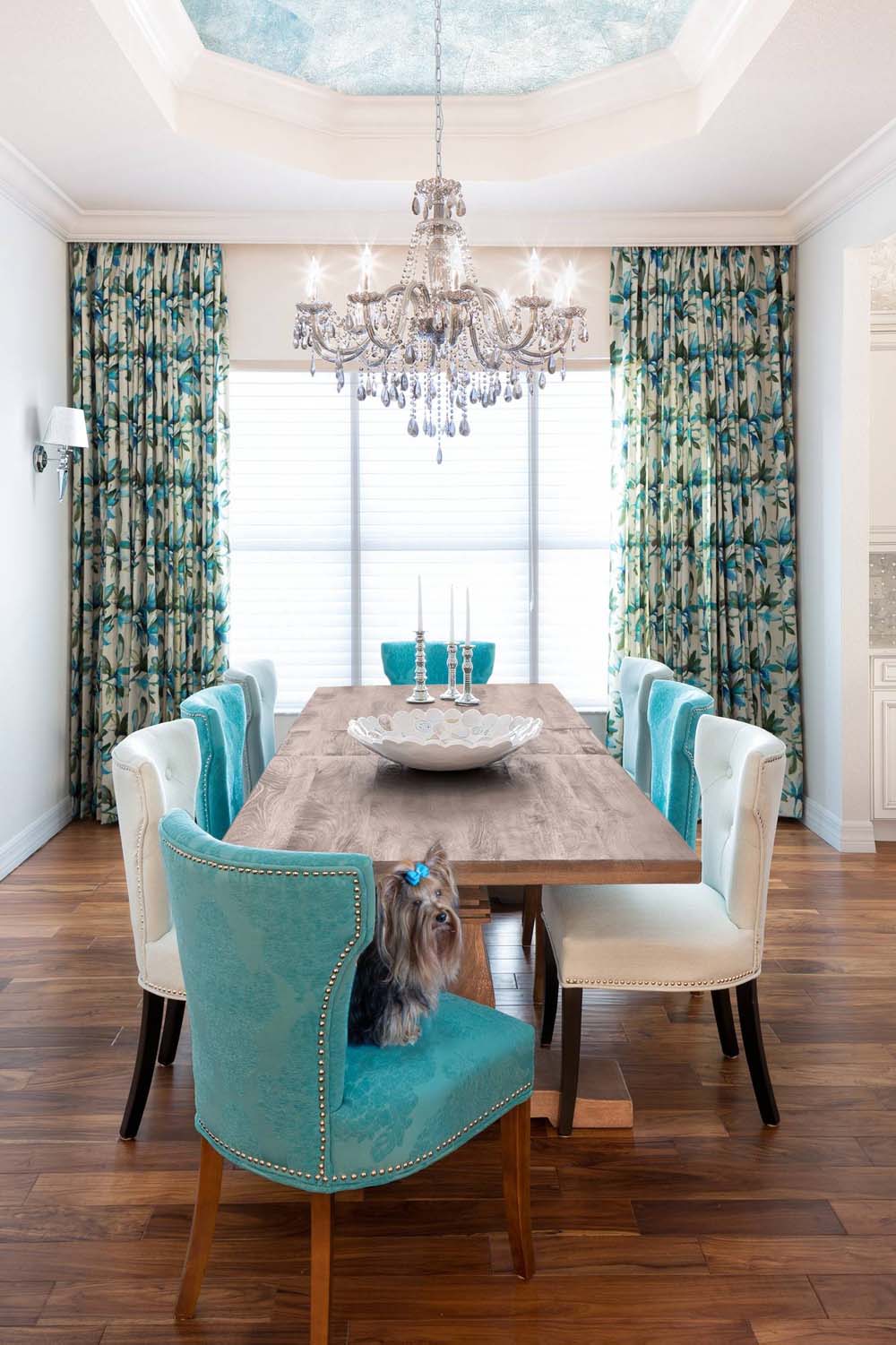 Floral curtains are an excellent option for adding color and personality to a room. They come in all different designs and colors, and you will surely find something that suits your taste.
The floral blue curtain in this design brightens up the dining room, making it more cheerful. The aqua and white seats complement each other well, creating a harmonious look. Even the dog helps out with its cute blue ribbon!
7. Dusty Pink Curtains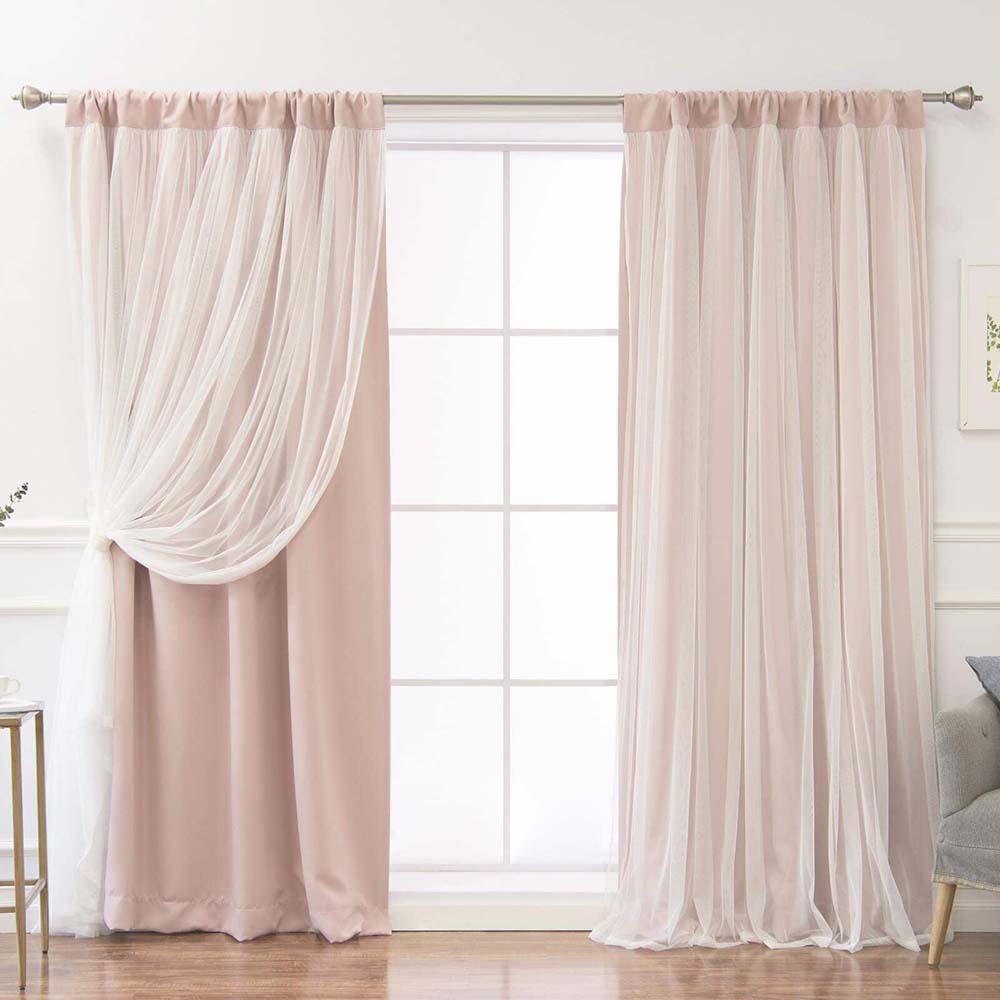 Dusty pink curtains with white walls are the perfect mix of elegance and function. The pink curtain is a thermal fabric layered with a filmy white tulle, creating a feminine feel.
These effortlessly stylish curtains keep the heat in when it's cold and provide total blackout, making them suitable for living rooms and bedrooms.
8. Green Curtains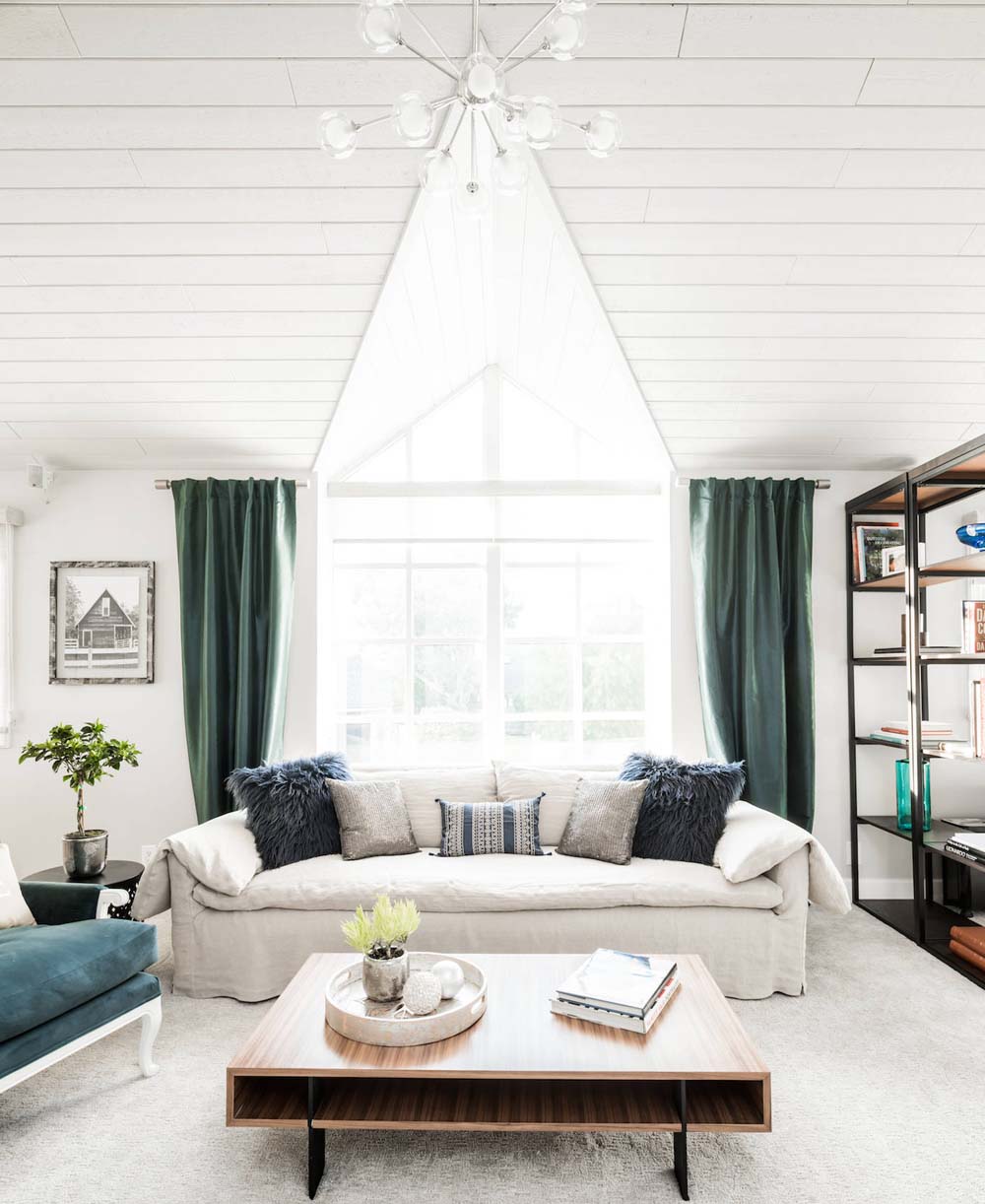 via D+Lena Design
Green is associated with feelings of cleanliness and pleasure in color physiology. Therefore, green curtains will help you create a fresh, energetic room.
These green curtains add color and life to this white living room. They serve as an excellent backdrop for the white couch, and the black accents add a little bit of contrast to the whole design.
9. Black Curtains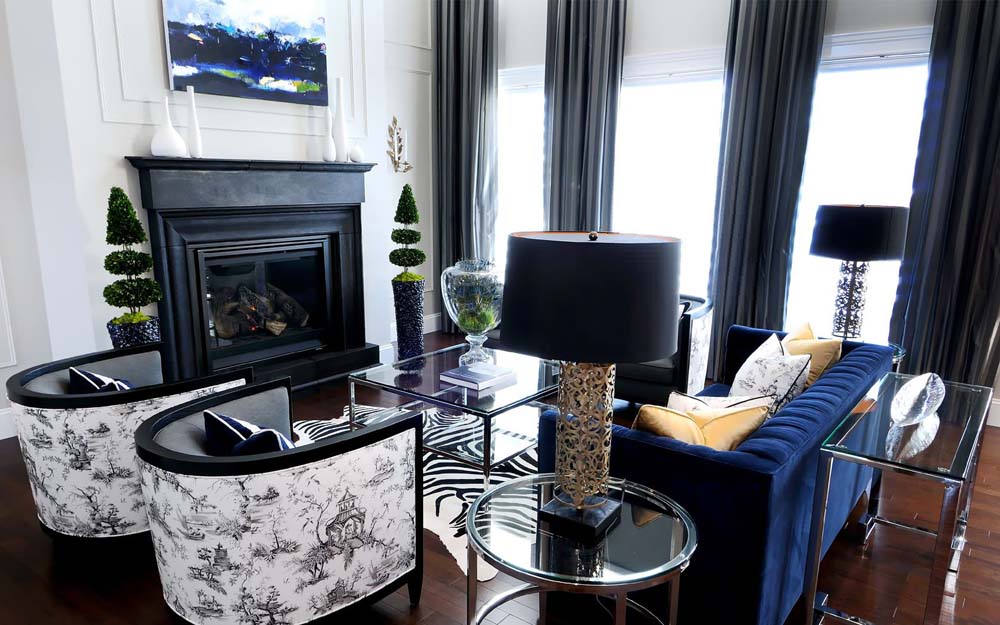 via Atmosphere Interior Design
A black curtain is an excellent way to add sophistication and drama to your white living room. These black curtains create a contrasting look, framing the window area majestically and standing out perfectly against the polished white walls.
The room's black fireplace mantel and other black accents complement the curtains, and the navy blue couch adds some color. The animal print rug brings a natural vibe to the room.
10. Gray and White Striped Curtains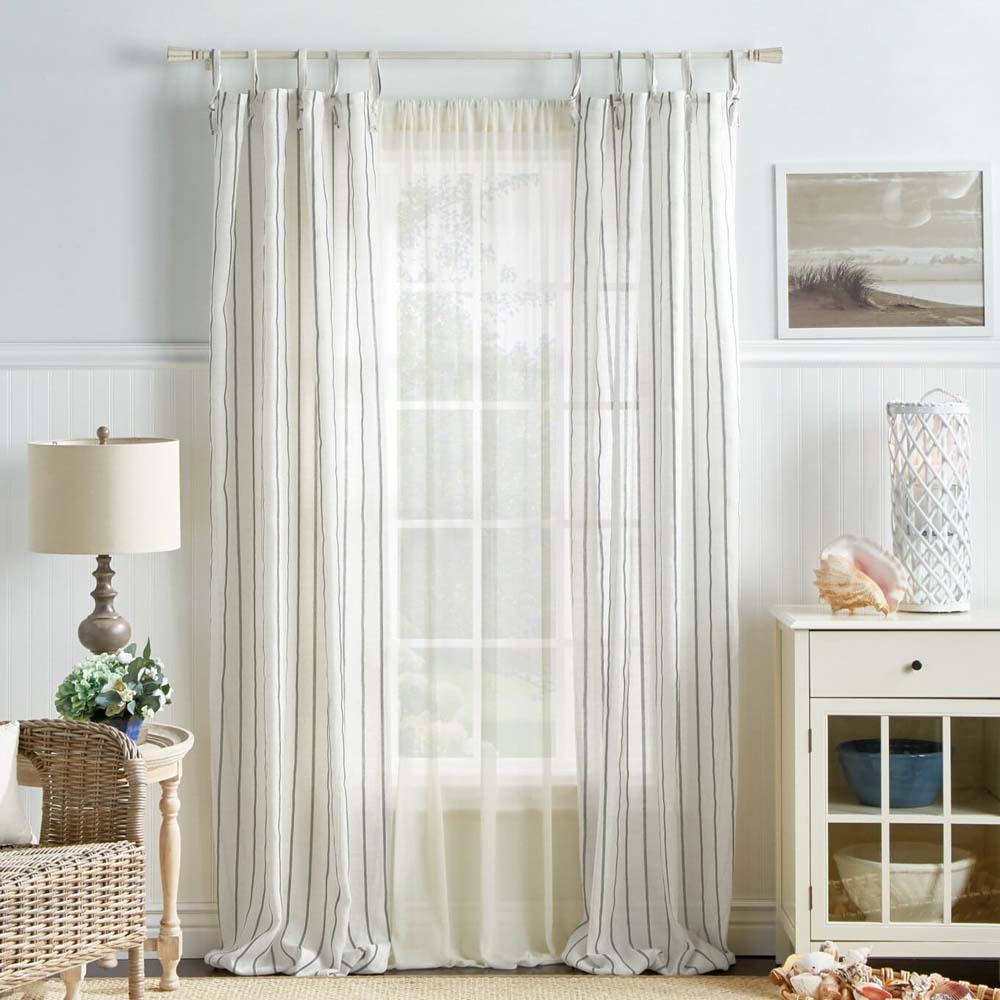 Incorporate these white curtains with dainty gray stripes against white walls for a touch of coastal charm. The fine-drawn stripes give the space a laid-back feel, drawing attention to the window area without being overpowering.
The semi-sheer curtain fabric filters light through while providing the required privacy. The curtains will be a delight to have in your living room.
11. Mauve Curtains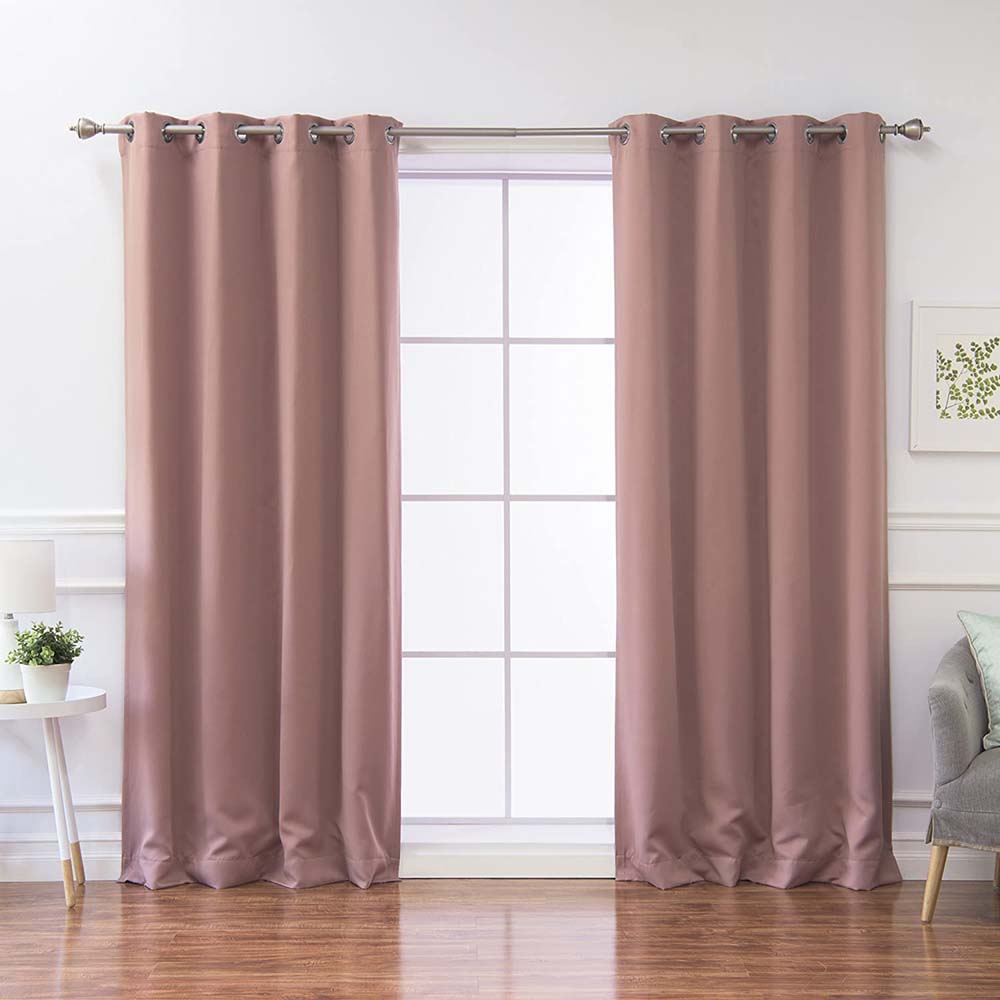 These gorgeous mauve polyester curtains will add a touch of luxury to any room you put them in. White and mauve create an elegant look, and the polyester curtain fabric reflects light creating amazing shadows in the material's folds.
They will match perfectly with other light pink or purple accents and warm your room.
12. Hydrangea Blue Velvet Curtains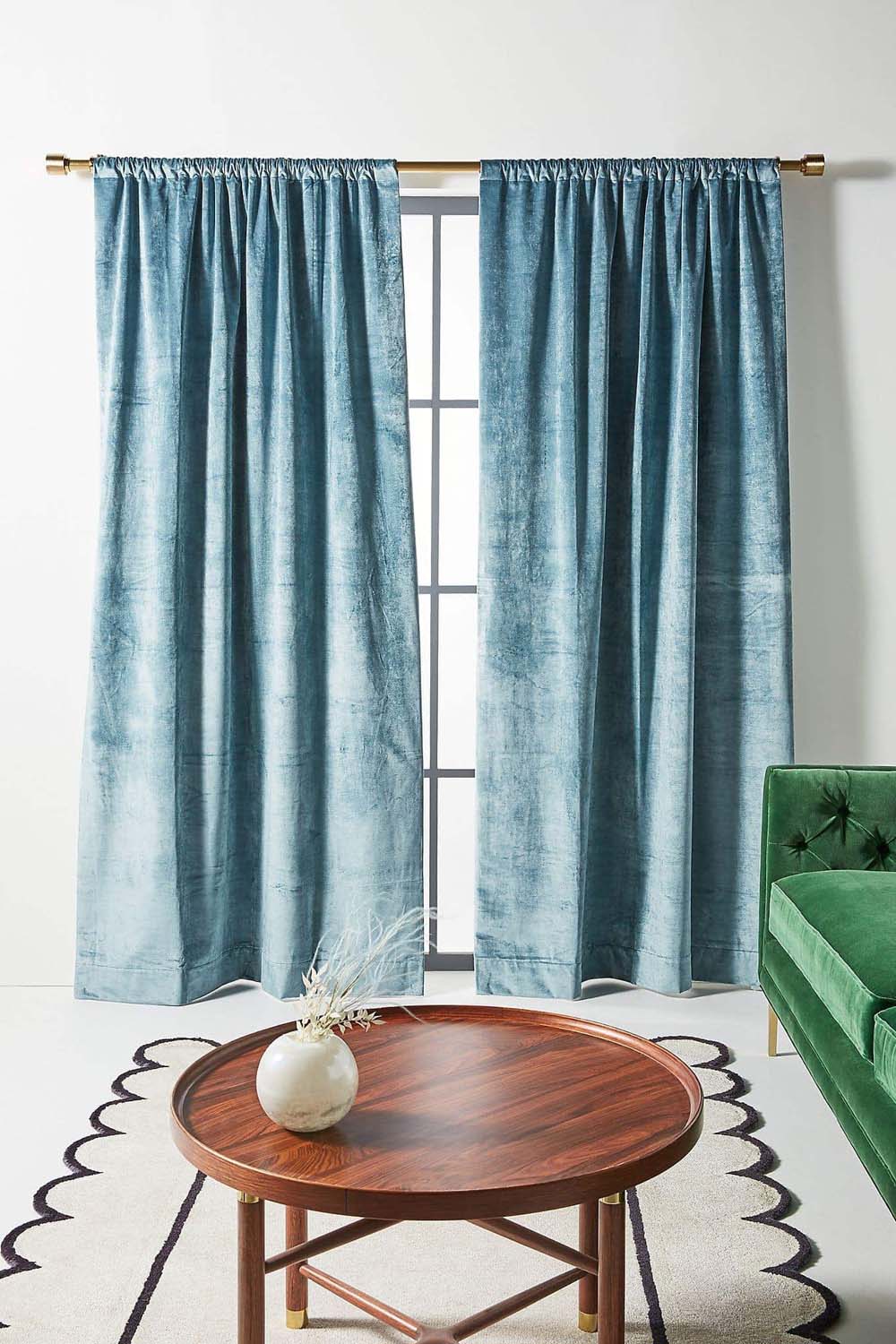 Related: Measuring Your Windows For Curtains: Standard Curtain Sizes
via Antthropologie
The light blue velvet curtains in this design are a sight to behold. They can shine and stand out as a feature in the room due to the clean white walls, and the matte velvet curtain fabric adds a touch of finesse.
Using complementary colors such as brown or green for your furniture will bring a contemporary vibe to your space.
13. Bright Pink Floral Curtains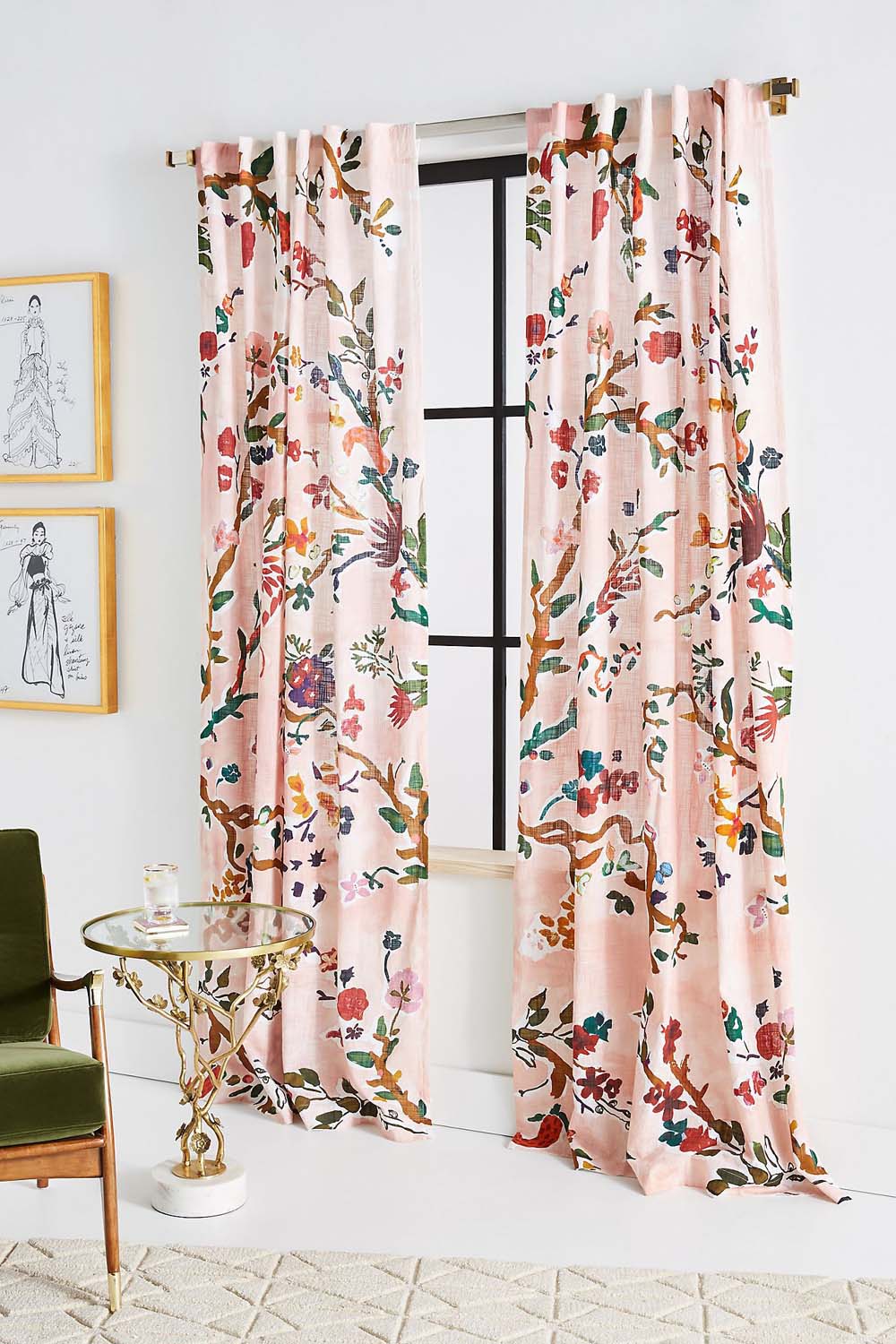 via Antthropologie
Bring nature inside with these beautiful floral curtains. The flowers and birds against the blossom pink background transform these curtains into spring-inspired masterpieces.
The warm, bright colors blend perfectly with the white walls, while the floral design gives the curtains a feminine touch. Place some gold accents near them to add depth and beauty to your room.
14. Floral Beige Cream Curtains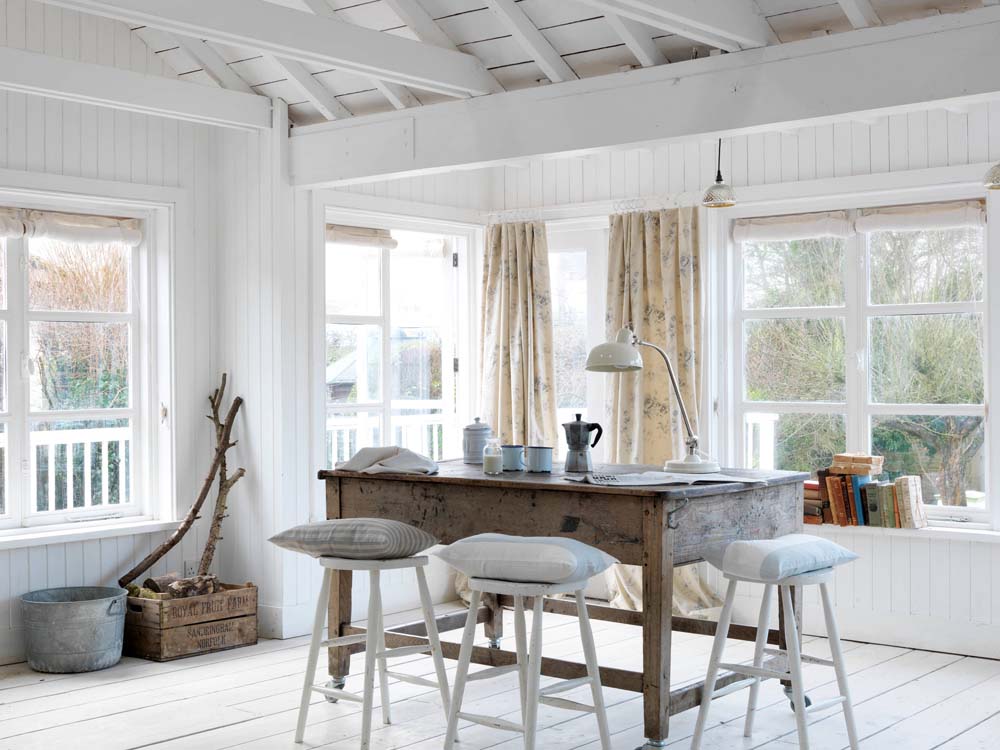 via Cabbages & Roses
These beige cream curtains against white walls evoke an intense, earthy look that quickly turns any monotonous and boring spaces to become more inviting and welcoming.
The farmhouse furniture and accents add character and depth to the space and make the room feel more natural.
15. Patterned Light Blue and White Curtains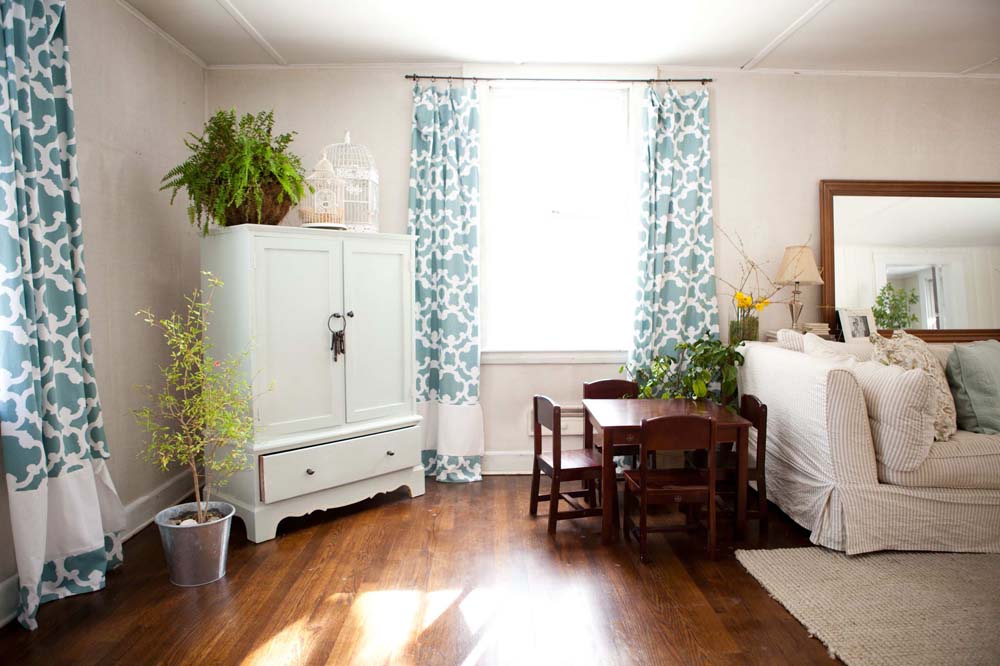 This is an excellent alternative if you want to add blue to your color scheme but still yearn for a perfectly harmonious and seamless transition between your curtains and the walls behind them.
The white and light blue curtains work wonderfully to bring the airy and tranquil vibe of the blue hues while blending with the white walls through the white pattern.
16. Champagne Luxe Curtains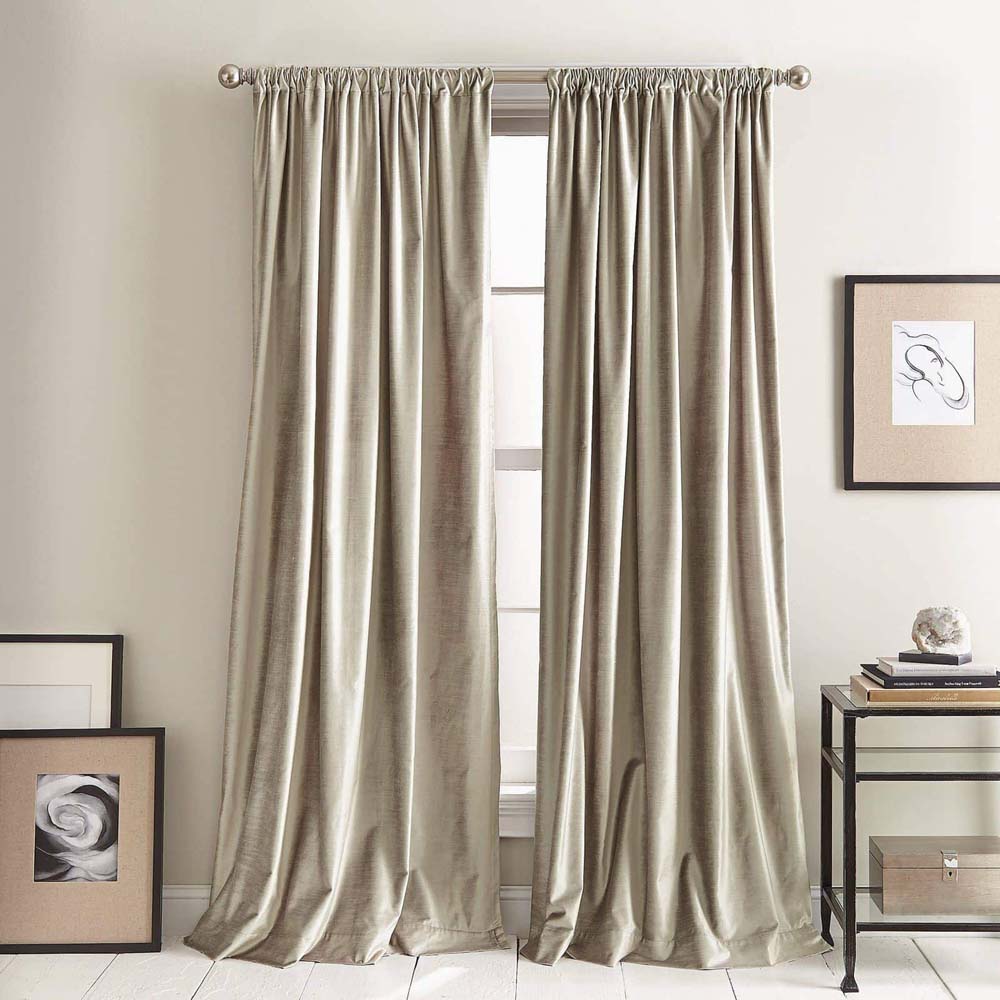 These champagne luxe curtains are designed long enough to puddle gently on the floor. The cotton blend curtain fabric catches light beautifully, perfectly matching off-white walls.
These curtains will be suitable for most interior decor styles since they have a neutral color, especially for a minimalistic home. The black accents give the design a modern and sophisticated look.
17. Gold Yellow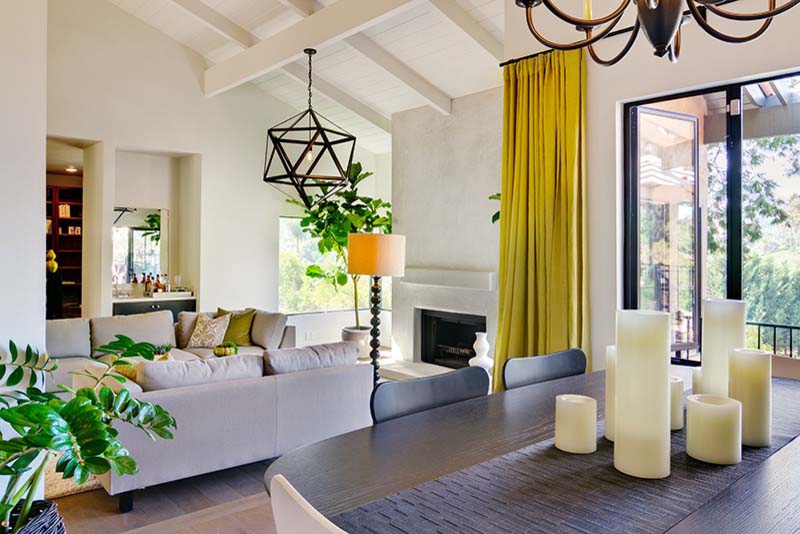 Yellow curtains are a great option to lift up the mood of your white-themed house. The fun, bold color adds life to any space and will make your curtains an eye-catching feature in your home.
The curtain rod for these yellow curtains has been placed high above the walls, making the curtains stand out even more.
18. Lilac Curtains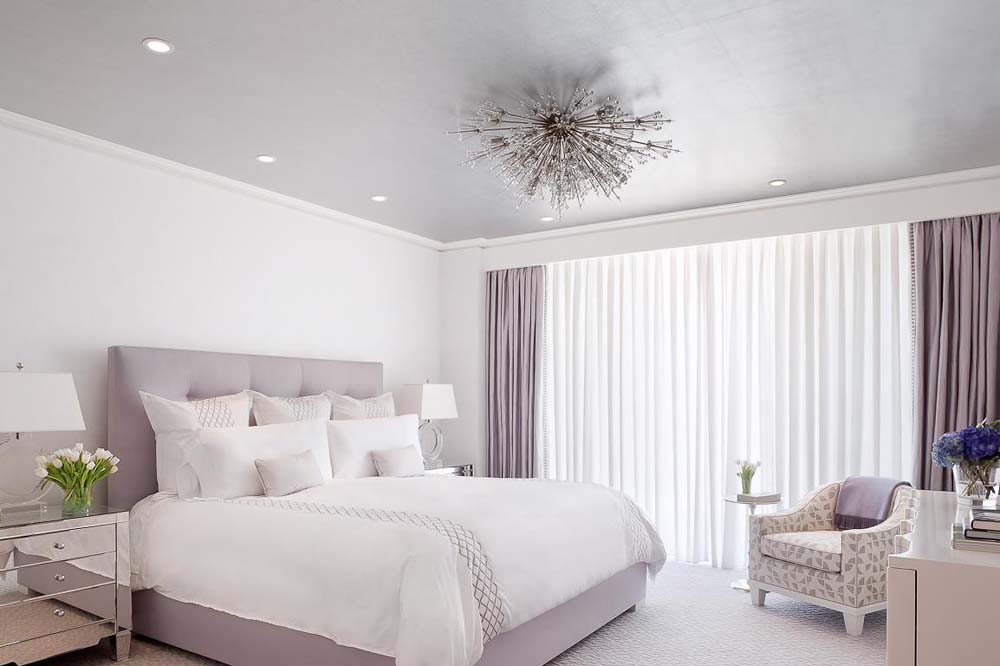 Choosing curtains for white walls can be tricky, but you can never go wrong with lilac curtains. The cool colors of the curtain fabric match perfectly with the bed, and the drapes allow a soft glow to light up the room.
The white bedsheets and pillows make the room even brighter.
19. Persian Red Curtains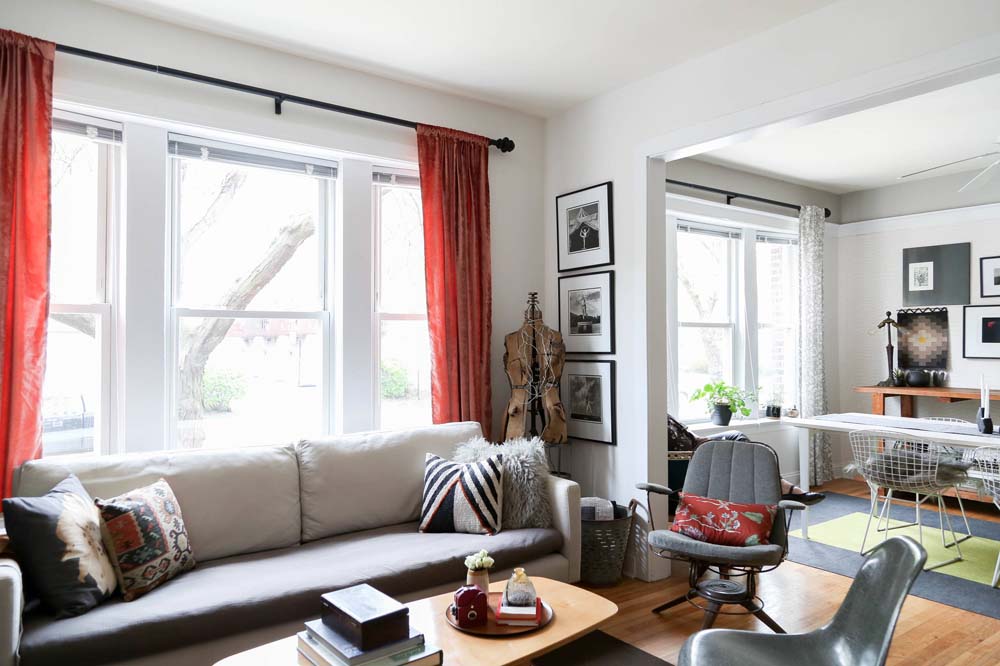 Persian red curtains are the go-to option if you prefer a pop of color without being too vibrant or bold. They can add enough brightness to your room, making it feel less boring or dull.
The embroidery on these red curtains makes them look even more beautiful.
20. Navy Blue Curtains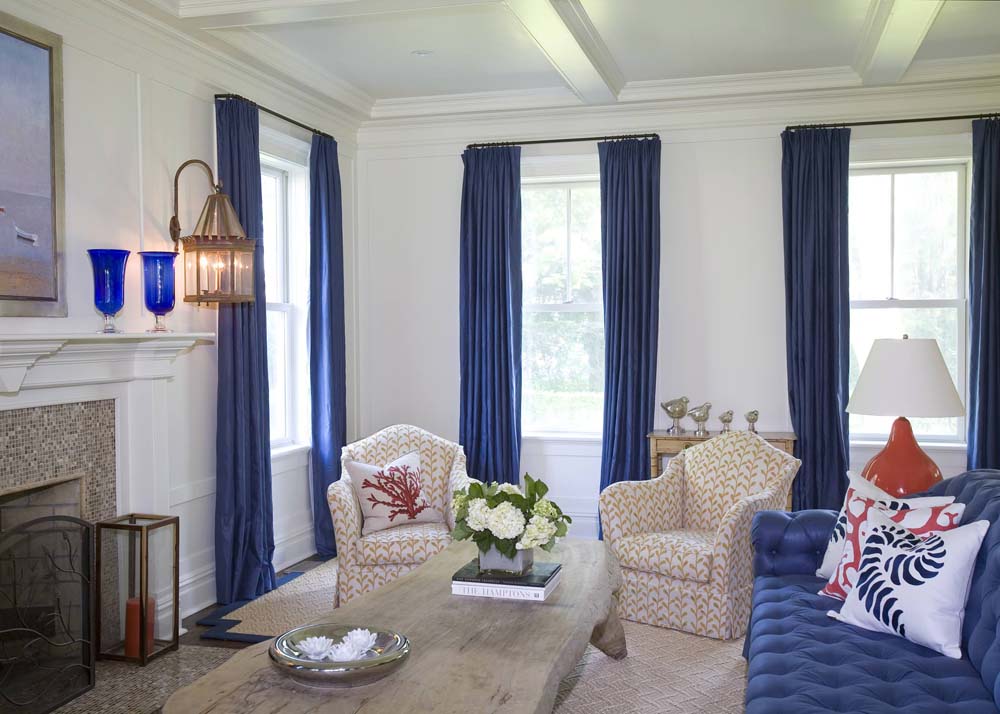 via Amanda Nisbet
Navy blue curtains are the perfect option to create a sophisticated and smart look in your living room. The navy blue curtains frame the window area nicely and contrast strongly with the white walls.
The navy blue couch complements the curtains well, and the wooden table brings a contemporary farmhouse vibe.
21. Cream Floral Curtains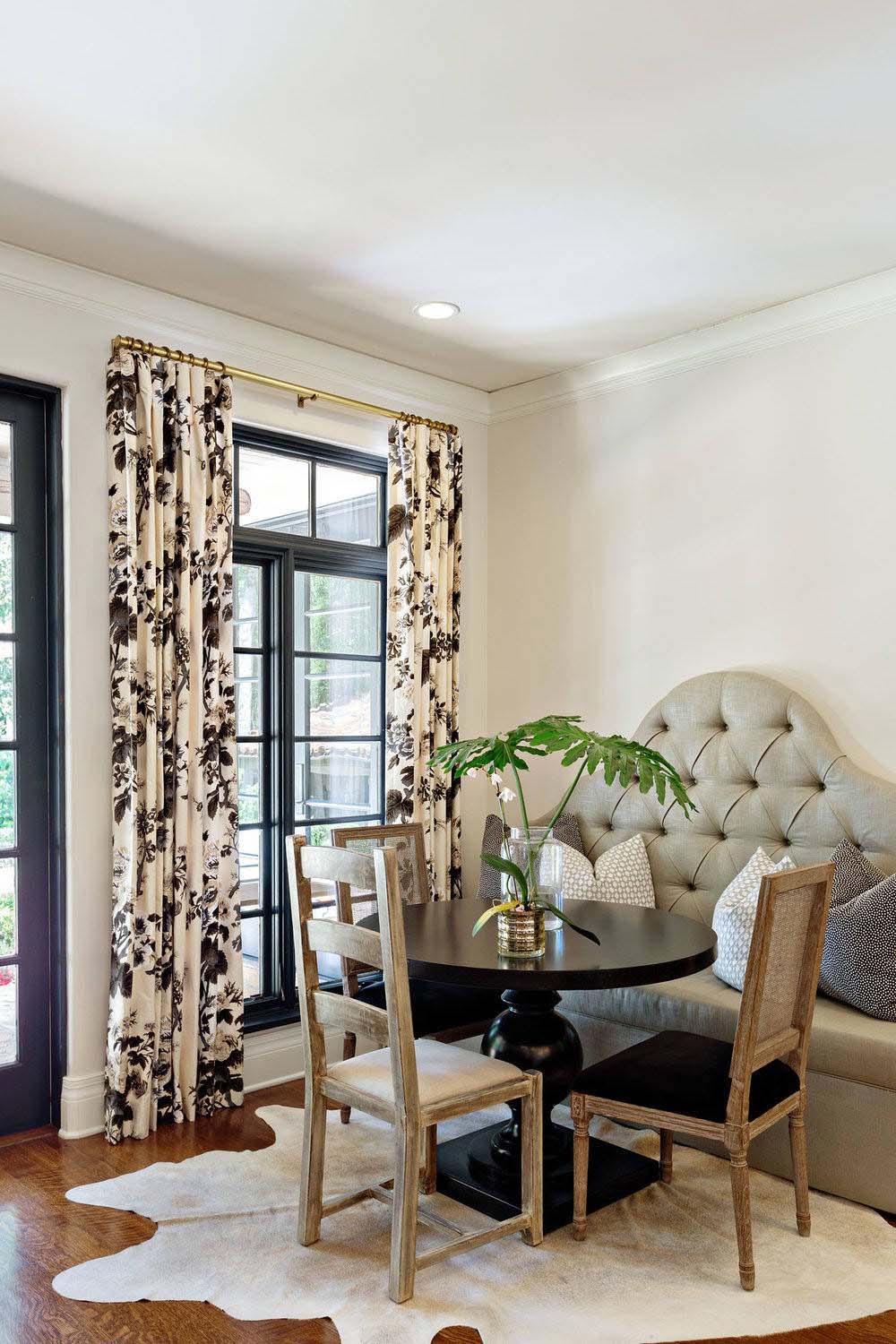 These cream floral curtains are the ultimate in elegant simplicity. The subtle black flowers provide contrast against the white wall, keeping a flawless and seamless connection with the wall while still making the curtains visually distinguishable.
The gray couch and wooden furniture give the whole design a neutral feel.
22. Baby Blue Curtains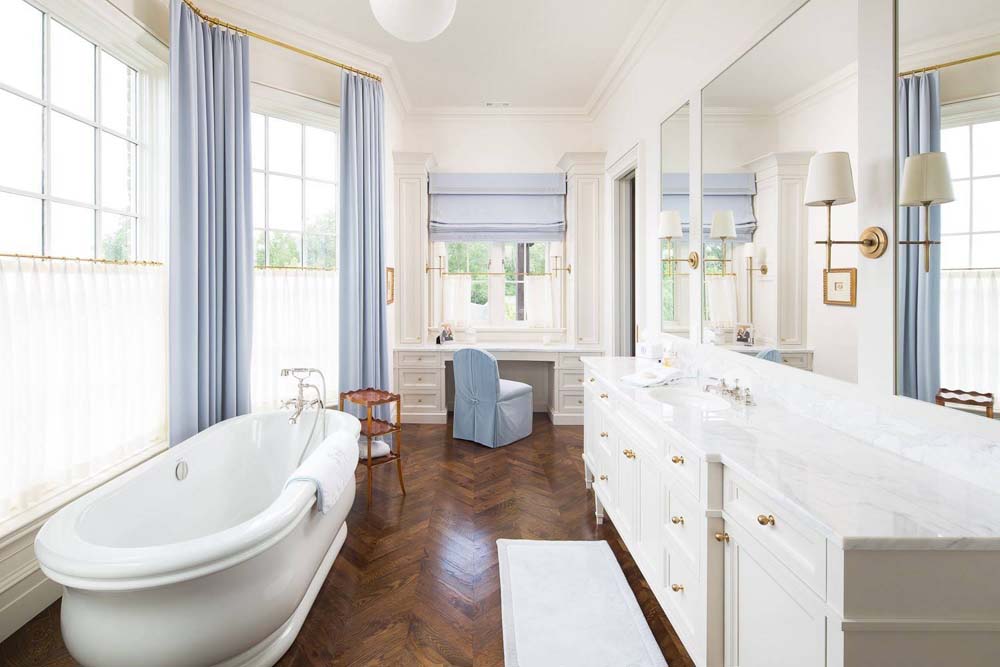 via Clio Surfaces
Blue is a trendy color for curtains; it always matches white walls. Blue curtains will be the right choice if you prefer refreshing and cool colors.
These blue curtains transform this bathroom into a luxurious retreat. They create a calming effect that helps you relax and relieves all your stress.